The global agriculture micronutrients market was valued at USD 4.35 billion in 2022 and is estimated to reach approximately USD 9.22 billion by 2031, at a CAGR of 8.7% from 2023 to 2031.
With the focus shifting beyond traditional macronutrients like nitrogen, phosphorous, and potassium, the market for agricultural micronutrients is critical to modern agricultural techniques. Essential elements that are needed in lesser amounts but are crucial for the best growth, development, and health of crops are known as micronutrients. Examples of these elements are zinc, iron, manganese, copper, and boron. These micronutrients are necessary for a host of biochemical functions in plants, such as nutrient intake, disease resistance, and photosynthesis. The role that micronutrients play in optimizing crop yields and quality is becoming increasingly evident. Agricultural professionals and farmers have realized that ensuring the nutritional value of produced crops and improving overall agricultural output can be achieved by addressing micronutrient deficits. Consequently, the market for agricultural micronutrients has expanded significantly due to factors such as shifting dietary preferences, population increase throughout the world, and the growing emphasis on precision and sustainable agriculture methods. This market includes a range of micronutrient solutions intended to correct nutritional deficiencies in soil and encourage healthy plant growth, such as foliar sprays, soil conditioners, and fertilizers. The agricultural micronutrients market is well-positioned to keep developing and innovating to satisfy the needs of a dynamic and growing global agriculture industry, with an emphasis on enhancing crop performance and yield.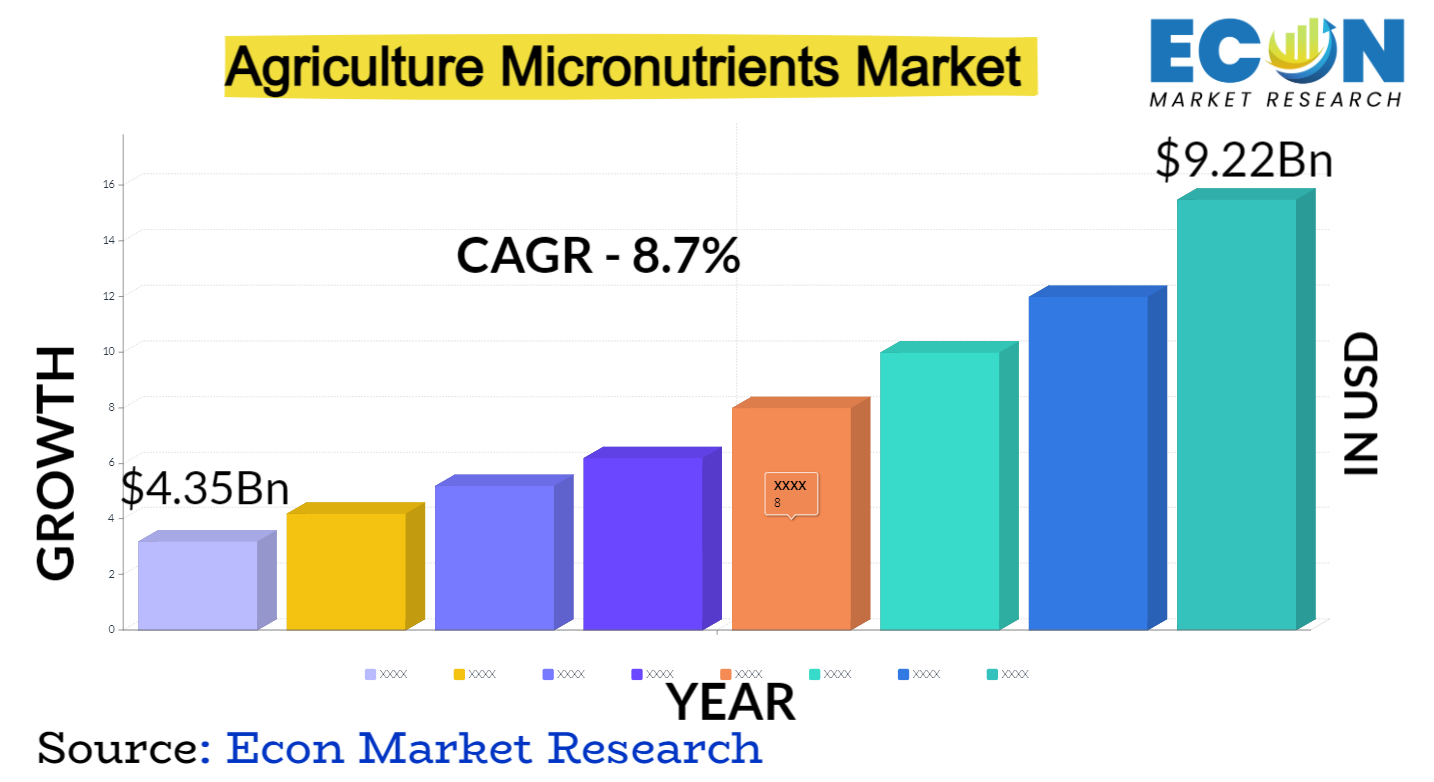 AGRICULTURE MICRONUTRIENTS MARKET: REPORT SCOPE & SEGMENTATION
| | |
| --- | --- |
| Report Attribute | Details |
| Estimated Market Value (2022) | 4.35 Bn |
| Projected Market Value (2031) | 9.22 Bn |
| Base Year | 2022 |
| Forecast Years | 2023 - 2031 |
| Scope of the Report | Historical and Forecast Trends, Industry Drivers and Constraints, Historical and Forecast Market Analysis by Segment- By Type, By Crop Type, By Form, By Mode of Application, & Region |
| Segments Covered | By Type, By Crop Type, By Form, By Mode of Application, & Region |
| Forecast Units | Value (USD Billion or Million), and Volume (Units) |
| Quantitative Units | Revenue in USD million/billion and CAGR from 2023 to 2031 |
| Regions Covered | North America, Europe, Asia Pacific, Latin America, and Middle East & Africa, and the Rest of World |
| Countries Covered | U.S., Canada, Mexico, U.K., Germany, France, Italy, Spain, China, India, Japan, South Korea, Brazil, Argentina, GCC Countries, and South Africa, among others |
| Report Coverage | Market growth drivers, restraints, opportunities, Porter's five forces analysis, PEST analysis, value chain analysis, regulatory landscape, market attractiveness analysis by segments and region, company market share analysis, and COVID-19 impact analysis. |
| Delivery Format | Delivered as an attached PDF and Excel through email, according to the purchase option. |
Global Agriculture Micronutrients Market Dynamics
The market for agricultural micronutrients is characterized by dynamic trends and variables that have a substantial impact on its growth. The growing understanding among farmers and other agricultural experts of the vital role micronutrients play in improving crop quality and yields is one of the main market factors. Consequently, solutions based on micronutrients are in greater demand as a means of addressing soil shortages and advancing plant health. Micronutrient adoption has also been prompted by the need for sustainable agricultural techniques and environmental concerns. These goods can decrease nutrient imbalances and lessen the overuse of macronutrients, supporting more environmentally friendly farming practices. Moreover, the ongoing increase in the world's population drives the desire for more food to be produced, which in turn feeds the need for efficient vitamin supplementation to maximize agricultural productivity. The use of micronutrients to increase the nutritional content of crops has been promoted by shifting dietary habits and an increased emphasis on nutritional quality. Innovation and technology breakthroughs are hallmarks of the agriculture micronutrients industry, as businesses work to create novel and more effective solutions. Government rules, subsidies, and policies pertaining to agriculture also affect the dynamics of the market and have an impact on farmers' decisions. Furthermore, the demand for micronutrients can be influenced by erratic elements such as weather, disease outbreaks, and other factors that impact crop health and performance. Since agriculture micronutrients are still essential to modern agriculture, it is anticipated that the market for them will continue to be dynamic and sensitive to these changing variables.
Global Agriculture Micronutrients Market Drivers
Soil Depletion and Nutrient Deficiency
A major factor in the agriculture industry is soil depletion and nutrient deficiencies, which makes improved soil management and micronutrient supplementation necessary. Continuous farming practices have caused the soil's supply of macro- and micronutrients which are critical for crop production and plant growth to gradually run out. The elimination of nutrients through harvest, frequently without sufficient replacement, and the repetitive cultivation of crops are the causes of this depletion. Depletion of the soil has far-reaching effects. worse crop yields, worse crop quality, and greater vulnerability to pests and diseases are the outcomes of nutrient-deficient soil. Because of this, farmers must deal with falling agricultural productivity, which is a serious issue for millions of people's livelihoods and food security. To lessen soil depletion, farmers are implementing strategies like crop rotation, cover crops, and organic farming more frequently. In order to restore soil fertility and health, the use of soil conditioners and fertilizers based on micronutrients has also grown in popularity.
Changing Dietary Preferences
With the shifting dietary preferences and lifestyles of varied and health-conscious civilizations, people are becoming more picky about the food products they buy. More emphasis is being placed on fruits, vegetables, lean proteins, and whole grains as a result of the growing desire for better and more nutrient-dense dietary options. Agriculture techniques are being reevaluated in response to consumer shifts away from highly processed and high-sugar foods. Demand for sustainably produced, locally sourced, and organic foods is rising due to shifting dietary habits. Customers are fighting for transparency and ecologically friendly farming methods because they understand the value of knowing the origins and production processes of the food they eat. popularity of plant-based and vegetarian/vegan diets has increased noticeably, reflecting worries about animal welfare, human health, and environmental sustainability. This movement has changed the face of crop cultivation by increasing the production of plant-based protein sources like nuts and legumes.
Restraints:
Equipment, facilities, R&D, and technological breakthroughs sometimes demand significant upfront capital in a number of industries, including manufacturing, technology, and infrastructure. Exorbitant start-up expenses can discourage would-be business owners and entrepreneurs from entering certain markets, which would reduce competition and innovation. Small and startup companies usually struggle to get the funding they need for their expensive projects. This can result in lost opportunities and impede economic progress because these businesses are essential for fostering innovation and the creation of jobs. When faced with large upfront expenses and the possibility of significant financial losses, investors and financial institutions can be risk averse. This sensitivity to risk can obstruct the advancement of initiatives with potentially large long-term rewards. In highly competitive markets, high initial costs can create barriers to entry for new players, reducing market competition and potentially leading to monopolistic practices.
Businesses can face increased expenditures as a result of strict environmental rules and compliance requirements, which can restrict their ability to operate and grow. To comply with environmental standards, businesses must make significant investments in waste management, emissions reduction, and pollution control methods. For companies that depend on clean water, arable land, and fossil fuels, the depletion of these resources can result in increased costs and logistical difficulties. Production can be hampered, and operating costs can rise. Manufacturing and energy are two main businesses that contribute significantly to carbon emissions. The urgent need to address climate change through reduction of greenhouse gas emissions and sustainable practices can place significant limits on both industries.Land use and development can be restricted in some locations due to concerns about biodiversity loss and ecosystem deterioration, particularly in environmentally sensitive areas.
Opportunities:
Integration of D

igital Technologies
Automation, streamlined procedures, and data-driven decision-making are made possible by digital technologies. By utilizing the capabilities of data analytics, artificial intelligence, and Internet of Things devices, businesses can increase production and operational efficiency. Digital technologies present novel channels for firms to interact with their clientele, be it via social media, e-commerce platforms, or tailored advertising campaigns. This results in more focused and efficient interactions by providing a deeper grasp of the wants and preferences of the consumer. The creation of new goods, services, and business models is made possible by the integration of digital technologies, which promotes innovation. This can result in the development of completely new sources of income and business prospects. Digital technologies provide access to vast amounts of data, which can be leveraged for informed decision-making. This data-driven approach allows businesses to gain insights into market trends, customer behavior, and operational performance.
Growing I

nterest in

B

iofortifying Crops
Sweet potatoes and beans that have been fortified with iron or vitamin A are examples of biofortified crops that offer communities a sustainable and easily available source of vital nutrients, particularly in areas where access to a wide variety of nutrient-dense meals is restricted. The global problem of micronutrient deficiencies can be addressed with the use of biofortification. It can lead to better health and decreased susceptibility to illness by improving the nutritional value of basic crops. In the face of climate change, biofortified varieties frequently show increased tolerance to unfavorable climatic circumstances and higher resistance to pests and diseases. This increases crop resilience and food security. Through higher crop yields and increased produce value on the market, biofortification can increase farmers' earnings and productivity. The biofortification approach can be applied to a wide range of staple crops, including rice, maize, wheat, and cassava, ensuring that a diverse and nutritious diet is accessible to various populations.
Segment Overview
By Type
Based on type, the global agriculture micronutrients market is divided into zinc, boron, iron, manganese, molybdenum, copper, molybdenum, others. The zinc category dominates the market with the largest revenue share in 2022. Zinc is essential for various biochemical processes in plants, including photosynthesis, enzyme activity, and the synthesis of growth hormones. Its deficiency can lead to stunted growth and reduced crop yields, making it a crucial component of many micronutrient fertilizers. Boron supports cell division and the transportation of sugars within plants. It is vital for flowering and fruit development. Crops such as fruits and nuts particularly benefit from boron supplementation. Iron is integral for the formation of chlorophyll, which is critical for photosynthesis. An iron deficiency results in leaf yellowing or chlorosis, which can impair a plant's ability to capture sunlight for energy. Manganese aids in photosynthesis and nitrogen metabolism. Its deficiency can lead to poor root development and crop yield reduction. Molybdenum is essential for nitrogen utilization in plants. It is vital for the conversion of inorganic nitrogen into amino acids and other organic compounds. Copper plays a role in various enzyme systems and is involved in plant respiration and photosynthesis. It is essential for overall plant health and reproduction.
By Crop Type
Based on the crop type, the global agriculture micronutrients market is categorized into cereals and grains, fruits and vegetables. The fruits and vegetables category leads the global agriculture micronutrients market with the largest revenue share in 2022. Fruits and vegetables, which encompass a wide variety of produce such as apples, tomatoes, leafy greens, and citrus fruits, are known for their high nutritional value. They require specific micronutrients to develop optimal flavor, texture, and nutrient content. Fruits and vegetables often benefit from micronutrients like boron, copper, and molybdenum to enhance fruit quality, color, and overall nutritional value. These micronutrients play a crucial role in improving taste, appearance, and shelf life. Cereals and grains, which include major crops like wheat, rice, corn, barley, and oats, form the foundation of the world's food supply. These crops are rich in carbohydrates but can require micronutrient supplementation to enhance their nutritional content and overall crop yield.
By Form
Based on form, the global agriculture micronutrients market is segmented into non-chelated, chelated. The chelated segment dominates the agriculture micronutrients market. Chelated micronutrients are presented in organic complexes, where the micronutrient is bound to an organic molecule, known as a chelating agent. Common chelating agents include EDTA (ethylenediaminetetraacetic acid), DTPA (diethylenetriaminepentaacetic acid), and EDDHA (ethylenediamine-N,N'-bis(2-hydroxyphenylacetic acid)). Non-chelated micronutrients are typically inorganic or elemental forms of essential nutrients. These include compounds like zinc sulfate, iron sulfate, and manganese oxide.
By Mode of Application
Based on mode of application, the global agriculture micronutrients market is divided into soil, foliar, fertigation. The foliar category dominates the market with the largest revenue share in 2022. Foliar application involves spraying micronutrient solutions directly onto the leaves of the crop. This method allows for rapid absorption of micronutrients through the plant's stomata and cuticle, delivering immediate benefits. Foliar application is well-suited for correcting acute nutrient deficiencies and enhancing plant health, especially during critical growth stages. It offers a quick response and is effective when soil conditions limit nutrient uptake. Soil application involves incorporating micronutrient products into the soil, where they become available to plant roots. These products can be in the form of granules, powders, or soluble compounds, which gradually release micronutrients into the root zone. Fertigation combines fertilization and irrigation, delivering micronutrient solutions through the irrigation system. It ensures a consistent and even distribution of micronutrients directly to the root zone.
Global Agriculture Micronutrients Market Overview by Region
The global agriculture micronutrients market is categorized into North America, Europe, Asia-Pacific, and the Rest of the World. Asia-Pacific emerged as the leading region, capturing the largest market share in 2022. The large and varied agricultural landscape of the Asia-Pacific area is characterized by a wide diversity of climates and ecosystems. Due to its diversity, a wide range of crops can be grown, which significantly increases the amount of food produced worldwide. There is a considerable demand for food and agricultural products because Asia is home to a sizable share of the world's population. As a result, the area has decided to emphasize agriculture as a crucial industry to guarantee food security. Asia-Pacific has embraced contemporary agricultural technologies and methods at a quick pace, fostering production, sustainability, and efficiency. To maximize crop production, this involves integrating biotechnology, precision agriculture, and digital technologies.With nations like China and India exporting substantial amounts of crops and agricultural products, the region is a major player in the global agricultural export industry. As a result, the region now has more economic clout and importance in international trade. Numerous countries in the Asia-Pacific area have put policies and programs into place to assist the agriculture industry, providing infrastructure development, subsidies, and incentives to increase agricultural output. In many Asian nations, agriculture is deeply ingrained in culture. To meet modern needs while maintaining a rich agricultural legacy, traditional farming methods are frequently combined with new ones.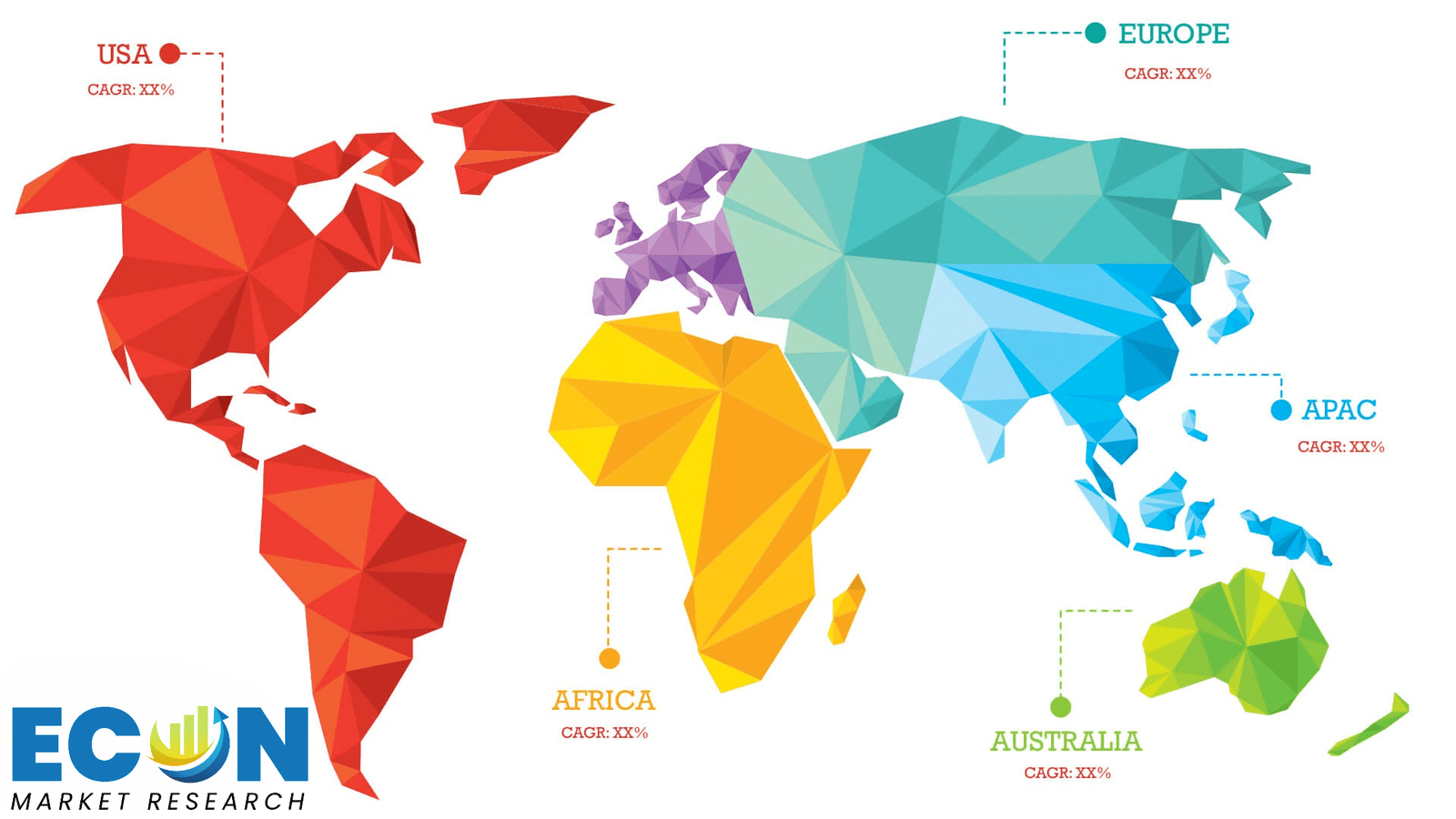 Global Agriculture Micronutrients Market Competitive Landscape
In the global agriculture micronutrients market, a few major players exert significant market dominance and have established a strong regional presence. These leading companies remain committed to continuous research and development endeavors and actively engage in strategic growth initiatives, including product development, launches, joint ventures, and partnerships. By pursuing these strategies, these companies aim to strengthen their market position, expand their customer base, and capture a substantial share of the market.
Some of the prominent players in the global agriculture micronutrients market include CHR. Hansen Holdings A/S , Lallemand Inc., Novus International Inc., DSM, BASF SE, Alltech Inc., ADM, Charoen Popkhand Foods , Associated British Foods Plc, Cargill Incorporated, Upside Foods, MosaMeat, Integriculture Inc., Aleph Farms Ltd, and various other key players.
Global Agriculture Micronutrients Market Recent Developments
In October 2023, Micronutrient integration in the Indian agriculture sector is demanded by IZA. The International Zinc Association (IZA) recommended for the integration of micronutrients in agri-practices to create nutrition-rich crops, as India's intake of micronutrients in the agriculture sector continues to be below the world norm.
Scope of the Global Agriculture Micronutrients Market Report
Agriculture Micronutrients Market Report Segmentation
ATTRIBUTE

DETAILS

By Type

Zinc

Boron

Iron

Manganese

Molybdenum

Copper

Molybdenum

Others

By Crop Type

Cereals and Grains

Fruits and Vegetables

By Form

By Mode of Application

By Geography

North America (USA,

and Canada)

Europe (UK, Germany, France, Italy, Spain, Russia and Rest of Europe)

Asia Pacific (Japan, China, India, Australia, Southeast Asia and Rest of Asia Pacific)

Latin America (Brazil, Mexico, and Rest of Latin America)

Middle East & Africa (South Africa, GCC, and Rest of Middle East & Africa)

Customization Scope

Pricing
Objectives of the Study
The objectives of the study are summarized in 5 stages. They are as mentioned below:
Global Agriculture Micronutrients Market

Size and Forecast:
To identify and estimate the market size for the global agriculture micronutrients market segmented by type, by crop type, by form, by mode of application, region and by value (in U.S. dollars). Also, to understand the consumption/ demand created by consumers of agriculture micronutrients between 2019 and 2031.
Market Landscape and Trends:
To identify and infer the drivers, restraints, opportunities, and challenges for the global agriculture micronutrients market
Market Influencing Factors:
To find out the factors which are affecting the sales of agriculture micronutrients among consumers
To identify and understand the various factors involved in the global agriculture micronutrients market affected by the pandemic
To provide a detailed insight into the major companies operating in the market. The profiling will include the financial health of the company's past 2-3 years with segmental and regional revenue breakup, product offering, recent developments, SWOT analysis, and key strategies.
Intended Audience
Academic Research

Healthcare and Medical Information

Governments, Associations, and Industrial Bodies

Investors and Trade Experts
Research Methodology
Our research methodology has always been the key differentiating reason which sets us apart in comparison from the competing organizations in the industry. Our organization believes in consistency along with quality and establishing a new level with every new report we generate; our methods are acclaimed and the data/information inside the report is coveted. Our research methodology involves a combination of primary and secondary research methods. Data procurement is one of the most extensive stages in our research process. Our organization helps in assisting the clients to find the opportunities by examining the market across the globe coupled with providing economic statistics for each and every region. The reports generated and published are based on primary & secondary research. In secondary research, we gather data for global Market through white papers, case studies, blogs, reference customers, news, articles, press releases, white papers, and research studies. We also have our paid data applications which includes hoovers, Bloomberg business week, Avention, and others.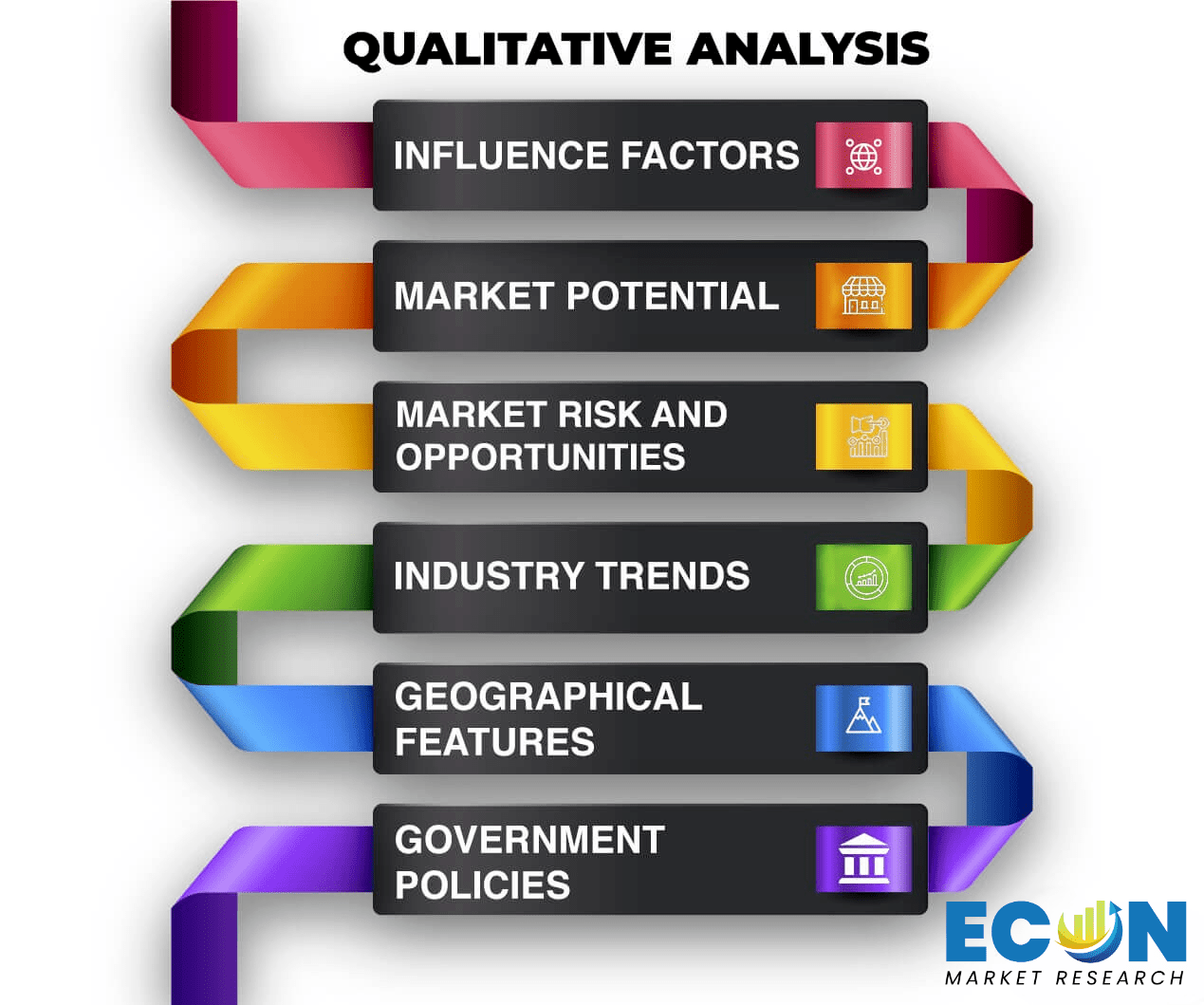 Data Collection
Data collection is the process of gathering, measuring, and analyzing accurate and relevant data from a variety of sources to analyze market and forecast trends. Raw market data is obtained on a broad front. Data is continuously extracted and filtered to ensure only validated and authenticated sources are considered. Data is mined from a varied host of sources including secondary and primary sources.

Primary Research
After the secondary research process, we initiate the primary research phase in which we interact with companies operating within the market space. We interact with related industries to understand the factors that can drive or hamper a market. Exhaustive primary interviews are conducted. Various sources from both the supply and demand sides are interviewed to obtain qualitative and quantitative information for a report which includes suppliers, product providers, domain experts, CEOs, vice presidents, marketing & sales directors, Type & innovation directors, and related key executives from various key companies to ensure a holistic and unbiased picture of the market. 
Secondary Research
A secondary research process is conducted to identify and collect information useful for the extensive, technical, market-oriented, and comprehensive study of the market. Secondary sources include published market studies, competitive information, white papers, analyst reports, government agencies, industry and trade associations, media sources, chambers of commerce, newsletters, trade publications, magazines, Bloomberg BusinessWeek, Factiva, D&B, annual reports, company house documents, investor presentations, articles, journals, blogs, and SEC filings of companies, newspapers, and so on. We have assigned weights to these parameters and quantified their market impacts using the weighted average analysis to derive the expected market growth rate.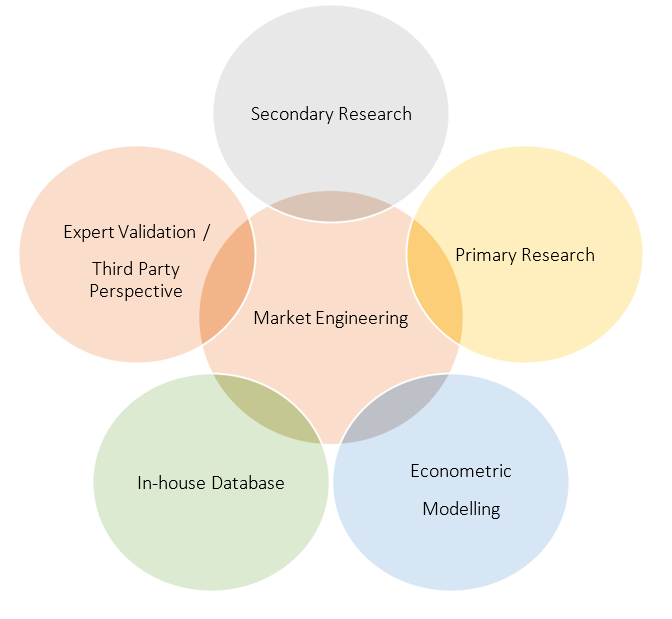 Top-Down Approach & Bottom-Up Approach
In the top – down approach, the Global Batteries for Solar Energy Storage Market was further divided into various segments on the basis of the percentage share of each segment. This approach helped in arriving at the market size of each segment globally. The segments market size was further broken down in the regional market size of each segment and sub-segments. The sub-segments were further broken down to country level market. The market size arrived using this approach was then crosschecked with the market size arrived by using bottom-up approach.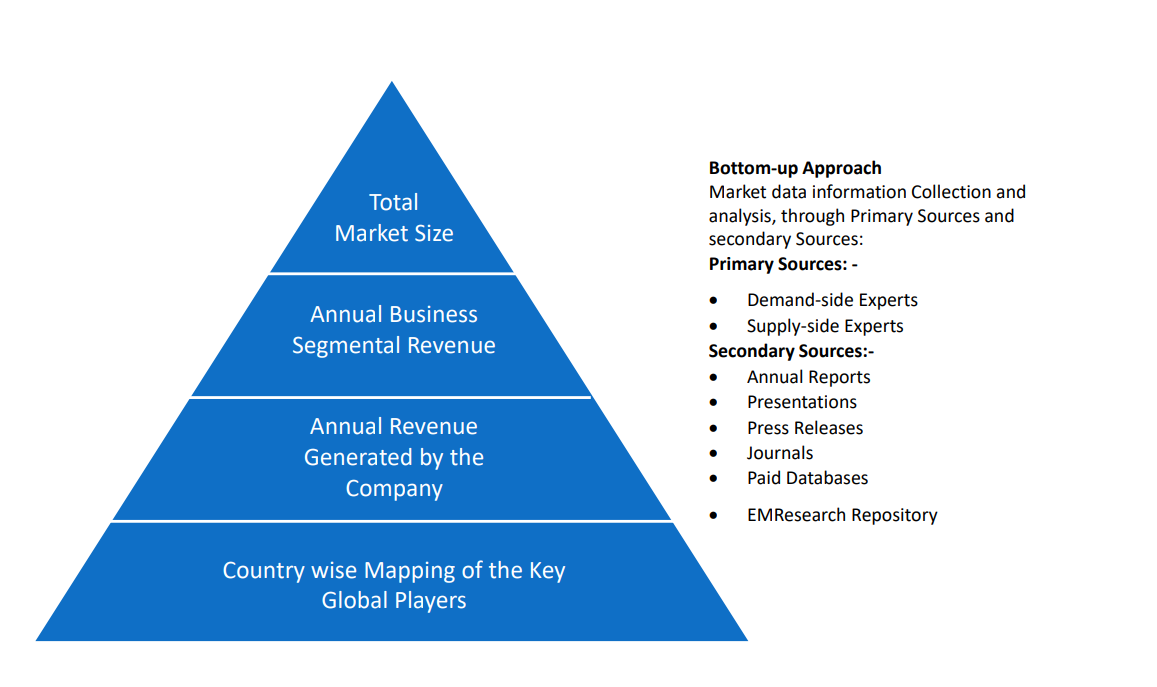 In the bottom-up approach, we arrived at the country market size by identifying the revenues and market shares of the key market players. The country market sizes then were added up to arrive at regional market size of the decorated apparel, which eventually added up to arrive at global market size.
This is one of the most reliable methods as the information is directly obtained from the key players in the market and is based on the primary interviews from the key opinion leaders associated with the firms considered in the research. Furthermore, the data obtained from the company sources and the primary respondents was validated through secondary sources including government publications and Bloomberg.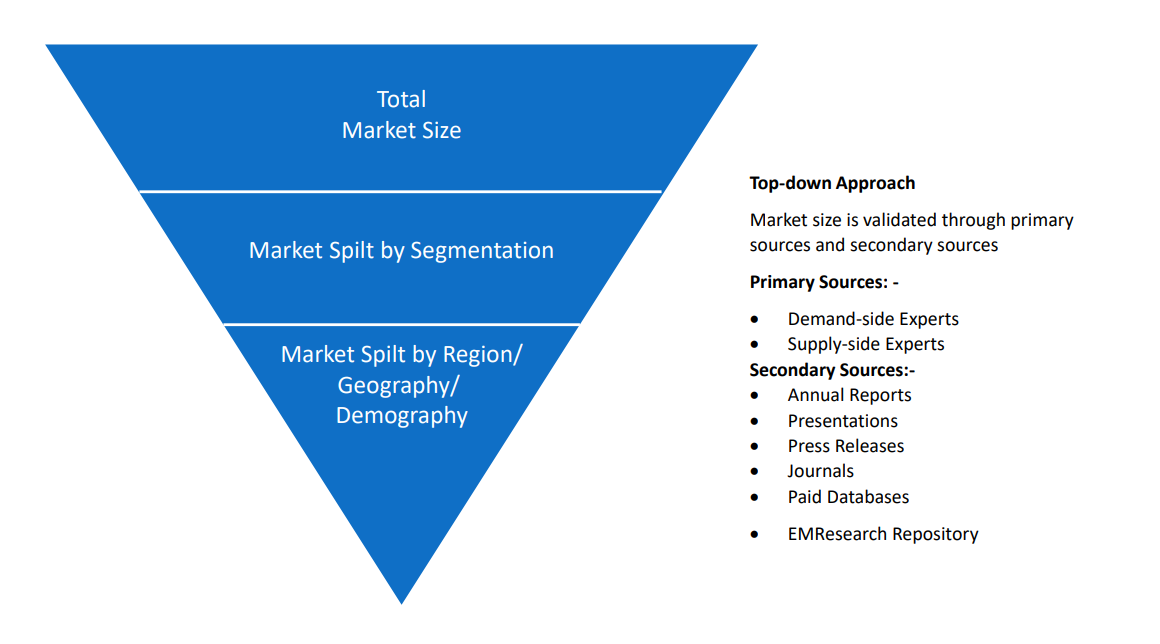 Market Analysis & size Estimation
Post the data mining stage, we gather our findings and analyze them, filtering out relevant insights. These are evaluated across research teams and industry experts. All this data is collected and evaluated by our analysts. The key players in the industry or markets are identified through extensive primary and secondary research. All percentage share splits, and breakdowns have been determined using secondary sources and verified through primary sources. The market size, in terms of value and volume, is determined through primary and secondary research processes, and forecasting models including the time series model, econometric model, judgmental forecasting model, the Delphi method, among Flywheel Energy Storage. Gathered information for market analysis, competitive landscape, growth trends, product development, and pricing trends is fed into the model and analyzed simultaneously.
Quality Checking & Final Review
The analysis done by the research team is further reviewed to check for the accuracy of the data provided to ensure the clients' requirements. This approach provides essential checks and balances which facilitate the production of quality data. This Type of revision was done in two phases for the authenticity of the data and negligible errors in the report. After quality checking, the report is reviewed to look after the presentation, Type and to recheck if all the requirements of the clients were addressed.