The Global Agritech Market was valued at USD 22145.60 million in 2022 and is estimated to reach approximately USD 63683.50 million by 2031, at a CAGR of 12.5% from 2023 to 2031. Over the past few decades, the agritech market, which stands for agricultural technology, has undergone a revolutionary change. In order to address the urgent issues facing the global food and farming business, it represents the fusion of agriculture and modern technology. Precision farming, automation, data analytics, and biotechnology are just a few of the advancements that fall under the umbrella term agritech. The necessity to sustainably boost food production in light of the expanding world population is one of the major forces behind the agritech boom. Modern technology are being adopted by farmers to increase crop yields, cut down on resource waste, and improve agricultural methods. Drones and GPS-guided tractors, for example, allow for precise planting and harvesting while reducing input costs and environmental impact.Additionally, data-driven solutions give farmers insightful information on weather patterns, the condition of the soil, and crop performance, enabling them to make wise decisions. Food security is made possible by genetically engineered crops that are more resistant to pests and adverse weather conditions thanks in large part to biotechnology. The agritech market expands beyond industrial-scale farming to help smallholder farmers as well, promoting inclusive growth in the agricultural industry.
AGRITECH MARKET: REPORT SCOPE & SEGMENTATION
| | |
| --- | --- |
| Report Attribute | Details |
| Estimated Market Value (2022) | 22145.60 Mn |
| Projected Market Value (2031) | 63683.50 Mn |
| Base Year | 2022 |
| Forecast Years | 2023 - 2031 |
| Scope of the Report | Historical and Forecast Trends, Industry Drivers and Constraints, Historical and Forecast Market Analysis by Segment- By Type, By Application, & Region |
| Segments Covered | By Type, By Application, & Region |
| Forecast Units | Value (USD Billion or Million), and Volume (Units) |
| Quantitative Units | Revenue in USD million/billion and CAGR from 2023 to 2031 |
| Regions Covered | North America, Europe, Asia Pacific, Latin America, and Middle East & Africa, and the Rest of World |
| Countries Covered | U.S., Canada, Mexico, U.K., Germany, France, Italy, Spain, China, India, Japan, South Korea, Brazil, Argentina, GCC Countries, and South Africa, among others |
| Report Coverage | Market growth drivers, restraints, opportunities, Porter's five forces analysis, PEST analysis, value chain analysis, regulatory landscape, market attractiveness analysis by segments and region, company market share analysis, and COVID-19 impact analysis. |
| Delivery Format | Delivered as an attached PDF and Excel through email, according to the purchase option. |
Global Agritech Market Dynamics
A complex combination of elements that are transforming the agricultural landscape characterizes the agritech market's characteristics. At the centre of these dynamics is the pressing need to deal with the problems brought on by a rising global population, changing climatic patterns, and resource shortages. The market for agritech is being driven in part by the growing use of digital technologies. To streamline their operations, farmers are using data analytics, IoT devices, and artificial intelligence. These technologies make it possible for precision agriculture, which improves yields and reduces waste by precisely allocating resources. Agritech market dynamics are also significantly influenced by environmental sustainability. An increased focus on environmentally friendly farming methods has sparked breakthroughs in organic farming, water management, and renewable energy technologies. The drive for food security and adaptability in the face of climate change has boosted biotechnology research and development. New breeding methods and genetically modified crops are being used to develop drought-resistant, disease-tolerant, and high-yield kinds of plants. Entrepreneurs are coming up with innovative solutions for both large-scale and smallholder farmers thanks to start-ups and venture capital funding. This infusion of capital is causing the market to grow quickly. As governments attempt to strike a balance between innovation and safety and sustainability, regulatory and policy frameworks also play a critical role. The dynamics of the global agritech market can be considerably impacted by trade agreements and tariffs.
Global Agritech Market Drivers
Population Growth and Food Security
Food security and population expansion are key factors driving the agritech market. The global food supply network is under tremendous pressure as a result of this demographic development. One of the most important problems that agritech attempts to solve is providing for the nutritional requirements of this expanding population. Food security, or making sure that people have get enough, healthy food, is a major concern. It's possible that traditional farming methods by themselves won't be able to meet the rising demand for food. Agritech comes in by providing creative approaches to increase agricultural productivity while reducing farming's negative environmental effects. Agritech uses cutting-edge technologies like precision agriculture, data analytics, and biotechnology to feed the world's population. With the use of these tools, farmers can boost crop yields, cut waste, and manage resources like fertiliser, water, and land more effectively. Additionally, they aid in managing and monitoring supply chains to make sure food is delivered to consumers effectively.
Biotechnology and Genetic Engineering
Within the agritech market, biotechnology and genetic engineering play a crucial driving role. This driver is focused on using biological methods and procedures to increase the productivity and adaptability of agriculture. A particularly effective approach for creating genetically modified organisms (GMOs) with enhanced features useful for agriculture is genetic engineering. Crops that have undergone genetic engineering are designed to have advantageous traits like resistance to pests, diseases, or herbicides as well as heightened resistance to harsh environmental circumstances like drought or severe temperatures. These genetic alterations have the potential to greatly increase crop yields, lower the demand for chemical inputs, and increase the sustainability of agriculture as a whole.One standout is genetically engineered Bt cotton, which generates its own insecticidal protein, providing built-in protection from pests and obviating the need for chemical pesticides. Similar to this, nutrient inadequacies have been addressed by boosting the quantities of important nutrients in genetically engineered crops like Golden Rice.
Restraints:
The agriculture industry's efforts to modernize and become more sustainable are significantly hampered by the large upfront costs associated with implementing agritech solutions. While agritech advancements have the potential to provide long-term benefits like higher production and resource efficiency, many farmers, especially those who operate on a smaller scale and have limited resources, encounter financial challenges when trying to incorporate new technologies. Agritech investments often cover a wide range of costs, such as the acquisition of specialized machinery, IoT sensors, data analytics software, and precision farming equipment. Costs for teaching farm workers how to use these technology successfully are also included. These initial expenses can be prohibitive for smaller farmers who have little access to money or credit. The adoption of agritech solutions can be uneven as a result of this financial burden, with larger commercial farms adopting these advances more quickly than smaller and subsistence farmers. The agriculture industry's digital divide has the potential to widen already existing disparities and impede the industry's overall progress towards sustainability and productivity.
Data Privacy and Security Concerns
Agriculture-related data ownership and control are major sources of data privacy problems. Farmers may be concerned that the information generated by their activities, such as crop yields, soil health, and resource use, could be used or shared without their permission, potentially resulting in the loss of a competitive edge or privacy violations. Another significant concern is data security. Farms are more susceptible to cyberattacks and data breaches as a result of agriculture's digitization. Unauthorized access to agricultural data has the potential to harm the integrity of the food supply chain, interfere with farming operations, and jeopardize intellectual property. The proper use of agricultural data raises broader ethical issues, particularly when it comes to the genetic makeup of crops and livestock.
Opportunities:
Increased Global Food Demand
The need for food is anticipated to increase dramatically over the next few decades as global population continues to rise. This offers an excellent chance for agritech to intervene and close the gap between agricultural output and the rising demand for food. Agritech solutions help farmers increase crop yields, allocate resources more efficiently, and reduce waste through practices including precision agriculture, biotechnology, and data-driven farming. They are able to meet the growing demand for food goods while also guaranteeing that agricultural practices are environmentally friendly and sustainable. A shift towards more varied and protein-rich meals is one example of how shifting dietary preferences open up new opportunities for agritech innovation.
Connecting various farm equipment, sensors, and devices to the internet allows for real-time data collecting, monitoring, and management of agricultural operations. This is known as IoT in agriculture. This game-changing technology presents the agritech market with a wealth of advantages and prospects. IoT improves decision-making based on data. Field-based sensors can deliver exact data on the temperature, nutrient content, and moisture content of the soil. Tractors and irrigation systems that are connected can be remotely managed and optimized using real-time data. Farmers are able to maximize crop production, conserve resources, and make informed decisions as a result. Farming automation techniques boost productivity. Automation and remote monitoring lessen the need for manual labour, which may result in cheaper labour costs and greater accessibility to farming for more people.
Segment Overview
By Type
Based on type, the global agritech market is divided into biotechnology and biochemical, big data and analytics, sensors and connected devices, mobility and others. The biotechnology and biochemical category dominates the market with the largest revenue share.Agriculture is being revolutionised by biotechnology and biochemical advances, which have led to the introduction of genetically engineered crops and cutting-edge biochemical remedies. These innovations improve crop resistance, production, and nutritional value, addressing issues with global food security. Another crucial area is big data and analytics, which provide data-driven insights for precision agriculture. Farmers can optimise resource use, crop management, and supply chain operations through data collection, analysis, and predictive modelling, ultimately enhancing productivity and sustainability. Modern farming has incorporated sensors and connected gadgets on a daily basis. Real-time information on soil conditions, weather patterns, and animal health is provided by these IoT systems. Farmers can digitize procedures and make informed judgements, which increases yields and reduces resource waste. Innovative products like drones and autonomous machinery are introduced in the mobility industry.
By Application
Based on the application, the global agritech market is categorized into irrigation, production and maintenance, supply chain, marketplace and others. The production and maintenance category leads the global agritech market with the largest revenue share. Particularly in water-scarce countries, irrigation systems are essential for maximizing water use, guaranteeing effective crop hydration, and minimizing water waste. As climatic trends change, these technologies are crucial for sustainable agriculture. A crucial area of improvement in farming practices is production and maintenance. This category includes a variety of advances, such as automated machinery, biotechnology applications, and precision farming instruments. These solutions assist farmers in boosting crop yields, lowering production costs, and preserving the general viability of their farming operations. Another crucial component of the agritech sector is supply chain technologies. They make it possible to control and track agricultural products effectively from farm to table. This division makes sure that food is delivered to customers promptly, fresh, and with the least amount of wastage possible.
Global Agritech Market Overview by Region
The global agritech market is categorized into North America, Europe, Asia-Pacific, and the Rest of the World. North America emerged as the leading region, capturing the largest market share in 2022. A strong technology foundation and a dynamic startup environment help North America. Silicon Valley and the Midwest are notably home to tech centers and agritech incubators, which promote innovation and draw talent and capital to the industry. Large-scale commercial farming enterprises in the area were among the first to use agritech. To maximize crop yield, cut costs, and improve sustainability, these businesses use modern machinery, big data analytics, and precision agriculture technologies. Significant progress is being made because to North America's dedication to biotechnology research and development. Crop yields and resilience have increased as a result of the creation and use of genetically modified crops with enhanced features including insect resistance and drought tolerance. A valuable testing ground for a wide range of agritech advances, from high-tech greenhouse farming to autonomous farm gear, is provided by the continent's diverse climate and agricultural practices. Moreover, the agritech industry's objectives of reducing resource waste and minimizing the ecological impact of agriculture are well-aligned with North America's emphasis on sustainability and environmental stewardship.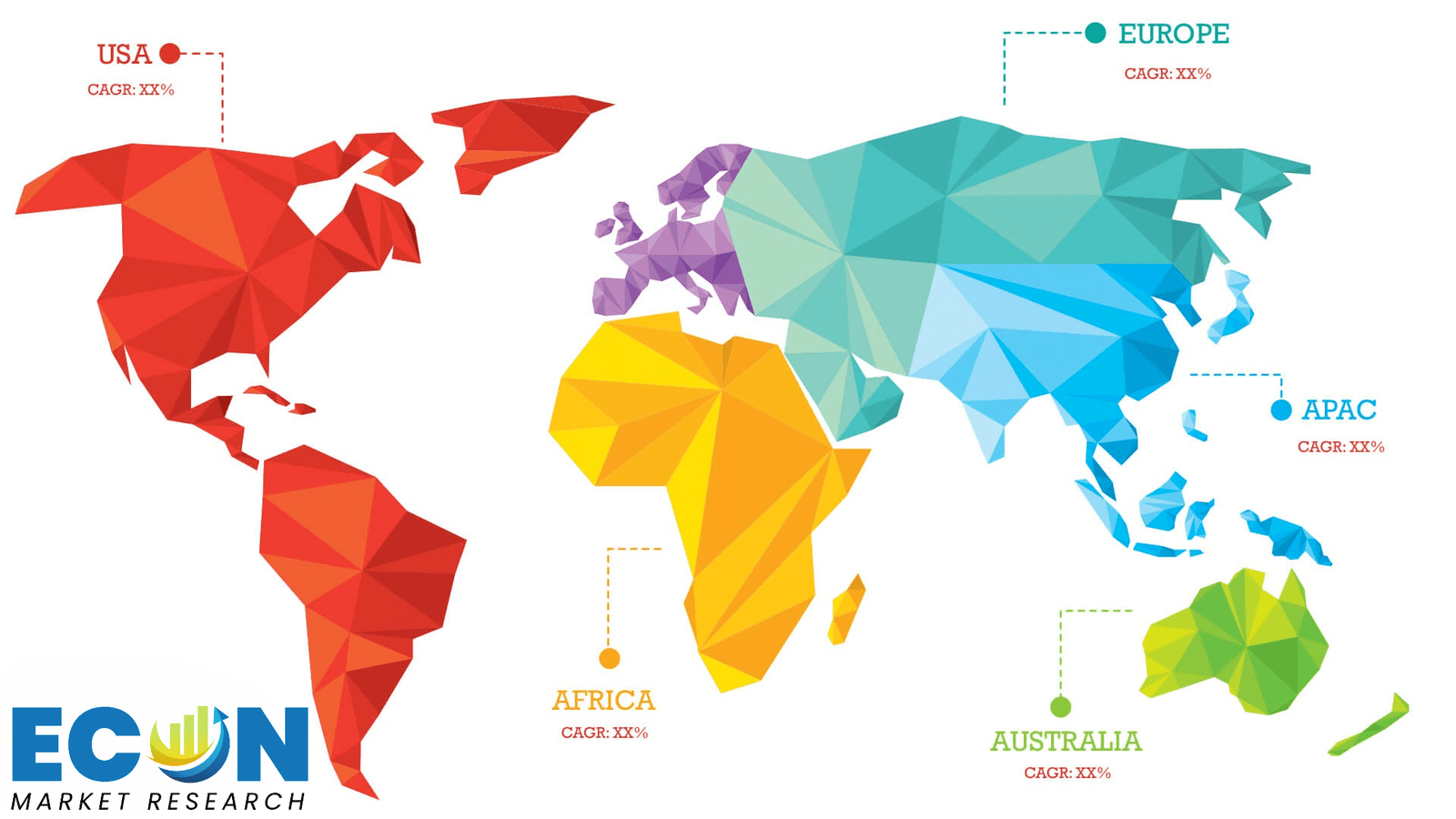 Global Agritech Market Competitive Landscape
In the global agritech market, a few major players exert significant market dominance and have established a strong regional presence. These leading companies remain committed to continuous research and development endeavors and actively engage in strategic growth initiatives, including product development, launches, joint ventures, and partnerships. By pursuing these strategies, these companies aim to strengthen their market position, expand their customer base, and capture a substantial share of the market.
Some of the prominent players in the global agritech market include ARSR Tech, AeroFarms, Apollo Agriculture, Crofarm Agriproducts Pvt Ltd, Conservis, Indigo Ag, Inc., LettUs Grow Ltd., Pivot Bio, AgBiome, Inc., Ceres Imaging, AgWorld, Hortau, Harvest Automation, Farmers Business Network , and various other key players.
Global Agritech Market Recent Developments
In March 2023, Mahindra purchases the entire stock of AgriTech M.I.T.R.A. As part of the agreement, M&M purchased Omnivore's interest in the startup MITRA, which was supported by that company. MITRA intends to scale its product line and grow its network in India and other international markets.
Scope of the Global Agritech Market Report
Agritech Market Report Segmentation
ATTRIBUTE

DETAILS

By Type

Biotechnology and Biochemical

Big Data and Analytics

Sensors and Connected Devices

Mobility

Others

By Application

Irrigation

Production and Maintenance

Supply Chain

Marketplace

Others

By Geography

North America (USA,

and Canada)

Europe (UK, Germany, France, Italy, Spain, Russia and Rest of Europe)

Asia Pacific (Japan, China, India, Australia, Southeast Asia and Rest of Asia Pacific)

Latin America (Brazil, Mexico, and Rest of Latin America)

Middle East & Africa (South Africa, GCC, and Rest of Middle East & Africa)

Customization Scope

Pricing
Objectives of the Study
The objectives of the study are summarized in 5 stages. They are as mentioned below:
Global Agritech

Market

Size and Forecast:
To identify and estimate the market size for the global agritech market segmented by type, by application,region and by value (in U.S. dollars). Also, to understand the consumption/ demand created by consumers of agritech between 2019 and 2031.
Market Landscape and Trends:
To identify and infer the drivers, restraints, opportunities, and challenges for the global agritech market
Market Influencing Factors:
To find out the factors which are affecting the sales of agritech among consumers
To identify and understand the various factors involved in the global agritech market affected by the pandemic
To provide a detailed insight into the major companies operating in the market. The profiling will include the financial health of the company's past 2-3 years with segmental and regional revenue breakup, product offering, recent developments, SWOT analysis, and key strategies.
Intended Audience
Farmers and Agricultural Professionals

Academics and Researchers

Investors and Venture Capitalists

Agricultural Businesses

Governments, Associations, and Industrial Bodies

Investors and Trade Experts
Research Methodology
Our research methodology has always been the key differentiating reason which sets us apart in comparison from the competing organizations in the industry. Our organization believes in consistency along with quality and establishing a new level with every new report we generate; our methods are acclaimed and the data/information inside the report is coveted. Our research methodology involves a combination of primary and secondary research methods. Data procurement is one of the most extensive stages in our research process. Our organization helps in assisting the clients to find the opportunities by examining the market across the globe coupled with providing economic statistics for each and every region. The reports generated and published are based on primary & secondary research. In secondary research, we gather data for global Market through white papers, case studies, blogs, reference customers, news, articles, press releases, white papers, and research studies. We also have our paid data applications which includes hoovers, Bloomberg business week, Avention, and others.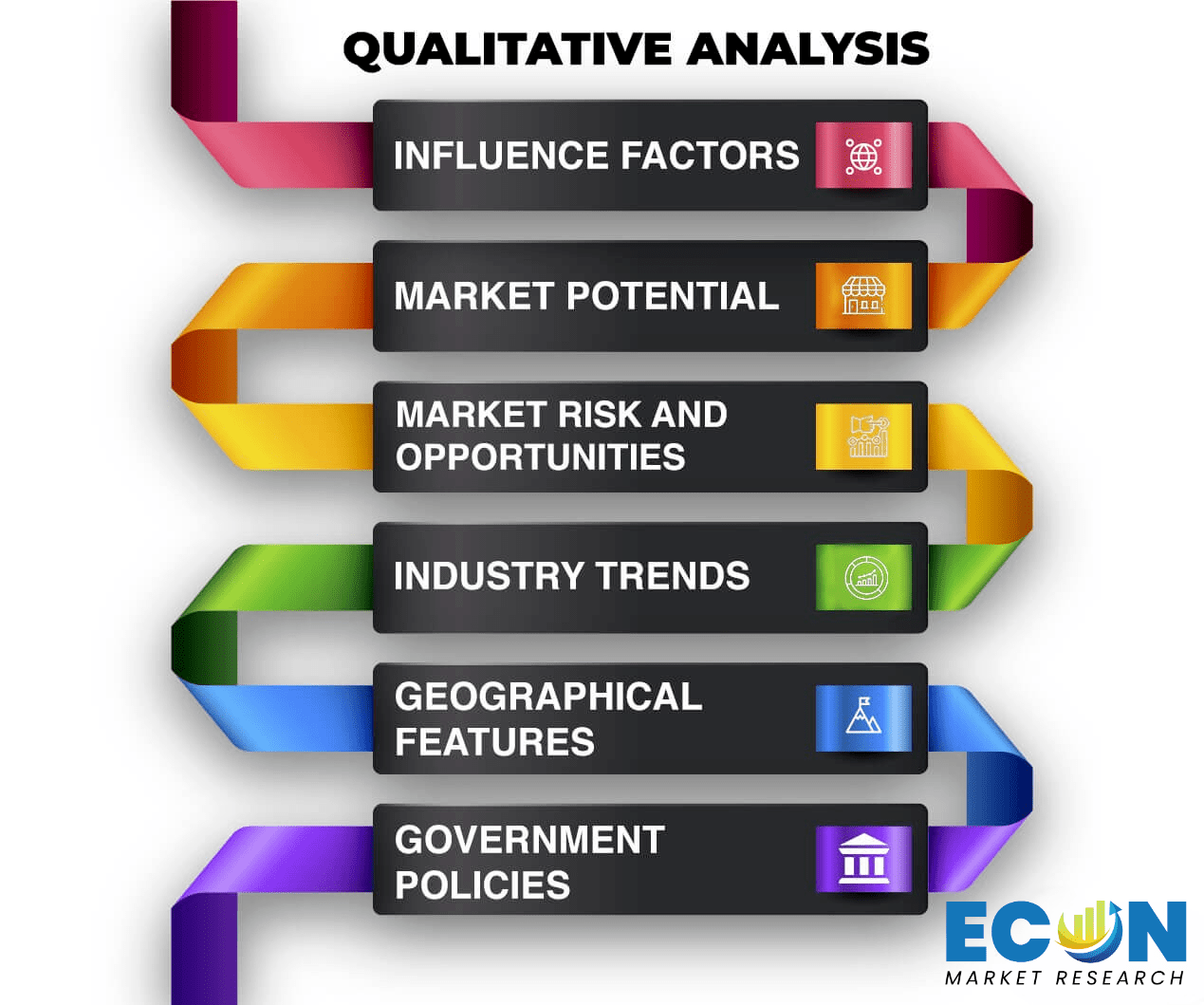 Data Collection
Data collection is the process of gathering, measuring, and analyzing accurate and relevant data from a variety of sources to analyze market and forecast trends. Raw market data is obtained on a broad front. Data is continuously extracted and filtered to ensure only validated and authenticated sources are considered. Data is mined from a varied host of sources including secondary and primary sources.

Primary Research
After the secondary research process, we initiate the primary research phase in which we interact with companies operating within the market space. We interact with related industries to understand the factors that can drive or hamper a market. Exhaustive primary interviews are conducted. Various sources from both the supply and demand sides are interviewed to obtain qualitative and quantitative information for a report which includes suppliers, product providers, domain experts, CEOs, vice presidents, marketing & sales directors, Type & innovation directors, and related key executives from various key companies to ensure a holistic and unbiased picture of the market. 
Secondary Research
A secondary research process is conducted to identify and collect information useful for the extensive, technical, market-oriented, and comprehensive study of the market. Secondary sources include published market studies, competitive information, white papers, analyst reports, government agencies, industry and trade associations, media sources, chambers of commerce, newsletters, trade publications, magazines, Bloomberg BusinessWeek, Factiva, D&B, annual reports, company house documents, investor presentations, articles, journals, blogs, and SEC filings of companies, newspapers, and so on. We have assigned weights to these parameters and quantified their market impacts using the weighted average analysis to derive the expected market growth rate.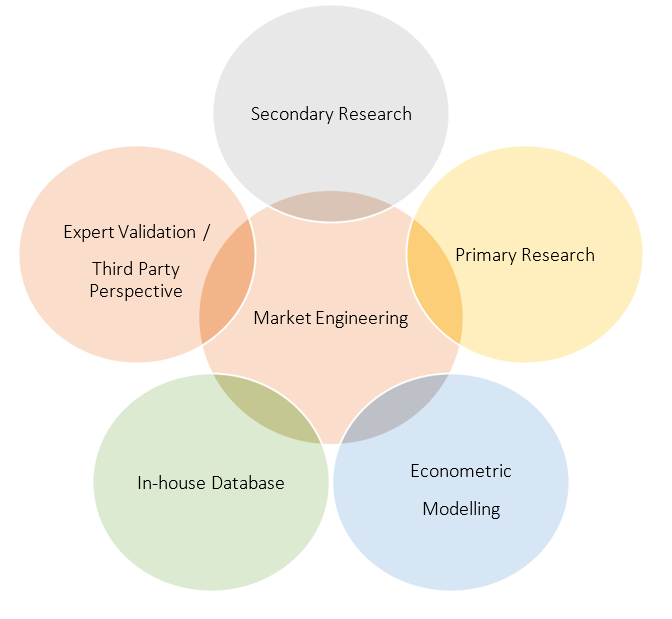 Top-Down Approach & Bottom-Up Approach
In the top – down approach, the Global Batteries for Solar Energy Storage Market was further divided into various segments on the basis of the percentage share of each segment. This approach helped in arriving at the market size of each segment globally. The segments market size was further broken down in the regional market size of each segment and sub-segments. The sub-segments were further broken down to country level market. The market size arrived using this approach was then crosschecked with the market size arrived by using bottom-up approach.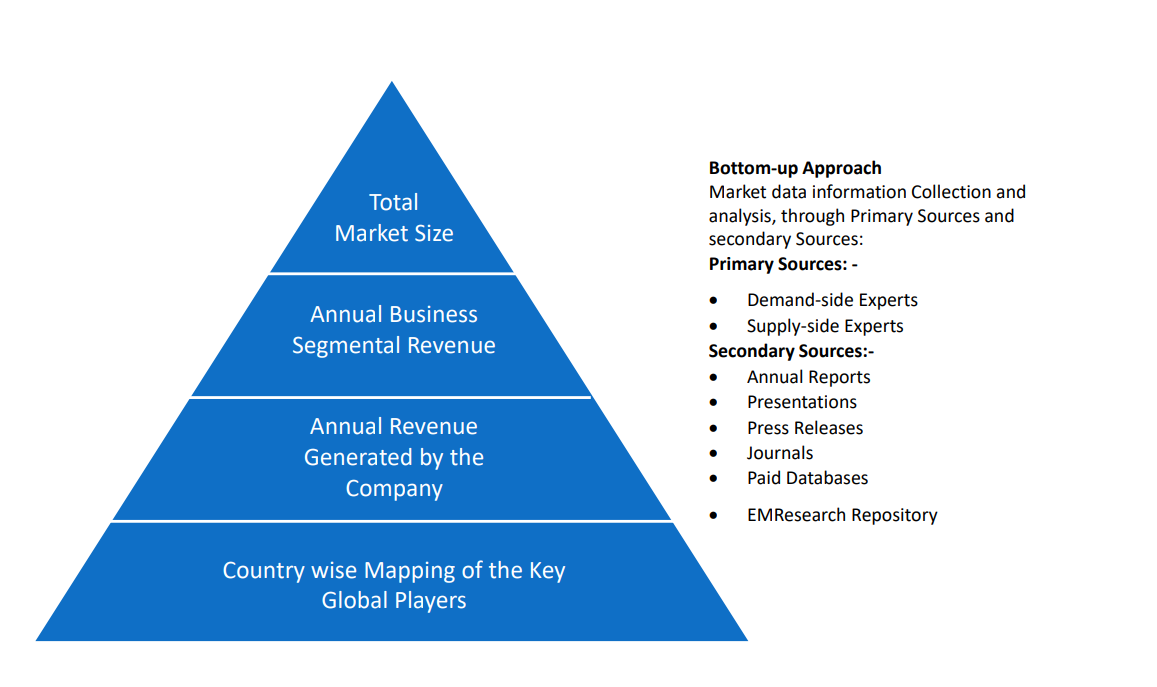 In the bottom-up approach, we arrived at the country market size by identifying the revenues and market shares of the key market players. The country market sizes then were added up to arrive at regional market size of the decorated apparel, which eventually added up to arrive at global market size.
This is one of the most reliable methods as the information is directly obtained from the key players in the market and is based on the primary interviews from the key opinion leaders associated with the firms considered in the research. Furthermore, the data obtained from the company sources and the primary respondents was validated through secondary sources including government publications and Bloomberg.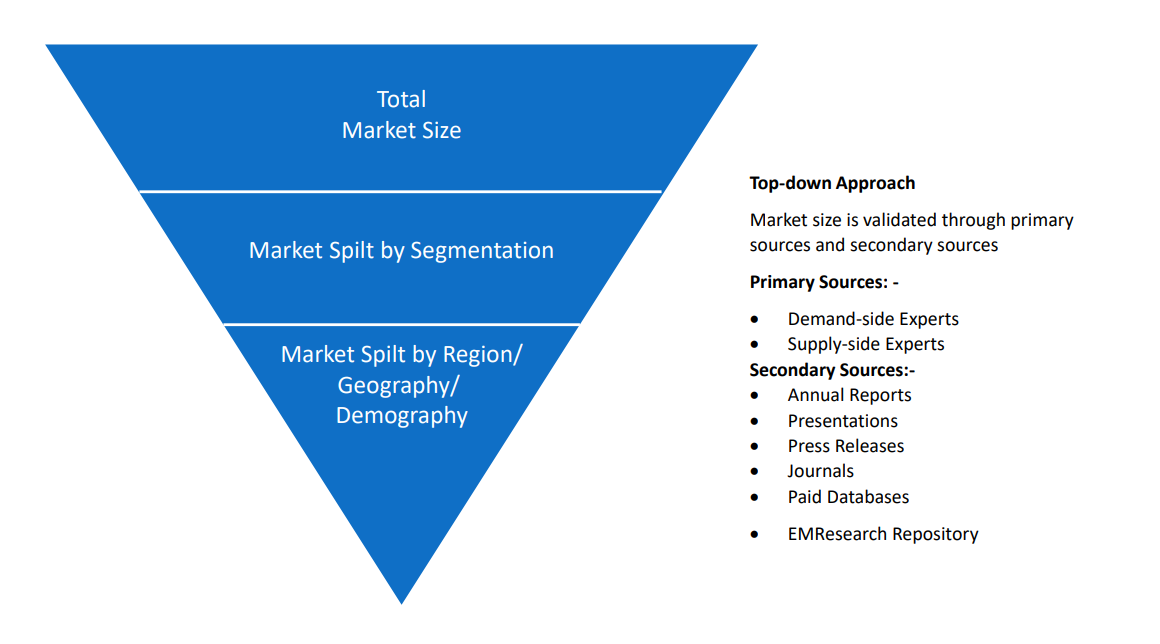 Market Analysis & size Estimation
Post the data mining stage, we gather our findings and analyze them, filtering out relevant insights. These are evaluated across research teams and industry experts. All this data is collected and evaluated by our analysts. The key players in the industry or markets are identified through extensive primary and secondary research. All percentage share splits, and breakdowns have been determined using secondary sources and verified through primary sources. The market size, in terms of value and volume, is determined through primary and secondary research processes, and forecasting models including the time series model, econometric model, judgmental forecasting model, the Delphi method, among Flywheel Energy Storage. Gathered information for market analysis, competitive landscape, growth trends, product development, and pricing trends is fed into the model and analyzed simultaneously.
Quality Checking & Final Review
The analysis done by the research team is further reviewed to check for the accuracy of the data provided to ensure the clients' requirements. This approach provides essential checks and balances which facilitate the production of quality data. This Type of revision was done in two phases for the authenticity of the data and negligible errors in the report. After quality checking, the report is reviewed to look after the presentation, Type and to recheck if all the requirements of the clients were addressed.