The Global Aeroponics Market was valued at USD 2.45 billion in 2022 and is estimated to reach approximately USD 16.94 billion by 2031, at a CAGR of 24.0% from 2023 to 2031. In an environment of mist or air, plant roots are suspended in aeroponics, a soil less method of growing plants. Spraying nutrient-rich water over the roots delivers both oxygen and vital nutrients. This highly effective method encourages quick plant development while conserving water and lowering the danger of illness. It is frequently employed in vertical farming and agriculture in controlled environments because of its capacity to maximize crop yields and optimize resource utilization. Traditional farming methods are being transformed by the market for aeroponics, an advanced and creative approach to agriculture. This technique, which includes growing plants without soil and suspending them in a nutrient-rich environment of mist or air, has garnered a lot of popularity recently. The market for aeroponics is expanding primarily due to its capacity to greatly increase agricultural yields while preserving resources. In comparison to conventional soil-based farming, aeroponics systems offer precise control over nutrient supply and climatic conditions, which accelerates plant growth and increases harvests. Faced with issues with global food security and the need to produce more food with less resources, this efficiency is especially alluring. A further advantage of aeroponics is that it uses less water because it minimizes waste and can be used in areas with limited water resources. It is a sustainable farming practise that is also more environmentally friendly because it lowers the risk of soil-borne illnesses. The demand for locally produced, fresh products, year-round crop production, and rising urbanization all contribute to the market for aeroponics' continued growth. Aeroponics is probably going to play an increasingly significant part in addressing the world's agricultural and food production concerns as technology and automation continue to improve. As a result, the potential of aeroponics is becoming more and more recognized by financiers, farmers, and governments, making it an attractive and quickly developing area of the agriculture industry.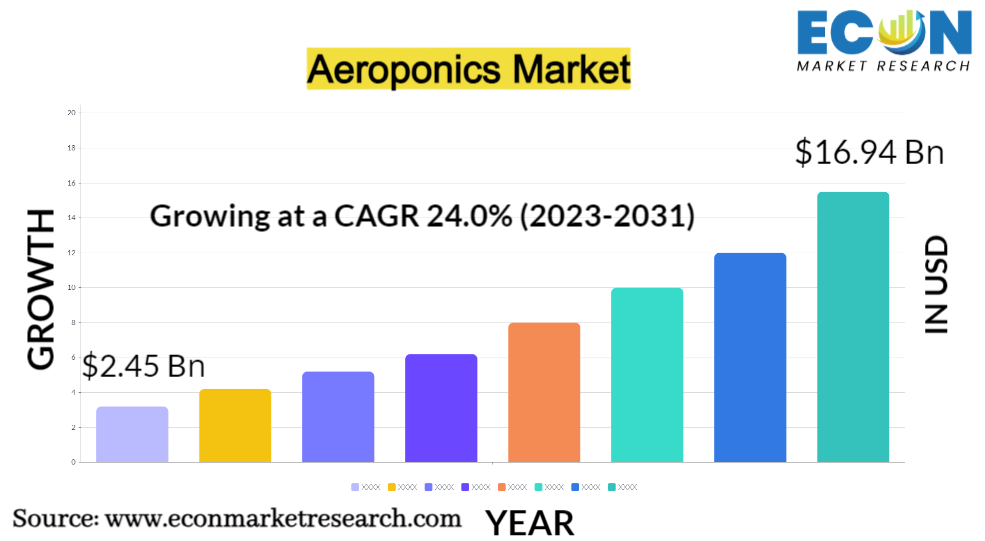 AEROPONICS MARKET: REPORT SCOPE & SEGMENTATION
| | |
| --- | --- |
| Report Attribute | Details |
| Estimated Market Value (2022) | 2.45 Bn |
| Projected Market Value (2031) | 16.94 Bn |
| Base Year | 2022 |
| Forecast Years | 2023 - 2031 |
| Scope of the Report | Historical and Forecast Trends, Industry Drivers and Constraints, Historical and Forecast Market Analysis by Segment- By Application, By Component, & Region |
| Segments Covered | By Application, By Component, & Region |
| Forecast Units | Value (USD Billion or Million), and Volume (Units) |
| Quantitative Units | Revenue in USD million/billion and CAGR from 2023 to 2031 |
| Regions Covered | North America, Europe, Asia Pacific, Latin America, and Middle East & Africa, and the Rest of World |
| Countries Covered | U.S., Canada, Mexico, U.K., Germany, France, Italy, Spain, China, India, Japan, South Korea, Brazil, Argentina, GCC Countries, and South Africa, among others |
| Report Coverage | Market growth drivers, restraints, opportunities, Porter's five forces analysis, PEST analysis, value chain analysis, regulatory landscape, market attractiveness analysis by segments and region, company market share analysis, and COVID-19 impact analysis. |
| Delivery Format | Delivered as an attached PDF and Excel through email, according to the purchase option. |
Global Aeroponics Market Dynamics
The aeroponics industry has recently undergone rapid expansion and transformation. The rising demand for effective and sustainable agriculture methods is one of the major factors driving this market. The practise of growing plants without soil and with little water is known as aeroponics, and it has grown in popularity since it can increase food yields while using less resources. This method is especially appealing in areas with limited arable land and scarce water supplies. The growth of the aeroponics industry has also been significantly influenced by technological breakthroughs. Farmers can now monitor and operate their aeroponic systems more easily thanks to automation and precise control systems, which increases output and lowers labour costs. Additionally, the combination of IoT and data analytics has made it possible to monitor and improve plant growth conditions in real-time. The demand for pesticide-free food and environmental concerns have both fueled the development of aeroponics. Aeroponics systems can eliminate the need for chemical pesticides and herbicides by creating controlled conditions, making them a desirable option for consumers who are concerned about the environment. Widespread adoption is still hampered by issues like high initial setup costs and the requirement for technical know-how. As research and development initiatives tackle these issues, the aeroponics industry is anticipated to keep developing, possibly leading to aeroponics becoming a more widely used approach to agriculture in the future.
Global Aeroponics Market Drivers
The reason for the quick uptake and expansion of this cutting-edge agricultural technique is the aeroponics' excellent crop yields. Contrary to conventional soil-based farming, aeroponics offers the perfect conditions for plant roots to efficiently and precisely receive vital nutrients, oxygen, and moisture. A nutrient-rich water solution is finely atomized and given to the root zone of the plant as it is suspended in the air or misted in an aeroponic system. Plants will receive the best nourishment possible thanks to this focused distribution, enabling them to grow more quickly and create higher yields. Growers can create the ideal circumstances for plant growth with precise control over nutrient content, pH levels, and climatic elements like temperature and humidity, minimizing resource waste and maximizing production. Aeroponics also gets rid of the constraints brought on by poor soil quality and lowers the risk of infections that can harm traditional farming harvests. Because there is no soil present, plants can be placed close together, resulting in an even higher crop yield per square foot. This strategy, which saves space, is especially useful in environments with controlled environments and urban agriculture, where there is a shortage of available land.
Aeroponic farming is becoming more and more popular, and one major reason for this is resource efficiency. Compared to conventional soil-based agriculture, aeroponics stands out as a particularly resource-efficient farming method. Water consumption is one of the most important components of resource efficiency in aeroponics. Large amounts of water are used in traditional farming, yet a large portion is lost to evaporation, runoff, or ineffective soil absorption. In contrast, aeroponics uses a closed-loop system to provide water to plant roots immediately after being atomized into a thin mist. This precise technique of delivery reduces water waste and often consumes up to 95% less water than conventional farming, making it especially appealing in areas with a shortage of freshwater. In addition, nutrient utilization is optimized in aeroponics systems.
Restraints:
When it comes to the use of aeroponics as a farming technique, the expensive initial expenditure is a considerable barrier. A large initial investment is required to set up an aeroponics system, which may put off potential growers, especially those with limited financial resources. The specialized equipment needed for aeroponics, including as misting systems, grow lights, environmental control systems, and nutrient delivery methods, is one of the major cost factors. The cost of these technologies is frequently higher than that of the conventional farming implements. Furthermore, building controlled environment facilities like greenhouses or indoor grow rooms can be very expensive. Additionally, continuous operating expenses may be high. In order to maintain the best circumstances for plant growth, aeroponics systems necessitate constant energy inputs, mostly for lighting and environmental control. Technical expertise is another aspect of the high initial investment. Successfully operating and maintaining an aeroponics system requires a certain level of knowledge and skill, which may necessitate training or hiring skilled personnel. This adds to the overall cost of adopting the technology.
Aeroponics' popularity as a farming technique is seriously hampered by operational complexity. Although aeroponics has many benefits, its complexity can provide difficulties for growers, especially those who are new to the method. The exact management of the aeroponics system is one of the main challenges. The complex balancing act that growers must do involves controlling variables including nutrient content, pH levels, temperature, humidity, and light intensity. The health and yield of the plant can be directly impacted by any departure from these ideal parameters. This makes the operation more demanding compared to traditional farming because it necessitates constant monitoring and modifications. Aeroponics systems' reliance on technology and automation can also add a layer of operational complication. Crop selection and adaptation are crucial elements in addition to system management. Aeroponic settings are not ideal for all plant species, thus producers must pick and modify their crops accordingly. This restriction can minimize the variety of crops that can be cultivated, which may limit aeroponics' adaptability.
Opportunities:
Growing Demand for Fresh, Locally Sourced Produce
The market for aeroponics is presented with a sizable and long-lasting opportunity by the rising demand for fresh, locally sourced produce. Fresh, wholesome, and sustainably cultivated food is becoming more and more popular with consumers. Aeroponics is well positioned to address this demand because of its capacity to reliably and all year long produce high-quality crops. To ensure the greatest quality produce, aeroponics systems offer exact control over environmental conditions, nutrient delivery, and insect management. The lack of soil allaies perfectly with the need for healthier, pesticide-free solutions by removing worries about soil contamination and reducing the need for pesticides. Additionally, being able to expand locally results in shorter travel times and decreased carbon emissions, solving environmental and sustainability issues. This appeals to customers looking for environmentally responsible options and promotes the farm-to-table movement. Crop selection is extremely flexible with aeroponics, enabling growers to follow regional trends and preferences. For instance, speciality crops, greens, and rare or exotic plants can be grown to satisfy niche market demands and possibly fetch premium rates.
Urban Agriculture Expansion
The market for aeroponics is facing a huge and appealing opportunity with the growth of urban agriculture. The demand for sustainable food production within cities grows more urgent as global urbanization keeps accelerating. With its ability to grow plants in small spaces under regulated conditions, aeroponics is ideally suited to handle the opportunities and problems associated with urban agriculture. Urban environments that can support aeroponics systems include roofs, vertical farms, and renovated industrial buildings. Due to their adaptability, fresh produce may now be produced nearer to urban areas, lowering the carbon footprint of long-distance food transportation. Additionally, it reduces the burden on rural land resources and deals with the problem of scarce arable land in cities. Additionally, crop production via aeroponics is possible year-round, free from the limitations imposed by seasonal weather variations. This regularity in supply meets the needs of urban customers who, throughout the year, need access to fresh, locally sourced goods. Urban agriculture encourages food security and community involvement by enabling locals to take part in or profit from local food production.
Segment Overview
By Application
Based on application, the global aeroponics market is divided into indoor farming and outdoor farming. The indoor farming category dominates the market with the largest revenue share. ndoor farming refers to the cultivation of crops and plants within controlled environments, typically in structures like greenhouses, warehouses, or vertical farms. This approach offers precise control over various environmental factors such as temperature, humidity, light, and nutrient delivery. Indoor farming mitigates the impact of adverse weather conditions and enables year-round cultivation, making it less susceptible to seasonal fluctuations. It also provides protection against pests and diseases, reducing the reliance on pesticides. Outdoor farming, on the other hand, is the traditional method of cultivating crops in open fields or natural environments. It relies on natural sunlight and weather conditions, which can be advantageous for certain types of crops that require specific outdoor conditions. Outdoor farming has the benefit of lower initial investment costs compared to building controlled indoor environments, making it accessible to a wide range of growers.
By Component
Based on the component , the global aeroponics market is categorized into irrigation component, lighting, sensor, climate control, building material, and others. The lighting category leads the global aeroponics market with the largest revenue share. Indoor and greenhouse farming often rely on artificial lighting systems to supplement natural sunlight. High-efficiency LED lighting and other technologies provide the specific light spectrums needed for plant growth. Lighting is essential for year-round production and controlling crop growth patterns. Irrigation systems are crucial for delivering water and nutrients to crops efficiently. These components encompass pipes, pumps, valves, and drip or spray systems. They help optimize water usage, ensuring that plants receive the necessary moisture and nutrients while minimizing waste. Sensors are pivotal in modern agriculture, providing real-time data on various environmental factors such as temperature, humidity, soil moisture, and nutrient levels. This data helps growers make informed decisions about crop management, allowing for precision farming and resource optimization. Climate control systems regulate temperature, humidity, and ventilation within controlled environments like greenhouses or indoor farms. They ensure that crops are grown under ideal conditions, enhancing growth rates and overall crop quality. The choice of building materials significantly impacts the design and efficiency of agricultural structures. From the construction of greenhouses to vertical farms, durable and energy-efficient building materials play a critical role in maintaining stable environments for crop cultivation.
Global Aeroponics Market Overview by Region
The global aeroponics market is categorized into North America, Europe, Asia-Pacific, and the Rest of the World. North America emerged as the leading region, capturing the largest market share in 2022.In a number of fields, including technology, innovation, and agriculture, North America has become the dominant region. It is especially noteworthy for its leadership role in the world's agricultural system. Agriculture-related technologies and methods have advanced significantly in North America. The sector has advanced thanks to the use of automation, data-driven decision-making, and precision agriculture techniques. These developments have improved the productivity and sustainability of farming operations by raising crop yields, conserving resources, and reducing resource consumption. A large variety of crops and animals can be produced throughout the year in the area because to its diverse range of landscapes and temperatures. In addition to satisfying domestic demand, this diversity supports North America's position as a significant supplier of agricultural goods on the international scene. Additionally, colleges, governmental organizations, and private businesses work together in North America's powerful research and development ecosystem to promote agricultural innovation. This collaborative setting encourages the creation of novel crop varieties, farming techniques, and environmentally friendly answers to problems like food security and climate change. Additionally, infrastructure spending and agricultural policies in North America have aided the sector's expansion. The region's leadership in agriculture is further strengthened by these policies, which support rural growth, environmental sustainability, and technological adoption. Because of its dedication to innovation, technology, and sustainability, as well as its favourable climatic conditions and supporting political environment, North America has emerged as the world's top agricultural region.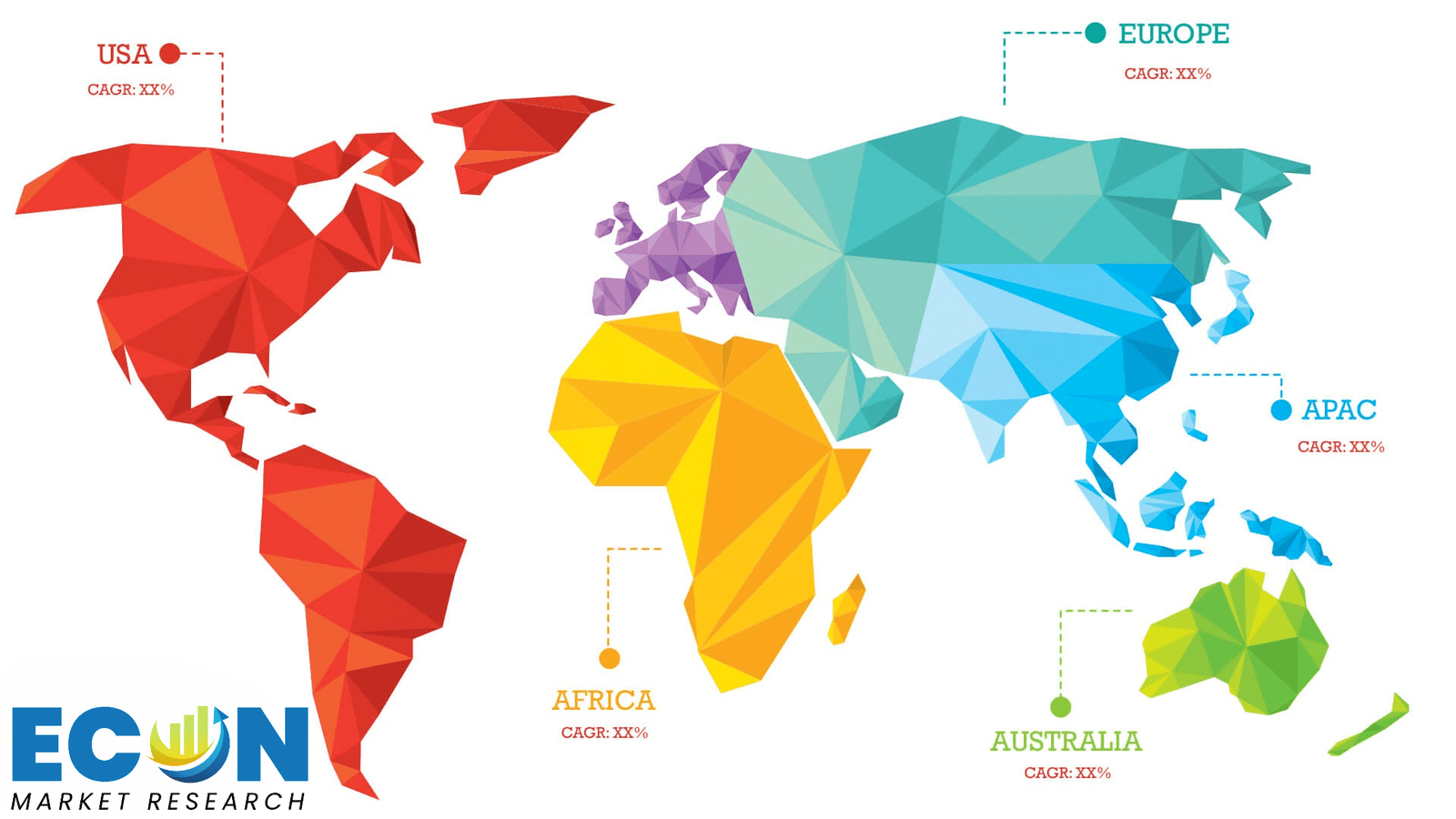 Global Aeroponics Market Competitive Landscape
In the global aeroponics market, a few major players exert significant market dominance and have established a strong regional presence. These leading companies remain committed to continuous research and development endeavors and actively engage in strategic growth initiatives, including product development, launches, joint ventures, and partnerships. By pursuing these strategies, these companies aim to strengthen their market position, expand their customer base, and capture a substantial share of the market.
Some of the prominent players in the global aeroponics market include AERO Development Corp, AeroFarms, Altius Farms, BrightFarms, CleanGreens Solutions SA, Evergreen Farm Oy, Freight Farms Inc., LettUs Grow Ltd., Living Greens Farm Inc., Ponics Technologies., and various other key players.
Global Aeroponics Market Recent Developments
In September 2023, Researchers in the UK use aeroponics to increase B12 in pea shoots. Aeroponic indoor farming has been used by a group of UK academics to find a way to biofortify pea shoots with Vitamin B12. This development might lead to better and more sustainable diets that are in accordance with the Eat Lancet Planetary Health Diet and the most recent WWF Eat4Life nutritional advice.
In January 2023, Aeroponic farming is becoming more popular in India. With the help of a cutting-edge technique called aeroponics, you may grow your own food without using a lot of space for farming.
Scope of the Global Aeroponics Market Report
Aeroponics Market Report Segmentation
ATTRIBUTE

DETAILS

By Application

Indoor Farming

Outdoor Farming

By Component

Irrigation Component

Lighting

Sensor

Climate Control

Building Material

Others

By Geography

North America (USA,

and Canada)

Europe (UK, Germany, France, Italy, Spain, Russia and Rest of Europe)

Asia Pacific (Japan, China, India, Australia, Southeast Asia and Rest of Asia Pacific)

Latin America (Brazil, Mexico, and Rest of Latin America)

Middle East & Africa (South Africa, GCC, and Rest of Middle East & Africa)

Customization Scope

Pricing
Objectives of the Study
The objectives of the study are summarized in 5 stages. They are as mentioned below:
Global Aeroponics

Market

Size and Forecast:
To identify and estimate the market size for the global aeroponics market segmented by application, by component, region and by value (in U.S. dollars). Also, to understand the consumption/ demand created by consumers of aeroponics between 2019 and 2031.
Market Landscape and Trends:
To identify and infer the drivers, restraints, opportunities, and challenges for the global aeroponics market
Market Influencing Factors:
To find out the factors which are affecting the sales of aeroponics among consumers
To identify and understand the various factors involved in the global aeroponics market affected by the pandemic
To provide a detailed insight into the major companies operating in the market. The profiling will include the financial health of the company's past 2-3 years with segmental and regional revenue breakup, product offering, recent developments, SWOT analysis, and key strategies.
Intended Audience
Industry Professionals

Academics and Researchers

Healthcare Providers

Retailers, Wholesalers, and Distributors

Governments, Associations, and Industrial Bodies

Investors and Trade Experts
Research Methodology
Our research methodology has always been the key differentiating reason which sets us apart in comparison from the competing organizations in the industry. Our organization believes in consistency along with quality and establishing a new level with every new report we generate; our methods are acclaimed and the data/information inside the report is coveted. Our research methodology involves a combination of primary and secondary research methods. Data procurement is one of the most extensive stages in our research process. Our organization helps in assisting the clients to find the opportunities by examining the market across the globe coupled with providing economic statistics for each and every region. The reports generated and published are based on primary & secondary research. In secondary research, we gather data for global Market through white papers, case studies, blogs, reference customers, news, articles, press releases, white papers, and research studies. We also have our paid data applications which includes hoovers, Bloomberg business week, Avention, and others.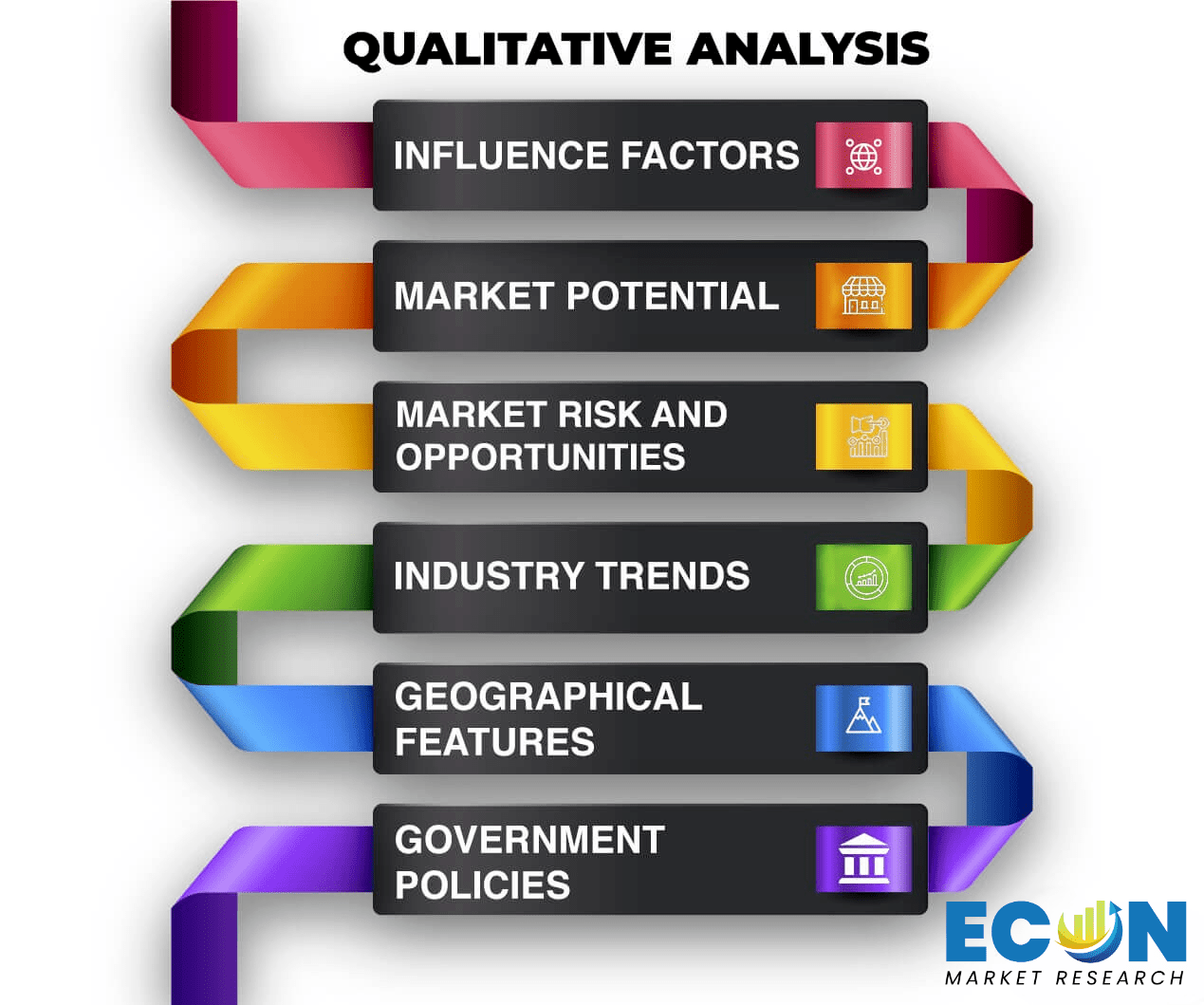 Data Collection
Data collection is the process of gathering, measuring, and analyzing accurate and relevant data from a variety of sources to analyze market and forecast trends. Raw market data is obtained on a broad front. Data is continuously extracted and filtered to ensure only validated and authenticated sources are considered. Data is mined from a varied host of sources including secondary and primary sources.

Primary Research
After the secondary research process, we initiate the primary research phase in which we interact with companies operating within the market space. We interact with related industries to understand the factors that can drive or hamper a market. Exhaustive primary interviews are conducted. Various sources from both the supply and demand sides are interviewed to obtain qualitative and quantitative information for a report which includes suppliers, product providers, domain experts, CEOs, vice presidents, marketing & sales directors, Type & innovation directors, and related key executives from various key companies to ensure a holistic and unbiased picture of the market. 
Secondary Research
A secondary research process is conducted to identify and collect information useful for the extensive, technical, market-oriented, and comprehensive study of the market. Secondary sources include published market studies, competitive information, white papers, analyst reports, government agencies, industry and trade associations, media sources, chambers of commerce, newsletters, trade publications, magazines, Bloomberg BusinessWeek, Factiva, D&B, annual reports, company house documents, investor presentations, articles, journals, blogs, and SEC filings of companies, newspapers, and so on. We have assigned weights to these parameters and quantified their market impacts using the weighted average analysis to derive the expected market growth rate.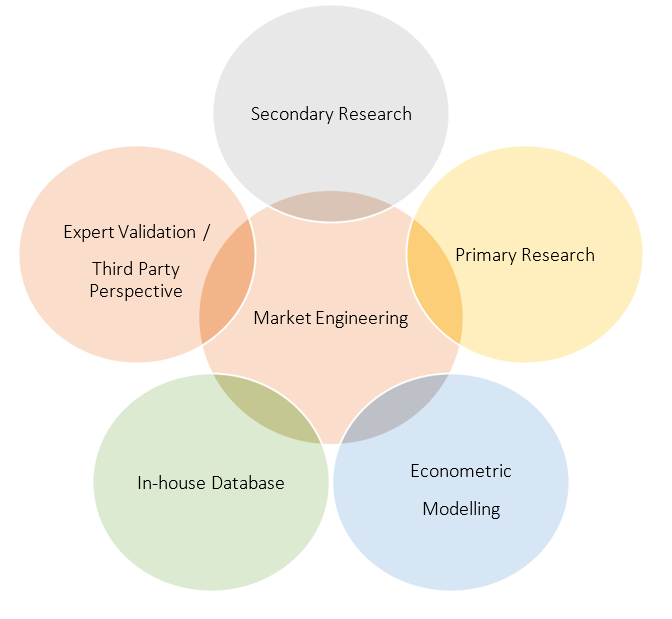 Top-Down Approach & Bottom-Up Approach
In the top – down approach, the Global Batteries for Solar Energy Storage Market was further divided into various segments on the basis of the percentage share of each segment. This approach helped in arriving at the market size of each segment globally. The segments market size was further broken down in the regional market size of each segment and sub-segments. The sub-segments were further broken down to country level market. The market size arrived using this approach was then crosschecked with the market size arrived by using bottom-up approach.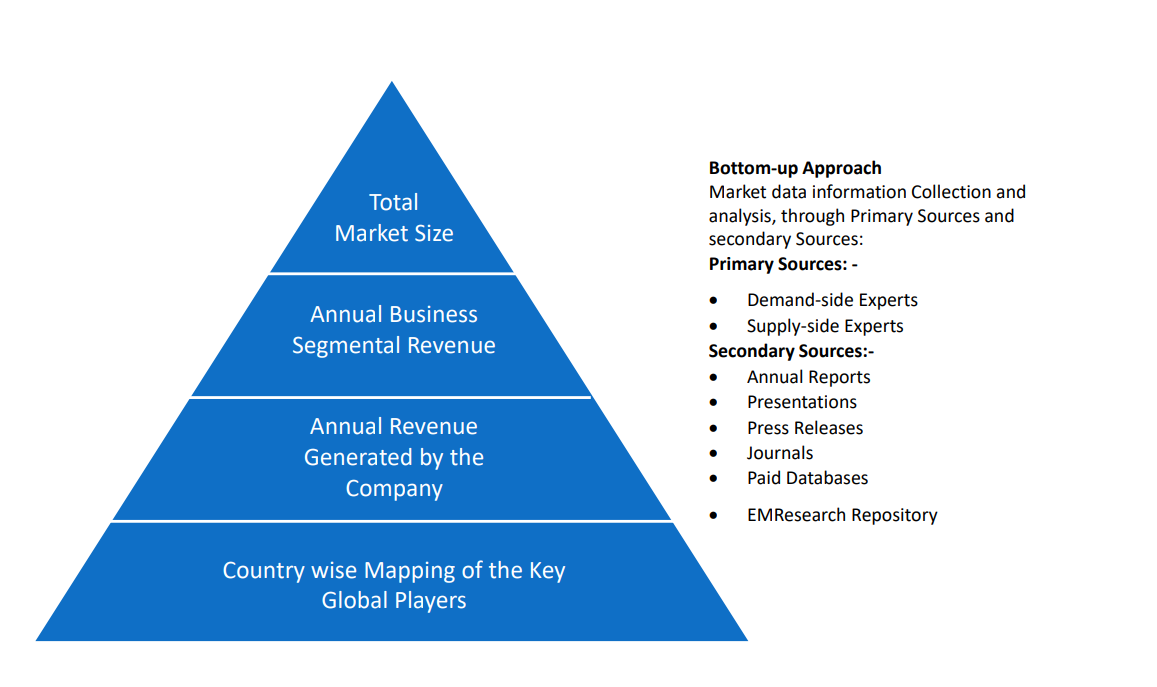 In the bottom-up approach, we arrived at the country market size by identifying the revenues and market shares of the key market players. The country market sizes then were added up to arrive at regional market size of the decorated apparel, which eventually added up to arrive at global market size.
This is one of the most reliable methods as the information is directly obtained from the key players in the market and is based on the primary interviews from the key opinion leaders associated with the firms considered in the research. Furthermore, the data obtained from the company sources and the primary respondents was validated through secondary sources including government publications and Bloomberg.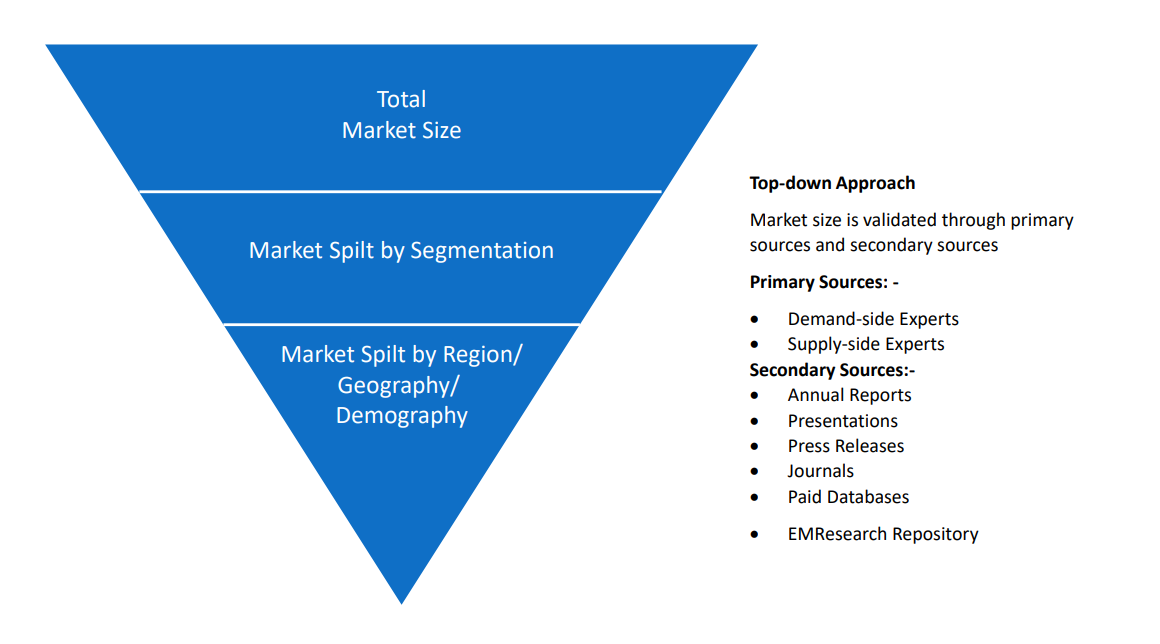 Market Analysis & size Estimation
Post the data mining stage, we gather our findings and analyze them, filtering out relevant insights. These are evaluated across research teams and industry experts. All this data is collected and evaluated by our analysts. The key players in the industry or markets are identified through extensive primary and secondary research. All percentage share splits, and breakdowns have been determined using secondary sources and verified through primary sources. The market size, in terms of value and volume, is determined through primary and secondary research processes, and forecasting models including the time series model, econometric model, judgmental forecasting model, the Delphi method, among Flywheel Energy Storage. Gathered information for market analysis, competitive landscape, growth trends, product development, and pricing trends is fed into the model and analyzed simultaneously.
Quality Checking & Final Review
The analysis done by the research team is further reviewed to check for the accuracy of the data provided to ensure the clients' requirements. This approach provides essential checks and balances which facilitate the production of quality data. This Type of revision was done in two phases for the authenticity of the data and negligible errors in the report. After quality checking, the report is reviewed to look after the presentation, Type and to recheck if all the requirements of the clients were addressed.