The global tomatoes market was valued at USD 194.52 billion in 2022 and is estimated to reach approximately USD 300.84 billion by 2031, at a CAGR of 4.9% from 2023 to 2031.
The global tomato market is an essential part of the food and agricultural industries and has a big impact on people's diets all over the world. One of the most extensively grown and consumed vegetables in the world, tomatoes are renowned for their adaptability and nutritional content. From fresh tomatoes used in salads and cooking to processed items like tomato paste, sauce, and canned tomatoes, the tomato industry includes a wide variety of goods. Numerous elements, such as climatic conditions, seasonal changes, global trade, and changing customer tastes, have an impact on the market. The production of tomatoes is a vital component of many economies, supplying farmers with a means of subsistence and opening up positions in the agricultural sector. This market is very dynamic because tomatoes are a staple in many different cuisines and have a steady demand. A growing emphasis on healthy eating and ecologically friendly practises has led to an increase in the production of organic and sustainably grown tomatoes in recent years. The tomato market is a dynamic and important sector within the food and agriculture business because of the ongoing evolution that is caused by shifting consumer tastes, agricultural practises, and global trade dynamics.
TOMATOES MARKET: REPORT SCOPE & SEGMENTATION
| | |
| --- | --- |
| Report Attribute | Details |
| Estimated Market Value (2022) | 194.52 Bn |
| Projected Market Value (2031) | 300.84 Bn |
| Base Year | 2022 |
| Forecast Years | 2023 - 2031 |
| Scope of the Report | Historical and Forecast Trends, Industry Drivers and Constraints, Historical and Forecast Market Analysis by Segment- By Type, By Product Type, By Category, By End User , & Region |
| Segments Covered | By Type, By Product Type, By Category, By End User, & Region |
| Forecast Units | Value (USD Billion or Million), and Volume (Units) |
| Quantitative Units | Revenue in USD million/billion and CAGR from 2023 to 2031 |
| Regions Covered | North America, Europe, Asia Pacific, Latin America, and Middle East & Africa, and the Rest of World |
| Countries Covered | U.S., Canada, Mexico, U.K., Germany, France, Italy, Spain, China, India, Japan, South Korea, Brazil, Argentina, GCC Countries, and South Africa, among others |
| Report Coverage | Market growth drivers, restraints, opportunities, Porter's five forces analysis, PEST analysis, value chain analysis, regulatory landscape, market attractiveness analysis by segments and region, company market share analysis, and COVID-19 impact analysis. |
| Delivery Format | Delivered as an attached PDF and Excel through email, according to the purchase option. |
Global Tomatoes Market Dynamics
A complex interaction of factors that affect production, pricing, and consumption shapes the dynamics of the worldwide tomato market. Temperature and precipitation are two major factors that have an impact on tomato yields and quality. Weather pattern variability can cause supply changes that have an impact on market prices. The impact of seasonal variations is especially significant because tomato production frequently peaks at particular times of the year, which affects prices. The tomato market is also impacted by international trade. With considerable exports and imports between nations, tomatoes are one of the most traded crops in the world. The movement of tomatoes across borders may be impacted by trade agreements, taxes, and phytosanitary restrictions, which may have an impact on prices and supply chains. The tomato market is always changing due to consumer tastes and nutritional trends. The market for organic and locally grown tomatoes has increased as a result of rising consumer demand for natural, healthful products. Because of their practicality and extended shelf life, processed tomato products like sauces and canned tomatoes have also grown in popularity. Sustainability issues also have an impact on market dynamics. In response to consumer and business demand for eco-friendly solutions, sustainable and environmentally friendly agricultural techniques, such as organic and greenhouse cultivation, are becoming increasingly common. The tomato market is influenced by a number of factors, such as climatic factors, global trade, consumer tastes, and sustainability tendencies. It is a dynamic and integrated sector within the larger agriculture and food economy as a result of these reasons.
Global Tomatoes Market Drivers
Growing consumer demand is an important force that influences market dynamics, shapes different industries, and promotes innovation. Consumer tastes and expectations are what are essentially driving this issue. Consumers are paying more attention to things like health, sustainability, convenience, and personalized experiences nowadays. They thus look for goods and services that reflect their ideals and satisfy their changing demands. The focus on health and well being is one important part of rising consumer demand. Customers are looking for products that are natural, organic, and nutritionally balanced because they are more health conscious than ever. Because they are regarded as nutrient-dense and low in calories, fresh, minimally processed foods like fruits and vegetables like tomatoes have seen an increase in demand. Consumer demand also includes sustainability as a key component.Shoppers are now concerned about the environmental impact of their choices, prompting a shift toward eco-friendly, sustainable, and locally sourced products. This has implications for the tomatoes market as consumers look for options that align with their sustainability values, such as organically grown tomatoes or products from environmentally responsible producers.
International Trade and Export Opportunities
Global economic landscapes are greatly impacted by chances for international commerce and export, which provide enormous advantages to nations and firms all over the world. Market globalization has cultivated a robust environment for cross-border trade in goods and services, bringing many benefits and opportunities. By enabling nations to specialize in the production of commodities in which they have a competitive advantage, international commerce boosts economic growth. This implies that countries with favourable climates or effective production techniques can specialize in tomato agriculture and export their excess to other locations in the context of the tomato market. This specialization promotes economic expansion, the creation of jobs, and higher agricultural output. Export opportunities enable businesses to access larger consumer bases. The global market for tomatoes is diverse, and different regions have distinct preferences and demand patterns. This enables tomato producers to tailor their products to meet the specific needs of various international markets, providing a competitive edge.
Restraints:
Pest and Disease Pressure
The pressure from pests and diseases is a significant barrier for the agricultural and horticulture industries, which includes the worldwide tomato market. This issue is brought on by the existence of numerous pests and diseases that can negatively affect tomato crops, resulting in decreased yields, elevated production costs, and potential financial losses. Pests can harm tomato plants by feeding on the leaves, stems, and fruits, which ultimately lowers the yield. Examples of these pests include aphids, whiteflies, and different beetles. Additionally, these pests can spread dangerous illnesses, causing even more harm to crops. The cultivation of tomatoes is seriously threatened by diseases, particularly those brought on by pathogens like fungi, bacteria, and viruses. Early blight, late blight, and different bacterial wilt infections are common ailments. These pathogens can lead to significant crop losses and necessitate expensive disease management strategies, including the use of pesticides and fungicides, which can have environmental and health implications.
Climate Change and Weather-Related Risks
The global market for tomatoes as well as all of agriculture are significantly constrained by climate change and the weather-related dangers it brings. There are a number of difficulties that have an array of effects on tomato production as a result of the increasingly unpredictable and extreme weather patterns. The rising frequency of extreme weather occurrences, such as droughts, floods, heat waves, and storms, is one of the main constraints. These occurrences have the potential to harm tomato crops, mess up planting and harvesting plans, and significantly reduce yields. Heat stress, which affects fruit development and quality in tomato plants, can result from prolonged periods of high heat. Additionally, the life cycles and geographic distribution of diseases and pests are both impacted by climate change.
Opportunities:
Rising Demand for Healthy and Natural Foods
The global tomato industry has a sizable opportunity due to the increased demand for natural and healthy foods. Foods that are seen as nutrient-dense, fresh, and minimally processed are becoming more and more popular among consumers as their focus on health and well being increases. Because of their high nutritious value, tomatoes are in a good position to profit from this trend. The promotion of fresh, organic, and sustainably cultivated tomatoes is a significant opportunity. Growing interest in tomatoes free of synthetic pesticides and chemicals among consumers looking for healthier options makes organic tomato cultivation a lucrative market. For health-conscious consumers, organic tomatoes are frequently associated with higher vitamin content and superior flavour. Additionally, there is opportunity for innovation and diversity in tomato-based goods. Processed tomato items, such as sauces, salsas, and dried tomatoes, can be produced with minimal additives and preservatives, aligning with the demand for natural and wholesome foods. These products offer convenience while maintaining the health and taste attributes of tomatoes.
Processed Tomato Products
Within the global tomato sector, the market for processed tomato products offers a tempting opportunity. Processed tomato products, such as sauces, pastes, purees, canned tomatoes, and dried tomatoes, have many benefits and are becoming more and more well-liked. The added value and longer shelf life that these products provide represent a considerable opportunity. Tomatoes are made more convenient and long-lasting through processing. Since canned tomatoes and tomato sauces can be kept for long periods of time without significantly losing quality, less food is wasted and consumers can enjoy tomatoes all year round. Additionally, processed tomato products can adapt to consumers' shifting dietary preferences. Furthermore, the demand for convenient meal solutions is on the rise, and processed tomato products play a crucial role in this trend. Ready-made pasta sauces, pizza sauces, and other cooking bases simplify meal preparation, saving consumers time and effort.
Segment Overview
By Type
Based on type, the global tomatoes market is divided into cherry tomatoes, grape tomatoes, roma tomatoes, beefsteak tomatoes, heirloom tomatoes, tomatoes on the vine, green tomatoes, and others. Cherry tomatoes and grape tomatoes are renowned for their bite-sized, sweet, and often tangy profiles, making them popular choices for snacking, salads, and garnishes. Roma tomatoes, with their firm texture and low moisture content, are sought after for making sauces and pastes due to their rich flavor. The beefsteak tomato variety is prized for its large, meaty flesh, perfect for sandwich slices and burger toppings. Heirloom tomatoes, on the other hand, encompass a wide array of unique, often heritage varieties, celebrated for their diverse colors, shapes, and flavors, which add a touch of nostalgia and individuality to dishes. Tomatoes on the vine are sold still attached to the vine, preserving their freshness and visual appeal, while green tomatoes, harvested before they ripen, are used in a variety of dishes such as fried green tomatoes. The "others" category includes various regional and specialty varieties that cater to specific tastes and culinary traditions, showcasing the global diversity of tomato offerings.
By Product Type
Based on the product type, the global tomatoes market is categorized into fresh, frozen, and dried. The fresh category leads the global tomatoes market with the largest revenue share in 2022. Fresh tomatoes are a staple in the market and are available in a variety of shapes, sizes, and colors, catering to diverse culinary preferences. They are often used in salads, sandwiches, salsas, and as a key ingredient in many cooked dishes. Fresh tomatoes are appreciated for their vibrant taste and texture. Frozen tomatoes are processed and then frozen to preserve their freshness. They are particularly convenient for out-of-season or off-peak periods when fresh tomatoes can not be readily available. They are commonly used in soups, stews, and sauces, as they maintain the essential tomato flavor and nutrients. Dried tomatoes are dehydrated to reduce their moisture content and extend their shelf life. These tomatoes are often packed with intense flavor and are used as toppings for pizzas, in salads, or as an ingredient in various Mediterranean dishes. Dried tomatoes are cherished for their concentrated taste and versatility in cooking.
By Category
Based on category, the global tomatoes market is segmented into conventional and organic. The organic segment dominates the tomatoes market. Organic tomatoes are grown using natural and environmentally friendly practices, without the use of synthetic chemicals or genetically modified organisms (GMOs). Organic farming relies on biological pest control, crop rotation, and the use of organic fertilizers. Organic tomatoes are considered healthier by many consumers, as they contain no synthetic pesticide residues. They are also appreciated for their environmentally sustainable and ethical cultivation methods. Conventional tomatoes are grown using traditional agricultural methods, which may include the use of synthetic pesticides, herbicides, and chemical fertilizers. While these practices are aimed at maximizing yields and preventing crop losses due to pests and diseases, conventional tomatoes may contain residues of these chemicals. They are typically more widely available and often less expensive than organic counterparts.
By End User
Based on the end user, the global tomatoes market is categorized into food service industry and household/retail industry. The food service industry category leads the global tomatoes market with the largest revenue share in 2022. The food service industry includes restaurants, cafeterias, fast-food chains, catering services, and other establishments that serve prepared meals to customers. In this segment, tomatoes are often used in large quantities to prepare various dishes, such as salads, sandwiches, sauces, and pizzas. Food service providers typically require tomatoes in different forms, including fresh, canned, and processed tomato products, depending on their menu offerings and operational needs.The household/retail industry caters to individual consumers and includes supermarkets, grocery stores, local markets, and online retailers. This segment provides fresh, frozen, canned, and other tomato products for consumers to purchase and use at home. Household consumers use tomatoes for home cooking, salads, and various recipes, and they typically prefer fresh tomatoes but also purchase processed products like tomato sauces, pastes, and canned tomatoes for convenience and extended shelf life.
Global Tomatoes Market Overview by Region
The global tomatoes market is categorized into North America, Europe, Asia-Pacific, and the Rest of the World. Asia-Pacific emerged as the leading region, capturing the largest market share in 2022. For a number of compelling reasons, Asia-Pacific has emerged as the top region in the worldwide tomato industry. A number of elements that together have improved this region's standing in tomato production, consumption, and trade are what give it its significance. To start with, the Asia-Pacific region has a variety of climates, from tropical to temperate, allowing for year-round tomato cultivation in several nations. To fulfil the rising demand of both domestic and foreign markets, this climatic variability enables a constant supply of fresh tomatoes. The region's position as the leader has also been greatly influenced by population expansion and shifting food choices. Tomatoes have become a food staple due to their adaptability and nutritional content as customers in the area adopt Western dietary practices and healthier eating. Production and trade have increased as a result of the boom in demand for fresh, processed, and value-added tomato products. Additionally, Asia-Pacific agricultural practices and technologies have seen major advancements, leading to higher yields and better quality. Countries in the region have improved their post-harvest management and efficiency by investing in new farming methods, greenhouses, and other infrastructure. The region has established itself as a significant player in the world tomato industry thanks to its advantageous geographic location and trade relations. Asian nations, especially China and India, have increased their exports of tomatoes and tomato-related products, serving both domestic and foreign markets.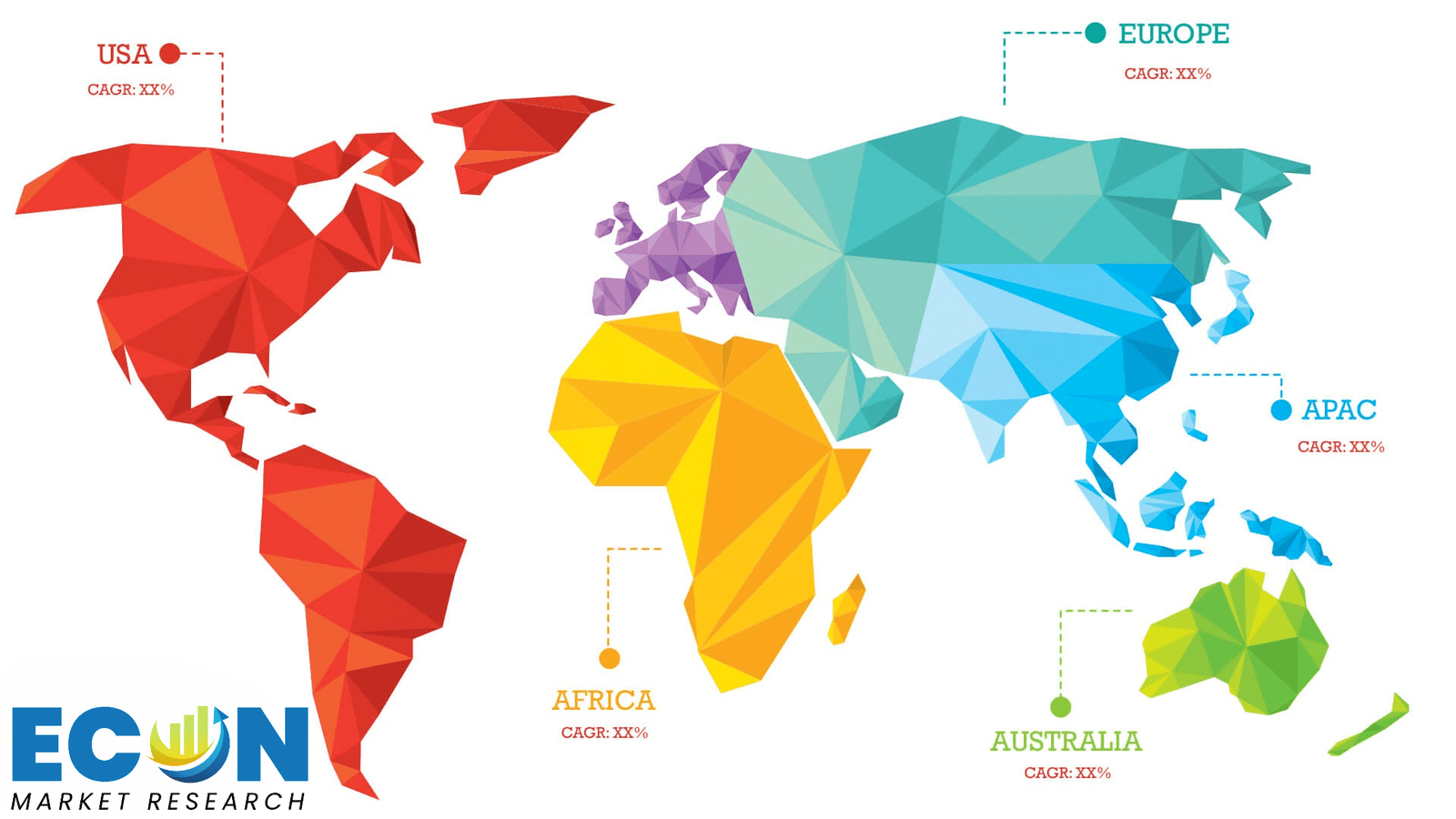 Global Tomatoes Market Competitive Landscape
In the global tomatoes market, a few major players exert significant market dominance and have established a strong regional presence. These leading companies remain committed to continuous research and development endeavors and actively engage in strategic growth initiatives, including product development, launches, joint ventures, and partnerships. By pursuing these strategies, these companies aim to strengthen their market position, expand their customer base, and capture a substantial share of the market.
Some of the prominent players in the global tomatoes market include Houwelings, Ontario Processing Vegetable Growers, CASALASCO - SOCIETÀ AGRICOLA S.p.A., Tomato Growers Supply Company, Magic Sun, Sahyadri Farms Post Harvest Care Ltd., PACIFIC RIM PRODUCE, Duijvestijn Tomaten, Mucci Int'l Mrktg Inc., R&L Holt Ltd., West Coast Tomato, LLC, Royalpride, Nature Fresh Farms, and various other key players.
Global Tomatoes Market Recent Developments
In June 2023, the price of tomatoes is skyrocketing and is not expected to decrease anytime soon. The rapid collapse in tomato prices in April and May, which prompted many growers to give up on their harvests, can be linked to the present high prices of tomatoes. In addition to the extreme temperatures in March and April, bug assaults had a negative impact on yield.
Scope of the Global Tomatoes Market Report
Tomatoes Market Report Segmentation
ATTRIBUTE

DETAILS

By Type

Cherry Tomatoes

Grape Tomatoes

Roma Tomatoes

Beefsteak Tomatoes

Heirloom Tomatoes

Tomatoes On The Vine

Green Tomatoes

Others

By Product Type

By Category

By End User

Food Service Industry

Household/Retail Industry

By Geography

North America (USA,

and Canada)

Europe (UK, Germany, France, Italy, Spain, Russia and Rest of Europe)

Asia Pacific (Japan, China, India, Australia, Southeast Asia and Rest of Asia Pacific)

Latin America (Brazil, Mexico, and Rest of Latin America)

Middle East & Africa (South Africa, GCC, and Rest of Middle East & Africa)

Customization Scope

Pricing
Objectives of the Study
The objectives of the study are summarized in 5 stages. They are as mentioned below:
Global Tomatoes Market

Size and Forecast:
To identify and estimate the market size for the global tomatoes market segmented by type, by product type, by category, by end user, region and by value (in U.S. dollars). Also, to understand the consumption/ demand created by consumers of tomatoes between 2019 and 2031.
Market Landscape and Trends:
To identify and infer the drivers, restraints, opportunities, and challenges for the global tomatoes market
Market Influencing Factors:
To find out the factors which are affecting the sales of tomatoes among consumers
To identify and understand the various factors involved in the global tomatoes market affected by the pandemic
To provide a detailed insight into the major companies operating in the market. The profiling will include the financial health of the company's past 2-3 years with segmental and regional revenue breakup, product offering, recent developments, SWOT analysis, and key strategies.
Intended Audience
Business Professionals

Medical Professionals

Retailers, Wholesalers, and Distributors

Governments, Associations, and Industrial Bodies

Investors and Trade Experts
Research Methodology
Our research methodology has always been the key differentiating reason which sets us apart in comparison from the competing organizations in the industry. Our organization believes in consistency along with quality and establishing a new level with every new report we generate; our methods are acclaimed and the data/information inside the report is coveted. Our research methodology involves a combination of primary and secondary research methods. Data procurement is one of the most extensive stages in our research process. Our organization helps in assisting the clients to find the opportunities by examining the market across the globe coupled with providing economic statistics for each and every region. The reports generated and published are based on primary & secondary research. In secondary research, we gather data for global Market through white papers, case studies, blogs, reference customers, news, articles, press releases, white papers, and research studies. We also have our paid data applications which includes hoovers, Bloomberg business week, Avention, and others.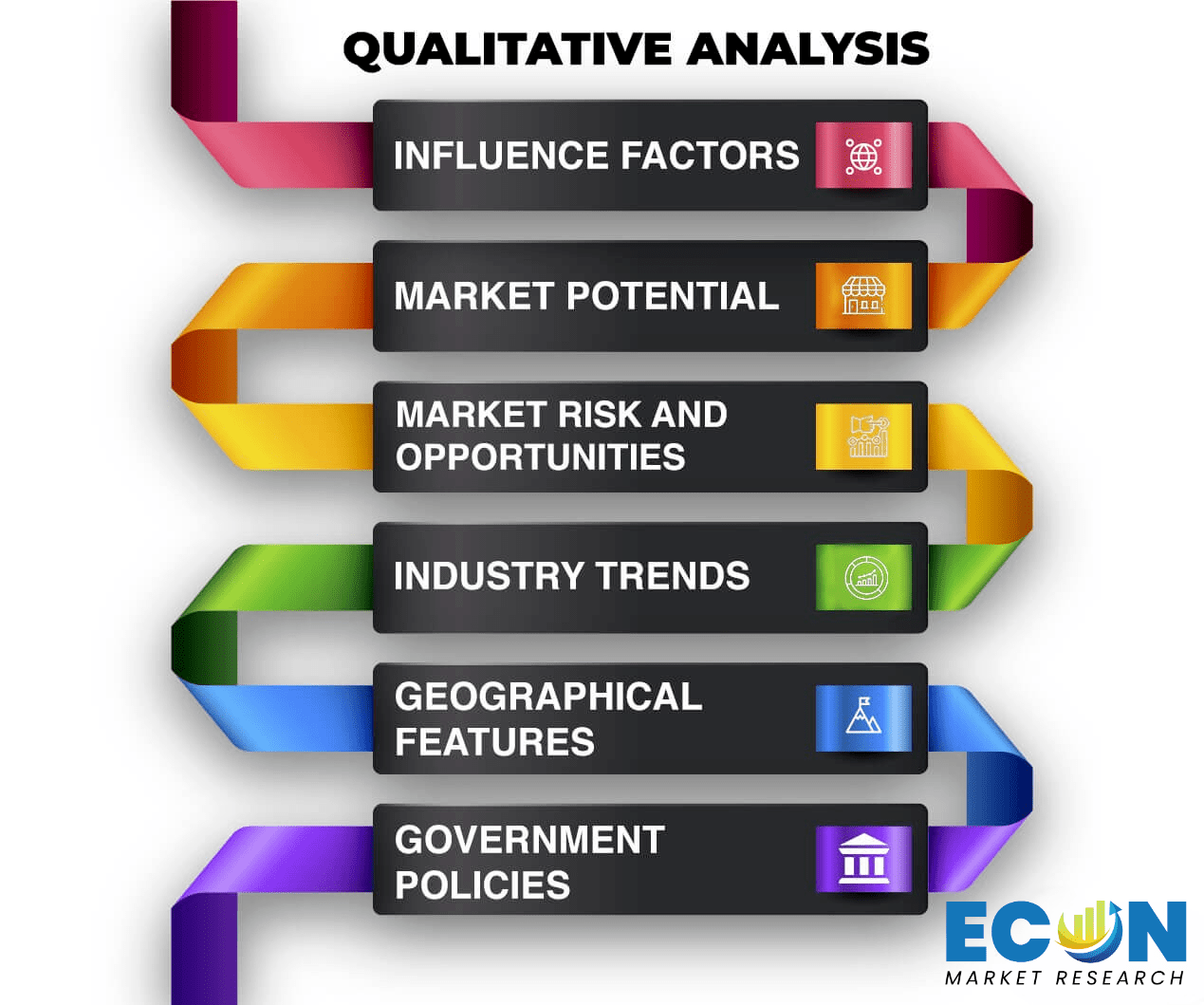 Data Collection
Data collection is the process of gathering, measuring, and analyzing accurate and relevant data from a variety of sources to analyze market and forecast trends. Raw market data is obtained on a broad front. Data is continuously extracted and filtered to ensure only validated and authenticated sources are considered. Data is mined from a varied host of sources including secondary and primary sources.

Primary Research
After the secondary research process, we initiate the primary research phase in which we interact with companies operating within the market space. We interact with related industries to understand the factors that can drive or hamper a market. Exhaustive primary interviews are conducted. Various sources from both the supply and demand sides are interviewed to obtain qualitative and quantitative information for a report which includes suppliers, product providers, domain experts, CEOs, vice presidents, marketing & sales directors, Type & innovation directors, and related key executives from various key companies to ensure a holistic and unbiased picture of the market. 
Secondary Research
A secondary research process is conducted to identify and collect information useful for the extensive, technical, market-oriented, and comprehensive study of the market. Secondary sources include published market studies, competitive information, white papers, analyst reports, government agencies, industry and trade associations, media sources, chambers of commerce, newsletters, trade publications, magazines, Bloomberg BusinessWeek, Factiva, D&B, annual reports, company house documents, investor presentations, articles, journals, blogs, and SEC filings of companies, newspapers, and so on. We have assigned weights to these parameters and quantified their market impacts using the weighted average analysis to derive the expected market growth rate.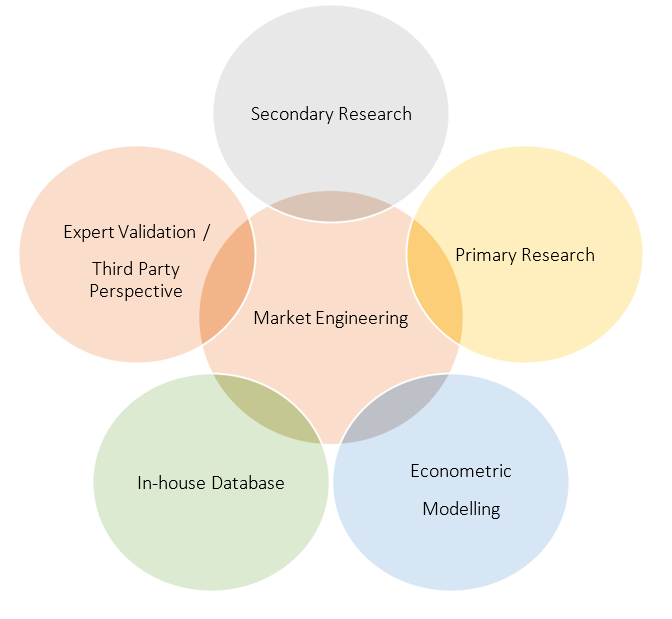 Top-Down Approach & Bottom-Up Approach
In the top – down approach, the Global Batteries for Solar Energy Storage Market was further divided into various segments on the basis of the percentage share of each segment. This approach helped in arriving at the market size of each segment globally. The segments market size was further broken down in the regional market size of each segment and sub-segments. The sub-segments were further broken down to country level market. The market size arrived using this approach was then crosschecked with the market size arrived by using bottom-up approach.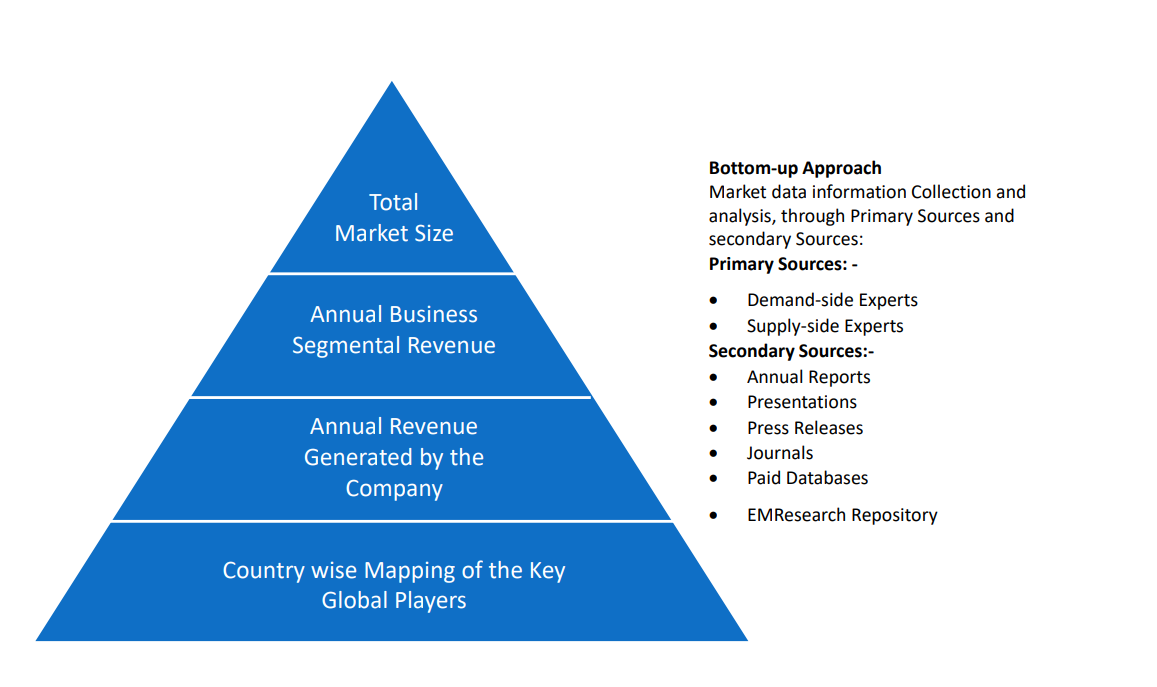 In the bottom-up approach, we arrived at the country market size by identifying the revenues and market shares of the key market players. The country market sizes then were added up to arrive at regional market size of the decorated apparel, which eventually added up to arrive at global market size.
This is one of the most reliable methods as the information is directly obtained from the key players in the market and is based on the primary interviews from the key opinion leaders associated with the firms considered in the research. Furthermore, the data obtained from the company sources and the primary respondents was validated through secondary sources including government publications and Bloomberg.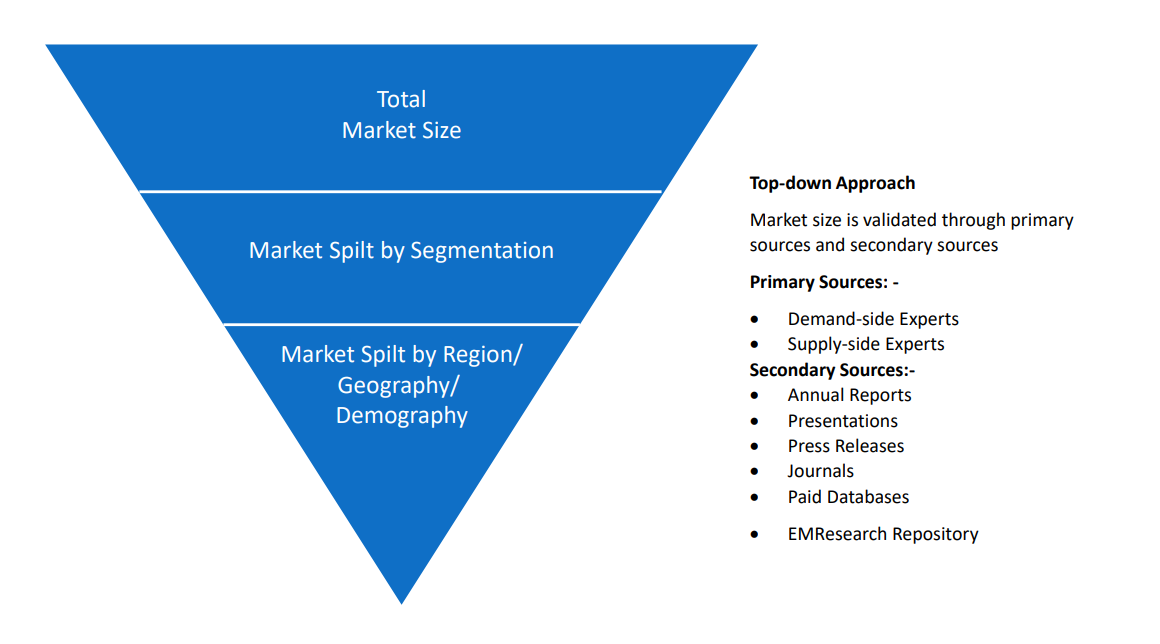 Market Analysis & size Estimation
Post the data mining stage, we gather our findings and analyze them, filtering out relevant insights. These are evaluated across research teams and industry experts. All this data is collected and evaluated by our analysts. The key players in the industry or markets are identified through extensive primary and secondary research. All percentage share splits, and breakdowns have been determined using secondary sources and verified through primary sources. The market size, in terms of value and volume, is determined through primary and secondary research processes, and forecasting models including the time series model, econometric model, judgmental forecasting model, the Delphi method, among Flywheel Energy Storage. Gathered information for market analysis, competitive landscape, growth trends, product development, and pricing trends is fed into the model and analyzed simultaneously.
Quality Checking & Final Review
The analysis done by the research team is further reviewed to check for the accuracy of the data provided to ensure the clients' requirements. This approach provides essential checks and balances which facilitate the production of quality data. This Type of revision was done in two phases for the authenticity of the data and negligible errors in the report. After quality checking, the report is reviewed to look after the presentation, Type and to recheck if all the requirements of the clients were addressed.