Global Sustainable Aviation Fuel Market is predicted to reach approximately USD 19,950.26 Million in 2031, at a CAGR of 57.74% from 2023 to 2031. The global sustainable aviation fuel market is the market where the bio-fuel is used to power airplanes that has qualities similar to regular jet fuel but a lower carbon footprint. SAF, depending on the feedstock and methods utilized to manufacture it, has the potential to significantly lower life cycle GHG emissions when compared to traditional jet fuel. Some new SAF approaches even have a GHG footprint that is negative. Because of its lower carbon intensity, SAFs are an essential solution for decreasing aviation GHGs, which account for 9%-12% of US transportation GHG emissions, according to the US Environmental Protection Agency. The market is driven by growing demand to reduce CO2 emissions and the need increase in the use of synthetic lubricants.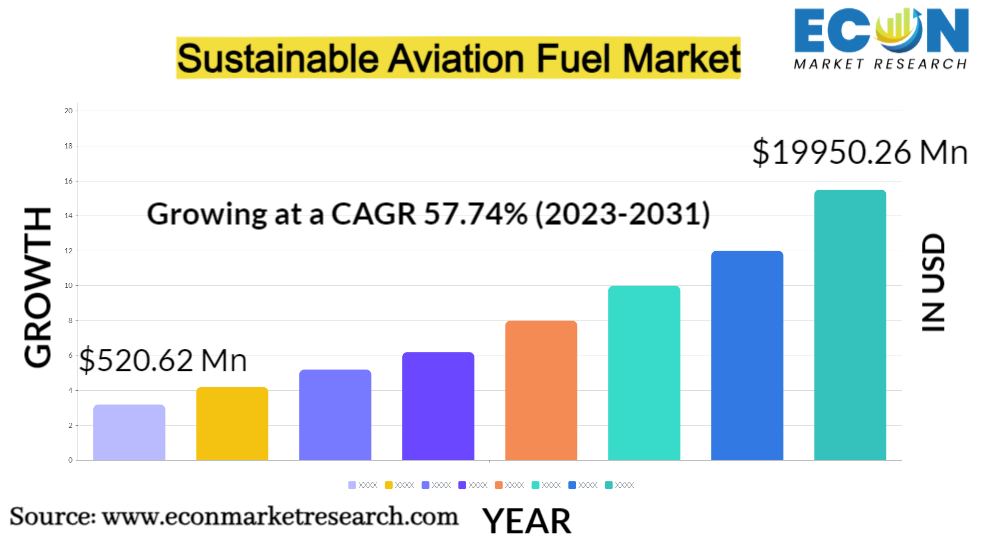 Global Sustainable Aviation Fuel Report SCOPE & SEGMENTATION
| | |
| --- | --- |
| Report Attribute | Details |
| Estimated Market Value (2022) | USD 520.62 Million |
| Projected Market Value (2031) | USD 19,950.26 Million |
| Base Year | 2022 |
| Forecast Years | 2023 – 2031 |
| Scope of the Report | Historical and Forecast Trends, Industry Drivers and Constraints, Historical and Forecast Market Analysis by Segment- Based on By Fuel Type, By Platform, By Aircraft Type, By Bio-fuel Manufacturing Technology & By Region. |
| Segments Covered | By Fuel Type, By Platform, By Aircraft Type, By Bio-fuel Manufacturing Technology & By Region. |
| Forecast Units | Value (USD Billion or Million), and Volume (Units) |
| Quantitative Units | Revenue in USD million/billion and CAGR from 2023 to 2031. |
| Regions Covered | North America, Europe, Asia Pacific, Latin America, and Middle East & Africa. |
| Countries Covered | U.S., Canada, Mexico, U.K., Germany, France, Italy, Spain, China, India, Japan, South Korea, Brazil, Argentina, GCC Countries, and South Africa, among others. |
| Report Coverage | Market growth drivers, restraints, opportunities, Porter's five forces analysis, PEST analysis, value chain analysis, regulatory landscape, market attractiveness analysis by segments and region, company market share analysis. |
| Delivery Format | Delivered as an attached PDF and Excel through email, according to the purchase option. |
Global Sustainable Aviation Fuel Dynamics
The market dynamics of sustainable aviation fuel are influenced by several factors. The aviation industry's demand to reduce CO2 emissions is growing and increase in the use of synthetic lubricants. However, inadequate feedstock and refinery availability to satisfy SAF production demand and crude oil price fluctuations act as restraints. Opportunities arise from the rising Development of environmentally friendly and safe aircraft lubricants and rising demand for SAF by airlines worldwide. The nature of competition is intense, with various companies striving to gain a competitive edge through innovation and customer-centric offerings. As the market evolves and consumer demand continues to rise, the dynamics of the sustainable aviation fuel market are expected to remain dynamic and highly competitive.
Global Sustainable Aviation Fuel Drivers
The aviation industry's demand to reduce CO2 emissions is growing.
The global sustainable aviation fuel market is being driven by the increasing demand to reduce CO2 emissions. SAF derived from renewable biomass and waste resources has the potential to deliver the performance of petroleum-based jet fuel while emitting a fraction of the carbon footprint, providing airlines with a firm foundation for decoupling GHG emissions from flight. Growing, sourcing, and manufacturing SAF from renewable and waste resources has the potential to offer new economic opportunities in farming areas, enhance the environment, and potentially increase aircraft performance.
Increase in the use of synthetic lubricants.
The global sustainable aviation fuel market is being fuelled by the increasing use of synthetic lubricants. Traditional mineral-based oils can be outperformed by synthetic lubricants. Because of their reduced volatility and greater thermal stability, they frequently have a longer service life, which benefits the environment. There is little doubt that as we become increasingly worried about the environment, the usage of synthetics will expand. New engine oils with distinct properties will be required, necessitating the development of fresh solutions.
Inadequate feedstock and refinery availability to satisfy SAF production demand.
The global sustainable aviation fuel market faces a restraint in the form of inadequate feedstock and refinery. Feedstock is the raw ingredient needed to make SAF. A number of feedstock's, such as spent cooking oil, agricultural wastes, and municipal solid waste, can be employed. However, the supply of these feedstock's is limited, and competition from other businesses, such as the bio-fuels industry, is expanding. The facilities that turn feedstock into SAF are known as refineries. There are just a few refineries capable of generating SAF, and many of them are already at full capacity. This means that refinery capacity is insufficient to fulfill the increased demand for SAF. Governments and the aviation sector can overcome feedstock and refinery availability difficulties to accelerate SAF production by working together.
Crude oil price fluctuations
The global sustainable aviation fuel market faces a restraint due to crude oil price fluctuations. The change of crude oil prices can also make it difficult for airlines to manage their operations and finances. When oil prices are fluctuating, airlines may be cautious to hedge their fuel expenses, leaving them vulnerable to unexpected price increases. When the price of crude oil rises, so do the expenses of jet fuel. This can have a detrimental influence on airline profitability and result in higher passenger ticket costs. Overcoming challenges will be essential for the sustainable aviation fuel market to thrive and expand its reach in a global landscape.
Rising demand for SAF by airlines worldwide
The global sustainable aviation fuel market presents significant opportunities driven by the rising demand of SAF by airlines worldwide. Rising demand for SAF is a good thing for both the aviation industry and the environment. SAF can assist airlines in reducing their carbon footprint and meeting their sustainability objectives. It may also aid in job creation and economic growth in the SAF industry.
According to IATA, Sustainable Aviation Fuel (SAF) could deliver approximately 65% of the emissions reduction required by aviation to achieve net-zero emissions by 2050. To meet demand, substantial increases in output will be required. The greatest acceleration is projected in the 2030s, as policy support becomes more widespread, SAF becomes competitive with fossil fuel, and reliable offsets become scarcer..
By Fuel Type
The market for sustainable aviation fuels is segmented based on fuel type into three categories: Bio-fuel, hydrogen fuel, Power to Liquid fuel. Bio-fuels are fuels made from biomass, which is plant or animal matter. A range of techniques, including fermentation, pyrolysis, and gasification, can be used to convert biomass into bio-fuels. Hydrogen fuel is a clean, renewable energy source with the potential to transform how we power our vehicles and businesses. It is created by utilizing electricity to split water molecules (H2O) into hydrogen (H2) and oxygen (O2). Power-to-liquid (PtL) fuel is a synthetic liquid fuel made from renewable energy sources such as solar and wind power. To begin the process of creating PtL fuel, renewable energy is used to split water into hydrogen and oxygen. The hydrogen is then mixed with carbon dioxide to form synthetic hydrocarbons, which are processed into liquid fuels including gasoline, diesel, and jet fuel. This segmentation allows consumers to choose the type of fuel that best suits their specific needs, preferences, and budgetary constraints.
By Platform
The sustainable aviation fuel market is categorized based on platform into commercial aviation, military aviation, business and general aviation and uav. Commercial aviation is the commercial transportation of passengers and cargo by air. Commercial aviation connects people and businesses all across the world, creating millions of employment and billions of dollars in economic activity. The use of military aircraft for military reasons is known as military aviation. It encompasses a diverse spectrum of aircraft, including fighter jets, bombers, transport planes, and helicopters. Military aviation is essential in modern combat and is utilized for a wide range of operations. Business aviation is the use of airplanes for commercial reasons by businesses. This encompasses anything from little turboprops to huge business jets corporate aviation is utilized for a number of activities, including executive transportation to meetings, cargo transportation to and from various corporate locations, and air ambulance and medical evacuation services. General aviation is an umbrella term for all non-commercial, non-military aviation activity. This encompasses anything from small cessnas to huge helicopters. Some of the examples are Private flying, Recreational Flying, and Aerial work etc. A UAV, or Unmanned Aerial Vehicle, is any aircraft that is flown without a pilot on board. UAVs are also referred to as drones. UAVs range in size and design, from little quadcopters to massive fixed-wing aircraft. This segmentation allows consumers to choose the type of platform that aligns with their specific needs and preferences.
By Aircraft Type
The sustainable aviation fuel market is segmented based on aircraft into fixed wings, rotorcraft and others. Fixed-wing aircraft is one that flies by using the lift generated by its wings. Unlike the wings of a helicopter or other rotary-wing aircraft, these wings are fixed in place. Airplanes, gliders, and even some types of drones are examples of fixed-wing aircraft. Rotorcraft aircraft is one that generates lift and thrust using rotors. Rotors are spinning blades that provide lift in the air as they travel. Helicopters, gyroplanes, and autogiros are examples of rotorcraft aircraft.
The other types of aircrafts are: Gliders, Airships, Blimps etc. Gliders are unpowered aircraft that are propelled by rising air currents. They are utilized for pleasure flight as well as competitive flying. Airships are lighter-than-air aircraft propelled by a lifting gas, such as helium. Originally employed for commercial transportation, airships are now largely used for sightseeing and advertising. Blimps are a form of helium-filled airship having a non-rigid frame. Blimps are used for airborne surveillance, sightseeing, and advertising. This market segmentation enables the consumers to select the type of aircraft according to their needs and requirements.
Global Sustainable Aviation Fuel Overview, By Region.
Asia Pacific
Asia Pacific currently is the fastest growing market in the sustainable aviation market, and this dominance is expected to continue in the future.
As going easy on the environment has become an overwhelming goal for the global aviation sector, the Asia-Pacific area is catching up with Europe and North America in the search for ways to lower carriers' combined carbon footprint. Asian airlines will now be able to source ethanol from an enlarged biofuel refinery in Singapore. Neste, a Finnish biofuel company, finished a 1.6 billion-euro ($1.7 billion) expansion of its biofuel refinery in the city-state in May and has begun manufacturing sustainable aviation fuel (SAF), a biofuel manufactured from recycled cooking oil and waste animal fat. As the demand for SAF continues to rise, Asia Pacific is projected to maintain its leading position in the market in the coming years.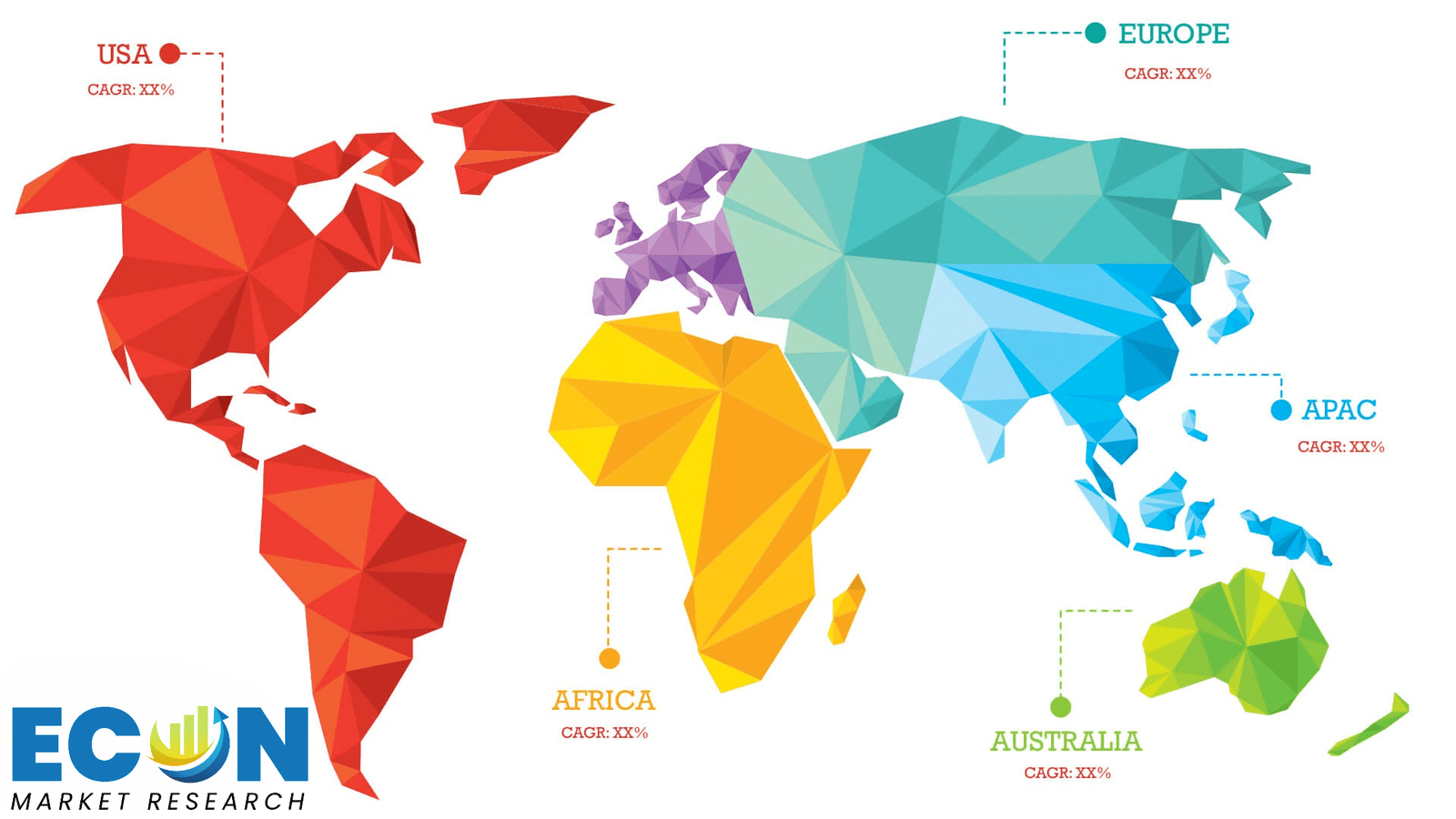 North America
North America is experiencing significant growth in the sustainable aviation fuel market, with a significant Compound Annual Growth Rate (CAGR). The world's airlines took the courageous move in October 2021 to attain net zero carbon emissions by 2050. With widespread agreement that significant quantities of sustainable aviation fuel (SAF) would be required to decarbonize the aviation sector, the role of policy in facilitating this energy transition is receiving increased attention. While the goals of policy initiatives in the EU and the United States are identical, the approach and configuration of such policies differ. This fact sheet aims to highlight significant characteristics of each strategy while also sharing the airline industry's perspective on efficacy. With the continuous advancements in SAF technology and its rising demand, North America is expected to witness a substantial CAGR in the coming years.
Global Sustainable Aviation Fuel Competitive Landscape
The competitive landscape of the market is marked by a wide array of players competing for market dominance. Several key players has introduced new technologies such as: HEFA (hydro processed esters and fatty acids): HEFA is made from spent cooking oil, fat waste, and agricultural leftovers. ATJ: ATJ is manufactured from ethanol, which can be made from a range of feedstocks, including corn, sugarcane, and agricultural wastes. Natural gas is used to manufacture gas-to-liquids (GTL). Additionally, various other manufacturers are actively contributing to the market with their unique technologies and research and developments. The competition is fierce, with companies continually striving to gain an edge through technological innovations, customer-centric features, and expanding their product ranges. As consumer demand for SAF continues to grow, the market is anticipated to witness even more intense competition among these players. The major players in the market are, LanzaTech, World Energy, Total Energies, Sasol, Fulcrum BioEnergy Inc, SkyNRG, Neste, Preem AB, Gevo, Avfuel Corporation, Aemetis Inc.
Global Sustainable Aviation Fuel Recent Developments
June 2023,
Air New Zealand and the New Zealand Government have chosen LanzaJet and LanzaTech to conduct a study on domestic sustainable aviation fuel production in New Zealand.
June 2023,
TotalEnergies is stepping up production of sustainable aviation fuel (SAF) and low carbon energies at its Grandpuits site. These investments reflect the company's ambition to develop low carbon energies. Plans include the doubling of SAF production at Grandpuits, bringing the site's annual production capacity to 285,000 tons - more than double the capacity announced in 2020. This new investment was a response to the gradual increase in minimum SAF shares mandated by the EU, and set at 6% for 2030.
Scope of Global Sustainable Aviation Fuel ReportGlobal Sustainable Aviation Fuel Report Segmentation
ATTRIBUTE

DETAILS

By Fuel Type

Bio-fuel

Hydrogen fuel

Power to liquid fuel

By Platform

Commercial Aviation

Military Aviation

Business and General Aviation

UAV

By Aircraft Type

Fixed Wings

Rotorcraft

Others

By Bio-fuel Manufacturing Technology

Fischer Tropsch - Synthetic Paraffinic Kerosene (FT-SPK)

Hydro processed Esters and Fatty Acids - Synthetic Paraffinic Kerosene(HEFA-SPK)

Synthetic ISO-Paraffin from fermented hydro processed sugar(HFS-SIP)

Alcohol To Jet SPK(ATJ-SPK)

By Geography

North America (USA,and Canada)

Europe (UK, Germany, France, Italy, Spain, Russia and Rest of Europe)

Asia Pacific (Japan, China, India, Australia, Southeast Asia and Rest of Asia Pacific)

Latin America (Brazil, Mexico, and Rest of Latin America)

Middle East & Africa (South Africa, GCC, and Rest of Middle East & Africa)

Customization Scope

Pricing
Objectives of the Study
The objectives of the study are summarized in 5 stages. They are as mentioned below:
Global Sustainable Aviation Fuel

Size and Forecast:
To identify and estimate the market size for global sustainable aviation fuel segmented by fuel type, platform, aircraft type, Bio-fuel Manufacturing Technology, and by value (in U.S. dollars). Also, to understand the consumption/ demand created by consumers of between 2023 and 2031.
Market Landscape and Trends:
To identify and infer the drivers, restraints, opportunities, and challenges for global sustainable aviation fuel
Market Influencing Factors:
To find out the factors which are affecting the market of Global Sustainable aviation fuel among consumers
To provide a detailed insight into the major companies operating in the market. The profiling will include the financial health of the company's past 2-3 years with segmental and regional revenue breakup, product offering, recent developments, SWOT analysis, and key strategies.
Research Methodology
Our research methodology has always been the key differentiating reason which sets us apart in comparison from the competing organizations in the industry. Our organization believes in consistency along with quality and establishing a new level with every new report we generate; our methods are acclaimed and the data/information inside the report is coveted. Our research methodology involves a combination of primary and secondary research methods. Data procurement is one of the most extensive stages in our research process. Our organization helps in assisting the clients to find the opportunities by examining the market across the globe coupled with providing economic statistics for each and every region. The reports generated and published are based on primary & secondary research. In secondary research, we gather data for global Market through white papers, case studies, blogs, reference customers, news, articles, press releases, white papers, and research studies. We also have our paid data applications which includes hoovers, Bloomberg business week, Avention, and others.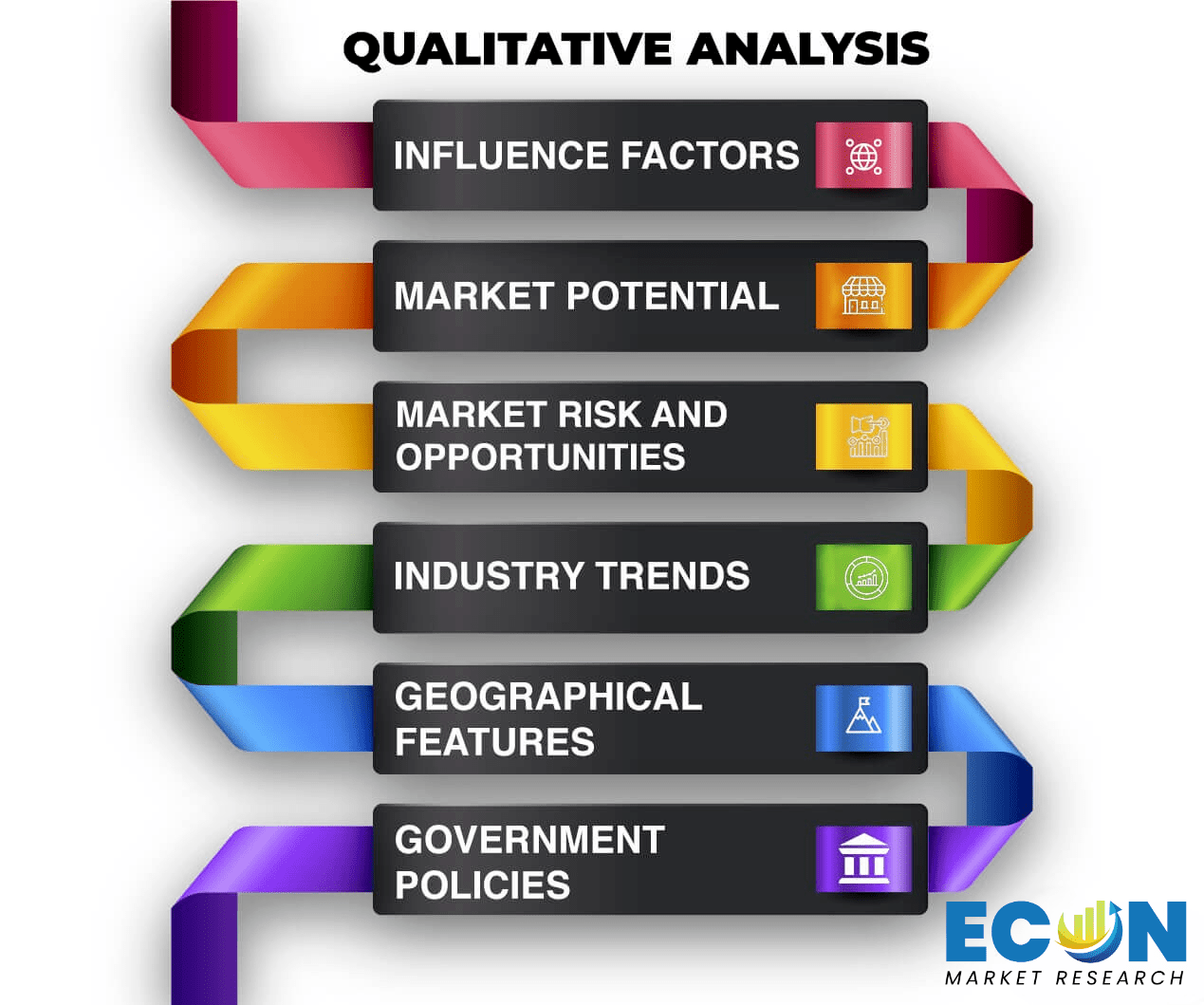 Data Collection
Data collection is the process of gathering, measuring, and analyzing accurate and relevant data from a variety of sources to analyze market and forecast trends. Raw market data is obtained on a broad front. Data is continuously extracted and filtered to ensure only validated and authenticated sources are considered. Data is mined from a varied host of sources including secondary and primary sources.

Primary Research
After the secondary research process, we initiate the primary research phase in which we interact with companies operating within the market space. We interact with related industries to understand the factors that can drive or hamper a market. Exhaustive primary interviews are conducted. Various sources from both the supply and demand sides are interviewed to obtain qualitative and quantitative information for a report which includes suppliers, product providers, domain experts, CEOs, vice presidents, marketing & sales directors, Type & innovation directors, and related key executives from various key companies to ensure a holistic and unbiased picture of the market. 
Secondary Research
A secondary research process is conducted to identify and collect information useful for the extensive, technical, market-oriented, and comprehensive study of the market. Secondary sources include published market studies, competitive information, white papers, analyst reports, government agencies, industry and trade associations, media sources, chambers of commerce, newsletters, trade publications, magazines, Bloomberg BusinessWeek, Factiva, D&B, annual reports, company house documents, investor presentations, articles, journals, blogs, and SEC filings of companies, newspapers, and so on. We have assigned weights to these parameters and quantified their market impacts using the weighted average analysis to derive the expected market growth rate.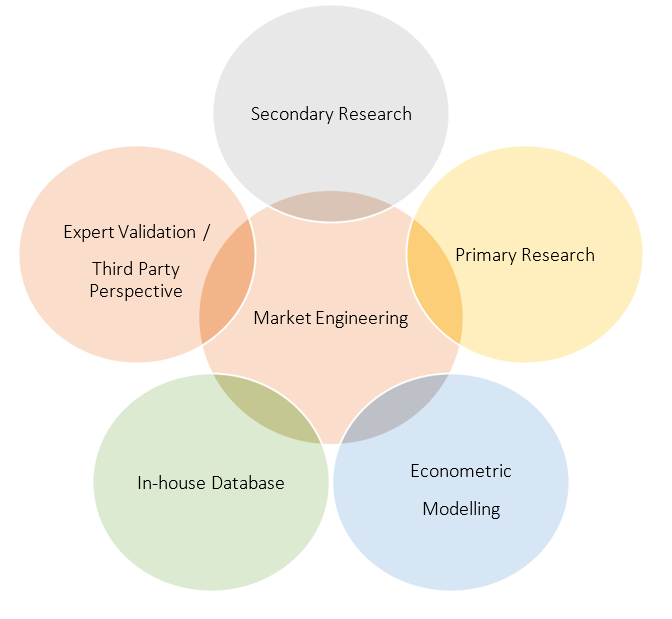 Top-Down Approach & Bottom-Up Approach
In the top – down approach, the Global Batteries for Solar Energy Storage Market was further divided into various segments on the basis of the percentage share of each segment. This approach helped in arriving at the market size of each segment globally. The segments market size was further broken down in the regional market size of each segment and sub-segments. The sub-segments were further broken down to country level market. The market size arrived using this approach was then crosschecked with the market size arrived by using bottom-up approach.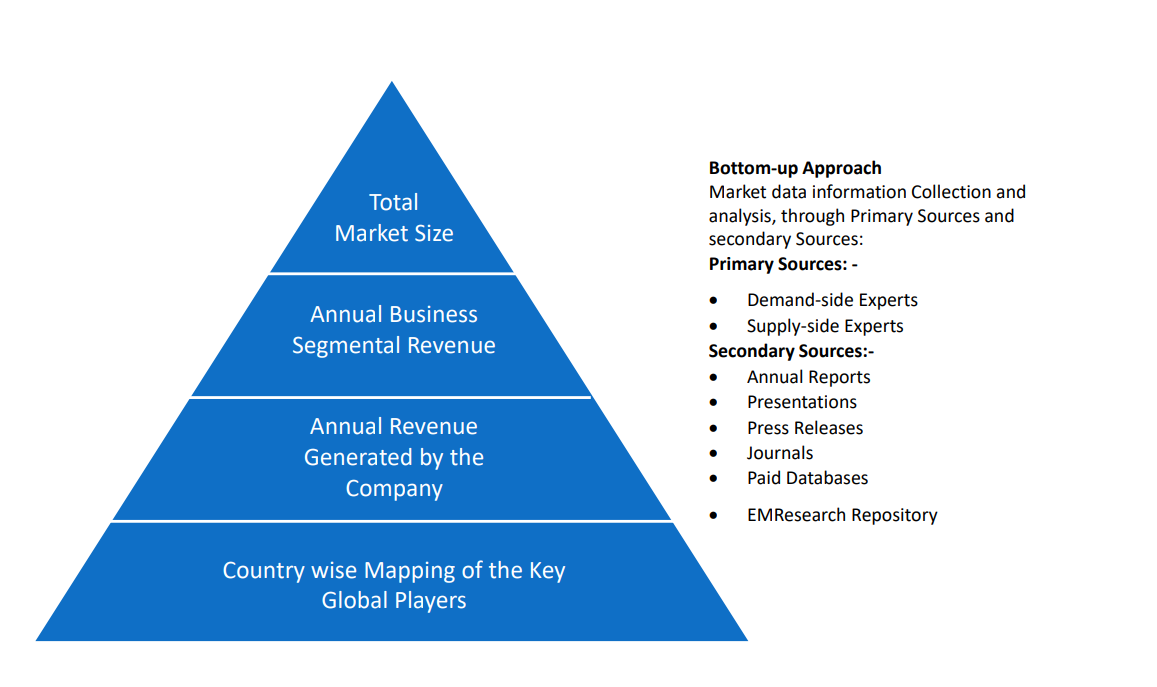 In the bottom-up approach, we arrived at the country market size by identifying the revenues and market shares of the key market players. The country market sizes then were added up to arrive at regional market size of the decorated apparel, which eventually added up to arrive at global market size.
This is one of the most reliable methods as the information is directly obtained from the key players in the market and is based on the primary interviews from the key opinion leaders associated with the firms considered in the research. Furthermore, the data obtained from the company sources and the primary respondents was validated through secondary sources including government publications and Bloomberg.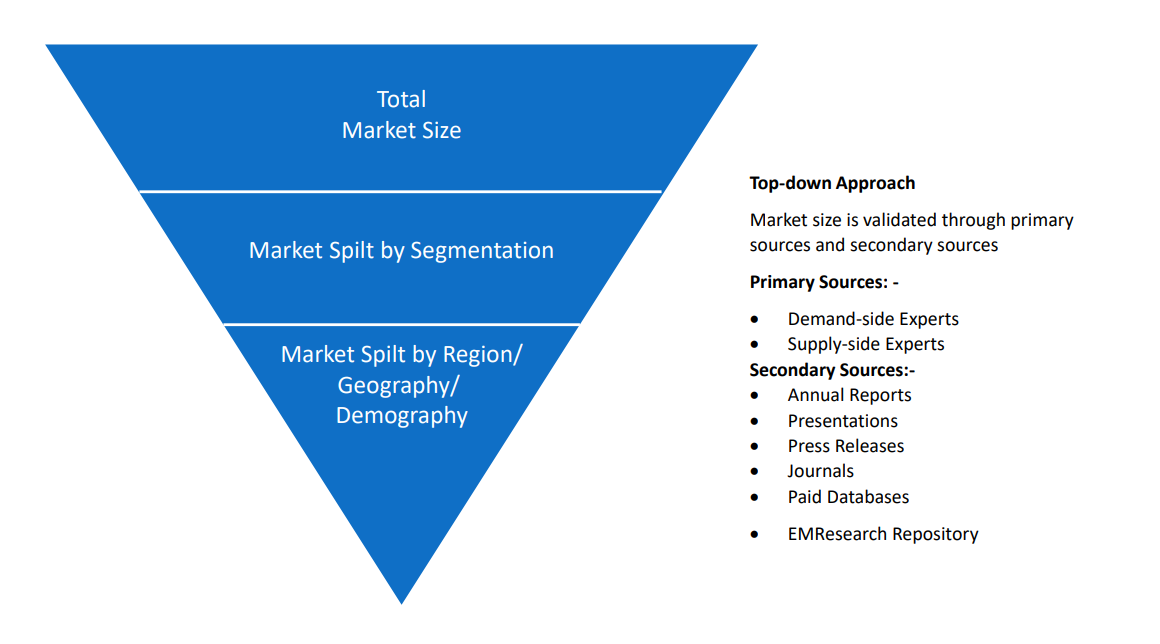 Market Analysis & size Estimation
Post the data mining stage, we gather our findings and analyze them, filtering out relevant insights. These are evaluated across research teams and industry experts. All this data is collected and evaluated by our analysts. The key players in the industry or markets are identified through extensive primary and secondary research. All percentage share splits, and breakdowns have been determined using secondary sources and verified through primary sources. The market size, in terms of value and volume, is determined through primary and secondary research processes, and forecasting models including the time series model, econometric model, judgmental forecasting model, the Delphi method, among Flywheel Energy Storage. Gathered information for market analysis, competitive landscape, growth trends, product development, and pricing trends is fed into the model and analyzed simultaneously.
Quality Checking & Final Review
The analysis done by the research team is further reviewed to check for the accuracy of the data provided to ensure the clients' requirements. This approach provides essential checks and balances which facilitate the production of quality data. This Type of revision was done in two phases for the authenticity of the data and negligible errors in the report. After quality checking, the report is reviewed to look after the presentation, Type and to recheck if all the requirements of the clients were addressed.