The global solar backsheet films market was valued at USD 1.79 billion in 2022 and is estimated to reach approximately USD 3.64 billion by 2031, at a CAGR of 8.2% from 2023 to 2031.
Since its launch, the industry for solar backsheet films has seen tremendous expansion and innovation. These films are an essential part of solar panels because they safeguard the photovoltaic cells and guarantee their longevity and best performance. When solar backsheet films were first introduced in the early 1970s, they were made of simple materials like Tefzel, Tedlar, and EVA (ethylene vinyl acetate). More complex backsheet films have been created over time as a result of developments in materials science and manufacturing techniques. A wide variety of solar backsheet alternatives are currently available on the market, including single-layer and multi-layer versions that are individually suited to particular environmental factors and solar panel designs. The need for backsheet films that retain electrical insulation and fire resistance while withstanding inclement weather, UV rays, and temperature swings has increased along with the solar sector. Furthermore, environmental sustainability has emerged as a major concern that is influencing the creation of eco-friendly and recyclable backsheet materials. The rapid expansion and maturation of the solar backsheet films industry can be attributed to the worldwide transition towards renewable energy sources. With continued study and development, these films should become more and more important in raising the lifespan and efficiency of solar panels, which will help solar energy become more widely used globally.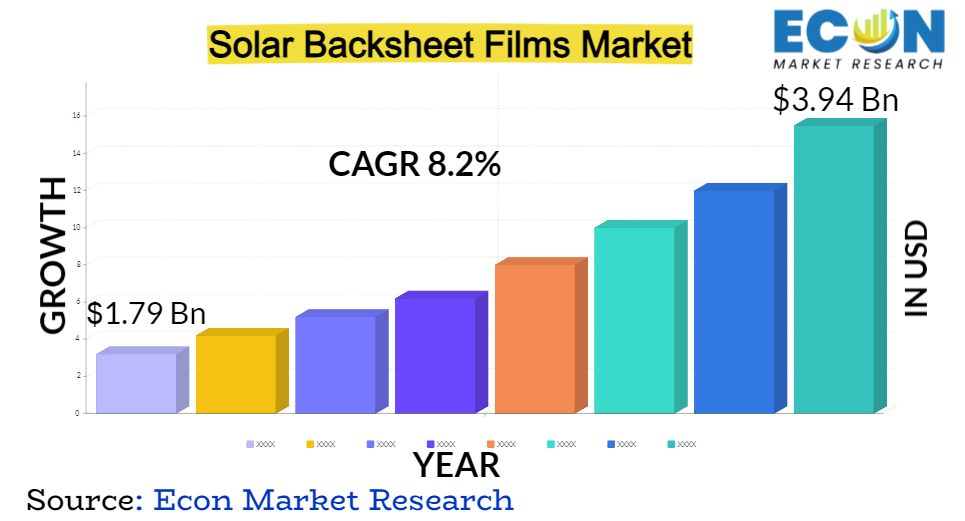 SOLAR BACKSHEET FILMS MARKET: REPORT SCOPE & SEGMENTATION
| | |
| --- | --- |
| Report Attribute | Details |
| Estimated Market Value (2022) | 1.79 Bn |
| Projected Market Value (2031) | 3.64 Bn |
| Base Year | 2022 |
| Forecast Years | 2023 - 2031 |
| Scope of the Report | Historical and Forecast Trends, Industry Drivers and Constraints, Historical and Forecast Market Analysis by Segment- By Type, By Thickness, By Installation, By Application, & Region |
| Segments Covered | By Type, By Thickness, By Installation, By Application, & Region |
| Forecast Units | Value (USD Billion or Million), and Volume (Units) |
| Quantitative Units | Revenue in USD million/billion and CAGR from 2023 to 2031 |
| Regions Covered | North America, Europe, Asia Pacific, Latin America, and Middle East & Africa, and the Rest of World |
| Countries Covered | U.S., Canada, Mexico, U.K., Germany, France, Italy, Spain, China, India, Japan, South Korea, Brazil, Argentina, GCC Countries, and South Africa, among others |
| Report Coverage | Market growth drivers, restraints, opportunities, Porter's five forces analysis, PEST analysis, value chain analysis, regulatory landscape, market attractiveness analysis by segments and region, company market share analysis, and COVID-19 impact analysis. |
| Delivery Format | Delivered as an attached PDF and Excel through email, according to the purchase option. |
Global Solar Backsheet Films Market Dynamics
The market for solar backsheet films shows a dynamic interaction of elements influencing its expansion and advancement. The main factor is technological progress, with continuous studies improving the qualities of materials, their ability to withstand weather, and their electrical insulating capabilities. Backsheet films are becoming more and more in demand as solar energy becomes a more widely used clean and sustainable power source. Backsheet films are essential for safeguarding photovoltaic cells. The need for environmental sustainability is growing, and in response to growing environmental consciousness, recyclable and environmentally friendly backsheet materials are being developed. The usage of superior backsheet films in solar installations is further encouraged by government incentives and laws that are favorable in different regions. However, there are obstacles facing the market, such as the high price of sophisticated materials and uncertainties over their long-term durability, which could make certain applications less affordable and useful. The dependability of backsheet films can also be impacted by problems with consistency and quality control. Furthermore, cautious material selection and manufacturing processes are required due to regulatory issues and environmental concerns. While raw material price variations might have an impact on market stability, innovation, cost-efficiency, and product diversification are driven by the competitive landscape. Acknowledging these characteristics, the market for solar backsheet films keeps changing in response to market trends, technological developments, and environmental demands, and is well-positioned to be a key player in the world's shift to sustainable energy sources.
Global Solar Backsheet Films Market Drivers
Rapid Growth in Solar Energy Sector
The convergence of several variables that have propelled solar power into the mainstream of global energy production is the fundamental cause of the solar energy sector's explosive rise. The most important of these factors is the increasing recognition of and reaction to the environmental risks associated with traditional fossil fuel-based energy sources, such coal and natural gas. Governments, corporations, and individuals are searching for greener and more sustainable options as a result of worries about climate change and air pollution. Utilizing photovoltaic technology to harness solar energy is an appealing option because it emits no emissions while producing power, making it an essential tool for lowering greenhouse gas emissions and lessening the consequences of climate change. Furthermore, solar energy is becoming more and more cost-competitive due to the falling cost of solar panels, technological improvements, and economies of scale. The cost of solar electricity has decreased dramatically, increasing its accessibility and making it a financially feasible option for a larger range of enterprises and households. Various incentives, subsidies, and regulatory assistance have been implemented by governments across the globe in response to their recognition of solar energy's ability to generate green jobs and stimulate economic growth. Consequently, there has been an increase in solar installations and market growth. The importance of the solar energy industry is highlighted by the world's shift to renewable energy sources and growing dedication to sustainable practices.
Increased Investment in Solar Research and Development
Research and development expenditures stimulate creativity in solar materials, technologies, and production procedures. Higher solar efficiency, less production costs, and better energy storage options are the results of this breakthrough. As solar technology advances via research and development, solar panels and related components become more affordable. The adoption of solar energy is accelerated by lower costs, which make it more affordable and competitive with conventional fossil fuels. The goal of research projects is to increase solar cells' efficiency so they can produce more electricity from sunshine. As a result, more energy is produced and solar installations get a quicker return on investment. Advanced energy storage systems that supplement solar power and increase its dependability and availability during non-sunny hours are being developed thanks to research and development investments. Growing awareness of environmental challenges, such as climate change and air pollution, has motivated governments, businesses, and individuals to invest in solar R&D as a means to reduce carbon emissions and transition to cleaner energy sources.
Restraints:
Elevated material costs frequently result in greater initial costs for solar systems, posing a challenge for both residential and commercial clients and utility-scale initiatives. The solar system's payback period may be prolonged by this cost element.When compared to alternative energy sources, solar power may not be as economically viable in areas where material costs keep solar technology costs relatively high. The objective of widespread adoption of renewable energy sources can be undermined by the relatively high material costs, which can make solar energy solutions less accessible to a wider audience. The ROI of solar installations can be impacted by the longer payback period, especially for residential customers, who may experience a delay in realizing cost savings from their solar expenditures.
Limited Product Differentiation
The foundational ideas of solar photovoltaics are widely accepted and consistent between manufacturers. As a result, solar panels frequently have same qualities and features, which prevents product differentiation. Because of the fierce rivalry in the solar business, efficiency and cost-cutting have become priorities. This has resulted in the standardization of product specifications to adhere to industry standards. This further reduces the chances for uniqueness. Due to a lack of significant technological advancements, people are now more concerned with pricing than features or benefits when making decisions about solar panels. Because solar products are believed to be identical, buyers may believe that solar panels are interchangeable, which could hurt premium pricing and brand loyalty.Many regions have established industry standards and certifications, which encourage adherence to specific specifications but can simultaneously stifle product innovation and differentiation.
Opportunities:
Floating Solar Installations
Effective land utilization is made possible by floating solar, which makes use of underutilized water surfaces. Because it doesn't conflict with urbanization or agriculture, it is especially beneficial in areas with high population density. Water's cooling impact can increase solar panel efficiency and increase energy production. Water-based solar arrays can also produce electricity all day long with less degradation due to temperature. By lowering water evaporation from ponds or reservoirs, floating solar helps to protect these priceless water resources. This is especially important in dry areas. These structures can give water bodies shade, which inhibits the growth of algae and contributes to the preservation of water quality. They also don't really affect the local ecosystems because they frequently let light through to sustain aquatic life. The close proximity of urban centers to floating solar arrays has the potential to decrease energy prices for consumers by reducing transmission and distribution losses and enhancing energy efficiency. From tiny installations to massive utility-scale projects, floating solar is incredibly adaptable, offering flexibility for addressing a range of energy requirements. By preserving land for uses like forestry, urban development, or agriculture, the strategy can support sustainable land use.
Eco-Friendly and Sustainable Solutions
There is a substantial market need for environmentally friendly solar solutions due to increased awareness of environmental deterioration and climate change. Customers and businesses are increasingly looking for environmentally friendly sustainable energy choices. Sustainability and clean energy techniques are being promoted by numerous governments and regulatory authorities across the globe. This assistance frequently takes the kind of laws, subsidies, and other measures that promote the use of environmentally friendly solar technology. Offering sustainable and environmentally friendly solutions can help solar companies stand out from the competition. Increased consumer loyalty, improved brand recognition, and a competitive edge in the market can result from this. The search for environmentally sustainable solutions encourages innovation in manufacturing techniques, materials, and recycling strategies. This encourages a culture of cost-effective sustainability and ongoing improvement. Long-term viability is a common feature of eco-friendly and sustainable solutions, which are consistent with the global shift towards cleaner and more responsible energy methods.
Segment Overview
By Type
Based on type, the global solar backsheet films market is divided into fluoropolymer, non-fluoropolymer. The fluoropolymer category dominates the market with the largest revenue share in 2022. These films are known for their exceptional durability and resistance to environmental factors, making them a popular choice in the solar industry. They are typically made from materials like Tedlar (polyvinyl fluoride or PVF) or Tefzel (ethylene tetrafluoroethylene or ETFE). Fluoropolymer backsheet films offer excellent weather resistance, UV protection, and long-term reliability, ensuring the longevity and performance of solar panels in various environmental conditions. They are well-suited for installations in regions with harsh climates, including high UV exposure and temperature fluctuations. Non-fluoropolymer backsheet films are manufactured using alternative materials like polyester (PET) and polyamide (PA). These films aim to provide a cost-effective solution for solar panel manufacturers while meeting essential electrical insulation and environmental protection requirements. While they may not offer the same level of long-term durability as fluoropolymer films, non-fluoropolymer backsheet films have improved over the years in terms of weather resistance and reliability.
By Installation
Based on the installation, the global solar backsheet films market is categorized into flat roof solar, pitched roof solar, ground mount solar, others. The flat roof solar category leads the global solar backsheet films market with the largest revenue share in 2022. Flat roof solar installations are commonly found on commercial and industrial buildings. They utilize a horizontal mounting system and are favored for their ease of installation and space efficiency. Solar backsheet films used in these installations must offer strong weather resistance, electrical insulation, and durability to withstand environmental challenges, including wind and precipitation. Pitched roof solar installations are typically seen on residential and some commercial buildings. They involve mounting solar panels on angled rooftops. Backsheet films used in pitched roof solar systems must be designed to accommodate the varying angles and exposure to sunlight while protecting the underlying solar cells from the elements. Ground mount solar installations are large-scale projects where solar panels are installed on the ground, often in open fields or solar farms. These installations require robust backsheet films that can endure prolonged exposure to the elements, including heavy rain, wind, and temperature fluctuations.
By Thickness
Based on thickness, the global solar backsheet films market is divided into less than 100mm, 100-500mm, greater than 500mm . The greater than 500mm category dominates the market with the largest revenue share in 2022. Backsheet films with a thickness greater than 500mm are considered thick films. These films are used in heavy-duty applications, such as utility-scale solar farms and large industrial installations. The added thickness enhances durability and protection, vital for withstanding the demanding conditions of large-scale solar deployments, including extreme weather, wind, and temperature fluctuations. Backsheet films with a thickness of less than 100mm are considered thin films. These are often employed in applications where weight and flexibility are essential factors. Thin films are commonly used in lightweight and flexible solar panels, such as those integrated into consumer electronics, portable chargers, and small-scale solar applications. The thin profile allows for versatility in design and application, making them suitable for various lightweight and portable solar solutions. Backsheet films falling within the 100-500mm thickness range are medium thickness films. They are employed in a wide range of solar applications, including residential and commercial solar panels, and some types of industrial solar installations. These films offer a balance between flexibility and durability, providing the necessary protection to solar cells against environmental factors while maintaining a reasonable level of rigidity for typical solar panel installations.
By Application
Based on application, the global solar backsheet films market is segmented into commercial, residential, industrial, utility. The commercial segment dominates the solar backsheet films market. Commercial solar installations are typically found on non-residential buildings such as offices, retail spaces, schools, and other business establishments. These installations aim to meet the energy needs of commercial enterprises. Backsheet films used in commercial applications need to provide weather resistance, electrical insulation, and durability, as they are often exposed to environmental elements. Residential solar installations are installed on homes and private properties to generate electricity for household use. Solar backsheet films in this segment must be tailored to meet the requirements of residential rooftops, including factors such as aesthetics and homeowner preferences, in addition to the standard durability and performance considerations. Industrial solar installations are implemented in manufacturing facilities, factories, and warehouses. These installations are typically larger in scale than commercial and residential installations and aim to power industrial operations. Solar backsheet films for industrial use need to withstand the challenges associated with larger installations, including mechanical stress and environmental factors.Utility-scale solar installations are massive solar farms that generate electricity for the grid. These installations can range from tens of megawatts to hundreds of megawatts in capacity. Backsheet films for utility applications must be designed for extreme durability and performance, as they are exposed to a wide range of environmental conditions and are critical for providing grid power.
Global Solar Backsheet Films Market Overview by Region
The global solar backsheet films market is categorized into North America, Europe, Asia-Pacific, and the Rest of the World.Asia-Pacific emerged as the leading region, capturing the largest market share in 2022. The solar energy capacity in the Asia-Pacific region has increased significantly as a result of aggressive renewable energy objectives, favorable policies, and government incentives. The market for solar backsheet films has grown and developed in a favorable climate because to these initiatives. Several of the biggest producers of solar panels worldwide are based in this area. These businesses depend on a consistent supply of superior backsheet films, which promote market expansion and spur technological and material innovation. There is an abundance of sunshine and ideal climatic conditions for the production of solar energy in several of the region's countries.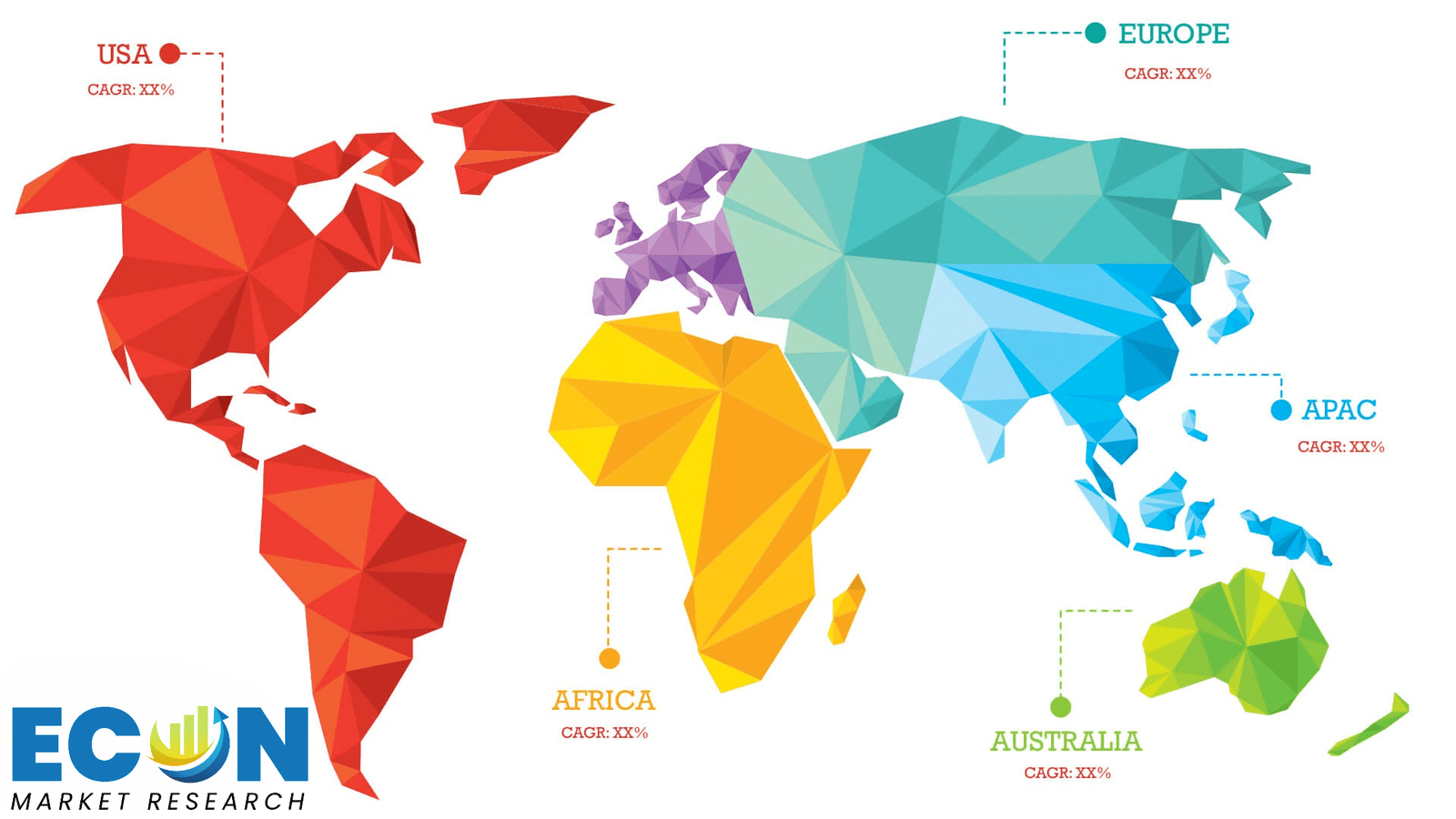 This increases the appeal and dependability of solar energy and drives the demand for backsheet films. There has been a surge in solar installations in the residential, commercial, industrial, and utility-scale sectors due to the fast urbanization and increasing demand for renewable energy. The market is growing because a wide range of applications require different backsheet films. Asia-Pacific governments have started a number of programs to support renewable energy sources, such as solar energy. Solar projects have been encouraged by subsidies, feed-in tariffs, and other measures, which has raised the demand for dependable backsheet films. Significant research and development spending in the area has improved the performance and durability of solar backsheet materials through technical breakthroughs.
Global Solar Backsheet Films Market Competitive Landscape
In the global solar backsheet films market, a few major players exert significant market dominance and have established a strong regional presence. These leading companies remain committed to continuous research and development endeavors and actively engage in strategic growth initiatives, including product development, launches, joint ventures, and partnerships. By pursuing these strategies, these companies aim to strengthen their market position, expand their customer base, and capture a substantial share of the market.
Some of the prominent players in the global solar backsheet films market include DuPont de Nemours, Inc.; COVEME s.p.a.; Arkema; 3M; TOYO ALUMINIUM K.K.; Krempel GmbH; Targray Technology International Inc.; Cybrid Technologies Inc.; Jolywood (Suzhou) Sunwatt Co., Ltd.; Trina Solar; Canadian Solar; Mitsubishi Chemical America, Inc. , and various other key players.
Global Solar Backsheet Films Market Recent Developments
In May 2023, Because PVDF is becoming more expensive, the industry is shifting toward coating-based backsheets, with Jolywood leading the market segment. Jolywood surpassed Cybrid and Crown to take the lead as the PV industry's leading backhseet provider. Crown is pushing BO backsheets free of fluorine, which will make up more than 80% of shipments by 2022.
Scope of the Global Solar Backsheet Films Market Report
Solar Backsheet Films Market Report Segmentation
ATTRIBUTE

DETAILS

By Type

Fluoropolymer

Non-fluoropolymer

By Thickness

Less Than 100mm

100-500mm

Greater Than 500mm

By Installation

Flat Roof Solar

Pitched Roof Solar

Ground Mount Solar

Others

By Application

Commercial

Residential

Industrial

Utility

By Geography

North America (USA,

and Canada)

Europe (UK, Germany, France, Italy, Spain, Russia and Rest of Europe)

Asia Pacific (Japan, China, India, Australia, Southeast Asia and Rest of Asia Pacific)

Latin America (Brazil, Mexico, and Rest of Latin America)

Middle East & Africa (South Africa, GCC, and Rest of Middle East & Africa)

Customization Scope

Pricing
Objectives of the Study
The objectives of the study are summarized in 5 stages. They are as mentioned below:
Global Solar Backsheet Films Market

Size and Forecast:
To identify and estimate the market size for the global solar backsheet films market segmented by type, by application, by thickness, by installation, region and by value (in U.S. dollars). Also, to understand the consumption/ demand created by consumers of solar backsheet films between 2019 and 2031.
Market Landscape and Trends:
To identify and infer the drivers, restraints, opportunities, and challenges for the global solar backsheet films market
Market Influencing Factors:
To find out the factors which are affecting the sales of solar backsheet films among consumers
To identify and understand the various factors involved in the global solar backsheet films market affected by the pandemic
To provide a detailed insight into the major companies operating in the market. The profiling will include the financial health of the company's past 2-3 years with segmental and regional revenue breakup, product offering, recent developments, SWOT analysis, and key strategies.
Intended Audience
Solar Industry Professionals

Renewable Energy Enthusiasts

Academic and Research Communities

Manufacturing and Material Suppliers

Governments, Associations, and Industrial Bodies

Investors and Trade Experts
Research Methodology
Our research methodology has always been the key differentiating reason which sets us apart in comparison from the competing organizations in the industry. Our organization believes in consistency along with quality and establishing a new level with every new report we generate; our methods are acclaimed and the data/information inside the report is coveted. Our research methodology involves a combination of primary and secondary research methods. Data procurement is one of the most extensive stages in our research process. Our organization helps in assisting the clients to find the opportunities by examining the market across the globe coupled with providing economic statistics for each and every region. The reports generated and published are based on primary & secondary research. In secondary research, we gather data for global Market through white papers, case studies, blogs, reference customers, news, articles, press releases, white papers, and research studies. We also have our paid data applications which includes hoovers, Bloomberg business week, Avention, and others.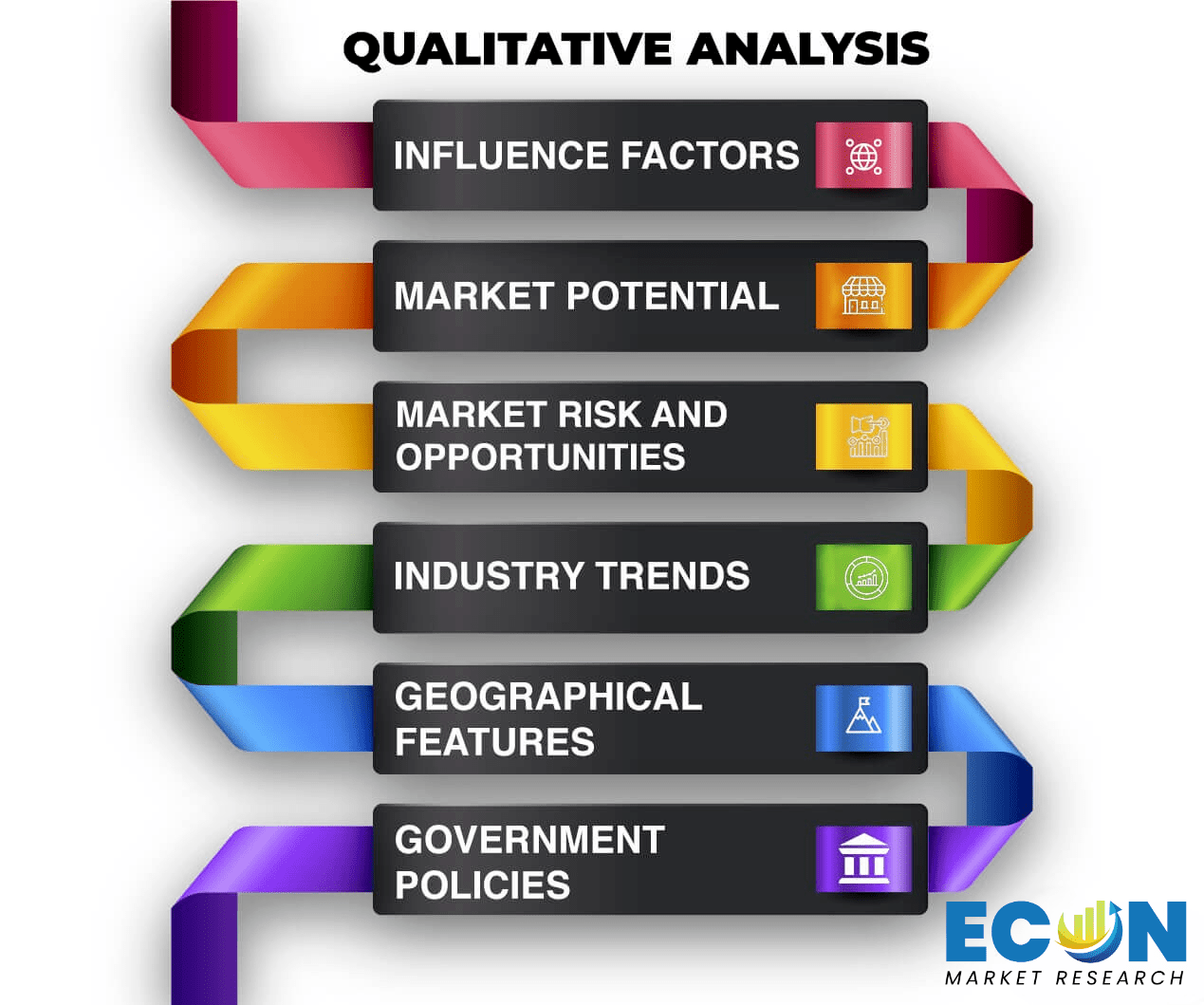 Data Collection
Data collection is the process of gathering, measuring, and analyzing accurate and relevant data from a variety of sources to analyze market and forecast trends. Raw market data is obtained on a broad front. Data is continuously extracted and filtered to ensure only validated and authenticated sources are considered. Data is mined from a varied host of sources including secondary and primary sources.

Primary Research
After the secondary research process, we initiate the primary research phase in which we interact with companies operating within the market space. We interact with related industries to understand the factors that can drive or hamper a market. Exhaustive primary interviews are conducted. Various sources from both the supply and demand sides are interviewed to obtain qualitative and quantitative information for a report which includes suppliers, product providers, domain experts, CEOs, vice presidents, marketing & sales directors, Type & innovation directors, and related key executives from various key companies to ensure a holistic and unbiased picture of the market. 
Secondary Research
A secondary research process is conducted to identify and collect information useful for the extensive, technical, market-oriented, and comprehensive study of the market. Secondary sources include published market studies, competitive information, white papers, analyst reports, government agencies, industry and trade associations, media sources, chambers of commerce, newsletters, trade publications, magazines, Bloomberg BusinessWeek, Factiva, D&B, annual reports, company house documents, investor presentations, articles, journals, blogs, and SEC filings of companies, newspapers, and so on. We have assigned weights to these parameters and quantified their market impacts using the weighted average analysis to derive the expected market growth rate.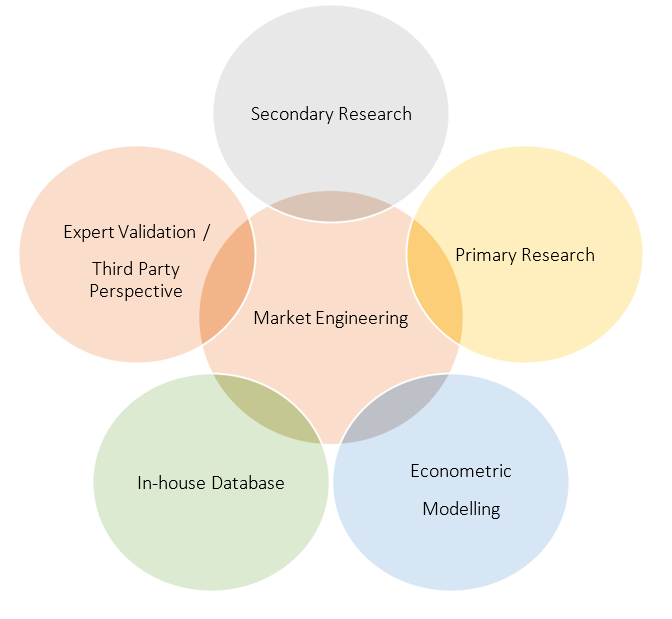 Top-Down Approach & Bottom-Up Approach
In the top – down approach, the Global Batteries for Solar Energy Storage Market was further divided into various segments on the basis of the percentage share of each segment. This approach helped in arriving at the market size of each segment globally. The segments market size was further broken down in the regional market size of each segment and sub-segments. The sub-segments were further broken down to country level market. The market size arrived using this approach was then crosschecked with the market size arrived by using bottom-up approach.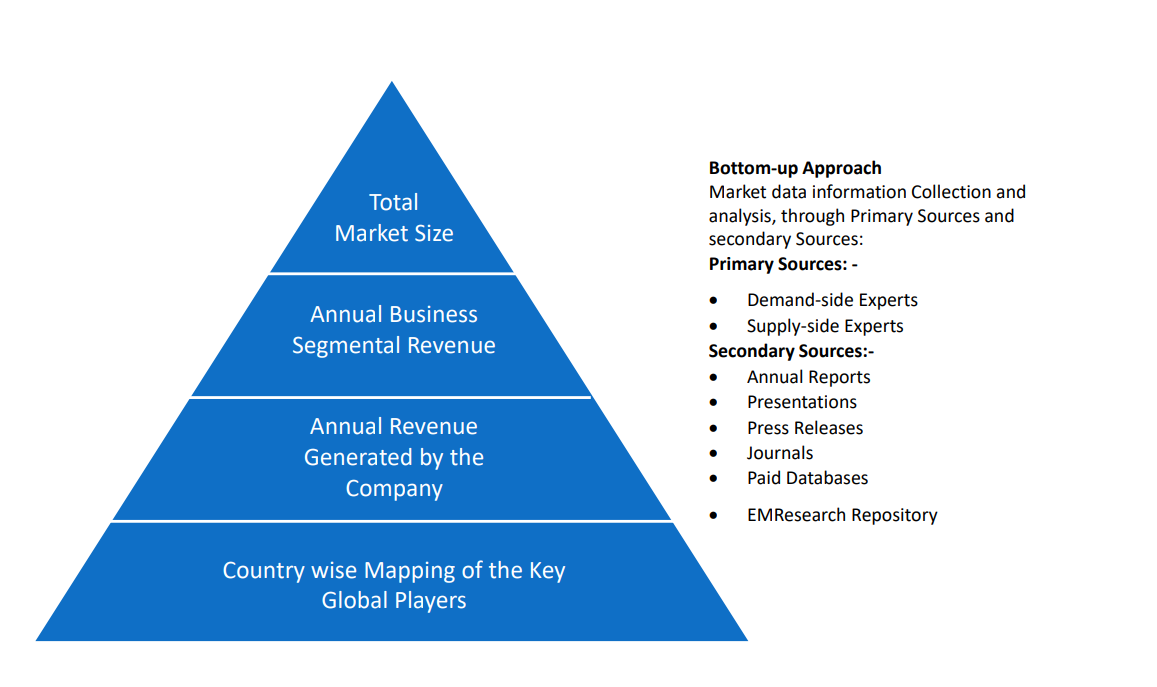 In the bottom-up approach, we arrived at the country market size by identifying the revenues and market shares of the key market players. The country market sizes then were added up to arrive at regional market size of the decorated apparel, which eventually added up to arrive at global market size.
This is one of the most reliable methods as the information is directly obtained from the key players in the market and is based on the primary interviews from the key opinion leaders associated with the firms considered in the research. Furthermore, the data obtained from the company sources and the primary respondents was validated through secondary sources including government publications and Bloomberg.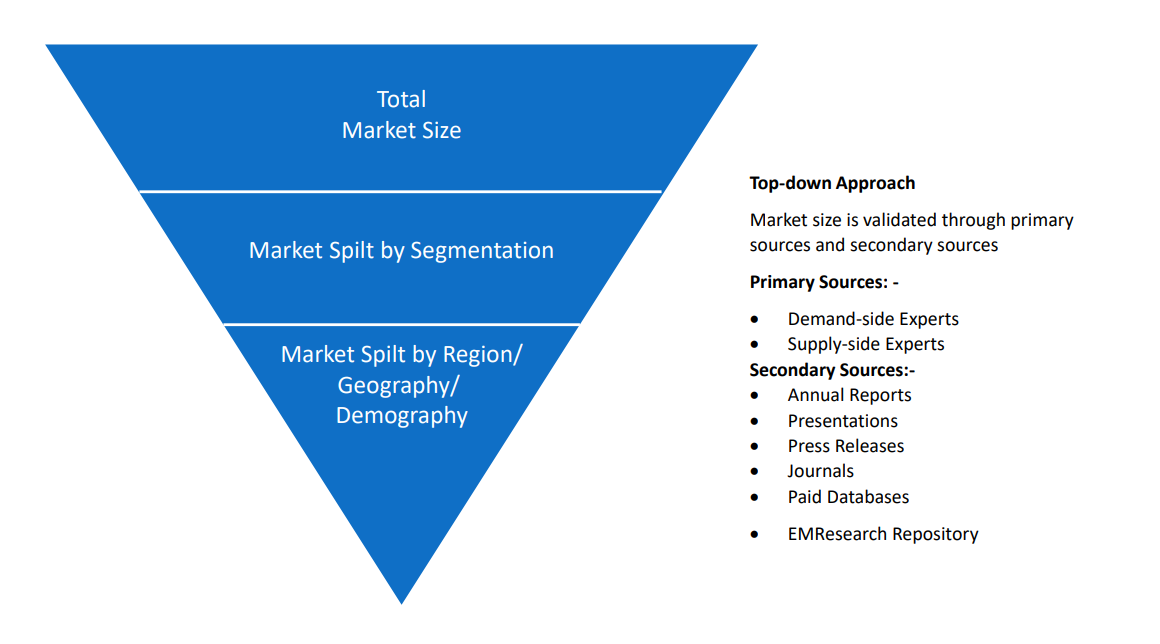 Market Analysis & size Estimation
Post the data mining stage, we gather our findings and analyze them, filtering out relevant insights. These are evaluated across research teams and industry experts. All this data is collected and evaluated by our analysts. The key players in the industry or markets are identified through extensive primary and secondary research. All percentage share splits, and breakdowns have been determined using secondary sources and verified through primary sources. The market size, in terms of value and volume, is determined through primary and secondary research processes, and forecasting models including the time series model, econometric model, judgmental forecasting model, the Delphi method, among Flywheel Energy Storage. Gathered information for market analysis, competitive landscape, growth trends, product development, and pricing trends is fed into the model and analyzed simultaneously.
Quality Checking & Final Review
The analysis done by the research team is further reviewed to check for the accuracy of the data provided to ensure the clients' requirements. This approach provides essential checks and balances which facilitate the production of quality data. This Type of revision was done in two phases for the authenticity of the data and negligible errors in the report. After quality checking, the report is reviewed to look after the presentation, Type and to recheck if all the requirements of the clients were addressed.