The Global Pipeline Pigging Services Market was valued at USD 10.2 billion in 2022 and is estimated to reach approximately USD 16.9 billion by 2031, at a CAGR of 5.7% from 2023 to 2031. Pipeline pigging services employ specialized equipment known as "pigs" to clean, inspect, and repair pipes in sectors like the oil and gas industry. These pigs are put into the pipeline and move through it, clearing away debris, inspecting it for corrosion, and guaranteeing that it runs without a hitch. By performing routine maintenance, pipes are able to function more effectively, last longer, and prevent obstructions, resulting in the safe and effective conveyance of fluids. Large networks of pipelines in a variety of industries, including oil and gas, petrochemicals, and water utilities, depend on the pipeline pigging services industry to function properly and efficiently. Pipeline pigging is the process of inspecting, maintaining, and cleaning pipes using specialized equipment called pigs. These pigs are placed inside the pipeline and are either driven internally or externally by the flow of the product being conveyed. The pigging services are essential in the oil and gas industry for removing built-up debris, corrosion, and scale from the inner walls, preventing flow constraints, and ensuring product quality. Pigs not only clean, but also have sensors and instruments to evaluate the state of the pipeline, assisting operators in spotting possible problems like corrosion, cracks, or leaks early on. Due to expanding expenditures in pipeline infrastructure, ageing pipeline networks, and the requirement for routine maintenance to guarantee safe and effective operations, the demand for pipeline pigging services has been gradually increasing. Pigging services have become more popular as a result of strict laws, environmental concerns, and a greater focus on pipeline integrity and safety. The Pipeline Pigging Services market is anticipated to grow further, offering a variety of solutions that contribute to the dependability and durability of these crucial infrastructure assets as industries continue to rely on pipelines for the transit of key goods.
PIPELINE PIGGING SERVICES MARKET: REPORT SCOPE & SEGMENTATION
| | |
| --- | --- |
| Report Attribute | Details |
| Estimated Market Value (2022) | 10.2 Bn |
| Projected Market Value (2031) | 16.9 Bn |
| Base Year | 2022 |
| Forecast Years | 2023 - 2031 |
| Scope of the Report | Historical and Forecast Trends, Industry Drivers and Constraints, Historical and Forecast Market Analysis by Segment- By Application, By End Use, & Region |
| Segments Covered | By Application, By End Use, & Region |
| Forecast Units | Value (USD Billion or Million), and Volume (Units) |
| Quantitative Units | Revenue in USD million/billion and CAGR from 2023 to 2031 |
| Regions Covered | North America, Europe, Asia Pacific, Latin America, and Middle East & Africa, and the Rest of World |
| Countries Covered | U.S., Canada, Mexico, U.K., Germany, France, Italy, Spain, China, India, Japan, South Korea, Brazil, Argentina, GCC Countries, and South Africa, among others |
| Report Coverage | Market growth drivers, restraints, opportunities, Porter's five forces analysis, PEST analysis, value chain analysis, regulatory landscape, market attractiveness analysis by segments and region, company market share analysis, and COVID-19 impact analysis. |
| Delivery Format | Delivered as an attached PDF and Excel through email, according to the purchase option. |
Global Pipeline Pigging Services Market Dynamics
The demand for pipeline pigging services is driven by the ongoing development of the transportation infrastructures for energy, petrochemicals, and water. While older networks need routine maintenance, new pipelines need inspection and repair. Around the world, several pipelines are approaching the end of their authorized lifespan, necessitating intensive upkeep and repair activities. For the purpose of reducing corrosion, maintaining integrity, and stopping leaks, pigging services are essential. To maintain pipeline safety, environmental protection, and compliance, strict laws and safety requirements, notably in the oil and gas industry, call for routine inspections and maintenance. Significant fines can be imposed for non-compliance. Pigging technology advancements, such as intelligent pigs with sophisticated sensors and data analytics capabilities, are revolutionizing pipeline inspection efficiency and accuracy and propelling the market forward.Operators are being pushed to implement proactive pigging services to quickly identify and resolve possible faults due to growing environmental consciousness, the need to reduce carbon footprint, and the threat of pipeline spills. Innovation and affordable solutions are encouraged by a competitive environment populated by specialized pigging service providers. Through technology and skill, businesses try to stand out from the competition. Fluctuations in oil prices can affect the oil and gas industry's capital budgets, affecting the costs associated with maintaining pipelines and, as a result, the need for pigging services. The demand for pipeline pigging services can change as the world's energy landscape moves towards cleaner and more sustainable sources, especially in areas where alternative energy is strongly emphasized.
Global Pipeline Pigging Services Market Drivers
The expansion of pipeline networks serves as a fundamental driver in the Pipeline Pigging Services market. This growth is fueled by various industries, including oil and gas, petrochemicals, and water utilities. The building of additional pipelines is required due to the rising demand for the transmission of oil, natural gas, and other fluids. The transportation of materials from manufacturing sites to distribution hubs and final customers depends on these pipelines. Pipeline pigging services are essential for assuring the best performance and lifetime of newly installed pipes. The development of pipelines is mostly fueled by the oil and gas industry. Companies actively invest in pipeline infrastructure to transport hydrocarbons effectively in response to new discoveries and the requirement to access remote sources. Because they are economical and environmentally friendly, pipelines are in high demand for pigging services to maintain their vast networks. To address the increasing demands of urbanization and population expansion, water utilities are increasingly developing their pipeline networks in addition to energy-related pipes.
The aging infrastructure within the pipeline industry is a significant driver of demand for Pipeline Pigging Services.Many pipelines have been in use for many years and have either met or surpassed their specified lifespans. Pipelines need to be repaired and maintained as they get older because they are more prone to corrosion, mechanical wear, and degradation. Pipeline pigging services are essential for evaluating the state of these outdated pipes and locating sections that need replacement or repair. The integrity of pipelines is seriously threatened by corrosion, especially in older systems. Pigging services use specialized instruments and sensors to identify corrosion early, enabling operators to take corrective action before it results in leaks or ruptures. For the purpose of averting costly and potentially disastrous occurrences, this proactive approach is essential. To increase the operating life of deteriorating pipes, regular maintenance is necessary.
Restraints:
Pipeline pigging is a complex procedure that calls for expensive equipment, specialized employees, and cutting-edge technology. It might be expensive to purchase and maintain pigging equipment at first, especially smart pigs with advanced sensors and inspection instruments. Additionally, the costs associated with operations and maintenance, such as routine maintenance, pigging pig replacements, and data analysis, add to the overall cost burden. A competent workforce can be expensive to train and keep, therefore the requirement for qualified and experienced workers increases costs. Because of the complexity of pipeline networks, particularly in the oil and gas industry, it frequently takes highly skilled professionals to operate and correctly analyse the information received by the pigs.
Complex Compliance Requirements
The Pipeline Pigging Services market faces significant challenges stemming from regulatory hurdles. Numerous governmental organizations and business organizations have set a variety of rules and safety requirements on pipeline operations. It can be difficult and expensive to comply with this intricate web of rules. Operators of pipelines must comply with several rules pertaining to data management, reporting, and environmental protection. It takes dedication to stay on top of these changing requirements, and doing so frequently calls for adjustments to pigging practise and tools.
Opportunities:
Development of Advanced Pigging Technologies
Technological advancements present significant opportunities for the Pipeline Pigging Services market.The evolution of pigging technology is creating opportunities for more accurate, efficient, and comprehensive pipeline inspections. Smart pigs equipped with advanced sensors, imaging capabilities, and real-time data transmission are becoming increasingly prevalent. These pigs can provide detailed insights into the condition of pipelines, identifying defects, corrosion, and anomalies with higher precision. This not only enhances the effectiveness of pigging services but also supports proactive maintenance and reduces downtime.
Environmental Sustainability
The push for environmental sustainability represents a pivotal opportunity within the Pipeline Pigging Services market, driven by the imperative to minimize the environmental impact of pipeline operations. There is a growing demand for pigging services that prioritize environmental sustainability. This includes the use of biodegradable cleaning agents and lubricants, as well as environmentally friendly pig materials. Such eco-conscious practices reduce the potential harm caused by chemicals and waste materials used in the pigging process. In the context of natural gas pipelines, the reduction of methane emissions is a critical environmental goal. Advanced pigging technologies, including methane detection sensors, can help identify and address leaks promptly, minimizing the release of this potent greenhouse gas into the atmosphere.
Segment Overview
By Application
Based on application, the global pipeline pigging services market is divided into metal loss/corrosion detection, crack & leakage detection, geometry measurement & bend detection. The metal loss/corrosion detection category dominates the market with the largest revenue share.This segment primarily focuses on identifying and addressing the corrosion of pipeline materials, which is a significant concern in the oil and gas industry. Corrosion can weaken the structural integrity of pipelines, leading to leaks and failures. Pipeline pigging services within this category utilize advanced sensors and inspection tools to detect signs of corrosion, including thinning of the pipeline walls. These inspections help operators identify areas that require maintenance or rehabilitation to prevent further corrosion-related damage.Detecting cracks and leaks in pipelines is critical for preventing environmental damage and ensuring the safe transportation of fluids. Cracks can result from factors like mechanical stress, temperature fluctuations, or manufacturing defects. Geometry measurement & bend detection segment focuses on assessing the physical characteristics of pipelines, including their diameter, curvature, and alignment. Irregularities in these parameters can lead to flow restrictions, increased friction, and potential damage to pipeline integrity.
By End-Use
Based on end-use, the global pipeline pigging services market is segmented into oil and gas. The gas segment dominates the pipeline pigging services market. This segmentation emphasizes the primary application of pipeline pigging services within the oil and gas sector, which includes the transportation of crude oil, natural gas, refined petroleum products, and other hydrocarbons. This segment exclusively covers pipeline pigging services that cater to the transportation of oil and natural gas, addressing the specific challenges and requirements of hydrocarbon pipelines.
Global Pipeline Pigging Services Market Overview by Region
The global pipeline pigging services market is categorized into North America, Europe, Asia-Pacific, and the Rest of the World. North America emerged as the leading region, capturing the largest market share in 2022. A vast network of pipelines supporting numerous industries, including petrochemicals, water utilities, and oil and gas, can be found across North America. To ensure the effective operation and maintenance of this infrastructure, pigging services are in high demand because to the sheer size and complexity of the infrastructure. The area, which has a wealth of reserves and a strong production capability, is a global powerhouse in the oil and gas industry. The demand for pipeline pigging services has been driven by the need to move hydrocarbons safely and effectively. Particularly in the United States and Canada, North America has strict environmental and safety laws. Pigging services have been adopted to assure compliance and prevent environmental problems as a result of the legislation' requirement for frequent inspections and maintenance. The area is leading the way in pigging technology innovation, with businesses creating sophisticated inspection equipment and intelligent pigs outfitted with cutting-edge sensors. This innovative use of technology improves the precision and efficiency of pigging services. In North America, there is a high level of environmental awareness, which encourages a proactive approach to preventing pipeline leaks and reducing the environmental impact of pipeline operations. Pigging services are essential in identifying and resolving problems early on. The stability and success of the local economy offer the capital required to spend on pipeline upkeep and pigging services.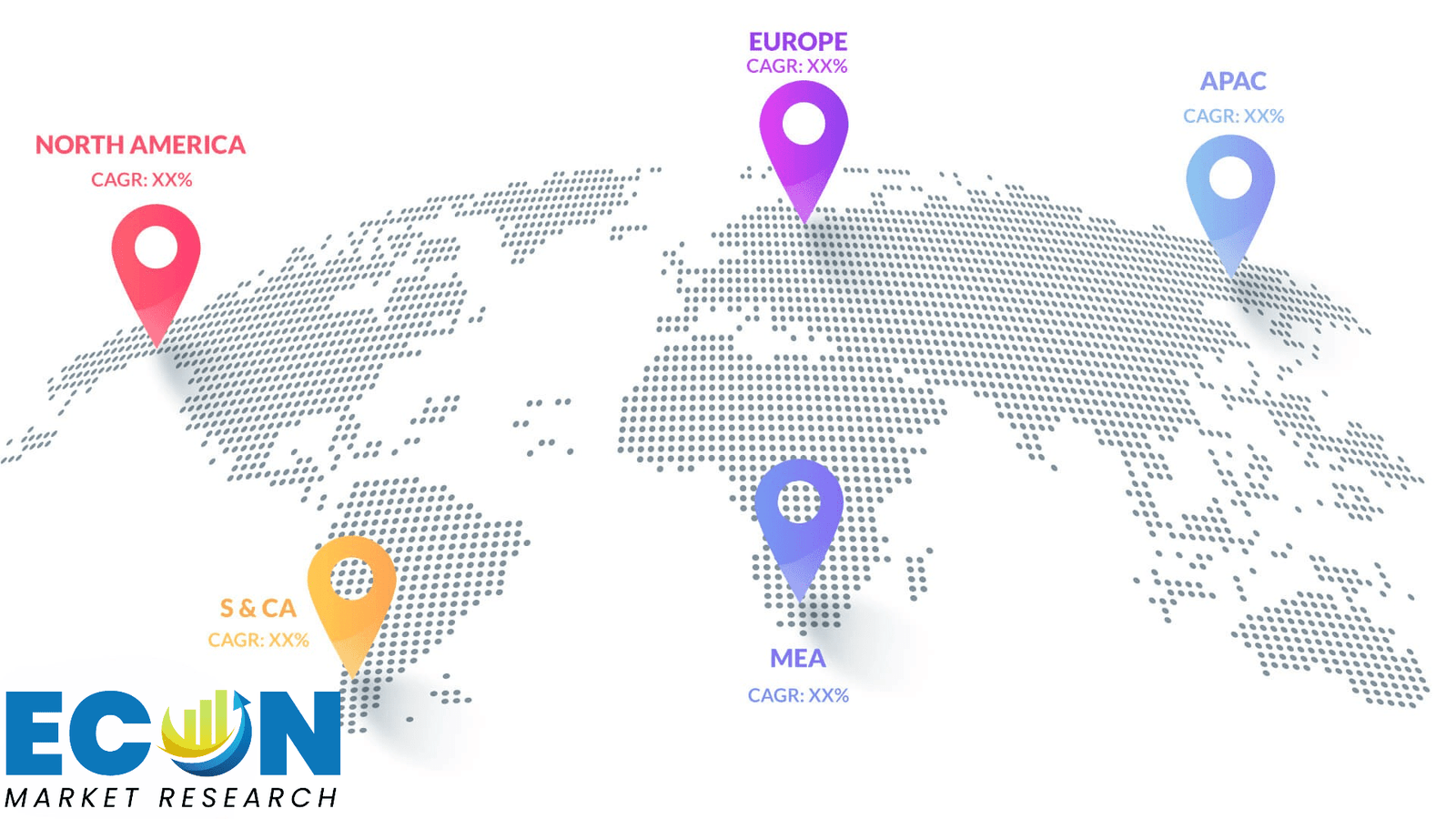 Global Pipeline Pigging Services Market Competitive Landscape
In the global pipeline pigging services market, a few major players exert significant market dominance and have established a strong regional presence. These leading companies remain committed to continuous research and development endeavors and actively engage in strategic growth initiatives, including product development, launches, joint ventures, and partnerships. By pursuing these strategies, these companies aim to strengthen their market position, expand their customer base, and capture a substantial share of the market.
Some of the prominent players in the global pipeline pigging services market include T.D. Williamson, Baker Hughes, Rosen Group, NDT Global, Enduro Pipeline Services, Intertek Group, Applus, Lin Scan, Dacon Inspection Services, and Onstream Pipeline Inspection., and various other key players.
Global Pipeline Pigging Services Market Recent Developments
In July 2022,The announcement of an investment collaboration between SCF Partners ("SCF") and T.D. Williamson, Inc. ("TDW") is made with pleasure. A global leader in intervention and isolation, inspection, and pigging equipment and services for the pipeline industry's gathering, transmission, and distribution sectors, TDW has received financing from SCF, an energy investment company. TDW serves clients on 6 continents and in more than 100 countries, assisting in the maintenance of vital assets all over the world.
Scope of the Global Pipeline Pigging Services Market Report
Pipeline Pigging Services Market Report Segmentation
ATTRIBUTE

DETAILS

By Application

Metal Loss/Corrosion Detection

Crack & Leakage Detection

Geometry Measurement & Bend Detection

By End Use

By Geography

North America (USA,

and Canada)

Europe (UK, Germany, France, Italy, Spain, Russia and Rest of Europe)

Asia Pacific (Japan, China, India, Australia, Southeast Asia and Rest of Asia Pacific)

Latin America (Brazil, Mexico, and Rest of Latin America)

Middle East & Africa (South Africa, GCC, and Rest of Middle East & Africa)

Customization Scope

Pricing
Objectives of the Study
The objectives of the study are summarized in 5 stages. They are as mentioned below:
Global Pipeline Pigging Services

Market

Size and Forecast:
To identify and estimate the market size for the global pipeline pigging services market segmented by application, by end use, region and by value (in U.S. dollars). Also, to understand the consumption/ demand created by consumers of pipeline pigging services between 2019 and 2031.
Market Landscape and Trends:
To identify and infer the drivers, restraints, opportunities, and challenges for the global pipeline pigging services market
Market Influencing Factors:
To find out the factors which are affecting the sales of pipeline pigging services among consumers
To identify and understand the various factors involved in the global pipeline pigging services market affected by the pandemic
To provide a detailed insight into the major companies operating in the market. The profiling will include the financial health of the company's past 2-3 years with segmental and regional revenue breakup, product offering, recent developments, SWOT analysis, and key strategies.
Intended Audience
Pipeline Operators

Pipeline Maintenance and Inspection Service Providers

Environmental and Safety Professionals

Engineers and Technicians

Retailers, Wholesalers, and Distributors

Governments, Associations, and Industrial Bodies

Investors and Trade Experts
Research Methodology
Our research methodology has always been the key differentiating reason which sets us apart in comparison from the competing organizations in the industry. Our organization believes in consistency along with quality and establishing a new level with every new report we generate; our methods are acclaimed and the data/information inside the report is coveted. Our research methodology involves a combination of primary and secondary research methods. Data procurement is one of the most extensive stages in our research process. Our organization helps in assisting the clients to find the opportunities by examining the market across the globe coupled with providing economic statistics for each and every region. The reports generated and published are based on primary & secondary research. In secondary research, we gather data for global Market through white papers, case studies, blogs, reference customers, news, articles, press releases, white papers, and research studies. We also have our paid data applications which includes hoovers, Bloomberg business week, Avention, and others.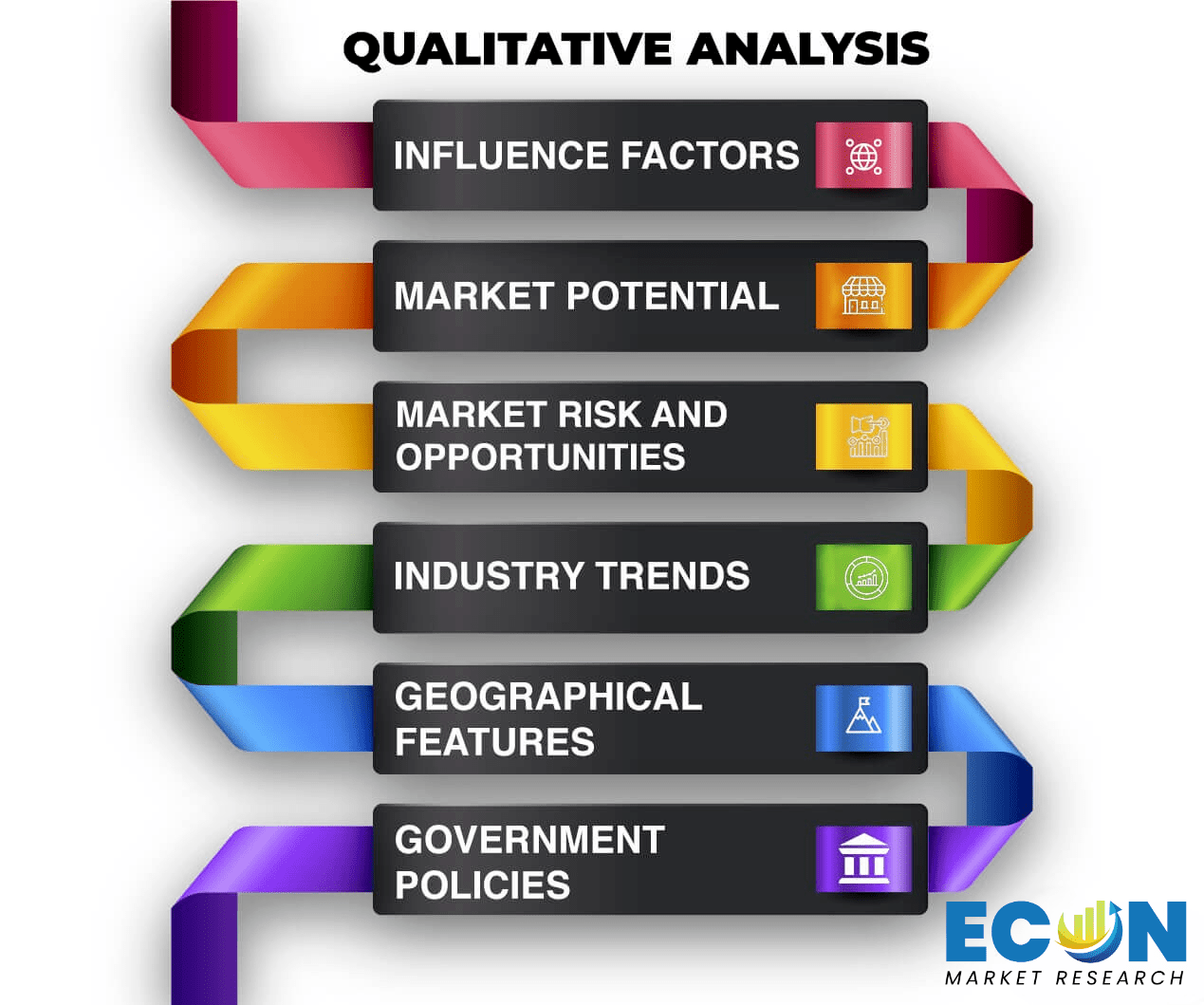 Data Collection
Data collection is the process of gathering, measuring, and analyzing accurate and relevant data from a variety of sources to analyze market and forecast trends. Raw market data is obtained on a broad front. Data is continuously extracted and filtered to ensure only validated and authenticated sources are considered. Data is mined from a varied host of sources including secondary and primary sources.

Primary Research
After the secondary research process, we initiate the primary research phase in which we interact with companies operating within the market space. We interact with related industries to understand the factors that can drive or hamper a market. Exhaustive primary interviews are conducted. Various sources from both the supply and demand sides are interviewed to obtain qualitative and quantitative information for a report which includes suppliers, product providers, domain experts, CEOs, vice presidents, marketing & sales directors, Type & innovation directors, and related key executives from various key companies to ensure a holistic and unbiased picture of the market. 
Secondary Research
A secondary research process is conducted to identify and collect information useful for the extensive, technical, market-oriented, and comprehensive study of the market. Secondary sources include published market studies, competitive information, white papers, analyst reports, government agencies, industry and trade associations, media sources, chambers of commerce, newsletters, trade publications, magazines, Bloomberg BusinessWeek, Factiva, D&B, annual reports, company house documents, investor presentations, articles, journals, blogs, and SEC filings of companies, newspapers, and so on. We have assigned weights to these parameters and quantified their market impacts using the weighted average analysis to derive the expected market growth rate.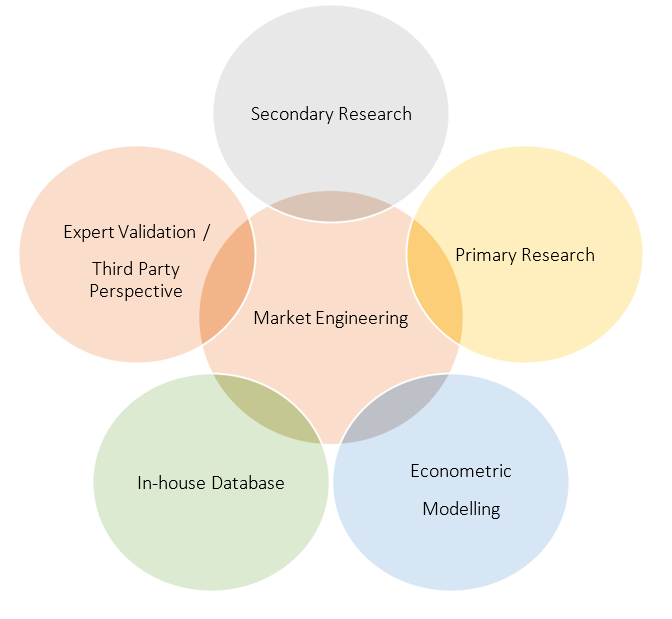 Top-Down Approach & Bottom-Up Approach
In the top – down approach, the Global Batteries for Solar Energy Storage Market was further divided into various segments on the basis of the percentage share of each segment. This approach helped in arriving at the market size of each segment globally. The segments market size was further broken down in the regional market size of each segment and sub-segments. The sub-segments were further broken down to country level market. The market size arrived using this approach was then crosschecked with the market size arrived by using bottom-up approach.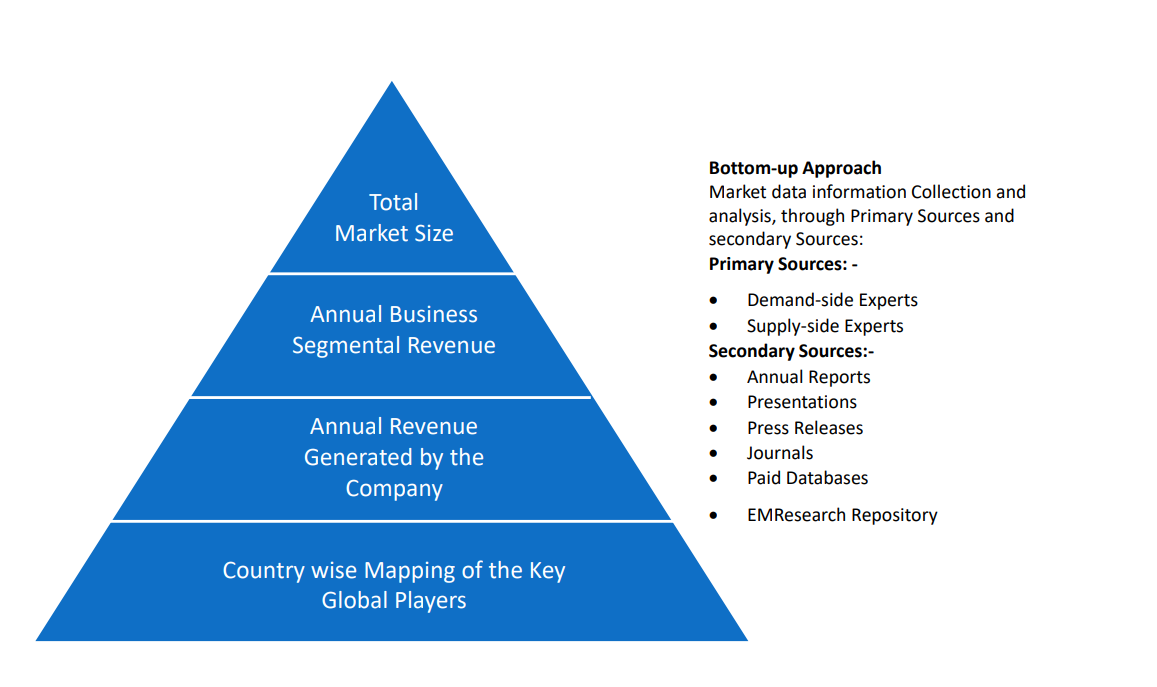 In the bottom-up approach, we arrived at the country market size by identifying the revenues and market shares of the key market players. The country market sizes then were added up to arrive at regional market size of the decorated apparel, which eventually added up to arrive at global market size.
This is one of the most reliable methods as the information is directly obtained from the key players in the market and is based on the primary interviews from the key opinion leaders associated with the firms considered in the research. Furthermore, the data obtained from the company sources and the primary respondents was validated through secondary sources including government publications and Bloomberg.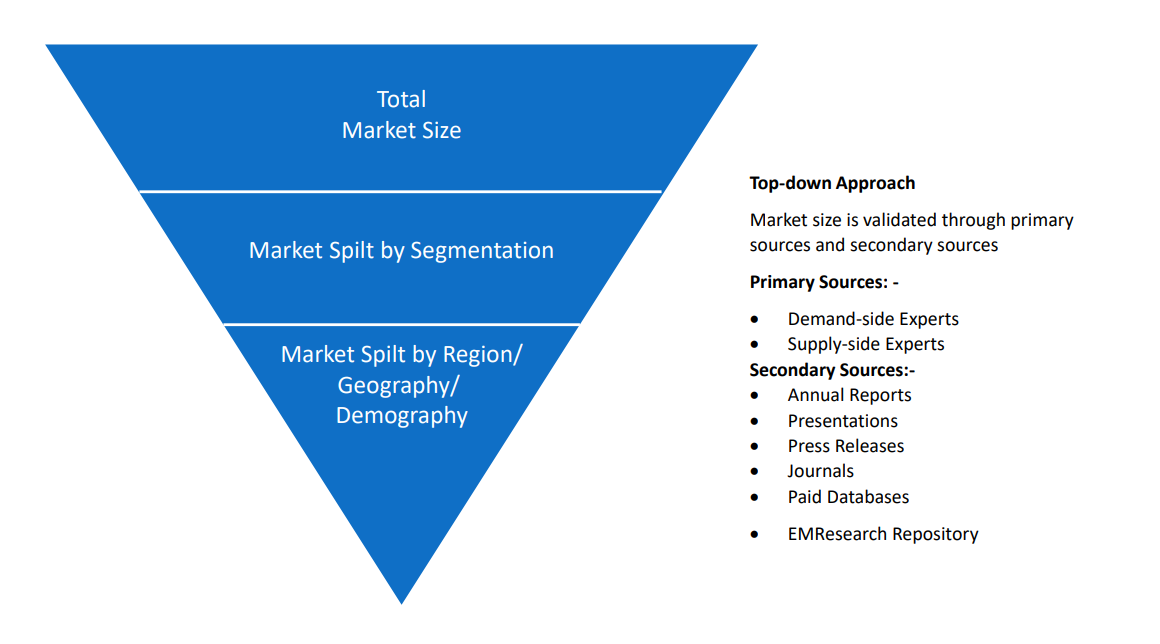 Market Analysis & size Estimation
Post the data mining stage, we gather our findings and analyze them, filtering out relevant insights. These are evaluated across research teams and industry experts. All this data is collected and evaluated by our analysts. The key players in the industry or markets are identified through extensive primary and secondary research. All percentage share splits, and breakdowns have been determined using secondary sources and verified through primary sources. The market size, in terms of value and volume, is determined through primary and secondary research processes, and forecasting models including the time series model, econometric model, judgmental forecasting model, the Delphi method, among Flywheel Energy Storage. Gathered information for market analysis, competitive landscape, growth trends, product development, and pricing trends is fed into the model and analyzed simultaneously.
Quality Checking & Final Review
The analysis done by the research team is further reviewed to check for the accuracy of the data provided to ensure the clients' requirements. This approach provides essential checks and balances which facilitate the production of quality data. This Type of revision was done in two phases for the authenticity of the data and negligible errors in the report. After quality checking, the report is reviewed to look after the presentation, Type and to recheck if all the requirements of the clients were addressed.