The global pen needles market was valued at USD 1.78 billion in 2022 and is estimated to reach approximately USD 4.56 billion by 2031, at a CAGR of 11.0% from 2023 to 2031.
Pen needles are crucial parts of insulin pens and other drug delivery systems that make it easier for people to administer medication comfortably and painlessly, especially for those who have diabetes. With its introduction, traditional syringes and vials were replaced with a more user-friendly option, completely changing the way patients maintain their health. Pencil needles were initially quite basic, but they have undergone significant design, length, gauge, and safety feature developments over time. With injections, patients are now much more comfortable and have less anxiety and pain because shorter, finer gauge needles have been introduced. Furthermore, the general safety profile of pen needles has been improved by the incorporation of safety devices such needle shields and retractable features. Pen needle sales have also been impacted by the growing use of injectable medications for a range of medical ailments and the increased incidence of diabetes worldwide. Because of this, the market for pen needles has grown to be a very active and competitive sector, with many manufacturers continuously coming up with new products to fulfill the changing needs of consumers and healthcare professionals. The importance of environmental sustainability has grown recently, which has prompted the creation of disposable, eco-friendly pen needles. Pen needles, which provide a more comfortable and convenient way to administer medication, have had a significant impact on healthcare since their debut and development. As the industry grows to meet the evolving needs of the healthcare sector, pen needle sales will only increase.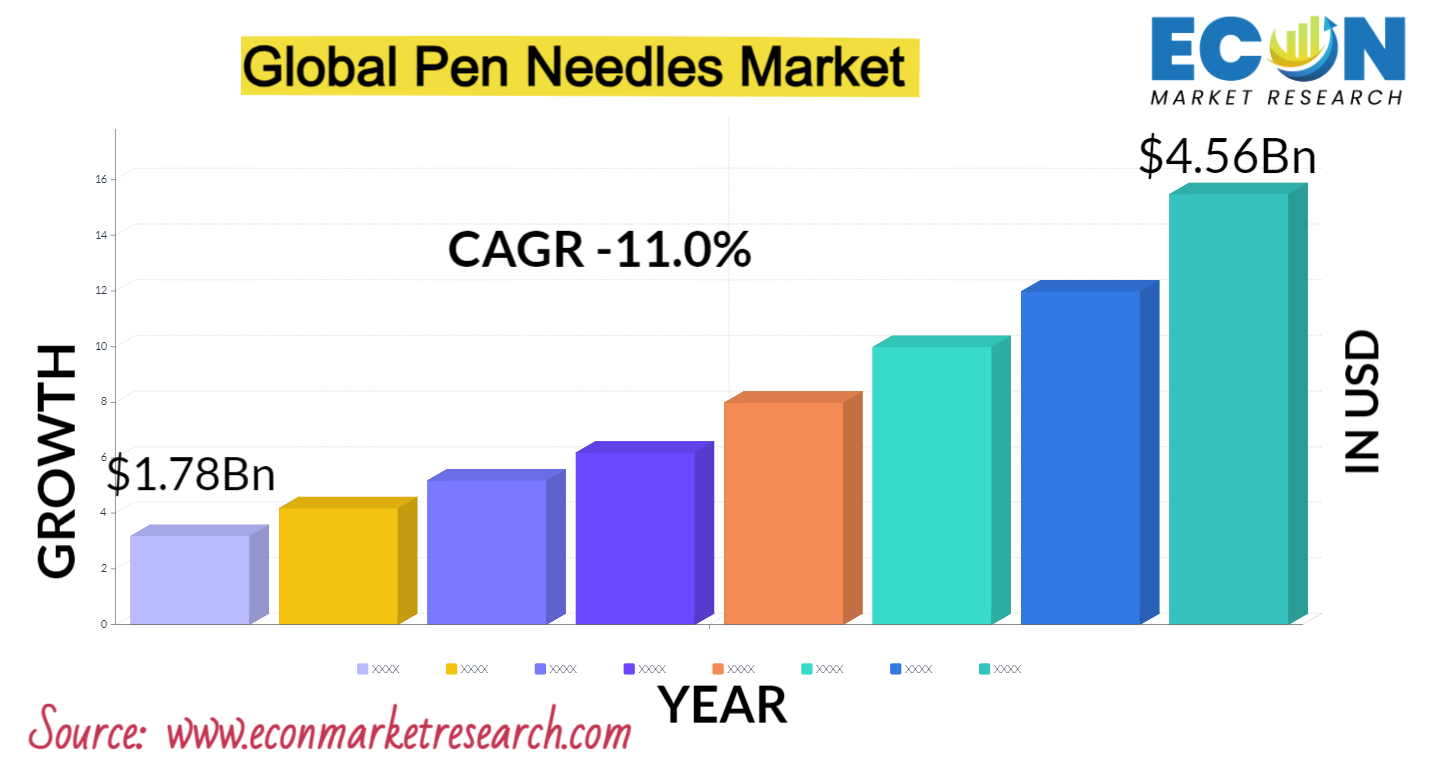 PEN NEEDLES MARKET: REPORT SCOPE & SEGMENTATION
| | |
| --- | --- |
| Report Attribute | Details |
| Estimated Market Value (2022) | 1.78 Bn |
| Projected Market Value (2031) | 4.56 Bn |
| Base Year | 2022 |
| Forecast Years | 2023 - 2031 |
| Scope of the Report | Historical and Forecast Trends, Industry Drivers and Constraints, Historical and Forecast Market Analysis by Segment- By Product, By Needle Length, By Therapy, By Distribution Channel , & Region |
| Segments Covered | By Product, By Needle Length, By Therapy, By Distribution Channel, & Region |
| Forecast Units | Value (USD Billion or Million), and Volume (Units) |
| Quantitative Units | Revenue in USD million/billion and CAGR from 2023 to 2031 |
| Regions Covered | North America, Europe, Asia Pacific, Latin America, and Middle East & Africa, and the Rest of World |
| Countries Covered | U.S., Canada, Mexico, U.K., Germany, France, Italy, Spain, China, India, Japan, South Korea, Brazil, Argentina, GCC Countries, and South Africa, among others |
| Report Coverage | Market growth drivers, restraints, opportunities, Porter's five forces analysis, PEST analysis, value chain analysis, regulatory landscape, market attractiveness analysis by segments and region, company market share analysis, and COVID-19 impact analysis. |
| Delivery Format | Delivered as an attached PDF and Excel through email, according to the purchase option. |
Global Pen Needles Market Dynamics
One of the biggest factors driving the pen needles market is the rising prevalence of diabetes worldwide. Since people with diabetes need to regularly inject insulin, pen needle demand is only increasing. The market is growing because of continuous developments in pen needle design, such as thinner and shorter needles, improved safety features, and interoperability with different pen injector devices. The comfort and adherence of patients are the goals of these advances. The market is growing as a result of patients' growing preference for pen needles over traditional syringes because of their portability, convenience of use, and less pain. Patient preferences are accommodated via improved needle technology and user-friendly designs. Market dynamics are impacted by changing medical device standards and regulations. Strict quality and safety regulations that manufacturers must adhere to have an impact on product development and market access. Innovation is encouraged in a highly competitive market where many firms are constantly offering new products and technology in an attempt to obtain a competitive advantage. Price alterations and market consolidation can result from this competition. An emerging trend that is changing market dynamics is the integration of digital health technology with smart pen needle devices to help with medication adherence and data monitoring. Disposable and eco-friendly pen needles are becoming more popular, which is indicative of rising environmental consciousness and influencing consumer behavior. The market for pen needles is being impacted by broader healthcare trends including telemedicine and home healthcare. The need for dependable and user-friendly pen needle solutions is being driven by the growing number of patients who are taking care of their health from home.
Global Pen Needles Market Drivers
Increasing Diabetes Prevalence
This driver is typified by the rising number of people receiving diabetes diagnoses, particularly type 2 diabetes, which is frequently linked to lifestyle choices like eating poorly and not exercising. Together with an increase in obesity rates, the sedentary lifestyle of today is one of the main causes of the rise in diabetes prevalence. People who make poor dietary choices such as eating a lot of processed foods and sugar are more likely to gain weight and develop insulin resistance, which increases their risk of developing diabetes. An other factor contributing to the rising incidence of diabetes is the demographic change towards an older population. The condition is more common in older people, and as life expectancy increases, there will likely be an increase in the number of older people with diabetes. The healthcare industry is compelled to focus on diabetes prevention, improved management, and the development of innovative treatments. Public health initiatives, lifestyle interventions, and early diabetes detection are vital components of efforts to mitigate the impact of this growing health crisis.
Rising Healthcare Expenditure
It includes rising expenses for medical services and treatments as well as general infrastructure upkeep for the healthcare system. There are several reasons behind this continuing pattern. Novel, but frequently costly, treatments and therapies have been developed as a result of developments in pharmaceuticals and medical technology. Although these innovations have enhanced patient care, they come at a higher cost, driving up the entire cost of providing healthcare. The number of people living longer is a major factor in the increase in healthcare costs. People tend to need more medical attention and treatment for age-related health conditions as they live longer. Due to the fact that older people typically use healthcare services more frequently, this demographic shift has a significant negative impact on healthcare systems. Moreover, healthcare infrastructure and facilities demand significant investments in maintenance and expansion. Ensuring state-of-the-art healthcare facilities and technology infrastructure adds to the financial burden.
Restraints:
High product costs might make it difficult for people to receive necessary medical procedures and treatments in the healthcare industry. Disparities in healthcare outcomes can result from patients' inability to pay for prescription drugs, medical equipment, or treatments. Furthermore, the cost of healthcare can put a pressure on government spending and healthcare systems, which could lower the general standard of care that the general public receives. Adoption of new technologies can also be hampered by high product costs. Innovative products in sectors such as consumer electronics are frequently expensive, limiting their availability to a larger market. This exclusivity can limit the benefits of these breakthroughs to a small group of people and slow down the rate of technological adoption. Moreover, high product costs can be a barrier to market entry for businesses, particularly small startups and entrepreneurs. They can find it challenging to compete in markets where established players can offer similar products at lower prices due to economies of scale.
Needlestick Injury Concerns
Bloodborne pathogens like HIV, hepatitis B, and hepatitis C can spread by needlestick damage. A major health risk is posed to the injured person by the possibility of infection, which calls for diagnostics and medical attention. Affected healthcare workers can also experience significant emotional and psychological effects from needlestick injuries, including stress and anxiety. Moreover, the expenses of healthcare are raised by needlestick injuries. Treatment for illnesses resulting from exposure to exposure can be costly and can involve testing, counseling, and possibly antiviral medication. Medical facilities and employers have a financial burden in part because of these expenses as well as missed work hours and payout claims. The job satisfaction and retention rates of healthcare personnel might also be impacted by the dread of needlestick injuries. Employees can feel more anxious and stressed out, which could have an impact on their general wellbeing and productivity. Over time, this can result in a labor shortage in vital healthcare industries.
Opportunities:
Advancements in Pen Needle Technology
A significant opportunity is to improve patient comfort and adherence. Because of their shorter, finer, and smoother shape, advanced pen needles can greatly lessen the pain and suffering that come with injections. More adherence to prescription regimens as a result of increased comfort can eventually lead to better health results. Furthermore, there is a significant chance to lower the incidence of needlestick injuries and improve user safety by including safety measures into pen needles. For example, protected or retractable needles reduce the chance of unintentional punctures, safeguarding both patients and medical personnel. Integration of digital health is an additional promising path. Patients can track and control their injection schedules with the use of smart pen needles and related smartphone apps, which include dose calculations, data analysis, and reminders for improved illness management. This opportunity aligns with the broader trend of digital health and patient empowerment. Environmental sustainability is a growing concern, leading to eco-friendly and disposable pen needles. This innovation not only reduces the environmental footprint but also aligns with changing consumer preferences for greener healthcare options.
Home Healthcare and Self-Administration
Self-administration and at-home medical care give patients the power to take charge of their health. Under the direction of medical specialists, people can take control of their diseases, get the treatments they need, and keep an eye on their health, which improves patient involvement and self-care. This patient-centered strategy can result in enhanced quality of life and better outcomes. Furthermore, patients and healthcare systems can save money by having the option to receive medical care at home. Compared to at-home options, hospital stays and inpatient care are frequently more costly. This cost-effectiveness is especially crucial as healthcare spending gets more and more constrained. Additionally, developments in telemedicine and remote monitoring technology have made it possible for medical professionals to evaluate and communicate with patients from a distance, improving access to care and extending the reach of their expertise. This can be especially beneficial for patients in rural or underserved areas. Home healthcare also presents opportunities for caregivers, as it can reduce the burden on family members and professional caregivers who provide support for patients, particularly those with chronic conditions or special needs.
Segment Overview
By Product
Based on product, the global pen needles market is divided into standard & safety pen needles. The safety pen needles-based category dominates the market with the largest revenue share in 2022. Safety pen needles represent an essential innovation in healthcare. These needles are equipped with various safety features, such as needle shields or retractable mechanisms, aimed at minimizing the risk of accidental needlestick injuries. Safety pen needles are particularly important for healthcare professionals and patients who self-administer injections, ensuring their protection and peace of mind during and after use. Standard pen needles and safety pen needles, each serving distinct purposes in the field of healthcare. Standard pen needles are the traditional, widely used devices for administering medications like insulin to patients, commonly employed in the treatment of conditions such as diabetes. They are designed to be simple and effective, focusing on efficient medication delivery with minimal discomfort.
By Needle Length
Based on the needle length, the global pen needles market is categorized into 4mm, 5mm, 6mm, 8mm, 10mm, 12mm. The 8mm category leads the global pen needles market with the largest revenue share in 2022. These needles are of standard length and are commonly used for subcutaneous injections. They work well for patients who have a moderate amount of subcutaneous fat. 4mm pen needles are the shortest pen needles available and are often preferred for individuals who have a lower amount of subcutaneous fat. They are designed to reduce the risk of intramuscular injection and can offer greater comfort during injection. 5mm pen needles are slightly longer than 4mm, these needles are still considered short and are suitable for patients with varying levels of subcutaneous fat. They are popular for their ease of use and reduced risk of pain. 6mm pen needles strike a balance between short and standard lengths, suitable for a wide range of patients. They are versatile and user-friendly, often chosen for their compatibility with most injection techniques. 10mm pen needles are slightly longer than standard needles, these are chosen when injections need to penetrate deeper subcutaneous layers. They are particularly useful for patients with thicker skin or fatty tissue. 12mm pen needles are the longest among the available options and are typically used when a deeper injection is required, such as for specific medications or in patients with considerable subcutaneous fat.
By Therapy
Based on therapy, the global pen needles market is segmented into insulin, glucagon-like-peptide-1. The insulin segment dominates the pen needles market. This segment caters to patients who require insulin therapy, which is essential for individuals with diabetes, especially those with type 1 diabetes and some cases of type 2 diabetes. Insulin pen needles are designed to deliver insulin subcutaneously, allowing for controlled and precise dosage administration. These pen needles are available in various lengths and gauges to accommodate the diverse needs of insulin-dependent individuals. The market for insulin pen needles is substantial, given the global prevalence of diabetes, and it continues to grow as diabetes diagnoses increase. GLP-1 is a type of medication used to treat type 2 diabetes by regulating blood sugar levels and potentially promoting weight loss. The pen needles in this segment are specifically designed for the administration of GLP-1 agonists, ensuring accurate and efficient delivery. The market for GLP-1 pen needles has emerged in response to the increasing adoption of GLP-1-based therapies as a part of the treatment regimen for type 2 diabetes.
By Distribution Channel
Based on distribution channel, the global pen needles market is divided into hospital pharmacies, drug stores and retail pharmacies, online providers. The drug stores and retail pharmacies based category dominates the market with the largest revenue share in 2022. Local drug stores and retail pharmacies are accessible and common sources of pen needles for patients with prescription needs. These establishments offer convenience to individuals who prefer to pick up their supplies in person, making it easier for them to manage their medication regimens. Retail pharmacies can provide a variety of pen needle options, as well as guidance from pharmacists on selecting the most suitable product. Hospital pharmacies play a vital role in the distribution of pen needles, especially for inpatient care and emergency situations. They provide a convenient source of these devices for healthcare professionals working within hospital settings. Hospital pharmacies ensure that a steady supply of pen needles is available to meet the needs of patients undergoing treatment, including those with diabetes or other conditions requiring injectable medications. The rise of e-commerce has given birth to online providers who offer pen needles through digital platforms. This option grants patients the flexibility to order their supplies online and have them delivered directly to their homes. Online providers often maintain a diverse range of pen needle options, allowing patients to choose the specific product that best fits their needs. The convenience of online ordering is particularly beneficial for those with mobility challenges or those seeking a wide selection of needle types and sizes.
Global Pen Needles Market Overview by Region
The global pen needles market is categorized into North America, Europe, Asia-Pacific, and the Rest of the World. North America emerged as the leading region, capturing the largest market share in 2022. In the global market for pen needles, North America has solidified its position as the top region. This significance is a result of the area's highly developed healthcare system, high diabetes prevalence, and proactive adoption of cutting-edge medical technologies. A sizable portion of the populations in the US and Canada have diabetes, both type 1 and type 2. Pen needles are in high demand because these patients require daily insulin injection. Due to the market's increased innovation and competition as a result of this predominance, a large variety of pen needle alternatives are now available. Furthermore, when it comes to medical technology, research, and development, North America leads the world. As a result, pen needle technology has continued to advance, improving patient comfort and safety. The region has embraced safety elements like retractable mechanisms and needle shields, which lower the likelihood of needlestick injuries. Pen needles are easily accessible for patients and healthcare workers thanks to the region's well-established healthcare system, which consists of clinics, hospitals, and retail pharmacies. Online service providers have also grown in popularity, which improves accessibility and convenience even further. It is anticipated that North America will maintain its market-leading position for pen needles as long as it is dedicated to enhancing patient care and diabetes treatment.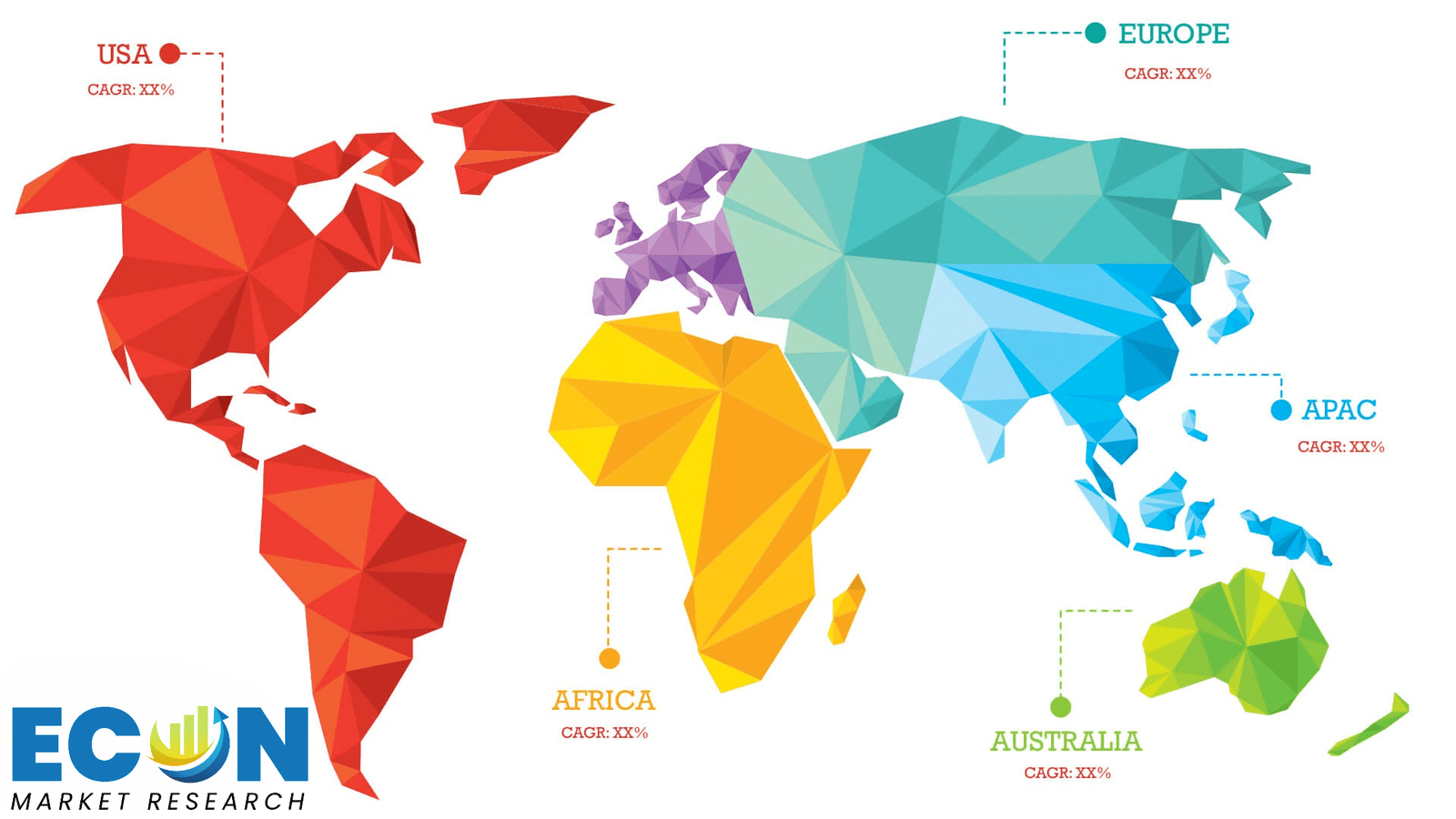 Global Pen Needles Market Competitive Landscape
In the global pen needles market, a few major players exert significant market dominance and have established a strong regional presence. These leading companies remain committed to continuous research and development endeavors and actively engage in strategic growth initiatives, including product development, launches, joint ventures, and partnerships. By pursuing these strategies, these companies aim to strengthen their market position, expand their customer base, and capture a substantial share of the market.
Some of the prominent players in the global pen needles market include Owen Mumford Ltd., Novo Nordisk A/S, B.Braun SE, Embecta Corp., MTD Medical Technology and Devices S.p.A, UltiMed, Inc, Ypsomed AG, Allison Medical Inc., Trividia Health, Inc., Terumo Corporation, and various other key players.
Global Pen Needles Market Recent Developments
In June 2023, the primary shareholder of BIOCORP, BIO JAG, and Novo Nordisk have initiated exclusive discussions for the purchase of BIO JAG's full position in BIOCORP, which represents 45.3% of the company's share capital and 62.2% of its theoretical voting rights, at a price per share of 35.00 euros.
Scope of the Global Pen Needles Market Report
Pen Needles Market Report Segmentation
ATTRIBUTE

DETAILS

By Product

Standard

Safety Pen Needles

By Needle Length

4mm

5mm

6mm

8mm

10mm

12mm

By Therapy

Insulin

Glucagon-like-Peptide-1

By Distribution Channel

Hospital Pharmacies

Drug Stores and Retail Pharmacies

Online Providers

By Geography

North America (USA,

and Canada)

Europe (UK, Germany, France, Italy, Spain, Russia and Rest of Europe)

Asia Pacific (Japan, China, India, Australia, Southeast Asia and Rest of Asia Pacific)

Latin America (Brazil, Mexico, and Rest of Latin America)

Middle East & Africa (South Africa, GCC, and Rest of Middle East & Africa)

Customization Scope

Pricing
Objectives of the Study
The objectives of the study are summarized in 5 stages. They are as mentioned below:
Global Pen Needles Market

Size and Forecast:
To identify and estimate the market size for the global pen needles market segmented by product, by needle length, by therapy, by distribution channel, region and by value (in U.S. dollars). Also, to understand the consumption/ demand created by consumers of pen needles between 2019 and 2031.
Market Landscape and Trends:
To identify and infer the drivers, restraints, opportunities, and challenges for the global pen needles market
Market Influencing Factors:
To find out the factors which are affecting the sales of pen needles among consumers
To identify and understand the various factors involved in the global pen needles market affected by the pandemic
To provide a detailed insight into the major companies operating in the market. The profiling will include the financial health of the company's past 2-3 years with segmental and regional revenue breakup, product offering, recent developments, SWOT analysis, and key strategies.
Intended Audience
Raw Material Suppliers

Retailers, Wholesalers, and Distributors

Healthcare Professionals

Technical Experts

Governments, Associations, and Industrial Bodies

Investors and Trade Experts
Research Methodology
Our research methodology has always been the key differentiating reason which sets us apart in comparison from the competing organizations in the industry. Our organization believes in consistency along with quality and establishing a new level with every new report we generate; our methods are acclaimed and the data/information inside the report is coveted. Our research methodology involves a combination of primary and secondary research methods. Data procurement is one of the most extensive stages in our research process. Our organization helps in assisting the clients to find the opportunities by examining the market across the globe coupled with providing economic statistics for each and every region. The reports generated and published are based on primary & secondary research. In secondary research, we gather data for global Market through white papers, case studies, blogs, reference customers, news, articles, press releases, white papers, and research studies. We also have our paid data applications which includes hoovers, Bloomberg business week, Avention, and others.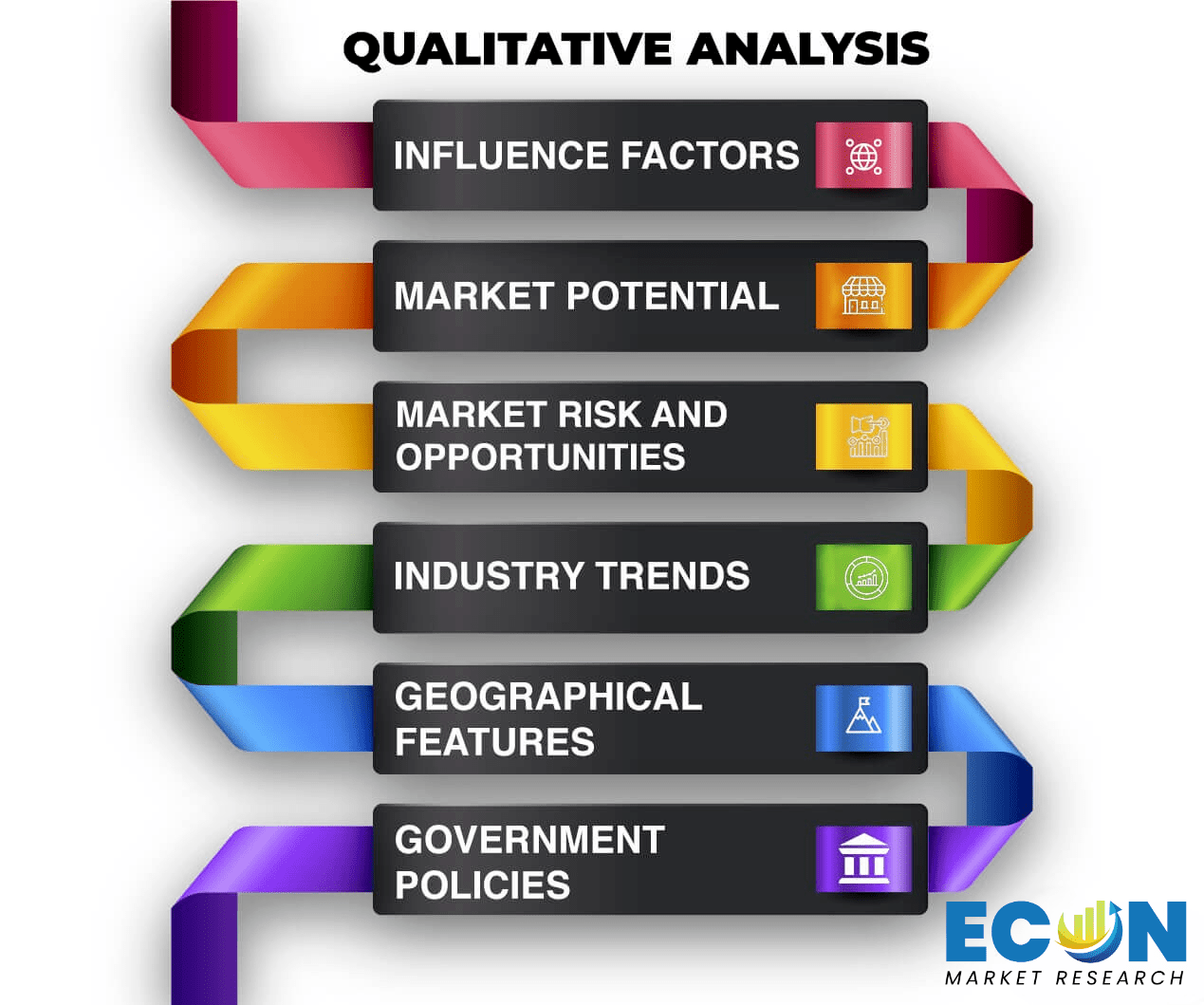 Data Collection
Data collection is the process of gathering, measuring, and analyzing accurate and relevant data from a variety of sources to analyze market and forecast trends. Raw market data is obtained on a broad front. Data is continuously extracted and filtered to ensure only validated and authenticated sources are considered. Data is mined from a varied host of sources including secondary and primary sources.

Primary Research
After the secondary research process, we initiate the primary research phase in which we interact with companies operating within the market space. We interact with related industries to understand the factors that can drive or hamper a market. Exhaustive primary interviews are conducted. Various sources from both the supply and demand sides are interviewed to obtain qualitative and quantitative information for a report which includes suppliers, product providers, domain experts, CEOs, vice presidents, marketing & sales directors, Type & innovation directors, and related key executives from various key companies to ensure a holistic and unbiased picture of the market. 
Secondary Research
A secondary research process is conducted to identify and collect information useful for the extensive, technical, market-oriented, and comprehensive study of the market. Secondary sources include published market studies, competitive information, white papers, analyst reports, government agencies, industry and trade associations, media sources, chambers of commerce, newsletters, trade publications, magazines, Bloomberg BusinessWeek, Factiva, D&B, annual reports, company house documents, investor presentations, articles, journals, blogs, and SEC filings of companies, newspapers, and so on. We have assigned weights to these parameters and quantified their market impacts using the weighted average analysis to derive the expected market growth rate.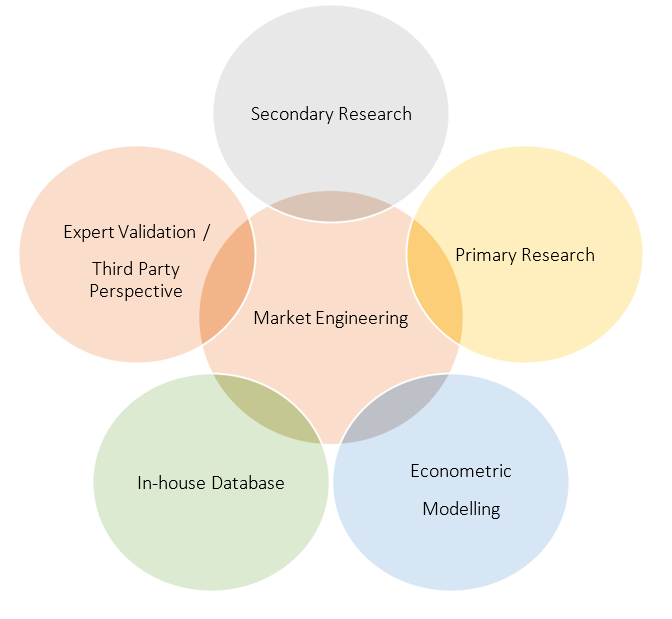 Top-Down Approach & Bottom-Up Approach
In the top – down approach, the Global Batteries for Solar Energy Storage Market was further divided into various segments on the basis of the percentage share of each segment. This approach helped in arriving at the market size of each segment globally. The segments market size was further broken down in the regional market size of each segment and sub-segments. The sub-segments were further broken down to country level market. The market size arrived using this approach was then crosschecked with the market size arrived by using bottom-up approach.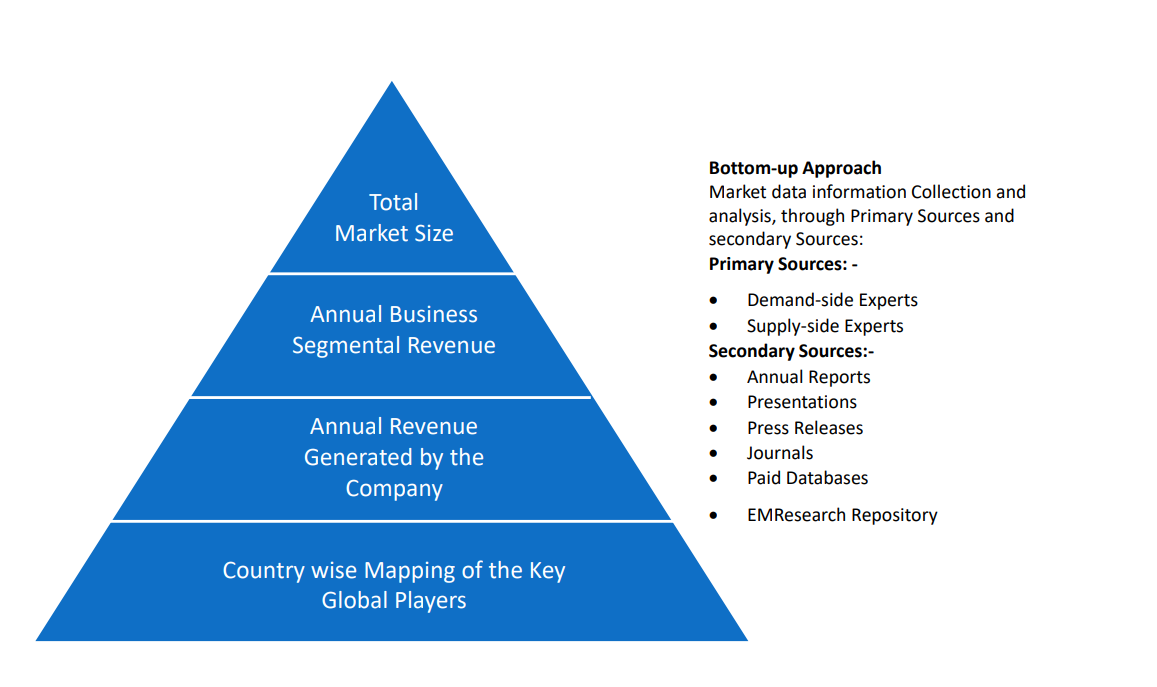 In the bottom-up approach, we arrived at the country market size by identifying the revenues and market shares of the key market players. The country market sizes then were added up to arrive at regional market size of the decorated apparel, which eventually added up to arrive at global market size.
This is one of the most reliable methods as the information is directly obtained from the key players in the market and is based on the primary interviews from the key opinion leaders associated with the firms considered in the research. Furthermore, the data obtained from the company sources and the primary respondents was validated through secondary sources including government publications and Bloomberg.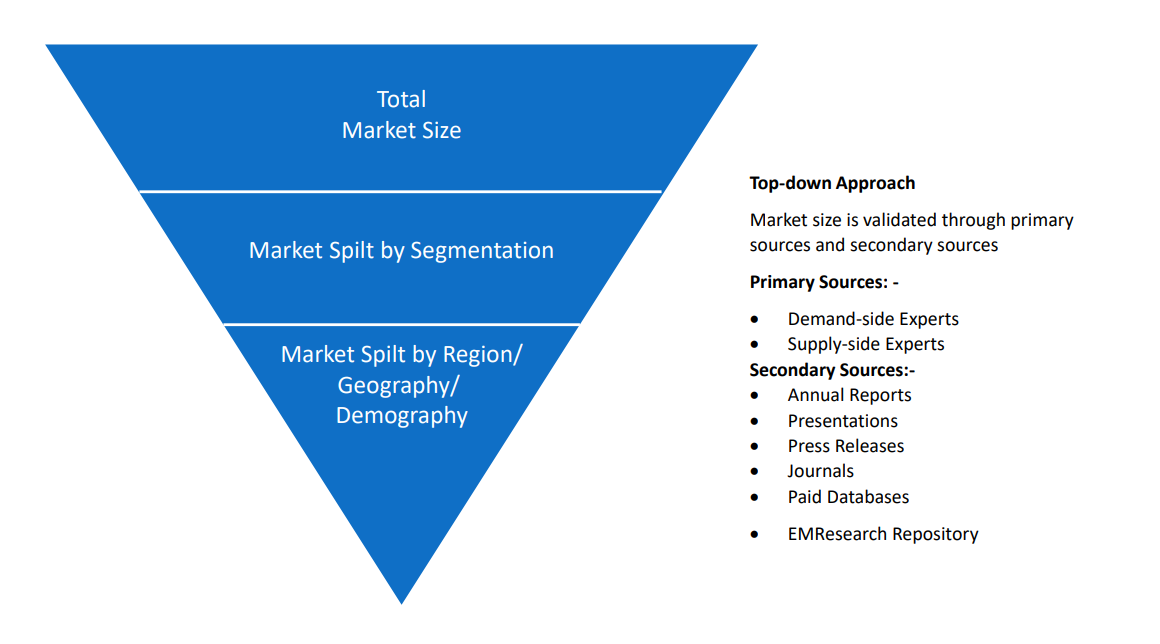 Market Analysis & size Estimation
Post the data mining stage, we gather our findings and analyze them, filtering out relevant insights. These are evaluated across research teams and industry experts. All this data is collected and evaluated by our analysts. The key players in the industry or markets are identified through extensive primary and secondary research. All percentage share splits, and breakdowns have been determined using secondary sources and verified through primary sources. The market size, in terms of value and volume, is determined through primary and secondary research processes, and forecasting models including the time series model, econometric model, judgmental forecasting model, the Delphi method, among Flywheel Energy Storage. Gathered information for market analysis, competitive landscape, growth trends, product development, and pricing trends is fed into the model and analyzed simultaneously.
Quality Checking & Final Review
The analysis done by the research team is further reviewed to check for the accuracy of the data provided to ensure the clients' requirements. This approach provides essential checks and balances which facilitate the production of quality data. This Type of revision was done in two phases for the authenticity of the data and negligible errors in the report. After quality checking, the report is reviewed to look after the presentation, Type and to recheck if all the requirements of the clients were addressed.