The Global Palm Oil Market was valued at USD 66.84 billion in 2022 and is estimated to reach approximately USD 108.54 billion by 2031, at a CAGR of 5.5% from 2023 to 2031. The fruit of oil palm trees is where palm oil, a multipurpose vegetable oil, is derived. Its high production and adaptability make it a common ingredient in food, cosmetics, and biofuels. However, the difficulties surrounding its production, including as deforestation, habitat damage, and labor, have sparked ethical and environmental debate. Sustainable practices encourage ethical palm oil production in an effort to reduce these issues. A key player in the worldwide vegetable oil market is the palm oil market. It is largely extracted from the fruit of the oil palm tree, which was originally found in West Africa but is now mostly grown in Southeast Asia. Due to its adaptability and affordability, palm oil has become a widely used ingredient in a variety of goods, including food, cosmetics, cleaning products, and biofuels. Nearly one-third of all vegetable oils produced worldwide are made from palm oil, with Indonesia and Malaysia being the biggest producers. Calls for sustainable practices and certification programs like RSPO (Roundtable on Sustainable Palm Oil) emerged as a result of the industry's criticism for its environmental impact, particularly deforestation and habitat devastation. The market was additionally impacted by customers' rising consciousness of these sustainability-related issues, as evidenced by the rise in demand for goods marketed as using "sustainable palm oil." Many businesses made a commitment to use palm oil from sustainably managed sourcing in their goods. In order to lessen the environmental impact of palm oil, initiatives to produce substitute, more environmentally friendly vegetable oils were also ongoing.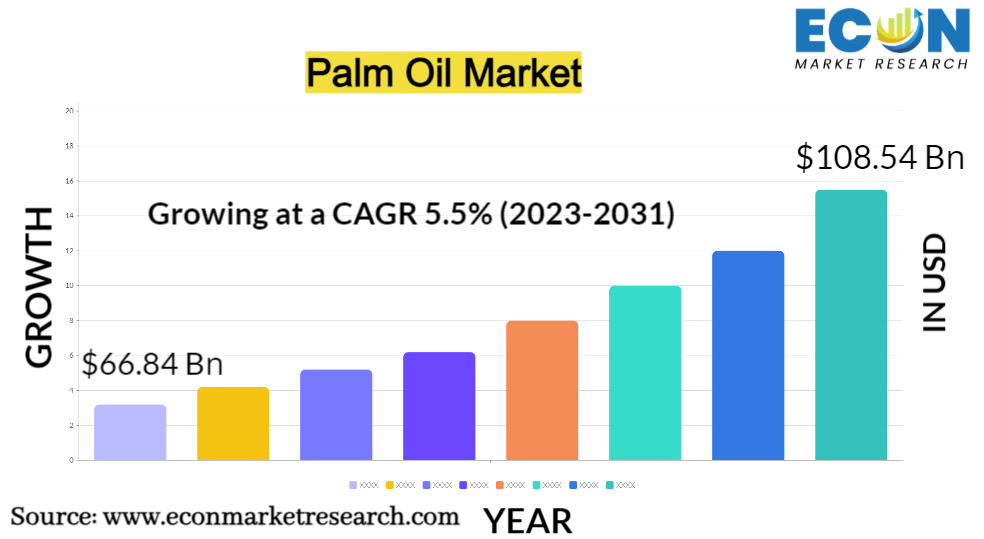 PALM OIL MARKET: REPORT SCOPE & SEGMENTATION
| | |
| --- | --- |
| Report Attribute | Details |
| Estimated Market Value (2022) | 66.84 Bn |
| Projected Market Value (2031) | 108.54 Bn |
| Base Year | 2022 |
| Forecast Years | 2023 - 2031 |
| Scope of the Report | Historical and Forecast Trends, Industry Drivers and Constraints, Historical and Forecast Market Analysis by Segment- By Nature, By Product, By End-Use, & Region |
| Segments Covered | By Nature, By Product, By End-Use, & Region |
| Forecast Units | Value (USD Billion or Million), and Volume (Units) |
| Quantitative Units | Revenue in USD million/billion and CAGR from 2023 to 2031 |
| Regions Covered | North America, Europe, Asia Pacific, Latin America, and Middle East & Africa, and the Rest of World |
| Countries Covered | U.S., Canada, Mexico, U.K., Germany, France, Italy, Spain, China, India, Japan, South Korea, Brazil, Argentina, GCC Countries, and South Africa, among others |
| Report Coverage | Market growth drivers, restraints, opportunities, Porter's five forces analysis, PEST analysis, value chain analysis, regulatory landscape, market attractiveness analysis by segments and region, company market share analysis, and COVID-19 impact analysis. |
| Delivery Format | Delivered as an attached PDF and Excel through email, according to the purchase option. |
Global Palm Oil Market Dynamics
The market for palm oil contains a complicated set of dynamics. Growing populations and shifting dietary habits have increased the demand for palm oil globally, which is fueled by its accessibility and adaptability. However, given that the extraction of palm oil has been connected to deforestation and habitat destruction, this spike in demand has sparked worries about sustainability and environmental impact. This has led to the creation of sustainability certification programs like RSPO and a rising preference among consumers for goods marked with the phrase "sustainable palm oil." With Indonesia and Malaysia controlling the majority of the worldwide market, production has been centered in these two countries. Production levels and market dynamics in these countries have been strongly influenced by elements like weather, governmental regulations, and environmental programs. The palm oil sector has also seen regulatory difficulties since some nations have placed tariffs and limits on the import of palm oil due to environmental concerns, which has affected international trade flows. The palm oil market has also been known for its price volatility, which is influenced by elements including climatic changes and global economic situations. The profitability of producers and the prices consumers pay for items containing palm oil have both been impacted by this volatility. In spite of these difficulties, there has been an increase in the search for substitute vegetable oils and funding for environmentally friendly manufacturing processes and technology. Companies have changed their practices to utilize sustainable palm oil or look into alternate oil sources in response to changing consumer demands. The market for palm oil is impacted by a complex interaction of economic, environmental, and social variables. Efforts are underway to address sustainability issues and adjust to shifting market dynamics.
Global Palm Oil Market Drivers
Global Consumption Trends
The demand for food and daily calorie intake rises as more people join the global population, which results in an increase in the consumption of processed and convenience meals. Due to its accessibility and adaptability, palm oil is an essential component in numerous culinary products and is a staple in many homes. Urbanization is a key component of this driver as well. Often, eating choices change as people move from rural to urban regions. People who live in cities generally prefer processed, packaged, and ready-to-eat goods, many of which contain palm oil. The ease of use and longer shelf life of these goods meet the needs of urban lives, thus boosting the use of palm oil. Furthermore, changing dietary habits, such as the growing popularity of snack foods and processed goods, have a direct impact on palm oil demand. These trends have led to a consistent and substantial appetite for palm oil-based products across the globe, making them a fundamental driver in the palm oil market's growth and development.
There are numerous non-food uses for palm oil and its derivatives in industrial applications. The cosmetics and personal care business is one of the well-known industrial areas where palm oil plays a significant role. Palm oil is a frequently used ingredient in skincare products, soaps, and cosmetics because of its silky texture, delicate aroma, and skin-friendly qualities. Surfactants derived from palm oil have great cleaning capabilities, making them attractive additives to household and commercial cleaning solutions in the detergent and cleaning sector. Furthermore, palm oil is employed as a sustainable and reasonably priced feedstock in the manufacturing of biofuels, particularly biodiesel. The growing demand for biofuels as a cleaner alternative to fossil fuels has further expanded palm oil's role in this sector. Additionally, palm oil's versatility extends to the manufacturing of candles, lubricants, and even pharmaceuticals, where it can be utilized as a base ingredient.
Restraints:
Environmental Concerns and Deforestation
The significant environmental impact of the palm oil industry, particularly the link to deforestation, is one of the most obvious and serious obstacles it faces. Deforestation in tropical areas, particularly in Southeast Asia, sections of Africa, and South America, has been largely attributed to palm oil plantations. Large swaths of valuable and biodiverse rainforests are frequently cleared as part of this deforestation, which has detrimental environmental effects. Taking away these vital ecosystems puts many plant and animal species in jeopardy, including endangered ones like orangutans, tigers, and rhinoceroses. It also adds to habitat loss. Furthermore, since these ecosystems are so important for sequestering carbon and preserving the stability of the global climate, the destruction of rainforests worsens climate change. The common slash-and-burn method used to prepare land for palm oil planting is another worrying factor. This practice adds to climate change by releasing a significant amount of greenhouse gases into the environment.
Health and Nutrition Concerns
Concerns about nutrition and health are a significant barrier to the market for palm oil. Saturated fats, particularly those found in high concentrations in palm oil, have been linked to negative health impacts, especially cardiovascular disorders. These saturated fats have the potential to increase LDL cholesterol levels, also known as "bad" cholesterol, and a risk factor for heart disease. Consumers and health organizations are becoming increasingly concerned about the effects of palm oil use, which has caused some people to reevaluate their dietary choices. Consumer tastes have changed towards options with lower saturated fat content as an understanding of these health dangers has grown. A more health-conscious consumer base has been aided by regulatory organizations and health authorities in several nations considering or implementing labeling rules to notify customers about the presence of saturated fat in food goods. The use of palm oil in certain food applications, particularly in school meals, has even been prohibited in some areas.
Opportunities:
Rising Consumer Awareness and Demand for Transparency
A significant opportunity is presented by consumer awareness and the rising need for transparency in the palm oil sector. Customers are pickier about the things they buy as worldwide worries about environmental sustainability, deforestation, and ethical sourcing practices have developed. A strong need for accountable and transparent supply chains within the palm oil industry has resulted from this increased awareness. Customers are looking for confirmation that the palm oil used in the goods they purchase does not contribute to habitat loss, deforestation, or labor abuses. Opportunities are being created for producers that can show their dedication to ethical and sustainable sourcing through certification programs like RSPO (Roundtable on Sustainable Palm Oil). Companies that openly disclose their palm oil sourcing practices, adhere to sustainable cultivation methods, and invest in initiatives to minimize environmental impact can gain a competitive edge in the market. Such transparency not only builds consumer trust but also aligns with evolving consumer preferences for eco-friendly and socially responsible products.
Technological Advancements and Research
Through breeding initiatives, oil palm cultivars are being improved with the goal of increasing yields and disease and insect resistance. These improved types may yield more oil on the same amount of land, lessening the need for the industry to expand into new areas, which frequently results in deforestation. To reduce the environmental impact of palm oil production, new waste management and recycling methods are also being investigated. Effective methods for treating palm oil mill effluent (POME) can lessen water contamination and make greater use of waste byproducts. Additionally, improvements in processing technology are meant to decrease waste production, increase oil extraction efficiency, and use less energy. Research into alternative feedstocks for biofuels is another promising area. Finding non-food crop sources for biofuel production can reduce the competition between palm oil and food crops, addressing ethical and food security concerns associated with biofuels.
Segment Overview
By Nature
Based on nature, the global palm oil market is divided into organic and conventional. The conventional category dominates the market with the largest revenue share of around 96% in 2022. Traditional cultivation techniques, which may include the use of artificial pesticides and fertilizers, are used to produce conventional palm oil. It does not follow the exacting criteria of organic cultivation. Due to its accessibility and adaptability, conventional palm oil is widely used in a variety of goods. Although some consumers might choose for organic options, conventional palm oil is still widely used because it is more affordable. Oil palm plants that strictly follow organic farming methods provide organic palm oil. Synthetic pesticides, fertilizers, and genetically modified organisms (GMOs) are normally not allowed in these practices. Organic palm oil is often preferred by consumers who prioritize organic and environmentally friendly products. It is perceived as a more sustainable and ethical option due to its restriction on synthetic inputs and its alignment with organic principles.
By Product
Based on the product, the global palm oil market is categorized into CPO, palm kernel oil, RBD palm oil, and fractionated palm oil. The fractionated palm oil category leads the global palm oil market with the largest revenue share of around 40% in 2022. Fractionated palm oil is produced through a process of fractionation, allowing the separation of different components of palm oil. This yields oils with specific melting points, making them ideal for applications like margarine, confectionery, and cosmetics, where precise melting characteristics are essential. RBD palm oil (Refined, Bleached, Deodorized) undergoes a refining process to remove impurities, color, and odors, resulting in a clear and neutral-tasting oil. It is widely employed in the food industry, particularly for frying, baking, and as an ingredient in various food products. Crude palm oil (CPO) represents the unrefined, raw form of palm oil, extracted directly from the pulp of oil palm fruits. It finds extensive use in cooking, food products, and as a feedstock for biofuels and oleochemicals. Palm kernel oil, on the other hand, is derived from the seeds (kernels) of oil palm fruits and is characterized by a higher saturated fat content. It is a common choice for cooking, baking, and non-food industries such as soap manufacturing and cosmetics.
By End-Use
Based on end-use, the global palm oil market is segmented into personal care & cosmetics, food & beverage, biofuel & energy, pharmaceuticals, and others. The food & beverage segment dominates the palm oil market. In the food & beverage sector, palm oil is a cornerstone ingredient, employed in everything from cooking oils to processed foods, baked goods, and snacks. Its versatility, neutrality of flavor, and high-temperature stability make it a preferred choice for a multitude of culinary applications. Biofuel & energy is another crucial segment, with palm oil serving as a valuable feedstock for the production of biodiesel. This application contributes to renewable energy solutions and aids in reducing reliance on fossil fuels. Within the pharmaceuticals segment, palm oil and its derivatives find uses in drug formulation, coatings, and as excipients in medicinal products. Their stability and compatibility with pharmaceutical formulations make them indispensable in the pharmaceutical industry.
Global Palm Oil Market Overview by Region
The global palm oil market is categorized into North America, Europe, Asia-Pacific, and the Rest of the World. Asia-Pacific emerged as the leading region, capturing approximately 70% of the market share in 2022. The production of palm oil is concentrated in Asia-Pacific, especially in Malaysia and Indonesia. The region is a hub of production because these two nations produce the bulk of the world's palm oil. The Asia-Pacific region has one of the highest domestic palm oil consumption rates. The high consumption of fried and processed meals among the populace's dietary choices contributes significantly to the use of palm oil in the food industry. Asia-Pacific's rapid urbanisation and industrialization have raised demand for palm oil in a number of industrial sectors, including the manufacture of detergents, personal care products, and biodiesel. Consumer spending and the demand for products containing palm oil have surged as a result of the robust economic expansion in nations like China and India.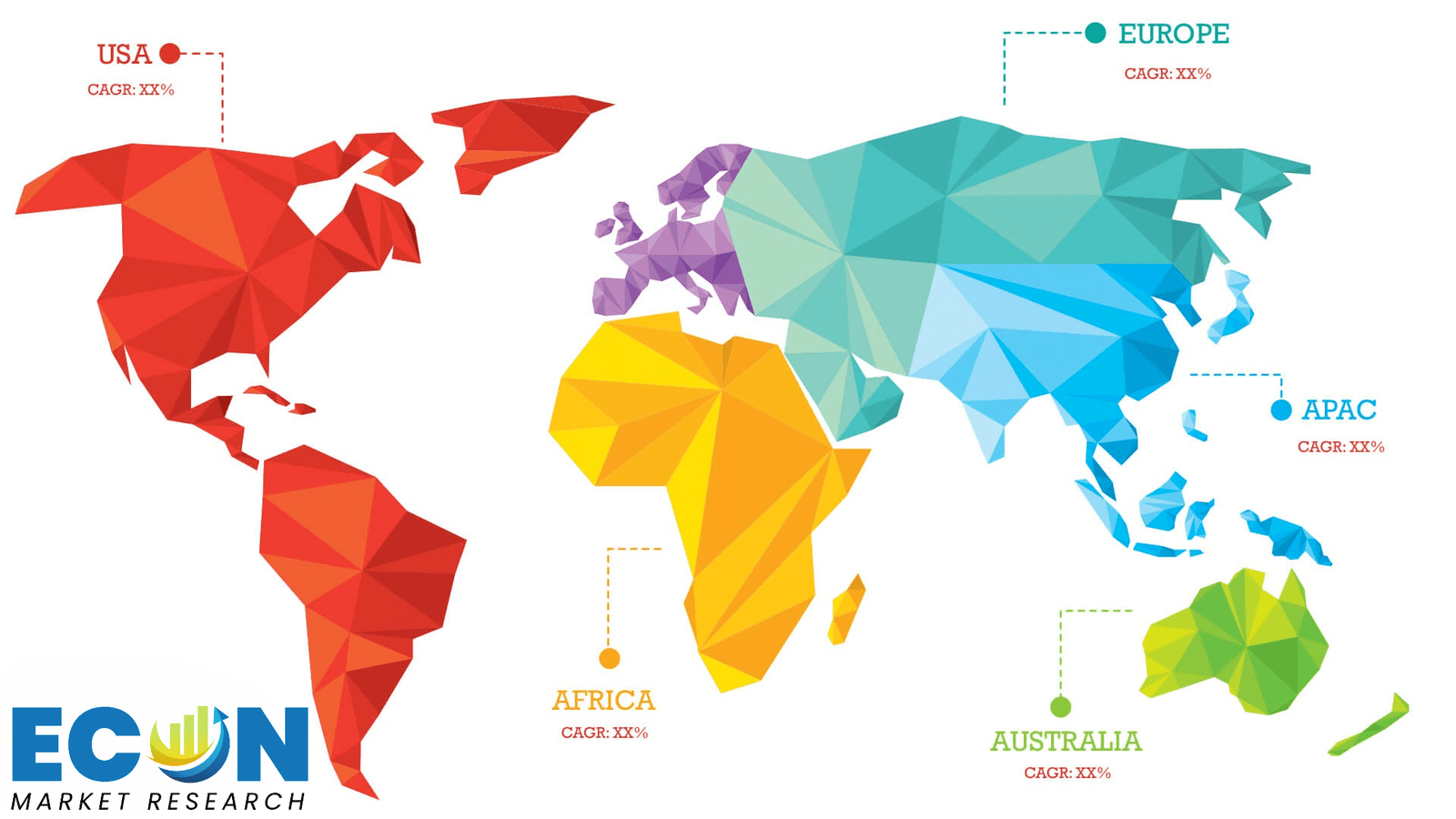 Global Palm Oil Market Competitive Landscape
In the global palm oil market, a few major players exert significant market dominance and have established a strong regional presence. These leading companies remain committed to continuous research and development endeavors and actively engage in strategic growth initiatives, including product development, launches, joint ventures, and partnerships. By pursuing these strategies, these companies aim to strengthen their market position, expand their customer base, and capture a substantial share of the market.
Some of the prominent players in the global palm oil market include ADM; Wilmar International Ltd.; Sime Darby Plantation Berhad; IOI Corporation Berhad; Kuala Lumpur Kepong Berhad; United Plantations Berhad; Kulim (Malaysia) Berhad; IJM Corporation Berhad; PT Sampoerna Agro, Tbk; Univanich Palm Oil Public Company Ltd.; PT. Bakrie Sumatera Plantations tbk; Asian Agri, and various other key players.
Global Palm Oil Market Recent Developments
In September 2023, El Nino is expected to intensify, reducing the output of Asian crops, including rice and palm oil.
In September 2023, Top palm oil buyer India anticipates a 26% increase in imports to reach a record 10 million tonnes. In the 2022–23 fiscal year that ends on October 31, India's imports of palm oil are expected to climb by 26% to a record level as refiners raise their purchases in response to recovering consumer demand and competitive prices.
In February 2023, Fastmarkets acquired Palm Oil Analytics to further its growth. Fastmarkets can move forward with its plans to support trade and investment decisions throughout vegetable oil markets, including those for biofuels and renewable energy sources, thanks to the purchase of Palm Oil Analytics.
Scope of the Global Palm Oil Market Report
Palm Oil Market Report Segmentation
ATTRIBUTE

DETAILS

By Nature

By Product

CPO

Palm Kernel Oil

RBD Palm Oil

Fractionated Palm Oil

By End-Use

Personal Care & Cosmetics

Food & Beverage

Biofuel & Energy

Pharmaceuticals

Others

By Geography

North America (USA,

and Canada)

Europe (UK, Germany, France, Italy, Spain, Russia and Rest of Europe)

Asia Pacific (Japan, China, India, Australia, Southeast Asia and Rest of Asia Pacific)

Latin America (Brazil, Mexico, and Rest of Latin America)

Middle East & Africa (South Africa, GCC, and Rest of Middle East & Africa)

Customization Scope

Pricing
Objectives of the Study
The objectives of the study are summarized in 5 stages. They are as mentioned below:
Global Palm Oil Market

Size and Forecast:
To identify and estimate the market size for the global palm oil market segmented by nature, by product, by end-use, region and by value (in U.S. dollars). Also, to understand the consumption/ demand created by consumers of palm oil between 2019 and 2031.
Market Landscape and Trends:
To identify and infer the drivers, restraints, opportunities, and challenges for the global palm oil market
Market Influencing Factors:
To find out the factors which are affecting the sales of palm oil among consumers
To identify and understand the various factors involved in the global palm oil market affected by the pandemic
To provide a detailed insight into the major companies operating in the market. The profiling will include the financial health of the company's past 2-3 years with segmental and regional revenue breakup, product offering, recent developments, SWOT analysis, and key strategies.
Intended Audience
Businesses in the Palm Oil Industry

Environmental and Conservation Organizations

Food and Beverage Industry

Energy and Biofuel Industry

Retailers, Wholesalers, and Distributors

Governments, Associations, and Industrial Bodies

Investors and Trade Experts
Research Methodology
Our research methodology has always been the key differentiating reason which sets us apart in comparison from the competing organizations in the industry. Our organization believes in consistency along with quality and establishing a new level with every new report we generate; our methods are acclaimed and the data/information inside the report is coveted. Our research methodology involves a combination of primary and secondary research methods. Data procurement is one of the most extensive stages in our research process. Our organization helps in assisting the clients to find the opportunities by examining the market across the globe coupled with providing economic statistics for each and every region. The reports generated and published are based on primary & secondary research. In secondary research, we gather data for global Market through white papers, case studies, blogs, reference customers, news, articles, press releases, white papers, and research studies. We also have our paid data applications which includes hoovers, Bloomberg business week, Avention, and others.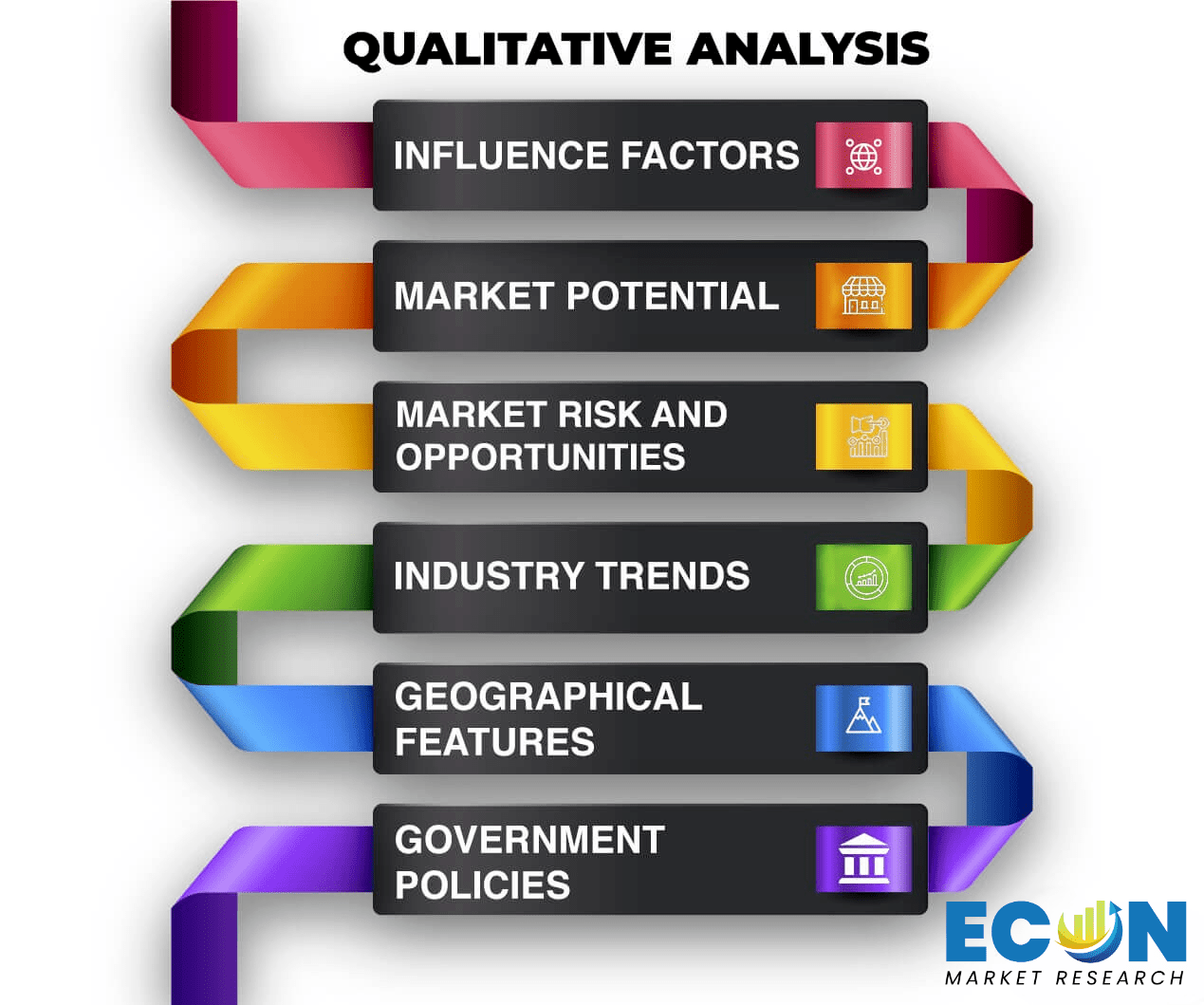 Data Collection
Data collection is the process of gathering, measuring, and analyzing accurate and relevant data from a variety of sources to analyze market and forecast trends. Raw market data is obtained on a broad front. Data is continuously extracted and filtered to ensure only validated and authenticated sources are considered. Data is mined from a varied host of sources including secondary and primary sources.

Primary Research
After the secondary research process, we initiate the primary research phase in which we interact with companies operating within the market space. We interact with related industries to understand the factors that can drive or hamper a market. Exhaustive primary interviews are conducted. Various sources from both the supply and demand sides are interviewed to obtain qualitative and quantitative information for a report which includes suppliers, product providers, domain experts, CEOs, vice presidents, marketing & sales directors, Type & innovation directors, and related key executives from various key companies to ensure a holistic and unbiased picture of the market. 
Secondary Research
A secondary research process is conducted to identify and collect information useful for the extensive, technical, market-oriented, and comprehensive study of the market. Secondary sources include published market studies, competitive information, white papers, analyst reports, government agencies, industry and trade associations, media sources, chambers of commerce, newsletters, trade publications, magazines, Bloomberg BusinessWeek, Factiva, D&B, annual reports, company house documents, investor presentations, articles, journals, blogs, and SEC filings of companies, newspapers, and so on. We have assigned weights to these parameters and quantified their market impacts using the weighted average analysis to derive the expected market growth rate.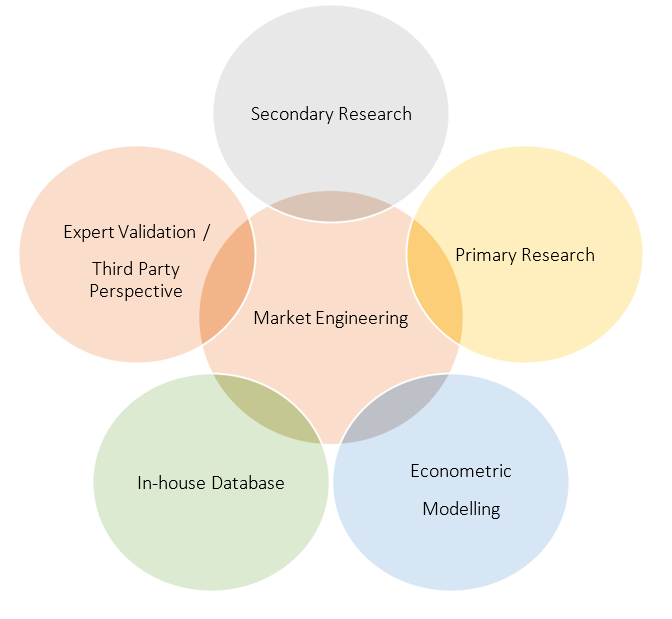 Top-Down Approach & Bottom-Up Approach
In the top – down approach, the Global Batteries for Solar Energy Storage Market was further divided into various segments on the basis of the percentage share of each segment. This approach helped in arriving at the market size of each segment globally. The segments market size was further broken down in the regional market size of each segment and sub-segments. The sub-segments were further broken down to country level market. The market size arrived using this approach was then crosschecked with the market size arrived by using bottom-up approach.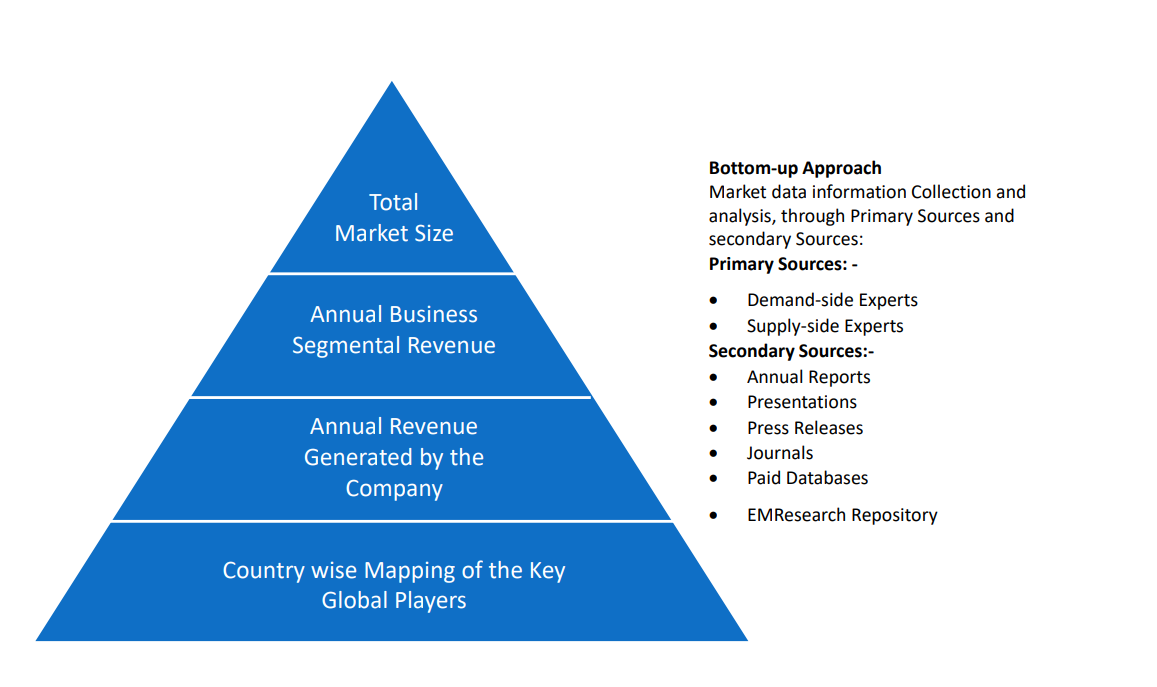 In the bottom-up approach, we arrived at the country market size by identifying the revenues and market shares of the key market players. The country market sizes then were added up to arrive at regional market size of the decorated apparel, which eventually added up to arrive at global market size.
This is one of the most reliable methods as the information is directly obtained from the key players in the market and is based on the primary interviews from the key opinion leaders associated with the firms considered in the research. Furthermore, the data obtained from the company sources and the primary respondents was validated through secondary sources including government publications and Bloomberg.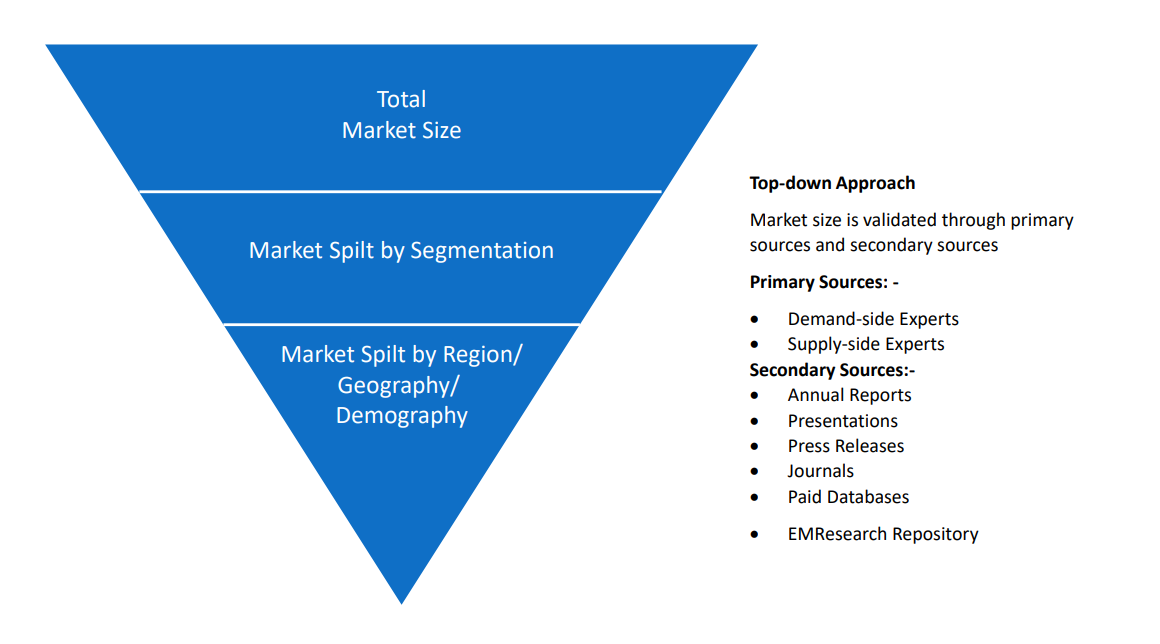 Market Analysis & size Estimation
Post the data mining stage, we gather our findings and analyze them, filtering out relevant insights. These are evaluated across research teams and industry experts. All this data is collected and evaluated by our analysts. The key players in the industry or markets are identified through extensive primary and secondary research. All percentage share splits, and breakdowns have been determined using secondary sources and verified through primary sources. The market size, in terms of value and volume, is determined through primary and secondary research processes, and forecasting models including the time series model, econometric model, judgmental forecasting model, the Delphi method, among Flywheel Energy Storage. Gathered information for market analysis, competitive landscape, growth trends, product development, and pricing trends is fed into the model and analyzed simultaneously.
Quality Checking & Final Review
The analysis done by the research team is further reviewed to check for the accuracy of the data provided to ensure the clients' requirements. This approach provides essential checks and balances which facilitate the production of quality data. This Type of revision was done in two phases for the authenticity of the data and negligible errors in the report. After quality checking, the report is reviewed to look after the presentation, Type and to recheck if all the requirements of the clients were addressed.