The global organic food certification and standards market was valued at USD 1.22 billion in 2022 and is estimated to reach approximately USD 3.13 billion by 2031, at a CAGR of 13.58% from 2023 to 2031.
The global organic food certification and standards industry is experiencing significant growth and transformation due to increasing consumer demand for organic products. Organic food certification ensures that agricultural products meet specific standards and regulations set by certification bodies. These standards typically include criteria related to farming practices, pesticide and chemical usage, animal welfare, and environmental sustainability. Organic products became more and more popular as consumers' concerns about sustainability and health increased. In order to guarantee the authenticity of organic claims and practices, standards and certification were established. Strict rules were set by governments and various organizations worldwide for the purpose of certifying and labeling products as organic. Generally, these guidelines mandate that farmers and food manufacturers follow certain organic farming methods, like avoiding GMOs and synthetic pesticides and supporting sustainable agriculture. Public and private certification organizations have arisen to assess and confirm adherence to these guidelines, enhancing consumer confidence in the organic label. With more farmers and manufacturers entering the market as a result of the organic food industry's rapid expansion, a wide range of organic products were produced. Due to customer demand for certified organic products because of their advantages for human health and the environment, the market for organic food certification and standards is becoming increasingly important in maintaining transparency, authenticity, and sustainability in the organic food industry.
ORGANIC FOOD CERTIFICATION AND STANDARDS MARKET: REPORT SCOPE & SEGMENTATION
| | |
| --- | --- |
| Report Attribute | Details |
| Estimated Market Value (2022) | 1.22 Bn |
| Projected Market Value (2031) | 3.13 Bn |
| Base Year | 2022 |
| Forecast Years | 2023 - 2031 |
| Scope of the Report | Historical and Forecast Trends, Industry Drivers and Constraints, Historical and Forecast Market Analysis by Segment- By Services, By Certification Body, By End User, By Product Category, & Region |
| Segments Covered | By Services, By Certification Body, By End User, By Product Category, & Region |
| Forecast Units | Value (USD Billion or Million), and Volume (Units) |
| Quantitative Units | Revenue in USD million/billion and CAGR from 2023 to 2031 |
| Regions Covered | North America, Europe, Asia Pacific, Latin America, and Middle East & Africa, and the Rest of World |
| Countries Covered | U.S., Canada, Mexico, U.K., Germany, France, Italy, Spain, China, India, Japan, South Korea, Brazil, Argentina, GCC Countries, and South Africa, among others |
| Report Coverage | Market growth drivers, restraints, opportunities, Porter's five forces analysis, PEST analysis, value chain analysis, regulatory landscape, market attractiveness analysis by segments and region, company market share analysis, and COVID-19 impact analysis. |
| Delivery Format | Delivered as an attached PDF and Excel through email, according to the purchase option. |
COVID-19 Impact Analysis
The COVID-19 pandemic has had a significant impact on the organic food certification and standards market. The industry experienced both positive and negative effects during this challenging time. On the positive side, the pandemic led to an increased focus on personal health and well-being among consumers. This heightened awareness prompted a greater interest in organic and healthier food options. As a result, the demand for certified organic products saw a rise, creating opportunities for the market to expand. Additionally, the shift to e-commerce during lockdowns and social distancing measures provided an avenue for organic food producers and retailers to reach a wider consumer base. Online platforms became essential for purchasing organic products, leading to increased sales and market growth.
Global Organic Food Certification and Standards Market Dynamics
The global organic food certification and standards market has witnessed significant growth in the recent years. Increasing consumer demand for organic products, stringent regulatory frameworks, industry collaboration, technological advancements, and a focus on sustainability have shaped the market. Consumer awareness about health, sustainability, and food safety has driven the demand for certified organic products. Governments and regulatory bodies worldwide have implemented strict regulations and standards to ensure transparency and integrity in organic certification processes. However, cost and complexity associated with obtaining organic certification is expected to be a major restraint in the market. The process of certification involves various fees, inspections, audits, and paperwork, which can be expensive for farmers and producers, particularly small-scale ones. The financial burden of certification can deter some producers from seeking organic certification, limiting their ability to access organic markets and benefit from the premium prices often associated with organic products. Additionally, the certification process can be complex and time-consuming, requiring adherence to specific guidelines, documentation, and record-keeping. This complexity may pose challenges, especially for small-scale farmers who may have limited resources and expertise to navigate through the certification process effectively.
Global Organic Food Certification and Standards Market Drivers
Growing awareness of the health benefits associated with organic foods
Customers are looking for food options that minimize possible health concerns in addition to meeting their nutritional demands as they become more health-conscious. Natural methods are given priority in organic farming operations, and synthetic fertilizers and pesticides are avoided. Produce has less pesticide residue as a result, and exposure to dangerous chemicals is decreased. Furthermore, organic farming frequently uses techniques that enhance soil health and encourage biodiversity, producing crops that are higher in nutrients. Moreover, the use of genetically modified organisms (GMOs), which some consumers' link to health risks, is generally prohibited by organic standards. Those who want to avoid eating genetically modified food should feel reassured by this ban on GMOs in organic products. It's also well known that organic foods have higher concentrations of specific minerals and antioxidants; this can be because of the improved soil quality and farming techniques. For those who are concerned about their health, organic products are a desirable option because of their improved nutrient profiles.
Rising environmental consciousness among consumers
In a time when worries about the sustainability of the earth are growing, people are become more environmentally conscious and looking for ways to lessen their environmental impact. Their increased awareness of environmental issues greatly influences what they eat. The detrimental effects of traditional agriculture on the environment, including the use of chemical fertilizers, synthetic pesticides, and intensive agricultural methods, are becoming more and more apparent to consumers. Because organic farming practices feature more ecologically friendly farming practices, people are drawn to them. Crop rotation, organic pest control, and a decrease in synthetic chemical use are examples of sustainable farming methods that are emphasized by organic farming. These methods help to conserve soil and water, as well as biodiversity. Furthermore, the use of genetically modified organisms (GMOs), which some consumers' link to environmental dangers, is frequently prohibited under organic standards. Many environmentally concerned consumers who favor agriculture that refrains from genetic modification will support this ban.
Market Restraints:
Higher production costs associated with organic farming
The utilization of organic procedures, which frequently call for greater physical effort, is one of the main cost factors. Instead of using synthetic pesticides, organic farmers usually use labor-intensive techniques to control weeds and pests. This can result in higher expenses for investing in specialist equipment or hiring workers with the necessary skills. Furthermore, crop yields on organic farms are frequently lower than on conventional farms, which raises the cost per unit produced even more. The cost of obtaining organic certification is an additional price. In order to become certified, farmers and food producers must pay fees and incur administrative expenditures. They must also adhere to stringent organic standards and face routine inspections. Small-scale farmers can find it especially difficult to handle this cost load, which could deter them from switching to organic farming methods. The costs of managing the land, obtaining organic seeds, and raising organic animals all crucial elements of organic production—also tend to be greater in organic farming.
Potential for fraud in the organic supply chain
The source of organic components and raw materials is one of the main areas that is susceptible to deception. Because organic products sell for more money than conventional products, dishonest people have financial motivation to mislabeled or substitute conventional materials as organic. This may occur at any stage of the supply chain, from the farm to the distribution, processing, and retail stages. This issue may be made worse by the international character of the organic trade, since goods can come from several nations with differing degrees of regulation and control. Trade across borders can present challenges as well as chances for dishonest behavior. Furthermore, it can be challenging to determine the origins and validity of organic products due to supply chains' lack of real-time traceability and transparency, which makes it possible for fraudulent activity to go unnoticed. Consumers rely on the organic label to make informed choices, so any breach of trust through fraudulent practices can undermine the credibility of the entire organic industry.
Market Opportunities:
Developing new organic products and value-added organic food items
In the organic food industry, innovation and diversity are becoming more and more important as consumer demand for organic products rises. The availability of more organic goods to customers is a key component of this possibility. Although organic fruits and vegetables have long been a mainstay of the market, there is still opportunity for the creation of novel and varied organic food items, including baked goods, dairy products, snacks, and meat substitutes. A greater variety of consumer preferences and dietary choices are catered to by these advancements. Organic food products with added value, like organic pre-packaged snacks, organic convenience foods, and organic ready-to-eat meals, are becoming more and more well-liked. These products maintain organic standards while providing nutrition, taste, and convenience. Moreover, premium and niche markets can be targeted by creating organic products with distinctive and cutting-edge qualities, including specialty organic foods. Superfoods that are organic, unusual organic spices, and organic goods with particular nutritional or health advantages are a few examples.
The growth of sustainable and eco-friendly packaging for organic products
In addition to the health and environmental advantages of organic products, many consumers deliberately seek them out because they demand sustainable packaging. Their ideals are in line with using eco-friendly packaging, which also makes organic products look better. Reducing or eliminating plastic is a common feature of sustainable packaging, which helps lessen plastic waste and its detrimental effects on the environment. This is in line with the larger international effort to reduce plastic pollution. Eco-friendly packaging is one way for organic products to stand out in a crowded market. These companies can appeal to more environmentally concerned customers since they are viewed as ecologically conscientious and responsible. Environmentally friendly procedures are prioritized in organic certification criteria, which are in line with sustainable packaging. It guarantees that every aspect of the product from its ingredients to its packaging complies with organic standards. Innovation in the packaging business is driven by the need for sustainable packaging. In order to develop innovative, environmentally friendly packaging solutions, this opens up chances for collaboration between producers of organic food, manufacturers of packaging, and groups that prioritize sustainability.
Segment Overview
By Services
Based on services, the global organic food certification and standards market is divided into testing, certification, training and consultancy services. Testing services involve the analysis and verification of organic products to confirm that they meet the established organic standards. Testing labs assess various parameters, such as pesticide residues, genetically modified organisms (GMOs), and the absence of synthetic chemicals, to ensure compliance with organic regulations. Testing is a fundamental step in confirming the organic status of products. Certification bodies, both public and private, are responsible for evaluating farms, food producers, and other participants in the organic supply chain to determine whether they meet organic standards. Once compliance is verified, they issue organic certifications, which provide the legal basis for labeling products as organic. Certification is essential for building consumer trust and market access. Training providers offer educational programs and resources to organic farmers, producers, and industry stakeholders. These programs are designed to help participants understand the intricacies of organic standards, farming practices, and regulations. Training services are crucial for ensuring that all participants in the supply chain have the knowledge and skills necessary for organic production and certification. Organic consultancy firms provide guidance and support to entities seeking organic certification. They help navigate the complex certification process, offer advice on best practices, and assist in the development of organic farming plans. Organic consultants are valuable resources for those looking to transition to organic production or improve their existing organic practices.
By Certification Body
Based on the certification body, the global organic food certification and standards market is categorized into Third-party certification bodies, government regulatory bodies, and in-house or private certifiers. Third-party certification bodies conduct inspections, audits, and testing to verify that farms and food producers comply with established organic standards. Their certification seals provide consumers with a trustworthy and standardized indicator of organic authenticity. Examples of well-known third-party certifiers include the Soil Association in the UK and the USDA Organic label in the United States. Government agencies at the national or regional level establish and enforce organic regulations, standards, and labeling requirements. They often work in conjunction with third-party certifiers. These regulatory bodies provide the legal framework for organic production and certification. They set the rules and guidelines that must be followed by organic farmers and food producers. In-house or private certifiers follow their own organic standards, which often align with, or sometimes exceed, government standards. These organizations can use their own organic labels to differentiate their products in the market and assure consumers of their organic status.
By End-User
Based on end-user, the global organic food certification and standards market is segmented into retail consumers, food and beverage manufacturers, food service providers, other. The food and beverage manufacturer segment dominates the organic food certification and standards market. Food and beverage manufacturers encompass businesses involved in processing and manufacturing organic ingredients into a wide range of organic products, such as organic snacks, beverages, and packaged goods. These manufacturers adhere to organic standards in their production processes, using organic ingredients to meet consumer demand for organic options. Retail consumers are the end-users of organic products, comprising individuals and households who purchase organic foods for personal consumption. They are a driving force behind the organic food market's growth, as their preferences and demands influence the production and availability of organic products. Food service providers include restaurants, cafeterias, catering companies, and other establishments that prepare and serve food to consumers. These entities often source organic ingredients and products to meet the growing demand for organic menu items and accommodate diners seeking healthier and sustainably sourced options.
By Product Category
Based on product category, the global organic food certification and standards market is divided into organic fruits and vegetables, organic dairy products, organic meat and poultry, organic bakery and confectionery, organic beverages, organic snacks and convenience foods, organic grains, cereals, and pulses, organic baby food, others. Organic dairy products consist of milk, cheese, yogurt, and other items produced using organic milk. These products ensure the well-being of organic livestock, promoting animal welfare and healthier dairy options for consumers. Organic meat and poultry, this segment focuses on organic animal farming, where livestock is raised without the use of synthetic growth hormones or antibiotics. It offers consumers organic meat and poultry options that prioritize animal health and ethical treatment. Organic bakery products, including bread, pastries, and cookies, adhere to organic standards, utilizing organic grains and ingredients to create healthier, additive-free options. Organic snacks and convenience foods include a range of ready-to-eat organic products like organic chips, granola bars, and prepared meals. They offer consumers healthier on-the-go options that meet organic standards. Organic baby food adheres to strict organic standards, offering parents organic choices for their infants and toddlers. These products prioritize the use of organic ingredients and responsible sourcing. Organic beverages category comprises organic beverages like organic juices, teas, coffee, and soft drinks. These products are produced using organic ingredients, often with an emphasis on environmentally sustainable farming practices.
Global Organic Food Certification and Standards Market Overview by Region
The global organic food certification and standards market is categorized into North America, Europe, Asia-Pacific, and the Rest of the World. Asia-Pacific emerged as the leading region, capturing the largest market share in 2022. The desire for organic and healthier food options has expanded as a result of the region's strong economic growth and an escalating middle-class population. Customers in Asia-Pacific are looking for organic products to meet growing health and environmental concerns. Additionally, there are many of prospects for organic farming due to the region's expansive and varied agricultural environment. Organic agriculture has grown significantly in nations like Australia, China, and India, with a focus on crops, dairy, and poultry. Large land areas and climate conditions that are conducive to organic farming operations are what are driving this increase in organic agriculture. Important roles have also been played by government efforts and programs in a number of Asian nations. To encourage organic production and guarantee respect to organic standards, numerous governments have implemented incentives, subsidies, and laws for organic farming. These initiatives increase customer confidence in the organic label. Additionally, as e-commerce and online retail platforms have grown, customers now have better access to a wider variety of organic items, which has increased demand for organic food in the area. The growing demand for organic food standards and certification in Asia-Pacific is a reflection of the changing cultural and economic landscape.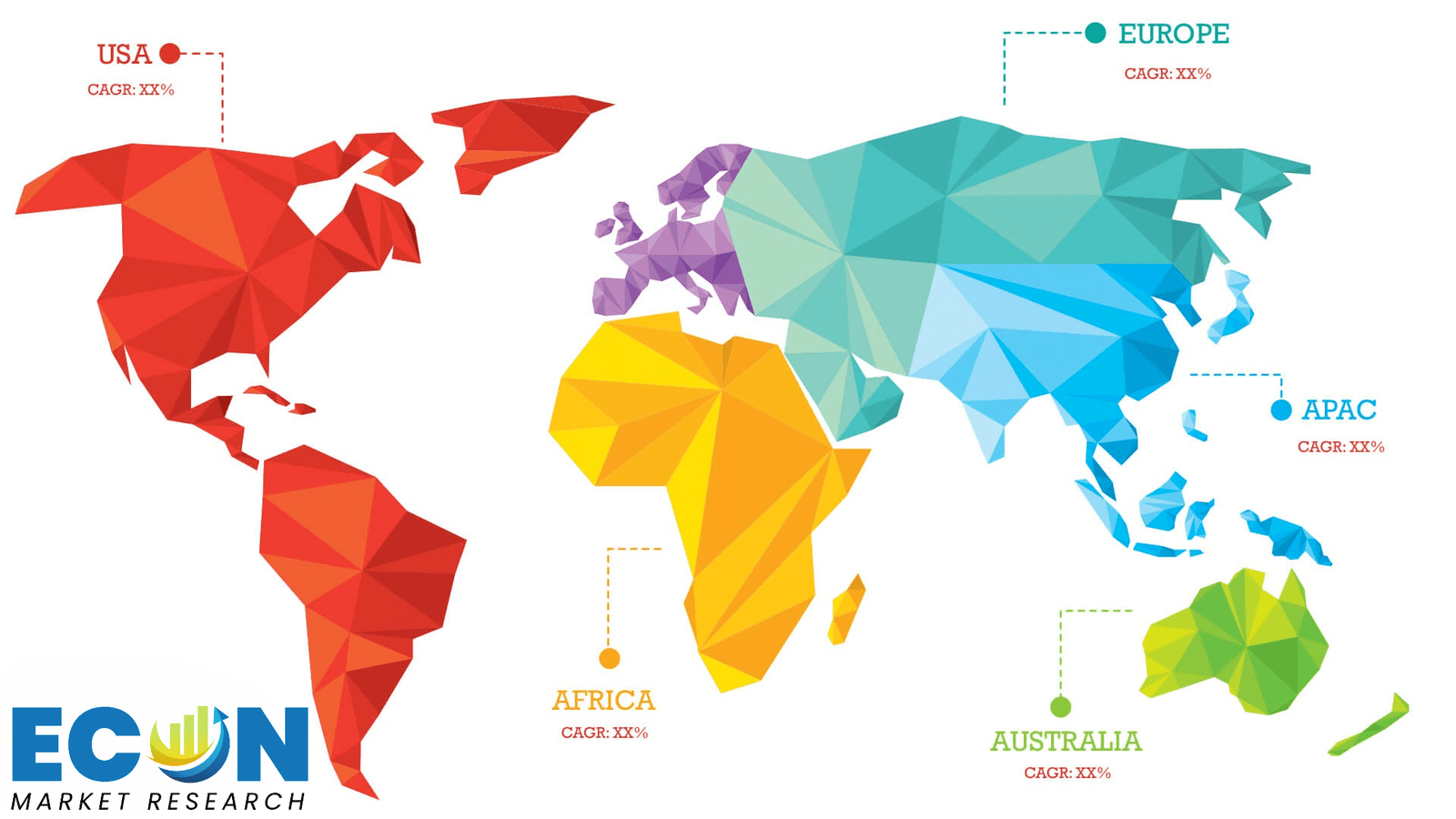 Global Organic Food Certification and Standards Market Competitive Landscape
In the global organic food certification and standards market, a few major players exert significant market dominance and have established a strong regional presence. These leading companies remain committed to continuous research and development endeavors and actively engage in strategic growth initiatives, including product development, launches, joint ventures, and partnerships. By pursuing these strategies, these companies aim to strengthen their market position, expand their customer base, and capture a substantial share of the market.
Some of the prominent players in the global organic food certification and standards market include Ecocert, USDA Organic, Kiwa BCS Öko-Garantie GmbH, Naturland, Organic Farmers & Growers (OF&G), Bio Suisse, Indian Organic Certification Agency (INDOCERT), Demeter International, Soil Association Certification, Nordic Organic Food Certification (NOF), and various other key players.
Global Organic Food Certification and Standards Market Recent Developments
In February 2023, India needs more assistance in certifying organic produce. Standards for all chemicals in the food chain are required, yet ethylene oxide standards are absent in India.
In July 2022, Due to their inability to ensure that their products are free of contamination and meet EU standards, five Indian certification bodies (CBs)—Ecocert India, Control Union India, Indocert, Lacon India, and OneCert International—were prohibited from clearing or ratifying exports of processed organic food products from India.
Scope of the Global Organic Food Certification and Standards Market Report
Organic Food Certification and Standards Market Report Segmentation
ATTRIBUTE

DETAILS

By Services

Testing

Certification

Training and Consultancy Services

By Certification Body

Third-Party Certification Bodies

Government Regulatory Bodies

In-house or Private Certifiers

By End-User

Retail Consumers

Food and Beverage Manufacturers

Food

service Providers

Other

By Product Category

Organic Fruits and Vegetables

Organic Dairy Products

Organic Meat and Poultry

Organic Bakery and Confectionery

Organic Beverages

Organic Snacks and Convenience Foods

Organic Grains

Cereals and Pulses

Organic Baby Food

Others

By Geography

North America (USA,

and Canada)

Europe (UK, Germany, France, Italy, Spain, Russia and Rest of Europe)

Asia Pacific (Japan, China, India, Australia, Southeast Asia and Rest of Asia Pacific)

Latin America (Brazil, Mexico, and Rest of Latin America)

Middle East & Africa (South Africa, GCC, and Rest of Middle East & Africa)

Customization Scope

Pricing
Objectives of the Study
The objectives of the study are summarized in 5 stages. They are as mentioned below:
Global Organic Food Certification and Standards Market

Size and Forecast:
To identify and estimate the market size for the global organic food certification and standards market segmented by services, by certification body, by end user, by product category, region and by value (in U.S. dollars). Also, to understand the consumption/ demand created by consumers of organic food certification and standards between 2019 and 2031.
Market Landscape and Trends:
To identify and infer the drivers, restraints, opportunities, and challenges for the global organic food certification and standards market
Market Influencing Factors:
To find out the factors which are affecting the sales of organic food certification and standards among consumers
To identify and understand the various factors involved in the global organic food certification and standards market affected by the pandemic
To provide a detailed insight into the major companies operating in the market. The profiling will include the financial health of the company's past 2-3 years with segmental and regional revenue breakup, product offering, recent developments, SWOT analysis, and key strategies.
Intended Audience
Medical Professionals

Lawyers/Legal Professionals

Technical Experts

Governments, Associations, and Industrial Bodies

Investors and Trade Experts
Research Methodology
Our research methodology has always been the key differentiating reason which sets us apart in comparison from the competing organizations in the industry. Our organization believes in consistency along with quality and establishing a new level with every new report we generate; our methods are acclaimed and the data/information inside the report is coveted. Our research methodology involves a combination of primary and secondary research methods. Data procurement is one of the most extensive stages in our research process. Our organization helps in assisting the clients to find the opportunities by examining the market across the globe coupled with providing economic statistics for each and every region. The reports generated and published are based on primary & secondary research. In secondary research, we gather data for global Market through white papers, case studies, blogs, reference customers, news, articles, press releases, white papers, and research studies. We also have our paid data applications which includes hoovers, Bloomberg business week, Avention, and others.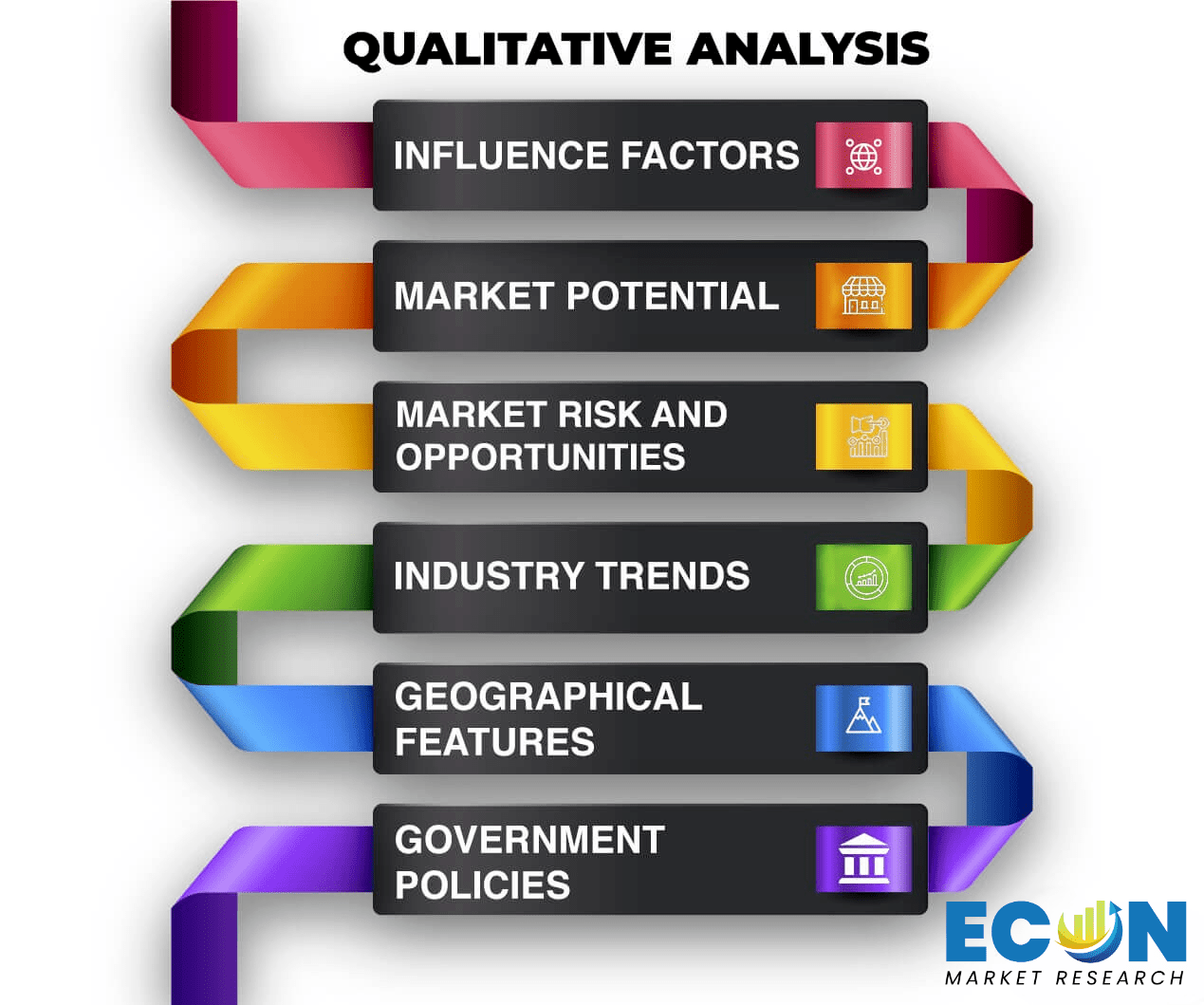 Data Collection
Data collection is the process of gathering, measuring, and analyzing accurate and relevant data from a variety of sources to analyze market and forecast trends. Raw market data is obtained on a broad front. Data is continuously extracted and filtered to ensure only validated and authenticated sources are considered. Data is mined from a varied host of sources including secondary and primary sources.

Primary Research
After the secondary research process, we initiate the primary research phase in which we interact with companies operating within the market space. We interact with related industries to understand the factors that can drive or hamper a market. Exhaustive primary interviews are conducted. Various sources from both the supply and demand sides are interviewed to obtain qualitative and quantitative information for a report which includes suppliers, product providers, domain experts, CEOs, vice presidents, marketing & sales directors, Type & innovation directors, and related key executives from various key companies to ensure a holistic and unbiased picture of the market. 
Secondary Research
A secondary research process is conducted to identify and collect information useful for the extensive, technical, market-oriented, and comprehensive study of the market. Secondary sources include published market studies, competitive information, white papers, analyst reports, government agencies, industry and trade associations, media sources, chambers of commerce, newsletters, trade publications, magazines, Bloomberg BusinessWeek, Factiva, D&B, annual reports, company house documents, investor presentations, articles, journals, blogs, and SEC filings of companies, newspapers, and so on. We have assigned weights to these parameters and quantified their market impacts using the weighted average analysis to derive the expected market growth rate.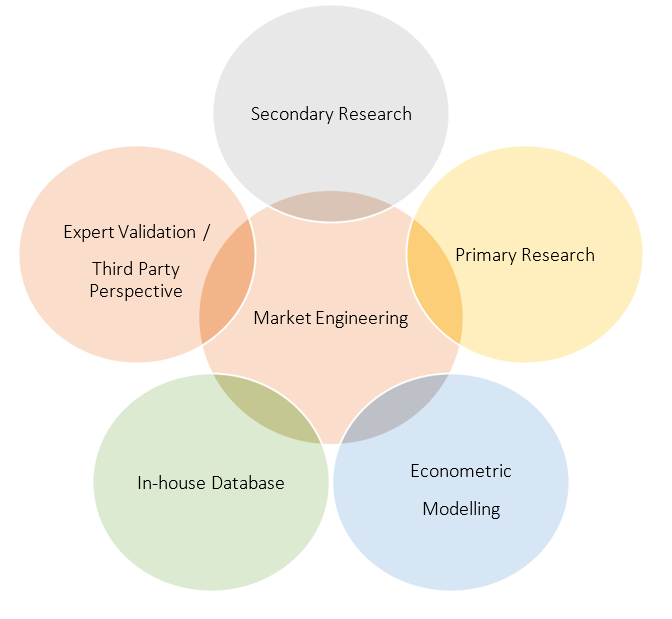 Top-Down Approach & Bottom-Up Approach
In the top – down approach, the Global Batteries for Solar Energy Storage Market was further divided into various segments on the basis of the percentage share of each segment. This approach helped in arriving at the market size of each segment globally. The segments market size was further broken down in the regional market size of each segment and sub-segments. The sub-segments were further broken down to country level market. The market size arrived using this approach was then crosschecked with the market size arrived by using bottom-up approach.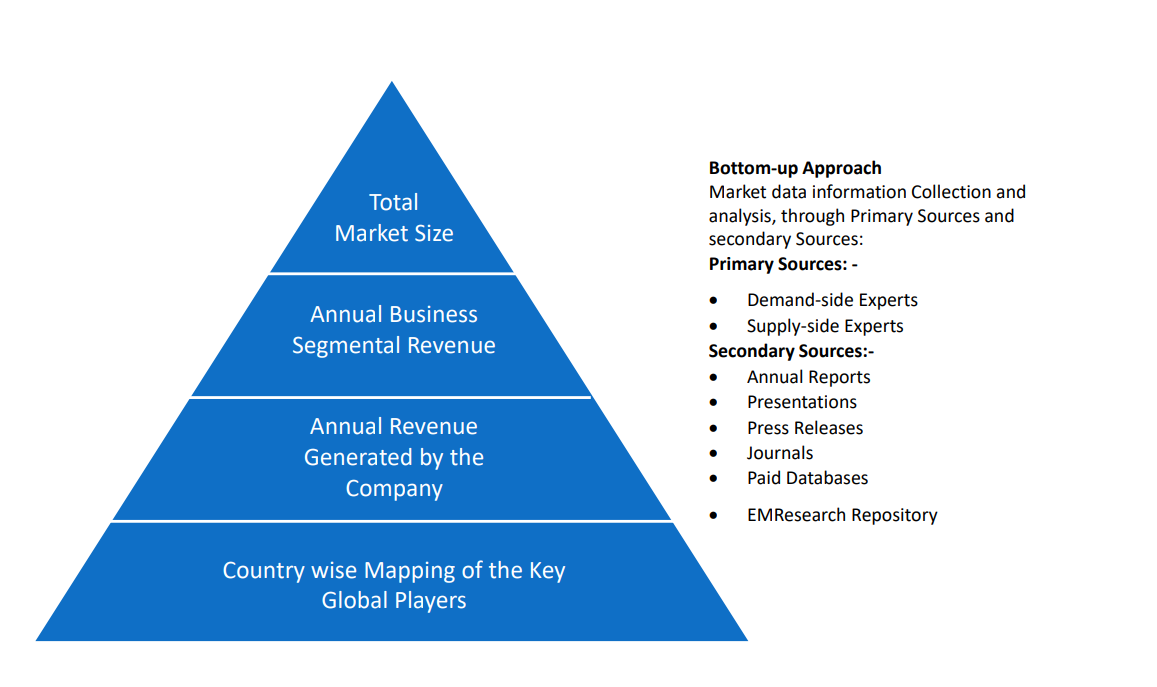 In the bottom-up approach, we arrived at the country market size by identifying the revenues and market shares of the key market players. The country market sizes then were added up to arrive at regional market size of the decorated apparel, which eventually added up to arrive at global market size.
This is one of the most reliable methods as the information is directly obtained from the key players in the market and is based on the primary interviews from the key opinion leaders associated with the firms considered in the research. Furthermore, the data obtained from the company sources and the primary respondents was validated through secondary sources including government publications and Bloomberg.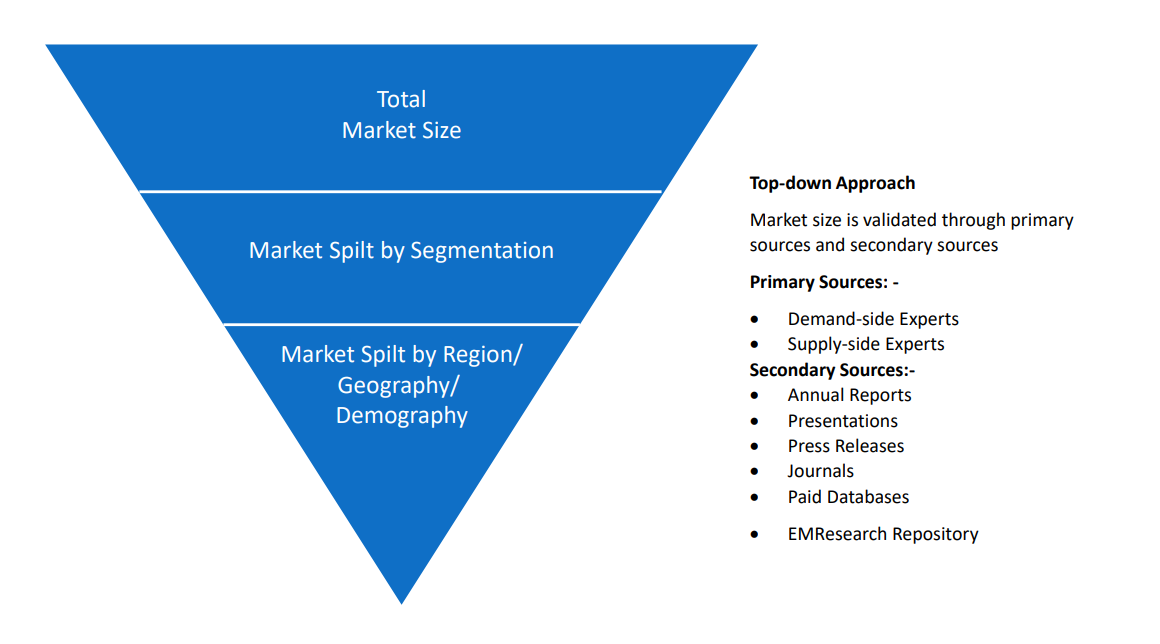 Market Analysis & size Estimation
Post the data mining stage, we gather our findings and analyze them, filtering out relevant insights. These are evaluated across research teams and industry experts. All this data is collected and evaluated by our analysts. The key players in the industry or markets are identified through extensive primary and secondary research. All percentage share splits, and breakdowns have been determined using secondary sources and verified through primary sources. The market size, in terms of value and volume, is determined through primary and secondary research processes, and forecasting models including the time series model, econometric model, judgmental forecasting model, the Delphi method, among Flywheel Energy Storage. Gathered information for market analysis, competitive landscape, growth trends, product development, and pricing trends is fed into the model and analyzed simultaneously.
Quality Checking & Final Review
The analysis done by the research team is further reviewed to check for the accuracy of the data provided to ensure the clients' requirements. This approach provides essential checks and balances which facilitate the production of quality data. This Type of revision was done in two phases for the authenticity of the data and negligible errors in the report. After quality checking, the report is reviewed to look after the presentation, Type and to recheck if all the requirements of the clients were addressed.