The global night vision device market was valued at USD 7.35 billion in 2022 and is estimated to reach approximately USD 15.98 billion by 2031, at a CAGR of 9.0% from 2023 to 2031.
Since its start, the market for night vision devices has grown and innovated in a surprising way. These gadgets are made to enable improved visibility in dim light or total darkness, making them essential instruments for the military, law enforcement, animal observation, surveillance, and numerous recreational activities. With the invention of image intensifiers and infrared technology during World War II to aid soldiers in navigating and conducting operations at night, the idea of night vision technology was born. Night vision equipment has evolved as a result of advances in optics, electronics, and material sciences. They currently fall into different generations, each of which offers enhanced performance and capabilities. With uses in boating, hunting, and other outdoor pursuits, the market for night vision gadgets has grown beyond the military and law enforcement fields. The need for night vision technology has grown as a result of the increased need for better security and surveillance as well as an increase in outdoor recreational activities. The inclusion of night vision features in cellphones and consumer devices has an impact on the market as well. We can anticipate that the night vision device market will continue to diversify and grow as technology develops, meeting a wide range of consumer and professional needs.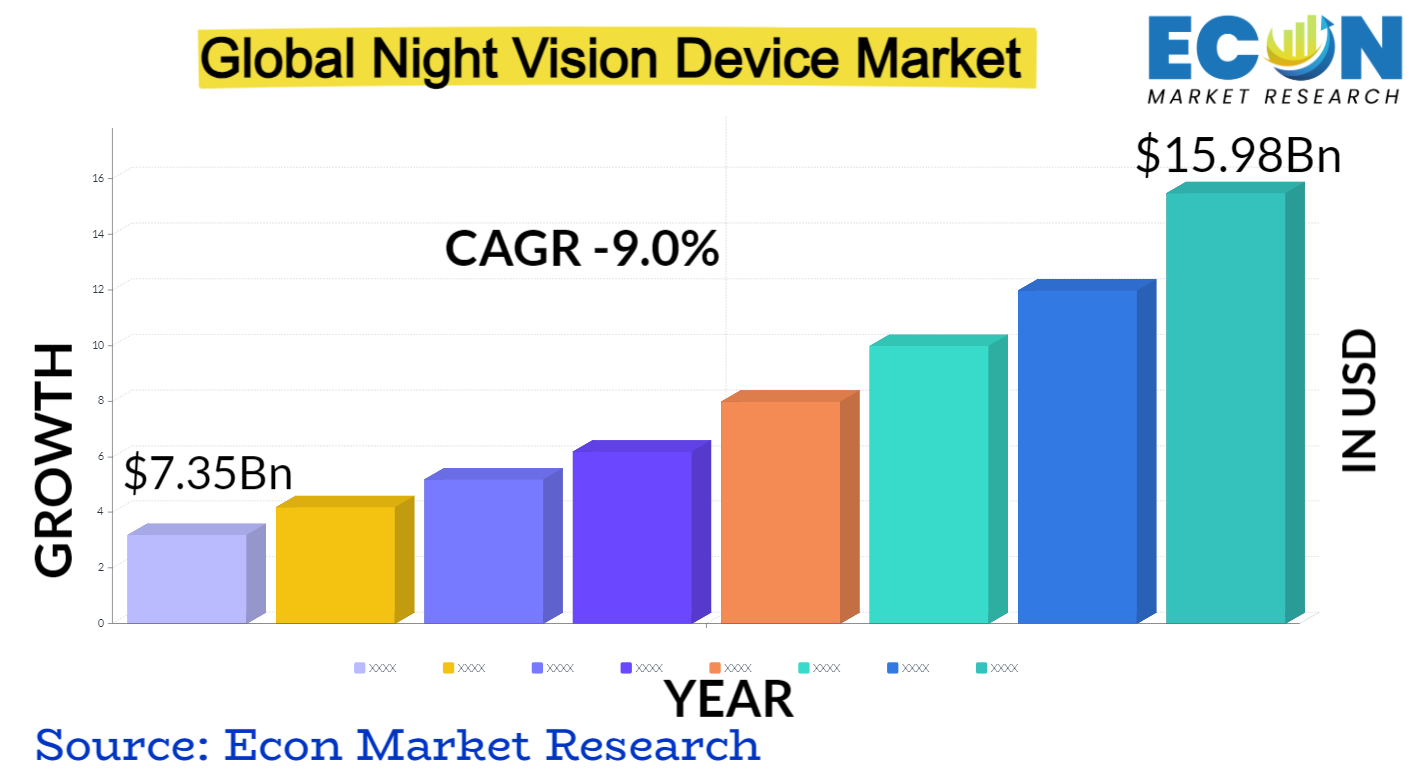 NIGHT VISION DEVICE MARKET: REPORT SCOPE & SEGMENTATION
| | |
| --- | --- |
| Report Attribute | Details |
| Estimated Market Value (2022) | 7.35 Bn |
| Projected Market Value (2031) | 15.98 Bn |
| Base Year | 2022 |
| Forecast Years | 2023 - 2031 |
| Scope of the Report | Historical and Forecast Trends, Industry Drivers and Constraints, Historical and Forecast Market Analysis by Segment- By Category, By Technology, By Application, & Region |
| Segments Covered | By Category, By Technology, By Application, & Region |
| Forecast Units | Value (USD Billion or Million), and Volume (Units) |
| Quantitative Units | Revenue in USD million/billion and CAGR from 2023 to 2031 |
| Regions Covered | North America, Europe, Asia Pacific, Latin America, and Middle East & Africa, and the Rest of World |
| Countries Covered | U.S., Canada, Mexico, U.K., Germany, France, Italy, Spain, China, India, Japan, South Korea, Brazil, Argentina, GCC Countries, and South Africa, among others |
| Report Coverage | Market growth drivers, restraints, opportunities, Porter's five forces analysis, PEST analysis, value chain analysis, regulatory landscape, market attractiveness analysis by segments and region, company market share analysis, and COVID-19 impact analysis. |
| Delivery Format | Delivered as an attached PDF and Excel through email, according to the purchase option. |
Global Night Vision Device Market Dynamics
The night vision device market is affected by a number of dynamic aspects that have a big impact on its development. The dynamics of the industry continue to be significantly shaped by technological breakthroughs. Manufacturers are creating night vision equipment that is more advanced every year, using cutting-edge technology like thermal imaging and digital night vision. These developments increase performance, lower prices, and broaden the scope of applications, stimulating market expansion. Another important driver is the intersection of geopolitics and defence. Significant market drivers include government investments in the military and law enforcement sectors. These investments are driven by global tensions and wars, which increases demand for high-performance night vision gear. The market has also expanded outside of its typical segments. The general population now has easier access to night vision equipment, particularly in the form of night vision goggles for hunters and outdoor enthusiasts. A larger customer base has resulted from the night vision technology's consumerization. Changes in regulations and environmental concerns are also important. For instance, the market is increasingly relevant to the development of ecologically responsible and energy-efficient technologies. Governments are enacting more stringent laws governing the use and export of night vision devices, which has an impact on market dynamics through compliance and trade dynamics. The market for night vision devices is driven by a constant stream of technological advancement, defence and security concerns, growing consumer accessibility, and changing regulatory frameworks, which together create a dynamic landscape.
Global Night Vision Device Market Drivers
Increasing demand from defense and military sectors
Defence and military personnel benefit tactically from night vision technologies. They can work successfully in dim light or complete darkness, increasing situational awareness, target recognition, and operational success in general. Nations are placing a higher priority on their national security in a constantly shifting global environment with varied degrees of geopolitical conflict. Investments in cutting-edge night vision equipment are motivated by the need to be ready and prepared for any future conflicts or dangers. A lot of military forces are working on modernization projects to upgrade their tools and technologies. These modernization initiatives include night vision devices as they are necessary for clandestine operations, surveillance, and reconnaissance. Defense and military organizations worldwide are actively involved in counter-terrorism operations. Night vision devices enable these forces to conduct efficient and covert operations, ultimately contributing to global security.
Growing adoption in law enforcement and public safety
In low-light situations, night vision technology gives law enforcement organizations a crucial advantage in preventing and combating crime by allowing police to perform surveillance, watch out for suspicious activity, and react quickly to occurrences. Devices with night vision are essential resources for search and rescue teams. They contribute to the success of these crucial activities by helping to find those who are missing, accident victims, or others who are in distress. Night vision equipment is used by law enforcement organizations engaged in counter-terrorism operations to carry out clandestine operations, keep an eye on prospective threats, and react quickly to security breaches. For public safety organizations in emergency response scenarios, night vision gadgets are essential. In situations like natural catastrophes, fires, or accidents, they assist first responders in navigating disaster sites, assessing damage, and rescuing people. Night vision devices are increasingly used in community policing to ensure the safety and security of neighborhoods. They aid in preventing criminal activities and enhancing community-police relationships.
Restraints:
Night vision equipment frequently requires a sizable initial cost. Quality night vision technology might be prohibitively expensive at first, especially for smaller businesses and private users. Potential customers may be discouraged from purchasing these products due to the expense. Night vision systems may need continuous costs for upkeep, servicing, and power sources (such batteries or charging) in addition to the initial purchase. Budgets may be further stressed by these extra expenses, particularly in areas with limited resources. It takes training and skill development to use night vision equipment properly, which can be costly and time-consuming. The expense of personnel training must be factored into budgets for law enforcement, the military, and other expert users. In the consumer market, high initial costs can limit the accessibility of night vision devices, making them a luxury rather than a practical tool for outdoor enthusiasts, hunters, and nature enthusiasts.
Limited Range and Resolution
The limited functioning range of many night vision gadgets prevents their use at great distances. For military and law enforcement applications where long-range surveillance and target identification are crucial, this limitation can be very difficult. Compared to daytime imaging, night vision systems may provide images with inferior quality and resolution. This might lead to decreased clarity, which can make it challenging to distinguish between small objects, faces, or fine features, especially from a distance. The range and efficiency of night vision equipment might be further diminished by unfavourable weather circumstances such persistent fog, rain, or smoke. These circumstances reduce vision and image quality by scattering and absorbing light. Some night vision equipment requires batteries, which might reduce the amount of time they can be used continuously. High-resolution night vision devices can be bulkier and heavier, making them less practical for portable applications where lightweight and compact equipment is crucial.
Opportunities:
Automotive and Transportation
A booming industry for electric automobiles, charging stations, and related technology has resulted from the move towards electric vehicles (EVs) and environmentally friendly transportation options. Environmental concerns and government rules aimed at decreasing emissions are the driving forces behind this move, providing opportunities for EV producers and renewable energy suppliers. The creation and use of autonomous cars present prospects for higher efficiency, decreased traffic congestion, and improved safety. Companies developing sensor systems, software, and self-driving technologies stand to gain from this trend. Driving is changing as a result of the internet and data networks becoming integrated into cars. Opportunities abound in fields including telematics, in-vehicle entertainment, and linked car services. The way individuals access transit is changing as a result of MaaS platforms. By offering integrated, convenient, and flexible mobility solutions, MaaS providers and app developers are poised for growth. The expansion of charging stations for EVs, smart roads, and high-speed rail networks requires substantial infrastructure development. This presents opportunities for construction and technology firms specializing in transportation infrastructure.
By creating infotainment systems that mimic smartphone functions, the automotive industry has jumped at the chance to profit from smartphone integration. There are several opportunities for app developers, manufacturers, and technology firms to develop cutting-edge in-car entertainment, navigation, and safety systems. The use of smartphones in healthcare has revolutionized patient care by making it possible for telemedicine consultations, remote monitoring, and the gathering of health data via mobile apps. Medical professionals, app creators, and device manufacturers have a lot of opportunities with the continuous rise of telemedicine and wearable health technology. The majority of smart home gadget monitoring and control relies on smartphones. Companies who create, produce, and distribute software for connected appliances, security systems, and lighting have potential in the growing smart home sector. The rise of mobile wallets and banking apps has transformed the financial industry. Opportunities exist for fintech companies, developers, and businesses to create secure and user-friendly mobile payment solutions, budgeting apps, and investment platforms.
Segment Overview
By Category
Based on category, the global night vision device market is divided into scopes, goggles, cameras, binoculars, monoculars, others. The cameras category dominates the market with the largest revenue share in 2022. Night vision cameras are used for security and surveillance purposes. They can capture images and video in low-light environments, making them valuable for monitoring and recording activities in the dark. Night vision scopes are typically used for surveillance, hunting, and tactical applications. They are designed to attach to firearms or be handheld, providing a magnified view of the target or area in low-light conditions. Night vision goggles are popular in military and law enforcement applications, as well as outdoor activities like night hiking or wildlife observation. They are worn on the head, covering both eyes, and provide stereoscopic vision, enhancing depth perception in the dark. Night vision binoculars are similar to night vision goggles but offer a more versatile and user-friendly experience. They are commonly used in various recreational activities, including stargazing, boating, and wildlife observation. Night vision monoculars are handheld devices with a single eyepiece. They are compact, lightweight, and versatile, making them suitable for a wide range of applications, from hunting to search and rescue missions.
By Technology
Based on the technology, the global night vision device market is categorized into low light imaging process, thermal imaging process, infrared illumination. The low light imaging process category leads the global night vision device market with the largest revenue share in 2022. Night vision devices utilizing low light imaging processes amplify available ambient light to create visible images in low-light or near-dark conditions. These devices are commonly used in night vision goggles, scopes, and monoculars. They are favored for their ability to provide image enhancement without the need for active illumination, making them suitable for various applications, including military operations, surveillance, and outdoor activities. Thermal imaging technology detects the heat radiated by objects and converts it into visible images. These devices operate effectively in complete darkness, as they do not rely on visible light. Thermal imaging is widely used in military and law enforcement for surveillance, as well as in industrial applications, search and rescue missions, and wildlife observation. Infrared illumination involves the use of infrared (IR) light sources to illuminate the environment. Night vision devices with this technology often work in conjunction with low light imaging or thermal imaging processes to enhance visibility. Infrared illumination is essential in situations where natural ambient light is insufficient, such as in dark indoor environments, security cameras, and some surveillance applications.
By Application
Based on application, the global night vision device market is segmented into law enforcement, hunting, wild life observation, surveillance, security, navigation, hidden object detection, entertainment, paranormal research, material testing, others. The law enforcement segment dominates the night vision device market. Night vision devices are extensively used by law enforcement agencies for surveillance, search and rescue operations, tactical missions, and covert surveillance. Hunters often use night vision scopes, goggles, and monoculars for night hunting, enabling them to track and target game in low-light conditions. Night vision technology enhances wildlife observation experiences, allowing nature enthusiasts and researchers to observe nocturnal animals without disturbing their natural behavior. Night vision devices are integral in security and surveillance systems, providing enhanced monitoring capabilities for both private and public sectors. In addition to surveillance, night vision is crucial for security personnel in safeguarding properties, sensitive areas, and critical infrastructure during the night. Night vision aids in navigation, particularly for pilots, mariners, and outdoor enthusiasts, ensuring safe travel in low-light or dark environments. Security and law enforcement agencies employ night vision devices for detecting concealed objects or individuals in various situations. Night vision goggles and monoculars are used for nighttime outdoor activities, stargazing, and even as gadgets for nighttime entertainment. Some individuals and groups use night vision technology for paranormal investigations and ghost hunting to capture potential supernatural phenomena. In industrial and scientific settings, night vision devices assist in material testing, inspection, and quality control, especially in low-light conditions.
Global Night Vision Device Market Overview by Region
The global night vision device market is categorized into North America, Europe, Asia-Pacific, and the Rest of the World. Asia-Pacific emerged as the leading region, capturing the largest market share in 2022. The Asia-Pacific region has emerged as a center for technical innovation, with China and South Korea in particular. These countries have an advantage in the market since they are at the forefront of creating cutting-edge night vision technology. Due to geopolitical unrest and security worries, the Asia-Pacific area has seen significant investments in military modernization and defence capabilities. The use and acquisition of night vision equipment by the military has expanded as a result of the necessity of such operations. Law enforcement agencies in the area are investing in cutting-edge night vision technology for surveillance and counter terrorism operations due to the growth in security threats and cross-border tensions. The rapidly expanding middle class in the area has increased consumer demand for night vision equipment. Manufacturing and construction are two thriving industries in Asia-Pacific. There is a sizable market for night vision devices in the material testing, quality control, and inspection sectors. The expansion of the sector in the area has been aided by government assistance and laws that promote research and development in the area of night vision technology. Manufacturers in the Asia-Pacific area are growing their presence in global markets and supplying night vision equipment to a number of nations, which supports regional development.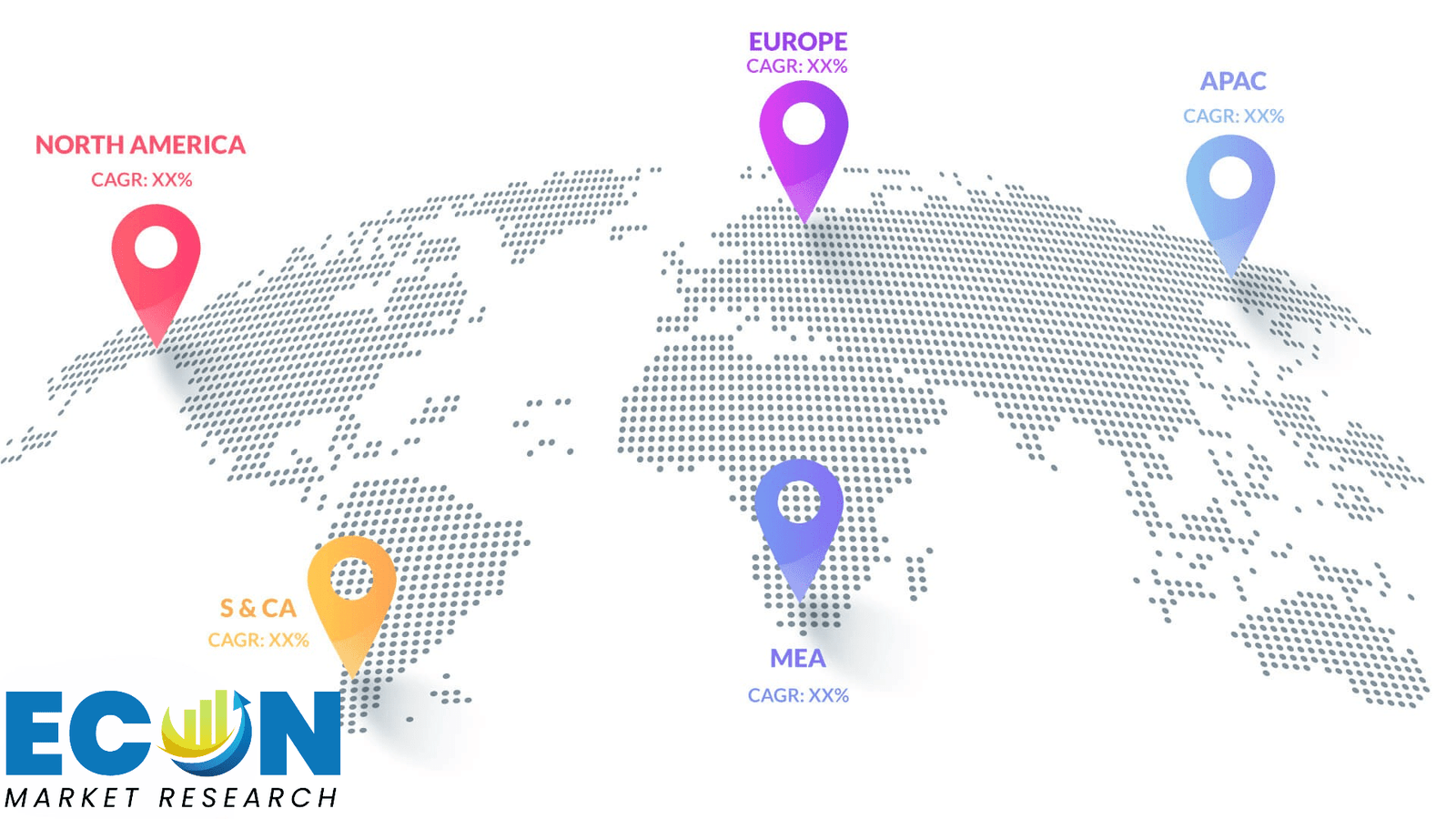 Global Night Vision Device Market Competitive Landscape
In the global night vision device market, a few major players exert significant market dominance and have established a strong regional presence. These leading companies remain committed to continuous research and development endeavors and actively engage in strategic growth initiatives, including product development, launches, joint ventures, and partnerships. By pursuing these strategies, these companies aim to strengthen their market position, expand their customer base, and capture a substantial share of the market.
Some of the prominent players in the global night vision device market include ATN Corp., Collins Aerospace, Meopta - optika, s.r.o., Visa Outdoor Operations LLC, L3 Technologies Inc., L3Harris Technologies, Inc., FLIR Systems, Inc., SATIR, BAE Systems, Bharat Electronics, Thales, Raytheon Technologies Corporation, Bushnell , Yukon Advanced Optics Worldwide, Adorama Camera, Inc , and various other key players.
Global Night Vision Device Market Recent Developments
In April 2023, Enhancing India's capacity for night fighting. The Indian Air Force's pilots executed a flawless landing in complete darkness using sophisticated infrared-based night vision goggles, thermal imagers, and laser rangefinders during a dangerous night operation in Sudan.

In May 2023, The Finnish Defence Forces place sizeable orders with Senop for night vision and target acquisition equipment. Senop Oy has received major orders from the Finnish Defence Forces Logistics Command for the purchase of image intensifiers, laser sights, next-generation Senop LILLY target acquisition devices, as well as a lifecycle upgrade of the Senop LISA target acquisition devices. The purchases have a total estimated value of roughly 30 million euros (without VAT) and will have a major employment impact in Finland.
Scope of the Global Night Vision Device Market Report
Night Vision Device Market Report Segmentation
ATTRIBUTE

DETAILS

By Category

Scopes

Goggles

Cameras

Binoculars

Monoculars

Others

By Technology

Low Light Imaging Process

Thermal Imaging Process

Infrared Illumination

By Application

Law Enforcement

Hunting

Wild Life Observation

Surveillance

Security

Navigation

Hidden Object Detection

Entertainment

Paranormal Research

Material Testing

Others

By Geography

North America (USA,

and Canada)

Europe (UK, Germany, France, Italy, Spain, Russia and Rest of Europe)

Asia Pacific (Japan, China, India, Australia, Southeast Asia and Rest of Asia Pacific)

Latin America (Brazil, Mexico, and Rest of Latin America)

Middle East & Africa (South Africa, GCC, and Rest of Middle East & Africa)

Customization Scope

Pricing
Objectives of the Study
The objectives of the study are summarized in 5 stages. They are as mentioned below:
Global Night Vision Device Market

Size and Forecast:
To identify and estimate the market size for the global night vision device market segmented by category, by application, by technology, region and by value (in U.S. dollars). Also, to understand the consumption/ demand created by consumers of night vision device between 2019 and 2031.
Market Landscape and Trends:
To identify and infer the drivers, restraints, opportunities, and challenges for the global night vision device market
Market Influencing Factors:
To find out the factors which are affecting the sales of night vision device among consumers
To identify and understand the various factors involved in the global night vision device market affected by the pandemic
To provide a detailed insight into the major companies operating in the market. The profiling will include the financial health of the company's past 2-3 years with segmental and regional revenue breakup, product offering, recent developments, SWOT analysis, and key strategies.
Intended Audience
Law Enforcement and Security Professionals

Outdoor Enthusiasts and Hunters

Investors and Financial Institutions

Media and Journalists

Retailers, Wholesalers, and Distributors

Governments, Associations, and Industrial Bodies

Investors and Trade Experts
Research Methodology
Our research methodology has always been the key differentiating reason which sets us apart in comparison from the competing organizations in the industry. Our organization believes in consistency along with quality and establishing a new level with every new report we generate; our methods are acclaimed and the data/information inside the report is coveted. Our research methodology involves a combination of primary and secondary research methods. Data procurement is one of the most extensive stages in our research process. Our organization helps in assisting the clients to find the opportunities by examining the market across the globe coupled with providing economic statistics for each and every region. The reports generated and published are based on primary & secondary research. In secondary research, we gather data for global Market through white papers, case studies, blogs, reference customers, news, articles, press releases, white papers, and research studies. We also have our paid data applications which includes hoovers, Bloomberg business week, Avention, and others.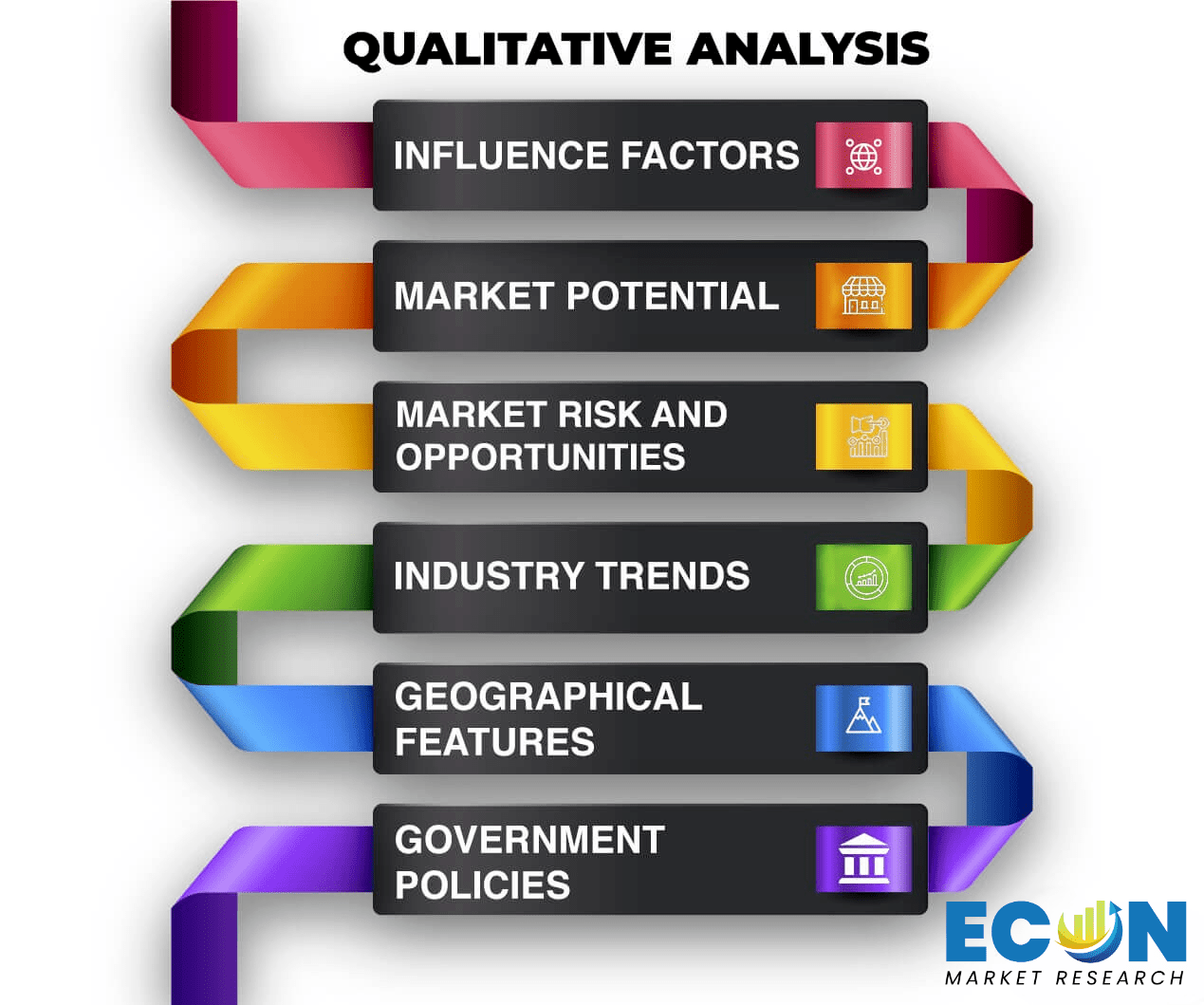 Data Collection
Data collection is the process of gathering, measuring, and analyzing accurate and relevant data from a variety of sources to analyze market and forecast trends. Raw market data is obtained on a broad front. Data is continuously extracted and filtered to ensure only validated and authenticated sources are considered. Data is mined from a varied host of sources including secondary and primary sources.

Primary Research
After the secondary research process, we initiate the primary research phase in which we interact with companies operating within the market space. We interact with related industries to understand the factors that can drive or hamper a market. Exhaustive primary interviews are conducted. Various sources from both the supply and demand sides are interviewed to obtain qualitative and quantitative information for a report which includes suppliers, product providers, domain experts, CEOs, vice presidents, marketing & sales directors, Type & innovation directors, and related key executives from various key companies to ensure a holistic and unbiased picture of the market. 
Secondary Research
A secondary research process is conducted to identify and collect information useful for the extensive, technical, market-oriented, and comprehensive study of the market. Secondary sources include published market studies, competitive information, white papers, analyst reports, government agencies, industry and trade associations, media sources, chambers of commerce, newsletters, trade publications, magazines, Bloomberg BusinessWeek, Factiva, D&B, annual reports, company house documents, investor presentations, articles, journals, blogs, and SEC filings of companies, newspapers, and so on. We have assigned weights to these parameters and quantified their market impacts using the weighted average analysis to derive the expected market growth rate.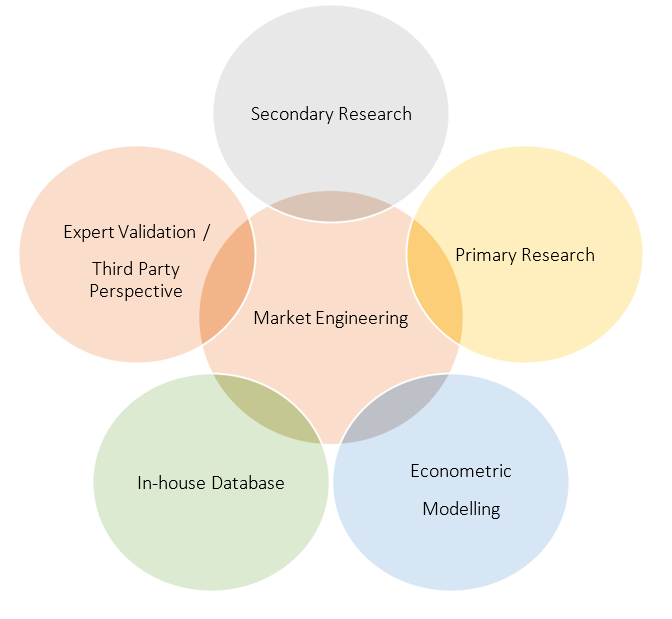 Top-Down Approach & Bottom-Up Approach
In the top – down approach, the Global Batteries for Solar Energy Storage Market was further divided into various segments on the basis of the percentage share of each segment. This approach helped in arriving at the market size of each segment globally. The segments market size was further broken down in the regional market size of each segment and sub-segments. The sub-segments were further broken down to country level market. The market size arrived using this approach was then crosschecked with the market size arrived by using bottom-up approach.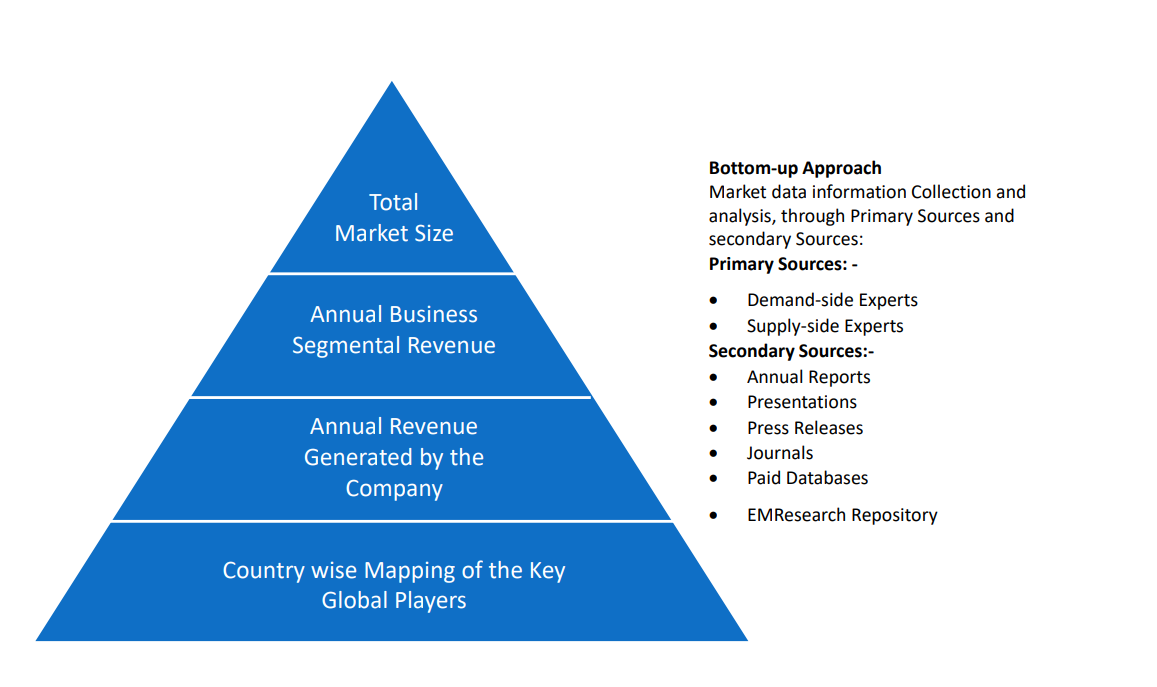 In the bottom-up approach, we arrived at the country market size by identifying the revenues and market shares of the key market players. The country market sizes then were added up to arrive at regional market size of the decorated apparel, which eventually added up to arrive at global market size.
This is one of the most reliable methods as the information is directly obtained from the key players in the market and is based on the primary interviews from the key opinion leaders associated with the firms considered in the research. Furthermore, the data obtained from the company sources and the primary respondents was validated through secondary sources including government publications and Bloomberg.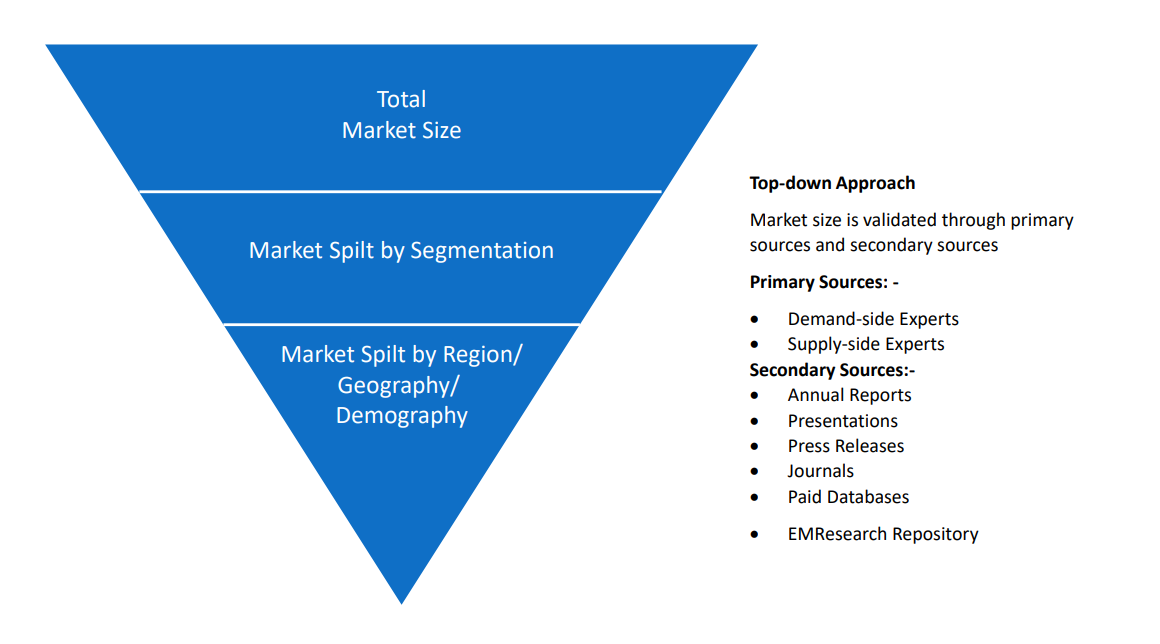 Market Analysis & size Estimation
Post the data mining stage, we gather our findings and analyze them, filtering out relevant insights. These are evaluated across research teams and industry experts. All this data is collected and evaluated by our analysts. The key players in the industry or markets are identified through extensive primary and secondary research. All percentage share splits, and breakdowns have been determined using secondary sources and verified through primary sources. The market size, in terms of value and volume, is determined through primary and secondary research processes, and forecasting models including the time series model, econometric model, judgmental forecasting model, the Delphi method, among Flywheel Energy Storage. Gathered information for market analysis, competitive landscape, growth trends, product development, and pricing trends is fed into the model and analyzed simultaneously.
Quality Checking & Final Review
The analysis done by the research team is further reviewed to check for the accuracy of the data provided to ensure the clients' requirements. This approach provides essential checks and balances which facilitate the production of quality data. This Type of revision was done in two phases for the authenticity of the data and negligible errors in the report. After quality checking, the report is reviewed to look after the presentation, Type and to recheck if all the requirements of the clients were addressed.