The Global IoT Medical Devices Market was valued at USD 36.56 billion in 2022 and is estimated to reach approximately USD 264.52 billion by 2031, at a CAGR of 24.6% from 2023 to 2031. The IoT medical devices market has swiftly emerged as a transformative force within the healthcare industry, integrating cutting-edge technology with patient care. These devices, embedded with sensors and connectivity, have revolutionized how medical data is collected, transmitted, and utilized. IoT medical devices offer an array of benefits, primarily centered around enhanced patient monitoring and remote healthcare management. Wearable health trackers and remote patient monitoring devices enable real-time tracking of vital signs, chronic conditions, and post-operative recovery progress. This continuous stream of data empowers healthcare providers to make timely and informed decisions, potentially preventing complications and reducing hospitalizations. The market encompasses a diverse range of devices, from wearable fitness trackers to sophisticated smart implants. Wearables allow individuals to take charge of their health, offering insights into fitness, sleep patterns, and even chronic disease management. Meanwhile, smart implants, such as remote-controlled insulin pumps and pacemakers, have shifted patient care beyond hospital walls, offering greater autonomy and reduced healthcare costs. IoT medical devices are reshaping healthcare delivery by enabling continuous monitoring, remote management, and personalized treatment. As the market matures, striking a balance between innovation, patient care, and data security will be pivotal in defining the long-term success of these transformative devices within the healthcare landscape.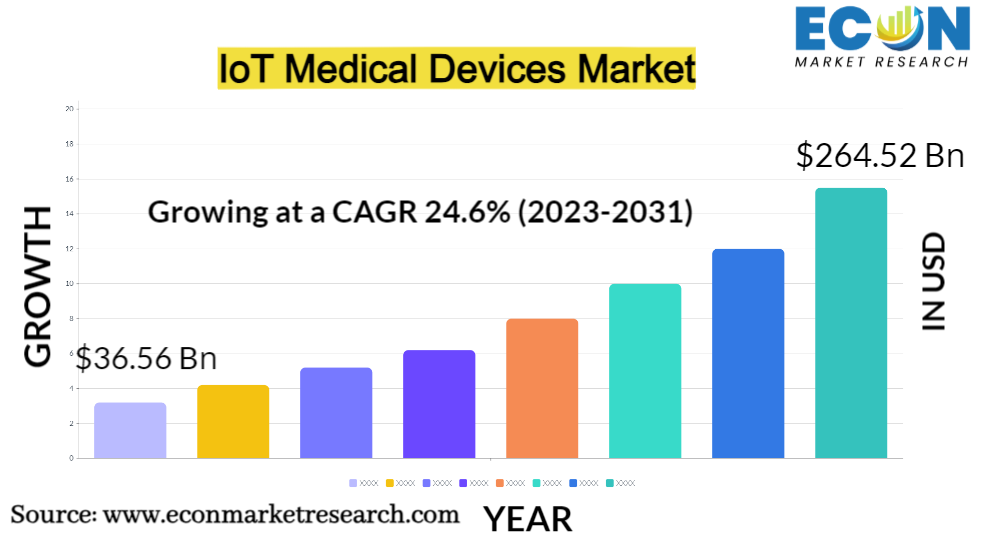 IoT MEDICAL DEVICES MARKET: REPORT SCOPE & SEGMENTATION
| | |
| --- | --- |
| Report Attribute | Details |
| Estimated Market Value (2022) | 36.56 Bn |
| Projected Market Value (2031) | 264.52 Bn |
| Base Year | 2022 |
| Forecast Years | 2023 - 2031 |
| Scope of the Report | Historical and Forecast Trends, Industry Drivers and Constraints, Historical and Forecast Market Analysis by Segment- By Product, By Application, By Connectivity Technology, By End Users, & Region |
| Segments Covered | By Product, By Application, By Connectivity Technology, By End Users, & Region |
| Forecast Units | Value (USD Billion or Million), and Volume (Units) |
| Quantitative Units | Revenue in USD million/billion and CAGR from 2023 to 2031 |
| Regions Covered | North America, Europe, Asia Pacific, Latin America, and Middle East & Africa, and the Rest of World |
| Countries Covered | U.S., Canada, Mexico, U.K., Germany, France, Italy, Spain, China, India, Japan, South Korea, Brazil, Argentina, GCC Countries, and South Africa, among others |
| Report Coverage | Market growth drivers, restraints, opportunities, Porter's five forces analysis, PEST analysis, value chain analysis, regulatory landscape, market attractiveness analysis by segments and region, company market share analysis, and COVID-19 impact analysis. |
| Delivery Format | Delivered as an attached PDF and Excel through email, according to the purchase option. |
Global IoT Medical Devices Market Dynamics
The global IoT medical devices market is propelled by rapid technological advancements, remote patient monitoring needs, and the rise of telemedicine. These devices enable real-time health data collection, personalized treatment, and improved patient outcomes. Telemedicine's growth, accelerated by the pandemic, is intertwined with IoT devices, offering virtual care and expanding healthcare access. The market's progress is accompanied by regulatory considerations, including data security and privacy. The data-rich environment yields insights for evidence-based care and predictive analytics. Collaboration among healthcare stakeholders, tech firms, and regulators is essential for innovation and addressing challenges. Ensuring interoperability and complying with evolving regulations are key focal points. As IoT devices continue to reshape healthcare delivery, balancing innovation, patient safety, and data protection will be pivotal for sustained growth and transformative impact.
Global IoT Medical Devices Market Drivers
Technological Advancements
Technological advancements form the cornerstone of the global IoT medical devices market's rapid growth and transformative impact. This driver encompasses a range of innovations that collectively propel the development of sophisticated and capable IoT medical devices. One pivotal advancement is the evolution of sensors. These devices have become smaller, more accurate, and capable of monitoring an array of physiological and environmental parameters. Their miniaturization allows integration into wearable devices and implants, facilitating unobtrusive data collection. This, coupled with connectivity solutions like Wi-Fi, Bluetooth, and cellular networks, enables seamless communication between devices and medical professionals. Technological advancements in sensors, connectivity, and data analytics are propelling the IoT medical devices market. These innovations empower healthcare professionals with real-time data, transforming patient care from reactive to proactive and personalized, ultimately improving patient outcomes.
Remote Patient Monitoring Revolution
The remote patient monitoring revolution is reshaping healthcare by extending the reach of medical professionals beyond traditional settings. This paradigm shift is particularly evident in chronic disease management, post-operative care, and the integration of telemedicine. In chronic disease management, IoT medical devices play a pivotal role. Patients with conditions such as diabetes, hypertension, or cardiac diseases can now be continuously monitored through wearable devices. These devices track vital signs, glucose levels, and other relevant metrics, transmitting real-time data to healthcare providers. This enables early detection of abnormalities, allowing timely interventions to prevent exacerbations and hospitalizations. Patients recovering from surgeries are equipped with IoT devices that monitor their progress remotely.
Restraints:
Data Security and Privacy Concerns
As these devices collect and transmit sensitive health information, there is a growing worry about the potential for unauthorized access, data breaches, and misuse of personal health data. IoT medical devices continuously gather a wealth of personal health information, ranging from vital signs and medication schedules to treatment histories. This sensitive data is not only valuable to healthcare providers for accurate diagnosis and treatment but also to malicious actors seeking to exploit vulnerabilities for financial gain. the data security and privacy concerns associated with IoT medical devices pose a significant restraint. Addressing these challenges is essential to maintaining patient trust, ensuring compliance with regulations, and realizing the full potential of these devices in transforming healthcare delivery.
Interoperability challenges represent a notable restraint within the global IoT medical devices market. As the landscape becomes increasingly diverse, with various devices from different manufacturers entering the market, ensuring smooth integration and communication among these devices poses significant hurdles. Interoperability refers to the ability of different devices and systems to work together seamlessly, exchanging and utilizing data efficiently. In the context of IoT medical devices, lack of interoperability can hinder the potential benefits of real-time data sharing, comprehensive patient profiles, and streamlined healthcare workflows.
Opportunities:
Enhanced Patient Engagement and Empowerment
IoT devices have the capability to transform the patient-provider relationship by providing individuals with real-time access to their health data and fostering active participation in their own well-being. IoT medical devices, such as wearable health trackers and mobile apps, enable patients to monitor their vital signs, physical activity, sleep patterns, and more. This continuous data stream empowers patients to have a deeper understanding of their health status and progress over time. By having direct access to this information, patients can make informed decisions about their lifestyles, adhere to treatment plans, and proactively manage their health. The opportunity for enhanced patient engagement and empowerment through IoT medical devices has the potential to revolutionize healthcare. By providing patients with access to real-time health data and promoting active participation in their care, these devices can foster a more proactive and collaborative approach to health management.
Healthcare Cost Reduction and Operational Efficiency
The global IoT medical devices market offers a substantial opportunity to reduce healthcare costs and enhance operational efficiency. As healthcare systems worldwide face increasing pressures to deliver quality care while containing expenses, IoT devices provide innovative solutions to address these challenges. IoT devices enable remote patient monitoring and real-time data collection, allowing healthcare providers to intervene early in cases of health deterioration, thus preventing costly hospitalizations or emergency treatments. Continuous monitoring of chronic conditions through wearable devices can lead to better management, reducing the need for frequent doctor visits and preventing complications that drive up healthcare expenditures. The adoption of IoT medical devices has the potential to transform healthcare from a reactive model to a proactive and cost-effective system.
Segment Overview
By Product
Based on product, the global IoT medical devices market is divided into imaging systems, vital signs monitoring devices, implantable cardiac devices, patient monitors, infusion pumps, neurological devices, hearing devices, and ventilators. The vital signs monitoring category dominates the market with the largest revenue share. The domination of the vital signs monitoring category in the IoT medical devices market underscores its pivotal role in modern healthcare. Vital signs, encompassing heart rate, blood pressure, body temperature, respiratory rate, and oxygen saturation, serve as critical indicators of an individual's health status. This category's supremacy can be attributed to its unparalleled significance in diagnosing, treating, and managing a wide spectrum of medical conditions. Vital signs monitoring devices have evolved from traditional standalone instruments to cutting-edge IoT-enabled solutions. These devices offer real-time, continuous tracking, enhancing patient care through early detection of anomalies and timely interventions. Their impact is felt across diverse healthcare scenarios, from hospitals and clinics to homes and remote locations.
By Application
Based on the application, the global IoT medical devices market is categorized into telemedicine, clinical operations, and workflow management, connected imaging, inpatient monitoring, and medication management. The telemedicine category leads the global IoT medical devices market with the largest revenue share. Telemedicine IoT devices encompass a range of solutions, including video conferencing tools, remote diagnostic equipment, and wearable health trackers.The leadership of the telemedicine category in the global IoT medical devices market highlights the profound impact of technology on modern healthcare delivery. Telemedicine, enabled by IoT devices, has emerged as a transformative force, redefining patient-doctor interactions and expanding healthcare access across the globe.
By Connectivity Technology
Based on connectivity technology, the global IoT medical devices market is segmented into bluetooth low energy, Wi-Fi, cellular, near field communication (NFC), and satellite. The cellular segment dominates the IoT medical devices market. Cellular connectivity offers unparalleled advantages in terms of coverage, reliability, and reach. IoT medical devices equipped with cellular capabilities can transmit critical patient data, including vital signs, diagnostic information, and treatment updates, regardless of the patient's location. This is particularly crucial in scenarios where Wi-Fi connectivity might be limited or unavailable.
Global IoT Medical Devices Market Overview by Region
The global IoT medical devices market is categorized into North America, Europe, Asia-Pacific, and the Rest of the World. North America emerged as the leading region, capturing the largest market share. North America boasts robust technological infrastructure, including advanced communication networks and widespread internet connectivity. This strong foundation facilitates the seamless integration of IoT medical devices, enabling real-time data transmission and remote monitoring. The region's substantial investments in healthcare research, development, and infrastructure have fostered an environment conducive to the adoption of cutting-edge technologies. Healthcare institutions are more open to integrating IoT devices into their practices, enhancing patient care and streamlining operations. The rapid uptake of telemedicine in North America has further propelled the adoption of IoT medical devices. These devices play a pivotal role in supporting virtual consultations and remote patient monitoring, aligning with the region's evolving healthcare landscape.
Global IoT Medical Devices Market Competitive Landscape
In the global IoT medical devices market, a few major players exert significant market dominance and have established a strong regional presence. These leading companies remain committed to continuous research and development endeavors and actively engage in strategic growth initiatives, including product development, launches, joint ventures, and partnerships. By pursuing these strategies, these companies aim to strengthen their market position, expand their customer base, and capture a substantial share of the market.
Some of the prominent players in the global IoT medical devices market include Medtronic, Cisco Inc, GENERAL ELECTRIC, STANLEY Healthcare, Capsule Technologies, Inc, IBM Corporation, Koninklijke Philips N.V., Microsoft, SAP affiliate company, AdhereTech, Cerner Corporation, PhysIQ, Meru Health, LifeFuels Inc, Keriton, CARRÉ TECHNOLOGIES INC., ConnectedHealth, Abbott, Qualcomm Technologies and various other key players.
Global IoT Medical Devices Market Recent Developments
In May 2023, Medtronic to acquire wearable insulin patch maker EOFlow. Together with Medtronic's Meal Detection TechnologyTM algorithm and next-generation continuous glucose monitor (CGM), the addition of EOFlow is anticipated to increase the company's capacity to meet the needs of more people with diabetes, regardless of where they are in their treatment journey or their preferred method of insulin delivery.
In April 2023, Abbott announced it has completed the acquisition of Cardiovascular Systems. Through the deal, Abbott will have access to an additional treatment option for vascular disease. For angioplasty or stenting to restore blood flow, CSI's top atherectomy technology gets the vessels ready.
Scope of the Global IoT Medical Devices Market Report
IoT Medical Devices Market Report Segmentation
ATTRIBUTE

DETAILS

By Product

Imaging Systems

Vital Signs Monitoring Devices

Implantable Cardiac Devices

Patient Monitors

Infusion Pumps

Neurological Devices

Hearing Devices

Ventilators

By Application

Telemedicine

Clinical Operations

Workflow Management

Connected Imaging

Inpatient Monitoring

Medication Management

By Connectivity Technology

Bluetooth Low Energy

Wi-Fi

Cellular

Near Field Communication (NFC)

Satellite

By End Users

Hospitals and Clinics

Clinical Research Organization (CRO)

Research and Diagnostics Laboratories

By Geography

North America (USA,

and Canada)

Europe (UK, Germany, France, Italy, Spain, Russia and Rest of Europe)

Asia Pacific (Japan, China, India, Australia, Southeast Asia and Rest of Asia Pacific)

Latin America (Brazil, Mexico, and Rest of Latin America)

Middle East & Africa (South Africa, GCC, and Rest of Middle East & Africa)

Customization Scope

Pricing
Objectives of the Study
The objectives of the study are summarized in 5 stages. They are as mentioned below:
Global IoT Medical Devices Market

Size and Forecast:
To identify and estimate the market size for the global IoT medical devices market segmented by product, by application, by connectivity technology, by end users, region and by value (in U.S. dollars). Also, to understand the consumption/ demand created by consumers of IoT medical devices between 2019 and 2031.
Market Landscape and Trends:
To identify and infer the drivers, restraints, opportunities, and challenges for the global IoT medical devices market
Market Influencing Factors:
To find out the factors which are affecting the sales of IoT medical devices among consumers
To identify and understand the various factors involved in the global IoT medical devices market affected by the pandemic
To provide a detailed insight into the major companies operating in the market. The profiling will include the financial health of the company's past 2-3 years with segmental and regional revenue breakup, product offering, recent developments, SWOT analysis, and key strategies.
Intended Audience
Raw Material Suppliers

Retailers, Wholesalers, and Distributors

Governments, Associations, and Industrial Bodies

Investors and Trade Experts
Research Methodology
Our research methodology has always been the key differentiating reason which sets us apart in comparison from the competing organizations in the industry. Our organization believes in consistency along with quality and establishing a new level with every new report we generate; our methods are acclaimed and the data/information inside the report is coveted. Our research methodology involves a combination of primary and secondary research methods. Data procurement is one of the most extensive stages in our research process. Our organization helps in assisting the clients to find the opportunities by examining the market across the globe coupled with providing economic statistics for each and every region. The reports generated and published are based on primary & secondary research. In secondary research, we gather data for global Market through white papers, case studies, blogs, reference customers, news, articles, press releases, white papers, and research studies. We also have our paid data applications which includes hoovers, Bloomberg business week, Avention, and others.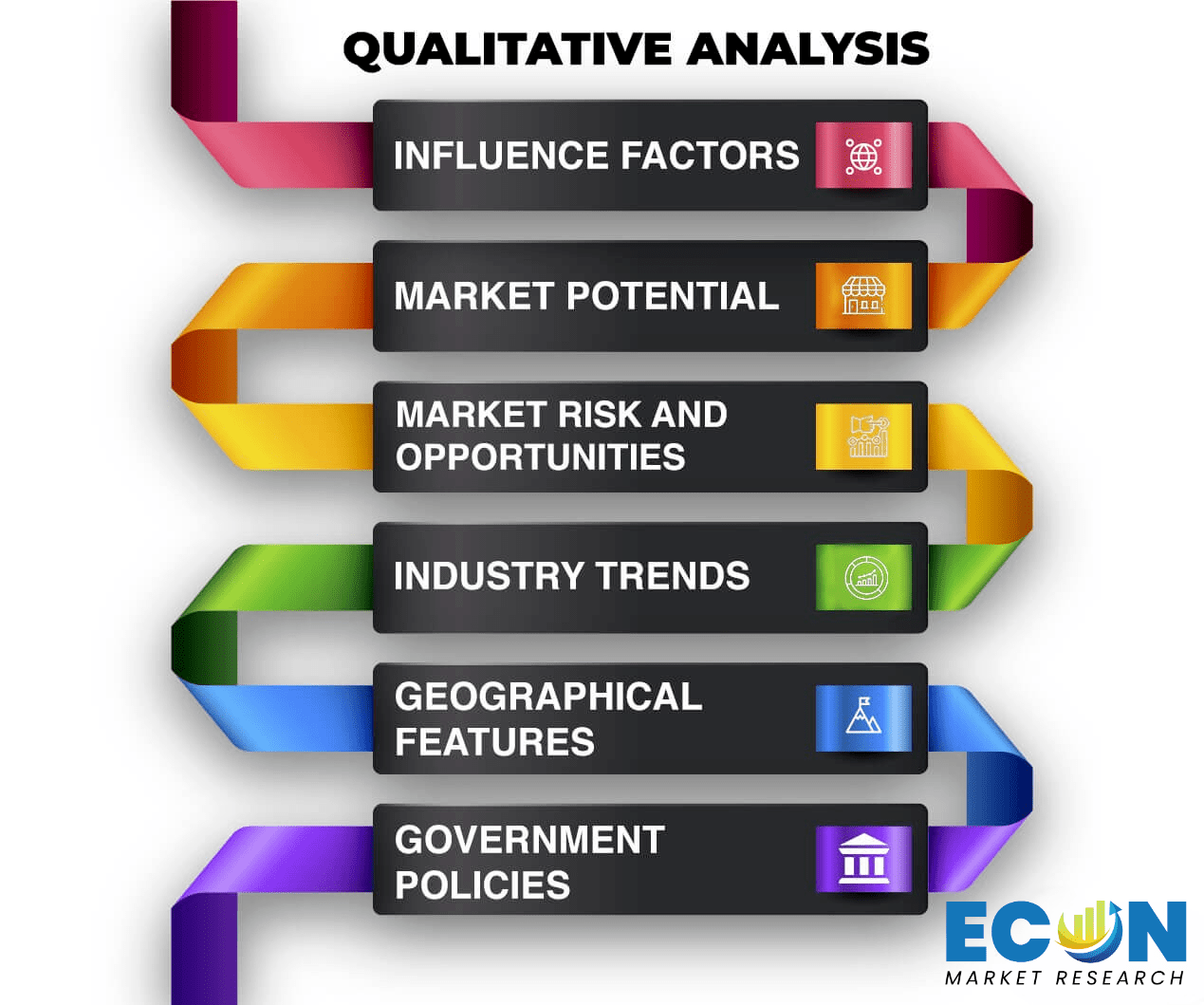 Data Collection
Data collection is the process of gathering, measuring, and analyzing accurate and relevant data from a variety of sources to analyze market and forecast trends. Raw market data is obtained on a broad front. Data is continuously extracted and filtered to ensure only validated and authenticated sources are considered. Data is mined from a varied host of sources including secondary and primary sources.

Primary Research
After the secondary research process, we initiate the primary research phase in which we interact with companies operating within the market space. We interact with related industries to understand the factors that can drive or hamper a market. Exhaustive primary interviews are conducted. Various sources from both the supply and demand sides are interviewed to obtain qualitative and quantitative information for a report which includes suppliers, product providers, domain experts, CEOs, vice presidents, marketing & sales directors, Type & innovation directors, and related key executives from various key companies to ensure a holistic and unbiased picture of the market. 
Secondary Research
A secondary research process is conducted to identify and collect information useful for the extensive, technical, market-oriented, and comprehensive study of the market. Secondary sources include published market studies, competitive information, white papers, analyst reports, government agencies, industry and trade associations, media sources, chambers of commerce, newsletters, trade publications, magazines, Bloomberg BusinessWeek, Factiva, D&B, annual reports, company house documents, investor presentations, articles, journals, blogs, and SEC filings of companies, newspapers, and so on. We have assigned weights to these parameters and quantified their market impacts using the weighted average analysis to derive the expected market growth rate.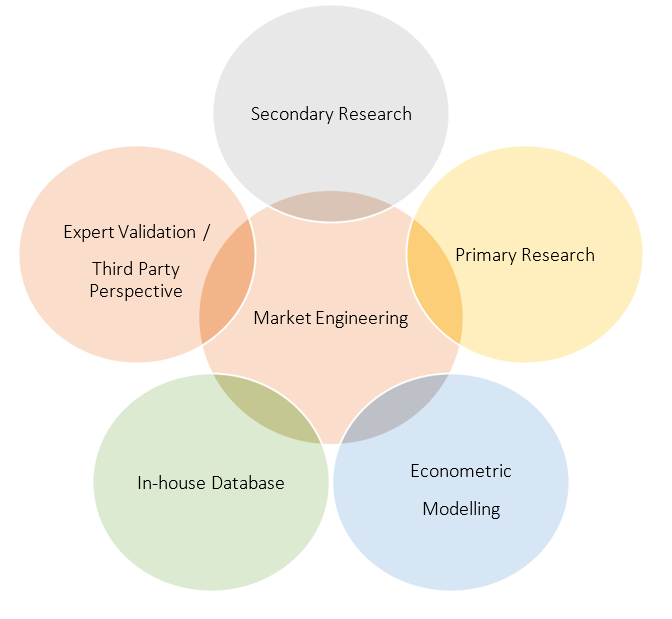 Top-Down Approach & Bottom-Up Approach
In the top – down approach, the Global Batteries for Solar Energy Storage Market was further divided into various segments on the basis of the percentage share of each segment. This approach helped in arriving at the market size of each segment globally. The segments market size was further broken down in the regional market size of each segment and sub-segments. The sub-segments were further broken down to country level market. The market size arrived using this approach was then crosschecked with the market size arrived by using bottom-up approach.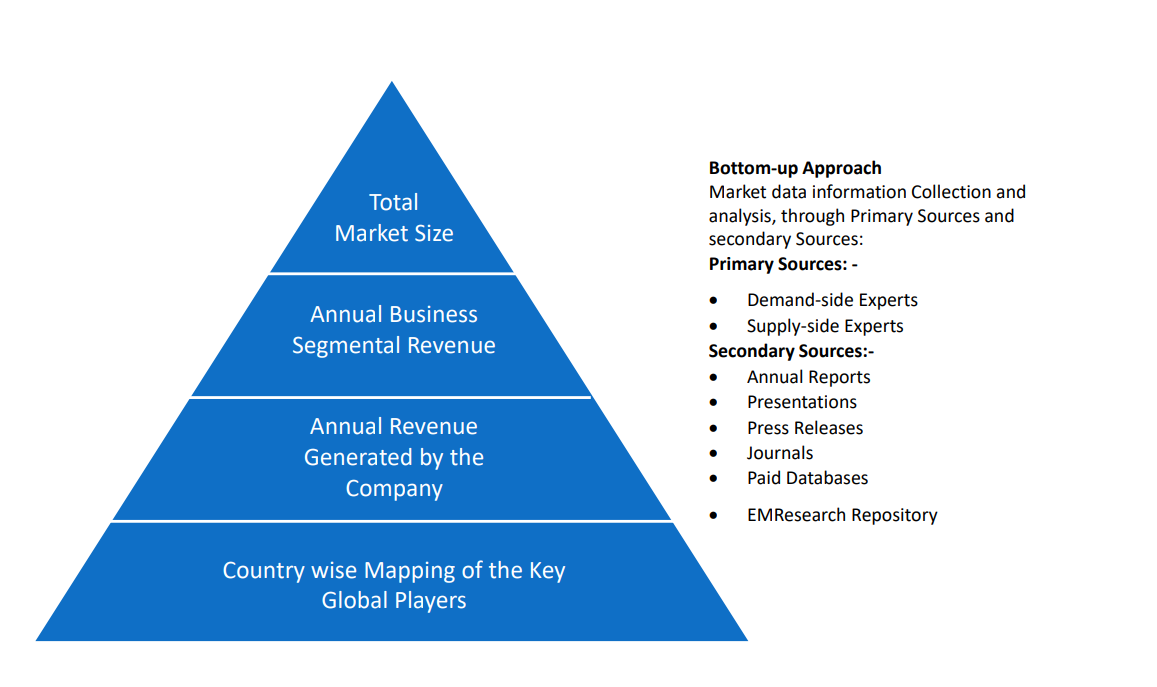 In the bottom-up approach, we arrived at the country market size by identifying the revenues and market shares of the key market players. The country market sizes then were added up to arrive at regional market size of the decorated apparel, which eventually added up to arrive at global market size.
This is one of the most reliable methods as the information is directly obtained from the key players in the market and is based on the primary interviews from the key opinion leaders associated with the firms considered in the research. Furthermore, the data obtained from the company sources and the primary respondents was validated through secondary sources including government publications and Bloomberg.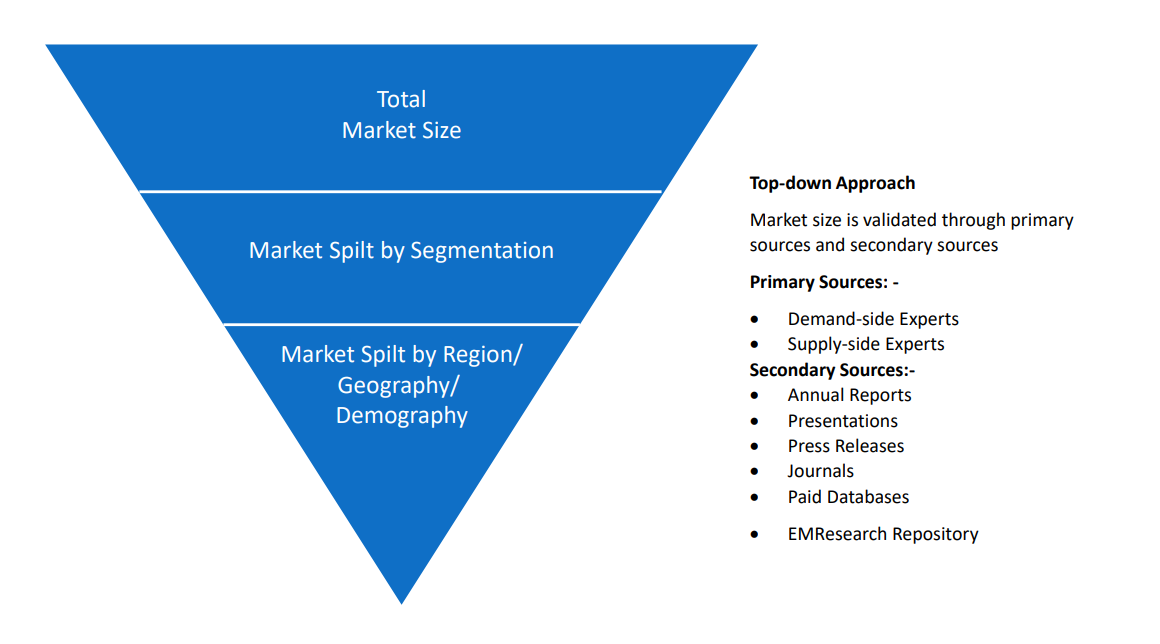 Market Analysis & size Estimation
Post the data mining stage, we gather our findings and analyze them, filtering out relevant insights. These are evaluated across research teams and industry experts. All this data is collected and evaluated by our analysts. The key players in the industry or markets are identified through extensive primary and secondary research. All percentage share splits, and breakdowns have been determined using secondary sources and verified through primary sources. The market size, in terms of value and volume, is determined through primary and secondary research processes, and forecasting models including the time series model, econometric model, judgmental forecasting model, the Delphi method, among Flywheel Energy Storage. Gathered information for market analysis, competitive landscape, growth trends, product development, and pricing trends is fed into the model and analyzed simultaneously.
Quality Checking & Final Review
The analysis done by the research team is further reviewed to check for the accuracy of the data provided to ensure the clients' requirements. This approach provides essential checks and balances which facilitate the production of quality data. This Type of revision was done in two phases for the authenticity of the data and negligible errors in the report. After quality checking, the report is reviewed to look after the presentation, Type and to recheck if all the requirements of the clients were addressed.