The Global Hydropower Generation Market was valued at USD 236.95 billion in 2022 and is estimated to reach approximately USD 405.64 billion by 2031, at a CAGR of 6.1% from 2023 to 2031. The market for hydropower generation, a crucial segment of the global energy industry, entails the generation of electricity from water resources. Although this renewable energy source has a long history that dates back to ancient civilizations, it still plays a significant part in supplying the modern world's electricity needs. Hydropower plants use dams, turbines, and generators to capture the energy of moving water. The sustainability of the market is one of its main benefits because it generates clean, green electricity while reducing greenhouse gas emissions. Additionally, hydropower is quite dependable, offering a steady and regular source of energy, which can be particularly advantageous for base load power generation. It also aids in flood prevention and water management. Hydropower systems are more appealing in the global energy landscape as a result of technological breakthroughs that have increased their effectiveness and environmental impact. The hydropower generation market is positioned for continuous expansion and innovation as governments work to minimize their carbon footprint and shift to renewable energy sources. It provides a flexible and long-term answer to the world's rising energy needs while addressing environmental issues.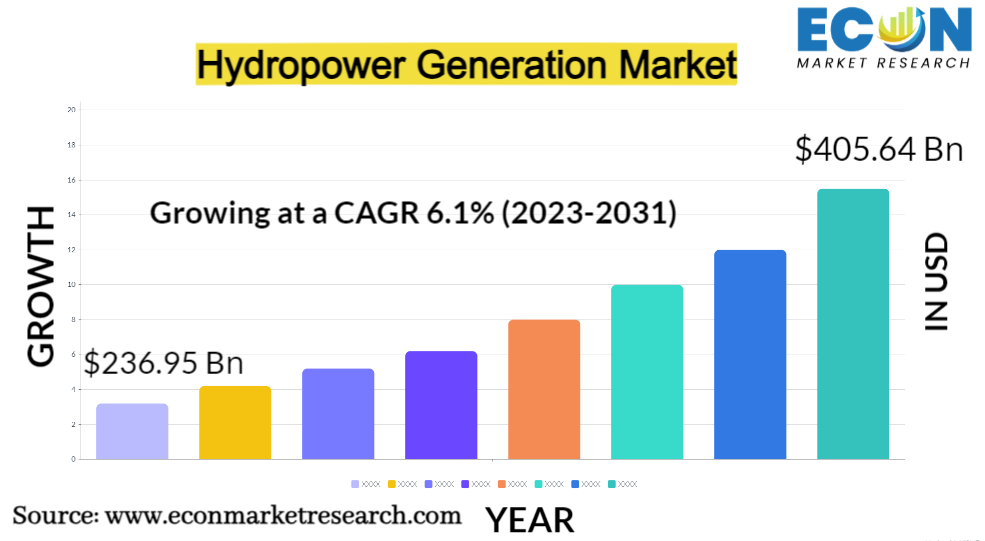 HYDROPOWER GENERATION MARKET: REPORT SCOPE & SEGMENTATION
| | |
| --- | --- |
| Report Attribute | Details |
| Estimated Market Value (2022) | 236.95 Bn |
| Projected Market Value (2031) | 405.64 Bn |
| Base Year | 2022 |
| Forecast Years | 2023 - 2031 |
| Scope of the Report | Historical and Forecast Trends, Industry Drivers and Constraints, Historical and Forecast Market Analysis by Segment- By Capacity, & Region |
| Segments Covered | By Capacity, & Region |
| Forecast Units | Value (USD Billion or Million), and Volume (Units) |
| Quantitative Units | Revenue in USD million/billion and CAGR from 2023 to 2031 |
| Regions Covered | North America, Europe, Asia Pacific, Latin America, and Middle East & Africa, and the Rest of World |
| Countries Covered | U.S., Canada, Mexico, U.K., Germany, France, Italy, Spain, China, India, Japan, South Korea, Brazil, Argentina, GCC Countries, and South Africa, among others |
| Report Coverage | Market growth drivers, restraints, opportunities, Porter's five forces analysis, PEST analysis, value chain analysis, regulatory landscape, market attractiveness analysis by segments and region, company market share analysis, and COVID-19 impact analysis. |
| Delivery Format | Delivered as an attached PDF and Excel through email, according to the purchase option. |
Global Hydropower Generation Market Dynamics
Numerous elements that affect the growth, evolution, and competitiveness of the hydropower generation market have an impact on its dynamics. First, due to its low carbon emissions, hydropower has become an appealing choice as a result of environmental concerns and the global push for clean energy, encouraging investments and legislation that support its development. Economic aspects are also quite important. Despite the high initial expenses, hydropower projects are economically viable in the long run because to their cheap long-term operational and maintenance costs. Government subsidies, tax breaks, and supportive regulatory environments can all help to boost market expansion and investment in this industry. Geographical variables also have an impact on the market because hydropower generation is naturally more advantageous in areas with abundant water resources, such as rivers and reservoirs. Technology developments and innovation in the design of turbines and dams are crucial factors, increasing productivity and minimizing environmental effects. However, it is important to take into account environmental issues, such as habitat damage and probable dam breaches. Other renewable energy sources like solar and wind power, which have seen fast developments and cost reductions, are a competitor in the market. The dynamics of the hydropower generation market are shaped by the interaction of these elements, as well as by geopolitical and regulatory events, making it a dynamic and developing industry within the larger renewable energy landscape.
Global Hydropower Generation Market Drivers
Climate Change Mitigation
Climate change mitigation is one of the main forces at work. The major source of greenhouse gas emissions, which are the main causes of global warming and climate change, is the burning of fossil fuels for energy. There is widespread agreement that carbon emissions must be reduced as the world experiences more extreme weather, rising sea levels, and other climate-related disturbances. Solar, wind, hydro, and geothermal energy are examples of renewable energy sources that present an attractive option since they produce electricity with little to no carbon emissions. The transition to renewable energy is further encouraged by governments and international agreements like the Paris Agreement that set ambitious goals to curb global temperature rise.
Technological Advancements
Technology advancements are essential. Because of production cost reductions brought about by advances in renewable energy technologies, renewable energy sources are becoming more and more competitive with fossil fuels. The intermittent character of some renewable sources has also been addressed through improved energy storage options and grid integration capabilities, increasing their dependability. These technical advancements have accelerated the move away from fossil fuels by making it more viable and cost-effective for governments and corporations to switch to renewable energy.
Restraints:
High Initial Investment Costs:
A major barrier to the widespread adoption of renewable energy technology and infrastructure is the high initial investment prices. These expenses are related to the substantial sums of money necessary to set up renewable energy projects and facilities, such as solar farms, wind farms, hydropower plants, and geothermal systems. In order to acquire the necessary equipment, land, licences, and grid connections, renewable energy projects frequently require sizable up-front cash inputs. Consider the capital-intensive nature of purchasing and installing solar or wind energy equipment. Costs associated with constructing and upgrading the infrastructure required to connect renewable energy installations to the grid, such as transmission lines and substations, can considerably increase. The process of navigating the regulatory environment and obtaining the required approvals can be time-consuming and expensive.
Land and Resettlement Issues
Due to competing land uses, environmental concerns, and landownership issues, finding adequate land for renewable energy projects, such as solar farms or wind turbines, can be difficult. The availability of huge, unused land is decreasing as renewable energy projects grow, which could put agriculture, conservation, or urban expansion in competition. Processes for acquiring land can be hampered by concerns with land tenure and property rights. The development of renewable energy sources may be hampered by overlapping property claims or unclear land ownership. Large-scale renewable energy projects, in particular, have the potential to disturb local ecosystems and have an adverse impact on the environment. It can be difficult to strike a balance between the advantages of clean energy and the need to conserve resources and protect the environment.
Opportunities:
Growing Energy Demand and Transition to Clean Energy
There has never been a greater demand for dependable and accessible power as the world's population grows and industrialists. The chance for hydropower generation to step in and meet this need while protecting the environment is significant given the expanding energy demand. As a sustainable energy source, hydropower stands out as a potential solution to close the gap between rising electricity demand and the need to cut carbon emissions. It is an excellent option to supply all of the world's energy demands due to its ability to create electricity on a constant basis, acting as a dependable base load power source. The world's transition to clean energy is also motivated by the realization that fossil fuels pose serious environmental and climate risks.
International Cooperation and Cross-Border Projects
This includes cooperative initiatives between nations with shared river systems and the potential for exporting electricity produced by hydropower to nearby regions. Trans-boundary projects, in which many nations work together to create hydroelectric facilities on common river basins, have a lot of promise. These initiatives can strengthen political and economic ties between participating nations while unlocking hitherto unrealized hydropower potential. Countries can more effectively manage shared water resources, harness their combined resources, and share costs by cooperating. The creation of bigger, more effective hydropower projects that are advantageous to all parties involved can result from this synergy. Furthermore, for nations with excess hydropower capacity, exporting electricity produced by hydropower to neighbouring regions offers a lucrative business opportunity. This can be particularly beneficial in regions where energy demand is high, and access to clean and reliable electricity is limited. Exporting electricity can create revenue streams, boost economic growth, and enhance energy security for the exporting nation. Simultaneously, importing nations can gain access to clean energy sources, reduce their reliance on fossil fuels, and support their own sustainable development goals.
Segment Overview
By Capacity
Based on capacity, the global hydropower generation market is divided into small hydro power plant (up to 1MW), medium hydro power plant (1MW-10MW), and large hydro power plant (above 10MW). The small hydro power plant (up to 1MW) category dominates the market with the largest revenue share.Small hydro power plants, typically with capacities of up to 1MW, are characterized by their suitability for localized and decentralized energy production. They often harness the flow of smaller rivers and streams, making them ideal for remote or rural areas where access to a central power grid may be limited. Small hydro projects offer several advantages, including minimal environmental impact, ease of implementation, and compatibility with existing infrastructure. As a result, they hold immense potential for electrifying off-grid communities and contributing to rural development. Medium-sized hydro power plants, ranging from 1MW to 10MW, bridge the gap between small and large-scale facilities. They are well-suited for meeting the energy needs of small to medium-sized towns and industrial operations. Medium hydro projects provide a reliable source of electricity while balancing the environmental considerations associated with larger installations. Large hydro power plants, with capacities exceeding 10MW, are the backbone of many countries' energy infrastructure. They can generate substantial amounts of electricity, making them crucial for meeting the demands of densely populated regions and industrial centers.
Global Hydropower Generation Market Overview by Region
The global hydropower generation market is categorized into North America, Europe, Asia-Pacific, and the Rest of the World. Asia-Pacific emerged as the leading region, capturing the largest market share in 2022. The Asia-Pacific region is home to a wide variety of water resources, including important rivers like the Yangtze, Mekong, and Brahmaputra, which have enormous potential for the development of hydropower. Hydropower is a desirable option to fulfil the area's rising energy needs because these enormous waterways offer a steady and reliable supply of energy. Energy consumption has significantly increased as a result of the quick industrialization, urbanization, and population growth that have occurred in many Asia-Pacific nations. In order to solve environmental issues and provide energy security, governments throughout the region understand how crucial it is to diversify their energy mix and rely less on fossil fuels. These goals are in line with hydropower, which provides a clean and sustainable source of electricity.Asia-Pacific countries have also invested a significant amount in hydropower infrastructure, including the development of large-scale hydroelectric projects. Aiming for both domestic use and export to nearby regions, nations like China, India, and Vietnam have launched ambitious hydropower development projects. Furthermore, hydropower technology has made significant strides in the Asia-Pacific area, enhancing the effectiveness and environmental sustainability of hydropower projects. These developments have increased the allure of hydropower as a sustainable energy source. The region's strategic emphasis on utilizing its plentiful water resources to fulfil rising energy demands while supporting global efforts to address climate change is reflected in Asia-Pacific's leadership in the hydropower generation market.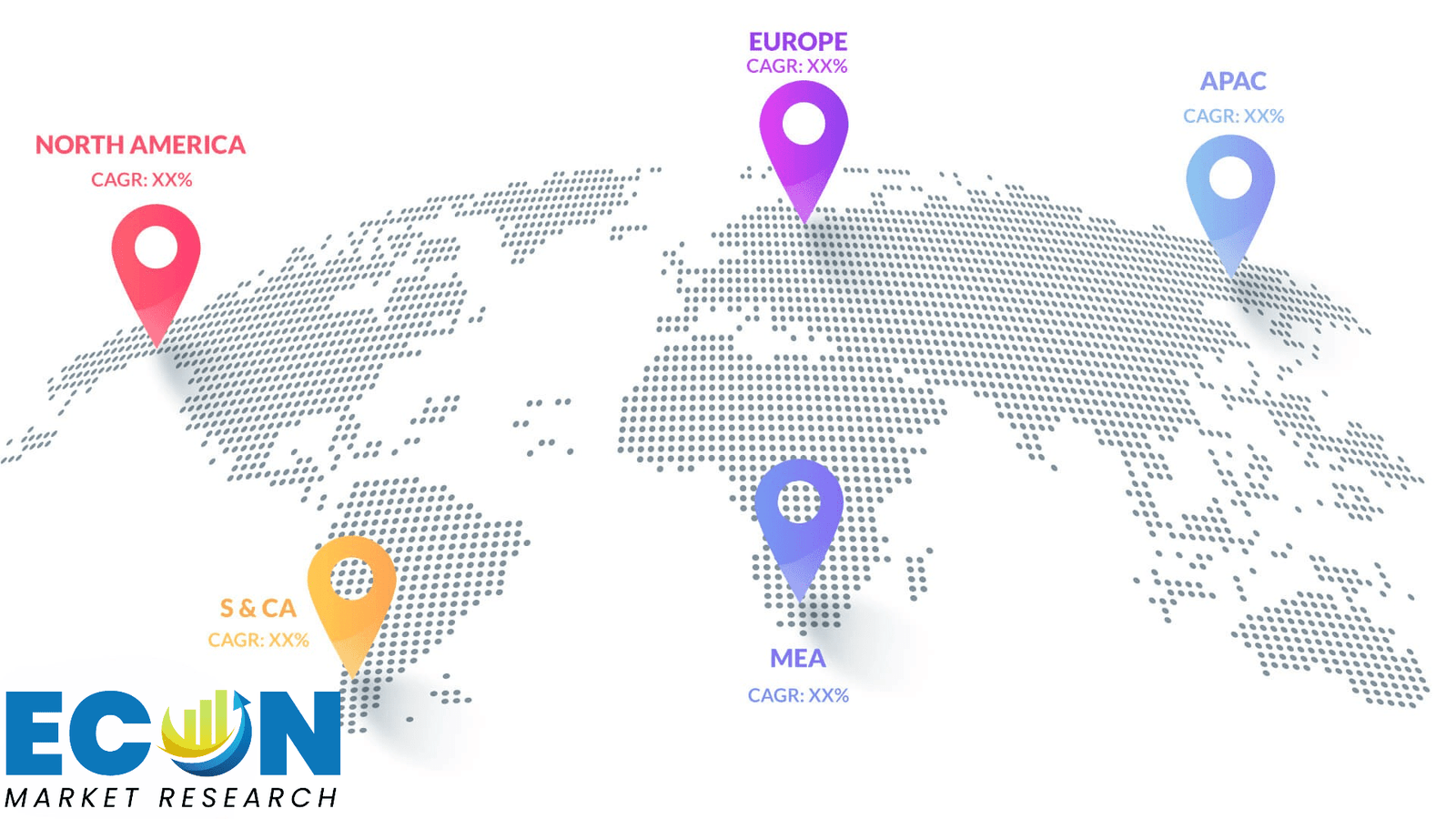 Global Hydropower Generation Market Competitive Landscape
In the global hydropower generation market, a few major players exert significant market dominance and have established a strong regional presence. These leading companies remain committed to continuous research and development endeavors and actively engage in strategic growth initiatives, including product development, launches, joint ventures, and partnerships. By pursuing these strategies, these companies aim to strengthen their market position, expand their customer base, and capture a substantial share of the market.
Some of the prominent players in the global hydropower generation market include General Electric (GE) Co., Turbine Generator Maintenance Inc., Toshiba Corporation, Arani Power Systems, Elliott Group, TURBOCAM, Dusan Skoda Power, Chola Turbo Machinary International Pvt. Ltd., Siemens AG, Mitsubishi Hitachi Power Systems America Inc., and various other key players.
Global Hydropower Generation Market Recent Developments
In February 2023,India will produce more hydropower as a result of climate change. Contrary to coal-fired power plants, hydropower, the second-highest source of energy production with a 13% share, makes a substantial contribution to the production of clean electricity globally.
In February 2023, Near the China border, India approves a $3.9 billion hydroelectric project. The 3,9 billion rupee ($3.9 billion) Dibang project in Arunachal Pradesh, administered by the state-owned hydropower company NHPC Ltd, received government approval.
Scope of the Global Hydropower Generation Market Report
Hydropower Generation Market Report Segmentation
ATTRIBUTE

DETAILS

By Capacity

Small Hydro Power Plant (Up to 1MW)

Medium Hydro Power Plant (1MW-10MW)

Large Hydro Power Plant (Above 10MW))

By Geography

North America (USA,

and Canada)

Europe (UK, Germany, France, Italy, Spain, Russia and Rest of Europe)

Asia Pacific (Japan, China, India, Australia, Southeast Asia and Rest of Asia Pacific)

Latin America (Brazil, Mexico, and Rest of Latin America)

Middle East & Africa (South Africa, GCC, and Rest of Middle East & Africa)

Customization Scope

Pricing
Objectives of the Study
The objectives of the study are summarized in 5 stages. They are as mentioned below:
Global Hydropower Generation

Market

Size and Forecast:
To identify and estimate the market size for the global hydropower generation market segmented by capacity, region and by value (in U.S. dollars). Also, to understand the consumption/ demand created by consumers of hydropower generation between 2019 and 2031.
Market Landscape and Trends:
To identify and infer the drivers, restraints, opportunities, and challenges for the global hydropower generation market
Market Influencing Factors:
To find out the factors which are affecting the sales of hydropower generation among consumers
To identify and understand the various factors involved in the global hydropower generation market affected by the pandemic
To provide a detailed insight into the major companies operating in the market. The profiling will include the financial health of the company's past 2-3 years with segmental and regional revenue breakup, product offering, recent developments, SWOT analysis, and key strategies.
Intended Audience
General Public

Academic Researchers

Environmental Advocates

Investors and Financial Analysts

Governments, Associations, and Industrial Bodies

Investors and Trade Experts
Research Methodology
Our research methodology has always been the key differentiating reason which sets us apart in comparison from the competing organizations in the industry. Our organization believes in consistency along with quality and establishing a new level with every new report we generate; our methods are acclaimed and the data/information inside the report is coveted. Our research methodology involves a combination of primary and secondary research methods. Data procurement is one of the most extensive stages in our research process. Our organization helps in assisting the clients to find the opportunities by examining the market across the globe coupled with providing economic statistics for each and every region. The reports generated and published are based on primary & secondary research. In secondary research, we gather data for global Market through white papers, case studies, blogs, reference customers, news, articles, press releases, white papers, and research studies. We also have our paid data applications which includes hoovers, Bloomberg business week, Avention, and others.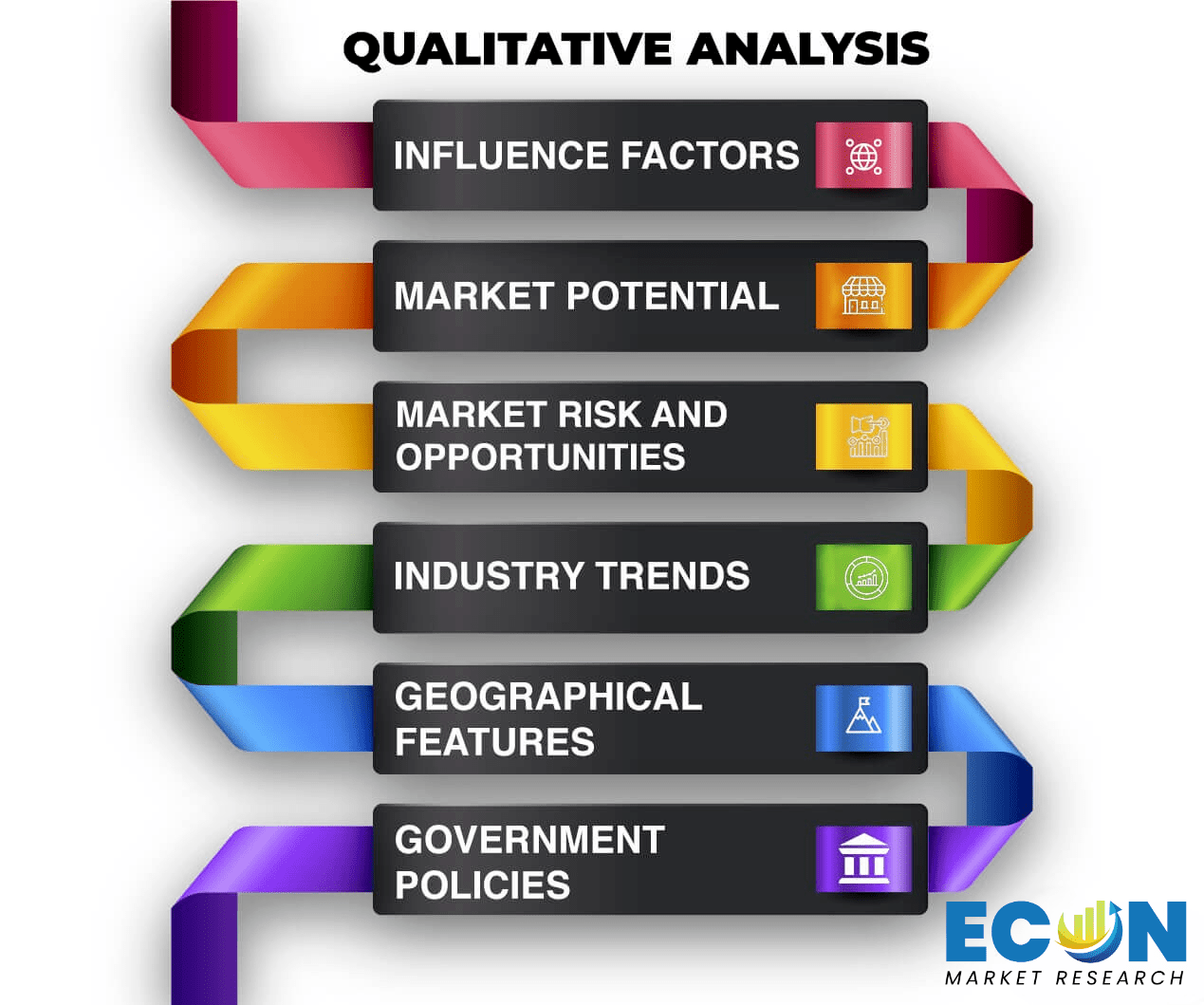 Data Collection
Data collection is the process of gathering, measuring, and analyzing accurate and relevant data from a variety of sources to analyze market and forecast trends. Raw market data is obtained on a broad front. Data is continuously extracted and filtered to ensure only validated and authenticated sources are considered. Data is mined from a varied host of sources including secondary and primary sources.

Primary Research
After the secondary research process, we initiate the primary research phase in which we interact with companies operating within the market space. We interact with related industries to understand the factors that can drive or hamper a market. Exhaustive primary interviews are conducted. Various sources from both the supply and demand sides are interviewed to obtain qualitative and quantitative information for a report which includes suppliers, product providers, domain experts, CEOs, vice presidents, marketing & sales directors, Type & innovation directors, and related key executives from various key companies to ensure a holistic and unbiased picture of the market. 
Secondary Research
A secondary research process is conducted to identify and collect information useful for the extensive, technical, market-oriented, and comprehensive study of the market. Secondary sources include published market studies, competitive information, white papers, analyst reports, government agencies, industry and trade associations, media sources, chambers of commerce, newsletters, trade publications, magazines, Bloomberg BusinessWeek, Factiva, D&B, annual reports, company house documents, investor presentations, articles, journals, blogs, and SEC filings of companies, newspapers, and so on. We have assigned weights to these parameters and quantified their market impacts using the weighted average analysis to derive the expected market growth rate.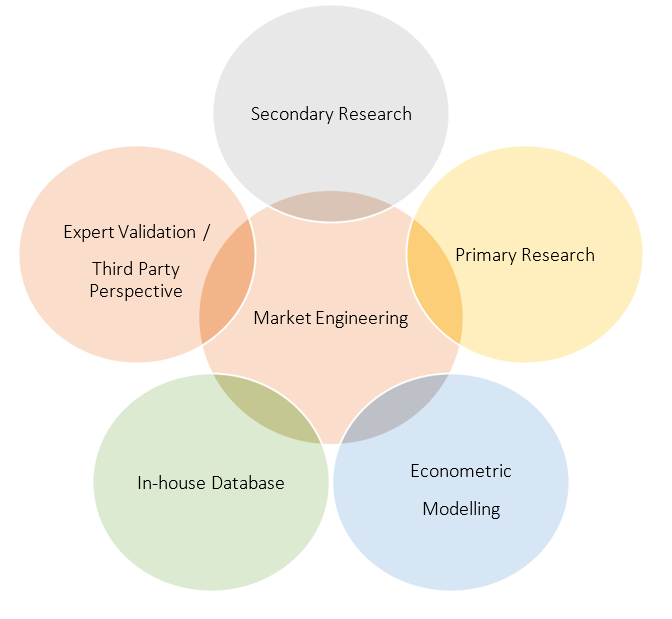 Top-Down Approach & Bottom-Up Approach
In the top – down approach, the Global Batteries for Solar Energy Storage Market was further divided into various segments on the basis of the percentage share of each segment. This approach helped in arriving at the market size of each segment globally. The segments market size was further broken down in the regional market size of each segment and sub-segments. The sub-segments were further broken down to country level market. The market size arrived using this approach was then crosschecked with the market size arrived by using bottom-up approach.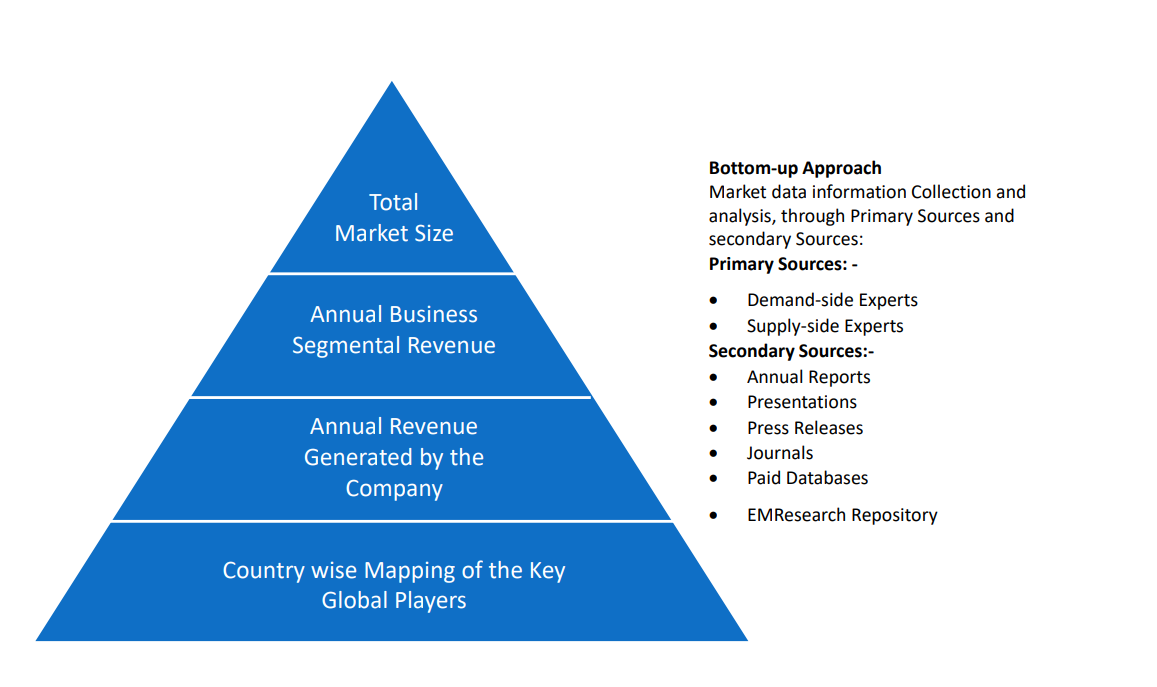 In the bottom-up approach, we arrived at the country market size by identifying the revenues and market shares of the key market players. The country market sizes then were added up to arrive at regional market size of the decorated apparel, which eventually added up to arrive at global market size.
This is one of the most reliable methods as the information is directly obtained from the key players in the market and is based on the primary interviews from the key opinion leaders associated with the firms considered in the research. Furthermore, the data obtained from the company sources and the primary respondents was validated through secondary sources including government publications and Bloomberg.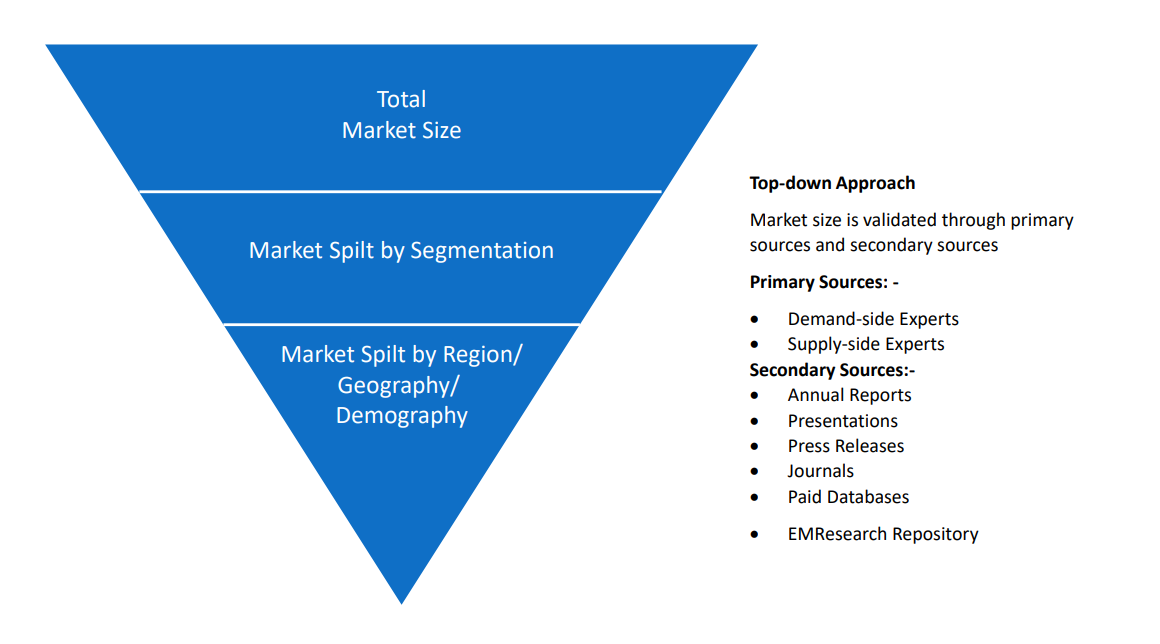 Market Analysis & size Estimation
Post the data mining stage, we gather our findings and analyze them, filtering out relevant insights. These are evaluated across research teams and industry experts. All this data is collected and evaluated by our analysts. The key players in the industry or markets are identified through extensive primary and secondary research. All percentage share splits, and breakdowns have been determined using secondary sources and verified through primary sources. The market size, in terms of value and volume, is determined through primary and secondary research processes, and forecasting models including the time series model, econometric model, judgmental forecasting model, the Delphi method, among Flywheel Energy Storage. Gathered information for market analysis, competitive landscape, growth trends, product development, and pricing trends is fed into the model and analyzed simultaneously.
Quality Checking & Final Review
The analysis done by the research team is further reviewed to check for the accuracy of the data provided to ensure the clients' requirements. This approach provides essential checks and balances which facilitate the production of quality data. This Type of revision was done in two phases for the authenticity of the data and negligible errors in the report. After quality checking, the report is reviewed to look after the presentation, Type and to recheck if all the requirements of the clients were addressed.