The Global Gas Turbine Market was valued at USD 19.3 billion in 2022 and is estimated to reach approximately USD 28.4 billion by 2031, at a CAGR of 4.3% from 2023 to 2031. A gas turbine is a type of internal combustion engine that uses a continuous combustion process to transform fuel, usually natural gas or aviation fuel, into mechanical energy. Compressor, combustion chamber, and turbine make up the device. High-speed exhaust gases created by the compression, blending, and ignition of air and fuel power the turbine. This rotation produces energy for a number of uses, including industrial machinery, electricity generation, and aviation propulsion. For their effectiveness, dependability, and adaptability, gas turbines are well-known. The growing demand for effective and clean energy solutions across numerous industries has led to substantial expansion and transformation in the worldwide gas turbine market in recent years. Gas turbines are adaptable mechanical systems that use the power of combustion to generate energy, power machinery, and move ships and aeroplanes. In comparison to other energy generation technologies, they have a number of benefits, including high power-to-weight ratios, lower emissions, and quicker startup times. The demand for dependable and adaptable power generation is one of the main factors propelling the growth of the gas turbine industry. Gas turbines are widely utilized in the electricity production industry, especially in peaking and combined cycle power plants where they are essential for balancing the grid and meeting peak demand. In addition, their adaptability to a variety of fuels, such as hydrogen, bio fuels, and natural gas, makes them a flexible option in the shift to greener energy sources.Due to its effectiveness and thrust capacities, gas turbines continue to be actively utilised in the aviation sector for aircraft propulsion. Gas turbines are also used in the oil and gas industry for a variety of purposes, including the production of liquefied natural gas (LNG), offshore platform power generation, and gas compression. The gas turbine market is anticipated to continue evolving as businesses prioritise cutting carbon emissions and increasing energy efficiency, thanks to technological advancements, rising usage of sustainable fuels, and integrated power solutions. The global gas turbine market can grow and innovate in light of this changing environment.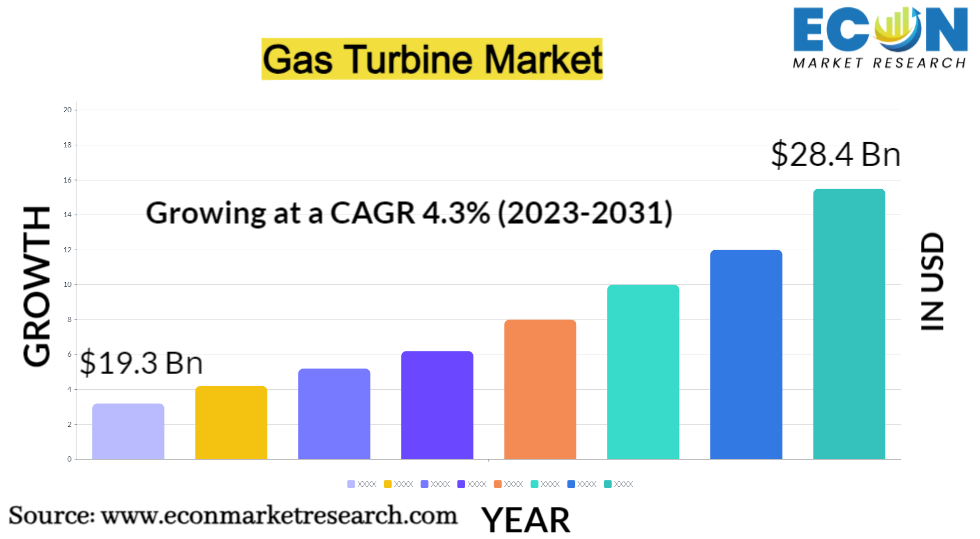 GAS TURBINE MARKET: REPORT SCOPE & SEGMENTATION
| | |
| --- | --- |
| Report Attribute | Details |
| Estimated Market Value (2022) | 19.3 Bn |
| Projected Market Value (2031) | 28.4 Bn |
| Base Year | 2022 |
| Forecast Years | 2023 - 2031 |
| Scope of the Report | Historical and Forecast Trends, Industry Drivers and Constraints, Historical and Forecast Market Analysis by Segment- By Technology, By Design Type, By Rating Capacity, By Application, & Region |
| Segments Covered | By Technology, By Design Type, By Rating Capacity, By Application, & Region |
| Forecast Units | Value (USD Billion or Million), and Volume (Units) |
| Quantitative Units | Revenue in USD million/billion and CAGR from 2023 to 2031 |
| Regions Covered | North America, Europe, Asia Pacific, Latin America, and Middle East & Africa, and the Rest of World |
| Countries Covered | U.S., Canada, Mexico, U.K., Germany, France, Italy, Spain, China, India, Japan, South Korea, Brazil, Argentina, GCC Countries, and South Africa, among others |
| Report Coverage | Market growth drivers, restraints, opportunities, Porter's five forces analysis, PEST analysis, value chain analysis, regulatory landscape, market attractiveness analysis by segments and region, company market share analysis, and COVID-19 impact analysis. |
| Delivery Format | Delivered as an attached PDF and Excel through email, according to the purchase option. |
Global Gas Turbine Market Dynamics
A variety of dynamic elements affect the gas turbine market, which shapes its development and expansion. First of all, the market's growth has been fueled by the rising global need for electricity and the desire for cleaner, more effective power generation options. Gas turbines are favoured in many industries because of their short startup times and minimal emissions. The increasing use of renewable energy sources like wind and solar power has also raised the demand for flexible and quick-response backup power, which has enhanced the importance of the gas turbine market in maintaining grid stability. Furthermore, the performance and efficiency of gas turbines have been significantly improved because to technological breakthroughs. Gas turbines have become more potent and environmentally friendly as a result of advancements in materials, design, and combustion technologies. This has increased their competitiveness against other energy generation options. Energy policies and global geopolitics have an impact on the gas turbine sector as well. The trajectory of the market's growth and regional dynamics may be impacted by changes in government laws, renewable energy adoption incentives, and energy price fluctuations. The gas turbine sector may also be significantly impacted by changes in the markets for natural gas and hydrogen, since these fuels are the main sources of energy for gas turbines.The market for gas turbines is characterized by a complex interplay of technological advancements, energy trends, environmental considerations, and policy choices, making it a dynamic industry with opportunities for growth and innovation, particularly as the world moves towards a more sustainable and energy-efficient future.
Global Gas Turbine Market Drivers
Increasing G

lobal

E

nergy

Demands
Energy is always and continuously needed to run buildings, businesses, and industries around the world. Numerous causes, such as population growth, urbanization, industrial development, and the spread of technological gadgets and devices, are to blame for this increased need. Energy demands rise as societies grow more urbanized and industrialized, producing a constant need for dependable and effective power generation solutions. Due to their adaptability and efficiency, gas turbines are a critical component in managing this growing energy demand. They provide a quick and effective way to transform different fuels into electrical or mechanical power. Gas turbines are the best option for addressing rapid spikes in energy usage, such as during peak hours or harsh weather events, because they can be deployed quickly.
Flexible Power Generation
The demand for flexible power generating solutions has increased as renewable energy sources like wind and solar are being integrated into the grid at a faster rate. Gas turbines are excellent in this capacity because of their quick response time and adaptability in modifying power output. Due to their reliance on variables like weather and daylight availability, renewable energy sources are inherently unpredictable. Gas turbines are a complement to these renewable energy sources since they can quickly ramp up or down to make up for sharp decreases or increases in electricity production. When the supply of renewable energy is insufficient or during periods of high demand, this flexibility is essential for ensuring grid stability and satisfying electrical demand.
Restraints:
Gas turbines are complicated and sophisticated pieces of technology, and they require significant infrastructure and capital investments to build and install. These up-front costs include not only the cost of buying the gas turbine, but also the price of setting up the site, building fuel storage facilities, installing cooling systems, and purchasing control machinery. These significant up-front costs may be problematic for smaller companies or areas with scarce financial resources. The significant financial outlay can discourage potential investors and operators, resulting in projects being postponed or canceled. Additionally, to cut initial costs, areas or companies with limited resources may choose to priorities more affordable energy options or choose older, less effective gas turbine models, which may have higher long-term operating costs.
Competition from Renewables
Environmental concerns and government incentives have hastened the global transition to cleaner and more sustainable energy sources, which has led to an increase in the proportion of electricity output that comes from renewable sources. This change puts a strain on gas turbine dominance, particularly in areas with favourable renewable energy circumstances. Compared to conventional gas turbines, renewable energy sources like wind and solar have a number of advantages. They generate power without emitting greenhouse gases, have low fuel costs, and gain from falling technology costs, which increases their cost-competitiveness. Further lowering the cost of implementation, government programs frequently use subsidies, tax credits, and feed-in tariffs to encourage the use of renewable energy sources. This rivalry could delay the installation of new gas turbines and may cause the decommissioning or limited use of existing gas turbine facilities.
Opportunities:
Integration of G

as

T

urbines with

R

enewable

E

nergy

Sources
The market for gas turbines has a sizable opportunity due to the integration of gas turbines with energy storage and renewable energy sources. The intermittent nature of renewable energy, such as wind and solar power, presents difficulties for maintaining a consistent and dependable electrical supply as the world progresses towards a more sustainable and low-carbon energy future. Gas turbines can be a key component of hybrid power systems that can help to solve these problems. Gas turbines collaborate with renewable energy sources and energy storage systems in a hybrid system. When renewable energy production is high, extra power can be used to charge energy storage devices like batteries. The stored energy can be quickly deployed alongside gas turbine power to satisfy demand when renewable energy production declines due to weather conditions or time of day. Gas turbines and renewable energy sources work together to improve grid stability, provide a steady supply of electricity, and enable resource efficiency. Furthermore, gas turbines are able to adapt swiftly to changes in energy demand by offering grid support services including frequency management and spinning reserves. Having this flexibility is essential as the system incorporates more renewable energy sources.
Ongoing D

evelopments in

A

viation

Technologies
Particularly when it comes to aircraft propulsion, the aviation sector offers the gas turbine market a sizable possibility. For decades, commercial and military aircraft have been powered primarily by gas turbine engines, also referred to as jet engines. However, due to continual advancements in aircraft technologies, this possibility goes beyond the conventional scope of aviation. The investigation of electric and hybrid-electric propulsion systems for aircraft is one prominent trend. When included into these hybrid systems, gas turbines can act as effective generators, generating electricity to drive electric motors that turn the aircraft's fans or propellers. This strategy aims to make aviation more ecologically friendly and passenger-friendly by reducing fuel usage, emissions, and noise levels.
Segment Overview
By Technology
Based on technology, the global gas turbine market is divided into open cycle and combined cycle. The combined cycle based category dominates the market with the largest revenue share. Combined cycle power plants combine a gas turbine with a steam turbine. The gas turbine generates electricity using the same process as in OCGT, but the hot exhaust gases are then used to produce steam, which drives a steam turbine to generate additional electricity. CCGT power plants are highly efficient and are commonly used for base load electricity generation. They are favored for their ability to maximize fuel utilization and energy efficiency, making them suitable for continuous power generation.In an open cycle configuration, a gas turbine operates independently to generate electricity. It compresses air, mixes it with fuel, and ignites the mixture to produce high-speed exhaust gases that drive a turbine, generating electricity.
By Design Type
Based on the design type, the global gas turbine market is categorized into heavy-duty and aero-derivative. The aero-derivative category leads the global gas turbine market with the largest revenue share. Aero-derivative gas turbines, as the name suggests, are derived from aircraft engines. They are typically used in applications where rapid startup, mobility, and versatility are crucial. Common applications include peaking power plants, distributed generation, and as backup power for critical facilities such as hospitals and data centers. Aero-derivative turbines are also used in the marine industry to power ships and naval vessels. Aero-derivative gas turbines are more compact and lightweight compared to heavy-duty turbines. They are designed for quick deployment and are capable of achieving full power output in a short time.Heavy-duty gas turbines are primarily used in industrial and power generation applications. They are commonly found in utility-scale power plants, including combined cycle power plants, where they play a central role in electricity generation. These turbines are also used in various industrial processes such as petrochemical, oil and gas, and manufacturing facilities, where they provide mechanical drive power for pumps, compressors, and other machinery.
By Rating Capacity
Based on rating capacity, the global gas turbine market is segmented into less than 40 MW, 40-120 MW, 120-300 MW, and above 300 MW. The above 300 MW segment dominates the gas turbine market. In above 300 MW The highest power range is typically associated with large utility-scale power plants and major industrial facilities. These gas turbines are critical components of massive power generation projects. In 120-300 MW gas turbines in this range are typically found in utility-scale power plants and larger industrial facilities. They are well-suited for providing baseload and peaking power to regional or national electricity grids. In 40-120 MW power range covers a broad spectrum of applications, including industrial power generation, utility-scale peaking power plants, and combined cycle power plants. These turbines can supply power to medium-sized industrial facilities and contribute to grid stability during peak demand. In less than 40 MW gas turbines in this power range are typically used for smaller-scale applications. These can include distributed generation for smaller industrial facilities, commercial buildings, and rural or remote areas. They are also used as backup power sources for critical infrastructure like hospitals and data centers.
By Application
Based on the application, the global gas turbine market is categorized into power generation, oil & gas, marine, aerospace, process plants, and others. The power generation category leads the global gas turbine market with the largest revenue share. Gas turbines play a significant role in the power generation sector, where they are used in various types of power plants, including combined cycle, peaking, and co generation plants. They help produce electricity for utility grids, meeting both baseload and peak demand. The oil and gas industry extensively utilizes gas turbines for various purposes, such as gas compression, electricity generation on offshore platforms, and the liquefied natural gas (LNG) production process. They provide reliable power in remote and challenging environments.Gas turbines are used in marine propulsion systems for naval vessels, commercial ships, and fast ferries. They are known for their high power-to-weight ratio and rapid acceleration, making them suitable for high-speed applications. Gas turbines are the primary propulsion systems for aircraft, including commercial airliners, military jets, and helicopters. They provide the thrust needed for aircraft to take off, cruise, and land efficiently. Various industries, including petrochemical, chemical, and manufacturing, employ gas turbines for mechanical drive applications. They power machinery such as compressors, pumps, and generators in industrial processes.
Global Gas Turbine Market Overview by Region
The global gas turbine market is categorized into North America, Europe, Asia-Pacific, and the Rest of the World. Asia Pacific emerged as the leading region, capturing the largest market share in 2022. Energy demand increased significantly in the Asia Pacific area, which is home to some of the world's fastest-growing economies. Urbanization, industrialization, and a growing middle class all contributed to this growth by boosting the demand for dependable and effective electricity generation. In the Asia Pacific region, many nations made significant investments in the development of their infrastructure, which included building factories and power plants. Gas turbines were crucial in helping these developments fulfil their increasing energy needs. Governments in the area put policies into place to diversify their energy sources and cut emissions. Gas turbines were thought to be a cleaner and more effective alternative that would help achieve these environmental objectives, especially when used in combined cycle systems.Numerous energy-intensive businesses, including petrochemicals, manufacturing, and steel production, are found throughout the Asia-Pacific area. In these industries, gas turbines were frequently employed for mechanical drive applications and on-site power generation. The need for gas turbines was further fueled by the expansion of the infrastructure for aviation, maritime transportation, and power generation, including natural gas pipelines and liquefied natural gas (LNG) facilities. A number of nations in the region made investments in R&D to advance gas turbine technology, resulting in the creation of more effective and ecologically friendly versions.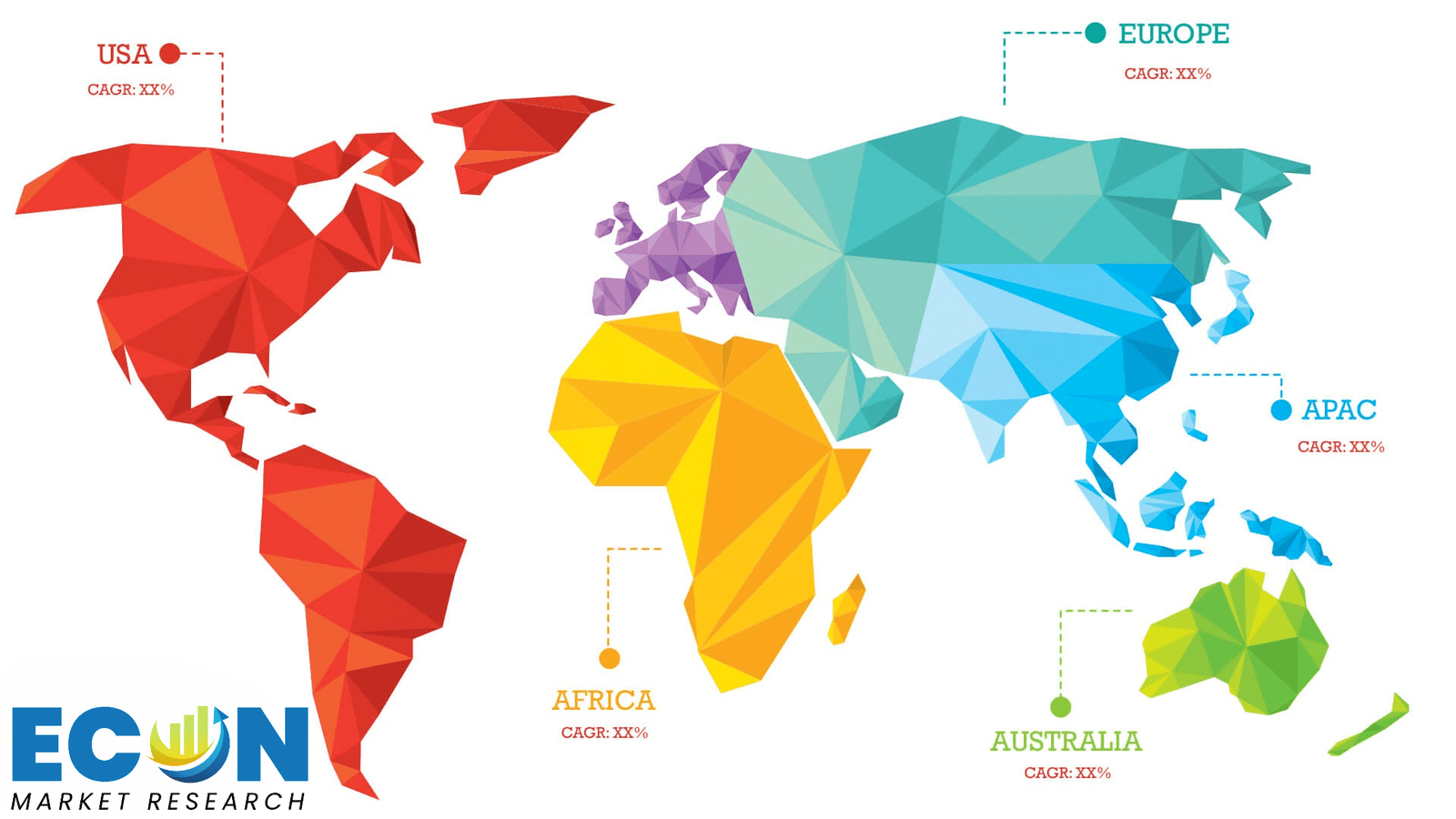 Global Gas Turbine Market Competitive Landscape
In the global gas turbine market, a few major players exert significant market dominance and have established a strong regional presence. These leading companies remain committed to continuous research and development endeavors and actively engage in strategic growth initiatives, including product development, launches, joint ventures, and partnerships. By pursuing these strategies, these companies aim to strengthen their market position, expand their customer base, and capture a substantial share of the market.
Some of the prominent players in the global gas turbine market include Ansaldo Energia; Bharat Heavy Electricals Ltd.; Centrax Gas Turbines; General Electric; Kawasaki Heavy Industries, Ltd.; MAN Energy Solutions; Mitsubishi Power, Ltd.; OPRA Turbines; Siemens Energy; Solar Turbines Inc. , and various other key players.
Global Gas Turbine Market Recent Developments
In June 2023, As the corporation phased out its fossil fuel business, Volkswagen (VOWG_p.DE) subsidiary MAN Energy Solutions announced it had inked a deal to sell its gas turbine business to Chinese state-owned CSIC Longjiang GH Gas Turbine Co (GHGT).
In April 2023, Nexus Controls, a renowned aftermarket controls company, was successfully acquired by GE's Gas Power division from Baker Hughes. With the addition, GE Gas Power will be able to establish a single, full-service controls business line that will be in charge of advancing GE's in-house Mark Vle controls systems platform, putting the OnCore system into place, as well as streamlining and enhancing the delivery and customer service of its controls offerings.
Scope of the Global Gas Turbine Market Report
Gas Turbine Market Report Segmentation
ATTRIBUTE

DETAILS

By Technology

Open Cycle

Combined Cycle

By Design Type

Heavy-duty

Aero-derivative

By Rating Capacity

Less than 40 MW

40-120 MW

120-300 MW

Above 300 MW

By Application

Power Generation

Oil & Gas

Marine

Aerospace

Process Plants

Others

By Geography

North America (USA,

and Canada)

Europe (UK, Germany, France, Italy, Spain, Russia and Rest of Europe)

Asia Pacific (Japan, China, India, Australia, Southeast Asia and Rest of Asia Pacific)

Latin America (Brazil, Mexico, and Rest of Latin America)

Middle East & Africa (South Africa, GCC, and Rest of Middle East & Africa)

Customization Scope

Pricing
Objectives of the Study
The objectives of the study are summarized in 5 stages. They are as mentioned below:
Global Gas Turbine

Market

Size and Forecast:
To identify and estimate the market size for the global gas turbine market segmented by technology, by design type, by rating capacity, by application, region and by value (in U.S. dollars). Also, to understand the consumption/ demand created by consumers of gas turbine between 2019 and 2031.
Market Landscape and Trends:
To identify and infer the drivers, restraints, opportunities, and challenges for the global gas turbine market
Market Influencing Factors:
To find out the factors which are affecting the sales of gas turbine among consumers
To identify and understand the various factors involved in the global gas turbine market affected by the pandemic
To provide a detailed insight into the major companies operating in the market. The profiling will include the financial health of the company's past 2-3 years with segmental and regional revenue breakup, product offering, recent developments, SWOT analysis, and key strategies.
Intended Audience
Energy and Power Companies

Environmental Organizations

Aerospace and Defense Sector

Retailers, Wholesalers, and Distributors

Governments, Associations, and Industrial Bodies

Investors and Trade Experts
Research Methodology
Our research methodology has always been the key differentiating reason which sets us apart in comparison from the competing organizations in the industry. Our organization believes in consistency along with quality and establishing a new level with every new report we generate; our methods are acclaimed and the data/information inside the report is coveted. Our research methodology involves a combination of primary and secondary research methods. Data procurement is one of the most extensive stages in our research process. Our organization helps in assisting the clients to find the opportunities by examining the market across the globe coupled with providing economic statistics for each and every region. The reports generated and published are based on primary & secondary research. In secondary research, we gather data for global Market through white papers, case studies, blogs, reference customers, news, articles, press releases, white papers, and research studies. We also have our paid data applications which includes hoovers, Bloomberg business week, Avention, and others.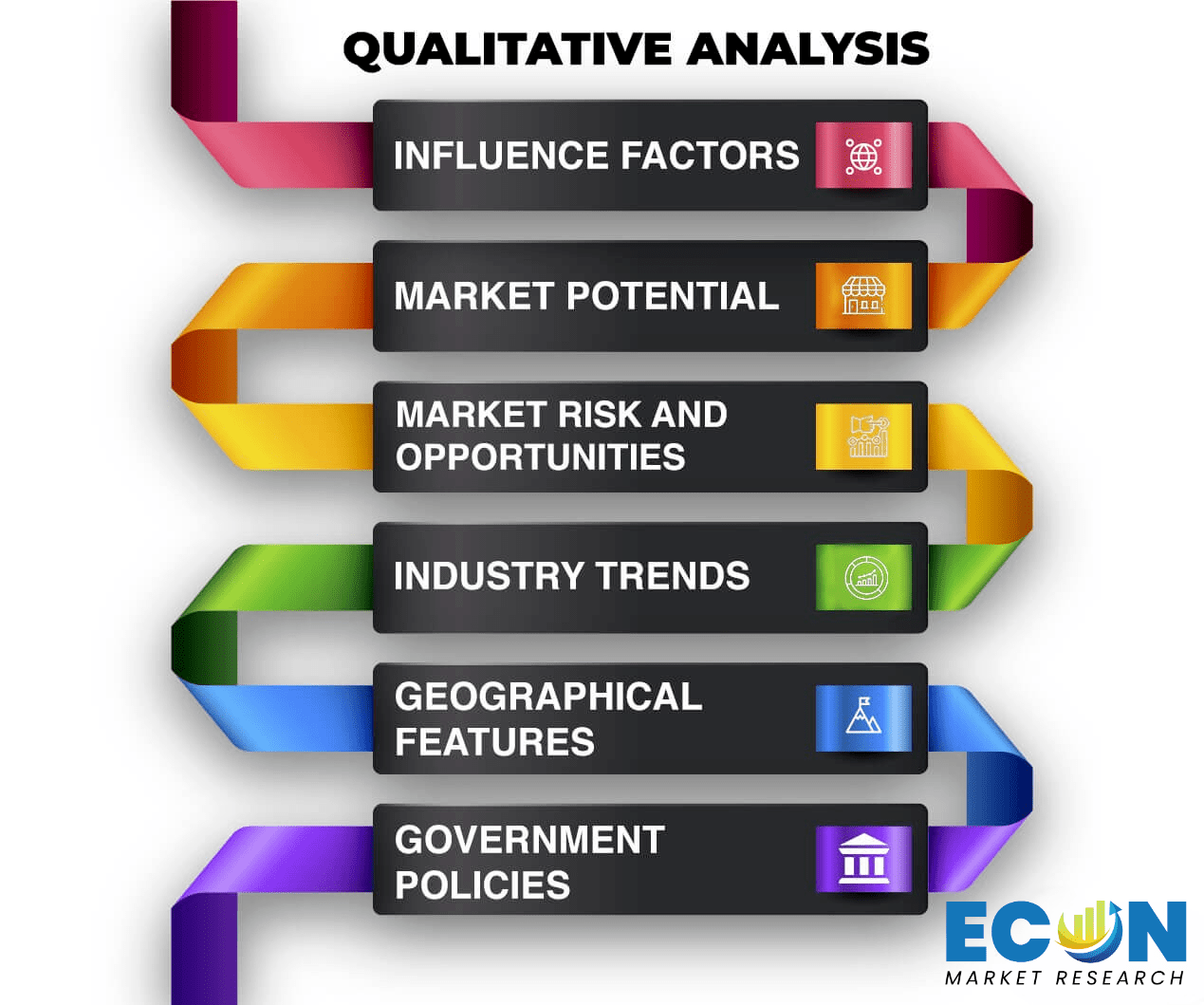 Data Collection
Data collection is the process of gathering, measuring, and analyzing accurate and relevant data from a variety of sources to analyze market and forecast trends. Raw market data is obtained on a broad front. Data is continuously extracted and filtered to ensure only validated and authenticated sources are considered. Data is mined from a varied host of sources including secondary and primary sources.

Primary Research
After the secondary research process, we initiate the primary research phase in which we interact with companies operating within the market space. We interact with related industries to understand the factors that can drive or hamper a market. Exhaustive primary interviews are conducted. Various sources from both the supply and demand sides are interviewed to obtain qualitative and quantitative information for a report which includes suppliers, product providers, domain experts, CEOs, vice presidents, marketing & sales directors, Type & innovation directors, and related key executives from various key companies to ensure a holistic and unbiased picture of the market. 
Secondary Research
A secondary research process is conducted to identify and collect information useful for the extensive, technical, market-oriented, and comprehensive study of the market. Secondary sources include published market studies, competitive information, white papers, analyst reports, government agencies, industry and trade associations, media sources, chambers of commerce, newsletters, trade publications, magazines, Bloomberg BusinessWeek, Factiva, D&B, annual reports, company house documents, investor presentations, articles, journals, blogs, and SEC filings of companies, newspapers, and so on. We have assigned weights to these parameters and quantified their market impacts using the weighted average analysis to derive the expected market growth rate.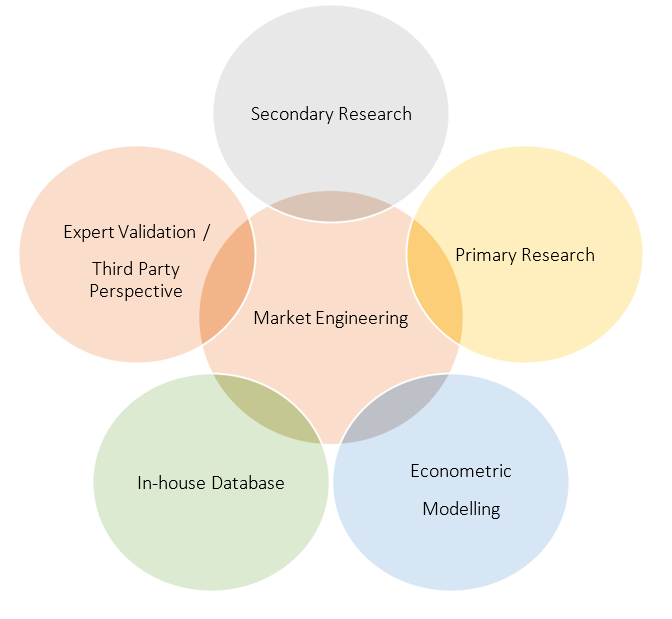 Top-Down Approach & Bottom-Up Approach
In the top – down approach, the Global Batteries for Solar Energy Storage Market was further divided into various segments on the basis of the percentage share of each segment. This approach helped in arriving at the market size of each segment globally. The segments market size was further broken down in the regional market size of each segment and sub-segments. The sub-segments were further broken down to country level market. The market size arrived using this approach was then crosschecked with the market size arrived by using bottom-up approach.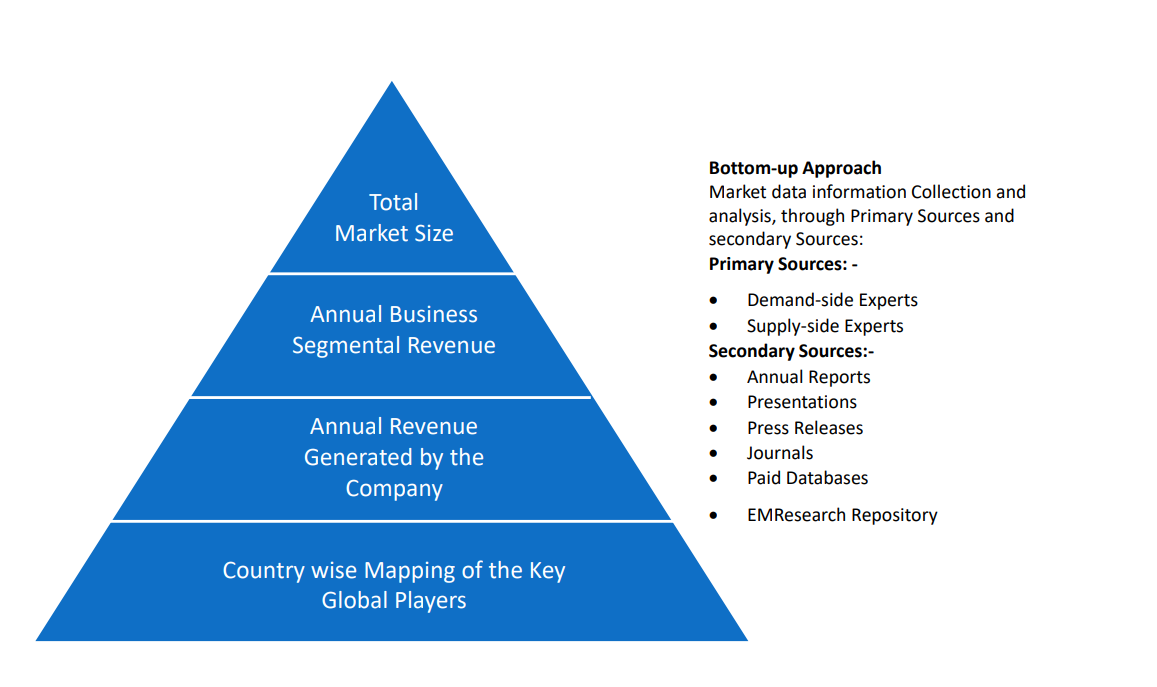 In the bottom-up approach, we arrived at the country market size by identifying the revenues and market shares of the key market players. The country market sizes then were added up to arrive at regional market size of the decorated apparel, which eventually added up to arrive at global market size.
This is one of the most reliable methods as the information is directly obtained from the key players in the market and is based on the primary interviews from the key opinion leaders associated with the firms considered in the research. Furthermore, the data obtained from the company sources and the primary respondents was validated through secondary sources including government publications and Bloomberg.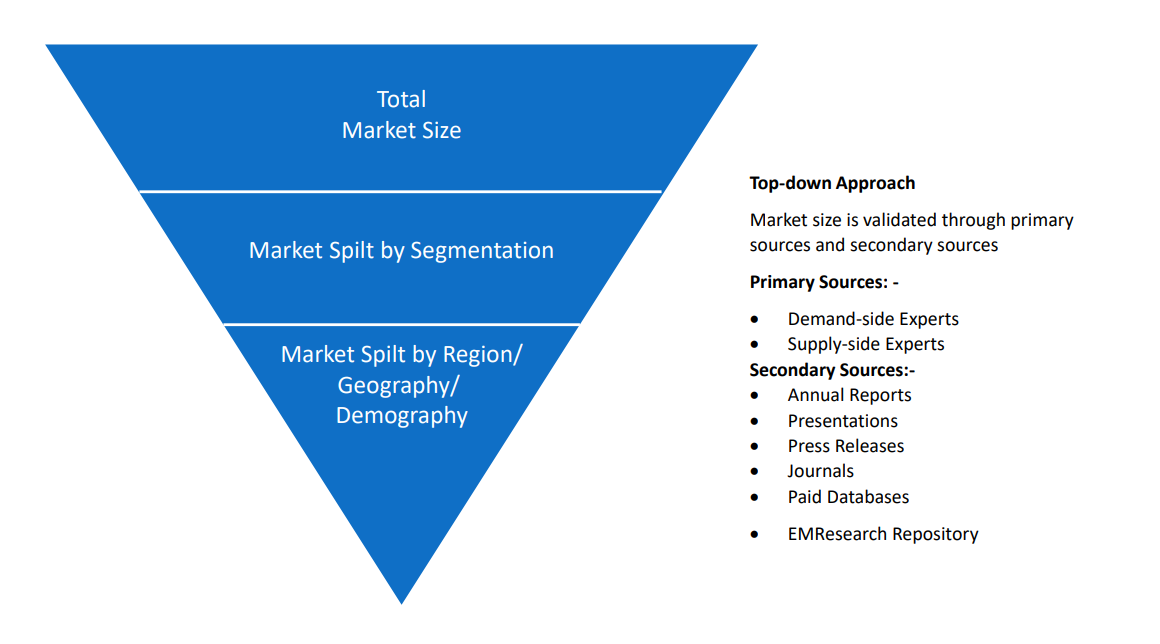 Market Analysis & size Estimation
Post the data mining stage, we gather our findings and analyze them, filtering out relevant insights. These are evaluated across research teams and industry experts. All this data is collected and evaluated by our analysts. The key players in the industry or markets are identified through extensive primary and secondary research. All percentage share splits, and breakdowns have been determined using secondary sources and verified through primary sources. The market size, in terms of value and volume, is determined through primary and secondary research processes, and forecasting models including the time series model, econometric model, judgmental forecasting model, the Delphi method, among Flywheel Energy Storage. Gathered information for market analysis, competitive landscape, growth trends, product development, and pricing trends is fed into the model and analyzed simultaneously.
Quality Checking & Final Review
The analysis done by the research team is further reviewed to check for the accuracy of the data provided to ensure the clients' requirements. This approach provides essential checks and balances which facilitate the production of quality data. This Type of revision was done in two phases for the authenticity of the data and negligible errors in the report. After quality checking, the report is reviewed to look after the presentation, Type and to recheck if all the requirements of the clients were addressed.