The global energy drinks market was valued at USD 89.46 billion in 2022 and is estimated to reach approximately USD 186.84 billion by 2031, at a CAGR of 8.5% from 2023 to 2031.
The market for energy drinks, which has grown significantly since its beginnings, is a thriving area of the worldwide beverage business. Energy drinks, which date back to the late 20th century, were initially created to give consumers a quick energy boost. These drinks frequently contain caffeine, taurine, B vitamins, and other stimulants. These drinks have developed into a broad and vibrant market throughout time, offering a huge selection of flavours, formulas, and branding. Young folks, athletes, and professionals looking for an energy boost and improved alertness have all become huge fans of energy drinks. Their allure stems from the assurance of improved physical and mental performance. As consumers become more health conscious, the industry has also seen an increase in demand for products made with natural ingredients and no added sugar. The market's scope has been broadened by the introduction of several subcategories, such as "energy shots" and "performance-enhancing beverages," which cater to various consumer needs. Sports endorsements, extreme sports competitions, and youth culture are frequently used in marketing methods to build brand recognition. Increased scrutiny and regulatory efforts have resulted from worries about the potential health effects of excessive use, particularly in connection to caffeine and sugar levels. The market for energy drinks is still a thriving and developing industry, propelled by innovation, fashion, and consumers' need for an energising, mobile lifestyle.
ENERGY DRINKS MARKET: REPORT SCOPE & SEGMENTATION
| | |
| --- | --- |
| Report Attribute | Details |
| Estimated Market Value (2022) | 89.46 Bn |
| Projected Market Value (2031) | 186.84 Bn |
| Base Year | 2022 |
| Forecast Years | 2023 - 2031 |
| Scope of the Report | Historical and Forecast Trends, Industry Drivers and Constraints, Historical and Forecast Market Analysis by Segment- By Type, By Product Type, By End User, By Distribution Channel, & Region |
| Segments Covered | By Type, By Product Type, By End User, By Distribution Channel, & Region |
| Forecast Units | Value (USD Billion or Million), and Volume (Units) |
| Quantitative Units | Revenue in USD million/billion and CAGR from 2023 to 2031 |
| Regions Covered | North America, Europe, Asia Pacific, Latin America, and Middle East & Africa, and the Rest of World |
| Countries Covered | U.S., Canada, Mexico, U.K., Germany, France, Italy, Spain, China, India, Japan, South Korea, Brazil, Argentina, GCC Countries, and South Africa, among others |
| Report Coverage | Market growth drivers, restraints, opportunities, Porter's five forces analysis, PEST analysis, value chain analysis, regulatory landscape, market attractiveness analysis by segments and region, company market share analysis, and COVID-19 impact analysis. |
| Delivery Format | Delivered as an attached PDF and Excel through email, according to the purchase option. |
Global Energy Drinks Market Dynamics
The demand for quick energy solutions to satisfy the demands of contemporary, fast-paced living is fueling the expansion of this industry. Energy drinks are frequently used by athletes, busy workers, and students to get an instant boost. To satisfy a wide range of consumer tastes and nutritional concerns, producers continuously develop new flavours, ingredients, and packaging alternatives, including sugar-free and natural solutions. Consumer impressions are significantly shaped by aggressive marketing and branding techniques, which frequently include sports endorsements and connections to extreme sports events. Consumer demands for healthier options and regulatory pressure as a result of growing awareness of the potential health concerns linked to high caffeine and sugar levels. With growth in emerging economies, the market for energy drinks has become a global sector. Regional preferences, rules, and tastes have an impact on market dynamics. A steady evolution of the market is the result of fierce competition among major competitors like Red Bull, Monster, and others, which has sparked innovation, marketing ingenuity, and price strategies. The dynamics of the sector can be severely impacted by changing rules involving labelling requirements, marketing to minors, and ingredient safety. Performance-enhancing beverages have emerged as a result of the increased focus on health and wellness, further broadening the market to satisfy evolving customer expectations.
Global Energy Drinks Market Drivers
Consumer Demand for Increased Energy and Alertness
A significant market driver for energy drinks is consumer demand for greater energy and alertness. People frequently struggle to balance rigorous work schedules, academic obligations, and active lifestyles in today's fast-paced environment. The increased speed of life has increased the demand for quick and practical energy sources, which has boosted the appeal of energy drinks. The desire for improved performance is one of the main drivers of this demand. People turn to energy drinks to get that extra boost, whether it's for making a deadline at work, remaining alert during late-night study sessions, or sustaining peak physical performance during athletic activities. These drinks usually contain stimulants like caffeine, taurine, B vitamins, and other substances that promise a quick rise in alertness and physical vitality. The appeal of energy drinks also extends to social and recreational settings. They are frequently consumed at social gatherings, parties, and even gaming events to keep participants energized and engaged. The "energy boost" has become synonymous with heightened enjoyment and participation, further fueling consumer demand.
Growing Health and Fitness Trends
There has been a noticeable change in consumer preferences towards goods that are consistent with these ideals as people prioritize health and wellness more and more. Energy drinks, which have historically been linked to high levels of caffeine and sugar, have had to change to appeal to consumers who are health-conscious. The demand for healthier and more transparent product compositions is one of this driver's main manifestations. Energy drinks with natural components, lower sugar content, and fewer chemical additives are in demand among consumers. Responding to the health and fitness trend, manufacturers have created beverages with organic ingredients, vitamins, minerals, and adaptogens. The intersection of health and fitness with energy drinks is particularly pronounced among athletes and fitness enthusiasts. These individuals often require an energy boost before or after workouts and are increasingly looking for products that enhance their performance without compromising their dietary and nutritional goals.
Restraints:
These drinks are frequently loaded with sugar, caffeine, and other stimulants, which leaves them open to abuse and associated health risks. These products are widely available and frequently come in large, convenient packages, which raises various safety concerns. Caffeine poisoning is the main danger posed by excessive use. Caffeine levels in energy drinks are frequently much higher than those in more common caffeinated drinks like soda or coffee. Excessive consumption of this can have negative effects like insomnia, jitteriness, a quick heartbeat, and in extreme situations, heart palpitations, high blood pressure, and cardiac arrhythmias. For people with underlying heart disorders or caffeine sensitivities, these health problems can be very concerning.
The market for energy drinks is one of many industries that is heavily impacted by an economic slump. Consumers frequently tighten their budgets and reduce discretionary spending during periods of economic instability and recession, which can have a number of detrimental effects on the energy drink business. First and foremost, during economic downturns, people frequently spend less of non-essential goods. Energy drinks are frequently more expensive than other common liquids like water, soda, or even coffee, thus consumers can make budget cuts while trying to save money. This decrease in usage can result in lower sales and income for producers of energy drinks. In addition, a downturn in the economy can affect consumers' purchasing power and influence them to choose less expensive options. Health-conscious consumers can also prioritize healthier and more cost-effective options, causing a shift away from energy drinks, which are often associated with high sugar and caffeine content.
Opportunities:
Low-Calorie and Sugar-Free Options
Manufacturers in this business are becoming more aware of the need to modify their product offerings in order to accommodate to these trends as consumer preferences continue to shift towards healthier and more nutritionally mindful options. Expanding the product line to include low-calorie and sugar-free energy drinks is one of the main potential. These choices appeal to consumers who actively control their caloric intake as well as a larger market of health-conscious shoppers. Energy drink manufacturers can pitch their goods as a healthier choice for people looking for an energy boost without the potential health risks connected with excessive sugar consumption by cutting back on or removing sugar and calories. Additionally, low-calorie and sugar-free energy drinks support the growing focus on overall wellness, managing weight, and leading better lifestyles. These products have the potential to attract a more diverse customer base, including fitness enthusiasts, diabetics, and individuals seeking an energy drink that complements their dietary goals.
Sustainability and Eco-Friendly Packaging
Companies in this business have the ability to fulfil these changing expectations and profit in many ways as consumer environmental consciousness continues to rise. The opportunity to lessen environmental effect is one of the main ones. Energy drink producers can minimize their carbon footprint, reduce waste, and lessen their contribution to plastic pollution by using eco-friendly packaging materials and procedures. This dedication to sustainability can improve a brand's reputation and draw in buyers who value products with less negative impact on the environment. Furthermore, using eco-friendly and sustainable packaging can eventually result in cost savings. While purchasing eco-friendly packaging materials can require a little greater initial investment, there are long-term advantages as well, such as lower packaging costs, increased supply chain effectiveness, and perhaps even access to government incentives or tax breaks for eco-friendly activities.
Segment Overview
By Product Type
Based on product type, the global energy drinks market is divided into non-alcoholic and alcoholic. The non-alcoholic category dominates the market with the largest revenue share in 2022. Non-alcoholic beverages encompass a vast array of drinks that do not contain alcohol. This category includes staples like water, soft drinks, juices, coffee, tea, energy drinks, and a variety of non-alcoholic cocktails or mocktails. These beverages are typically consumed for hydration, refreshment, and flavor, and they cater to a wide demographic, from children and adults to athletes and health-conscious individuals. Alcoholic beverages are those that contain varying levels of alcohol. This category encompasses a wide range of drinks such as beer, wine, spirits, and liqueurs. Alcoholic beverages are often associated with social and recreational occasions, with the alcohol content providing the desired effects of relaxation, euphoria, or celebration. These beverages are subject to age restrictions and consumption guidelines, and they are enjoyed by adults in diverse settings, from casual gatherings to formal events.
By Type
Based on the type, the global energy drinks market is categorized into conventional and organic. The organic category leads the global energy drinks market with the largest revenue share in 2022.Organic products, represent a niche within the market that focuses on sustainability and environmentally friendly practices. These products are cultivated and manufactured in accordance with strict organic standards that prohibit the use of synthetic chemicals, GMOs, and emphasize environmentally friendly and sustainable farming practices. Organic foods and beverages appeal to consumers who prioritize health, environmental consciousness, and reduced exposure to synthetic chemicals. Organic products often command a premium price due to the more labor-intensive and resource-conscious production methods involved. Conventional products refer to items that are produced using traditional or mainstream methods. These products typically follow standard agricultural and manufacturing practices, which can include the use of synthetic pesticides, fertilizers, and genetically modified organisms (GMOs) in agriculture. In the context of food and beverages, conventional products are widely available, often more affordable, and cater to a broad consumer base. They are subject to conventional regulations and quality standards.
By End-User
Based on end-user, the global energy drinks market is segmented into kids, adults, and teenagers. The adults segment dominates the energy drinks market. The adult segment encompasses a broad spectrum of products and services tailored to the mature consumer base. It includes items like clothing, electronics, home goods, and alcoholic beverages. Advertising in this segment often targets independence, sophistication, and lifestyle choices. Adults typically make purchasing decisions based on personal preferences, functionality, and quality. Kids segment is focused on providing products that are appealing, safe, and suitable for children. It includes a wide range of items such as toys, clothing, snacks, and beverages designed to meet the unique tastes and requirements of kids. Marketing in this segment often emphasizes fun, bright colors, and child-friendly packaging. Products may also need to adhere to strict safety and nutrition standards to gain the trust of parents. The teenage market segment targets adolescents who are transitioning from childhood to adulthood. It includes products like clothing, cosmetics, technology, and entertainment. Marketing strategies for this segment often focus on trends, peer influence, and the desire for self-expression. Teenagers' preferences can be highly influenced by social media, pop culture, and the need for autonomy.
By Distribution Channel
Based on distribution channel, the global energy drinks market is divided into store based retailers and non-store retailing. The store based retailers category dominates the market with the largest revenue share in 2022. This category encompasses traditional brick-and-mortar retail stores, which have been the cornerstone of retail commerce for centuries. Store-based retailers provide consumers with physical locations where they can browse, examine, and purchase products or services. These establishments offer a tangible shopping experience, enabling customers to interact with products, seek assistance from sales staff, and make immediate purchases. Store-based retailers vary widely, including supermarkets, boutiques, department stores, and specialty shops, each catering to specific consumer needs and preferences. Non-store retailing category represents the digital and non-traditional methods of retail commerce. Non-store retailing encompasses various avenues, such as e-commerce, mobile apps, social media marketplaces, and telemarketing. These platforms enable consumers to shop and make purchases without visiting a physical store. Non-store retailing often offers convenience, extensive product choices, and the ability to shop from anywhere at any time. It has become increasingly popular in the digital age, with e-commerce giants, online marketplaces, and direct-to-consumer brands driving the growth of this segment.
Global Energy Drinks Market Overview by Region
The global energy drinks market is categorized into North America, Europe, Asia-Pacific, and the Rest of the World. North America emerged as the leading region, capturing the largest market share in 2022. The region has one of the biggest and healthiest economies in the entire globe, first and foremost. With a wide range of industries, including technology, banking, healthcare, manufacturing, and more, the United States in particular is a key player in the global economy. Its entrepreneurial culture and innovative spirit have fueled technical improvements and economic growth, elevating it to the top of the world in terms of GDP and total economic production. Additionally, North America is distinguished by its steadfast dedication to R&D, which promotes innovation and technical advancement. This commitment to cutting-edge innovation is exemplified by Silicon Valley in California, which is sometimes referred to as the world's tech hub. In addition, the area has a strong financial sector, notably Wall Street in New York City, which has a big impact on international financial markets. North America's robust banking system and wide global trade networks have aided in the region's economic strength. The region's dedication to higher education and educational institutions has also fostered a talented and diversified labour force, giving it the ability to compete in the international employment market. Additionally, the rich cultural diversity and welcoming immigration policies of North America have drawn talent from all over the world, enhancing the region's economic vitality. Beyond its own borders, North America has an impact on international politics, economy, and culture. It continues to be a driving force in many industries and is essential in determining the course of the global economy.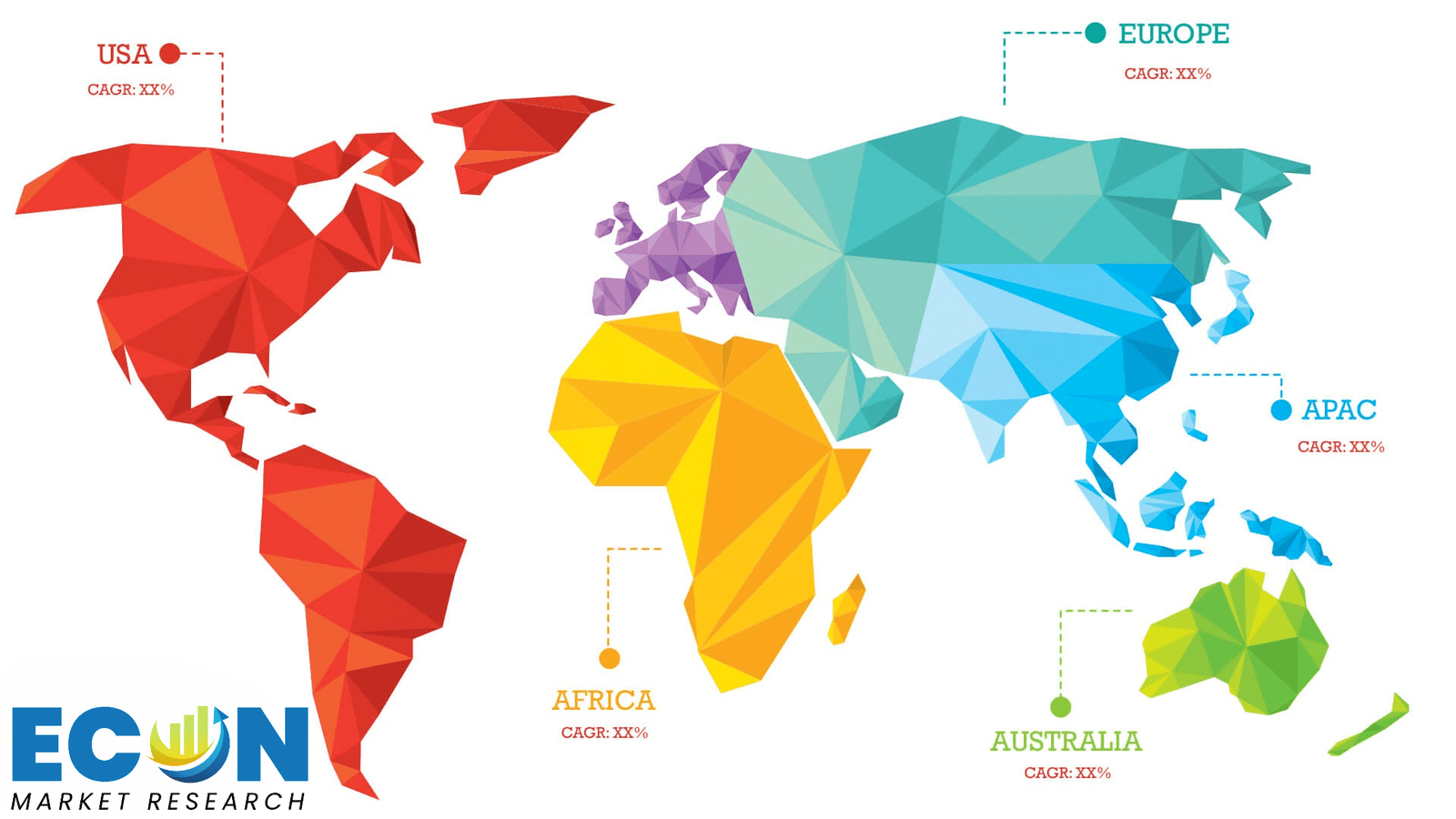 Global Energy Drinks Market Competitive Landscape
In the global energy drinks market, a few major players exert significant market dominance and have established a strong regional presence. These leading companies remain committed to continuous research and development endeavors and actively engage in strategic growth initiatives, including product development, launches, joint ventures, and partnerships. By pursuing these strategies, these companies aim to strengthen their market position, expand their customer base, and capture a substantial share of the market.
Some of the prominent players in the global energy drinks market include
Red Bull,

Monster Beverage Corporation,

Rockstar Inc.,

The Coca-Cola Company,

PepsiCo,

Arizona Beverage Company,

National Beverage Corp.,

Dr. Pepper Snapple Group,

Living Essentials,

Cloud 9, and various other key players.
Global Energy Drinks Market Recent Developments
In July 2023, Logan Paul's Prime Energy Drink is the subject of an FDA investigation. Apparently containing as much caffeine as six cans of Coke, Prime Energy is a well-known energy drink that the Food and Drug Administration is being requested to look into. After lawmakers and medical professionals expressed worries about the potential health risks, particularly for adolescents and teenagers, caffeine levels in Prime energy drinks came under review. Depending on the caffeine content, consuming energy drinks can raise the risk of adverse health effects such insomnia, digestive problems, and prescription interactions.
Scope of the Global Energy Drinks Market Report
Energy Drinks Market Report Segmentation
ATTRIBUTE

DETAILS

By Product Type

By Type

By End-User

By Distribution Channel

Store Based Retailers

Non-Store Retailing

By Geography

North America (USA,

and Canada)

Europe (UK, Germany, France, Italy, Spain, Russia and Rest of Europe)

Asia Pacific (Japan, China, India, Australia, Southeast Asia and Rest of Asia Pacific)

Latin America (Brazil, Mexico, and Rest of Latin America)

Middle East & Africa (South Africa, GCC, and Rest of Middle East & Africa)

Customization Scope

Pricing
Objectives of the Study
The objectives of the study are summarized in 5 stages. They are as mentioned below:
Global Energy Drinks Market

Size and Forecast:
To identify and estimate the market size for the global energy drinks market segmented by type, by product type, by end user, by distribution channel, region and by value (in U.S. dollars). Also, to understand the consumption/ demand created by consumers of energy drinks between 2019 and 2031.
Market Landscape and Trends:
To identify and infer the drivers, restraints, opportunities, and challenges for the global energy drinks market
Market Influencing Factors:
To find out the factors which are affecting the sales of energy drinks among consumers
To identify and understand the various factors involved in the global energy drinks market affected by the pandemic
To provide a detailed insight into the major companies operating in the market. The profiling will include the financial health of the company's past 2-3 years with segmental and regional revenue breakup, product offering, recent developments, SWOT analysis, and key strategies.
Intended Audience
Raw Material Suppliers

Marketing and Advertising

Academic Research

Healthcare and Medical Information

Retailers, Wholesalers, and Distributors

Governments, Associations, and Industrial Bodies

Investors and Trade Experts
Research Methodology
Our research methodology has always been the key differentiating reason which sets us apart in comparison from the competing organizations in the industry. Our organization believes in consistency along with quality and establishing a new level with every new report we generate; our methods are acclaimed and the data/information inside the report is coveted. Our research methodology involves a combination of primary and secondary research methods. Data procurement is one of the most extensive stages in our research process. Our organization helps in assisting the clients to find the opportunities by examining the market across the globe coupled with providing economic statistics for each and every region. The reports generated and published are based on primary & secondary research. In secondary research, we gather data for global Market through white papers, case studies, blogs, reference customers, news, articles, press releases, white papers, and research studies. We also have our paid data applications which includes hoovers, Bloomberg business week, Avention, and others.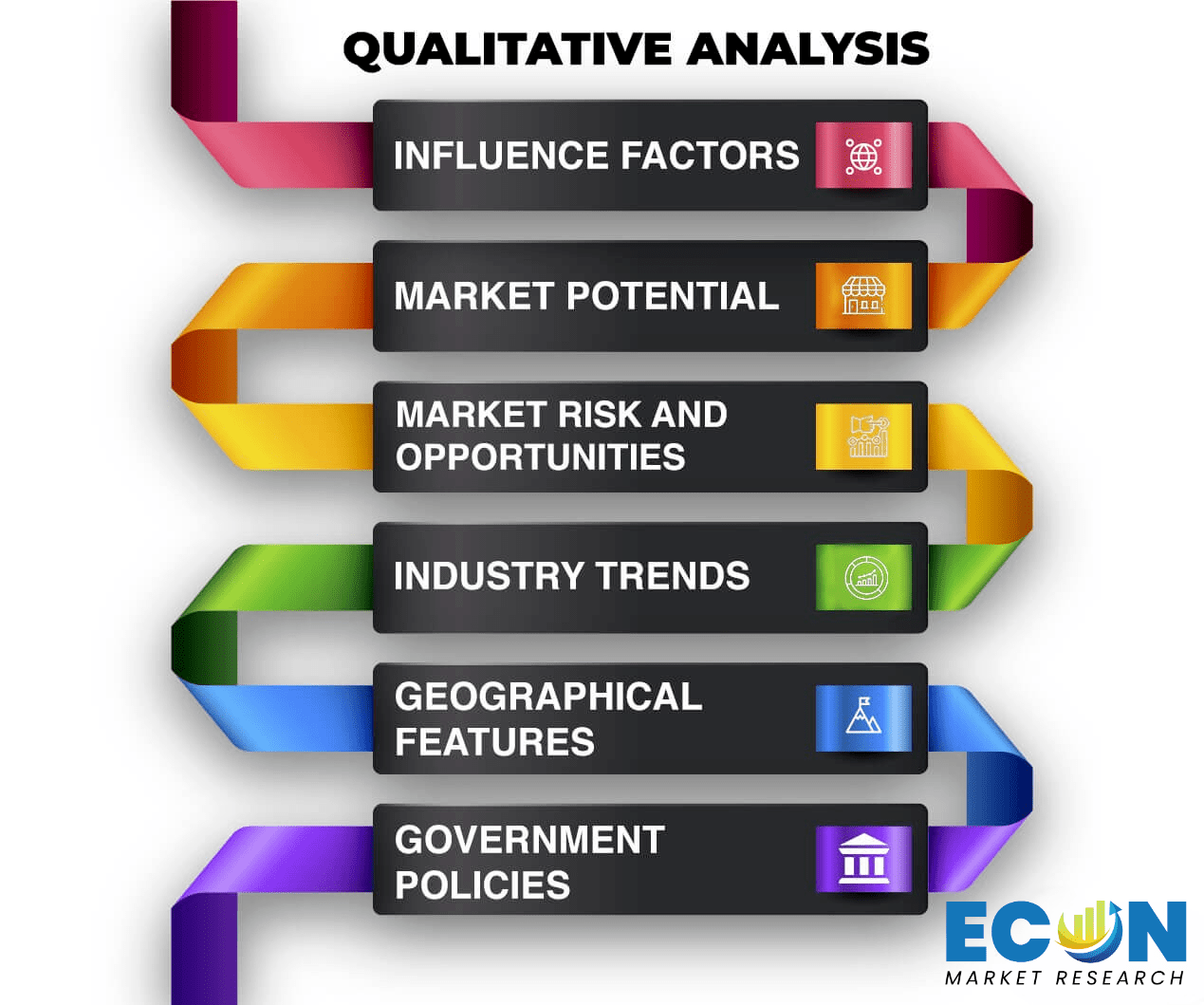 Data Collection
Data collection is the process of gathering, measuring, and analyzing accurate and relevant data from a variety of sources to analyze market and forecast trends. Raw market data is obtained on a broad front. Data is continuously extracted and filtered to ensure only validated and authenticated sources are considered. Data is mined from a varied host of sources including secondary and primary sources.

Primary Research
After the secondary research process, we initiate the primary research phase in which we interact with companies operating within the market space. We interact with related industries to understand the factors that can drive or hamper a market. Exhaustive primary interviews are conducted. Various sources from both the supply and demand sides are interviewed to obtain qualitative and quantitative information for a report which includes suppliers, product providers, domain experts, CEOs, vice presidents, marketing & sales directors, Type & innovation directors, and related key executives from various key companies to ensure a holistic and unbiased picture of the market. 
Secondary Research
A secondary research process is conducted to identify and collect information useful for the extensive, technical, market-oriented, and comprehensive study of the market. Secondary sources include published market studies, competitive information, white papers, analyst reports, government agencies, industry and trade associations, media sources, chambers of commerce, newsletters, trade publications, magazines, Bloomberg BusinessWeek, Factiva, D&B, annual reports, company house documents, investor presentations, articles, journals, blogs, and SEC filings of companies, newspapers, and so on. We have assigned weights to these parameters and quantified their market impacts using the weighted average analysis to derive the expected market growth rate.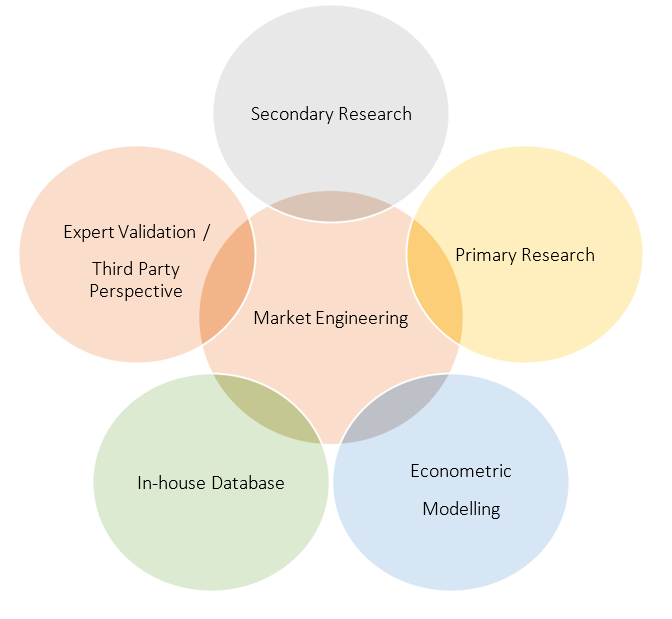 Top-Down Approach & Bottom-Up Approach
In the top – down approach, the Global Batteries for Solar Energy Storage Market was further divided into various segments on the basis of the percentage share of each segment. This approach helped in arriving at the market size of each segment globally. The segments market size was further broken down in the regional market size of each segment and sub-segments. The sub-segments were further broken down to country level market. The market size arrived using this approach was then crosschecked with the market size arrived by using bottom-up approach.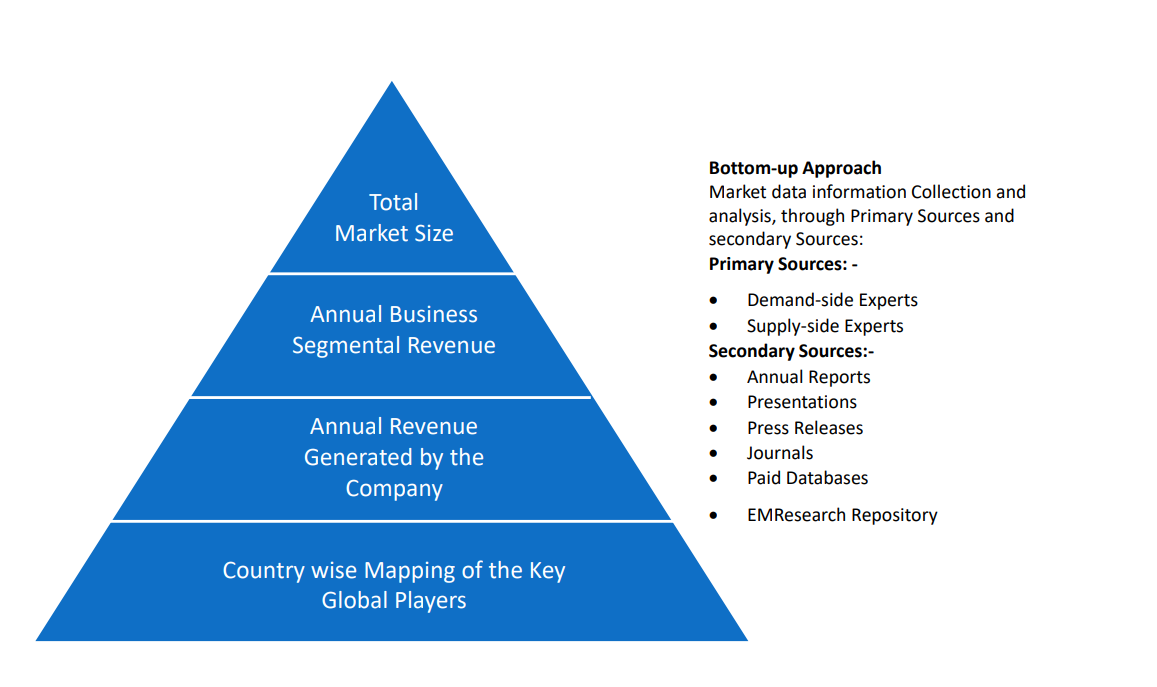 In the bottom-up approach, we arrived at the country market size by identifying the revenues and market shares of the key market players. The country market sizes then were added up to arrive at regional market size of the decorated apparel, which eventually added up to arrive at global market size.
This is one of the most reliable methods as the information is directly obtained from the key players in the market and is based on the primary interviews from the key opinion leaders associated with the firms considered in the research. Furthermore, the data obtained from the company sources and the primary respondents was validated through secondary sources including government publications and Bloomberg.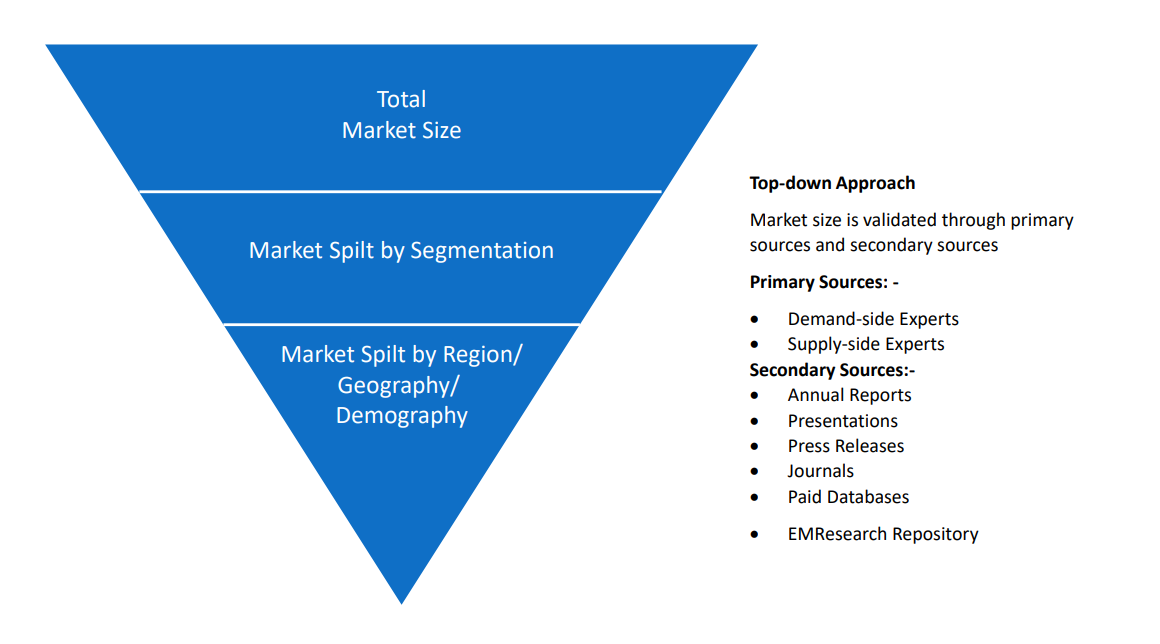 Market Analysis & size Estimation
Post the data mining stage, we gather our findings and analyze them, filtering out relevant insights. These are evaluated across research teams and industry experts. All this data is collected and evaluated by our analysts. The key players in the industry or markets are identified through extensive primary and secondary research. All percentage share splits, and breakdowns have been determined using secondary sources and verified through primary sources. The market size, in terms of value and volume, is determined through primary and secondary research processes, and forecasting models including the time series model, econometric model, judgmental forecasting model, the Delphi method, among Flywheel Energy Storage. Gathered information for market analysis, competitive landscape, growth trends, product development, and pricing trends is fed into the model and analyzed simultaneously.
Quality Checking & Final Review
The analysis done by the research team is further reviewed to check for the accuracy of the data provided to ensure the clients' requirements. This approach provides essential checks and balances which facilitate the production of quality data. This Type of revision was done in two phases for the authenticity of the data and negligible errors in the report. After quality checking, the report is reviewed to look after the presentation, Type and to recheck if all the requirements of the clients were addressed.