The Global Digital Oilfield Market was valued at USD 27.80 billion in 2022 and is estimated to reach approximately USD 48.40 billion by 2031, at a CAGR of 6.3% from 2023 to 2031. In order to optimize exploration, production, and operations, the oil and gas sector has adopted a digital oilfield, which refers to the integration of cutting-edge technologies including sensors, data analytic, and automation. Real-time monitoring, data analysis, and decision-making are made possible, improving productivity, safety, and efficiency while lowering costs and having a less negative impact on the environment. The oil and gas industry has experienced a transformation because to the digital oilfield market, which is changing how energy businesses operate and allocate their resources. This industry is being transformed on every level, from exploration and drilling to production and maintenance, by a cutting-edge array of technologies and data-driven solutions. The internet of things (IoT) and the deployment of sensors across all oil and gas operations are the foundation of the digital oilfield. These sensors gather real-time information on environmental variables, reservoir conditions, and machinery performance. Advanced analytics, artificial intelligence, and machine learning techniques are then used to filter and analyse this data, giving operators critical insights for preventative maintenance, production optimization, and risk reduction. The capacity to offer remote monitoring and management of field operations through centralized hubs and cloud computing platforms is one of the digital oilfields most important features. With less on-site staff required thanks to this capabilities, operational efficiency is improved along with cost- and safety-effectiveness. The digital oilfield also relies heavily on cybersecurity measures to protect sensitive data and the integrity of operations from online threats.
DIGITAL OILFIELD MARKET: REPORT SCOPE & SEGMENTATION
| | |
| --- | --- |
| Report Attribute | Details |
| Estimated Market Value (2022) | 27.80 Bn |
| Projected Market Value (2031) | 48.40 Bn |
| Base Year | 2022 |
| Forecast Years | 2023 - 2031 |
| Scope of the Report | Historical and Forecast Trends, Industry Drivers and Constraints, Historical and Forecast Market Analysis by Segment- By Solution, By Process, By Application, & Region |
| Segments Covered | By Solution, By Process, By Application, & Region |
| Forecast Units | Value (USD Billion or Million), and Volume (Units) |
| Quantitative Units | Revenue in USD million/billion and CAGR from 2023 to 2031 |
| Regions Covered | North America, Europe, Asia Pacific, Latin America, and Middle East & Africa, and the Rest of World |
| Countries Covered | U.S., Canada, Mexico, U.K., Germany, France, Italy, Spain, China, India, Japan, South Korea, Brazil, Argentina, GCC Countries, and South Africa, among others |
| Report Coverage | Market growth drivers, restraints, opportunities, Porter's five forces analysis, PEST analysis, value chain analysis, regulatory landscape, market attractiveness analysis by segments and region, company market share analysis, and COVID-19 impact analysis. |
| Delivery Format | Delivered as an attached PDF and Excel through email, according to the purchase option. |
Global Digital Oilfield Market Dynamics
Dynamics that are transforming the oil and gas business are what distinguish the digital oilfield market from its competitors. The development of technology, cost pressures, sustainability requirements, and regulatory compliance are important market dynamics. The dynamics of this sector are heavily influenced by technological developments. The adoption of digital solutions across the whole oil and gas value chain is being driven by the quick advancements in sensor, data analytics, and automation technology. Companies are able to improve productivity, cut downtime, and optimize operations thanks to this ongoing innovation. Cost constraints are still another important element. The sector is looking for affordable solutions because of the fluctuating price of oil and the state of the economy. By reducing costs through improved reservoir management, streamlined operations, and predictive maintenance, digital oilfield technologies are appealing investments.Furthermore, the ageing workforce in the sector and the necessity to record and preserve information have increased the use of digital solutions for knowledge management and workforce development. The market for digital oilfields has been further stimulated by the emergence of IoT devices and sensors as well as developments in data analytics and artificial intelligence. Predictive maintenance, remote monitoring, and the automation of crucial processes are made possible by these technologies, which eventually boost output and decrease downtime. The mainstream adoption of digital solutions for the oilfield has been hampered by issues including data security worries and expensive upfront expenditures. Nevertheless, the digital oilfield market is anticipated to experience consistent growth and innovation over the next few years as technology advances and the sector begins to appreciate the long-term advantages.
Global Digital Oilfield Market Drivers
Advanced Data Analytics and Machine Learning
The use of sophisticated data analytics and machine learning is a key factor driving the market for digital oilfields. By utilizing the power of data, these cutting-edge technologies are revolutionizing way the oil and gas business functions. Digital oilfield solutions can analyze huge datasets in real time by using complex algorithms and data processing techniques. As a result, predictive maintenance is made possible, a proactive method of maintaining equipment that helps avoid malfunctions and minimizes expensive downtime. Insights into the performance of assets and operational effectiveness can be gained through machine learning algorithms' ability to spot patterns and abnormalities in data. Moreover, by continuously learning from and reacting to changing circumstances, these technologies can optimize drilling methods, production procedures, and resource allocation.Furthermore, the integration of artificial intelligence (AI) allows for more accurate reservoir modeling and forecasting, aiding in better decision-making regarding drilling, production, and reservoir management.
The digital oilfield sector is being significantly influenced by the integration of internet of things (IoT) devices and sensors. In the oil and gas sector, a new era of communication and data collection has been ushered in by this technological convergence. In order to gather crucial data points in real-time, IoT devices, like as sensors and monitoring gear, are strategically positioned throughout oilfield operations. The vast amount of data is then sent to central systems so that it may be quickly analyzed and used. Predictive analytics, condition-based maintenance, and remote asset monitoring are just a few of the major advantages that IoT integration offers. These features increase operational effectiveness, decrease downtime, and enhance asset management in general.
Restraints:
High Initial Implementation Costs
The adoption of digital oilfield technology is significantly hampered by the high initial installation costs. Although these technologies promise to improve operational effectiveness, cut costs, and enable data-driven decision-making, integrating them into current oil and gas operations can require a sizable upfront financial commitment. To support digital oilfield activities, oil and gas companies must set aside sizeable expenditures for the purchase of the required technology, software, and infrastructure. The price of sensors, data analytics platforms, internet of things (IoT) devices, communication networks, and cybersecurity measures can all be included in this. Additionally, costs for staff training and workflow modification to accommodate digital operations are incurred.
The market for digital oilfields is significantly constrained by worries about data security. The protection of sensitive and secret information becomes crucial as industrial dependence on digital technology for data gathering, storage, and analysis grows. The oil and gas industry handles very important and confidential data, such as resource estimations, production figures, and exploration data. Any compromise or unauthorized access to this data may result in significant financial losses, harmed competitiveness, or even legal repercussions. Concerns have grown as a result of the increase in cyberthreats and assaults that target vital infrastructure. The digital oilfield is susceptible to cyberattacks, data breaches, and malware penetration since it depends on networked systems and networks. The complexity of data security initiatives is increased by the need to comply with constantly changing data privacy laws and standards. Oil and gas firms must traverse a complicated and resource-intensive web of compliance obligations.
Opportunities:
Operational Efficiency Enhancement
The digital oilfield sector presents a significant opportunity to improve operational effectiveness. The ability to revolutionize oil and gas operations is provided by digital technologies. Real-time data collection and analysis enable businesses to get previously unattainable insights into their operations and assets. Digital tools that support predictive maintenance enable the proactive detection of equipment problems before they result in breakdowns. This improves the utilization of important assets while reducing expensive downtime and extending their lives. Workflows are streamlined, human error is decreased, and overall efficiency is increased through automation and process optimization using digital solutions. In order to free up staff time for more strategic and value-added operations, basic processes like data logging and reporting are automated.
Knowledge Management and Workforce Development
Within the digital oilfield market, knowledge management and staff development provide a significant opportunity. Due to the enormous percentage of seasoned experts who are approaching retirement, the oil and gas industry is currently experiencing a significant workforce crisis. Digital oilfield solutions provide a way to solve this problem successfully. Systems for managing knowledge can collect, arrange, and store important operational insights, best practise, and historical information. This knowledge base turns into a priceless tool for educating new hires and helping them excel in their positions right away. Additionally, these data can be examined by machine learning algorithms to find patterns and connections, expanding the body of knowledge and providing predicative information.
Segment Overview
By Solution
Based on solution, the global digital oilfield market is divided into hardware, software & service and data storage. The hardware category dominates the market with the largest revenue share. Hardware encompasses the physical components required for digitization. This includes sensors, IoT devices, communication equipment, and computing infrastructure. These hardware components are crucial for collecting real-time data from oilfield operations, monitoring assets, and facilitating the flow of information between various systems and personnel. Software and services, on the other hand, form the digital backbone of the oilfield. This category encompasses a wide range of software applications, from data analytics and machine learning platforms to supervisory control and data acquisition (SCADA) systems. Services include consultancy, system integration, and ongoing support to ensure the effective implementation and operation of digital solutions.
By Process
Based on the process, the global digital oilfield market is categorized into reservoir optimization, drilling optimization, process optimization, safety optimization, and others. The process optimization category leads the global digital oilfield market with the largest revenue share. Process optimization aims to streamline various aspects of oilfield operations, from production to transportation and refining. Digital solutions help optimize workflows, automate routine tasks, and monitor equipment health in real time. This results in increased operational efficiency, reduced downtime, and improved resource utilization.Drilling optimization involves leveraging digital tools to enhance drilling operations. This includes real-time data analysis to improve drilling efficiency, reduce drilling times, and minimize drilling-related risks. Accurate data-driven decisions during drilling operations can lead to significant cost savings and better overall well performance.Reservoir optimization focuses on maximizing the recovery of hydrocarbons from subsurface reservoirs. Digital technologies enable better reservoir characterization, predictive modeling, and real-time monitoring, allowing oil and gas companies to optimize drilling strategies and production techniques. By improving reservoir management, companies can increase production rates and extend the lifespan of their assets.
By Application
Based on application, the global digital oilfield market is segmented into onshore and offshore. The offshore segment dominates the digital oilfield market. The offshore segment encompasses operations conducted in bodies of water, such as seas and oceans. Offshore drilling platforms and facilities can be located close to the shoreline (shallow water) or in deepwater environments (deepwater drilling). Digital oilfield technologies deployed in offshore settings address the unique challenges of these environments, including harsh weather conditions, complex logistics, and the need for remote monitoring and maintenance. The onshore segment encompasses oil and gas operations that are conducted on land, typically in locations that are not submerged under water. Onshore drilling and production activities include those in deserts, plains, forests, and other terrestrial environments. Digital oilfield solutions tailored for onshore operations focus on optimizing land-based drilling techniques, well management, and surface facility operations.
Global Digital Oilfield Market Overview by Region
The global digital oilfield market is categorized into North America, Europe, Asia-Pacific, and the Rest of the World. Europe emerged as the leading region, capturing the largest market share in 2022. The oil and gas industry in Europe is well-established and mature, with a long history of production and exploratory activity. Due to this legacy, businesses now have a strong motivation to invest in digital technologies in order to streamline their operations and maintain their competitiveness on a global scale. When it comes to embracing environmental and sustainability efforts, Europe has been at the forefront. Digital oilfield solutions provide a way to increase productivity and decrease waste as the industry is under increasing pressure to lower carbon emissions and lessen its environmental effect. In order to comply with strict environmental restrictions and accomplish their sustainability goals, European nations have taken the initiative to adopt these technologies. Furthermore, Europe has a strong technology environment and a lot of knowledge in cybersecurity, IoT, and data analytics, all of which are essential to the development of the digital oilfield. The region has placed a major emphasis on research and development, which has encouraged innovation and the creation of ground-breaking solutions specifically catered to the needs of the oil and gas industry. The adoption of digital oilfield technologies that handle a variety of operational difficulties has also been influenced by Europe's geographical diversity, which includes onshore and offshore operations. Europe has become a comprehensive hub for digitization in the oil and gas industry because to these technologies, which also include reservoir management, drilling optimization, safety enhancement, and other things.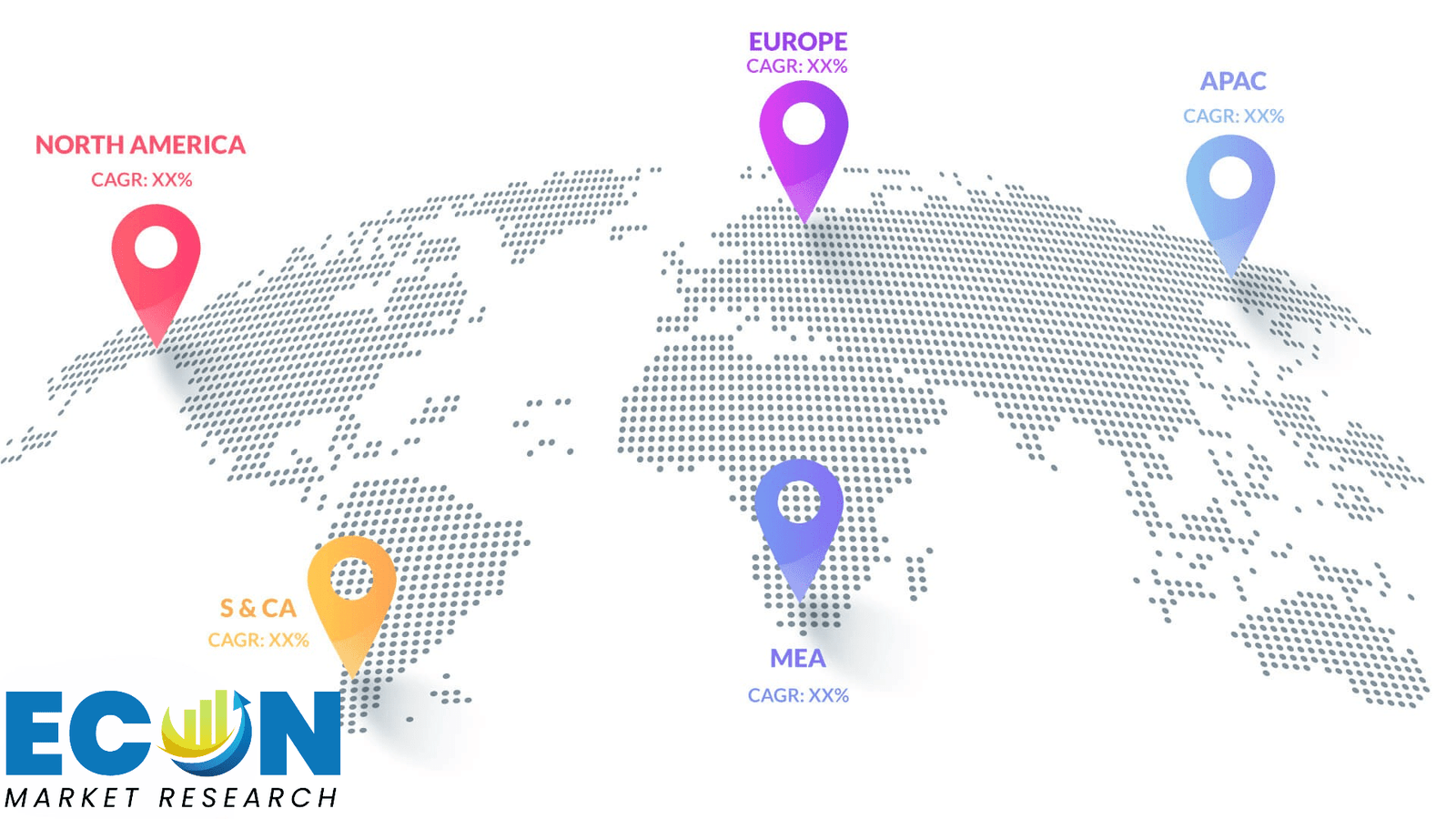 Global Digital Oilfield Market Competitive Landscape
In the global digital oilfield market, a few major players exert significant market dominance and have established a strong regional presence. These leading companies remain committed to continuous research and development endeavors and actively engage in strategic growth initiatives, including product development, launches, joint ventures, and partnerships. By pursuing these strategies, these companies aim to strengthen their market position, expand their customer base, and capture a substantial share of the market.
Some of the prominent players in the global digital oilfield market include HALLIBURTON, BAKER HUGHES COMPANY, ROCKWELL AUTOMATION, Siemens, SCHNEIDER ELECTRIC SE, WEATHERFORD, SCHLUMBERGER, Infosys, ABB, NOV INC , and various other key players.
Global Digital Oilfield Market Recent Developments
In June 2023, Nabors Industries and Halliburton Company recently announced a deal on innovative well construction automation technology.
In December 2021, Kuwait awards weatherford digital oilfield project. As part of the project's scope, KOC will receive assistance with heavy oil well analysis, model tuning, well design, asset optimization, surveillance and forecasting, and integration with various E&P applications.
Scope of the Global Digital Oilfield Market Report
Digital Oilfield Market Report Segmentation
ATTRIBUTE

DETAILS

By Solution

Hardware

Software & Service

Data Storage

By Process

Reservoir Optimization

Drilling Optimization

Process Optimization

Safety Optimization

Others

By Application

By Geography

North America (USA,

and Canada)

Europe (UK, Germany, France, Italy, Spain, Russia and Rest of Europe)

Asia Pacific (Japan, China, India, Australia, Southeast Asia and Rest of Asia Pacific)

Latin America (Brazil, Mexico, and Rest of Latin America)

Middle East & Africa (South Africa, GCC, and Rest of Middle East & Africa)

Customization Scope

Pricing
Objectives of the Study
The objectives of the study are summarized in 5 stages. They are as mentioned below:
Global Digital Oilfield

Market

Size and Forecast:
To identify and estimate the market size for the global digital oilfield market segmented by solution, by process, by application, region and by value (in U.S. dollars). Also, to understand the consumption/ demand created by consumers of digital oilfield between 2019 and 2031.
Market Landscape and Trends:
To identify and infer the drivers, restraints, opportunities, and challenges for the global digital oilfield market
Market Influencing Factors:
To find out the factors which are affecting the sales of digital oilfield among consumers
To identify and understand the various factors involved in the global digital oilfield market affected by the pandemic
To provide a detailed insight into the major companies operating in the market. The profiling will include the financial health of the company's past 2-3 years with segmental and regional revenue breakup, product offering, recent developments, SWOT analysis, and key strategies.
Intended Audience
Retailers, Wholesalers, and Distributors

Oil and Gas Companies

Energy Industry Professionals

Technology Providers

Environmental and Sustainability Advocates

Governments, Associations, and Industrial Bodies

Investors and Trade Experts
Research Methodology
Our research methodology has always been the key differentiating reason which sets us apart in comparison from the competing organizations in the industry. Our organization believes in consistency along with quality and establishing a new level with every new report we generate; our methods are acclaimed and the data/information inside the report is coveted. Our research methodology involves a combination of primary and secondary research methods. Data procurement is one of the most extensive stages in our research process. Our organization helps in assisting the clients to find the opportunities by examining the market across the globe coupled with providing economic statistics for each and every region. The reports generated and published are based on primary & secondary research. In secondary research, we gather data for global Market through white papers, case studies, blogs, reference customers, news, articles, press releases, white papers, and research studies. We also have our paid data applications which includes hoovers, Bloomberg business week, Avention, and others.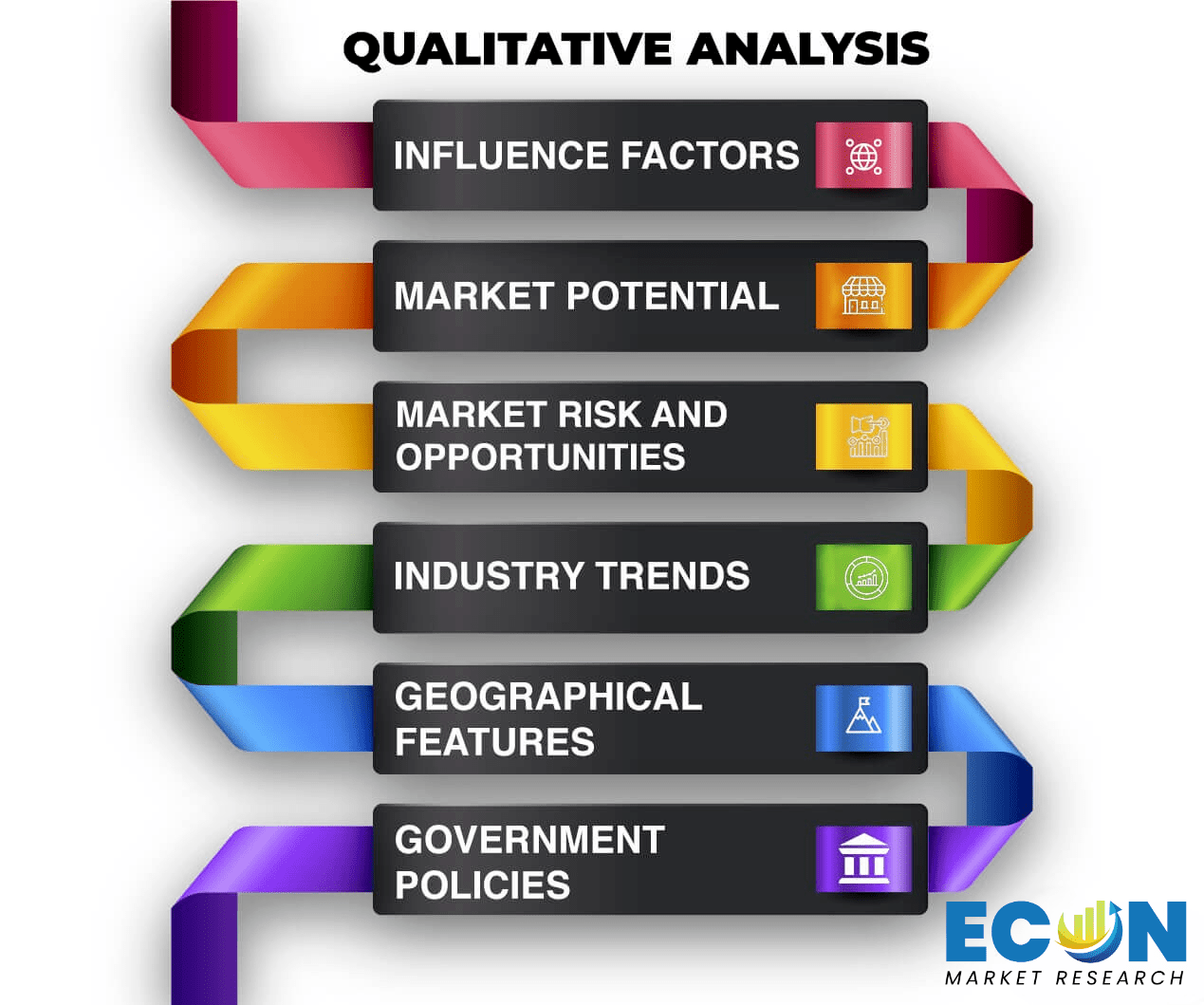 Data Collection
Data collection is the process of gathering, measuring, and analyzing accurate and relevant data from a variety of sources to analyze market and forecast trends. Raw market data is obtained on a broad front. Data is continuously extracted and filtered to ensure only validated and authenticated sources are considered. Data is mined from a varied host of sources including secondary and primary sources.

Primary Research
After the secondary research process, we initiate the primary research phase in which we interact with companies operating within the market space. We interact with related industries to understand the factors that can drive or hamper a market. Exhaustive primary interviews are conducted. Various sources from both the supply and demand sides are interviewed to obtain qualitative and quantitative information for a report which includes suppliers, product providers, domain experts, CEOs, vice presidents, marketing & sales directors, Type & innovation directors, and related key executives from various key companies to ensure a holistic and unbiased picture of the market. 
Secondary Research
A secondary research process is conducted to identify and collect information useful for the extensive, technical, market-oriented, and comprehensive study of the market. Secondary sources include published market studies, competitive information, white papers, analyst reports, government agencies, industry and trade associations, media sources, chambers of commerce, newsletters, trade publications, magazines, Bloomberg BusinessWeek, Factiva, D&B, annual reports, company house documents, investor presentations, articles, journals, blogs, and SEC filings of companies, newspapers, and so on. We have assigned weights to these parameters and quantified their market impacts using the weighted average analysis to derive the expected market growth rate.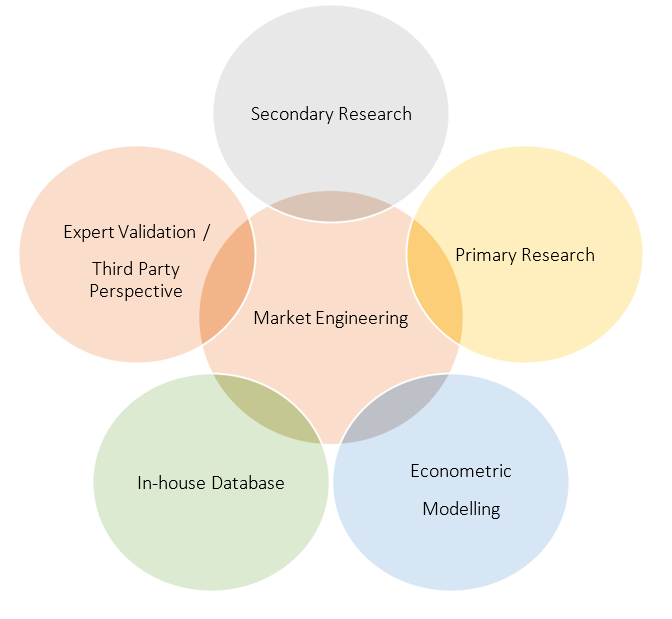 Top-Down Approach & Bottom-Up Approach
In the top – down approach, the Global Batteries for Solar Energy Storage Market was further divided into various segments on the basis of the percentage share of each segment. This approach helped in arriving at the market size of each segment globally. The segments market size was further broken down in the regional market size of each segment and sub-segments. The sub-segments were further broken down to country level market. The market size arrived using this approach was then crosschecked with the market size arrived by using bottom-up approach.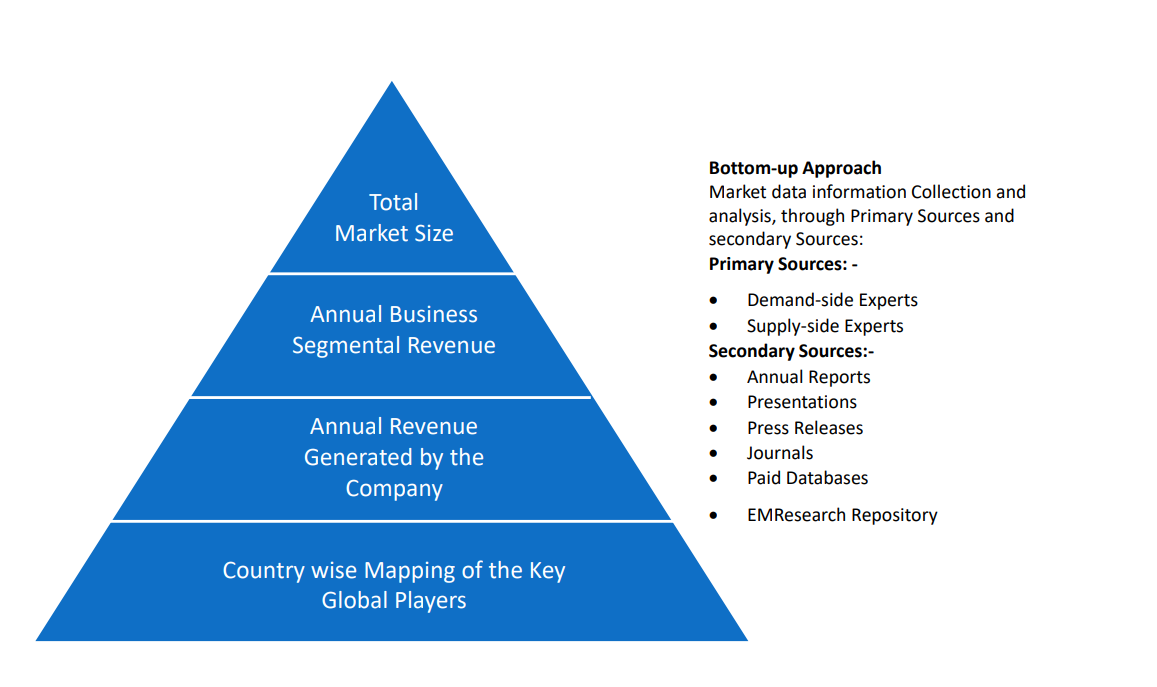 In the bottom-up approach, we arrived at the country market size by identifying the revenues and market shares of the key market players. The country market sizes then were added up to arrive at regional market size of the decorated apparel, which eventually added up to arrive at global market size.
This is one of the most reliable methods as the information is directly obtained from the key players in the market and is based on the primary interviews from the key opinion leaders associated with the firms considered in the research. Furthermore, the data obtained from the company sources and the primary respondents was validated through secondary sources including government publications and Bloomberg.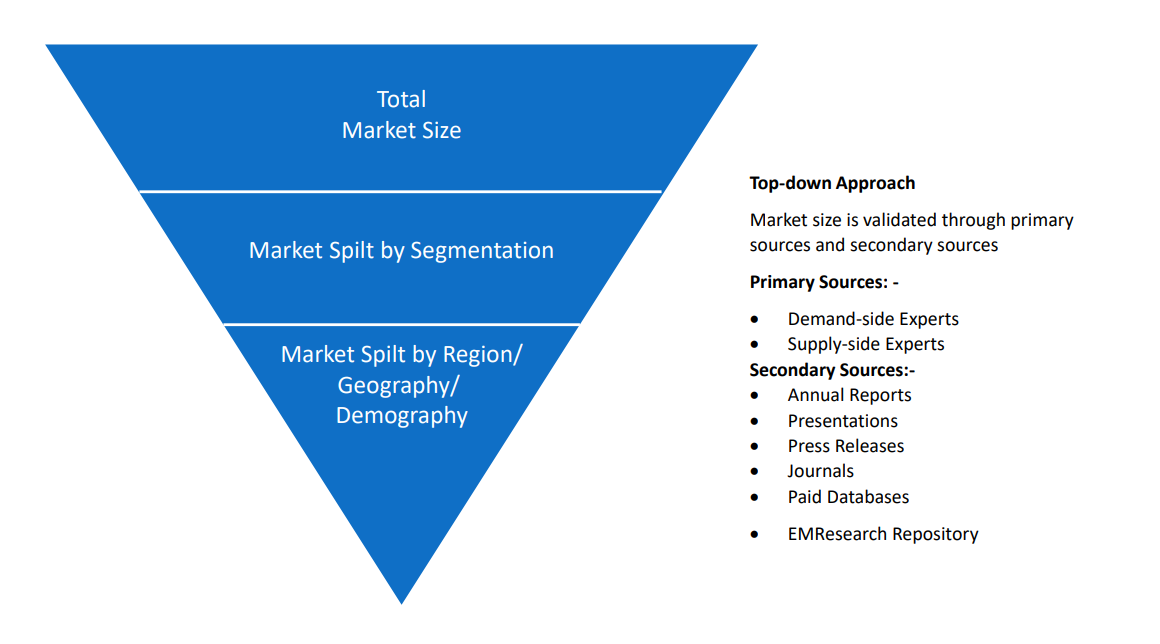 Market Analysis & size Estimation
Post the data mining stage, we gather our findings and analyze them, filtering out relevant insights. These are evaluated across research teams and industry experts. All this data is collected and evaluated by our analysts. The key players in the industry or markets are identified through extensive primary and secondary research. All percentage share splits, and breakdowns have been determined using secondary sources and verified through primary sources. The market size, in terms of value and volume, is determined through primary and secondary research processes, and forecasting models including the time series model, econometric model, judgmental forecasting model, the Delphi method, among Flywheel Energy Storage. Gathered information for market analysis, competitive landscape, growth trends, product development, and pricing trends is fed into the model and analyzed simultaneously.
Quality Checking & Final Review
The analysis done by the research team is further reviewed to check for the accuracy of the data provided to ensure the clients' requirements. This approach provides essential checks and balances which facilitate the production of quality data. This Type of revision was done in two phases for the authenticity of the data and negligible errors in the report. After quality checking, the report is reviewed to look after the presentation, Type and to recheck if all the requirements of the clients were addressed.