The Global Diaphragm Pump Market was valued at USD 6.35 billion in 2022 and is estimated to reach approximately USD 10.38 billion by 2031, at a CAGR of 5.6% from 2023 to 2031. A flexible diaphragm is used in a diaphragm pump, a form of positive displacement pump, to move fluid. The liquid or gas is drawn in when the diaphragm is squeezed and is subsequently pushed out when it is expanded. Because the diaphragm separates the pumping mechanism from the fluid, this design is frequently employed to handle corrosive, viscous, or abrasive materials. Due to its dependability and capacity to handle a variety of fluids, diaphragm pumps are frequently employed in a number of industries, including wastewater treatment, pharmaceuticals, and chemical processing. Due to the diaphragm pump's adaptability and dependability in a variety of industrial applications, the market has experienced tremendous expansion and innovation in recent years. Diaphragm pumps are positive displacement pumps that can handle a variety of liquids, including corrosive, viscous, and abrasive substances. They do this by moving fluids through a flexible diaphragm. The capacity of diaphragm pumps to move fluids safely and effectively in sectors like chemicals, pharmaceuticals, oil and gas, water and wastewater treatment, and food and beverage is one of the main factors driving the demand for these devices. In chemical processing, where safety and accuracy are crucial, their capacity to handle harsh and dangerous fluids without leakage or contamination has made them indispensable. Additionally, diaphragm pumps are used in the medical industry for various diagnostic and laboratory procedures in addition to the automobile industry for fuel transfer, agriculture for spraying pesticides and fertilizers, and agriculture. Their acceptance across numerous industries has been aided by their dependability and minimal maintenance needs. The main goals of recent developments in diaphragm pump technology have been to increase energy efficiency, lower emissions, and increase durability. Furthermore, real-time performance tracking and predictive maintenance are now possible because to the integration of IoT and smart monitoring systems, thus enhancing the market's growth prospects. Due to their adaptability, safety features, and rising demand across a variety of industries, diaphragm pumps are becoming an increasingly important part of fluid handling and transfer systems in the current industrial landscape.
DIAPHRAGM PUMP MARKET: REPORT SCOPE & SEGMENTATION
| | |
| --- | --- |
| Report Attribute | Details |
| Estimated Market Value (2022) | 6.35 Bn |
| Projected Market Value (2031) | 10.38 Bn |
| Base Year | 2022 |
| Forecast Years | 2023 - 2031 |
| Scope of the Report | Historical and Forecast Trends, Industry Drivers and Constraints, Historical and Forecast Market Analysis by Segment- By Mechanism, By Operation, By Discharge Pressure, & Region |
| Segments Covered | By Mechanism, By Operation, By Discharge Pressure, & Region |
| Forecast Units | Value (USD Billion or Million), and Volume (Units) |
| Quantitative Units | Revenue in USD million/billion and CAGR from 2023 to 2031 |
| Regions Covered | North America, Europe, Asia Pacific, Latin America, and Middle East & Africa, and the Rest of World |
| Countries Covered | U.S., Canada, Mexico, U.K., Germany, France, Italy, Spain, China, India, Japan, South Korea, Brazil, Argentina, GCC Countries, and South Africa, among others |
| Report Coverage | Market growth drivers, restraints, opportunities, Porter's five forces analysis, PEST analysis, value chain analysis, regulatory landscape, market attractiveness analysis by segments and region, company market share analysis, and COVID-19 impact analysis. |
| Delivery Format | Delivered as an attached PDF and Excel through email, according to the purchase option. |
Global Diaphragm Pump Market Dynamics
The market for diaphragm pumps is impacted by a number of dynamic elements that have an impact on its development and expansion. Diaphragm pumps are essential in many production processes, including those for chemicals, pharmaceuticals, food, and beverages, which helps to drive the need for them as a result of the world's expanding industrialization. Particularly in businesses that deal with dangerous chemicals, environmental rules and safety standards are becoming stricter. The popularity of diaphragm pumps is fueled by their ability to operate without leaks and to withstand contamination. Diaphragm pump design and material advancements are enhancing energy efficiency and extending product lifespans. IoT-enabled smart diaphragm pumps are becoming more popular for remote monitoring and proactive maintenance. Diaphragm pumps are in higher demand in the construction, water treatment, and agricultural sectors in developing nations as a result of increased infrastructure development.The growth of the diaphragm pump market is significantly influenced by the rise of the chemical and petrochemical industries, as these sectors rely largely on these pumps for fluid management. Diaphragm pumps are essential components of laboratory and medical equipment, and demand is rising as the healthcare sector expands. Diaphragm pumps are employed in the oil and gas industry to ensure safe and effective fluid transfer. The adoption of these pumps is impacted by changes in energy prices and exploratory activity. The introduction of diaphragm pumps for wastewater treatment and pollution control is being driven by rising environmental conservation awareness. Players in the market are concentrating on mergers, acquisitions, and partnerships to increase their product portfolios and global presence, escalating industry competition.
Global Diaphragm Pump Market Drivers
Industrialization and Manufacturing Growth
The ongoing industrialization process and the continued expansion of manufacturing operations on a global scale have a significant impact on the diaphragm pump industry. There is a rising demand for effective fluid handling solutions, which diaphragm pumps offer, as countries work to expand their economies and infrastructure. Diaphragm pumps are in greater demand across a variety of industries, including mining, chemicals, pharmaceuticals, food and beverage, and emerging economies' growing industrialization. Precision, dependability, and safety are crucial in activities like material handling, chemical dosing, and slurry transfer, where these pumps are used extensively. Furthermore, as industries expand, more factories and other buildings are built, necessitating the use of sophisticated fluid transfer systems. These requirements are best met by diaphragm pumps, which are renowned for their adaptability and capacity to handle a wide range of fluids. They are essential in current production processes because of their durability while handling corrosive and abrasive materials and their capacity to keep a hermetic seal.
Chemical and Petrochemical Industry Expansion
The growth of the chemical and petrochemical industries, which are essential to many industries and the world economy, has a substantial impact on the diaphragm pump market. Due to its special ability to handle corrosive, abrasive, and hazardous fluids safely and effectively, these sectors rely largely on diaphragm pumps. Particularly in the chemical business, a vast range of chemicals, from basic goods to speciality and fine chemicals, are produced and processed. In this industry, diaphragm pumps are frequently used for dosing exact amounts, combining chemicals, and moving raw materials throughout production processes. The pumps are crucial for preserving product quality and safety due to their leak-free construction and resistance to chemical damage.Similar to the petroleum industry, the petrochemical sector relies extensively on diaphragm pumps for duties like moving crude oil, processing diverse petrochemical compounds, and guaranteeing operational safety. This sector comprises the manufacture of petroleum-based products like plastics, fuels, and chemicals.
Restraints:
High Initial Investment Costs
Diaphragm pumps frequently necessitate a sizable upfront capital investment, which can be prohibitive for organizations, particularly those that are smaller or have limited resources. The price covers not only the pump itself but also all required extras, setup, and any alterations needed to incorporate the pump into current systems. Potential purchasers can look at more affordable options like centrifugal or reciprocating pumps, which can have lower acquisition costs, as a result of this financial barrier. The precise requirements of the application and the available budget are frequently taken into consideration when deciding whether to invest in diaphragm pumps. Diaphragm pumps provide advantages in terms of longevity, dependability, and the capacity to handle difficult fluids, despite the potential higher initial costs.
Limited Flow Rates and Pressure Capabilities
The market for diaphragm pumps is related to the restrictions these pumps have on their ability to handle pressure and maximum flow rates. Although diaphragm pumps are recognized for their ability to handle viscous, abrasive, and corrosive fluids, their design prevents them from operating at flow rates and pressures that are exceedingly high. In high-flow applications, such as large-scale industrial processes or municipal water distribution, centrifugal pumps, which excel in quickly moving enormous quantities of fluids, may outperform diaphragm pumps. Rotating impellers are used by centrifugal pumps to effectively produce high flow rates. Similar to this, diaphragm pumps might not be the best option in applications needing extremely high pressure, such as hydraulic systems or specific oil and gas operations, due to their low pressure-handling capabilities in comparison to specialized high-pressure pumps.
Opportunities:
Rising Demand for Advanced Healthcare Technologies
Diaphragm pumps are positioned to be a key component in addressing the significant increase in demand for cutting-edge technologies in the healthcare sector. This expanding opportunity is principally fueled by the complexity and precision that are becoming more and more necessary in medical devices, lab equipment, and pharmaceutical processes. Since they can accurately control the flow of fluids, diaphragm pumps are ideal for use in the healthcare industry and are therefore crucial parts of equipment like infusion pumps, dialysis machines, and blood analyzers. For dispensing medications, performing diagnostic procedures, and guaranteeing patient safety, these devices depend on precise fluid transmission. Additionally, diaphragm pumps are crucial to the growing industries of biotechnology and pharmaceuticals since they are used in operations like filtration, chromatography, and fluid transfer during the production of medicines.
Expansion of Water and Wastewater Treatment Facilities
For diaphragm pumps, the development and modernization of the water and wastewater treatment infrastructure constitute a sizable and long-lasting market opportunity. Municipalities and businesses all over the world are investing substantially in modernizing their water and wastewater management systems as populations rise and environmental concerns grow. Due to its remarkable capability to handle a variety of fluids, including corrosive and abrasive compounds, without the risk of contamination, diaphragm pumps are well suited for this industry. They are used in water treatment plants to precisely dose chemicals like chlorine and disinfectants, ensuring that the water is clean and safe to consume. Diaphragm pumps are essential for moving and treating sewage and industrial effluents in wastewater treatment. Moreover, the demand for diaphragm pumps in water and wastewater treatment extends to desalination processes, where these pumps are used for brine transfer and chemical injection. The global scarcity of freshwater resources is driving the expansion of desalination plants, creating a substantial market opportunity.
Segment Overview
By Mechanism
Based on mechanism, the global diaphragm pump market is divided into air-operated and electrical-operated. The electrical-operated category dominates the market with the largest revenue share.EOD pumps are powered by electricity, providing continuous and consistent operation. They are often used in applications where a steady flow rate and precise control are essential. EOD pumps can be easily integrated into automated systems, allowing for remote monitoring and control, making them suitable for processes requiring precise flow control. AOD pumps are powered by compressed air, making them suitable for use in environments where electricity is not readily available or where electrical equipment poses a safety hazard, such as in potentially explosive atmospheres.AOD pumps are self-priming, meaning they can automatically evacuate air from the suction line and start pumping without manual priming.
By Operation
Based on the operation, the global diaphragm pump market is categorized into single acting and double acting. The double acting category leads the global diaphragm pump market with the largest revenue share. Double-acting diaphragm pumps have two diaphragms or chambers that move in tandem but in opposite directions. This design enables simultaneous suction and discharge cycles, increasing the pump's efficiency and flow rate.Single-acting diaphragm pumps have one diaphragm or chamber that moves back and forth to create suction and discharge cycles. These pumps typically use one set of check valves to control the direction of fluid flow.
By Discharge Pressure
Based on discharge pressure, the global diaphragm pump market is segmented into up to 80 bar, 80 to 200 bar and above 200 bar. The up to 80 bar segment dominates the diaphragm pump market. Diaphragm pumps in this category are suitable for applications where the required pressure does not exceed 80 bar (approximately 1,160 psi).These pumps are often used in industries and processes that require moderate pressure, such as water distribution, small-scale chemical processing, and some wastewater treatment applications.80 to 200 bar are often employed in more demanding industrial processes, including high-pressure cleaning, automotive and manufacturing applications, and some oil and gas processes. Above 200 Bar, these pumps are used in specialized applications where extremely high pressures are required, such as ultra-high-pressure water jet cutting, hydrostatic testing, and some heavy-duty industrial processes.
Global Diaphragm Pump Market Overview by Region
The global diaphragm pump market is categorized into North America, Europe, Asia-Pacific, and the Rest of the World. Asia Pacific emerged as the leading region, capturing the largest market share in 2022. Particularly in nations like China and India, the Asia-Pacific area has seen substantial industrial growth. The need for diaphragm pumps in fluid handling applications has been driven by the expanding manufacturing sector, rising infrastructural construction, and expanding chemical processing industries. Governments and municipalities in the Asia Pacific region have substantially invested in water and wastewater treatment facilities as worries over the availability of clean water and environmental sustainability have grown. These infrastructure projects have been extremely important for diaphragm pumps, which has helped to increase their market share. In the Asia Pacific region, diaphragm pumps are widely utilized for fertilizer dosing, irrigation, and the application of pesticides. The adoption of these pumps is a result of the region's dedication to enhancing agricultural practices. Asia Pacific has experienced significant expansion in the chemical and petrochemical industries as a result of the expanding global demand for these products. The processing of corrosive and abrasive chemicals necessitates the use of diaphragm pumps, which are crucial to the sector's operations. Urbanization in the Asia Pacific area has boosted demand for building supplies, water supply, and infrastructure development, all of which necessitate effective fluid handling systems, driving increasing demand for diaphragm pumps. The area has adopted technological developments in diaphragm pump design and production, providing competitive and creative solutions to satisfy the needs of various industries.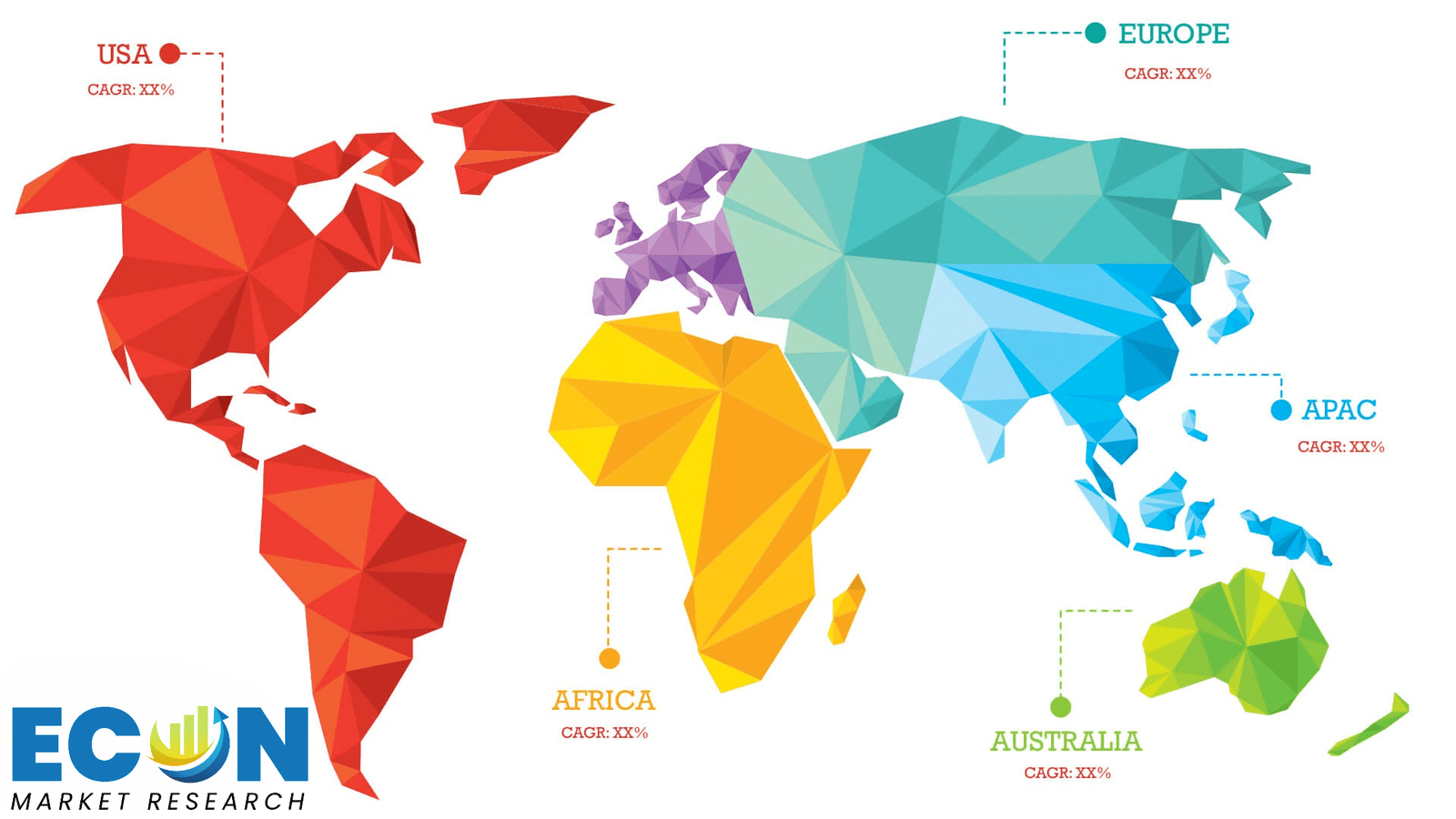 Global Diaphragm Pump Market Competitive Landscape
In the global diaphragm pump market, a few major players exert significant market dominance and have established a strong regional presence. These leading companies remain committed to continuous research and development endeavors and actively engage in strategic growth initiatives, including product development, launches, joint ventures, and partnerships. By pursuing these strategies, these companies aim to strengthen their market position, expand their customer base, and capture a substantial share of the market.
Some of the prominent players in the global diaphragm pump market include Dover Corporation, Flowserve Corporation, GemmeCotti Srl, Graco Inc., Grundfos Holding A/S, IDEX Corporation, Ingersoll Rand, LEWA GmbH, Tapflo AB, Xylem , and various other key players.
Global Diaphragm Pump Market Recent Developments
In September 2023,For vacuum control in fuel cells, medical devices and other applications, a new KNF diaphragm petrol pump is available. The N 938 pump's process-compliant vacuum performance is one of its important characteristics. The N 938 is made to accommodate shifting vacuum demands and may be tailored to fit the needs of various process phases.
Scope of the Global Diaphragm Pump Market Report
Diaphragm Pump Market Report Segmentation
ATTRIBUTE

DETAILS

By Mechanism

Air-operated

Electrical-operated

By Operation

Single Acting

Double Acting

By Discharge Pressure

Up to 80 bar

80 to 200 bar

Above 200 bar

By Geography

North America (USA,

and Canada)

Europe (UK, Germany, France, Italy, Spain, Russia and Rest of Europe)

Asia Pacific (Japan, China, India, Australia, Southeast Asia and Rest of Asia Pacific)

Latin America (Brazil, Mexico, and Rest of Latin America)

Middle East & Africa (South Africa, GCC, and Rest of Middle East & Africa)

Customization Scope

Pricing
Objectives of the Study
The objectives of the study are summarized in 5 stages. They are as mentioned below:
Global Diaphragm Pump

Market

Size and Forecast:
To identify and estimate the market size for the global diaphragm pump market segmented by mechanism, by operation, by discharge pressure, region and by value (in U.S. dollars). Also, to understand the consumption/ demand created by consumers of diaphragm pump between 2019 and 2031.
Market Landscape and Trends:
To identify and infer the drivers, restraints, opportunities, and challenges for the global diaphragm pump market
Market Influencing Factors:
To find out the factors which are affecting the sales of diaphragm pump among consumers
To identify and understand the various factors involved in the global diaphragm pump market affected by the pandemic
To provide a detailed insight into the major companies operating in the market. The profiling will include the financial health of the company's past 2-3 years with segmental and regional revenue breakup, product offering, recent developments, SWOT analysis, and key strategies.
Intended Audience
Industrial Manufacturers

Engineers and Process Designers

Maintenance and Facilities Managers

Healthcare Professionals

Retailers, Wholesalers, and Distributors

Governments, Associations, and Industrial Bodies

Investors and Trade Experts
Research Methodology
Our research methodology has always been the key differentiating reason which sets us apart in comparison from the competing organizations in the industry. Our organization believes in consistency along with quality and establishing a new level with every new report we generate; our methods are acclaimed and the data/information inside the report is coveted. Our research methodology involves a combination of primary and secondary research methods. Data procurement is one of the most extensive stages in our research process. Our organization helps in assisting the clients to find the opportunities by examining the market across the globe coupled with providing economic statistics for each and every region. The reports generated and published are based on primary & secondary research. In secondary research, we gather data for global Market through white papers, case studies, blogs, reference customers, news, articles, press releases, white papers, and research studies. We also have our paid data applications which includes hoovers, Bloomberg business week, Avention, and others.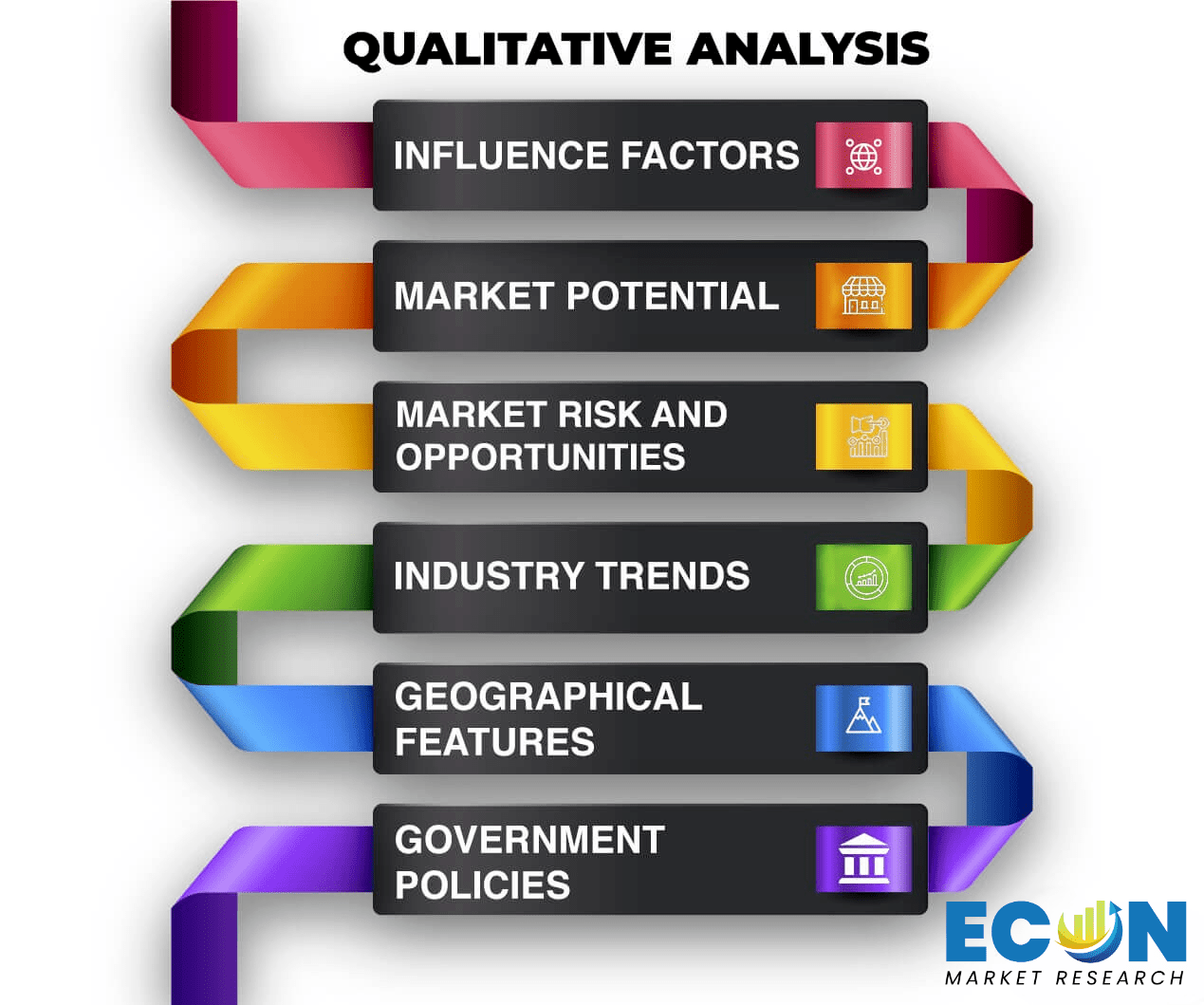 Data Collection
Data collection is the process of gathering, measuring, and analyzing accurate and relevant data from a variety of sources to analyze market and forecast trends. Raw market data is obtained on a broad front. Data is continuously extracted and filtered to ensure only validated and authenticated sources are considered. Data is mined from a varied host of sources including secondary and primary sources.

Primary Research
After the secondary research process, we initiate the primary research phase in which we interact with companies operating within the market space. We interact with related industries to understand the factors that can drive or hamper a market. Exhaustive primary interviews are conducted. Various sources from both the supply and demand sides are interviewed to obtain qualitative and quantitative information for a report which includes suppliers, product providers, domain experts, CEOs, vice presidents, marketing & sales directors, Type & innovation directors, and related key executives from various key companies to ensure a holistic and unbiased picture of the market. 
Secondary Research
A secondary research process is conducted to identify and collect information useful for the extensive, technical, market-oriented, and comprehensive study of the market. Secondary sources include published market studies, competitive information, white papers, analyst reports, government agencies, industry and trade associations, media sources, chambers of commerce, newsletters, trade publications, magazines, Bloomberg BusinessWeek, Factiva, D&B, annual reports, company house documents, investor presentations, articles, journals, blogs, and SEC filings of companies, newspapers, and so on. We have assigned weights to these parameters and quantified their market impacts using the weighted average analysis to derive the expected market growth rate.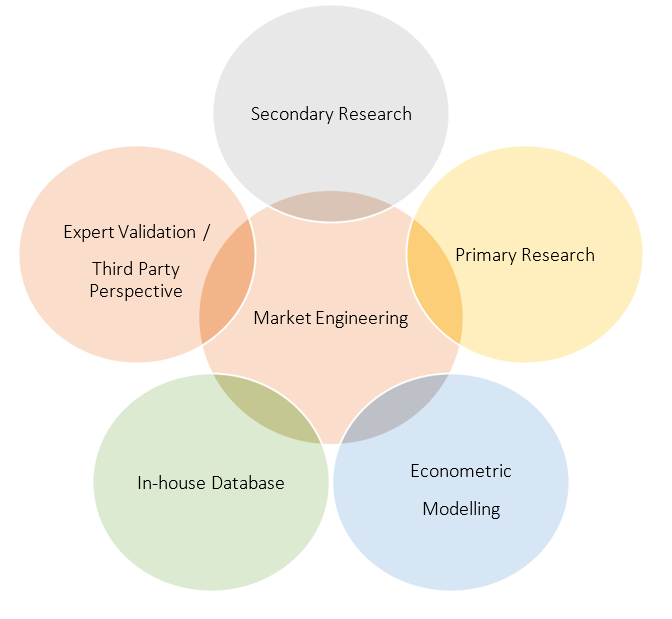 Top-Down Approach & Bottom-Up Approach
In the top – down approach, the Global Batteries for Solar Energy Storage Market was further divided into various segments on the basis of the percentage share of each segment. This approach helped in arriving at the market size of each segment globally. The segments market size was further broken down in the regional market size of each segment and sub-segments. The sub-segments were further broken down to country level market. The market size arrived using this approach was then crosschecked with the market size arrived by using bottom-up approach.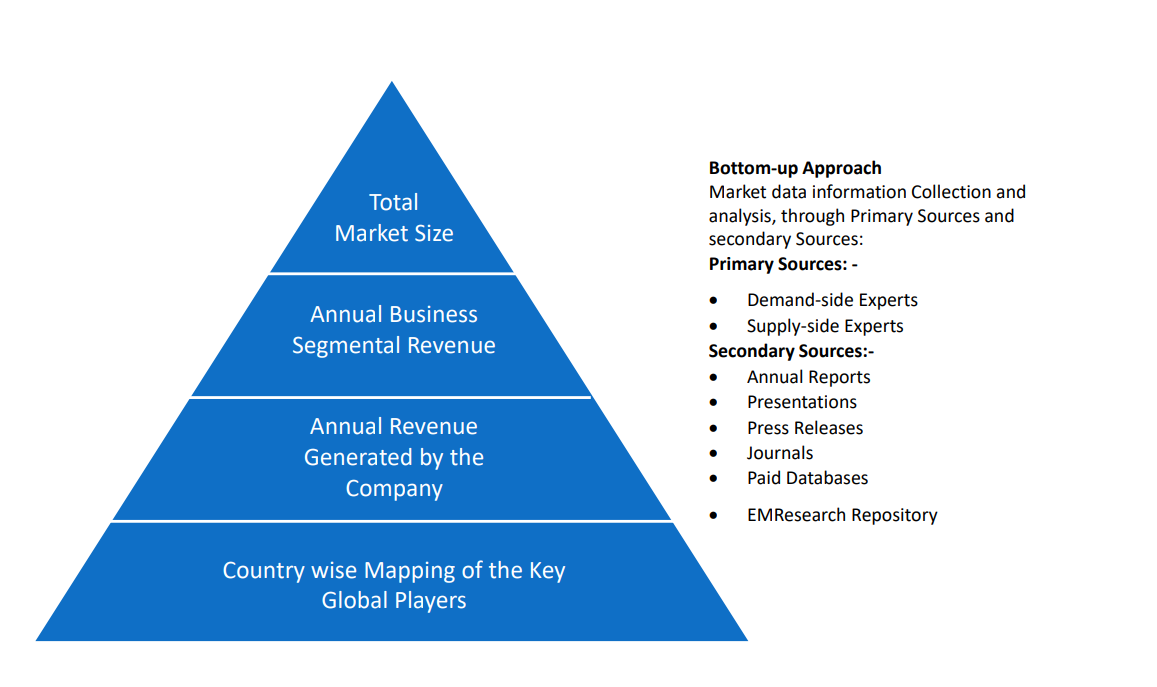 In the bottom-up approach, we arrived at the country market size by identifying the revenues and market shares of the key market players. The country market sizes then were added up to arrive at regional market size of the decorated apparel, which eventually added up to arrive at global market size.
This is one of the most reliable methods as the information is directly obtained from the key players in the market and is based on the primary interviews from the key opinion leaders associated with the firms considered in the research. Furthermore, the data obtained from the company sources and the primary respondents was validated through secondary sources including government publications and Bloomberg.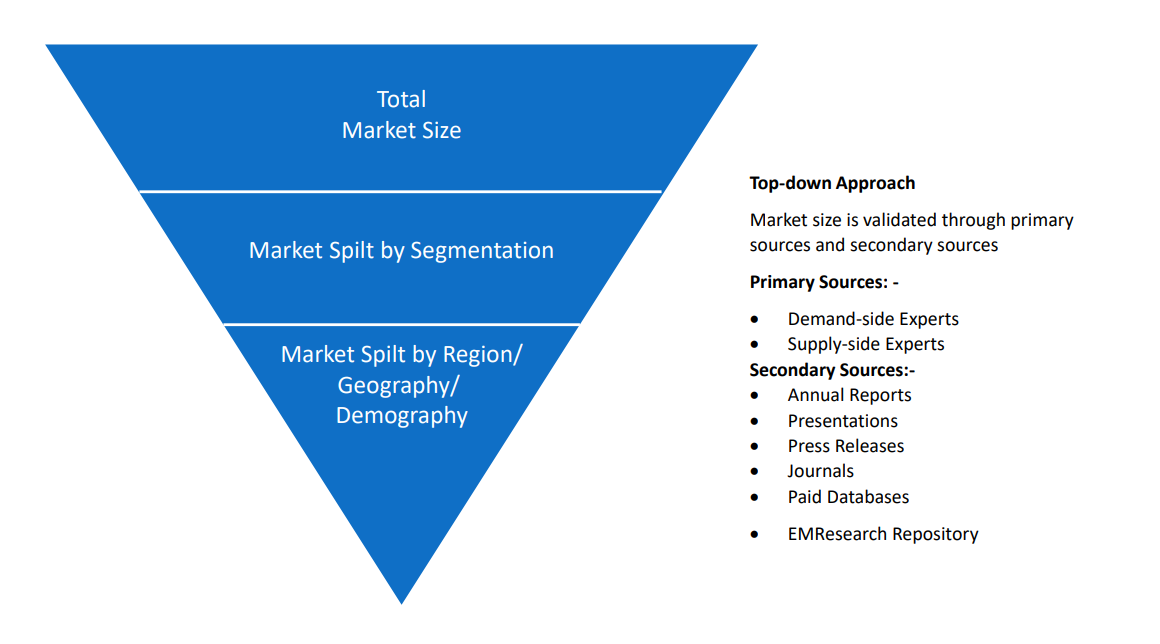 Market Analysis & size Estimation
Post the data mining stage, we gather our findings and analyze them, filtering out relevant insights. These are evaluated across research teams and industry experts. All this data is collected and evaluated by our analysts. The key players in the industry or markets are identified through extensive primary and secondary research. All percentage share splits, and breakdowns have been determined using secondary sources and verified through primary sources. The market size, in terms of value and volume, is determined through primary and secondary research processes, and forecasting models including the time series model, econometric model, judgmental forecasting model, the Delphi method, among Flywheel Energy Storage. Gathered information for market analysis, competitive landscape, growth trends, product development, and pricing trends is fed into the model and analyzed simultaneously.
Quality Checking & Final Review
The analysis done by the research team is further reviewed to check for the accuracy of the data provided to ensure the clients' requirements. This approach provides essential checks and balances which facilitate the production of quality data. This Type of revision was done in two phases for the authenticity of the data and negligible errors in the report. After quality checking, the report is reviewed to look after the presentation, Type and to recheck if all the requirements of the clients were addressed.