The global compressed natural gas market was valued at USD 145.80 billion in 2022 and is estimated to reach approximately USD 485.54 billion by 2031, at a CAGR of 14.3% from 2023 to 2031.
After being introduced, compressed natural gas, or CNG, has become a major player in the worldwide energy market. Compressed natural gas, which is extracted from natural gas and compressed to a smaller volume for storage and transit, is a clean and environmentally beneficial substitute for conventional fossil fuels. Its growth can be ascribed to many benefits, such as decreased reliance on oil, cost-effectiveness, and greenhouse gas emissions. CNG is becoming more and more well-liked as a greener fuel option in the transportation industry, especially for fleets, buses, and trucks. With an expanding network of filling stations throughout the world, the infrastructure for CNG refueling has grown, increasing accessibility for both businesses and consumers. Governments and environmental laws, which provide incentives and subsidies to promote the use of CNG, have been crucial in encouraging its acceptance. The CNG industry is anticipated to expand, offering a cleaner and more sustainable energy choice for numerous industries as the globe increasingly concentrates on lowering carbon emissions and battling climate change.
COMPRESSED NATURAL GAS MARKET: REPORT SCOPE & SEGMENTATION
| | |
| --- | --- |
| Report Attribute | Details |
| Estimated Market Value (2022) | 145.80 Bn |
| Projected Market Value (2031) | 485.54 Bn |
| Base Year | 2022 |
| Forecast Years | 2023 - 2031 |
| Scope of the Report | Historical and Forecast Trends, Industry Drivers and Constraints, Historical and Forecast Market Analysis by Segment- By Source, By End User, & Region |
| Segments Covered | By Source, By End User, & Region |
| Forecast Units | Value (USD Billion or Million), and Volume (Units) |
| Quantitative Units | Revenue in USD million/billion and CAGR from 2023 to 2031 |
| Regions Covered | North America, Europe, Asia Pacific, Latin America, and Middle East & Africa, and the Rest of World |
| Countries Covered | U.S., Canada, Mexico, U.K., Germany, France, Italy, Spain, China, India, Japan, South Korea, Brazil, Argentina, GCC Countries, and South Africa, among others |
| Report Coverage | Market growth drivers, restraints, opportunities, Porter's five forces analysis, PEST analysis, value chain analysis, regulatory landscape, market attractiveness analysis by segments and region, company market share analysis, and COVID-19 impact analysis. |
| Delivery Format | Delivered as an attached PDF and Excel through email, according to the purchase option. |
Global Compressed Natural Gas Market Dynamics
The acceptance of compressed natural gas (CNG) as a cleaner fuel substitute for conventional fossil fuels, especially in the transportation sector, has been fueled by rising environmental awareness and the desire to diminish greenhouse gas emissions. The dynamics of the CNG market are significantly influenced by government rules and incentives. A lot of nations encourage the use of CNG by imposing regulations, providing tax breaks, and providing subsidies. The market for compressed natural gas (CNG) is expanding as a result of reduced dependency on oil imports and increased energy source diversity. One view is that CNG is a more reliable and safe energy source. For the market to flourish, the infrastructure for CNG refilling must expand. To increase the accessibility of CNG for consumers and businesses, investments in pipelines and refill stations are necessary. The dynamics of the CNG market may be impacted by natural gas prices. The financial benefits of utilizing CNG in comparison to alternative fuels change along with the price of natural gas. The viability and effectiveness of CNG applications are improved by ongoing developments in CNG technology, such as better techniques for transportation and storage. Other alternative fuels, such as hydrogen and electric, compete with natural gas in the market, which affects its dynamics as these technologies advance.
Global Compressed Natural Gas Market Drivers
Greenhouse Gas Emissions Reduction
The primary source of motivation for this driver is growing public knowledge of the detrimental impacts of greenhouse gases on Earth's climate system, including carbon dioxide (CO2), methane (CH4), and nitrous oxide (N2O). These emissions have significantly increased as a result of human activity, particularly the burning of fossil fuels and deforestation, which has raised sea levels, caused more frequent extreme weather events, and disrupted the environment. The goal of efforts to cut greenhouse gas emissions is to lessen these effects and move toward a low-carbon, sustainable future. People, businesses, and governments alike are realizing how critical it is to switch to greener energy sources and energy-saving habits. This motivator has prompted the creation and application of a wide range of tactics, such as the utilization of renewable energy, increased sector-wide energy efficiency, and the promotion of low-emission modes of transportation including public transportation and electric cars. The Paris Agreement and other international accords have established worldwide goals for the reduction of emissions, underscoring the pressing need to address this problem.
Reduced Dependence on Oil
This motivation is mainly the realization of the risks and difficulties that come with using a lot of oil as a source of energy. For many years, oil especially petroleum has dominated the energy landscape. Energy security may be impacted by supply outages and price volatility brought on by geopolitical unrest in oil-producing regions. Reducing reliance on oil guarantees a more reliable energy supply and helps to reduce these dangers. Moving away from oil is being driven by environmental concerns. Burning oil releases greenhouse gases into the atmosphere and pollutes the air, both of which are significant causes of climate change and issues with public health. Improving air quality and attaining climate goals require reducing reliance on oil. To maintain long-term energy sustainability, it is vital to investigate alternate and renewable energy sources due to the limited quantity of oil reserves and the possibility of resource depletion.
Restraints:
High upfront costs for building CNG refuelling stations
The establishment of the infrastructure required for CNG distribution, which includes the installation of compression equipment, storage tanks, safety precautions, and dispensing technologies, is the main factor driving these expenses. Both public and private parties may be discouraged from building a CNG refueling station due to the significant upfront costs involved. The expenses cover the procurement of specialist equipment, like compressors and dispensers, building, permits, and site acquisition. Station operators are concerned about payback timeframes and return on investment (ROI) due to high upfront expenditures. Potential investors can be reluctant to invest because it might take years to recover the original cost. Smaller-scale stations can have even greater per-unit infrastructure expenses, which would make them less financially feasible. These stations are frequently required to serve local or regional markets. Station development can cost more and take longer if safety requirements, zoning laws, and environmental approvals need to be followed.
Limited CNG Vehicle Models
Historically, the market for CNG vehicles has been smaller than that of gasoline or diesel vehicles. Because of the expected decline in demand, automakers have been less willing to invest in the development of CNG models. For automakers, designing, testing, and certifying CNG vehicles can be costly and time-consuming. This may discourage them from supplying more CNG cars. In certain areas, the lack of CNG refueling stations deters consumers from being interested in buying CNG vehicles, which lowers demand and deters automakers from making more models. Due to the space required for CNG storage tanks, CNG vehicles frequently have range restrictions and performance trade-offs, which reduces their allure when compared to conventional gasoline or electric vehicles.
Opportunities:
Green Hydrogen Production from CNG
A renewable energy source can be integrated into the current natural gas infrastructure through the production of green hydrogen from compressed natural gas (CNG). It provides grid stability and energy storage by serving as a means of storing excess energy produced during times of strong renewable output. Hydrogen is a fuel with multiple applications, such as industrial, transportation, and heating. It is highly adaptable. Industries may greatly lower their carbon footprint and support environmental sustainability by generating green hydrogen from CNG. Green hydrogen can improve energy security as a clean energy carrier by lowering reliance on fossil fuels, while compressed natural gas (CNG) provides a conveniently available supply of methane for hydrogen synthesis. The green hydrogen industry offers substantial financial benefits, such as the possibility of exporting hydrogen, the creation of jobs, and investments in research and development. Green hydrogen has the potential to achieve carbon neutrality when coupled with carbon capture and utilization (CCU) technologies, making it an essential tool in the fight against climate change.
Advanced CNG Storage and Transportation Solutions
More storage capacity and better gas compression are provided by advanced CNG storage and transportation technologies, which also lead to less energy loss and more effective energy transfer during transit. Improved materials, stronger pressure vessels, and enhanced leak detection are just a few of the ways that CNG storage and transportation system innovations put safety first, reassuring stakeholders in the public and private sectors. Improved CNG transportation efficiency can lower operating costs, giving CNG a competitive edge over alternative fuels like gasoline or diesel and encouraging its use in a variety of industries, including transportation, manufacturing, and residential. In order to improve accessibility and convenience for customers, advanced solutions can facilitate the creation of more adaptable and durable CNG refueling infrastructure, such as mobile refueling units and decentralized systems for rural locations. Innovation and economic growth can be stimulated by research and development in this area, which may result in new discoveries like automation, smart monitoring systems, and lightweight composite storage tanks.
Segment Overview
By Source
Based on source, the global compressed natural gas market is divided into associated gas, non-associated gas, unconventional sources. The non associated gas category dominates the market with the largest revenue share in 2022. Non-associated gas, also known as "dry gas," is natural gas that is found in reservoirs separate from oil deposits. It is typically of higher quality and purity compared to associated gas, as it contains fewer impurities. Non-associated gas is often the preferred source for CNG production due to its cleaner composition. Associated gas is natural gas that is produced as a byproduct of oil extraction. It is found in the same geological formations as oil reservoirs and is released during oil drilling and production operations. Associated gas is often rich in hydrocarbons and can be a valuable source of natural gas. Unconventional sources of natural gas include shale gas, tight gas, and coalbed methane. These sources involve the extraction of natural gas from geological formations that require special techniques like hydraulic fracturing (fracking) and horizontal drilling. Unconventional sources have gained importance in the CNG market, particularly in regions with abundant shale gas reserves.
By End-User
Based on end-user, the global compressed natural gas market is segmented into light duty vehicles, medium or heavy-duty buses, medium or heavy duty trucks. The light duty vehicles segment dominates the compressed natural gas market. Light-duty vehicles refer to smaller automobiles, including passenger cars, compact SUVs, and smaller pickup trucks. CNG-powered light-duty vehicles are gaining popularity as a more environmentally friendly alternative to gasoline or diesel-powered cars, especially in areas with well-developed CNG refueling infrastructure. Medium or heavy duty buses, this segment includes public transit buses, shuttle buses, and long-distance coaches. CNG is a popular choice for bus fleets, as it offers reduced emissions, lower operating costs, and improved air quality, making it an environmentally responsible choice for mass transportation. Medium and heavy-duty trucks encompass a wide range of commercial vehicles, including delivery trucks, refuse trucks, tractor-trailers, and other heavy-duty haulage vehicles. CNG is increasingly used in this segment to reduce fuel costs and lower emissions, especially in logistics and freight transportation.
Global Compressed Natural Gas Market Overview by Region
The global compressed natural gas market is categorized into North America, Europe, Asia-Pacific, and the Rest of the World. Asia-Pacific emerged as the leading region, capturing the largest market share in 2022. There is a growing need for clean and effective transportation solutions as a result of the Asia-Pacific region's unparalleled urbanization and population growth. When it comes to improving urban air quality and lowering pollution in crowded cities, CNG presents an alluring substitute. The adoption of CNG has been encouraged by the implementation of favorable government policies and incentives in many Asia-Pacific nations. These policies, which promote the use of CNG in the transportation sector, include tax breaks, emission reduction goals, and subsidies. Due to the region's abundant conventional and unconventional natural gas deposits, compressed natural gas (CNG) is an affordable and easily accessible fuel for automobiles and industrial uses. Two of the most important factors driving the Asia-Pacific area are decreased reliance on imported oil and enhanced energy security. By reducing the risk of supply disruptions and fluctuating oil prices, CNG helps diversify the energy mix. The infrastructure for CNG refueling has been greatly expanded throughout Asia-Pacific, allowing consumers and companies to use CNG as a fuel source more conveniently and easily. The Asia-Pacific area is paying more attention to solving environmental issues like carbon emissions and air quality. Concerning these issues, CNG is seen as an environmentally benign fuel. Beyond transportation, CNG has found use in power generation, industrial operations, and as a renewable energy source for a range of industries.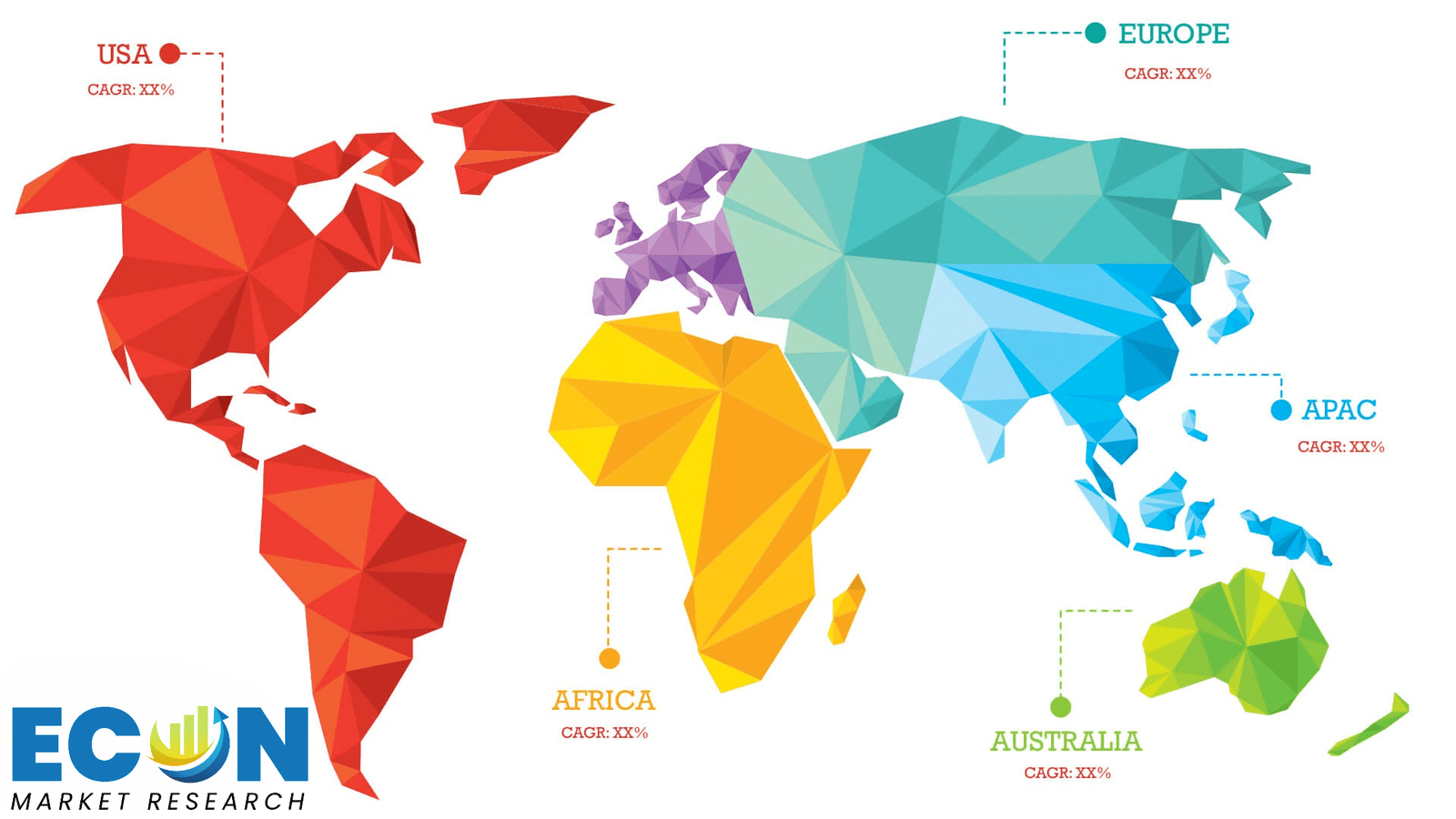 Global Compressed Natural Gas Market Competitive Landscape
In the global compressed natural gas market, a few major players exert significant market dominance and have established a strong regional presence. These leading companies remain committed to continuous research and development endeavors and actively engage in strategic growth initiatives, including product development, launches, joint ventures, and partnerships. By pursuing these strategies, these companies aim to strengthen their market position, expand their customer base, and capture a substantial share of the market.
Some of the prominent players in the global compressed natural gas market include Indraprastha Gas Limited (IGL), National Iranian Gas Company, Mahanagar Gas Limited (MNGL), and J-W Power Company. Other major players include OAO Gazprom, Trillium CNG, GNVert, ANGI Energy Systems Inc., NeoGas Inc., China Natural Gas Inc., J-W Power Company, and various other key players.
Global Compressed Natural Gas Market Recent Developments
In September 2023, From October 1st, the government will raise domestic natural gas rates to $9.20 per mmBTu. Given that the gas distribution firms are anticipated to raise the price of PNG and CNG, the price increase is likely to negatively impact customers.

In March 2023, Mahanagar Gas is set to purchase Unison Enviro, Ashoka Buildcon's city gas division. Through this transaction, MGL—a division of large gas company Gail—will be able to enter these five new markets. At the moment, its license to sell natural gas is limited to the Mumbai metropolitan area and the nearby Raigad district.

In April 2023, Apollo Funds Purchase Composite Advanced Technologies, Inc., a Premier Provider of Compressed Natural Gas and Hydrogen Transportation and Storage Solutions.
Scope of the Global Compressed Natural Gas Market Report
Compressed Natural Gas Market Report Segmentation
ATTRIBUTE

DETAILS

By Source

Associated Gas

Non Associated Gas

Unconventional Sources

By End-User

Light Duty Vehicles

Medium Or Heavy Duty Buses

Medium Or Heavy Duty Trucks

By Geography

North America (USA,

and Canada)

Europe (UK, Germany, France, Italy, Spain, Russia and Rest of Europe)

Asia Pacific (Japan, China, India, Australia, Southeast Asia and Rest of Asia Pacific)

Latin America (Brazil, Mexico, and Rest of Latin America)

Middle East & Africa (South Africa, GCC, and Rest of Middle East & Africa)

Customization Scope

Pricing
Objectives of the Study
The objectives of the study are summarized in 5 stages. They are as mentioned below:
Global Compressed Natural Gas Market

Size and Forecast:
To identify and estimate the market size for the global compressed natural gas market segmented by source, by end user, region and by value (in U.S. dollars). Also, to understand the consumption/ demand created by consumers of compressed natural gas between 2019 and 2031.
Market Landscape and Trends:
To identify and infer the drivers, restraints, opportunities, and challenges for the global compressed natural gas market
Market Influencing Factors:
To find out the factors which are affecting the sales of compressed natural gas among consumers
To identify and understand the various factors involved in the global compressed natural gas market affected by the pandemic
To provide a detailed insight into the major companies operating in the market. The profiling will include the financial health of the company's past 2-3 years with segmental and regional revenue breakup, product offering, recent developments, SWOT analysis, and key strategies.
Intended Audience
Businesses

General Public

Tech Enthusiasts

Retailers, Wholesalers, and Distributors

Governments, Associations, and Industrial Bodies

Investors and Trade Experts
Research Methodology
Our research methodology has always been the key differentiating reason which sets us apart in comparison from the competing organizations in the industry. Our organization believes in consistency along with quality and establishing a new level with every new report we generate; our methods are acclaimed and the data/information inside the report is coveted. Our research methodology involves a combination of primary and secondary research methods. Data procurement is one of the most extensive stages in our research process. Our organization helps in assisting the clients to find the opportunities by examining the market across the globe coupled with providing economic statistics for each and every region. The reports generated and published are based on primary & secondary research. In secondary research, we gather data for global Market through white papers, case studies, blogs, reference customers, news, articles, press releases, white papers, and research studies. We also have our paid data applications which includes hoovers, Bloomberg business week, Avention, and others.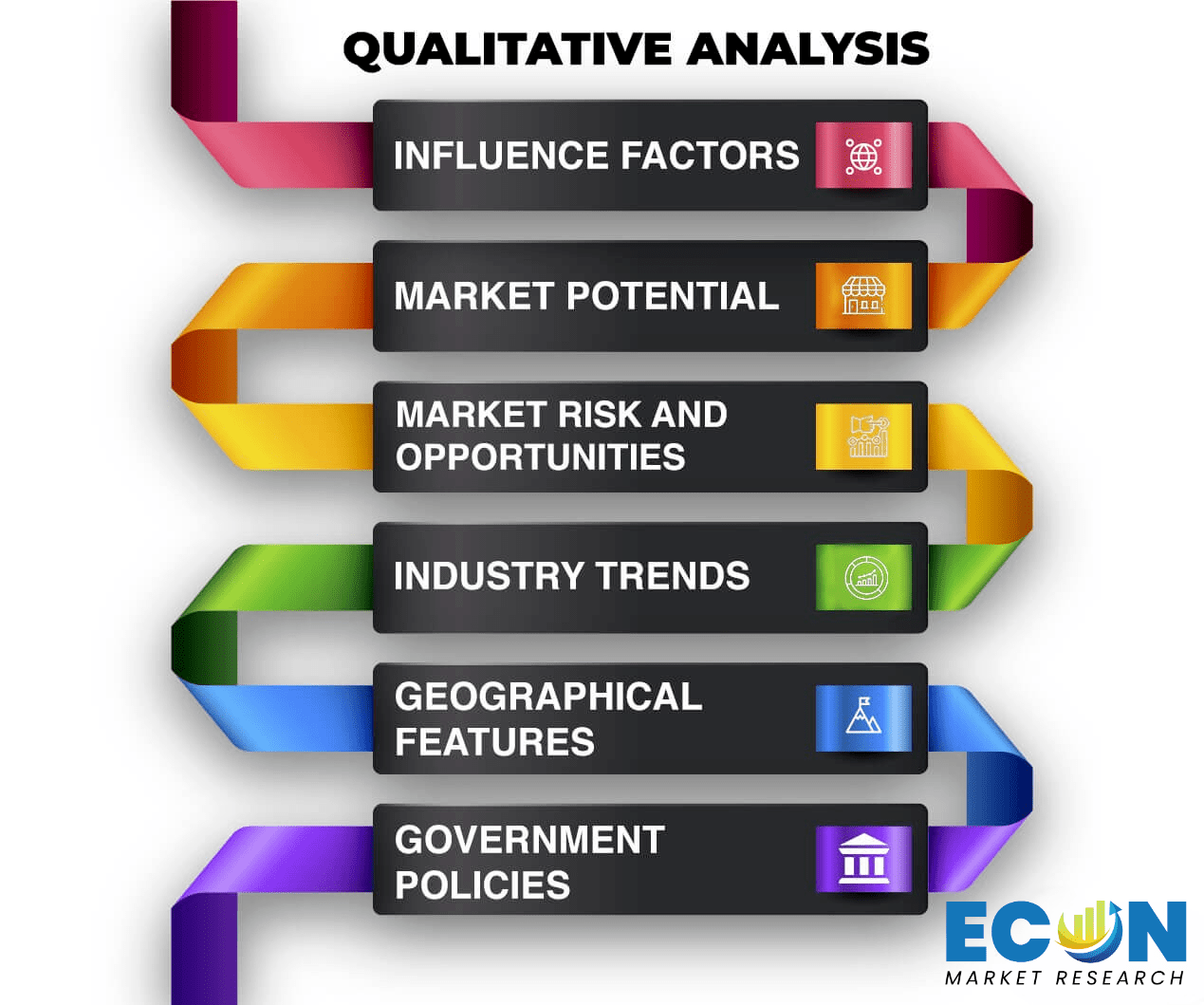 Data Collection
Data collection is the process of gathering, measuring, and analyzing accurate and relevant data from a variety of sources to analyze market and forecast trends. Raw market data is obtained on a broad front. Data is continuously extracted and filtered to ensure only validated and authenticated sources are considered. Data is mined from a varied host of sources including secondary and primary sources.

Primary Research
After the secondary research process, we initiate the primary research phase in which we interact with companies operating within the market space. We interact with related industries to understand the factors that can drive or hamper a market. Exhaustive primary interviews are conducted. Various sources from both the supply and demand sides are interviewed to obtain qualitative and quantitative information for a report which includes suppliers, product providers, domain experts, CEOs, vice presidents, marketing & sales directors, Type & innovation directors, and related key executives from various key companies to ensure a holistic and unbiased picture of the market. 
Secondary Research
A secondary research process is conducted to identify and collect information useful for the extensive, technical, market-oriented, and comprehensive study of the market. Secondary sources include published market studies, competitive information, white papers, analyst reports, government agencies, industry and trade associations, media sources, chambers of commerce, newsletters, trade publications, magazines, Bloomberg BusinessWeek, Factiva, D&B, annual reports, company house documents, investor presentations, articles, journals, blogs, and SEC filings of companies, newspapers, and so on. We have assigned weights to these parameters and quantified their market impacts using the weighted average analysis to derive the expected market growth rate.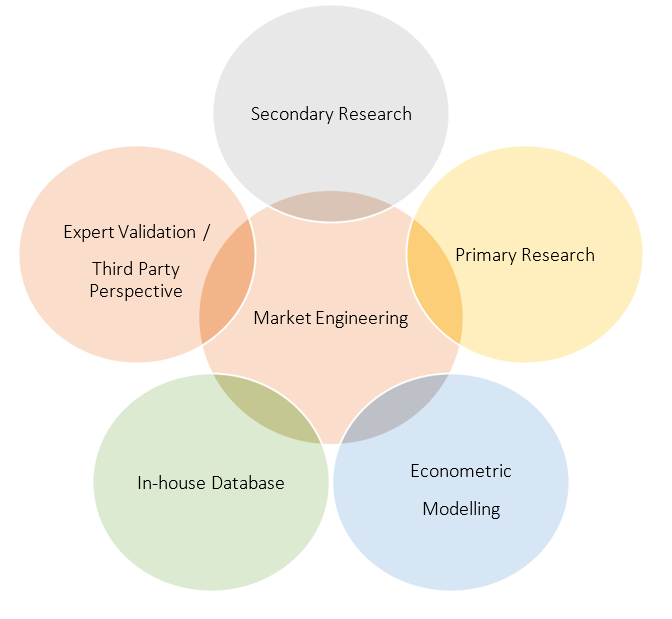 Top-Down Approach & Bottom-Up Approach
In the top – down approach, the Global Batteries for Solar Energy Storage Market was further divided into various segments on the basis of the percentage share of each segment. This approach helped in arriving at the market size of each segment globally. The segments market size was further broken down in the regional market size of each segment and sub-segments. The sub-segments were further broken down to country level market. The market size arrived using this approach was then crosschecked with the market size arrived by using bottom-up approach.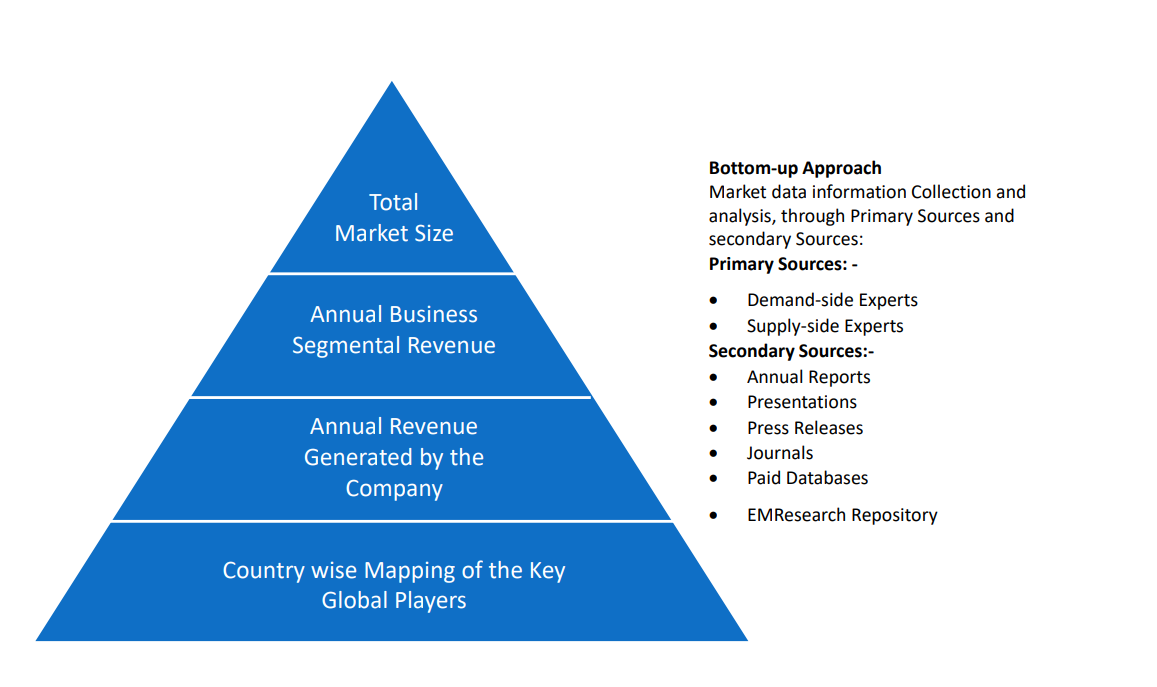 In the bottom-up approach, we arrived at the country market size by identifying the revenues and market shares of the key market players. The country market sizes then were added up to arrive at regional market size of the decorated apparel, which eventually added up to arrive at global market size.
This is one of the most reliable methods as the information is directly obtained from the key players in the market and is based on the primary interviews from the key opinion leaders associated with the firms considered in the research. Furthermore, the data obtained from the company sources and the primary respondents was validated through secondary sources including government publications and Bloomberg.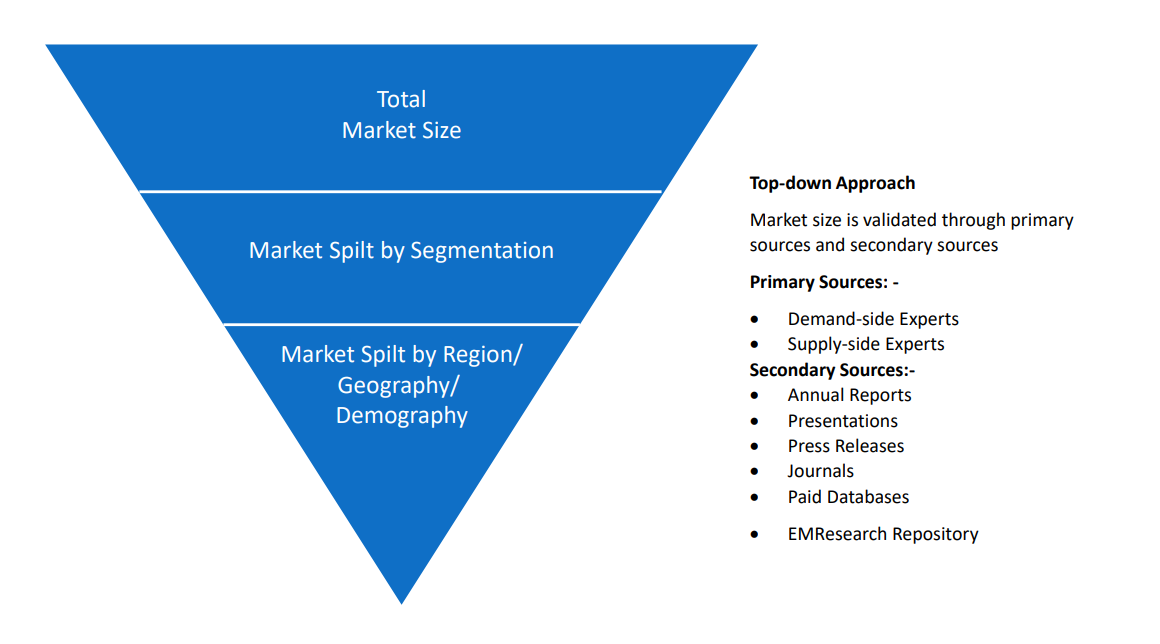 Market Analysis & size Estimation
Post the data mining stage, we gather our findings and analyze them, filtering out relevant insights. These are evaluated across research teams and industry experts. All this data is collected and evaluated by our analysts. The key players in the industry or markets are identified through extensive primary and secondary research. All percentage share splits, and breakdowns have been determined using secondary sources and verified through primary sources. The market size, in terms of value and volume, is determined through primary and secondary research processes, and forecasting models including the time series model, econometric model, judgmental forecasting model, the Delphi method, among Flywheel Energy Storage. Gathered information for market analysis, competitive landscape, growth trends, product development, and pricing trends is fed into the model and analyzed simultaneously.
Quality Checking & Final Review
The analysis done by the research team is further reviewed to check for the accuracy of the data provided to ensure the clients' requirements. This approach provides essential checks and balances which facilitate the production of quality data. This Type of revision was done in two phases for the authenticity of the data and negligible errors in the report. After quality checking, the report is reviewed to look after the presentation, Type and to recheck if all the requirements of the clients were addressed.