The global blood stream infection testing market was valued at USD 6.25 billion in 2022 and is estimated to reach approximately USD 13.52 billion by 2031, at a CAGR of 8.9% from 2023 to 2031.
Since its establishment, the blood stream infection testing market has experienced substantial expansion and innovation. Because it is essential to the diagnosis and treatment of potentially fatal bloodstream infections, this field has grown in importance over the years within the healthcare sector. Pathogens including bacteria, viruses, and fungi enter the circulation and cause these infections, which can result in sepsis or other catastrophic illnesses. A variety of diagnostic methods, including as blood cultures, molecular tests, and biomarker analysis, are used in blood stream infection testing in order to pinpoint and define the causing agents. Technological developments, enhanced diagnostic precision, and a rising understanding of the significance of early and precise diagnosis have propelled the market's progress. In an effort to improve patient care and lower the prevalence of illnesses linked to healthcare, healthcare practitioners have been using these testing techniques more and more. The COVID-19 epidemic also brought attention to the need for quick and accurate diagnostic technologies, which fueled the market's expansion. As new diagnostic modalities, point-of-care testing, and advanced automation further improve the efficiency and effectiveness of detecting and managing bloodstream infections, ultimately benefiting patients and healthcare systems worldwide, it is anticipated that the blood stream infection testing market will continue to grow in the years to come.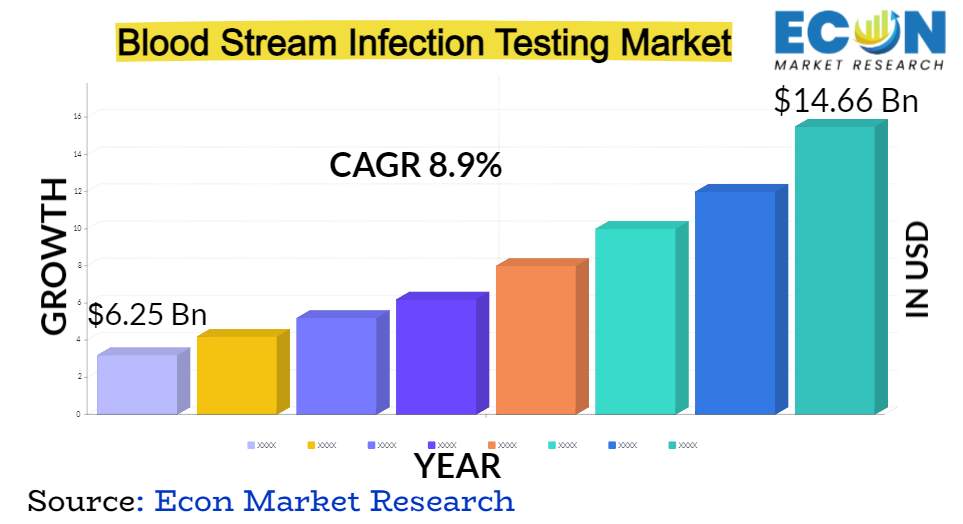 BLOOD STREAM INFECTION TESTING MARKET: REPORT SCOPE & SEGMENTATION
| | |
| --- | --- |
| Report Attribute | Details |
| Estimated Market Value (2022) | 6.25 Bn |
| Projected Market Value (2031) | 13.52 Bn |
| Base Year | 2022 |
| Forecast Years | 2023 - 2031 |
| Scope of the Report | Historical and Forecast Trends, Industry Drivers and Constraints, Historical and Forecast Market Analysis by Segment- By Product, By Technique, By Technology, By Application,By End-users , & Region |
| Segments Covered | By Product, By Technique, By Technology, By Application,By End-users , & Region |
| Forecast Units | Value (USD Billion or Million), and Volume (Units) |
| Quantitative Units | Revenue in USD million/billion and CAGR from 2023 to 2031 |
| Regions Covered | North America, Europe, Asia Pacific, Latin America, and Middle East & Africa, and the Rest of World |
| Countries Covered | U.S., Canada, Mexico, U.K., Germany, France, Italy, Spain, China, India, Japan, South Korea, Brazil, Argentina, GCC Countries, and South Africa, among others |
| Report Coverage | Market growth drivers, restraints, opportunities, Porter's five forces analysis, PEST analysis, value chain analysis, regulatory landscape, market attractiveness analysis by segments and region, company market share analysis, and COVID-19 impact analysis. |
| Delivery Format | Delivered as an attached PDF and Excel through email, according to the purchase option. |
Global Blood Stream Infection Testing Market Dynamics
The market for blood stream infection testing is dynamic and ever-changing, influenced by a multitude of factors. The rising prevalence of bloodstream infections, especially in hospital settings, is one of the main factors propelling the market's expansion. Due to the potentially fatal nature of these illnesses, there is an increasing need for precise and timely diagnostic services. Technological developments in diagnostics have had a big impact on market dynamics. Enhanced sensitivity and specificity of molecular diagnostic tools, such as polymerase chain reaction (PCR) and sequencing approaches, facilitate the early identification of bacteria causing bloodstream infections. Furthermore, point-of-care testing and automation have become more popular, enabling faster turnaround times and lessening the strain on clinical laboratories. The COVID-19 pandemic and other continuing global health crises have brought attention to the significance of effective diagnostic instruments. The pandemic spurred advancements in diagnostic testing research and development, resulting in modifications and breakthroughs that can also help blood stream infection testing. Reimbursement policies, economic variables, and regulatory changes also impact market dynamics. The increasing prevalence of collaboration among industrial participants, academic establishments, and healthcare facilities has promoted innovation and the launch of novel products and technology. The market for blood stream infection testing is defined by a dynamic regulatory and economic environment, rising demand, and technical improvements. Together, these elements support the market's ongoing expansion and development, which is centered on enhancing patient outcomes and the effectiveness of the healthcare system.
Global Blood Stream Infection Testing Market Drivers
Rising Incidence of Bloodstream Infections
Bloodstream infections, which are commonly referred to as sepsis, are dangerous illnesses with a high risk of death that are caused by organisms such as bacteria, viruses, or fungi. Numerous variables, such as surgical operations, medical gadgets, immunocompromised patients, and antibiotic-resistant strains of bacteria, can lead to these infections. There is an increasing need for precise and quick diagnostic techniques to identify and treat community-acquired diseases and illnesses linked to healthcare as these conditions continue to rise. Bloodstream infections have serious consequences that can include longer hospital admissions, higher healthcare expenses, and, most importantly, higher death rates if they are not treated promptly and effectively. There is a high demand for blood stream infection testing solutions as a result of healthcare practitioners prioritizing early identification and treatment due to the increasing occurrence of these illnesses. This in turn stimulates the field's research and development efforts, leading to the creation of innovative diagnostic techniques and technologies that can provide a faster and more accurate identification of the microorganisms causing the illness. Because blood stream infection testing is essential to enhancing patient outcomes and lessening the strain on global healthcare systems, the market for these tests is consequently still growing.
Increased Awareness and Focus on Healthcare-Associated Infections (HAIs)
Healthcare-associated infections (HAIs) are infections that patients contract while receiving medical care in hospitals or other healthcare facilities. The healthcare industry is increasingly concerned about HAIs. Urinary tract infections, bloodstream infections, surgical site infections, and other infections are examples of these infections. In addition to causing patient morbidity and death, HAIs cost healthcare systems a great deal of money. The influence that healthcare-associated infections (HAIs) have on patient safety and costs has been increasingly recognized, which has led to a focus on avoiding, identifying, and controlling these infections. Given their potential severity and implications, bloodstream infections are especially concerning. In order to reduce the dangers connected with healthcare-associated infections (HAIs), particularly bloodstream infections, healthcare providers and institutions are putting more emphasis on early identification and intervention. This shift in mindset has spurred the adoption of blood stream infection testing methods as a critical component of infection control and prevention strategies.
Restraints:
Limited Access to Advanced Healthcare Facilities
Remote or rural locations frequently lack access to cutting-edge medical facilities, such as labs with cutting-edge diagnostic equipment. Patients can find it more difficult to get fast and accurate blood stream infection tests due to the physical distance to such facilities. The establishment and upkeep of diagnostic facilities can be difficult in developing regions due to insufficient roads, transportation, and electricity, which further restricts access to testing.In resource-constrained places, the provision of blood stream infection testing services can be hampered by a lack of qualified laboratory personnel, medical experts, and necessary medical equipment. These areas can have limited financial resources, which can limit investments in cutting-edge diagnostic technologies and make it challenging to provide accurate and reasonably priced blood stream infection testing services. Testing utilization can be further hampered by limited access to healthcare facilities, which can also result in a decreased understanding of the significance of early identification and treatment of bloodstream infections among patients and healthcare professionals.
High Initial Setup and

O

ngoing

M

aintenance Costs
A significant initial capital expenditure is frequently needed to acquire and set up sophisticated blood stream infection testing infrastructure and equipment. Smaller healthcare facilities and areas with limited resources can be discouraged from implementing these technologies due to the associated costs. The continuous expenses of operation and maintenance, such as staff training, reagent procurement, and equipment calibration, might put a pressure on healthcare providers' finances after the initial setup. It might be especially difficult for schools with tight funds to cover these expenses. Specialized knowledge is required to manage and maintain complex blood stream infection testing equipment. It is imperative that laboratory personnel have ongoing training, which comes with extra costs. This problem can get much more complicated due to the lack of qualified workers. Financial limitations could also result in unequal access to cutting-edge diagnostic technology; larger, better-funded healthcare facilities are more likely to provide comprehensive blood stream infection testing services, whereas the capabilities of smaller facilities can be constrained.
Opportunities:
Development and A

doption of Point-of-Care Testing( POCT) Devices
POCT devices make it possible to test patients right away at the point of care or very close to it, which is essential for promptly diagnosing bloodstream infections. Quick diagnosis allows medical professionals to start the right therapy right away, possibly saving lives. POCT devices provide significantly faster turnaround times by doing away with the requirement to send samples to off-site laboratories and wait for findings. This lowers the chance of consequences from bloodstream infections while also expediting patient care. Because POCT devices are decentralized, they can be used in a variety of healthcare environments, such as isolated or resource-constrained locations with restricted access to centralized laboratories. With POCT devices, doctors can make quick decisions and treatment decisions without having to wait for laboratory analysis and sample transportation. This streamlines the diagnostic process. Because POCT devices use fewer resources and need less sample processing and transportation, they can often be more affordable than standard centralized testing. By reducing the amount of time patients must wait for findings and enabling prompt care, POCT devices can improve patient satisfaction levels overall.
Telemedicine and Remote Monitoring
By removing distance and enabling people in underserved or distant locations to undergo blood stream infection testing and monitoring, telemedicine helps patients receive healthcare services from the comfort of their homes. Vital signs and other pertinent health data can be continuously tracked via telemedicine platforms and remote monitoring equipment. This makes it possible to identify alterations early on that could point to the existence of a bloodstream infection and allows for prompt action. Patients can receive routine blood stream infection testing and monitoring outside of clinical settings thanks to telemedicine and remote monitoring, which can lighten the burden on healthcare facilities. This can reduce the number of needless hospital visits and increase the effectiveness of healthcare systems. Patients with chronic conditions who are more likely to develop bloodstream infections benefit greatly from telemedicine and remote monitoring. Overall health outcomes can be enhanced by prompt interventions and routine monitoring. The quick transmission of blood stream infection test results made possible via telemedicine can help medical professionals make well-informed judgments and, if needed, begin the proper therapies.
Segment Overview
By Product
Based on product, the global blood stream infection testing market is divided into instruments, consumables, software and services. The consumables category dominates the market with the largest revenue share in 2022. Consumables form another integral segment, comprising the necessary supplies and reagents used in blood stream infection testing. These include blood culture bottles, testing kits, culture media, and specialized reagents designed to support the diagnostic process. Software solutions have become increasingly critical in the blood stream infection testing market. They provide data analysis, interpretation, and reporting capabilities, making it easier for healthcare professionals to access and understand test results, streamline workflows, and manage patient information efficiently. Services are an essential component, offering a wide range of support, including installation, maintenance, training, and consulting. Service providers ensure the proper functioning of instruments and the smooth operation of blood stream infection testing processes in healthcare settings. Instruments play a central role in this market, encompassing a wide range of diagnostic devices and equipment used to perform blood stream infection testing. These instruments include automated blood culture systems, PCR machines, mass spectrometers, and various other cutting-edge technologies that enable the detection and identification of pathogens in blood samples.
By Technique
Based on the technique, the global blood stream infection testing market is categorized into conventional, automated. The automated category leads the global blood stream infection testing market with the largest revenue share in 2022. Automated methods have revolutionized blood stream infection testing by leveraging cutting-edge technologies and equipment. Automated systems, such as blood culture machines, PCR devices, and mass spectrometers, expedite the diagnostic process, delivering faster results with increased accuracy. These methods minimize the risk of contamination, reduce hands-on labor, and often integrate software for more streamlined data analysis and reporting. Conventional methods involve traditional techniques for blood stream infection testing, such as blood cultures and manual laboratory procedures. These methods have been the historical standard for identifying pathogens in blood samples. While they provide accurate results, conventional approaches often require longer turnaround times, ranging from hours to several days, due to the need for incubation and manual analysis. Additionally, they are labor-intensive and depend heavily on the expertise of laboratory personnel.
By Technology
Based on technology, the global blood stream infection testing market is segmented into culture-based, molecular, proteomic. The culture-based segment dominates the blood stream infection testing market. Culture-based methods are the traditional and well-established approach for identifying bloodstream infections. This category includes blood cultures and various agar-based techniques. Blood culture systems involve incubating blood samples to promote the growth of microorganisms, which are then identified through visual and biochemical analysis. While culture-based methods provide reliable results, they often require longer turnaround times, typically ranging from hours to several days. Additionally, they can be limited by factors like slow-growing organisms and contamination risks. Molecular methods represent a highly innovative segment in the blood stream infection testing market. These techniques, such as polymerase chain reaction (PCR) and nucleic acid amplification, detect the genetic material of pathogens directly in blood samples. Molecular methods offer rapid results, high sensitivity, and the ability to detect a wide range of microorganisms, including those that are difficult to culture. Proteomic methods encompass technologies that analyze the proteins produced by pathogens or the host response to infection. Mass spectrometry, for example, can identify specific protein profiles in blood samples that are indicative of bloodstream infections.
By Application
Based on application, the global blood stream infection testing market is divided into bacterial, fungal, mycobacterial. The bacterial category dominates the market with the largest revenue share in 2022. Bacterial blood stream infection testing is primarily focused on the identification of various bacteria in the bloodstream. Bacterial infections are one of the most common causes of bloodstream infections and can encompass a wide spectrum of microorganisms, including both common and less prevalent pathogens. Accurate and rapid detection of these bacteria is crucial for timely intervention and targeted antibiotic therapy to ensure patient recovery. Fungal blood stream infection testing is specialized in detecting fungal pathogens in the blood, such as Candida and Aspergillus species. Fungal bloodstream infections are often associated with immunocompromised individuals, patients on long-term antibiotics, or those with certain medical conditions. Mycobacterial blood stream infection testing is specifically designed for detecting mycobacterial pathogens, particularly Mycobacterium tuberculosis, which causes tuberculosis. Tuberculosis remains a global health concern, and the identification of mycobacterial infections in the bloodstream is vital for initiating prompt treatment and preventing the spread of the disease.
By End-users
Based on the end-users, the global blood stream infection testing market is categorized into hospitals, independent diagnostics centers, others. The hospitals category leads the global blood stream infection testing market with the largest revenue share in 2022. Hospitals are a primary and central hub for blood stream infection testing. They serve as the frontline in diagnosing and managing a wide range of medical conditions, including bloodstream infections. Hospitals are equipped with comprehensive diagnostic laboratories, specialized equipment, and experienced healthcare professionals, allowing for a prompt and comprehensive approach to testing. They often perform a high volume of tests on both inpatients and outpatients, making them a key player in the blood stream infection testing market. Independent diagnostics centers are dedicated facilities that specialize in a wide range of diagnostic services, including blood stream infection testing. These centers offer testing services independently of hospital systems and are often chosen for their convenience, efficiency, and specialization. Patients seeking quicker access to specific tests can opt for independent diagnostics centers, which can provide comprehensive blood stream infection testing with a focus on accuracy and rapid results.
Global Blood Stream Infection Testing Market Overview by Region
The global blood stream infection testing market is categorized into North America, Europe, Asia-Pacific, and the Rest of the World. Asia-Pacific emerged as the leading region, capturing the largest market share in 2022. Asia-Pacific has a sizable population and a wide range of healthcare issues. Due to the high frequency of infectious diseases in the area, particularly bloodstream infections, there is a growing need for sophisticated diagnostic tools to successfully manage these health issues. Several Asia-Pacific nations have had rapid economic growth, which has raised investments in state-of-the-art medical technologies and increased healthcare spending. This has made it easier for sophisticated blood stream infection testing tools, procedures, and services to be adopted. By building state-of-the-art facilities and investing in healthcare infrastructure, the area is now better equipped to identify and treat infectious diseases, particularly bloodstream infections. As a result of Asia-Pacific's embracing of technological and scientific developments in medicine, creative blood stream infection detection methods have been created. Relevant and easily obtainable diagnostic instruments have been developed thanks in large part to the efforts of local manufacturers and researchers. Numerous Asia-Pacific nations have undertaken healthcare reforms and initiatives with the goal of enhancing patient care, infection control, and diagnostic accuracy. The market for blood stream infection testing has expanded in part because of these initiatives spearheaded by the government. The adoption of testing and diagnostic solutions in the region has been prompted by a greater understanding among the general public and healthcare professionals of the need of early detection and management of bloodstream infections. Infectious illness control has become a primary concern due to the region's high population density and mobility.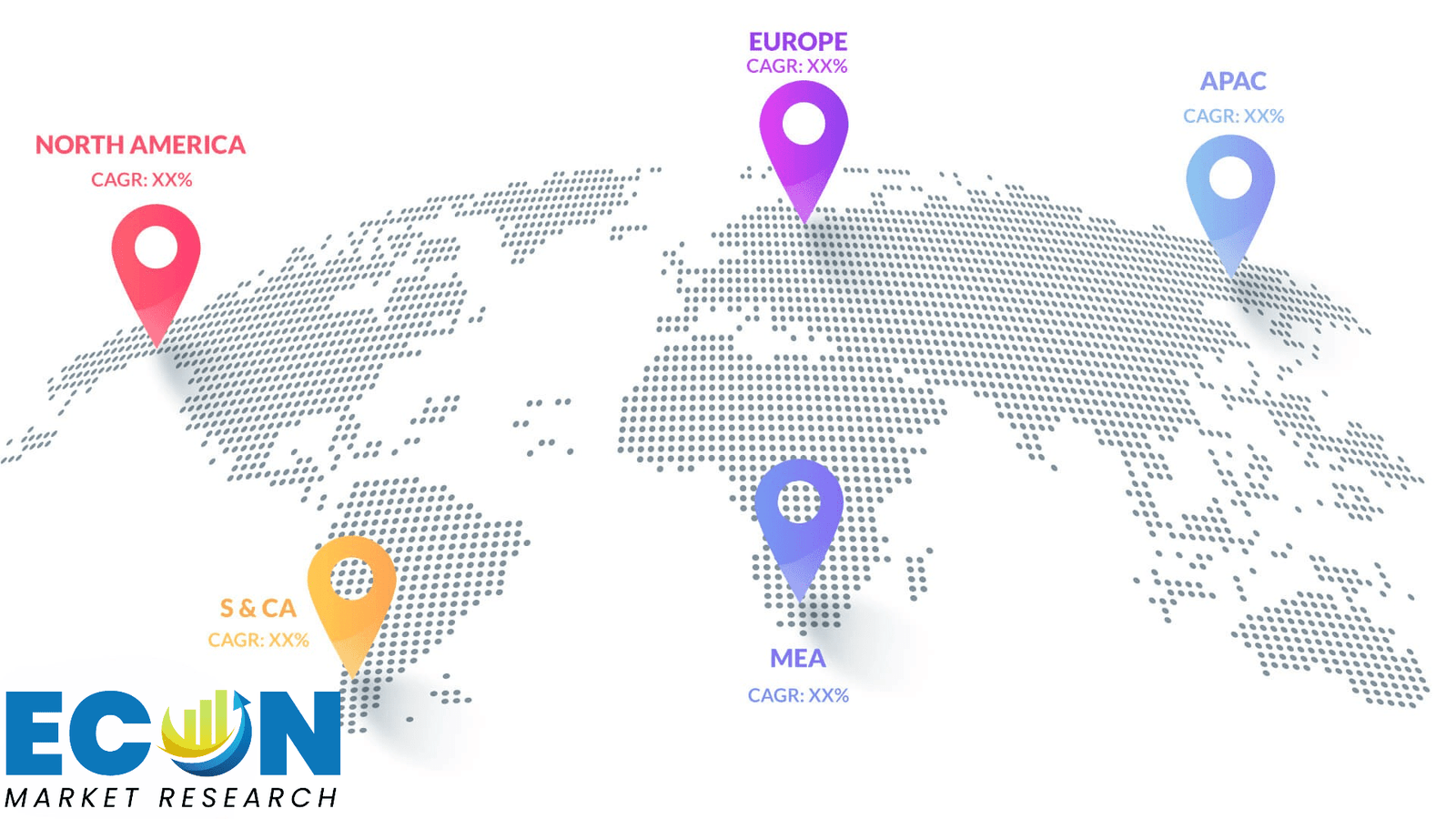 Global Blood Stream Infection Testing Market Competitive Landscape
In the global blood stream infection testing market, a few major players exert significant market dominance and have established a strong regional presence. These leading companies remain committed to continuous research and development endeavors and actively engage in strategic growth initiatives, including product development, launches, joint ventures, and partnerships. By pursuing these strategies, these companies aim to strengthen their market position, expand their customer base, and capture a substantial share of the market.
Some of the prominent players in the global blood stream infection testing market include Bruker Corporation, bioMérieux SA, Abbott Laboratories, becton dickinson medical devices co. ltd., suzhou, cepheid, Thermo Fisher Scientific, Inc., Accelerate Diagnostics Inc., AdvanDx, F. Hoffmann-La Roche Ltd., Luminex Corporation, and various other key players.
Global Blood Stream Infection Testing Market Recent Developments
In December 2022, In children and newborns with bloodstream infections, identifying pathogens more quickly. Accurate pathogen identification in small blood samples is sped up by a fast and incredibly effective designed pathogen capture technology that may even save lives.
Scope of the Global Blood Stream Infection Testing Market Report
Blood Stream Infection Testing Market Report Segmentation
ATTRIBUTE

DETAILS

By Product

Instruments

Consumables

Software and Services

By Technique

By Technology

Culture-based

Molecular

Proteomic

By Application

Bacterial

Fungal

Mycobacterial

By End-users

Hospitals

Independent Diagnostics Centers

Others

By Geography

North America (USA,

and Canada)

Europe (UK, Germany, France, Italy, Spain, Russia and Rest of Europe)

Asia Pacific (Japan, China, India, Australia, Southeast Asia and Rest of Asia Pacific)

Latin America (Brazil, Mexico, and Rest of Latin America)

Middle East & Africa (South Africa, GCC, and Rest of Middle East & Africa)

Customization Scope

Pricing
Objectives of the Study
The objectives of the study are summarized in 5 stages. They are as mentioned below:
Global Blood Stream Infection Testing Market

Size and Forecast:
To identify and estimate the market size for the global blood stream infection testing market segmented by product, by technique, by technology, by application, by end-users, region and by value (in U.S. dollars). Also, to understand the consumption/ demand created by consumers of blood stream infection testing between 2019 and 2031.
Market Landscape and Trends:
To identify and infer the drivers, restraints, opportunities, and challenges for the global blood stream infection testing market
Market Influencing Factors:
To find out the factors which are affecting the sales of blood stream infection testing among consumers
To identify and understand the various factors involved in the global blood stream infection testing market affected by the pandemic
To provide a detailed insight into the major companies operating in the market. The profiling will include the financial health of the company's past 2-3 years with segmental and regional revenue breakup, product offering, recent developments, SWOT analysis, and key strategies.
Intended Audience
Healthcare Professionals

Hospital Administrators and Decision-Makers

Diagnostics and Medical Device Manufacturers

Pharmaceutical Companies

Governments, Associations, and Industrial Bodies

Investors and Trade Experts
Research Methodology
Our research methodology has always been the key differentiating reason which sets us apart in comparison from the competing organizations in the industry. Our organization believes in consistency along with quality and establishing a new level with every new report we generate; our methods are acclaimed and the data/information inside the report is coveted. Our research methodology involves a combination of primary and secondary research methods. Data procurement is one of the most extensive stages in our research process. Our organization helps in assisting the clients to find the opportunities by examining the market across the globe coupled with providing economic statistics for each and every region. The reports generated and published are based on primary & secondary research. In secondary research, we gather data for global Market through white papers, case studies, blogs, reference customers, news, articles, press releases, white papers, and research studies. We also have our paid data applications which includes hoovers, Bloomberg business week, Avention, and others.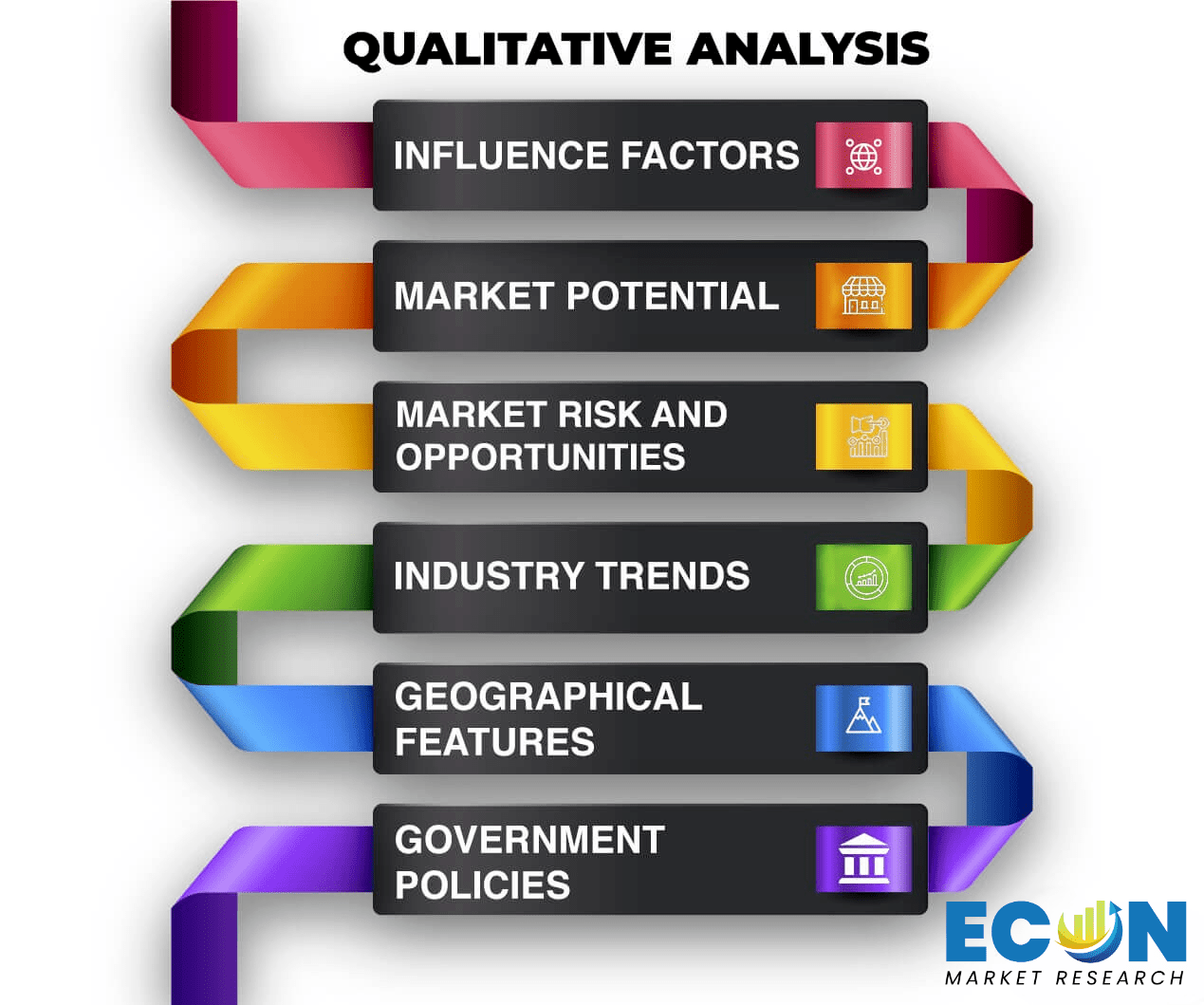 Data Collection
Data collection is the process of gathering, measuring, and analyzing accurate and relevant data from a variety of sources to analyze market and forecast trends. Raw market data is obtained on a broad front. Data is continuously extracted and filtered to ensure only validated and authenticated sources are considered. Data is mined from a varied host of sources including secondary and primary sources.

Primary Research
After the secondary research process, we initiate the primary research phase in which we interact with companies operating within the market space. We interact with related industries to understand the factors that can drive or hamper a market. Exhaustive primary interviews are conducted. Various sources from both the supply and demand sides are interviewed to obtain qualitative and quantitative information for a report which includes suppliers, product providers, domain experts, CEOs, vice presidents, marketing & sales directors, Type & innovation directors, and related key executives from various key companies to ensure a holistic and unbiased picture of the market. 
Secondary Research
A secondary research process is conducted to identify and collect information useful for the extensive, technical, market-oriented, and comprehensive study of the market. Secondary sources include published market studies, competitive information, white papers, analyst reports, government agencies, industry and trade associations, media sources, chambers of commerce, newsletters, trade publications, magazines, Bloomberg BusinessWeek, Factiva, D&B, annual reports, company house documents, investor presentations, articles, journals, blogs, and SEC filings of companies, newspapers, and so on. We have assigned weights to these parameters and quantified their market impacts using the weighted average analysis to derive the expected market growth rate.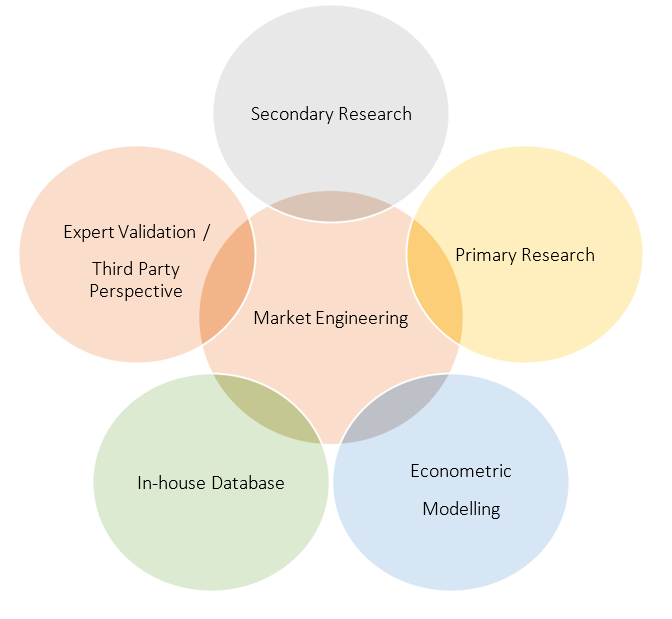 Top-Down Approach & Bottom-Up Approach
In the top – down approach, the Global Batteries for Solar Energy Storage Market was further divided into various segments on the basis of the percentage share of each segment. This approach helped in arriving at the market size of each segment globally. The segments market size was further broken down in the regional market size of each segment and sub-segments. The sub-segments were further broken down to country level market. The market size arrived using this approach was then crosschecked with the market size arrived by using bottom-up approach.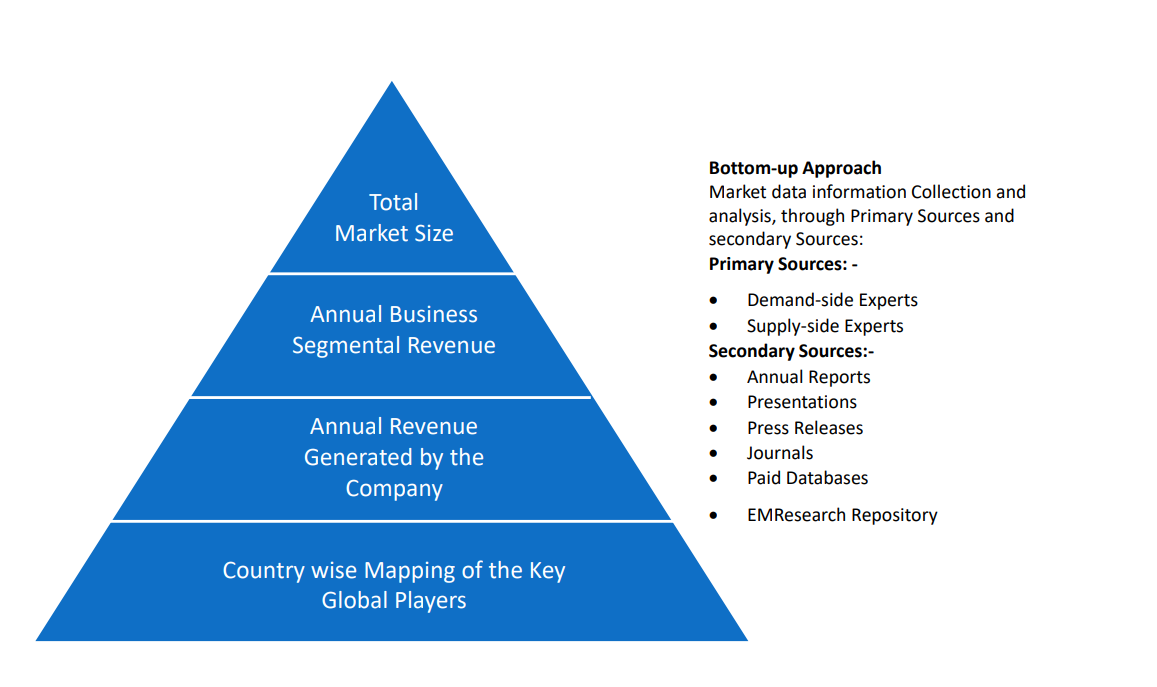 In the bottom-up approach, we arrived at the country market size by identifying the revenues and market shares of the key market players. The country market sizes then were added up to arrive at regional market size of the decorated apparel, which eventually added up to arrive at global market size.
This is one of the most reliable methods as the information is directly obtained from the key players in the market and is based on the primary interviews from the key opinion leaders associated with the firms considered in the research. Furthermore, the data obtained from the company sources and the primary respondents was validated through secondary sources including government publications and Bloomberg.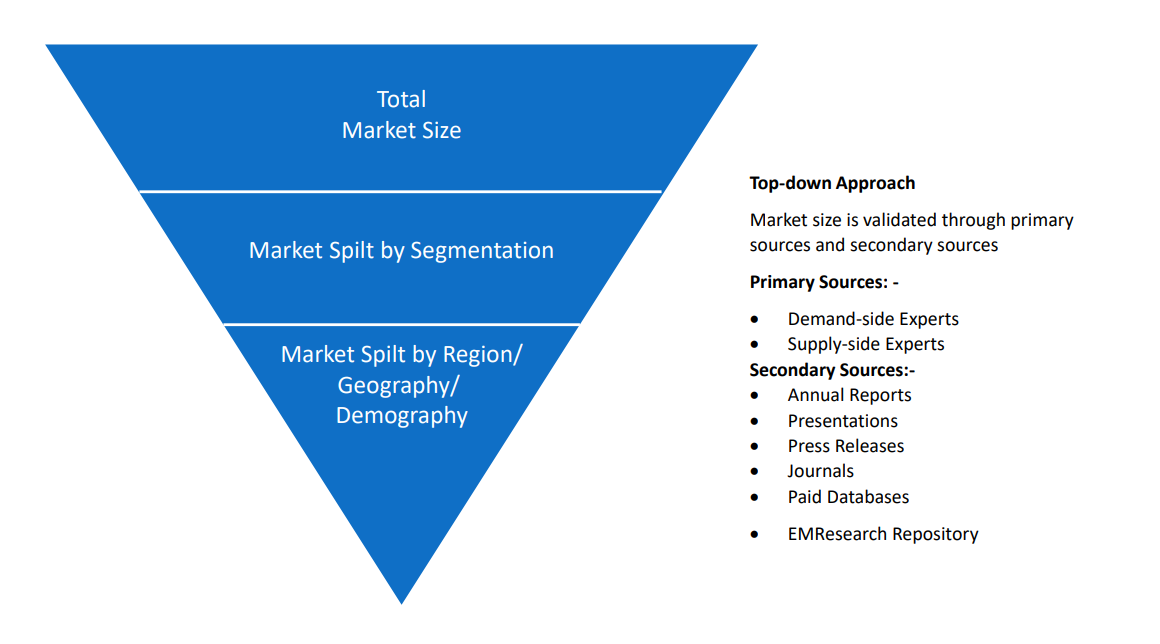 Market Analysis & size Estimation
Post the data mining stage, we gather our findings and analyze them, filtering out relevant insights. These are evaluated across research teams and industry experts. All this data is collected and evaluated by our analysts. The key players in the industry or markets are identified through extensive primary and secondary research. All percentage share splits, and breakdowns have been determined using secondary sources and verified through primary sources. The market size, in terms of value and volume, is determined through primary and secondary research processes, and forecasting models including the time series model, econometric model, judgmental forecasting model, the Delphi method, among Flywheel Energy Storage. Gathered information for market analysis, competitive landscape, growth trends, product development, and pricing trends is fed into the model and analyzed simultaneously.
Quality Checking & Final Review
The analysis done by the research team is further reviewed to check for the accuracy of the data provided to ensure the clients' requirements. This approach provides essential checks and balances which facilitate the production of quality data. This Type of revision was done in two phases for the authenticity of the data and negligible errors in the report. After quality checking, the report is reviewed to look after the presentation, Type and to recheck if all the requirements of the clients were addressed.