The global agrigenomics market was valued at USD 3.65 billion in 2022 and is estimated to reach approximately USD 8.57 billion by 2031, at a CAGR of 9.9% from 2023 to 2031.
A rapidly developing field at the crossroads of genomics, genetics, and agriculture is called agrigenomics. The use of cutting-edge genomic technology is included in this process in order to comprehend and enhance crop and livestock output as well as general agricultural practices. Through the use of this multidisciplinary approach, scientists and farmers can better understand the genetic makeup of plants and animals as well as how they interact with their environments by utilizing the power of DNA sequencing, molecular biology, and bioinformatics. Agrigenomics is the process of deciphering the genetic makeup of crops and livestock. It is essential to breeding programs, disease resistance, production optimization, and sustainable agriculture. It makes it possible to create customized approaches to livestock breeding and crop enhancement, resulting in agricultural systems that are more robust, nourishing, and produce large yields. The agrigenomics market has grown significantly in recent years due to the challenges posed by climate change and the world's rising population. It offers promising solutions for efficient and sustainable food production. Agrigenomics has the potential to significantly improve both the agricultural sector overall and global food security as technology develops.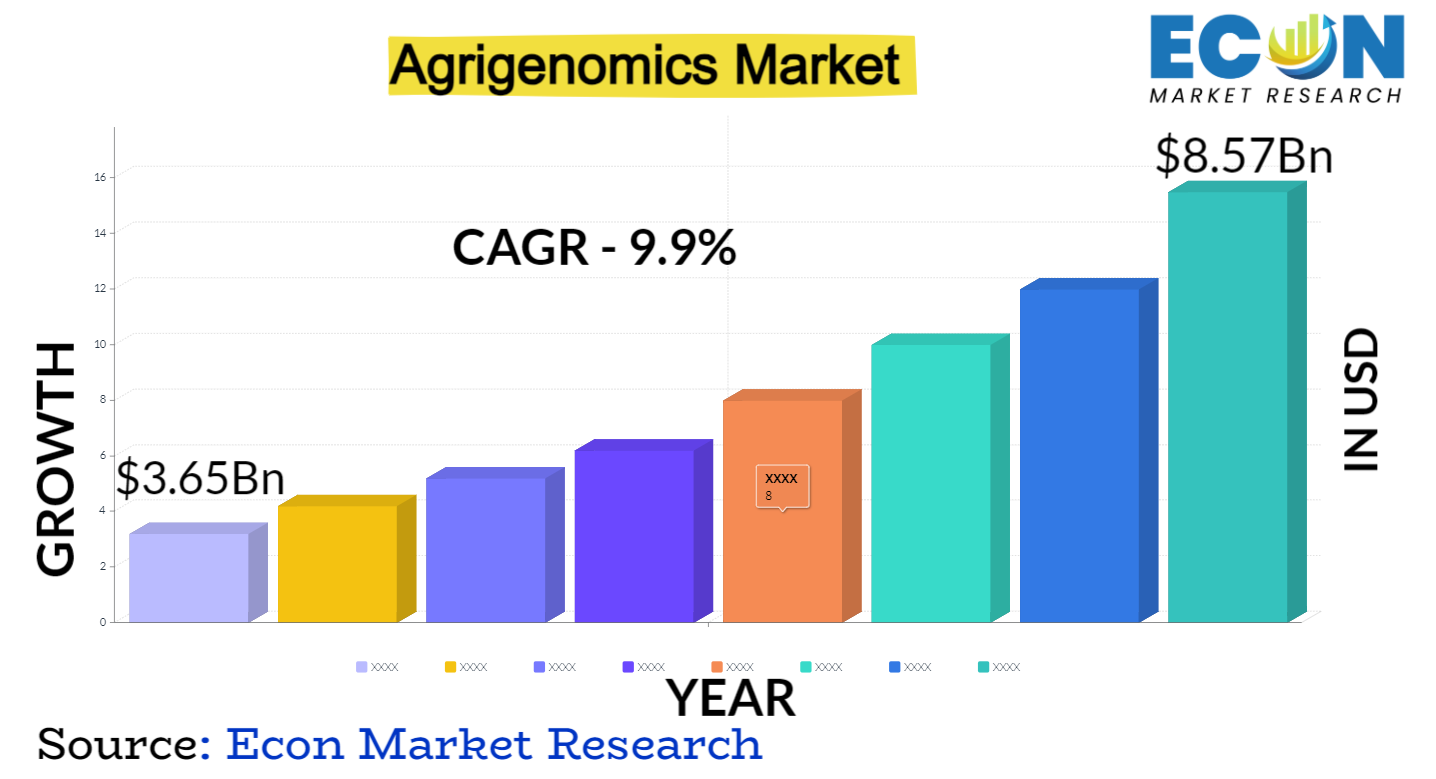 AGRIGENOMICS MARKET: REPORT SCOPE & SEGMENTATION
| | |
| --- | --- |
| Report Attribute | Details |
| Estimated Market Value (2022) | 3.65 Bn |
| Projected Market Value (2031) | 8.57 Bn |
| Base Year | 2022 |
| Forecast Years | 2023 - 2031 |
| Scope of the Report | Historical and Forecast Trends, Industry Drivers and Constraints, Historical and Forecast Market Analysis by Segment- By Application, By Sequencer, By Objective, & Region |
| Segments Covered | By Application, By Sequencer, By Objective, & Region |
| Forecast Units | Value (USD Billion or Million), and Volume (Units) |
| Quantitative Units | Revenue in USD million/billion and CAGR from 2023 to 2031 |
| Regions Covered | North America, Europe, Asia Pacific, Latin America, and Middle East & Africa, and the Rest of World |
| Countries Covered | U.S., Canada, Mexico, U.K., Germany, France, Italy, Spain, China, India, Japan, South Korea, Brazil, Argentina, GCC Countries, and South Africa, among others |
| Report Coverage | Market growth drivers, restraints, opportunities, Porter's five forces analysis, PEST analysis, value chain analysis, regulatory landscape, market attractiveness analysis by segments and region, company market share analysis, and COVID-19 impact analysis. |
| Delivery Format | Delivered as an attached PDF and Excel through email, according to the purchase option. |
Global Agrigenomics Market Dynamics
Agrigenomics has been completely transformed by the rapid advances in genomics, including next-generation sequencing and gene editing technology. Faster and more accurate genetic analysis is made possible by these instruments, which helps to enhance animals and crops. There is an urgent need for greater food production as the world's population rises. Agrigenomics contributes to global food security by providing ways to improve crop yields, nutritional value, and disease resistance. The relevance of sustainable agriculture methods is growing. Agrigenomics is essential to creating ecologically friendly solutions since it minimizes the need for chemical inputs, maximizes resource use, and fosters climate change resilience. The market is impacted by changing laws and public opinions around genetically modified organisms (GMOs) and species that have had their genes altered. Innovation in agrigenomics is being fueled by public-private partnerships and collaborations between academic institutions, agribusinesses, and governmental organizations, which promote information exchange and resource sharing. Widening the breadth of genetic research and application, the agrigenomics market is growing beyond primary crops to encompass aquaculture, animal agriculture, and specialty crops. Robust data management and analytical tools are necessary for handling and analyzing large genomic data sets, which presents potential for bioinformatics and data analysis organizations.
Global Agrigenomics Market Drivers
Advancements in Genomic Technologies
Because NGS technology make it possible to sequence DNA quickly and affordably, genetic research has advanced significantly. Because of this, it is now possible to decipher the complete genomes of both plants and animals, revealing minute details about their genetic composition. Understanding genomic variety, identifying advantageous features, and creating more accurate breeding plans all depend on NGS. Because of advances in gene editing technologies, it is now possible to precisely alter an organism's DNA. With the help of this breakthrough, genes causing characteristics like disease resistance or increased agricultural yields can be precisely altered. It's a potent tool for breeding livestock and crops with altered genes, as well as developing genetically modified organisms (GMOs). Thousands of genetic markers can be quickly and affordably analyzed thanks to high-throughput genotyping methods. Mapping attributes of interest, comprehending genetic variation, and carrying out association studies to connect particular genetic markers with desirable traits all depend on this.
Crop and Livestock Improvement
Owing to developments in genomics, scientists are now able to pinpoint and modify particular genes linked to desired characteristics in both plants and animals. This information makes it possible to create genetically modified cultivars with higher yields, better nutritional value, and resistance to illnesses and pests. Genomic data is utilized in conjunction with conventional breeding methods to identify individuals that possess desired traits.Breeders can more precisely and effectively create new animal and crop types that satisfy changing consumer and agricultural business demands by focusing on particular genetic markers. The discovery of genetic markers associated with disease resistance makes it possible to develop crops and livestock that are more resistant to common diseases. This encourages a more environmentally friendly and sustainable method of farming by lowering the dependency on chemical treatments and antibiotics.
Restraints:
Exorbitant expenses can hinder people's and communities' ability to obtain necessary technologies. This covers having access to high-quality digital infrastructure, healthcare, and education. It makes social injustices worse and disadvantages underprivileged groups. In the medical field, people frequently choose not to receive necessary care due to the high expenses of prescription medications, medical procedures, and health insurance. The impact of this extends beyond personal health; it can also put a load on healthcare services and result in insufficient or delayed treatment. High expenditures associated with R&D can impede innovation. The cost of bringing new products to market can impede the development of life-saving medications and technologies in industries like biotechnology and pharmaceuticals, all the while raising consumer prices. Because low-income people and communities are disproportionately affected by high costs, this leads to economic inequality. This can impede social mobility and prolong poverty cycles. The costs associated with launching and growing a firm can deter entrepreneurs. Exorbitant license fees, beginning costs, and regulatory burdens have the ability to discourage entrepreneurs and impede economic expansion.
Resistance from Traditional Farming Practices
Cultural and generational traditions are frequently the foundation of traditional farming practices. Farmers with strong emotional ties to family-inherited practices can be resistant to change. Modern farming operations frequently call for the acquisition of new knowledge and skills, which can be difficult for farmers to do when they have little access to education and training, especially in rural areas. Conventional approaches can be thought to be more economical, particularly in the near run. Some farmers can not be able to afford the equipment, seeds, and training costs associated with implementing modern farming practices. Change is by its very nature risky. Farmers who have had success with established methods can be reluctant to try new ones out of concern that they can lose out on revenue or crop output. The introduction of technology, such as genetically modified crops or precision agriculture, can be met with skepticism and concerns about its long-term impacts on health, the environment, or autonomy.
Opportunities:
Increasing Pharmaceutical and Biotechnology Applications
Progress in molecular biology and genetics has revolutionized drug discovery. The development of innovative therapies is accelerated by the more accurate target identification made possible by genomic knowledge. With the advent of personalized medicine, which is based on a person's genetic composition, safer and more effective treatments are now possible. Biotechnology has facilitated the creation of biopharmaceuticals, such as vaccinations, gene treatments, and monoclonal antibodies. From cancer to uncommon genetic problems, these state-of-the-art treatments provide innovative approaches to treating a variety of illnesses. The discovery of disease-specific biomarkers made possible by genomic technologies has allowed for earlier and more precise diagnosis. This in turn makes it easier to implement individualized treatment plans and timely action. Because they make it possible to precisely modify genetic material, gene editing technologies like CRISPR-Cas9 are changing biotechnology applications. There is a lot of promise for treating genetic illnesses and creating novel medicines with this technique. Crop enhancement, increased yields, improved nutritional value, and pest and disease resistance are all made possible by biotechnology.
Adoption of Genomic Technologies in Developing Regions
In underdeveloped areas, genomic technologies can significantly enhance illness identification and treatment. The development of focused therapies that eventually aid in the control of the spread of infectious diseases is made easier by the identification of disease-causing agents and their genetic profiles. Crop varieties that are more nutritious, more pest- and disease-resistant, and more adapted to regional conditions can be created thanks to genomic technologies. Both greater food security and better farming livelihoods can result from this. Personalized medicine approaches have the potential to greatly improve healthcare in underdeveloped regions. Improved healthcare outcomes, less adverse drug responses, and more effective treatment options can all be facilitated by genetic information. In underdeveloped nations, genomics can aid in the preservation of rare and endangered species. Maintaining ecological equilibrium and developing potential biotechnological resources depend on this. In these areas, the use of genetic technology presents chances for training, education, and skill improvement. Consequently, this has the potential to boost employment and the economy. Global gains in genomics research and application can be fostered by collaborative initiatives that allow knowledge exchange and resource sharing between developed and developing regions.
Segment Overview
By Application
Based on application, the global agrigenomics market is divided into crop, livestock. The crop category dominates the market with the largest revenue share in 2022. This segment of the agrigenomics market is dedicated to improving crop species, such as grains, fruits, vegetables, and other plants. Genomic technologies enable scientists and agricultural experts to analyze and manipulate the genetic makeup of crops, aiming to develop varieties that are more resistant to diseases, pests, and adverse environmental conditions, leading to increased yields, improved nutritional profiles, and overall agricultural sustainability. Crop agrigenomics plays a vital role in addressing the global challenge of food security by creating more resilient and productive plant varieties. Livestock agrigenomics focuses on applying genomics to animal agriculture, including cattle, poultry, swine, and other livestock species. This sector aims to enhance the genetic traits of livestock, such as meat quality, disease resistance, and reproduction efficiency, with the ultimate goal of ensuring a sustainable and efficient supply of animal-based products like meat, dairy, and eggs.
By Sequencer
Based on the sequencer, the global agrigenomics market is categorized into sanger sequencing, illumina Hi seq family, PacBio sequencing. The illumina Hi seq family category leads the global agrigenomics market with the largest revenue share in 2022. The Illumina HiSeq family of sequencers is renowned for its speed, accuracy, and cost-efficiency. These instruments can generate vast amounts of sequencing data, making them a popular choice for whole-genome sequencing, re sequencing, and genotyping in agricultural research. They enable researchers to analyze the entire genomic landscape of crops and livestock, facilitating the discovery of important genetic variations and traits. Sanger sequencing, a pioneering method, has been instrumental in agrigenomics. It is known for its accuracy in sequencing relatively short DNA fragments. While it is less cost-effective and high-throughput compared to newer technologies, it remains valuable for specific applications in agrigenomics, such as verifying gene editing outcomes or identifying genetic markers associated with particular traits. PacBio sequencing, based on Single Molecule Real-Time (SMRT) technology, stands out for its ability to produce longer reads and detect structural variations. In agrigenomics, it is invaluable for resolving complex and repetitive genomic regions, annotating gene sequences, and characterizing epigenetic modifications. This technology is particularly well-suited for understanding the functional aspects of the genomes in crops and livestock.
By Objective
Based on objective, the global agrigenomics market is segmented into genotyping, marker-assisted selection. The marker-assisted selection segment dominates the agrigenomics market. Marker-assisted selection is an application of genotyping that guides the breeding of plants and animals. By identifying genetic markers linked to particular traits, MAS enables breeders to make more informed decisions when selecting parent individuals for reproduction. This results in a more efficient and targeted breeding process, where the likelihood of offspring inheriting the desired traits is significantly increased. Marker-assisted selection is particularly valuable for accelerating the development of crop varieties and livestock breeds with enhanced qualities, such as disease resistance, improved yield, or superior product quality. Genotyping is a fundamental component of agrigenomics, involving the analysis of an organism's genetic markers or variations. It provides essential information about an individual's genetic makeup, enabling researchers and breeders to understand the genetic diversity within a population. Genotyping is widely used to identify genes associated with specific traits, disease resistance, and desired characteristics in crops and livestock. This knowledge allows for the development of tailored breeding programs and the selection of individuals with the most favorable genetic profiles. Genotyping technologies, such as single nucleotide polymorphism (SNP) arrays and high-throughput sequencing, have greatly enhanced the precision and efficiency of genotyping in agricultural genomics.
Global Agrigenomics Market Overview by Region
The global agrigenomics market is categorized into North America, Europe, Asia-Pacific, and the Rest of the World. North America emerged as the leading region, capturing the largest market share in 2022. The United States of America has led the way in genomics technology advancement. It is home to a large number of innovative biotechnology businesses, research centers, and academic institutions that have fueled the creation of cutting-edge genomic tools and techniques. Researchers and farmers in North America now have a competitive advantage in using genomics to improve crops and livestock because of this ongoing innovation. Significant public and commercial investments in agrigenomics research and development benefit the region. These contributions fund innovative genomics research that helps researchers better understand the genetics of crops and livestock, which in turn helps create better breeds and variants. Large-scale commercial farming as well as a strong agribusiness ecosystem are features of North America's robust and diverse agricultural economy. This long history of farming makes it possible to integrate genomics in a way that will increase competitiveness, productivity, and sustainability. The use of genomics in agriculture is regulated by well-established procedures in North America. Clear regulations encourage responsible adoption and innovation, making it easier for researchers and farmers to negotiate the world of genetically modified organisms and gene-edited crops. The area gains from a cooperative environment that promotes collaborations and knowledge exchanges between government, business, and academics. Research, knowledge transfer, and the real-world implementation of agrigenomics solutions are all accelerated by this partnership.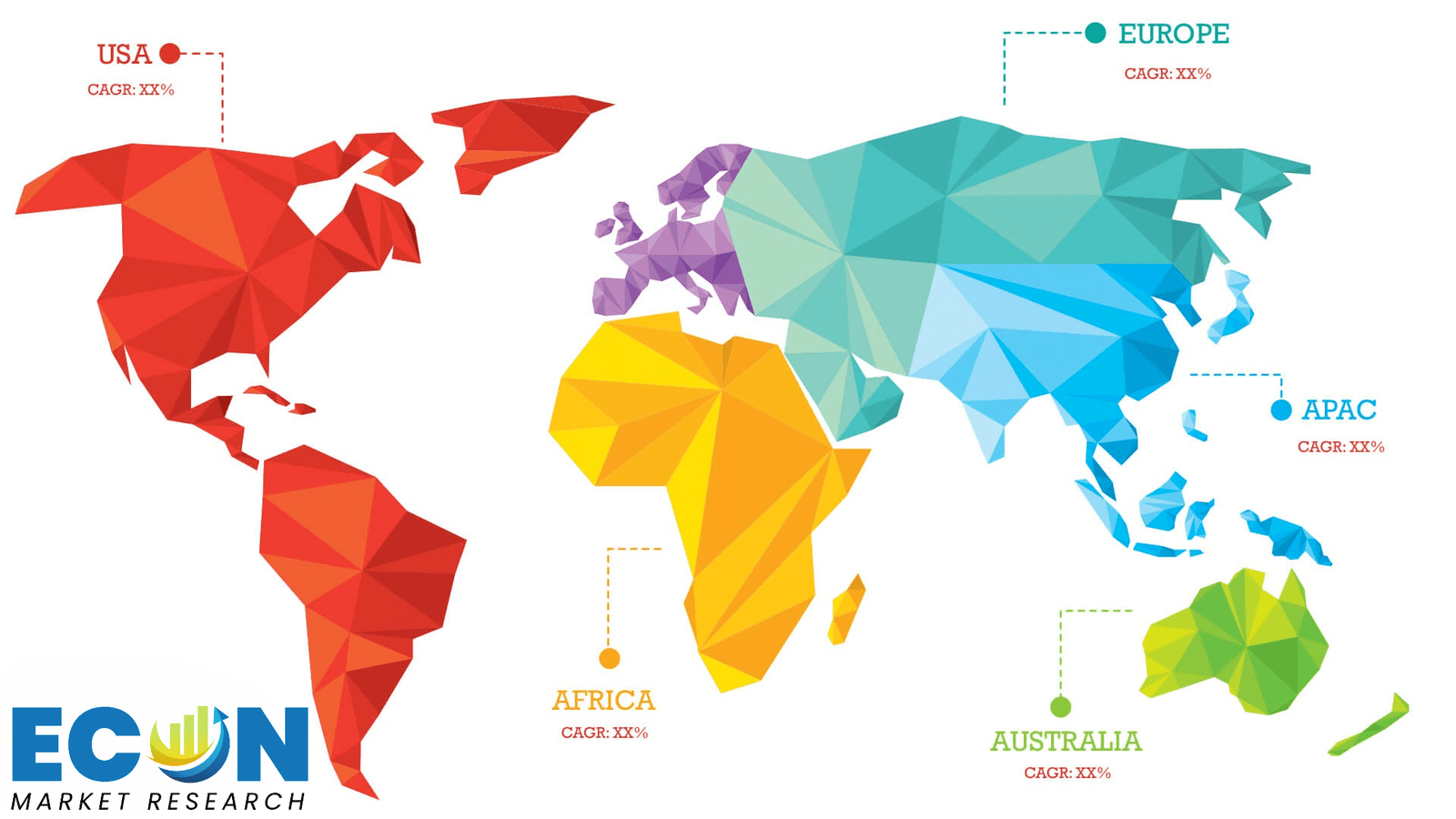 Global Agrigenomics Market Competitive Landscape
In the global agrigenomics market, a few major players exert significant market dominance and have established a strong regional presence. These leading companies remain committed to continuous research and development endeavors and actively engage in strategic growth initiatives, including product development, launches, joint ventures, and partnerships. By pursuing these strategies, these companies aim to strengthen their market position, expand their customer base, and capture a substantial share of the market.
Some of the prominent players in the global agrigenomics market include Thermo Fisher Scientific, Inc.; Agilent Technologies Inc.; Tecan Genomics Inc.; BGI, Illumina, Inc.; Eurofins Scientific SE; LGC Limited; Arbor Biosciences; Biogenetic Services Inc. ; Galseq Srl Via Italia, and various other key players.
Global Agrigenomics Market Recent Developments
In April 2022, By acquiring Rapid Genomics, LGC strengthens its position in the AgBio market for the use of NGS for high-throughput genotyping. One of the top companies using Next-Generation Sequencing (NGS) for genotyping applications is Rapid Genomics. Customers can purchase kits and genotyping services utilizing its Flex-Seq® Ex-L technology, which enables high-throughput, reasonably priced DNA analysis in the fields of plant, livestock, and aquaculture genetics.
In May 2022, New Developments in Molecular Breeding and Agrigenomics Research Are Made Possible by MGI. With a highly effective, quick, all-in-one process, MGI's DNBSEQTM sequencing* tools and technology are enabling advancements in molecular breeding and basic scientific research in agriculture.
Scope of the Global Agrigenomics Market Report
Agrigenomics Market Report Segmentation
ATTRIBUTE

DETAILS

By Application

By Sequencer

Sanger Sequencing

Illumina Hi Seq Family

PacBio Sequencing

By Objective

Genotyping

Marker-Assisted Selection

By Geography

North America (USA,

and Canada)

Europe (UK, Germany, France, Italy, Spain, Russia and Rest of Europe)

Asia Pacific (Japan, China, India, Australia, Southeast Asia and Rest of Asia Pacific)

Latin America (Brazil, Mexico, and Rest of Latin America)

Middle East & Africa (South Africa, GCC, and Rest of Middle East & Africa)

Customization Scope

Pricing
Objectives of the Study
The objectives of the study are summarized in 5 stages. They are as mentioned below:
Global Agrigenomics Market

Size and Forecast:
To identify and estimate the market size for the global agrigenomics market segmented by application, by sequencer, by objective, region and by value (in U.S. dollars). Also, to understand the consumption/ demand created by consumers of agrigenomics between 2019 and 2031.
Market Landscape and Trends:
To identify and infer the drivers, restraints, opportunities, and challenges for the global agrigenomics market
Market Influencing Factors:
To find out the factors which are affecting the sales of agrigenomics among consumers
To identify and understand the various factors involved in the global agrigenomics market affected by the pandemic
To provide a detailed insight into the major companies operating in the market. The profiling will include the financial health of the company's past 2-3 years with segmental and regional revenue breakup, product offering, recent developments, SWOT analysis, and key strategies.
Intended Audience
Business Professionals

Academics and Researchers

Healthcare Professionals

Governments, Associations, and Industrial Bodies

Investors and Trade Experts
Research Methodology
Our research methodology has always been the key differentiating reason which sets us apart in comparison from the competing organizations in the industry. Our organization believes in consistency along with quality and establishing a new level with every new report we generate; our methods are acclaimed and the data/information inside the report is coveted. Our research methodology involves a combination of primary and secondary research methods. Data procurement is one of the most extensive stages in our research process. Our organization helps in assisting the clients to find the opportunities by examining the market across the globe coupled with providing economic statistics for each and every region. The reports generated and published are based on primary & secondary research. In secondary research, we gather data for global Market through white papers, case studies, blogs, reference customers, news, articles, press releases, white papers, and research studies. We also have our paid data applications which includes hoovers, Bloomberg business week, Avention, and others.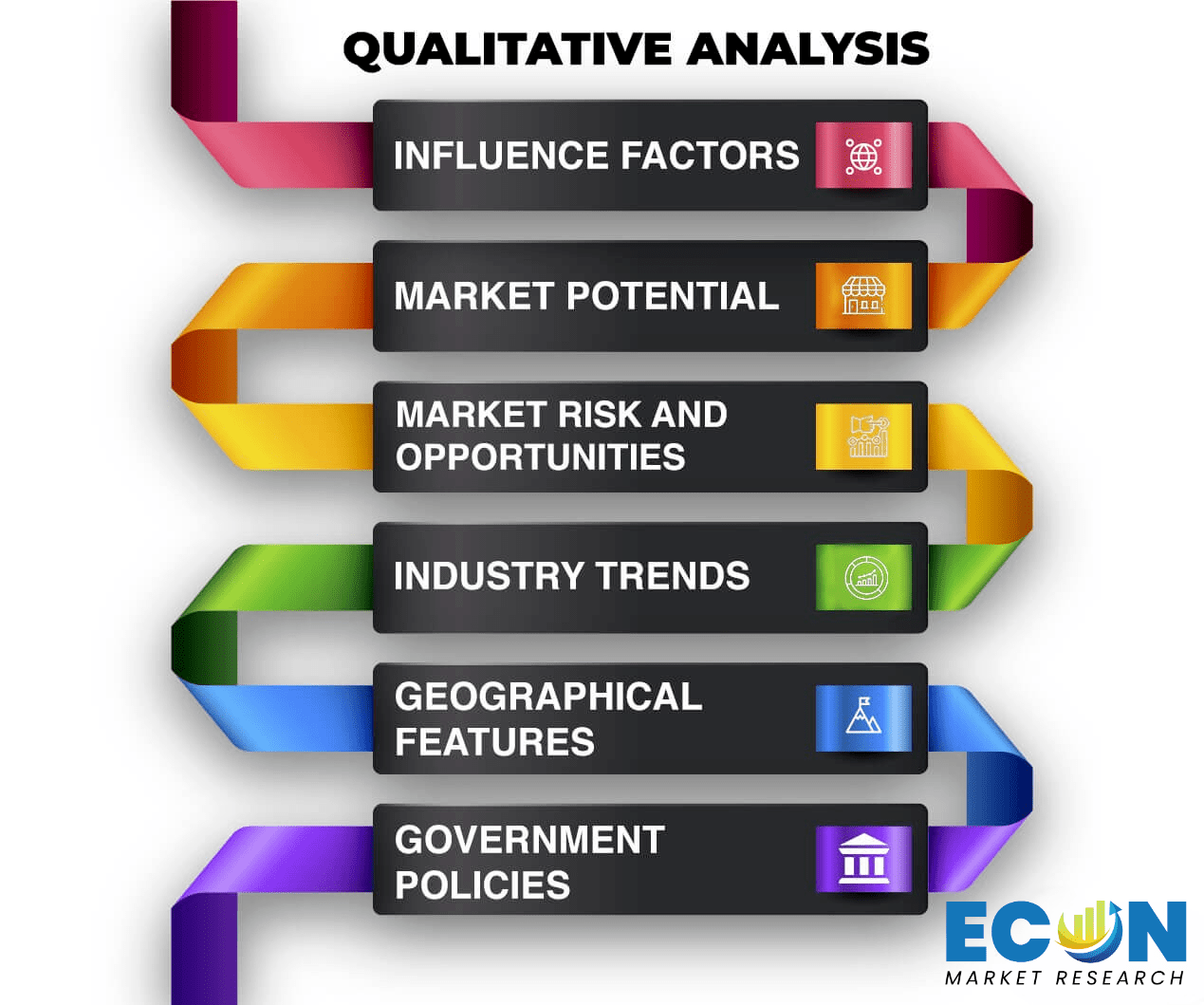 Data Collection
Data collection is the process of gathering, measuring, and analyzing accurate and relevant data from a variety of sources to analyze market and forecast trends. Raw market data is obtained on a broad front. Data is continuously extracted and filtered to ensure only validated and authenticated sources are considered. Data is mined from a varied host of sources including secondary and primary sources.

Primary Research
After the secondary research process, we initiate the primary research phase in which we interact with companies operating within the market space. We interact with related industries to understand the factors that can drive or hamper a market. Exhaustive primary interviews are conducted. Various sources from both the supply and demand sides are interviewed to obtain qualitative and quantitative information for a report which includes suppliers, product providers, domain experts, CEOs, vice presidents, marketing & sales directors, Type & innovation directors, and related key executives from various key companies to ensure a holistic and unbiased picture of the market. 
Secondary Research
A secondary research process is conducted to identify and collect information useful for the extensive, technical, market-oriented, and comprehensive study of the market. Secondary sources include published market studies, competitive information, white papers, analyst reports, government agencies, industry and trade associations, media sources, chambers of commerce, newsletters, trade publications, magazines, Bloomberg BusinessWeek, Factiva, D&B, annual reports, company house documents, investor presentations, articles, journals, blogs, and SEC filings of companies, newspapers, and so on. We have assigned weights to these parameters and quantified their market impacts using the weighted average analysis to derive the expected market growth rate.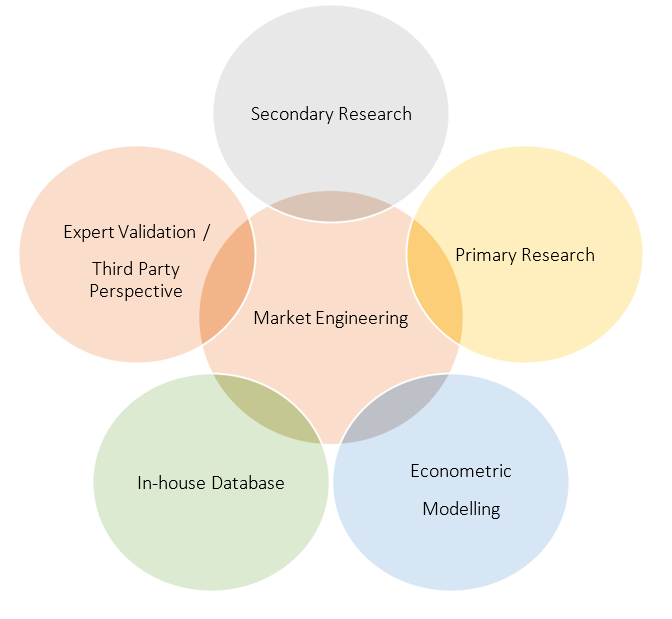 Top-Down Approach & Bottom-Up Approach
In the top – down approach, the Global Batteries for Solar Energy Storage Market was further divided into various segments on the basis of the percentage share of each segment. This approach helped in arriving at the market size of each segment globally. The segments market size was further broken down in the regional market size of each segment and sub-segments. The sub-segments were further broken down to country level market. The market size arrived using this approach was then crosschecked with the market size arrived by using bottom-up approach.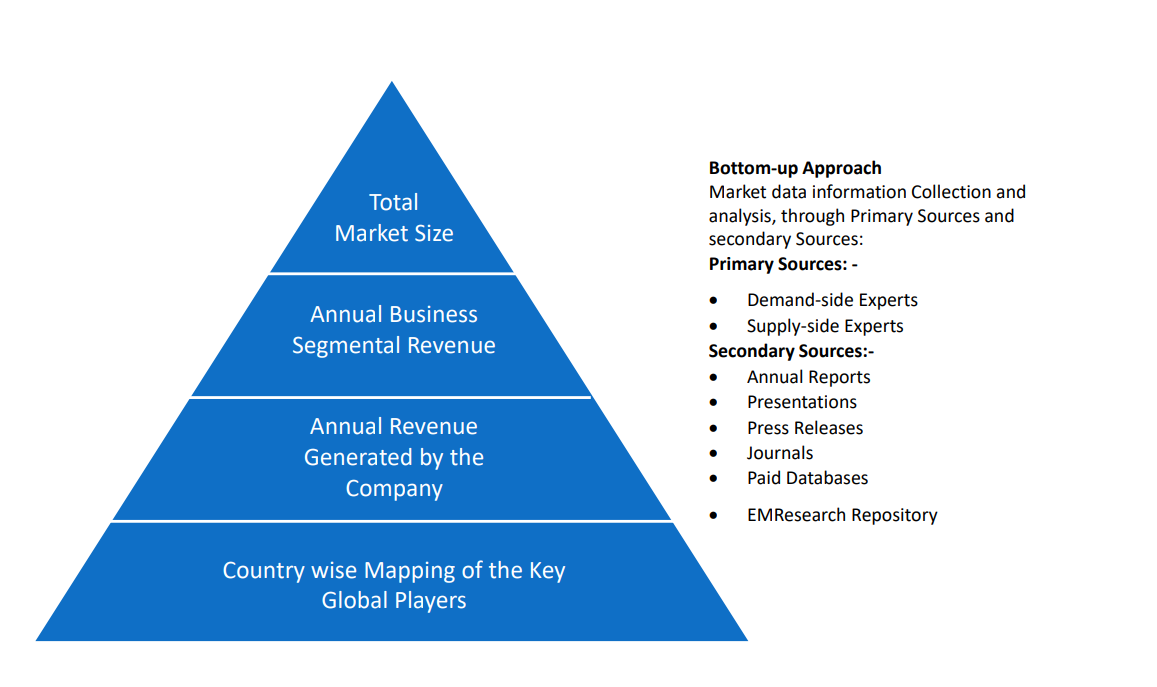 In the bottom-up approach, we arrived at the country market size by identifying the revenues and market shares of the key market players. The country market sizes then were added up to arrive at regional market size of the decorated apparel, which eventually added up to arrive at global market size.
This is one of the most reliable methods as the information is directly obtained from the key players in the market and is based on the primary interviews from the key opinion leaders associated with the firms considered in the research. Furthermore, the data obtained from the company sources and the primary respondents was validated through secondary sources including government publications and Bloomberg.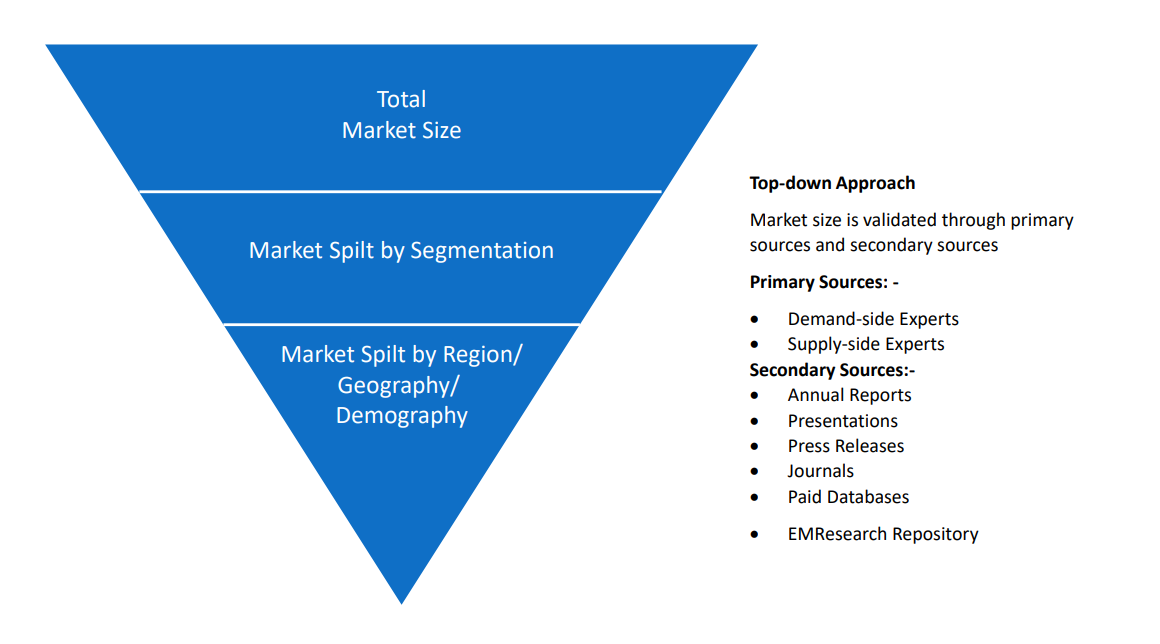 Market Analysis & size Estimation
Post the data mining stage, we gather our findings and analyze them, filtering out relevant insights. These are evaluated across research teams and industry experts. All this data is collected and evaluated by our analysts. The key players in the industry or markets are identified through extensive primary and secondary research. All percentage share splits, and breakdowns have been determined using secondary sources and verified through primary sources. The market size, in terms of value and volume, is determined through primary and secondary research processes, and forecasting models including the time series model, econometric model, judgmental forecasting model, the Delphi method, among Flywheel Energy Storage. Gathered information for market analysis, competitive landscape, growth trends, product development, and pricing trends is fed into the model and analyzed simultaneously.
Quality Checking & Final Review
The analysis done by the research team is further reviewed to check for the accuracy of the data provided to ensure the clients' requirements. This approach provides essential checks and balances which facilitate the production of quality data. This Type of revision was done in two phases for the authenticity of the data and negligible errors in the report. After quality checking, the report is reviewed to look after the presentation, Type and to recheck if all the requirements of the clients were addressed.