The Global Winter Wear Market was valued at USD 215.20 billion in 2022 and is estimated to reach approximately USD 340.65 billion by 2031, at a CAGR of 5.2% from 2023 to 2031. The Winter Wear market, an essential segment of the global fashion and apparel industry, is characterized by its focus on providing clothing and accessories designed to combat cold weather conditions. With the arrival of colder seasons, this market experiences a surge in demand for a diverse range of products, including coats, jackets, sweaters, scarves, gloves, hats, and boots. The market's growth is driven by both functional and fashion-oriented considerations, as consumers seek protection from the elements while also expressing their personal style. Brands and designers continually innovate to create garments that balance warmth, comfort, and aesthetics. Advanced materials like down insulation, waterproof fabrics, and thermal linings contribute to the high-performance nature of winter wear, allowing individuals to engage in outdoor activities without compromising on style. Additionally, the Winter Wear market has embraced sustainability and ethical production practices in response to growing consumer awareness. Retailers leverage various channels, from brick-and-mortar stores to e-commerce platforms, to reach a global customer base. Seasonal trends influence color palettes, silhouettes, and design motifs, keeping the market dynamic and responsive to evolving consumer preferences. Overall, the Winter Wear market remains a pivotal component of the fashion industry, catering to both practical needs and fashion-forward desires during colder months.
WINTER WEAR MARKET: REPORT SCOPE & SEGMENTATION
| | |
| --- | --- |
| Report Attribute | Details |
| Estimated Market Value (2022) | 215.20 Bn |
| Projected Market Value (2031) | 340.65 Bn |
| Base Year | 2022 |
| Forecast Years | 2023 - 2031 |
| Scope of the Report | Historical and Forecast Trends, Industry Drivers and Constraints, Historical and Forecast Market Analysis by Segment- By Product, By Consumer Group, By Fabric, & Region |
| Segments Covered | By Product, By Consumer Group, By Fabric, & Region |
| Forecast Units | Value (USD Billion or Million), and Volume (Units) |
| Quantitative Units | Revenue in USD million/billion and CAGR from 2023 to 2031 |
| Regions Covered | North America, Europe, Asia Pacific, Latin America, and Middle East & Africa, and the Rest of World |
| Countries Covered | U.S., Canada, Mexico, U.K., Germany, France, Italy, Spain, China, India, Japan, South Korea, Brazil, Argentina, GCC Countries, and South Africa, among others |
| Report Coverage | Market growth drivers, restraints, opportunities, Porter's five forces analysis, PEST analysis, value chain analysis, regulatory landscape, market attractiveness analysis by segments and region, company market share analysis, and COVID-19 impact analysis. |
| Delivery Format | Delivered as an attached PDF and Excel through email, according to the purchase option. |
Global Winter Wear Market Dynamics
. The Winter Wear market experiences dynamic shifts influenced by a combination of seasonal trends, technological advancements, and consumer behavior. As colder seasons approach, demand for winter wear surges, driving market growth. Functional attributes such as insulation, waterproofing, and durability remain key drivers, appealing to consumers seeking protection against harsh weather conditions. Fashion also plays a pivotal role as consumers seek stylish winter wear that reflects their personal preferences. Trends in color, texture, and design influence purchasing decisions, prompting brands to innovate and introduce new collections regularly. Sustainable and ethical practices gain prominence, leading to the incorporation of eco-friendly materials and responsible production methods. E-commerce and digital platforms reshape the market landscape, offering consumers convenient avenues for browsing and purchasing winter wear. Social media platforms further amplify trends and enable rapid dissemination of styles. External factors such as climate change can impact market dynamics by altering weather patterns and affecting consumer perceptions of seasonal wear. Economic conditions influence consumer spending, with luxury winter wear responding to high-end demand, while affordable options cater to budget-conscious shoppers. Overall, the Winter Wear market showcases a delicate interplay between functionality and fashion, technological advancements, changing consumer values, and market accessibility, making it a sector driven by both practical needs and evolving trends.
Global Winter Wear Market Drivers
Rising Demand for Winter Wear due to Unpredictable and Extreme Weather Conditions
The escalating demand for winter wear is significantly influenced by the unpredictable and extreme weather conditions that have become more frequent due to climate change. The intensification of colder temperatures, harsher winters, and sudden temperature fluctuations has prompted individuals to invest in appropriate clothing and accessories to mitigate the effects of these climate shifts. Unpredictable and extreme weather conditions necessitate the use of winter wear that offers enhanced insulation, waterproofing, wind resistance, and thermal regulation. Consumers are more inclined to purchase items like heavy-duty coats, thermal layers, and weatherproof boots to protect themselves from the increasingly challenging weather. Awareness of climate change and its effects prompts individuals to make conscious purchasing decisions. Consumers are more likely to invest in high-quality, durable winter wear that can withstand challenging conditions and have a longer lifespan. Brands are pushed to innovate, developing products that cater to the diverse needs brought about by unpredictable weather conditions. Advanced materials, smart textiles, and versatile designs are gaining prominence to adapt to fluctuating climates.
Growing Interest in Functional yet Fashionable Winter Wear Options
The growing interest in functional yet fashionable winter wear options reflects a notable shift in consumer preferences towards clothing that not only provides warmth and protection but also embodies style and versatility. Consumers are seeking winter wear that seamlessly integrates fashion-forward designs with practical features such as insulation, water resistance, and windproofing. This demand has prompted brands to create items that cater to both aesthetic preferences and functional needs. Brands are leveraging advanced textiles and materials that offer both performance and style. This includes using high-tech fabrics that provide warmth without bulk, as well as incorporating smart textiles that adapt to changing weather conditions. The rise of urban outdoor activities has led to a demand for winter wear that suits both city life and outdoor adventures. Consumers want items that are appropriate for various settings while maintaining a sense of fashion.
Restraints:
High production costs in the context of the winter wear industry refer to the elevated expenses incurred during the manufacturing and production processes of winter clothing and accessories. These costs arise from a combination of factors, including the use of specialized materials such as insulated fabrics, waterproof membranes, and advanced textiles that enhance the functionality of winter wear. Moreover, the labor-intensive craftsmanship required for intricate detailing, stitching, and quality assurance contributes to higher labor costs. Ethical and sustainable manufacturing practices, which ensure fair wages and safe working conditions, can further add to these expenditures. Additionally, factors like fluctuations in raw material prices, compliance with regulatory standards, and the need for specialized equipment for manufacturing contribute to the financial challenges faced by winter wear producers.
Seasonal Demand Fluctuations for Winter Wear
Seasonal demand fluctuations present a significant limit in the winter wear market, posing challenges for manufacturers and retailers alike. This phenomenon refers to the irregular shifts in consumer demand that correspond to changing weather conditions and seasons. While demand for winter wear surges during colder months, it diminishes as temperatures rise, creating an inherent imbalance in production and inventory management. Manufacturers must anticipate and respond to these fluctuations, often leading to a need for increased production capacity during peak demand periods and potential excess inventory during off-peak seasons. This can strain resources, escalate operational costs, and result in unsold merchandise, affecting profitability. Retailers face inventory management problems, as maintaining the right balance between supply and demand becomes challenging. Overstocking during low-demand seasons can tie up resources and contribute to financial losses while understocking during high-demand periods can lead to missed sales opportunities and customer dissatisfaction
Opportunities:
The Increasing Demand for Sustainable and Eco-Friendly Products
As consumer awareness of environmental concerns grows, a significant opportunity lies in the development of sustainable winter wear. This involves using eco-friendly materials, responsible manufacturing processes, and innovative recycling initiatives. Brands that prioritize sustainability can resonate with a socially-conscious audience while reducing their carbon footprint. By utilizing recycled fabrics, organic fibers, and biodegradable materials, companies can create winter wear that aligns with consumer values and contributes to reducing waste in the fashion industry. Moreover, adopting ethical practices throughout the supply chain, from sourcing materials to production and distribution, can enhance a brand's reputation and appeal. Transparent communication about sustainable efforts fosters trust and loyalty among consumers who actively seek products that minimize environmental impact.
Smart and Tech-Integrated Clothing
The convergence of fashion and technology presents a significant opportunity in the winter wear market. Smart and tech-integrated clothing involves incorporating advanced technologies and functionalities into winter wear items, enhancing their overall utility and appeal. Additionally, wearable technology can offer features like LED lights for visibility in low-light conditions or embedded sensors that monitor body temperature and transmit data to a smartphone app. This fusion of technology and fashion not only addresses practical needs but also caters to the tech-savvy consumer demographic. Brands embracing smart clothing can position themselves as innovators and offer unique selling propositions in a competitive market. Furthermore, the connectivity offered by these technologies allows for personalized experiences, enabling consumers to customize their preferences and settings.
Segment Overview
By Battery Type
Based on Product, the global winter wear market is divided into sweaters and cardigans; jackets, coats, and blazers; scarves, shawls, wraps, and stoles; sweatshirts, hoodies, and pullovers; thermals; gloves; accessories. The jackets, coats, and blazers category dominates the market with the largest revenue share. This category encompasses a wide range of outerwear options designed to provide insulation, protection, and style during cold weather. Jackets, coats, and blazers are essential items for staying warm and comfortable during colder months. They serve as the first line of defense against low temperatures, wind, and precipitation, making them indispensable in many regions. As temperatures drop, the demand for jackets, coats, and blazers experiences a substantial increase, creating a peak selling season for retailers. This surge in demand drives revenue and profitability. Continuous advancements in materials, insulation technologies, and design features enhance the performance and functionality of jackets, coats, and blazers. Waterproof coatings, insulating layers, and weather-resistant materials contribute to their appeal.
By Consumer Group
Based on the consumer group, the global winter wear market is categorized into men, women, and kids. The men's category leads the global winter wear market with the largest revenue share. The men's segment encompasses a wide range of winter wear, including jackets, coats, sweaters, vests, and accessories designed to cater to men's unique style preferences and functional needs. This segment often includes a mix of classic and contemporary designs, as well as specialized options for various activities like outdoor sports or formal occasions. The women's segment is characterized by a diverse array of winter wear choices that cater to different fashion preferences, ranging from elegant coats and trendy jackets to cozy sweaters and stylish accessories. Brands offer a plethora of options, allowing women to express their individuality while staying warm and comfortable. Similarly, the kids' segment focuses on winter wear designed specifically for children, addressing their growing bodies, comfort, and playfulness. This category includes jackets, coats, snowsuits, and accessories tailored to provide adequate warmth and protection during outdoor activities. Fun colors, patterns, and innovative designs are often incorporated to engage young consumers.
By Fabric
Based on fabric, the global winter wear market is segmented into natural and man-made. The natural segment dominates the winter wear market. The natural category includes products made from materials sourced directly from nature, such as wool, cotton, cashmere, down, and fur. Natural fibers often provide superior insulation and breathability, making them popular choices for winter clothing. Wool coats, cashmere sweaters, and down-filled jackets are common examples. Natural materials are valued for their comfort, durability, and biodegradability, aligning with eco-conscious consumer preferences. Where, the man-made category encompasses products manufactured using synthetic materials created through various processes. Common examples include polyester, nylon, acrylic, and other technical fabrics. Man-made materials often offer benefits like water resistance, durability, and enhanced performance features due to their engineered nature. They are commonly used in high-performance winter jackets, ski wear, and technical accessories
Global Winter Wear Market Overview by Region
The global winter wear market is categorized into North America, Europe, Asia-Pacific, and the Rest of the World. Asia-Pacific emerged as the leading region, capturing the largest market share in 2022. Rapid economic growth in countries like China, India, and Southeast Asian nations has led to an increase in disposable income. As a result, consumers have more purchasing power to invest in winter wear products. The rise of luxury markets in countries like China has led to increased demand for high-end winter wear brands and products. Some parts of the Asia-Pacific region experience colder temperatures during certain months, leading to an increasing need for functional and fashionable winter wear among consumers. Urbanization has brought about lifestyle changes, including exposure to international fashion trends. Consumers in urban areas now seek winter wear that not only keeps them warm but also aligns with global fashion aesthetics. The Asia-Pacific region has witnessed rapid growth in e-commerce, offering consumers convenient access to a wide range of winter wear products from both local and international brands. Increasing awareness and exposure to international fashion trends through media and social platforms have influenced consumer preferences, driving demand for stylish winter wear.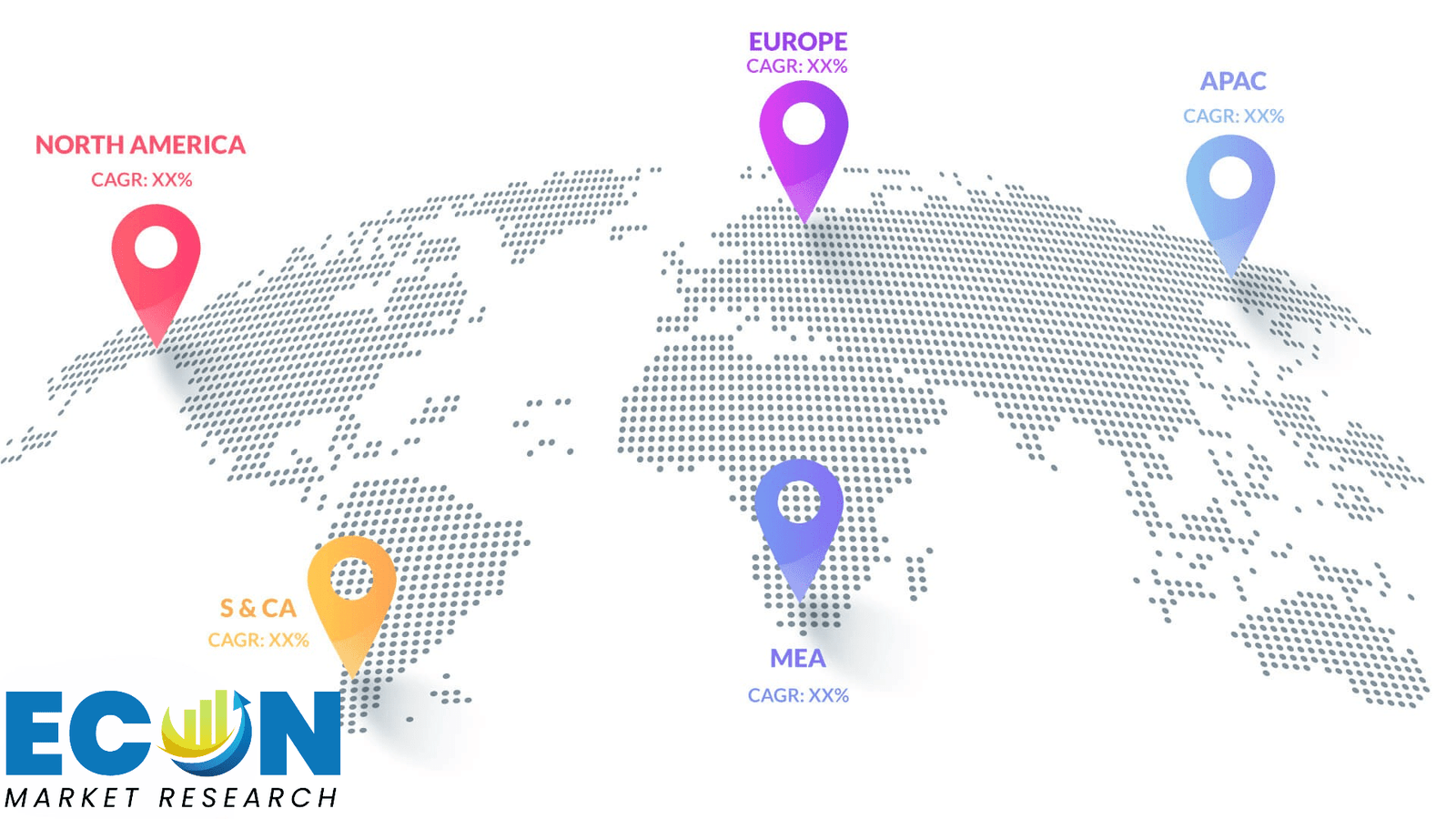 Global Winter Wear Market Competitive Landscape
In the global winter wear market, a few major players exert significant market dominance and have established a strong regional presence. These leading companies remain committed to continuous research and development endeavors and actively engage in strategic growth initiatives, including product development, launches, joint ventures, and partnerships. By pursuing these strategies, these companies aim to strengthen their market position, expand their customer base, and capture a substantial share of the market.
Some of the prominent players in the global winter wear market include Burberry Group Plc, Capri Holdings Limited, CHANEL, Dolce and Gabbana Srl, Double R Bags, Giorgio Armani Spa, Hermes International S.A., Kering, LVMH, Mulberry, PRADA Group, P.V.H. Corp., Ralph Lauren, Samsonite IP Holdings S.à r.l, Tapestry Inc., and various other key players.
Global Winter Wear Market Recent Developments
In November 2022, Amazon Fashion and Gap Inc. are partners in the US and Canada. For adults, teens, children and newborns, this will comprise hoodies, t-shirts, jeans, socks, pants and sleepwear. Additionally, the partnership will provide baby Gap-branded cribs, strollers, bassinets, and other nursery furniture.
In September 2021, Columbia Sportswear, located in the US, introduces Omni-Heat Infinity technology. A US-based clothing company called Columbia Sportswear has unveiled Omni-Heat Infinity, the next advancement in thermal-reflective warmth. Omni-Heat Infinity introduces a new gold metallic lining material in a design that has been scientifically created to maximise warmth and breathability, building on Columbia's wildly popular and award-winning Omni-Heat insulation platform.
Scope of the Global Winter Wear Market Report
Winter Wear Market Report Segmentation
ATTRIBUTE

DETAILS

By Product

Sweaters and Cardigans

Jackets, Coats, and Blazers

Scarves, Shawls, Wraps, and Stoles

Sweatshirts, Hoodies, and Pullovers

Thermals

Gloves

Accessories

By Consumer Group

By Fabric

By Geography

North America (USA,

and Canada)

Europe (UK, Germany, France, Italy, Spain, Russia and Rest of Europe)

Asia Pacific (Japan, China, India, Australia, Southeast Asia and Rest of Asia Pacific)

Latin America (Brazil, Mexico, and Rest of Latin America)

Middle East & Africa (South Africa, GCC, and Rest of Middle East & Africa)

Customization Scope

Pricing
Objectives of the Study
The objectives of the study are summarized in 5 stages. They are as mentioned below:
Global Winter Wear Market

Size and Forecast:
To identify and estimate the market size for the global winter wear market segmented by product, by consumer group, by fabric, region and by value (in U.S. dollars). Also, to understand the consumption/ demand created by consumers of winter wear between 2019 and 2031.
Market Landscape and Trends:
To identify and infer the drivers, restraints, opportunities, and challenges for the global winter wear market
Market Influencing Factors:
To find out the factors which are affecting the sales of winter wear among consumers
To identify and understand the various factors involved in the global winter wear market affected by the pandemic
To provide a detailed insight into the major companies operating in the market. The profiling will include the financial health of the company's past 2-3 years with segmental and regional revenue breakup, product offering, recent developments, SWOT analysis, and key strategies.
Intended Audience
Raw Material Suppliers

Industry Professionals

Environmental Advocates

Retailers, Wholesalers, and Distributors

Governments, Associations, and Industrial Bodies

Investors and Trade Experts
Research Methodology
Our research methodology has always been the key differentiating reason which sets us apart in comparison from the competing organizations in the industry. Our organization believes in consistency along with quality and establishing a new level with every new report we generate; our methods are acclaimed and the data/information inside the report is coveted. Our research methodology involves a combination of primary and secondary research methods. Data procurement is one of the most extensive stages in our research process. Our organization helps in assisting the clients to find the opportunities by examining the market across the globe coupled with providing economic statistics for each and every region. The reports generated and published are based on primary & secondary research. In secondary research, we gather data for global Market through white papers, case studies, blogs, reference customers, news, articles, press releases, white papers, and research studies. We also have our paid data applications which includes hoovers, Bloomberg business week, Avention, and others.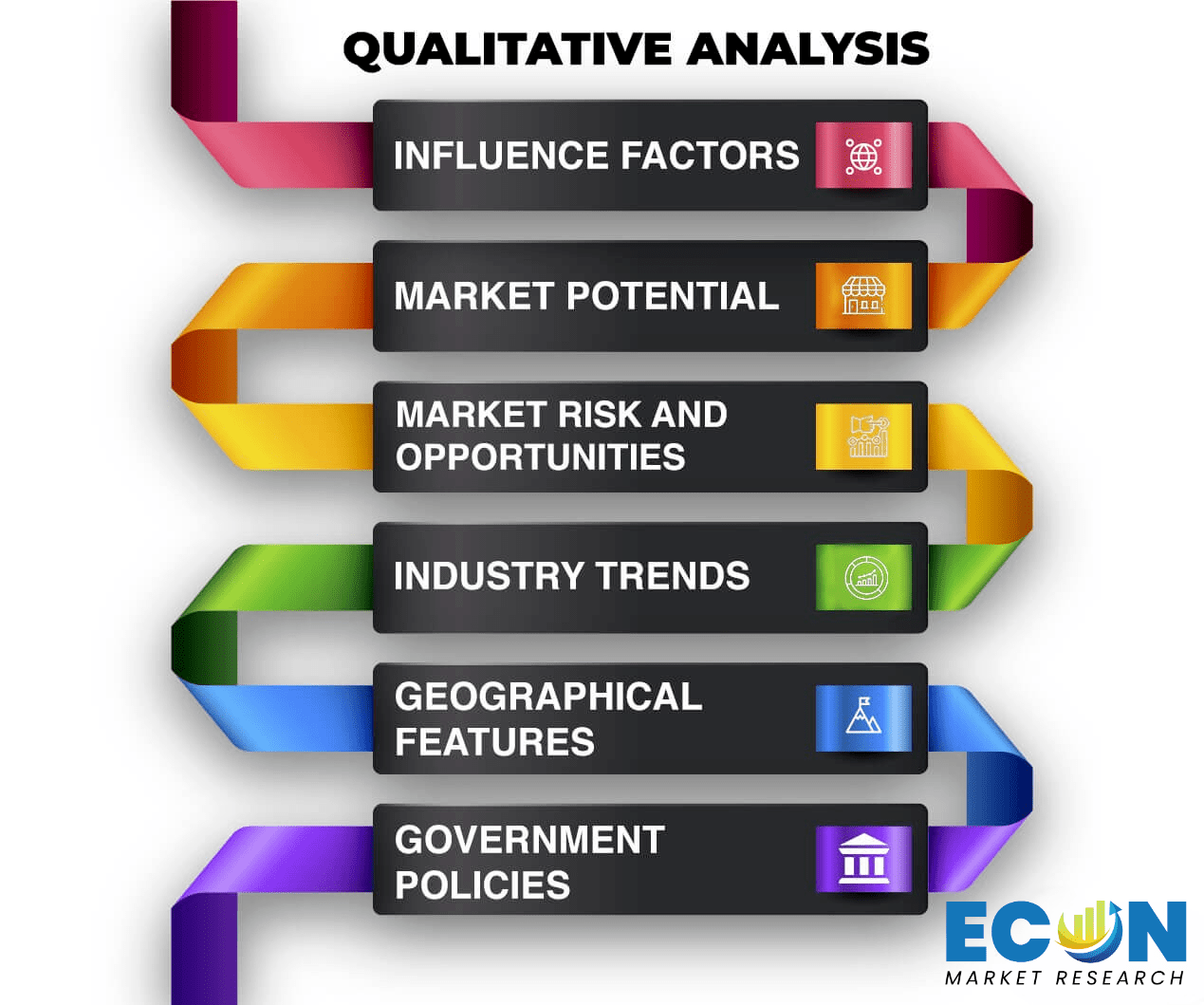 Data Collection
Data collection is the process of gathering, measuring, and analyzing accurate and relevant data from a variety of sources to analyze market and forecast trends. Raw market data is obtained on a broad front. Data is continuously extracted and filtered to ensure only validated and authenticated sources are considered. Data is mined from a varied host of sources including secondary and primary sources.

Primary Research
After the secondary research process, we initiate the primary research phase in which we interact with companies operating within the market space. We interact with related industries to understand the factors that can drive or hamper a market. Exhaustive primary interviews are conducted. Various sources from both the supply and demand sides are interviewed to obtain qualitative and quantitative information for a report which includes suppliers, product providers, domain experts, CEOs, vice presidents, marketing & sales directors, Type & innovation directors, and related key executives from various key companies to ensure a holistic and unbiased picture of the market. 
Secondary Research
A secondary research process is conducted to identify and collect information useful for the extensive, technical, market-oriented, and comprehensive study of the market. Secondary sources include published market studies, competitive information, white papers, analyst reports, government agencies, industry and trade associations, media sources, chambers of commerce, newsletters, trade publications, magazines, Bloomberg BusinessWeek, Factiva, D&B, annual reports, company house documents, investor presentations, articles, journals, blogs, and SEC filings of companies, newspapers, and so on. We have assigned weights to these parameters and quantified their market impacts using the weighted average analysis to derive the expected market growth rate.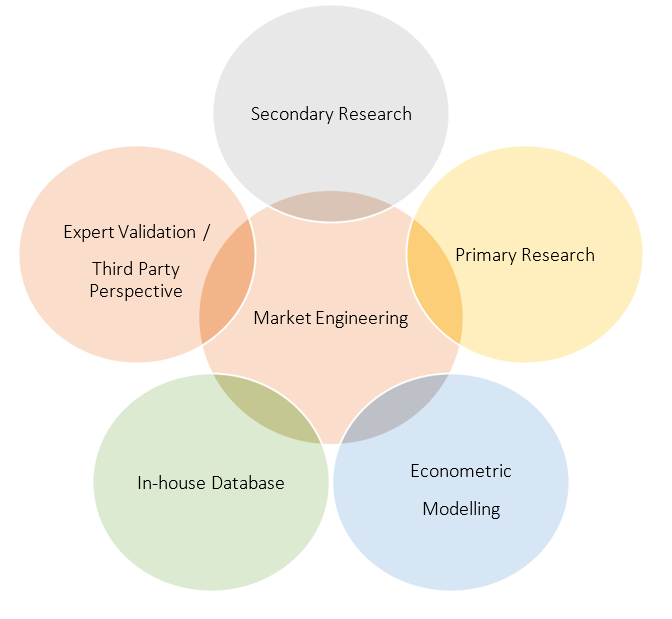 Top-Down Approach & Bottom-Up Approach
In the top – down approach, the Global Batteries for Solar Energy Storage Market was further divided into various segments on the basis of the percentage share of each segment. This approach helped in arriving at the market size of each segment globally. The segments market size was further broken down in the regional market size of each segment and sub-segments. The sub-segments were further broken down to country level market. The market size arrived using this approach was then crosschecked with the market size arrived by using bottom-up approach.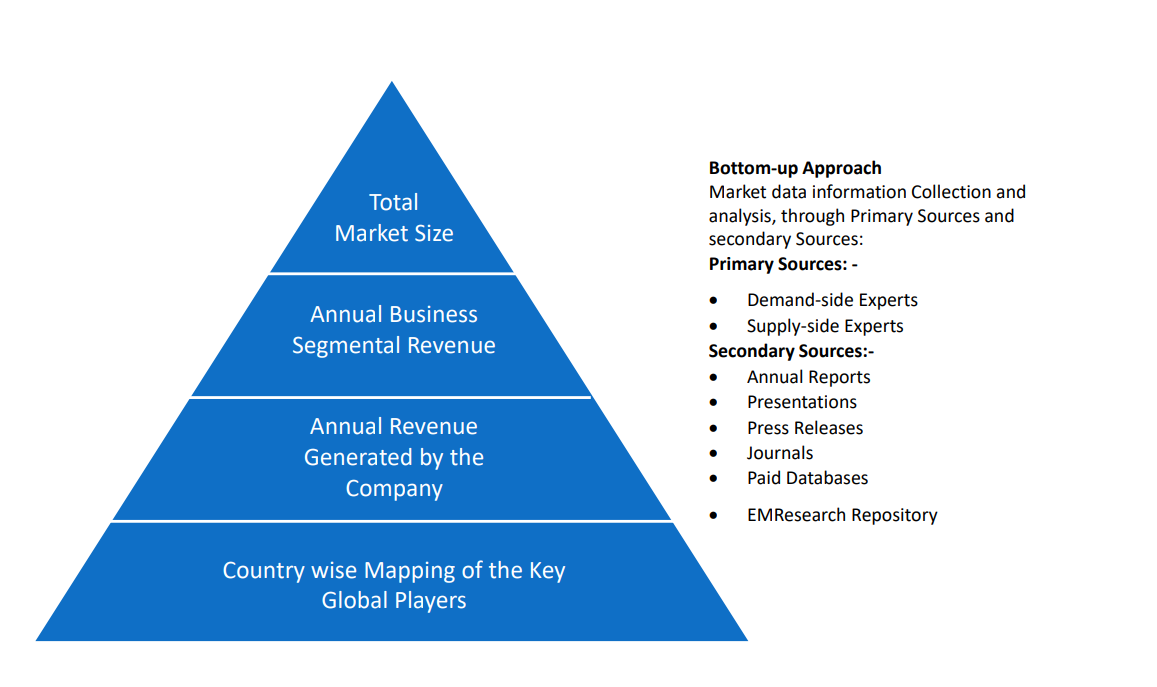 In the bottom-up approach, we arrived at the country market size by identifying the revenues and market shares of the key market players. The country market sizes then were added up to arrive at regional market size of the decorated apparel, which eventually added up to arrive at global market size.
This is one of the most reliable methods as the information is directly obtained from the key players in the market and is based on the primary interviews from the key opinion leaders associated with the firms considered in the research. Furthermore, the data obtained from the company sources and the primary respondents was validated through secondary sources including government publications and Bloomberg.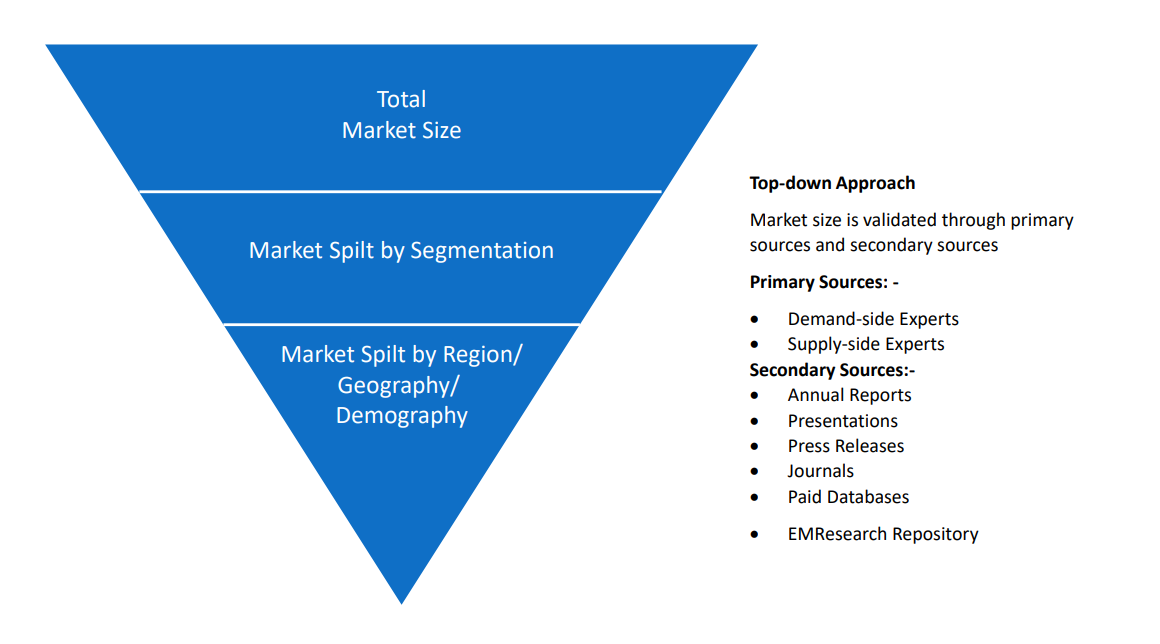 Market Analysis & size Estimation
Post the data mining stage, we gather our findings and analyze them, filtering out relevant insights. These are evaluated across research teams and industry experts. All this data is collected and evaluated by our analysts. The key players in the industry or markets are identified through extensive primary and secondary research. All percentage share splits, and breakdowns have been determined using secondary sources and verified through primary sources. The market size, in terms of value and volume, is determined through primary and secondary research processes, and forecasting models including the time series model, econometric model, judgmental forecasting model, the Delphi method, among Flywheel Energy Storage. Gathered information for market analysis, competitive landscape, growth trends, product development, and pricing trends is fed into the model and analyzed simultaneously.
Quality Checking & Final Review
The analysis done by the research team is further reviewed to check for the accuracy of the data provided to ensure the clients' requirements. This approach provides essential checks and balances which facilitate the production of quality data. This Type of revision was done in two phases for the authenticity of the data and negligible errors in the report. After quality checking, the report is reviewed to look after the presentation, Type and to recheck if all the requirements of the clients were addressed.