The Global White Biotechnology Market was valued at USD 401.55 billion in 2022 and is estimated to reach approximately USD 984.75 billion by 2031, at a CAGR of 10.4% from 2023 to 2031. White biotechnology, often referred to as industrial or industrial biotechnology, is a rapidly developing area that uses live organisms including bacteria, yeast, and enzymes to create environmentally acceptable and long-lasting solutions for a variety of industries. White biotechnology is concentrated on industrial processes and products as opposed to traditional biotechnology, which is focused on healthcare and pharmaceutical applications. White biotechnology's main objective is to improve or replace chemical and energy-intensive processes with bio-based alternatives, thereby minimizing the impact on the environment and the use of resources. Agriculture, food and beverage production, textiles, energy production, and waste management are some industries where this field is used. The creation of bio fuels, biodegradable polymers, industrial enzymes, and ecologically friendly agriculture methods are a few examples. White biotechnology has a number of advantages, such as fewer greenhouse gas emissions, less reliance on fossil fuels, and less waste production. White biotechnology, which supports cleaner and more effective industrial practices, is crucial in solving these issues as global concerns about sustainability and climate change continue to rise. It is a crucial part of the contemporary biotechnology landscape because of its potential for innovation and favourable environmental effects.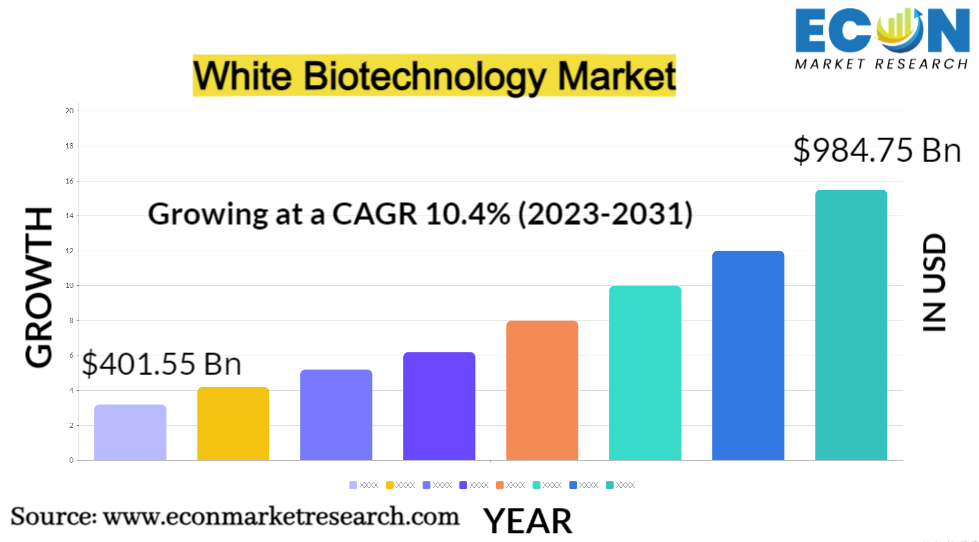 WHITE BIOTECHNOLOGY MARKET: REPORT SCOPE & SEGMENTATION
| | |
| --- | --- |
| Report Attribute | Details |
| Estimated Market Value (2022) | 401.55 Bn |
| Projected Market Value (2031) | 984.75 Bn |
| Base Year | 2022 |
| Forecast Years | 2023 - 2031 |
| Scope of the Report | Historical and Forecast Trends, Industry Drivers and Constraints, Historical and Forecast Market Analysis by Segment- By Product, By Application, & Region |
| Segments Covered | By Product, By Application, & Region |
| Forecast Units | Value (USD Billion or Million), and Volume (Units) |
| Quantitative Units | Revenue in USD million/billion and CAGR from 2023 to 2031 |
| Regions Covered | North America, Europe, Asia Pacific, Latin America, and Middle East & Africa, and the Rest of World |
| Countries Covered | U.S., Canada, Mexico, U.K., Germany, France, Italy, Spain, China, India, Japan, South Korea, Brazil, Argentina, GCC Countries, and South Africa, among others |
| Report Coverage | Market growth drivers, restraints, opportunities, Porter's five forces analysis, PEST analysis, value chain analysis, regulatory landscape, market attractiveness analysis by segments and region, company market share analysis, and COVID-19 impact analysis. |
| Delivery Format | Delivered as an attached PDF and Excel through email, according to the purchase option. |
Global White Biotechnology Market Dynamics
The dynamics and growth trajectory of the white biotechnology market are shaped by a complex interaction of factors. Due to growing worries about climate change and environmental deterioration, industries are increasingly looking for cleaner, more environmentally friendly alternatives to conventional chemical processes. As politicians around the world support the use of bio-based solutions through subsidies, tax breaks, and mandates, creating a favourable ecology for white biotechnology, government rules and incentives further speed this transformation. The demand from customers for eco-friendly items has a considerable impact. Industries like cosmetics, food, and textiles are integrating white biotechnology into their supply chains to match customer expectations for sustainability, which is becoming more and more important to consumers. Technology breakthroughs are essential because continual developments in biotechnology, genetic engineering, and synthetic biology broaden the applications of white biotechnology and improve the effectiveness and efficiency of operations. As white biotechnology solutions become commercially viable alternatives to traditional chemical methods, cost competitiveness is a key component in the market's expansion. Collaboration among academic institutions, biotechnology companies, and business stakeholders promotes creativity and hastens the commercialization of new biotechnology solutions. However, the industry confronts difficulties that must be overcome for sustainable expansion, such as scalability limitations, legal barriers, and public perception issues. Overall, the market continues to develop and define the future of sustainable industrial practices as it diversifies into new industries like biofuels, agriculture, and medicines, supports the energy transition with biofuels, and uses renewable resources.
Global White Biotechnology Market Drivers
Consumer Demand for Sustainable Products
The market for white biotechnology is heavily impacted by consumer desire for sustainable products. Consumer preferences have changed noticeably in recent years, with a rise in the number of people making environmentally and socially conscious purchases. The cosmetics, culinary, textile, and packaging industries are just a few of the ones affected by this trend. Consumers now place a higher value on goods that are produced with the least amount of environmental and social harm as a result of increased consumer awareness of the effects of their purchasing decisions. As a result of this trend, businesses are incorporating white biotechnology into their supply chains and product lines since it meets the demands of their clientele for sustainability.
Government Regulations and Incentives
Government subsidies and restrictions are important market drivers for white biotechnology. To counteract climate change and lessen its effects on the environment, policymakers throughout the world are seeing the urgent need to move towards sustainable and environmentally friendly industrial practices. As a result, they are putting in place a number of policies to promote the use of bio-based technologies. The implementation of strict environmental restrictions is a key component of this strategy. Governments are putting more stringent restrictions on emissions, waste management, and the use of dangerous chemicals, which is encouraging businesses to look for greener alternatives. In response to this demand, businesses are introducing bio-based products, such as biodegradable plastics, natural cosmetics, and organic foods, which are often produced using white biotechnology processes. These products appeal to environmentally conscious consumers and contribute to the reduction of the carbon footprint associated with traditional manufacturing methods.
Restraints:
Scalability and Commercialization Challenges
The difficulty of scaling up and successfully commercializing bio-based processes is a significant barrier in the white biotechnology business. While small-scale production and laboratory tests can show that biotechnological solutions are feasible, the transfer to large-scale industrial applications is fraught with difficulties. When scaling up, it's important to keep bio processes functional, efficient, and consistent because they may operate smoothly in controlled lab settings but have problems when used on a large scale. In larger operations, variables including the fermentation environment, fertilizer supply, and waste management become more complex. Additionally, it is crucial to maintain product quality and safety while expanding, particularly in sectors like food and pharmaceutical production. The process of commercialization is made more challenging by the requirement for significant infrastructure expenditures to support larger bioreactors, downstream processing facilities, and distribution networks.
High Initial Investment Costs
High initial investment expenditures are a big barrier for the white biotechnology sector. It frequently takes significant financial resources to develop and deploy bio-based processes and technologies, which can be an entry hurdle for many firms, particularly smaller ones and startups. White biotechnology's upfront costs are mostly made up of research and development expenses, which cover the creation of specialized bioreactors, genetic engineering methods, and the planning and optimization of bio processes. For a bio-based product or process to be feasible and competitive, these early-stage investments are required. Additionally, the cost of building large-scale bio manufacturing infrastructure, such as bioreactor facilities and downstream processing plants, is increased. Precision engineering, adherence to strict regulatory standards, and continuous running costs are all necessary for these plants.
Opportunities:
Advancing Biofuels and Renewable Resources
The area of producing clean energy is one of the most alluring potential in the white biotechnology sector. A sustainable replacement for fossil fuels, white biotechnology is essential to the advancement of the development and production of biofuels and other renewable resources. The fermentation of biomass, primarily plant-based feed stocks like corn, sugarcane, and algae, using microbes or enzymes results in the production of biofuels like ethanol and bio diesel. Compared to conventional fossil fuels, these biofuels burn more cleanly, producing less greenhouse gases and less overall carbon dioxide emissions. They are an essential part of initiatives to mitigate climate change and make the switch to cleaner energy sources.White biotechnology also helps to produce biochemicals that can take the place of petroleum-derived analogues in a variety of applications, such as specialized chemicals and bio-based polymers. These bio-based products could lessen the negative effects on the environment that come from sectors like plastics, textiles, and chemicals.
Innovations in Drug Development
In the areas of pharmaceuticals and healthcare, the white biotechnology sector offers a potential prospect, particularly in the modernization of drug development procedures. The focus of this opportunity is to use biotechnology, including genetic engineering and bio processing, to create therapeutic agents, vaccines, and medical treatments in a more effective, affordable, and sustainable way. The creation of bio pharmaceuticals medications made from living organisms like bacteria, yeast, or mammalian cells is a significant field of advancement. White biotechnology provides very precise and scalable manufacture of these complicated biologics, such as monoclonal antibodies and recombinant proteins. This invention has made it possible to treat a variety of illnesses more successfully, from cancer to autoimmune diseases.Additionally, the use of white biotechnology helps to lessen the negative effects of pharmaceutical manufacture on the environment. It reduces waste production and pollution by providing ecologically acceptable alternatives to conventional chemical synthesis techniques.
Segment Overview
By Product
Based on product, the global white biotechnology market is divided into bio fuels, bio materials, biochemicals. The bio fuels category dominates the market with the largest revenue share .Biofuels, as a significant segment, encompass bio-based alternatives to conventional fossil fuels, such as ethanol, biodiesel, and biojet fuels. These biofuels are derived from renewable biomass sources like corn, sugarcane, and algae. The market for biofuels addresses the pressing need to reduce greenhouse gas emissions and decrease our reliance on finite fossil fuel resources, making it a crucial player in the transition towards cleaner and more sustainable energy sources. Biomaterials, another key segment, includes a wide range of materials derived from biological sources, like biodegradable plastics, bio-based textiles, and natural fibers. These materials offer a sustainable alternative to traditional petroleum-based products, contributing to reduced environmental impact, especially in industries like packaging, textiles, and construction. Biochemicals, the third segment, comprises a variety of chemical compounds and specialty chemicals produced through biotechnological processes. These chemicals find applications in industries such as cosmetics, pharmaceuticals, and agriculture. The market for biochemicals not only reduces reliance on fossil fuel-derived chemicals but also offers more environmentally friendly options for various industrial processes.
By Application
Based on the application, the global white biotechnology market is categorized int bio energy, food & feed additives, pharmaceutical ingredients, personal care & household products. The bio energy category leads the global white biotechnology market with the largest revenue share. This segment focuses on the production of biofuels, including ethanol, biodiesel, and biojet fuels, as well as biogas and other renewable energy sources. Bioenergy plays a vital role in addressing the global need for clean and sustainable energy alternatives, reducing greenhouse gas emissions, and decreasing reliance on fossil fuels. It encompasses the development of efficient biofuel production processes and the optimization of biomass feedstocks.White biotechnology is instrumental in producing food and feed additives, such as enzymes, probiotics, and functional ingredients. These additives enhance food quality, nutritional value, and safety. They also support sustainable agriculture by improving crop yields and reducing the need for chemical pesticides and fertilizers. This segment contributes to the development of healthier and more environmentally friendly food products. White biotechnology plays a crucial role in the production of pharmaceutical ingredients, including biopharmaceuticals, vaccines, and therapeutic proteins. Biotechnology enables the efficient and precise manufacturing of complex drugs, leading to more effective treatments for various diseases. This segment is driven by the growing demand for innovative and personalized healthcare solutions. White biotechnology is used to develop eco-friendly and bio-based ingredients for personal care products (e.g., cosmetics, skincare) and household items (e.g., detergents, cleaning agents). Biotechnological processes enable the production of sustainable and natural ingredients that meet consumer preferences for environmentally responsible and safe products.
Global White Biotechnology Market Overview by Region
The global white biotechnology market is categorized into North America, Europe, Asia-Pacific, and the Rest of the World. North America emerged as the leading region, capturing the largest market share in 2022. For instance, North America is renowned in business and industry for its strong economy, technical advancements, and robust industrial sectors. It is home to many global firms, state-of-the-art research facilities, and a highly qualified workforce, all of which help it to lead many industries. It's crucial to remember that North America is made up of nations like the United States, Canada, and Mexico, each of which brings unique assets and leadership qualities to the region. From technology and finance to healthcare and energy, North America has become a global leader in a variety of fields. The United States, in particular, plays a considerable influence in international affairs, diplomacy, and relations with other countries, therefore this remark can also be used to regional geopolitics.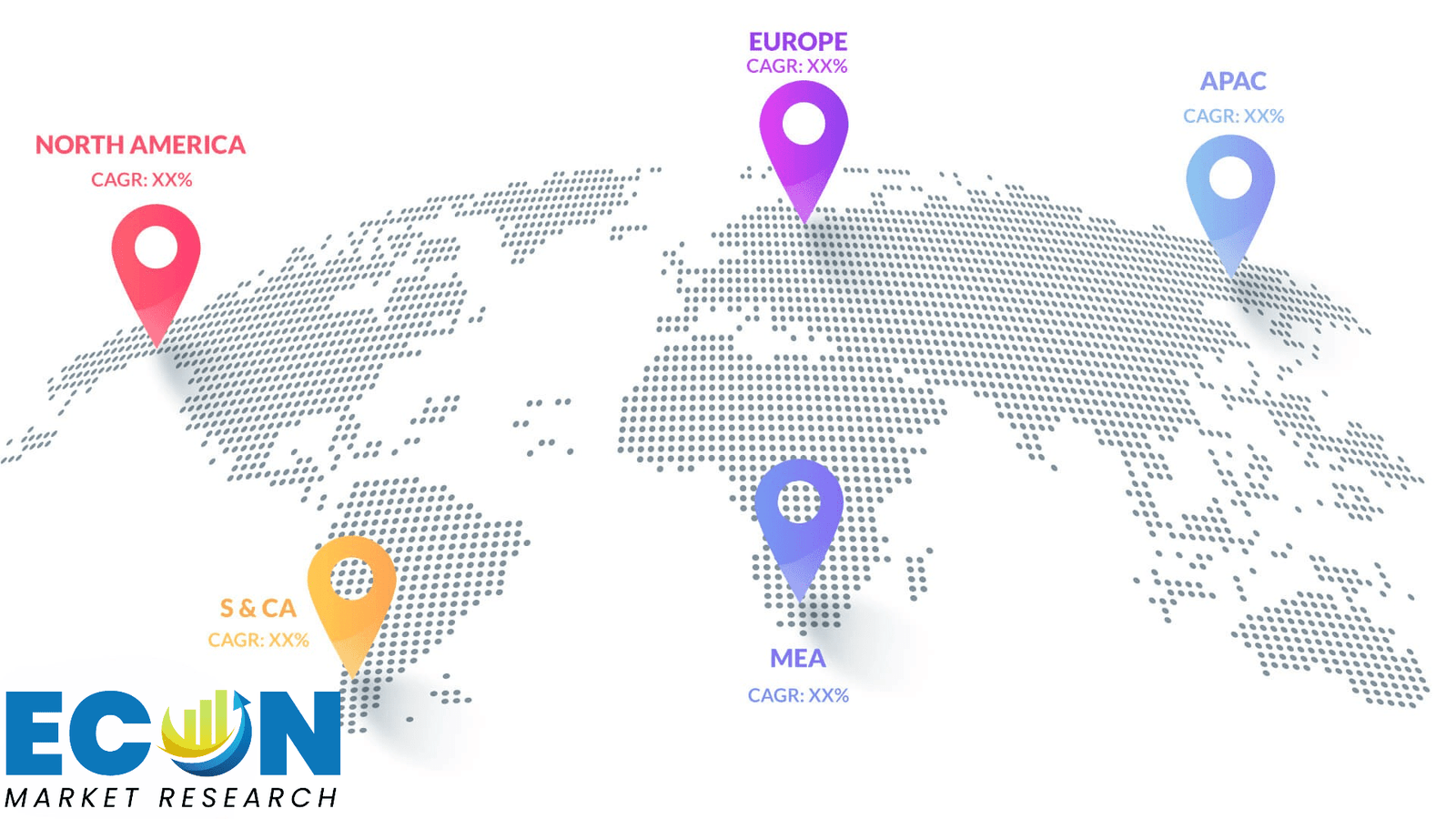 Global White Biotechnology Market Competitive Landscape
In the global white biotechnology market, a few major players exert significant market dominance and have established a strong regional presence. These leading companies remain committed to continuous research and development endeavors and actively engage in strategic growth initiatives, including product development, launches, joint ventures, and partnerships. By pursuing these strategies, these companies aim to strengthen their market position, expand their customer base, and capture a substantial share of the market.
Some of the prominent players in the global white biotechnology market include Archer Daniels Midland Company, BASF SE, Cargill, Inc., Corbion N.V., Koninklijke DSM N.V, DuPont, Lesaffre, Novozymes, Fujifilm Holdings Corporation, GE Healthcare, Hitachi Medical Corporation, Hologic, Inc., iCAD, Inc., InVivo Corporation, McKesson Corporation , and various other key players.
Global White Biotechnology Market Recent Developments
In November 2022, At BASF, microorganisms help to increase sustainability BASF promotes transition towards greater sustainability with innovative raw material, process, and product solutions. White biotechnology processes a variety of feedstocks through the use of microorganisms to create products that are resource- and climate-friendly.
Scope of the Global White Biotechnology Market Report
White Biotechnology Market Report Segmentation
ATTRIBUTE

DETAILS

By Product

Bio fuels

Bio materials

Biochemicals

By Application

Bio energy

Food & Feed Additives

Pharmaceutical ingredients

Personal Care & Household Products

By Geography

North America (USA,

and Canada)

Europe (UK, Germany, France, Italy, Spain, Russia and Rest of Europe)

Asia Pacific (Japan, China, India, Australia, Southeast Asia and Rest of Asia Pacific)

Latin America (Brazil, Mexico, and Rest of Latin America)

Middle East & Africa (South Africa, GCC, and Rest of Middle East & Africa)

Customization Scope

Pricing
Objectives of the Study
The objectives of the study are summarized in 5 stages. They are as mentioned below:
Global White Biotechnology

Market

Size and Forecast:
To identify and estimate the market size for the global white biotechnology market segmented by product, by application, region and by value (in U.S. dollars). Also, to understand the consumption/ demand created by consumers of white biotechnology between 2019 and 2031.
Market Landscape and Trends:
To identify and infer the drivers, restraints, opportunities, and challenges for the global white biotechnology market
Market Influencing Factors:
To find out the factors which are affecting the sales of white biotechnology among consumers
To identify and understand the various factors involved in the global white biotechnology market affected by the pandemic
To provide a detailed insight into the major companies operating in the market. The profiling will include the financial health of the company's past 2-3 years with segmental and regional revenue breakup, product offering, recent developments, SWOT analysis, and key strategies.
Intended Audience
Marketing Materials

Academic Research Papers

Retailers, Wholesalers, and Distributors

Governments, Associations, and Industrial Bodies

Investors and Trade Experts
Research Methodology
Our research methodology has always been the key differentiating reason which sets us apart in comparison from the competing organizations in the industry. Our organization believes in consistency along with quality and establishing a new level with every new report we generate; our methods are acclaimed and the data/information inside the report is coveted. Our research methodology involves a combination of primary and secondary research methods. Data procurement is one of the most extensive stages in our research process. Our organization helps in assisting the clients to find the opportunities by examining the market across the globe coupled with providing economic statistics for each and every region. The reports generated and published are based on primary & secondary research. In secondary research, we gather data for global Market through white papers, case studies, blogs, reference customers, news, articles, press releases, white papers, and research studies. We also have our paid data applications which includes hoovers, Bloomberg business week, Avention, and others.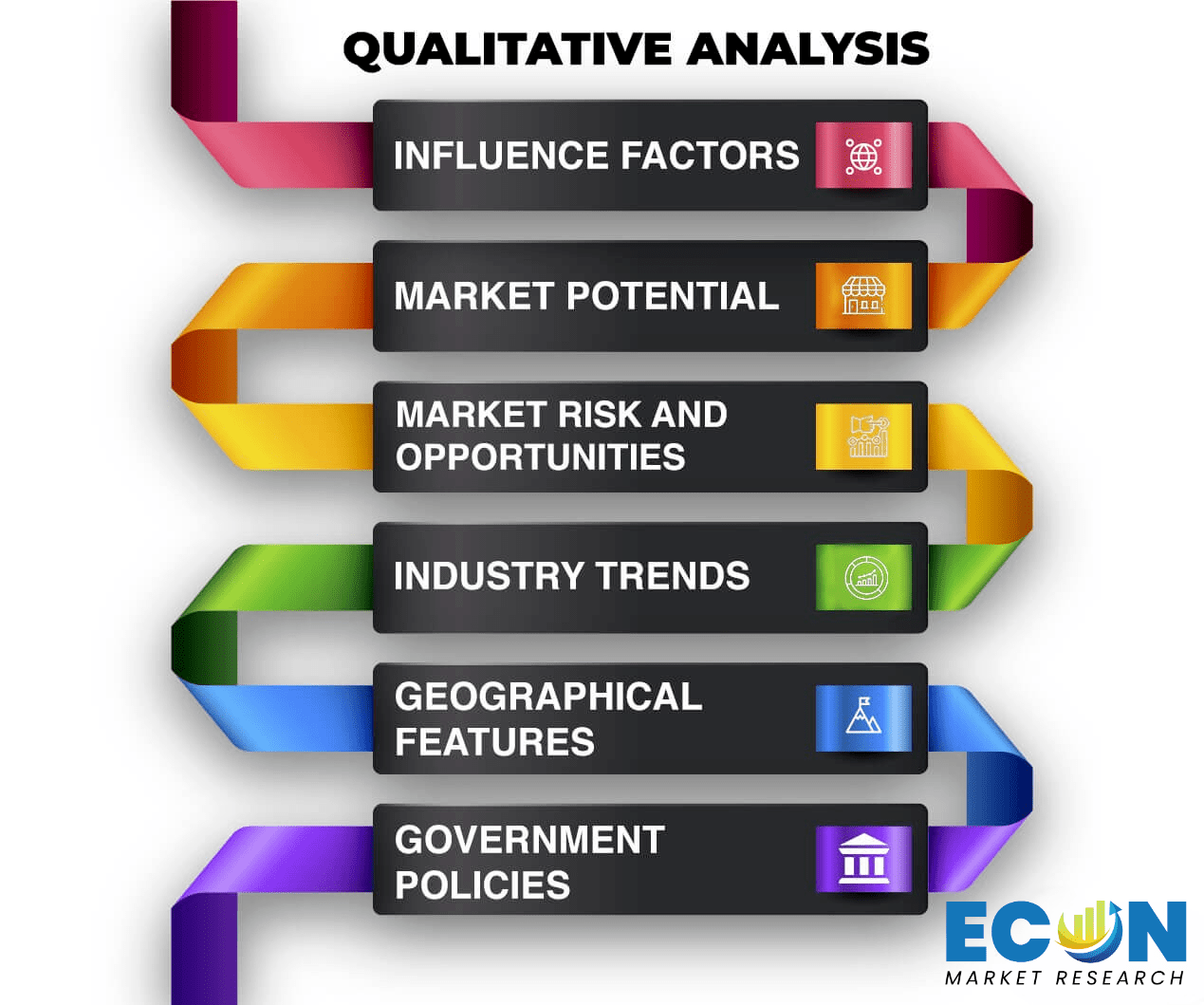 Data Collection
Data collection is the process of gathering, measuring, and analyzing accurate and relevant data from a variety of sources to analyze market and forecast trends. Raw market data is obtained on a broad front. Data is continuously extracted and filtered to ensure only validated and authenticated sources are considered. Data is mined from a varied host of sources including secondary and primary sources.

Primary Research
After the secondary research process, we initiate the primary research phase in which we interact with companies operating within the market space. We interact with related industries to understand the factors that can drive or hamper a market. Exhaustive primary interviews are conducted. Various sources from both the supply and demand sides are interviewed to obtain qualitative and quantitative information for a report which includes suppliers, product providers, domain experts, CEOs, vice presidents, marketing & sales directors, Type & innovation directors, and related key executives from various key companies to ensure a holistic and unbiased picture of the market. 
Secondary Research
A secondary research process is conducted to identify and collect information useful for the extensive, technical, market-oriented, and comprehensive study of the market. Secondary sources include published market studies, competitive information, white papers, analyst reports, government agencies, industry and trade associations, media sources, chambers of commerce, newsletters, trade publications, magazines, Bloomberg BusinessWeek, Factiva, D&B, annual reports, company house documents, investor presentations, articles, journals, blogs, and SEC filings of companies, newspapers, and so on. We have assigned weights to these parameters and quantified their market impacts using the weighted average analysis to derive the expected market growth rate.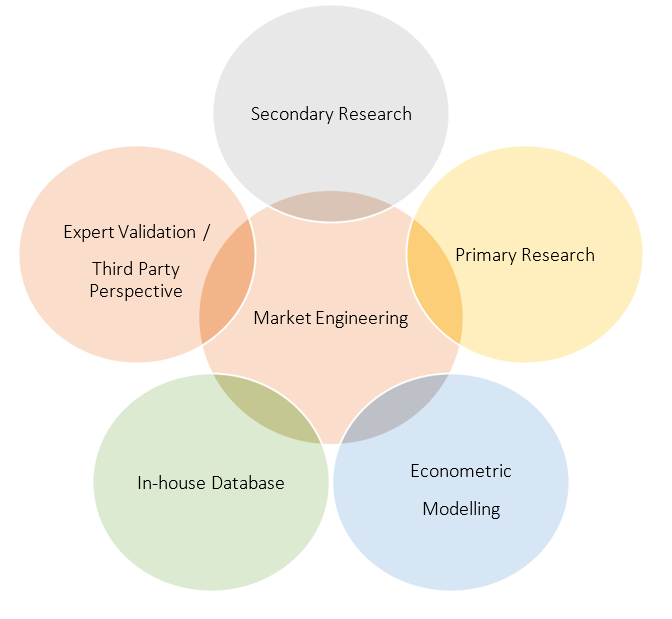 Top-Down Approach & Bottom-Up Approach
In the top – down approach, the Global Batteries for Solar Energy Storage Market was further divided into various segments on the basis of the percentage share of each segment. This approach helped in arriving at the market size of each segment globally. The segments market size was further broken down in the regional market size of each segment and sub-segments. The sub-segments were further broken down to country level market. The market size arrived using this approach was then crosschecked with the market size arrived by using bottom-up approach.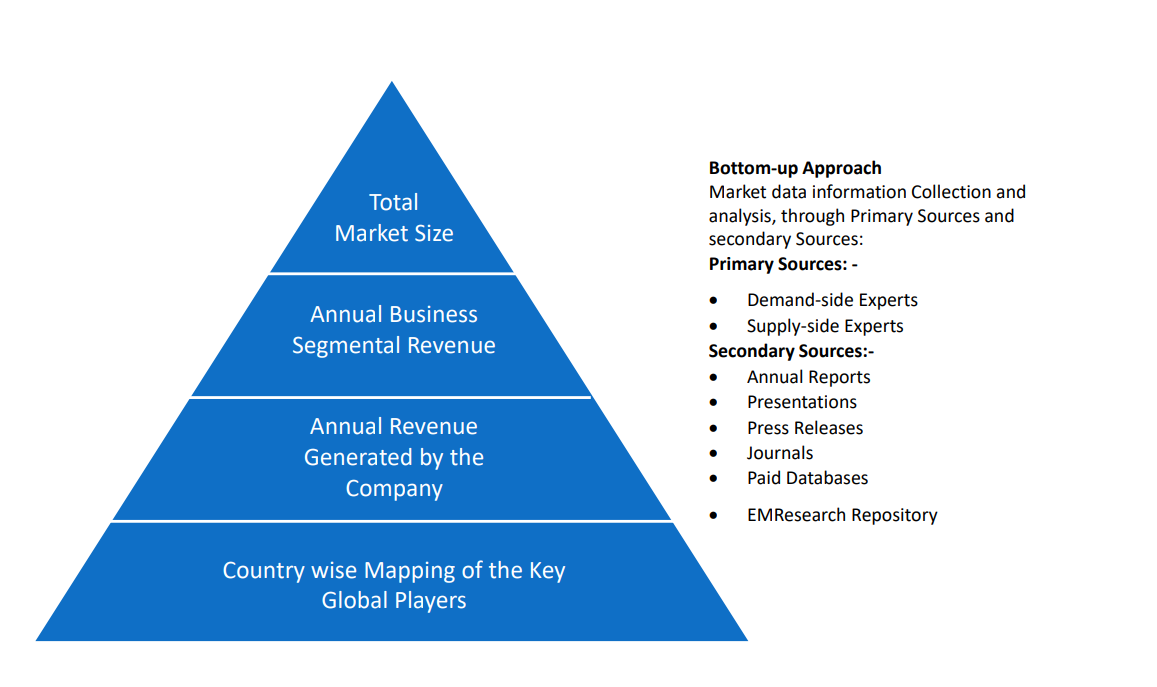 In the bottom-up approach, we arrived at the country market size by identifying the revenues and market shares of the key market players. The country market sizes then were added up to arrive at regional market size of the decorated apparel, which eventually added up to arrive at global market size.
This is one of the most reliable methods as the information is directly obtained from the key players in the market and is based on the primary interviews from the key opinion leaders associated with the firms considered in the research. Furthermore, the data obtained from the company sources and the primary respondents was validated through secondary sources including government publications and Bloomberg.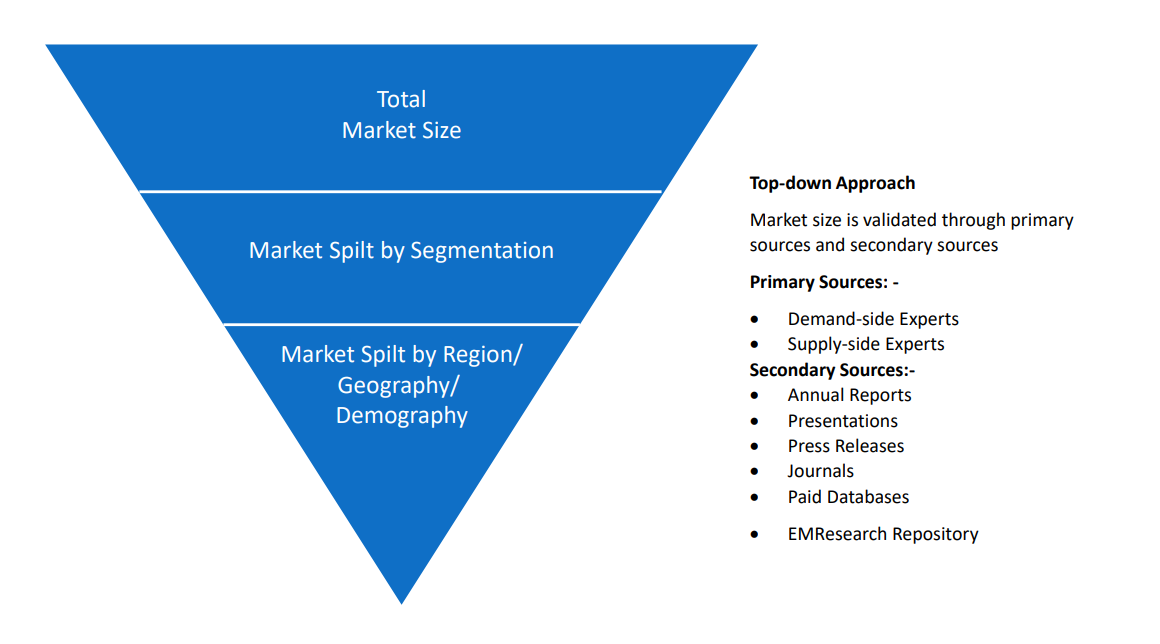 Market Analysis & size Estimation
Post the data mining stage, we gather our findings and analyze them, filtering out relevant insights. These are evaluated across research teams and industry experts. All this data is collected and evaluated by our analysts. The key players in the industry or markets are identified through extensive primary and secondary research. All percentage share splits, and breakdowns have been determined using secondary sources and verified through primary sources. The market size, in terms of value and volume, is determined through primary and secondary research processes, and forecasting models including the time series model, econometric model, judgmental forecasting model, the Delphi method, among Flywheel Energy Storage. Gathered information for market analysis, competitive landscape, growth trends, product development, and pricing trends is fed into the model and analyzed simultaneously.
Quality Checking & Final Review
The analysis done by the research team is further reviewed to check for the accuracy of the data provided to ensure the clients' requirements. This approach provides essential checks and balances which facilitate the production of quality data. This Type of revision was done in two phases for the authenticity of the data and negligible errors in the report. After quality checking, the report is reviewed to look after the presentation, Type and to recheck if all the requirements of the clients were addressed.