The global video game market was valued at USD 216.87 billion in 2022 and is estimated to reach approximately USD 460.54 billion by 2031, at a CAGR of 8.7% from 2023 to 2031.
Since its inception in the middle of the 20th century, the video game market has seen a spectacular shift. Initially seen as a specialized hobby, gaming has grown into a massive international industry that includes a wide range of gaming genres, platforms, and technology. Technological developments, such as the change from pixelated 2D graphics to lifelike 3D environments and the introduction of online multiplayer capabilities, contributed to the market's expansion. Video games today appeal to a broad demographic that crosses age, gender, and cultural barriers. Numerous independent game creators and mobile gaming studios compete with major industry heavyweights like Nintendo, Sony, and Microsoft. From simple mobile games to complicated, immersive storylines on high-end consoles and PCs, the market offers a wide range of experiences. Video games have evolved into a spectator sport with the rise of esports, attracting huge crowds to live competitions and internet streaming services. The industry has a substantial economic influence, and gaming has a big impact on the entertainment industry. The video game industry is showing no signs of slowing down as technology develops, indicating future expansion and innovation.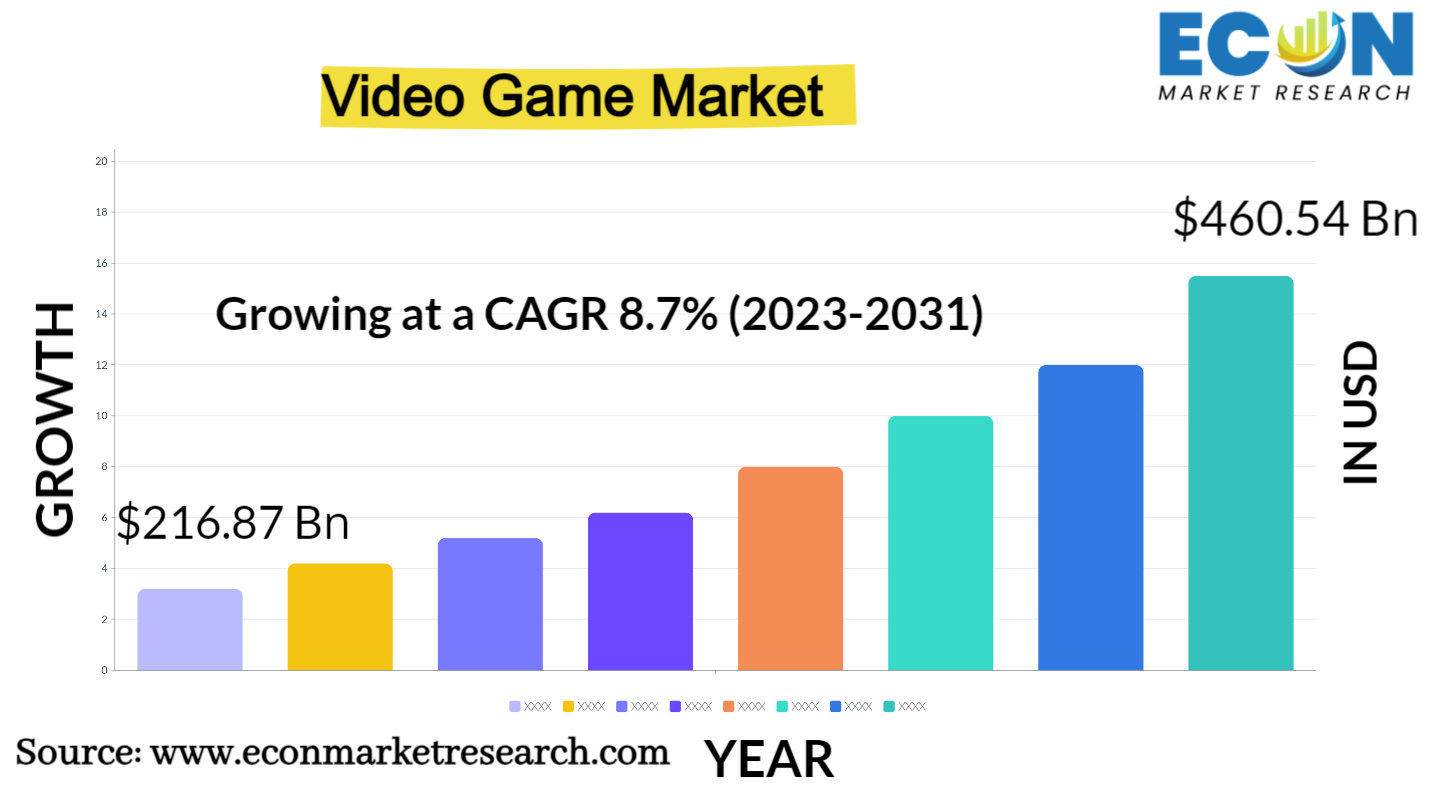 VIDEO GAME MARKET: REPORT SCOPE & SEGMENTATION
| | |
| --- | --- |
| Report Attribute | Details |
| Estimated Market Value (2022) | 216.87 Bn |
| Projected Market Value (2031) | 460.54 Bn |
| Base Year | 2022 |
| Forecast Years | 2023 - 2031 |
| Scope of the Report | Historical and Forecast Trends, Industry Drivers and Constraints, Historical and Forecast Market Analysis by Segment- By Device, By Age Group, By Platform Type, & Region |
| Segments Covered | By Device, By Age Group, By Platform Type, & Region |
| Forecast Units | Value (USD Billion or Million), and Volume (Units) |
| Quantitative Units | Revenue in USD million/billion and CAGR from 2023 to 2031 |
| Regions Covered | North America, Europe, Asia Pacific, Latin America, and Middle East & Africa, and the Rest of World |
| Countries Covered | U.S., Canada, Mexico, U.K., Germany, France, Italy, Spain, China, India, Japan, South Korea, Brazil, Argentina, GCC Countries, and South Africa, among others |
| Report Coverage | Market growth drivers, restraints, opportunities, Porter's five forces analysis, PEST analysis, value chain analysis, regulatory landscape, market attractiveness analysis by segments and region, company market share analysis, and COVID-19 impact analysis. |
| Delivery Format | Delivered as an attached PDF and Excel through email, according to the purchase option. |
Global Video Game Market Dynamics
As a result of a confluence of technology advancements, shifting customer preferences, and industry competitiveness, the video game market is characterized by dynamic and ever-evolving patterns. One noteworthy development is the continued expansion of digital distribution channels, with digital downloads and streaming services overtaking traditional game copies in popularity. This change in consumer behaviour has changed how customers access and interact with games, which has resulted in modifications to business models like micro transactions and subscription services. The variety of gaming systems is another important factor. High-end gaming PCs, mobile devices, and consoles like the PlayStation, Xbox, and Nintendo Switch fight for market share. For platform owners, cross-platform play and the creation of exclusive games have become crucial strategy. In addition, the development of cloud gaming and virtual reality technology is poised to transform the sector by bringing new levels of accessibility and immersion. Organized competitive gaming, or esports, has grown immensely popular, attracting enormous audiences and rich sponsorships. Professional gamers, content producers, and event planners now have new prospects thanks to this sector's transformation of the market. Additionally, gaming communities have taken on a major position in the sector thanks to the significant contributions of social factors, content development, and user-generated material. The market for video games is known for its relentless pursuit of innovation and adaptation. The industry is resilient and keeps expanding, delivering a wide variety of experiences and opportunities for both players and creators as technology and consumer expectations continue to advance.
Global Video Game Market Drivers
Adoption of VR and AR

T

echnologies in Gaming
The advancement of hardware and software has increased the usability, potency, and affordability of VR and AR. The quality of VR has improved, resulting in extremely realistic virtual environments thanks to higher resolution displays, quicker computers, and sophisticated tracking systems. The widespread availability of potent smartphones and tablets, on the other hand, has benefited augmented reality (AR), making it available to a wider audience. Gamers strive for greater involvement and immersion, and VR and AR satisfy these desires by immersing players in the game environment or fusing digital content with the real world. This degree of immersion can improve gaming and storytelling by fostering a stronger sense of presence and emotional connection. Companies see VR and AR as a frontier for expansion, enticing players with novel experiences and attracting new audiences. The potential for in-game purchases and premium content within these immersive environments can also boost revenue, creating a powerful incentive for adoption.
Advancements in Graphics and

A

nimation

Technology
Innovations in rendering methods, shading models, and texture mapping are fueling the never-ending quest for more realistic, high-fidelity images and animation. The ability to replicate the behaviour of light in real time with innovations like ray tracing has revolutionized the ability to produce realistic images. Today's gamers demand gorgeous and immersive worlds, and game developers are always pushing the envelope to deliver on these demands. The need for visually stunning material has only grown as the gaming audience expands and diversifies, necessitating constant technological advancement. The development of hardware and software capabilities is also directly related to improvements in graphics and animation. More complicated scenes and simulations can now be rendered thanks to high-performance graphics cards, strong CPUs, and specialized gaming consoles. Moreover, these advancements have applications beyond gaming. They contribute to the film and animation industries, medical simulations, architectural visualizations, and more, expanding their impact and driving investment in graphics and animation technology.
Restraints:
Cybersecurity and Data Privacy Concerns
Data breaches, ransomware attacks, and other harmful actions are examples of cyberthreats that are constantly expanding in sophistication and scope. To keep ahead of fraudsters, this necessitates ongoing modification and investment in cybersecurity measures. Many people and organizations are not aware of the situation or unprepared. Many people and companies undervalue the value of effective cybersecurity measures, leaving them open to cyberattacks. Inadequate data protection procedures are frequently caused by a lack of awareness. Since cyberattacks can come from anywhere in the globe, it is difficult to properly implement and coordinate global rules and regulations. A global effort to solve cybersecurity and data privacy issues is hampered by this complexity. Laws and regulations regarding data protection and privacy vary widely between regions and countries, creating compliance challenges for multinational organizations. The evolving nature of these regulations and their potential conflicts add an extra layer of complexity.
The expense of development has increased as a result of the demand for high-quality content. Gamers are demanding experiences that are visually spectacular, intensely immersive, and content-rich, which calls for larger teams, more thorough testing, and better-quality resources. This need for quality greatly raises prices. It takes more time, money, and specialized personnel to integrate cutting-edge technologies, complex narratives, and intricate game mechanics. This complexity includes the requirement for continual upgrades and support beyond a game's release. Another constraint is the arms race in technology. Developers must always invest in the newest hardware and software innovations to stay competitive, raising development costs. Budgets, particularly for smaller studios, might be strained by this requirement for cutting-edge equipment. The rising cost of development isn't limited to the gaming industry; it affects other sectors, such as film and software development. This trend places financial pressure on businesses, making it harder for smaller studios to compete and leading to potential risks for investors.
Opportunities:
The gaming business has a revolutionary opportunity because to cloud gaming, often known as game streaming. By utilizing cloud computing technology, this invention makes it possible for gamers to stream and play high-quality video games on a variety of gadgets, including smartphones, tablets, and budget PCs, without the requirement for robust gaming hardware. It expands Accessibility in the first place. A wider audience can now access high-end gaming experiences thanks to cloud gaming's removal of entry restrictions. Gamers no longer require pricey, often prohibitively expensive gaming devices or PCs. Through its ability to reach previously untapped markets, this democratization of gaming creates new revenue sources for the sector. Cloud gaming also benefits from the rising need for convenience. Without the need for protracted downloads or installations, players can immediately experience their favourite games. The on-the-go and on-demand nature of current gaming is catered to by this seamless accessibility and cross-device interoperability.
Mobile gaming has a huge market reach, to start. One of the most accessible gaming platforms is cellphones due to the fact that there are billions of individuals who own them worldwide. A never-before-seen chance to reach a worldwide audience is presented by the enormous user base, which spans various demographics and geographical areas. Another benefit is the low barrier to entry. Creating games for mobile devices is frequently less expensive than doing it for consoles or computers. This draws independent creators and smaller studios, fostering creativity and variety in the games available. The freemium model is also a significant factor in the expansion of mobile gaming. In-app purchases and adverts are the main sources of income for many mobile games. Short gaming sessions, often fitting into the rhythm of daily life, keep players engaged and returning to games frequently. This sustained player interaction is conducive to long-term success and community-building.
Segment Overview
By Device
Based on device, the global video game market is divided into smartphones, PC, and consoles. The smartphones category dominates the market with the largest revenue share in 2022. Smartphones have emerged as a dominant force, offering unparalleled accessibility and convenience. The ubiquity of smartphones means that gaming is always at the user's fingertips. The vast library of mobile games, from casual titles to high-end mobile versions of console-quality games, has attracted a wide and diverse player base. The freemium model, where games are free to play with in-app purchases, has also become a significant revenue generator. With a myriad of genres and styles, smartphones have opened up gaming to a broad demographic, making it a platform of choice for on-the-go and casual gamers. PCs have long been a staple in the gaming landscape, appreciated for their power and versatility. PC gaming offers cutting-edge graphics, modding capabilities, and a rich library of titles encompassing everything from indie gems to AAA blockbusters. Online multiplayer gaming, esports, and digital distribution platforms like Steam have thrived on the PC. The platform also supports a vibrant modding community, allowing players to personalize their gaming experiences. Consoles, including offerings from Sony, Microsoft, and Nintendo, provide a unique gaming experience tailored to living room entertainment. These platforms offer exclusive titles, robust gaming communities, and a focus on high-quality gaming experiences. Console gaming is cherished for its ease of use, consistent hardware, and controller-based gameplay. It appeals to both casual players and enthusiasts, and it often features blockbuster franchises and immersive single-player experiences.
By Age Group
Based on the age group, the global video game market is categorized into generation Z, generation Y, and generation X. The generation Z category leads the global video game market with the largest revenue share in 2022. This younger generation has grown up in a digital-first world. They are highly tech-savvy and are often early adopters of new gaming trends and technologies. They favor mobile gaming, esports, and social gaming experiences. They tend to appreciate short gaming sessions and games with a free-to-play model. Generation Z is also interested in content creation, often streaming and sharing their gaming experiences online. Generation Y , Millennials are known for their significant influence on the gaming industry. They've experienced the evolution of gaming from its early days and have a deep appreciation for both classic and modern gaming. Many are dedicated gamers who invest in gaming PCs and consoles. They value immersive storytelling, multiplayer experiences, and games that offer a mix of nostalgia and innovation. This generation has contributed to the rise of competitive gaming and the growth of online communities. Generation X represents the older segment of the gaming market. They've witnessed the inception of video games and have seen the industry's transformation. While they can not be as deeply immersed in gaming as younger generations, they often enjoy gaming as a form of relaxation and nostalgia. They might prefer consoles, classic arcade games, and less time-intensive gaming experiences.
By Platform Type
Based on platform type, the global video game market is segmented into offline, and online. The online segment dominates the video game market. Online gaming relies on an internet connection to enable gameplay and interactions with other players. It includes a wide range of experiences, such as multiplayer online games (MOBAs), massively multiplayer online role-playing games (MMORPGs), first-person shooters (FPS), battle royale games, and social games. Online gaming emphasizes real-time competition and cooperation, connecting players from around the world. It offers social experiences, in-game communication, and often leverages live service models for continuous updates and player engagement. Offline gaming category encompasses games that are typically played without a continuous internet connection. It includes single-player video games, local multiplayer (where players share the same physical space), and traditional tabletop games. Offline gaming often provides immersive storytelling, challenging puzzles, and the ability to enjoy games in a solitary environment or with friends and family without the need for an internet connection. It has a long history, from classic console and PC games to board games and card games.
Global Video Game Market Overview by Region
The global video game market is categorized into North America, Europe, Asia-Pacific, and the Rest of the World. Asia-Pacific emerged as the leading region, capturing the largest market share in 2022. There are many people living in the Asia-Pacific region, including billions of potential players in just China and India. For gaming businesses, both domestic and foreign, this large player base opens up a sizable market. A growing middle class with extra money is forming as the area becomes more urbanized. This shift in the population makes it easier for more people to spend money on gaming equipment, subscriptions, and in-game purchases, increasing the potential revenue for the sector. Asia has dominated the gaming industry due in large part to the popularity of mobile gaming in the area. A wide range of people can now play games on their cellphones thanks to its ease, including those who might not have access to PCs or traditional gaming consoles. The Asia-Pacific area has witnessed an unprecedented growth in esports. Esports hubs have formed in nations like South Korea and China, with sizable audiences, professional leagues, and significant investments. Esports' growing popularity has opened up opportunities for sponsors, content producers, tournament directors, and players alike. Local game creation has increased dramatically in the area, with businesses in nations like South Korea, China, and Japan producing profitable games for both home and global markets. This has caused the area to have an impact on international gaming trends.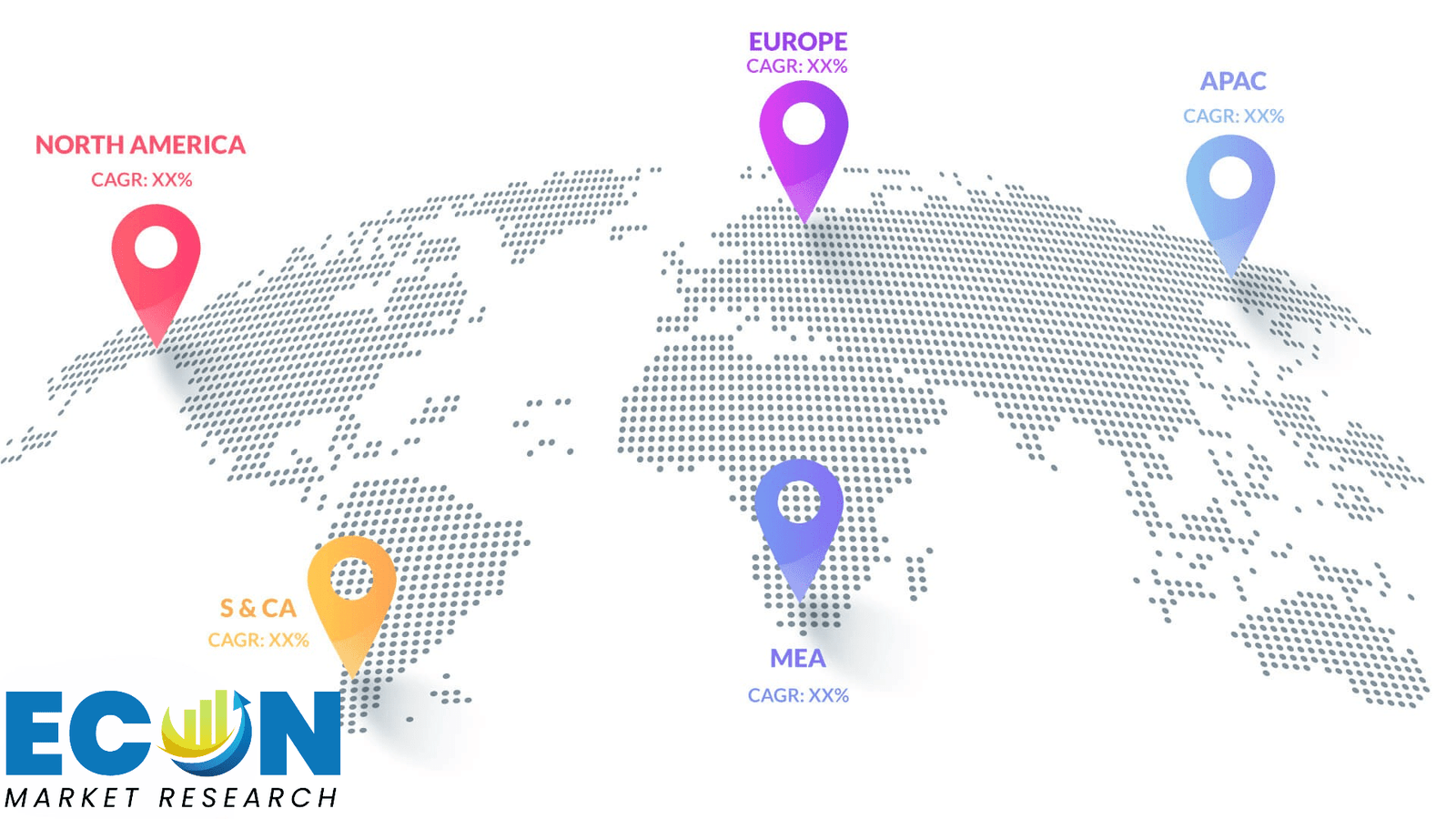 Global Video Game Market Competitive Landscape
In the global video game market, a few major players exert significant market dominance and have established a strong regional presence. These leading companies remain committed to continuous research and development endeavors and actively engage in strategic growth initiatives, including product development, launches, joint ventures, and partnerships. By pursuing these strategies, these companies aim to strengthen their market position, expand their customer base, and capture a substantial share of the market.
Some of the prominent players in the global video game market include Activision Blizzard; Apple Inc.; Disney; Electronic Arts Inc.; Lucid Games; Microsoft; Nintendo; Rovio Entertainment Corp.; Sony Interactive Entertainment Inc.; Tencent Holdings Ltd. , and various other key players.
Global Video Game Market Recent Developments
In October 2023, Activision Blizzard was acquired by Microsoft for $69 billion, forming a dominant video game company. With the acquisition, Microsoft, which owns Activision, the Xbox gaming platform, and Xbox gaming Studios (home to, among other game publishers and developers, Bethesda Softworks and 343 Industries), join forces.
Scope of the Global Video Game Market Report
Video Game Market Report Segmentation
ATTRIBUTE

DETAILS

By Device

By Age Group

Generation Z

Generation Y

Generation X

By Platform Type

By Geography

North America (USA,

and Canada)

Europe (UK, Germany, France, Italy, Spain, Russia and Rest of Europe)

Asia Pacific (Japan, China, India, Australia, Southeast Asia and Rest of Asia Pacific)

Latin America (Brazil, Mexico, and Rest of Latin America)

Middle East & Africa (South Africa, GCC, and Rest of Middle East & Africa)

Customization Scope

Pricing
Objectives of the Study
The objectives of the study are summarized in 5 stages. They are as mentioned below:
Global Video Game Market

Size and Forecast:
To identify and estimate the market size for the global video game market segmented by device, by age group, by platform type, region and by value (in U.S. dollars). Also, to understand the consumption/ demand created by consumers of video game between 2019 and 2031.
Market Landscape and Trends:
To identify and infer the drivers, restraints, opportunities, and challenges for the global video game market
Market Influencing Factors:
To find out the factors which are affecting the sales of video game among consumers
To identify and understand the various factors involved in the global video game market affected by the pandemic
To provide a detailed insight into the major companies operating in the market. The profiling will include the financial health of the company's past 2-3 years with segmental and regional revenue breakup, product offering, recent developments, SWOT analysis, and key strategies.
Intended Audience
Students and Researchers

Content Creators

Governments, Associations, and Industrial Bodies

Investors and Trade Experts
Research Methodology
Our research methodology has always been the key differentiating reason which sets us apart in comparison from the competing organizations in the industry. Our organization believes in consistency along with quality and establishing a new level with every new report we generate; our methods are acclaimed and the data/information inside the report is coveted. Our research methodology involves a combination of primary and secondary research methods. Data procurement is one of the most extensive stages in our research process. Our organization helps in assisting the clients to find the opportunities by examining the market across the globe coupled with providing economic statistics for each and every region. The reports generated and published are based on primary & secondary research. In secondary research, we gather data for global Market through white papers, case studies, blogs, reference customers, news, articles, press releases, white papers, and research studies. We also have our paid data applications which includes hoovers, Bloomberg business week, Avention, and others.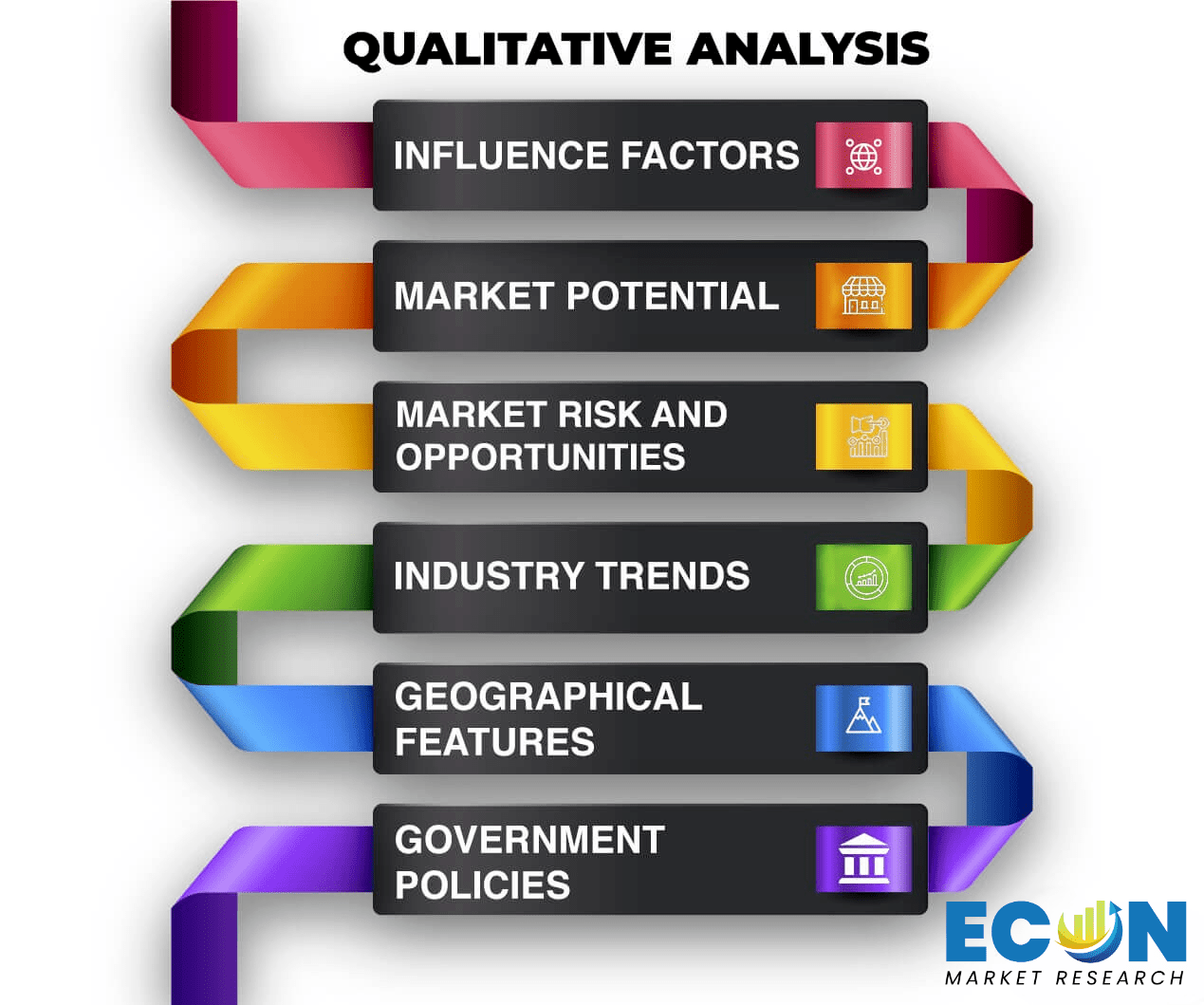 Data Collection
Data collection is the process of gathering, measuring, and analyzing accurate and relevant data from a variety of sources to analyze market and forecast trends. Raw market data is obtained on a broad front. Data is continuously extracted and filtered to ensure only validated and authenticated sources are considered. Data is mined from a varied host of sources including secondary and primary sources.

Primary Research
After the secondary research process, we initiate the primary research phase in which we interact with companies operating within the market space. We interact with related industries to understand the factors that can drive or hamper a market. Exhaustive primary interviews are conducted. Various sources from both the supply and demand sides are interviewed to obtain qualitative and quantitative information for a report which includes suppliers, product providers, domain experts, CEOs, vice presidents, marketing & sales directors, Type & innovation directors, and related key executives from various key companies to ensure a holistic and unbiased picture of the market. 
Secondary Research
A secondary research process is conducted to identify and collect information useful for the extensive, technical, market-oriented, and comprehensive study of the market. Secondary sources include published market studies, competitive information, white papers, analyst reports, government agencies, industry and trade associations, media sources, chambers of commerce, newsletters, trade publications, magazines, Bloomberg BusinessWeek, Factiva, D&B, annual reports, company house documents, investor presentations, articles, journals, blogs, and SEC filings of companies, newspapers, and so on. We have assigned weights to these parameters and quantified their market impacts using the weighted average analysis to derive the expected market growth rate.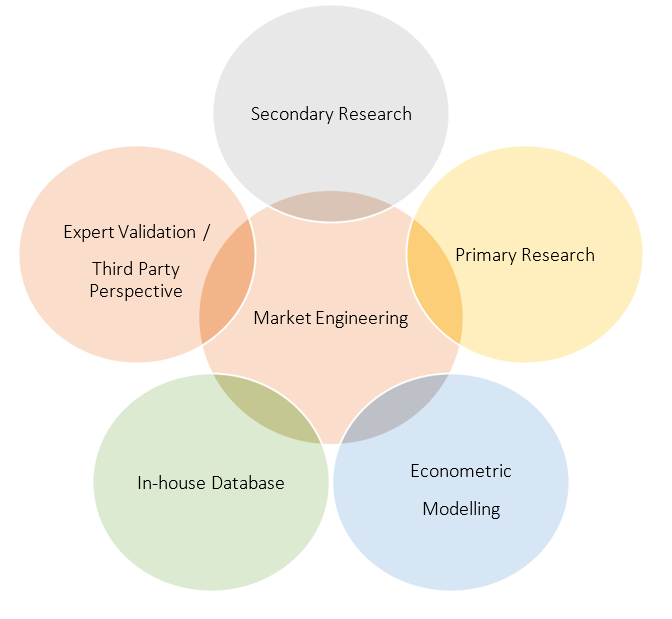 Top-Down Approach & Bottom-Up Approach
In the top – down approach, the Global Batteries for Solar Energy Storage Market was further divided into various segments on the basis of the percentage share of each segment. This approach helped in arriving at the market size of each segment globally. The segments market size was further broken down in the regional market size of each segment and sub-segments. The sub-segments were further broken down to country level market. The market size arrived using this approach was then crosschecked with the market size arrived by using bottom-up approach.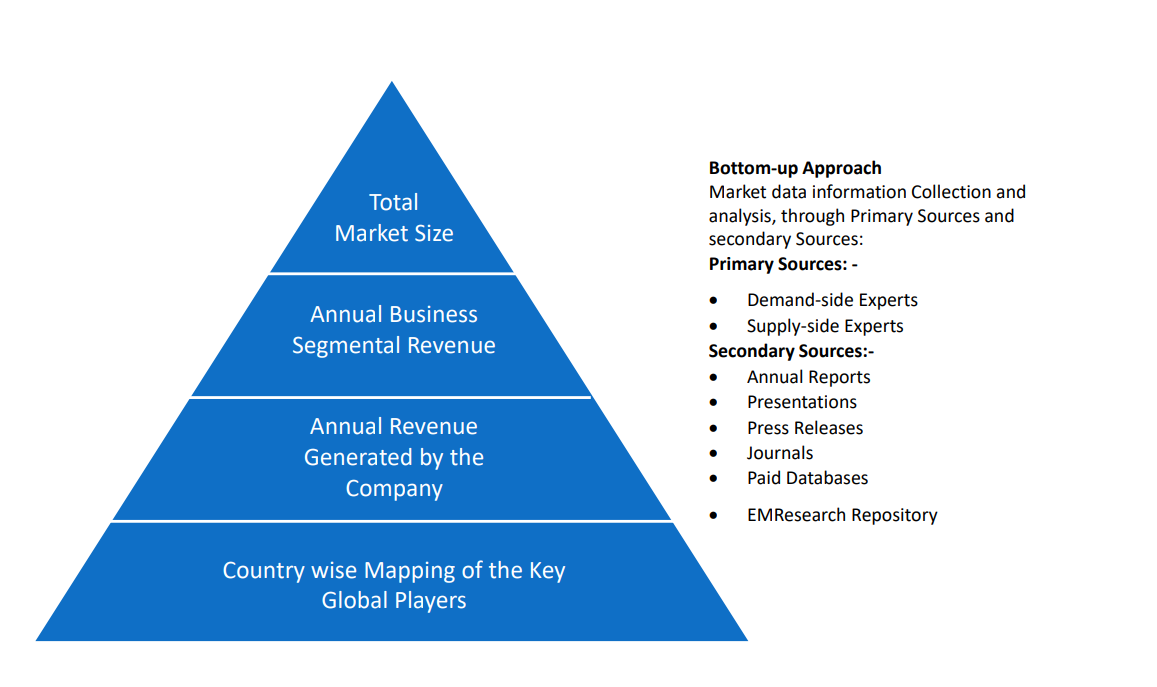 In the bottom-up approach, we arrived at the country market size by identifying the revenues and market shares of the key market players. The country market sizes then were added up to arrive at regional market size of the decorated apparel, which eventually added up to arrive at global market size.
This is one of the most reliable methods as the information is directly obtained from the key players in the market and is based on the primary interviews from the key opinion leaders associated with the firms considered in the research. Furthermore, the data obtained from the company sources and the primary respondents was validated through secondary sources including government publications and Bloomberg.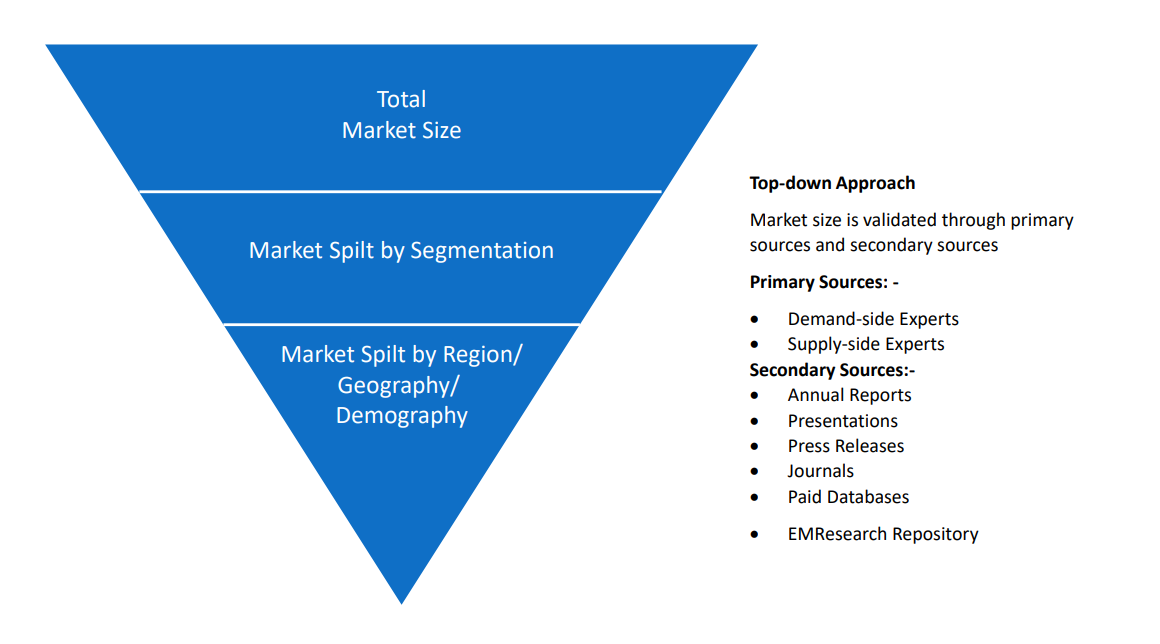 Market Analysis & size Estimation
Post the data mining stage, we gather our findings and analyze them, filtering out relevant insights. These are evaluated across research teams and industry experts. All this data is collected and evaluated by our analysts. The key players in the industry or markets are identified through extensive primary and secondary research. All percentage share splits, and breakdowns have been determined using secondary sources and verified through primary sources. The market size, in terms of value and volume, is determined through primary and secondary research processes, and forecasting models including the time series model, econometric model, judgmental forecasting model, the Delphi method, among Flywheel Energy Storage. Gathered information for market analysis, competitive landscape, growth trends, product development, and pricing trends is fed into the model and analyzed simultaneously.
Quality Checking & Final Review
The analysis done by the research team is further reviewed to check for the accuracy of the data provided to ensure the clients' requirements. This approach provides essential checks and balances which facilitate the production of quality data. This Type of revision was done in two phases for the authenticity of the data and negligible errors in the report. After quality checking, the report is reviewed to look after the presentation, Type and to recheck if all the requirements of the clients were addressed.