The global vaccines market was valued at USD 115.65 billion in 2022 and is estimated to reach approximately USD 155.80 billion by 2031, at a CAGR of 3.3% from 2023 to 2031.
A pivotal point in the history of healthcare was reached with the introduction of vaccinations to the world market. Biologically produced compounds known as vaccines are intended to boost the immune system and guard against a range of viral illnesses. Their appearance in the early 20th century coincided with a significant advancement in public health due to the creation of vaccines against illnesses like polio and smallpox. The market for vaccines has grown dramatically over time, and a large selection of vaccines are now available to prevent a variety of infectious diseases, including as COVID-19, influenza, measles, mumps, rubella, and hepatitis. Globally, vaccinations have prevented countless deaths and significantly lessened the burden of preventable diseases. They have helped to almost completely eradicate polio and eradicate smallpox. In the field of vaccination, ongoing research and development have led to the creation of novel, safer, and more effective vaccine formulations, such as mRNA vaccines, which became well-known during the COVID-19 pandemic. The market for vaccines is a vital part of the global healthcare system, highlighting the role that immunization plays in public health initiatives and disease prevention. In order to protect world health, efforts are still being made to create new vaccines, increase accessibility, and guarantee equitable distribution. The area is very active and changing.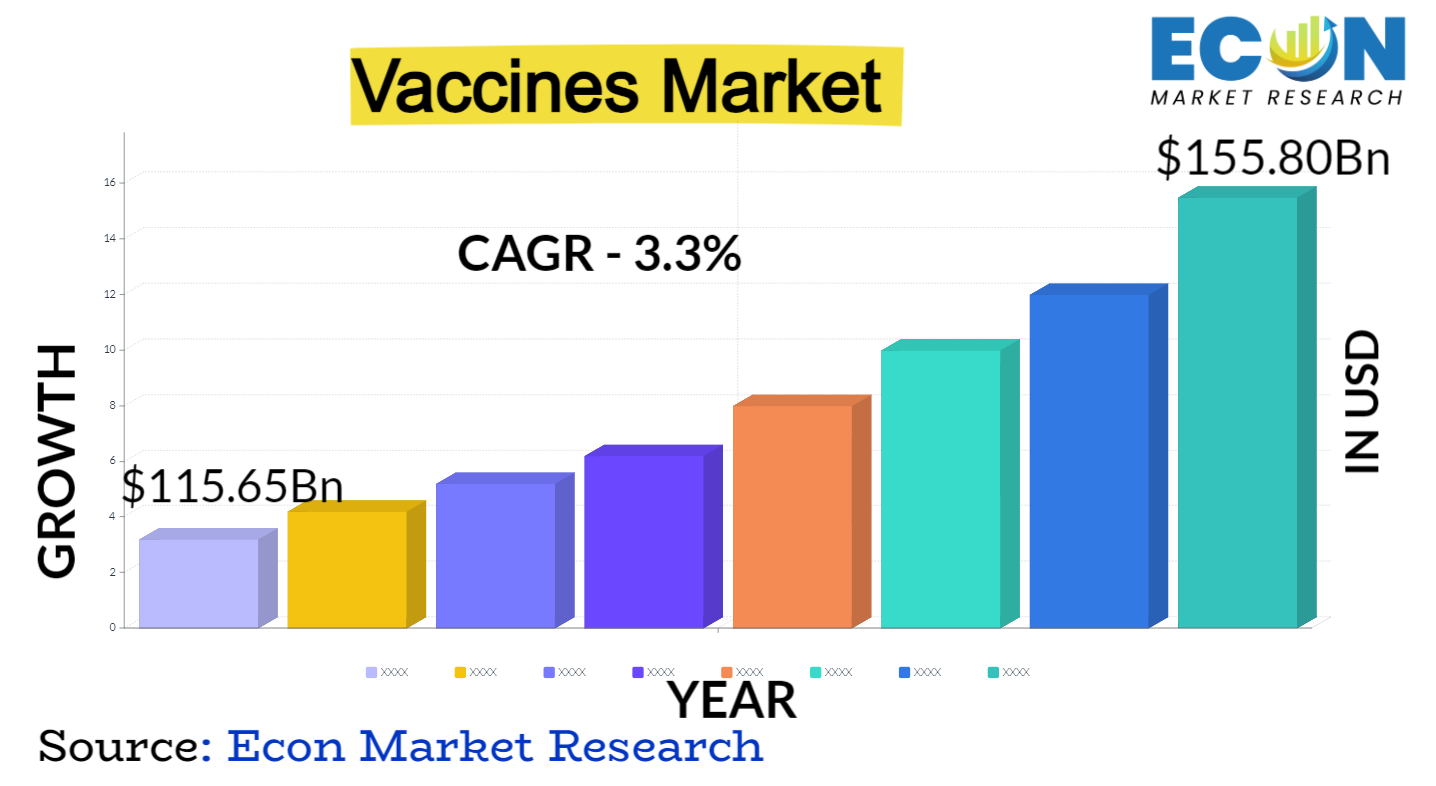 VACCINES MARKET: REPORT SCOPE & SEGMENTATION
| | |
| --- | --- |
| Report Attribute | Details |
| Estimated Market Value (2022) | 115.65 Bn |
| Projected Market Value (2031) | 155.80 Bn |
| Base Year | 2022 |
| Forecast Years | 2023 - 2031 |
| Scope of the Report | Historical and Forecast Trends, Industry Drivers and Constraints, Historical and Forecast Market Analysis by Segment- By Type, By Age of Administration, By Diseases, By Route of Administration, By End User, & Region |
| Segments Covered | By Type, By Age of Administration, By Diseases, By Route of Administration, By End User, & Region |
| Forecast Units | Value (USD Billion or Million), and Volume (Units) |
| Quantitative Units | Revenue in USD million/billion and CAGR from 2023 to 2031 |
| Regions Covered | North America, Europe, Asia Pacific, Latin America, and Middle East & Africa, and the Rest of World |
| Countries Covered | U.S., Canada, Mexico, U.K., Germany, France, Italy, Spain, China, India, Japan, South Korea, Brazil, Argentina, GCC Countries, and South Africa, among others |
| Report Coverage | Market growth drivers, restraints, opportunities, Porter's five forces analysis, PEST analysis, value chain analysis, regulatory landscape, market attractiveness analysis by segments and region, company market share analysis, and COVID-19 impact analysis. |
| Delivery Format | Delivered as an attached PDF and Excel through email, according to the purchase option. |
Global Vaccines Market Dynamics
The market for vaccinations demonstrates intricate and dynamic dynamics that are fueled by a confluence of market factors, public health regulations, and scientific discoveries. Continuous research and development that results in the production of new and improved vaccines is a major element driving the market. Innovations in technology, such mRNA vaccine platforms, have completely changed the vaccination industry by enabling more rapid vaccine development and a wider range of uses. The market is also greatly impacted by public health efforts and government legislation. Government funding and procurement tactics affect availability and distribution of vaccinations, whereas vaccination programs, mandates, and incentives increase demand for vaccines. The development of vaccines is greatly aided by financial and approval processes that are expedited for vaccine makers. Additionally, events related to global health, such pandemics and disease outbreaks, have an impact on market dynamics. The COVID-19 pandemic hastened efforts to produce, distribute, and conduct research on vaccines, underscoring the importance of having quick reaction capabilities. The market for vaccines is not without difficulties. There are still problems with accessibility and affordability, and high-income and low-income nations distribute vaccines differently. Achieving high vaccination rates is further hampered by vaccine reluctance and disinformation. Public health emergencies, government regulations, scientific advancements, and socioeconomic considerations all influence the vaccination industry. To ensure that vaccinations continue to be effective in preventing and controlling infectious illnesses on a worldwide scale, striking a balance between innovation, accessibility, and fairness is a crucial task.
Global Vaccines Market Drivers
Advancements in Vaccine Technology
These developments have enhanced disease prevention and control by revolutionizing the creation, manufacturing, and effectiveness of vaccinations. The creation and broad use of mRNA vaccination platforms is one noteworthy innovation. The Pfizer-BioNTech and Moderna COVID-19 vaccines are two examples of how this technology enables the quick design and manufacture of vaccinations. It has the benefit of flexibility, making it possible to react quickly to newly discovered infectious diseases. This discovery has not only changed how vaccines are developed, but it has also raised the bar for vaccine efficacy. Other developments in vaccination science include the use of viral vector, DNA-based, and creative adjuvants in addition to mRNA technology. By improving vaccination safety and immunogenicity, these technologies create new avenues for the treatment of difficult-to-cure diseases. Furthermore, the integration of informatics, data analytics, and artificial intelligence in vaccine research has expedited target identification, clinical trial design, and safety monitoring. These digital innovations streamline the vaccine development process and enhance the understanding of vaccine performance.
Expanding Aging Population
People who live longer are more vulnerable to health issues associated with aging, such as compromised immune systems and higher risks of infectious diseases. This change in the population highlights the value of vaccinations as a vital instrument for preserving the health and wellbeing of the elderly. Elderly people are frequently more vulnerable to serious side effects from diseases including influenza, pneumonia, shingles, and other illnesses that can be prevented by vaccination. As a result, the need for vaccinations designed to specifically meet the immunological needs of the elderly population is rising. This has prompted studies and the creation of vaccinations that provide older persons with improved protection. Furthermore, the significance of immunization for the elderly is being emphasized in public health policies and guidelines, which is boosting demand and opening up potential for vaccine manufacturers. Governments and healthcare organizations are increasing the number of immunization campaigns aimed at this population since they understand how much it can save expenses and enhance the lives of the elderly.
Restraints:
To guarantee safety and efficacy, vaccine development necessitates thorough pre-clinical and clinical testing as well as rigorous scientific research. There is a significant time and resource commitment for these research. The European Medicines Agency (EMA) and the U.S. Food and Drug Administration (FDA) have strict regulatory criteria that must be met. This requires a lot of documentation and quality control procedures, which raises the cost of development. It is costly to carry out extensive clinical trials with a variety of participant populations. Although these studies might be quite expensive, they are essential to proving the safety and effectiveness of vaccinations. It is quite expensive to set up vaccine manufacturing facilities and increase output to meet demand worldwide, particularly for more recent technologies like mRNA vaccines. These high development costs often result in elevated prices for vaccines, which can be a barrier to access, particularly in lower-income countries.
Manufacturing Challenges and Supply Chain Issues
The process of making vaccines is extremely intricate and specialized, entailing the cultivation, inactivation, and formulation of the vaccine's active ingredient. Any departure from the exact production procedures can result in problems with efficacy or safety. Strict testing and quality control methods are necessary to guarantee the efficacy and safety of vaccinations, and they can be expensive and time-consuming. Specialized facilities with restricted manufacturing capacity are used to generate a large number of vaccinations. Increasing vaccine production to fulfill spikes in demand like pandemics. The worldwide supply chain for vaccines is a network of raw materials, production sites, and distribution networks that is highly interrelated. This chain can have far-reaching effects if it is disrupted, as the COVID-19 pandemic showed. Due to the fact that wealthier countries frequently have better access to vaccinations, manufacturing issues can worsen the global vaccine disparity by placing lower-income countries at a disadvantage. Obtaining licenses for industrial facilities and other regulatory requirements can be expensive and time-consuming.
Opportunities:
Increasing Focus on Preventive Healthcare
There is a higher need for vaccines as illness prevention is prioritized more. In order to protect their health and the health of their communities, people are more likely to actively seek out immunization. Governments and medical institutions are spending more money on public health initiatives to spread the word about the value of immunizations. Increased market prospects result from these activities to enhance vaccination uptake. The pharmaceutical industry is allocating resources to the study and development of novel vaccines, including those that target newly developing infectious illnesses, as it realizes the potential for growth in the vaccines market. The focus on preventative healthcare has fueled ongoing investigation and advancement in the field of vaccination. This results in the creation of innovative vaccinations that are safer, easier to administer, and more.The growing interest in preventive healthcare, especially in emerging markets, expands the consumer base for vaccines, providing opportunities for market expansion.
Increasing Vaccine Adoption in Emerging Markets
The middle class is expanding in many emerging nations, and their disposable income is rising. Increased access to healthcare services, including vaccinations, is made possible by this demographic transition. Emerging market governments are realizing the value of immunization in preventing illness and lowering medical expenses. Adoption of vaccines is being fueled by funding increases and immunization campaigns. Access to and delivery of vaccines are made easier by investments in healthcare infrastructure, such as the growth of medical facilities and immunization programs. Rising urbanization in emerging economies improves healthcare awareness and accessibility, which encourages urban populations to embrace vaccines. The burden of diseases preventable by vaccination is frequently larger in emerging markets. This fuels the need for vaccinations as an affordable way to lower disease and death rates. International organizations and philanthropic foundations are collaborating with emerging market governments and healthcare organizations to improve vaccine access, affordability, and coverage.
Segment Overview
By Type
Based on type, the global vaccines market is divided into subunit, recombinant, conjugate vaccines, live-attenuated vaccines, inactivated vaccines, toxoid vaccines, DNA vaccines. The conjugate vaccines category dominates the market with the largest revenue share in 2022. Conjugate vaccines combine a weak antigen, such as a polysaccharide from a bacterial cell, with a carrier protein. They are effective against bacterial pathogens with polysaccharide capsules, like Haemophilus influenzae type b (Hib) and Streptococcus pneumoniae. Subunit vaccines consist of purified components of the pathogen, such as proteins or antigens. They are known for their safety as they do not contain the live pathogen. Subunit vaccines are often used for diseases like hepatitis B and human papillomavirus (HPV). Recombinant vaccines are engineered using genetic techniques to introduce specific genes into a harmless microorganism, which then expresses the desired pathogen component. Examples include the hepatitis B vaccine and some COVID-19 vaccines like those produced by Moderna and Pfizer-BioNTech. Live-attenuated vaccines contain weakened, but still live, forms of the pathogen. They provide robust and long-lasting immunity, as seen in vaccines for measles, mumps, rubella, and the oral polio vaccine. Inactivated vaccines use pathogen components that have been killed or inactivated, making them safe for immunization. Examples include the polio vaccine (injected form) and the hepatitis A vaccine. Toxoid vaccines are designed to prevent diseases caused by bacterial toxins, such as diphtheria and tetanus. They use inactivated toxins to stimulate an immune response. DNA vaccines introduce genetic material (usually plasmids) encoding specific pathogen antigens into the body, triggering an immune response. While still an emerging technology, they hold promise for conditions like malaria and HIV.
By Age of Administration
Based on the age of administration, the global vaccines market is categorized into pediatric vaccine, adult vaccine. The adult vaccine category leads the global vaccines market with the largest revenue share in 2022. Adult vaccines, on the other hand, are tailored to the specific health needs of adults and the elderly. These vaccines are essential for preventing diseases that can become more prevalent or severe as individuals age. Examples include vaccines for influenza, shingles (herpes zoster), pneumococcal disease, hepatitis B, and human papillomavirus (HPV). Additionally, adult vaccines can include booster doses or vaccines for travel-related diseases based on a person's age, health status, and potential exposure risks. Pediatric vaccines are designed for infants, children, and adolescents. They address diseases that are particularly relevant and often more severe in the younger population. Common examples include vaccines for measles, mumps, rubella (MMR), polio, diphtheria, tetanus, pertussis (DTaP), and Haemophilus influenzae type b (Hib). These vaccines are typically administered according to a schedule recommended by health authorities to provide early protection and establish immunity in childhood.
By Diseases
Based on diseases, the global vaccines market is segmented into pneumococcal disease, measles, mumps and varicella, DPT, hepatitis, influenza, typhoid, COVID-19, others. The COVID-19 segment dominates the vaccines market. The COVID-19 vaccine category emerged in response to the global pandemic caused by the novel coronavirus SARS-CoV-2. Multiple vaccines were developed to combat the spread of the virus and mitigate its impact on public health. Pneumococcal vaccines are designed to protect against infections caused by the bacterium Streptococcus pneumoniae, which can lead to conditions like pneumonia, meningitis, and sepsis. These vaccines target three separate viral infections. Measles, mumps, and varicella (chickenpox) vaccines are crucial in preventing highly contagious and potentially severe childhood diseases. The DPT vaccine is a combination vaccine that provides immunity against three bacterial diseases: diphtheria, tetanus (lockjaw), and pertussis (whooping cough). Hepatitis vaccines protect against various strains of hepatitis viruses, including hepatitis A and hepatitis B, which can lead to liver diseases. The influenza vaccine is administered annually to safeguard against seasonal influenza viruses that can cause respiratory illness and, in some cases, severe complications.
By Route of Administration
Based on route of administration, the global vaccines market is divided into injectable, oral, nasal. The oral category dominates the market with the largest revenue share in 2022. Oral vaccines are taken by mouth, typically in the form of drops, capsules, or liquids. They are designed to stimulate immunity in the gastrointestinal tract and are often used to protect against diseases like polio and rotavirus. Oral vaccines are particularly suitable for mass vaccination campaigns in regions with limited healthcare infrastructure. Injectable vaccines are administered through a needle and syringe, either subcutaneously (under the skin) or intramuscularly (into the muscle). This form of vaccination is widely used and is known for its effectiveness and ability to induce a strong and long-lasting immune response. Many common vaccines, such as those for measles, mumps, rubella (MMR), hepatitis, and influenza, are administered via injection. Nasal vaccines are administered through the nostrils as a spray or drops. They are designed to target the mucous membranes in the nasal passages and upper respiratory tract. Some nasal vaccines are used to protect against influenza, while others are under development for diseases like COVID-19. Nasal vaccines can offer advantages in terms of ease of administration and enhanced mucosal immunity.
By End User
Based on the end user, the global vaccines market is categorized into community hospitals, hospitals, specialty centres, clinics, others. The community hospitals category leads the global vaccines market with the largest revenue share in 2022. Community hospitals are general medical facilities that serve the healthcare needs of the local community. These hospitals often offer a wide range of medical services, including vaccine administration. They play a vital role in providing routine vaccinations, particularly for residents in their catchment areas. General hospitals, which provide comprehensive medical care and are equipped to handle a wide range of healthcare services, including vaccinations. Hospitals can administer vaccines to inpatients, outpatients, and individuals with specific medical conditions that require vaccination. Specialty centers are healthcare facilities that focus on specific medical areas, such as pediatric clinics, travel clinics, or specialized vaccine centers. They offer targeted vaccine services and expertise in particular categories of immunization, catering to the unique needs of specific patient groups or circumstances. Clinics, whether public health clinics, private healthcare clinics, or primary care clinics, are essential settings for vaccine administration. They serve as accessible points of care for vaccinations, especially for routine and preventive vaccines.
Global Vaccines Market Overview by Region
The global vaccines market is categorized into North America, Europe, Asia-Pacific, and the Rest of the World. Asia-Pacific emerged as the leading region, capturing the largest market share in 2022. A sizable fraction of the world's population resides in the Asia-Pacific area, which has a diverse demographic environment. Because of this population size, there is a substantial need for vaccines due to the necessity to guard against a variety of infectious diseases. The burden of infectious diseases, including vaccine-preventable and emerging pathogens, is higher in many Asia-Pacific nations. As a result, vaccination demand has surged as the main method of controlling and preventing chronic illnesses. Over the past few decades, the region has undergone significant economic expansion, which has improved the accessibility of vaccines and the healthcare system. A number of nations have seen increases in the cost and demand for healthcare services, including vaccinations, as a result of rising income levels. The Asia-Pacific region's numerous governments have acknowledged the significance of vaccinations for public health. To improve vaccine coverage and accessibility, they have put in place immunization campaigns, vaccination programs, and policies. Asia-Pacific is home to a burgeoning biotechnology and pharmaceutical sector that includes businesses engaged in the creation, production, and research of vaccines. The existence of this industry has improved the region's standing in the international vaccine market. Due to partnerships between national and international institutions, the area has developed into a center for vaccine research and development, producing cutting-edge vaccinations and medical treatments.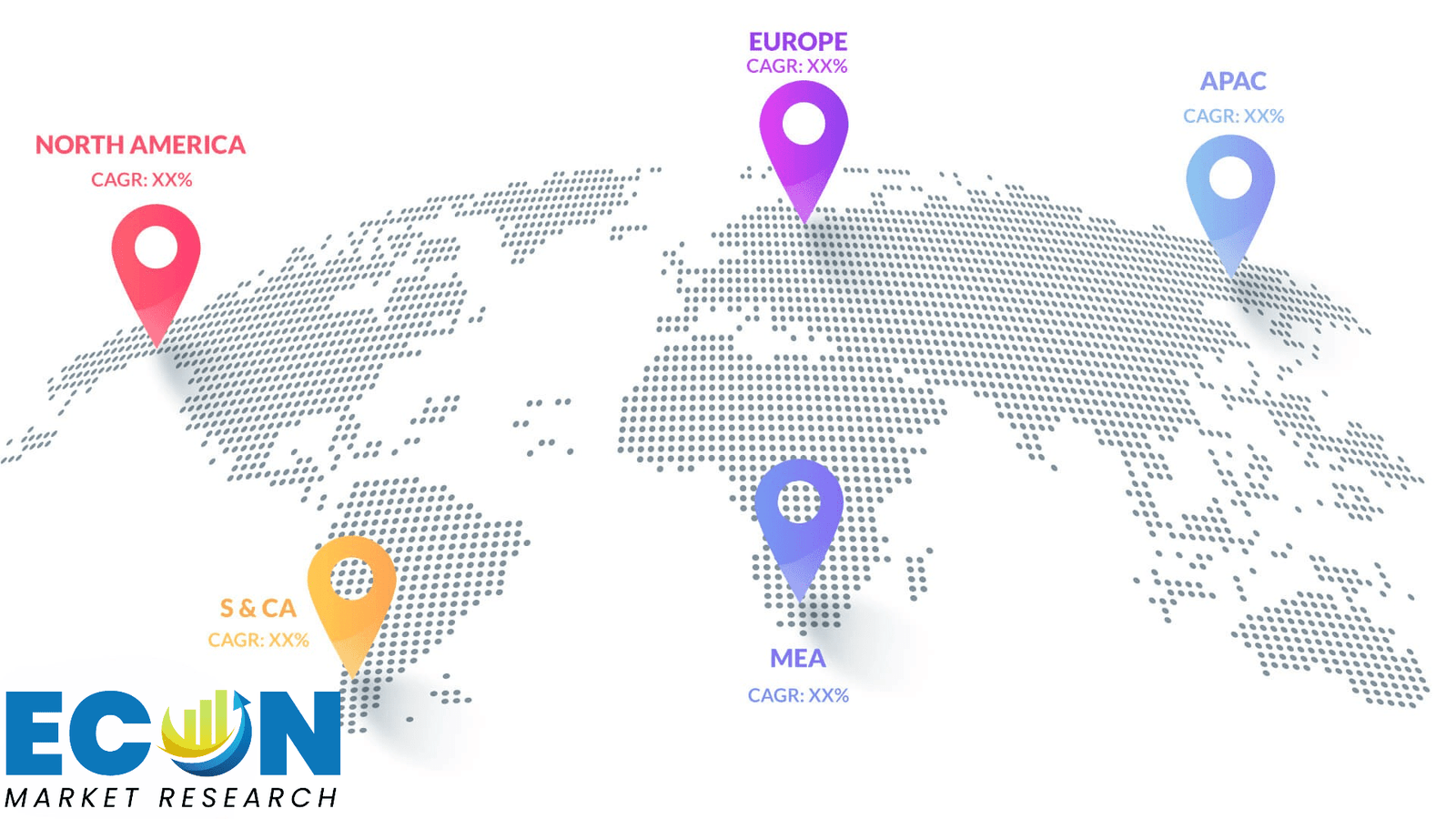 Global Vaccines Market Competitive Landscape
In the global vaccines market, a few major players exert significant market dominance and have established a strong regional presence. These leading companies remain committed to continuous research and development endeavors and actively engage in strategic growth initiatives, including product development, launches, joint ventures, and partnerships. By pursuing these strategies, these companies aim to strengthen their market position, expand their customer base, and capture a substantial share of the market.
Some of the prominent players in the global vaccines market include Merck & Co., Inc., Pfizer Inc., GSK plc, Sanofi , Serum Institute of India Pvt. Ltd., AstraZeneca, Johnson & Johnson Private Limited, Indian Immunologicals Ltd., Novasep, MerckKGaA, Charles River Laboratories, uniQure N.V., Waisman Biomanufacturing, Creative-Biogene, Aldevron, Addgene, and various other key players.
Global Vaccines Market Recent Developments
In August 2022, The clinical-stage biopharmaceutical business Affinivax, Inc. (Affinivax), with its headquarters in Cambridge, Massachusetts, has been acquired by GSK plc. Next-generation pneumococcal vaccines are the most developed of a new class of vaccines that Affinivax spearheaded the development of.

In June 2022, ReViral is fully acquired by Pfizer. The acquisition strengthens Pfizer's commitment to creating both medications and vaccines to help fight the respiratory syncytial virus (RSV) and broadens its anti-infective pipeline.
Scope of the Global Vaccines Market Report
Vaccines Market Report Segmentation
ATTRIBUTE

DETAILS

By Type

Subunit

Recombinant

Conjugate Vaccines

Live-Attenuated Vaccines

Inactivated Vaccines

Toxoid Vaccines

DNA Vaccines

By Age of Administration

Pediatric Vaccine

Adult Vaccine

By Diseases

Pneumococcal Disease

Measles

Mumps and Varicella

DPT

Hepatitis

Influenza

Typhoid

COVID-19

Others

By Route of Administration

By End User

Community Hospitals

Hospitals

Specialty Centres

Clinics

Others

By Geography

North America (USA,

and Canada)

Europe (UK, Germany, France, Italy, Spain, Russia and Rest of Europe)

Asia Pacific (Japan, China, India, Australia, Southeast Asia and Rest of Asia Pacific)

Latin America (Brazil, Mexico, and Rest of Latin America)

Middle East & Africa (South Africa, GCC, and Rest of Middle East & Africa)

Customization Scope

Pricing
Objectives of the Study
The objectives of the study are summarized in 5 stages. They are as mentioned below:
Global Vaccines Market

Size and Forecast:
To identify and estimate the market size for the global vaccines market segmented by type, by age of administration, by diseases, by route of administration, by end user, region and by value (in U.S. dollars). Also, to understand the consumption/ demand created by consumers of vaccines between 2019 and 2031.
Market Landscape and Trends:
To identify and infer the drivers, restraints, opportunities, and challenges for the global vaccines market
Market Influencing Factors:
To find out the factors which are affecting the sales of vaccines among consumers
To identify and understand the various factors involved in the global vaccines market affected by the pandemic
To provide a detailed insight into the major companies operating in the market. The profiling will include the financial health of the company's past 2-3 years with segmental and regional revenue breakup, product offering, recent developments, SWOT analysis, and key strategies.
Intended Audience
Healthcare Providers

Pharmaceutical Industry Professionals

Healthcare Administrators

Pharmaceutical Regulators

Governments, Associations, and Industrial Bodies

Vaccine Researchers
Research Methodology
Our research methodology has always been the key differentiating reason which sets us apart in comparison from the competing organizations in the industry. Our organization believes in consistency along with quality and establishing a new level with every new report we generate; our methods are acclaimed and the data/information inside the report is coveted. Our research methodology involves a combination of primary and secondary research methods. Data procurement is one of the most extensive stages in our research process. Our organization helps in assisting the clients to find the opportunities by examining the market across the globe coupled with providing economic statistics for each and every region. The reports generated and published are based on primary & secondary research. In secondary research, we gather data for global Market through white papers, case studies, blogs, reference customers, news, articles, press releases, white papers, and research studies. We also have our paid data applications which includes hoovers, Bloomberg business week, Avention, and others.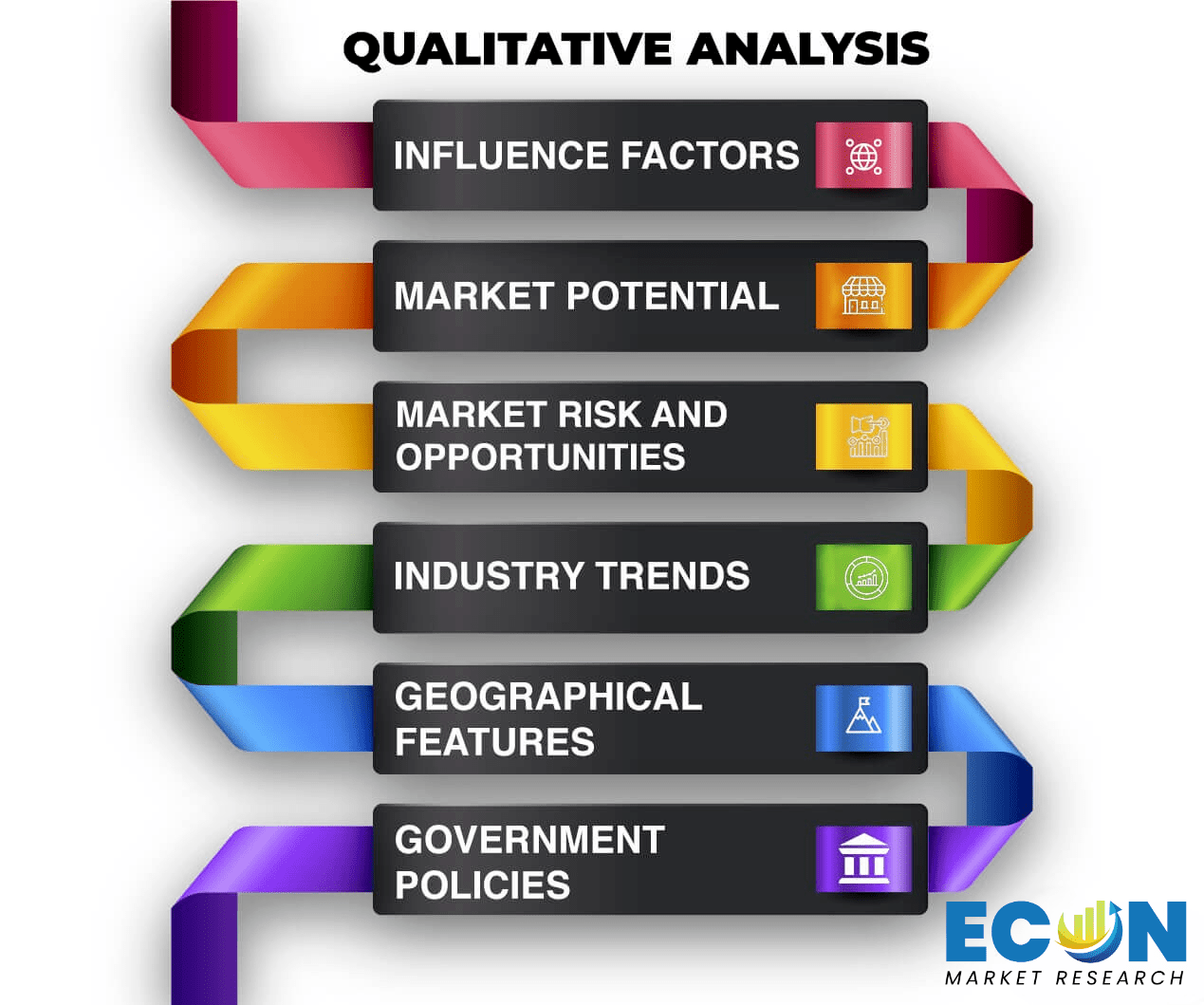 Data Collection
Data collection is the process of gathering, measuring, and analyzing accurate and relevant data from a variety of sources to analyze market and forecast trends. Raw market data is obtained on a broad front. Data is continuously extracted and filtered to ensure only validated and authenticated sources are considered. Data is mined from a varied host of sources including secondary and primary sources.

Primary Research
After the secondary research process, we initiate the primary research phase in which we interact with companies operating within the market space. We interact with related industries to understand the factors that can drive or hamper a market. Exhaustive primary interviews are conducted. Various sources from both the supply and demand sides are interviewed to obtain qualitative and quantitative information for a report which includes suppliers, product providers, domain experts, CEOs, vice presidents, marketing & sales directors, Type & innovation directors, and related key executives from various key companies to ensure a holistic and unbiased picture of the market. 
Secondary Research
A secondary research process is conducted to identify and collect information useful for the extensive, technical, market-oriented, and comprehensive study of the market. Secondary sources include published market studies, competitive information, white papers, analyst reports, government agencies, industry and trade associations, media sources, chambers of commerce, newsletters, trade publications, magazines, Bloomberg BusinessWeek, Factiva, D&B, annual reports, company house documents, investor presentations, articles, journals, blogs, and SEC filings of companies, newspapers, and so on. We have assigned weights to these parameters and quantified their market impacts using the weighted average analysis to derive the expected market growth rate.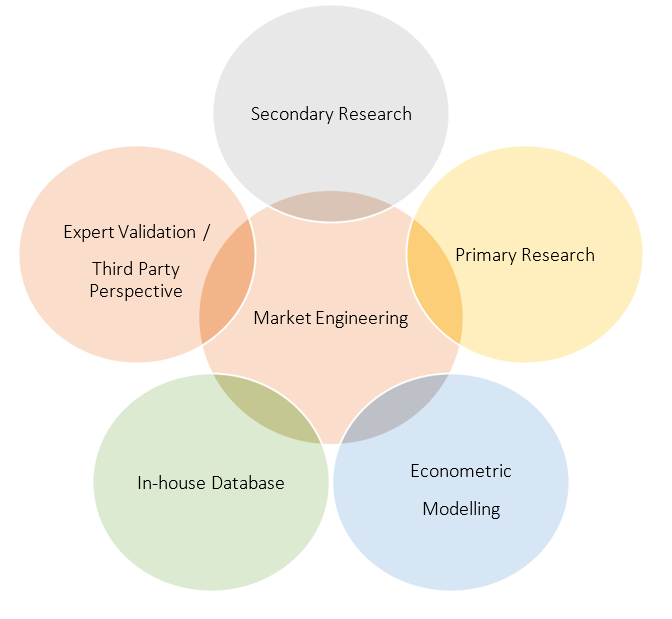 Top-Down Approach & Bottom-Up Approach
In the top – down approach, the Global Batteries for Solar Energy Storage Market was further divided into various segments on the basis of the percentage share of each segment. This approach helped in arriving at the market size of each segment globally. The segments market size was further broken down in the regional market size of each segment and sub-segments. The sub-segments were further broken down to country level market. The market size arrived using this approach was then crosschecked with the market size arrived by using bottom-up approach.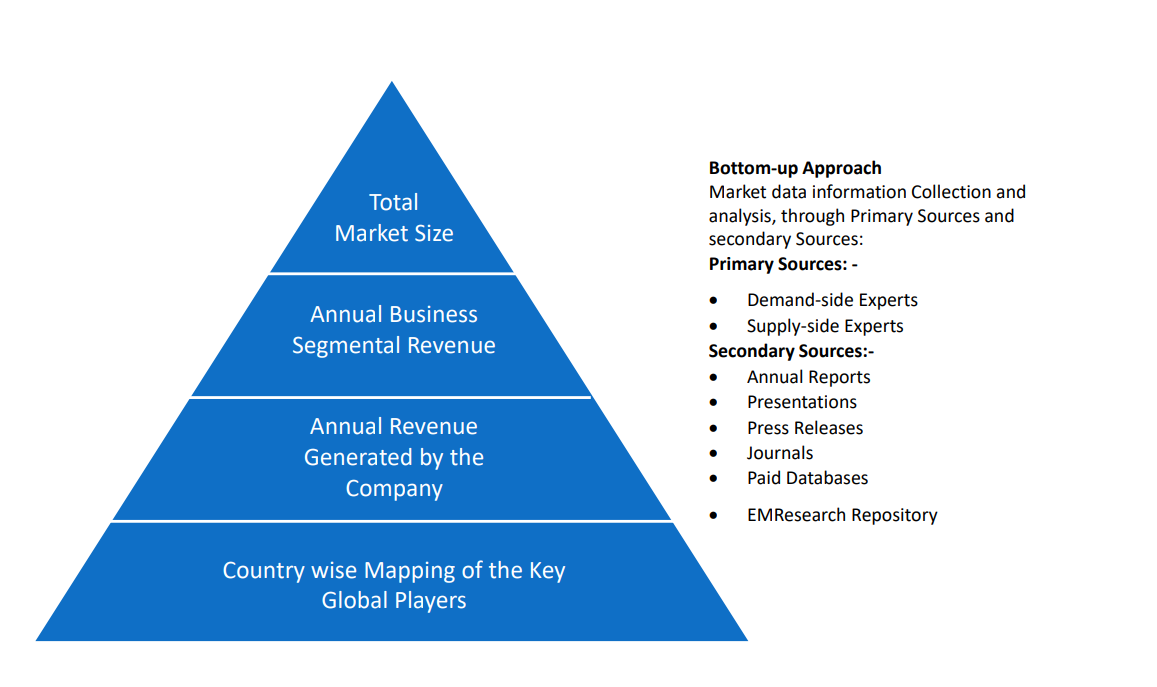 In the bottom-up approach, we arrived at the country market size by identifying the revenues and market shares of the key market players. The country market sizes then were added up to arrive at regional market size of the decorated apparel, which eventually added up to arrive at global market size.
This is one of the most reliable methods as the information is directly obtained from the key players in the market and is based on the primary interviews from the key opinion leaders associated with the firms considered in the research. Furthermore, the data obtained from the company sources and the primary respondents was validated through secondary sources including government publications and Bloomberg.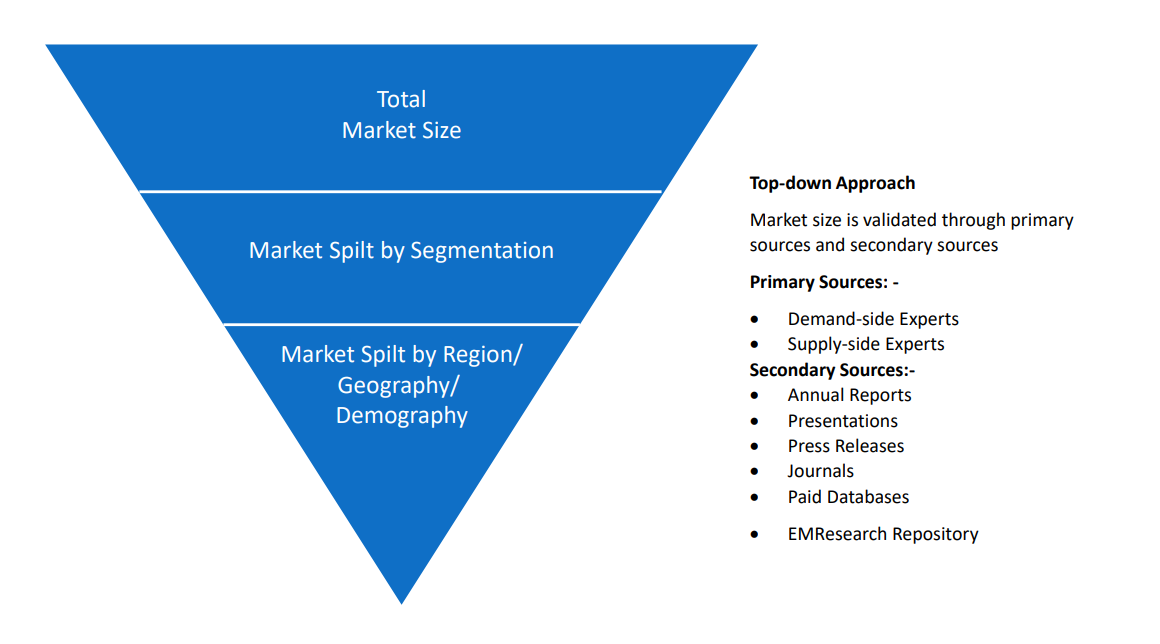 Market Analysis & size Estimation
Post the data mining stage, we gather our findings and analyze them, filtering out relevant insights. These are evaluated across research teams and industry experts. All this data is collected and evaluated by our analysts. The key players in the industry or markets are identified through extensive primary and secondary research. All percentage share splits, and breakdowns have been determined using secondary sources and verified through primary sources. The market size, in terms of value and volume, is determined through primary and secondary research processes, and forecasting models including the time series model, econometric model, judgmental forecasting model, the Delphi method, among Flywheel Energy Storage. Gathered information for market analysis, competitive landscape, growth trends, product development, and pricing trends is fed into the model and analyzed simultaneously.
Quality Checking & Final Review
The analysis done by the research team is further reviewed to check for the accuracy of the data provided to ensure the clients' requirements. This approach provides essential checks and balances which facilitate the production of quality data. This Type of revision was done in two phases for the authenticity of the data and negligible errors in the report. After quality checking, the report is reviewed to look after the presentation, Type and to recheck if all the requirements of the clients were addressed.