The Global Textile Market was valued at USD 1694.76 billion in 2022 and is estimated to reach approximately USD 3364.26 billion by 2031, at a CAGR of 7.9% from 2023 to 2031. The growth of society and the development of human history have both been significantly influenced by the textile industry, a vibrant and essential component of the global economy. The textile market, which has its origins in ancient craftsmanship, has developed into a complex and varied business that includes the creation, consumption, and exchange of a wide range of fabrics, fibers, and finished textile goods. The textile industry has undergone a revolution as a result of technological development and cultural influences, which have sparked innovation in raw materials, fashion design, and manufacturing techniques. From apparel and interior design to industrial uses, medicinal fabrics, and other needs, this industry can meet them all. Globalization has further amplified the reach of the textile market, turning it into a highly interconnected and competitive arena. Countries specialize in different segments of the market, leveraging their strengths to contribute to the global supply chain. This has led to both opportunities and challenges, as the industry grapples with issues of sustainability, labor practices, and shifting consumer preferences. The textile market has witnessed a growing emphasis on sustainable practices, with eco-friendly materials and ethical production methods gaining traction. Additionally, digital technologies are altering the way textiles are designed, produced, marketed, and even recycled. As the textile market continues to evolve, it remains a barometer of economic trends, cultural shifts, and technological progress. Its adaptability and constant innovation ensure its enduring relevance in an ever-changing world.
TEXTILE MARKET: REPORT SCOPE & SEGMENTATION
| | |
| --- | --- |
| Report Attribute | Details |
| Estimated Market Value (2022) | 1694.76 Bn |
| Projected Market Value (2031) | 3364.26 Bn |
| Base Year | 2022 |
| Forecast Years | 2023 - 2031 |
| Scope of the Report | Historical and Forecast Trends, Industry Drivers and Constraints, Historical and Forecast Market Analysis by Segment- By Material, By Type, By Application, & Region |
| Segments Covered | By Material, By Type, By Application, & Region |
| Forecast Units | Value (USD Billion or Million), and Volume (Units) |
| Quantitative Units | Revenue in USD million/billion and CAGR from 2023 to 2031 |
| Regions Covered | North America, Europe, Asia Pacific, Latin America, and Middle East & Africa, and the Rest of World |
| Countries Covered | U.S., Canada, Mexico, U.K., Germany, France, Italy, Spain, China, India, Japan, South Korea, Brazil, Argentina, GCC Countries, and South Africa, among others |
| Report Coverage | Market growth drivers, restraints, opportunities, Porter's five forces analysis, PEST analysis, value chain analysis, regulatory landscape, market attractiveness analysis by segments and region, company market share analysis, and COVID-19 impact analysis. |
| Delivery Format | Delivered as an attached PDF and Excel through email, according to the purchase option. |
Global Textile Market Dynamics
Complex dynamics that result from a confluence of elements, such as customer preferences, technological improvements, supply chain complexity, and global economic trends define the textile market. Fashion trends and consumer demand have a significant impact on the market, encouraging producers to develop a variety of cutting-edge textile items. In order to improve production efficiency, quality, and design possibilities, technological advancement is crucial. The sector has been transformed by automation, digital printing, and sophisticated materials, enabling speedier response times to market demands and lowering manufacturing costs. Supply chains in the textile market are intricate and often span multiple countries, each specializing in different stages of production. This globalization offers cost advantages but can also lead to challenges related to logistics, sourcing, and ethical practices. Economic fluctuations significantly impact the textile market. During economic downturns, consumer spending on non-essential items like clothing may decrease, affecting manufacturers and retailers. Conversely, growth periods can lead to increased consumer purchasing power, boosting demand for textiles. Sustainability is emerging as a key driver of change. Consumers are increasingly seeking eco-friendly and ethically produced textiles, prompting companies to adopt sustainable practices and develop innovative recycling methods. The textile market's dynamics are shaped by a blend of consumer trends, technological innovations, global supply chains, economic shifts, and sustainability concerns. Understanding and adapting to these multifaceted dynamics are crucial for businesses to thrive in this ever-evolving industry.
Global Textile Market Drivers
Rapid Changes in Fashion and Style Influencing Fabric Choices and Production Volumes
The textile industry's fabric preferences and production levels are significantly impacted by the quick changes in fashion and style. A complex interaction of societal changes, media coverage, celebrity endorsements, and social media influence fashion trends. These trends spread like a wave throughout the entire textile supply chain as they quickly developed. Designers, companies, and fashion houses pay close attention to consumer preferences and include them in their collections. This dynamic procedure needs a diverse range of textiles that are in line with current fashion trends. In order to keep up with the always-shifting demand, textile manufacturers must modify their production procedures and move quickly to alter the compositions, designs, colors, and textures of fabrics. The intensity of these shifts directly affects production volumes. As certain styles gain popularity, the demand for fabrics that match those styles surges. Manufacturers experience the need to scale up production to keep pace, sometimes leading to temporary imbalances in supply and demand. Conversely, when a trend wanes, production volumes might need to be curtailed swiftly to prevent inventory buildup.
Growing Demand for Sustainable and Environmentally Friendly Textiles
The growing demand for sustainable and environmentally friendly textiles is a pivotal driver reshaping the textile industry. As global environmental concerns intensify, consumers, regulatory bodies, and businesses alike are recognizing the imperative to minimize the ecological impact of textile production. This driver is driven by heightened awareness of issues such as climate change, resource depletion, and pollution. Consumers are becoming increasingly conscious of their purchasing choices and are seeking textiles that align with their values, favoring materials produced with reduced environmental footprints. Regulatory pressures and international agreements aimed at curbing environmental degradation also play a significant role. Stricter regulations and standards encourage textile manufacturers to adopt cleaner production methods, sustainable sourcing, and reduced chemical usage.
Restraints:
High production costs refer to the significant expenses incurred by manufacturers during the process of creating textiles and textile products. These costs encompass various elements such as raw materials, labor, energy, machinery, technology, and overhead expenses. Raw materials found a substantial portion of production costs. Fluctuations in the prices of natural fibers like cotton or synthetic materials can impact overall expenses. Moreover, the demand for sustainable and eco-friendly materials might entail higher procurement costs, reflecting the industry's shift towards responsible sourcing. Technological investments, while enhancing efficiency, can contribute to high production costs. Advanced machinery, automation, and digital technologies require substantial initial outlay and ongoing maintenance expenses. Energy costs, necessary for powering machinery and maintaining production environments, can also be a significant factor.
Labor Intensity and Workforce Issues
Textile manufacturing involves intricate processes such as weaving, cutting, sewing, and finishing, many of which require manual dexterity and precision. This labor-intensive nature contributes to higher production costs and longer lead times. Additionally, the industry's global supply chains often involve countries with lower labor costs, leading to outsourcing and concerns about fair wages and working conditions. Workforce issues encompass a range of challenges. Labor shortages can arise due to factors such as demographic shifts, migration patterns, or competing industries. This scarcity can lead to increased wages, affecting production costs. Moreover, ensuring the well-being and rights of workers is crucial, given the historical association of the textile industry with labor exploitation.
Opportunities:
Rise of Digital Printing Techniques in The Textile Industry
The development of digital printing methods in the textile sector represents a fundamental change in the way that materials are decorated with patterns, colors, and designs. Traditional textile printing techniques use intricate screens or rollers, which restrict the design options and require time-consuming preparation procedures. Digital printing, in contrast, uses cutting-edge technology to apply ink directly to materials, enabling unmatched creativity and efficiency. The benefits of digital printing are numerous. It allows for highly accurate and consistent elaborate and detailed designs. Traditional procedures take more time and money because elaborate setups are unnecessary with this technique. Additionally, because digital printing offers customization, businesses may accommodate unique tastes and short production runs without incurring additional costs.
Integration of Technology into Textiles
The impact of smart textiles is significant in many different industries. They make it possible for wearable medical devices in the healthcare industry to monitor vital signs or administer therapeutic treatments. They provide biometric tracking and performance-improving features for sports and fitness. Illuminating clothing, color-changing materials, and interactive designs that react to outside stimuli or human inputs are advantageous to the fashion business. Concerns of sustainability are also addressed through the incorporation of technology into textiles. The longevity of a product is increased by textiles having self-cleaning or self-repairing capabilities. The use of energy-harvesting textiles lowers reliance on external power sources by capturing and converting energy from the environment.
Segment Overview
By Material
Based on material, the global textile market is divided into cotton, chemical, wool, silk, and others. The cotton category dominates the market with the largest revenue share of around 37.5% in 2022. Cotton is one of the most widely used natural fibers in the textile industry. It is known for its breathability, comfort, and absorbency. Cotton textiles find applications in various products such as apparel, home textiles, and industrial items. Chemical fibers encompass a broad category of synthetic or man-made fibers, including polyester, nylon, acrylic, and spandex. These fibers offer durability, elasticity, and resistance to wrinkles and moisture. They are used in sportswear, activewear, outdoor gear, and everyday clothing. Wool is a natural fiber sourced from animals like sheep, goats, and rabbits. It is valued for its warmth, insulation, and natural elasticity. Woolen textiles are commonly used in cold-weather clothing, blankets, and luxury garments. Similarly, silk is a luxurious and delicate natural fiber produced by silkworms. It is renowned for its softness, luster, and unique texture. Silk textiles are often associated with high-end fashion, luxury lingerie, and home furnishings.
By Product Type
Based on the product type, the global textile market is categorized into natural fibers, polyester, nylon, and others. The natural fibers category leads the global textile market with the largest revenue share of around 43.5% in 2022. Natural fibers are derived from plants or animals and include materials like cotton, wool, silk, and flax (used for linen). These fibers offer a connection to nature, with properties such as breathability, comfort, and biodegradability. Natural fibers are popular in clothing, home textiles, and a variety of consumer goods. Similarly, polyester is a synthetic fiber widely used in the textile industry. It is known for its durability, wrinkle resistance, and color retention. Polyester fabrics are used in various applications, from everyday clothing to technical textiles like sportswear and outdoor gear. Nylon is another synthetic fiber valued for its strength, elasticity, and resistance to abrasion. It is often used in products that require durability and stretch, such as hosiery, activewear, and swimwear. Nylon is also a component of technical textiles used in industrial and automotive applications.
By Application
Based on application, the global textile market is segmented into household, technical, fashion and clothing, and others. The fashion and clothing segment dominates the textile market. Clothing textiles specifically refer to fabrics used in the production of garments. This segment is closely tied to the fashion industry and encompasses a variety of materials suited for different types of clothing, from casual wear to formal attire. Fashion textiles are the foundation of clothing and apparel. This category includes fabrics used to create a wide range of clothing items, accessories, and footwear. Fashion textiles prioritize aesthetics, style, and comfort, responding to ever-changing trends and consumer preferences. Similarly, household textiles encompass items used within residential settings. This category includes products like bed linens, towels, curtains, upholstery fabrics, tablecloths, and kitchen textiles. Household textiles prioritize comfort, aesthetics, and functionality for everyday living. Technical textiles are engineered to serve specific functions beyond traditional clothing and furnishings. They are designed to provide performance, functionality, and durability in specialized applications
Global Textile Market Overview by Region
The global textile market is categorized into North America, Europe, Asia-Pacific, and the Rest of the World. Asia-Pacific emerged as the leading region, capturing approximately 52.6% of the market share in 2022. Asia-Pacific, especially countries like China, India, Bangladesh, and Vietnam, boasts a robust manufacturing infrastructure. These nations have become manufacturing powerhouses, offering cost-effective production processes, skilled labor, and favorable trade policies. The region benefits from a large and skilled labor force, which supports labor-intensive processes in textile production. This advantage has allowed for efficient mass production, keeping costs competitive. Asia-Pacific countries have developed intricate supply chains that enable seamless sourcing of raw materials, manufacturing, and distribution. Proximity to key suppliers and ports facilitates efficient movement of goods. The region's production capacity and competitive pricing have made it a global export hub for textiles. It supplies a significant portion of textiles to markets across the world, establishing itself as a critical player in international trade. With the rise of a burgeoning middle class and increasing consumer spending, Asia-Pacific has also become a massive consumer market for textiles. This domestic demand further supports the growth of the industry. Asia-Pacific's overall economic growth has created an environment conducive to expanding industries like textiles. This growth has led to increased disposable income, fueling both domestic consumption and export capacity.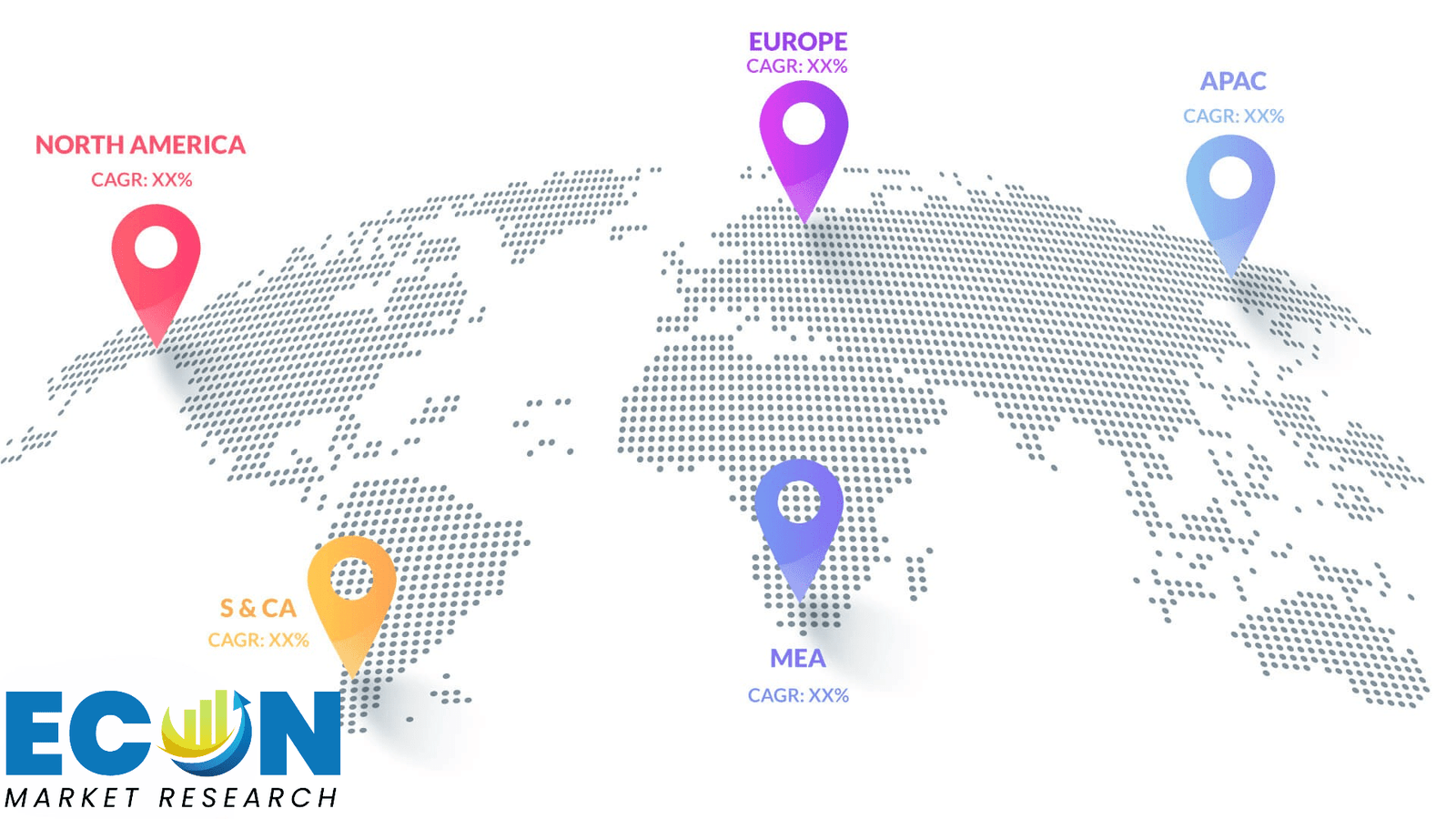 Global Textile Market Competitive Landscape
In the global textile market, a few major players exert significant market dominance and have established a strong regional presence. These leading companies remain committed to continuous research and development endeavors and actively engage in strategic growth initiatives, including product development, launches, joint ventures, and partnerships. By pursuing these strategies, these companies aim to strengthen their market position, expand their customer base, and capture a substantial share of the market.
Some of the prominent players in the global textile market include JCT Limited, Mayur Suitings, Modern Woollens Ltd, Li & Fung Group, Rhodia SA, China Textiles Ltd, Sinopec Yizheng Chemical Fibre Company Limited, Shandong Jining Ruyi Wollen Textile Co Ltd, Successori REDA S.p.A, Paula de Oliveira S.A. ,and various other key players.
Global Textile Market Recent Developments
In March 2023, Reliance Industries completes the acquisition of Sintex Textiles. RIL claimed that after the acquisition, it will own 70% of Sintex Industries. RIL and Assets Care & Reconstruction Enterprise (ACRE) will operate the firm together. RIL also said that the transaction will help it diversify into new markets for its textile products.
In May 2023, 51% of TCNS Clothing will be acquired by Aditya Birla Fashion. TCNS creates, produces, distributes, and retails a diverse range of women's branded clothing under numerous names. Top-wear, bottom-wear, drapes, combo sets, and accessories are among the company's product offerings, which address a wide range of wardrobe needs for Indian women, including daily wear, casual wear, work wear, and occasion wear.
Scope of the Global Textile Market Report
Textile Market Report Segmentation
ATTRIBUTE

DETAILS

By Material

Cotton

Chemical

Wool

Silk

Others

By Product Type

Natural Fibers

Polyester

Nylon

Others

By Application

Household

Technical

Fashion & Clothing

Others

By Geography

North America (USA,

and Canada)

Europe (UK, Germany, France, Italy, Spain, Russia and Rest of Europe)

Asia Pacific (Japan, China, India, Australia, Southeast Asia and Rest of Asia Pacific)

Latin America (Brazil, Mexico, and Rest of Latin America)

Middle East & Africa (South Africa, GCC, and Rest of Middle East & Africa)

Customization Scope

Pricing
Objectives of the Study
The objectives of the study are summarized in 5 stages. They are as mentioned below:
Global Textile Market

Size and Forecast:
To identify and estimate the market size for the global textile market segmented by material, by type, by application, region and by value (in U.S. dollars). Also, to understand the consumption/ demand created by consumers of textile between 2019 and 2031.
Market Landscape and Trends
To identify and infer the drivers, restraints, opportunities, and challenges for the global textile market
Market Influencing Factors:
To find out the factors which are affecting the sales of textile among consumers
To identify and understand the various factors involved in the global textile market affected by the pandemic
To provide a detailed insight into the major companies operating in the market. The profiling will include the financial health of the company's past 2-3 years with segmental and regional revenue breakup, product offering, recent developments, SWOT analysis, and key strategies.
Intended Audience
Raw Material Suppliers

Researchers and Academics

Retailers, Wholesalers, and Distributors

Fashion Designers and Brands

Supply Chain and Logistics Professionals

Trade Organizations

Governments, Associations, and Industrial Bodies

Investors and Trade Experts
Research Methodology
Our research methodology has always been the key differentiating reason which sets us apart in comparison from the competing organizations in the industry. Our organization believes in consistency along with quality and establishing a new level with every new report we generate; our methods are acclaimed and the data/information inside the report is coveted. Our research methodology involves a combination of primary and secondary research methods. Data procurement is one of the most extensive stages in our research process. Our organization helps in assisting the clients to find the opportunities by examining the market across the globe coupled with providing economic statistics for each and every region. The reports generated and published are based on primary & secondary research. In secondary research, we gather data for global Market through white papers, case studies, blogs, reference customers, news, articles, press releases, white papers, and research studies. We also have our paid data applications which includes hoovers, Bloomberg business week, Avention, and others.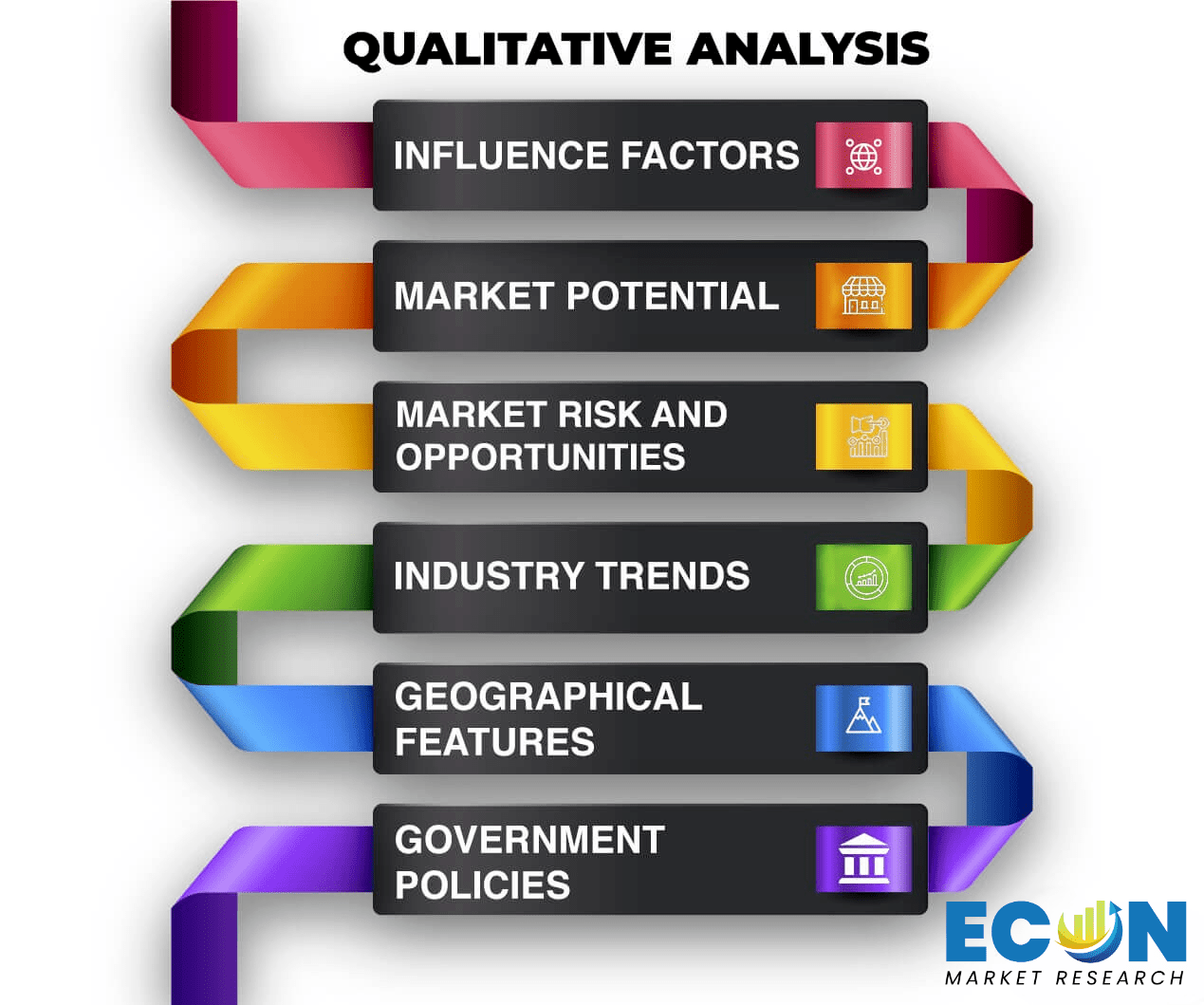 Data Collection
Data collection is the process of gathering, measuring, and analyzing accurate and relevant data from a variety of sources to analyze market and forecast trends. Raw market data is obtained on a broad front. Data is continuously extracted and filtered to ensure only validated and authenticated sources are considered. Data is mined from a varied host of sources including secondary and primary sources.

Primary Research
After the secondary research process, we initiate the primary research phase in which we interact with companies operating within the market space. We interact with related industries to understand the factors that can drive or hamper a market. Exhaustive primary interviews are conducted. Various sources from both the supply and demand sides are interviewed to obtain qualitative and quantitative information for a report which includes suppliers, product providers, domain experts, CEOs, vice presidents, marketing & sales directors, Type & innovation directors, and related key executives from various key companies to ensure a holistic and unbiased picture of the market. 
Secondary Research
A secondary research process is conducted to identify and collect information useful for the extensive, technical, market-oriented, and comprehensive study of the market. Secondary sources include published market studies, competitive information, white papers, analyst reports, government agencies, industry and trade associations, media sources, chambers of commerce, newsletters, trade publications, magazines, Bloomberg BusinessWeek, Factiva, D&B, annual reports, company house documents, investor presentations, articles, journals, blogs, and SEC filings of companies, newspapers, and so on. We have assigned weights to these parameters and quantified their market impacts using the weighted average analysis to derive the expected market growth rate.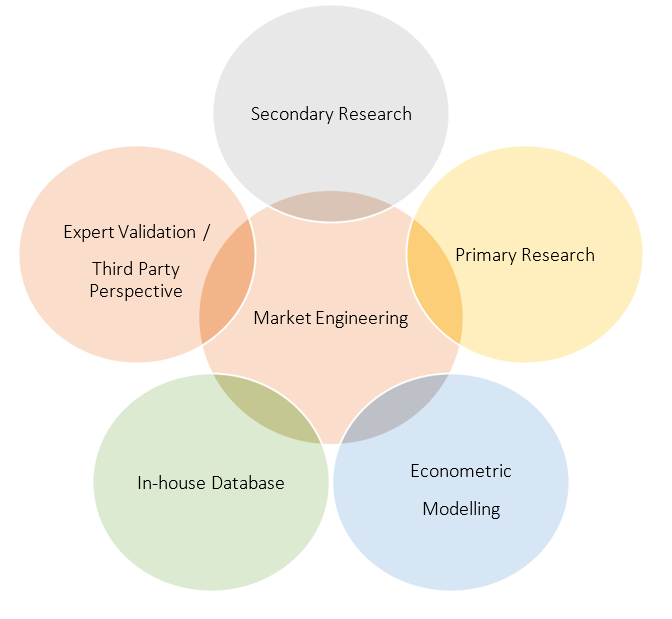 Top-Down Approach & Bottom-Up Approach
In the top – down approach, the Global Batteries for Solar Energy Storage Market was further divided into various segments on the basis of the percentage share of each segment. This approach helped in arriving at the market size of each segment globally. The segments market size was further broken down in the regional market size of each segment and sub-segments. The sub-segments were further broken down to country level market. The market size arrived using this approach was then crosschecked with the market size arrived by using bottom-up approach.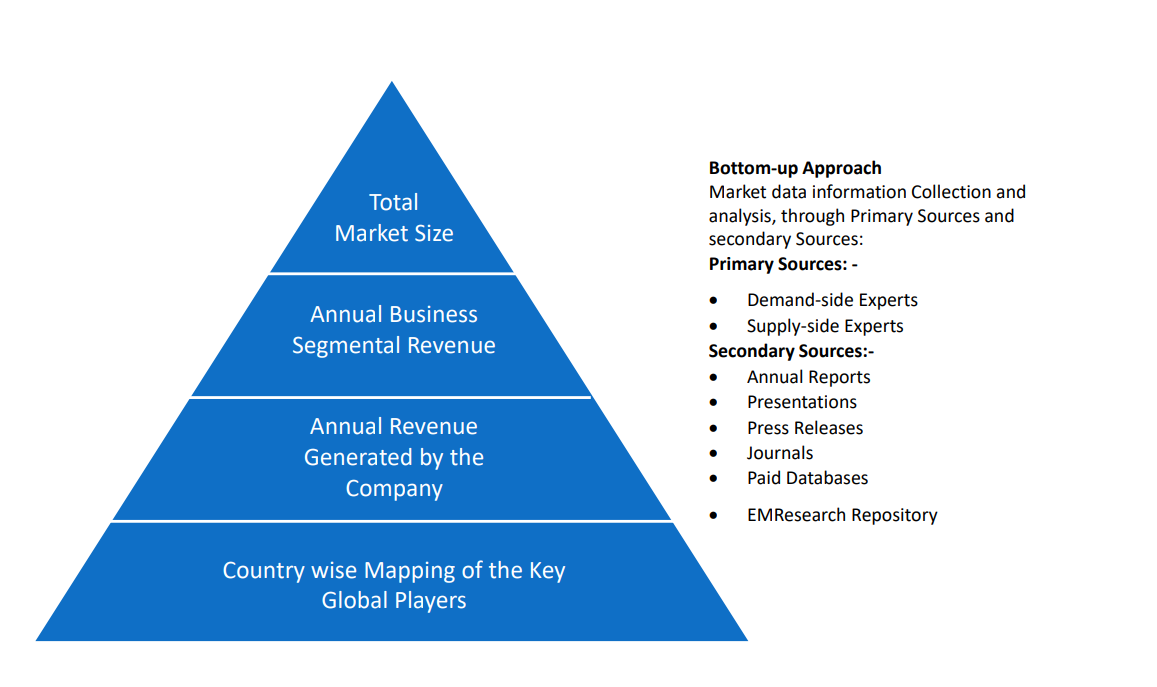 In the bottom-up approach, we arrived at the country market size by identifying the revenues and market shares of the key market players. The country market sizes then were added up to arrive at regional market size of the decorated apparel, which eventually added up to arrive at global market size.
This is one of the most reliable methods as the information is directly obtained from the key players in the market and is based on the primary interviews from the key opinion leaders associated with the firms considered in the research. Furthermore, the data obtained from the company sources and the primary respondents was validated through secondary sources including government publications and Bloomberg.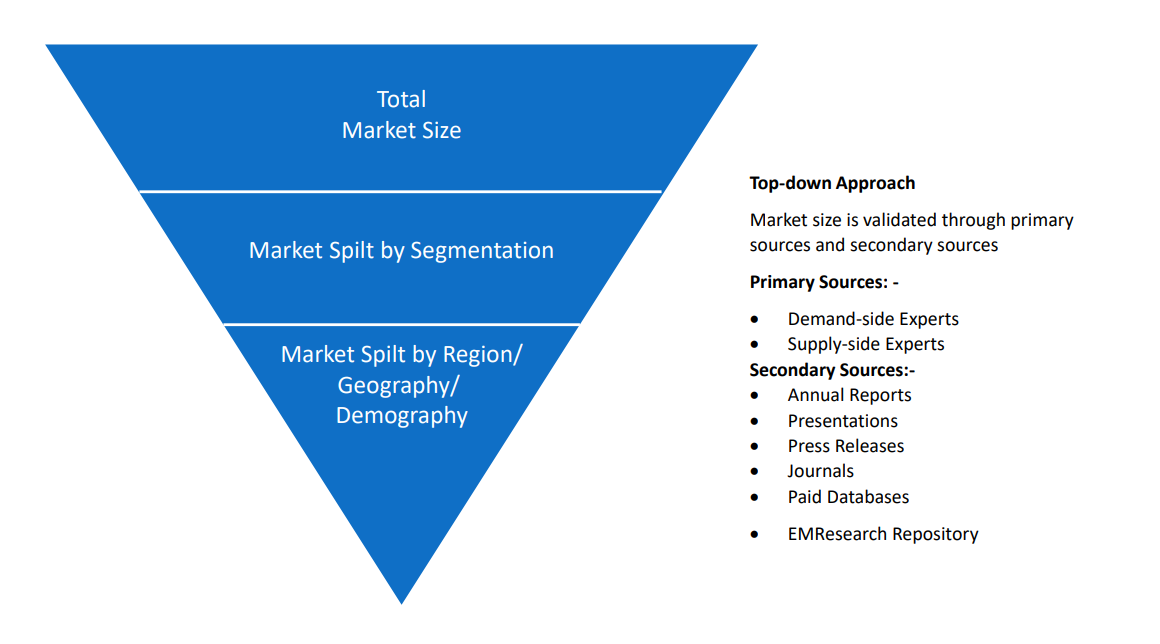 Market Analysis & size Estimation
Post the data mining stage, we gather our findings and analyze them, filtering out relevant insights. These are evaluated across research teams and industry experts. All this data is collected and evaluated by our analysts. The key players in the industry or markets are identified through extensive primary and secondary research. All percentage share splits, and breakdowns have been determined using secondary sources and verified through primary sources. The market size, in terms of value and volume, is determined through primary and secondary research processes, and forecasting models including the time series model, econometric model, judgmental forecasting model, the Delphi method, among Flywheel Energy Storage. Gathered information for market analysis, competitive landscape, growth trends, product development, and pricing trends is fed into the model and analyzed simultaneously.
Quality Checking & Final Review
The analysis done by the research team is further reviewed to check for the accuracy of the data provided to ensure the clients' requirements. This approach provides essential checks and balances which facilitate the production of quality data. This Type of revision was done in two phases for the authenticity of the data and negligible errors in the report. After quality checking, the report is reviewed to look after the presentation, Type and to recheck if all the requirements of the clients were addressed.