The Global Surgical Booms Market was valued at USD 412.95 million in 2022 and is estimated to reach approximately USD 681.75 million by 2031, at a CAGR of 5.7% from 2023 to 2031. The organization of medical equipment and the manner procedures are performed have both been revolutionized by the surgical booms market, which has grown to be an essential part of contemporary healthcare facilities. These cutting-edge solutions are made to streamline and improve the working conditions for medical personnel in operating rooms, intensive care units, and other medical settings. Surgical booms are often ceiling-mounted buildings that contain a variety of medical devices, including anesthesia machines, surgical lighting, monitoring, and gas supply systems. Surgical booms are devices that are suspended from the ceiling, freeing up valuable floor space, reducing clutter, and enhancing accessibility during surgical procedures. This improves surgical effectiveness and safety while also enabling greater patient care. The surgical booms market has expanded due to the rising demand for minimally invasive operations and cutting-edge medical technologies. Surgical booms are a perfect solution for improving precision and reducing interruptions during operations, which is a constant goal for surgeons and healthcare professionals. Additionally, the adoption of contemporary surgical techniques in hospitals around the world has been aided by the incorporation of digital technologies and ergonomic designs. Surgical booms provide clinical benefits, but they also reduce the danger of equipment damage and maximize resource utilization, which helps reduce costs. The surgical booms market is anticipated to increase steadily as the global healthcare sector develops, with ongoing improvements likely to further their capabilities and broaden their usage in numerous healthcare settings.
SURGICAL BOOMS MARKET: REPORT SCOPE & SEGMENTATION
| | |
| --- | --- |
| Report Attribute | Details |
| Estimated Market Value (2022) | 412.95 Mn |
| Projected Market Value (2031) | 681.75Mn |
| Base Year | 2022 |
| Forecast Years | 2023 - 2031 |
| Scope of the Report | Historical and Forecast Trends, Industry Drivers and Constraints, Historical and Forecast Market Analysis by Segment- By Installation, By Product Type, By End-Use, & Region |
| Segments Covered | By Installation, By Product Type, By End-Use, & Region |
| Forecast Units | Value (USD Billion or Million), and Volume (Units) |
| Quantitative Units | Revenue in USD million/billion and CAGR from 2023 to 2031 |
| Regions Covered | North America, Europe, Asia Pacific, Latin America, and Middle East & Africa, and the Rest of World |
| Countries Covered | U.S., Canada, Mexico, U.K., Germany, France, Italy, Spain, China, India, Japan, South Korea, Brazil, Argentina, GCC Countries, and South Africa, among others |
| Report Coverage | Market growth drivers, restraints, opportunities, Porter's five forces analysis, PEST analysis, value chain analysis, regulatory landscape, market attractiveness analysis by segments and region, company market share analysis, and COVID-19 impact analysis. |
| Delivery Format | Delivered as an attached PDF and Excel through email, according to the purchase option. |
Global Surgical Booms Market Dynamics
An important motivator is the trend for less invasive surgical techniques, which necessitate precise equipment positioning and organization. These treatments are supported by surgical booms, which contributes to their expanding use. Surgical booms are becoming more effective thanks to ongoing technological developments such as the incorporation of cutting-edge imaging systems and touch-screen interfaces. These developments encourage market expansion by delivering enhanced usability and functionality. Opportunities for the surgical booms industry are being created by the expansion of the healthcare infrastructure in emerging economies. Modern tools, such as surgical booms, are being used in brand-new operating rooms and hospitals to deliver top-notch medical care. Hospitals are under pressure to improve patient care, streamline operations, and cut expenses. By expediting equipment installation, lowering the need for additional storage space, and enhancing productivity in surgical settings, surgical booms assist in achieving these goals. The dynamics of the market are impacted by the healthcare sector's strict regulatory requirements and standards. In order to guarantee the security and efficiency of their surgical boom systems, manufacturers must abide by laws. Pricing, product offers, and market strategies are impacted by fierce competition among manufacturers and market consolidation through mergers and acquisitions. The demand for cutting-edge medical solutions, technological advancements, and efficiency enhancements in surgical settings are what fuel the surgical booms industry. The market is anticipated to experience more expansion and innovation as healthcare continues to change.
Global Surgical Booms Market Drivers
Rising Demand for Minimally Invasive Surgery
The market for surgical booms is expanding as a result of the growing need for minimally invasive surgery (MIS). Due to their many patient benefits, such as decreased post-operative discomfort, quicker recuperation times, and smaller incisions, which result in less scarring, MIS methods have significantly increased in popularity in recent years. Precision and accuracy are crucial for MIS operations because surgeons work through small incisions with specialized equipment and frequently use cutting-edge imaging technologies for guidance. By offering a solid and organized platform for the deployment of necessary surgical equipment, surgical booms play a crucial role in performing minimally invasive procedures. The use of these booms enables surgeons to carry out treatments with the utmost accuracy by keeping tools, monitors, cameras, and other equipment easily accessible. Consequently, surgical booms have become an indispensable tool for healthcare facilities looking to meet the growing demand for minimally invasive surgical procedures while ensuring patient safety and surgical accuracy. This trend is expected to drive the continued expansion of the surgical booms market in the coming years.
Healthcare Infrastructure Expansion
The development of the healthcare sector's infrastructure is a key factor in the market for surgical booms. Hospitals, surgery centers, and other medical facilities are all considered to be part of healthcare infrastructure, and the quick growth and development of these facilities, particularly in emerging economies, has greatly increased the prospects for the use of surgical boom systems. Growing populations, greater healthcare knowledge, and higher disposable incomes are all driving an increase in healthcare investments in emerging nations. As a result, current healthcare requirements are being met through the construction of new hospitals and medical facilities as well as the renovation of old ones. To ensure the provision of high-quality medical treatment, these developments must integrate cutting-edge medical equipment and technology, such as surgical booms, into their infrastructure. Surgical booms play a pivotal role in outfitting these new healthcare facilities with state-of-the-art surgical capabilities. They provide an efficient means to organize and optimize the limited space within operating rooms, intensive care units, and other critical healthcare settings.
Restraints:
For healthcare organizations thinking about using surgical booms, the large upfront expenses are a big barrier. In order to provide a centralized and effective platform for medical equipment in operating rooms and other clinical settings, surgical booms are complex and specialized systems. Although they have many advantages for the organization, workflow optimization, and better patient care, the initial cost of buying and installing them might be high. Budgets for healthcare are frequently restrictive, and hospitals, particularly smaller ones or those in areas with few resources, can encounter financial difficulties if they allocate a sizable portion of these expenditures to purchasing surgical instruments. Despite the possible long-term benefits of this technology, this can cause a reluctance to invest in it. Additionally, budget constraints can result in a longer procurement process, delaying the adoption of surgical booms in healthcare facilities that could benefit from their use.
The difficult installation procedure for surgical booms is a major barrier to their widespread use in healthcare facilities. In order to smoothly integrate surgical booms into the existing infrastructure of operating rooms and other clinical facilities, which are primarily ceiling-mounted structures, careful planning, engineering, and construction work are necessary. The lengthy process of installing surgical booms can cause problems with hospital operations. Structure changes to the ceilings are frequently necessary during the process, including cooperation with other overhead infrastructure like lighting and ventilation as well as reinforced support systems, electrical and data wiring, and ceiling modifications. It is crucial to use skilled specialists and contractors because installation can be intricate and require specialized knowledge and skills. The cost of this knowledge can increase the entire cost of putting surgical booms into use. Furthermore, the complexity of installation can hinder the adaptability of surgical booms in healthcare facilities that require rapid changes in layout or those in older buildings with limited structural flexibility.
Opportunities:
Increasing Adoption of Minimally Invasive Surgery
The market for surgical booms is presented with an attractive opportunity due to the growing popularity of minimally invasive surgery (MIS). Due to their many patient benefits, including decreased post-operative discomfort, quicker recovery times, and smaller incisions that result in less scarring, minimally invasive surgical procedures have become extremely popular across a variety of medical disciplines. As surgeons use specialized devices to operate through small incisions while frequently being guided by cutting-edge imaging technologies, these operations largely rely on precision and accuracy. By offering a secure and organized platform for the deployment of crucial surgical equipment, such as endoscopes, cameras, and monitors, surgical booms serve a crucial role in aiding MIS. This promotes greater precision and efficiency by ensuring that surgeons have rapid and simple access to the tools they need for these sensitive procedures.
Technological Advancements and Innovation
The surgical booms industry is leading the way in technological innovation and progress, providing a plethora of chances for expansion and better patient care. The usefulness and effectiveness of surgical booms, which are essential parts of contemporary healthcare facilities, are evolving to incorporate cutting-edge technologies and novel features. The incorporation of cutting-edge imaging equipment with surgical booms represents one opportunity. Surgical teams can benefit from real-time, high-quality views during procedures by building high-definition cameras and imaging equipment right into the boom structures. Another important possibility is provided by machine learning and artificial intelligence (AI). AI-enhanced surgical booms that can provide predictive analytics, image identification, and decision support can help surgeons. This can improve preoperative planning, intraoperative direction, and ultimately patient outcomes.
Segment Overview
By Installation
Based on installation, the global surgical booms market is divided into roof-mounted and floor-mounted. The roof-mounted category dominates the market with the largest revenue share of around 59% in 2022. Roof-mounted surgical booms are fixtures suspended from the ceiling of operating rooms and medical facilities. They are securely attached to the ceiling structure using reinforced supports and brackets. This design allows for efficient utilization of vertical space, freeing up valuable floor space within the operating room. The overhead suspension reduces clutter on the floor, contributing to a more organized and sterile surgical environment. In contrast, floor-mounted surgical booms are anchored to the floor of the operating room. They typically consist of a vertical support column with adjustable arms that can hold medical equipment. Floor-mounted booms offer greater mobility and flexibility in terms of equipment positioning, as they can be easily relocated within the room to accommodate different surgical procedures or room layouts.
By Product Type
Based on the product type, the global surgical booms market is categorized into equipment boom, utility boom, anesthesia boom, and custom boom. The anesthesia boom category leads the global surgical boom market with the largest revenue share of around 51% in 2022. Specifically tailored for anesthesia management, these booms house anesthesia machines, monitors, gas supplies, and related equipment. They are designed to provide anesthesia providers with convenient access to critical tools, allowing them to monitor and adjust patient anesthesia levels during surgery. Utility booms focus on the management of essential utilities such as medical gases, electrical outlets, and data connectivity. They provide a centralized system for the safe and efficient distribution of these resources to support various medical functions, including anesthesia delivery, suction, and power supply to medical devices. Custom booms offer flexibility and adaptability, allowing healthcare facilities to tailor their boom systems to their unique requirements. These booms can combine elements of equipment, utility, and anesthesia booms as needed to create a fully customized solution that aligns with the specific needs of a particular clinical setting or surgical specialty.
By End-Use
Based on end-use, the global surgical booms market is segmented into hospitals, ambulatory surgical centers, dental clinics, and others. The hospital segment dominates the surgical booms market. Hospitals are a primary and prominent segment in the surgical booms market. They encompass a wide range of medical specialties and surgical procedures, from general surgery and orthopedics to neurosurgery and cardiac procedures. Surgical booms play a crucial role in optimizing workflows, organization, and equipment access within hospital operating rooms, intensive care units, and other clinical areas. Ambulatory surgical centers are outpatient facilities that focus on performing same-day surgical procedures. These centers have gained popularity due to their cost-effectiveness and convenience. Surgical booms in ASCs are essential for maximizing efficiency and providing the necessary equipment support for a variety of outpatient surgeries. Dental clinics represent a niche but important segment of the surgical booms market. In these settings, surgical booms are utilized for oral and maxillofacial surgeries, providing support for equipment like dental chairs, lights, and imaging devices. Dental clinics benefit from the organization and space-saving features offered by surgical booms.
Global Surgical Booms Market Overview by Region
The global surgical booms market is categorized into North America, Europe, Asia-Pacific, and the Rest of the World. North America emerged as the leading region, capturing the largest market share in 2022. First and foremost, North America has a very sophisticated and developed healthcare system. The need for cutting-edge medical equipment and technology, including surgical procedures, has been fueled by the presence of top-tier medical institutions, including famous hospitals and research centers. The implementation of these technologies has been prompted by the emphasis on providing high-quality patient care and remaining at the forefront of medical innovation. The North American healthcare system has also been distinguished by a focus on minimally invasive surgical methods, which necessitate accurate equipment positioning and organization. These operations have been widely adopted thanks in large part to the assistance of surgical booms. The region has made significant investments in medical technology and healthcare research and development, which have fueled ongoing innovation in the surgical booms market. Manufacturers and healthcare providers in North America have been in the forefront of designing and integrating cutting-edge features into these systems, such as integrated imaging systems and telemedicine capabilities. The market's expansion has also been influenced by North American regulatory standards and compliance. Strict compliance with safety and quality requirements has increased consumer confidence in surgical boom systems and accelerated their adoption.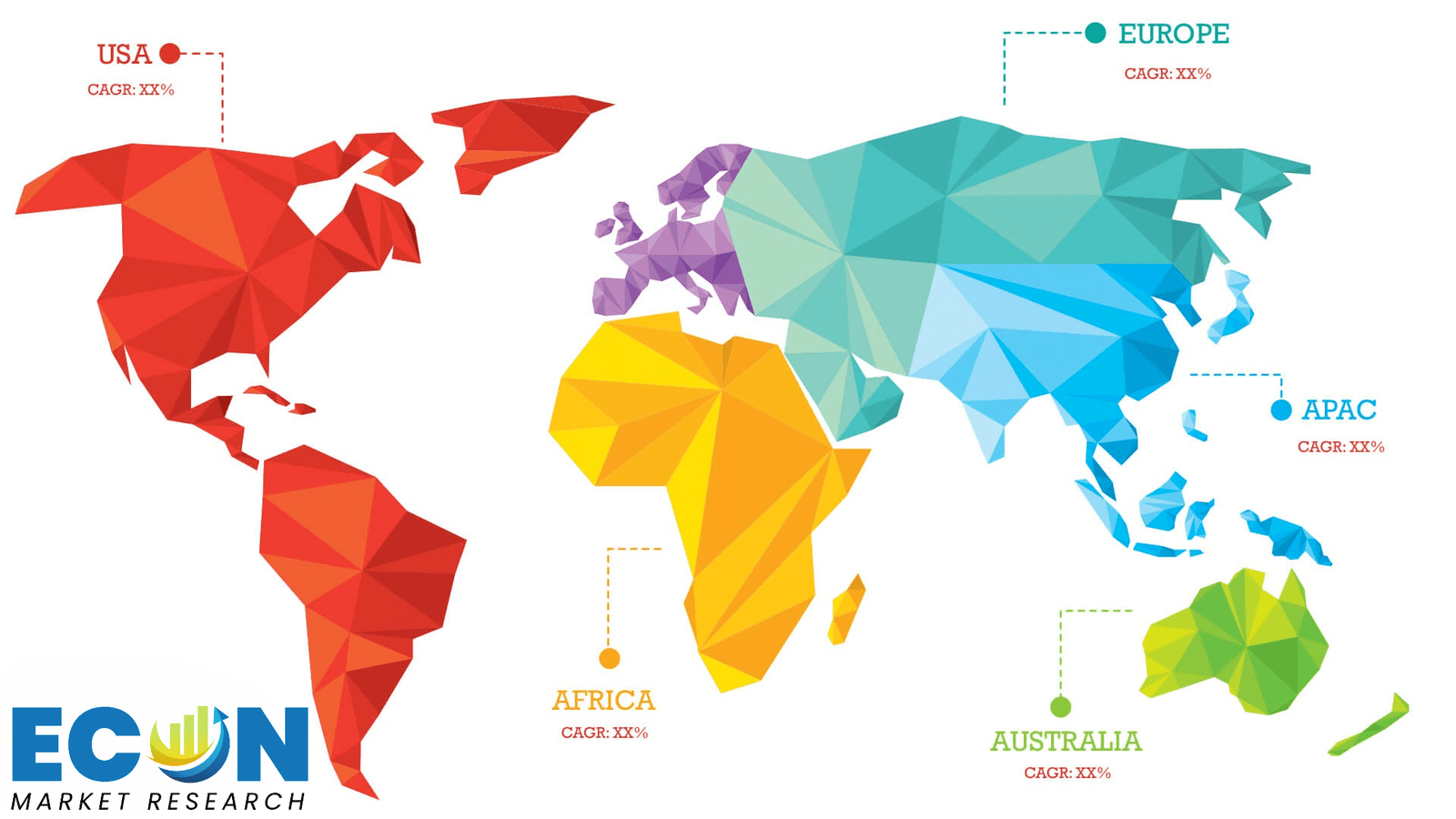 Global Surgical Booms Market Competitive Landscape
In the global surgical booms market, a few major players exert significant market dominance and have established a strong regional presence. These leading companies remain committed to continuous research and development endeavors and actively engage in strategic growth initiatives, including product development, launches, joint ventures, and partnerships. By pursuing these strategies, these companies aim to strengthen their market position, expand their customer base, and capture a substantial share of the market.
Some of the prominent players in the global surgical booms market include STERIS; Baxter International Inc.; Amico Group of Companies; Stryker; Zimmer Biomet; Getinge AB; Ondal Medical Systems; SKYTRON, LLC; Dragerwerk AG & Co. KGaA, and various other key players.
Global Surgical Booms Market Recent Developments
In July 2022, Theator Raised an Additional $24 Million to Increase Series A Funding to $39.5 Million. To speed up the distribution of the Surgical Intelligence Platform across North America, the firm expands its round in the midst of commercial and company expansion.
In March 2022, Zeta Surgical emerges from hiding with an increase for image-guided surgery of $5.2M. A mixed reality overlay included in the Zeta system is intended to aid a surgeon in locating less invasive neurosurgical techniques. Additionally, there is an optional robotic system that combines a Doosan robotic arm that is available off the market with custom tools.
Scope of the Global Surgical Booms Market Report
Surgical Booms Market Report Segmentation
ATTRIBUTE

DETAILS

By Installation

Roof-Mounted

Floor Mounted

By Product Type

Equipment Boom

Utility Boom

Anesthesia Boom

Custom Boom

By End-Use

Hospitals

Ambulatory Surgical Centers

Dental Clinics

Others

By Geography

North America (USA,

and Canada)

Europe (UK, Germany, France, Italy, Spain, Russia and Rest of Europe)

Asia Pacific (Japan, China, India, Australia, Southeast Asia and Rest of Asia Pacific)

Latin America (Brazil, Mexico, and Rest of Latin America)

Middle East & Africa (South Africa, GCC, and Rest of Middle East & Africa)

Customization Scope

Pricing
Objectives of the Study
The objectives of the study are summarized in 5 stages. They are as mentioned below:
Global Surgical Booms Market

Size and Forecast:
To identify and estimate the market size for the global surgical booms market segmented by installation, by product type, by end-use, region and by value (in U.S. dollars). Also, to understand the consumption/ demand created by consumers of surgical booms between 2019 and 2031.
Market Landscape and Trends:
To identify and infer the drivers, restraints, opportunities, and challenges for the global surgical booms market
Market Influencing Factors:
To find out the factors which are affecting the sales of surgical booms among consumers
To identify and understand the various factors involved in the global surgical booms market affected by the pandemic
To provide a detailed insight into the major companies operating in the market. The profiling will include the financial health of the company's past 2-3 years with segmental and regional revenue breakup, product offering, recent developments, SWOT analysis, and key strategies.
Intended Audience
Healthcare Administrators and Facility Managers

Surgeons and Healthcare Professionals

Medical Equipment Manufacturers

Patients and Patient Advocacy Groups

Retailers, Wholesalers, and Distributors

Governments, Associations, and Industrial Bodies

Investors and Trade Experts
Research Methodology
Our research methodology has always been the key differentiating reason which sets us apart in comparison from the competing organizations in the industry. Our organization believes in consistency along with quality and establishing a new level with every new report we generate; our methods are acclaimed and the data/information inside the report is coveted. Our research methodology involves a combination of primary and secondary research methods. Data procurement is one of the most extensive stages in our research process. Our organization helps in assisting the clients to find the opportunities by examining the market across the globe coupled with providing economic statistics for each and every region. The reports generated and published are based on primary & secondary research. In secondary research, we gather data for global Market through white papers, case studies, blogs, reference customers, news, articles, press releases, white papers, and research studies. We also have our paid data applications which includes hoovers, Bloomberg business week, Avention, and others.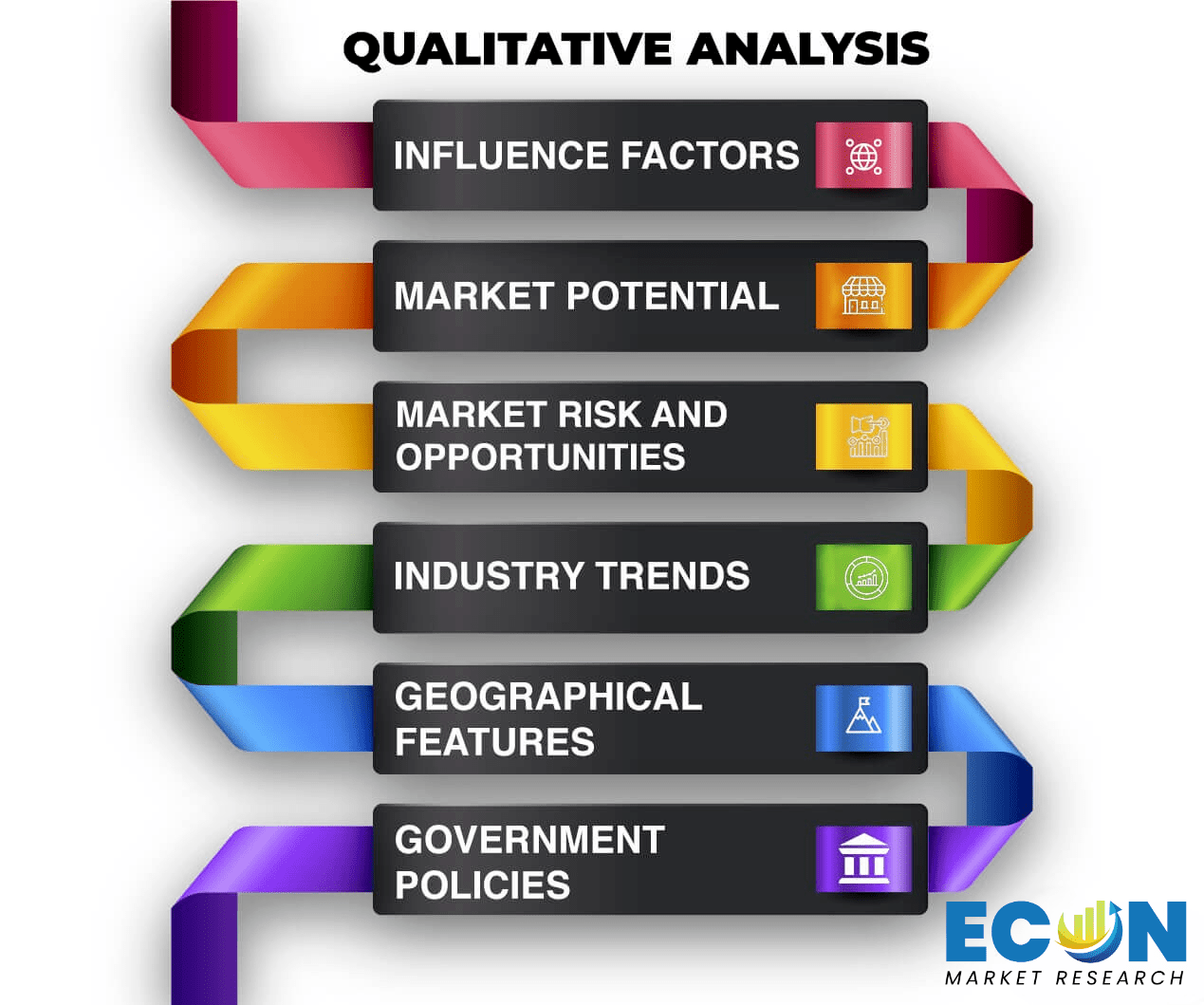 Data Collection
Data collection is the process of gathering, measuring, and analyzing accurate and relevant data from a variety of sources to analyze market and forecast trends. Raw market data is obtained on a broad front. Data is continuously extracted and filtered to ensure only validated and authenticated sources are considered. Data is mined from a varied host of sources including secondary and primary sources.

Primary Research
After the secondary research process, we initiate the primary research phase in which we interact with companies operating within the market space. We interact with related industries to understand the factors that can drive or hamper a market. Exhaustive primary interviews are conducted. Various sources from both the supply and demand sides are interviewed to obtain qualitative and quantitative information for a report which includes suppliers, product providers, domain experts, CEOs, vice presidents, marketing & sales directors, Type & innovation directors, and related key executives from various key companies to ensure a holistic and unbiased picture of the market. 
Secondary Research
A secondary research process is conducted to identify and collect information useful for the extensive, technical, market-oriented, and comprehensive study of the market. Secondary sources include published market studies, competitive information, white papers, analyst reports, government agencies, industry and trade associations, media sources, chambers of commerce, newsletters, trade publications, magazines, Bloomberg BusinessWeek, Factiva, D&B, annual reports, company house documents, investor presentations, articles, journals, blogs, and SEC filings of companies, newspapers, and so on. We have assigned weights to these parameters and quantified their market impacts using the weighted average analysis to derive the expected market growth rate.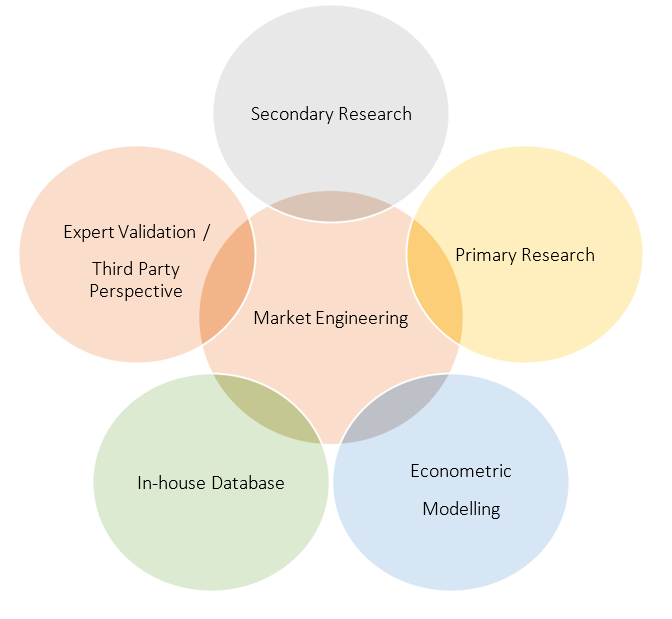 Top-Down Approach & Bottom-Up Approach
In the top – down approach, the Global Batteries for Solar Energy Storage Market was further divided into various segments on the basis of the percentage share of each segment. This approach helped in arriving at the market size of each segment globally. The segments market size was further broken down in the regional market size of each segment and sub-segments. The sub-segments were further broken down to country level market. The market size arrived using this approach was then crosschecked with the market size arrived by using bottom-up approach.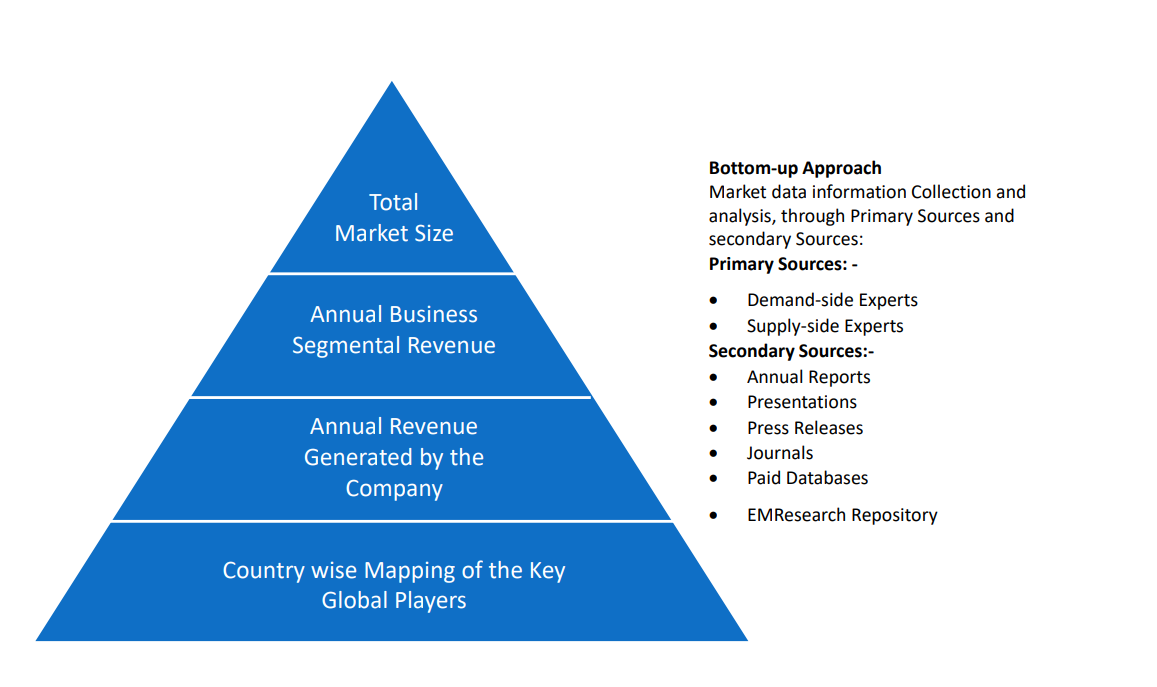 In the bottom-up approach, we arrived at the country market size by identifying the revenues and market shares of the key market players. The country market sizes then were added up to arrive at regional market size of the decorated apparel, which eventually added up to arrive at global market size.
This is one of the most reliable methods as the information is directly obtained from the key players in the market and is based on the primary interviews from the key opinion leaders associated with the firms considered in the research. Furthermore, the data obtained from the company sources and the primary respondents was validated through secondary sources including government publications and Bloomberg.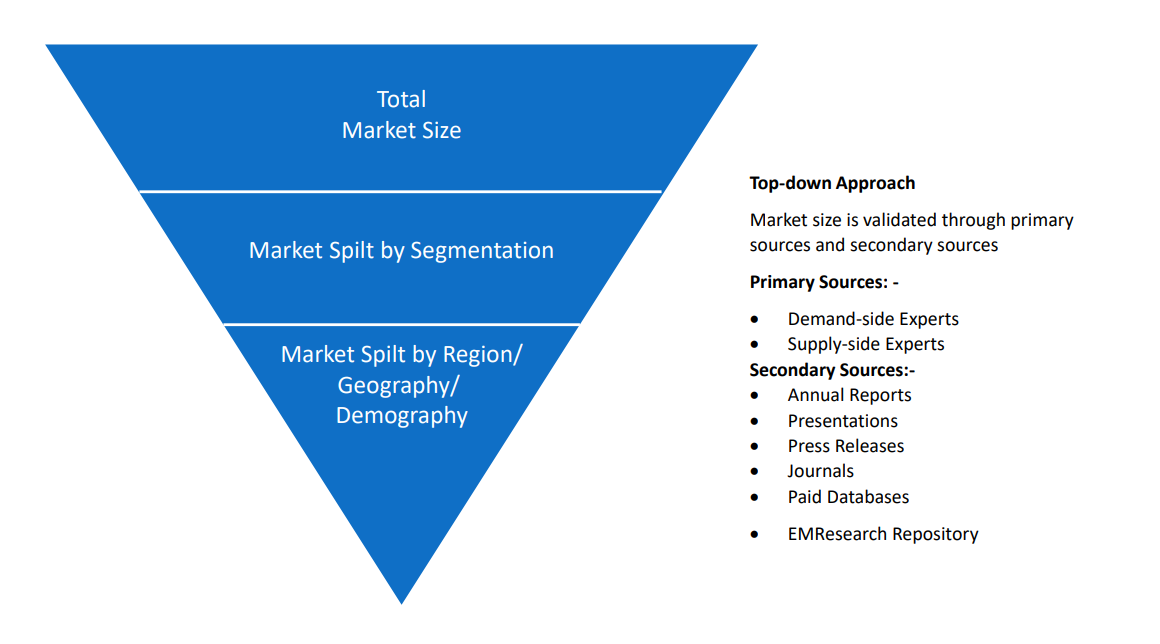 Market Analysis & size Estimation
Post the data mining stage, we gather our findings and analyze them, filtering out relevant insights. These are evaluated across research teams and industry experts. All this data is collected and evaluated by our analysts. The key players in the industry or markets are identified through extensive primary and secondary research. All percentage share splits, and breakdowns have been determined using secondary sources and verified through primary sources. The market size, in terms of value and volume, is determined through primary and secondary research processes, and forecasting models including the time series model, econometric model, judgmental forecasting model, the Delphi method, among Flywheel Energy Storage. Gathered information for market analysis, competitive landscape, growth trends, product development, and pricing trends is fed into the model and analyzed simultaneously.
Quality Checking & Final Review
The analysis done by the research team is further reviewed to check for the accuracy of the data provided to ensure the clients' requirements. This approach provides essential checks and balances which facilitate the production of quality data. This Type of revision was done in two phases for the authenticity of the data and negligible errors in the report. After quality checking, the report is reviewed to look after the presentation, Type and to recheck if all the requirements of the clients were addressed.