The Global Surface Disinfectant Market was valued at USD 5.64 billion in 2022 and is estimated to reach approximately USD 11.48 billion by 2031, at a CAGR of 8.2% from 2023 to 2031. The manufacturing and distribution of chemical agents intended to eliminate or neutralize hazardous bacteria on diverse surfaces is the basis of the surface disinfectant market, which has grown to be an important industry. In particular, during pandemics like COVID-19, this market is crucial in preserving public health and safety by halting the spread of infectious diseases. The market for surface disinfectants has grown significantly since its inception as a result of rising hygiene and sanitation awareness. Hospitals, healthcare facilities, households, and industries all rely on surface disinfectants to maintain clean and germ-free environments. In response to rising environmental concerns and consumer preferences, the industry has developed recently to incorporate environmentally friendly and non-toxic disinfection products. Surface disinfectants are becoming more practical and efficient thanks to changes in product compositions, application techniques, and packaging. The market has been significantly shaped by government rules and regulations, which have also helped to guarantee the security and effectiveness of these items. The surface disinfectant market is anticipated to maintain its growth trajectory because of the continuous emphasis on cleanliness and infection control, the need for better hygiene practices, and the ongoing worldwide health challenges.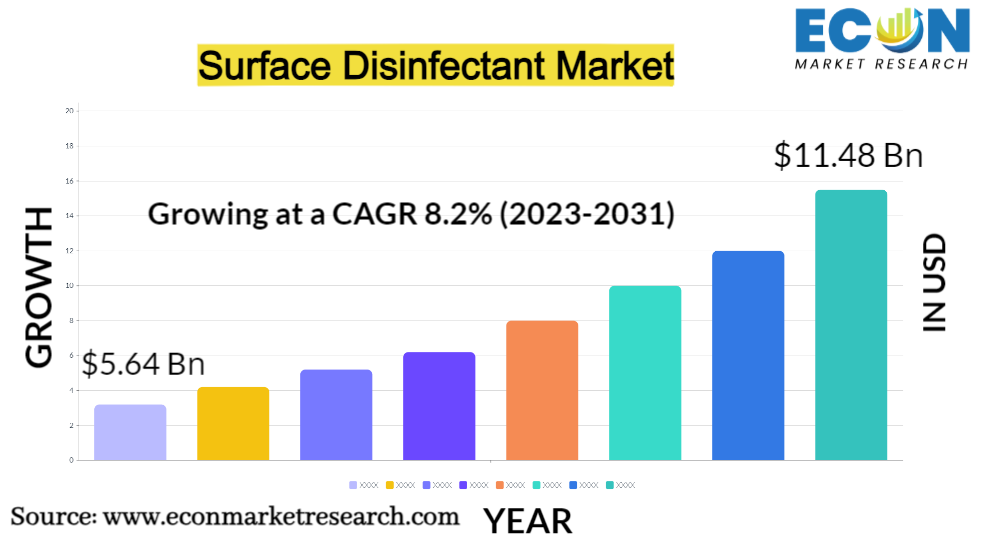 SURFACE DISINFECTANT MARKET: REPORT SCOPE & SEGMENTATION
| | |
| --- | --- |
| Report Attribute | Details |
| Estimated Market Value (2022) | 5.64 Bn |
| Projected Market Value (2031) | 11.48 Bn |
| Base Year | 2022 |
| Forecast Years | 2023 - 2031 |
| Scope of the Report | Historical and Forecast Trends, Industry Drivers and Constraints, Historical and Forecast Market Analysis by Segment- By Composition, By Application, By End User, & Region |
| Segments Covered | By Composition, By Application, By End User, & Region |
| Forecast Units | Value (USD Billion or Million), and Volume (Units) |
| Quantitative Units | Revenue in USD million/billion and CAGR from 2023 to 2031 |
| Regions Covered | North America, Europe, Asia Pacific, Latin America, and Middle East & Africa, and the Rest of World |
| Countries Covered | U.S., Canada, Mexico, U.K., Germany, France, Italy, Spain, China, India, Japan, South Korea, Brazil, Argentina, GCC Countries, and South Africa, among others |
| Report Coverage | Market growth drivers, restraints, opportunities, Porter's five forces analysis, PEST analysis, value chain analysis, regulatory landscape, market attractiveness analysis by segments and region, company market share analysis, and COVID-19 impact analysis. |
| Delivery Format | Delivered as an attached PDF and Excel through email, according to the purchase option. |
Global Surface Disinfectant Market Dynamics
The dynamics of the surface disinfectant market are characterized by a complicated interaction of elements that affect its development and expansion. First and foremost, there has been a huge driving factor behind the global emphasis on hygiene and infection control, notably in healthcare settings. The rise in infectious diseases like COVID-19 has increased the need for surface disinfectants, driving the market to record highs. Additionally essential are governmental rules and regulations. Surface disinfectants must adhere to strict regulations and undergo product efficacy testing in order to do so. This impacts market trends. A shift towards eco-friendly and sustainable disinfection treatments has also been motivated by environmental concerns, reflecting shifting consumer tastes and regulatory demands. Market dynamics are being continuously changed by technological breakthroughs. Surface disinfectants are now more efficient, practical, and user-friendly thanks to advancements in formulation, delivery methods, and packaging. Population growth, urbanization, and rising healthcare costs are other variables that have an impact on the market and drive demand in different end-user industries. The dynamics of competition are fierce, with many businesses fighting for market dominance. Strategic partnerships, product diversification, and mergers & and acquisitions are frequently used tactics to obtain a competitive edge. To remain relevant, market participants must also adjust to changing pathogens and new infectious diseases. The surface disinfectant market remains highly dynamic, and responsive to public health concerns, regulatory changes, and technological advancements, ensuring its continued growth and adaptation to evolving global needs.
Global Surface Disinfectant Market Drivers
Healthcare-Associated Infections (HAIs) Prevention
Healthcare-associated infections (HAIs) pose a serious threat to the world's healthcare systems. Patients contract these infections while obtaining medical care in clinics, hospitals, or other healthcare settings. HAIs not only put patients at risk for serious health problems, but they also raise healthcare expenditures, lengthen hospital stays, and, in the worst circumstances, result in fatalities. As a result, healthcare practitioners and regulatory organizations now place a high premium on preventing HAIs. Surface cleaners are essential for preventing HAI. They are crucial tools for preserving a clean atmosphere in medical settings. Hospitals can act as reservoirs for diseases, allowing them to easily transmit from patient to patient and healthcare worker to patient through contaminated surfaces, equipment, and high-touch areas. The demand for surface disinfectants is driven by the pressing need to reduce the incidence of HAIs. Hospitals and healthcare institutions require effective disinfectants to routinely clean and decontaminate surfaces, medical equipment, and patient rooms. These products are vital in controlling the transmission of bacteria, viruses, and other harmful microorganisms, ultimately safeguarding patient well-being and improving the overall quality of healthcare services.
Pandemic Preparedness and Response
The emergence of global pandemics, like the COVID-19 pandemic, has dramatically accentuated the role of surface disinfectants as crucial tools for public health and safety. This driver significantly impacts the surface disinfectant market by stimulating demand and prompting substantial changes in consumer behavior and industrial practices. During pandemics, there is heightened public awareness of the importance of surface hygiene in preventing disease transmission. This leads to a surge in demand for disinfectant products across various sectors, including healthcare, education, transportation, and hospitality. Governments and healthcare authorities worldwide introduce stringent regulations and guidelines to control the spread of infectious diseases. These mandates often require the regular disinfection of public spaces, healthcare facilities, and workplaces, further boosting demand for surface disinfectants. The pandemic has ingrained new hygiene habits in consumers. Frequent disinfection of surfaces, hands, and personal belongings has become a norm, driving sustained demand for surface disinfectants even after the pandemic's peak.
Restraints:
The market for surface disinfectants is significantly constrained by supply chain disruptions. This restriction was clearly seen during the COVID-19 pandemic, when the demand for disinfection goods rose to record highs, creating a number of difficulties that restrained market expansion. The lack of essential components and resources needed to manufacture surface disinfectants might cause supply chain interruptions. Critical supplies including packaging materials, disinfection chemicals, and even workforce labor became scarce during the pandemic. In addition to affecting manufacturers' capacity for production, this scarcity also caused delays and higher production costs, which ultimately had an effect on market dynamics. Transportation and distribution challenges arose as lockdowns and restrictions hindered the movement of goods globally. This led to delays in delivering disinfectant products to end-users, including healthcare facilities, businesses, and consumers, which in turn disrupted the market's ability to meet the soaring demand.
Concerns about product safety provide a substantial barrier to the market for surface disinfectants. Despite the fact that these products are essential for preserving hygiene and stopping the spread of illnesses, a number of safety-related concerns may restrict widespread use and market expansion. The possible health risks linked to the incorrect use or handling of surface disinfectants are one of the main issues. Some disinfectants contain substances that, if used improperly, could be harmful to people's health. Negative health effects can result from exposure to these compounds through inhalation, skin contact, or ingestion. Moreover, misuse or overuse of disinfectants can lead to indoor air quality problems, especially in enclosed spaces like homes and offices. This can exacerbate respiratory conditions, trigger allergies, or cause discomfort to occupants, leading to reluctance to use disinfectants regularly.
Opportunities:
Rising Healthcare Expenditure
The market for surface disinfectants has a sizable opportunity due to the rising healthcare spending. A number of favorable conditions for surface disinfectant manufacturers emerge as governments invest more money in healthcare services and infrastructure. The renovation and expansion of healthcare facilities are a result of rising healthcare costs. Infection control and prevention are given top priority in hospitals, clinics, and long-term care institutions, which sustains a steady need for superior surface disinfectants. These goods are essential in the healthcare setting because they help keep the environment clean, lower healthcare-associated infections (HAIs), and improve patient safety. The introduction of strict regulations and standards for healthcare institutions is frequently a result of increased healthcare spending. Surface disinfectants continue to be an essential part of hospital infection control strategies because regulatory bodies and certification organizations setting standards that forbid the use of ineffective disinfectants.
The market for surface disinfectants has an attractive opportunity due to the growth of e-commerce. Manufacturers and sellers of surface disinfectants can take advantage of this trend in a number of ways to expand their market reach and growth as consumers increasingly turn to online platforms for their shopping needs. E-commerce platforms provide a practical and effective way to connect with a large consumer base. To make their products widely accessible to customers, particularly those looking for the convenience of doorstep delivery, manufacturers can open online storefronts or collaborate with reputable e-commerce shops. Manufacturers can provide comprehensive product information via e-commerce, including specifications, usage directions, safety precautions, and customer testimonials. This openness encourages consumer confidence and trust, two important considerations when selecting disinfection goods, which eventually boosts sales.
Segment Overview
By Composition
Based on composition, the global surface disinfectant market is divided into alcohols, chlorine compounds, quaternary ammonium compounds, hydrogen peroxide, peracetic acid, and others. The alcohol category dominates the market with the largest revenue share. Surface disinfectants containing alcohol, such as isopropyl alcohol and ethanol, are effective against a wide range of microorganisms. They are commonly used in healthcare settings for their rapid action and ability to evaporate quickly, leaving no residue. Chlorine-based disinfectants, like sodium hypochlorite (bleach), are potent disinfectants. They are known for their broad-spectrum antimicrobial activity and effectiveness against various pathogens, including viruses and bacteria. Quats are a class of disinfectants known for their efficacy against bacteria and some viruses. They are often used in surface disinfectants for their residual antimicrobial activity, which provides prolonged protection on treated surfaces. Hydrogen peroxide-based disinfectants are effective against a range of microorganisms. They are valued for their oxidative properties and ability to break down into water and oxygen, leaving minimal residues. Peracetic acid is a powerful disinfectant known for its effectiveness against spore-forming bacteria and its ability to work in the presence of organic matter. It is commonly used in healthcare and food industry settings.
By Application
Based on the application, the global surface disinfectant market is categorized into surface disinfection, instrument disinfection, and others. The surface disinfection category leads the global surface disinfectant market with the largest revenue share. Surface disinfection, a crucial component of hygiene in healthcare, hospitality, and public spaces, focuses on cleaning and decontaminating surfaces to prevent the spread of infections. It includes a wide range of products like wipes, sprays, and solutions tailored to disinfect countertops, floors, and frequently touched objects. Instrument disinfection primarily applies to healthcare settings, where meticulous sterilization and disinfection of medical and laboratory instruments are vital for patient safety. This category encompasses high-level disinfectants and sterilant, ensuring the complete elimination of pathogens from medical equipment.
By End-User
Based on end-users, the global surface disinfectant market is segmented into hospital settings, diagnostic laboratories, pharmaceutical and biotechnology companies, and research laboratories. The hospital settings segment dominates the surface disinfectant market. Hospital settings, where patient care and treatment take place, rely heavily on disinfection to curb the spread of infections. Disinfection products are instrumental in maintaining hygienic patient rooms, surgical suites, medical equipment, and high-touch surfaces, safeguarding both patients and healthcare providers. Diagnostic laboratories, dedicated to medical testing and research, demand stringent disinfection protocols to ensure the accuracy of diagnostic procedures. Specialized disinfection products are employed to decontaminate lab equipment, workspaces, and surfaces, preserving the integrity of diagnostic testing and research outcomes. Pharmaceutical and biotechnology companies, engaged in drug development and research, prioritize the maintenance of sterile environments. Cleanroom disinfection and equipment sterilization are paramount to preventing contamination during drug manufacturing, protecting the quality and safety of pharmaceutical products. Research laboratories, encompassing a broad spectrum of scientific disciplines, require disinfection to create aseptic conditions for experiments and safeguard research samples. Disinfection products tailored to specific research needs help maintain a contamination-free research environment.
Global Surface Disinfectant Market Overview by Region
The global surface disinfectant market is categorized into North America, Europe, Asia-Pacific, and the Rest of the World. North America emerged as the leading region, capturing the largest market share in 2022. First and foremost, there is a significant demand for surface disinfectants in North America due to the emphasis on infection prevention and healthcare quality. A sophisticated healthcare network of hospitals, clinics, and other healthcare facilities is present in the area. These organizations place a high priority on strict hygiene requirements and infection control procedures, developing a steady and sizable demand for disinfection goods. The market for surface disinfectants is heavily influenced by the region's thriving biotechnology and pharmaceutical industries. Numerous pharmaceutical and biotech businesses that are involved in medication discovery, production, and research are based in North America. These sectors demand sterile and controlled conditions, which calls for the use of specialized disinfection chemicals and further fuels market expansion. Furthermore, North America has witnessed a heightened focus on public health and safety, particularly in the wake of global health crises like the COVID-19 pandemic. This has led to increased awareness of the importance of surface disinfection in preventing the spread of infectious diseases, driving consumer and institutional demand. The presence of established market players, continuous product innovation, and a strong regulatory framework in North America also contribute to its leadership position in the surface disinfectant market. These factors collectively underline North America's dominance and influence in this vital segment of the disinfection industry.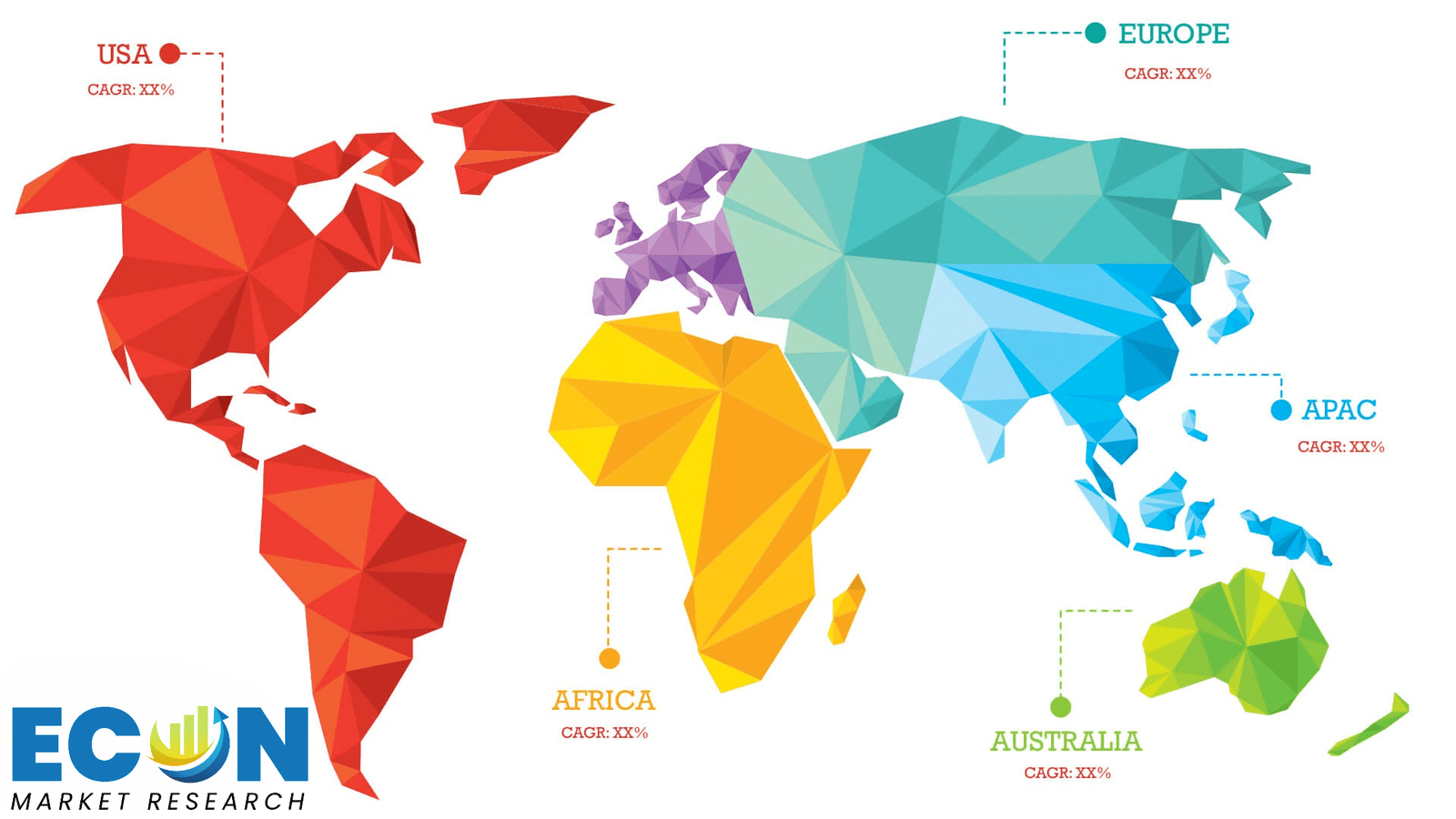 Global Surface Disinfectant Market Competitive Landscape
In the global surface disinfectant market, a few major players exert significant market dominance and have established a strong regional presence. These leading companies remain committed to continuous research and development endeavors and actively engage in strategic growth initiatives, including product development, launches, joint ventures, and partnerships. By pursuing these strategies, these companies aim to strengthen their market position, expand their customer base, and capture a substantial share of the market.
Some of the prominent players in the global surface disinfectant market include PDI, Inc.; GOJO Industries, Inc.; W.M. Barr; Spartan Chemical Company, Inc.; W.W. Grainger, Inc.; Carenowmedical; Reckitt Benckiser Group PLC; PaxChem Ltd.; BODE Chemie GmbH; Star Brands Ltd.; The 3M Company; Ecolab; Procter & Gamble; The Clorox Company; Whiteley Corporation; Lonza; SC Johnson Professional; BASF SE, and various other key players.
Global Surface Disinfectant Market Recent Developments
In February 2022, the Quaternary Disinfectant Cleaner in Squeeze and Pour Bottle was introduced by SC Johnson Professional. Cleaner with quaternary disinfectants in a new, simple-to-measure, squeeze-and-pour bottle. In one labor-saving step, the product cleans, disinfects, and deodorizes. The packaging format makes it simple to measure for dilution in a bucket, automatic scrubber, or spray bottle.
Scope of the Global Surface Disinfectant Market Report
Surface Disinfectant Market Report Segmentation
ATTRIBUTE

DETAILS

By Composition

Alcohols

Chlorine Compounds

Quaternary Ammonium Compounds

Hydrogen Peroxide

Peracetic Acid

Others

By Application

Surface Disinfection

Instrument Disinfection

Others

By End-User

Hospital Settings

Diagnostic Laboratories

Pharmaceutical and Biotechnology Companies

Research Laboratories

By Geography

North America (USA,

and Canada)

Europe (UK, Germany, France, Italy, Spain, Russia and Rest of Europe)

Asia Pacific (Japan, China, India, Australia, Southeast Asia and Rest of Asia Pacific)

Latin America (Brazil, Mexico, and Rest of Latin America)

Middle East & Africa (South Africa, GCC, and Rest of Middle East & Africa)

Customization Scope

Pricing
Objectives of the Study
The objectives of the study are summarized in 5 stages. They are as mentioned below:
Global Surface Disinfectant Market

Size and Forecast:
To identify and estimate the market size for the global surface disinfectant market segmented by composition, by application, by end user, region and by value (in U.S. dollars). Also, to understand the consumption/ demand created by consumers of surface disinfectant between 2019 and 2031.
Market Landscape and Trends:
To identify and infer the drivers, restraints, opportunities, and challenges for the global surface disinfectant market
Market Influencing Factors:
To find out the factors which are affecting the sales of surface disinfectant among consumers
To identify and understand the various factors involved in the global surface disinfectant market affected by the pandemic
To provide a detailed insight into the major companies operating in the market. The profiling will include the financial health of the company's past 2-3 years with segmental and regional revenue breakup, product offering, recent developments, SWOT analysis, and key strategies.
Intended Audience
Healthcare Professionals

Pharmaceutical and Biotechnology Companies

Hospital Administrators

Environmental and Health Organizations

Retailers, Wholesalers, and Distributors

Governments, Associations, and Industrial Bodies

Investors and Trade Experts
Research Methodology
Our research methodology has always been the key differentiating reason which sets us apart in comparison from the competing organizations in the industry. Our organization believes in consistency along with quality and establishing a new level with every new report we generate; our methods are acclaimed and the data/information inside the report is coveted. Our research methodology involves a combination of primary and secondary research methods. Data procurement is one of the most extensive stages in our research process. Our organization helps in assisting the clients to find the opportunities by examining the market across the globe coupled with providing economic statistics for each and every region. The reports generated and published are based on primary & secondary research. In secondary research, we gather data for global Market through white papers, case studies, blogs, reference customers, news, articles, press releases, white papers, and research studies. We also have our paid data applications which includes hoovers, Bloomberg business week, Avention, and others.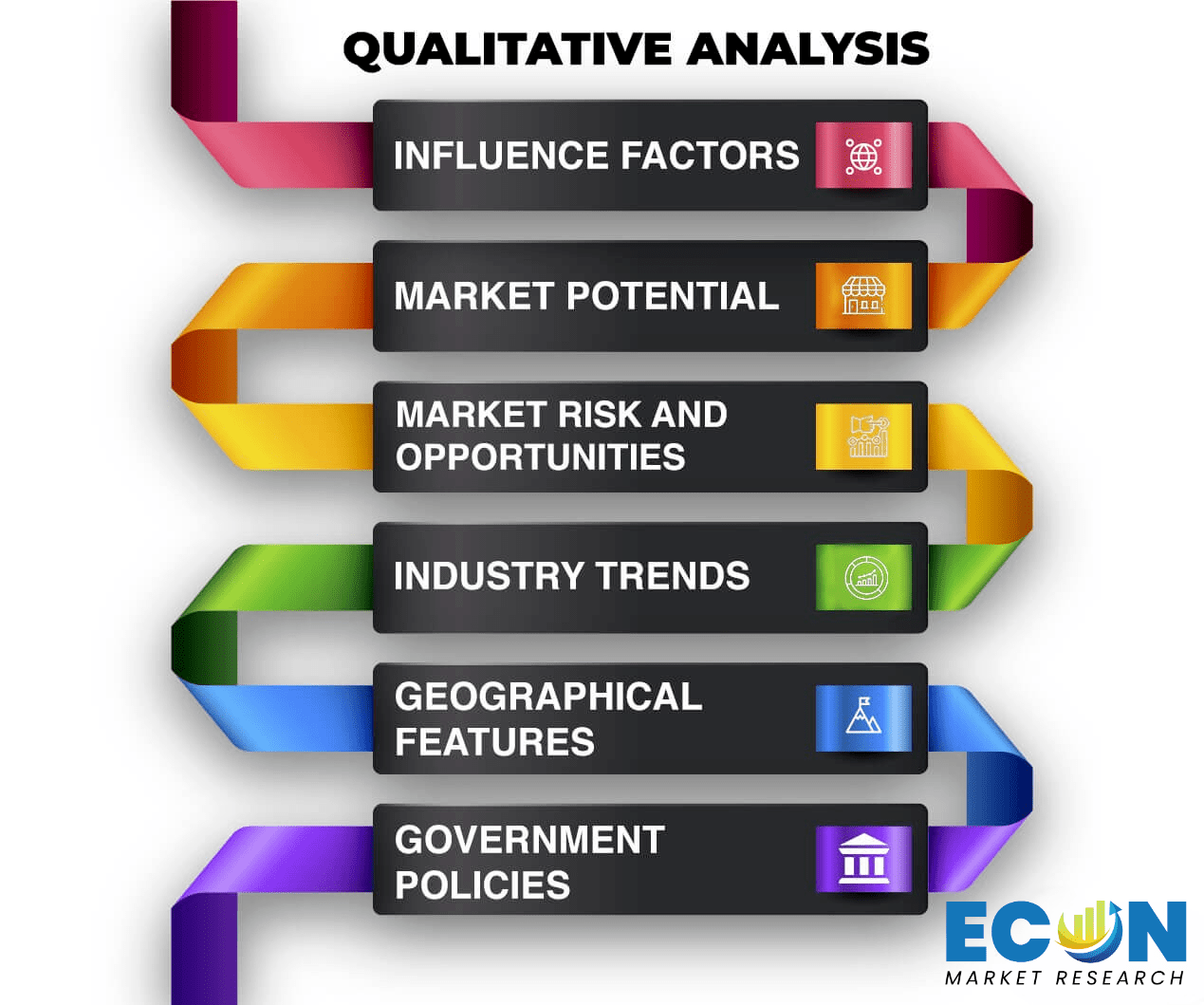 Data Collection
Data collection is the process of gathering, measuring, and analyzing accurate and relevant data from a variety of sources to analyze market and forecast trends. Raw market data is obtained on a broad front. Data is continuously extracted and filtered to ensure only validated and authenticated sources are considered. Data is mined from a varied host of sources including secondary and primary sources.

Primary Research
After the secondary research process, we initiate the primary research phase in which we interact with companies operating within the market space. We interact with related industries to understand the factors that can drive or hamper a market. Exhaustive primary interviews are conducted. Various sources from both the supply and demand sides are interviewed to obtain qualitative and quantitative information for a report which includes suppliers, product providers, domain experts, CEOs, vice presidents, marketing & sales directors, Type & innovation directors, and related key executives from various key companies to ensure a holistic and unbiased picture of the market. 
Secondary Research
A secondary research process is conducted to identify and collect information useful for the extensive, technical, market-oriented, and comprehensive study of the market. Secondary sources include published market studies, competitive information, white papers, analyst reports, government agencies, industry and trade associations, media sources, chambers of commerce, newsletters, trade publications, magazines, Bloomberg BusinessWeek, Factiva, D&B, annual reports, company house documents, investor presentations, articles, journals, blogs, and SEC filings of companies, newspapers, and so on. We have assigned weights to these parameters and quantified their market impacts using the weighted average analysis to derive the expected market growth rate.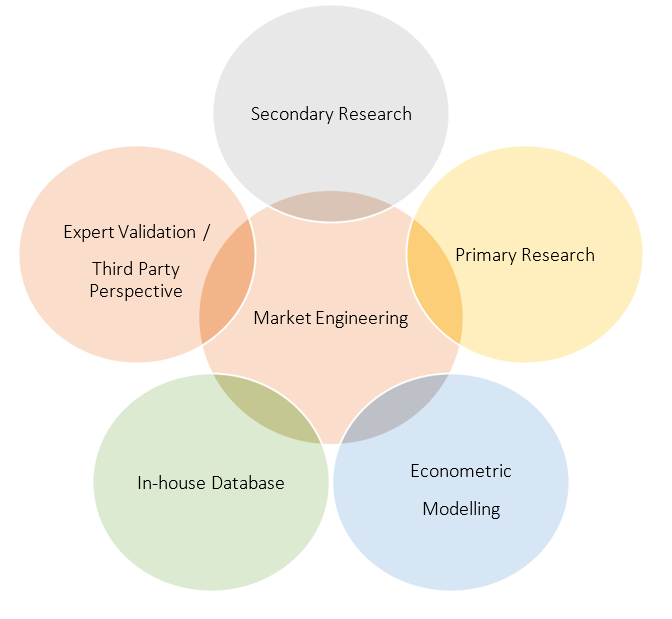 Top-Down Approach & Bottom-Up Approach
In the top – down approach, the Global Batteries for Solar Energy Storage Market was further divided into various segments on the basis of the percentage share of each segment. This approach helped in arriving at the market size of each segment globally. The segments market size was further broken down in the regional market size of each segment and sub-segments. The sub-segments were further broken down to country level market. The market size arrived using this approach was then crosschecked with the market size arrived by using bottom-up approach.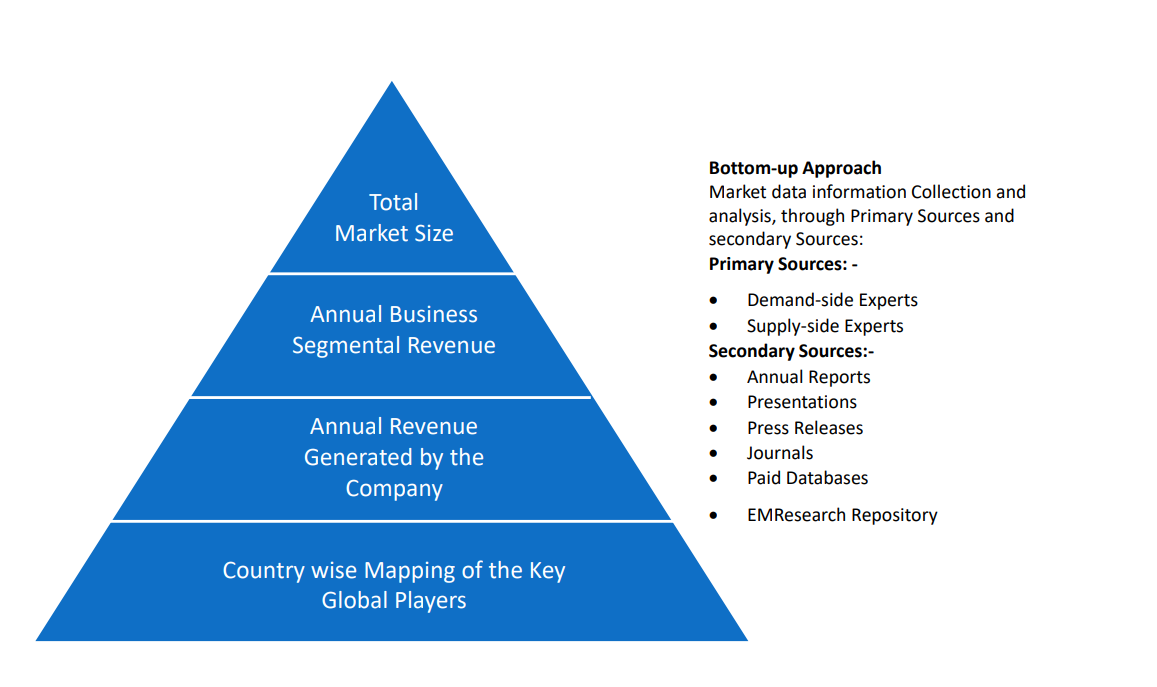 In the bottom-up approach, we arrived at the country market size by identifying the revenues and market shares of the key market players. The country market sizes then were added up to arrive at regional market size of the decorated apparel, which eventually added up to arrive at global market size.
This is one of the most reliable methods as the information is directly obtained from the key players in the market and is based on the primary interviews from the key opinion leaders associated with the firms considered in the research. Furthermore, the data obtained from the company sources and the primary respondents was validated through secondary sources including government publications and Bloomberg.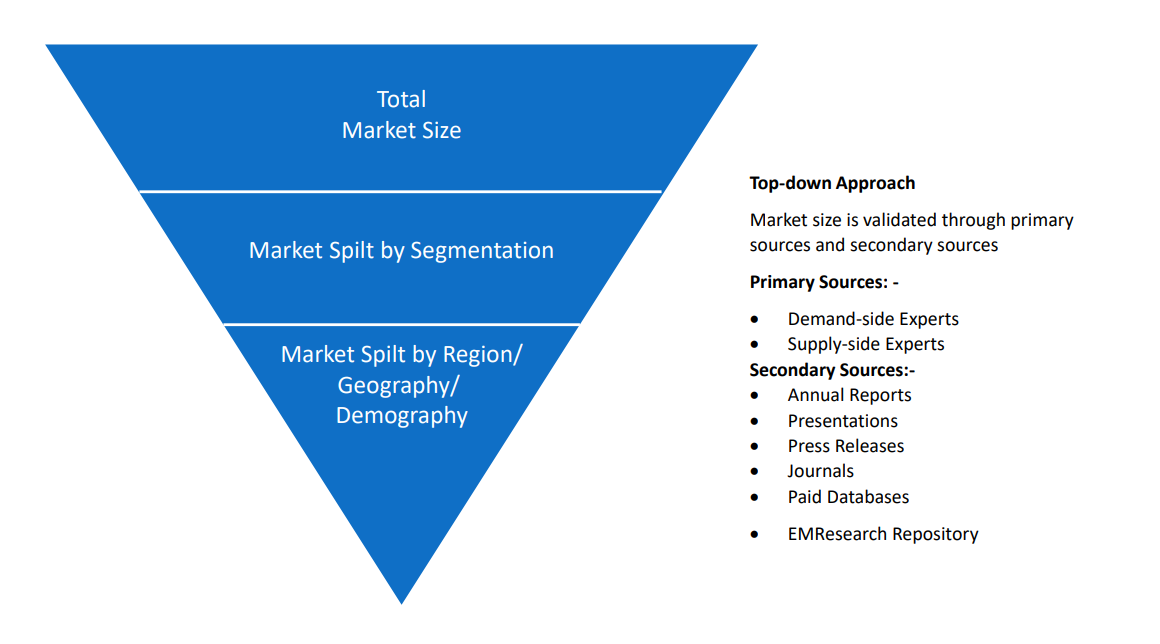 Market Analysis & size Estimation
Post the data mining stage, we gather our findings and analyze them, filtering out relevant insights. These are evaluated across research teams and industry experts. All this data is collected and evaluated by our analysts. The key players in the industry or markets are identified through extensive primary and secondary research. All percentage share splits, and breakdowns have been determined using secondary sources and verified through primary sources. The market size, in terms of value and volume, is determined through primary and secondary research processes, and forecasting models including the time series model, econometric model, judgmental forecasting model, the Delphi method, among Flywheel Energy Storage. Gathered information for market analysis, competitive landscape, growth trends, product development, and pricing trends is fed into the model and analyzed simultaneously.
Quality Checking & Final Review
The analysis done by the research team is further reviewed to check for the accuracy of the data provided to ensure the clients' requirements. This approach provides essential checks and balances which facilitate the production of quality data. This Type of revision was done in two phases for the authenticity of the data and negligible errors in the report. After quality checking, the report is reviewed to look after the presentation, Type and to recheck if all the requirements of the clients were addressed.