The Global Sulfuric Acid Market was valued at USD 13.8 billion in 2022 and is estimated to reach approximately USD 36.6 billion by 2031, at a CAGR of 11.4% from 2023 to 2031. Strong and highly corrosive sulfuric acid is a mineral acid. It has a molecular structure of two hydrogen atoms, one sulfur atom, and four oxygen atoms and is dense, colorless, and odorless. Sulfuric acid is frequently utilized in many industrial operations, such as the production of batteries, the manufacture of chemicals, and as a catalyst. It's known for its propensity to react strongly with many compounds and is necessary in many applications, but because of its corrosive nature, it must be handled with extreme caution. Sulfuric acid is a vital part of the worldwide chemical industry and is in high demand across a number of industries. A strong mineral acid that is widely produced is sulfuric acid. Due mostly to its corrosive and catalytic qualities, it is essential to many industries. Sulfuric acid is a key raw element used in the synthesis of many different chemicals, including synthetic materials, fertilizers, and detergents, in the chemical manufacturing industry. In order to extract useful products from crude oil, it is also essential in the procedures involved in petroleum refining. Lead-acid batteries, a common power source for autos and backup systems, need sulfuric acid as part of their manufacturing process, which is another significant application. Furthermore, the mining industry relies on sulfuric acid for the extraction of metals from ores, making it indispensable for metal production and purification processes. It is also essential in wastewater treatment and pH control in various industrial processes. The global sulfuric acid market is influenced by economic trends, environmental regulations, and technological advancements. Demand is driven by factors like population growth, urbanization, and industrialization. The market's future is likely to be shaped by sustainability initiatives, as industries seek eco-friendly alternatives and more efficient sulfuric acid production methods to meet their needs while minimizing environmental impact.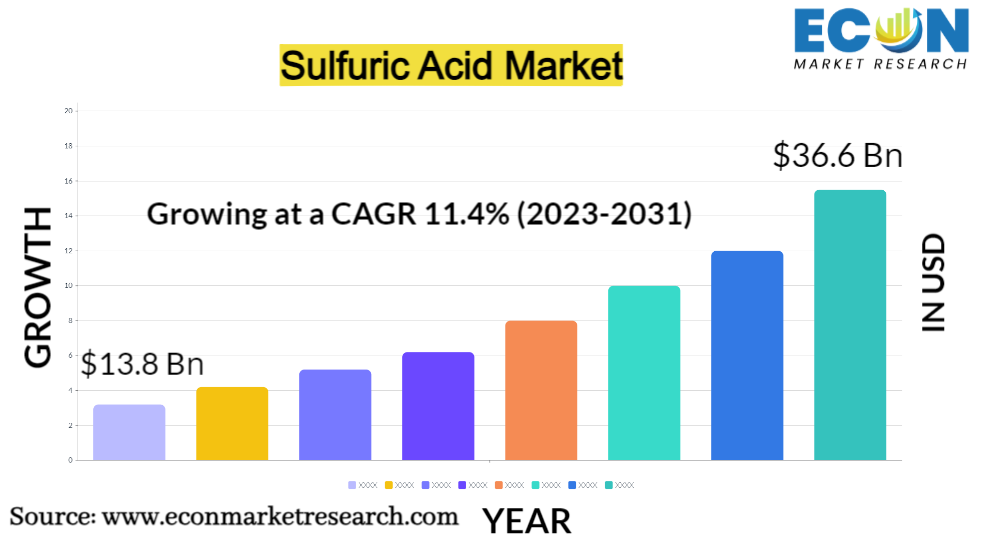 SULFURIC ACID MARKET: REPORT SCOPE & SEGMENTATION
| | |
| --- | --- |
| Report Attribute | Details |
| Estimated Market Value (2022) | 13.8 Bn |
| Projected Market Value (2031) | 36.6 Bn |
| Base Year | 2022 |
| Forecast Years | 2023 - 2031 |
| Scope of the Report | Historical and Forecast Trends, Industry Drivers and Constraints, Historical and Forecast Market Analysis by Segment- By Raw Material, By Application, & Region |
| Segments Covered | By Raw Material, By Application, & Region |
| Forecast Units | Value (USD Billion or Million), and Volume (Units) |
| Quantitative Units | Revenue in USD million/billion and CAGR from 2023 to 2031 |
| Regions Covered | North America, Europe, Asia Pacific, Latin America, and Middle East & Africa, and the Rest of World |
| Countries Covered | U.S., Canada, Mexico, U.K., Germany, France, Italy, Spain, China, India, Japan, South Korea, Brazil, Argentina, GCC Countries, and South Africa, among others |
| Report Coverage | Market growth drivers, restraints, opportunities, Porter's five forces analysis, PEST analysis, value chain analysis, regulatory landscape, market attractiveness analysis by segments and region, company market share analysis, and COVID-19 impact analysis. |
| Delivery Format | Delivered as an attached PDF and Excel through email, according to the purchase option. |
Global Sulfuric Acid Market Dynamics
Demand for sulfuric acid is significantly influenced by industrial expansion. Sulfuric acid is crucial to developing industries like chemicals, mining, and wastewater treatment, and as economies expand, so does demand for this adaptable acid. Environmental laws are very important. The manufacturing and usage of sulfuric acid may be impacted by strict emissions and waste disposal restrictions. Businesses must make investments in pollution control technologies and greener, more sustainable industrial techniques. The market is changing as a result of technological improvement. Innovative procedures and recycling methods can increase the effectiveness of sulfuric acid production, save costs, and have a minimal negative impact on the environment. The competitiveness of market participants is impacted by these developments. Additionally, geopolitical issues have an impact on the sulfuric acid industry. Sulfuric acid supply and cost may be impacted by trade regulations, supply chain interruptions, and political unrest in sulfur-producing nations. The demand for environmentally friendly goods and practises is driven by changing consumer tastes and sustainability initiatives. This forces the sector to investigate more environmentally friendly options and adopt sustainable procedures.
Global Sulfuric Acid Market Drivers
Industrial Growth and Expansion
The market for sulfuric acid is significantly driven by industrial growth and expansion. The rising need for sulfuric acid across several industries is the main driver of this dynamic. Sulfuric acid is a key raw ingredient used in the manufacture of many different chemicals, including fertilizers, detergents, and synthetic materials, in the chemical industry. Its critical function also extends to the petroleum refining sector, where it is essential to the processes used to separate valuable products from crude oil. Sulfuric acid is also essential to the automotive industry since lead-acid batteries, which are widely utilized in cars and backup power systems, rely on it. The demand for these fundamental goods and procedures increases as the world's population rises, cities continue to grow, and industry develops. Sulfuric acid production increases along with the need for this adaptable acid in the industries that use it. Since the market for sulfuric acid and economic development are closely related, the industrial growth and expansion driver plays a significant role in determining the dynamics of the sector and its prospects for the future.
Technological Advancements
Sulfuric acid production increases along with the need for this adaptable acid in the industries that use it. Since the market for sulfuric acid and economic development are closely related, the industrial growth and expansion driver plays a significant role in determining the dynamics of the sector and its prospects for the future. The market for sulfuric acid is significantly shaped by the forces driving technical development. The dynamics of the sector are significantly impacted by ongoing improvements and advancements in manufacturing procedures, recycling strategies, and cutting-edge technologies. The creation of more effective sulfuric acid production techniques is one key area of advancement. Modern methods seek to use resources more efficiently while using less energy and having less environmental impact. Furthermore, advanced technologies, including automation and data analytics, enhance the overall efficiency and reliability of sulfuric acid production facilities.
Restraints:
Environmental Regulations and Compliance Issues
One of the significant restraints facing the sulfuric acid market pertains to environmental regulations and associated compliance challenges. Sulfuric acid production and its various industrial applications involve the release of sulfur dioxide (SO2) and other pollutants into the atmosphere, contributing to acid rain, air pollution, and adverse environmental impacts. Consequently, governments and regulatory bodies have imposed strict emissions standards and disposal requirements on industries using sulfuric acid. Compliance with these stringent environmental regulations can be a daunting and costly endeavor for sulfuric acid producers and users alike. Facilities must invest in expensive emission control technologies, such as scrubbers and catalytic converters, to reduce SO2 emissions. Additionally, the proper handling, transportation, and disposal of sulfuric acid require specialized equipment and procedures to prevent environmental contamination.
Trade Tariffs and Export Restrictions
The market for sulfuric acid is significantly constrained by trade tariffs and export limitations. These actions may affect sulfuric acid production, distribution, and pricing, as well as the prices of the raw materials that go into it. Government-imposed import and export trade tariffs may raise consumers' costs for sulfuric acid. For instance, when tariffs on sulfur imports are imposed, the price of sulfuric acid on the market is subsequently affected due to the increased cost of production. In addition to disrupting international trade and creating market uncertainty, tariffs can result in trade disputes and retaliatory actions among governments. Export restrictions on sulfuric acid or its raw materials, such as sulfur or sulfur dioxide, can disrupt the global supply chain. When exporting countries impose restrictions due to domestic demand or environmental concerns, it can reduce the availability of sulfuric acid in the global market. This can lead to supply shortages, price volatility, and increased competition for limited resources.
Opportunities:
Fertilizer Industry Growth
Various parties, especially those in the sulfuric acid sector, have a lot to gain from the fertiliser industry's explosive rise. The use of fertilizers is essential for increasing agricultural production and guaranteeing global food security in the face of a growing population. The need for fertilizers, notably those containing sulfuric acid, keeps rising as nations work to increase agricultural yields and alleviate food shortages. In addition to being used to create ammonium sulphate fertilisers, sulfuric acid is a critical component in the synthesis of phosphate fertilisers such triple superphosphate and diammonium phosphate. These fertilisers supply crops with vital nutrients, encouraging healthy development and higher yields. Sulfuric acid-based fertilisers can successfully correct this nitrogen imbalance, and sulphur shortage in soils is another major issue.
Increasing Demand in Chemical Manufacturing
Numerous stakeholders have a potential opportunity due to the increasing demand for sulfuric acid in the chemical production industry. The need for sulfuric acid as a vital raw material and catalyst is rising as chemical industry expands as a result of factors like industrialization, technological development, and population expansion. This trend represents a chance for manufacturers of sulfuric acid to boost output and earnings. In order to scale up operations and invest in production efficiency to meet the increased demand, which can result in cost savings and increased profitability. Innovative and environmentally friendly production techniques can also increase competitiveness and draw in environmentally conscientious consumers.
Segment Overview
By Raw Material
Based on raw material, the global sulfuric acid market is divided into elemental sulfur, pyrite ore, base metal smelters. The elemental sulfur category dominates the market with the largest revenue share. Elemental sulfur refers to sulfur in its pure form, typically recovered from natural deposits or as a byproduct of various industrial processes. It serves as a primary raw material for sulfuric acid production, a critical chemical in various industries like fertilizers, chemicals, and mining. The demand for elemental sulfur is closely tied to the production of sulfuric acid and its downstream applications. Pyrite ore, also known as iron pyrite or fool's gold, contains sulfur and iron. While pyrite itself isn't a major source of sulfur production, it can be processed to extract sulfur as a byproduct. Pyrite ore is mainly used in the production of sulfur dioxide (SO2), which has applications in the chemical industry and environmental processes, such as flue gas desulfurization in power plants to reduce emissions. Base metal smelters, such as those processing copper, zinc, or lead ores, produce sulfur dioxide (SO2) emissions as a byproduct. These emissions can be captured and converted into sulfuric acid, making base metal smelters a significant source of sulfur for sulfuric acid production.
By Application
Based on the application, the global sulfuric acid market is categorized into fertilizers, automotive, textile industry. The fertilizers category leads the global sulfuric acid market with the largest revenue share. The fertilizer industry relies significantly on sulfuric acid. Sulfuric acid is used in the production of phosphate fertilizers, such as triple superphosphate and diammonium phosphate. These fertilizers provide essential nutrients to crops, promoting their healthy growth and increased yields. Additionally, sulfur deficiency in soils is a common concern, and sulfuric acid-based fertilizers can address this nutrient imbalance effectively. Sulfuric acid has limited direct applications in the textile industry. However, it is used in the production of certain dyes and chemicals that play a role in textile manufacturing processes, such as dyeing and finishing. While sulfuric acid is not directly used in the automotive industry, lead-acid batteries, which are widely employed in automobiles and other vehicles, do use sulfuric acid as an electrolyte. Lead-acid batteries are essential for starting engines and providing power for various electrical systems in vehicles.
Global Sulfuric Acid Market Overview by Region
The global sulfuric acid market is categorized into North America, Europe, Asia-Pacific, and the Rest of the World. Asia Pacific emerged as the leading region, capturing the largest market share in 2022. With some of the fastest-growing economies in the world, Asia Pacific has experienced remarkable economic growth. Countries like China and India have seen astounding development rates, drawing substantial investments and emerging as major actors in international trade. The area has developed into a hub for manufacturing. It is a desirable location for manufacturing activities across industries, including electronics, automotive, and textiles, thanks to its reasonable labor prices, sizable skilled workforce, and strong supply chains. Advancements in fields like information technology, biotechnology, and renewable energy have been fueled by Asia Pacific's devotion to innovation and technology. This has improved its reputation for innovation, research, and development around the world. Massive consumer markets have been generated by a growing middle class with more purchasing power This has not only fueled domestic consumption but also made the region an attractive target for multinational corporations. Substantial investments in infrastructure, including transportation, logistics, and communication networks, have improved connectivity both within the region and with the rest of the world, facilitating trade and economic growth. The region is rich in natural resources, including minerals and energy sources, contributing to its economic strength and self-sufficiency.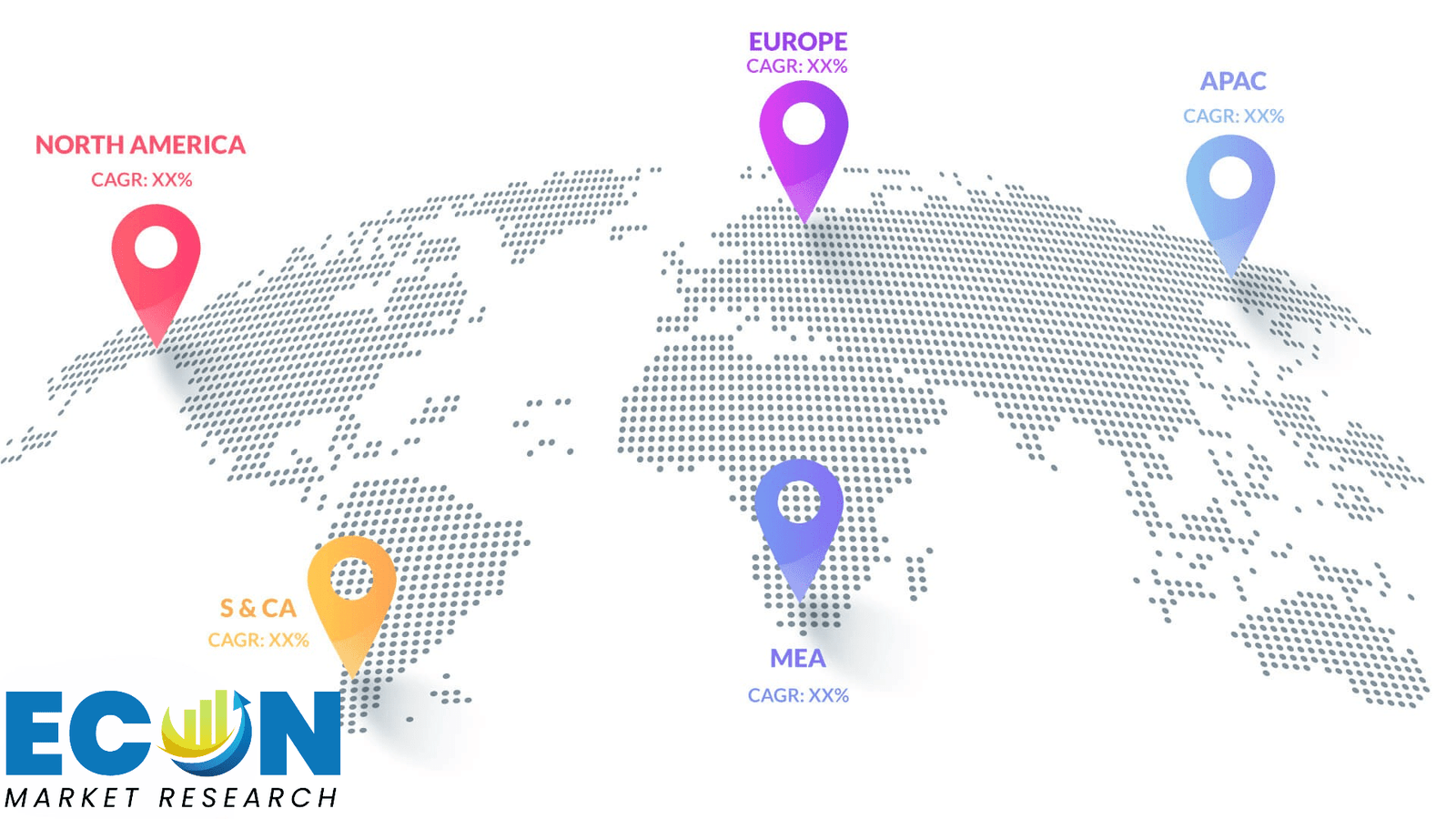 Global Sulfuric Acid Market Competitive Landscape
In the global sulfuric acid market, a few major players exert significant market dominance and have established a strong regional presence. These leading companies remain committed to continuous research and development endeavors and actively engage in strategic growth initiatives, including product development, launches, joint ventures, and partnerships. By pursuing these strategies, these companies aim to strengthen their market position, expand their customer base, and capture a substantial share of the market.
Some of the prominent players in the global sulfuric acid market include Asia Union Electronic Chemical Corporation (AUECC), Aurubis AG, Avantor Performance Materials, LLC, BASF SE, Boliden Group, Canada Colors and Chemicals Limited, Cornerstone Chemical Company, Hubei Xingfa Chemicals Group Co., Ltd, Ineos Group Ltd, KANTO Corporation, KMG Chemicals, Linde Group, Ma'aden - Saudi Arabian Mining Company, Nouryon, PVS Chemicals Inc., Qingdao Hisea Chem Co.Ltd, Seastar Chemicals, Tata Chemicals, Trident Group, UBE INDUSTRIES, LTD., Zhejiang Jiahua Energy Chemical Industry Co. Ltd., and various other key players.
Global Sulfuric Acid Market Recent Developments
In June 2023, By acquiring Saconix, Sumitomo expands its sulfuric acid business in the United States. Saconix LLC, a business involved in the purchase, sale, storage, and distribution of sulfuric acid in the Western United States and the Gulf Coast region, has been acquired by Sumitomo Corporation of Americas (SCOA) and its parent company Sumitomo Corporation Japan (SC), expanding their market presence in the Sulfuric Acid business in North America.
Scope of the Global Sulfuric Acid Market Report
Sulfuric Acid Market Report Segmentation
ATTRIBUTE

DETAILS

By Raw Material

Elemental Sulfur

Pyrite Ore

Base Metal Smelters

By Application

Fertilizers

Automotive

Textile Industry

By Geography

North America (USA,

and Canada)

Europe (UK, Germany, France, Italy, Spain, Russia and Rest of Europe)

Asia Pacific (Japan, China, India, Australia, Southeast Asia and Rest of Asia Pacific)

Latin America (Brazil, Mexico, and Rest of Latin America)

Middle East & Africa (South Africa, GCC, and Rest of Middle East & Africa)

Customization Scope

Pricing
Objectives of the Study
The objectives of the study are summarized in 5 stages. They are as mentioned below:
Global Sulfuric Acid Market

Size and Forecast:
To identify and estimate the market size for the global sulfuric acid market segmented by raw material, by application, region and by value (in U.S. dollars). Also, to understand the consumption/ demand created by consumers of sulfuric acid between 2019 and 2031.
Market Landscape and Trends:
To identify and infer the drivers, restraints, opportunities, and challenges for the global sulfuric acid market
Market Influencing Factors:
To find out the factors which are affecting the sales of sulfuric acid among consumers
To identify and understand the various factors involved in the global sulfuric acid market affected by the pandemic
To provide a detailed insight into the major companies operating in the market. The profiling will include the financial health of the company's past 2-3 years with segmental and regional revenue breakup, product offering, recent developments, SWOT analysis, and key strategies.
Intended Audience
Retailers, Wholesalers, and Distributors

Students and Educators

Business and Industry Professionals

Researchers and Scientists

Governments, Associations, and Industrial Bodies

Investors and Trade Experts
Research Methodology
Our research methodology has always been the key differentiating reason which sets us apart in comparison from the competing organizations in the industry. Our organization believes in consistency along with quality and establishing a new level with every new report we generate; our methods are acclaimed and the data/information inside the report is coveted. Our research methodology involves a combination of primary and secondary research methods. Data procurement is one of the most extensive stages in our research process. Our organization helps in assisting the clients to find the opportunities by examining the market across the globe coupled with providing economic statistics for each and every region. The reports generated and published are based on primary & secondary research. In secondary research, we gather data for global Market through white papers, case studies, blogs, reference customers, news, articles, press releases, white papers, and research studies. We also have our paid data applications which includes hoovers, Bloomberg business week, Avention, and others.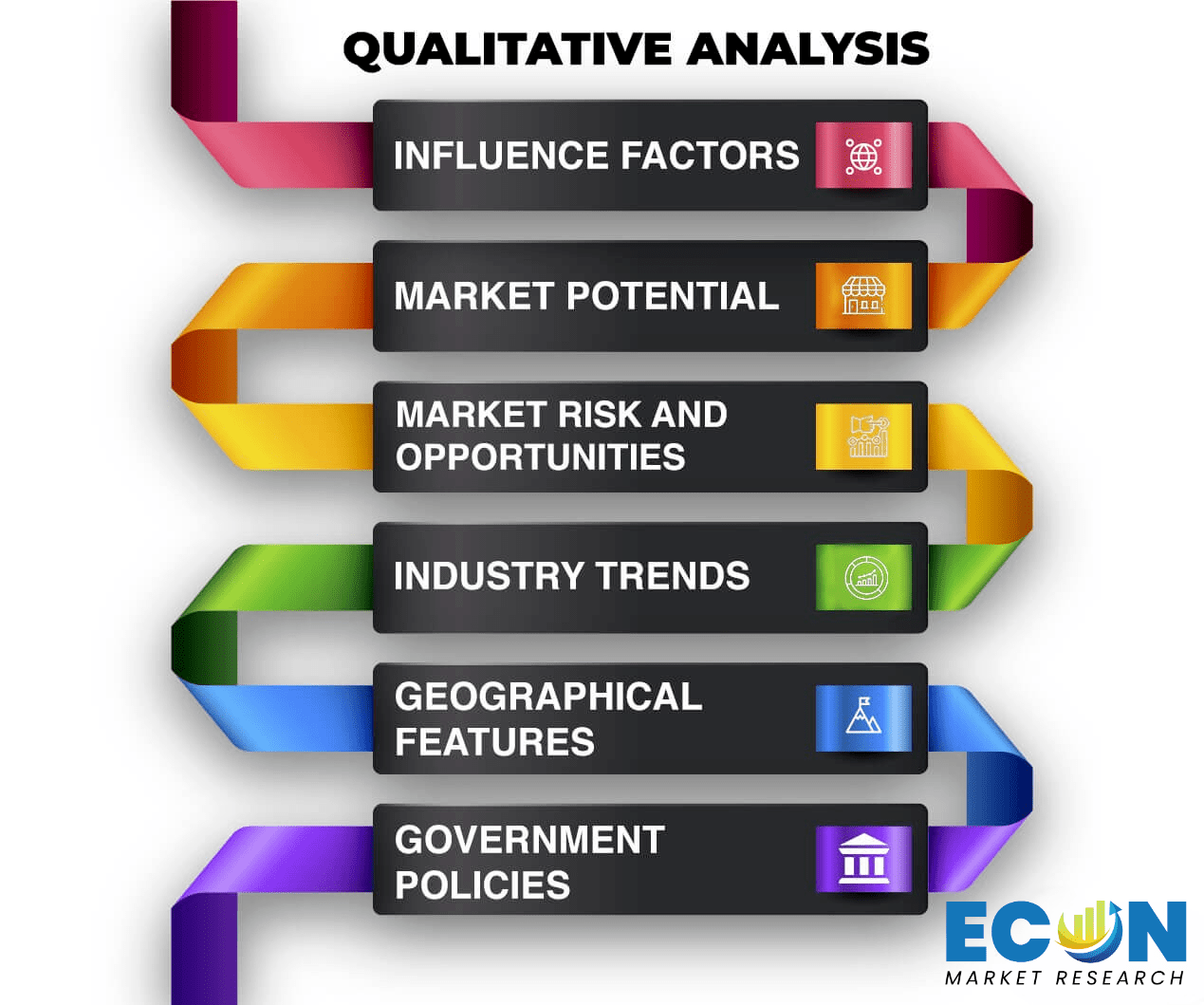 Data Collection
Data collection is the process of gathering, measuring, and analyzing accurate and relevant data from a variety of sources to analyze market and forecast trends. Raw market data is obtained on a broad front. Data is continuously extracted and filtered to ensure only validated and authenticated sources are considered. Data is mined from a varied host of sources including secondary and primary sources.

Primary Research
After the secondary research process, we initiate the primary research phase in which we interact with companies operating within the market space. We interact with related industries to understand the factors that can drive or hamper a market. Exhaustive primary interviews are conducted. Various sources from both the supply and demand sides are interviewed to obtain qualitative and quantitative information for a report which includes suppliers, product providers, domain experts, CEOs, vice presidents, marketing & sales directors, Type & innovation directors, and related key executives from various key companies to ensure a holistic and unbiased picture of the market. 
Secondary Research
A secondary research process is conducted to identify and collect information useful for the extensive, technical, market-oriented, and comprehensive study of the market. Secondary sources include published market studies, competitive information, white papers, analyst reports, government agencies, industry and trade associations, media sources, chambers of commerce, newsletters, trade publications, magazines, Bloomberg BusinessWeek, Factiva, D&B, annual reports, company house documents, investor presentations, articles, journals, blogs, and SEC filings of companies, newspapers, and so on. We have assigned weights to these parameters and quantified their market impacts using the weighted average analysis to derive the expected market growth rate.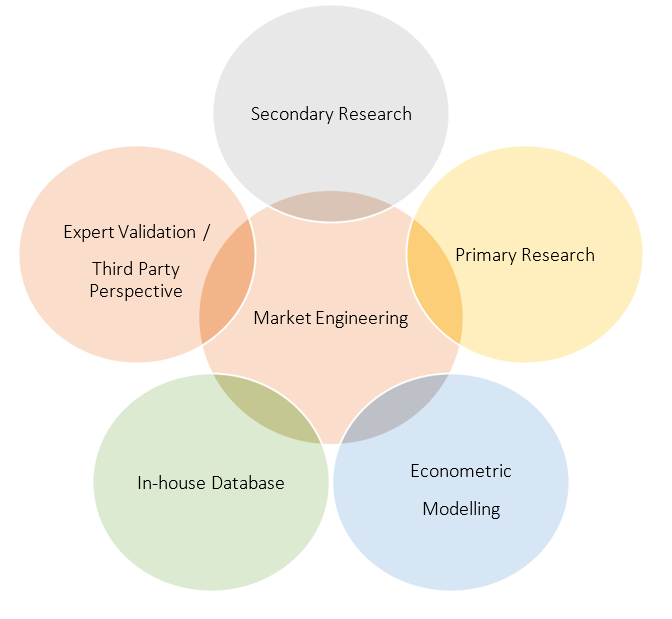 Top-Down Approach & Bottom-Up Approach
In the top – down approach, the Global Batteries for Solar Energy Storage Market was further divided into various segments on the basis of the percentage share of each segment. This approach helped in arriving at the market size of each segment globally. The segments market size was further broken down in the regional market size of each segment and sub-segments. The sub-segments were further broken down to country level market. The market size arrived using this approach was then crosschecked with the market size arrived by using bottom-up approach.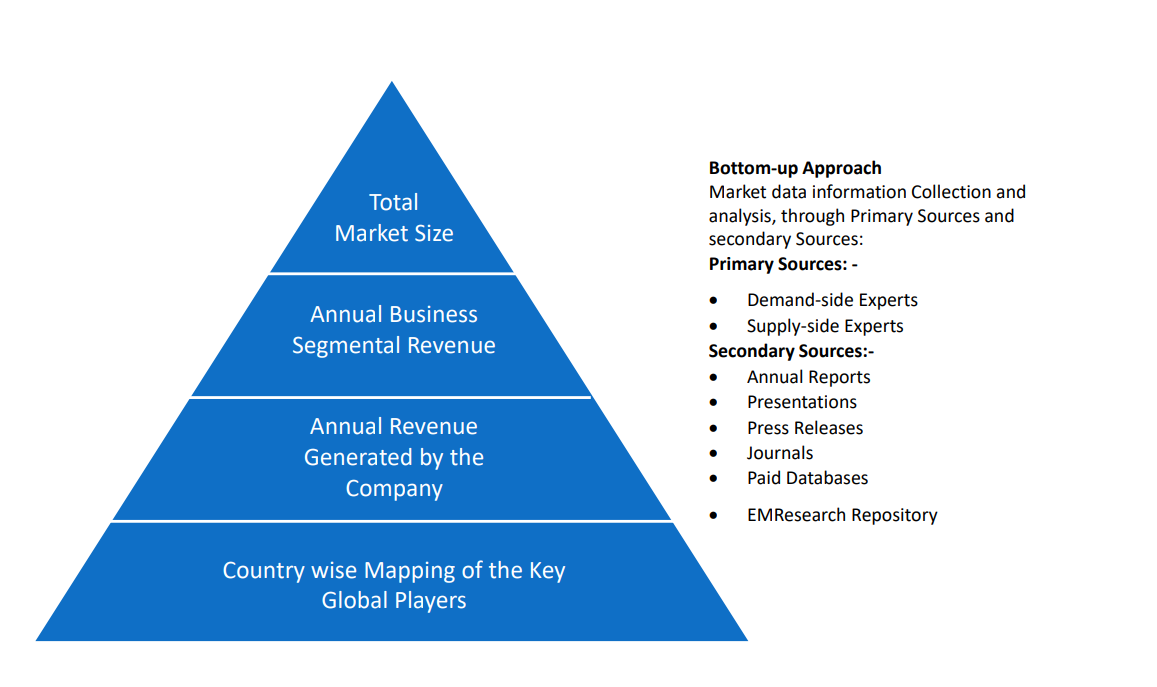 In the bottom-up approach, we arrived at the country market size by identifying the revenues and market shares of the key market players. The country market sizes then were added up to arrive at regional market size of the decorated apparel, which eventually added up to arrive at global market size.
This is one of the most reliable methods as the information is directly obtained from the key players in the market and is based on the primary interviews from the key opinion leaders associated with the firms considered in the research. Furthermore, the data obtained from the company sources and the primary respondents was validated through secondary sources including government publications and Bloomberg.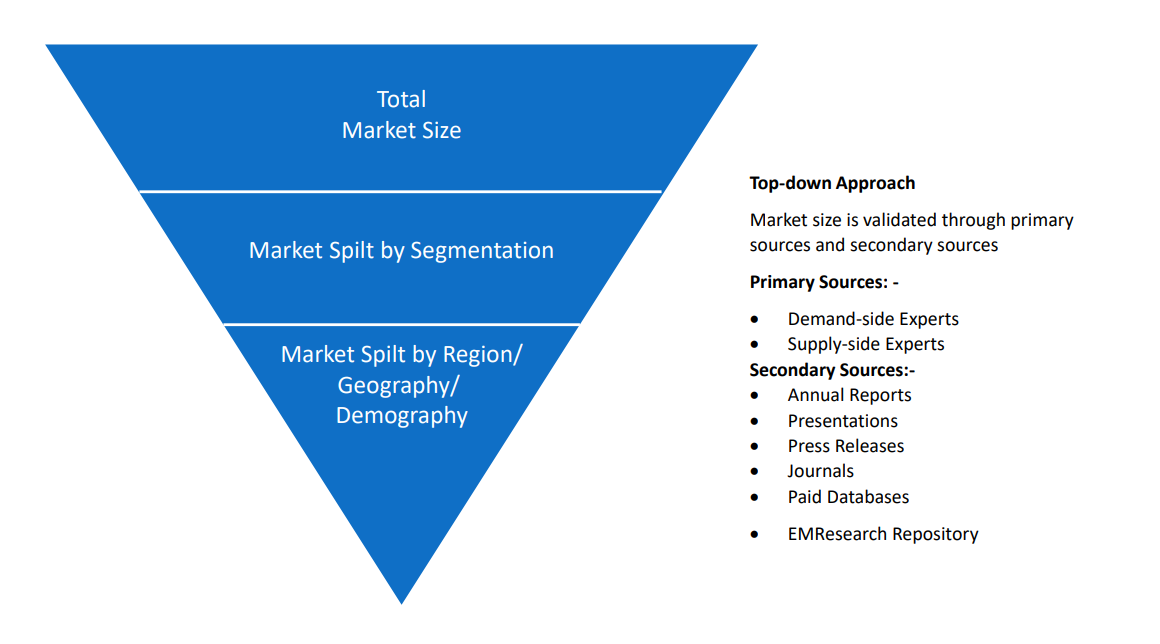 Market Analysis & size Estimation
Post the data mining stage, we gather our findings and analyze them, filtering out relevant insights. These are evaluated across research teams and industry experts. All this data is collected and evaluated by our analysts. The key players in the industry or markets are identified through extensive primary and secondary research. All percentage share splits, and breakdowns have been determined using secondary sources and verified through primary sources. The market size, in terms of value and volume, is determined through primary and secondary research processes, and forecasting models including the time series model, econometric model, judgmental forecasting model, the Delphi method, among Flywheel Energy Storage. Gathered information for market analysis, competitive landscape, growth trends, product development, and pricing trends is fed into the model and analyzed simultaneously.
Quality Checking & Final Review
The analysis done by the research team is further reviewed to check for the accuracy of the data provided to ensure the clients' requirements. This approach provides essential checks and balances which facilitate the production of quality data. This Type of revision was done in two phases for the authenticity of the data and negligible errors in the report. After quality checking, the report is reviewed to look after the presentation, Type and to recheck if all the requirements of the clients were addressed.