The Global Specialty Lighting Market was valued at USD 5.7 billion in 2022 and is estimated to reach approximately USD 10.5 billion by 2031, at a CAGR of 7.0% from 2023 to 2031. The specialty lighting market has emerged as a dynamic and transformative segment within the broader lighting industry, catering to diverse and specialized lighting needs. Specialty lighting encompasses a wide array of lighting solutions designed to address specific requirements, ranging from architectural brilliance to functional applications in industries such as entertainment, automotive, healthcare, and more. This market's growth has been encouraged by advancements in lighting technology, enabling the creation of innovative and customizable lighting solutions that push the boundaries of design, efficiency, and user experience. From mesmerizing LED displays that adorn modern cityscapes to precision lighting used in surgical procedures, specialty lighting has become an indispensable aspect of various sectors. The demand for energy-efficient and environmentally conscious lighting solutions has driven research and development in the specialty lighting domain. This has led to the emergence of sustainable alternatives that not only meet stringent regulations but also offer long-lasting performance. As smart lighting and Internet of Things (IoT) technologies continue to evolve, specialty lighting systems are becoming integrated, adaptable, and remotely controllable, further expanding their application scope. However, the specialty lighting market is not without its challenges. Rapid technological changes, the need for cost-effective solutions, and the requirement for skilled professionals to design, install, and maintain these systems present ongoing hurdles. Additionally, market players must stay attuned to shifting consumer preferences and global trends to remain competitive and relevant. The specialty lighting market stands at the intersection of innovation and necessity, providing tailored illumination solutions for a wide range of industries. As technology evolves and demands diversify, this market is poised to play a pivotal role in shaping the future of lighting, enhancing aesthetics, functionality, and sustainability across various sectors.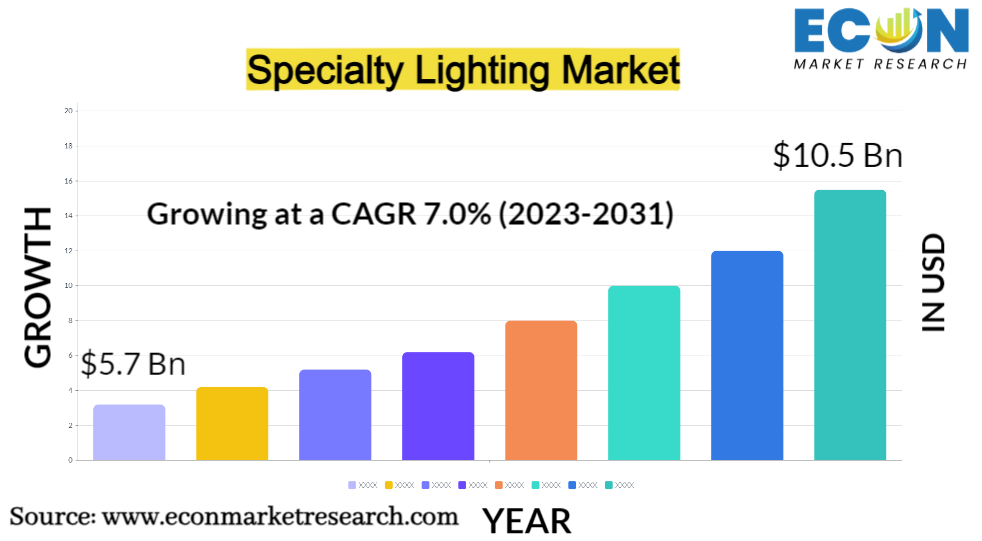 SPECIALTY LIGHTNING MARKET: REPORT SCOPE & SEGMENTATION
| | |
| --- | --- |
| Report Attribute | Details |
| Estimated Market Value (2022) | 5.7 Bn |
| Projected Market Value (2031) | 10.5 Bn |
| Base Year | 2022 |
| Forecast Years | 2023 - 2031 |
| Scope of the Report | Historical and Forecast Trends, Industry Drivers and Constraints, Historical and Forecast Market Analysis by Segment- By Light Type, By Application, By Medical Type, & Region |
| Segments Covered | By Light Type, By Application, By Medical Type, & Region |
| Forecast Units | Value (USD Billion or Million), and Volume (Units) |
| Quantitative Units | Revenue in USD million/billion and CAGR from 2023 to 2031 |
| Regions Covered | North America, Europe, Asia Pacific, Latin America, and Middle East & Africa, and the Rest of World |
| Countries Covered | U.S., Canada, Mexico, U.K., Germany, France, Italy, Spain, China, India, Japan, South Korea, Brazil, Argentina, GCC Countries, and South Africa, among others |
| Report Coverage | Market growth drivers, restraints, opportunities, Porter's five forces analysis, PEST analysis, value chain analysis, regulatory landscape, market attractiveness analysis by segments and region, company market share analysis, and COVID-19 impact analysis. |
| Delivery Format | Delivered as an attached PDF and Excel through email, according to the purchase option. |
Global Specialty Lighting Market Dynamics
The specialty lighting market is characterized by dynamic and multifaceted dynamics that influence its growth trajectory. Technological innovation remains a driving force, with continuous advancements in LED, OLED, and laser technologies enhancing efficiency, color accuracy, and customization possibilities. These innovations are fostering the development of unique lighting solutions across industries, from immersive entertainment experiences to precision medical procedures. Changing consumer preferences and increasing awareness of energy efficiency are also shaping the market. Consumers seek lighting solutions that balance aesthetics, functionality, and sustainability, prompting manufacturers to create products that align with these demands. The integration of smart lighting and IoT capabilities further amplifies market dynamics, enabling remote control, automation, and data-driven optimization. Collaboration between lighting manufacturers and designers is also driving innovation, resulting in lighting solutions that seamlessly blend with architectural and interior designs. The specialty lighting market is fueled by technological innovation, evolving consumer preferences, regulatory pressures, economic factors, and collaborative efforts. Navigating these dynamics is essential for industry players to remain competitive and capture opportunities in this rapidly evolving landscape
Global Specialty Lighting Market Drivers
Rise in Architectural and Decorative Lighting
. Technological progress, particularly in LED and smart lighting, has revolutionized architectural lighting possibilities. LEDs offer energy efficiency, color flexibility, and compact form factors, enabling designers to create intricate lighting schemes with precise control over colors and intensity. Smart lighting systems, integrated with automation and programmability, empower architects to dynamically alter lighting scenes and adapt environments to various activities or moods. Architects now view lighting as a design tool to shape spaces, highlight architectural features, and evoke emotions. The interplay between light and shadow enhances textures, surfaces, and dimensions, fundamentally altering the perception of a space. Decorative lighting fixtures, from chandeliers to pendant lights, have evolved into artistic expressions that add character and focal points within interiors. Moreover, the rise of experiential design has intensified the demand for architectural lighting. From retail spaces to museums and hospitality establishments, lighting is harnessed to craft immersive and memorable environments, thereby influencing customer engagement and emotional connections.
Technological Advancements and Innovation
In the digital segment, innovations like artificial intelligence (AI) and machine learning have revolutionized data analysis, enabling insights and predictions that were previously unimaginable. These technologies have found applications in areas such as healthcare diagnostics, financial forecasting, and personalized marketing. Similarly, the Internet of Things (IoT) has interconnected devices, enabling seamless communication and automation. From smart homes to industrial automation, IoT has increased efficiency and convenience while unlocking new avenues for data-driven decision-making. Moreover, advancements in renewable energy technologies like solar panels and energy storage systems are driving the transition towards sustainable energy sources, mitigating environmental challenges. Blockchain technology has disrupted industries through secure and transparent data management, with applications ranging from finance to supply chain management.
Restraints:
High initial costs constitute a significant restraint in the specialty lighting market, influencing adoption rates and hindering widespread implementation. These costs encompass various elements that contribute to the overall expense of deploying specialized lighting solutions. Cutting-edge technologies like LEDs, OLEDs, and smart lighting systems, which often form the backbone of specialty lighting, entail substantial research, development, and production expenses. The customization inherent in many specialty lighting projects introduces complexity and raises design and manufacturing costs. Moreover, the integration of specialized components, optics, and materials tailored to precise performance standards amplifies overall expenditures. Skilled labor is essential for the intricate installation and configuration of these systems, driving labor costs higher. Rigorous testing and quality assurance procedures are imperative, adding to the financial burden.
Limited Consumer Awareness
Limited consumer awareness stands as a significant challenge within the specialty lighting market, impeding its growth and adoption. This restraint arises from a lack of understanding among potential customers about the benefits, functionalities, and applications of specialized lighting solutions. Many individuals and businesses may remain unaware of how advanced lighting technologies, such as LEDs or smart lighting systems, can dramatically enhance their environments, improve energy efficiency, or create unique experiences. The intricate nature of specialty lighting and its technical jargon further contribute to this awareness gap. Consumers might not fully grasp the nuances of color rendering, lumens, or the potential for dynamic lighting scenes. This lack of awareness often translates to conservative choices, where traditional lighting options are favored due to familiarity.
Opportunities:
Rising Interest in Smart Homes, Buildings, and Cities
The integration of smart lighting and Internet of Things (IoT) technologies presents a compelling opportunity within the specialty lighting market. As society embraces connectivity and automation, smart lighting solutions have gained prominence for their ability to enhance user experience, efficiency, and sustainability. With the rise of smart homes, buildings, and cities, there is a growing demand for lighting systems that can be controlled, automated, and optimized remotely. Smart lighting offers benefits like personalized lighting scenes, occupancy sensing, daylight harvesting, and dynamic color changing. This creates opportunities for specialty lighting manufacturers to design products that seamlessly integrate with smart home ecosystems, enhancing user comfort and energy savings.
Advancements in Lighting Technology for Medical Settings
Advancements in lighting technology have opened avenues for innovative solutions that cater to the unique lighting needs of medical facilities. In surgical settings, specialized lighting systems are vital for ensuring optimal visibility during procedures. Precision lighting with accurate color rendering and minimal heat emission improves surgical precision and reduces eye strain for medical professionals. Additionally, the integration of adjustable color temperatures can aid in minimizing eye fatigue during extended procedures. From surgical theaters to patient rooms and diagnostic labs, precision lighting technology can contribute to a safer and more conducive healthcare environment, ultimately enhancing patient care and medical efficiency. As healthcare institutions increasingly recognize the role of lighting in patient outcomes, the specialty lighting market can shape the future of healthcare practices through innovative and medically beneficial lighting solutions.
Segment Overview
By Light Type
Based on Light Type, the global specialty lighting market is divided into light-emitting diode, halogen lamps, xenon bulbs, incandescent lamps, and others. The light-emitting diode category dominates the market with the largest revenue share. LED technology is a dominant force in the specialty lighting market due to its energy efficiency, longevity, and versatility. LEDs offer precise control over color temperature and intensity, making them ideal for architectural lighting, decorative applications, entertainment venues, and even automotive lighting. Where, halogen lamps provide strong, focused illumination and are commonly used in applications where high-intensity light is required. They are utilized in theater and stage lighting, as well as in certain automotive lighting applications. Xenon bulbs are known for their high-intensity discharge and white light output. They find applications in automotive headlights, searchlights, and film projection due to their brightness and color temperature resembling daylight.
By Application
Based on the application, the global specialty lighting market is categorized into entertainment, medical, purification, and others. The entertainment category leads the global specialty lighting market with the largest revenue share. This segment caters to the entertainment industry, encompassing theatrical and stage lighting, concert lighting, studio lighting for film and television, as well as architectural lighting for event spaces. Entertainment lighting relies on technologies that offer dynamic colors, precise control, and the ability to create captivating visual experiences. Similarly, Medical lighting is crucial for healthcare environments, including surgical theaters, examination rooms, patient care areas, and diagnostics. Specialty lighting in medical settings requires high color accuracy, adjustable illumination levels, and minimal heat emission to ensure optimal visibility, comfort, and accurate diagnosis. Purification lighting plays a role in disinfection and sanitization processes across various sectors. Ultraviolet (UV) disinfection lighting is used to deactivate microorganisms in air, water, and surfaces, contributing to improved hygiene and safety in settings such as hospitals, laboratories, food processing, and public spaces.
By Medical Type
Based on medical type, the global specialty lighting market is segmented into surgical and examination. The surgical segment dominates the specialty lighting market. Surgical lighting is a critical component of operating rooms and surgical suites. It involves the design and implementation of lighting solutions that ensure optimal visibility and precision during surgical procedures. Surgical lighting systems are characterized by high intensity, accurate color rendering, and shadow reduction to illuminate the surgical field effectively. These lighting solutions help surgeons and medical professionals perform procedures with enhanced clarity and accuracy. Proper surgical lighting contributes to patient safety, reduces eye strain for medical staff, and enables efficient diagnosis and treatment.
Global Specialty Lighting Market Overview by Region
The global specialty lighting market is categorized into North America, Europe, Asia-Pacific, and the Rest of the World. Asia-Pacific emerged as the leading region, capturing the largest market share in 2022. The Asia-Pacific region has firmly established itself as a dominant force in the specialty lighting market, emerging as the primary driver of industry growth by securing the largest market share. This commanding position can be attributed to a convergence of key factors that have propelled the region to the forefront. The Asia-Pacific's economic prowess and swift industrialization have paved the way for unparalleled infrastructural development and urban expansion. This, in turn, has fostered an escalating demand for specialized lighting solutions to adorn architectural marvels, illuminate urban landscapes, and invigorate entertainment venues. The region's role as a manufacturing hub has also contributed significantly. It hosts a multitude of lighting technology manufacturers and suppliers, ensuring a robust supply chain and accessibility to cutting-edge lighting innovations. Furthermore, the growing healthcare sector and booming entertainment industries have catalyzed demand for precision medical lighting and captivating entertainment lighting systems, respectively.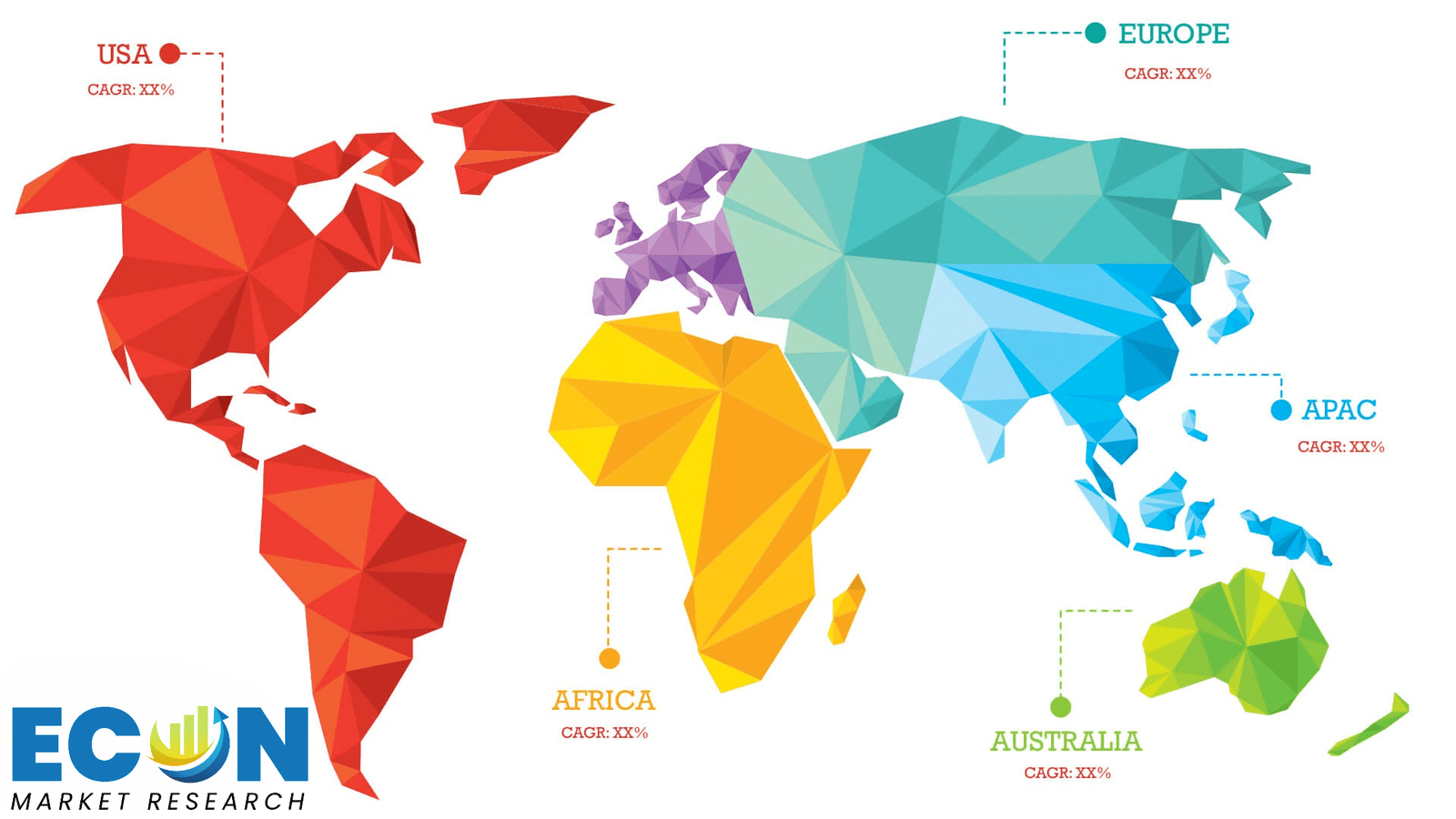 Global Specialty Lighting Market Competitive Landscape
In the global specialty lighting market, a few major players exert significant market dominance and have established a strong regional presence. These leading companies remain committed to continuous research and development endeavors and actively engage in strategic growth initiatives, including product development, launches, joint ventures, and partnerships. By pursuing these strategies, these companies aim to strengthen their market position, expand their customer base, and capture a substantial share of the market.
Some of the prominent players in the global specialty lighting market include Signify, InVisage Technologies, StoreDot, Samsung, AU Optronics, LG Electronics Inc., Quantum Materials Corp, Nanoco Group, Sony Group Corporation, OSRAM, and various other key players.
Global Specialty Lighting Market Recent Developments
In March 2020, Cooper Lighting Solutions was acquired by Signify successfully, enhancing its position in the lucrative North American lighting sector. The acquisition of Cooper Lighting Solutions by Signify, a global leader in lighting, from Eaton is now complete. The deal boosts Signify's presence in the market and puts the business in a better position to benefit from expansion in the North American lighting industry.
Scope of the Global Specialty Lighting Market Report
Specialty Lighting Market Report Segmentation
ATTRIBUTE

DETAILS

By Light Type

Light Emitting Diode

Halogen Lamps

Xenon Bulbs

Incandescent Lamps

Others

By Application

Entertainment

Medical

Purification

Others

By Medical Type

By Geography

North America (USA,

and Canada)

Europe (UK, Germany, France, Italy, Spain, Russia and Rest of Europe)

Asia Pacific (Japan, China, India, Australia, Southeast Asia and Rest of Asia Pacific)

Latin America (Brazil, Mexico, and Rest of Latin America)

Middle East & Africa (South Africa, GCC, and Rest of Middle East & Africa)

Customization Scope

Pricing
Objectives of the Study
The objectives of the study are summarized in 5 stages. They are as mentioned below:
Global Specialty Lighting Market

Size and Forecast:
To identify and estimate the market size for the global specialty lighting market segmented by light type, by application, by medical type, region and by value (in U.S. dollars). Also, to understand the consumption/ demand created by consumers of specialty lighting between 2019 and 2031.
Market Landscape and Trends:
To identify and infer the drivers, restraints, opportunities, and challenges for the global specialty lighting market
Market Influencing Factors:
To find out the factors which are affecting the sales of specialty lighting among consumers
To identify and understand the various factors involved in the global specialty lighting market affected by the pandemic
To provide a detailed insight into the major companies operating in the market. The profiling will include the financial health of the company's past 2-3 years with segmental and regional revenue breakup, product offering, recent developments, SWOT analysis, and key strategies.
Intended Audience
Raw Material Suppliers

Architects and Designers

Entertainment Industry

Retailers, Wholesalers, and Distributors

Healthcare Professionals

Governments, Associations, and Industrial Bodies

Investors and Trade Experts
Research Methodology
Our research methodology has always been the key differentiating reason which sets us apart in comparison from the competing organizations in the industry. Our organization believes in consistency along with quality and establishing a new level with every new report we generate; our methods are acclaimed and the data/information inside the report is coveted. Our research methodology involves a combination of primary and secondary research methods. Data procurement is one of the most extensive stages in our research process. Our organization helps in assisting the clients to find the opportunities by examining the market across the globe coupled with providing economic statistics for each and every region. The reports generated and published are based on primary & secondary research. In secondary research, we gather data for global Market through white papers, case studies, blogs, reference customers, news, articles, press releases, white papers, and research studies. We also have our paid data applications which includes hoovers, Bloomberg business week, Avention, and others.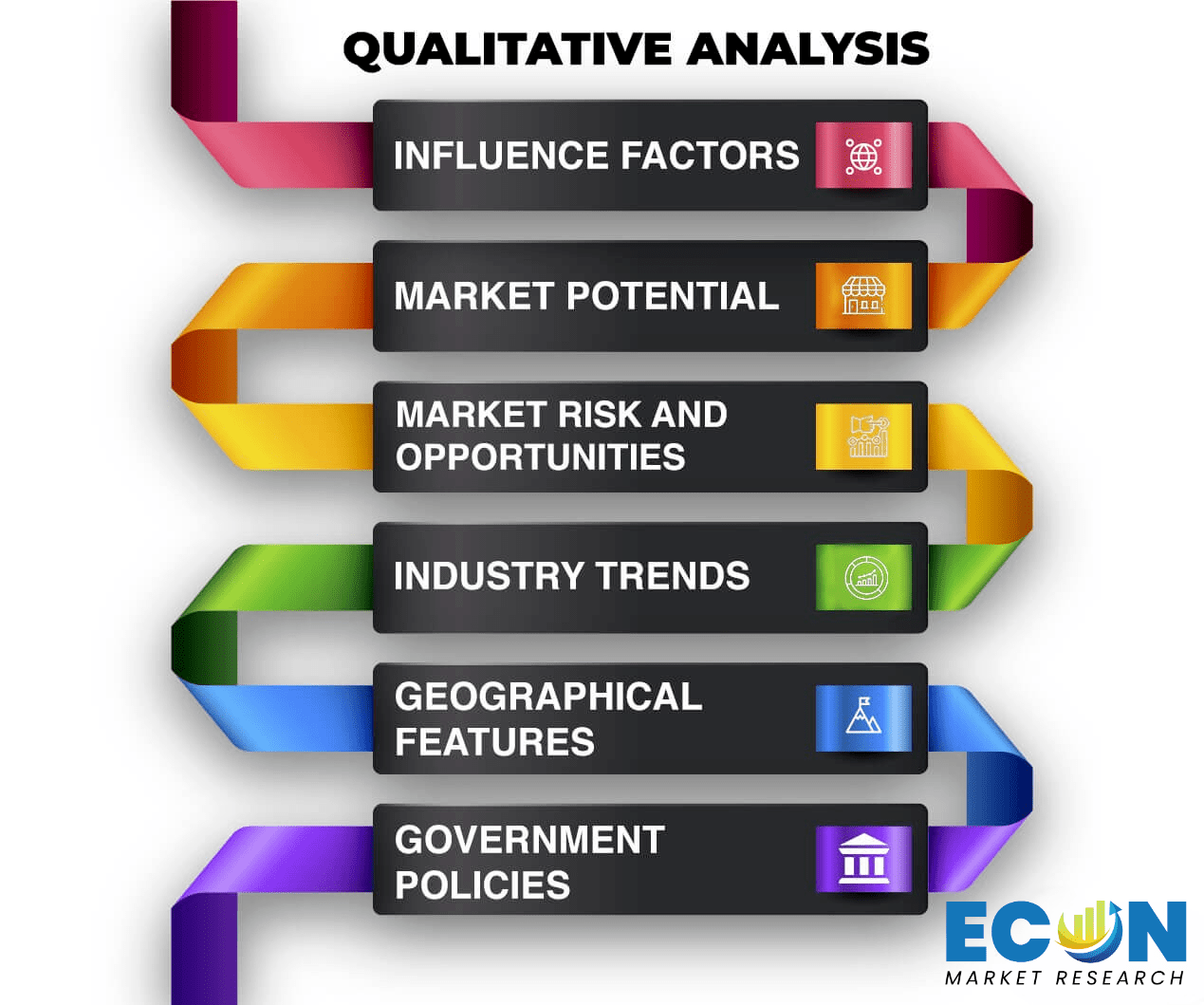 Data Collection
Data collection is the process of gathering, measuring, and analyzing accurate and relevant data from a variety of sources to analyze market and forecast trends. Raw market data is obtained on a broad front. Data is continuously extracted and filtered to ensure only validated and authenticated sources are considered. Data is mined from a varied host of sources including secondary and primary sources.

Primary Research
After the secondary research process, we initiate the primary research phase in which we interact with companies operating within the market space. We interact with related industries to understand the factors that can drive or hamper a market. Exhaustive primary interviews are conducted. Various sources from both the supply and demand sides are interviewed to obtain qualitative and quantitative information for a report which includes suppliers, product providers, domain experts, CEOs, vice presidents, marketing & sales directors, Type & innovation directors, and related key executives from various key companies to ensure a holistic and unbiased picture of the market. 
Secondary Research
A secondary research process is conducted to identify and collect information useful for the extensive, technical, market-oriented, and comprehensive study of the market. Secondary sources include published market studies, competitive information, white papers, analyst reports, government agencies, industry and trade associations, media sources, chambers of commerce, newsletters, trade publications, magazines, Bloomberg BusinessWeek, Factiva, D&B, annual reports, company house documents, investor presentations, articles, journals, blogs, and SEC filings of companies, newspapers, and so on. We have assigned weights to these parameters and quantified their market impacts using the weighted average analysis to derive the expected market growth rate.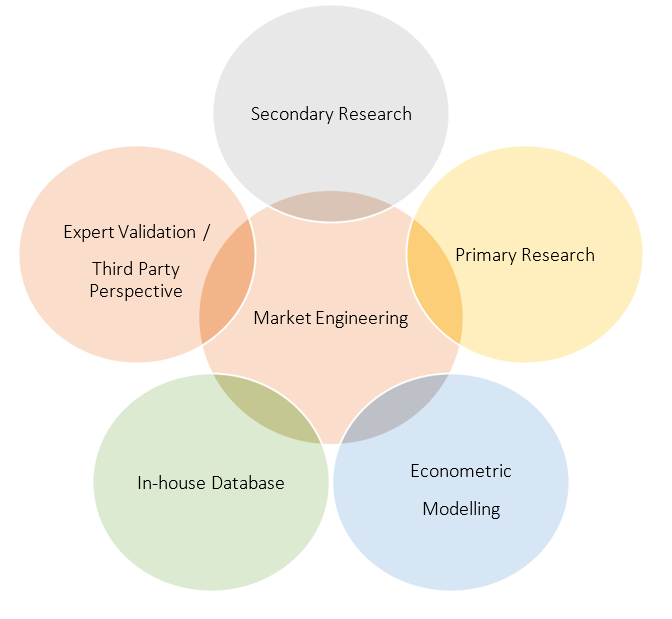 Top-Down Approach & Bottom-Up Approach
In the top – down approach, the Global Batteries for Solar Energy Storage Market was further divided into various segments on the basis of the percentage share of each segment. This approach helped in arriving at the market size of each segment globally. The segments market size was further broken down in the regional market size of each segment and sub-segments. The sub-segments were further broken down to country level market. The market size arrived using this approach was then crosschecked with the market size arrived by using bottom-up approach.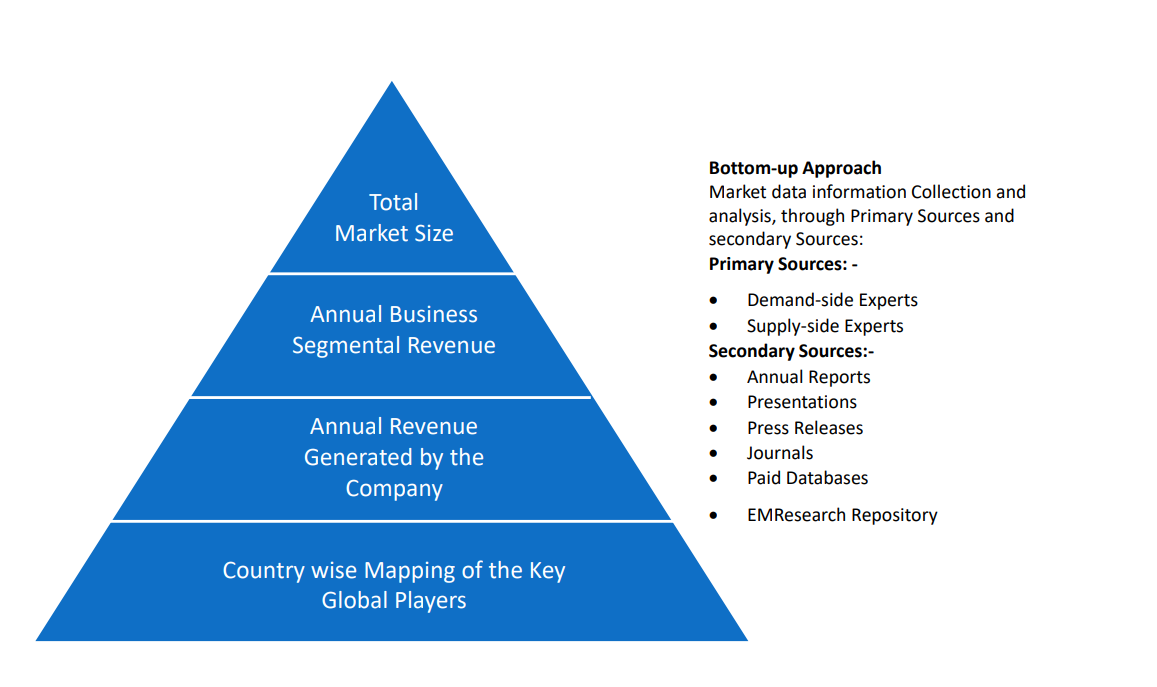 In the bottom-up approach, we arrived at the country market size by identifying the revenues and market shares of the key market players. The country market sizes then were added up to arrive at regional market size of the decorated apparel, which eventually added up to arrive at global market size.
This is one of the most reliable methods as the information is directly obtained from the key players in the market and is based on the primary interviews from the key opinion leaders associated with the firms considered in the research. Furthermore, the data obtained from the company sources and the primary respondents was validated through secondary sources including government publications and Bloomberg.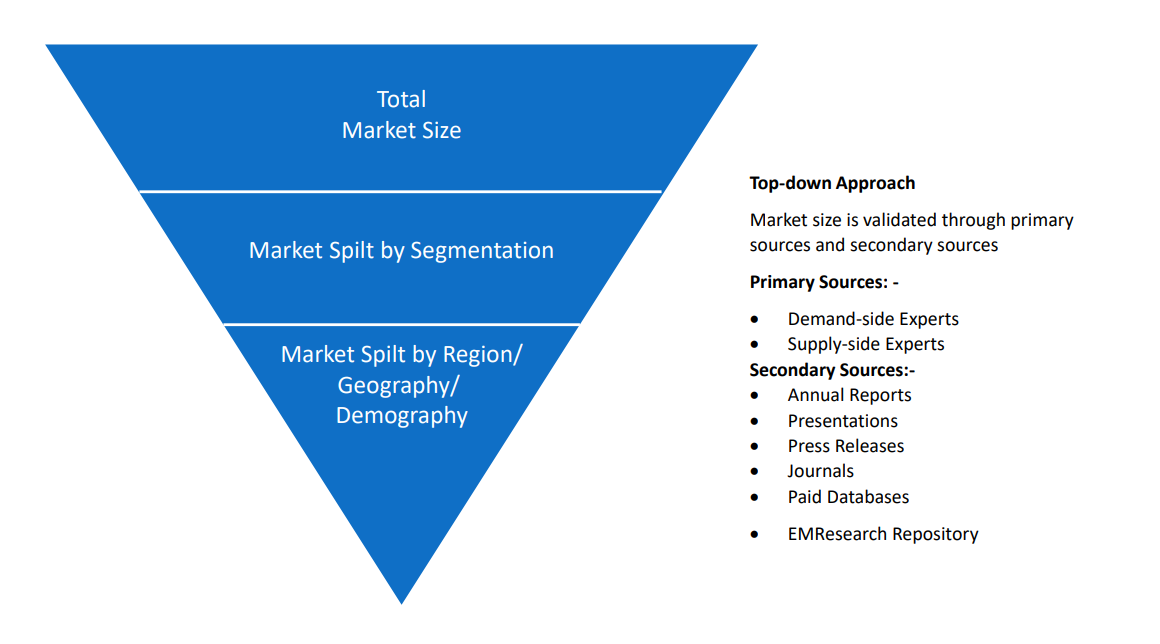 Market Analysis & size Estimation
Post the data mining stage, we gather our findings and analyze them, filtering out relevant insights. These are evaluated across research teams and industry experts. All this data is collected and evaluated by our analysts. The key players in the industry or markets are identified through extensive primary and secondary research. All percentage share splits, and breakdowns have been determined using secondary sources and verified through primary sources. The market size, in terms of value and volume, is determined through primary and secondary research processes, and forecasting models including the time series model, econometric model, judgmental forecasting model, the Delphi method, among Flywheel Energy Storage. Gathered information for market analysis, competitive landscape, growth trends, product development, and pricing trends is fed into the model and analyzed simultaneously.
Quality Checking & Final Review
The analysis done by the research team is further reviewed to check for the accuracy of the data provided to ensure the clients' requirements. This approach provides essential checks and balances which facilitate the production of quality data. This Type of revision was done in two phases for the authenticity of the data and negligible errors in the report. After quality checking, the report is reviewed to look after the presentation, Type and to recheck if all the requirements of the clients were addressed.