The Global Rocket and Missiles Market was valued at USD 56.9 billion in 2022 and is estimated to reach approximately USD 95.8 billion by 2031, at a CAGR of 5.9% from 2023 to 2031. The market for rockets and missiles has seen considerable changes, which are a reflection of the ongoing attempts to explore space as well as the changing nature of international security. The crucial functions that rockets and missiles play in both the military and the civilian spheres make this market of utmost significance. Precision-guided munitions are becoming more and more frequent, and missiles have developed into effective weapons for both defense and offense in the military. These developments have changed the nature of combat, emphasized accuracy, and reduced collateral harm. The use of ballistic missiles has been crucial for international strategic deterrence. With the creation of more effective and powerful rockets, the space exploration industry has experienced impressive growth. These developments have been used by both public and private space agencies to investigate distant planets, launch satellites for communication and earth observation, and promote global cooperation in space projects. The rocket and missile market's future will likely continue to be shaped by technological innovations, geopolitical dynamics, and commercial interests. As space exploration expands and military strategies evolve, this sector will remain a critical driver of innovation, security, and scientific discovery.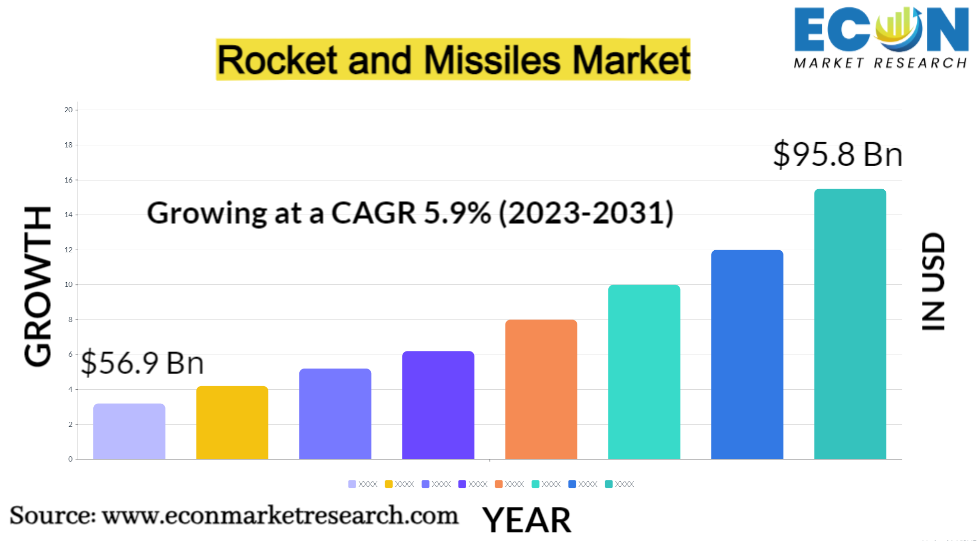 ROCKET AND MISSILES MARKET: REPORT SCOPE & SEGMENTATION
| | |
| --- | --- |
| Report Attribute | Details |
| Estimated Market Value (2022) | 56.9 Bn |
| Projected Market Value (2031) | 95.8 Bn |
| Base Year | 2022 |
| Forecast Years | 2023 - 2031 |
| Scope of the Report | Historical and Forecast Trends, Industry Drivers and Constraints, Historical and Forecast Market Analysis by Segment- By Product, By Speed, By Platform, & Region |
| Segments Covered | By Product, By Speed, By Platform, & Region |
| Forecast Units | Value (USD Billion or Million), and Volume (Units) |
| Quantitative Units | Revenue in USD million/billion and CAGR from 2023 to 2031 |
| Regions Covered | North America, Europe, Asia Pacific, Latin America, and Middle East & Africa, and the Rest of World |
| Countries Covered | U.S., Canada, Mexico, U.K., Germany, France, Italy, Spain, China, India, Japan, South Korea, Brazil, Argentina, GCC Countries, and South Africa, among others |
| Report Coverage | Market growth drivers, restraints, opportunities, Porter's five forces analysis, PEST analysis, value chain analysis, regulatory landscape, market attractiveness analysis by segments and region, company market share analysis, and COVID-19 impact analysis. |
| Delivery Format | Delivered as an attached PDF and Excel through email, according to the purchase option. |
Global Rocket and Missiles Market Dynamics
Geopolitical pressures and efforts to modernize the military are what drive demand for sophisticated missile systems. Nations make investments in the creation and acquisition of missiles for deterrence, defence, and offense, creating a competitive market where innovation is essential. The widespread use of precision-guided missiles has altered military tactics by placing an emphasis on precision and minimizing collateral damage. With the expansion of the space industry, demand for rockets and launch services has increased in the civilian sector. Private enterprises that provide affordable access to space, like SpaceX and Blue Origin, have upended the industry. Accessibility to commercial satellite launches, crewed spaceflights, and interplanetary exploration missions has increased, opening up new prospects and collaborations. The development of technology is essential to understanding market dynamics. The cost and breadth of space activities have drastically decreased thanks to improvements in propulsion, reusable rockets, and miniaturization. Additionally, international cooperation, as evidenced in initiatives like the International Space Station, supports joint R&D initiatives and market stability. Overall, the dynamism of the rocket and missile market is a result of a complex interplay between military tactics, business endeavors, scientific advancement, and international cooperation. It continues to be a crucial industry that influences global aerospace, national security, and space exploration.
Global Rocket and Missiles Market Drivers
Advances in Miniaturization Technology
Smartphones, computers, and wearable technology are getting smaller and more powerful thanks to the persistent search for microchips that can do complicated tasks. Greater portability and efficiency in our daily lives are made possible by this miniaturization. Miniaturization is transforming the design of spacecraft, satellites, and unmanned aerial vehicles in the aerospace industry. Smaller, lighter components enable the deployment of satellite constellations for uses like worldwide internet coverage and Earth observation while also lowering launch costs. These developments are essential for space exploration because they allow for more ambitious and affordable expeditions to study far-off planets and celestial bodies. Through the creation of more compact medical devices, including implanted devices and portable diagnostic equipment, the healthcare industry gains from miniaturization. These innovations lead to more accessible healthcare solutions, faster diagnostics, and improved patient outcomes. Furthermore, miniaturization drives advancements in fields like nanotechnology, where tiny components and materials have transformative potential, from drug delivery systems to energy storage.
Increasing Militarization of Space
Space militarization is primarily being fueled by a number of elements that highlight how important it is becoming as a strategic area. The race to gain domination in space has been sparked by geopolitical rivalry between major powers, primarily the United States, Russia, China, and other nations. These nations make significant investments in space-based assets and capabilities because they see space as essential to their military advantage, economic interests, and sense of security. The critical significance that satellite technology plays in contemporary military operations has increased worries about safeguarding and maintaining these assets. Countries are motivated to develop anti-satellite (ASAT) weapons and defences because they are aware of the vulnerability of satellites to potential enemies. These initiatives are driven by the worry that space-based services would be disrupted or denied.
Restraints:
Exorbitant costs are a result of the complexity and precision needed for creating cutting-edge rocket and missile systems. The development of new missile technologies for the military, such as hypersonic missiles and anti-satellite (ASAT) weapons, necessitates large investments in R&D and testing. Governments frequently experience funding restrictions as a result of these initiatives, which limits their capacity to pursue extensive missile modernization programs. Additionally, the high cost of space-based assets and missile defense systems can put a burden on defense resources, forcing countries to make challenging decisions about resource allocation. High development costs call for continual initiatives to boost productivity, restructure the manufacturing process, and encourage global cooperation.
Stringent Regulatory and Export Controls
From a business standpoint, these laws may make it more difficult to export space-related parts and technologies, which may restrict enterprises' access to a wider market and impede innovation. For manufacturers, especially smaller players in the market, the significant paperwork, licensing procedures, and compliance requirements increase administrative hassles and expenses. This can discourage foreign cooperation and partnerships that would otherwise speed up technical growth. Strict export regulations might hinder defense cooperation and restrict a country's capacity to purchase cutting-edge missile systems on the military front. Governments must navigate intricate legal systems for importing missile defense capabilities, which can cause delays in acquisition. Additionally, geopolitical factors that affect export regulations can change them, which can cause market uncertainty and unpredictability.
Opportunities:
Design and Manufacture Surface-to-Air Missiles for Air Defence
Due to the changing nature of aerial threats and improvements in missile technology, Surface-to-air missiles (SAMs) present a variety of opportunities in the military and defense business. SAMs give countries the tools they need to defend their airspace and vital resources against aerial threats such as hostile aircraft, drones, and ballistic missiles. A better defense against increasingly sophisticated threats is provided by the continual development of more sophisticated and precise SAM systems. Strong SAM capabilities act as a deterrent by putting potential attackers off from carrying out airstrikes owing to the high stakes involved. By lowering the possibility of aerial war, SAM systems improve regional and national security. With advancements in guidance systems, target differentiation, and interception capabilities, SAM technology is still developing.
Anti-Ship Missile Technologies to Enhance Naval Defence Capabilities
Technologies for anti-ship missiles present a range of potential for defense, marine security, and technical development. An advanced anti-ship missile arsenal improves a nation's naval prowess and aids in maritime dominance. This might be a tactical benefit for securing water passages, safeguarding coastlines, and displaying force. Research and development must continue because anti-ship missile technology is always evolving. This offers defense industry professionals the chance to innovate and enhance missile guidance systems, range, speed, and stealth capabilities. Technologies for anti-ship missiles can be incorporated into larger defense networks, such as those for navy ships, aircraft, and ground-based launchers. Defense contractors have the opportunity to develop these integrated solutions.
Segment Overview
By Product
Based on product, the global rocket and missile market is divided into cruise missiles, ballistic missiles, rockets, and torpedoes. The cruise missiles category dominates the market with the largest revenue share. Cruise missiles are precision-guided, self-propelled weapons designed for controlled flight at relatively low altitudes. They are versatile and can be launched from various platforms, including aircraft, submarines, and ground-based launchers. Cruise missiles are used for both offensive and defensive purposes and are known for their accuracy in striking specific targets, making them valuable in military operations. Ballistic missiles are high-speed, long-range missiles that follow a ballistic trajectory, including ascent, descent, and reentry phases. They are classified into three categories: short-range, medium-range, and intercontinental ballistic missiles (ICBMs). Ballistic missiles are often used for strategic purposes, including nuclear deterrence and rapid, long-distance strikes. Rockets encompass a broad category of unguided or minimally guided projectiles that use combustion to produce thrust and fly in a parabolic trajectory. They serve various purposes, from space exploration and satellite launches to military applications like artillery rockets and battlefield support. Torpedoes are underwater missiles designed for underwater propulsion. They are primarily used in naval warfare to target and destroy submarines, surface vessels, or underwater structures.
By Speed
Based on the speed, the global rocket and missile market is categorized into subsonic, supersonic, and hypersonic. The hypersonic category leads the global rocket and missiles market with the largest revenue share. Hypersonic missiles are the fastest category, flying at speeds exceeding Mach 5. These missiles offer unparalleled speed and maneuverability, making them extremely challenging to intercept. Hypersonic technology has garnered significant attention due to its potential to revolutionize military capabilities, including rapid-strike options and enhanced anti-air and anti-ship capabilities. Supersonic missiles travel at speeds greater than the speed of sound but less than Mach 5 (five times the speed of sound). They are known for their increased velocity, which provides shorter time-to-target and greater kinetic energy upon impact. Supersonic missiles are used in air defense, anti-ship roles, and ground attack missions. Subsonic missiles are characterized by flight speeds that are less than the speed of sound (approximately 343 meters per second or 767 miles per hour at sea level and standard conditions). These missiles are often used for precision strikes, loitering munitions, and surveillance. Subsonic cruise missiles, for example, offer long endurance and the ability to engage targets with high accuracy.
By Platform
Based on the platform, the global rocket and missile market is segmented into aviation, marine, and ground. The aviation segment dominates the rocket and missile market. This segment encompasses missiles and aerospace systems designed for use in the air, typically carried by aircraft such as fighter jets, bombers, drones, and helicopters. Air-launched missiles are crucial for air-to-air combat, air-to-ground strikes, anti-ship missions, and beyond-visual-range engagements. They include air-to-air missiles, air-to-surface missiles, and anti-ship missiles. The marine segment covers missiles and systems designed for naval and maritime applications. These include ship-launched missiles, submarine-launched missiles, and anti-ship missiles. Naval missile systems are used for ship defense, surface warfare, anti-submarine warfare, and coastal defense. Innovations in marine missiles emphasize long-range precision, anti-ballistic capabilities, and enhanced targeting. Ground-based missile systems are deployed on land and include surface-to-air missiles (SAMs), ballistic missiles, and ground-launched cruise missiles. Ground-based systems are essential for air defense, theater-level deterrence, and precision strikes.
Global Rocket and Missiles Market Overview by Region
The global rocket and missile market is categorized into North America, Europe, Asia-Pacific, and the Rest of the World. North America emerged as the leading region, capturing the largest market share in 2022. One of the biggest economic blocs in the world is made up of the United States, Canada, and Mexico. Particularly in the United States, a thriving economy is supported by entrepreneurship, innovation, and a variety of sectors, such as manufacturing, banking, and technology. Silicon Valley, a hub of innovation and technology on a worldwide scale, is located in North America. Particularly in the areas of information technology, biotechnology, and aerospace, this region has consistently been at the forefront of the development of cutting-edge innovations worldwide. One of the most powerful and technologically cutting-edge militaries in the world is that of the United States. The breadth of its defence capabilities—which cover the air, land, sea, and space—confirms North America's position as a global military superpower. Particularly in international politics and diplomacy, the United States is a key player. The region's commitment to research and development, coupled with a robust education system and a favorable business environment, fosters innovation and attracts talent and investment from across the globe. North America is rich in natural resources, including energy reserves such as shale gas and oil. This has significant economic implications and enhances the region's energy security.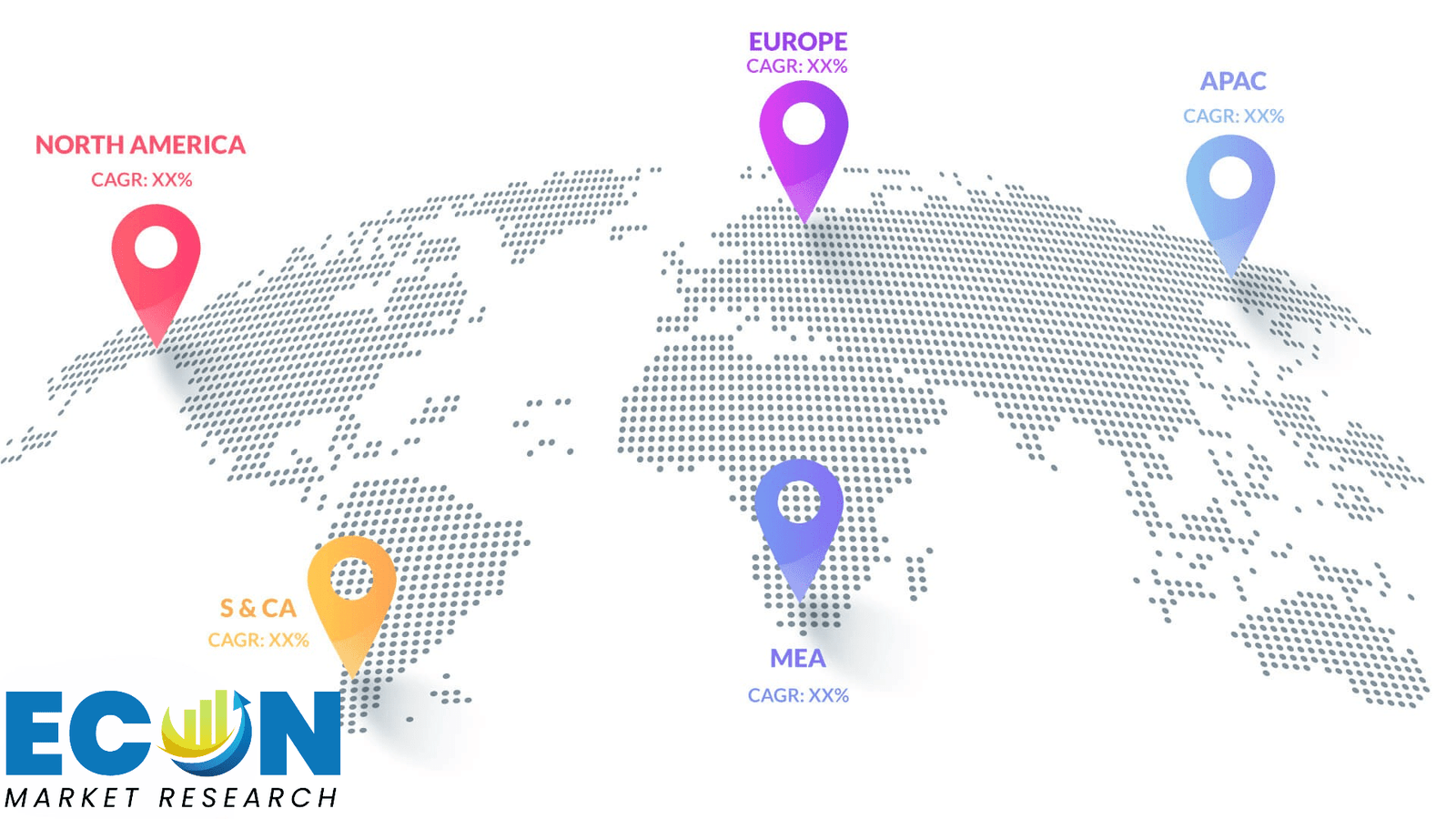 Global Rocket and Missiles Market Competitive Landscape
In the global rocket and missile market, a few major players exert significant market dominance and have established a strong regional presence. These leading companies remain committed to continuous research and development endeavors and actively engage in strategic growth initiatives, including product development, launches, joint ventures, and partnerships. By pursuing these strategies, these companies aim to strengthen their market position, expand their customer base, and capture a substantial share of the market.
Some of the prominent players in the global rocket and missiles market include Elbit Systems Ltd, LIG Nex1, Thales Group, The Boeing Company, BAE Systems plc, Raytheon Technologies Corporation, Saab AB, Lockheed Martin Corporation, Northrop Grumman Corporation, Kongsberg Gruppen, Israel Aerospace Industries Ltd, and various other key players.
Global Rocket and Missiles Market Recent Developments
In June 2023, Anduril acquires a manufacturer of rocket motors to enter the hypersonic market. With the acquisition of Adranos, Anduril will be able to begin offering solid rocket motors to manufacturers of hypersonic weapons, missiles, and other propulsion systems.
In April 2023, 250 additional Pralay ballistic missiles will be purchased by the military for use against China. As ballistic missiles have been approved by the government for use in tactical operations, this will be the first time in the history of the service that Pralay tactical ballistic will be used.
Scope of the Global Rocket and Missiles Market Report
Rocket and Missiles Market Report Segmentation
ATTRIBUTE

DETAILS

By Product

Cruise Missiles

Ballistic Missiles

Rockets

Torpedoes

By Speed

Subsonic

Supersonic

Hypersonic

By Platform

By Geography

North America (USA,

and Canada)

Europe (UK, Germany, France, Italy, Spain, Russia and Rest of Europe)

Asia Pacific (Japan, China, India, Australia, Southeast Asia and Rest of Asia Pacific)

Latin America (Brazil, Mexico, and Rest of Latin America)

Middle East & Africa (South Africa, GCC, and Rest of Middle East & Africa)

Customization Scope

Pricing
Objectives of the Study
The objectives of the study are summarized in 5 stages. They are as mentioned below:
Global Rocket and Missiles Market

Size and Forecast:
To identify and estimate the market size for the global rocket and missiles market segmented by product, by speed, by platform, region and by value (in U.S. dollars). Also, to understand the consumption/ demand created by consumers of rocket and missiles between 2019 and 2031.
Market Landscape and Trends:
To identify and infer the drivers, restraints, opportunities, and challenges for the global rocket and missiles market
Market Influencing Factors:
To find out the factors which are affecting the sales of rockets and missiles among consumers
To identify and understand the various factors involved in the global rocket and missiles market affected by the pandemic
To provide a detailed insight into the major companies operating in the market. The profiling will include the financial health of the company's past 2-3 years with segmental and regional revenue breakup, product offering, recent developments, SWOT analysis, and key strategies.
Intended Audience
Raw Material Suppliers

Medical Professionals

Government Officials

Technical Experts

Retailers, Wholesalers, and Distributors

Governments, Associations, and Industrial Bodies

Investors and Trade Experts
Research Methodology
Our research methodology has always been the key differentiating reason which sets us apart in comparison from the competing organizations in the industry. Our organization believes in consistency along with quality and establishing a new level with every new report we generate; our methods are acclaimed and the data/information inside the report is coveted. Our research methodology involves a combination of primary and secondary research methods. Data procurement is one of the most extensive stages in our research process. Our organization helps in assisting the clients to find the opportunities by examining the market across the globe coupled with providing economic statistics for each and every region. The reports generated and published are based on primary & secondary research. In secondary research, we gather data for global Market through white papers, case studies, blogs, reference customers, news, articles, press releases, white papers, and research studies. We also have our paid data applications which includes hoovers, Bloomberg business week, Avention, and others.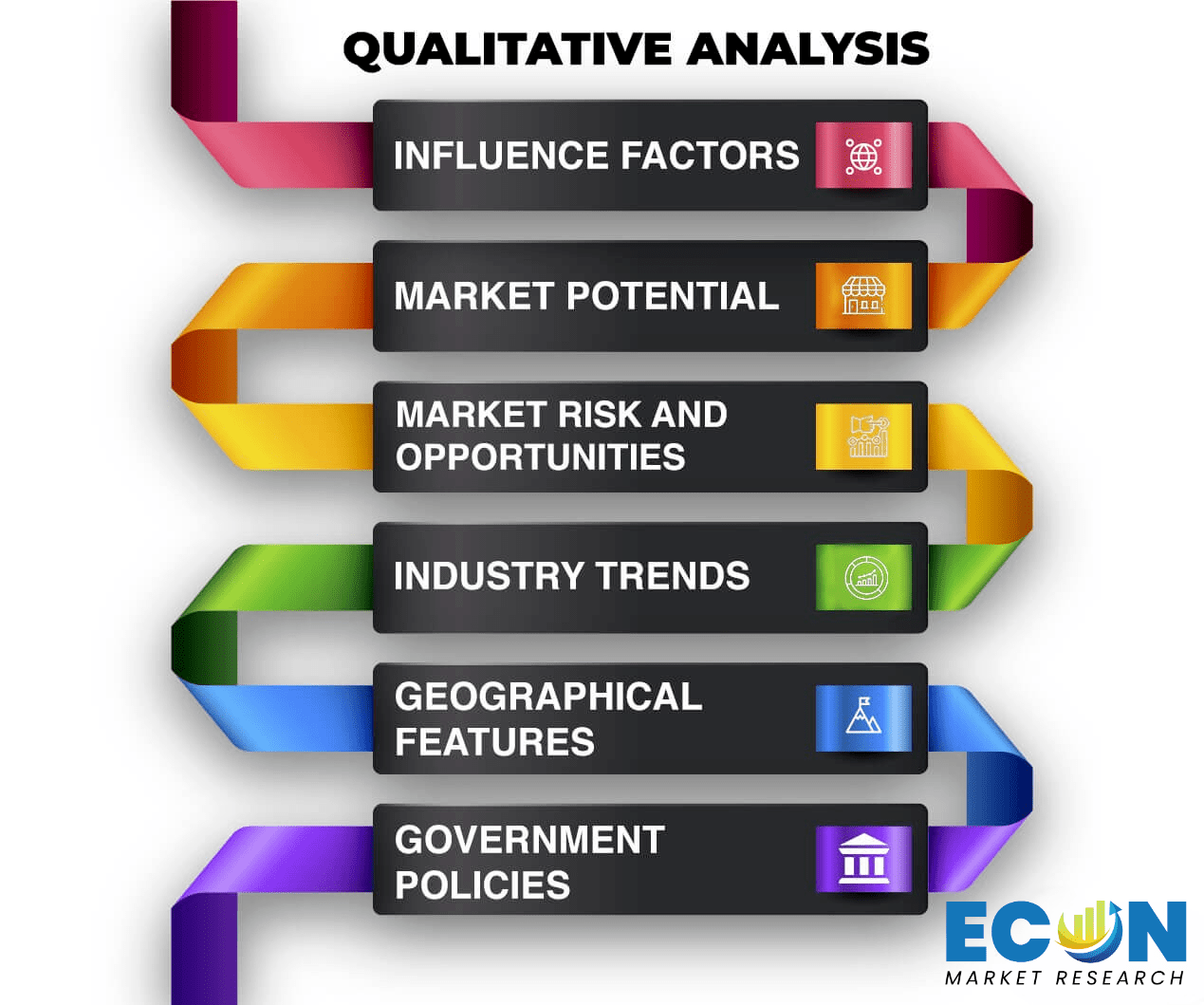 Data Collection
Data collection is the process of gathering, measuring, and analyzing accurate and relevant data from a variety of sources to analyze market and forecast trends. Raw market data is obtained on a broad front. Data is continuously extracted and filtered to ensure only validated and authenticated sources are considered. Data is mined from a varied host of sources including secondary and primary sources.

Primary Research
After the secondary research process, we initiate the primary research phase in which we interact with companies operating within the market space. We interact with related industries to understand the factors that can drive or hamper a market. Exhaustive primary interviews are conducted. Various sources from both the supply and demand sides are interviewed to obtain qualitative and quantitative information for a report which includes suppliers, product providers, domain experts, CEOs, vice presidents, marketing & sales directors, Type & innovation directors, and related key executives from various key companies to ensure a holistic and unbiased picture of the market. 
Secondary Research
A secondary research process is conducted to identify and collect information useful for the extensive, technical, market-oriented, and comprehensive study of the market. Secondary sources include published market studies, competitive information, white papers, analyst reports, government agencies, industry and trade associations, media sources, chambers of commerce, newsletters, trade publications, magazines, Bloomberg BusinessWeek, Factiva, D&B, annual reports, company house documents, investor presentations, articles, journals, blogs, and SEC filings of companies, newspapers, and so on. We have assigned weights to these parameters and quantified their market impacts using the weighted average analysis to derive the expected market growth rate.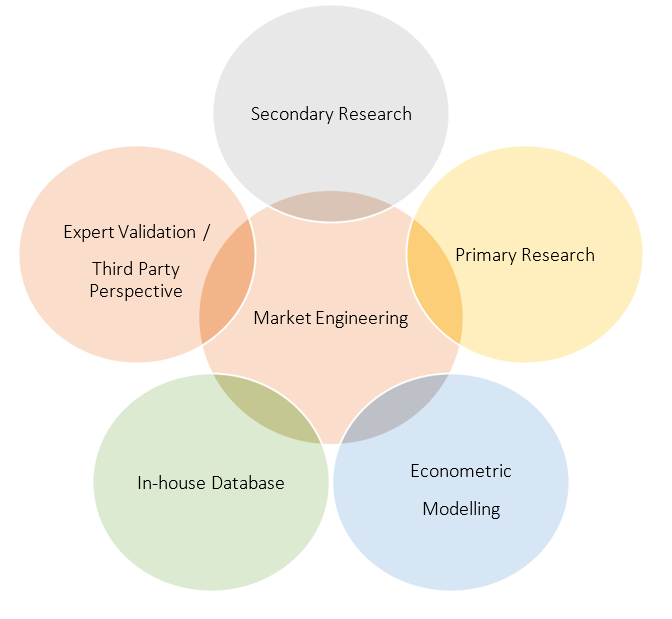 Top-Down Approach & Bottom-Up Approach
In the top – down approach, the Global Batteries for Solar Energy Storage Market was further divided into various segments on the basis of the percentage share of each segment. This approach helped in arriving at the market size of each segment globally. The segments market size was further broken down in the regional market size of each segment and sub-segments. The sub-segments were further broken down to country level market. The market size arrived using this approach was then crosschecked with the market size arrived by using bottom-up approach.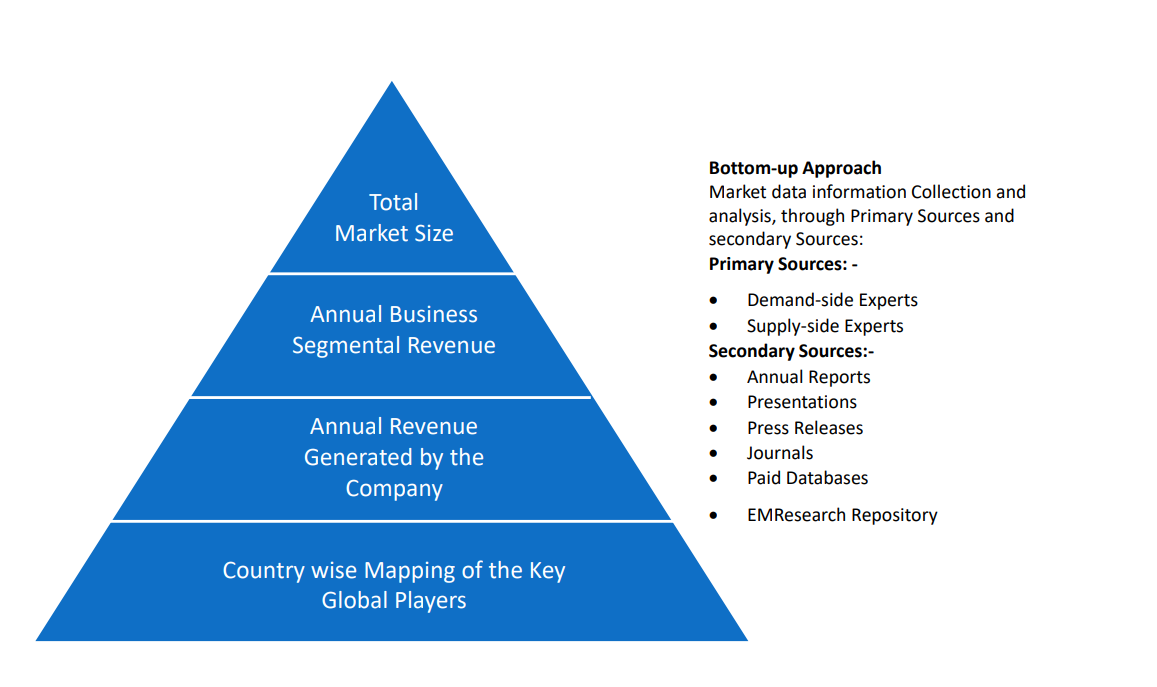 In the bottom-up approach, we arrived at the country market size by identifying the revenues and market shares of the key market players. The country market sizes then were added up to arrive at regional market size of the decorated apparel, which eventually added up to arrive at global market size.
This is one of the most reliable methods as the information is directly obtained from the key players in the market and is based on the primary interviews from the key opinion leaders associated with the firms considered in the research. Furthermore, the data obtained from the company sources and the primary respondents was validated through secondary sources including government publications and Bloomberg.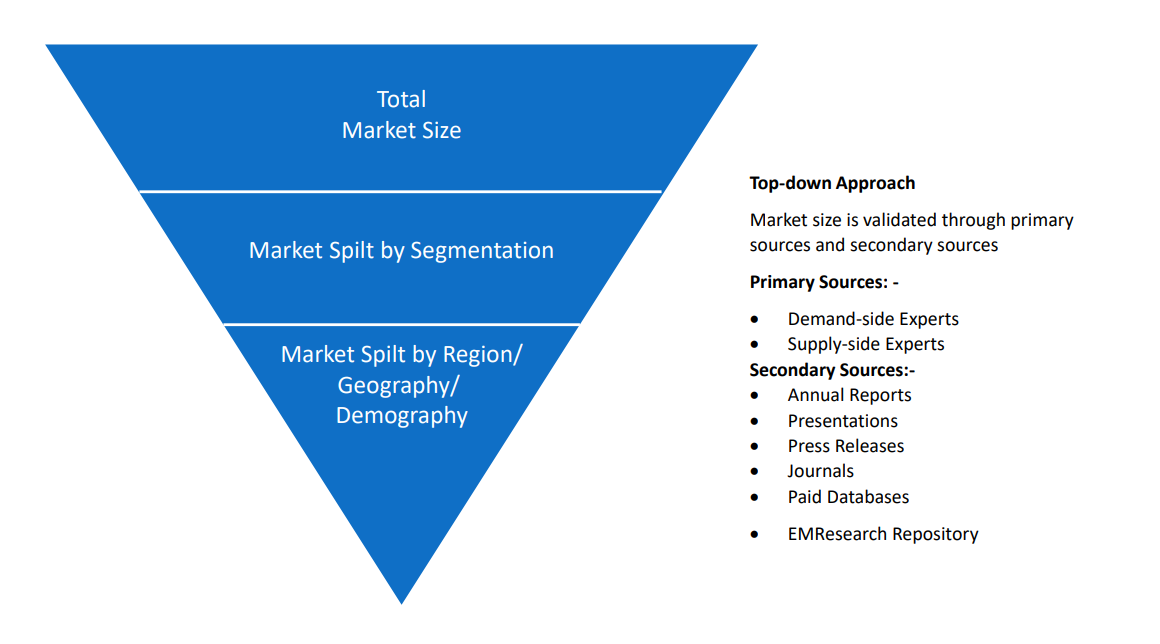 Market Analysis & size Estimation
Post the data mining stage, we gather our findings and analyze them, filtering out relevant insights. These are evaluated across research teams and industry experts. All this data is collected and evaluated by our analysts. The key players in the industry or markets are identified through extensive primary and secondary research. All percentage share splits, and breakdowns have been determined using secondary sources and verified through primary sources. The market size, in terms of value and volume, is determined through primary and secondary research processes, and forecasting models including the time series model, econometric model, judgmental forecasting model, the Delphi method, among Flywheel Energy Storage. Gathered information for market analysis, competitive landscape, growth trends, product development, and pricing trends is fed into the model and analyzed simultaneously.
Quality Checking & Final Review
The analysis done by the research team is further reviewed to check for the accuracy of the data provided to ensure the clients' requirements. This approach provides essential checks and balances which facilitate the production of quality data. This Type of revision was done in two phases for the authenticity of the data and negligible errors in the report. After quality checking, the report is reviewed to look after the presentation, Type and to recheck if all the requirements of the clients were addressed.