The Global Radio Frequency Identification (RFID) Market was valued at USD 15.8 billion in 2022 and is estimated to reach approximately USD 40.8 billion by 2031, at a CAGR of 11.1% from 2023 to 2031. A technique known as radio frequency identification (RFID) uses radio waves to wirelessly identify and track people, animals, and other items. It consists of RFID readers that communicate with the tags to gather data and tags containing individual information. With its advantages for efficiency and automation, RFID is frequently utilized in inventory management, access control, logistics, and other areas. It is useful in many sectors for enhancing procedures and security since it offers real-time tracking and data retrieval without the necessity for direct line-of-sight. The market for radio frequency identification (RFID) has experienced rapid expansion and adoption in recent years, revolutionizing a number of industries by providing sophisticated tracking and identification capabilities. Wireless data transmission between RFID tags and readers is made possible by radio waves in RFID technology. These tags, which can be affixed to anything like products, persons, animals, or even objects, contain specific data that RFID scanners can decode. One benefit of RFID is its capacity to increase accuracy and efficiency across a wide range of applications. RFID is utilized in the retail industry for inventory management, allowing businesses to track stock levels in real time, cut down on errors, and increase supply chain visibility. RFID is essential in logistics and supply chain management for tracking shipments, streamlining routes, and guaranteeing the prompt delivery of goods.RFID cards and badges are used for employee identification and building access. RFID has also found applications in access control and security. RFID is used in healthcare to track medical equipment, maintain patient records, and improve patient safety. Additionally, it is essential for tracking assets in manufacturing and industrial settings, which lowers maintenance costs and downtime. The expansion of RFID use across numerous industries, cost savings, and technological improvements are projected to fuel the market's continued growth. RFID is projected to play a crucial role in facilitating seamless communication and data sharing as the internet of things (IoT) develops, making it a crucial part of the contemporary digital environment.
RADIO FREQUENCY IDENTIFICATION MARKET: REPORT SCOPE & SEGMENTATION
| | |
| --- | --- |
| Report Attribute | Details |
| Estimated Market Value (2022) | 15.8 Bn |
| Projected Market Value (2031) | 40.8 Bn |
| Base Year | 2022 |
| Forecast Years | 2023 - 2031 |
| Scope of the Report | Historical and Forecast Trends, Industry Drivers and Constraints, Historical and Forecast Market Analysis by Segment- By Product Type, By Frequency, By End Use, & Region |
| Segments Covered | By Product Type, By Frequency, By End Use, & Region |
| Forecast Units | Value (USD Billion or Million), and Volume (Units) |
| Quantitative Units | Revenue in USD million/billion and CAGR from 2023 to 2031 |
| Regions Covered | North America, Europe, Asia Pacific, Latin America, and Middle East & Africa, and the Rest of World |
| Countries Covered | U.S., Canada, Mexico, U.K., Germany, France, Italy, Spain, China, India, Japan, South Korea, Brazil, Argentina, GCC Countries, and South Africa, among others |
| Report Coverage | Market growth drivers, restraints, opportunities, Porter's five forces analysis, PEST analysis, value chain analysis, regulatory landscape, market attractiveness analysis by segments and region, company market share analysis, and COVID-19 impact analysis. |
| Delivery Format | Delivered as an attached PDF and Excel through email, according to the purchase option. |
Global Radio Frequency Identification (RFID) Market Dynamics
The market for radio frequency identification (RFID) is affected by a wide range of dynamic elements that have a big impact on its development and expansion. Technology is still at the forefront, with RFID constantly improving its range, scan accuracy, and data processing capabilities. These developments increase the spectrum of RFID applications while simultaneously lowering costs, opening up the technology to a wider number of sectors. The expanding deployment of RFID across numerous domains is further influencing market dynamics. RFID is essential to retail for managing inventory, lowering stock outs, and enhancing consumer experiences. It improves asset tracking, operational efficiency, and traceability in logistics and supply chain management. RFID is used in healthcare for patient identification and medication management, and in manufacturing it is used for process improvement and product authentication. As it provides smooth data interchange and real-time monitoring, RFID integration into the larger internet of things (IoT) ecosystem is a prominent dynamic. Strong precautions are required to protect sensitive information because this expansion is, nevertheless, accompanied with privacy and security risks. In industries like healthcare and food safety, where compliance is crucial, government rules and industry standards play a crucial role. RFID adoption and implementation are further influenced by the need for businesses to adapt to these shifting requirements while concentrating on sustainability and ethical sourcing.Another dynamic aspect of the market is the competition, with RFID solution providers striving for market dominance through innovation, alliances with other companies, and customization to address industry-specific requirements. Continuous technology breakthroughs, rising industry use, IoT integration, regulatory considerations, competitive dynamics, and the requirement for cost-effectiveness are what define the RFID market. These elements work together to build the RFID environment and will likely have an impact on its development and future course.
Global Radio Frequency Identification (RFID) Market Drivers
Efficiency and Automation
The growing use of Radio Frequency Identification (RFID) technology is primarily driven by efficiency and automation. By automating data collecting, tracking, and retrieval, RFID systems allow businesses to streamline their operations and data management procedures. This automation increases productivity and accuracy across several industries while also minimizing human intervention. RFID tags on items, pallets, or containers in supply chain and logistics automate the tracking of commodities from manufacturing facilities to distribution centers and store shelves. With real-time visibility into inventory movement, inventory management is optimized, stock outs are reduced, and manual inventory counts are no longer necessary. RFID also makes it possible to quickly and accurately gather data, improving the precision of shipping and receiving procedures.RFID can automate patient identification, medicine administration, and equipment tracking in the healthcare industry. By ensuring that patients receive the appropriate care and drugs, the automated patient identification procedure lowers the possibility of mistakes and enhances patient safety.
Improved Supply Chain Visibility
RFID systems provide real-time tracking and tracing of inventories, assets, and items throughout the supply chain, increasing visibility and transparency overall. RFID gives businesses crucial information about the whereabouts, conditions, and movement of goods in the intricate world of supply chain management. Companies can get immediate access to information on inventory levels, order statuses, and shipping destinations by embedding RFID tags into products at different phases of production, warehousing, and distribution. Businesses are able to optimize their logistical procedures, reduce delays, and quickly adapt to shifting customer demands thanks to this real-time information. There are many advantages to increased supply chain visibility. Companies can cut back on excess inventory to save money while minimizing stock outs and the resulting revenue losses. Moreover, RFID enables enhanced traceability and accountability, which is particularly valuable in industries with strict regulatory compliance requirements, such as pharmaceuticals and food.
Restraints:
For organizations considering the adoption of particular technologies, systems, or processes, especially those demanding sizable upfront investments, the restriction of high initial costs is a significant hurdle. This restriction is especially important when integrating new technologies like sophisticated automation systems and business software. High startup costs include, among other things, the cost of purchasing hardware, software licenses, consulting services, and employee training. These substantial up-front costs can put a strain on a business's finances and budget, making adoption difficult. Organizations should carefully evaluate the technology or system in question's return on investment (ROI) and long-term advantages. Despite the fact that these investments may eventually result in significant cost savings, cost gains, or competitive advantages, the decision-makers may be put off by the immediate financial hardship.
Privacy and Security Concerns
The gathering and use of personal data often gives rise to privacy worries since it can be abused or compromised if it is not securely protected. To preserve client information and uphold confidence, businesses must follow strict data protection laws and put in place strong data security procedures. Concerns about security include the likelihood that technological systems will be susceptible to virus, hacking, and other online dangers. A lack of proper security measures can cause significant financial and reputational harm, as high-profile data breaches have demonstrated. These worries are particularly acute in sectors that deal with sensitive data, financial transactions, medical records, and essential infrastructure. It's a tough endeavour to strike a balance between technology's advantages and privacy and security concerns.
Opportunities:
Supply Chain Optimization
For businesses looking to boost productivity, save expenses, and gain a competitive edge in the global business environment, supply chain optimization represents a substantial potential. This idea comprises a variety of tactics and tools designed to speed up the transfer of products, information, and services from suppliers of raw materials to final consumers. Using supply chain optimization to achieve operational excellence is a key opportunity. Companies can get real-time visibility into their supply chains by using cutting-edge technology like block chain, artificial intelligence (AI), and internet of things (IoT) sensors. Since proactive decision-making, precise demand forecasting, and effective inventory management are all made possible by this visibility, operating costs are decreased and customer satisfaction is increased. Optimizing the supply chain can also help to cut down on waste and the negative effects on the environment. Additionally, supply chain optimisation can improve cooperation and communication among diverse supply chain ecosystem stakeholders, from suppliers and manufacturers through distributors and retailers. Better ties can be cultivated through collaborative platforms and data-sharing initiatives, which will increase the supply chain's adaptability to market changes.
Retail and Inventory Management
To get a complete, real-time picture of their inventory levels, retailers can make use of technology like Radio Frequency Identification (RFID), bar coding systems, and sophisticated inventory management software. They are able to minimize the costs related to excess inventory and missed sales opportunities by reducing overstocking and stock outs as a result. Another significant benefit is improving customer experiences. Retailers may lessen annoyance and boost customer happiness by deploying inventory management solutions that give correct product availability information to both in-store and online customers. Sales can rise as a result of greater client retention rates. Additionally, the information gathered by sophisticated inventory management systems can offer insightful information for demand forecasting, enabling merchants to make the best possible purchase selections, cut down on carrying costs, and react to market movements and consumer preferences more quickly.
Segment Overview
By Product Type
Based on product type, the global radio frequency identification (RFID) market is divided into tags, readers, software and services. The tags category dominates the market with the largest revenue share.RFID tags, which act as the physical markers that store and send information, are at the forefront of modern technology. These tags can be passive or active, among other variations. While active tags have their own power source, have longer-range capabilities, and are typically used for tracking high-value assets, vehicles, or in logistics, passive tags are powered by the RFID reader's radio waves and are regularly used for tracking goods like retail products. RFID tags can communicate with readers using RFID technology. To activate passive tags and gather data from them, they emit radio waves. Readers, which might be fixed or portable, are essential for data collection and system integration. The operation's brain, RFID software manages the acquired data, processes it, and presents it to end users in a meaningful way. This software can include asset monitoring programmes, inventory management systems, and data analytics tools that assist businesses in making decisions based on information produced by RFID. RFID services cover a wide range of products and services, including system integration, installation, upkeep, and support. These services are crucial for assisting businesses in efficiently planning, implementing, and maintaining their RFID solutions in order to get the best performance and ROI possible.
By Frequency
Based on the frequency, the global radio frequency identification (RFID) market is categorized into low frequency, high frequency, ultra-high frequency. The high frequency category leads the global radio frequency identification (RFID) market with the largest revenue share . HF RFID operates within the 13.56 MHz frequency range. HF RFID offers a moderate read range, typically up to a few feet, and is widely used in applications requiring data transfer at a moderate speed. Examples of HF RFID applications include contactless payment systems, public transportation ticketing, library book tracking, and smart card technology. LF RFID operates within the 125 kHz to 134 kHz frequency range. LF RFID is known for its relatively short read ranges, typically a few inches to a few feet, and is often used for proximity-based applications. Common LF RFID applications include access control systems, key less entry, pet identification, and livestock tracking.UHF RFID operates within the 860 MHz to 960 MHz frequency range. UHF RFID provides longer read ranges, often ranging from several feet to several meters, making it well-suited for applications requiring the tracking of items in a more expansive environment. UHF RFID is commonly used in supply chain management, inventory tracking, logistics, and asset management due to its ability to read multiple tags simultaneously and at high speeds.
By End-Use
Based on end-use, the global radio frequency identification (RFID) market is segmented into commercial, animal tracking, transportation, agriculture, security and access control, healthcare, retail, logistics and supply chain, and others. The retail segment dominates the radio frequency identification (RFID) market. RFID is widely used in retail for inventory management, reducing stock outs, and improving the overall shopping experience. It helps retailers maintain accurate stock levels and reduce losses due to theft or shrinkage. Systems for access control and security rely heavily on RFID. In facilities, offices of the government, and commercial buildings, it is utilized for access badges, keyless entry, and secure authentication. RFID is used in the healthcare industry for asset tracking, medication management, and patient identification. Both patient safety and hospital operations are improved. Businesses that utilize RFID for access control, asset tracking, and inventory management fall within the commercial sector. This includes workplaces, distribution centers, and industrial plants where RFID improves security and operational efficiency. RFID is used in the management and tracking of animals, especially in the livestock sector. It makes it possible for farmers and ranchers to keep an eye on the wellbeing and mobility of their livestock, enhancing breeding procedures and insuring their welfare.
Global Radio Frequency Identification (RFID) Market Overview by Region
The global radio frequency identification (RFID) market is categorized into North America, Europe, Asia-Pacific, and the Rest of the World. Asia Pacific emerged as the leading region, capturing the largest market share in 2022. RFID (radio frequency identification) has in fact become one of the major and active hubs for a variety of businesses and technologies in the Asia Pacific area. Some of the world's fastest-growing economies, like China and India, are found in the Asia Pacific region. The demand for RFID solutions has expanded as a result of the region's quick economic growth in industries like retail, manufacturing, logistics, and healthcare. Asia Pacific nations are the headquarters of many international manufacturing operations. Furthering its uptake in various sectors, RFID is essential for streamlining supply chains, inventory management, and quality control. E-commerce has exploded in the Asia Pacific region as a result of a rising middle class and greater online buying. RFID is widely used in logistics and retail to control inventory, promote customer satisfaction, and improve order fulfillment.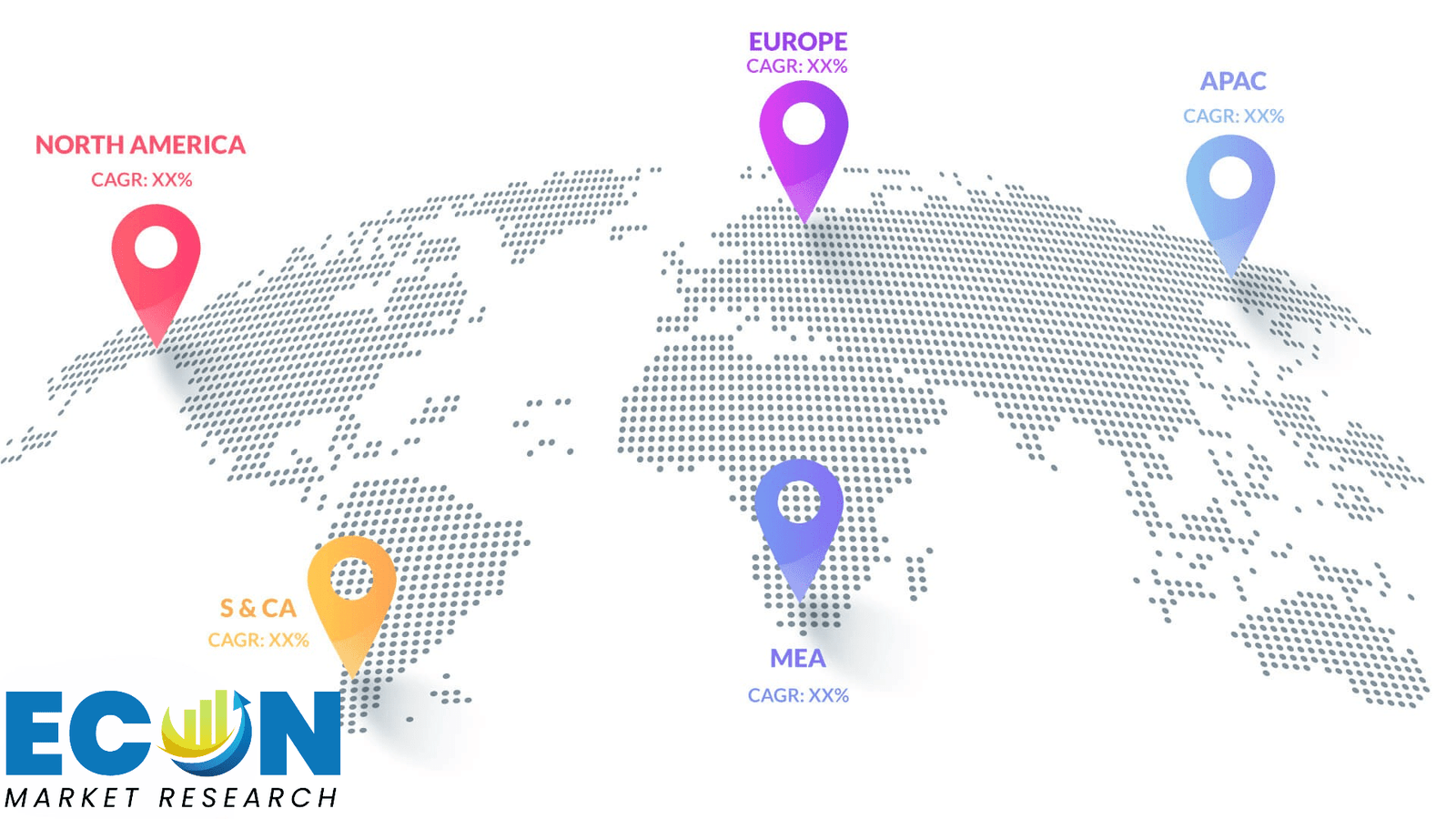 Global Radio Frequency Identification (RFID) Market Competitive Landscape
In the global radio frequency identification (RFID) market, a few major players exert significant market dominance and have established a strong regional presence. These leading companies remain committed to continuous research and development endeavors and actively engage in strategic growth initiatives, including product development, launches, joint ventures, and partnerships. By pursuing these strategies, these companies aim to strengthen their market position, expand their customer base, and capture a substantial share of the market.
Some of the prominent players in the global radio frequency identification (RFID) market include Alien Technology, LLC, Avery Dennison Corporation, Bar Code India Limited, Bartech Data Systems PVT. LTD., Bartronics India Limited, Honeywell International. Inc., IDENTIV, Inc., Infotek Software & Systems Ltd. (I-TEK), NXP Semiconductor N.V., Zebra Technologies Corporation, and various other key players.
Global Radio Frequency Identification (RFID) Market Recent Developments
In september 2023,The recently developed Just Walk Out technology is available on Amazon. The possibility for checkout-free technology is expanded by radio frequency identification (RFID) to include apparel, softlines, fan gear, and other items. The checkout-free technology's unique RFID capabilities for Just Walk Out is a first of its type. Retailers will be able to provide a wider range of clothing, apparel, and other softlines products thanks to this addition to our computer vision-based solution.
Scope of the Global Radio Frequency Identification (RFID) Market Report
Radio Frequency Identification (RFID) Market Report Segmentation
ATTRIBUTE

DETAILS

By Product Type

Tags

Readers

Software

Services

By Frequency

Low Frequency

High Frequency

Ultra-High Frequency

By End-Use

Commercial

Animal Tracking

Transportation

Agriculture

Security and Access Control

Healthcare

Retail

Logistics and Supply Chain

Others

By Geography

North America (USA,

and Canada)

Europe (UK, Germany, France, Italy, Spain, Russia and Rest of Europe)

Asia Pacific (Japan, China, India, Australia, Southeast Asia and Rest of Asia Pacific)

Latin America (Brazil, Mexico, and Rest of Latin America)

Middle East & Africa (South Africa, GCC, and Rest of Middle East & Africa)

Customization Scope

Pricing
Objectives of the Study
The objectives of the study are summarized in 5 stages. They are as mentioned below:
Global Radio Frequency Identification (RFID)

Market

Size and Forecast:
To identify and estimate the market size for the global radio frequency identification (RFID) market segmented by product type, by frequency, by end use, region and by value (in U.S. dollars). Also, to understand the consumption/ demand created by consumers of radio frequency identification (RFID) between 2019 and 2031.
Market Landscape and Trends:
To identify and infer the drivers, restraints, opportunities, and challenges for the global radio frequency identification (RFID) market
Market Influencing Factors:
To find out the factors which are affecting the sales of radio frequency identification (RFID) among consumers
To identify and understand the various factors involved in the global radio frequency identification (RFID) market affected by the pandemic
To provide a detailed insight into the major companies operating in the market. The profiling will include the financial health of the company's past 2-3 years with segmental and regional revenue breakup, product offering, recent developments, SWOT analysis, and key strategies.
Intended Audience
Business and Industry Professionals

Technology Enthusiasts

Supply Chain and Logistics Experts

Retailers, Wholesalers, and Distributors

Governments, Associations, and Industrial Bodies

Investors and Trade Experts
Research Methodology
Our research methodology has always been the key differentiating reason which sets us apart in comparison from the competing organizations in the industry. Our organization believes in consistency along with quality and establishing a new level with every new report we generate; our methods are acclaimed and the data/information inside the report is coveted. Our research methodology involves a combination of primary and secondary research methods. Data procurement is one of the most extensive stages in our research process. Our organization helps in assisting the clients to find the opportunities by examining the market across the globe coupled with providing economic statistics for each and every region. The reports generated and published are based on primary & secondary research. In secondary research, we gather data for global Market through white papers, case studies, blogs, reference customers, news, articles, press releases, white papers, and research studies. We also have our paid data applications which includes hoovers, Bloomberg business week, Avention, and others.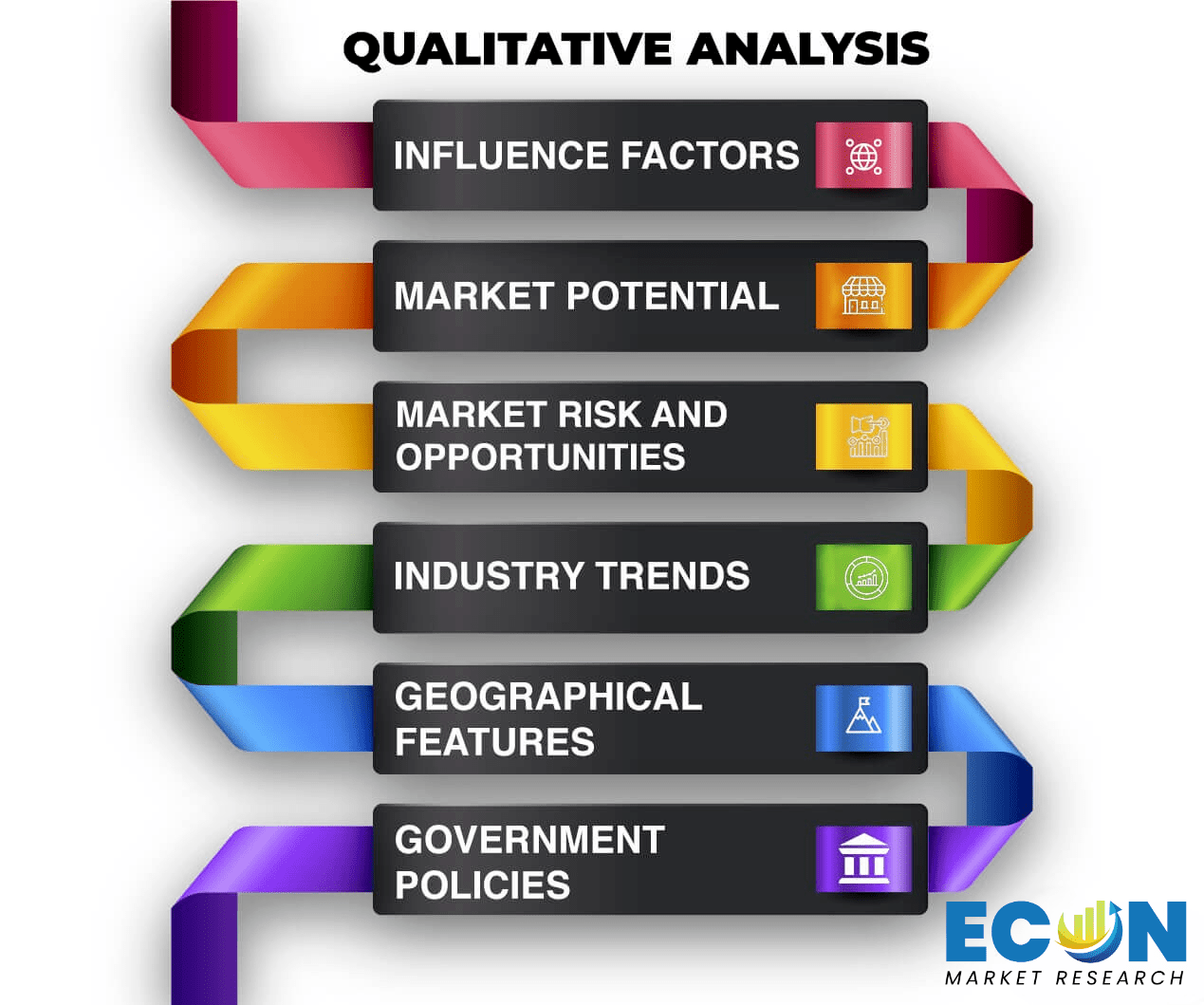 Data Collection
Data collection is the process of gathering, measuring, and analyzing accurate and relevant data from a variety of sources to analyze market and forecast trends. Raw market data is obtained on a broad front. Data is continuously extracted and filtered to ensure only validated and authenticated sources are considered. Data is mined from a varied host of sources including secondary and primary sources.

Primary Research
After the secondary research process, we initiate the primary research phase in which we interact with companies operating within the market space. We interact with related industries to understand the factors that can drive or hamper a market. Exhaustive primary interviews are conducted. Various sources from both the supply and demand sides are interviewed to obtain qualitative and quantitative information for a report which includes suppliers, product providers, domain experts, CEOs, vice presidents, marketing & sales directors, Type & innovation directors, and related key executives from various key companies to ensure a holistic and unbiased picture of the market. 
Secondary Research
A secondary research process is conducted to identify and collect information useful for the extensive, technical, market-oriented, and comprehensive study of the market. Secondary sources include published market studies, competitive information, white papers, analyst reports, government agencies, industry and trade associations, media sources, chambers of commerce, newsletters, trade publications, magazines, Bloomberg BusinessWeek, Factiva, D&B, annual reports, company house documents, investor presentations, articles, journals, blogs, and SEC filings of companies, newspapers, and so on. We have assigned weights to these parameters and quantified their market impacts using the weighted average analysis to derive the expected market growth rate.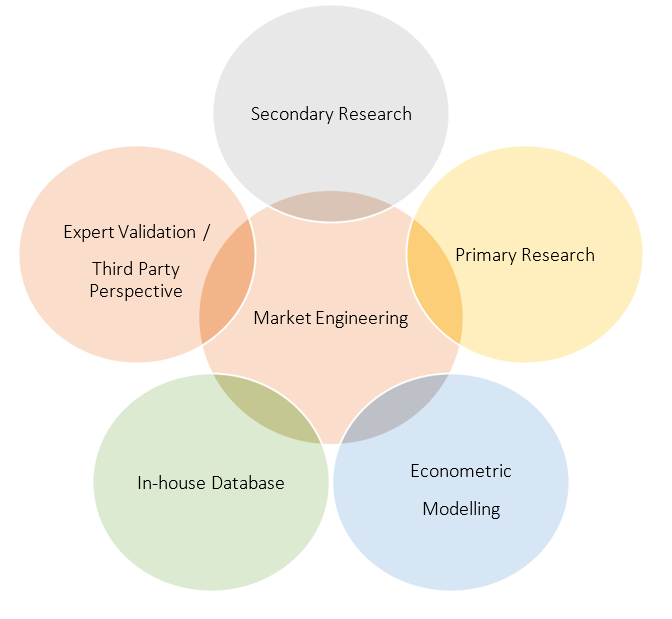 Top-Down Approach & Bottom-Up Approach
In the top – down approach, the Global Batteries for Solar Energy Storage Market was further divided into various segments on the basis of the percentage share of each segment. This approach helped in arriving at the market size of each segment globally. The segments market size was further broken down in the regional market size of each segment and sub-segments. The sub-segments were further broken down to country level market. The market size arrived using this approach was then crosschecked with the market size arrived by using bottom-up approach.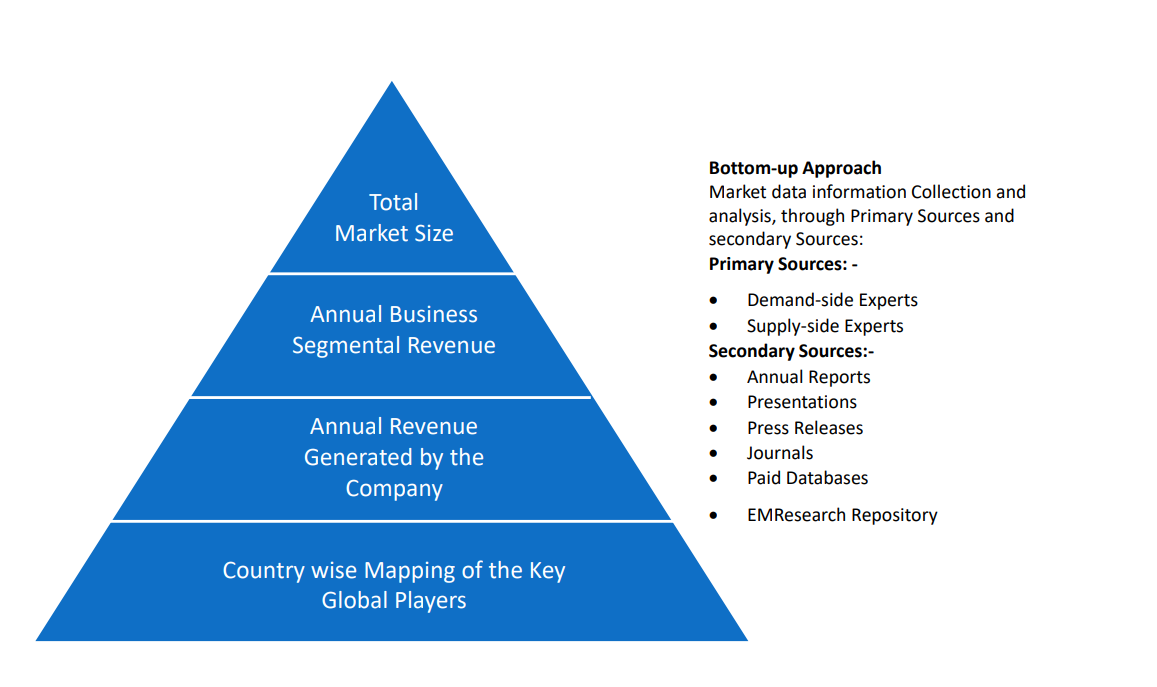 In the bottom-up approach, we arrived at the country market size by identifying the revenues and market shares of the key market players. The country market sizes then were added up to arrive at regional market size of the decorated apparel, which eventually added up to arrive at global market size.
This is one of the most reliable methods as the information is directly obtained from the key players in the market and is based on the primary interviews from the key opinion leaders associated with the firms considered in the research. Furthermore, the data obtained from the company sources and the primary respondents was validated through secondary sources including government publications and Bloomberg.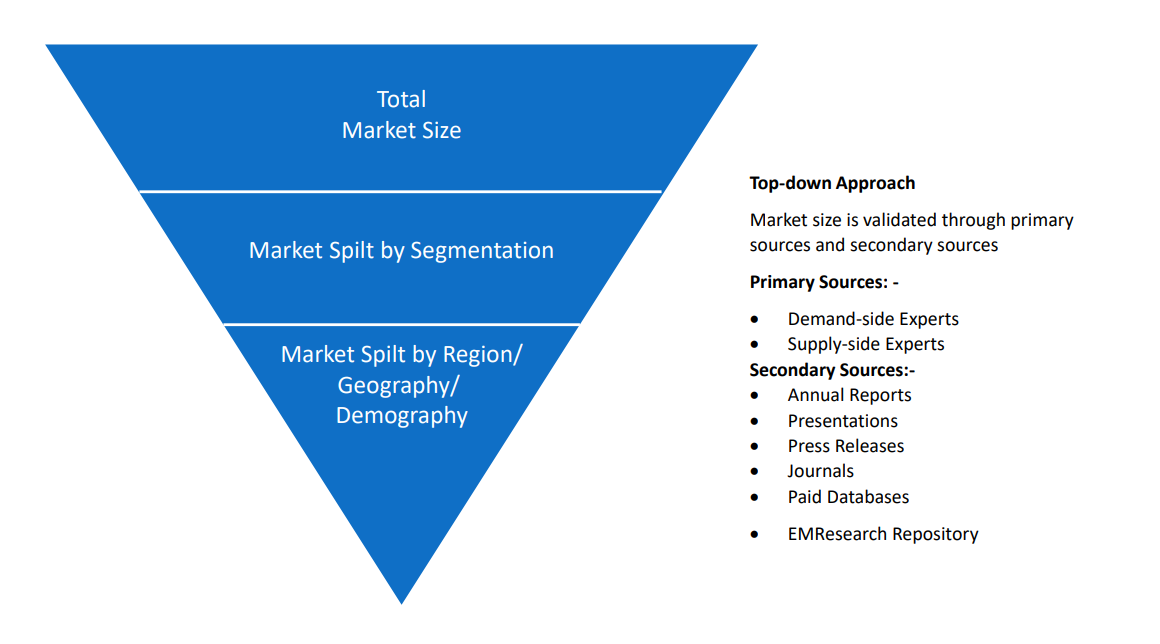 Market Analysis & size Estimation
Post the data mining stage, we gather our findings and analyze them, filtering out relevant insights. These are evaluated across research teams and industry experts. All this data is collected and evaluated by our analysts. The key players in the industry or markets are identified through extensive primary and secondary research. All percentage share splits, and breakdowns have been determined using secondary sources and verified through primary sources. The market size, in terms of value and volume, is determined through primary and secondary research processes, and forecasting models including the time series model, econometric model, judgmental forecasting model, the Delphi method, among Flywheel Energy Storage. Gathered information for market analysis, competitive landscape, growth trends, product development, and pricing trends is fed into the model and analyzed simultaneously.
Quality Checking & Final Review
The analysis done by the research team is further reviewed to check for the accuracy of the data provided to ensure the clients' requirements. This approach provides essential checks and balances which facilitate the production of quality data. This Type of revision was done in two phases for the authenticity of the data and negligible errors in the report. After quality checking, the report is reviewed to look after the presentation, Type and to recheck if all the requirements of the clients were addressed.