The Global Potato and Yam Derivatives Market was valued at USD 602.58 billion in 2022 and is estimated to reach approximately USD 855.24 billion by 2031, at a CAGR of 3.9% from 2023 to 2031. A diverse range of goods derived from potatoes and yams are included in the market for potato and yam derivatives, which is a vibrant subsegment of the worldwide agriculture and food business. Because they are widely farmed and eaten as staple crops, yams and potatoes are essential to ensuring the safety of the world's food supply. The need for convenient and value-added food items has expanded, customer preferences have changed over time, and the adaptability of these crops in different culinary contexts has all contributed to the market expansion for potato and yam derivatives. While yam derivatives include yam flour, yam chips, and other processed forms, potato derivatives include things like potato chips, fries, flakes, starch, and more. Population growth, urbanization, and the proliferation of fast-food chains are all factors that have an impact on this market and have contributed to the increased consumption of processed potato and yam products. Furthermore, the rise of the health-conscious consumer trend has sparked the creation of better derivatives such as baked chips and gluten-free yam flour. Furthermore, geographical preferences and production capacities have an impact on the market for potato and yam derivatives. Major players in this sector include North America, Europe, and Asia-Pacific. This market is anticipated to adapt and expand as customer expectations change and technology develops, providing a variety of cutting-edge, practical, and wholesome potato and yam-based products to consumers around the world.
POTATO AND YAM DERIVATIVES MARKET: REPORT SCOPE & SEGMENTATION
| | |
| --- | --- |
| Report Attribute | Details |
| Estimated Market Value (2022) | 602.58 Bn |
| Projected Market Value (2031) | 855.24 Bn |
| Base Year | 2022 |
| Forecast Years | 2023 - 2031 |
| Scope of the Report | Historical and Forecast Trends, Industry Drivers and Constraints, Historical and Forecast Market Analysis by Segment- By Source, By Derivative, By Application, & Region |
| Segments Covered | By Source, By Derivative, By Application, & Region |
| Forecast Units | Value (USD Billion or Million), and Volume (Units) |
| Quantitative Units | Revenue in USD million/billion and CAGR from 2023 to 2031 |
| Regions Covered | North America, Europe, Asia Pacific, Latin America, and Middle East & Africa, and the Rest of World |
| Countries Covered | U.S., Canada, Mexico, U.K., Germany, France, Italy, Spain, China, India, Japan, South Korea, Brazil, Argentina, GCC Countries, and South Africa, among others |
| Report Coverage | Market growth drivers, restraints, opportunities, Porter's five forces analysis, PEST analysis, value chain analysis, regulatory landscape, market attractiveness analysis by segments and region, company market share analysis, and COVID-19 impact analysis. |
| Delivery Format | Delivered as an attached PDF and Excel through email, according to the purchase option. |
Global Potato and Yam Derivatives Market Dynamics
The market for potato and yam derivatives is characterized by a complex interaction of variables that profoundly affect its development and tendencies. The market has been driven by shifting customer lifestyles and desires. The demand for processed potato and yam products like chips, fries, and flour has increased as people look for quick and easy meals. Additionally, as customers become more aware of nutritional issues, the health and wellness trend has resulted in a shift towards healthier derivatives like baked potato chips and gluten-free yam flour. Urbanization and population growth around the world have been major factors in the market's expansion since they have boosted the consumption of fast food and processed goods, which frequently contain vital ingredients derived from potatoes and yams. Market dynamics are also influenced by regional considerations. For instance, processed potato markets are well-established in North America and Europe, whereas Asia-Pacific is expanding quickly due to its vast population and shifting nutritional preferences. Agricultural aspects of the market, such as crop yields, climatic conditions, and logistics of the supply chain, can also have an impact on the availability and cost of raw potatoes and yams. The sector is constantly changing as a result of advancements in packaging, processing technology, and marketing tactics. The Potato and Yam Derivatives Market is a dynamic and adaptable sector within the larger food industry due to changing customer tastes, urbanization, regional variances, and technological improvements.
Global Potato and Yam Derivatives Market Drivers
Increasing Health Consciousness and Demand for Natural Ingredients
As consumers become more aware of the direct link between diet and wellbeing, they are increasingly looking for healthier and more nutritious options, which is what is primarily driving this trend. The emphasis on nutritional transparency is one of this driver's important components. More than ever, consumers are aware of the nutritional value of the foods they eat. They carefully read ingredient lists, seeking out pure, natural components and avoiding those that include artificial additions, preservatives, or excessive amounts of sugar or fat. Food producers have been pushed to reformulate their products in response to the desire for transparency, adding natural ingredients that suit health-conscious tastes. Superfoods and functional foods also have a part to play. Foods that go beyond providing basic nourishment for health are becoming more and more popular with consumers. Ingredients like sweet potatoes, quinoa, and chia seeds have gained popularity due to their inherent health-promoting properties. Consequently, there is a surge in the development and marketing of products featuring these natural, nutrient-rich ingredients.
Expanding Global Population Leading to Increased Food Demand
The strain on agricultural systems to produce more food to suit the dietary needs of an ever-increasing population is increased by demographic expansion. Growing urbanization and economic levels, particularly in emerging nations, are correlated with rising population numbers and result in changes in food choices. As people's wealth increases, so does their ability to purchase a more varied and frequently resource-intensive diet, which may include consuming more processed foods and animal-based proteins. Food demand is further increased by this change. More people rely on commercial food sources and distribution networks as a result of the fast movement from rural to urban regions, which increases the demand for effective food supply and production chains. Collectively, these factors underscore the urgent need for sustainable agricultural practices, technological innovations, and international cooperation.
Restraints:
Seasonal and Weather-Related Fluctuations
As seasonal crops, potatoes and yams are only grown and harvested at particular times of the year. Due to this periodicity, there may be times when the market is both oversupplied and undersupplied. There may be a surplus of raw materials during the busiest harvest times, which could result in lower pricing and have an impact on the profitability of growers and processors of potatoes and yams. In contrast, shortages during off-seasons may occur, leading to price rises and significant supply chain disruptions. Potato and yam harvests are highly dependent on the weather. Extreme weather conditions like frosts, droughts, or excessive rainfall can harm crops, lower yields, and affect the quality of produced tubers.
Delays in the transportation of potatoes, yams, and their derivatives can occur due to various factors, including congestion at ports, inadequate infrastructure, and transportation strikes. These bottlenecks can lead to increased lead times, reduced product availability, and higher transportation costs. The agriculture and food processing sectors often rely on seasonal labor for planting, harvesting, and processing activities. Labor shortages, whether due to immigration policies, seasonal labor fluctuations, or unforeseen events like pandemics, can disrupt production schedules and hinder the timely processing of potatoes and yams. Ensuring the smooth flow of products from farms to processing facilities and then to distribution centers and retailers is essential. Logistical challenges, such as inefficient routes, inadequate warehousing, and lack of cold storage facilities, can lead to spoilage, product wastage, and increased costs.
Opportunities:
Gluten-Free and Allergen-Free Products
An increasing number of consumers are looking for safe and allergen-free food options as a result of the rise in gluten sensitivity, celiac disease, and allergies to common foods like wheat, soy, dairy, and nuts. These customers are actively seeking out goods that satisfy their dietary requirements without sacrificing flavor or quality. Even if they don't have allergies or sensitivities that have been officially identified, the health and wellness movement has persuaded more people to choose gluten-free and allergen-free diets as a lifestyle choice. These diets are seen by them as healthier alternatives, giving producers a chance to promote their goods as such. Innovation in ingredient sourcing and product development has been sparked by consumer demand for gluten- and allergen-free products. Manufacturers are exploring alternative flours, starches, and plant-based ingredients to create gluten-free and allergen-free versions of traditional foods, from bread and pasta to snacks and desserts.
Rising Popularity of Plant-based Diets
A plant-based diet has many advantages, including a lower consumption of saturated fat and cholesterol, more fiber, and a lower chance of developing some chronic diseases. These health benefits have increased demand for traditional animal-derived items made from plants, such as plant-based meats, dairy-free substitutes, and sources of protein without meat like tofu and lentils. More consumers are switching to plant-based diets, which emphasize plant-based meals while limiting or excluding animal products. This change is brought about by a greater understanding of the health advantages of lowering meat intake, worries about the effects of animal agriculture on the environment, and ethical considerations regarding animal welfare.
Segment Overview
By Source
Based on the source, the global potato and yam derivatives market is divided into potato, sweet potato, and yam. The potato category dominates the market with the largest revenue share of around 52% in 2022. Potatoes are a staple crop with a wide range of derivatives that include familiar products such as potato chips, French fries, mashed potatoes, and potato starch. The potato derivatives market is characterized by its versatility and widespread popularity in various culinary applications. Potatoes are valued for their taste, texture, and adaptability, making them a key ingredient in a diverse array of savory and snack foods. Sweet potatoes have gained increasing popularity in recent years due to their perceived health benefits and unique flavor profile. Sweet potato derivatives encompass products like sweet potato fries, chips, pie fillings, and even gluten-free sweet potato flour. The market for sweet potato derivatives reflects the growing demand for healthier and more natural ingredients, as these tubers are rich in nutrients, including vitamins, fiber, and antioxidants. Yams are a starchy root vegetable widely consumed in various parts of the world, particularly in Africa, Asia, and the Caribbean. Yam derivatives consist of products like yam flour, yam chips, and yam-based dishes.
By Derivative
Based on the derivative, the global potato and yam derivatives market is categorized into whole, protein, starch, tapioca, flour, feed, and others. The starch category leads the global potato and yam derivatives market with the largest revenue share of around 34% in 2022. Starch derivatives play a crucial role in food processing and manufacturing. They are used as thickeners, stabilizers, and texturizing agents in a wide range of food products, including soups, sauces, bakery items, and more. Tapioca, derived from cassava roots (a related plant), is a distinct category within this market. Tapioca pearls, flour, and other tapioca-based products are utilized in desserts, bubble tea, and various culinary applications. Protein derivatives from potatoes, sweet potatoes, and yams encompass products like meat alternatives and plant-based protein sources. These derivatives are used in the development of vegetarian and vegan products, catering to the growing demand for plant-based diets. Potato, sweet potato, and yam flour derivatives are versatile ingredients used in baking, as well as for thickening soups and gravies. These flours can be gluten-free and are a suitable option for individuals with dietary restrictions.
By Application
Based on application, the global potato and yam derivatives market is segmented into food, animal feed, fermented beverages, and others. The food segment dominates the potato and yam derivatives market. The food segment encompasses a wide array of derivatives from these tubers, including potato chips, fries, mashed potatoes, sweet potato pies, yam-based dishes, and more. These derivatives are popular for their taste, texture, and culinary versatility, serving as key ingredients in a broad range of savory and sweet dishes. Potato, sweet potato, and yam derivatives can also be processed into animal feed, primarily for livestock. These derivatives provide a source of nutrition for animals and are often used in the agriculture and livestock industries to support healthy growth and production. Fermented beverages category includes derivatives used in the production of fermented beverages, such as alcoholic beverages or non-alcoholic drinks like sweet potato-based beverages. These derivatives may serve as ingredients or substrates in the fermentation process, contributing to the flavor, aroma, and nutritional profile of the final product.
Global Potato and Yam Derivatives Market Overview by Region
The global potato and yam derivatives market is categorized into North America, Europe, Asia-Pacific, and the Rest of the World. Europe emerged as the leading region, capturing approximately 41% of the market share in 2022. In a wide variety of dishes, Europe's rich culinary heritage uses potatoes, sweet potatoes, and yams. These tubers are deeply ingrained in cultural significance across the continent, which sustains consistent demand. Examples include traditional French fries and Belgian waffles, as well as Spanish tortillas and Eastern European potato dumplings. The extensive manufacture and consumption of potato- and sweet potato-based snacks, including chips and crisps, is a result of Europe's significant position in the processed food sector. The market has grown as a result of consumer demand for quick and savory snacks and the region's well-established snack food industry. Health-conscious consumers in Europe are looking for healthier options for classic foods and products. This has fueled the demand for healthier options, including gluten-free and organic potato and sweet potato derivatives, aligning with European consumers' preferences for quality and nutrition. Europe's commitment to sustainable agriculture and responsible sourcing has encouraged the development of eco-friendly practices in potato and tuber cultivation and processing. This aligns with the region's emphasis on environmental responsibility and ethical sourcing, resonating with environmentally conscious consumers.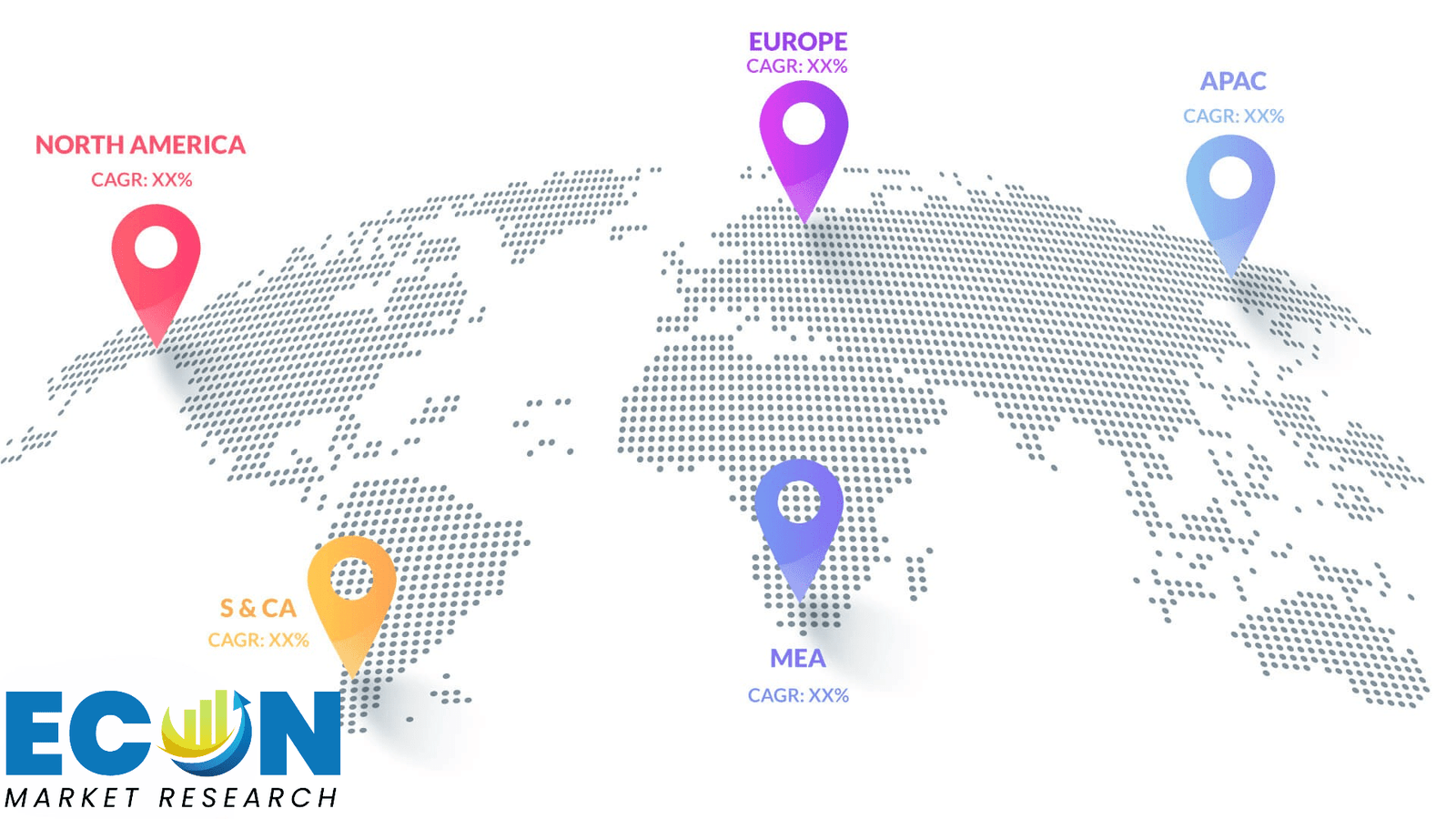 Global Potato and Yam Derivatives Market Competitive Landscape
In the global potato and yam derivatives market, a few major players exert significant market dominance and have established a strong regional presence. These leading companies remain committed to continuous research and development endeavors and actively engage in strategic growth initiatives, including product development, launches, joint ventures, and partnerships. By pursuing these strategies, these companies aim to strengthen their market position, expand their customer base, and capture a substantial share of the market.
Some of the prominent players in the global potato and yam derivatives market include Pepees S.A.; Agrana Beteiligungs - AS; Tate & Lyle; Avebe; Tereos; Ingredion Incorporated; Emsland; Ingredion Incorporated; Olu Foods; Basic American Foods; Roquette; Keystone Potato; Rakusens Ltd, and various other key players.
Global Potato and Yam Derivatives Market Recent Developments
In February 2023, A.V. Thomas Produce Inc. and Yagi Bros. Produce, one of the first growers, packers, and shippers of sweet potatoes in California, agreed into a binding merger agreement. Its position as a grower-packer-shipper in California will be strengthened even more as a result of this merger with Yagi Bros. Along with the existing production and operations capabilities, farming land, and storage capacity, Yagi Bros. Produce's experienced team, acreage, and proprietary varieties will offer new and existing clients superior product availability.
Scope of the Global Potato and Yam Derivatives Market Report
Potato and Yam Derivatives Market Report Segmentation
ATTRIBUTE

DETAILS

By Source

By Derivative

Whole

Protein

Starch

Tapioca

Flour

Feed

Others

By Application

Food

Animal Feed

Fermented Beverages

Others

By Geography

North America (USA,

and Canada)

Europe (UK, Germany, France, Italy, Spain, Russia and Rest of Europe)

Asia Pacific (Japan, China, India, Australia, Southeast Asia and Rest of Asia Pacific)

Latin America (Brazil, Mexico, and Rest of Latin America)

Middle East & Africa (South Africa, GCC, and Rest of Middle East & Africa)

Customization Scope

Pricing
Objectives of the Study
The objectives of the study are summarized in 5 stages. They are as mentioned below:
Global Potato and Yam Derivatives Market

Size and Forecast:
To identify and estimate the market size for the global potato and yam derivatives market segmented by source, by derivative, by application, region and by value (in U.S. dollars). Also, to understand the consumption/ demand created by consumers of potato and yam derivatives between 2019 and 2031.
Market Landscape and Trends:
To identify and infer the drivers, restraints, opportunities, and challenges for the global potato and yam derivatives market
Market Influencing Factors:
To find out the factors which are affecting the sales of potato and yam derivatives among consumers
To identify and understand the various factors involved in the global potato and yam derivatives market affected by the pandemic
To provide a detailed insight into the major companies operating in the market. The profiling will include the financial health of the company's past 2-3 years with segmental and regional revenue breakup, product offering, recent developments, SWOT analysis, and key strategies.
Intended Audience
Retailers, Wholesalers, and Distributors

Food Industry Professionals

Agricultural Producers

Environmental Organizations

Healthcare Professionals

Governments, Associations, and Industrial Bodies

Investors and Trade Experts
Research Methodology
Our research methodology has always been the key differentiating reason which sets us apart in comparison from the competing organizations in the industry. Our organization believes in consistency along with quality and establishing a new level with every new report we generate; our methods are acclaimed and the data/information inside the report is coveted. Our research methodology involves a combination of primary and secondary research methods. Data procurement is one of the most extensive stages in our research process. Our organization helps in assisting the clients to find the opportunities by examining the market across the globe coupled with providing economic statistics for each and every region. The reports generated and published are based on primary & secondary research. In secondary research, we gather data for global Market through white papers, case studies, blogs, reference customers, news, articles, press releases, white papers, and research studies. We also have our paid data applications which includes hoovers, Bloomberg business week, Avention, and others.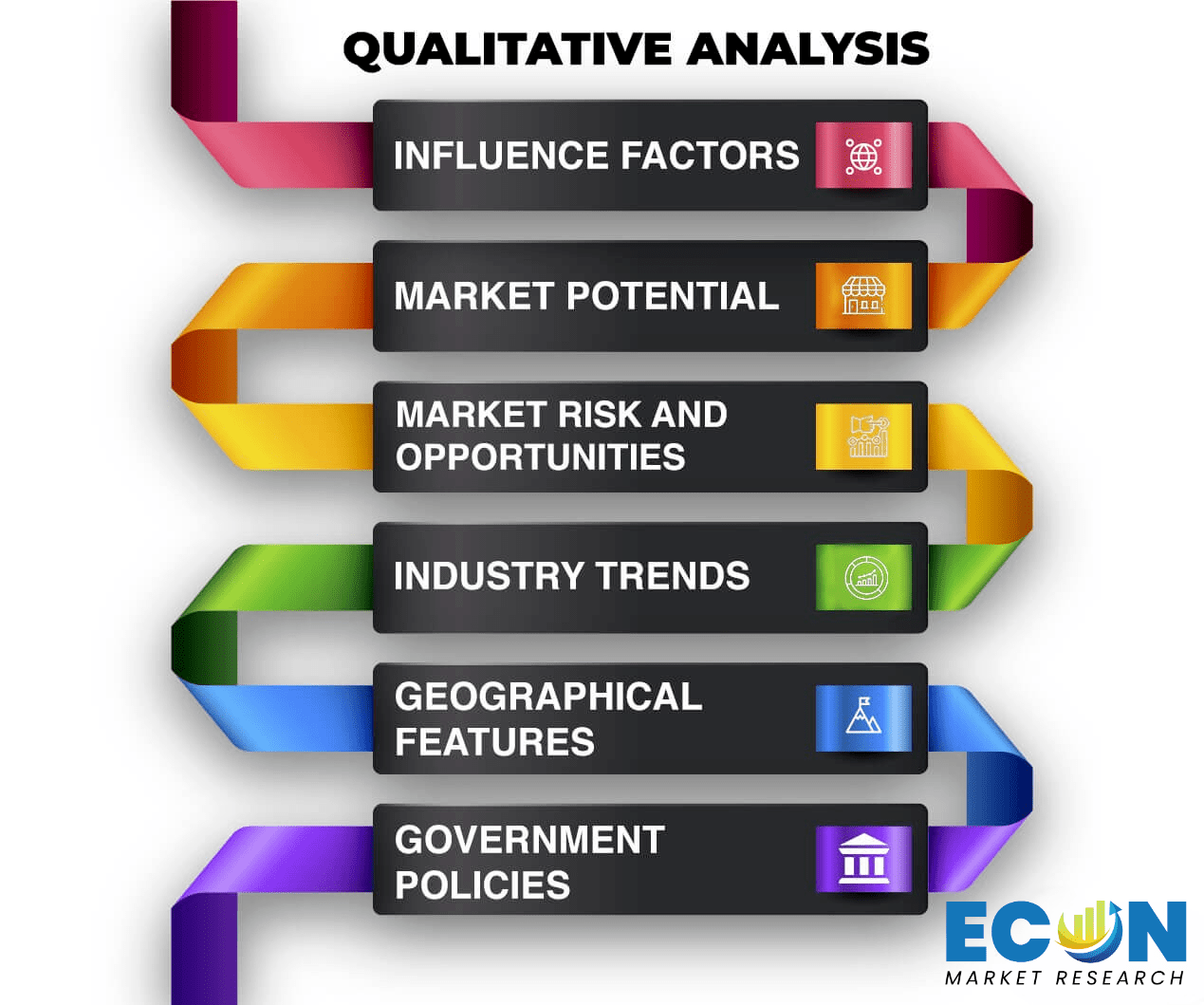 Data Collection
Data collection is the process of gathering, measuring, and analyzing accurate and relevant data from a variety of sources to analyze market and forecast trends. Raw market data is obtained on a broad front. Data is continuously extracted and filtered to ensure only validated and authenticated sources are considered. Data is mined from a varied host of sources including secondary and primary sources.

Primary Research
After the secondary research process, we initiate the primary research phase in which we interact with companies operating within the market space. We interact with related industries to understand the factors that can drive or hamper a market. Exhaustive primary interviews are conducted. Various sources from both the supply and demand sides are interviewed to obtain qualitative and quantitative information for a report which includes suppliers, product providers, domain experts, CEOs, vice presidents, marketing & sales directors, Type & innovation directors, and related key executives from various key companies to ensure a holistic and unbiased picture of the market. 
Secondary Research
A secondary research process is conducted to identify and collect information useful for the extensive, technical, market-oriented, and comprehensive study of the market. Secondary sources include published market studies, competitive information, white papers, analyst reports, government agencies, industry and trade associations, media sources, chambers of commerce, newsletters, trade publications, magazines, Bloomberg BusinessWeek, Factiva, D&B, annual reports, company house documents, investor presentations, articles, journals, blogs, and SEC filings of companies, newspapers, and so on. We have assigned weights to these parameters and quantified their market impacts using the weighted average analysis to derive the expected market growth rate.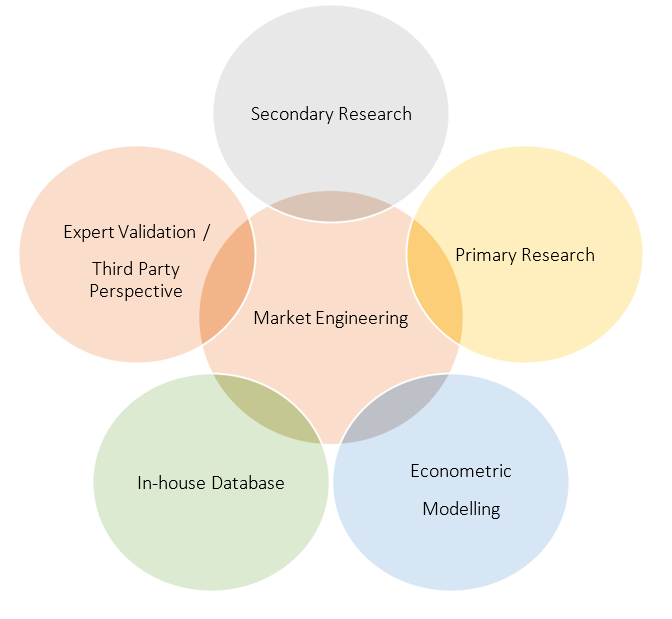 Top-Down Approach & Bottom-Up Approach
In the top – down approach, the Global Batteries for Solar Energy Storage Market was further divided into various segments on the basis of the percentage share of each segment. This approach helped in arriving at the market size of each segment globally. The segments market size was further broken down in the regional market size of each segment and sub-segments. The sub-segments were further broken down to country level market. The market size arrived using this approach was then crosschecked with the market size arrived by using bottom-up approach.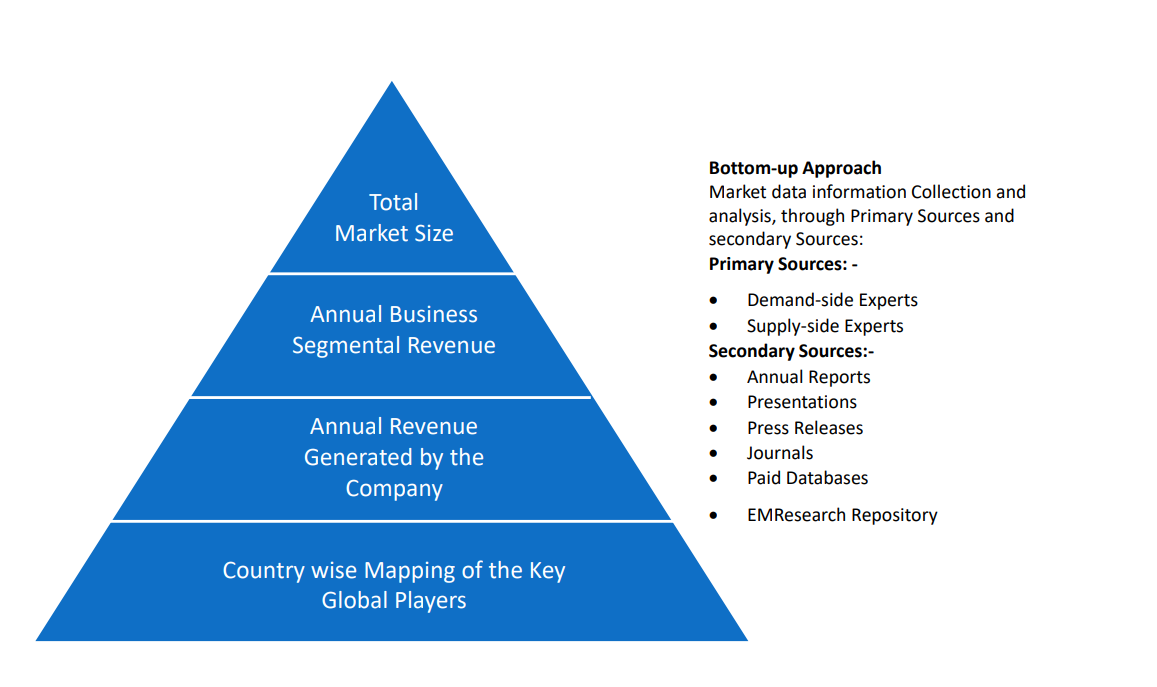 In the bottom-up approach, we arrived at the country market size by identifying the revenues and market shares of the key market players. The country market sizes then were added up to arrive at regional market size of the decorated apparel, which eventually added up to arrive at global market size.
This is one of the most reliable methods as the information is directly obtained from the key players in the market and is based on the primary interviews from the key opinion leaders associated with the firms considered in the research. Furthermore, the data obtained from the company sources and the primary respondents was validated through secondary sources including government publications and Bloomberg.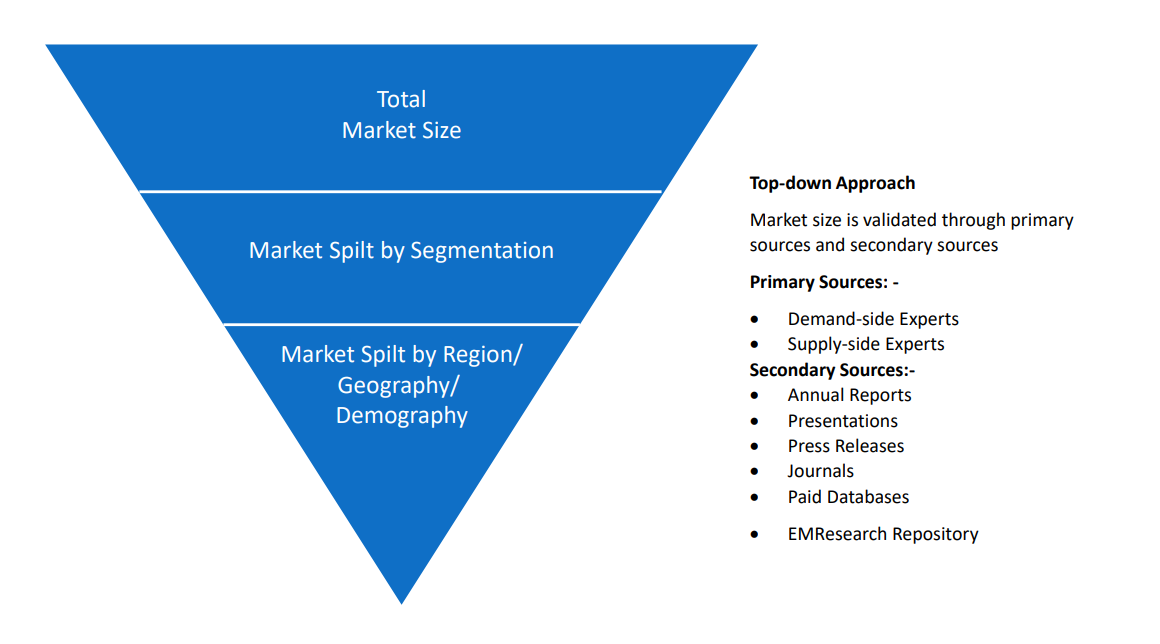 Market Analysis & size Estimation
Post the data mining stage, we gather our findings and analyze them, filtering out relevant insights. These are evaluated across research teams and industry experts. All this data is collected and evaluated by our analysts. The key players in the industry or markets are identified through extensive primary and secondary research. All percentage share splits, and breakdowns have been determined using secondary sources and verified through primary sources. The market size, in terms of value and volume, is determined through primary and secondary research processes, and forecasting models including the time series model, econometric model, judgmental forecasting model, the Delphi method, among Flywheel Energy Storage. Gathered information for market analysis, competitive landscape, growth trends, product development, and pricing trends is fed into the model and analyzed simultaneously.
Quality Checking & Final Review
The analysis done by the research team is further reviewed to check for the accuracy of the data provided to ensure the clients' requirements. This approach provides essential checks and balances which facilitate the production of quality data. This Type of revision was done in two phases for the authenticity of the data and negligible errors in the report. After quality checking, the report is reviewed to look after the presentation, Type and to recheck if all the requirements of the clients were addressed.