The Global Potash Market was valued at USD 54.74 billion in 2022 and is estimated to reach approximately USD 86.45 billion by 2031, at a CAGR of 5.2% from 2023 to 2031. An essential part of the world fertilizer market, the potash market, underwent substantial introduction and evolution. For the growth of plants and the improvement of crop yields, potash, a mineral containing potassium compounds, is necessary. With the increase in agricultural demand brought on by the Green Revolution and the adoption of intensive farming techniques, its market became more well-known. Potash was initially mainly obtained from natural sources, mainly in Canada, Russia, and Belarus. The market's structure was built by these influential producers. As demand grew over time, technological developments made it possible to build potash mines, increasing supply and boosting market competition. The development of potash as a crucial agricultural input accelerated food production and addressed worries about world famine. In reaction to shifting agricultural practices, shifting economic conditions, and shifting environmental concerns, the market experienced volatility. Precision farming and sustainable practices have also pushed for effective potash use in the market. The need for increased agricultural production, which has been on the rise, led to the establishment of the potash market. Its creation transformed contemporary farming, addressing issues of food security, and its progress is still being impacted by advances in technology, shifting economic conditions, and environmental concerns.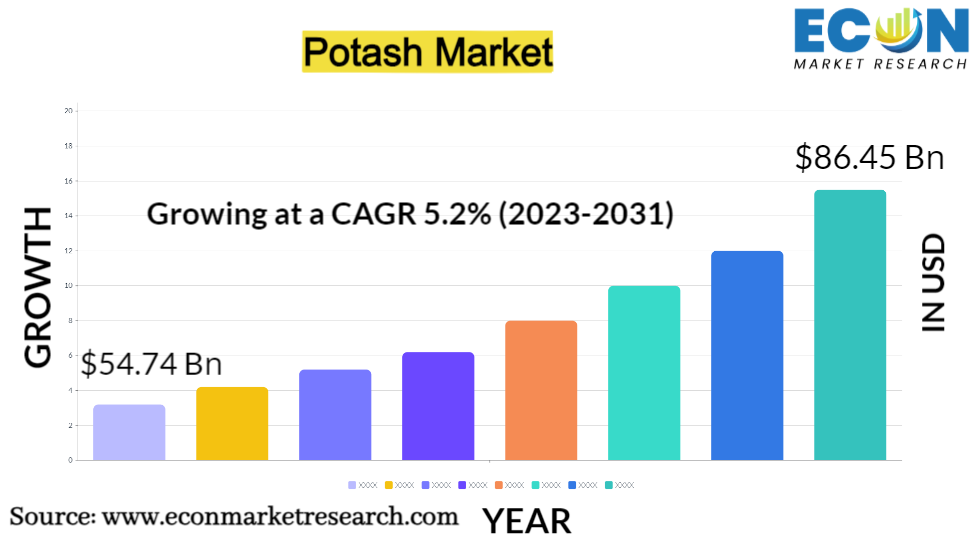 POTASH MARKET: REPORT SCOPE & SEGMENTATION
| | |
| --- | --- |
| Report Attribute | Details |
| Estimated Market Value (2022) | 54.74 Bn |
| Projected Market Value (2031) | 86.45 Bn |
| Base Year | 2022 |
| Forecast Years | 2023 - 2031 |
| Scope of the Report | Historical and Forecast Trends, Industry Drivers and Constraints, Historical and Forecast Market Analysis by Segment- By Product, By End Use, & Region |
| Segments Covered | By Product, By End Use, & Region |
| Forecast Units | Value (USD Billion or Million), and Volume (Units) |
| Quantitative Units | Revenue in USD million/billion and CAGR from 2023 to 2031 |
| Regions Covered | North America, Europe, Asia Pacific, Latin America, and Middle East & Africa, and the Rest of World |
| Countries Covered | U.S., Canada, Mexico, U.K., Germany, France, Italy, Spain, China, India, Japan, South Korea, Brazil, Argentina, GCC Countries, and South Africa, among others |
| Report Coverage | Market growth drivers, restraints, opportunities, Porter's five forces analysis, PEST analysis, value chain analysis, regulatory landscape, market attractiveness analysis by segments and region, company market share analysis, and COVID-19 impact analysis. |
| Delivery Format | Delivered as an attached PDF and Excel through email, according to the purchase option. |
Global Potash Market Dynamics
The availability, demand, and pricing of potash are influenced by a variety of dynamic factors. Market dynamics are frequently linked to trends in global agriculture and are mostly employed as an essential component of fertilizer. The demand for potash is impacted by changes in agricultural prices, weather patterns, and governmental policies, which affect potash pricing. Major producers who mine potash from natural resources include Canada, Russia, and Belarus, who are responsible for the supply. The total supply levels have been impacted by technological improvements that have enhanced mining capacities. The dynamics of the supply chain are also influenced by geopolitical concerns, trade agreements, and transportation infrastructure. Demand is closely linked to population growth and dietary changes, which elevate the need for higher crop yields. As emerging economies adopt modern agricultural practices, demand for potash continues to rise. Environmental concerns and sustainable farming practices also impact demand, driving the shift towards efficient potash utilization. Market dynamics are also shaped by currency fluctuations, investment in research and development, and the adoption of precision agriculture technologies. Additionally, the potash market is sensitive to global economic conditions, as agricultural investments are influenced by overall economic stability. The potash market's dynamics are driven by a complex interplay of factors including agricultural trends, technological advancements, environmental considerations, and economic conditions. Understanding these dynamics is crucial for stakeholders in making informed decisions within this vital segment of the agriculture industry.
Global Potash Market Drivers
Agricultural Demand Growth
Growing agricultural demand is a major market driver for potash. The urgent need to sustainably increase global food production in order to meet the demands of a growing population drives this motive. The need for food increases as the world's population grows, necessitating increased agricultural production. Population growth, dietary changes, and urbanization are some of the causes of this increase in demand. Population growth directly escalates food requirements, compelling farmers to increase crop yields to avoid food shortages. Additionally, changing dietary preferences towards protein-rich diets intensify the demand for grains and livestock feed, further driving the need for enhanced agricultural output. Urbanization leads to reduced arable land, prompting farmers to maximize yields from limited space through efficient fertilizer utilization, where potash plays a vital role.
Enhanced Fertilizer Application Techniques
The potash market is significantly influenced by improved fertilizer application methods, which have revolutionized how fertilizers, including potash, are applied in agriculture. The need to maximize resource efficiency, lessen environmental impact, and increase crop yields is what motivates these methods. Farmers may accurately apply fertilizers, including potash, where they are most required by using precision agricultural technologies like GPS-guided machinery and remote sensing. This focused strategy reduces waste, increases nutrient uptake, and improves the general health of the crop. Moreover, sustainable farming practices emphasize balanced nutrient management, encouraging judicious use of fertilizers to maintain soil health and minimize nutrient runoff into water bodies. Potash's role as a critical source of potassium, essential for plant growth and stress resistance, aligns with these practices.
Restraints:
Limited Geographic Locations with Viable Potash Deposits
The geographically constrained distribution of commercially viable potash deposits is a key market constraint. Potash resources are mainly found in Canada, Russia, and Belarus, but are also found in a few other places across the world. This regional restriction presents the sector with a number of difficulties. The market is vulnerable to supply interruptions brought on by elements like geopolitical tensions, trade disputes, or regulatory changes because of its dependency on a small number of important producing nations. The supply and cost of potash can be affected globally by any disturbance in these areas. Furthermore, the limited geographic distribution limits the potential for diversification and competition in the market. It can hinder the development of new producers and exploration of untapped resources, potentially limiting innovation and market growth.
High Transportation Costs
Transporting potash involves significant expenses related to freight, storage, and infrastructure. Bulkiness and weight necessitate specialized transportation modes, such as trains, ships, or trucks, each with associated costs. Additionally, transportation contributes to greenhouse gas emissions, aligning poorly with sustainability goals. These elevated transportation costs lead to higher prices for end-users, particularly those situated far from production centers. As a result, regions with limited access to affordable transportation might face challenges in accessing adequate potash supplies, potentially affecting local agriculture.
Opportunities:
Growth in Urban Agriculture
Within the potash market, urban agriculture offers a tempting possibility. Fresh vegetable farming in cities is becoming more popular as the population of certain cities rises. Potash is necessary for the growth of plants, the development of fruits, and the resistance to stress due to its position as a crucial supplier of potassium. Increasing plant health and yield becomes essential in urban farming situations where space is limited. Potash can be used strategically to improve crop development in vertical farms, rooftop gardens, and other urban agriculture systems. Vertical and hydroponic farming, popular urban agriculture methods, rely on nutrient-rich solutions to nourish plants. Potash's inclusion in these solutions supports efficient nutrient uptake, contributing to healthy plant growth and viable yields in confined spaces. Additionally, potash's role in enhancing crop quality aligns with the demands of discerning urban consumers seeking fresh, nutritious produce.
Rising Demand for Organic and Environmentally Friendly Products
Organic farming, which eschews synthetic chemicals and concentrates on natural methods, has gained popularity because of its smaller environmental impact and potential health advantages. Potash, a naturally occurring mineral fertilizer that improves soil fertility and fosters plant growth without the need for artificial chemicals, is crucial in this situation. This trend is being driven by customers looking for alternatives that address their environmental and health concerns due to a greater knowledge of the ecological effects of conventional practices. The environmentally conscious consumer base recognizes that potash contributes to sustainable farming practices by promoting nutrient cycling, improving soil structure, and minimizing nutrient runoff that can harm ecosystems. Potash's role in optimizing nutrient utilization aligns with the principles of organic farming, making it an attractive option for farmers seeking to meet organic certification standards.
Segment Overview
By Product
Based on product, the global potash market is divided into potassium chloride, potassium sulfate, and potassium nitrate. The potassium chloride category dominates the market with the largest revenue share. Potassium chloride is the most commonly used type of potash fertilizer. It is rich in potassium content and provides an essential nutrient for plant growth, contributing to root development, disease resistance, and overall crop quality. Potassium chloride is suitable for a wide range of crops and soils, making it a versatile choice for farmers. However, its chloride component can accumulate in soils over time, potentially impacting soil health and certain sensitive crops. Despite this limitation, potassium chloride remains a fundamental and cost-effective source of potassium in agriculture. Potassium sulfate is another significant potash fertilizer. It provides both potassium and sulfur nutrients to plants. Sulfur is crucial for protein synthesis and enzyme activity in plants. Potassium nitrate is a compound that combines potassium, nitrogen, and oxygen. It provides both potassium and nitrogen, two essential nutrients for plant growth. Nitrogen supports vegetative growth and overall plant development. Potassium nitrate is known for its water-soluble nature, making it suitable for fertigation.
By End-use
Based on the end-use, the global potash market is categorized into agricultural and non-agricultural. The agricultural category leads the global potash market with the largest revenue share. The agricultural segment constitutes the primary and most prominent use of potash products. Potash is a vital nutrient for plant growth and plays a crucial role in enhancing crop yields and overall agricultural productivity. It is used as a fertilizer in traditional farming practices, promoting root development, disease resistance, and improved fruit quality in a wide range of crops. The agricultural segment encompasses both conventional and organic farming systems, and potash products are applied to soils to replenish potassium levels and maintain optimal nutrient balances. This segment is directly tied to global food production and addresses the growing demand for sustainable agricultural practices to ensure food security. The non-agricultural segment encompasses various applications of potash outside the realm of traditional farming. It includes uses in industries such as industrial processes, chemical manufacturing, and specialty applications. For instance, potash is utilized in the production of glass, soaps, detergents, and various chemicals.
Global Potash Market Overview by Region
The global potash market is categorized into North America, Europe, Asia-Pacific, and the Rest of the World. Asia Pacific emerged as the leading region, capturing approximately 38.5% of the market share in 2022. With countries like China and India having high population densities, the Asia Pacific region is home to a sizeable share of the world's population. Due to the significant rise in population, there is a significant need for food, which necessitates the use of potash and other fertilizers to boost agricultural output. The demand for fertilizers is driven up by the area's dependence on agriculture as a key economic sector. The use of potash to increase crop yields becomes essential as nations in the Asia Pacific region attempt to modernize and intensify their agricultural practices to satisfy rising food demands. Demand for a variety of crops, including fruits and vegetables, has increased as a result of urbanization and shifting dietary habits. Potash is essential to supplying the greater nutritional levels that these crops frequently need. Many countries in the Asia Pacific have initiated government-led programs to support agriculture and enhance food security. These programs often involve the promotion of efficient fertilization practices, further boosting the demand for potash. Growing investments in agricultural technologies and practices in countries like China and India are boosting the adoption of advanced fertilization methods, including potash application.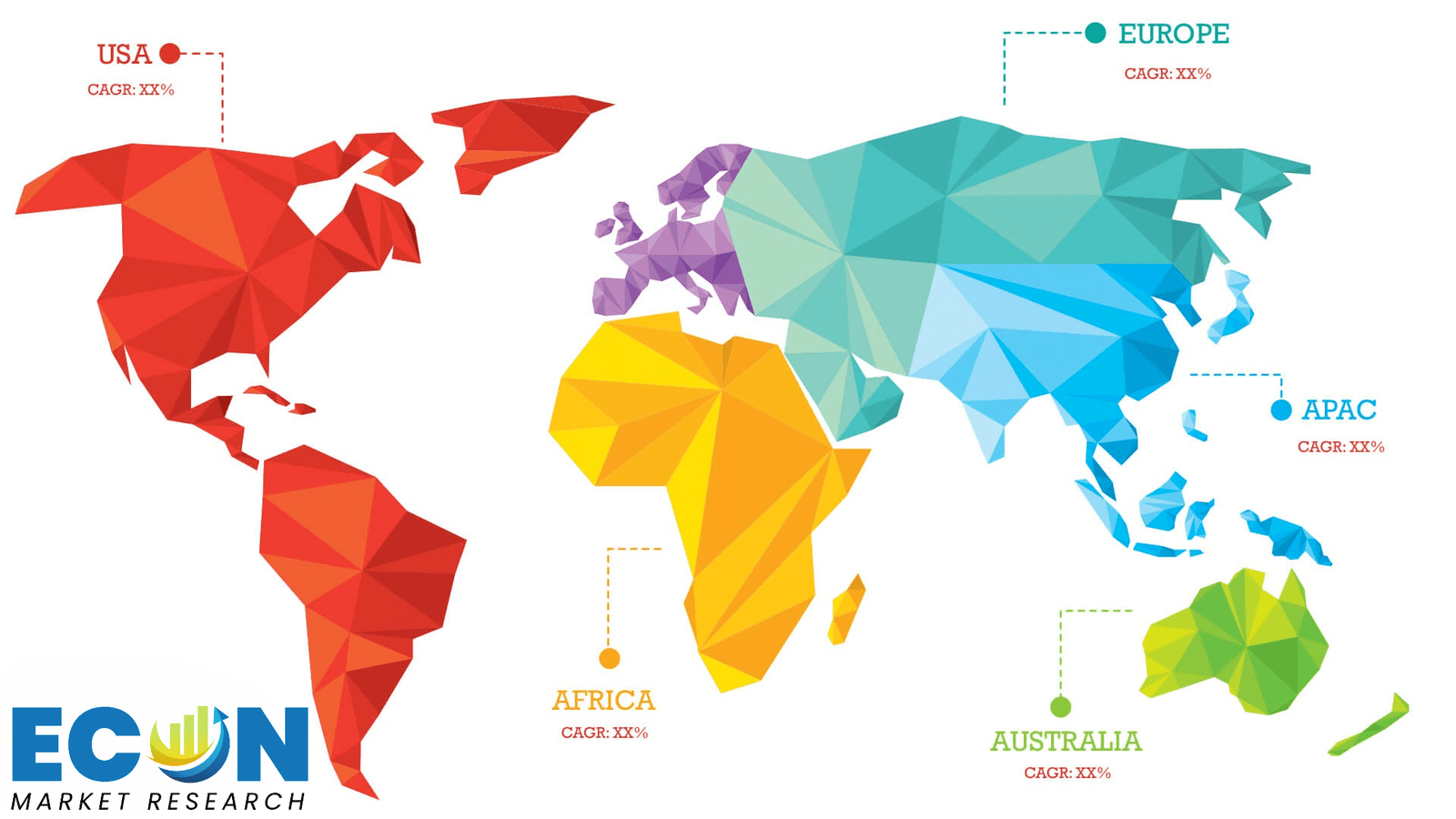 Global Potash Market Competitive Landscape
In the global potash market, a few major players exert significant market dominance and have established a strong regional presence. These leading companies remain committed to continuous research and development endeavors and actively engage in strategic growth initiatives, including product development, launches, joint ventures, and partnerships. By pursuing these strategies, these companies aim to strengthen their market position, expand their customer base, and capture a substantial share of the market.
Some of the prominent players in the global potash market include JSC Belaruskali, Compass Minerals Intl. Ltd., Mosaic Company (MOS), Uralkali, Rio Tinto Ltd., BHP Billiton Ltd., Eurochem, Red Metal Ltd, Encanto Potash Corp. (EPC), Intrepid Potash Inc., K+S Aktiengesellschaft, Nutrien (NTR), and various other key players.
Global Potash Market Recent Developments
In August 2023, Nutrien will halt its ammonia project and potash ramp-up due to declining prices. Prices for potash have decreased as Belarus, a major supplier, has resumed shipments. Belarus' exports were virtually halted last year as a result of Western sanctions following Russia's invasion of Ukraine.
In August 2023, the Kola potash project will get the assistance of the Ministry of Mines. A vital potash resource that must be developed if it is to contribute to feeding the world's population is the Kola deposit. Its effective development will significantly contribute to the Republic of Congo's ongoing development.
Scope of the Global Potash Market Report
Potash Market Report Segmentation
ATTRIBUTE

DETAILS

By Product

Potassium Chloride

Potassium Sulphate

Potassium Nitrate

By End-use

Agricultural

Non-Agricultural

By Geography

North America (USA,

and Canada)

Europe (UK, Germany, France, Italy, Spain, Russia and Rest of Europe)

Asia Pacific (Japan, China, India, Australia, Southeast Asia and Rest of Asia Pacific)

Latin America (Brazil, Mexico, and Rest of Latin America)

Middle East & Africa (South Africa, GCC, and Rest of Middle East & Africa)

Customization Scope

Pricing
Objectives of the Study
The objectives of the study are summarized in 5 stages. They are as mentioned below:
Global Potash Market

Size and Forecast:
To identify and estimate the market size for the global potash market segmented by product, by end use, region and by value (in U.S. dollars). Also, to understand the consumption/ demand created by consumers of potash between 2019 and 2031.
Market Landscape and Trends:
To identify and infer the drivers, restraints, opportunities, and challenges for the global potash market
Market Influencing Factors:
To find out the factors which are affecting the sales of potash among consumers
To identify and understand the various factors involved in the global potash market affected by the pandemic
To provide a detailed insight into the major companies operating in the market. The profiling will include the financial health of the company's past 2-3 years with segmental and regional revenue breakup, product offering, recent developments, SWOT analysis, and key strategies.
Intended Audience
Farmers and Agricultural Professionals

Agricultural Industry Stakeholders

Environmental and Sustainability Organizations

Food Industry Professionals

Retailers, Wholesalers, and Distributors

Governments, Associations, and Industrial Bodies

Investors and Trade Experts
Research Methodology
Our research methodology has always been the key differentiating reason which sets us apart in comparison from the competing organizations in the industry. Our organization believes in consistency along with quality and establishing a new level with every new report we generate; our methods are acclaimed and the data/information inside the report is coveted. Our research methodology involves a combination of primary and secondary research methods. Data procurement is one of the most extensive stages in our research process. Our organization helps in assisting the clients to find the opportunities by examining the market across the globe coupled with providing economic statistics for each and every region. The reports generated and published are based on primary & secondary research. In secondary research, we gather data for global Market through white papers, case studies, blogs, reference customers, news, articles, press releases, white papers, and research studies. We also have our paid data applications which includes hoovers, Bloomberg business week, Avention, and others.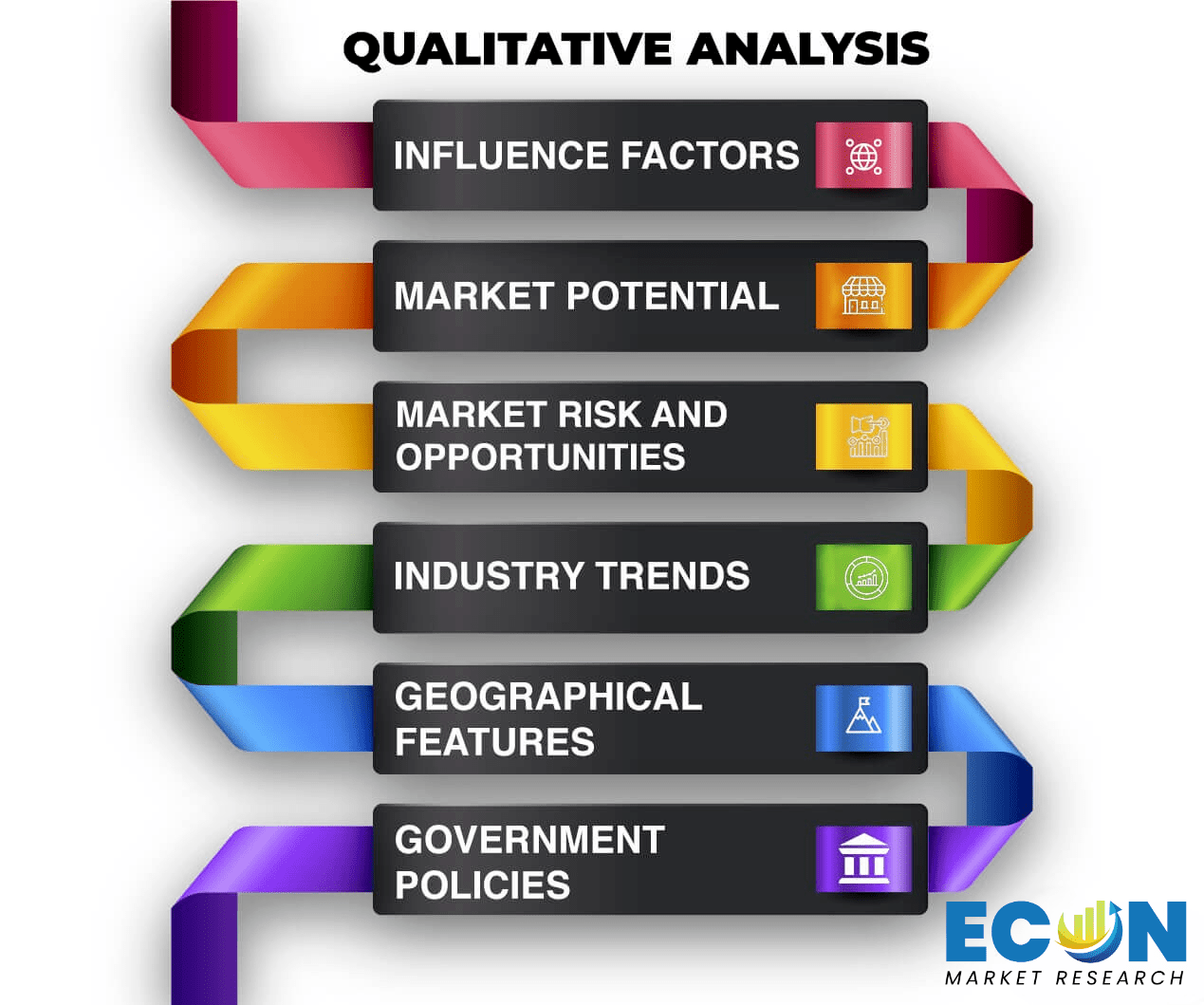 Data Collection
Data collection is the process of gathering, measuring, and analyzing accurate and relevant data from a variety of sources to analyze market and forecast trends. Raw market data is obtained on a broad front. Data is continuously extracted and filtered to ensure only validated and authenticated sources are considered. Data is mined from a varied host of sources including secondary and primary sources.

Primary Research
After the secondary research process, we initiate the primary research phase in which we interact with companies operating within the market space. We interact with related industries to understand the factors that can drive or hamper a market. Exhaustive primary interviews are conducted. Various sources from both the supply and demand sides are interviewed to obtain qualitative and quantitative information for a report which includes suppliers, product providers, domain experts, CEOs, vice presidents, marketing & sales directors, Type & innovation directors, and related key executives from various key companies to ensure a holistic and unbiased picture of the market. 
Secondary Research
A secondary research process is conducted to identify and collect information useful for the extensive, technical, market-oriented, and comprehensive study of the market. Secondary sources include published market studies, competitive information, white papers, analyst reports, government agencies, industry and trade associations, media sources, chambers of commerce, newsletters, trade publications, magazines, Bloomberg BusinessWeek, Factiva, D&B, annual reports, company house documents, investor presentations, articles, journals, blogs, and SEC filings of companies, newspapers, and so on. We have assigned weights to these parameters and quantified their market impacts using the weighted average analysis to derive the expected market growth rate.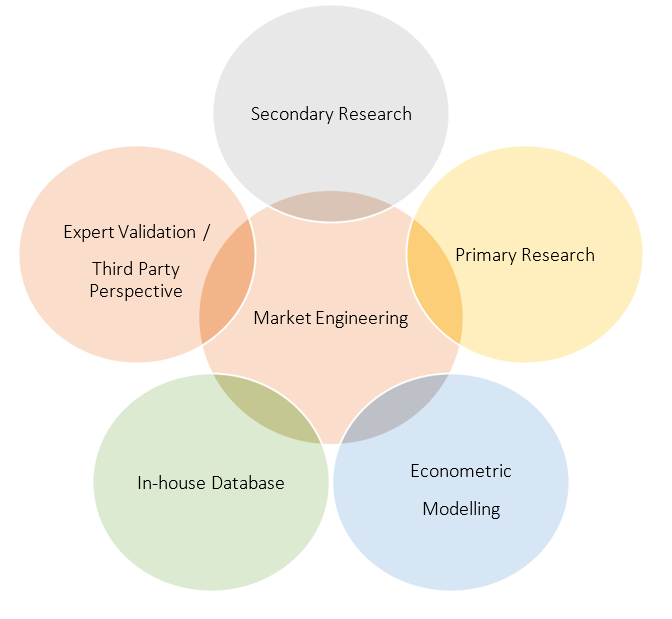 Top-Down Approach & Bottom-Up Approach
In the top – down approach, the Global Batteries for Solar Energy Storage Market was further divided into various segments on the basis of the percentage share of each segment. This approach helped in arriving at the market size of each segment globally. The segments market size was further broken down in the regional market size of each segment and sub-segments. The sub-segments were further broken down to country level market. The market size arrived using this approach was then crosschecked with the market size arrived by using bottom-up approach.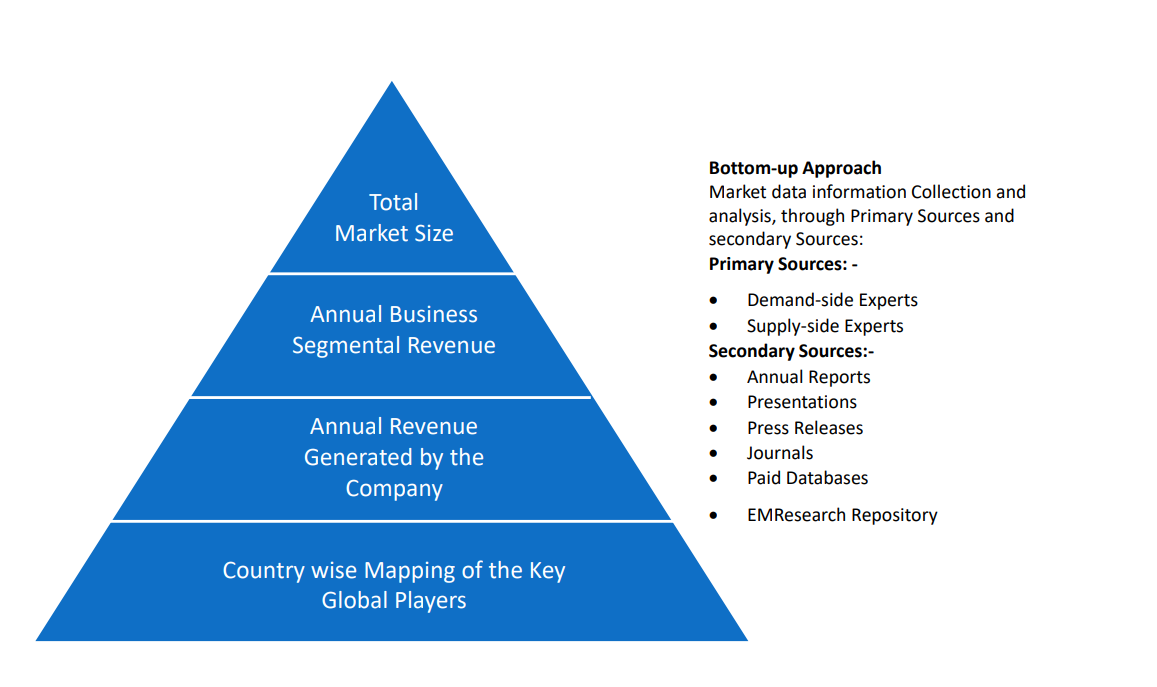 In the bottom-up approach, we arrived at the country market size by identifying the revenues and market shares of the key market players. The country market sizes then were added up to arrive at regional market size of the decorated apparel, which eventually added up to arrive at global market size.
This is one of the most reliable methods as the information is directly obtained from the key players in the market and is based on the primary interviews from the key opinion leaders associated with the firms considered in the research. Furthermore, the data obtained from the company sources and the primary respondents was validated through secondary sources including government publications and Bloomberg.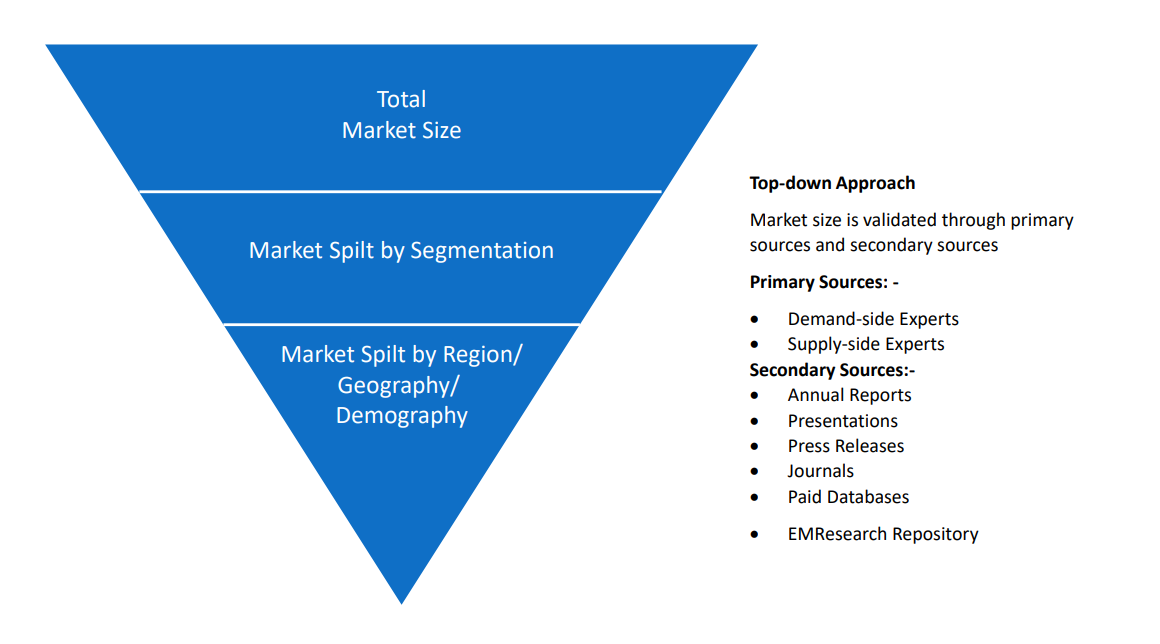 Market Analysis & size Estimation
Post the data mining stage, we gather our findings and analyze them, filtering out relevant insights. These are evaluated across research teams and industry experts. All this data is collected and evaluated by our analysts. The key players in the industry or markets are identified through extensive primary and secondary research. All percentage share splits, and breakdowns have been determined using secondary sources and verified through primary sources. The market size, in terms of value and volume, is determined through primary and secondary research processes, and forecasting models including the time series model, econometric model, judgmental forecasting model, the Delphi method, among Flywheel Energy Storage. Gathered information for market analysis, competitive landscape, growth trends, product development, and pricing trends is fed into the model and analyzed simultaneously.
Quality Checking & Final Review
The analysis done by the research team is further reviewed to check for the accuracy of the data provided to ensure the clients' requirements. This approach provides essential checks and balances which facilitate the production of quality data. This Type of revision was done in two phases for the authenticity of the data and negligible errors in the report. After quality checking, the report is reviewed to look after the presentation, Type and to recheck if all the requirements of the clients were addressed.