The global polyvinyl alcohol films market was valued at USD 428.50 million in 2022 and is estimated to reach approximately USD 738.40 million by 2031, at a CAGR of 6.2% from 2023 to 2031.
In the years since its founding, the market for polyvinyl alcohol (PVA) films has experienced substantial expansion. PVA is a man-made polymer with many uses, and its films stand out for their specific qualities and adaptability. Since these films have outstanding barrier qualities, flexibility, and biodegradability, they were first created in the middle of the 20th century, mostly for industrial and packaging uses. PVA films have become increasingly common in a variety of industries throughout time. Their ability to resist moisture and act as an oxygen barrier makes them highly useful in the food packaging industry, extending the shelf life of perishable items. In the pharmaceutical sector, PVA films are also used to create water-soluble dosage forms such pouches and capsules. Their safety and biocompatibility have made them the go-to option for medicinal applications. PVA film sales have increased in the agricultural sector as well since these films are used as mulches to improve crop quality and yield. Their growing market presence has also been facilitated by their use as binders and coatings in the paper and textile sectors. PVA films are a desirable option for a variety of applications, and as innovative technology and sustainable solutions become more and more prominent across multiple industries, the market for these films is only going to grow. The biodegradable nature of PVA films is expected to propel additional market expansion as environmental concerns grow.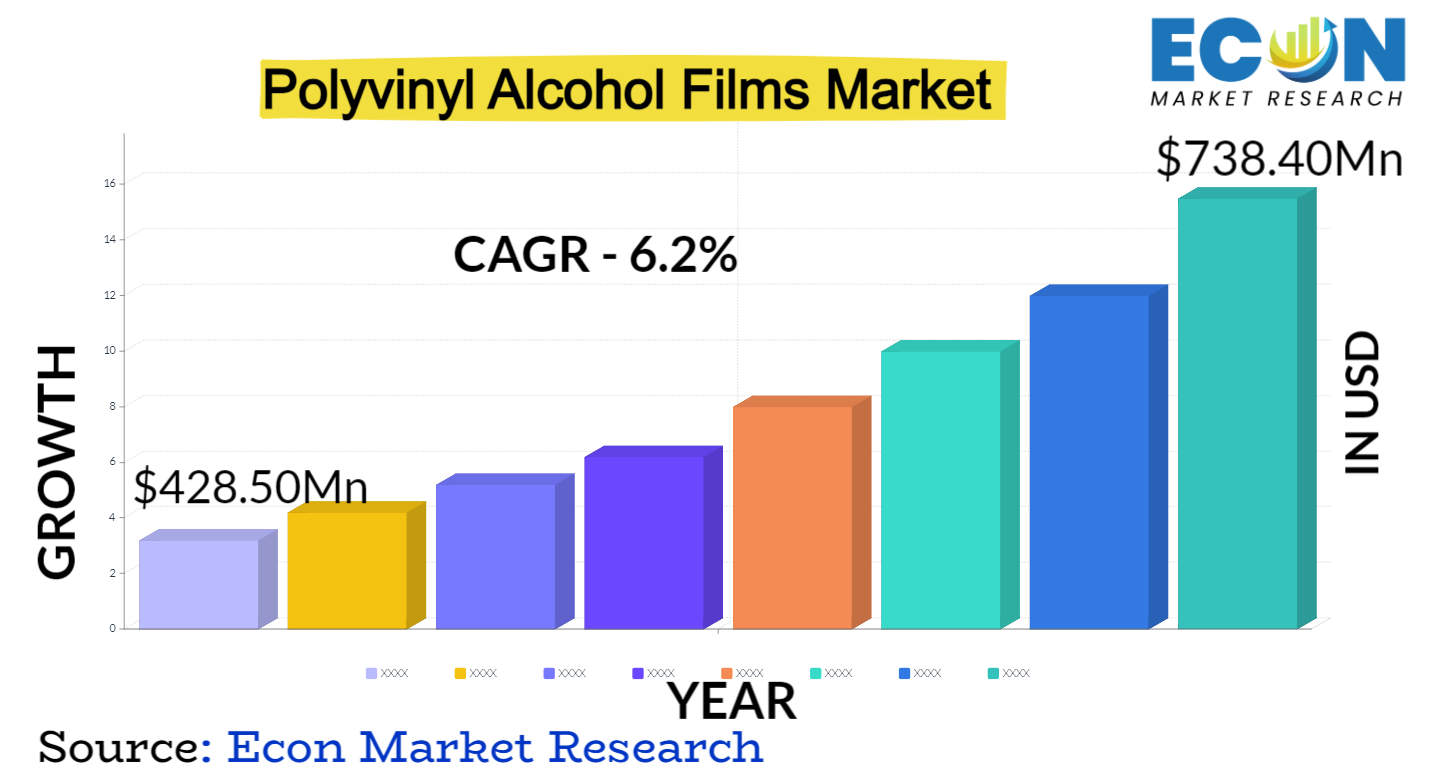 POLYVINYL ALCOHOL FILMS MARKET: REPORT SCOPE & SEGMENTATION
| | |
| --- | --- |
| Report Attribute | Details |
| Estimated Market Value (2022) | 428.50 Mn |
| Projected Market Value (2031) | 738.40 Mn |
| Base Year | 2022 |
| Forecast Years | 2023 - 2031 |
| Scope of the Report | Historical and Forecast Trends, Industry Drivers and Constraints, Historical and Forecast Market Analysis by Segment- By Type, By Application, & Region |
| Segments Covered | By Type, By Application, & Region |
| Forecast Units | Value (USD Billion or Million), and Volume (Units) |
| Quantitative Units | Revenue in USD million/billion and CAGR from 2023 to 2031 |
| Regions Covered | North America, Europe, Asia Pacific, Latin America, and Middle East & Africa, and the Rest of World |
| Countries Covered | U.S., Canada, Mexico, U.K., Germany, France, Italy, Spain, China, India, Japan, South Korea, Brazil, Argentina, GCC Countries, and South Africa, among others |
| Report Coverage | Market growth drivers, restraints, opportunities, Porter's five forces analysis, PEST analysis, value chain analysis, regulatory landscape, market attractiveness analysis by segments and region, company market share analysis, and COVID-19 impact analysis. |
| Delivery Format | Delivered as an attached PDF and Excel through email, according to the purchase option. |
Global Polyvinyl Alcohol Films Market Dynamics
PVA films are becoming more and more popular as a sustainable packaging material because of its minimal environmental effect and biodegradability, which is in line with growing environmental consciousness. Customers looking for environmentally friendly products and laws supporting sustainable packaging materials are the main drivers of this movement. Beyond packaging, PVA films are finding new uses in the fields of electronics, textiles, agriculture, and pharmaceuticals. They are adaptable for a variety of sectors due to their water-soluble nature, biocompatibility, and barrier qualities. Improved PVA films with greater strength, moisture resistance, and dissolving qualities have been produced as a result of ongoing research and development. These developments create fresh chances for market growth. The market for PVA films is very competitive, with many suppliers and manufacturers. PVA film usage is being fueled in part by supporting government programs that promote biodegradable solutions and strict controls on single-use plastics and packaging materials. The dynamics of the market can be impacted by changes in the global supply chain, changes in the economy, and changes in the price of raw materials and finished goods. Demand for PVA films and their acceptability in a range of applications are directly impacted by changing consumer preferences and growing consciousness of sustainability issues.
Global Polyvinyl Alcohol Films Market Drivers
Increasing Demand for Biodegradable Packaging
The main driving force behind this expanding trend is a greater awareness across the globe of the harmful environmental effects of conventional plastic packaging. Businesses are under tremendous pressure to embrace more sustainable practices due to environmental concerns, especially with regard to the growing amount of plastic trash in landfills and seas. This issue can be resolved by using biodegradable packaging materials, such as those derived from renewable resources like plant-based polymers or polymers like polyvinyl alcohol (PVA). These substances decompose organically, mitigating long-term environmental damage. Furthermore, the use of biodegradable packaging is being encouraged by a growing number of international government legislation and policies. Single-use plastics are either prohibited or subject to limitations in many nations and areas, which has prompted companies to look into alternate materials. The tastes of consumers have also changed, and there is an increasing need for goods that reflect environmentally friendly principles. Customers are more inclined to support and select brands that utilize biodegradable packaging since it not only lessens the impact the brand has on the environment but also enhances its reputation.
PVA Films in the Pharmaceutical Industry
Their remarkable water solubility and biocompatibility are two of the main factors promoting their adoption in this industry. PVA films are perfect for a range of medicinal applications because of these qualities. PVA films are frequently used in the manufacturing of water-soluble dosage forms, including pouches, capsules, and oral dissolvable films. More patient compliance, quick medication release, and convenience of administration are just a few benefits of these dosage forms, particularly for those who have trouble swallowing regular tablets or capsules. PVA films are thereby aiding in the creation of medication delivery systems that are centered on the patient. Furthermore, customized drug delivery and personalized treatment are becoming more and more important to the pharmaceutical sector. PVA films can be tailored to include exact medication dosages, allowing for the creation of personalized treatment plans. The pharmaceutical industry is also witnessing a shift toward more sustainable and eco-friendly practices, driven by regulatory and consumer pressures. PVA films are biodegradable and environmentally friendly, further enhancing their appeal for pharmaceutical companies looking to reduce their ecological footprint.
Restraints:
Low heat resistance materials can melt, distort, or degrade at high temperatures, which can cause structural collapse or loss of functioning. Due to this restriction, they cannot be used in some industrial operations, automotive components, or aerospace equipment where high-temperature performance is crucial. The safety of systems and goods may also be impacted by the limitation of limited heat resistance. For example, when exposed to high temperatures because of electrical currents or environmental factors, electrical components composed of materials with low heat resistance can become combustible. Limited heat resistance materials can not be appropriate for cooking or microwave heating applications in the food packaging and cookware industries because they can leak toxic compounds or distort when exposed to extreme heat.
Storms, earthquakes, floods, and wildfires are a some of the natural calamities that can create supply chain disruptions. Events of this nature have the potential to impair vital infrastructure, interfere with transportation, and stop manufacturing, which might cause supply chain delays and shortages. Supply chain interruptions can also be caused by trade disputes and geopolitical tensions. Industries that depend on international commerce can experience abrupt and unpredictably interrupted flows of goods and raw materials due to tariffs, trade restrictions, and political unrest. The COVID-19 epidemic has brought to light how vulnerable international supply networks are. Significant bottlenecks and shortages have been caused by lockdowns, border closures, and outbreaks among important personnel in crucial industries, including healthcare, electronics, and automotive. Supply chain disruptions can also be caused by labor strikes, transportation bottlenecks, and inventory management challenges. Cyberattacks on logistics and manufacturing systems are emerging as a modern threat, capable of paralyzing entire supply chains.
Opportunities:
Rising Popularity in Agriculture
In order to maximize farming procedures, precision agriculture makes use of cutting-edge technologies like GPS, remote sensing, and data analytics. Increased agricultural yields, decreased resource waste, and better environmental stewardship are the outcomes of farmers' precision resource management, which includes water, fertilizers, and pesticides. Moreover, data-driven decision-making and real-time monitoring are made possible by the use of drones and autonomous vehicles in agriculture, as well as by the integration of Internet of Things (IoT) devices and sensors. This gives farmers the ability to identify crop stress, evaluate soil quality, and handle pest management more skillfully. In addition to reducing risks and enhancing resistance to erratic weather patterns, the data gathered can be utilized to forecast and adapt to weather and climate changes.Another big opportunity is the adoption of organic agricultural and sustainable farming methods. Growing consumer awareness of the negative effects typical farming practices have on the environment and human health has resulted in a rise in demand for organic, pesticide-free, sustainably produced goods. Farmers now have more opportunities to expand their product lines, reach upscale consumers, and support environmental preservation thanks to this development.
Advancements in Water-Soluble Films
These cutting-edge films, which dissolve or disintegrate in water, are becoming more and more popular because of their adaptability, sustainability, and capacity to tackle urgent issues. The area of single-use packaging presents one significant possibility. Particularly in the food and detergent industries, water-soluble films are becoming more and more popular as an eco-friendly substitute for conventional plastics. They can be applied to single-serving food items, laundry detergent pods, and other products that come in individual packaging. The packaging dissolves in water when the contents are utilized, removing the need to dispose of plastic waste and lowering pollution levels in the environment. Furthermore, the use of water-soluble films in agriculture is growing. They can be applied as biodegradable mulch films, which enhance soil health and lessen the need to dispose of plastic in farming operations. This sustainable strategy presents a chance to improve crop yields and quality while also satisfying the growing demand for environmentally friendly agriculture solutions. Water-soluble film technology is always developing, with new studies being conducted to enhance the films' strength, dissolving capabilities, and environmental impact.
Segment Overview
By Type
Based on type, the global polyvinyl alcohol films market is divided into fully hydrolyzed, partially hydrolyzed, sub-partially hydrolyzed. The partially hydrolyzed category dominates the market with the largest revenue share in 2022. Partially hydrolyzed PVA films have a degree of hydrolysis that falls between fully and sub-partially hydrolyzed films. They retain some acetate groups, making them less water-soluble and more flexible than fully hydrolyzed films. These films find applications in sectors like textiles, paper manufacturing, and adhesives, where moderate water resistance and flexibility are desired. Fully hydrolyzed PVA films are created when nearly all of the acetate groups in the PVA polymer are replaced with hydroxyl groups. These films are highly water-soluble, biodegradable, and have excellent barrier properties. They are commonly used in applications where complete dissolution in water is required, such as in the pharmaceutical industry for oral dissolvable films and water-soluble packaging. Sub-partially hydrolyzed PVA films have the lowest degree of hydrolysis among the three categories. They retain a significant proportion of acetate groups, making them less water-soluble and more resistant to moisture. These films are often used in industries requiring less water sensitivity, such as in coatings, as binders, or in certain specialty packaging applications.
By Application
Based on the application, the global polyvinyl alcohol films market is categorized into detergent packaging, agrochemical packaging, LCD panels, medical & healthcare. The detergent packaging category leads the global polyvinyl alcohol films market with the largest revenue share in 2022. PVA films are extensively used in the detergent industry, particularly in the packaging of single-dose detergent pods or sachets. Their water-soluble nature allows consumers to conveniently toss the pod into the washing machine without needing to handle the detergent directly. This application minimizes the risk of exposure to chemicals and provides precise dosing, improving the convenience and safety of detergent usage. PVA films are employed in the agrochemical sector for the packaging of various pesticides, herbicides, and fertilizers. The water-soluble property of these films enables the easy and safe dispersion of the agrochemicals when added to water. It reduces the need for direct contact with potentially hazardous substances and ensures accurate and controlled application in agriculture. PVA films find use in the electronics industry, particularly in the manufacturing of LCD (Liquid Crystal Display) panels. These films serve as alignment layers, helping to control the orientation of liquid crystals and improve the display's performance, clarity, and response time. PVA films contribute to the quality and functionality of LCD screens in televisions, monitors, and electronic devices. The medical and healthcare sector benefits from PVA films in various ways. PVA films are used to create water-soluble medical packaging, oral dissolvable films for drug delivery, and as a component in wound care products. Their biocompatibility and water-solubility make them valuable in pharmaceutical applications, enhancing patient compliance and improving the effectiveness of treatments.
Global Polyvinyl Alcohol Films Market Overview by Region
The global polyvinyl alcohol films market is categorized into North America, Europe, Asia-Pacific, and the Rest of the World. Asia-Pacific emerged as the leading region, capturing the largest market share in 2022. Some of the biggest and fastest-growing economies in the world, such as those of China, India, Japan, and South Korea, are found in the Asia-Pacific region. Due to a number of factors including growing middle classes, rising consumer demand, industrialization, and globalization, these countries have seen exceptional economic growth. A higher level of life, more urbanization, and more commercial opportunities have resulted from this economic strength. Particularly in nations like China and South Korea, which have emerged as global leaders in industries like electronics, telecommunications, and artificial intelligence, the region has been at the forefront of technical innovation. The Asia-Pacific region has become a center for innovative advancements due to the swift uptake of technology and the existence of significant technological behemoths. As a hub for global manufacturing and production, Asia-Pacific now draws international companies looking for low-cost production and easy access to large consumer markets. This movement has been driven by the region's talented labor, competitive production costs, and well-established supply chains. The consumer base in the Asia-Pacific area is enormous and diverse. A wide range of goods and services can find a profitable market in this expanding middle class with rising disposable income. The region has become a desirable location for companies looking to increase their market share as a result of this demographic transition. Asia-Pacific governments have made large investments in the development of telecommunications, energy, and transportation infrastructure. The region's economic growth and competitiveness have been further reinforced by these investments.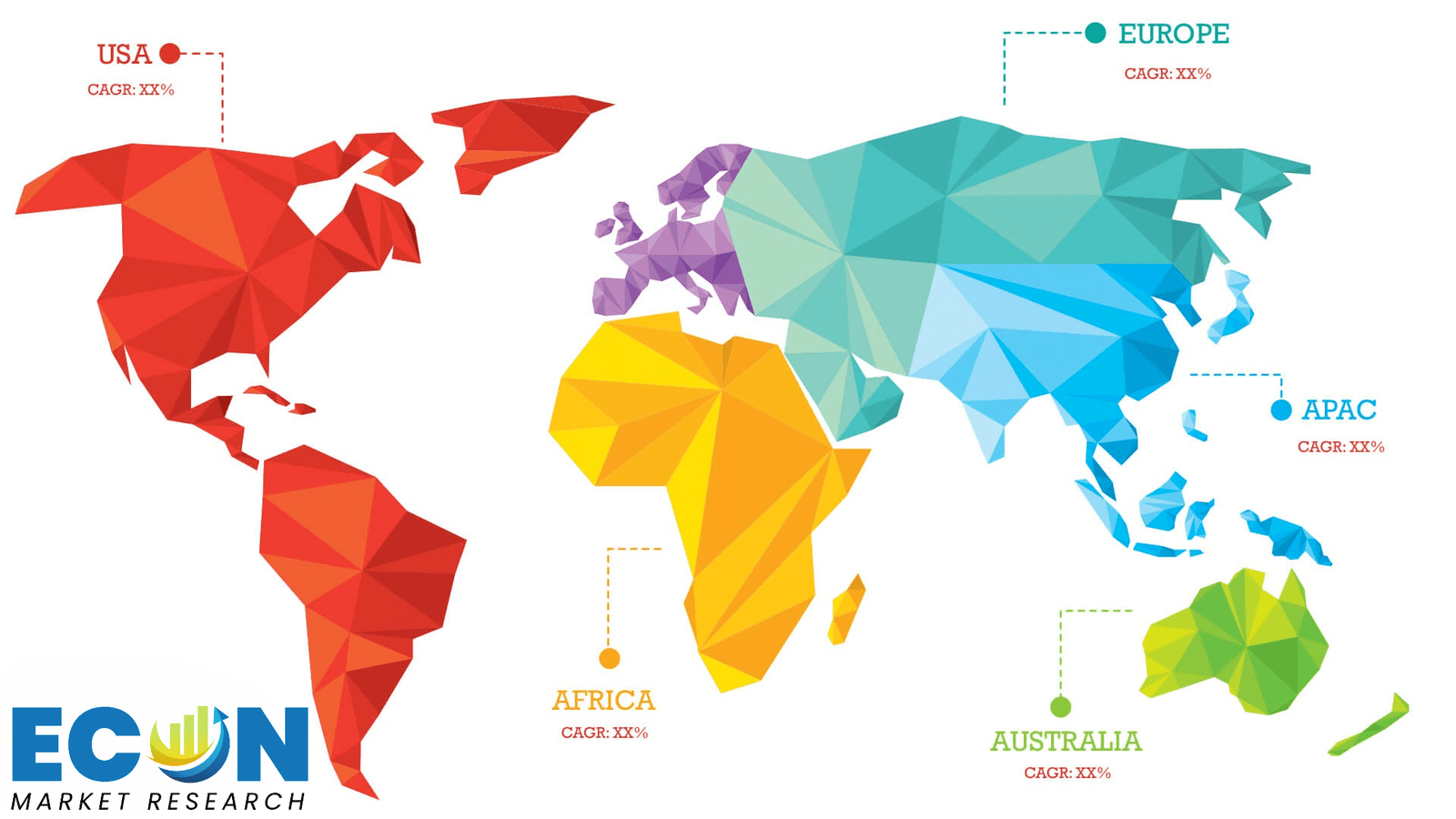 Global Polyvinyl Alcohol Films Market Competitive Landscape
In the global polyvinyl alcohol films market, a few major players exert significant market dominance and have established a strong regional presence. These leading companies remain committed to continuous research and development endeavors and actively engage in strategic growth initiatives, including product development, launches, joint ventures, and partnerships. By pursuing these strategies, these companies aim to strengthen their market position, expand their customer base, and capture a substantial share of the market.
Some of the prominent players in the global polyvinyl alcohol films market include Aicello Corp.; Changzhou Water Soluble Co., Ltd.; Arrow GreenTech Ltd.; Mitsubishi Chemical Corp.; Kuraray Co., Ltd.; Cortec Corp.; AMC (U.K.) Ltd.; MSD Corp.; Sekisui Chemical Co., Ltd.; Chang Chun Group, and various other key players.
Global Polyvinyl Alcohol Films Market Recent Developments
In September 2023, Correlation between structure and properties of polyvinyl alcohol films produced using various processing techniques. Blown and extruded PVA films were created via gel extrusion for comparative study with solution cast films. It was looked into how various processing techniques affected the PVA films' structural properties. PVA films' mechanical, optical, and oxygen barrier characteristics were all tested.

In June 2023, Electrospun polyvinyl alcohol nanofibers were used to create a self-reinforcing and self-toughening optically transparent polyvinyl alcohol composite film.
Scope of the Global Polyvinyl Alcohol Films Market Report
Polyvinyl Alcohol Films Market Report Segmentation
ATTRIBUTE

DETAILS

By Type

Fully Hydrolyzed

Partially Hydrolyzed

Sub-Partially Hydrolyzed

By Application

Detergent Packaging

Agrochemical Packaging

LCD Panels

Medical & Healthcare

By Geography

North America (USA,

and Canada)

Europe (UK, Germany, France, Italy, Spain, Russia and Rest of Europe)

Asia Pacific (Japan, China, India, Australia, Southeast Asia and Rest of Asia Pacific)

Latin America (Brazil, Mexico, and Rest of Latin America)

Middle East & Africa (South Africa, GCC, and Rest of Middle East & Africa)

Customization Scope

Pricing
Objectives of the Study
The objectives of the study are summarized in 5 stages. They are as mentioned below:
Global Polyvinyl Alcohol Films Market

Size and Forecast:
To identify and estimate the market size for the global polyvinyl alcohol films market segmented by type, by application, region and by value (in U.S. dollars). Also, to understand the consumption/ demand created by consumers of polyvinyl alcohol films between 2019 and 2031.
Market Landscape and Trends:
To identify and infer the drivers, restraints, opportunities, and challenges for the global polyvinyl alcohol films market
Market Influencing Factors:
To find out the factors which are affecting the sales of polyvinyl alcohol films among consumers
To identify and understand the various factors involved in the global polyvinyl alcohol films market affected by the pandemic
To provide a detailed insight into the major companies operating in the market. The profiling will include the financial health of the company's past 2-3 years with segmental and regional revenue breakup, product offering, recent developments, SWOT analysis, and key strategies.
Intended Audience
Customers

Management/Executives

Healthcare Professionals

Industry Professionals

Retailers, Wholesalers, and Distributors

Governments, Associations, and Industrial Bodies

Investors and Trade Experts
Research Methodology
Our research methodology has always been the key differentiating reason which sets us apart in comparison from the competing organizations in the industry. Our organization believes in consistency along with quality and establishing a new level with every new report we generate; our methods are acclaimed and the data/information inside the report is coveted. Our research methodology involves a combination of primary and secondary research methods. Data procurement is one of the most extensive stages in our research process. Our organization helps in assisting the clients to find the opportunities by examining the market across the globe coupled with providing economic statistics for each and every region. The reports generated and published are based on primary & secondary research. In secondary research, we gather data for global Market through white papers, case studies, blogs, reference customers, news, articles, press releases, white papers, and research studies. We also have our paid data applications which includes hoovers, Bloomberg business week, Avention, and others.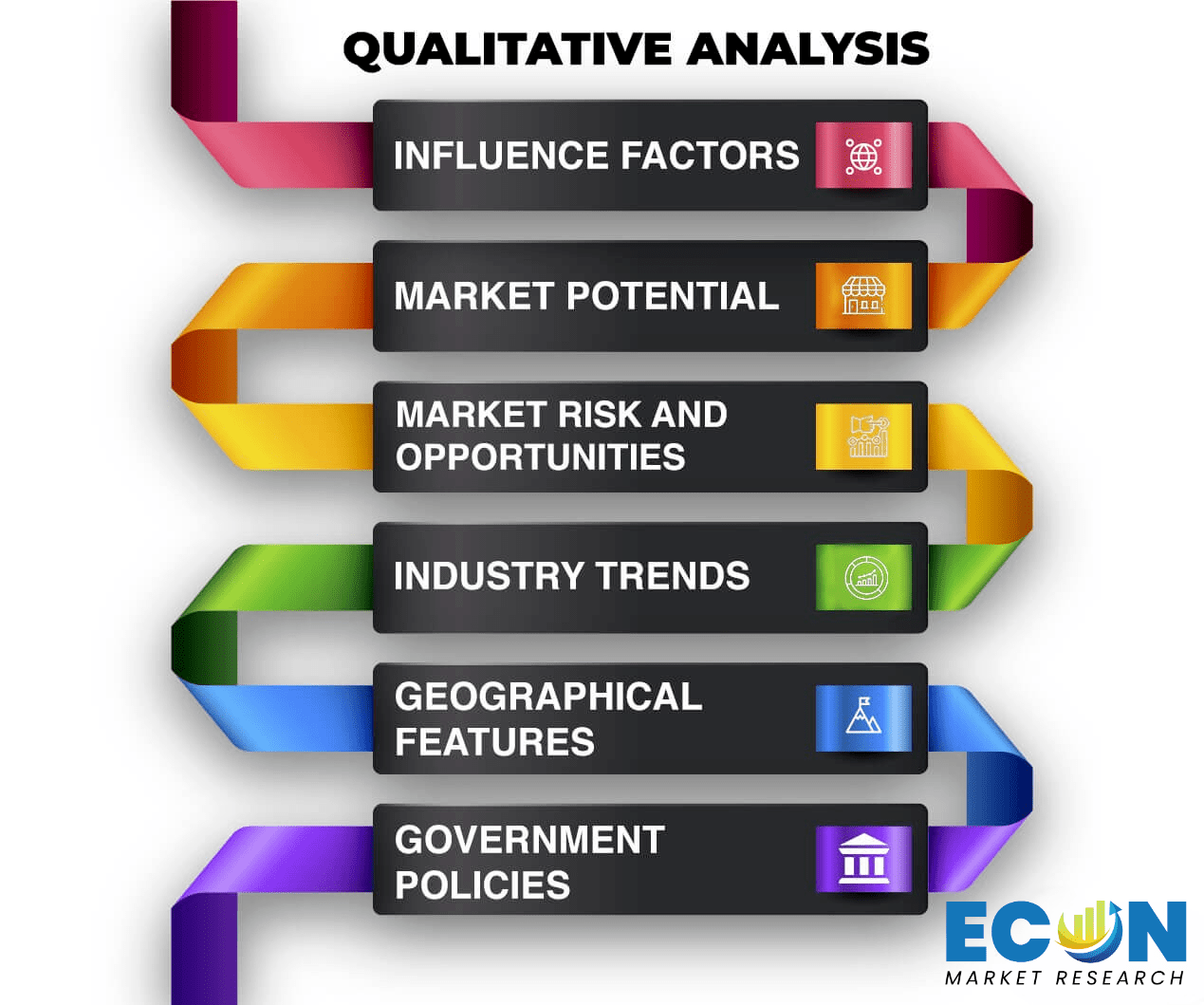 Data Collection
Data collection is the process of gathering, measuring, and analyzing accurate and relevant data from a variety of sources to analyze market and forecast trends. Raw market data is obtained on a broad front. Data is continuously extracted and filtered to ensure only validated and authenticated sources are considered. Data is mined from a varied host of sources including secondary and primary sources.

Primary Research
After the secondary research process, we initiate the primary research phase in which we interact with companies operating within the market space. We interact with related industries to understand the factors that can drive or hamper a market. Exhaustive primary interviews are conducted. Various sources from both the supply and demand sides are interviewed to obtain qualitative and quantitative information for a report which includes suppliers, product providers, domain experts, CEOs, vice presidents, marketing & sales directors, Type & innovation directors, and related key executives from various key companies to ensure a holistic and unbiased picture of the market. 
Secondary Research
A secondary research process is conducted to identify and collect information useful for the extensive, technical, market-oriented, and comprehensive study of the market. Secondary sources include published market studies, competitive information, white papers, analyst reports, government agencies, industry and trade associations, media sources, chambers of commerce, newsletters, trade publications, magazines, Bloomberg BusinessWeek, Factiva, D&B, annual reports, company house documents, investor presentations, articles, journals, blogs, and SEC filings of companies, newspapers, and so on. We have assigned weights to these parameters and quantified their market impacts using the weighted average analysis to derive the expected market growth rate.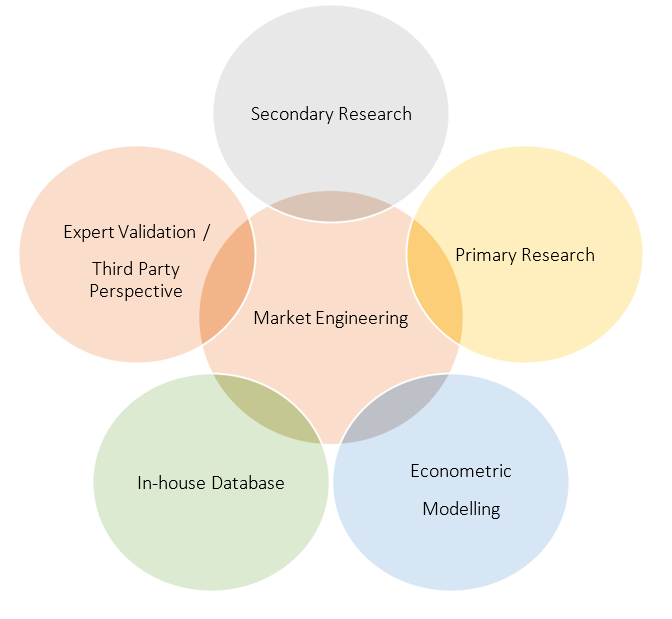 Top-Down Approach & Bottom-Up Approach
In the top – down approach, the Global Batteries for Solar Energy Storage Market was further divided into various segments on the basis of the percentage share of each segment. This approach helped in arriving at the market size of each segment globally. The segments market size was further broken down in the regional market size of each segment and sub-segments. The sub-segments were further broken down to country level market. The market size arrived using this approach was then crosschecked with the market size arrived by using bottom-up approach.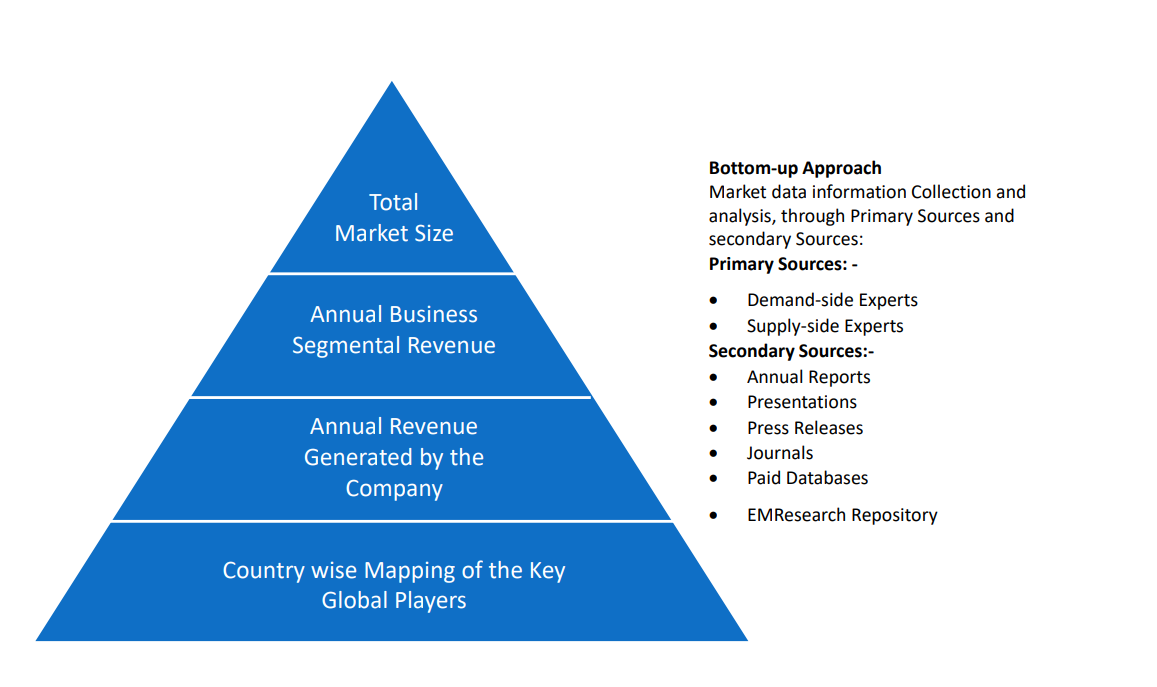 In the bottom-up approach, we arrived at the country market size by identifying the revenues and market shares of the key market players. The country market sizes then were added up to arrive at regional market size of the decorated apparel, which eventually added up to arrive at global market size.
This is one of the most reliable methods as the information is directly obtained from the key players in the market and is based on the primary interviews from the key opinion leaders associated with the firms considered in the research. Furthermore, the data obtained from the company sources and the primary respondents was validated through secondary sources including government publications and Bloomberg.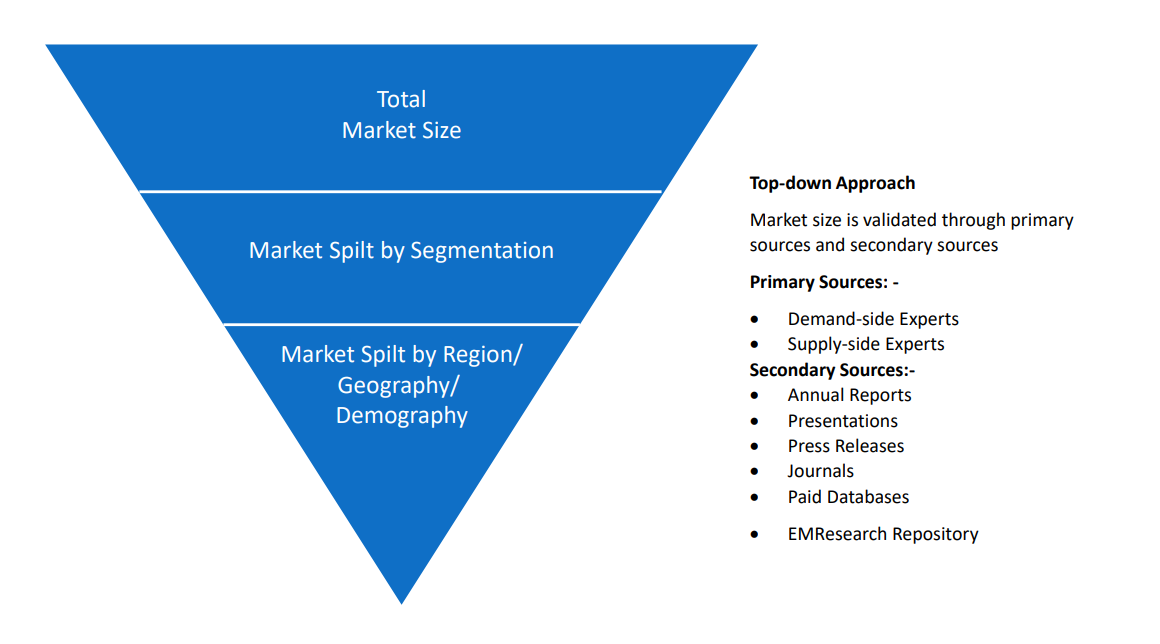 Market Analysis & size Estimation
Post the data mining stage, we gather our findings and analyze them, filtering out relevant insights. These are evaluated across research teams and industry experts. All this data is collected and evaluated by our analysts. The key players in the industry or markets are identified through extensive primary and secondary research. All percentage share splits, and breakdowns have been determined using secondary sources and verified through primary sources. The market size, in terms of value and volume, is determined through primary and secondary research processes, and forecasting models including the time series model, econometric model, judgmental forecasting model, the Delphi method, among Flywheel Energy Storage. Gathered information for market analysis, competitive landscape, growth trends, product development, and pricing trends is fed into the model and analyzed simultaneously.
Quality Checking & Final Review
The analysis done by the research team is further reviewed to check for the accuracy of the data provided to ensure the clients' requirements. This approach provides essential checks and balances which facilitate the production of quality data. This Type of revision was done in two phases for the authenticity of the data and negligible errors in the report. After quality checking, the report is reviewed to look after the presentation, Type and to recheck if all the requirements of the clients were addressed.