The global pet food packaging market was valued at USD 10.90 billion in 2022 and is estimated to reach approximately USD 17.85 billion by 2031, at a CAGR of 5.6% from 2023 to 2031.
The market for pet food packaging has grown and changed significantly over the years due to the growing need for pet food items to be packaged in high-quality and practical ways. This market is essential to maintaining the nutritional value and freshness of pet food while also guaranteeing product safety. Pet food packaging comes in a variety of forms and materials, such as pouches, cans, and bags, among others. To satisfy the varied demands of pet owners, manufacturers are constantly coming up with new ideas. Some of these ideas include eco-friendly materials, single-serving alternatives, and resealable packaging. The humanization of pets, growing pet ownership rates, and growing knowledge of pet nutrition and health are some of the causes driving the market's expansion. In addition, the surge in e-commerce has raised the need for effective packing options that can survive the rigors of internet delivery. The pet food packaging industry is seeing a rise in the importance of sustainability, with recyclable materials and less plastic being used to minimize environmental effect. It is anticipated that the packaging industry will adapt and innovate to accommodate the changing demands and preferences of pet owners as the pet food market continues to grow and change, making it a dynamic and promising area of the packaging industry.
PET FOOD PACKAGING MARKET: REPORT SCOPE & SEGMENTATION
| | |
| --- | --- |
| Report Attribute | Details |
| Estimated Market Value (2022) | 10.90 Bn |
| Projected Market Value (2031) | 17.85 Bn |
| Base Year | 2022 |
| Forecast Years | 2023 - 2031 |
| Scope of the Report | Historical and Forecast Trends, Industry Drivers and Constraints, Historical and Forecast Market Analysis by Segment- By Material Type, By Food Type, By Product, By Animal Type, & Region |
| Segments Covered | By Material Type, By Food Type, By Product, By Animal Type, & Region |
| Forecast Units | Value (USD Billion or Million), and Volume (Units) |
| Quantitative Units | Revenue in USD million/billion and CAGR from 2023 to 2031 |
| Regions Covered | North America, Europe, Asia Pacific, Latin America, and Middle East & Africa, and the Rest of World |
| Countries Covered | U.S., Canada, Mexico, U.K., Germany, France, Italy, Spain, China, India, Japan, South Korea, Brazil, Argentina, GCC Countries, and South Africa, among others |
| Report Coverage | Market growth drivers, restraints, opportunities, Porter's five forces analysis, PEST analysis, value chain analysis, regulatory landscape, market attractiveness analysis by segments and region, company market share analysis, and COVID-19 impact analysis. |
| Delivery Format | Delivered as an attached PDF and Excel through email, according to the purchase option. |
Global Pet Food Packaging Market Dynamics
The market for pet food packaging is dynamic and ever-changing, driven by a number of important variables. First and foremost, consumer trends and needs are met with great responsiveness by the market. Pet owners are looking for packaging that aligns with their ideals as they grow more environmentally conscious and health sensitive. As a result, there has been a movement toward portion-controlled, smaller container solutions and environmentally friendly, sustainable packaging materials. The dynamics of the market have also been significantly impacted by e-commerce. The creation of robust and protective packaging choices was prompted by the boom in online pet food selling, which called for packaging solutions that could endure the difficulties of shipping and handling. The market is significantly shaped by regulatory adjustments and pet food safety regulations. To guarantee the quality and safety of pet food products, manufacturers are subject to stringent laws, which has prompted advancements in the design of airtight and tamper-evident packaging. In addition, in this cutthroat market, branding and product distinction are critical. Consumer attraction and retention depend on appealing and educational packaging designs, as well as the provision of advantages, nutritional data, and product details. All things considered, e-commerce trends, consumer preferences, legal requirements, and marketing tactics all influence the pet food packaging industry. Businesses that want to succeed in this quickly changing sector must be able to adjust to these changes.
Global Pet Food Packaging Market Drivers
Increasing Consumer Demand for Health and Nutrition
Pet owners are placing a greater focus on their pets' health and wellbeing because they perceive their animals as part of the family. The need for pet food items that not only nourish but also cater to particular health problems and dietary requirements has increased as a result of this shift in attitude. Pet food packaging is therefore crucial for communicating important nutritional facts and product quality. Nowadays, customers are closely reading labels on packaging to determine ingredients, nutrient levels, and any specific dietary features that meet the particular needs of their pets. Manufacturers of pet food are now more concerned with transparency and educational packaging as a result of this trend. To satisfy the picky needs of pet owners, they are implementing succinct and clear labeling, emphasizing the advantages of their goods, and offering advice on portion control. The demand for natural and organic foods, as well as the avoidance of additives and artificial preservatives, are all influenced by concerns about health and nutrition. Sustainable packaging materials are also becoming more popular, as they are frequently linked to environmentally conscientious and health-sensitive consumers.
Eco-Friendly and Sustainable Packaging
Pet owners are becoming more environmentally aware and worried about how their purchases will affect the environment. This has resulted in a high demand for environmentally friendly pet food packaging. Biodegradable plastics, compostable alternatives, and recyclable packaging are examples of eco-friendly packaging materials that are becoming more and more popular. These products appeal to customers who wish to make moral decisions for the environment and their pets in addition to lowering the carbon footprint. Packaging sustainability involves more than just materials; it also includes things like using less plastic, designing packages to be transported as efficiently as possible, and using energy-efficient production techniques. The total environmental friendliness of pet food packaging can be improved by such actions. The adoption of green packaging solutions is being encouraged by industry standards and regulatory authorities that are advocating for more sustainable practices. Eco-friendly packaging is a popular way for firms to demonstrate their dedication to sustainability, boost their brand recognition, and attract environmentally concerned customers.
Restraints:
High Initial

I

nvestment and

P

roduction Costs
These expenses cover a range of expenses, such as the development of novel packaging materials and technologies, the acquisition of specialized machinery and equipment, and the use of quality control procedures in compliance with regulatory requirements. One of the main causes of these expenses is the need for environmentally friendly and sustainable packaging materials. Although consumers choose eco-friendly products, these materials frequently necessitate large expenditures in new production techniques and resource procurement. For instance, the production of recyclable and biodegradable packaging can require the creation of new supply chains and the reconfiguration of production facilities to make room for these materials. Furthermore, it might be expensive to maintain compliance with strict quality control and pet food safety rules. In order to make sure that the packaging materials and procedures fulfill the necessary standards, this involves making investments in testing, quality assurance, and record-keeping systems. Higher starting costs may make it more difficult for smaller companies to enter the market, which would reduce competition and innovation. Moreover, the requirement to recoup these significant investments can result in increased product costs, which could affect the affordability of goods for consumers.
Material Supply Chain Disruptions
Numerous things, such as natural disasters, changes in the world economy, trade disputes, or even unforeseen events like the COVID-19 pandemic, might cause these disruptions. These hiccups may have a significant impact on where packaging materials are sourced, produced, and distributed. The volatility and unpredictability of material costs is a major problem resulting from disturbances in the material supply chain. The cost structure of pet food packaging producers may be impacted by abrupt shortages or spikes in the demand for packaging materials, which can cause large price changes. Financial hardship, lowered profit margins, or the requirement to pass these higher costs forward to customers are possible outcomes of this. Furthermore, delays in the manufacture and delivery of pet food packaging materials may result from disturbances in the supply chain. This not only affects manufacturing schedules but can also result in inventory shortages, potentially leading to lost sales opportunities or product stockouts.
Opportunities:
Innovative Sustainable Materials
Manufacturers are investigating and implementing innovative, sustainable ways to lessen the environmental impact of their products as consumer demand for environmentally friendly packaging materials rises. A significant opportunity is found in the creation and application of materials that are compostable, biodegradable, or derived from renewable resources. Due to their natural breakdown and ability to be recycled back into the ecosystem, these materials have the advantage of drastically lowering the environmental effect of packaging. Pet food products packaged in such materials may have an advantage over competitors as consumers grow more conscious of the value of sustainability. Additionally, cutting-edge sustainable materials present chances for customer loyalty and brand distinction. Businesses that use these materials can market themselves as environmentally conscious, which appeals to customers who respect moral decisions. Additionally, companies who use sustainable materials early on can gain favorable press attention and acknowledgment for their dedication to environmental stewardship. These materials can also result in cost-saving opportunities due to increased supply chain efficiency, lower waste disposal costs, and compliance with laws supporting environmentally friendly practices.
Smart Packaging Solutions
The experience of pet food is improved by smart packaging, which comes with a number of features like freshness indicators, RFID tags, and QR codes. Enhanced customer involvement and engagement is one of the main opportunities. With just a smartphone code scan, pet owners can obtain important details regarding smart packaging, such as the product's nutritional composition, sourcing, and serving suggestions. In addition to giving customers the power to make educated decisions, this promotes openness and confidence between brands and their patrons. Smart packaging can also improve traceability along the entire supply chain. For example, RFID tags enable improved inventory management and quality control by giving real-time information on the location and state of pet food supplies.By extending the shelf life of pet food products and minimizing food waste, freshness indicators integrated into smart packaging can help producers and ecologically aware consumers alike.
Segment Overview
By Material Type
Based on material type, the global pet food packaging market is divided into paper and paperboard, plastic, metal. The paper and paperboard category dominates the market with the largest revenue share in 2022. This category includes various types of cardboard and paper materials used for pet food packaging. Paper-based packaging is favored for its eco-friendliness and recyclability, aligning with the growing demand for sustainable solutions. It is often used for dry pet foods like kibble and treats, with options such as bags, cartons, and boxes. The paper and paperboard segment appeals to consumers seeking eco-conscious packaging and is well-suited for products emphasizing natural and organic ingredients. Plastic packaging dominates a significant portion of the pet food market due to its versatility, durability, and cost-effectiveness. It is commonly used for wet and semi-moist pet food products, offering excellent moisture and oxygen barrier properties that help extend shelf life. Additionally, plastic packaging can incorporate various features like resealable closures, portion control, and easy-to-carry designs, enhancing convenience for pet owners. Metal packaging, primarily in the form of cans, is a traditional choice for wet pet foods. It provides excellent protection against moisture, light, and air, ensuring the long-term preservation of the product. Metal packaging is known for its durability and tamper-evident features, making it a reliable choice for pet food manufacturers concerned with product safety.
By Food Type
Based on the food type, the global pet food packaging market is categorized into dry food, wet food, others. The dry food category leads the global pet food packaging market with the largest revenue share in 2022. This segment encompasses packaging solutions designed for dry pet food products such as kibble, biscuits, and crunchy treats. Dry food packaging often includes materials like paper bags, plastic bags, and cardboard boxes. These packages are chosen for their ability to maintain product freshness and provide protection from environmental factors, such as air and moisture. Additionally, many dry pet food packages incorporate features like resealable closures to keep the contents fresh after the initial opening. Wet pet food, which includes products like canned food and pouches containing moist and semi-moist formulations, requires specialized packaging. Metal cans, aluminum trays, and flexible pouches with foil layers are commonly used in this segment. These packaging materials offer effective moisture and oxygen barrier properties, ensuring the preservation of the product's texture and flavor. They also provide tamper-evident features for product safety.
By Product
Based on product, the global pet food packaging market is segmented into cans, bags & pouches, folding cartons. The bags & pouches segment dominates the pet food packaging market. Bags and pouches are versatile packaging options used for various types of pet food, including dry kibble, semi-moist, and treats. These packages can be made from a range of materials, including plastic, paper, and flexible laminates. Bags and pouches often feature resealable closures, ensuring that the pet food remains fresh and preventing spills. Their flexibility and lightweight nature make them popular choices for consumers looking for convenient storage solutions. Cans are a prevalent packaging format for wet and canned pet food. These are typically made of metal, often aluminum or steel, and offer robust protection against environmental factors like air and moisture. Cans are known for their ability to maintain product freshness, provide a long shelf life, and deliver tamper-evident features, ensuring the safety and integrity of the contents. They are especially popular for moist pet food products and are valued for their durability and convenience. Folding cartons are commonly used for dry pet food products, such as kibble and treats. They are typically made from paperboard or cardboard and offer an eco-friendly and sustainable packaging solution. Folding cartons are valued for their ability to display product information, branding, and marketing messages effectively. They are often chosen when brands want to convey a natural and premium image for their pet food products.
By Animal Type
Based on animal type, the global pet food packaging market is divided into dogs, cats, others. The dogs category dominates the market with the largest revenue share in 2022. This segment encompasses packaging solutions specifically designed for dog food products. These can include various packaging formats such as cans, bags, pouches, or folding cartons, depending on the type of dog food, whether it's dry kibble, wet food, or treats. Packaging for dog food often features images, branding, and messaging that appeals to dog owners and addresses the dietary and taste preferences of dogs. Similarly, the cat segment focuses on packaging for cat food products. Cat food packaging varies according to the form of the food, which can be dry kibble, wet food in cans or pouches, or cat treats. The packaging in this category emphasizes features that attract cat owners and meet the specific nutritional needs and taste preferences of cats.
Global Pet Food Packaging Market Overview by Region
The global pet food packaging market is categorized into North America, Europe, Asia-Pacific, and the Rest of the World. Asia-Pacific emerged as the leading region, capturing the largest market share in 2022. The Asia-Pacific pet food market has undergone a dramatic transition in recent years due to urbanization, which has increased disposable income and altered lifestyles. The market for pet food packaging is significantly driven by the rise in pet ownership in this area. Pets are becoming more and more common in homes, and this has increased demand for a wide range of specialty pet food products. Packaging solutions that maintain product quality, guarantee safety, and follow international trends like sustainability are also in demand. Furthermore, the trend toward natural and high-end pet food options has spurred creativity in the materials and designs of packaging. Asia-Pacific consumers are looking for items that represent a comprehensive approach to the health and welfare of their pets more and more.As a result, convenient packaging formats, cutting-edge barrier technologies, and environmentally friendly packaging materials have been adopted to meet these changing desires. Furthermore, with the region's e-commerce industry continuing to grow, there is an increasing need for packaging solutions that can survive the rigors of online delivery. The adoption of robust and protective packaging materials that are ideal for the digital retail environment has been promoted by this trend.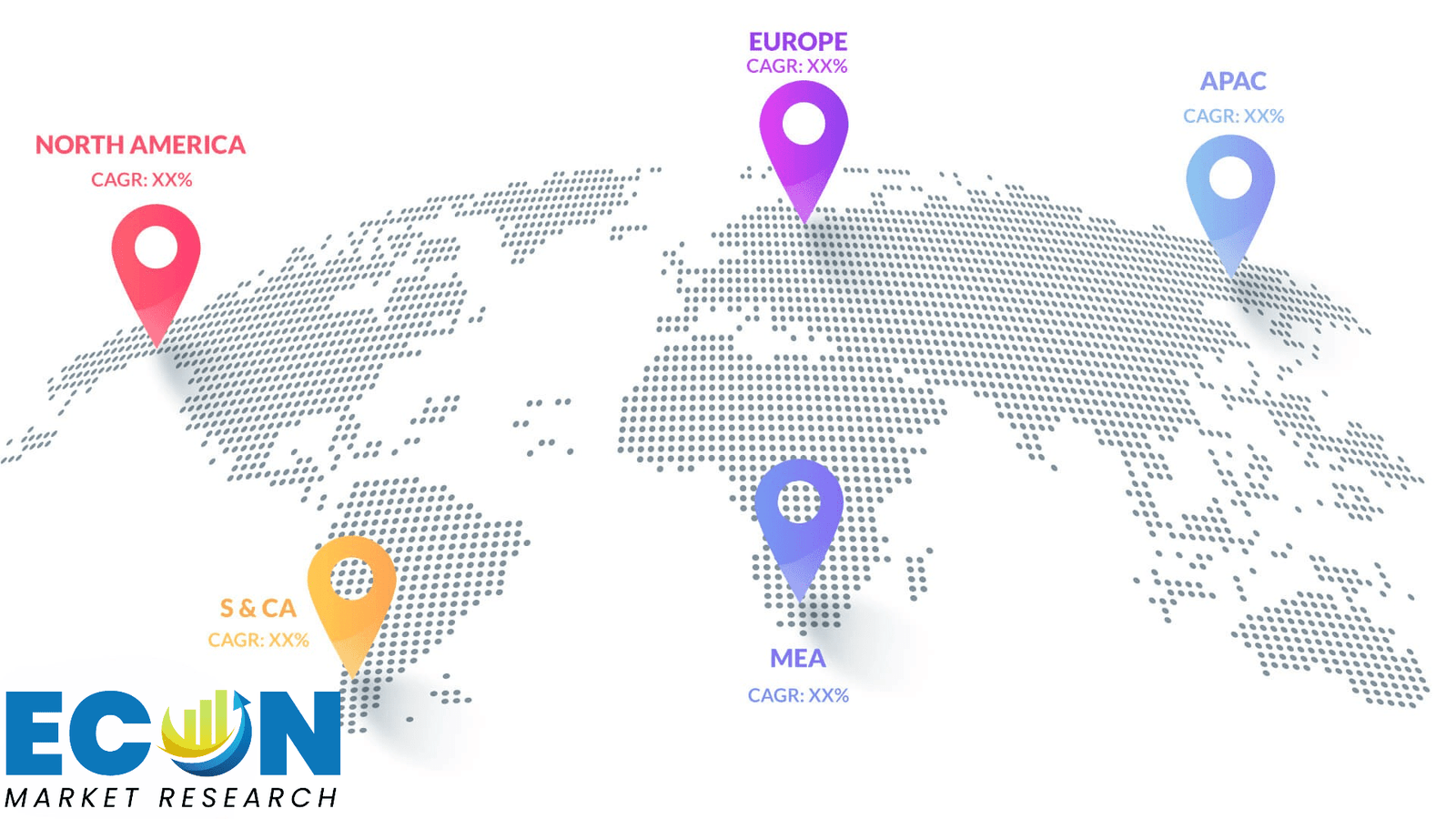 Global Pet Food Packaging Market Competitive Landscape
In the global pet food packaging market, a few major players exert significant market dominance and have established a strong regional presence. These leading companies remain committed to continuous research and development endeavors and actively engage in strategic growth initiatives, including product development, launches, joint ventures, and partnerships. By pursuing these strategies, these companies aim to strengthen their market position, expand their customer base, and capture a substantial share of the market.
Some of the prominent players in the global pet food packaging market include Amcor Limited, American Packaging Corporation, Berry Plastics, Constantia Flexibles, Crown Holdings, Huhtamaki Flexible Packaging, Mondi Group, ProAmpac, Sonoco Products, WINPAK LTD. , and various other key players.
Global Pet Food Packaging Market Recent Developments
In April 2023, The Multi-Pronged Approach to Sustainability in Pet Food Packaging. Pet food packaging firms can utilize several methods such as compostability, recyclable materials, and post-consumer recycled content to achieve more sustainable packaging.

In May 2023, UPM and Fiorini Packaging collaborate to provide environmentally friendly pet food packaging. experts in paper packaging Pet food products are packaged using high-barrier paper by UPM Speciality Papers and Fiorini Packaging.
Scope of the Global Pet Food Packaging Market Report
Pet Food Packaging Market Report Segmentation
ATTRIBUTE

DETAILS

By Material Type

Paper and Paperboard

Plastic

Metal

By Food Type

By Product

Cans

Bags & Pouches

Folding Cartons

By Animal Type

By Geography

North America (USA,

and Canada)

Europe (UK, Germany, France, Italy, Spain, Russia and Rest of Europe)

Asia Pacific (Japan, China, India, Australia, Southeast Asia and Rest of Asia Pacific)

Latin America (Brazil, Mexico, and Rest of Latin America)

Middle East & Africa (South Africa, GCC, and Rest of Middle East & Africa)

Customization Scope

Pricing
Objectives of the Study
The objectives of the study are summarized in 5 stages. They are as mentioned below:
Global Pet Food Packaging Market

Size and Forecast:
To identify and estimate the market size for the global pet food packaging market segmented by material type, by food type, by product, by animal type, region and by value (in U.S. dollars). Also, to understand the consumption/ demand created by consumers of pet food packaging between 2019 and 2031.
Market Landscape and Trends:
To identify and infer the drivers, restraints, opportunities, and challenges for the global pet food packaging market
Market Influencing Factors:
To find out the factors which are affecting the sales of pet food packaging among consumers
To identify and understand the various factors involved in the global pet food packaging market affected by the pandemic
To provide a detailed insight into the major companies operating in the market. The profiling will include the financial health of the company's past 2-3 years with segmental and regional revenue breakup, product offering, recent developments, SWOT analysis, and key strategies.
Intended Audience
Raw Material Suppliers

Healthcare Professionals

Consumers

Governments, Associations, and Industrial Bodies

Investors and Trade Experts
Research Methodology
Our research methodology has always been the key differentiating reason which sets us apart in comparison from the competing organizations in the industry. Our organization believes in consistency along with quality and establishing a new level with every new report we generate; our methods are acclaimed and the data/information inside the report is coveted. Our research methodology involves a combination of primary and secondary research methods. Data procurement is one of the most extensive stages in our research process. Our organization helps in assisting the clients to find the opportunities by examining the market across the globe coupled with providing economic statistics for each and every region. The reports generated and published are based on primary & secondary research. In secondary research, we gather data for global Market through white papers, case studies, blogs, reference customers, news, articles, press releases, white papers, and research studies. We also have our paid data applications which includes hoovers, Bloomberg business week, Avention, and others.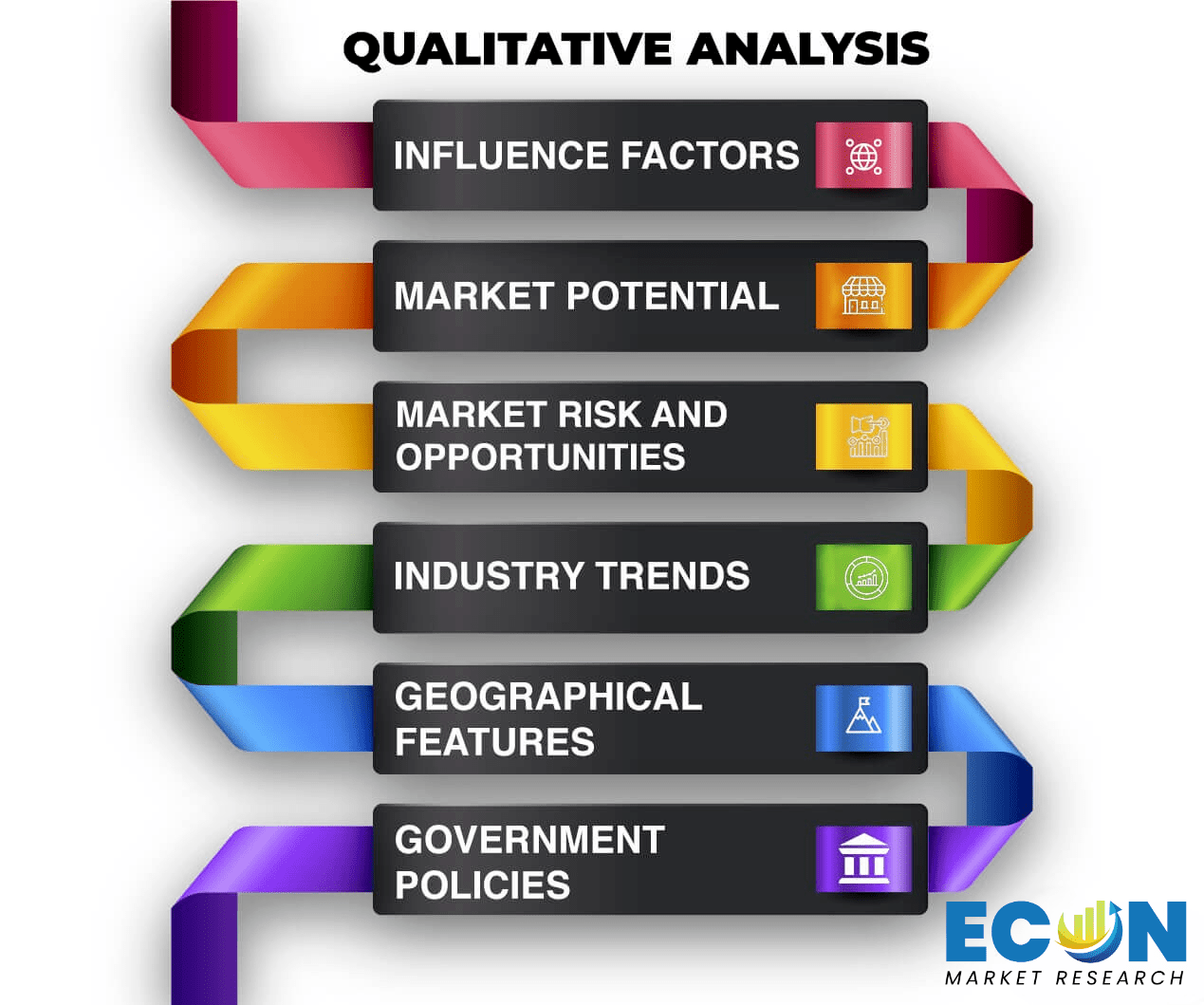 Data Collection
Data collection is the process of gathering, measuring, and analyzing accurate and relevant data from a variety of sources to analyze market and forecast trends. Raw market data is obtained on a broad front. Data is continuously extracted and filtered to ensure only validated and authenticated sources are considered. Data is mined from a varied host of sources including secondary and primary sources.

Primary Research
After the secondary research process, we initiate the primary research phase in which we interact with companies operating within the market space. We interact with related industries to understand the factors that can drive or hamper a market. Exhaustive primary interviews are conducted. Various sources from both the supply and demand sides are interviewed to obtain qualitative and quantitative information for a report which includes suppliers, product providers, domain experts, CEOs, vice presidents, marketing & sales directors, Type & innovation directors, and related key executives from various key companies to ensure a holistic and unbiased picture of the market. 
Secondary Research
A secondary research process is conducted to identify and collect information useful for the extensive, technical, market-oriented, and comprehensive study of the market. Secondary sources include published market studies, competitive information, white papers, analyst reports, government agencies, industry and trade associations, media sources, chambers of commerce, newsletters, trade publications, magazines, Bloomberg BusinessWeek, Factiva, D&B, annual reports, company house documents, investor presentations, articles, journals, blogs, and SEC filings of companies, newspapers, and so on. We have assigned weights to these parameters and quantified their market impacts using the weighted average analysis to derive the expected market growth rate.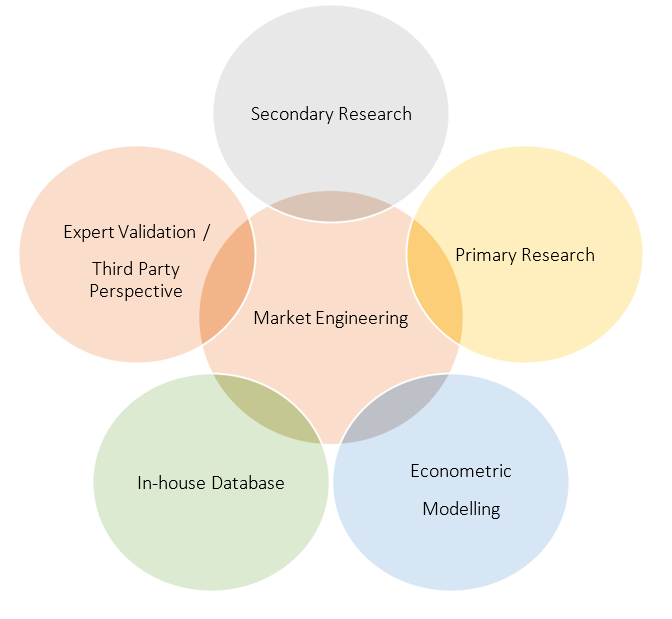 Top-Down Approach & Bottom-Up Approach
In the top – down approach, the Global Batteries for Solar Energy Storage Market was further divided into various segments on the basis of the percentage share of each segment. This approach helped in arriving at the market size of each segment globally. The segments market size was further broken down in the regional market size of each segment and sub-segments. The sub-segments were further broken down to country level market. The market size arrived using this approach was then crosschecked with the market size arrived by using bottom-up approach.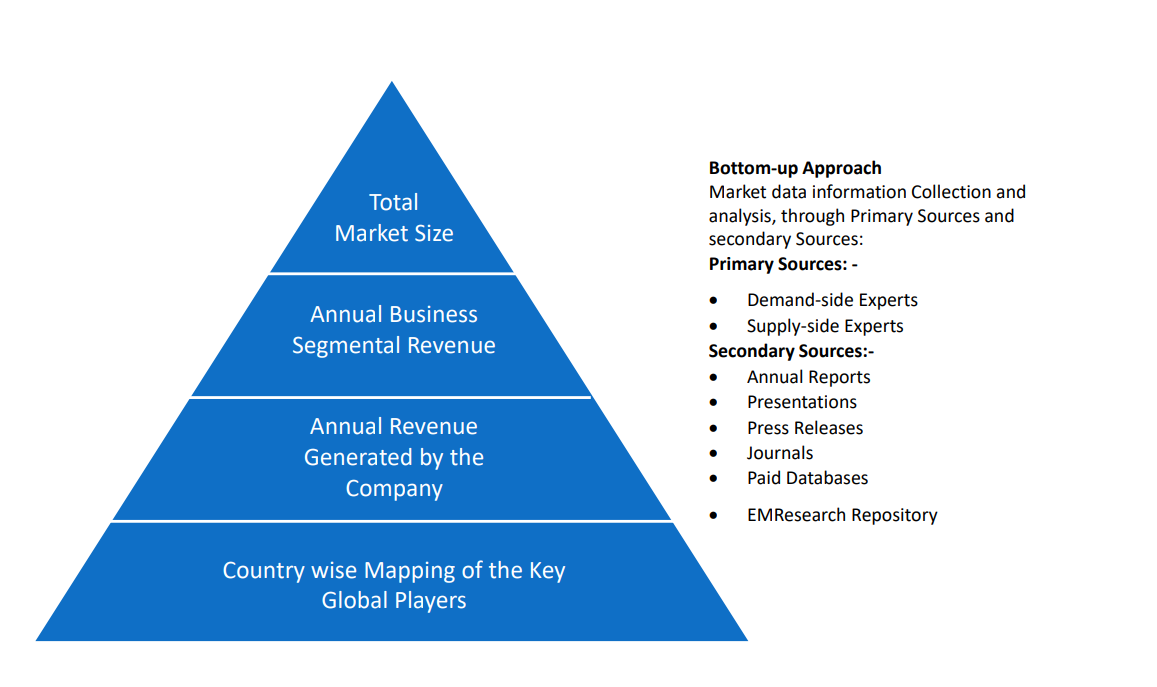 In the bottom-up approach, we arrived at the country market size by identifying the revenues and market shares of the key market players. The country market sizes then were added up to arrive at regional market size of the decorated apparel, which eventually added up to arrive at global market size.
This is one of the most reliable methods as the information is directly obtained from the key players in the market and is based on the primary interviews from the key opinion leaders associated with the firms considered in the research. Furthermore, the data obtained from the company sources and the primary respondents was validated through secondary sources including government publications and Bloomberg.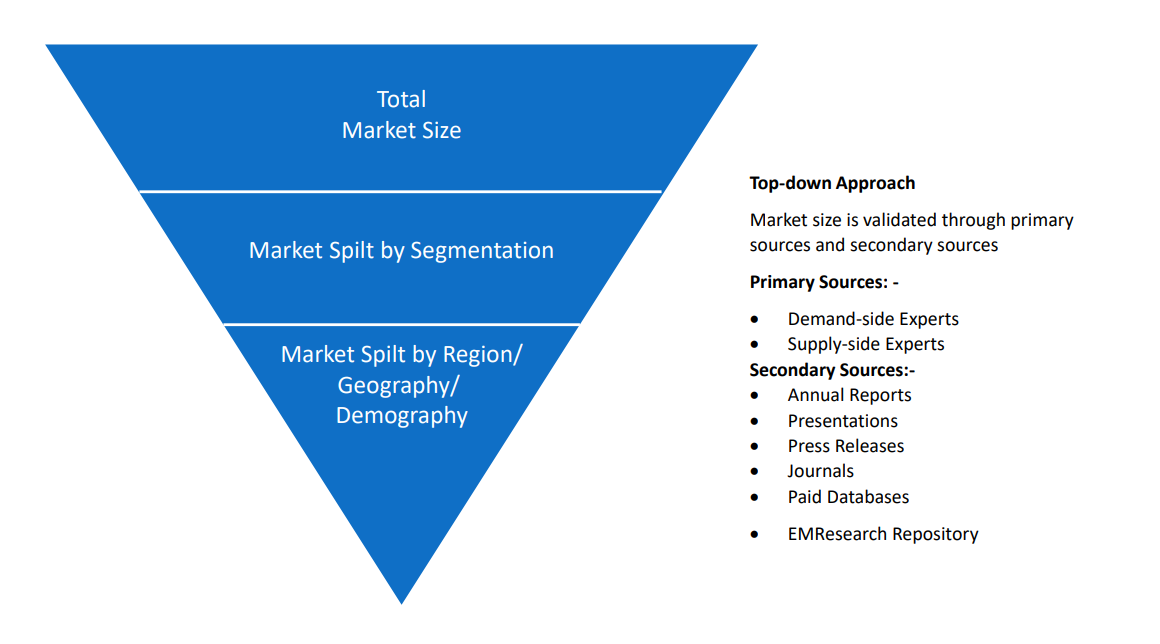 Market Analysis & size Estimation
Post the data mining stage, we gather our findings and analyze them, filtering out relevant insights. These are evaluated across research teams and industry experts. All this data is collected and evaluated by our analysts. The key players in the industry or markets are identified through extensive primary and secondary research. All percentage share splits, and breakdowns have been determined using secondary sources and verified through primary sources. The market size, in terms of value and volume, is determined through primary and secondary research processes, and forecasting models including the time series model, econometric model, judgmental forecasting model, the Delphi method, among Flywheel Energy Storage. Gathered information for market analysis, competitive landscape, growth trends, product development, and pricing trends is fed into the model and analyzed simultaneously.
Quality Checking & Final Review
The analysis done by the research team is further reviewed to check for the accuracy of the data provided to ensure the clients' requirements. This approach provides essential checks and balances which facilitate the production of quality data. This Type of revision was done in two phases for the authenticity of the data and negligible errors in the report. After quality checking, the report is reviewed to look after the presentation, Type and to recheck if all the requirements of the clients were addressed.