The Global Pet Fitness Care Market was valued at USD 5.69 billion in 2022 and is estimated to reach approximately USD 10.64 billion by 2031, at a CAGR of 7.2% from 2023 to 2031. The market for pet fitness care has arisen as a vibrant and quickly expanding sector of the economy devoted to the welfare and health of our cherished animal friends. The focus of pet ownership has significantly changed in recent years from simple companionship to a more holistic strategy that emphasizes their physical and emotional well. This change has led to the development of a wide range of goods and services aimed at ensuring the health and lifespan of pets. Specialized pet meals formulated to meet certain nutritional requirements, wearable fitness trackers and technology to measure activity levels, and a wide range of wellness items like supplements and vitamins are important elements of the pet fitness care business. The industry also includes pet fitness products and services like agility training, physical therapy, and pet-friendly gyms. The demand for creative and excellent pet fitness care solutions has grown as people are becoming more and more aware of how important exercise, diet, and mental stimulation are for pets. Nowadays, pet owners are more likely to spend money on goods and services that improve the general well being and pleasure of their furry friends. The market for pet fitness care is anticipated to grow as human-animal relationships continue to deepen, providing an exciting and promising environment for companies and entrepreneurs devoted to the welfare of our canine friends.
PET FITNESS CARE MARKET MARKET: REPORT SCOPE & SEGMENTATION
| | |
| --- | --- |
| Report Attribute | Details |
| Estimated Market Value (2022) | 5.69 Bn |
| Projected Market Value (2031) | 10.64 Bn |
| Base Year | 2022 |
| Forecast Years | 2023 - 2031 |
| Scope of the Report | Historical and Forecast Trends, Industry Drivers and Constraints, Historical and Forecast Market Analysis by Segment- By Solutions, By Pet Type, & Region |
| Segments Covered | By Solutions, By Pet Type, & Region |
| Forecast Units | Value (USD Billion or Million), and Volume (Units) |
| Quantitative Units | Revenue in USD million/billion and CAGR from 2023 to 2031 |
| Regions Covered | North America, Europe, Asia Pacific, Latin America, and Middle East & Africa, and the Rest of World |
| Countries Covered | U.S., Canada, Mexico, U.K., Germany, France, Italy, Spain, China, India, Japan, South Korea, Brazil, Argentina, GCC Countries, and South Africa, among others |
| Report Coverage | Market growth drivers, restraints, opportunities, Porter's five forces analysis, PEST analysis, value chain analysis, regulatory landscape, market attractiveness analysis by segments and region, company market share analysis, and COVID-19 impact analysis. |
| Delivery Format | Delivered as an attached PDF and Excel through email, according to the purchase option. |
Global Pet Fitness Care Market Dynamics
Pet owners' growing attachment to their animals as part of the family is fueling an increase in demand for high-quality pet fitness care goods and services. This includes luxury pet foods, organic snacks, and nutritional supplements meant to promote the general well being of pets. Technology is increasingly being used in pet care. Smart collars and wearable fitness trackers are becoming more and more popular, enabling pet owners to measure vital signs, keep tabs on their pets' activity levels, and get health information through smartphone apps. Customized pet food options are expanding as a result of pet owners' demand for nutrition solutions that are specifically suited to their animals. Diets that are specifically designed for a pet's breed, age, and medical issues are become easier to find. The adoption of pet insurance is increasing, encouraging pet owners to invest in preventive and fitness care measures to reduce long-term healthcare costs.A handy way for pet owners to obtain a variety of goods, including specialized diets, vitamins, and workout equipment, online shopping for pet fitness care products has boomed. In order to address specific health conditions or enhance general wellness, veterinary clinics are expanding their offerings to include pet fitness care. They provide physical therapy, rehabilitation, and fitness programs. Organic pet foods, biodegradable waste products, and sustainable pet toys are all on the rise as pet owners seek for eco-friendly and natural products for their animals. The prevalence of pet obesity is a growing concern, sparking interest in pet fitness programs and weight management strategies.
Global Pet Fitness Care Market Drivers
The market for pet fitness care is expanding as a result of rising pet ownership. The number of families that consider their pets to be valued members of the family has significantly increased throughout the world. More people are looking for companionship in the form of pets due to changing lifestyles. The demand for dogs as companions and sources of comfort has increased due to urbanization, smaller family sizes, and hectic work schedules. There is widespread acceptance of the advantages of pet ownership for mental and emotional health. Studies have shown that owning dogs can help people feel less stressed, less lonely, and more emotionally supported, especially in today's fast-paced and somewhat isolated society.The demand for pet fitness care goods and services is increasing along with the number of families with pets. The market for pet fitness care is expanding and innovating as more and more pet owners are ready to make financial investments in the health and happiness of their animals. This pattern is anticipated to continue, creating a vibrant and dynamic market for pet fitness services.
Increased Demand for

C

ustomized

P

et

D

iets
A convergence of causes rooted in a profound move towards more individualized and health-conscious pet care are driving the rising demand for customized pet meals. More and more pet owners are realizing that, like people, their furry friends have certain nutritional requirements and preferences. This motivator is supported by a growing understanding of how important nutrition is to pets' general well being. Owners are more likely to go above and above to make sure that their dietary preferences match the specific needs of their pets as pets are viewed as valued family members. The development of data-driven technologies and advancements in veterinary science enable both experts and pet owners to make better dietary choices. Allergies, sensitivities, and health issues among pets also contribute to the demand for tailored diets, allowing pet owners to address these concerns directly through specialized nutrition.
Restraints:
High Costs of Fitness Equipment
The market for pet fitness care is significantly constrained by the high cost of exercise equipment. Pet owners who want to buy things to improve their pets' physical well being frequently run into financial difficulties that prevent them from doing so. Due to their specific design and manufacturing needs, specialized pet fitness equipment including agility courses, underwater treadmills, and interactive toys frequently costs more than average. This may discourage some pet owners, especially those on a tight budget, from looking into these possibilities. Multiple fitness equipment purchases for different facets of pet care, from exercise to cerebral stimulation, can quickly add up in price. This can cause pet owners to choose other pet care costs over fitness gear.
Limited Awareness and Education
There is still a sizable comprehension gap among pet owners regarding the significance of fitness care, despite the increased interest in the health and well-being of pets. The enormous effect that fitness care may have on a pet's general health and longevity can't be fully understood by many pet owners. They are unable to comprehend the link between exercise, mental stimulation, and the welfare of their pets, which might result in a lack of investment in fitness-related goods and services. The inability to find thorough instructional materials and advice on pet fitness care can prevent pet owners from making well-informed choices. Without access to trustworthy information, individuals would find it difficult to design efficient workout programs or select the right goods for their pets.
Opportunities:
Wearable Technology for Pets
The market for pet fitness care offers a substantial opportunity for wearable technologies. These cutting-edge gadgets, like as smart collars, fitness trackers, and GPS tags, offer a number of advantages to pet owners as well as the industry at large. Pet owners can keep an eye on their animals' health and well being in real-time because of wearable technology. Health monitoring tools in fitness trackers can spot anomalies early and potentially save lives, while fitness trackers can track activity levels, assisting owners in making sure their pets get enough exercise. Pet owners can have peace of mind knowing where their animals are at all times thanks to GPS-enabled wearable. This can improve pet safety and is especially useful for preventing missing pets.Moreover, the data collected by these devices can be shared with veterinarians, enabling more accurate diagnoses and treatment plans. This fosters collaboration between pet owners and veterinary professionals, improving overall pet health.
Telemedicine and Remote Monitoring
The market for pet fitness care offers a substantial opportunity for telemedicine and remote monitoring. These technologies revolutionize way pet owners and veterinarians oversee the health of pets by utilizing the potential of connection and digital health. Through telemedicine, pet owners may simply and quickly get veterinarian care, bypassing distance obstacles and lessening the anxiety that comes with in-person appointments. This accessibility encourages pet owners to consult doctors and take care of health issues as soon as they arise, thereby enhancing the well being of pets as a whole. Pet owners can remotely track their pets' vital signs, activity levels, and behaviour using tools like wearable sensors and webcams. With the help of this information, pet owners are more equipped to take charge of their animals' health, spot problems before they become serious, and choose the right diet, exercise regimen, and medical treatments.
Segment Overview
By Solutions
Based on solutions, the global pet fitness care market is divided into products/ equipment, software, and services. The services category dominates the market with the largest revenue share.Services are a critical component of the pet fitness care market, ranging from fitness centers and pet-friendly gyms to rehabilitation therapy and veterinary consultations. Pet owners can access expert guidance and support in managing their pets' fitness needs. Services often include personalized fitness programs tailored to individual pets, addressing specific health concerns and optimizing overall well-being.Software plays a pivotal role in the pet fitness care market. Mobile applications and digital platforms are developed to analyze and visualize data collected from wearable devices. These apps provide pet owners with real-time insights into their pets' fitness, helping them make informed decisions regarding exercise routines and dietary choices. Moreover, software solutions often include telemedicine platforms that allow pet owners to connect with veterinarians and fitness professionals remotely, facilitating personalized fitness and health plans for pets.Product segment comprises physical items designed to enhance the fitness and well-being of pets. It includes fitness trackers and wearable technology such as smart collars that monitor a pet's activity levels and vital signs. Additionally, specialized exercise equipment like agility training kits and interactive toys fall under this category. These products enable pet owners to actively engage their pets in physical activity and track their progress.
By Pet Type
Based on the pet type, the global pet fitness care market is categorized into dogs, cats, and others. The dogs category leads the global pet fitness care market with the largest revenue share. Dogs represent a substantial and highly active segment within the pet fitness care market. They often require regular exercise, making products like fitness trackers, agility training equipment, and specialized exercise routines popular among dog owners. The market for dog fitness care also includes services such as doggy daycare, dog parks, and canine rehabilitation centers. Cat owners often seek interactive toys, laser pointers, and climbing structures to stimulate their pets mentally and physically. Additionally, cat wellness services, such as weight management programs and dietary consultations, cater to their specific health needs.
Global Pet Fitness Care Market Overview by Region
The global pet fitness care market is categorized into North America, Europe, Asia-Pacific, and the Rest of the World. North America emerged as the leading region, capturing the largest market share in 2022. The pet fitness care market is one of the several in which North America has firmly established itself as the leading region. There are many wealthy people who own pets in North America. Because of the cultural change in the area, where pets are now viewed as essential members of the family, there is a healthy market for pet fitness care goods and services. The high standard of living in North America also makes it possible for pet owners to spend money on upscale and specialized pet fitness services. In North America, innovation and technological development have flourished. The market for pet fitness care has been significantly enriched by the introduction of cutting-edge wearable technology, telemedicine options, and smart pet goods. These cutting-edge solutions have been developed at the forefront by North American businesses, further demonstrating the region's leadership. The dominance of the region has also been aided by a strong network of veterinary hospitals and pet care providers across North America. In order to suit the various demands of pet owners, these institutions provide a wide range of pet fitness care services, from rehabilitative treatment to dietary consultations.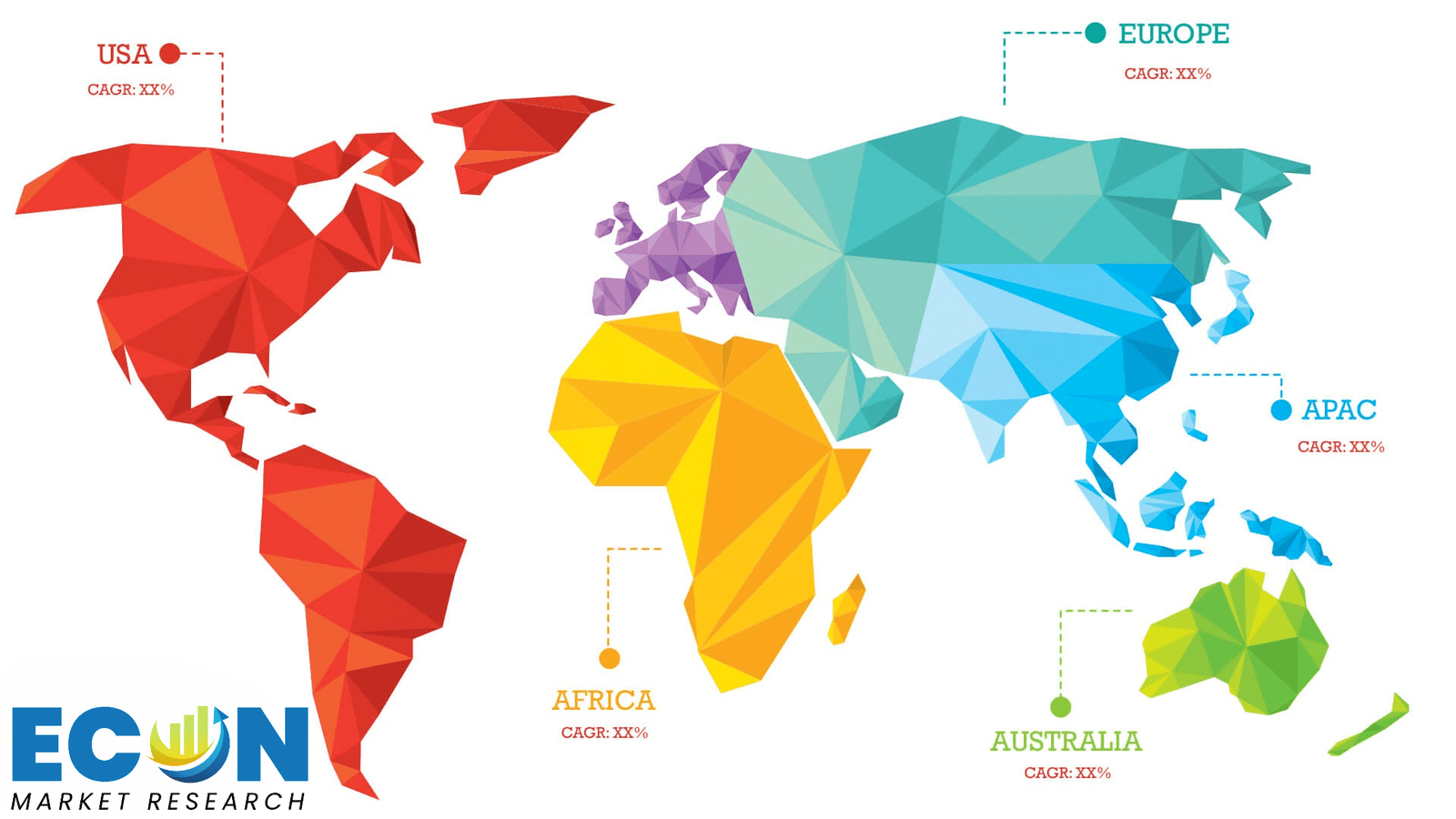 Global Pet Fitness Care Market Competitive Landscape
In the global pet fitness care market, a few major players exert significant market dominance and have established a strong regional presence. These leading companies remain committed to continuous research and development endeavors and actively engage in strategic growth initiatives, including product development, launches, joint ventures, and partnerships. By pursuing these strategies, these companies aim to strengthen their market position, expand their customer base, and capture a substantial share of the market.
Some of the prominent players in the global pet fitness care market include Gyms For Dogs; FitPaws; GoPet, LLC; GoodPup (Rover); dogPACER (International Pet Group); Tractive; Frolick Dogs; Kathy Santo Dog Training; Splash Canine Aquatic Services; Agility by Carlson, and various other key players.
Global Pet Fitness Care Market Recent Developments
In July 2020, Nimble announces the purchase of Waggle Ventures Inc., which powers the largest online pet parent community and assists pet owners in maintaining the health, safety, and fitness of their pets. And is to attract 1,000,000 clients within the following 18 months.
In August 2023, Alphia will be purchased by private equity firm PAI Partners. With the assistance of a financial advisor, the owners of Alphia were considering a sale. Since purchasing C.J. Foods, Alphia's predecessor company, from Trinity Hunt Partners in 2014, J.H. Whitney has owned the business..
Scope of the Global Pet Fitness Care Market Report
Pet Fitness Care Market Report Segmentation
ATTRIBUTE

DETAILS

By Solutions

Products/ Equipment

Software

Services

By Pet Type

By Geography

North America (USA,

and Canada)

Europe (UK, Germany, France, Italy, Spain, Russia and Rest of Europe)

Asia Pacific (Japan, China, India, Australia, Southeast Asia and Rest of Asia Pacific)

Latin America (Brazil, Mexico, and Rest of Latin America)

Middle East & Africa (South Africa, GCC, and Rest of Middle East & Africa)

Customization Scope

Pricing
Objectives of the Study
The objectives of the study are summarized in 5 stages. They are as mentioned below:
Global Pet Fitness Care

Market

Size and Forecast:
To identify and estimate the market size for the global pet fitness care market segmented by solutions, by pet type, region and by value (in U.S. dollars). Also, to understand the consumption/ demand created by consumers of pet fitness care between 2019 and 2031.
Market Landscape and Trends:
To identify and infer the drivers, restraints, opportunities, and challenges for the global pet fitness care market
Market Influencing Factors:
To find out the factors which are affecting the sales of pet fitness care among consumers
To identify and understand the various factors involved in the global pet fitness care market affected by the pandemic
To provide a detailed insight into the major companies operating in the market. The profiling will include the financial health of the company's past 2-3 years with segmental and regional revenue breakup, product offering, recent developments, SWOT analysis, and key strategies.
Intended Audience
Academic Research Papers

Instructional Manual

Retailers, Wholesalers, and Distributors

Governments, Associations, and Industrial Bodies

Investors and Trade Experts
Research Methodology
Our research methodology has always been the key differentiating reason which sets us apart in comparison from the competing organizations in the industry. Our organization believes in consistency along with quality and establishing a new level with every new report we generate; our methods are acclaimed and the data/information inside the report is coveted. Our research methodology involves a combination of primary and secondary research methods. Data procurement is one of the most extensive stages in our research process. Our organization helps in assisting the clients to find the opportunities by examining the market across the globe coupled with providing economic statistics for each and every region. The reports generated and published are based on primary & secondary research. In secondary research, we gather data for global Market through white papers, case studies, blogs, reference customers, news, articles, press releases, white papers, and research studies. We also have our paid data applications which includes hoovers, Bloomberg business week, Avention, and others.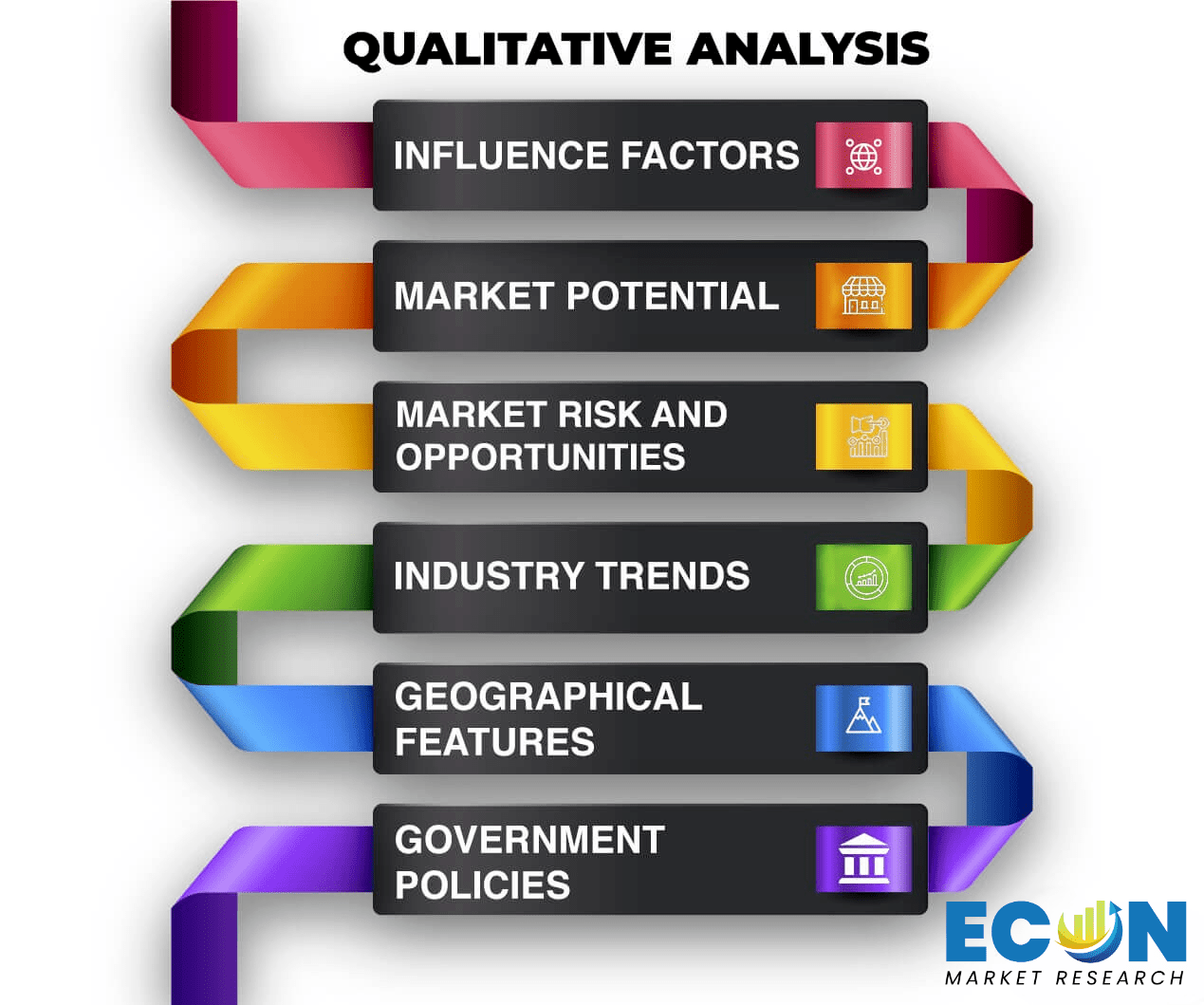 Data Collection
Data collection is the process of gathering, measuring, and analyzing accurate and relevant data from a variety of sources to analyze market and forecast trends. Raw market data is obtained on a broad front. Data is continuously extracted and filtered to ensure only validated and authenticated sources are considered. Data is mined from a varied host of sources including secondary and primary sources.

Primary Research
After the secondary research process, we initiate the primary research phase in which we interact with companies operating within the market space. We interact with related industries to understand the factors that can drive or hamper a market. Exhaustive primary interviews are conducted. Various sources from both the supply and demand sides are interviewed to obtain qualitative and quantitative information for a report which includes suppliers, product providers, domain experts, CEOs, vice presidents, marketing & sales directors, Type & innovation directors, and related key executives from various key companies to ensure a holistic and unbiased picture of the market. 
Secondary Research
A secondary research process is conducted to identify and collect information useful for the extensive, technical, market-oriented, and comprehensive study of the market. Secondary sources include published market studies, competitive information, white papers, analyst reports, government agencies, industry and trade associations, media sources, chambers of commerce, newsletters, trade publications, magazines, Bloomberg BusinessWeek, Factiva, D&B, annual reports, company house documents, investor presentations, articles, journals, blogs, and SEC filings of companies, newspapers, and so on. We have assigned weights to these parameters and quantified their market impacts using the weighted average analysis to derive the expected market growth rate.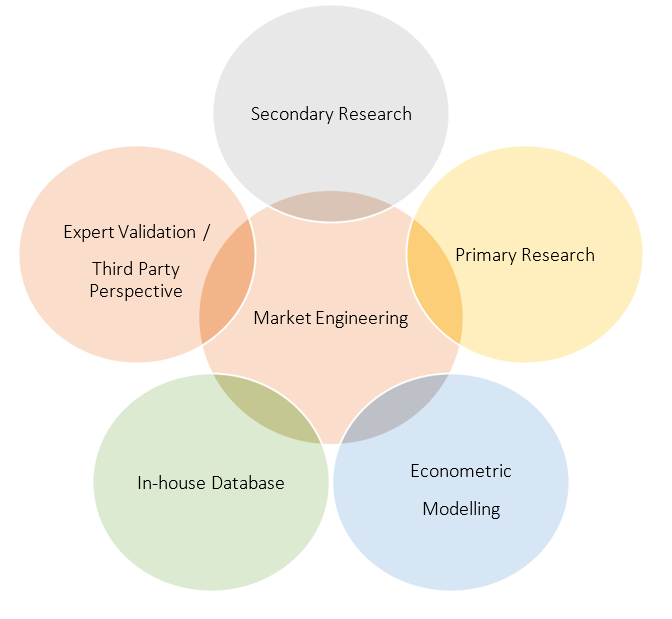 Top-Down Approach & Bottom-Up Approach
In the top – down approach, the Global Batteries for Solar Energy Storage Market was further divided into various segments on the basis of the percentage share of each segment. This approach helped in arriving at the market size of each segment globally. The segments market size was further broken down in the regional market size of each segment and sub-segments. The sub-segments were further broken down to country level market. The market size arrived using this approach was then crosschecked with the market size arrived by using bottom-up approach.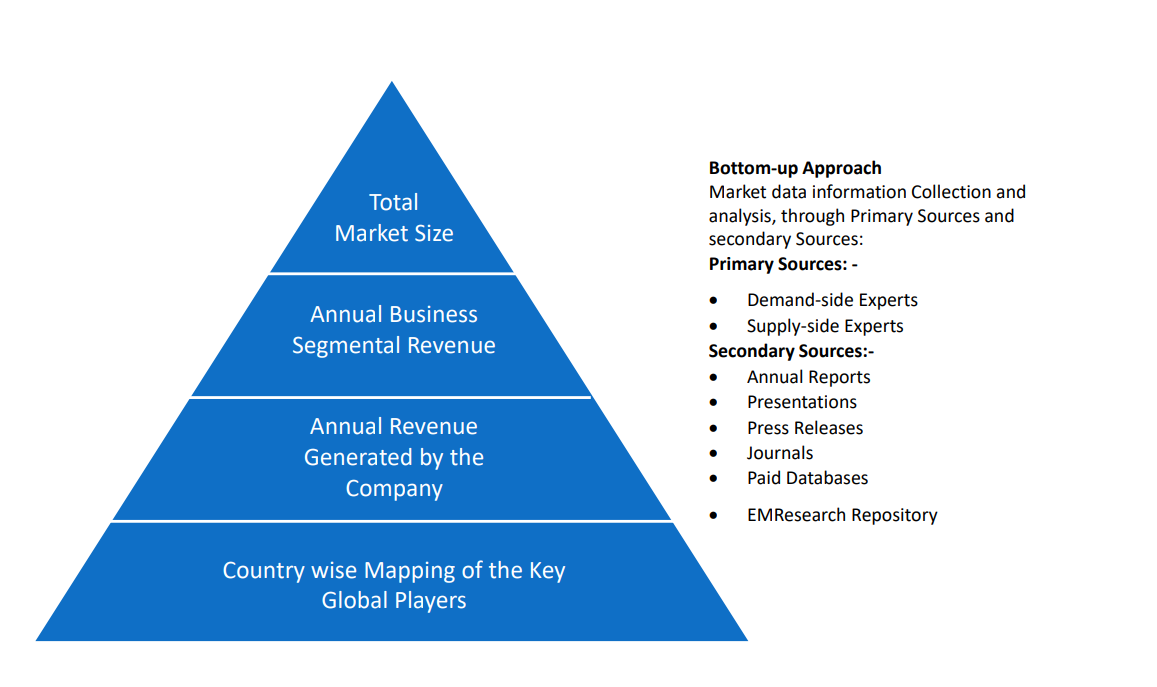 In the bottom-up approach, we arrived at the country market size by identifying the revenues and market shares of the key market players. The country market sizes then were added up to arrive at regional market size of the decorated apparel, which eventually added up to arrive at global market size.
This is one of the most reliable methods as the information is directly obtained from the key players in the market and is based on the primary interviews from the key opinion leaders associated with the firms considered in the research. Furthermore, the data obtained from the company sources and the primary respondents was validated through secondary sources including government publications and Bloomberg.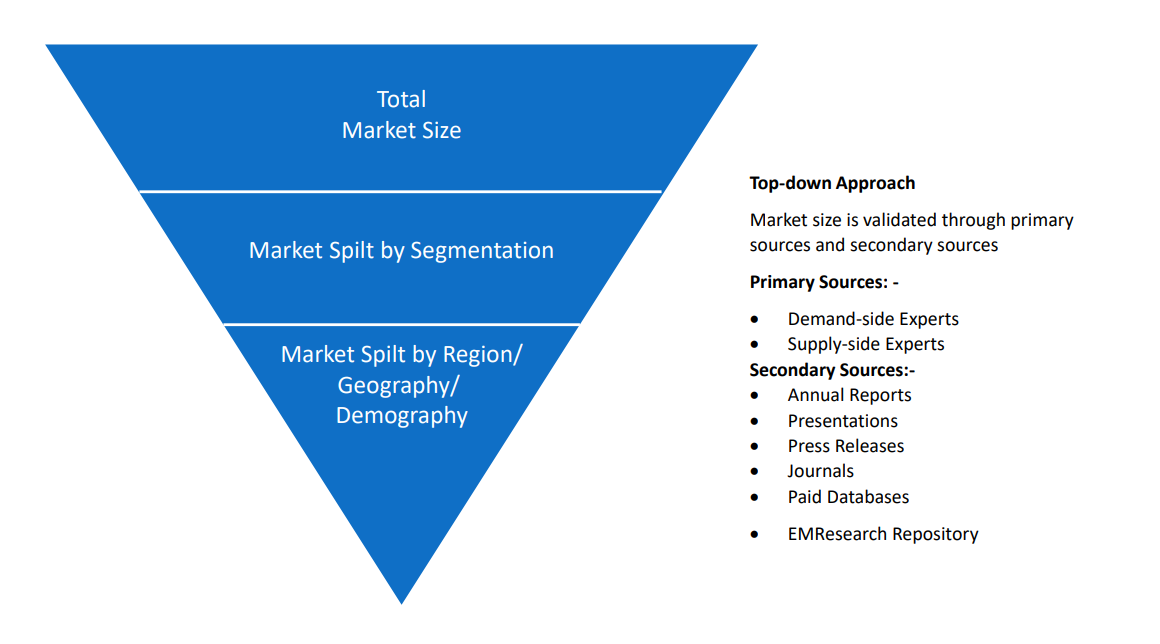 Market Analysis & size Estimation
Post the data mining stage, we gather our findings and analyze them, filtering out relevant insights. These are evaluated across research teams and industry experts. All this data is collected and evaluated by our analysts. The key players in the industry or markets are identified through extensive primary and secondary research. All percentage share splits, and breakdowns have been determined using secondary sources and verified through primary sources. The market size, in terms of value and volume, is determined through primary and secondary research processes, and forecasting models including the time series model, econometric model, judgmental forecasting model, the Delphi method, among Flywheel Energy Storage. Gathered information for market analysis, competitive landscape, growth trends, product development, and pricing trends is fed into the model and analyzed simultaneously.
Quality Checking & Final Review
The analysis done by the research team is further reviewed to check for the accuracy of the data provided to ensure the clients' requirements. This approach provides essential checks and balances which facilitate the production of quality data. This Type of revision was done in two phases for the authenticity of the data and negligible errors in the report. After quality checking, the report is reviewed to look after the presentation, Type and to recheck if all the requirements of the clients were addressed.