The global personal protective equipment (PPE) market was valued at USD 58.2 billion in 2022 and is estimated to reach approximately USD 99.8 billion by 2031, at a CAGR of 6.1% from 2023 to 2031.
The personal protective equipment (PPE) market is a vibrant and quickly growing industry devoted to improving people's safety and wellbeing in a variety of industries. PPE is a broad category of specialized tools and gear created to shield users from a variety of potential risks, such as those posed by physical, chemical, biological, and environmental concerns. This essential market has grown significantly, mostly as a result of factors including increased workplace safety awareness, strict regulatory standards, and reactions to public health emergencies like the COVID-19 epidemic. PPE is an essential part of healthcare environments since it protects both medical staff and patients from pollutants and viruses. PPE is essential for defending employees in industrial fields against mishaps and exposure to dangerous substances. In terms of guaranteeing worker safety in construction, it is crucial. PPE is additionally essential to the protection of workers in many other sectors, including industry, oil & gas, and agriculture. The creation of more sophisticated and comfortable PPE solutions has been facilitated by technological advancements, making them more available and user-friendly. Due to the fact that safety is still a top concern for both individuals and businesses, the PPE market is poised for ongoing expansion and innovation, becoming a crucial component of daily operations across numerous industries.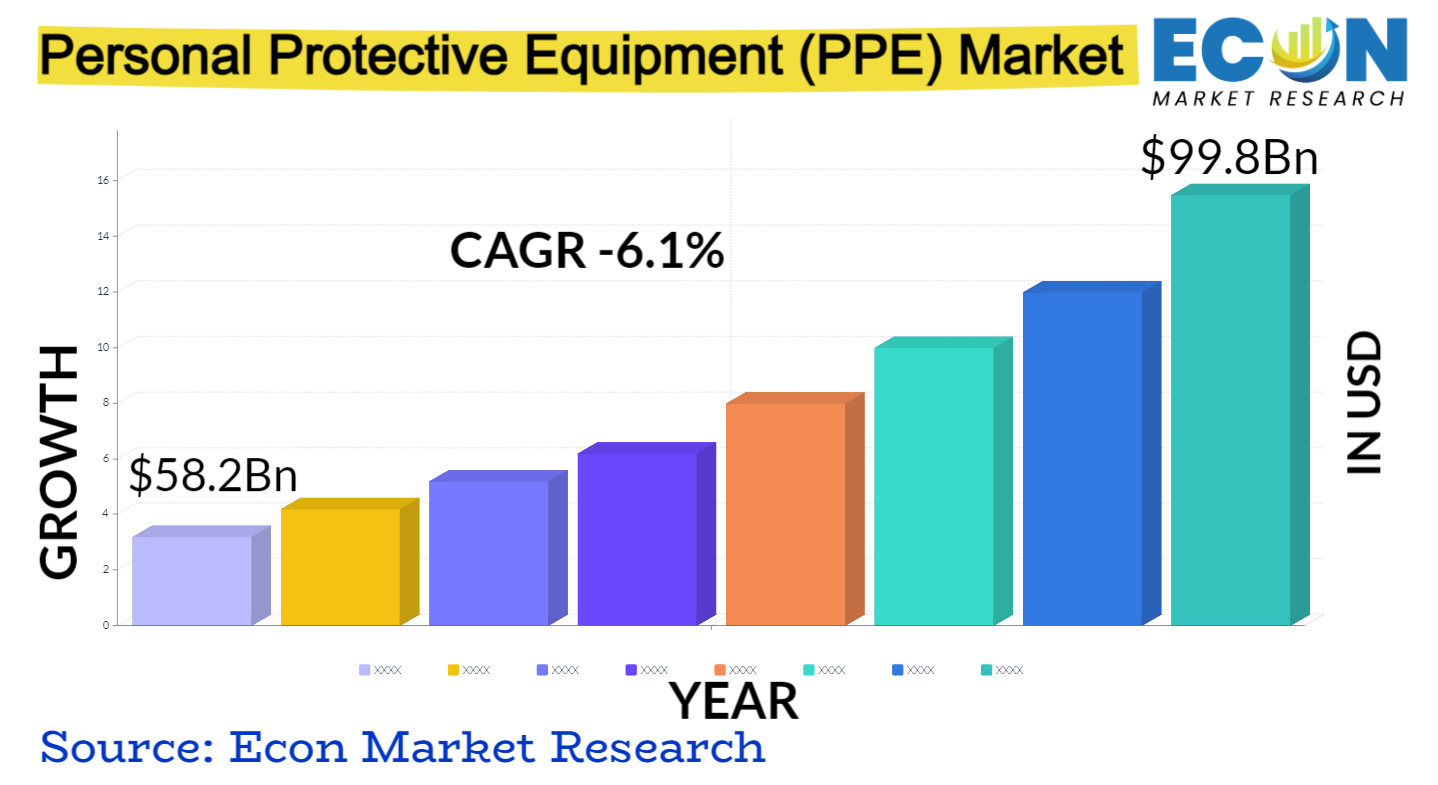 PERSONAL PROTECTIVE EQUIPMENT (PPE)MARKET: REPORT SCOPE & SEGMENTATION
| | |
| --- | --- |
| Report Attribute | Details |
| Estimated Market Value (2022) | 58.2 Bn |
| Projected Market Value (2031) | 99.8 Bn |
| Base Year | 2022 |
| Forecast Years | 2023 - 2031 |
| Scope of the Report | Historical and Forecast Trends, Industry Drivers and Constraints, Historical and Forecast Market Analysis by Segment- By Product Type, By End-Use Industry, & Region |
| Segments Covered | By Product Type, By End-Use Industry, & Region |
| Forecast Units | Value (USD Billion or Million), and Volume (Units) |
| Quantitative Units | Revenue in USD million/billion and CAGR from 2023 to 2031 |
| Regions Covered | North America, Europe, Asia Pacific, Latin America, and Middle East & Africa, and the Rest of World |
| Countries Covered | U.S., Canada, Mexico, U.K., Germany, France, Italy, Spain, China, India, Japan, South Korea, Brazil, Argentina, GCC Countries, and South Africa, among others |
| Report Coverage | Market growth drivers, restraints, opportunities, Porter's five forces analysis, PEST analysis, value chain analysis, regulatory landscape, market attractiveness analysis by segments and region, company market share analysis, and COVID-19 impact analysis. |
| Delivery Format | Delivered as an attached PDF and Excel through email, according to the purchase option. |
Global Personal Protective Equipment (PPE) Market Dynamics
In the PPE industry, strict laws and guidelines governing worker health and safety are crucial. Adoption and innovation of PPE items are significantly influenced by compliance with these requirements. PPE demand is directly correlated with industry trends and particular hazards. For instance, PPE is necessary in the healthcare industry to stop the spread of contagious diseases, while protective gear is needed in the manufacturing and construction industries to prevent bodily harm. The COVID-19 pandemic and other comparable incidents have had a substantial impact on the PPE business by raising the demand for supplies like masks and gloves and highlighting the need of being prepared. Continuous improvements in design and material have produced PPE that is more cosy, enduring, and efficient. Emerging technologies like nanomaterials and smart wearable frequently serve as the catalyst for these developments. The demand for PPE is being driven by an increase in public awareness of the value of workplace safety and a dedication to employee wellbeing. Media coverage of workplace mishaps and safety concerns hastens this even more. Global supply chain dynamics have an impact on the PPE market because numerous PPE products and components are produced in several locations. These supply chain disruptions may affect cost and availability. PPE industry mergers and acquisitions may affect product offerings and market competition. As environmental concerns get greater attention, there is a growing trend towards environmentally friendly PPE materials and sustainable production techniques.
Global Personal Protective Equipment (PPE) Market Drivers
Increasing Awareness about Workplace Safety
This increased awareness is a result of a number of important elements that highlight how crucial it is to protect employees' wellbeing and reduce workplace dangers. Workplace safety is now receiving more attention as employers place a greater emphasis on their employees' physical and emotional wellbeing. Organizations are realising the benefits of a safe and healthy workplace, which include a decrease in workplace accidents and injuries as well as an increase in morale, productivity, and staff retention. Companies have started to engage in extensive safety initiatives and programmes as a result of this realization. The expansion of regulatory requirements and compliance standards is another motivator. Businesses are being forced to prioritize safety measures by governments and industry associations that are enforcing harsher safety rules. Adherence to safety measures is further encouraged by the risk of legal penalties, fines, and reputational harm from non-compliance. Furthermore, the global response to events like the COVID-19 pandemic has spotlighted the significance of health and safety in workplaces. The need for personal protective equipment (PPE) and infectious disease control measures has underscored the importance of preparedness and proactive safety measures.
Growing Industrialization and Construction Activities
Expansion of the manufacturing and industrial sectors within a region or nation is referred to as industrialization. Automation, technological developments, and rising demand for goods and services all contribute to this process. Industry expansion and diversification boost economic stability, stimulate innovation, and open up new job opportunities. Additionally, they frequently result in higher living standards, easier access to quality healthcare, and more extensive educational possibilities for the local populace. Industrialization is accompanied by an increase in construction as infrastructure development becomes crucial for sustaining growing industries and urbanization. Involved in this are the building of homes, businesses, transit systems, and energy infrastructure. The construction industry is vital to economic development, job creation, and improving both the quality of life in urban and rural communities. Simultaneously, industrialization and construction activities contribute to increased demand for raw materials, energy, and resources.
Restraints:
High prices can be a significant barrier to wealth and economic growth. In the corporate world, high operational costs, such as those associated with labour, materials, and infrastructure, can diminish profit margins and impede an organization's ability to grow and compete. High prices for necessities like housing, healthcare, and education can put a burden on household finances and reduce a consumer's overall financial well-being. High prices might hinder access to essential supplies. The cost of medical procedures and pharmaceuticals can make it difficult for people to receive the attention they require in industries like healthcare, potentially resulting in health inequities. Similar to this, prohibitive educational expenditures can prevent people from taking advantage of good learning opportunities, which can limit their potential for both personal and professional development. Moreover, high costs can contribute to social inequalities. Disparities in income and wealth often lead to unequal access to essential services and opportunities, perpetuating socioeconomic gaps.
Natural catastrophes and extreme weather conditions, such hurricanes, earthquakes, and floods, can stop the flow of products, harm infrastructure, and interfere with production. This may result in product delivery delays, higher expenses, and lower overall productivity. Border-crossing commerce may be hampered by uncertainty brought on by geopolitical tensions, trade conflicts, and tariffs. These elements have the potential to destabilize established supply chains, drive up costs, and harm relationships in global trade. The COVID-19 pandemic brought attention to the weakness of international supply systems. Lockdowns, travel restrictions, and quarantine procedures had an influence on the supply of workers, transportation, and production facilities, which resulted in shortages and higher prices for necessities like electronics and personal protective equipment. Moreover, disruptions can be triggered by cyberattacks, data breaches, and other security threats. These can compromise the integrity of supply chain data, causing operational delays and security concerns.
Opportunities:
There are several career opportunities created by the growing healthcare sector. The need for a diversified workforce, including physicians, nurses, technicians, and administrative staff, who can offer stable employment and career opportunities, grows along with healthcare facilities, services, and technologies. Technology improvements and innovation are encouraged by the healthcare sector. Advances in drugs, medical equipment, and medical treatments are made possible by investments in research and development. In addition to enhancing patient care, this innovation, which is frequently fueled by cutting-edge technologies like telemedicine, artificial intelligence, and data analytics, also creates new business opportunities. Opportunities for entrepreneurship and investment are presented by the expanding healthcare industry. Startups and established businesses are creating healthcare-related goods and services to meet the changing demands of customers and healthcare professionals, ranging from medical equipment to digital health apps. The aging population in many countries further fuels healthcare growth, as it necessitates increased healthcare services and specialized care for seniors.
Innovation and Technological Advancements
Technology advancement permits the creation of cutting-edge solutions in numerous industries. Technologies like artificial intelligence, the Internet of Things, and renewable energy sources are beneficial to sectors like healthcare, manufacturing, energy, and transportation. These advances lead to greater sustainability, cost savings, and improved efficiency. Economic growth and new business prospects are fostered by innovation. Startups and existing businesses can use cutting-edge technologies to develop and deliver goods and services that satisfy shifting consumer demands. This competitiveness, competition, and entrepreneurial spirit promote employment growth and economic resiliency. Furthermore, technological development makes collaboration and worldwide connectivity possible. Remote employment, worldwide collaboration, and access to global markets are made possible by digital platforms, cloud computing, and telecommunications. This connection creates opportunities for international trade, knowledge sharing, and company globalization.
Segment Overview
By Product Type
Based on product type, the global personal protective equipment (PPE) market is divided into hands & arm protection equipment, protective clothing, foot & leg protection equipment, respiratory protection equipment, eye & face protection equipment, head protection equipment, other personal protective equipment, hearing protection. The protective clothing category dominates the market with the largest revenue share in 2022. This category encompasses coveralls, suits, aprons, and other clothing designed to shield the wearer from physical, chemical, biological, or environmental hazards. Hands & arm protection equipment this includes gloves and arm coverings designed to protect against various hazards such as chemical exposure, cuts, burns, and punctures. Protective clothing this category encompasses coveralls, suits, aprons, and other clothing designed to shield the wearer from physical, chemical, biological, or environmental hazards. Respiratory protection equipment this category involves masks, respirators, and breathing apparatus to safeguard against inhaling harmful gases, dust, particulates, and chemical vapors. Safety goggles, face shields, and eye protectors are designed to prevent eye and face injuries caused by flying particles, chemical splashes, and other hazards. Helmets and hard hats provide protection against head injuries resulting from falling objects, impacts, or electrical shocks.
By End-Use Industry
Based on the topology, the global personal protective equipment (PPE) market is categorized into construction, manufacturing, chemicals, oil and gas, food, pharmaceuticals, transportation, mining, firefighting, others. The manufacturing category leads the global personal protective equipment (PPE) market with the largest revenue share in 2022. Manufacturers use PPE such as gloves, safety goggles, hearing protection, and respiratory equipment to safeguard workers from injuries related to machinery, chemicals, and noise. The construction industry demands a wide range of PPE, including hard hats, safety boots, high-visibility clothing, and fall protection equipment to protect workers from various physical hazards on construction sites. The chemical industry relies on PPE like chemical-resistant suits, gloves, and face shields to protect workers from exposure to hazardous substances, corrosive materials, and chemical splashes. PPE in the oil and gas sector includes fire-resistant clothing, helmets, respiratory gear, and ear protection to mitigate risks associated with extreme temperatures, flammable materials, and loud machinery. In the food industry, PPE includes items such as hairnets, gloves, and aprons to maintain hygiene and protect against contamination in food processing and preparation. PPE in pharmaceuticals consists of lab coats, face masks, and gloves to ensure worker safety in laboratories and manufacturing facilities where chemicals and biological agents are handled. Miners use PPE such as helmets, high-visibility clothing, respiratory gear, and ear protection to guard against hazards like falling rocks, dust, and noise. Firefighters rely on specialized PPE, including fire-resistant suits, helmets, breathing apparatus, and thermal protection, to ensure their safety while responding to fires and emergencies.
Global Personal Protective Equipment (PPE) Market Overview by Region
The global personal protective equipment (PPE) market is categorized into North America, Europe, Asia-Pacific, and the Rest of the World. North America emerged as the leading region, capturing the largest market share in 2022. Without a doubt, North America has taken the top spot on the world stage in terms of influence in the economy, technology, and culture. The area includes both the United States and Canada, both of which have established themselves as global leaders in a number of industries. With Silicon Valley serving as a symbol of technical growth, the United States, in particular, is a hub for innovation and has the greatest economy in the world. Furthermore, as indicated by its participation in international organizations and alliances, North America's powerful political and military influence plays a crucial role in world events. North America's entertainment business, which includes Hollywood and the music industry, has a significant cultural impact on the rest of the world. Its multicultural community, which is distinguished by a vivid fusion of cultures and races, supports a dynamic and vibrant cultural landscape. Additionally, North America is known for its dedication to education and research, boasting some of the best colleges and research institutes in the world, drawing in talent and creativity from around the world. The region's importance on the world stage is undeniable as it continues to lead in a number of fields.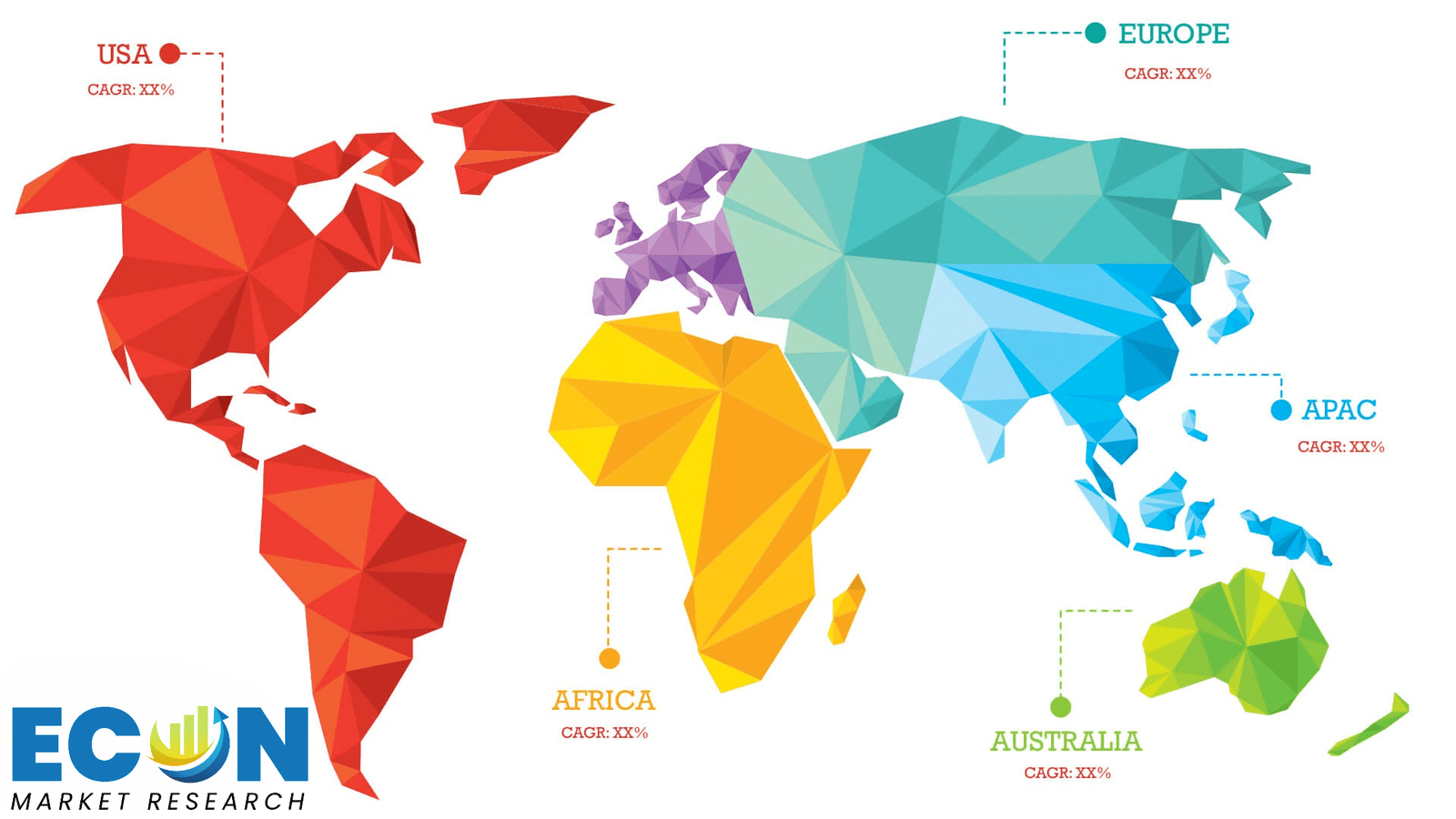 Global Personal Protective Equipment (PPE) Market Competitive Landscape
In the global personal protective equipment (PPE) market, a few major players exert significant market dominance and have established a strong regional presence. These leading companies remain committed to continuous research and development endeavors and actively engage in strategic growth initiatives, including product development, launches, joint ventures, and partnerships. By pursuing these strategies, these companies aim to strengthen their market position, expand their customer base, and capture a substantial share of the market.
Some of the prominent players in the global personal protective equipment (PPE) market include Honeywell International Inc.; Lakeland Industries Inc.; DuPont; 3M; Ansell Ltd.; Avon Rubber plc; COFRA S.r.l.; FallTech; Alpha Pro Tech Limited; Mine Safety Appliances (MSA) Company; Lindstrom Group; Mallcom (India) Ltd.; Radians, Inc.; Polison Corp.; Delta Plus Group., and various other key players.
Scope of the Global Personal Protective Equipment (PPE) Market Report
Personal Protective Equipment (PPE) Market Report Segmentation
ATTRIBUTE

DETAILS

By Product Type

Hands & Arm Protection Equipment

Protective Clothing

Foot & Leg Protection Equipment

Respiratory Protection Equipment

Eye & Face Protection Equipment

Head Protection Equipment

Other Personal Protective Equipment

Hearing Protection

By End-Use Industry

Construction

Manufacturing

Chemicals

Oil and Gas

Food

Pharmaceuticals

Transportation

Mining

Firefighting

Others

By Geography

North America (USA,

and Canada)

Europe (UK, Germany, France, Italy, Spain, Russia and Rest of Europe)

Asia Pacific (Japan, China, India, Australia, Southeast Asia and Rest of Asia Pacific)

Latin America (Brazil, Mexico, and Rest of Latin America)

Middle East & Africa (South Africa, GCC, and Rest of Middle East & Africa)

Customization Scope

Pricing
Objectives of the Study
The objectives of the study are summarized in 5 stages. They are as mentioned below:
Global Personal Protective Equipment (PPE) Market

Size and Forecast:
To identify and estimate the market size for the global personal protective equipment (PPE) market segmented by product type, by end use industry region and by value (in U.S. dollars). Also, to understand the consumption/ demand created by consumers of personal protective equipment (PPE) between 2019 and 2031.
Market Landscape and Trends:
To identify and infer the drivers, restraints, opportunities, and challenges for the global personal protective equipment (PPE) market
Market Influencing Factors:
To find out the factors which are affecting the sales of personal protective equipment (PPE) among consumers
To identify and understand the various factors involved in the global personal protective equipment (PPE) market affected by the pandemic
To provide a detailed insight into the major companies operating in the market. The profiling will include the financial health of the company's past 2-3 years with segmental and regional revenue breakup, product offering, recent developments, SWOT analysis, and key strategies.
Intended Audience
Marketing and Advertising

Media and Entertainment

Retailers, Wholesalers, and Distributors

Governments, Associations, and Industrial Bodies

Investors and Trade Experts
Research Methodology
Our research methodology has always been the key differentiating reason which sets us apart in comparison from the competing organizations in the industry. Our organization believes in consistency along with quality and establishing a new level with every new report we generate; our methods are acclaimed and the data/information inside the report is coveted. Our research methodology involves a combination of primary and secondary research methods. Data procurement is one of the most extensive stages in our research process. Our organization helps in assisting the clients to find the opportunities by examining the market across the globe coupled with providing economic statistics for each and every region. The reports generated and published are based on primary & secondary research. In secondary research, we gather data for global Market through white papers, case studies, blogs, reference customers, news, articles, press releases, white papers, and research studies. We also have our paid data applications which includes hoovers, Bloomberg business week, Avention, and others.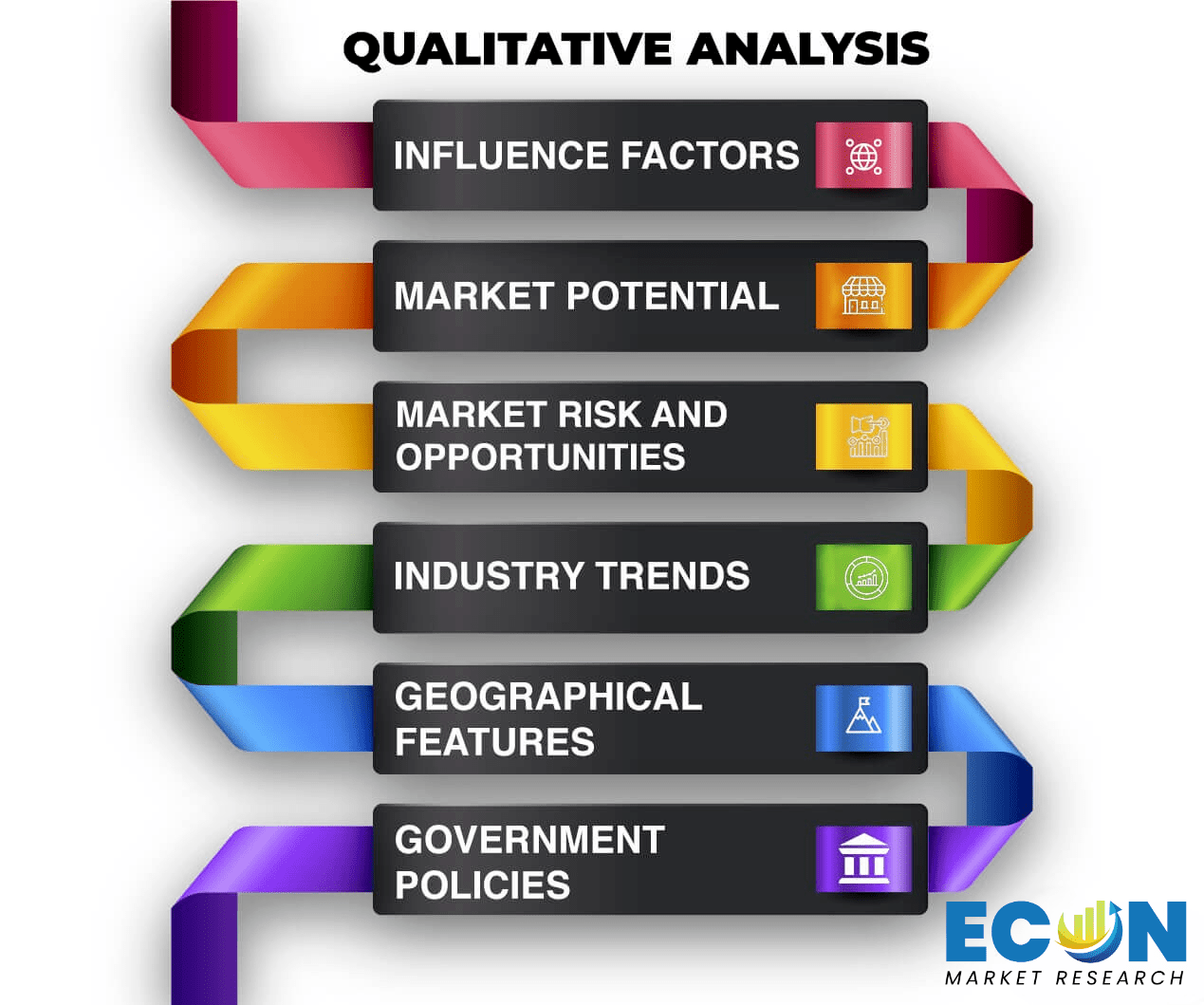 Data Collection
Data collection is the process of gathering, measuring, and analyzing accurate and relevant data from a variety of sources to analyze market and forecast trends. Raw market data is obtained on a broad front. Data is continuously extracted and filtered to ensure only validated and authenticated sources are considered. Data is mined from a varied host of sources including secondary and primary sources.

Primary Research
After the secondary research process, we initiate the primary research phase in which we interact with companies operating within the market space. We interact with related industries to understand the factors that can drive or hamper a market. Exhaustive primary interviews are conducted. Various sources from both the supply and demand sides are interviewed to obtain qualitative and quantitative information for a report which includes suppliers, product providers, domain experts, CEOs, vice presidents, marketing & sales directors, Type & innovation directors, and related key executives from various key companies to ensure a holistic and unbiased picture of the market. 
Secondary Research
A secondary research process is conducted to identify and collect information useful for the extensive, technical, market-oriented, and comprehensive study of the market. Secondary sources include published market studies, competitive information, white papers, analyst reports, government agencies, industry and trade associations, media sources, chambers of commerce, newsletters, trade publications, magazines, Bloomberg BusinessWeek, Factiva, D&B, annual reports, company house documents, investor presentations, articles, journals, blogs, and SEC filings of companies, newspapers, and so on. We have assigned weights to these parameters and quantified their market impacts using the weighted average analysis to derive the expected market growth rate.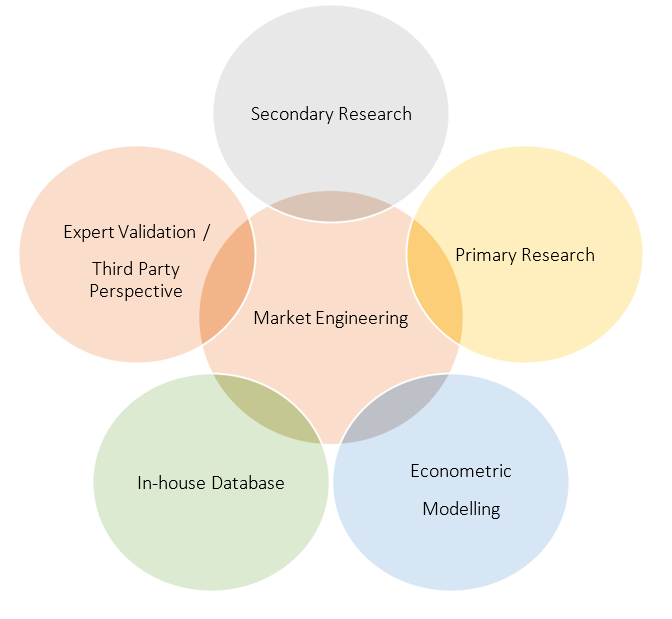 Top-Down Approach & Bottom-Up Approach
In the top – down approach, the Global Batteries for Solar Energy Storage Market was further divided into various segments on the basis of the percentage share of each segment. This approach helped in arriving at the market size of each segment globally. The segments market size was further broken down in the regional market size of each segment and sub-segments. The sub-segments were further broken down to country level market. The market size arrived using this approach was then crosschecked with the market size arrived by using bottom-up approach.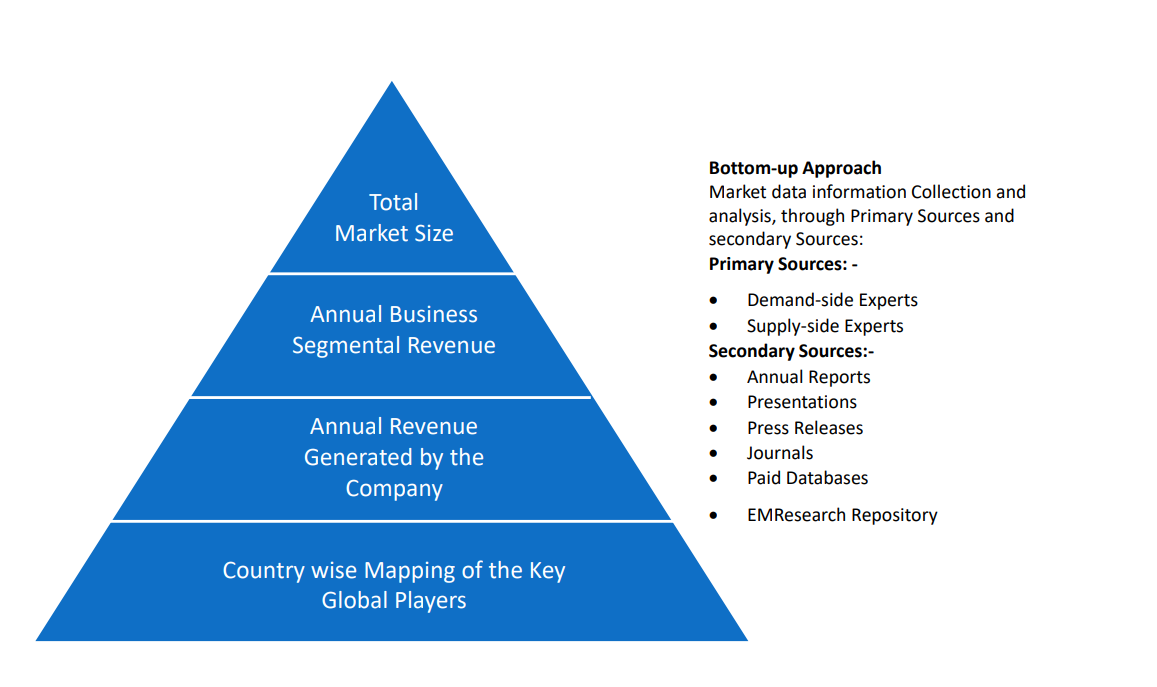 In the bottom-up approach, we arrived at the country market size by identifying the revenues and market shares of the key market players. The country market sizes then were added up to arrive at regional market size of the decorated apparel, which eventually added up to arrive at global market size.
This is one of the most reliable methods as the information is directly obtained from the key players in the market and is based on the primary interviews from the key opinion leaders associated with the firms considered in the research. Furthermore, the data obtained from the company sources and the primary respondents was validated through secondary sources including government publications and Bloomberg.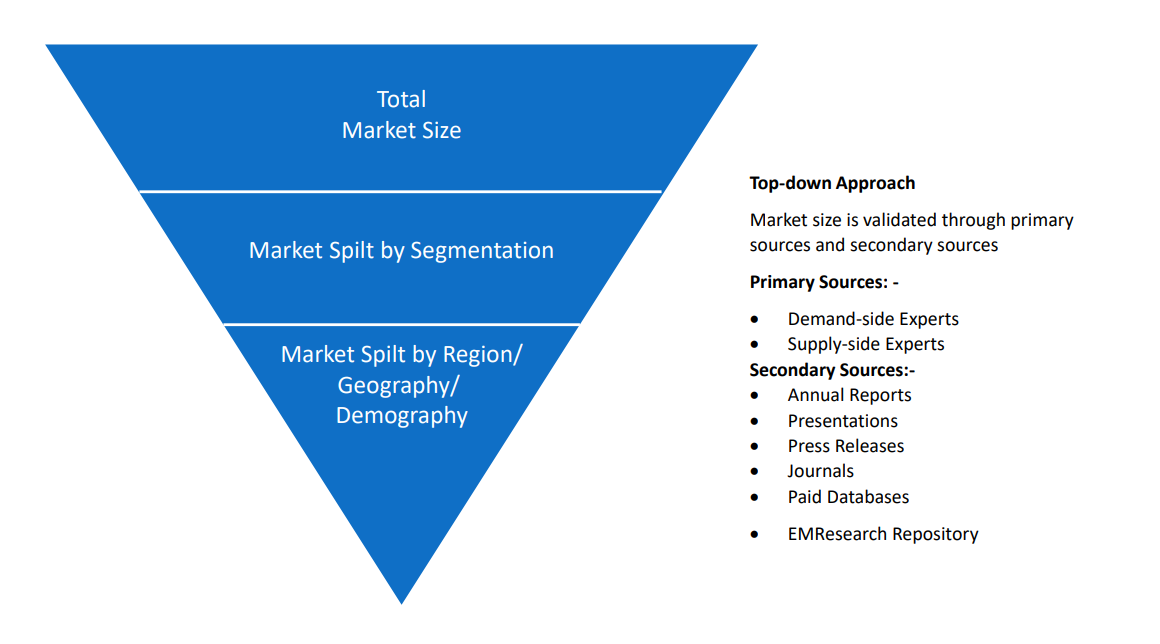 Market Analysis & size Estimation
Post the data mining stage, we gather our findings and analyze them, filtering out relevant insights. These are evaluated across research teams and industry experts. All this data is collected and evaluated by our analysts. The key players in the industry or markets are identified through extensive primary and secondary research. All percentage share splits, and breakdowns have been determined using secondary sources and verified through primary sources. The market size, in terms of value and volume, is determined through primary and secondary research processes, and forecasting models including the time series model, econometric model, judgmental forecasting model, the Delphi method, among Flywheel Energy Storage. Gathered information for market analysis, competitive landscape, growth trends, product development, and pricing trends is fed into the model and analyzed simultaneously.
Quality Checking & Final Review
The analysis done by the research team is further reviewed to check for the accuracy of the data provided to ensure the clients' requirements. This approach provides essential checks and balances which facilitate the production of quality data. This Type of revision was done in two phases for the authenticity of the data and negligible errors in the report. After quality checking, the report is reviewed to look after the presentation, Type and to recheck if all the requirements of the clients were addressed.