The Global Perimeter Security Market was valued at USD 69.90 billion in 2022 and is estimated to reach approximately USD 130.62 billion by 2031, at a CAGR of 7.2% from 2023 to 2031. Perimeter security involves establishing protective measures around a physical or virtual boundary to prevent unauthorized access, and ensuring the safety of assets and data. It encompasses technologies like fences, gates, surveillance cameras, access control systems, and firewalls, acting as the first line of defense against potential threats. By monitoring and controlling entry points, perimeter security aims to deter, detect, and respond to unauthorized activities, reducing the risk of breaches and maintaining the integrity of the protected area. The Perimeter Security market addresses the growing need for comprehensive protective solutions in an increasingly interconnected world. As organizations and individuals become more reliant on technology and data, safeguarding physical and virtual boundaries has become paramount. Perimeter security involves deploying a range of advanced technologies and strategies to defend against unauthorized access, intrusion, and cyber threats. In physical security, the market offers a spectrum of solutions such as fences, barriers, access control systems, and surveillance cameras. These technologies help secure critical infrastructure, commercial properties, residential spaces, and public areas, enhancing overall safety and deterring potential threats. In the digital sphere, the market encompasses firewalls, intrusion detection systems, and encryption mechanisms that safeguard networks, systems, and sensitive data from cyberattacks and unauthorized breaches. As cyber threats continue to evolve, the demand for sophisticated perimeter security measures has surged, prompting innovation in threat detection and response. Factors driving the market's growth include increasing awareness of security, stringent government regulations, and rising incidents of data breaks. Industries like finance, healthcare, energy, and government sectors are major adopters of perimeter security solutions due to their heightened vulnerability to threats. As the world becomes more interconnected, the Perimeter Security market remains pivotal in maintaining privacy, integrity, and safety across both physical and digital domains. The market continues to evolve with advancements in artificial intelligence, machine learning, and IoT integration, providing a dynamic landscape to address the evolving challenges of security.
PERIMETER SECURITY MARKET: REPORT SCOPE & SEGMENTATION
| | |
| --- | --- |
| Report Attribute | Details |
| Estimated Market Value (2022) | 69.90 Bn |
| Projected Market Value (2031) | 130.62 Bn |
| Base Year | 2022 |
| Forecast Years | 2023 - 2031 |
| Scope of the Report | Historical and Forecast Trends, Industry Drivers and Constraints, Historical and Forecast Market Analysis by Segment- By Component, By Solution, By End User, & Region |
| Segments Covered | By Component, By Solution, By End User, & Region |
| Forecast Units | Value (USD Billion or Million), and Volume (Units) |
| Quantitative Units | Revenue in USD million/billion and CAGR from 2023 to 2031 |
| Regions Covered | North America, Europe, Asia Pacific, Latin America, and Middle East & Africa, and the Rest of World |
| Countries Covered | U.S., Canada, Mexico, U.K., Germany, France, Italy, Spain, China, India, Japan, South Korea, Brazil, Argentina, GCC Countries, and South Africa, among others |
| Report Coverage | Market growth drivers, restraints, opportunities, Porter's five forces analysis, PEST analysis, value chain analysis, regulatory landscape, market attractiveness analysis by segments and region, company market share analysis, and COVID-19 impact analysis. |
| Delivery Format | Delivered as an attached PDF and Excel through email, according to the purchase option. |
Global Perimeter Security Market Dynamics
The Perimeter Security market is influenced by a convergence of multifaceted dynamics that collectively shape its trajectory. Escalating cyber threats, physical breaches, and unauthorized access compel organizations to invest in robust protective measures. Stringent data protection regulations like GDPR and industry-specific compliance mandates drive the adoption of advanced security solutions. Technological innovations such as AI, IoT, and biometrics redefine perimeter security capabilities, enabling predictive threat detection and real-time response. Cloud adoption and mobile connectivity expand the attack surface, necessitating adaptable security strategies to counter risks associated with remote work and data storage. A competitive landscape spurs innovation as numerous vendors offer diverse solutions, propelling the development of integrated systems that bridge physical and digital security gaps. Economic growth and urbanization contribute to increased infrastructure development, fuelling demand for comprehensive security solutions. However, challenges arise from the complexity of integrating disparate security components and ensuring seamless interoperability. High-profile security breaches raise public awareness, driving businesses and individuals to prioritize robust security measures. Moreover, sustainability gains importance, leading to a demand for eco-friendly and energy-efficient security solutions. These dynamics collectively underpin the Perimeter Security market, influencing product evolution, adoption rates, and the industry's response to emerging security paradigms.
Global Perimeter Security Market Drivers
The Proliferation of Cloud Computing and Mobile Devices
The rapid proliferation of cloud services and the ubiquitous use of mobile devices have significantly expanded the attack surface and introduced new security challenges. Cloud computing has revolutionized how organizations store, access, and manage data, enabling efficient remote collaboration and resource scalability. However, this shift has also led to concerns about data privacy and security, necessitating robust perimeter security measures to safeguard sensitive information stored in the cloud. Mobile devices, including smartphones and tablets, have become integral to daily life and work, enabling access to critical data and applications from anywhere. Yet, the decentralized nature of mobile access raises security risks, as it's challenging to enforce consistent security protocols across various devices and networks. To address these challenges, perimeter security strategies must adapt to the changing landscape. Solutions such as mobile device management (MDM) and mobile application security are crucial for controlling and securing mobile access. Additionally, cloud security measures like encryption, access controls, and multi-factor authentication are essential to mitigate risks associated with cloud-based data storage and services.
Rapid Developments in AI, IoT, and Biometrics
Rapid developments in AI, IoT, and biometrics enable innovative threat detection and real-time response capabilities. AI-powered systems enable advanced threat analytics by analyzing massive datasets and identifying patterns indicative of potential breaches. Machine learning algorithms can predict anomalous behaviors and security vulnerabilities, facilitating proactive measures to thwart threats before they escalate. IoT devices, interconnected and embedded in various physical assets, offer real-time monitoring of environments, aiding in the early detection of breaches or suspicious activities. They create a web of interconnected sensors that provide a comprehensive view of security threats across a facility or area. Biometric technologies, including fingerprint and facial recognition, provide heightened access control and authentication. By relying on unique physiological characteristics, biometrics reduce the risk of unauthorized entry, ensuring only authorized individuals gain access to secure areas.
Restraints:
Technological Complexity and Integration Challenges
The Perimeter Security landscape involves a range of components, from physical barriers to digital systems. Integrating these elements effectively can be complex due to differences in technology standards, protocols, and communication methods. Achieving interoperability is essential to ensure that all security measures work cohesively to provide a unified defense. The integration challenges also extend to the digital term, where bridging physical security with cybersecurity systems is paramount. Coordinating surveillance cameras, access control systems, and intrusion detection with firewalls, network monitors, and threat detection software requires specialized expertise. Furthermore, technological complexity can lead to issues such as system downtime, false alarms, or vulnerabilities if not managed meticulously. The failure of one component can have ripple effects on the entire security ecosystem, compromising overall effectiveness
Establishing comprehensive security systems, encompassing both physical and digital components demands significant financial resources. The costs span various aspects, including the acquisition of advanced technologies, infrastructure upgrades, installation, and professional expertise. In the physical realm, expenses encompass the purchase and installation of security barriers, access control systems, surveillance cameras, sensors, and other hardware. These components are vital for deterring unauthorized access and detecting potential breaches. Moreover, ongoing costs for maintenance, updates, training, and potential system enhancements add to the financial burden. While the initial investment might seem significant, it's essential to view it as a proactive measure to mitigate potential losses resulting from security breaches, data theft, and operational disruptions.
Opportunities:
Remote Monitoring and Management
Remote Monitoring and Management refers to a technology-driven approach that enables the monitoring, maintenance, and control of IT systems, networks, devices, and infrastructure from a centralized location. This allows IT professionals, managed service providers (MSPs), or administrators to oversee and manage a wide range of assets without the need to be physically present at the location. Remote Monitoring and Management systems utilize various tools and software to gather real-time data, perform diagnostics, and remotely address issues. This includes monitoring the health and performance of servers, workstations, routers, and other devices. It also involves deploying updates, patches, and security measures without interrupting operations. Remote Monitoring and Management is widely used in managing complex IT infrastructures, ensuring cybersecurity by promptly addressing vulnerabilities, and optimizing system performance. As businesses increasingly rely on technology for their operations, Remote Monitoring and Management plays a pivotal role in streamlining management, reducing operational costs, and maintaining a secure and reliable IT environment.
Integration with Physical and Cybersecurity
As technology advances and the world becomes more interconnected, the convergence of physical and cyber domains offers enhanced protection and holistic threat management. By integrating physical security components like surveillance cameras, access control systems, and sensors with cybersecurity technologies such as intrusion detection systems, firewalls, and network monitoring tools, organizations can achieve a unified view of security incidents. This enables real-time threat detection, response coordination, and better decision-making. The opportunity extends to sectors like critical infrastructure, healthcare, and finance, where the consequences of security breaches can be dire. Regulatory compliance is also boosted, as integrated systems can help meet data protection requirements and industry standards effectively. In conclusion, integrating physical and cybersecurity presents an opportunity to create a dynamic defense mechanism that adapts to evolving threats. It streamlines responses, optimizes resource allocation, and ultimately strengthens an organization's resilience against a wide range of security challenges.
Segment Overview
By Component
Based on components, the global perimeter security market is divided into systems and services. The systems category dominates the market with the largest revenue share. The systems segment is further divided into perimeter intrusion detection systems, video surveillance systems, access control systems, alarms, and notification systems. Perimeter security systems encompass a range of physical and digital technologies designed to protect the boundaries of a secured area. These systems serve as the frontline defense against unauthorized access and potential threats. The system category includes surveillance systems, access control systems, intrusion detection systems. Where perimeter security services complement the systems by providing expertise, support, and management of the security infrastructure. Services play a critical role in ensuring that the systems operate effectively and that the organization maintains a strong security posture.
By Solutions
Based on the topology, the global perimeter security market is categorized into access control, intrusion detection sensors, video surveillance, and mass notification. The video surveillance category leads the global perimeter security market with the largest revenue share. Video surveillance systems play a crucial role in enhancing security by providing real-time monitoring, evidence collection, and visual verification of activities along the perimeter. Video surveillance offers a comprehensive view of the secured area, enabling security personnel to monitor activities, identify potential threats, and respond proactively. Advanced video analytics technologies enable automated detection of suspicious behaviors, trespassing, and other anomalies, reducing the need for continuous human monitoring. ideo surveillance systems can be integrated with other security components like access control and intrusion detection systems, creating a comprehensive defense ecosystem. Video surveillance is used across various sectors including commercial, industrial, residential, critical infrastructure, and public spaces, contributing to its widespread adoption.
By End-User
Based on end-user, the global perimeter security market is segmented into industrial, commercial and services, government, infrastructure, military & defense, residential, educational, and religious buildings. The commercial and services segment dominates the perimeter security market. This segment encompasses an extensive range of establishments, including office complexes, retail centers, hospitality venues, and entertainment facilities. With its multifaceted nature, the commercial and services sector experiences a constant influx of foot traffic, necessitating robust security measures to ensure the safety of employees, customers, and valuable assets. From protecting merchandise in retail settings to safeguarding sensitive information in corporate environments, the need for comprehensive security solutions is paramount. Where perimeter security for residential properties involves safeguarding homes and neighborhoods against burglaries and intrusions. Video doorbells, motion sensors, and smart locks are common components. Military bases, installations, and defense facilities require stringent security measures to protect classified information, assets, and personnel. Multi-layered security solutions including surveillance, access control, and intrusion detection are imperative. In the industrial sector, manufacturing plants, warehouses, and industrial complexes require perimeter security to protect valuable assets, equipment, and intellectual property. Intrusion detection, access control, and video surveillance are crucial in this sector.
Global Perimeter Security Market Overview by Region
The global perimeter security market is categorized into North America, Europe, Asia-Pacific, and the Rest of the World. Asia-Pacific emerged as the leading region, capturing the largest market share. The Asia-Pacific region is home to some of the world's fastest-growing economies, leading to significant infrastructure development, urbanization, and increased demand for security measures to protect these burgeoning assets. The region's high population density and rapid urban expansion create complex security challenges, prompting a heightened need for advanced perimeter security solutions to safeguard people and property. Asia-Pacific countries have been swift adopters of new technologies, including security systems. The integration of innovative solutions, such as AI-driven analytics and IoT-based sensors, drives the effectiveness of perimeter security. The Asia-Pacific region faces a diverse range of security threats, including cyberattacks, terrorism, and geopolitical tensions. These challenges drive the need for comprehensive perimeter security solutions. Industries like manufacturing, retail, hospitality, and finance are booming in the region. Each sector's expansion prompts the implementation of robust security measures to protect assets, information, and operations. Organizations in this region are increasingly investing in cutting-edge security technologies to address diverse challenges, ensuring the safety of people, assets, and operations across a wide spectrum of industries.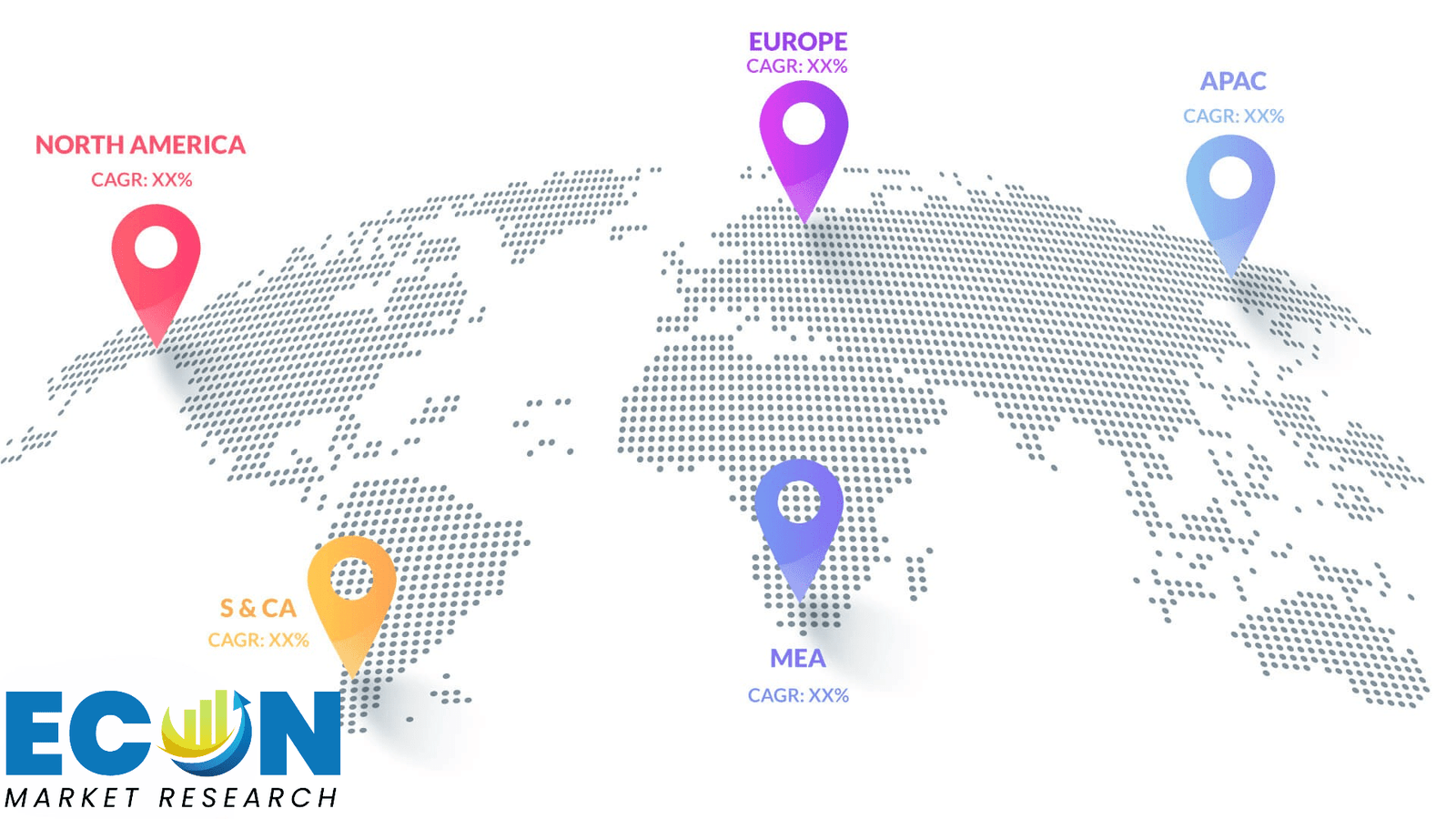 Global Perimeter Security Market Competitive Landscape
In the global perimeter security market, a few major players exert significant market dominance and have established a strong regional presence. These leading companies remain committed to continuous research and development endeavors and actively engage in strategic growth initiatives, including product development, launches, joint ventures, and partnerships. By pursuing these strategies, these companies aim to strengthen their market position, expand their customer base, and capture a substantial share of the market.
Some of the prominent players in the global perimeter security market include American Science and Engineering, Inc., Axis Communications AB, Teledyne FLIR LLC, Bosch Sicherheitssysteme GmbH, Honeywell International Inc, , Dahua Technology Co., Lt, Avigilon Corporation, Hangzhou Hikvision Digital Technology Co. Ltd., Pelco , Thales, Johnson Controls, Fiber Sensys Inc, Arthur J. Gallagher & Co., Senstar Corporation., Ingersoll Rand, The Infinova Group., SOUTHWEST MICROWAVE, INC, Puretech Systems, and various other key players.
Global Perimeter Security Market Recent Developments
In August 2022, New Fire Detection and Alarm Systems from Honeywell Improve Occupant Safety. A compact, powerful, performance-driven intelligent fire alarm control panel with user-friendly features is called Morley MAx. Multi-processor panels can be configured to work with a variety of installations.
In May 2022, Bosch and Milestone collaborate. Milestone Systems is a top supplier of open-platform video management software, which helps people around the world secure their lives and property and run their businesses more effectively.
Scope of the Global Perimeter Security Market Report
Perimeter Security Market Report Segmentation
ATTRIBUTE

DETAILS

By Component

Systems (Perimeter Intrusion Detection Systems, Video Surveillance Systems, Access Control Systems, Alarms, and Notification Systems)

Services

By Solutions

Access Control

Intrusion Detection Sensors

Video Surveillance

Mass Notification

By End-User

Industrial

Commercial and Services

Government

Infrastructure

Military & Defense

Residential

Educational

Religious Building

By Geography

North America (USA,

and Canada)

Europe (UK, Germany, France, Italy, Spain, Russia and Rest of Europe)

Asia Pacific (Japan, China, India, Australia, Southeast Asia and Rest of Asia Pacific)

Latin America (Brazil, Mexico, and Rest of Latin America)

Middle East & Africa (South Africa, GCC, and Rest of Middle East & Africa)

Customization Scope

Pricing
Objectives of the Study
The objectives of the study are summarized in 5 stages. They are as mentioned below:
Global Perimeter Security Market

Size and Forecast:
To identify and estimate the market size for the global perimeter security market segmented by component, by solution, by end user, region and by value (in U.S. dollars). Also, to understand the consumption/ demand created by consumers of perimeter security between 2019 and 2031.
Market Landscape and Trends:
To identify and infer the drivers, restraints, opportunities, and challenges for the global perimeter security market
Market Influencing Factors:
To find out the factors which are affecting the sales of perimeter security among consumers
To identify and understand the various factors involved in the global perimeter security market affected by the pandemic
To provide a detailed insight into the major companies operating in the market. The profiling will include the financial health of the company's past 2-3 years with segmental and regional revenue breakup, product offering, recent developments, SWOT analysis, and key strategies.
Intended Audience
Raw Material Suppliers

Retailers, Wholesalers, and Distributors

Governments, Associations, and Industrial Bodies

Investors and Trade Experts

Security Professionals

Security Solution Providers

Academic Institutions
Research Methodology
Our research methodology has always been the key differentiating reason which sets us apart in comparison from the competing organizations in the industry. Our organization believes in consistency along with quality and establishing a new level with every new report we generate; our methods are acclaimed and the data/information inside the report is coveted. Our research methodology involves a combination of primary and secondary research methods. Data procurement is one of the most extensive stages in our research process. Our organization helps in assisting the clients to find the opportunities by examining the market across the globe coupled with providing economic statistics for each and every region. The reports generated and published are based on primary & secondary research. In secondary research, we gather data for global Market through white papers, case studies, blogs, reference customers, news, articles, press releases, white papers, and research studies. We also have our paid data applications which includes hoovers, Bloomberg business week, Avention, and others.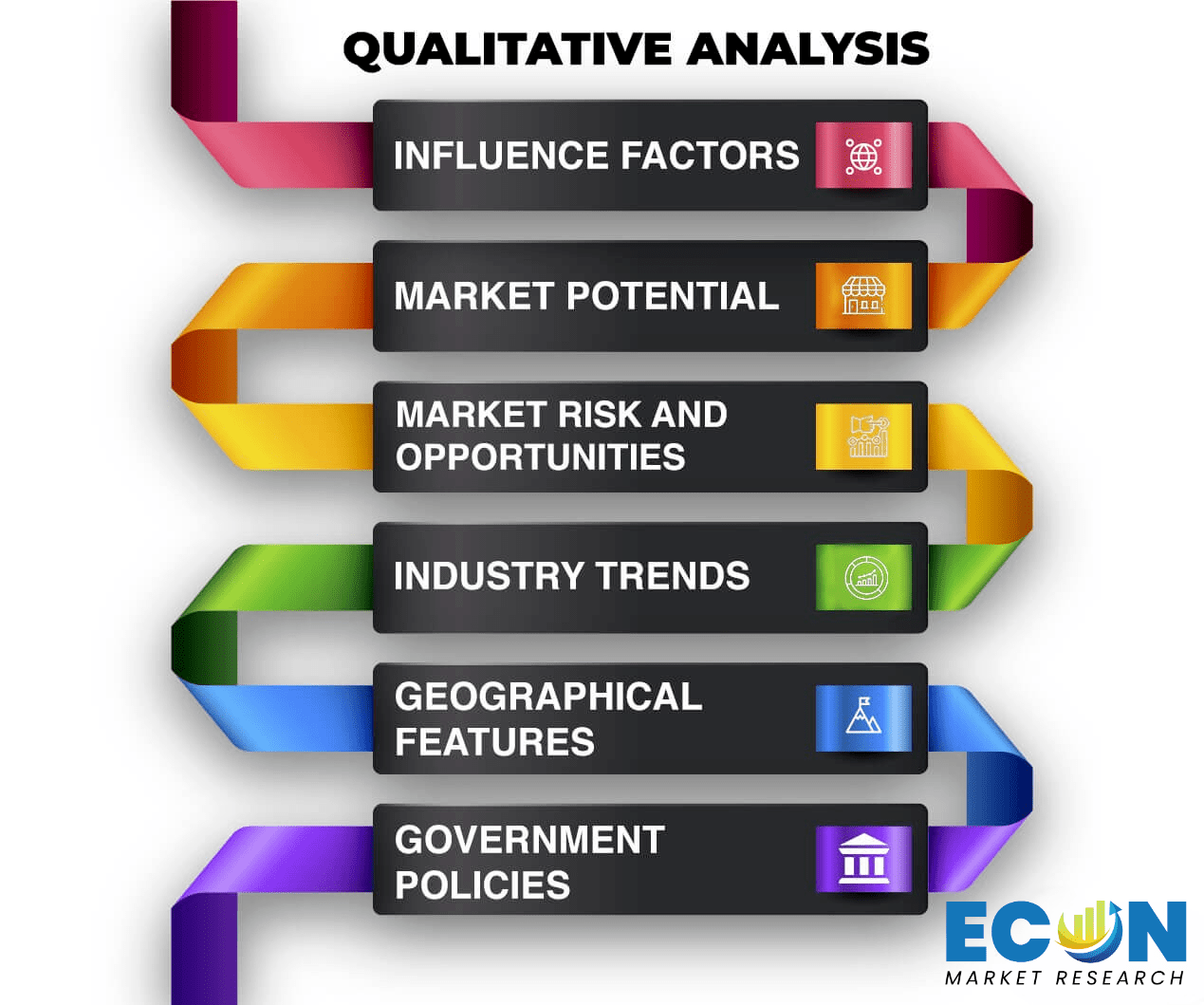 Data Collection
Data collection is the process of gathering, measuring, and analyzing accurate and relevant data from a variety of sources to analyze market and forecast trends. Raw market data is obtained on a broad front. Data is continuously extracted and filtered to ensure only validated and authenticated sources are considered. Data is mined from a varied host of sources including secondary and primary sources.

Primary Research
After the secondary research process, we initiate the primary research phase in which we interact with companies operating within the market space. We interact with related industries to understand the factors that can drive or hamper a market. Exhaustive primary interviews are conducted. Various sources from both the supply and demand sides are interviewed to obtain qualitative and quantitative information for a report which includes suppliers, product providers, domain experts, CEOs, vice presidents, marketing & sales directors, Type & innovation directors, and related key executives from various key companies to ensure a holistic and unbiased picture of the market. 
Secondary Research
A secondary research process is conducted to identify and collect information useful for the extensive, technical, market-oriented, and comprehensive study of the market. Secondary sources include published market studies, competitive information, white papers, analyst reports, government agencies, industry and trade associations, media sources, chambers of commerce, newsletters, trade publications, magazines, Bloomberg BusinessWeek, Factiva, D&B, annual reports, company house documents, investor presentations, articles, journals, blogs, and SEC filings of companies, newspapers, and so on. We have assigned weights to these parameters and quantified their market impacts using the weighted average analysis to derive the expected market growth rate.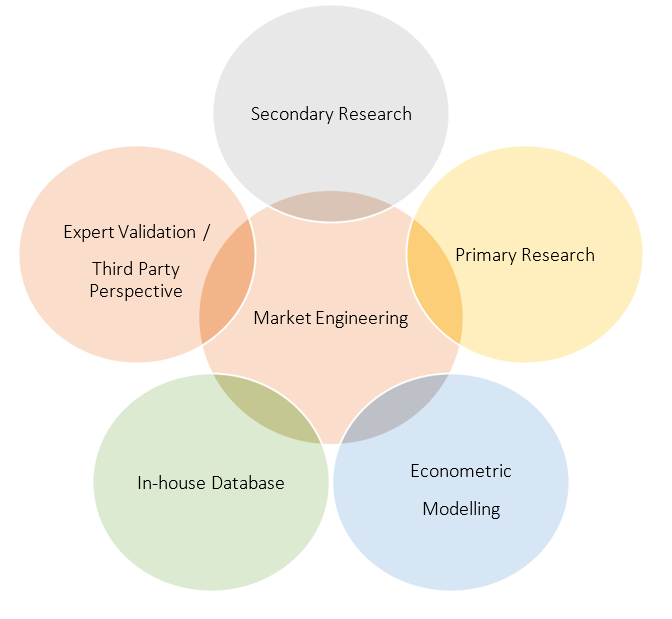 Top-Down Approach & Bottom-Up Approach
In the top – down approach, the Global Batteries for Solar Energy Storage Market was further divided into various segments on the basis of the percentage share of each segment. This approach helped in arriving at the market size of each segment globally. The segments market size was further broken down in the regional market size of each segment and sub-segments. The sub-segments were further broken down to country level market. The market size arrived using this approach was then crosschecked with the market size arrived by using bottom-up approach.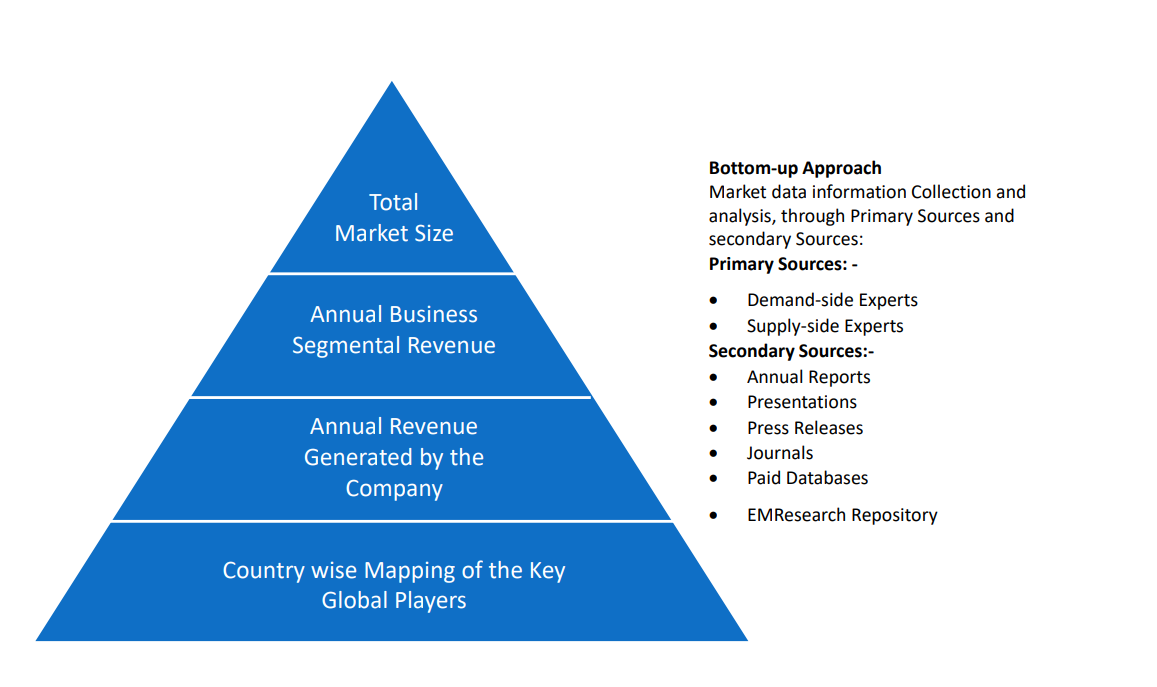 In the bottom-up approach, we arrived at the country market size by identifying the revenues and market shares of the key market players. The country market sizes then were added up to arrive at regional market size of the decorated apparel, which eventually added up to arrive at global market size.
This is one of the most reliable methods as the information is directly obtained from the key players in the market and is based on the primary interviews from the key opinion leaders associated with the firms considered in the research. Furthermore, the data obtained from the company sources and the primary respondents was validated through secondary sources including government publications and Bloomberg.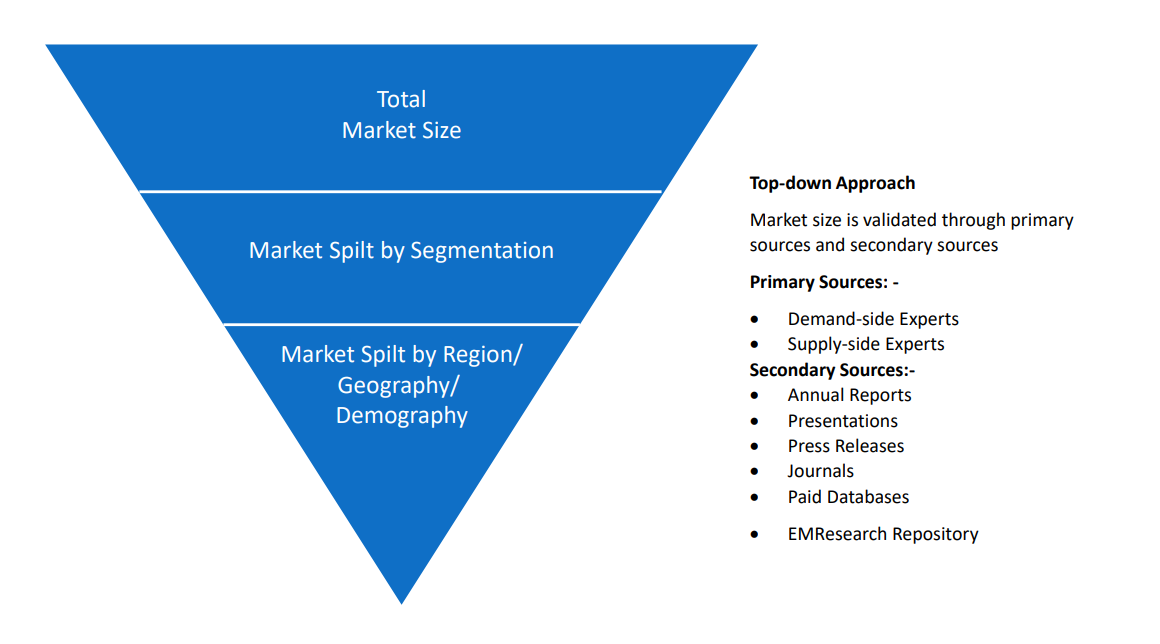 Market Analysis & size Estimation
Post the data mining stage, we gather our findings and analyze them, filtering out relevant insights. These are evaluated across research teams and industry experts. All this data is collected and evaluated by our analysts. The key players in the industry or markets are identified through extensive primary and secondary research. All percentage share splits, and breakdowns have been determined using secondary sources and verified through primary sources. The market size, in terms of value and volume, is determined through primary and secondary research processes, and forecasting models including the time series model, econometric model, judgmental forecasting model, the Delphi method, among Flywheel Energy Storage. Gathered information for market analysis, competitive landscape, growth trends, product development, and pricing trends is fed into the model and analyzed simultaneously.
Quality Checking & Final Review
The analysis done by the research team is further reviewed to check for the accuracy of the data provided to ensure the clients' requirements. This approach provides essential checks and balances which facilitate the production of quality data. This Type of revision was done in two phases for the authenticity of the data and negligible errors in the report. After quality checking, the report is reviewed to look after the presentation, Type and to recheck if all the requirements of the clients were addressed.