The Global Nutraceutical Packaging Market was valued at USD 3.22 billion in 2022 and is estimated to reach approximately USD 4.95 billion by 2031, at a CAGR of 4.9% from 2023 to 2031. Nutraceutical packaging refers to the specialized packaging used for nutraceutical products. Nutraceuticals are products derived from food sources that offer health benefits beyond their basic nutritional value. They can include dietary supplements, functional foods, herbal products, and more. The packaging for these products plays a crucial role in preserving their quality, efficacy, and safety while also conveying important information to consumers. Nutraceuticals often contain sensitive compounds that can degrade due to factors like light, moisture, air, and temperature. Packaging must provide adequate protection to maintain the product's strength and extend its shelf life. Packaging materials should have appropriate barrier properties to prevent the entry of oxygen, moisture, and UV light, which can negatively impact the product's quality. This can involve the use of materials like foil pouches, vacuum-sealed containers, and opaque bottles. Nutraceutical packaging must provide accurate and clear labeling, including information such as dosage instructions, nutritional facts, ingredients list, health claims, and any potential allergens. Clear and informative labeling helps consumers make informed decisions. The nutraceutical industry is experiencing growth worldwide, driven by both developed and developing economies. This expansion has led to increased demand for diverse packaging solutions to meet the unique needs of different markets. Advancements in technology, such as smart packaging with embedded sensors or QR codes for tracking and authentication, are also influencing the nutraceutical packaging landscape. The nutraceutical packaging market is highly competitive, with packaging manufacturers continuously developing innovative solutions to address the evolving needs of nutraceutical brands and consumers. As the health and wellness industry continues to grow, nutraceutical packaging will remain a vital component in ensuring product quality, safety, and consumer satisfaction.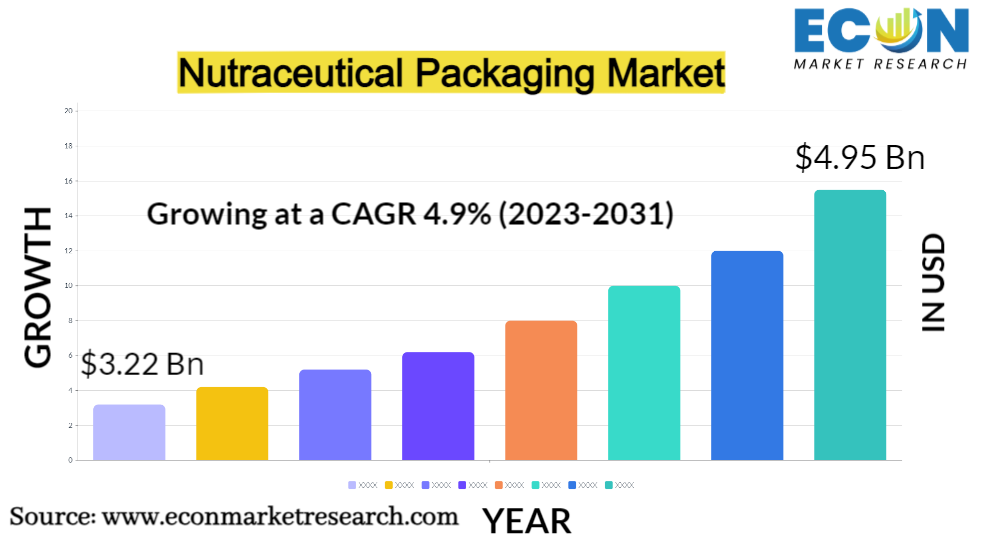 NUTRACEUTICAL PACKAGING MARKET: REPORT SCOPE & SEGMENTATION
| | |
| --- | --- |
| Report Attribute | Details |
| Estimated Market Value (2022) | 3.22 Bn |
| Projected Market Value (2031) | 4.95 Bn |
| Base Year | 2022 |
| Forecast Years | 2023 - 2031 |
| Scope of the Report | Historical and Forecast Trends, Industry Drivers and Constraints, Historical and Forecast Market Analysis by Segment- By Type, By Material Type, By Product Form, & Region |
| Segments Covered | By Type, By Material Type, By Product Form, & Region |
| Forecast Units | Value (USD Billion or Million), and Volume (Units) |
| Quantitative Units | Revenue in USD million/billion and CAGR from 2023 to 2031 |
| Regions Covered | North America, Europe, Asia Pacific, Latin America, and Middle East & Africa, and the Rest of World |
| Countries Covered | U.S., Canada, Mexico, U.K., Germany, France, Italy, Spain, China, India, Japan, South Korea, Brazil, Argentina, GCC Countries, and South Africa, among others |
| Report Coverage | Market growth drivers, restraints, opportunities, Porter's five forces analysis, PEST analysis, value chain analysis, regulatory landscape, market attractiveness analysis by segments and region, company market share analysis, and COVID-19 impact analysis. |
| Delivery Format | Delivered as an attached PDF and Excel through email, according to the purchase option. |
Global Nutraceutical Packaging Market Dynamics
The global nutraceutical packaging market is driven by factors that reflect the evolving landscape of health and wellness products. Rapidly changing consumer preferences, regulatory considerations, and technological advancements have synergized to shape the market's trajectory. Heightened health consciousness and a growing inclination towards natural and functional foods have fueled demand for nutraceutical products. This surge in demand directly impacts the packaging sector, compelling it to offer solutions that preserve product efficacy and safety. Consumer awareness regarding sustainable practices has propelled the integration of eco-friendly materials and designs, fostering a drive towards environmentally responsible packaging options. Advancements in packaging technology have led to innovative solutions such as tamper-evident features, child-resistant closures, and smart packaging with interactive elements. These innovations heighten consumer confidence, enhance product usability, and offer brands a competitive edge in a crowded market.
Global Nutraceutical Packaging Market Drivers
Health and Wellness Trends Driving Demand
The Global Nutraceutical Packaging Market is propelled by the surging global health and wellness movement. Growing consumer awareness of the link between nutrition and well-being has spurred demand for nutraceutical products. Nutraceutical packaging serves as a bridge between the health-conscious consumer's aspirations and the products that promise wellness enhancements. It is tasked with safeguarding the potency, quality, and safety of these specialized products. Packaging materials are carefully chosen to protect sensitive ingredients from degradation due to factors like light, moisture, and air. Additionally, packaging design is tailored to ensure accurate dosing and easy product consumption. Consumers are more interested in utilizing the potential health benefits provided by functional foods, dietary supplements, and herbal medicines than they are in merely satisfying their fundamental nutritional demands. Because of this perspective change, the market for nutraceutical products has grown significantly, and packaging is now very important.
Sustainability Initiatives and Eco-Friendly Solutions
Sustainability is a driving force in the Global Nutraceutical Packaging Market. Consumers are increasingly demanding environmentally responsible products and packaging. This driver has led to the adoption of eco-friendly packaging materials, reduced packaging waste, and innovative design approaches that minimize the environmental footprint. Nutraceutical packaging manufacturers are embracing biodegradable, recyclable, and compostable materials to meet these demands, aligning with brands' and consumers' sustainability goals while addressing broader environmental concerns. Furthermore, sustainable packaging design goes beyond material choice. It encompasses aspects such as minimalistic packaging, lightweight designs that reduce transportation-related emissions, and innovative structures that optimize space utilization. These solutions not only align with environmentally conscious consumers' preferences but also resonate with nutraceutical brands committed to corporate social responsibility.
Restraints:
While the demand for innovative and sustainable packaging solutions is on the rise, the integration of advanced technologies and eco-friendly materials often comes with higher production costs. This presents a challenge, particularly for smaller nutraceutical companies or those operating on tighter budgets. Eco-friendly packaging materials and cutting-edge technologies, such as barrier coatings and smart packaging features, can drive up manufacturing expenses. Balancing the desire for environmentally responsible packaging with the need to maintain competitive pricing can be intricate. The additional costs associated with sustainable packaging may affect profit margins and potentially limit options for cost-conscious brands.
Global Supply Chain Disruptions
The interconnected nature of the industry, spanning sourcing of raw materials, manufacturing, transportation, and distribution, makes it vulnerable to a range of external factors that can disrupt the supply chain. Supply chain disruptions can lead to production delays, affecting the timely availability of nutraceutical products on the market. Manufacturers may struggle to secure necessary materials or find alternate suppliers, potentially compromising product quality or leading to increased production costs. These challenges can also impact the ability to meet consumer demand and fulfill orders promptly, which can have negative consequences for brand reputation and customer loyalty. Events such as natural disasters, geopolitical tensions, or global health crises, like the COVID-19 pandemic, can lead to material shortages, delays in transportation, and increased costs. These disruptions can ripple through the supply chain, impacting the availability of essential packaging materials and components needed for nutraceutical products.
Opportunities:
Innovative Smart Packaging
innovative smart packaging in the nutraceutical industry involves integrating advanced technologies like QR codes, RFID tags, and near-field communication (NFC) into product packaging to create an interactive and information-rich experience for consumers. This approach capitalizes on the growing consumer demand for transparency, authenticity, and real-time information about the products they consume. QR codes, for instance, can be printed on packaging, and when scanned with a smartphone, they can instantly provide consumers with detailed information about the nutraceutical product, such as its ingredients, sourcing, manufacturing processes, and usage guidelines. Similarly, RFID tags and NFC technology allow consumers to tap or wave their devices near the packaging to access relevant data, fostering a seamless and engaging interaction. The benefits of innovative smart packaging are multifaceted. It empowers consumers to make well-informed decisions by accessing accurate and up-to-date information. For nutraceutical companies, it offers a direct channel to engage with customers, build brand loyalty, and demonstrate product authenticity. Moreover, it aids in supply chain management by enabling real-time tracking of products, which can enhance inventory control, reduce counterfeiting risks, and ensure regulatory compliance
Blockchain Transparency and Authentication
Implementing blockchain technology in nutraceutical packaging involves integrating a secure and transparent digital ledger system to enhance authenticity, traceability, and trust within the supply chain. Blockchain provides a decentralized and immutable record of transactions, enabling nutraceutical companies and consumers to verify the origin, quality, and journey of products. This innovation addresses several critical concerns. It minimizes the risk of counterfeit or adulterated products entering the market, as any attempt to alter data on the blockchain would be immediately detectable. Additionally, it strengthens regulatory compliance by providing accurate and auditable records, which can expedite recalls if necessary.
Global Nutraceutical Packaging Market Segment Overview
By Type
Based on type, the global nutraceutical packaging market is divided into bottles, cans and jars, bags & pouches, cartons, stick packs, blister packs, display boxes, canisters, and others. The bags & pouches category dominates the market with the largest revenue share. Bags and pouches offer convenience in terms of portability and ease of use. They are lightweight and often resealable, making them suitable for on-the-go consumers who value convenience and portion control. Many consumers are increasingly conscious of environmental issues, and some types of bags and pouches can be designed using eco-friendly materials, aligning with sustainable packaging trends. Where, bottles are a common packaging choice for nutraceutical products, offering protection from moisture and air. They are often used for liquid supplements, vitamins, and powders. Cans and jars provide sturdy packaging, ideal for preserving the freshness and quality of nutraceutical products. Stick packs are slim, elongated sachets designed for single servings of powdered supplements or liquid concentrates.
By Material Type
Based on the material type, the global nutraceutical packaging market is categorized into plastic, metal, glass, paper & paperboard, and others. The plastic category leads the global nutraceutical packaging market with the largest revenue share. a versatile and widely used material in nutraceutical packaging. It offers various benefits such as durability, lightweight nature, and cost-effectiveness. Plastic packaging includes options like bottles, jars, bags, pouches, and blister packs. However, there is growing concern about the environmental impact of plastic waste, which has led to increased interest in sustainable and biodegradable plastic alternatives. Where metal packaging, often in the form of cans or canisters, is chosen for its durability, barrier properties, and visual appeal. Glass packaging is prized for its inert nature, which prevents interactions between the container and the nutraceutical product, ensuring product integrity. And paper and paperboard materials are often used for cartons, boxes, and labels in nutraceutical packaging
By Product Form
Based on product form, the global nutraceutical packaging market is segmented into tablets & capsules, powder & granules, liquid, and solid. The tablets & capsules segment dominates the nutraceutical packaging market. This segment includes packaging solutions tailored for solid dosage forms like tablets and capsules. Packaging options could range from blister packs, bottles, and jars to pouches with individual compartments. These packaging solutions aim to protect the integrity of the solid dosage forms, prevent moisture and air exposure, and offer convenient dispensing for consumers. Where the powder & granules segment holds the second-largest share in the market. Packaging for powdered and granulated nutraceutical products requires solutions that keep the content dry, free-flowing, and properly sealed to maintain freshness. Bag and pouch formats, as well as canisters, are common choices in this segment. Packaging should provide ease of pouring and resealing for multiple uses.
Global Nutraceutical Packaging Market Overview by Region
The global nutraceutical packaging market is categorized into North America, Europe, Asia-Pacific, and the Rest of the World. North America emerged as the leading region, capturing the largest market share. North America boasts a well-established and thriving nutraceutical industry, characterized by a diverse range of products, including dietary supplements, functional foods, and wellness products. This industry's growth creates a substantial demand for packaging solutions. Increasing consumer awareness and focus on health and wellness have led to a higher consumption of nutraceutical products in North America. As consumers seek products that support their well-being, the demand for nutraceutical packaging has risen correspondingly. North America's well-developed retail infrastructure, both in physical stores and e-commerce platforms, facilitates the distribution and sale of nutraceutical products. Effective packaging is crucial for products to stand out on shelves and arrive intact when ordered online.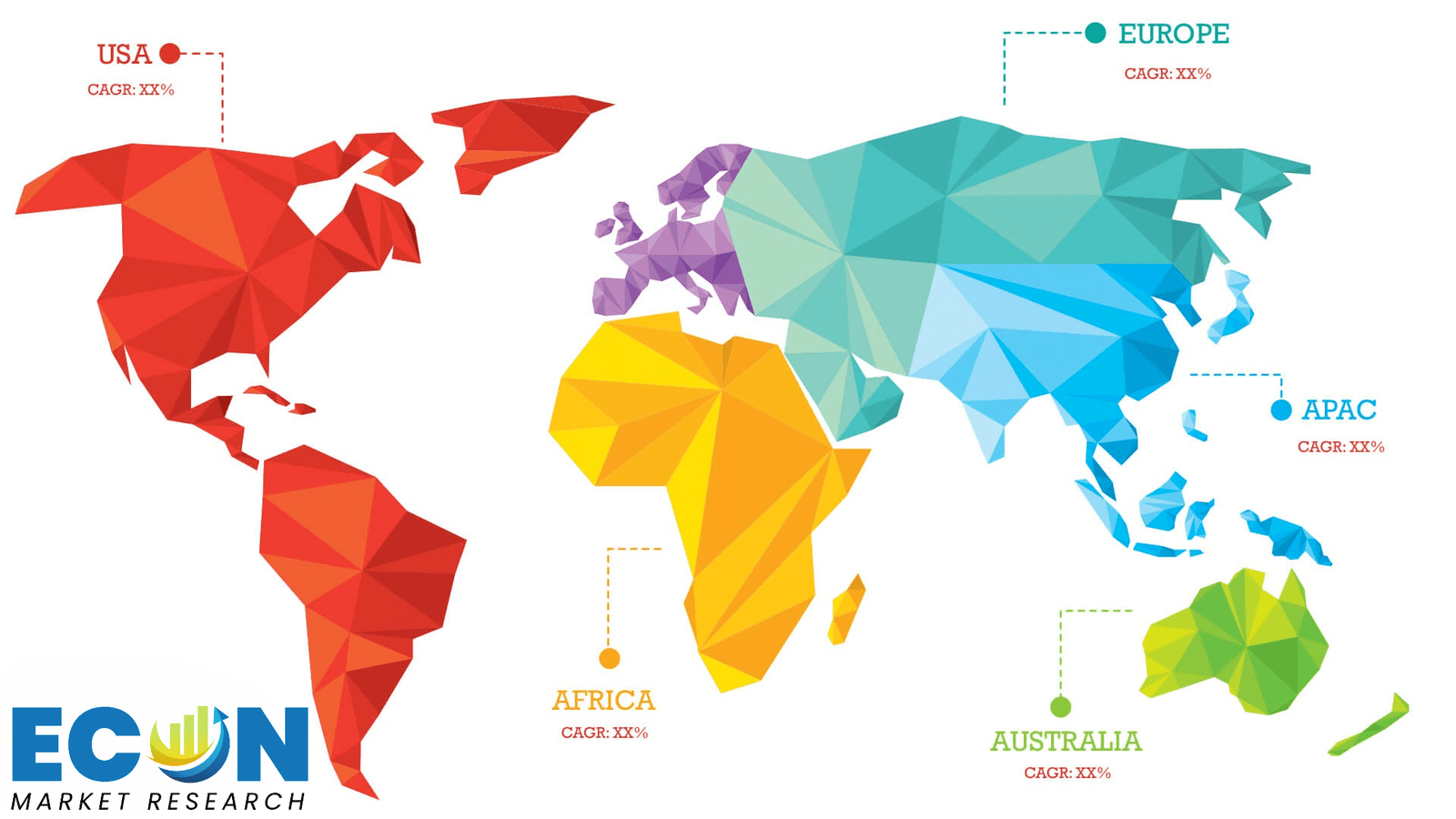 Global Nutraceutical Packaging Market Competitive Landscape
In the global nutraceutical packaging market, a few major players exert significant market dominance and have established a strong regional presence. These leading companies remain committed to continuous research and development endeavors and actively engage in strategic growth initiatives, including product development, launches, joint ventures, and partnerships. By pursuing these strategies, these companies aim to strengthen their market position, expand their customer base, and capture a substantial share of the market.
Some of the prominent players in the global nutraceutical packaging market include MJS PACKAGING, PolyOne Corporation, Glenroy Inc., Maco Bag Corporation, JohnByrne Company, Birchwood Contract Manufacturing, NuEra Nutraceuticals Inc., MOD-PAC Corp., Hughes Enterprises, AMGRAPH Packaging Inc., and various other key players.
Global Nutraceutical Packaging Market Recent Developments
In April 2021, Origin launches packaging design agency for nutraceutical sector. The parent company, Origin Pharma Packaging, has introduced Design Innovation Development (DiD) for enterprises in the nutraceutical and healthcare industries. Concept sketches, 3D modelling, prototyping, and technical design files are all services offered by the business.
Scope of the Global Nutraceutical Packaging Market Report
Nutraceutical Packaging Market Report Segmentation
ATTRIBUTE

DETAILS

By Type

Bottles

Cans and Jars

Bags & Pouches

Cartons

Stick Packs

Blister Packs

Display Boxes

Canisters

Others

By Material Type

Plastic

Metal

Glass

Paper & Paperboard

Others

By Product Form

Tablets & Capsules

Powder & Granules

Liquid

Solid

By Geography

North America (USA,

and Canada)

Europe (UK, Germany, France, Italy, Spain, Russia and Rest of Europe)

Asia Pacific (Japan, China, India, Australia, Southeast Asia and Rest of Asia Pacific)

Latin America (Brazil, Mexico, and Rest of Latin America)

Middle East & Africa (South Africa, GCC, and Rest of Middle East & Africa)

Customization Scope

Pricing
Objectives of the Study
The objectives of the study are summarized in 5 stages. They are as mentioned below:
Global Nutraceutical Packaging Market

Size and Forecast:
To identify and estimate the market size for the global nutraceutical packaging market segmented by type, by material type, by product form, region and by value (in U.S. dollars). Also, to understand the consumption/ demand created by consumers of nutraceutical packaging between 2019 and 2031.
Market Landscape and Trends:
To identify and infer the drivers, restraints, opportunities, and challenges for the global nutraceutical packaging market
Market Influencing Factors:
To find out the factors which are affecting the sales of nutraceutical packaging among consumers
To identify and understand the various factors involved in the global nutraceutical packaging market affected by the pandemic
To provide a detailed insight into the major companies operating in the market. The profiling will include the financial health of the company's past 2-3 years with segmental and regional revenue breakup, product offering, recent developments, SWOT analysis, and key strategies.
Intended Audience
Raw Material Suppliers

Retailers, Wholesalers, and Distributors

Governments, Associations, and Industrial Bodies

Investors and Trade Experts
Research Methodology
Our research methodology has always been the key differentiating reason which sets us apart in comparison from the competing organizations in the industry. Our organization believes in consistency along with quality and establishing a new level with every new report we generate; our methods are acclaimed and the data/information inside the report is coveted. Our research methodology involves a combination of primary and secondary research methods. Data procurement is one of the most extensive stages in our research process. Our organization helps in assisting the clients to find the opportunities by examining the market across the globe coupled with providing economic statistics for each and every region. The reports generated and published are based on primary & secondary research. In secondary research, we gather data for global Market through white papers, case studies, blogs, reference customers, news, articles, press releases, white papers, and research studies. We also have our paid data applications which includes hoovers, Bloomberg business week, Avention, and others.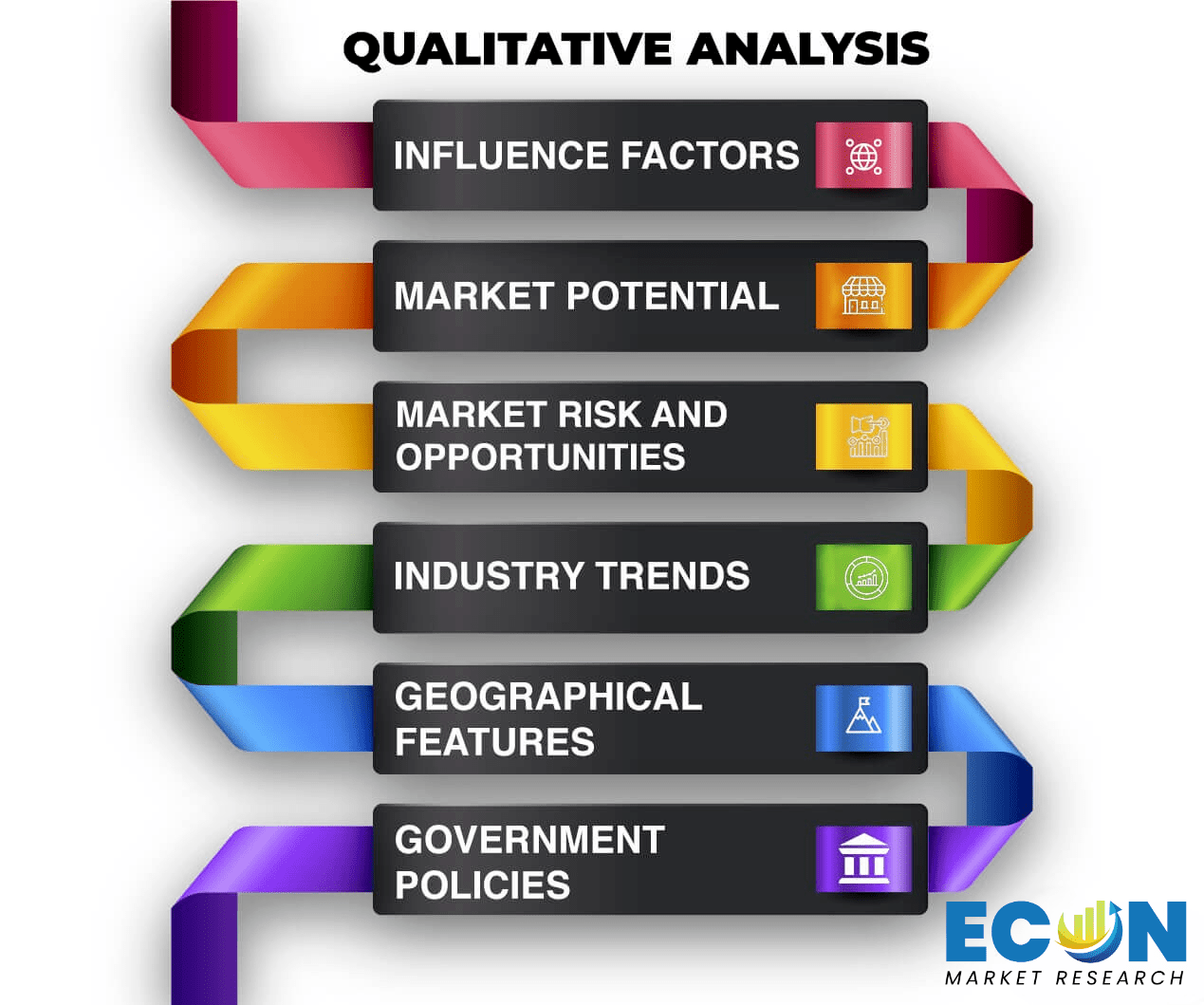 Data Collection
Data collection is the process of gathering, measuring, and analyzing accurate and relevant data from a variety of sources to analyze market and forecast trends. Raw market data is obtained on a broad front. Data is continuously extracted and filtered to ensure only validated and authenticated sources are considered. Data is mined from a varied host of sources including secondary and primary sources.

Primary Research
After the secondary research process, we initiate the primary research phase in which we interact with companies operating within the market space. We interact with related industries to understand the factors that can drive or hamper a market. Exhaustive primary interviews are conducted. Various sources from both the supply and demand sides are interviewed to obtain qualitative and quantitative information for a report which includes suppliers, product providers, domain experts, CEOs, vice presidents, marketing & sales directors, Type & innovation directors, and related key executives from various key companies to ensure a holistic and unbiased picture of the market. 
Secondary Research
A secondary research process is conducted to identify and collect information useful for the extensive, technical, market-oriented, and comprehensive study of the market. Secondary sources include published market studies, competitive information, white papers, analyst reports, government agencies, industry and trade associations, media sources, chambers of commerce, newsletters, trade publications, magazines, Bloomberg BusinessWeek, Factiva, D&B, annual reports, company house documents, investor presentations, articles, journals, blogs, and SEC filings of companies, newspapers, and so on. We have assigned weights to these parameters and quantified their market impacts using the weighted average analysis to derive the expected market growth rate.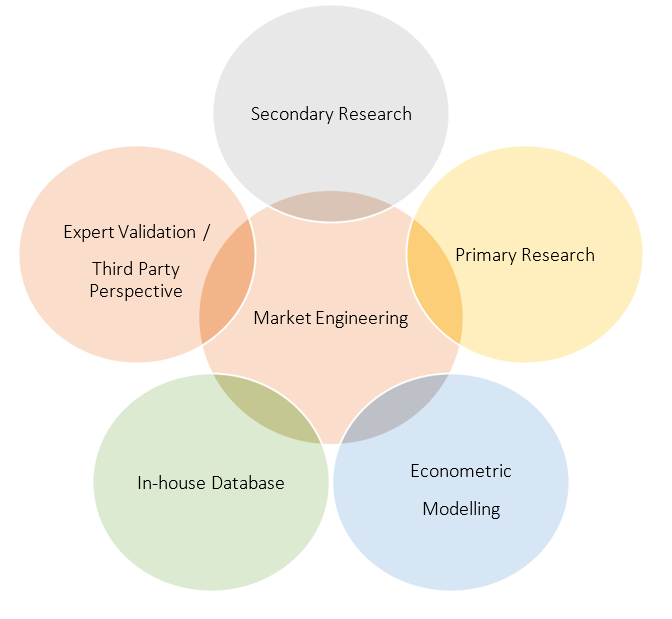 Top-Down Approach & Bottom-Up Approach
In the top – down approach, the Global Batteries for Solar Energy Storage Market was further divided into various segments on the basis of the percentage share of each segment. This approach helped in arriving at the market size of each segment globally. The segments market size was further broken down in the regional market size of each segment and sub-segments. The sub-segments were further broken down to country level market. The market size arrived using this approach was then crosschecked with the market size arrived by using bottom-up approach.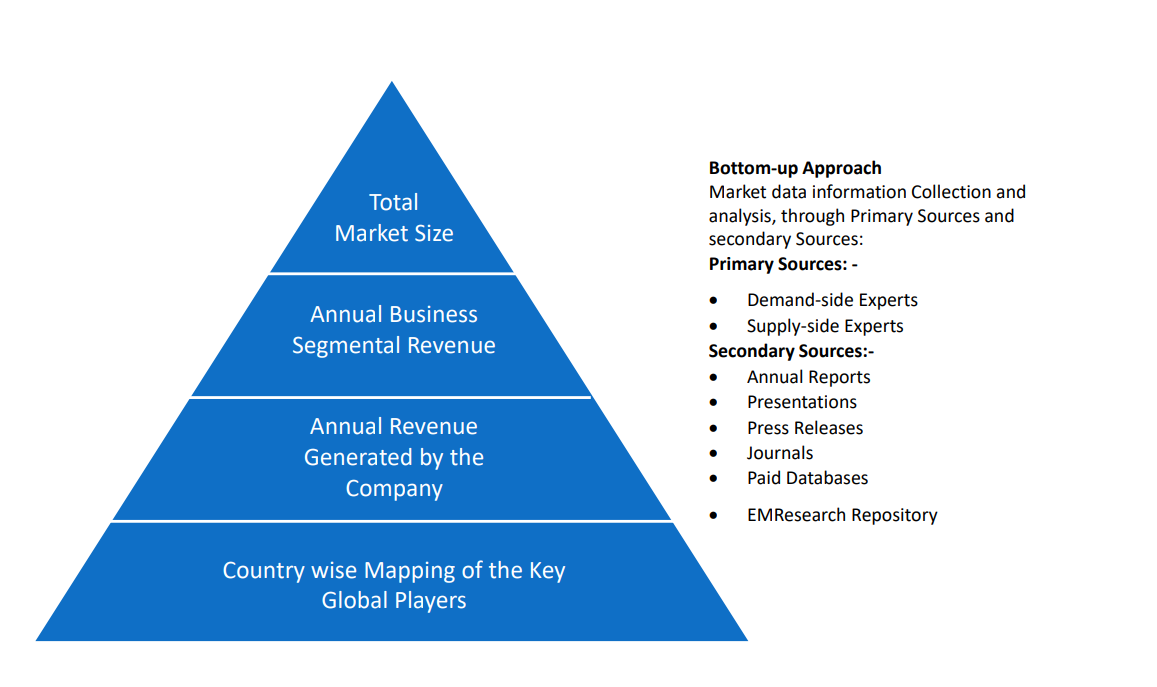 In the bottom-up approach, we arrived at the country market size by identifying the revenues and market shares of the key market players. The country market sizes then were added up to arrive at regional market size of the decorated apparel, which eventually added up to arrive at global market size.
This is one of the most reliable methods as the information is directly obtained from the key players in the market and is based on the primary interviews from the key opinion leaders associated with the firms considered in the research. Furthermore, the data obtained from the company sources and the primary respondents was validated through secondary sources including government publications and Bloomberg.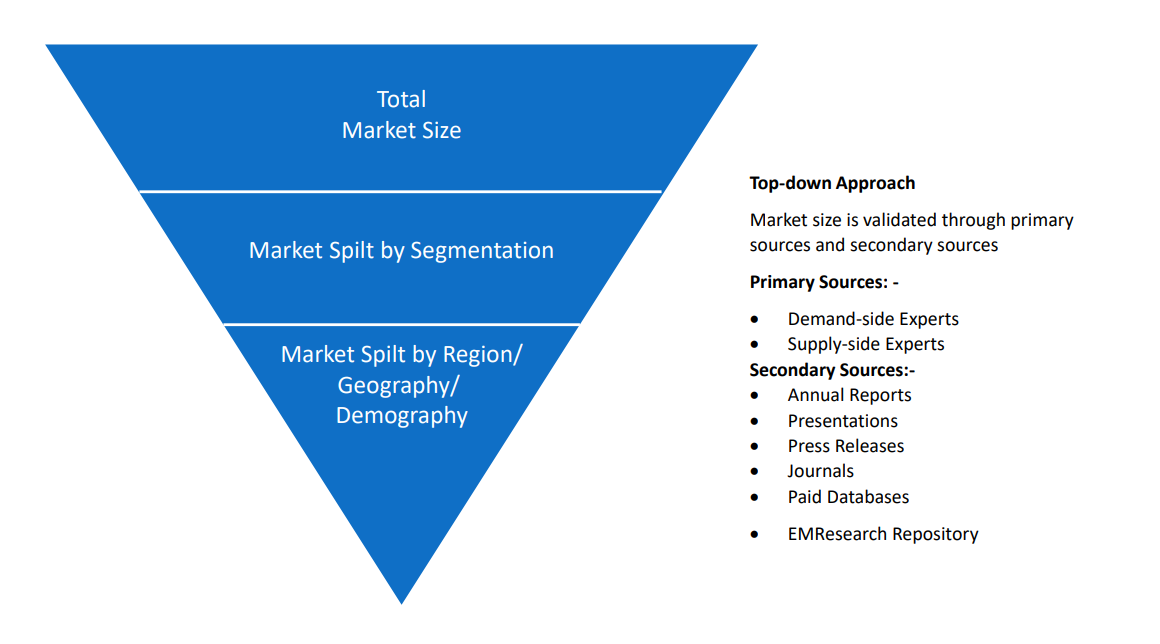 Market Analysis & size Estimation
Post the data mining stage, we gather our findings and analyze them, filtering out relevant insights. These are evaluated across research teams and industry experts. All this data is collected and evaluated by our analysts. The key players in the industry or markets are identified through extensive primary and secondary research. All percentage share splits, and breakdowns have been determined using secondary sources and verified through primary sources. The market size, in terms of value and volume, is determined through primary and secondary research processes, and forecasting models including the time series model, econometric model, judgmental forecasting model, the Delphi method, among Flywheel Energy Storage. Gathered information for market analysis, competitive landscape, growth trends, product development, and pricing trends is fed into the model and analyzed simultaneously.
Quality Checking & Final Review
The analysis done by the research team is further reviewed to check for the accuracy of the data provided to ensure the clients' requirements. This approach provides essential checks and balances which facilitate the production of quality data. This Type of revision was done in two phases for the authenticity of the data and negligible errors in the report. After quality checking, the report is reviewed to look after the presentation, Type and to recheck if all the requirements of the clients were addressed.