The Global Network Equipment Market was valued at USD 143.56 billion in 2022 and is estimated to reach approximately USD 192.65 billion by 2031, at a CAGR of 3.3% from 2023 to 2031. The network equipment market refers to the industry that produces and provides various hardware and software components used in building and maintaining communication networks. Various examples of these networks are wireless, data, and telecommunications networks. The transfer of data, audio, and multimedia through these networks is made possible in large part by network equipment. Initially focused on providing basic connectivity through devices like routers and switches, the market swiftly evolved to meet growing demands. Innovations like modems, hubs, and early firewalls laid the groundwork for more advanced technologies. The market expanded its horizons further, incorporating wireless technologies, fiber-optic advancements, and virtualization solutions. Network equipment became not only faster and more reliable but also smarter, with the integration of artificial intelligence and machine learning for network optimization and security. From data centers to edge computing, from 4G to the eventual advent of 5G, network equipment continues to shape our increasingly connected world. It underpins the backbone of modern communication, enabling everything from global internet access to seamless IoT integration. As the digital landscape evolves, the network equipment market remains pivotal in propelling technological progress.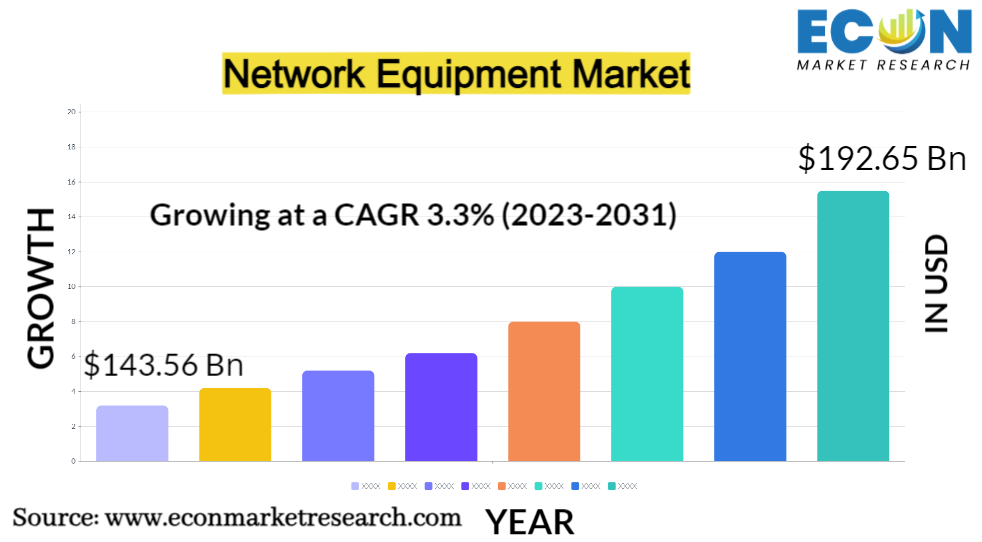 NETWORK EQUIPMENT MARKET: REPORT SCOPE & SEGMENTATION
| | |
| --- | --- |
| Report Attribute | Details |
| Estimated Market Value (2022) | 143.56 Bn |
| Projected Market Value (2031) | 192.65 Bn |
| Base Year | 2022 |
| Forecast Years | 2023 - 2031 |
| Scope of the Report | Historical and Forecast Trends, Industry Drivers and Constraints, Historical and Forecast Market Analysis by Segment- By Component, By Connectivity, By Network Type, By End-User, & Region |
| Segments Covered | By Component, By Connectivity, By Network Type, By End-User, & Region |
| Forecast Units | Value (USD Billion or Million), and Volume (Units) |
| Quantitative Units | Revenue in USD million/billion and CAGR from 2023 to 2031 |
| Regions Covered | North America, Europe, Asia Pacific, Latin America, and Middle East & Africa, and the Rest of World |
| Countries Covered | U.S., Canada, Mexico, U.K., Germany, France, Italy, Spain, China, India, Japan, South Korea, Brazil, Argentina, GCC Countries, and South Africa, among others |
| Report Coverage | Market growth drivers, restraints, opportunities, Porter's five forces analysis, PEST analysis, value chain analysis, regulatory landscape, market attractiveness analysis by segments and region, company market share analysis, and COVID-19 impact analysis. |
| Delivery Format | Delivered as an attached PDF and Excel through email, according to the purchase option. |
Global Network Equipment Market Dynamics
The market for network equipment is characterized by dynamic dynamics that are always changing and shaping industry trends and growth. The dynamics of the market are driven by the quick development of technology and the rising desire for seamless connectivity. Flexible, scalable solutions are now more in demand as a result of the switch from conventional networks to virtualized and software-defined infrastructures. The adoption of 5G technology intensifies market dynamics and calls for specialized hardware to handle faster speeds and low-latency specifications. In addition, the proliferation of the internet of things (IoT) necessitates network hardware that can safely handle a variety of device connections and data volumes. Cybersecurity concerns have spurred innovation in network security equipment, including firewalls, intrusion detection systems, and encryption tools. As networks become more complex, management and orchestration solutions gain importance to ensure efficient operation and troubleshooting. Competitive dynamics in the market are fueled by established players and innovative startups, driving constant innovation and price competition. Open-source initiatives also influence market trends, promoting collaboration and interoperability. Government policies and regulations related to data privacy and network neutrality significantly impact market dynamics. Economic factors, such as capital investments and global economic conditions, influence the market's growth trajectory. The network equipment market is shaped by technological advancements, 5G and IoT demands, cybersecurity considerations, competition among players, regulatory influences, and economic factors. Adapting to these dynamics is crucial for stakeholders to capitalize on emerging opportunities and address evolving challenges.
Global Network Equipment Market Drivers
Edge Infrastructure Expansion
Edge infrastructure expansion refers to the strategic development and deployment of computing resources and networking capabilities closer to the point of data generation, consumption, or processing. This expansion is driven by the growing demand for real-time data processing and the proliferation of applications that require immediate insights, such as IoT, augmented reality, and autonomous vehicles. By positioning edge servers, data centers, and networking equipment in proximity to end-users or data sources, organizations can achieve faster data analysis, reduced network congestion, and improved bandwidth efficiency. Edge infrastructure expansion also supports the offloading of computational tasks from centralized data centers, enabling more efficient utilization of resources and reducing the need for data to travel long distances. This approach enhances the scalability and resilience of digital services, making them more adaptable to dynamic and distributed workloads.
Evolution of 5G and Beyond
The evolution of 5G and beyond represents the continuous advancement of wireless communication technology to meet the ever-growing demands of connectivity and data-driven applications. 5G, the fifth generation of wireless technology, offers unprecedented speeds, lower latency, and higher capacity compared to its predecessors. It enables enhanced mobile broadband, supports massive IoT deployment, and serves as a foundation for transformative technologies like autonomous vehicles and smart cities. Beyond 5G, the evolution encompasses several key trends and technologies. One is the exploration of higher frequency bands, including millimeter waves, for even faster data rates and greater capacity. Additionally, there's a focus on ultra-reliable, low-latency communication (URLLC) to enable critical applications like remote surgery and industrial automation.
Restraints:
High initial investment is the term used to describe the significant financial commitment needed to start a project, enterprise, or commercial venture. To develop infrastructure, acquire assets, and start operations, it frequently requires significant capital expenditure. This financial investment may cover costs for facilities, staff, equipment, research & development, marketing, and more. In various sectors, such as manufacturing, technology startups, and infrastructure development, high initial investment is a common barrier to entry. It poses challenges for entrepreneurs and businesses, particularly those with limited access to capital. The need for substantial funds upfront can deter innovation, hinder market entry, and delay project execution.
Interoperability Challenges
The difficulties that arise when various systems, technologies, or components must operate cooperatively inside a network or ecosystem are referred to as interoperability challenges. Interoperability guarantees that distinct components may communicate, exchange data, and work cohesively across a variety of fields including technology, healthcare, and infrastructure. Technical differences, such as varying data formats, protocols, and standards, often hinder smooth interoperability. When systems are designed independently or follow different specifications, integrating them becomes complex and time-consuming. Moreover, frequent updates and advancements can lead to compatibility issues between newer and older versions.
Opportunities:
Cloud Data Center Expansion
This opportunity arises from the escalating adoption of cloud computing solutions by enterprises of all sizes. Organizations seek to optimize resource utilization, enhance agility, and reduce operational costs by migrating their operations to the cloud. Cloud data center expansion allows service providers to offer diverse services such as Infrastructure as a Service (IaaS), Platform as a Service (PaaS), and Software as a Service (SaaS) on a global scale. The expansion also enables the facilitation of edge computing, reducing latency by placing data centers closer to end-users. This is crucial for applications requiring real-time processing, such as IoT and content delivery networks. With the rise of 5G and emerging technologies, the demand for cloud data center resources is projected to surge further.
The Adoption of

Software-Defined Networking (SDN)
Businesses and organizations looking to change their network infrastructure into a more agile, effective, and flexible ecosystem have an excellent chance with the adoption of software-defined networking (SDN). With SDN, network managers can centrally manage and configure network elements using software-based controllers by separating the control plane from the data plane of the network. SDN enables dynamic and real-time network adjustments, enhancing responsiveness to changing demands and reducing manual configuration efforts. This agility is particularly valuable in cloud environments and for accommodating the diverse requirements of modern applications. SDN enhances network efficiency by optimizing traffic routing and resource allocation. It facilitates better utilization of available bandwidth, reduces network congestion, and enhances overall performance. This efficiency is especially crucial in environments with large data flows or high network demand.
Segment Overview
By Component
Based on components, the global network equipment market is divided into hardware and software. The hardware category dominates the market with the largest revenue share of around 56.4% in 2022. This category encompasses the physical devices and equipment that form the backbone of networks. Routers, switches, modems, wireless access points, and servers are examples of network hardware. These tangible components facilitate data transmission, connectivity, and data storage. Hardware forms the infrastructure upon which networks are built, serving as the physical foundation for data transfer and communication. The software segment involves the programs, applications, and protocols that govern the functionality and management of networks. Network management software, operating systems, security solutions, and virtualization software fall under this category. Software controls the behavior of hardware components, dictates how data is routed, and manages network configurations. It provides the intelligence and automation required for efficient network operation, security, and performance optimization
By Connectivity
Based on the connectivity, the global network equipment market is categorized into 2G/3G and 4G LTE. The 4G LTE category leads the global network equipment market with the largest revenue share of around 70.6% in 2022. The transition to 4G LTE marked a significant leap forward. LTE, or Long-Term Evolution, introduced high-speed data connectivity with low latency, enabling seamless multimedia streaming, video conferencing, and advanced applications. It improved both download and upload speeds, revolutionizing the way people accessed content on mobile devices. 4G LTE laid the groundwork for emerging technologies like VoLTE (Voice over LTE) and paved the way for the Internet of Things (IoT) devices and services. The 2G (second generation) and 3G (third generation) era laid the foundation for modern mobile communication. 2G introduced digital voice communication, replacing analog systems, while 3G brought higher data speeds, enabling basic mobile internet and multimedia services. These technologies focused primarily on voice communication with limited data capabilities, making them suitable for text messages, emails, and simple web browsing.
By Network Type
Based on network type, the global network equipment market is segmented into public networks and private networks. The public networks segment dominates the network equipment market with 67.2% market share in 2022. Public networks, often referred to as commercial or shared networks, are operated by telecommunication service providers and are accessible to the general public. These networks offer widespread coverage and connectivity options, allowing individuals and businesses to access voice, data, and internet services. Public networks include technologies like 2G, 3G, 4G LTE, and 5G, offering various levels of speed and capabilities. They are suitable for personal communication, browsing the internet, accessing cloud services, and various applications that require broad coverage and connectivity. Private networks are exclusive communication infrastructures deployed and managed by specific organizations for their internal use. These networks offer greater control, security, and customization compared to public networks. They can be deployed using technologies like Wi-Fi, Ethernet, or cellular networks.
By End-User
Based on end-users, the global network equipment market is divided into telecom operators, enterprises, public safety, healthcare, retail and e-commerce, banking, financial services and insurance, government and defense, manufacturing, and others. The telecom operator category dominates the market with the largest revenue share. Telecom operators constitute a significant segment, providing the infrastructure and services that enable communication for individuals and businesses. They deploy and manage the network infrastructure required for voice, data, and internet services. Public safety agencies such as police, fire departments, and emergency services rely on communication networks for real-time information sharing, coordination, and response during critical situations. Also, the healthcare industry utilizes communication networks for secure transmission of patient information, telemedicine, remote monitoring, and efficient exchange of medical data among healthcare professionals.
Global Network Equipment Market Overview by Region
The global network equipment market is categorized into North America, Europe, Asia-Pacific, and the Rest of the World. Asia-Pacific emerged as the leading region, capturing approximately 35.3% of the market share in 2022. Asia-Pacific has emerged as the leading region in various industries and domains due to its rapid economic growth, technological advancements, and demographic factors. The region's robust economic growth has led to increased investment in infrastructure, including communication networks. Countries like China, India, and Southeast Asian nations have experienced significant economic expansion, driving the demand for improved connectivity. Asian countries, particularly China, South Korea, and Japan, have been at the forefront of technological innovation. They have played a pivotal role in the development and deployment of cutting-edge technologies such as 5G, Internet of Things (IoT), and artificial intelligence (AI). The Asia-Pacific region is home to a substantial portion of the world's population. This population size has driven the adoption of communication technologies, with mobile phones and internet usage becoming ubiquitous in many countries. Many countries in Asia-Pacific are undergoing rapid digital transformation across various sectors, from manufacturing to healthcare. This transformation relies heavily on robust communication networks to enable data exchange, automation, and real-time connectivity. The Asia-Pacific region's ascendancy in the field of communication networks underscores its significance as a global technology hub. Its proactive approach to technology adoption and innovation positions it as a leader in shaping the future of connectivity and digital transformation on a global scale.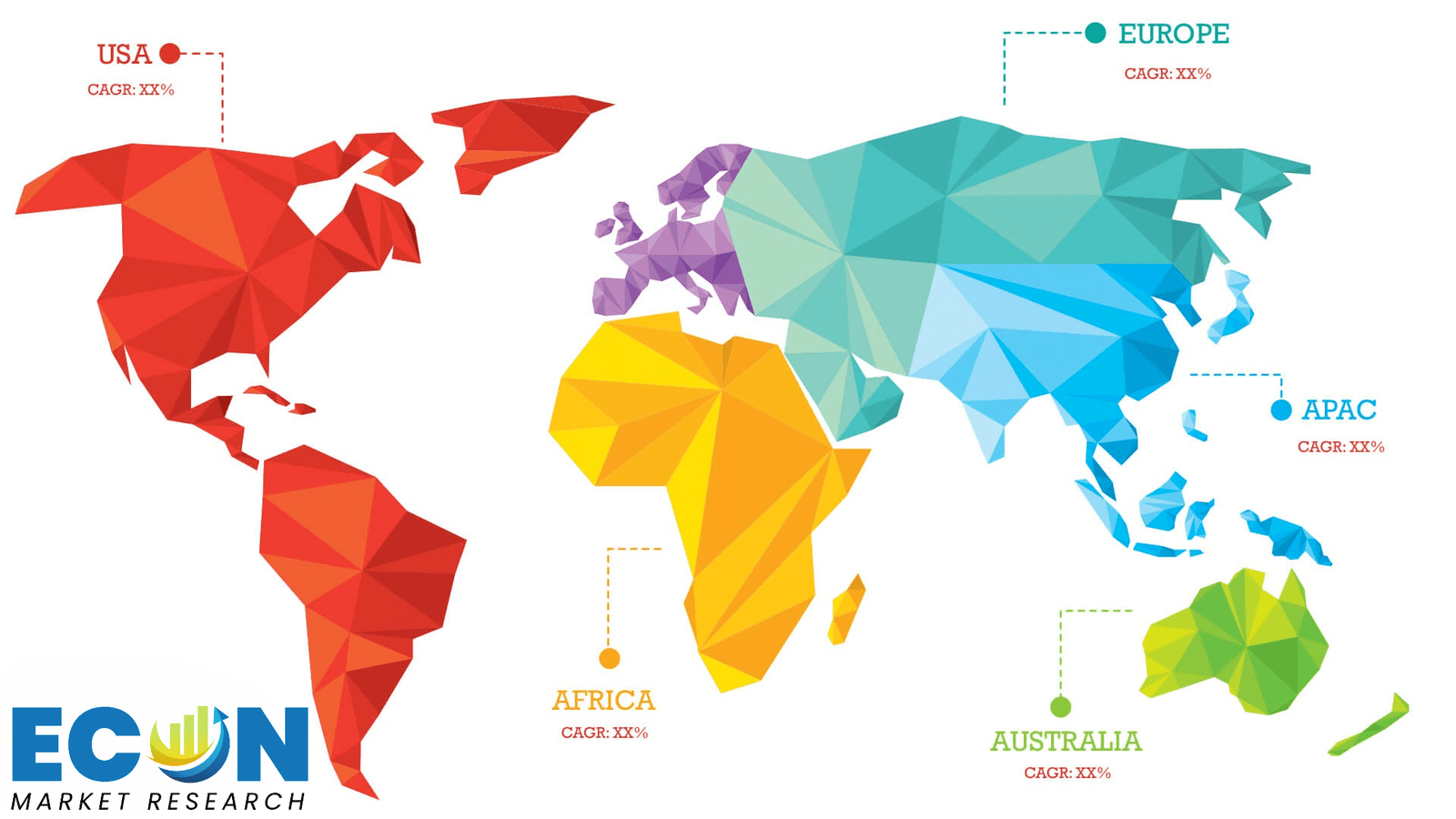 Global Network Equipment Market Competitive Landscape
In the global network equipment market, a few major players exert significant market dominance and have established a strong regional presence. These leading companies remain committed to continuous research and development endeavors and actively engage in strategic growth initiatives, including product development, launches, joint ventures, and partnerships. By pursuing these strategies, these companies aim to strengthen their market position, expand their customer base, and capture a substantial share of the market.
Some of the prominent players in the global network equipment market include, Telefonaktiebolaget LM Ericsson; Nokia Corporation; Samsung Electronics Co., Ltd.; ZTE Corporation; Juniper Networks Inc.; Huawei Technologies Co., Ltd.; Cisco Systems, Inc.; Hewlett Packard Enterprise Development LP; Broadcom; ALE International (Alcatel-Lucent) and various other key players.
Global Network Equipment Market Recent Developments
In March 2023, Jio Plans to Speed Up 5G Deployment and Pay $60 Million For US-Based Mimosa Networks. Jio will be able to increase the scope of its 5G deployment owing to the acquisition, which will also provide it direct access to the Mimosa product line. Reliance Jio has accelerated the rollout of 5G throughout the nation and now provides the service in 331 Indian cities.
In June 2023, Cisco intends to acquire Accedian and SamKnows in order to further strengthen network assurance. Cisco's ThousandEyes cloud-based network intelligence software, which examines everything from the performance of local and wide-area networks to ISP, cloud, and collaborative application performance to the state of the internet, will incorporate SamKnows technology.
Scope of the Global Network Equipment Market Report
Network Equipment Market Report Segmentation
ATTRIBUTE

DETAILS

By Component

By Connectivity

By Network Type

Public Network

Private Network

By End-User

Telecom Operators

Enterprises

Public Safety

Healthcare

Retail And E-commerce

Banking

Financial Services & Insurance

Government & Defense

Manufacturing

Others

By Geography

North America (USA,

and Canada)

Europe (UK, Germany, France, Italy, Spain, Russia and Rest of Europe)

Asia Pacific (Japan, China, India, Australia, Southeast Asia and Rest of Asia Pacific)

Latin America (Brazil, Mexico, and Rest of Latin America)

Middle East & Africa (South Africa, GCC, and Rest of Middle East & Africa)

Customization Scope

Pricing
Objectives of the Study
The objectives of the study are summarized in 5 stages. They are as mentioned below:
Global Network Equipment Market

Size and Forecast:
To identify and estimate the market size for the global network equipment market segmented by component, by connectivity, by network type, by end-user,, region and by value (in U.S. dollars). Also, to understand the consumption/ demand created by consumers of network equipment between 2019 and 2031.
Market Landscape and Trends:
To identify and infer the drivers, restraints, opportunities, and challenges for the global network equipment market
Market Influencing Factors:
To find out the factors which are affecting the sales of network equipment among consumers
To identify and understand the various factors involved in the global network equipment market affected by the pandemic
To provide a detailed insight into the major companies operating in the market. The profiling will include the financial health of the company's past 2-3 years with segmental and regional revenue breakup, product offering, recent developments, SWOT analysis, and key strategies.
Intended Audience
Raw Material Suppliers

Retailers, Wholesalers, and Distributors

Governments, Associations, and Industrial Bodies

Investors and Trade Experts
Research Methodology
Our research methodology has always been the key differentiating reason which sets us apart in comparison from the competing organizations in the industry. Our organization believes in consistency along with quality and establishing a new level with every new report we generate; our methods are acclaimed and the data/information inside the report is coveted. Our research methodology involves a combination of primary and secondary research methods. Data procurement is one of the most extensive stages in our research process. Our organization helps in assisting the clients to find the opportunities by examining the market across the globe coupled with providing economic statistics for each and every region. The reports generated and published are based on primary & secondary research. In secondary research, we gather data for global Market through white papers, case studies, blogs, reference customers, news, articles, press releases, white papers, and research studies. We also have our paid data applications which includes hoovers, Bloomberg business week, Avention, and others.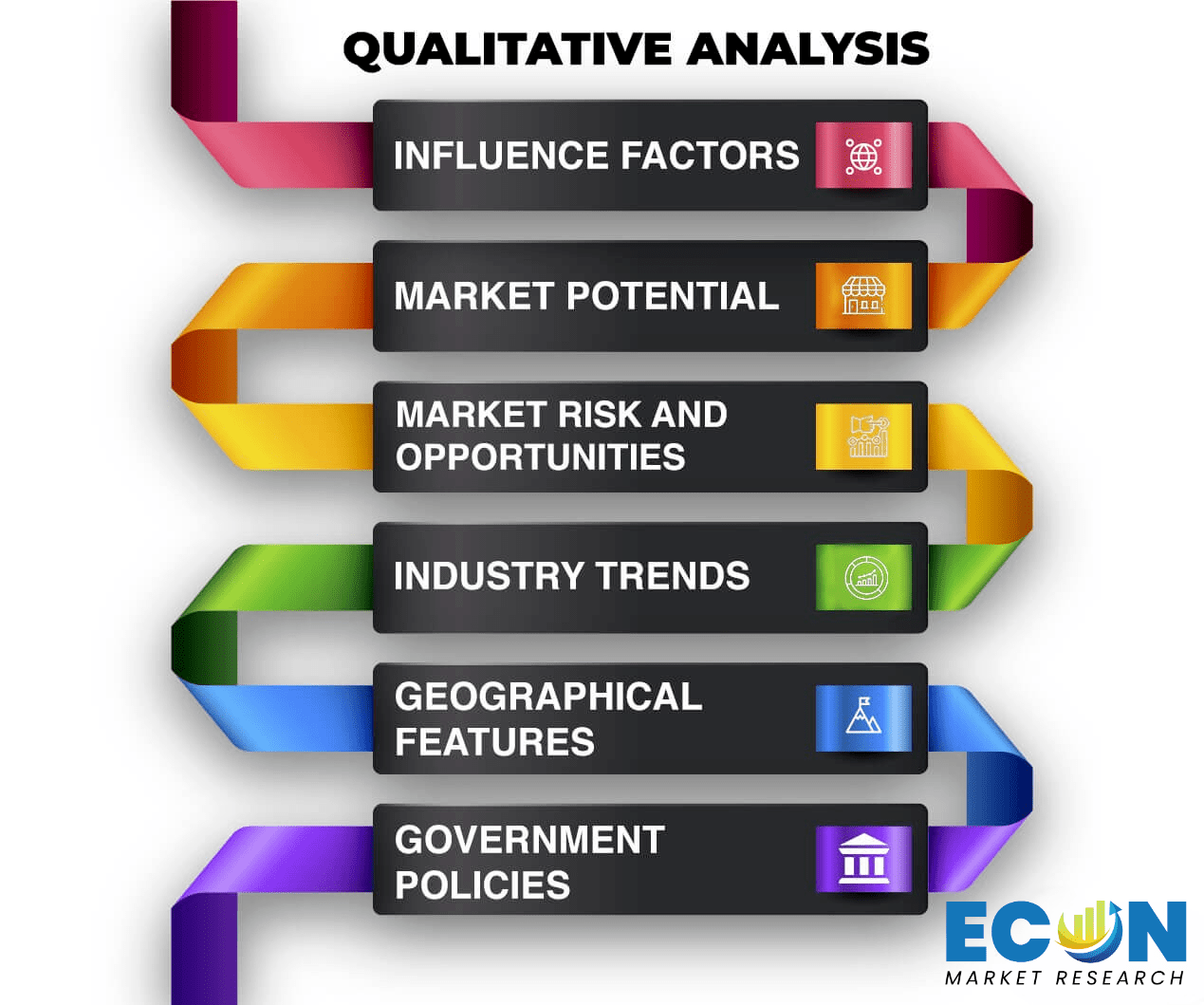 Data Collection
Data collection is the process of gathering, measuring, and analyzing accurate and relevant data from a variety of sources to analyze market and forecast trends. Raw market data is obtained on a broad front. Data is continuously extracted and filtered to ensure only validated and authenticated sources are considered. Data is mined from a varied host of sources including secondary and primary sources.

Primary Research
After the secondary research process, we initiate the primary research phase in which we interact with companies operating within the market space. We interact with related industries to understand the factors that can drive or hamper a market. Exhaustive primary interviews are conducted. Various sources from both the supply and demand sides are interviewed to obtain qualitative and quantitative information for a report which includes suppliers, product providers, domain experts, CEOs, vice presidents, marketing & sales directors, Type & innovation directors, and related key executives from various key companies to ensure a holistic and unbiased picture of the market. 
Secondary Research
A secondary research process is conducted to identify and collect information useful for the extensive, technical, market-oriented, and comprehensive study of the market. Secondary sources include published market studies, competitive information, white papers, analyst reports, government agencies, industry and trade associations, media sources, chambers of commerce, newsletters, trade publications, magazines, Bloomberg BusinessWeek, Factiva, D&B, annual reports, company house documents, investor presentations, articles, journals, blogs, and SEC filings of companies, newspapers, and so on. We have assigned weights to these parameters and quantified their market impacts using the weighted average analysis to derive the expected market growth rate.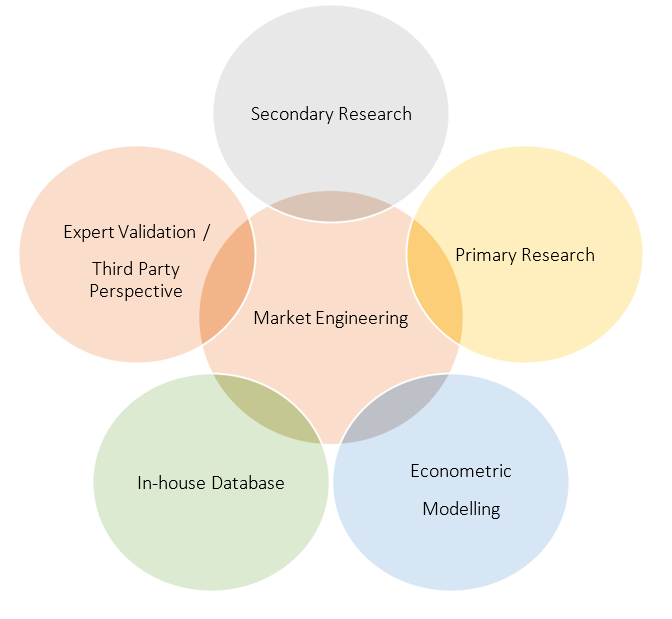 Top-Down Approach & Bottom-Up Approach
In the top – down approach, the Global Batteries for Solar Energy Storage Market was further divided into various segments on the basis of the percentage share of each segment. This approach helped in arriving at the market size of each segment globally. The segments market size was further broken down in the regional market size of each segment and sub-segments. The sub-segments were further broken down to country level market. The market size arrived using this approach was then crosschecked with the market size arrived by using bottom-up approach.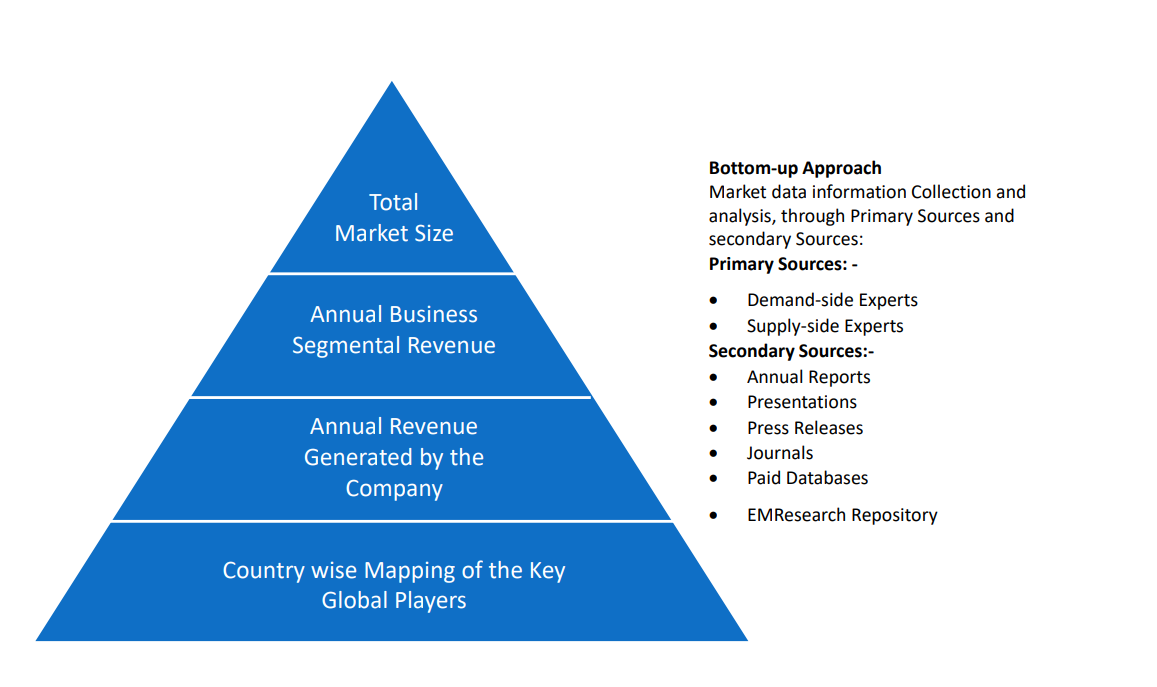 In the bottom-up approach, we arrived at the country market size by identifying the revenues and market shares of the key market players. The country market sizes then were added up to arrive at regional market size of the decorated apparel, which eventually added up to arrive at global market size.
This is one of the most reliable methods as the information is directly obtained from the key players in the market and is based on the primary interviews from the key opinion leaders associated with the firms considered in the research. Furthermore, the data obtained from the company sources and the primary respondents was validated through secondary sources including government publications and Bloomberg.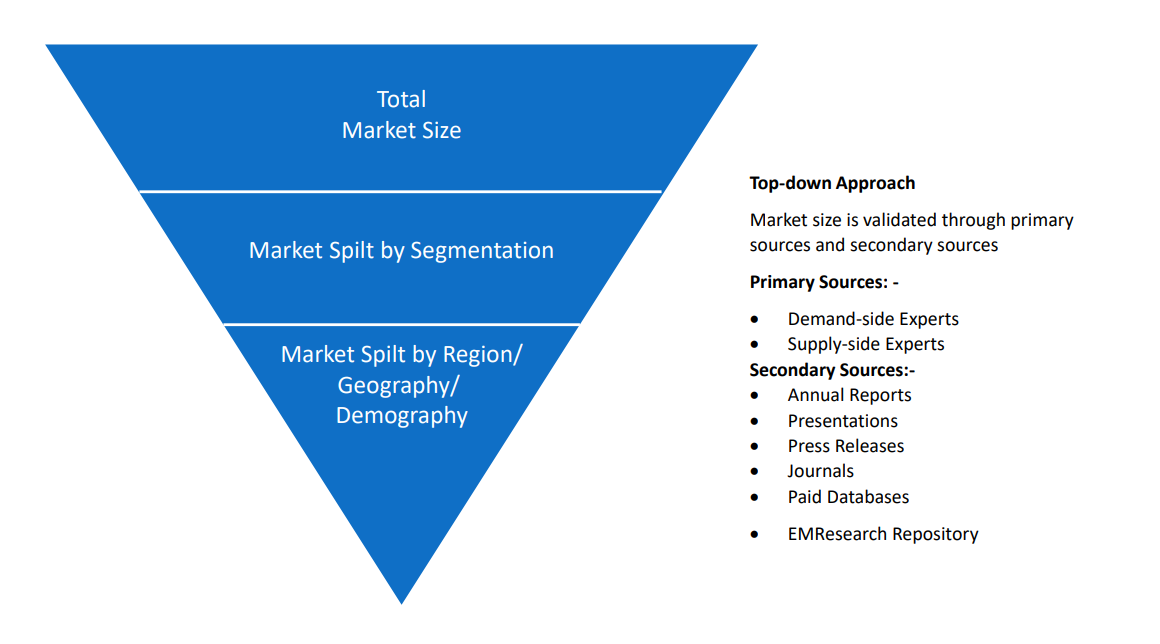 Market Analysis & size Estimation
Post the data mining stage, we gather our findings and analyze them, filtering out relevant insights. These are evaluated across research teams and industry experts. All this data is collected and evaluated by our analysts. The key players in the industry or markets are identified through extensive primary and secondary research. All percentage share splits, and breakdowns have been determined using secondary sources and verified through primary sources. The market size, in terms of value and volume, is determined through primary and secondary research processes, and forecasting models including the time series model, econometric model, judgmental forecasting model, the Delphi method, among Flywheel Energy Storage. Gathered information for market analysis, competitive landscape, growth trends, product development, and pricing trends is fed into the model and analyzed simultaneously.
Quality Checking & Final Review
The analysis done by the research team is further reviewed to check for the accuracy of the data provided to ensure the clients' requirements. This approach provides essential checks and balances which facilitate the production of quality data. This Type of revision was done in two phases for the authenticity of the data and negligible errors in the report. After quality checking, the report is reviewed to look after the presentation, Type and to recheck if all the requirements of the clients were addressed.