The Global Nanofiltration Membrane Market was valued at USD 1.0 billion in 2022 and is estimated to reach approximately USD 2.4 billion by 2031, at a CAGR of 10.4% from 2023 to 2031. A specialized filtering method known as a nanofiltration membrane allows for the selective passage of molecules based on their size and charge. It successfully filters out tiny particles, such as ions and organic molecules, while permitting some bigger molecules and water to pass through. This method is widely used to precisely separate and purify chemicals in the production of clean water as well as different industrial applications, including desalination and water purification. The need for cutting-edge water treatment and purification technologies has increased significantly in recent years, and these trends have in turn helped to drive the expansion of the global nanofiltration membrane market. With the ability to efficiently remove ions, organic molecules, and small particles from water and other liquids, nanofiltration membranes are a key aspect of separation processes. The popularity of nanofiltration membranes in the water treatment industry has been spurred by the growing demand for clean drinking water and the removal of contaminants such as heavy metals, organic pollutants, and salts. These membranes are very effective at treating industrial effluent, softening hard water, and desalination. Nanofiltration membranes are widely used in the food and beverage industry for concentrating and fractionating ingredients like fruit juices and dairy products, in addition to treating water. They are used in a variety of industrial operations, including chemical separations and the textile sector, as well as pharmaceuticals to purify drugs. The development of membrane technology, which improves efficiency and lowers energy consumption, is a significant driver of market expansion. Furthermore, the industry is becoming more appealing as a result of strict environmental restrictions around the world forcing enterprises to employ cleaner and more sustainable separation methods. The nanofiltration membrane market is anticipated to continue growing, providing creative solutions to solve changing challenges in industrial processes and clean water treatment as the world's focus on these issues grows.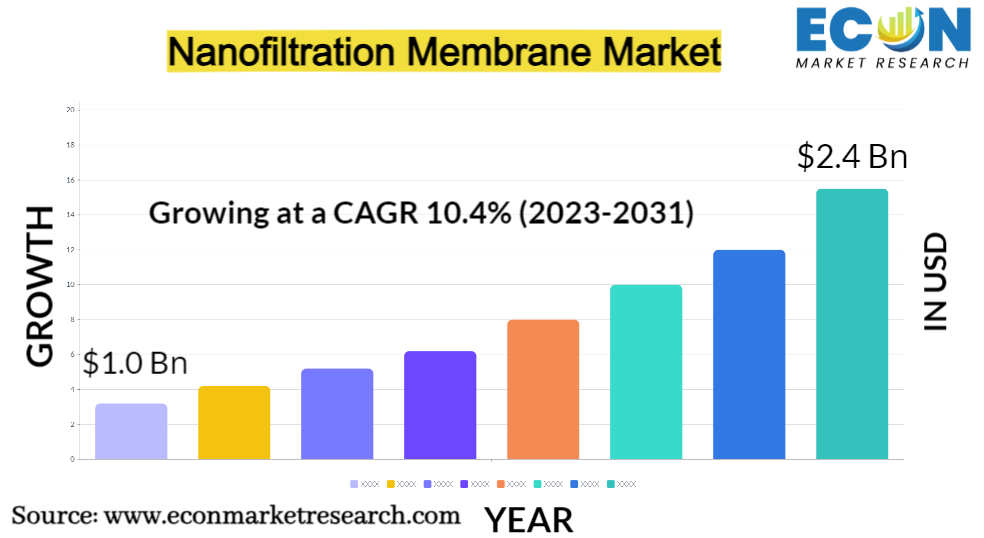 NANOFILTRATION MEMBRANE MARKET: REPORT SCOPE & SEGMENTATION
| | |
| --- | --- |
| Report Attribute | Details |
| Estimated Market Value (2022) | 1.0 Bn |
| Projected Market Value (2031) | 2.4 Bn |
| Base Year | 2022 |
| Forecast Years | 2023 - 2031 |
| Scope of the Report | Historical and Forecast Trends, Industry Drivers and Constraints, Historical and Forecast Market Analysis by Segment- By Type, By Application & Region |
| Segments Covered | By Type, By Application, & Region |
| Forecast Units | Value (USD Billion or Million), and Volume (Units) |
| Quantitative Units | Revenue in USD million/billion and CAGR from 2023 to 2031 |
| Regions Covered | North America, Europe, Asia Pacific, Latin America, and Middle East & Africa, and the Rest of World |
| Countries Covered | U.S., Canada, Mexico, U.K., Germany, France, Italy, Spain, China, India, Japan, South Korea, Brazil, Argentina, GCC Countries, and South Africa, among others |
| Report Coverage | Market growth drivers, restraints, opportunities, Porter's five forces analysis, PEST analysis, value chain analysis, regulatory landscape, market attractiveness analysis by segments and region, company market share analysis, and COVID-19 impact analysis. |
| Delivery Format | Delivered as an attached PDF and Excel through email, according to the purchase option. |
Global Nanofiltration Membrane Market Dynamics
The market for nanofiltration membranes is characterized by dynamic dynamics that have a substantial impact on its expansion and growth. First and foremost, the industry is being driven primarily by the growing global concerns about water quality and shortage. The increasing use of nanofiltration membranes in various water treatment applications is a result of the urgent need for clean, potable water as well as the removal of impurities including heavy metals and organic pollutants. The need for effective separation technologies to meet production requirements and environmental regulations has increased with the expansion of industrial sectors like as chemicals, food and beverage, and pharmaceuticals. The strict regulatory environment is driving enterprises towards cleaner and more environmentally friendly operations, which is further increasing the nanofiltration membrane market. This is especially true of wastewater discharge and sustainability. The creation of new membrane technologies that offer increased performance, durability, and selectivity is largely due to technological improvements, which are always being made in research and development. Additionally, nanofiltration is favored by the focus on energy-efficient procedures because it frequently uses less energy than other separation techniques like reverse osmosis. The competitive landscape of the market is shaped by fierce market competition, which promotes creativity and inexpensive solutions. Regional factors are particularly important because urbanization, industrialization, and infrastructural development are driving rapid market expansion in emerging economies. Additional opportunities for membrane suppliers and service providers are created by the need for membrane system maintenance, replacement, and upgrades. Nanofiltration membrane adoption is also fueled by the expanding interest in water reuse and recycling across different businesses and governments.
Global Nanofiltration Membrane Market Drivers
Industrial Process Efficiency
Efficiency in industrial processes is a key factor in modern manufacturing and production activities. It describes a company's or facility's capacity to streamline operations, reduce waste, and increase output while utilizing resources, such as energy and raw materials, in the most efficient and sustainable way feasible. Process simplification can result in significant financial savings by lowering energy usage, eliminating material waste, and raising overall productivity. This can thus increase a company's ability to compete in the market. Sustainability in the environment is yet another important factor. Industries are under increasing pressure to minimize the release of pollutants and reduce their carbon footprint as concerns about climate change and its effects mount. Reduced emissions and resource consumption are frequently a result of efficient processes, which are consistent with legal and sustainable development objectives. A part is also played by consumer expectations and market demand. Customers like products that are created with little regard for the environment and ethical principles, thus businesses should emphasize their use of effective and sustainable production techniques.
Growth in Food and Beverage Industry
Changes in customer tastes are crucial. Organic, natural, and healthier food and beverage options are in high demand as consumers place a higher value on health and wellness. Additionally, the convenience-focused way of life of contemporary civilization has increased consumer preference for ready-to-eat and on-the-go items, supporting industry expansion. An increasing middle class, especially in emerging nations, and a growing global population are demographic factors. Increased food consumption and a rise in desire for a variety of gastronomic experiences are the results of this demographic shift. Additionally, the demand for processed and packaged foods has increased as a result of urbanization, which is taking place at an unprecedented rate. Innovation and technological advancements in food production, packaging, and distribution have facilitated the introduction of novel products, flavors, and ingredients, thereby stimulating market growth.
Restraints:
The installation of specialized machinery, such as membranes, pumps, and monitoring systems, is a major upfront capital expense required for nanofiltration systems. Smaller firms, towns, or organizations with tight budgets may find it especially difficult to make this substantial financial investment. Potential consumers can be discouraged from adopting nanofiltration technology by the high upfront expenses, especially when they contrast it with other filtration techniques that require less capital up front. This restriction is more noticeable in areas or sectors where cost-effectiveness is a crucial factor. The lengthy payback period for nanofiltration systems might also result from the large initial investment, delaying the realization of cost savings and advantages related to better water quality and process efficiency.
The design of nanofiltration systems must take into account elements including the choice of membrane material, pore size, and module arrangement. These choices affect how well the system separates particular ions and compounds from the feedwater. To maximize performance, system engineers must also take into account variables like flow rates, pressure, and temperature. Nanofiltration systems must be carefully monitored and controlled in order to function. In order to maintain the optimum separation efficiency and avoid scaling or fouling problems, operators must constantly modify variables. It can be difficult to manage these variables without sophisticated automation and instrumentation. A crucial component is nanofiltration system upkeep. Professional personnel is necessary for routine cleaning, membrane replacement, and troubleshooting. Particularly fouling and scaling issues might require a lot of work and effort to resolve.
Opportunities:
Expanding Pharmaceutical Sector
To ensure that the finished products adhere to high quality and regulatory standards, pharmaceutical formulations can be purified and separated using nanofiltration. For biopharmaceuticals and protein-based medications, where maintaining the integrity and purity of the active components is critical, this is especially important. Another important application is sterile filtration. Pharmaceutical solutions can be safely purified of bacteria, endotoxins, and other pollutants using nanofiltration membranes with precisely controlled pore diameters. This is necessary for the creation of sterile intravenous fluids, vaccinations, and injectable medications. Additionally, the concentration and purification of pharmaceutical intermediates and active pharmaceutical ingredients (APIs) also heavily rely on nanofiltration. The use of nanofiltration results in higher API yields, less waste, and more affordable manufacturing procedures by separating target compounds from contaminants.
Municipal Water Treatment
Municipalities confront more difficulties in delivering safe and clean drinking water while properly managing wastewater due to global population expansion and urbanization. By effectively eliminating impurities such organic debris, pathogens, heavy metals, and new pollutants, nanofiltration can raise the quality of drinking water. The technique used here offers a strong defence against a variety of pollutants, guaranteeing that the treated water satisfies strict health and safety requirements. Water softening solutions that use nanofiltration can handle hard water problems that frequently result in scale in plumbing and appliances. Nanofiltration technologies can increase the useful life of infrastructure and lower maintenance costs by selectively eliminating hardness ions.
Segment Overview
By Type
Based on type, the global nanofiltration membrane market is divided into polymeric, inorganic, hybrid, and others. The polymeric category dominates the market with the largest revenue share. These membranes are composed of synthetic polymers such as polyamide (PA), polyether sulfone (PES), and polyvinylidene fluoride (PVDF). Polymeric membranes are widely used in various applications due to their cost-effectiveness, flexibility, and compatibility with a range of chemicals. They are commonly found in water treatment, food and beverage processing, and pharmaceutical applications. Inorganic nanofiltration membranes are constructed from inorganic materials like ceramics, alumina, or metals like titanium. These membranes are known for their high chemical resistance and durability, making them suitable for applications that involve aggressive chemicals, extreme pH conditions, or elevated temperatures. They are often used in industrial processes where polymeric membranes cannot be suitable. Hybrid membranes are a combination of polymeric and inorganic materials. These membranes aim to leverage the advantages of both polymeric and inorganic membranes, offering improved performance, selectivity, and durability. Hybrid membranes are utilized in applications that require a balance between chemical resistance and permeability.
By Application
Based on the application, the global nanofiltration membrane market is categorized into water and wastewater treatment, food and beverage, industrial biotechnology, pharmaceutical intermediates, agriculture, textile, and others. The industrial biotechnology category leads the global nanofiltration membrane market with the largest revenue share. Nanofiltration membranes are utilized in biotechnology processes for separating and concentrating valuable biomolecules, enzymes, and pharmaceutical intermediates. They facilitate downstream processing and purification in industries like biopharmaceuticals and biofuels. Nanofiltration membranes play a crucial role in purifying and treating water for both drinking water production and wastewater treatment. They effectively remove contaminants, including organic matter, heavy metals, and ions, making water safe for consumption and environmentally compliant for discharge. The food and beverage industry uses nanofiltration for various purposes, such as concentrating juices, desalting brackish water for food processing, and removing impurities from dairy products. These membranes aid in improving product quality and shelf life while meeting regulatory standards. In the pharmaceutical sector, nanofiltration is employed for the purification and separation of pharmaceutical intermediates, ensuring high-quality drug products. It aids in removing impurities and achieving precise molecular separations in pharmaceutical manufacturing. Nanofiltration membranes are used in agriculture for applications such as water purification, nutrient recovery from agricultural runoff, and the removal of contaminants from irrigation water, contributing to sustainable farming practices.
Global Nanofiltration Membrane Market Overview by Region
The global nanofiltration membrane market is categorized into North America, Europe, Asia-Pacific, and the Rest of the World. Asia Pacific emerged as the leading region, capturing the largest market share in 2022. Asia Pacific has a fast-expanding population, and many of its nations are becoming significantly more urbanized, with a rising middle class. A large consumer base has been generated as a result of this generational transition, fueling demand for a variety of products and services, from consumer electronics to food and beverages. The area has experienced strong economic growth, highlighted by innovation fueled by technology and manufacturing prowess. Leading nations in technical development include China, Japan, South Korea, and India. These nations encourage innovation and draw foreign capital. Because of its access to cheap labor and production resources, Asia Pacific has emerged as a center for manufacturing and production. This has contributed to the area's importance in sectors including textiles, electronics, and automobile manufacturing. In order to facilitate effective trade and business, the area has also made large investments in infrastructure, including as transportation and logistics networks. Numerous countries in the Asia-Pacific region are key participants in international supply chains due to their advantageous geographic position. The region's economic dominance has also been aided by governmental initiatives that promote commerce and business-friendly settings. Numerous Asian nations have put in place pro-business reforms that encourage both domestic and foreign investment.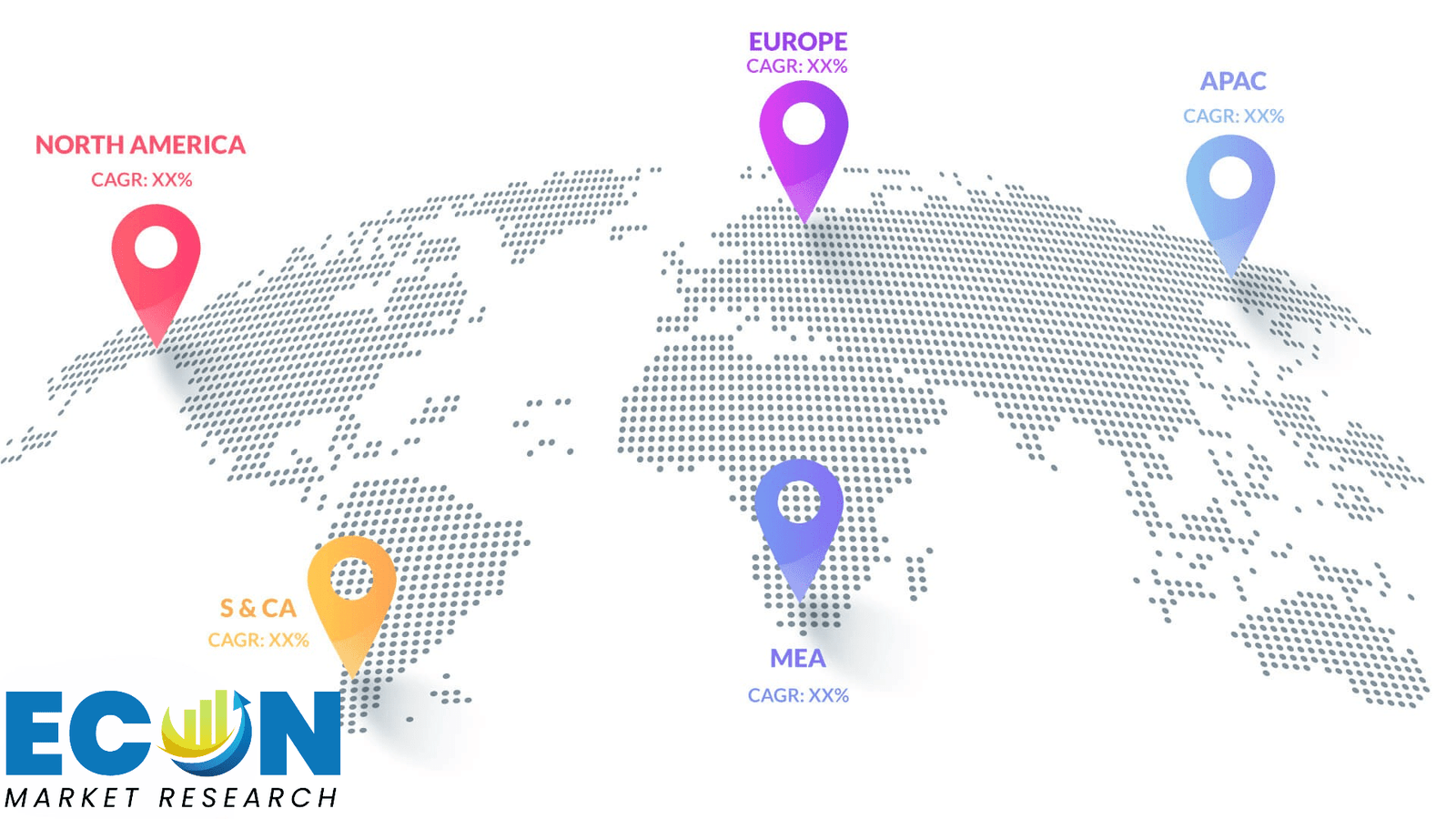 Global Nanofiltration Membrane Market Competitive Landscape
In the global nanofiltration membrane market, a few major players exert significant market dominance and have established a strong regional presence. These leading companies remain committed to continuous research and development endeavors and actively engage in strategic growth initiatives, including product development, launches, joint ventures, and partnerships. By pursuing these strategies, these companies aim to strengthen their market position, expand their customer base, and capture a substantial share of the market.
Some of the prominent players in the global nanofiltration membrane market include Koch Separation Solutions, GEA Group Aktiengesellschaft, Dow, TORAY INDUSTRIES, INC., ALFA LAVAL, Hydranautics, Pall Corporation., inopor, Hyflux Ltd, MICRODYN-NADIR, NITTO DENKO CORPORATION., APPLIED MEMBRANES, INC, SPX FLOW, Siemens, Merck kGaA, Synder Filtration, Inc. and various other key players.
Global Nanofiltration Membrane Market Recent Developments
In July 2023, DuPont Introduces First High Productivity Nanofiltration Membrane Elements Using Lithium-Brine to Purify. The new DuPontTM FilmTecTM LiNE-XD nanofiltration membrane elements for lithium brine purification have officially begun selling, according to DuPont. DuPont's initial lithium brine purification products are the FilmTecTM LiNE-XD and LiNE-XD HP, which provide high lithium passage from typical chloride-rich Li-brine streams and exceptional selectivity over divalent metals like magnesium.
In June 2023, Recent Developments in Membranes for Heavy Metal Removal from Wastewater via Nanofiltration. Due to its successful operation, flexible design, and low cost, the use of nanofiltration (NF) membranes has become one of the most efficient ways to remove heavy metal ions from wastewater.
Scope of the Global Nanofiltration Membrane Market Report
Nanofiltration Membrane Market Report Segmentation
ATTRIBUTE

DETAILS

By Type

Polymeric

Inorganic

Hybrid

Others

By Application

Water and Wastewater Treatment

Food and Beverage

Industrial Biotechnology

Pharmaceutical Intermediates

Agriculture

Textile

Others

By Geography

North America (USA,

and Canada)

Europe (UK, Germany, France, Italy, Spain, Russia and Rest of Europe)

Asia Pacific (Japan, China, India, Australia, Southeast Asia and Rest of Asia Pacific)

Latin America (Brazil, Mexico, and Rest of Latin America)

Middle East & Africa (South Africa, GCC, and Rest of Middle East & Africa)

Customization Scope

Pricing
Objectives of the Study
The objectives of the study are summarized in 5 stages. They are as mentioned below:
Global Nanofiltration Membrane Market

Size and Forecast:
To identify and estimate the market size for the global nanofiltration membrane market segmented by type, by application, region and by value (in U.S. dollars). Also, to understand the consumption/ demand created by consumers of nanofiltration membranes between 2019 and 2031.
Market Landscape and Trends:
To identify and infer the drivers, restraints, opportunities, and challenges for the global nanofiltration membrane market
Market Influencing Factors:
To find out the factors which are affecting the sales of nanofiltration membranes among consumers
To identify and understand the various factors involved in the global nanofiltration membrane market affected by the pandemic
To provide a detailed insight into the major companies operating in the market. The profiling will include the financial health of the company's past 2-3 years with segmental and regional revenue breakup, product offering, recent developments, SWOT analysis, and key strategies.
Intended Audience
Raw Material Suppliers

Students and Educators

Healthcare Professionals

Scientists and Researchers

Environmentalists and Activists

Retailers, Wholesalers, and Distributors

Governments, Associations, and Industrial Bodies

Investors and Trade Experts
Research Methodology
Our research methodology has always been the key differentiating reason which sets us apart in comparison from the competing organizations in the industry. Our organization believes in consistency along with quality and establishing a new level with every new report we generate; our methods are acclaimed and the data/information inside the report is coveted. Our research methodology involves a combination of primary and secondary research methods. Data procurement is one of the most extensive stages in our research process. Our organization helps in assisting the clients to find the opportunities by examining the market across the globe coupled with providing economic statistics for each and every region. The reports generated and published are based on primary & secondary research. In secondary research, we gather data for global Market through white papers, case studies, blogs, reference customers, news, articles, press releases, white papers, and research studies. We also have our paid data applications which includes hoovers, Bloomberg business week, Avention, and others.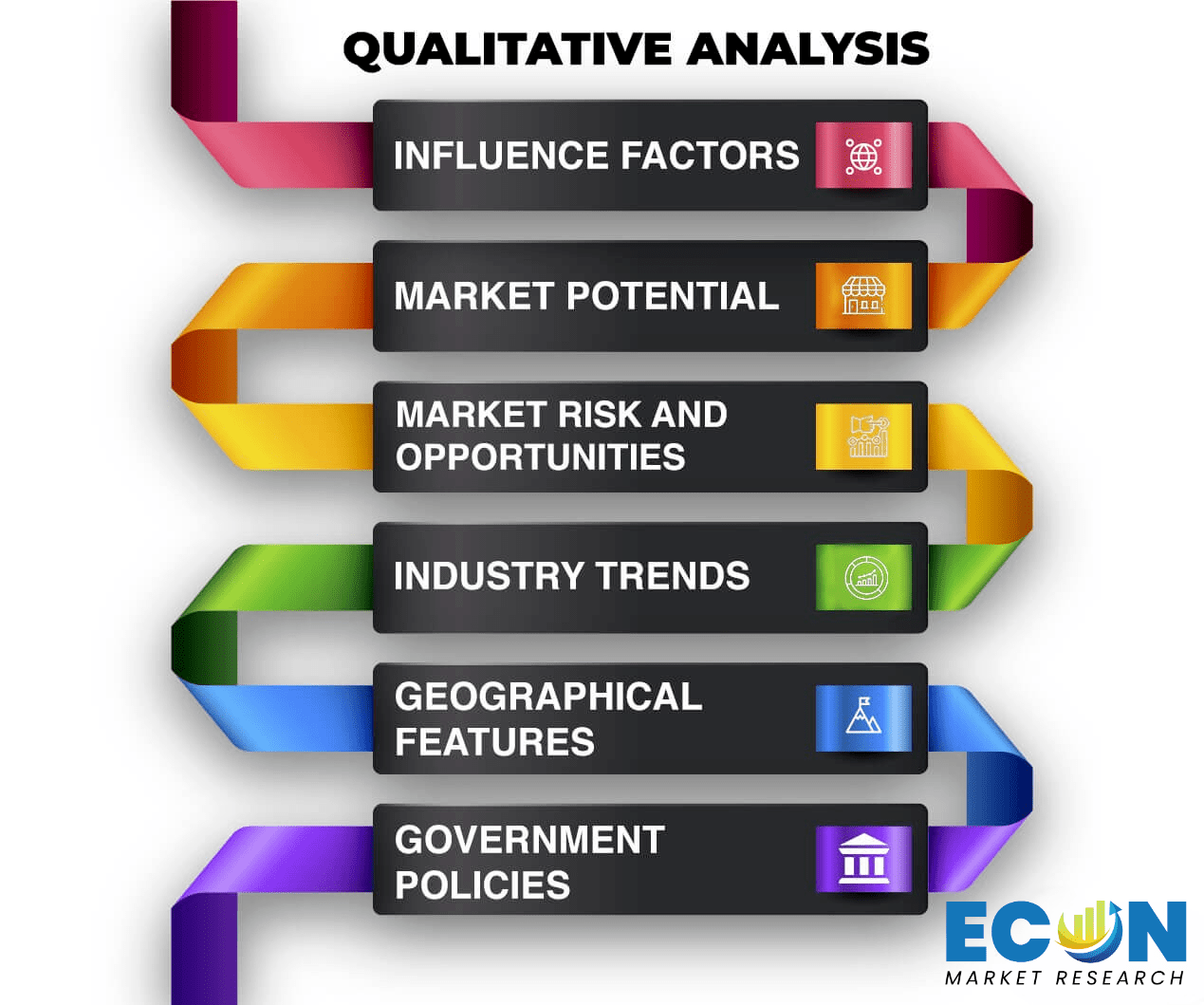 Data Collection
Data collection is the process of gathering, measuring, and analyzing accurate and relevant data from a variety of sources to analyze market and forecast trends. Raw market data is obtained on a broad front. Data is continuously extracted and filtered to ensure only validated and authenticated sources are considered. Data is mined from a varied host of sources including secondary and primary sources.

Primary Research
After the secondary research process, we initiate the primary research phase in which we interact with companies operating within the market space. We interact with related industries to understand the factors that can drive or hamper a market. Exhaustive primary interviews are conducted. Various sources from both the supply and demand sides are interviewed to obtain qualitative and quantitative information for a report which includes suppliers, product providers, domain experts, CEOs, vice presidents, marketing & sales directors, Type & innovation directors, and related key executives from various key companies to ensure a holistic and unbiased picture of the market. 
Secondary Research
A secondary research process is conducted to identify and collect information useful for the extensive, technical, market-oriented, and comprehensive study of the market. Secondary sources include published market studies, competitive information, white papers, analyst reports, government agencies, industry and trade associations, media sources, chambers of commerce, newsletters, trade publications, magazines, Bloomberg BusinessWeek, Factiva, D&B, annual reports, company house documents, investor presentations, articles, journals, blogs, and SEC filings of companies, newspapers, and so on. We have assigned weights to these parameters and quantified their market impacts using the weighted average analysis to derive the expected market growth rate.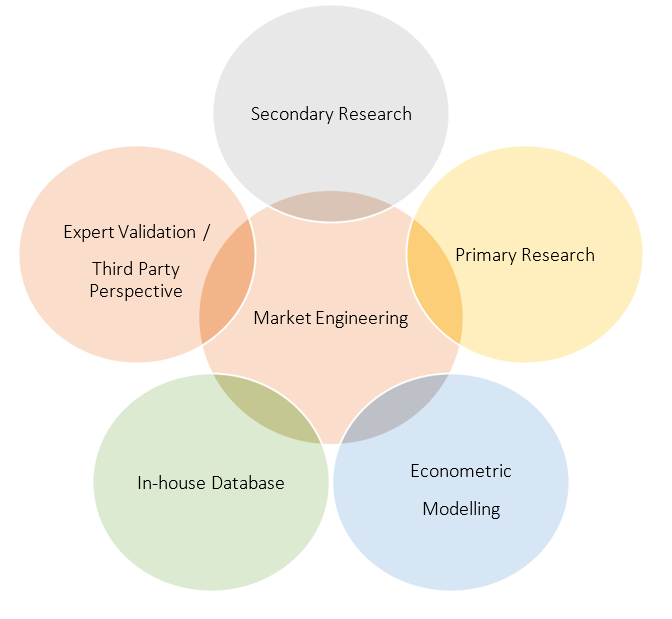 Top-Down Approach & Bottom-Up Approach
In the top – down approach, the Global Batteries for Solar Energy Storage Market was further divided into various segments on the basis of the percentage share of each segment. This approach helped in arriving at the market size of each segment globally. The segments market size was further broken down in the regional market size of each segment and sub-segments. The sub-segments were further broken down to country level market. The market size arrived using this approach was then crosschecked with the market size arrived by using bottom-up approach.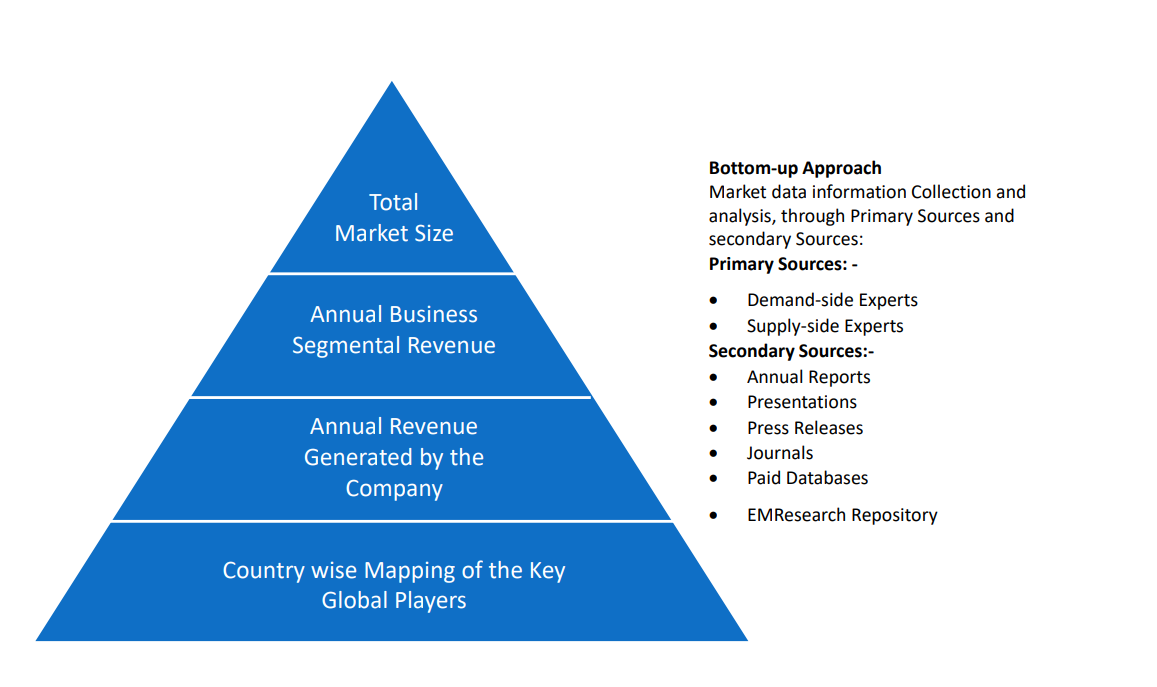 In the bottom-up approach, we arrived at the country market size by identifying the revenues and market shares of the key market players. The country market sizes then were added up to arrive at regional market size of the decorated apparel, which eventually added up to arrive at global market size.
This is one of the most reliable methods as the information is directly obtained from the key players in the market and is based on the primary interviews from the key opinion leaders associated with the firms considered in the research. Furthermore, the data obtained from the company sources and the primary respondents was validated through secondary sources including government publications and Bloomberg.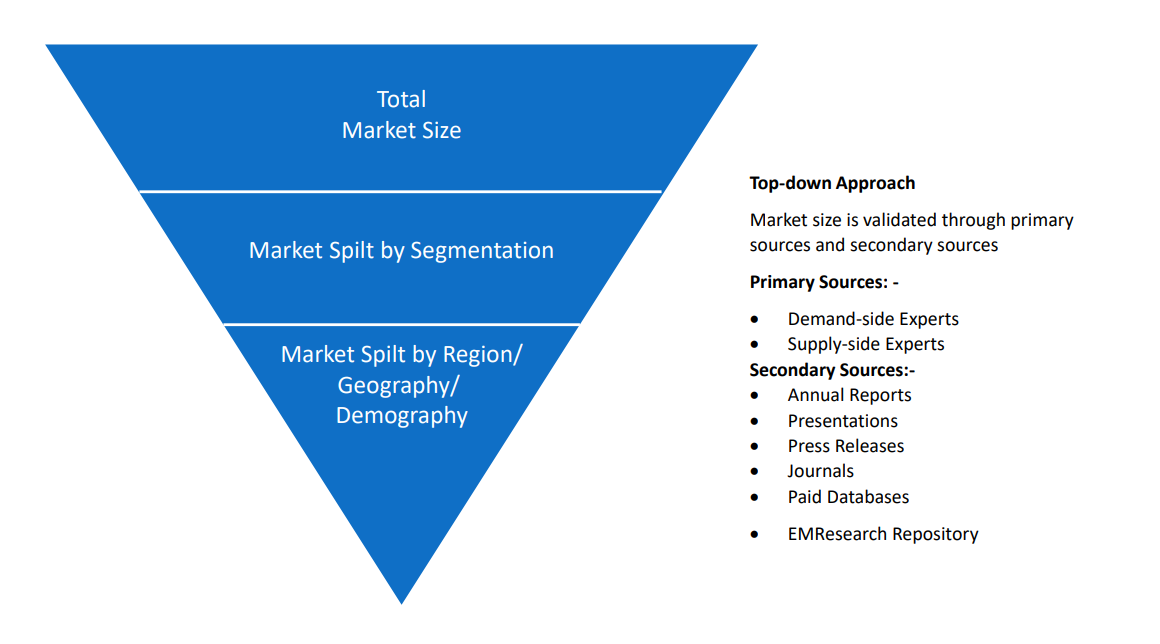 Market Analysis & size Estimation
Post the data mining stage, we gather our findings and analyze them, filtering out relevant insights. These are evaluated across research teams and industry experts. All this data is collected and evaluated by our analysts. The key players in the industry or markets are identified through extensive primary and secondary research. All percentage share splits, and breakdowns have been determined using secondary sources and verified through primary sources. The market size, in terms of value and volume, is determined through primary and secondary research processes, and forecasting models including the time series model, econometric model, judgmental forecasting model, the Delphi method, among Flywheel Energy Storage. Gathered information for market analysis, competitive landscape, growth trends, product development, and pricing trends is fed into the model and analyzed simultaneously.
Quality Checking & Final Review
The analysis done by the research team is further reviewed to check for the accuracy of the data provided to ensure the clients' requirements. This approach provides essential checks and balances which facilitate the production of quality data. This Type of revision was done in two phases for the authenticity of the data and negligible errors in the report. After quality checking, the report is reviewed to look after the presentation, Type and to recheck if all the requirements of the clients were addressed.