The global mobile application market was valued at USD 207.60 billion in 2022 and is estimated to reach approximately USD 690.54 billion by 2031, at a CAGR of 14.2% from 2023 to 2031.
The early 2000s saw the explosive growth of the mobile application market, also known as the "app market," which completely changed how consumers used and interacted with their mobile devices. This dynamic ecosystem includes a wide range of mobile and tablet software programmes that provide answers for communication, entertainment, productivity, and other needs. The launch of Google Play in 2012 and Apple's App Store in 2008 completely changed how mobile apps are distributed, enabling developers to access millions of users all over the world. With millions of apps available across numerous platforms, the mobile application market is currently a worldwide behemoth that caters to a wide range of requirements and tastes. The mobile app market is constantly changing, with everything from social networking behemoths like Facebook and Instagram to utility apps, gaming sensations, and cutting-edge solutions for business and education. In addition to spawning a lucrative sector for developers and business owners, it has also transformed how we communicate, collaborate, have fun, and plan our daily schedules. The continued expansion and innovation of the mobile app market demonstrate both its persistent influence on the digital environment and its capacity to influence the direction of technology.
MOBILE APPLICATION MARKET: REPORT SCOPE & SEGMENTATION
| | |
| --- | --- |
| Report Attribute | Details |
| Estimated Market Value (2022) | 207.60 Bn |
| Projected Market Value (2031) | 690.54 Bn |
| Base Year | 2022 |
| Forecast Years | 2023 - 2031 |
| Scope of the Report | Historical and Forecast Trends, Industry Drivers and Constraints, Historical and Forecast Market Analysis by Segment- By Type, By Application, & Region |
| Segments Covered | By Type, By Application, & Region |
| Forecast Units | Value (USD Billion or Million), and Volume (Units) |
| Quantitative Units | Revenue in USD million/billion and CAGR from 2023 to 2031 |
| Regions Covered | North America, Europe, Asia Pacific, Latin America, and Middle East & Africa, and the Rest of World |
| Countries Covered | U.S., Canada, Mexico, U.K., Germany, France, Italy, Spain, China, India, Japan, South Korea, Brazil, Argentina, GCC Countries, and South Africa, among others |
| Report Coverage | Market growth drivers, restraints, opportunities, Porter's five forces analysis, PEST analysis, value chain analysis, regulatory landscape, market attractiveness analysis by segments and region, company market share analysis, and COVID-19 impact analysis. |
| Delivery Format | Delivered as an attached PDF and Excel through email, according to the purchase option. |
Global Mobile Application Market Dynamics
The mobile application market will still show evolving patterns in 2023. The market is incredibly competitive due to the increased use of smartphones and better internet connectivity. The continued strong demand for a wide variety of user-friendly apps inspires developers to explore novel solutions. Numerous industries are being served by apps, including e-commerce, productivity, entertainment, and health and wellness. Mobile apps for remote employment, education, and healthcare have become more popular as a result of the COVID-19 epidemic, which has encouraged investment in these fields. Additionally, cutting-edge innovations in immersive applications like augmented reality (AR) and virtual reality (VR) are altering the environment. Governments and businesses have been compelled to review their practices by app store restrictions and privacy concerns. However, in-app purchases and micro transactions are becoming more common. In-app advertising and subscription models are well-known monetization tactics. Because cross-platform development tools make the process easier for developers, there are more apps available across operating systems. The global economy, consumer preferences that are changing, and technical advancements are projected to keep the mobile application market thriving.
Global Mobile Application Market Drivers
Smartphone prices have come down, especially in emerging nations, making them more affordable for a wider range of people. People of all income levels may now purchase and utilize cellphones thanks to affordable options and flexible payment options. Smartphones now come with additional features beyond calling and texting thanks to ongoing technology improvements. Users from many spheres of life have been drawn to devices thanks to features like excellent cameras, quick processors, and availability of a wide range of applications. Smartphones are now useful tools for communication, information, and entertainment thanks to the proliferation of mobile networks, including 3G, 4G, and the rollout of 5G. The use of numerous mobile apps and services is made easier by this connectivity. Smartphones have become instrumental in driving digital transformation across industries. They enable mobile banking, e-commerce, remote work, telemedicine, and many other services, leading individuals and businesses to integrate smartphones into their daily routines.
A huge user base that uses mobile devices for a variety of functions has been developed as a result of the widespread use of smartphones and tablets. Businesses and developers have turned their focus towards mobile-centric solutions in order to effectively engage this expanding audience. Users are increasingly using mobile devices for activities like content consumption, commerce, social connection, and information seeking. Understanding and adjusting for this change in user behaviour is a key component of the mobile-first strategy. A mobile-first strategy is further supported by improvements in mobile technology, such as faster processors, high-resolution displays, and improved connection (e.g., 4G and 5G), which have enabled mobile devices to perform complicated apps and deliver rich user experiences. Major search engines, like Google, prioritize mobile-friendly websites in their rankings. Adopting a mobile-first approach not only improves user experience but also enhances a website's visibility in search results, leading to increased traffic and engagement.
Restraints:
Fragmentation of Platforms
Making sure software or apps function flawlessly on a variety of platforms and device kinds is a challenge for developers. Compatibility problems brought on by fragmentation frequently compromise user experience and raise development and testing costs. Developers must build code, create user interfaces, and optimize performance for each platform in order to support them, complicating the process and potentially delaying time-to-market. Continuous maintenance and support are required because to the constant upgrades to various platforms, gadgets, and software versions. As developers must solve compatibility problems, defects, and security vulnerabilities across several contexts, this can be resource-intensive. Diverse platforms and devices can encounter inconsistent user experiences as a result of fragmentation. When switching between devices, users can experience a variety of functionalities and design aspects, which can be frustrating.
Privacy and Security Concerns
Concerns regarding data privacy are raised by the growing acquisition, storage, and exchange of personal data by corporations and digital platforms. Users' concerns about how their data is utilized lead to calls for open data handling procedures. Cybersecurity concerns, such as data breaches, ransomware attacks, and phishing schemes, abound in the digital world. Sensitive information can be compromised, there may be financial losses, and reputational harm can result from these dangers. Governments all over the world have passed data privacy rules and regulations, such as the GDPR and CCPA, which place obligations on businesses to comply. There can be sanctions and legal repercussions for non-compliance. User trust in online platforms and services can be damaged by privacy violations and security flaws. Adoption can be hampered if users don't trust the digital ecosystem.
Opportunities:
Expanding G

lobal

U

ser Base
An expanded worldwide user base increases the potential market for goods and services. In order to increase income and growth potential, businesses might access previously untapped areas. Diverse racial, cultural, and personal preference groups make up a larger user base. It is possible to take use of this diversity to develop specialized goods and services that satisfy a variety of client requirements and expectations. Companies are frequently compelled to innovate and adjust their offerings as they broaden their customer bases into new international markets to satisfy regional needs and preferences. As a result, new and enhanced goods and services are created. Serving a global clientele can result in economies of scale, which enables companies to lower costs and improve productivity in production, distribution, and marketing. Global expansion facilitates cultural exchange and understanding, fostering international collaboration and cooperation. This can lead to partnerships and opportunities for cross-cultural enrichment.
High-Speed Internet Connectivity
High-speed internet promotes corporate growth by enabling organizations to function effectively, access cloud services, and support remote work. It makes it easier for businesses to collaborate online, share real-time data, and conduct e-commerce, expanding their market reach and improving customer service. By facilitating the creation and uptake of cutting-edge technologies, fast internet connections promote innovation. These opportunities for tech-driven businesses and startups include IoT (Internet of Things), artificial intelligence, virtual reality, and augmented reality. For students to access instructional resources, participate in virtual classrooms, and engage in remote learning, high-speed internet access is necessary. As a result, more people will have access to high-quality education, and edtech platforms will benefit. High-speed internet is necessary for telemedicine to provide healthcare treatments remotely. Governments leverage high-speed internet to offer e-government services, enhancing accessibility to public services and reducing bureaucracy.
Segment Overview
By Type
Based on type, the global mobile application market is divided into apple app store, google play store, and others. The apple app store category dominates the market with the largest revenue share in 2022. The apple app store, exclusive to iOS devices, serves as a tightly curated marketplace for mobile applications. apple's stringent review process ensures high-quality and secure apps, creating a trusted environment for millions of users. Developers who publish apps on the apple app store benefit from apple's brand loyalty and the potential for substantial revenue through in-app purchases and subscriptions. the google play store, designed for Android devices, boasts a more open ecosystem. It offers a vast selection of apps, ranging from free to paid, and is known for its flexibility and compatibility with a wide range of devices. While it provides a wealth of choices, the Google Play Store may require developers to navigate a more diverse landscape.
By Application
Based on the application, the global mobile application market is categorized into gaming, social media and entertainment, health and fitness, travel and hospitality, retail and e-commerce, learning and education, and others. The gaming category leads the global mobile application market with the largest revenue share in 2022. Gaming apps are among the most popular and profitable in the mobile application market. They encompass a wide array of genres, from casual games and puzzles to high-end immersive experiences and multiplayer online games. Social media and entertainment category comprises social networking apps, such as Facebook and Instagram, as well as apps for streaming and consuming entertainment content, like Netflix and YouTube. It's a hub for connecting with others and staying entertained. Health and fitness apps help users maintain a healthy lifestyle, offering features like workout routines, nutrition tracking, and wellness monitoring. They have gained significant importance, particularly in the modern wellness-conscious era. Travel apps assist users with planning trips, booking accommodations, and accessing travel information. They often include features for flight bookings, hotel reservations, navigation, and local exploration. Retail and e-commerce apps enable users to shop for products and services online. They facilitate easy product browsing, secure transactions, and convenient doorstep delivery, contributing to the growth of online shopping. Learning and education category encompasses educational apps, e-learning platforms, and digital resources for students and lifelong learners. They offer a variety of courses, study materials, and tools to enhance learning.
Global Mobile Application Market Overview by Region
The global mobile application market is categorized into North America, Europe, Asia-Pacific, and the Rest of the World. Asia-Pacific emerged as the leading region, capturing the largest market share in 2022. China and India are two of the largest and most populous nations in the world, which are all located in the Asia-Pacific region. Mobile app users in these countries have increased dramatically as a result of the use of smartphones. Mobile devices have become indispensable for both urban and rural communities as a result of the falling cost of smartphones and increased connectivity. With a large number of digital firms, talented developers, and innovation hubs, the area is home to a growing app development industry. Due to this dynamism, a wide range of apps that serve the various requirements and interests of the Asia-Pacific user base have emerged. Due to the region's strong economic growth and rising disposable income, there is a higher demand for mobile apps and digital services. Due to its many languages and various cultures, Asia-Pacific offers opportunity for app developers to make locally relevant and niche products. This appreciation of cultural quirks improves user adoption and engagement. The area has enthusiastically adopted the mobile-first strategy, with apps acting as the main instruments for communication, business, entertainment, education, and other purposes. The population's digital behaviour has been dramatically changed by this transformation. Major tech firms based in Asia-Pacific, including Tencent, Alibaba, and Huawei, have had a big impact on the creation and dissemination of mobile applications. The dominance of mobile apps in the area has been further boosted by their presence.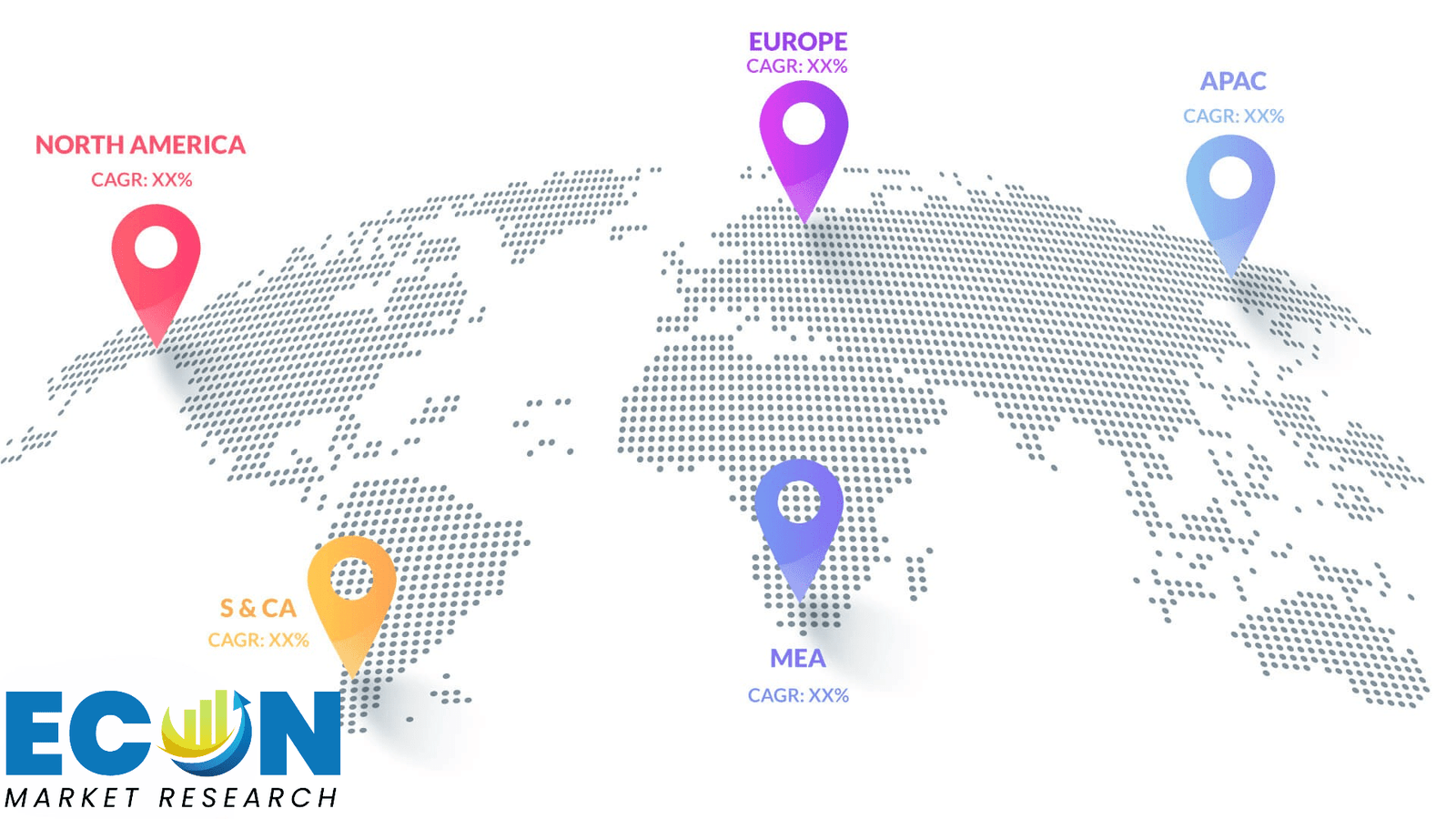 Global Mobile Application Market Competitive Landscape
In the global mobile application market, a few major players exert significant market dominance and have established a strong regional presence. These leading companies remain committed to continuous research and development endeavors and actively engage in strategic growth initiatives, including product development, launches, joint ventures, and partnerships. By pursuing these strategies, these companies aim to strengthen their market position, expand their customer base, and capture a substantial share of the market.
Some of the prominent players in the global mobile application market include
Microsoft Corporation,

Hewlett Packard Enterprise Development LP,

Apple Inc.,

Intellectsoft US,

Cognizant,

Google LLC,

Verbat Technologies,

International Business Machines Corporation,

CA Technologies, Inc.,

China Mobile Limited., and various other key players.
Global Mobile Application Market Recent Developments
In May 2023, YouAppi, a global programmatic mobile app marketing platform with an emphasis on gaming, will be purchased by Affle International, the Singapore-based subsidiary of Affle India Limited, for $45 million.
Scope of the Global Mobile Application Market Report
Mobile Application Market Report Segmentation
ATTRIBUTE

DETAILS

By Type

Apple App Store

Google Play Store

Others

By Application

Gaming

Social Media and Entertainment

Health and Fitness

Travel and Hospitality

Retail and E-commerce

Learning and Education

Others

By Geography

North America (USA,

and Canada)

Europe (UK, Germany, France, Italy, Spain, Russia and Rest of Europe)

Asia Pacific (Japan, China, India, Australia, Southeast Asia and Rest of Asia Pacific)

Latin America (Brazil, Mexico, and Rest of Latin America)

Middle East & Africa (South Africa, GCC, and Rest of Middle East & Africa)

Customization Scope

Pricing
Objectives of the Study
The objectives of the study are summarized in 5 stages. They are as mentioned below:
Global Mobile Application Market

Size and Forecast:
To identify and estimate the market size for the global mobile application market segmented by type, by application, region and by value (in U.S. dollars). Also, to understand the consumption/ demand created by consumers of mobile application between 2019 and 2031.
Market Landscape and Trends:
To identify and infer the drivers, restraints, opportunities, and challenges for the global mobile application market
Market Influencing Factors:
To find out the factors which are affecting the sales of mobile application among consumers
To identify and understand the various factors involved in the global mobile application market affected by the pandemic
To provide a detailed insight into the major companies operating in the market. The profiling will include the financial health of the company's past 2-3 years with segmental and regional revenue breakup, product offering, recent developments, SWOT analysis, and key strategies.
Intended Audience
General Public

Professionals

Researchers

Developers

Governments, Associations, and Industrial Bodies

Investors and Trade Experts
Research Methodology
Our research methodology has always been the key differentiating reason which sets us apart in comparison from the competing organizations in the industry. Our organization believes in consistency along with quality and establishing a new level with every new report we generate; our methods are acclaimed and the data/information inside the report is coveted. Our research methodology involves a combination of primary and secondary research methods. Data procurement is one of the most extensive stages in our research process. Our organization helps in assisting the clients to find the opportunities by examining the market across the globe coupled with providing economic statistics for each and every region. The reports generated and published are based on primary & secondary research. In secondary research, we gather data for global Market through white papers, case studies, blogs, reference customers, news, articles, press releases, white papers, and research studies. We also have our paid data applications which includes hoovers, Bloomberg business week, Avention, and others.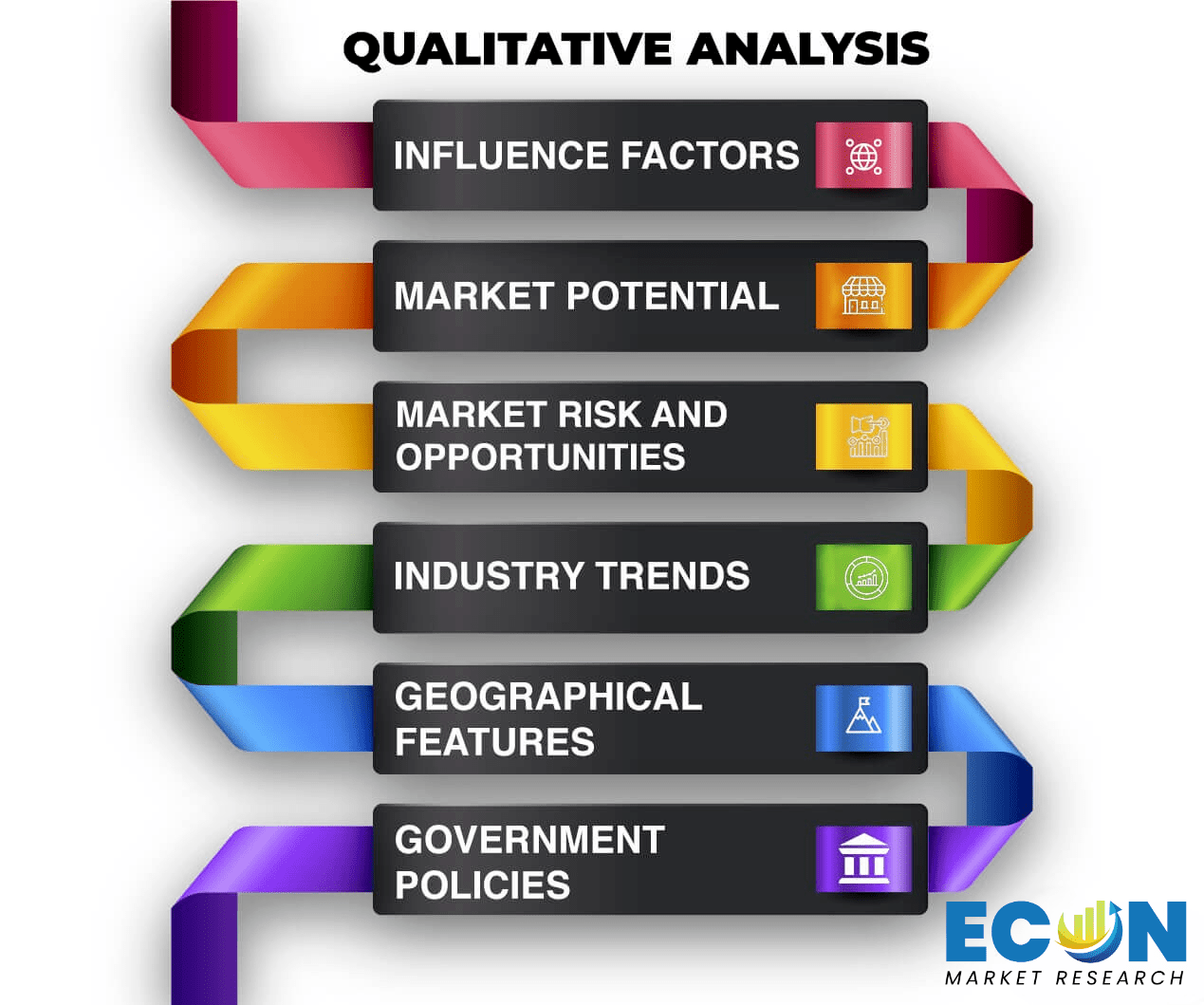 Data Collection
Data collection is the process of gathering, measuring, and analyzing accurate and relevant data from a variety of sources to analyze market and forecast trends. Raw market data is obtained on a broad front. Data is continuously extracted and filtered to ensure only validated and authenticated sources are considered. Data is mined from a varied host of sources including secondary and primary sources.

Primary Research
After the secondary research process, we initiate the primary research phase in which we interact with companies operating within the market space. We interact with related industries to understand the factors that can drive or hamper a market. Exhaustive primary interviews are conducted. Various sources from both the supply and demand sides are interviewed to obtain qualitative and quantitative information for a report which includes suppliers, product providers, domain experts, CEOs, vice presidents, marketing & sales directors, Type & innovation directors, and related key executives from various key companies to ensure a holistic and unbiased picture of the market. 
Secondary Research
A secondary research process is conducted to identify and collect information useful for the extensive, technical, market-oriented, and comprehensive study of the market. Secondary sources include published market studies, competitive information, white papers, analyst reports, government agencies, industry and trade associations, media sources, chambers of commerce, newsletters, trade publications, magazines, Bloomberg BusinessWeek, Factiva, D&B, annual reports, company house documents, investor presentations, articles, journals, blogs, and SEC filings of companies, newspapers, and so on. We have assigned weights to these parameters and quantified their market impacts using the weighted average analysis to derive the expected market growth rate.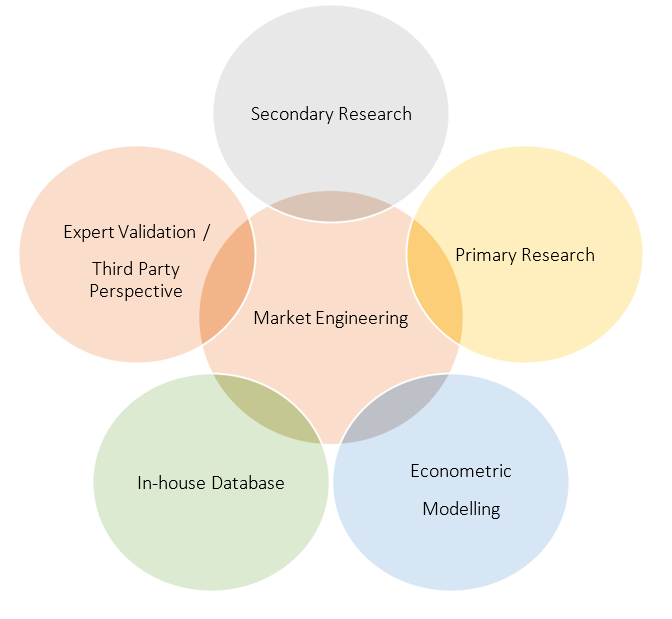 Top-Down Approach & Bottom-Up Approach
In the top – down approach, the Global Batteries for Solar Energy Storage Market was further divided into various segments on the basis of the percentage share of each segment. This approach helped in arriving at the market size of each segment globally. The segments market size was further broken down in the regional market size of each segment and sub-segments. The sub-segments were further broken down to country level market. The market size arrived using this approach was then crosschecked with the market size arrived by using bottom-up approach.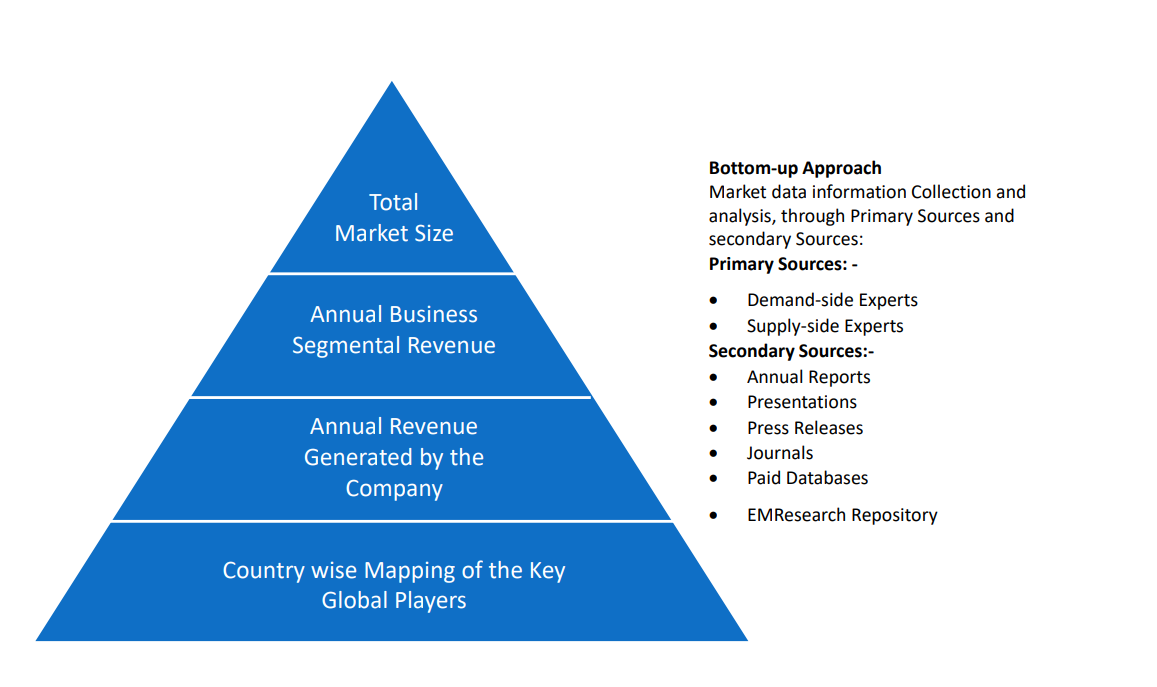 In the bottom-up approach, we arrived at the country market size by identifying the revenues and market shares of the key market players. The country market sizes then were added up to arrive at regional market size of the decorated apparel, which eventually added up to arrive at global market size.
This is one of the most reliable methods as the information is directly obtained from the key players in the market and is based on the primary interviews from the key opinion leaders associated with the firms considered in the research. Furthermore, the data obtained from the company sources and the primary respondents was validated through secondary sources including government publications and Bloomberg.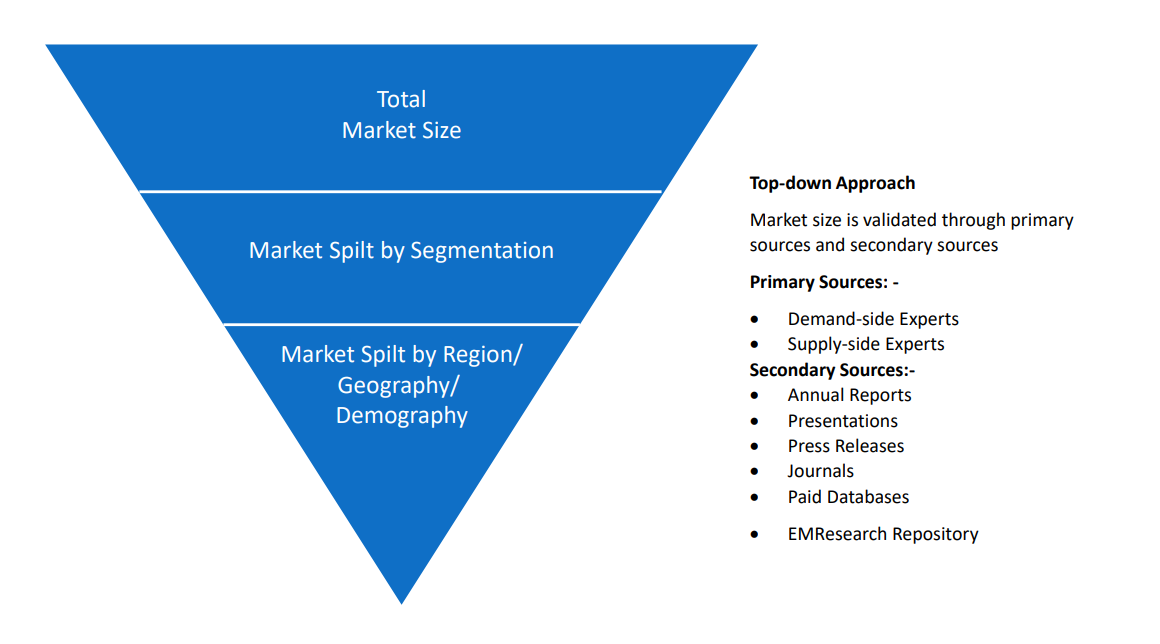 Market Analysis & size Estimation
Post the data mining stage, we gather our findings and analyze them, filtering out relevant insights. These are evaluated across research teams and industry experts. All this data is collected and evaluated by our analysts. The key players in the industry or markets are identified through extensive primary and secondary research. All percentage share splits, and breakdowns have been determined using secondary sources and verified through primary sources. The market size, in terms of value and volume, is determined through primary and secondary research processes, and forecasting models including the time series model, econometric model, judgmental forecasting model, the Delphi method, among Flywheel Energy Storage. Gathered information for market analysis, competitive landscape, growth trends, product development, and pricing trends is fed into the model and analyzed simultaneously.
Quality Checking & Final Review
The analysis done by the research team is further reviewed to check for the accuracy of the data provided to ensure the clients' requirements. This approach provides essential checks and balances which facilitate the production of quality data. This Type of revision was done in two phases for the authenticity of the data and negligible errors in the report. After quality checking, the report is reviewed to look after the presentation, Type and to recheck if all the requirements of the clients were addressed.