The Global Microtome Market was valued at USD 145.60 million in 2022 and is estimated to reach approximately USD 258.40 million by 2031, at a CAGR of 6.5% from 2023 to 2031. Biological or material samples are cut into incredibly thin slices using a microtome, a precise tool used in labs to examine samples under the microscope. It is made up of a blade or cutting tool that moves carefully, enabling consistent and accurate sectioning. Microtomes are crucial for research in histology, pathology, and materials science because they allow researchers to examine the tiny interior architecture of tissues and materials. The increase in applications in pathology, materials research, and biological sciences is fueling the steady rise of the worldwide microtome market. A microtome is a crucial laboratory tool used to slice biological or material samples into tiny sections for microscopic analysis. These exact tools are essential for histology, which allows for the study of tissue structures, and for material science, which allows for the microscopic inspection of various materials. The increased incidence of chronic diseases, which is boosting the need for sophisticated pathology and diagnostic tools, is one of the major drivers driving the microtome market's rise. Additionally, the expansion of the pharmaceutical and biotechnology industries has raised the demand for microtomes in the study and production of pharmaceuticals. Modern microtome models now offer better precision, automation, and user-friendly interfaces as a result of technological improvements. This has increased market growth by making microtomes more available to a wider spectrum of researchers and diagnosticians. Geographically, North America and Europe have historically held a monopoly on the microtome market due to their developed healthcare systems and robust research sectors. However, the healthcare and research industries are expanding significantly in Asia-Pacific emerging nations, which is helping the industry become more global. Due to growing applications in a variety of scientific fields, technological breakthroughs, and expanding healthcare and research activities globally, the microtome market is consistently developing. These elements work together to create the microtome market a vibrant and exciting area for laboratory equipment.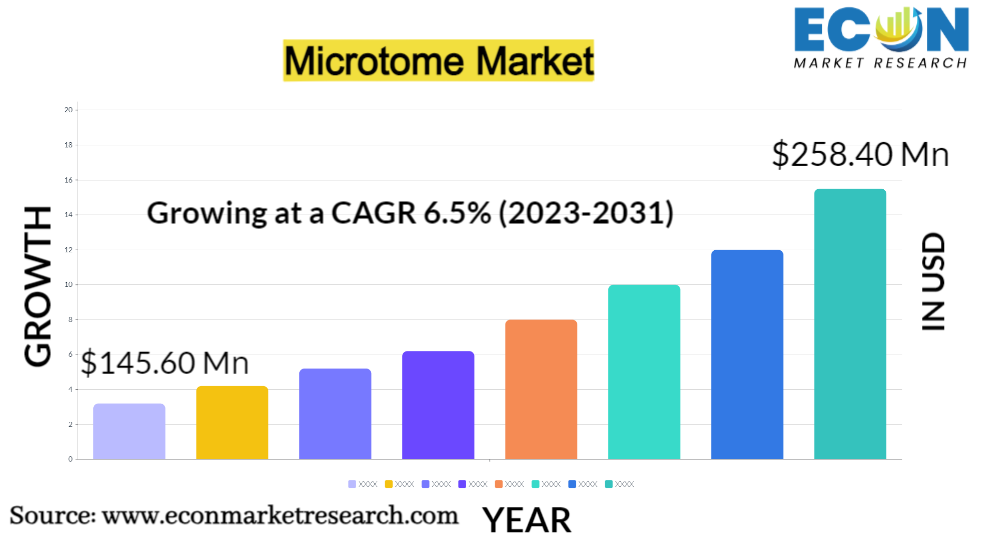 MICROTOME MARKET: REPORT SCOPE & SEGMENTATION
| | |
| --- | --- |
| Report Attribute | Details |
| Estimated Market Value (2022) | 145.60 Mn |
| Projected Market Value (2031) | 258.40 Mn |
| Base Year | 2022 |
| Forecast Years | 2023 - 2031 |
| Scope of the Report | Historical and Forecast Trends, Industry Drivers and Constraints, Historical and Forecast Market Analysis by Segment- By Product, By End-user, By Technology, & Region |
| Segments Covered | By Product, By End-user, By Technology, & Region |
| Forecast Units | Value (USD Billion or Million), and Volume (Units) |
| Quantitative Units | Revenue in USD million/billion and CAGR from 2023 to 2031 |
| Regions Covered | North America, Europe, Asia Pacific, Latin America, and Middle East & Africa, and the Rest of World |
| Countries Covered | U.S., Canada, Mexico, U.K., Germany, France, Italy, Spain, China, India, Japan, South Korea, Brazil, Argentina, GCC Countries, and South Africa, among others |
| Report Coverage | Market growth drivers, restraints, opportunities, Porter's five forces analysis, PEST analysis, value chain analysis, regulatory landscape, market attractiveness analysis by segments and region, company market share analysis, and COVID-19 impact analysis. |
| Delivery Format | Delivered as an attached PDF and Excel through email, according to the purchase option. |
Global Microtome Market Dynamics
Several dynamic elements shape the microtome market's growth and evolution. The market is primarily driven by the growing number of scientific domains where microtomes are being used. Microtomes are in high demand in hospitals and labs because of the increased prevalence of diseases and the necessity for precise pathological diagnosis. Microtomes are also crucial for drug development and research, encouraging their acceptance as the pharmaceutical and biotechnology sectors continue to expand. The development of technology is essential to understanding market dynamics. Automated and computerized microtome models have been created as a result of ongoing developments, improving accuracy and user ease. Researchers and diagnosticians are particularly drawn to these advances, which help the industry flourish. The market dynamics differ by geography. Due to their extensive research efforts and well-developed healthcare infrastructures, North America and Europe have established themselves as important participants. However, Asia-Pacific is expanding quickly, propelled by rising healthcare spending and a booming pharmaceutical sector. A number of major businesses are engaged in intense competition for market share in the microtome industry through product development, alliances, and acquisitions. This competition promotes innovation and aids in market growth. Further demonstrating their significance in the healthcare environment, the COVID-19 pandemic has also brought to light the value of diagnostic technologies, especially microtomes, in understanding and treating diseases. Expanding applications, technological breakthroughs, geographical differences, competitive strategies, and the impact of world events are some of the variables that drive the microtome market, which all contribute to its dynamism and ongoing expansion.
Global Microtome Market Drivers
Expanding Healthcare Sector
The microtome market is significantly influenced by the rising healthcare industry. The main causes of this expansion are a number of interrelated issues that together raise the need for microtomes. First of all, as the world's population ages, more diseases and medical disorders are occurring. Chronic diseases like cancer, heart disease, and neurological diseases are frequently linked to an increased risk of aging. In these situations, a precise diagnosis and in-depth pathological evaluation are essential. When tissue samples are prepared for histopathological analysis using microtomes, pathologists are better able to spot anomalies, pinpoint disease stages, and make therapy recommendations. As a result, the demand for microtomes in healthcare settings is greatly influenced by the growing requirement for accurate and thorough diagnostics. Second, there is a demand for more accurate diagnoses due to the development of personalized medicine and targeted therapies. Advanced molecular techniques can be used to further analyze the thin tissue slices produced by microtomes. This makes it easier to identify particular genetic or molecular markers, assisting in the creation of patient-specific treatment programs.
Pharmaceutical and Biotechnology Advancements
Microtomes are widely used by pharmaceutical companies during the preclinical development and drug discovery stages. To prepare tissue samples for toxicity research, pharmacokinetics, and efficacy evaluations, microtomes are necessary. These investigations aid in locating prospective medication candidates and verifying their efficacy and safety. Innovative research involving tissues, cells, and biomolecules is conducted by biotechnology companies. For creating thin tissue sections for in-depth cellular and molecular research, microtomes are essential instruments. This makes it possible to find new biomarkers, develop novel treatments, and comprehend how diseases work. Within the pharmaceutical and biotechnology sectors, microtomes are essential for quality control. In order to ensure that pharmaceutical goods, including tablets and transdermal patches, fulfill regulatory criteria, they are used to evaluate the consistency and quality of materials. Microtomes help in the development of precise tissue scaffolds for transplantation and tissue repair in regenerative medicine and tissue engineering. These uses, which are at the cutting edge of biotechnology developments, heavily rely on microtome technology.
Restraints:
A significant barrier to the growth of the microtome business is the high upfront cost of obtaining microtome equipment. The price varies according to the kind and level of sophistication of the microtome, with more expensive ones including automation and digital capabilities. This high initial cost can be a significant barrier to entrance for small laboratories, research institutes with tight budgets, or facilities in resource-constrained environments. It might lead to postponed or delayed purchasing choices, which would prevent access to cutting-edge microtome technology. These budgetary limitations may restrict these organizations' ability to maintain competitiveness in terms of research and diagnostics. The purchase of accessories, maintenance tools, safety equipment, and operator training are additional costs.
Sample Preparation Challenges
Precision and perseverance are needed when preparing tissue or material samples for microtome sectioning. Fixation, embedding, and cautious sample orientation are steps in the procedure. These procedures can take some time, and any mistakes made in the planning stage could result in less-than-ideal outcomes. A very high level of technical ability and knowledge is required for proper sample preparation. The final analysis's quality may suffer if operators lack experience in producing consistently thin and well-oriented sections. Workflow efficiency in laboratories with high sample throughput might be hampered by the time required for sample preparation. The portions needed for studies or diagnoses may not be available right away for researchers or diagnosticians. Ample sample preparation frequently calls for specialized tools and supplies, such as embedding molds and tissue processing machines.
Opportunities:
Rising Demand for Personalized Medicine
To find the biomarkers and genetic variants linked to particular diseases or situations, personalized medicine depends on accurate diagnostics. The preparation of tissue samples for genetic and molecular investigations requires the use of microtomes. They enable the cutting of tissues into thin slices that may be analyzed for particular genetic alterations or expression patterns. Targeted therapy research and development are aided by microtomes. These treatments are made to address the specific molecular or genetic defects that are responsible for a patient's ailment. Researchers need precise and consistent tissue samples, which microtomes offer, to design and evaluate these medicines. The need for microtomes grows along with the development of targeted medicines. Microtomes are crucial in the pharmaceutical sector for evaluating the impact of possible drug candidates on tissue samples. Researchers can assess how medications interact with particular cells and tissues by collecting thin slices of tissues, allowing for the creation of drugs that are more efficient and have fewer side effects.
Advancements in Digital Pathology
The market for microtomes has a sizable opportunity due to the integration of microtomes with digital pathology systems. Glass slides holding tissue samples are digitally transformed in digital pathology to enable pathological images to be seen, analyzed, and shared remotely. Microtomes are essential to the development of digital pathology and are becoming increasingly important. High-quality tissue sections are created using microtomes, and these sections are afterward scanned and turned into digital images. It is simple to preserve, archive, and share these digital images with pathologists, academics, and doctors throughout the world, fostering collaboration and raising diagnostic precision. Additionally, automated and more effective examination of digital pathology images is made possible by the integration of microtomes with image analysis software and artificial intelligence (AI) algorithms, which lessens the workload on pathologists and might speed up diagnosis.
Segment Overview
By Product
Based on product, the global microtome market is divided into microtome devices and accessories. The microtome devices category dominates the market with the largest revenue share. The essential tool for precisely cutting biological or material samples into sections is the microtome. These tools are available in a variety of designs, such as rotary microtomes, cryostats, and ultramicrotomes, to suit diverse cutting needs and applications. Thin sections required for microscopic inspection and analysis must be prepared using microtome machines. Microtome device maintenance and performance optimization require a variety of accessories. For example, using high-quality blades is essential to getting uniformly thin sections, and using specimen holders makes sure that samples are placed securely while being cut. Additionally, improvements in accessories like disposable blades with increased precision and durability improve the general effectiveness and accuracy of microtome operations.
By Technology
Based on the technology, the global microtome market is categorized into fully automated, semi-automated, and manual. The centralized category leads the global microtome market with the largest revenue share. Fully automated microtomes are equipped with advanced technology that automates the entire sectioning process. These systems are capable of precise and consistent sectioning of samples without the need for extensive manual intervention. They often feature motorized specimen feed, automatic knife advance, and digital controls. Fully automated microtomes are ideal for high-throughput laboratories and applications where precision and efficiency are paramount. Semi-automated microtomes combine manual control with automated features, offering a balance between precision and user control. Operators can adjust cutting parameters and control the speed and thickness of sections manually, while automated components assist in sample feeding and knife movements. Manual microtomes rely on manual operation for sample sectioning. These instruments are typically straightforward, with the user controlling the advancement of the sample block and knife by hand.
By End-User
Based on end-user, the global microtome market is segmented into hospitals and clinical labs. The clinical labs segment dominates the microtome market. Clinical laboratories, which may be part of hospitals or standalone facilities, also constitute a substantial portion of the microtome market. These laboratories focus on diagnostic testing and pathological examinations. Microtomes are indispensable tools for preparing tissue samples for analysis in these laboratories. Clinical labs often require microtomes that offer precision, reproducibility, and automation features to ensure accurate and efficient diagnosis. Hospitals represent a significant segment of the microtome market. In hospital settings, microtomes are primarily used in clinical pathology laboratories. They play a crucial role in the diagnosis of diseases, particularly through the examination of tissue samples (histopathology).
Global Microtome Market Overview by Region
The global microtome market is categorized into North America, Europe, Asia-Pacific, and the Rest of the World. North America emerged as the leading region, capturing the largest market share in 2022. The healthcare infrastructure in North America is among the most developed and established in the world. High demand for microtomes for pathology, research, and diagnostic purposes is brought on by the presence of cutting-edge hospitals, research facilities, and clinical laboratories. The area is at the cutting edge of innovation and scientific research. The need for microtomes for research purposes is rising as a result of ongoing improvements in medical science and technology driven by top universities, medical schools, and biotechnology firms. A thriving pharmaceutical industry, with a concentration on medication development, is located in North America. To evaluate a drug's effects on tissues and ensure their safety and effectiveness, microtomes are essential. The expansion of this sector helps the microtome market. The culture of technological innovation is strong in North America. This includes the creation of sophisticated microtome models that are automated and digitally capable, improving accuracy and productivity in clinical and research applications. Numerous healthcare issues exist in the area, including a high prevalence of chronic illnesses like cancer and cardiovascular conditions. Tissue sections made using a microtome are crucial for accurate diagnosis and disease monitoring, which increases the need for these devices.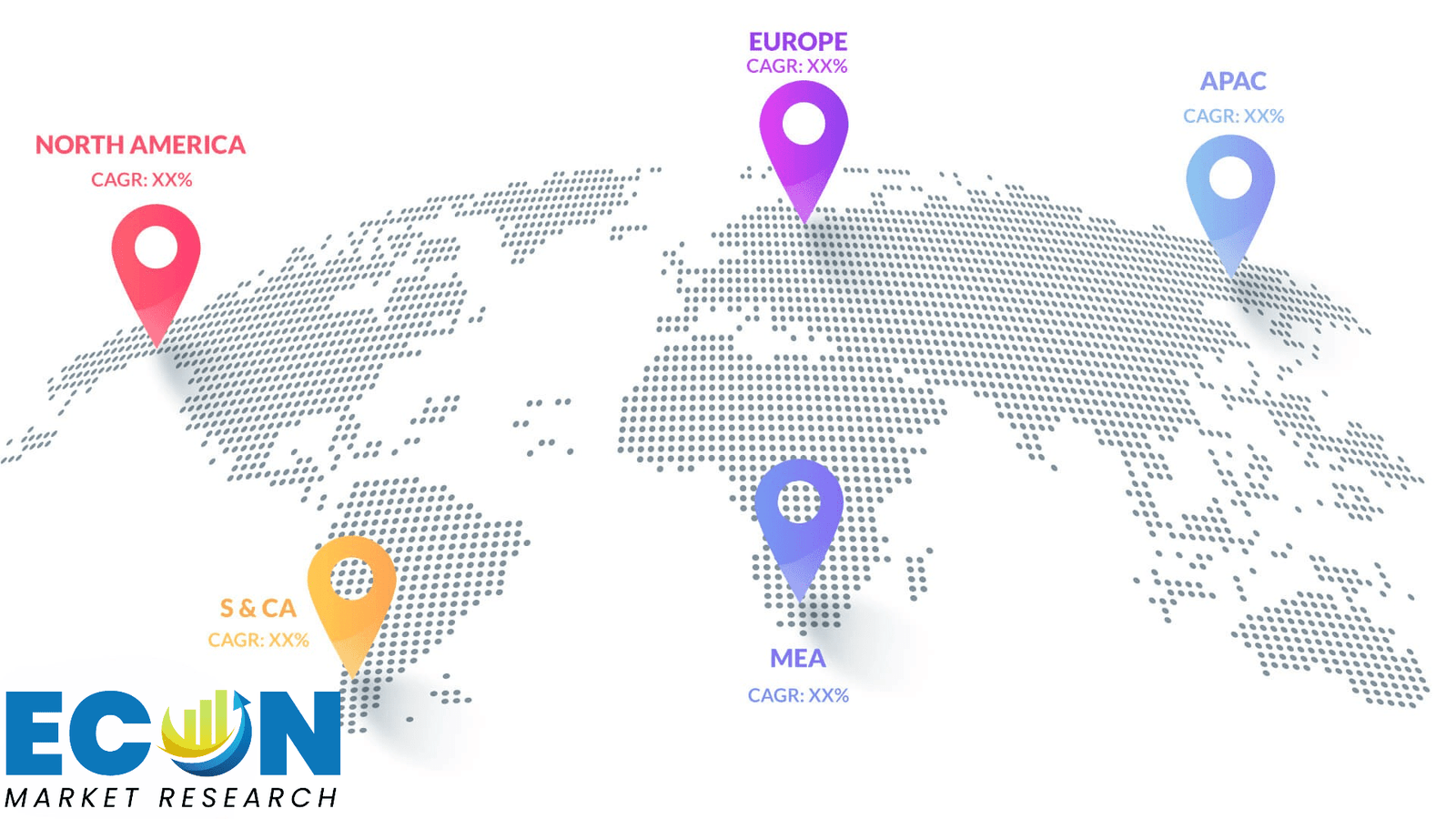 Global Microtome Market Competitive Landscape
In the global microtome market, a few major players exert significant market dominance and have established a strong regional presence. These leading companies remain committed to continuous research and development endeavors and actively engage in strategic growth initiatives, including product development, launches, joint ventures, and partnerships. By pursuing these strategies, these companies aim to strengthen their market position, expand their customer base, and capture a substantial share of the market.
Some of the prominent players in the global microtome market include Diapath S.P.A.; Leica Biosystems Nussloch GmbH; Sakura Finetek Europe B.V.; MEDITE GmbH; SLEE medical GmbH; Boeckeler Instruments; Nanolytik; S.M. Scientific Instruments Pvt. Ltd.; AGD Biomedicals; Alltion; Amos Scientific Pvt. Ltd.; Thermo Fisher Scientific, and various other key players.
Scope of the Global Microtome Market Report
Microtome Market Report Segmentation
ATTRIBUTE

DETAILS

By Product

Microtome Devices

Accessories

By End-user

By Technology

Fully Automated

Semi-automated

Manual

By Geography

North America (USA,

and Canada)

Europe (UK, Germany, France, Italy, Spain, Russia and Rest of Europe)

Asia Pacific (Japan, China, India, Australia, Southeast Asia and Rest of Asia Pacific)

Latin America (Brazil, Mexico, and Rest of Latin America)

Middle East & Africa (South Africa, GCC, and Rest of Middle East & Africa)

Customization Scope

Pricing
Objectives of the Study
The objectives of the study are summarized in 5 stages. They are as mentioned below:
Global Microtome Market

Size and Forecast:
To identify and estimate the market size for the global microtome market segmented by product, by end-user, by technology, region and by value (in U.S. dollars). Also, to understand the consumption/ demand created by consumers of microtome between 2019 and 2031.
Market Landscape and Trends:
To identify and infer the drivers, restraints, opportunities, and challenges for the global microtome market
Market Influencing Factors:
To find out the factors which are affecting the sales of microtome among consumers
To identify and understand the various factors involved in the global microtome market affected by the pandemic
To provide a detailed insight into the major companies operating in the market. The profiling will include the financial health of the company's past 2-3 years with segmental and regional revenue breakup, product offering, recent developments, SWOT analysis, and key strategies.
Intended Audience
Pathologists

Medical and Healthcare Professionals

Pharmaceutical and Biotechnology Companies

Histotechnologists

Governments, Associations, and Industrial Bodies

Investors and Trade Experts
Research Methodology
Our research methodology has always been the key differentiating reason which sets us apart in comparison from the competing organizations in the industry. Our organization believes in consistency along with quality and establishing a new level with every new report we generate; our methods are acclaimed and the data/information inside the report is coveted. Our research methodology involves a combination of primary and secondary research methods. Data procurement is one of the most extensive stages in our research process. Our organization helps in assisting the clients to find the opportunities by examining the market across the globe coupled with providing economic statistics for each and every region. The reports generated and published are based on primary & secondary research. In secondary research, we gather data for global Market through white papers, case studies, blogs, reference customers, news, articles, press releases, white papers, and research studies. We also have our paid data applications which includes hoovers, Bloomberg business week, Avention, and others.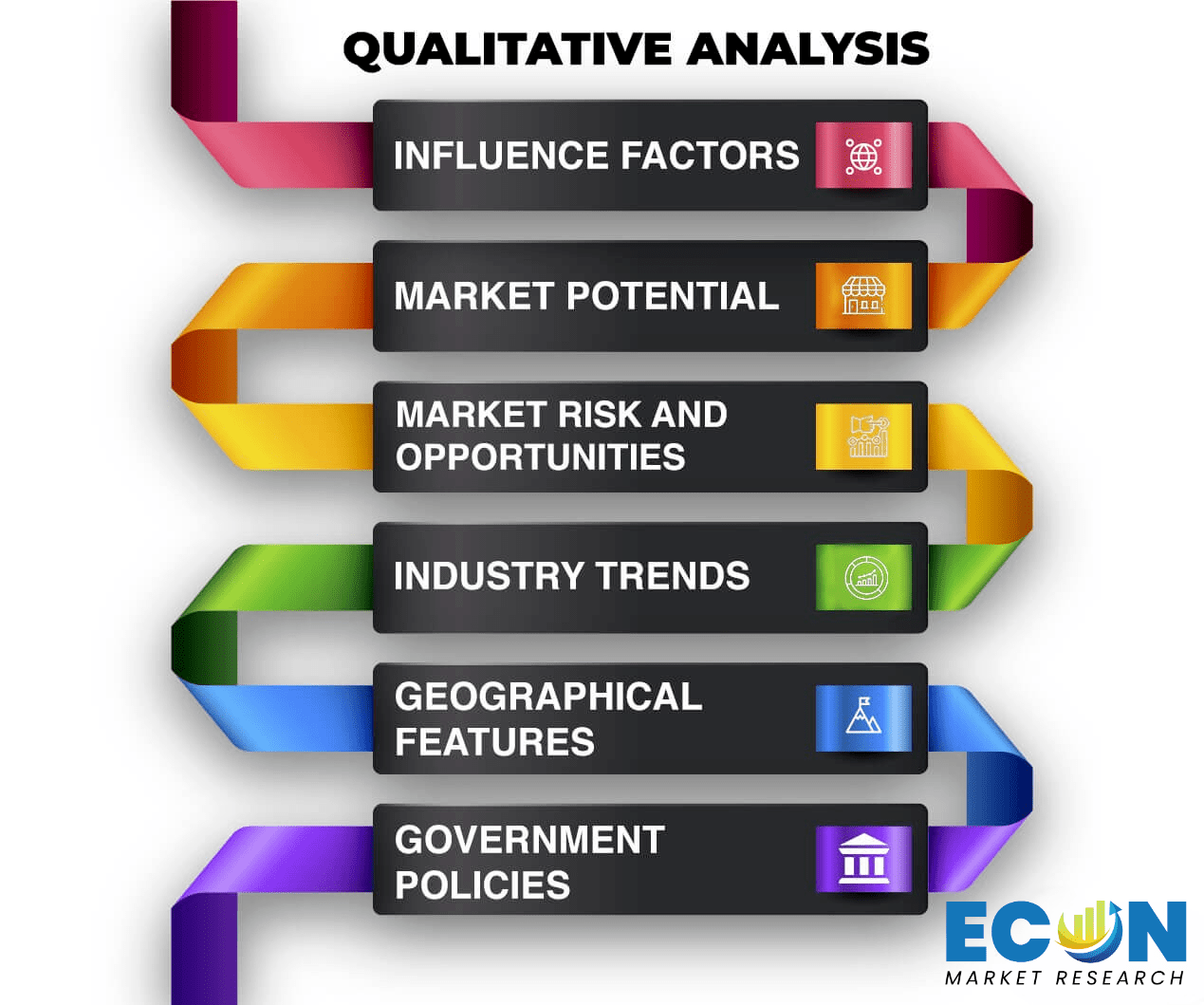 Data Collection
Data collection is the process of gathering, measuring, and analyzing accurate and relevant data from a variety of sources to analyze market and forecast trends. Raw market data is obtained on a broad front. Data is continuously extracted and filtered to ensure only validated and authenticated sources are considered. Data is mined from a varied host of sources including secondary and primary sources.

Primary Research
After the secondary research process, we initiate the primary research phase in which we interact with companies operating within the market space. We interact with related industries to understand the factors that can drive or hamper a market. Exhaustive primary interviews are conducted. Various sources from both the supply and demand sides are interviewed to obtain qualitative and quantitative information for a report which includes suppliers, product providers, domain experts, CEOs, vice presidents, marketing & sales directors, Type & innovation directors, and related key executives from various key companies to ensure a holistic and unbiased picture of the market. 
Secondary Research
A secondary research process is conducted to identify and collect information useful for the extensive, technical, market-oriented, and comprehensive study of the market. Secondary sources include published market studies, competitive information, white papers, analyst reports, government agencies, industry and trade associations, media sources, chambers of commerce, newsletters, trade publications, magazines, Bloomberg BusinessWeek, Factiva, D&B, annual reports, company house documents, investor presentations, articles, journals, blogs, and SEC filings of companies, newspapers, and so on. We have assigned weights to these parameters and quantified their market impacts using the weighted average analysis to derive the expected market growth rate.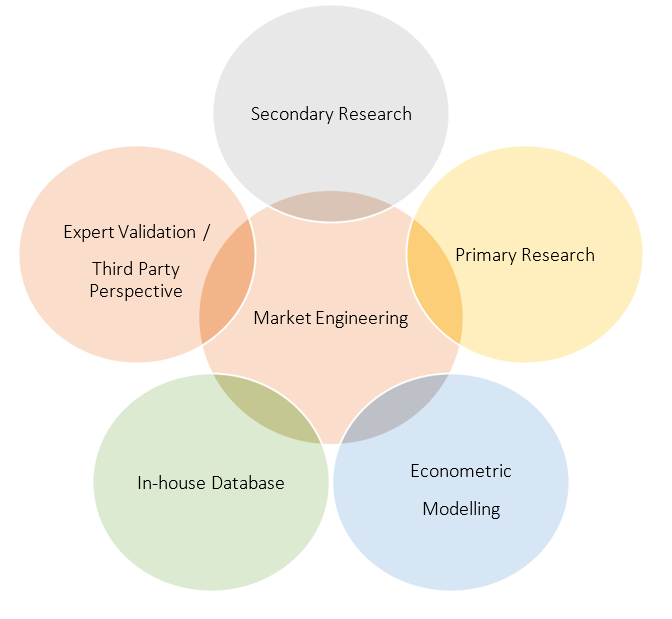 Top-Down Approach & Bottom-Up Approach
In the top – down approach, the Global Batteries for Solar Energy Storage Market was further divided into various segments on the basis of the percentage share of each segment. This approach helped in arriving at the market size of each segment globally. The segments market size was further broken down in the regional market size of each segment and sub-segments. The sub-segments were further broken down to country level market. The market size arrived using this approach was then crosschecked with the market size arrived by using bottom-up approach.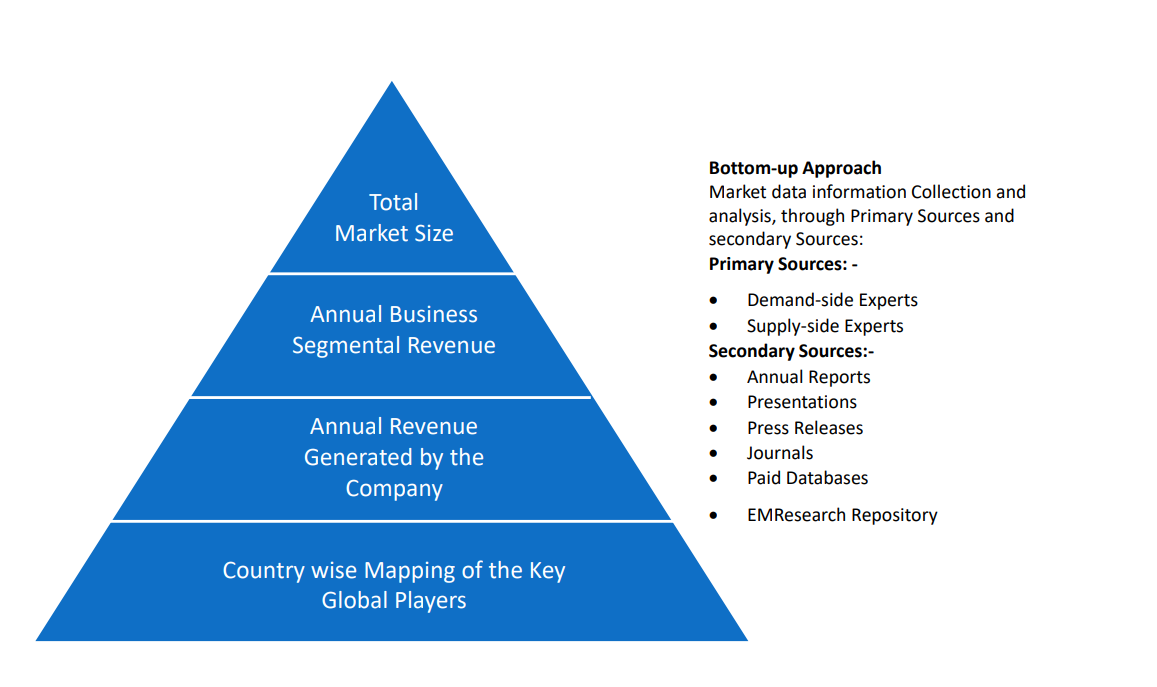 In the bottom-up approach, we arrived at the country market size by identifying the revenues and market shares of the key market players. The country market sizes then were added up to arrive at regional market size of the decorated apparel, which eventually added up to arrive at global market size.
This is one of the most reliable methods as the information is directly obtained from the key players in the market and is based on the primary interviews from the key opinion leaders associated with the firms considered in the research. Furthermore, the data obtained from the company sources and the primary respondents was validated through secondary sources including government publications and Bloomberg.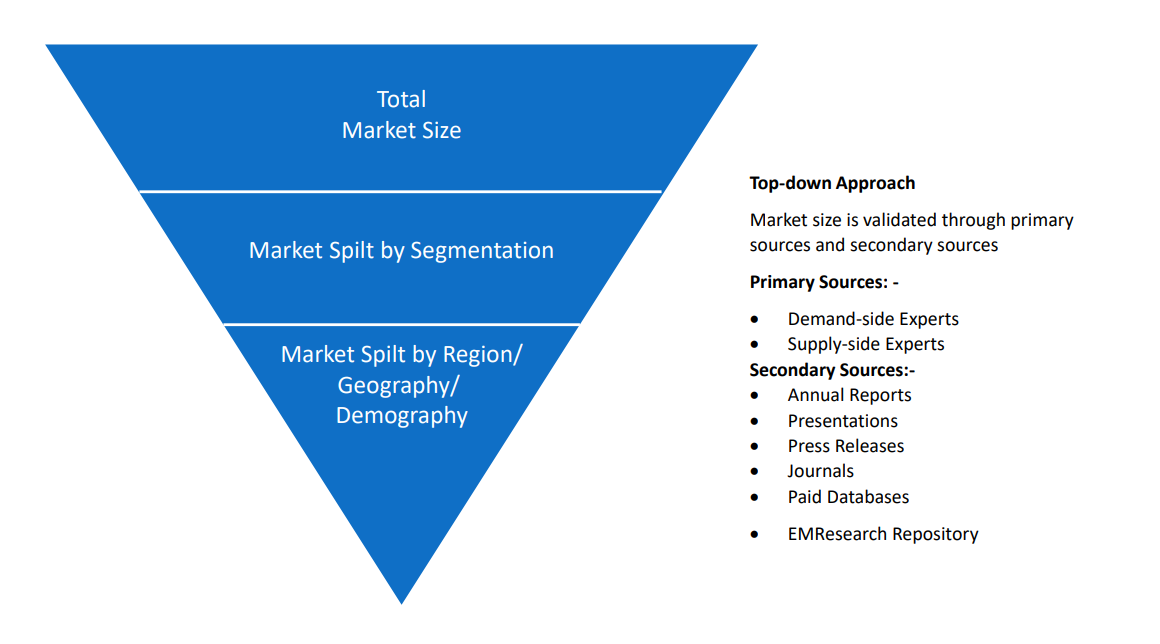 Market Analysis & size Estimation
Post the data mining stage, we gather our findings and analyze them, filtering out relevant insights. These are evaluated across research teams and industry experts. All this data is collected and evaluated by our analysts. The key players in the industry or markets are identified through extensive primary and secondary research. All percentage share splits, and breakdowns have been determined using secondary sources and verified through primary sources. The market size, in terms of value and volume, is determined through primary and secondary research processes, and forecasting models including the time series model, econometric model, judgmental forecasting model, the Delphi method, among Flywheel Energy Storage. Gathered information for market analysis, competitive landscape, growth trends, product development, and pricing trends is fed into the model and analyzed simultaneously.
Quality Checking & Final Review
The analysis done by the research team is further reviewed to check for the accuracy of the data provided to ensure the clients' requirements. This approach provides essential checks and balances which facilitate the production of quality data. This Type of revision was done in two phases for the authenticity of the data and negligible errors in the report. After quality checking, the report is reviewed to look after the presentation, Type and to recheck if all the requirements of the clients were addressed.