The global mental health market was valued at USD 390.50 billion in 2022 and is estimated to reach approximately USD 550.80 billion by 2031, at a CAGR of 3.9% from 2023 to 2031.
A greater understanding of mental health difficulties and a rising demand for efficient treatments have fueled the market for mental health's tremendous expansion and evolution in recent years. The market for diagnosing, treating, and supporting people with mental health issues includes a wide range of goods and services. Therapy and counselling services, medications, digital mental health solutions, and various support systems are important facets of the mental health sector. The rising awareness of the incidence of mental health illnesses and the de-stigmatization of getting treatment are two key factors driving the growth of this market. There are now more readily available and reasonably priced services as a result of the active efforts of governments, healthcare providers, and organizations to address mental health issues. Telehealth and smartphone applications are two examples of digital mental health platforms that have been crucial in enhancing access to therapy. They provide resources for people looking for assistance, self-help tools, and distance treatment sessions. Pharmaceutical firms are also creating novel medications to treat illnesses like schizophrenia, anxiety, and sadness. With a rising number of products and services that reflect the expanding understanding of mental health, the market for mental health is changing quickly. In the years to come, it is anticipated that the market will continue to expand and innovate as awareness continues to rise.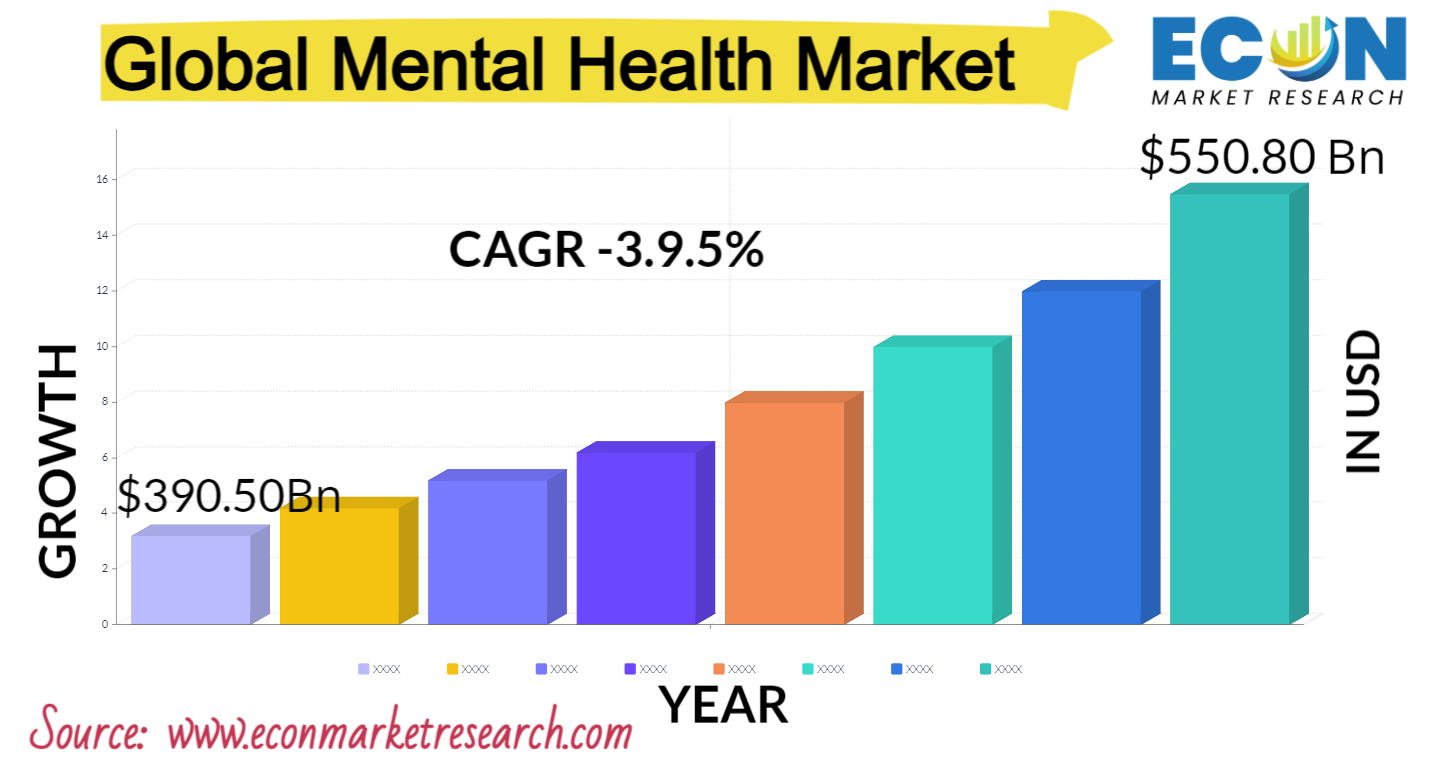 MENTAL HEALTH MARKET: REPORT SCOPE & SEGMENTATION
| | |
| --- | --- |
| Report Attribute | Details |
| Estimated Market Value (2022) | 390.50 Bn |
| Projected Market Value (2031) | 550.80 Bn |
| Base Year | 2022 |
| Forecast Years | 2023 - 2031 |
| Scope of the Report | Historical and Forecast Trends, Industry Drivers and Constraints, Historical and Forecast Market Analysis by Segment- By Disorder, By Service, By Age Group, & Region |
| Segments Covered | By Disorder, By Service, By Age Group, & Region |
| Forecast Units | Value (USD Billion or Million), and Volume (Units) |
| Quantitative Units | Revenue in USD million/billion and CAGR from 2023 to 2031 |
| Regions Covered | North America, Europe, Asia Pacific, Latin America, and Middle East & Africa, and the Rest of World |
| Countries Covered | U.S., Canada, Mexico, U.K., Germany, France, Italy, Spain, China, India, Japan, South Korea, Brazil, Argentina, GCC Countries, and South Africa, among others |
| Report Coverage | Market growth drivers, restraints, opportunities, Porter's five forces analysis, PEST analysis, value chain analysis, regulatory landscape, market attractiveness analysis by segments and region, company market share analysis, and COVID-19 impact analysis. |
| Delivery Format | Delivered as an attached PDF and Excel through email, according to the purchase option. |
Global Mental Health Market Dynamics
The market for mental health has undergone tremendous change recently. Growth has been spurred by lowered stigma and increased understanding of mental health issues. Demand for services has increased due to a rising global burden of mental health illnesses, which has fueled a flourishing business. Particularly in the wake of the COVID-19 pandemic, telehealth and digital solutions have revolutionized the industry, increasing accessibility and convenience of mental health care. More people are seeking therapy as a result of government initiatives and the expansion of insurance coverage, which has been crucial. The market has undergone consolidation as a result of major healthcare organizations increasing their portfolios of mental health services through mergers and acquisitions. The market has also been invaded by startups and tech firms, providing innovation and competition. However, problems still exist. The dynamics of the market are still impacted by disparities in access to care, a lack of qualified workers, and high expenses. The destiny of the industry is also impacted by changes in regulations and payment mechanism evolution. The market for mental health as a whole is growing and innovating as a result of rising awareness of the value of mental health and ongoing efforts to solve the problems of accessibility and cost.
Global Mental Health Market Drivers
Increasing Awareness and Reduced Stigma
First off, a number of reasons, such as media attention, educational initiatives, and advocacy campaigns, might be blamed for the increase in awareness. People are better able to identify symptoms and seek help as society grows more aware of the prevalence and effects of mental health issues. Early intervention as a result of this increased knowledge has lessened the severity of mental health problems and the accompanying load on people and healthcare systems. Another critical component of this driver is eliminating the stigma associated with mental illness. Because of societal stigma, people with mental health disorders have historically experienced prejudice, condemnation, and unwillingness to seek treatment. Nevertheless, continued initiatives to reduce stigma associated with mental health issues have been helpful. The open discussion of mental health experiences by public figures and the normalization of seeking help have made it more socially acceptable to access mental health services. Consequently, people are increasingly willing to acknowledge their mental health needs and reach out to professionals for support.
Insurance Coverage improvement's
Increased benefits for mental health are part of insurance coverage enhancements. Nowadays, a lot of insurance companies give more thorough coverage for mental health services, such as therapy, counselling, medication, and hospitalization. As a result, more people will be able to get mental health care because the financial barriers to doing so are lower. Laws requiring mental health benefits to be equal to those for medical and surgical procedures have also been crucial in guaranteeing this. These regulations eliminate the historical discrepancy in treatment by requiring insurance providers to offer equal coverage for mental health problems. Additionally, a more equal system is being created as a result of the enforcement of these regulations and increased compliance by insurance companies. Furthermore, the enforcement of these laws and improved compliance by insurance providers are leading to a more equitable system. It helps individuals with mental health conditions to access necessary treatments without facing excessive out-of-pocket expenses or restrictions.
Restraints:
Shortage of Mental Health Professionals
Due to increased knowledge and decreased stigma, there has been a significant increase in the need for mental health treatments recently. The availability of mental health specialists has not kept up with this rising need, though. Long appointment wait times and insufficient access are caused by this demand-supply mismatch, particularly in rural or underserved locations. Mental health specialists frequently specialize in specialized fields, such as geriatric psychiatry, child psychology, or addiction counselling. This specialization may make it harder to find experts qualified to handle particular mental health requirements. It might take a lot of time and money to complete the rigorous education and training needed to become a mental health professional. These problems deter people from entering the field of mental health, which exacerbates the shortage. Inadequate reimbursement rates from insurance companies can deter mental health professionals from participating in insurance networks, limiting the affordability of care for patients.
Without sufficient insurance coverage, therapy sessions, psychiatric evaluations, and drugs can be quite expensive. High out-of-pocket costs may operate as a deterrent, keeping people from receiving essential care, which can have detrimental effects on their mental health. Additionally, since mental health issues frequently call for continuous care and assistance, the total cost of care is high. This may lead to patients stopping their treatments early because of financial hardship. This problem is made worse by inadequate insurance coverage or a lack of coverage for particular mental health services. High deductibles, co-pay requirements, or caps on the number of sessions that are covered may deter people from seeking assistance. Additionally, the indirect costs associated with mental health, such as lost productivity at work, can have a significant economic impact, creating financial strain not only for individuals seeking treatment but also for employers and society as a whole.
Opportunities:
Adoption of Telehealth and Teletherapy Services
Geographical obstacles are eliminated through telehealth and teletherapy services, enabling people to receive mental health treatment from the comfort of their own homes or from any location with an internet connection. This is especially important for people who reside in remote or underdeveloped locations since it increases the population's access to mental health care. Teletherapy provides more schedule flexibility and requires less preparation and time than in-person sessions. It makes it simpler for people to fit treatment into their everyday life since it enables them to obtain the care they require outside of the restrictions of conventional office hours. The stigma attached to obtaining mental health care can be lessened by the digital nature of teletherapy services. Telehealth allows access to a wide range of mental health professionals, including specialized therapists and counselors, regardless of one's physical location. This diversity in services enhances the quality of care and increases the likelihood of finding the right fit for individual needs.
Expansion of Electric Vehicle Charging Infrastructure
AI-driven systems may examine big patient data sets and find minute trends and signs of mental health issues. As a result, mental health problems can possibly be diagnosed and treated earlier and with greater accuracy. Treatment plans can be customized depending on a patient's particular needs and reactions using machine learning algorithms. This personalisation makes therapy and drug plans more successful, enhancing patient outcomes. Virtual assistants and chatbots driven by AI can give 24/7 help, providing quick solutions and coping mechanisms to people in need. They are useful resources, especially in times of need. By tracking patient information and behaviour over time, machine learning can anticipate possible mental health crises. As a result, emergency room visits and hospitalizations are decreased. AI-enhanced remote monitoring systems can track patient progress during teletherapy sessions. This real-time feedback assists therapists in adjusting treatment plans and addressing emerging issues promptly.
Segment Overview
By Disorder
Based on disorder, the global mental health market is divided into schizophrenia, alcohol use disorders,bipolar disorder, depression, anxiety, post-traumatic stress disorder, substance abuse disorders, eating disorders, and other disorders. The depression category dominates the market with the largest revenue share in 2022. Depression is a common mental health condition characterized by persistent sadness and a lack of interest in activities. Treatment may involve therapy, medication, or a combination of both. Schizophrenia is a severe and complex mental disorder characterized by hallucinations, delusions, disorganized thinking, and impaired cognitive function. Treatment typically involves a combination of antipsychotic medications and psychosocial interventions. This segment focuses on issues related to problematic alcohol consumption, dependence, and addiction. Treatment options range from counseling and support groups to medical interventions. Bipolar disorder involves extreme mood swings, including manic episodes and depressive episodes. Management often includes mood stabilizers, therapy, and lifestyle adjustments. Anxiety disorders encompass conditions like generalized anxiety disorder, social anxiety, and panic disorder. Treatments include therapy, medication, and coping strategies. PTSD results from exposure to traumatic events and is treated with therapy, often including exposure therapy and cognitive-behavioral therapy. This segment includes various forms of substance abuse and addiction. Treatment may involve detoxification, rehabilitation programs, and ongoing support. Eating disorders like anorexia and bulimia require specialized treatment, often involving nutritional counseling, therapy, and medical monitoring.
By Service
Based on the service, the global mental health market is categorized into emergency mental health services, outpatient counselling, home-based treatment services, inpatient hospital treatment services, and other services. The inpatient hospital treatment services category leads the global mental health market with the largest revenue share in 2022. Inpatient hospital treatment services are designed for individuals with severe and acute mental health conditions that require intensive care and supervision. These services are provided in psychiatric hospitals or specialized mental health units within general hospitals. They include crisis stabilization, medication management, and various forms of therapy. These services cater to individuals experiencing acute mental health crises, such as severe depression, suicidal ideation, or psychosis. They typically include crisis hotlines, crisis stabilization units, and emergency psychiatric evaluations. The focus is on providing immediate assessment and intervention to manage crisis situations. Outpatient counseling services offer therapy and counseling on an outpatient basis, typically in clinics, private practices, or community mental health centers. Individuals with various mental health concerns, ranging from mild to moderate, can access regular counseling sessions to address their needs. Home-based mental health services bring care to individuals within their own homes. This approach is particularly useful for people with severe mental illnesses who may face barriers in attending inpatient or outpatient facilities. Home-based treatment often involves a team of professionals providing therapy, medication management, and support.
By Age Group
Based on age group, the global mental health market is segmented into pediatric, adult, and geriatric. The adult segment dominates the mental health market. The adult segment includes individuals from roughly 18 to 65 years old. It covers a wide range of mental health conditions, including mood disorders, anxiety disorders, substance use disorders, and more. Treatment options include therapy, medication, and various support services tailored to the specific needs of adults. This segment is the most diverse in terms of the types of mental health conditions encountered. Pediatric mental health segment focuses on the mental health needs of children and adolescents, typically up to the age of 18. Pediatric mental health services address conditions such as attention-deficit/hyperactivity disorder (ADHD), autism spectrum disorders, anxiety, depression, and behavior disorders. Treatment often involves a combination of therapy, family support, and sometimes medication. Early intervention and support are critical to addressing mental health issues in this age group. The geriatric segment addresses the unique mental health challenges faced by older adults, typically aged 65 and above. Conditions such as dementia, depression, and anxiety are common in this age group. Geriatric mental health services often focus on cognitive and emotional well-being, caregiving support, and addressing issues related to aging, such as loneliness and isolation. Treatment may involve psychotherapy, medication, and strategies to enhance quality of life.
Global Mental Health Market Overview by Region
The global mental health market is categorized into North America, Europe, Asia-Pacific, and the Rest of the World. Asia-Pacific emerged as the leading region, capturing the largest market share in 2022. The Asia-Pacific area has a sizable and diverse population, and each nation has different mental health needs. This diversity has stimulated creativity in the creation of regionally and culturally appropriate mental health remedies. Many nations in the Asia-Pacific area have seen a noticeable rise in mental health awareness in recent years. More people are seeking and using mental health services as the stigma associated with it increasingly fades. Increased healthcare spending, particularly investments in mental health infrastructure and services, has been a result of economic expansion in many Asia-Pacific countries. Access to treatment and care alternatives has increased as a result of this economic development. With tech-savvy populations driving the growth of online counselling, mental health applications, and telepsychiatry services, the region has embraced telehealth and digital mental health solutions. Numerous governments in the Asia-Pacific area have started policies and programmes to increase access and service quality after realizing the value of mental health. The exchange of knowledge and best practices in the field of mental health care has been encouraged by regional partnerships and organizations, which has improved outcomes and advanced treatment modalities. Additionally, the Asia-Pacific area has actively participated in mental health research, which has aided in our understanding of these diseases, their prevalence, and efficient treatments.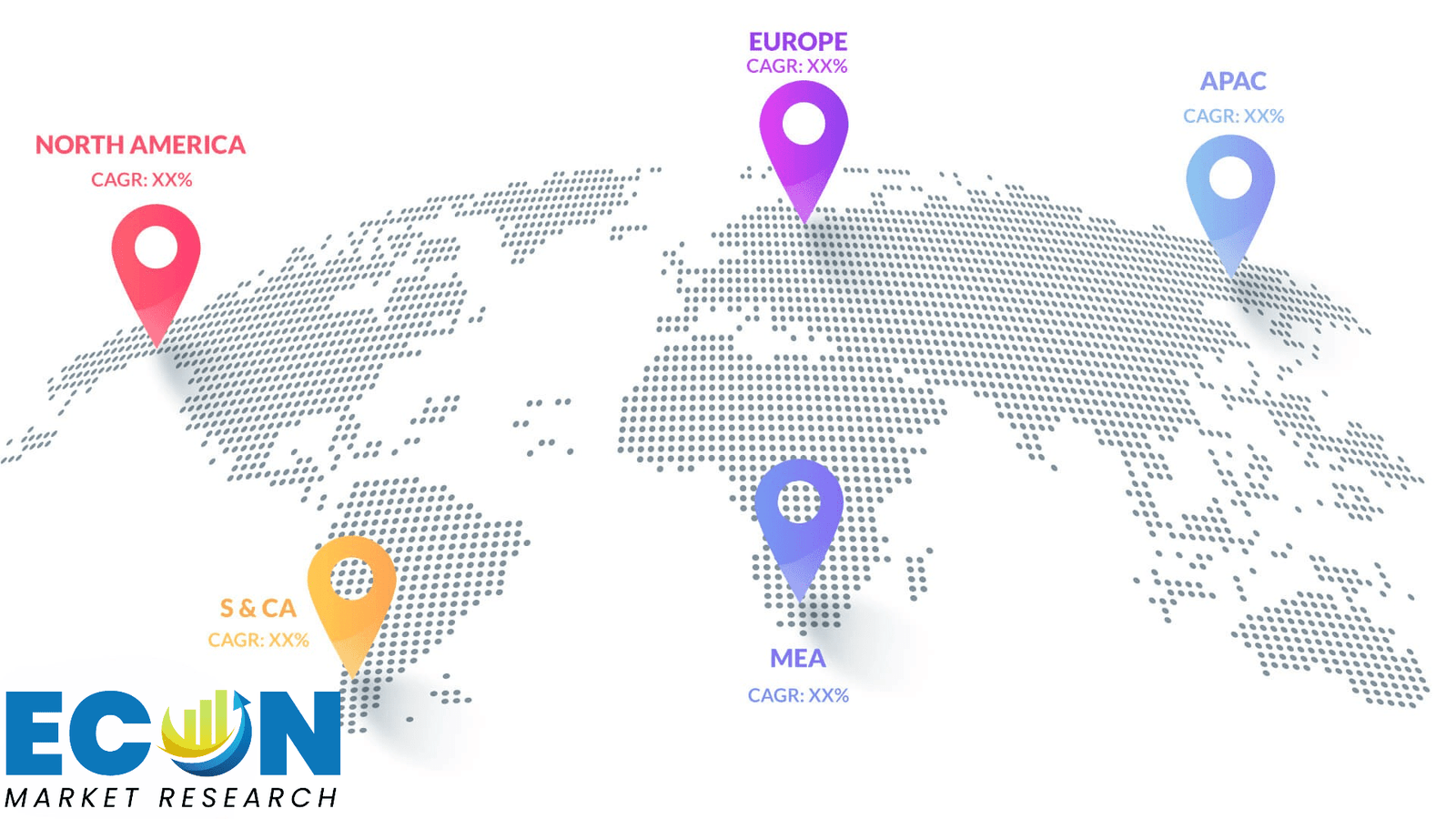 Global Mental Health Market Competitive Landscape
In the global mental health market, a few major players exert significant market dominance and have established a strong regional presence. These leading companies remain committed to continuous research and development endeavors and actively engage in strategic growth initiatives, including product development, launches, joint ventures, and partnerships. By pursuing these strategies, these companies aim to strengthen their market position, expand their customer base, and capture a substantial share of the market.
Some of the prominent players in the global mental health market include
Mindscape,

Calm,

MoodMission Pty Ltd.,

Sanvello Health,

Headspace Inc.,

Flow,

Youper, Inc.,

The MENTOR Network,

Universal Health Services, Inc.,

Behavioral Health Network, Inc.,

CareTech Holdings PLC,

Strategic Behavioral Health, and various other key players.
Global Mental Health Market Recent Developments
In October 2023, PE-Backed With the acquisition of Atlanta, Hightop Health launches an outpatient mental health platform. Hightop Health, a brand-new outpatient mental health service, has entered the behavioural health market. Hightop provides an outpatient mental health platform that employs an integrative and measurement-based approach to care. It is supported by private equity firms JLL Partners and SV Health Investors.

In July 2023, Big Health, a market leader in non-drug digital mental health therapies, has acquired Limbix, the company behind the first, evidence-based digital therapy for adolescents and young adults with depressive symptoms.
Scope of the Global Mental Health Market Report
Mental Health Market Report Segmentation
ATTRIBUTE

DETAILS

By Disorder

Schizophrenia

Alcohol Use Disorders

Bipolar Disorder

Depression

Anxiety

Post-Traumatic Stress Disorder

Substance Abuse Disorders

Eating Disorders

Other Disorders

By Service

Emergency Mental Health Services

Outpatient Counselling

Home-Based Treatment Services

Inpatient Hospital Treatment Services

Other Services

By Age Group

Pediatric

Adult

Geriatric

By Geography

North America (USA,

and Canada)

Europe (UK, Germany, France, Italy, Spain, Russia and Rest of Europe)

Asia Pacific (Japan, China, India, Australia, Southeast Asia and Rest of Asia Pacific)

Latin America (Brazil, Mexico, and Rest of Latin America)

Middle East & Africa (South Africa, GCC, and Rest of Middle East & Africa)

Customization Scope

Pricing
Objectives of the Study
The objectives of the study are summarized in 5 stages. They are as mentioned below:
Global Mental Health Market

Size and Forecast:
To identify and estimate the market size for the global mental health market segmented by disorder, by service, by age group, region and by value (in U.S. dollars). Also, to understand the consumption/ demand created by consumers of mental health between 2019 and 2031.
Market Landscape and Trends:
To identify and infer the drivers, restraints, opportunities, and challenges for the global mental health market
Market Influencing Factors:
To find out the factors which are affecting the sales of mental health among consumers
To identify and understand the various factors involved in the global mental health market affected by the pandemic
To provide a detailed insight into the major companies operating in the market. The profiling will include the financial health of the company's past 2-3 years with segmental and regional revenue breakup, product offering, recent developments, SWOT analysis, and key strategies.
Intended Audience
Healthcare professionals

Researchers

Governments, Associations, and Industrial Bodies

Mental health service providers

Clinicians and therapists
Research Methodology
Our research methodology has always been the key differentiating reason which sets us apart in comparison from the competing organizations in the industry. Our organization believes in consistency along with quality and establishing a new level with every new report we generate; our methods are acclaimed and the data/information inside the report is coveted. Our research methodology involves a combination of primary and secondary research methods. Data procurement is one of the most extensive stages in our research process. Our organization helps in assisting the clients to find the opportunities by examining the market across the globe coupled with providing economic statistics for each and every region. The reports generated and published are based on primary & secondary research. In secondary research, we gather data for global Market through white papers, case studies, blogs, reference customers, news, articles, press releases, white papers, and research studies. We also have our paid data applications which includes hoovers, Bloomberg business week, Avention, and others.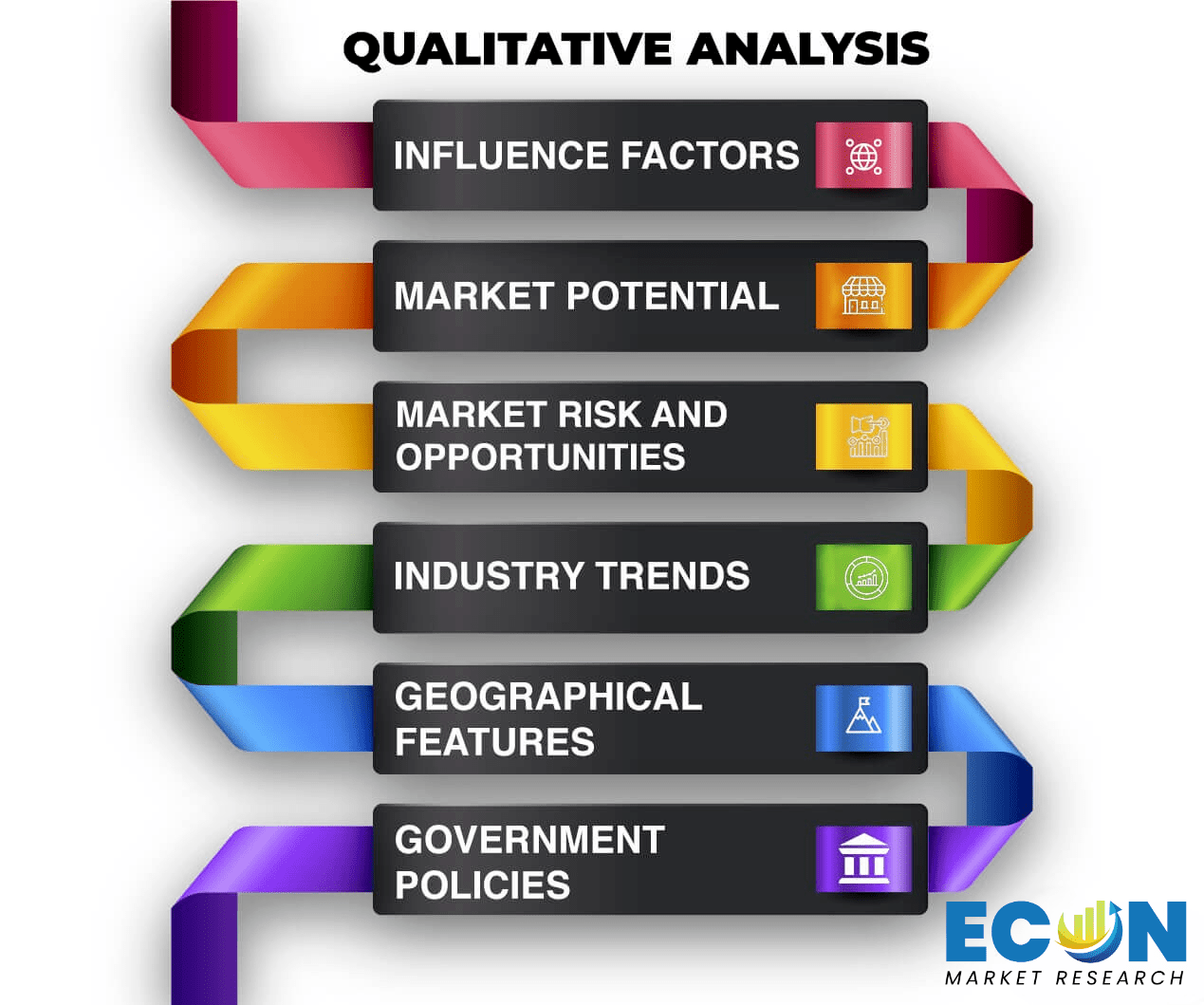 Data Collection
Data collection is the process of gathering, measuring, and analyzing accurate and relevant data from a variety of sources to analyze market and forecast trends. Raw market data is obtained on a broad front. Data is continuously extracted and filtered to ensure only validated and authenticated sources are considered. Data is mined from a varied host of sources including secondary and primary sources.

Primary Research
After the secondary research process, we initiate the primary research phase in which we interact with companies operating within the market space. We interact with related industries to understand the factors that can drive or hamper a market. Exhaustive primary interviews are conducted. Various sources from both the supply and demand sides are interviewed to obtain qualitative and quantitative information for a report which includes suppliers, product providers, domain experts, CEOs, vice presidents, marketing & sales directors, Type & innovation directors, and related key executives from various key companies to ensure a holistic and unbiased picture of the market. 
Secondary Research
A secondary research process is conducted to identify and collect information useful for the extensive, technical, market-oriented, and comprehensive study of the market. Secondary sources include published market studies, competitive information, white papers, analyst reports, government agencies, industry and trade associations, media sources, chambers of commerce, newsletters, trade publications, magazines, Bloomberg BusinessWeek, Factiva, D&B, annual reports, company house documents, investor presentations, articles, journals, blogs, and SEC filings of companies, newspapers, and so on. We have assigned weights to these parameters and quantified their market impacts using the weighted average analysis to derive the expected market growth rate.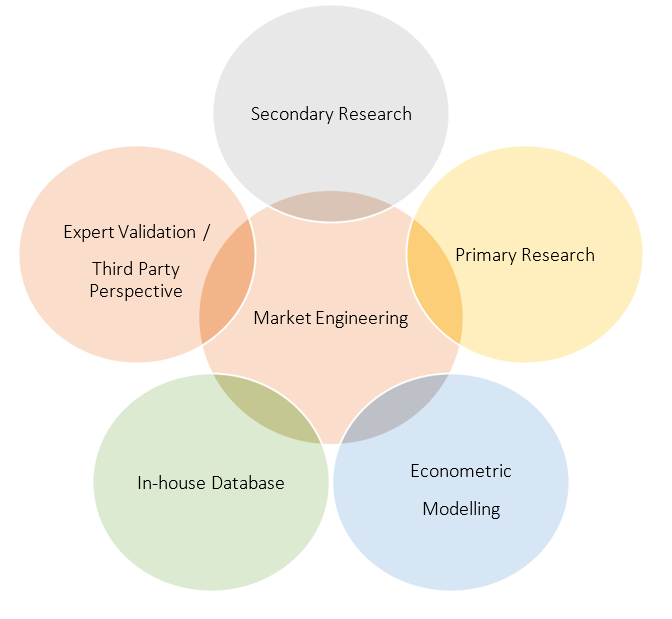 Top-Down Approach & Bottom-Up Approach
In the top – down approach, the Global Batteries for Solar Energy Storage Market was further divided into various segments on the basis of the percentage share of each segment. This approach helped in arriving at the market size of each segment globally. The segments market size was further broken down in the regional market size of each segment and sub-segments. The sub-segments were further broken down to country level market. The market size arrived using this approach was then crosschecked with the market size arrived by using bottom-up approach.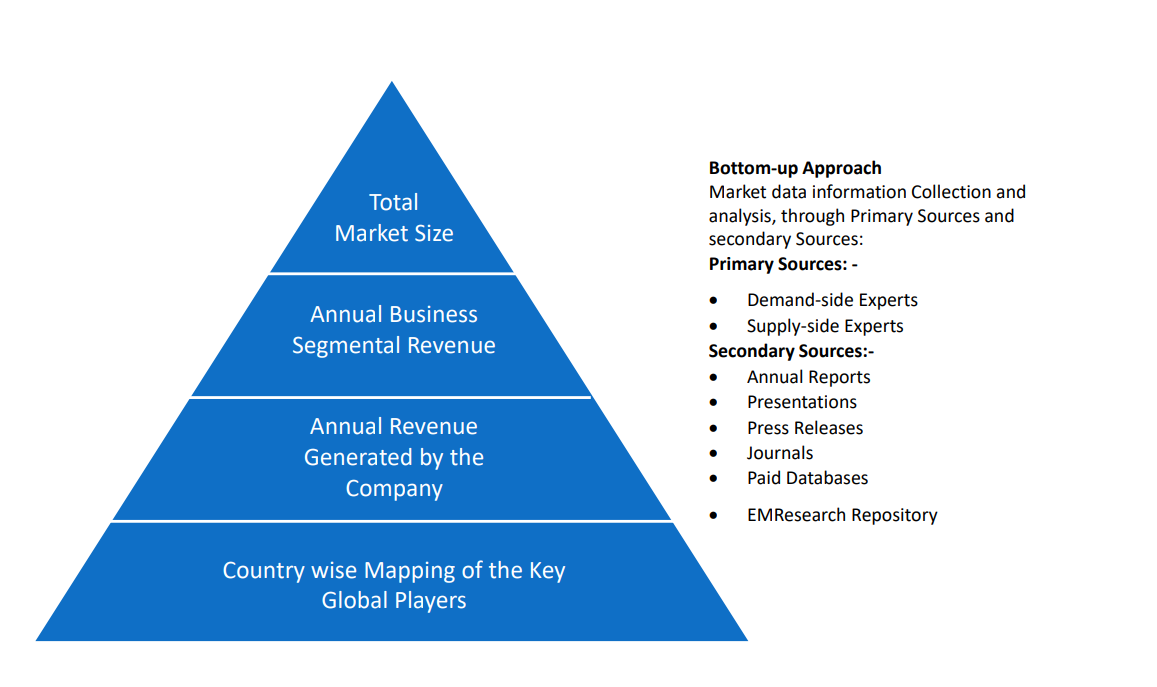 In the bottom-up approach, we arrived at the country market size by identifying the revenues and market shares of the key market players. The country market sizes then were added up to arrive at regional market size of the decorated apparel, which eventually added up to arrive at global market size.
This is one of the most reliable methods as the information is directly obtained from the key players in the market and is based on the primary interviews from the key opinion leaders associated with the firms considered in the research. Furthermore, the data obtained from the company sources and the primary respondents was validated through secondary sources including government publications and Bloomberg.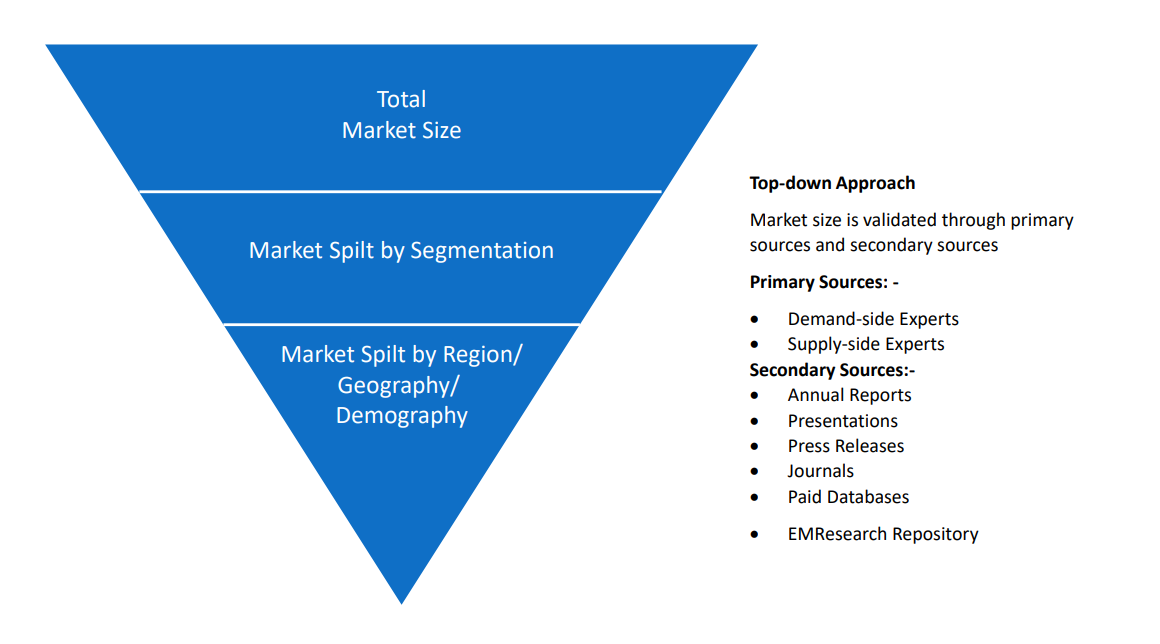 Market Analysis & size Estimation
Post the data mining stage, we gather our findings and analyze them, filtering out relevant insights. These are evaluated across research teams and industry experts. All this data is collected and evaluated by our analysts. The key players in the industry or markets are identified through extensive primary and secondary research. All percentage share splits, and breakdowns have been determined using secondary sources and verified through primary sources. The market size, in terms of value and volume, is determined through primary and secondary research processes, and forecasting models including the time series model, econometric model, judgmental forecasting model, the Delphi method, among Flywheel Energy Storage. Gathered information for market analysis, competitive landscape, growth trends, product development, and pricing trends is fed into the model and analyzed simultaneously.
Quality Checking & Final Review
The analysis done by the research team is further reviewed to check for the accuracy of the data provided to ensure the clients' requirements. This approach provides essential checks and balances which facilitate the production of quality data. This Type of revision was done in two phases for the authenticity of the data and negligible errors in the report. After quality checking, the report is reviewed to look after the presentation, Type and to recheck if all the requirements of the clients were addressed.