The global marine sensors market was valued at USD 1.32 billion in 2022 and is estimated to reach approximately USD 2.58 billion by 2031, at a CAGR of 7.7% from 2023 to 2031.
Recent years have seen the marine sensors market grow significantly and become increasingly innovative, making it a crucial part of the maritime sector. These sensors are vital for gathering and sending data that is needed for effective and safe maritime operations. They are used on a variety of ships, such as offshore platforms, commercial ships, and military ships, to keep an eye on the weather, equipment performance, and navigational characteristics. In this market, sonar systems, water quality sensors, GPS systems, radar, and a variety of other sensor types are important players. The necessity for real-time data in the maritime industry, along with the growing emphasis on environmental preservation and safety, are driving the global need for marine sensors. With the use of these sensors, operators can keep an eye on and react to a variety of circumstances, including depth, temperature, and currents in the water, as well as possible dangers like submerged objects or other boats. Moreover, advances in sensor technology have been fueled by the growth in marine research, offshore energy production, and maritime trade. Continuous technological breakthroughs, such as the fusion of sensor data with AI and Internet of Things technologies, define the marine sensors market. The market for marine sensors is anticipated to grow as the maritime sector priorities sustainability and modernises further, providing substantial potential for businesses engaged in the creation and application of these vital technology.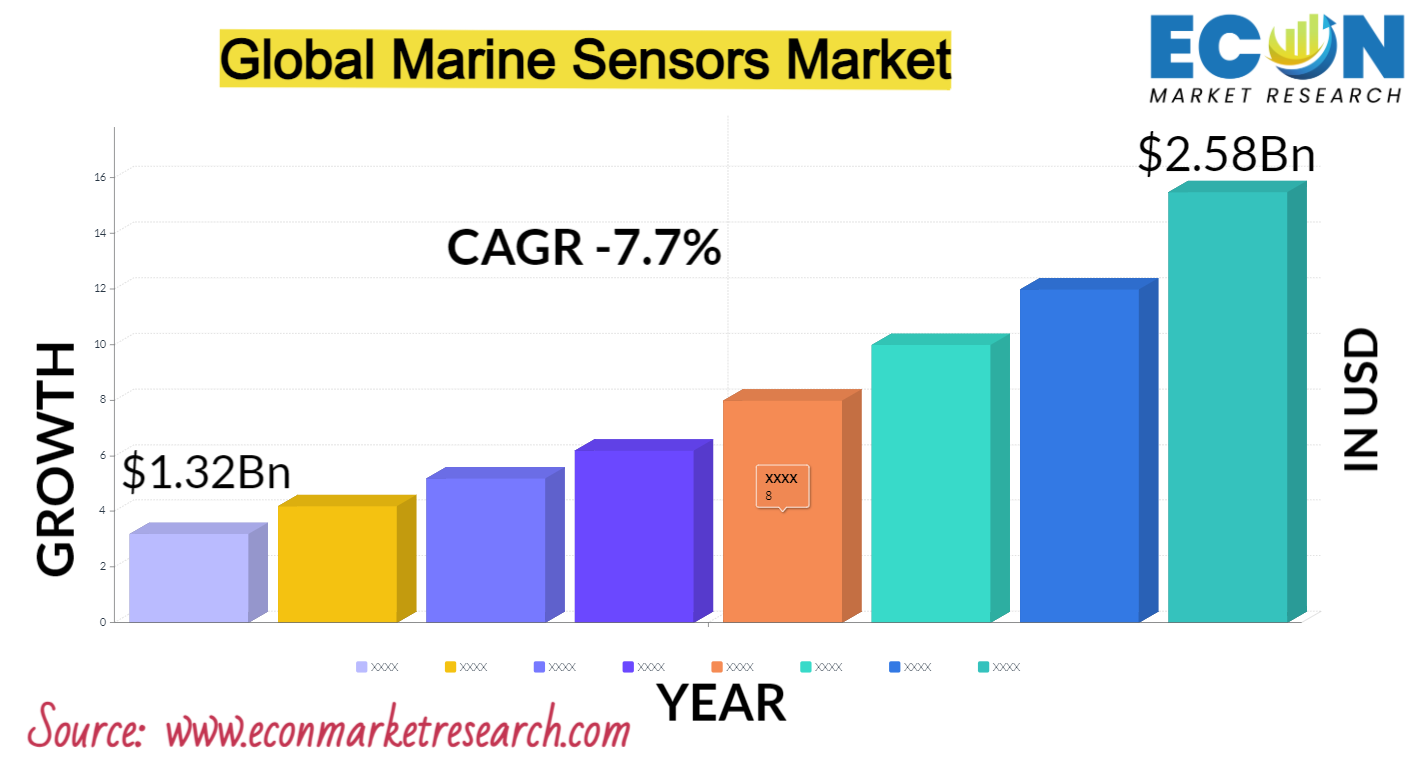 MARINE SENSORS MARKET: REPORT SCOPE & SEGMENTATION
| | |
| --- | --- |
| Report Attribute | Details |
| Estimated Market Value (2022) | 1.32 Bn |
| Projected Market Value (2031) | 2.58 Bn |
| Base Year | 2022 |
| Forecast Years | 2023 - 2031 |
| Scope of the Report | Historical and Forecast Trends, Industry Drivers and Constraints, Historical and Forecast Market Analysis by Segment- By Type, By Application, By End User, & Region |
| Segments Covered | By Type, By Application, By End User, & Region |
| Forecast Units | Value (USD Billion or Million), and Volume (Units) |
| Quantitative Units | Revenue in USD million/billion and CAGR from 2023 to 2031 |
| Regions Covered | North America, Europe, Asia Pacific, Latin America, and Middle East & Africa, and the Rest of World |
| Countries Covered | U.S., Canada, Mexico, U.K., Germany, France, Italy, Spain, China, India, Japan, South Korea, Brazil, Argentina, GCC Countries, and South Africa, among others |
| Report Coverage | Market growth drivers, restraints, opportunities, Porter's five forces analysis, PEST analysis, value chain analysis, regulatory landscape, market attractiveness analysis by segments and region, company market share analysis, and COVID-19 impact analysis. |
| Delivery Format | Delivered as an attached PDF and Excel through email, according to the purchase option. |
Global Marine Sensors Market Dynamics
The market is strongly related to shipping and international trade. The need for safe navigation and effective maritime operations grows with increased international trade, which propels the use of cutting-edge marine sensors. Environmental laws that are too strict are forcing the maritime sector to adopt sustainable practices. Marine sensors are critical for sustainability and compliance initiatives since they monitor pollutants, water quality, and other environmental characteristics. The integration of IoT, data analytics, and artificial intelligence is one of the ongoing technical advancements that is improving the capabilities of marine sensors. These developments enhance operational effectiveness, decision-making, and data accuracy. Marine sensors are crucial to the defence and security of naval vessels. Investments in cutting-edge sensor technology are still being driven by defence modernization initiatives and geopolitical tensions. Maritime operations are expanding quickly in developing regions, especially in Asia. The growth of ports, shipbuilding, and offshore energy generation is creating new business prospects for producers of maritime sensors. Marine sensors are essential for early warning systems and monitoring changes in sea conditions due to the rising frequency of extreme weather events and the effects of climate change. There are many companies on the market offering a variety of sensor solutions, making it a very competitive environment. Cost-effectiveness and product innovation are driven by competition. Strong data protection methods are needed as the volume of data gathered by marine sensors rises and concerns over data security and privacy grow.
Global Marine Sensors Market Drivers
Increasing Maritime Trade
The demand for goods, particularly consumer goods, raw minerals, and energy resources, has increased as a result of the world's population growth and urbanization. Because most global trade is carried out by sea, this need directly increases the significance of maritime shipping and drives international trade. Countries now find it simpler to do cross-border business thanks to international trade agreements and trade liberalization initiatives. Lower tariffs, streamlined customs processes, and trade facilitation policies have all boosted marine trade and encouraged nations to sell and import commodities on a bigger scale. Furthermore, the bulk carriers and big cargo ships' economies of scale boost the maritime trade. These ships are able to move large amounts of cargo with great efficiency, which lowers transportation costs and increases the profitability of international trade.Furthermore, as emerging economies grow and become major players in international trade, new trade routes and markets are opening up, enhancing the global reach of maritime trade. The expanding maritime trade has a direct and profound impact on the marine sensors market.
Rising Concerns for Environmental Protection
Strict limitations on air and water pollution from ships are enforced by international agreements and regulations, such as the Ballast Water Management Convention and MARPOL of the International Maritime Organization (IMO). Utilizing cutting-edge technologies, such as emission-reduction systems and ballast water treatment solutions that are monitored and managed by maritime sensors, is required to comply with these rules. Pressure to lower its carbon footprint and switch to more sustainable practices is mounting for the maritime sector. As a result, environmentally friendly technologies have been developed and used. These technologies include hybrid propulsion systems, cleaner fuels, and emission-reduction strategies, all of which depend on marine sensors for effective operation and compliance. Furthermore, concerns over oil spills and marine pollution have propelled the demand for sensors that monitor oil levels, water quality, and environmental conditions. These sensors are integral in preventing, detecting, and responding to environmental incidents.
Restraints:
Exorbitant start-up costs might limit access to specific markets or industries because they make it difficult for enterprises with limited resources to participate or compete successfully. This may inhibit innovation and competition and result in market monopolies. A large amount of available capital for many organizations, especially startups, may be used for starting expenses, leaving less money for R&D. This can make it more difficult to innovate and launch new goods or services. A higher level of financial risk is associated with high beginning costs. A business or individual may suffer significant financial losses if an endeavour fails, which could result in bankruptcy or insolvency. It may take some time for initial costs to be recovered through revenue generation, which delays the attainment of profitability and return on investment (ROI). High initial costs can disproportionately affect small and medium-sized enterprises (SMEs) that have limited access to capital. This can hinder economic growth and job creation.
Erroneous data resulting from sensor interference can lead to crucial information being misinterpreted and calculations going wrong. Inaccurate sensor readings can be fatal in industries like healthcare and vehicle safety systems. Systems or procedures that depend on sensors can experience interference that impairs normal operation and results in expensive downtime, production delays, and decreased efficiency. Sensor interference can jeopardize safety-critical activities in industries such as aviation and automotive, raising the likelihood of accidents and putting lives at risk. Regular interference-related problems require more frequent maintenance and troubleshooting, which raises operating costs and lowers system reliability overall. The usage of particular sensors or technologies in particular contexts may be restricted due to the existence of interfering variables. Electromagnetic interference, for example, can make it difficult to use electronic sensors in sensitive regions. External conditions like electromagnetic fields, electromagnetic radiation, and temperature variations can introduce interference, necessitating additional shielding or insulation measures.
Opportunities:
Fisheries and Aquaculture Sensors
Operations related to aquaculture and fishing heavily rely on the environment. Real-time data on characteristics including temperature, salinity, oxygen content, and water quality can be obtained from sensors. With the use of this data, the aquaculture environment can be precisely monitored and controlled, resulting in ideal circumstances for fish growth and wellbeing. In order to monitor fish populations and collect essential data for sustainable resource management, fisheries management authorities rely heavily on sensors, which are essential to stock assessment. Underwater cameras and acoustic sensors are employed for non-invasive fish stock evaluations. Sensor-equipped automatic feeders may automatically administer the proper amount of feed, cutting down on waste and guaranteeing that fish get the nourishment they need. These sensors support the aquaculture stock's health by preventing overfeeding. In fish farms, sensors play a critical role in the early identification of viruses and illnesses. Their ability to detect variations in the quality of water enables prompt action to avert illness outbreaks and lower mortality rates. Sensors improve operating efficiency by automating processes including garbage disposal, aeration, and feeding. In addition to lowering labour expenses, this guarantees reliable and efficient farm management.
Remote Sensing Technologies
Natural resource management, wildlife habitats, and ecosystems may all be continuously monitored thanks to remote sensing. Early identification of environmental changes is facilitated by it, enabling authorities and conservationists to make well-informed judgements about resource management and habitat preservation. Farmers can access data on crop health, soil conditions, and water management through remote sensing. Precision farming is made possible by this data, which maximizes resource utilization, boosts agricultural yields, and reduces environmental impact. Since remote sensing provides precise and timely data on natural disasters like floods, wildfires, and hurricanes, it is essential to disaster management efforts. The preparation, reaction, and recovery phases of a disaster are aided by this data. Data from remote sensing is useful for planning infrastructure, mapping land uses, and tracking urban expansion in urban regions. This facilitates resource allocation and sustainable urban growth. The study of Earth's climate and the monitoring of temperature, ice cover, and sea level variations—all essential for comprehending and mitigating climate change require the use of remote sensing data. Remote sensing is a tool used by forestry experts to monitor deforestation, evaluate the health of forests, and manage their timber resources. This data is in favour of sustainable forestry methods.
Segment Overview
By Type
Based on type, the global marine sensors market is divided into acoustic sensors, magnetic sensors, sonars, pressure sensors, temperature sensors, flow and levels sensors, others. The flow and levels sensors category dominates the market with the largest revenue share in 2022. Flow and level sensors are integral for managing liquid cargo, ballast systems, and ensuring vessel stability. They are commonly employed in commercial shipping, oil and gas exploration, and maritime logistics. Acoustic sensors play a vital role in underwater communication, navigation, and detection. They are used for tasks such as sonar systems, underwater communication, and detecting underwater objects, including submarines, making them indispensable for defense, research, and commercial purposes. Magnetic sensors are employed for navigation, heading, and positioning applications, particularly in compass systems and magnetic anomaly detection. These sensors are essential for accurate navigation and location tracking in marine environments. Sonar systems are essential for depth measurement, object detection, and underwater mapping. They are widely used in fisheries, hydrography, and defense applications to provide a comprehensive view of the underwater surroundings. Pressure sensors are critical for measuring water depth, monitoring vessel stability, and ensuring the integrity of underwater structures. They are utilized in various marine systems, including depth sounders and subsea equipment. Temperature sensors are used to monitor water temperature, which is vital for applications like environmental research, fisheries, and water quality management. They help in understanding and responding to changes in water temperature that can affect marine ecosystems.
By Application
Based on the application, the global marine sensors market is categorized into navigational instrument, surveying instrument. The surveying instrument category leads the global marine sensors market with the largest revenue share in 2022.Surveying instruments in the marine sensors market are geared towards collecting precise data for scientific research, cartography, environmental assessment, and underwater mapping. Bathymetric sonar systems are used for mapping the ocean floor and seabed contours, providing valuable data for scientific research, navigation charts, and environmental studies. Hydrographic sensors gather data related to water depths, currents, tides, and seafloor characteristics. They are essential for producing accurate nautical charts and assessing underwater conditions. Navigational instruments encompass a range of sensors and equipment designed to facilitate safe and efficient navigation for vessels at sea. GPS sensors provide accurate positioning information, enabling vessels to determine their location, speed, and direction. This technology is fundamental for route planning, collision avoidance, and overall navigational safety. Compasses, which are often magnetic sensors, help determine a vessel's heading and orientation, aiding in directional navigation. Radar sensors use radio waves to detect the presence of nearby vessels, land, and obstacles, even in adverse weather conditions. They are essential for collision avoidance and safe navigation.
By End-User
Based on end-user, the global marine sensors market is segmented into scientists and academics, governments, navy, oil and gas companies, dredgers, others. The oil and gas companies segment dominates the marine sensors market. Oil and gas companies use marine sensors to support offshore exploration, drilling, and production activities. These sensors monitor underwater conditions, pipeline integrity, and equipment performance to ensure safe and efficient operations in challenging offshore environments. Scientists and academic institutions use marine sensors for research purposes. They collect data on oceanographic conditions, marine life, and environmental changes to advance scientific knowledge and contribute to fields like marine biology, oceanography, and climate science. Governments at various levels (national, regional, and local) utilize marine sensors for environmental monitoring, regulatory compliance, and safety. They employ sensors to assess water quality, track marine traffic, and ensure compliance with environmental regulations. The naval sector relies on marine sensors for defense and security purposes. Sensors such as sonar, radar, and magnetic sensors are crucial for submarine detection, navigation, and surveillance, enhancing maritime security and defense capabilities. Dredging companies and vessels employ marine sensors for underwater surveying, depth measurement, and sediment analysis. These sensors assist in maintaining navigable waterways, ports, and channels and are essential for dredging operations.
Global Marine Sensors Market Overview by Region
The global marine sensors market is categorized into North America, Europe, Asia-Pacific, and the Rest of the World. Asia-Pacific emerged as the leading region, capturing the largest market share in 2022. Several of the largest and fastest-growing economies in the world, including those of China, India, and Japan, are found in the Asia-Pacific area. These nations have had fast middle-class population growth, urbanization, and industrialization. Consequently, the area has grown into a significant manufacturing and consumer market, fueling the need for a wide range of goods and services around the world. Moreover, Asia-Pacific has become a major hub for global trade and business due to its advantageous geographic location. The region is an essential component of global supply chains because of its many ports, long coastline, and sophisticated transportation system, which have made it easier to move raw materials and goods. Furthermore, the Asia-Pacific region has led the world in technical invention and acceptance, with South Korea and Japan among its tech titans.This has prompted the development of sensor technologies as well as their broad use across a number of sectors, including the marine sensor industry. The Asia-Pacific area benefits from its long coastlines in terms of marine sensors since they facilitate the expansion of offshore energy production, fisheries and aquaculture, and a robust maritime trade network. The demand for advanced marine sensors in the region has been driven by the growing emphasis on resource management, maritime safety, and environmental protection.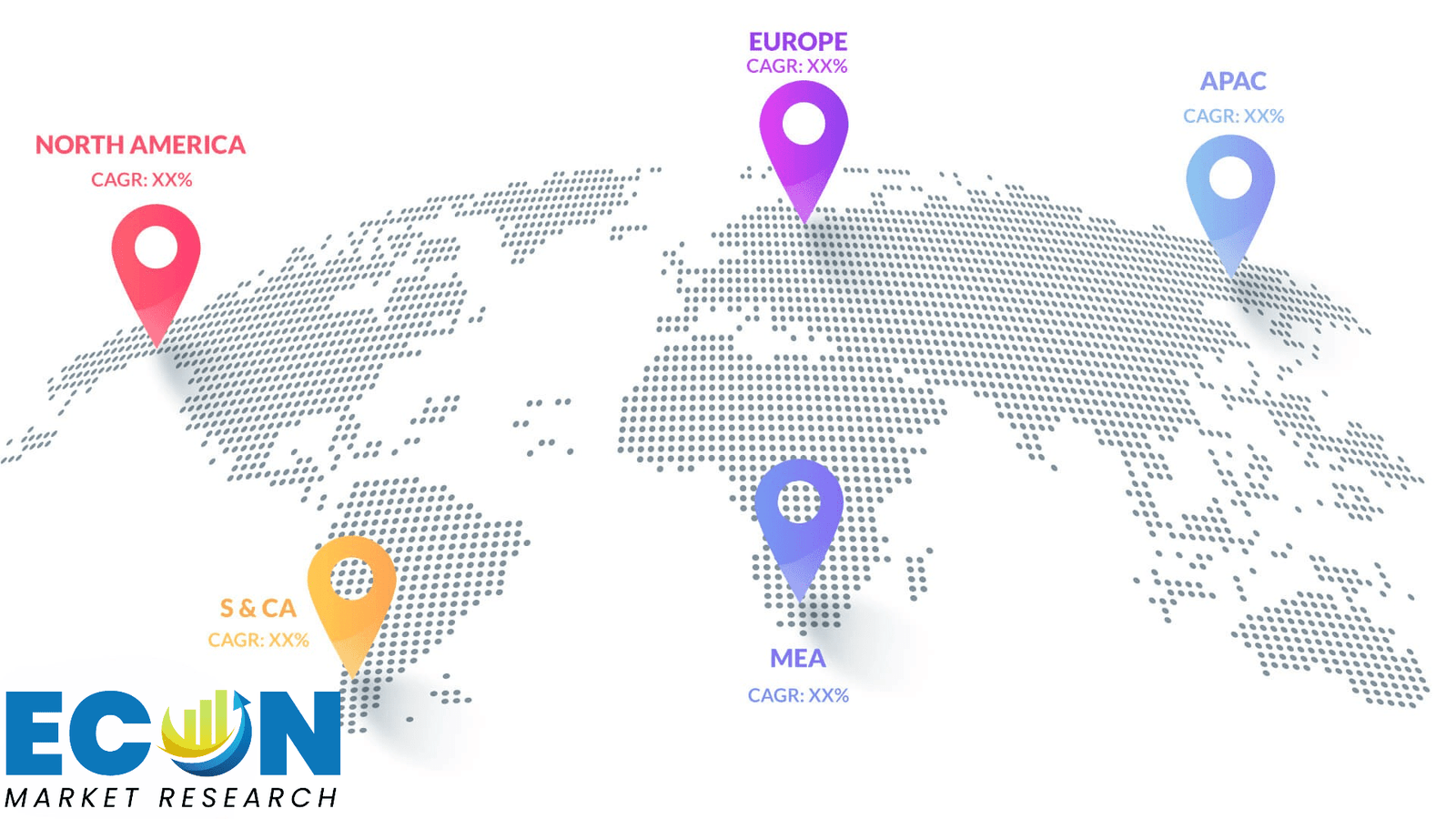 Global Marine Sensors Market Competitive Landscape
In the global marine sensors market, a few major players exert significant market dominance and have established a strong regional presence. These leading companies remain committed to continuous research and development endeavors and actively engage in strategic growth initiatives, including product development, launches, joint ventures, and partnerships. By pursuing these strategies, these companies aim to strengthen their market position, expand their customer base, and capture a substantial share of the market.
Some of the prominent players in the global marine sensors market include Honeywell International Inc, AMETEK.Inc, Meggitt PLC., TE Connectivity, SST Sensing Ltd Company, Sentech, BAE Systems, Raytheon Technologies company, Lockheed Martin Corporation, Wärtsilä, Garmin Ltd., Kongsberg Maritime, and various other key players.
Global Marine Sensors Market Recent Developments
In April 2023, The New Marine LiDAR Sensor for USV is Unveiled by Teledyne. The CL-360 for marine applications, a lidar sensor that can be seamlessly integrated with high resolution multibeam systems and the CARIS Ping-To-Chart workflow, will be shown to attendees at Teledyne Geospatial booth U12. This lidar sensor enables full above and below water image capture with survey grade accuracy in a single workflow.

In September 2023, HBK expands its line of sensors by adding MicroStrain acquisition. MicroStrain is a manufacturer of high-precision wireless and inertial sensing solutions for the automation, mobility, and unmanned vehicle industries.
Scope of the Global Marine Sensors Market Report
Marine Sensors Market Report Segmentation
ATTRIBUTE

DETAILS

By Type

Acoustic Sensors

Magnetic Sensors

Sonars

Pressure Sensors

Temperature Sensors

Flow And Levels Sensors

Others

By Application

Navigational Instrument

Surveying Instrument

By End-User

Scientists And Academics

Governments

Navy

Oil And Gas Companies

Dredgers

Others

By Geography

North America (USA,

and Canada)

Europe (UK, Germany, France, Italy, Spain, Russia and Rest of Europe)

Asia Pacific (Japan, China, India, Australia, Southeast Asia and Rest of Asia Pacific)

Latin America (Brazil, Mexico, and Rest of Latin America)

Middle East & Africa (South Africa, GCC, and Rest of Middle East & Africa)

Customization Scope

Pricing
Objectives of the Study
The objectives of the study are summarized in 5 stages. They are as mentioned below:
Global Marine Sensors Market

Size and Forecast:
To identify and estimate the market size for the global marine sensors market segmented by type, by application, by end user, region and by value (in U.S. dollars). Also, to understand the consumption/ demand created by consumers of marine sensors between 2019 and 2031.
Market Landscape and Trends:
To identify and infer the drivers, restraints, opportunities, and challenges for the global marine sensors market
Market Influencing Factors:
To find out the factors which are affecting the sales of marine sensors among consumers
To identify and understand the various factors involved in the global marine sensors market affected by the pandemic
To provide a detailed insight into the major companies operating in the market. The profiling will include the financial health of the company's past 2-3 years with segmental and regional revenue breakup, product offering, recent developments, SWOT analysis, and key strategies.
Intended Audience
Marketing Materials

Academic Research Papers

Retailers, Wholesalers, and Distributors

Governments, Associations, and Industrial Bodies

Investors and Trade Experts
Research Methodology
Our research methodology has always been the key differentiating reason which sets us apart in comparison from the competing organizations in the industry. Our organization believes in consistency along with quality and establishing a new level with every new report we generate; our methods are acclaimed and the data/information inside the report is coveted. Our research methodology involves a combination of primary and secondary research methods. Data procurement is one of the most extensive stages in our research process. Our organization helps in assisting the clients to find the opportunities by examining the market across the globe coupled with providing economic statistics for each and every region. The reports generated and published are based on primary & secondary research. In secondary research, we gather data for global Market through white papers, case studies, blogs, reference customers, news, articles, press releases, white papers, and research studies. We also have our paid data applications which includes hoovers, Bloomberg business week, Avention, and others.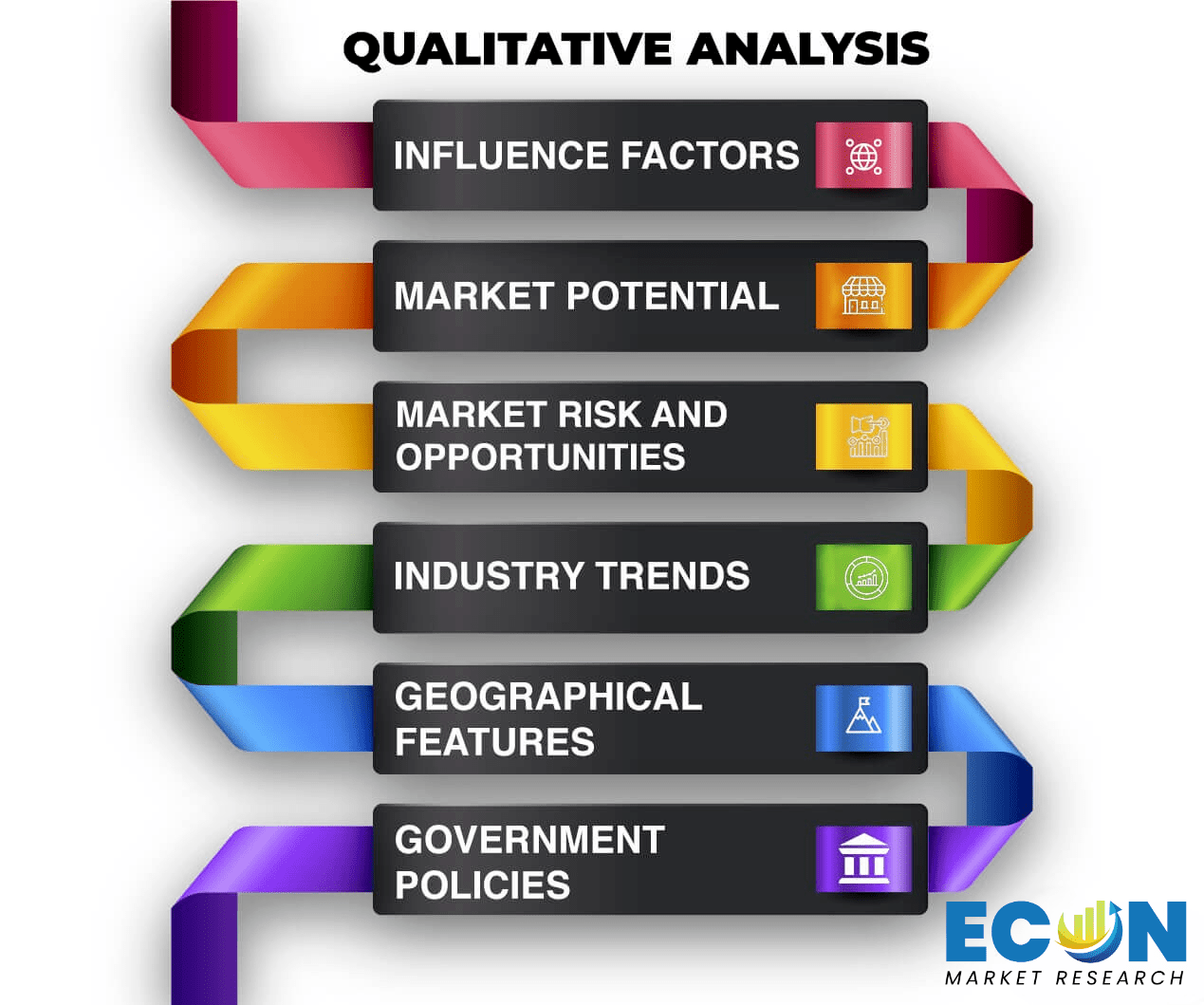 Data Collection
Data collection is the process of gathering, measuring, and analyzing accurate and relevant data from a variety of sources to analyze market and forecast trends. Raw market data is obtained on a broad front. Data is continuously extracted and filtered to ensure only validated and authenticated sources are considered. Data is mined from a varied host of sources including secondary and primary sources.

Primary Research
After the secondary research process, we initiate the primary research phase in which we interact with companies operating within the market space. We interact with related industries to understand the factors that can drive or hamper a market. Exhaustive primary interviews are conducted. Various sources from both the supply and demand sides are interviewed to obtain qualitative and quantitative information for a report which includes suppliers, product providers, domain experts, CEOs, vice presidents, marketing & sales directors, Type & innovation directors, and related key executives from various key companies to ensure a holistic and unbiased picture of the market. 
Secondary Research
A secondary research process is conducted to identify and collect information useful for the extensive, technical, market-oriented, and comprehensive study of the market. Secondary sources include published market studies, competitive information, white papers, analyst reports, government agencies, industry and trade associations, media sources, chambers of commerce, newsletters, trade publications, magazines, Bloomberg BusinessWeek, Factiva, D&B, annual reports, company house documents, investor presentations, articles, journals, blogs, and SEC filings of companies, newspapers, and so on. We have assigned weights to these parameters and quantified their market impacts using the weighted average analysis to derive the expected market growth rate.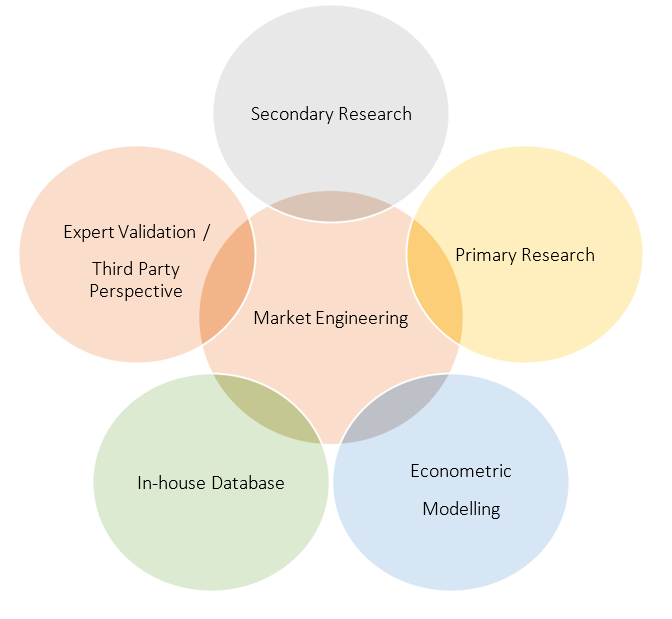 Top-Down Approach & Bottom-Up Approach
In the top – down approach, the Global Batteries for Solar Energy Storage Market was further divided into various segments on the basis of the percentage share of each segment. This approach helped in arriving at the market size of each segment globally. The segments market size was further broken down in the regional market size of each segment and sub-segments. The sub-segments were further broken down to country level market. The market size arrived using this approach was then crosschecked with the market size arrived by using bottom-up approach.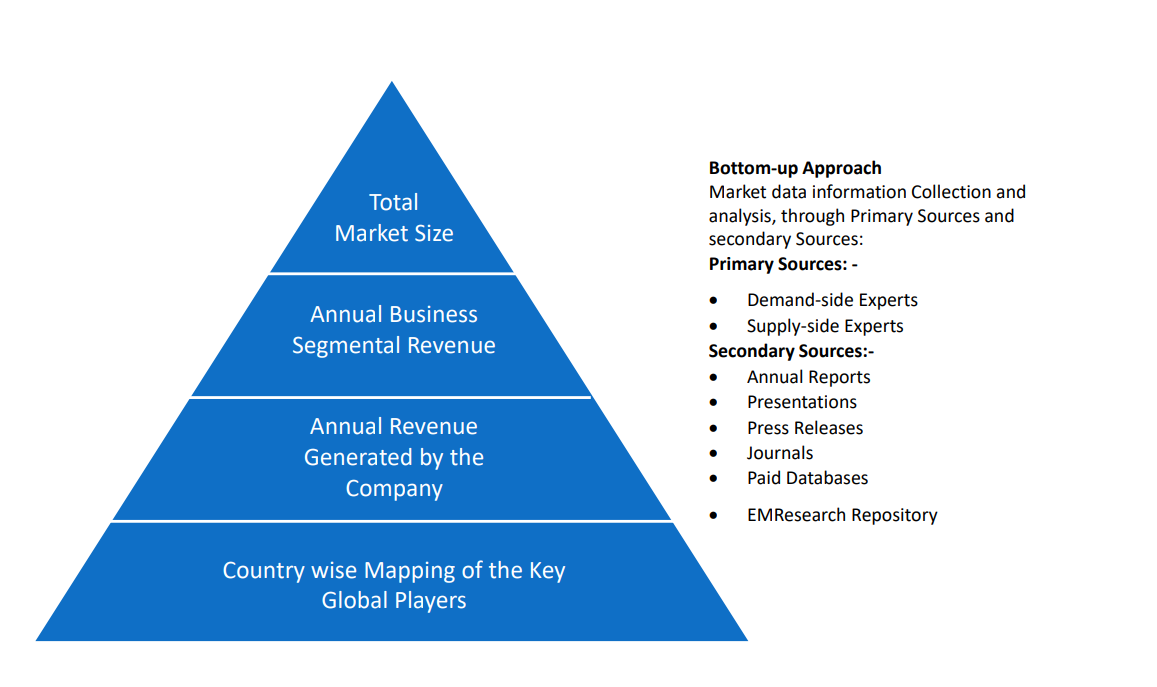 In the bottom-up approach, we arrived at the country market size by identifying the revenues and market shares of the key market players. The country market sizes then were added up to arrive at regional market size of the decorated apparel, which eventually added up to arrive at global market size.
This is one of the most reliable methods as the information is directly obtained from the key players in the market and is based on the primary interviews from the key opinion leaders associated with the firms considered in the research. Furthermore, the data obtained from the company sources and the primary respondents was validated through secondary sources including government publications and Bloomberg.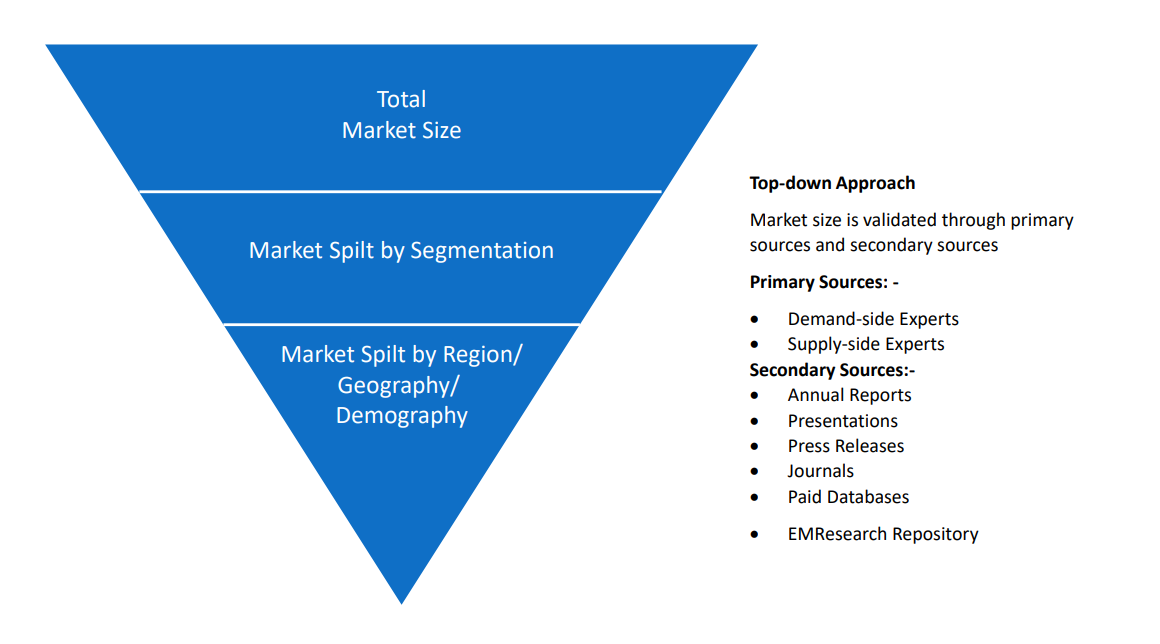 Market Analysis & size Estimation
Post the data mining stage, we gather our findings and analyze them, filtering out relevant insights. These are evaluated across research teams and industry experts. All this data is collected and evaluated by our analysts. The key players in the industry or markets are identified through extensive primary and secondary research. All percentage share splits, and breakdowns have been determined using secondary sources and verified through primary sources. The market size, in terms of value and volume, is determined through primary and secondary research processes, and forecasting models including the time series model, econometric model, judgmental forecasting model, the Delphi method, among Flywheel Energy Storage. Gathered information for market analysis, competitive landscape, growth trends, product development, and pricing trends is fed into the model and analyzed simultaneously.
Quality Checking & Final Review
The analysis done by the research team is further reviewed to check for the accuracy of the data provided to ensure the clients' requirements. This approach provides essential checks and balances which facilitate the production of quality data. This Type of revision was done in two phases for the authenticity of the data and negligible errors in the report. After quality checking, the report is reviewed to look after the presentation, Type and to recheck if all the requirements of the clients were addressed.