The Global Managed Security Services Market was valued at USD 27.58 billion in 2022 and is estimated to reach approximately USD 89.24 billion by 2031, at a CAGR of 13.9% from 2023 to 2031. Over the past decade, the managed security services (MSS) sector has experienced astounding development and transformation, becoming into a crucial part of defending organizations from a constantly changing landscape of cyber threats. The protection of a company's digital assets and sensitive data is provided through a whole range of cybersecurity solutions and services from MSS providers. These services include a variety of things, including firewall administration, vulnerability assessments, incident detection and response, and real-time threat monitoring. The increasing frequency and sophistication of cyberattacks, along with the lack of in-house cybersecurity expertise within many organizations, are the driving reasons behind the expansion of the MSS industry. In order to deliver a proactive and comprehensive approach to cybersecurity, MSS providers make use of cutting-edge technologies, threat intelligence, and professional staff. This makes it possible for businesses to concentrate on their core operations while leaving the safety of their digital infrastructure in the hands of professionals. In many different sector verticals, such as finance, healthcare, and critical infrastructure, MSS has become essential due to tightening compliance rules and growing data privacy concerns. The global MSS market is anticipated to maintain its rising trend, giving companies a tactical edge in fending off online assaults, cutting down on downtime, and protecting their brand reputation in a time when cybersecurity is of utmost importance.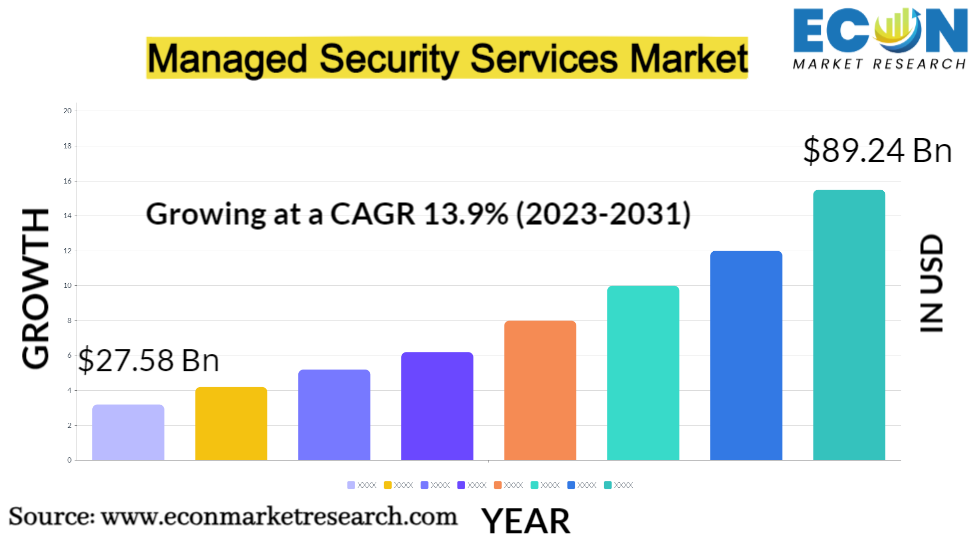 MANAGED SECURITY SERVICES MARKET: REPORT SCOPE & SEGMENTATION
| | |
| --- | --- |
| Report Attribute | Details |
| Estimated Market Value (2022) | 27.58 Bn |
| Projected Market Value (2031) | 89.24 Bn |
| Base Year | 2022 |
| Forecast Years | 2023 - 2031 |
| Scope of the Report | Historical and Forecast Trends, Industry Drivers and Constraints, Historical and Forecast Market Analysis by Segment- By Security Type, By Industry Vertical, By Application, By Enterprise Size& Region |
| Segments Covered | By Security Type, By Industry Vertical, By Application, By Enterprise Size, & Region |
| Forecast Units | Value (USD Billion or Million), and Volume (Units) |
| Quantitative Units | Revenue in USD million/billion and CAGR from 2023 to 2031 |
| Regions Covered | North America, Europe, Asia Pacific, Latin America, and Middle East & Africa, and the Rest of World |
| Countries Covered | U.S., Canada, Mexico, U.K., Germany, France, Italy, Spain, China, India, Japan, South Korea, Brazil, Argentina, GCC Countries, and South Africa, among others |
| Report Coverage | Market growth drivers, restraints, opportunities, Porter's five forces analysis, PEST analysis, value chain analysis, regulatory landscape, market attractiveness analysis by segments and region, company market share analysis, and COVID-19 impact analysis. |
| Delivery Format | Delivered as an attached PDF and Excel through email, according to the purchase option. |
Global Managed Security Services Market Dynamics
The dynamics of the managed security services (MSS) industry are characterized by an intricate interaction of several elements that continue to influence its development. First, the demand for MSS is driven by the ongoing expansion of cyber risks, such as complex attacks and data breaches. MSS providers are becoming more and more popular among businesses as a way to strengthen their cybersecurity posture. Requirements for regulatory compliance also play a big part. Businesses are required to invest in MSS to ensure compliance and avoid expensive fines as a result of stronger data protection and privacy rules, such as GDPR and CCPA. The lack of qualified cybersecurity professionals is another important factor driving the MSS industry. Outsourcing to MSS providers is a desirable choice because many businesses struggle to find and keep qualified cybersecurity specialists. The constantly changing threat landscape demands constant innovation in MSS products on the technology front. To address emerging problems, this includes improved threat detection, analytics powered by AI, and cloud-based security solutions. Additionally, the attack surface has increased due to the growing popularity of cloud computing and remote work, making MSS even more crucial. To successfully secure these new contexts, MSS providers must adapt. The MSS industry is extremely competitive, and service providers are always enhancing their offers. Overall, the market is expected to expand because cybersecurity continues to be a primary issue for businesses in the digital age.
Global Managed Security Services Market Drivers
Rapid Digital Transformation
Rapid digital transformation is a significant force behind development in a variety of sectors and society. The rapid adoption of digital technologies across a range of corporate processes, service delivery, and everyday activities is what defines this phenomenon. Rapid technological breakthroughs have made it possible for companies and organizations to use digital technologies for increased productivity, innovation, and competitiveness. Examples of these advancements include cloud computing, artificial intelligence, the Internet of Things, and 5G connection. Nowadays, customers demand flawless online interactions, quick access to information and services, and tailored interactions. Businesses have been pushed to respond rapidly to these demands or risk losing market share. Due to the internet's widespread use, businesses can now connect with clients and partners anywhere in the world. Data is increasingly recognized as a valuable asset, driving organizations to implement digital solutions for data collection, analysis, and decision-making.
Increasing Cybersecurity Threat Landscape
Modern methods, techniques, and procedures are used by increasingly skilled cybercriminals to access systems, steal data, and disrupt business processes. Attacks using ransomware have increased, affecting organizations of all sizes and having the potential to result in large financial losses and data breaches. The prevalence of state-sponsored cyberattacks has increased, escalating geopolitical tensions and escalating risks to vital infrastructure, governmental institutions, and the private sector. Cybercriminals take use of flaws in third-party software, hardware, and suppliers to gain access to networks and increase the chance of extensive security breaches. The attack surface has increased due to the growing uptake of cloud computing and Internet of Things (IoT) devices, opening up new attack points and routes. Employees or associates could endanger security by compromising sensitive data and resources, whether intentionally or unintentionally.
Restraints:
The financial strain that high expenses inflict on people, corporations, and governments is their most obvious effect. People and families may find it difficult to make ends meet, put money away for the future, or engage in their personal development due to factors such as growing costs for basic products and services, extravagant healthcare costs, or the cost of education. Inequality in wealth and income is frequently made worse by high costs. The impact is disproportionately felt by those with less financial resources, potentially leading to social and economic inequalities. Access to essential resources and services like healthcare, education, and housing may be hampered by high pricing. It can also restrict access to opportunities and technical breakthroughs, impeding society advancement. High costs can deter innovation, as entrepreneurs and inventors may lack the financial means to pursue their ideas. This can hinder technological progress and limit breakthrough developments.
Lack of Skilled Workforce
In the labour market and economic environment of today, a trained workforce is a major constraint. It is characterized by a dearth of people with the knowledge, credentials, and abilities needed to meet the demands of different industries and sectors. Technology, healthcare, and industrial sectors that depend on skilled labourers may endure stagnation as a result of the inability to fill key job positions. This may prevent innovation and economic growth. Lack of trained labour can reduce a nation or region's competitiveness on the world stage, particularly in knowledge-intensive industries. Exports, foreign investment, and economic vigour may all be impacted by this. As businesses compete for a small pool of talent, a shortage of talented workers may increase labour prices. The lack of a skilled workforce may reflect deficiencies in the education and training systems. These gaps can hinder workforce development and pose long-term challenges for economic prosperity.
Opportunities:
Managed Detection and Response (MDR)
MDR is a critical opportunity in the dynamic cybersecurity environment. MDR offers a thorough and proactive strategy for shielding organizations from a hostile environment that is constantly evolving and posing complex threats. MDR service providers use cutting-edge technology and threat intelligence to identify and address sophisticated and elusive threats that traditional security measures may miss. Because of the intricacy of cyberattacks, MDR is ideally situated to provide solutions. In order to minimize the harm caused by a security compromise, quick action is essential. MDR services give businesses the capacity to react quickly to disasters, minimizing the effects on their operations. Advanced analytics and machine learning are used in MDR systems to reduce false positives, allowing security personnel to concentrate on actual risks rather than being overloaded with irrelevant alarms. MDR providers can customize their services to address the specific needs of different industries, adapting to the unique threat landscape and vulnerabilities that each sector faces.
In today's digital landscape, cloud security services offer a big opportunity. Strong security measures are essential as businesses and organizations increasingly move their operations and data to cloud environments. The increasing use of cloud services for infrastructure, applications, and data storage highlights the requirement for all-encompassing cloud security solutions. Organizations need security that covers all cloud environments, including hybrid, private, and public ones. Cloud security services that can easily interact with various cloud platforms are in high demand as more companies adopt multi-cloud or hybrid cloud strategies. This ensures uniform protection and compliance throughout the whole cloud ecosystem. With increasing data breaches and data privacy regulations like GDPR, there is a substantial opportunity for cloud security providers to offer encryption and data protection services to ensure the confidentiality and integrity of sensitive information.
Segment Overview
By Security
Based on security, the global managed security services market is divided into cloud security, endpoint security, network security, data security. The cloud security category dominates the market with the largest revenue share in 2022. As organizations increasingly adopt cloud services for data storage, applications, and infrastructure, Cloud Security solutions are designed to protect data and workloads within cloud environments. This segment encompasses services like data encryption, access control, and threat detection tailored to the unique challenges posed by cloud computing, ensuring the confidentiality and integrity of sensitive information. In an era marked by a mobile and remote workforce, Endpoint Security focuses on securing individual devices, such as laptops, smartphones, and tablets, against threats. These solutions offer anti-malware, device management, and vulnerability assessment to protect the various endpoints that connect to an organization's network. Network Security focuses on safeguarding an organization's network infrastructure against unauthorized access and cyber threats. It includes firewalls, intrusion detection and prevention systems, and virtual private networks (VPNs) to create secure network boundaries and protect data in transit002 Data Security solutions aim to protect sensitive information from unauthorized access, disclosure, or alteration. This segment includes data encryption, access controls, data loss prevention (DLP), and identity and access management (IAM) measures to safeguard critical data assets.
By Industry Vertical
Based on the industry vertical, the global managed security services market is categorized into BFSI, healthcare, manufacturing, retail, IT & telecom, and others. The BFSI category leads the global managed security services market with the largest revenue share in 2022. The BFSI sector is a prime target for cyber threats due to its vast financial transactions and sensitive data. Security solutions for this sector often focus on protecting customer data, preventing fraud, and ensuring regulatory compliance. The healthcare sector faces increasing threats to patient data and the security of medical devices. Cybersecurity solutions in healthcare aim to protect electronic health records, medical devices, and patient privacy, while also ensuring compliance with healthcare regulations. The manufacturing sector is concerned with safeguarding critical infrastructure and intellectual property. Security measures here include protecting industrial control systems (ICS) and intellectual property from cyberattacks. Retail companies are targeted for financial gain and consumer data. Security in the retail sector focuses on safeguarding customer payment information, preventing data breaches, and securing e-commerce platforms. The IT and telecom sector manages vast networks and sensitive communication channels. Security measures include protecting against network intrusions, ensuring the confidentiality of communications, and addressing the unique challenges posed by IoT and 5G technologies.
By Enterprise Size
Based on enterprise size, the global managed security services market is segmented into large enterprises and small & medium-sized enterprises. The large enterprises segment dominates the managed security services market. Large organizations often have complex IT infrastructures and a substantial amount of data to protect. They are appealing targets for cyberattacks due to their size and financial resources. Consequently, cybersecurity solutions for large enterprises tend to be comprehensive and tailored to their specific requirements. These solutions include advanced threat detection and response, robust identity and access management, and extensive compliance management, which are essential for maintaining security in complex ecosystems. SMEs, while more resource-constrained compared to large enterprises, are not immune to cyber threats. In fact, they can be particularly vulnerable, as they may lack dedicated cybersecurity teams or budgets for comprehensive security measures. The opportunity in this segment lies in providing cost-effective, user-friendly, and scalable cybersecurity solutions. Cloud-based security, managed security services, and simplified security products that do not require extensive in-house expertise are all vital for SMEs seeking to bolster their defenses against cyber threats.
By Application
Based on application, the global managed security services market is divided into managed IPS and IDS, distributed denial of services (DDoS), unified threat management (UTM), secured information and event management (SIEM), firewall management, endpoint security, and others. The managed IPS and IDS category dominates the market with the largest revenue share in 2022. These solutions are dedicated to identifying and preventing unauthorized access, malicious activities, and potential threats within a network. Managed IPS and IDS services offer real-time monitoring and threat response to safeguard network integrity. DDoS protection services focus on mitigating the impact of DDoS attacks, ensuring the availability of online services and preventing disruptions caused by overwhelming traffic.
UTM solutions provide comprehensive security by integrating multiple security features into a single platform. This includes firewall, antivirus, intrusion detection, and content filtering, streamlining security management and reducing complexity. SIEM systems offer real-time analysis of security alerts generated by various hardware and software. They provide valuable insights into security incidents, enabling proactive threat detection and response. Firewall management services encompass the configuration, monitoring, and maintenance of firewall devices, ensuring network security and the enforcement of access policies. Endpoint security solutions protect individual devices, such as computers, smartphones, and tablets, from malware, data breaches, and unauthorized access, thereby securing a critical entry point for cyber threats.
Global Managed Security Services Market Overview by Region
The global managed security services market is categorized into North America, Europe, Asia-Pacific, and the Rest of the World. Asia-Pacific emerged as the leading region, capturing the largest market share in 2022. In the areas of innovation, technology, and economics, the Asia-Pacific region has become a dominant force in the world. This area, which includes nations like China, India, Japan, South Korea, and many more, has experienced rapid and dynamic growth across a variety of industries, with an impact that can be felt in the fields of technology and cybersecurity. The Asia-Pacific region's strong economic growth and digital revolution have made it a haven for both offensive and defensive cyber activity. The region's ability to respond to evolving threats has improved as a result of the increased financial resources dedicated to cybersecurity. A proactive approach to security is required because the area has been a popular target for cyber threats. The need for cutting-edge cybersecurity solutions has increased as a result of an increase in cyberattacks in industries including finance, healthcare, and critical infrastructure.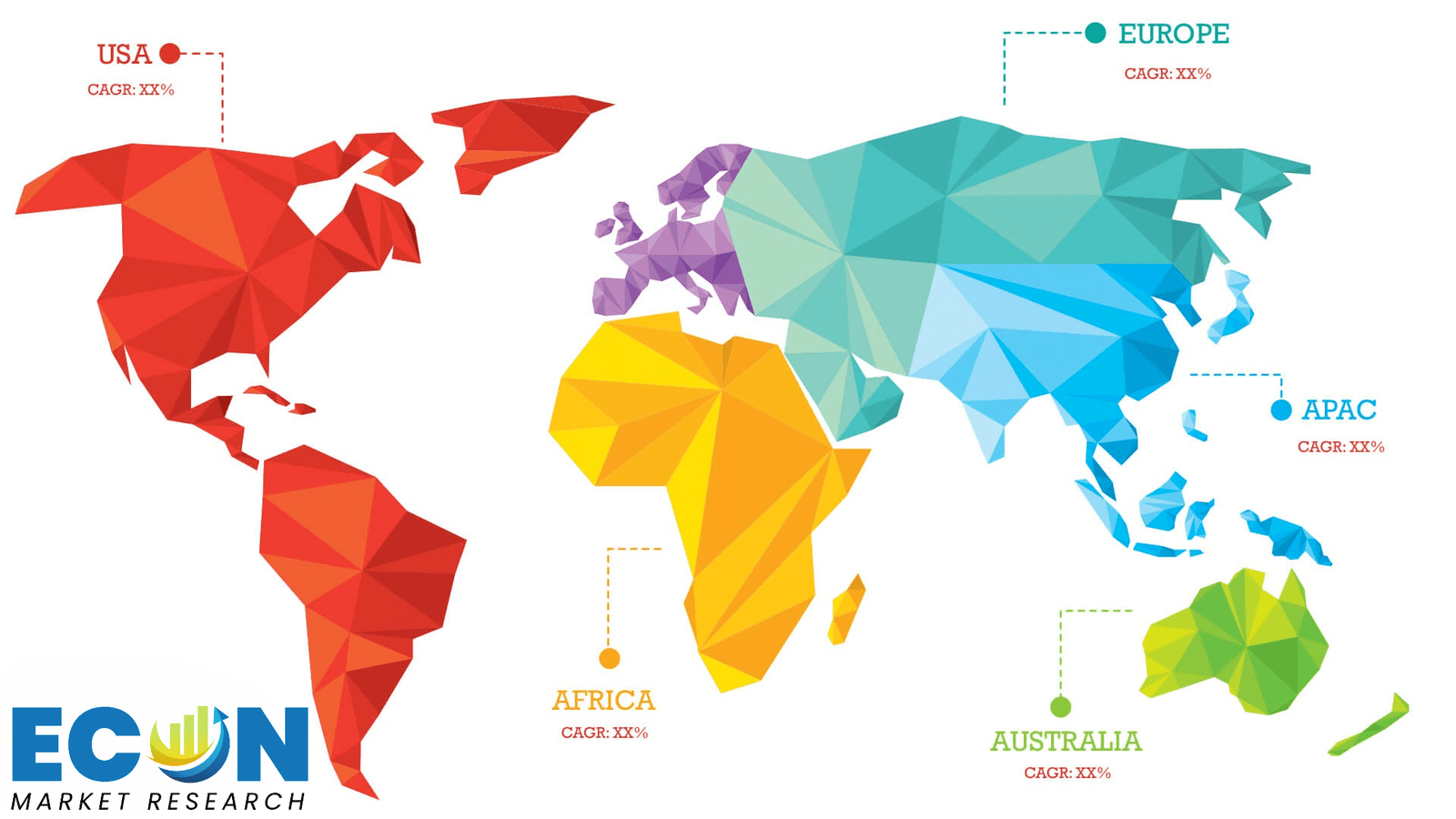 Governments in the Asia-Pacific region have implemented laws, legislation, and national initiatives to strengthen their cyber defences as a result of their recognition of the necessity of cybersecurity. The adoption of security services and solutions is accelerated by these activities. The Asia-Pacific area is a centre of technical innovation, with the rapid adoption of cutting-edge technologies like 5G, IoT, and AI. For cybersecurity service providers, these developments present both new security issues and opportunity. To meet the region's varied security needs, local and international cybersecurity companies are progressively making investments in the Asia-Pacific market. This has encouraged innovation and competitiveness in the industry. Strong security measures are essential due to the region's broad connectivity, which is powered by a growing digital populace and provides a large attack surface for cyber threats. In order to jointly address cyber threats, Asia-Pacific nations are actively participating in international cybersecurity cooperation and information sharing.
Global Managed Security Services Market Competitive Landscape
In the global managed security services market, a few major players exert significant market dominance and have established a strong regional presence. These leading companies remain committed to continuous research and development endeavors and actively engage in strategic growth initiatives, including product development, launches, joint ventures, and partnerships. By pursuing these strategies, these companies aim to strengthen their market position, expand their customer base, and capture a substantial share of the market.
Some of the prominent players in the global managed security services market include AT&T; BAE Systems, Inc.; Cisco; Check Point Software Technologies; Fortinet, Inc.; Fujitsu; IBM; Palo Alto Networks; Rapid 7; Verizon; Wipro, and various other key players.
Global Managed Security Services Market Recent Developments
In July 2023, New Managed Security and Network Services are Powered by a Partnership Between Netskope and Wipro.
Leading provider of Secure Access Service Edge (SASE), Netskope, and Wipro Limited have partnered to offer Wipro's broad client base of multinational corporations reliable, cloud-native Managed Secure Access Service Edge (SASE) and Managed Zero Trust Network Access (ZTNA) services.
In August 2023, Managed Security Services are made available by Schneider Electric for use in operational settings.
A Managed Security Services (MSS) offering was introduced by Schneider Electric, a pioneer in the digital transformation of energy management and industrial automation, to assist customers in operational technology (OT) environments in addressing the increased cyber risk brought on by the demand for remote access and connectivity technologies.
Scope of the Global Managed Security Services Market Report
Managed Security Services Market Report Segmentation
ATTRIBUTE

DETAILS

By Security

Cloud Security

Endpoint Security

Network Security

Data Security

By Industry Vertical

BFSI

Healthcare

Manufacturing

Retail

IT & Telecom

Others

By Enterprise Size

Large Enterprises

Small & Medium-Sized Enterprises

By Application

Managed IPS and IDS

Distributed Denial of Services (DDoS)

Unified Threat Management (UTM)

Secured Information and Event Management (SIEM)

Firewall Management

Endpoint Security

Others

By Geography

North America (USA,

and Canada)

Europe (UK, Germany, France, Italy, Spain, Russia and Rest of Europe)

Asia Pacific (Japan, China, India, Australia, Southeast Asia and Rest of Asia Pacific)

Latin America (Brazil, Mexico, and Rest of Latin America)

Middle East & Africa (South Africa, GCC, and Rest of Middle East & Africa)

Customization Scope

Pricing
Objectives of the Study
The objectives of the study are summarized in 5 stages. They are as mentioned below:
Global Managed Security Services

Market

Size and Forecast:
To identify and estimate the market size for the global managed security services market segmented by security type, by industry vertical, by application, by enterprise size, region and by value (in U.S. dollars). Also, to understand the consumption/ demand created by consumers of managed security services between 2019 and 2031.
Market Landscape and Trends:
To identify and infer the drivers, restraints, opportunities, and challenges for the global managed security services market
Market Influencing Factors:
To find out the factors which are affecting the sales of managed security services among consumers
To identify and understand the various factors involved in the global managed security services market affected by the pandemic
To provide a detailed insight into the major companies operating in the market. The profiling will include the financial health of the company's past 2-3 years with segmental and regional revenue breakup, product offering, recent developments, SWOT analysis, and key strategies.
Intended Audience
Marketing Materials

Retailers, Wholesalers, and Distributors

Governments, Associations, and Industrial Bodies

Investors and Trade Experts

Corporate Reports
Research Methodology
Our research methodology has always been the key differentiating reason which sets us apart in comparison from the competing organizations in the industry. Our organization believes in consistency along with quality and establishing a new level with every new report we generate; our methods are acclaimed and the data/information inside the report is coveted. Our research methodology involves a combination of primary and secondary research methods. Data procurement is one of the most extensive stages in our research process. Our organization helps in assisting the clients to find the opportunities by examining the market across the globe coupled with providing economic statistics for each and every region. The reports generated and published are based on primary & secondary research. In secondary research, we gather data for global Market through white papers, case studies, blogs, reference customers, news, articles, press releases, white papers, and research studies. We also have our paid data applications which includes hoovers, Bloomberg business week, Avention, and others.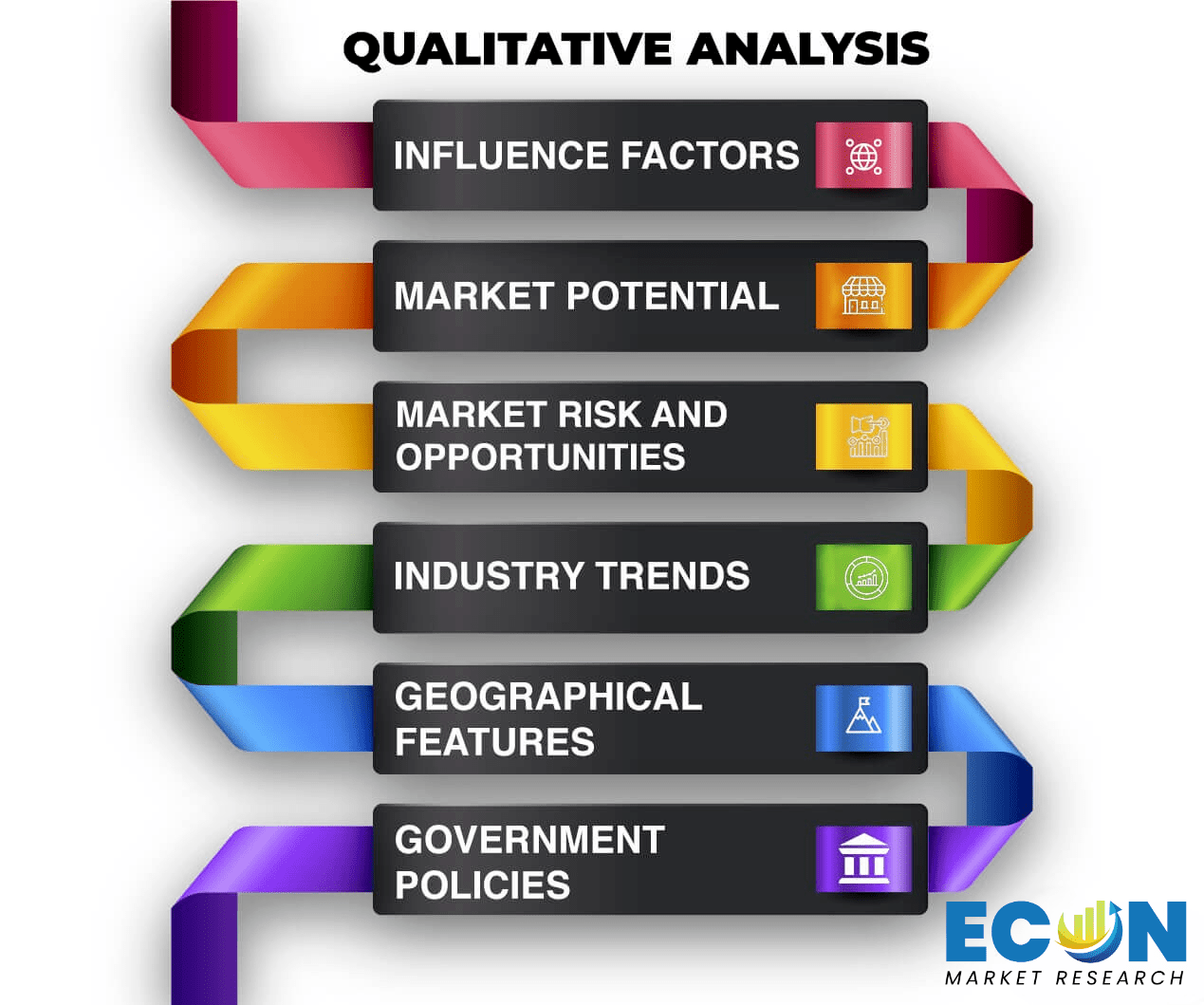 Data Collection
Data collection is the process of gathering, measuring, and analyzing accurate and relevant data from a variety of sources to analyze market and forecast trends. Raw market data is obtained on a broad front. Data is continuously extracted and filtered to ensure only validated and authenticated sources are considered. Data is mined from a varied host of sources including secondary and primary sources.

Primary Research
After the secondary research process, we initiate the primary research phase in which we interact with companies operating within the market space. We interact with related industries to understand the factors that can drive or hamper a market. Exhaustive primary interviews are conducted. Various sources from both the supply and demand sides are interviewed to obtain qualitative and quantitative information for a report which includes suppliers, product providers, domain experts, CEOs, vice presidents, marketing & sales directors, Type & innovation directors, and related key executives from various key companies to ensure a holistic and unbiased picture of the market. 
Secondary Research
A secondary research process is conducted to identify and collect information useful for the extensive, technical, market-oriented, and comprehensive study of the market. Secondary sources include published market studies, competitive information, white papers, analyst reports, government agencies, industry and trade associations, media sources, chambers of commerce, newsletters, trade publications, magazines, Bloomberg BusinessWeek, Factiva, D&B, annual reports, company house documents, investor presentations, articles, journals, blogs, and SEC filings of companies, newspapers, and so on. We have assigned weights to these parameters and quantified their market impacts using the weighted average analysis to derive the expected market growth rate.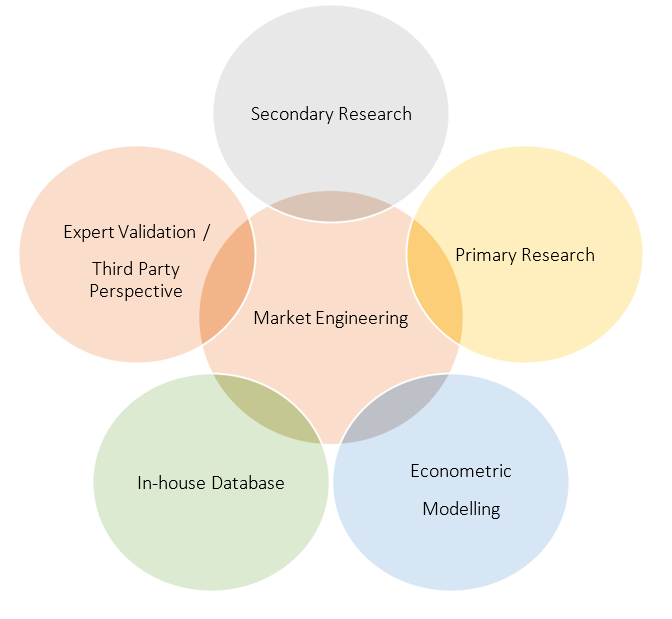 Top-Down Approach & Bottom-Up Approach
In the top – down approach, the Global Batteries for Solar Energy Storage Market was further divided into various segments on the basis of the percentage share of each segment. This approach helped in arriving at the market size of each segment globally. The segments market size was further broken down in the regional market size of each segment and sub-segments. The sub-segments were further broken down to country level market. The market size arrived using this approach was then crosschecked with the market size arrived by using bottom-up approach.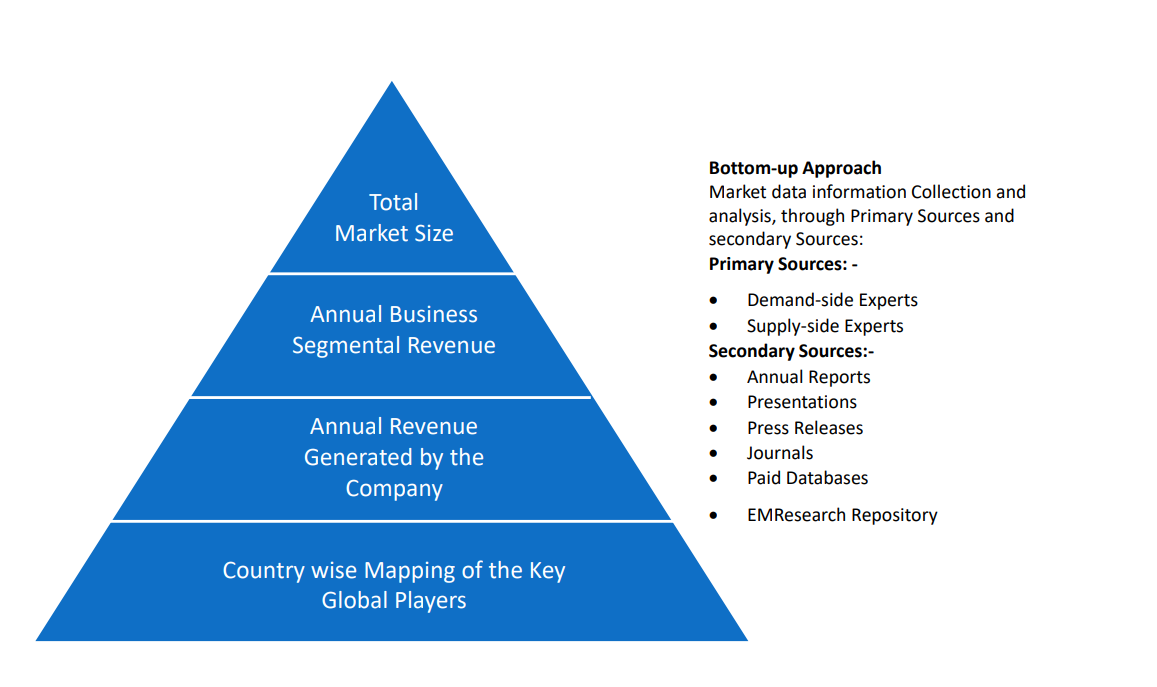 In the bottom-up approach, we arrived at the country market size by identifying the revenues and market shares of the key market players. The country market sizes then were added up to arrive at regional market size of the decorated apparel, which eventually added up to arrive at global market size.
This is one of the most reliable methods as the information is directly obtained from the key players in the market and is based on the primary interviews from the key opinion leaders associated with the firms considered in the research. Furthermore, the data obtained from the company sources and the primary respondents was validated through secondary sources including government publications and Bloomberg.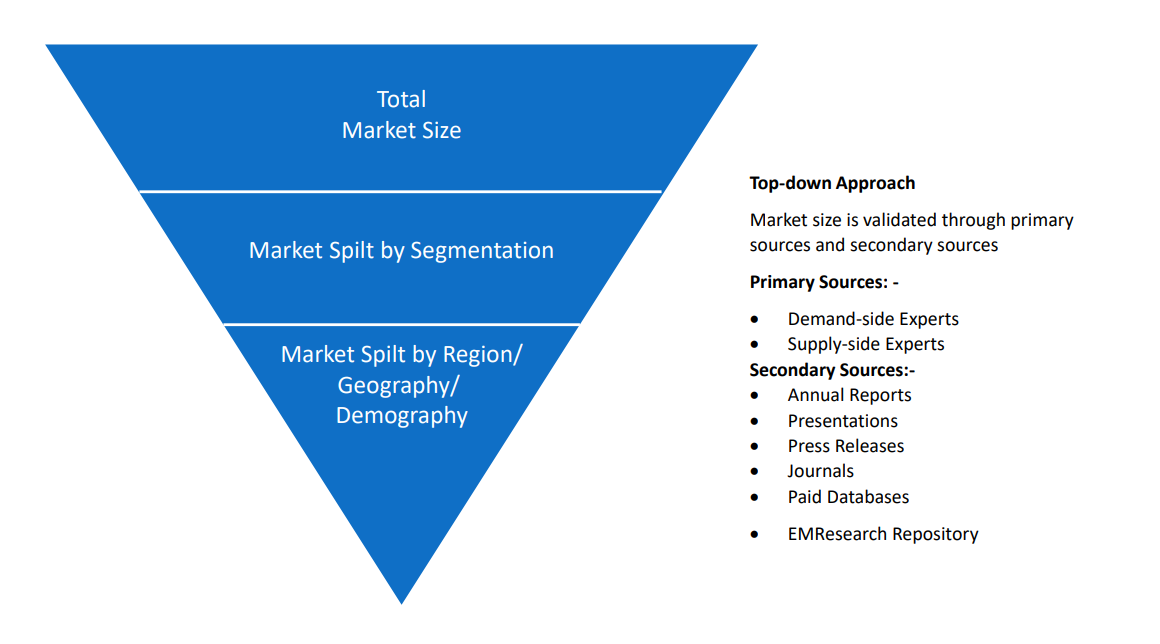 Market Analysis & size Estimation
Post the data mining stage, we gather our findings and analyze them, filtering out relevant insights. These are evaluated across research teams and industry experts. All this data is collected and evaluated by our analysts. The key players in the industry or markets are identified through extensive primary and secondary research. All percentage share splits, and breakdowns have been determined using secondary sources and verified through primary sources. The market size, in terms of value and volume, is determined through primary and secondary research processes, and forecasting models including the time series model, econometric model, judgmental forecasting model, the Delphi method, among Flywheel Energy Storage. Gathered information for market analysis, competitive landscape, growth trends, product development, and pricing trends is fed into the model and analyzed simultaneously.
Quality Checking & Final Review
The analysis done by the research team is further reviewed to check for the accuracy of the data provided to ensure the clients' requirements. This approach provides essential checks and balances which facilitate the production of quality data. This Type of revision was done in two phases for the authenticity of the data and negligible errors in the report. After quality checking, the report is reviewed to look after the presentation, Type and to recheck if all the requirements of the clients were addressed.