The Global Magnetic Resonance Imaging Market was valued at USD 5.24 billion in 2022 and is estimated to reach approximately USD 9.69 billion by 2031, at a CAGR of 7.0% from 2023 to 2031. The medical imaging technology known as magnetic resonance imaging, or MRI for short, is used to clearly see the insides of the human body. It uses radio waves and a high magnetic field to produce intricate cross-sectional images of different organs, tissues, and bodily structures. With the aid of strong magnetic fields and radio waves, MRI creates precise cross-sectional images of the internal organs and tissues of the body, providing never-before-seen insights into soft tissues, organs, and anatomical anomalies. MRI has a higher safety profile because it doesn't use ionizing radiation, unlike conventional X-rays. Due to its non-invasiveness and great image quality, the MRI market has experienced tremendous growth since its introduction. Applications in oncology, cardiology, orthopedics, and neurology are just a few of the many medical specialties it can be used in. Increased patient comfort, quicker scanning times, and improved image resolution are all results of ongoing technical improvements. Open MRI systems for patients with claustrophobia and portable MRI devices for point-of-care imaging are only two technologies that have changed the MRI business. The creation of specialized contrast agents has also increased the scope of its diagnostic powers. A crucial part of contemporary healthcare, the worldwide MRI market helps with precise diagnosis, directs treatment choices, and enhances patient outcomes. The MRI market is still a vibrant and crucial area of the medical technology landscape as demand for accurate and non-invasive imaging increases.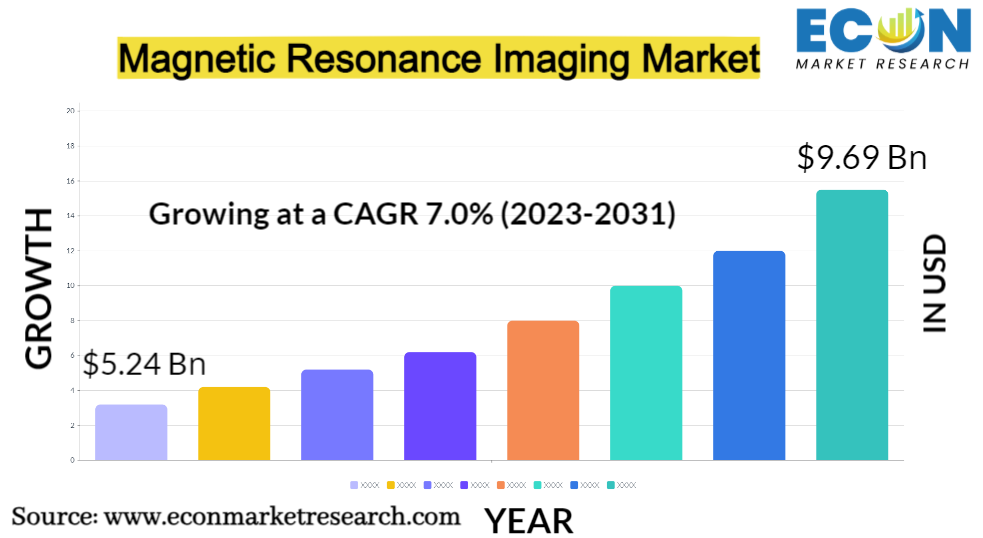 MAGNETIC RESONANCE IMAGING MARKET: REPORT SCOPE & SEGMENTATION
| | |
| --- | --- |
| Report Attribute | Details |
| Estimated Market Value (2022) | 5.24 Bn |
| Projected Market Value (2031) | 9.69 Bn |
| Base Year | 2022 |
| Forecast Years | 2023 - 2031 |
| Scope of the Report | Historical and Forecast Trends, Industry Drivers and Constraints, Historical and Forecast Market Analysis by Segment- By Field Strength, By Architecture, By End Users, & Region |
| Segments Covered | By Field Strength, By Architecture, By End Users, & Region |
| Forecast Units | Value (USD Billion or Million), and Volume (Units) |
| Quantitative Units | Revenue in USD million/billion and CAGR from 2023 to 2031 |
| Regions Covered | North America, Europe, Asia Pacific, Latin America, and Middle East & Africa, and the Rest of World |
| Countries Covered | U.S., Canada, Mexico, U.K., Germany, France, Italy, Spain, China, India, Japan, South Korea, Brazil, Argentina, GCC Countries, and South Africa, among others |
| Report Coverage | Market growth drivers, restraints, opportunities, Porter's five forces analysis, PEST analysis, value chain analysis, regulatory landscape, market attractiveness analysis by segments and region, company market share analysis, and COVID-19 impact analysis. |
| Delivery Format | Delivered as an attached PDF and Excel through email, according to the purchase option. |
Global Magnetic Resonance Imaging Market Dynamics
Technology advances, increasing healthcare demands, and expanding knowledge of non-ionizing imaging alternatives all contribute to the growth of the magnetic resonance imaging (MRI) market. The market is expanding because of ongoing research and innovation that has produced higher-resolution imaging, faster scan times, and more comfortable patient experiences. The need for MRI equipment has increased as a result of expanding healthcare requirements, notably for precise illness diagnosis and treatment planning. The non-invasive nature of MRI and its capacity to provide fine-grained soft tissue visualization have made it vital in a number of medical disciplines, including oncology, orthopedics, and neurology. Applications for MRI have increased as a result of the use of cutting-edge methods including functional MRI (fMRI) for analyzing brain activity and diffusion-weighted imaging (DWI) for assessing tissue health. The creation of open MRI systems, which cater to patients with claustrophobia or other physical ailments, has also had an impact on the industry. The MRI market does, however, encounter some difficulties. Healthcare establishments may be discouraged from making investments because to the high upfront expenses of MRI equipment and maintenance. Regulation complexity and reimbursement uncertainty may also have an effect on market expansion. However, collaborations between healthcare providers and manufacturers as well as ongoing research into affordable alternatives are assisting in addressing these issues. the MRI market is driven by the relentless pursuit of improved imaging capabilities and diagnostic accuracy, aligning with the healthcare industry's overarching goal of delivering better patient outcomes through advanced technology.
Global Magnetic Resonance Imaging Market Drivers
Development of More Compact and Portable MRI Machines
. The need to provide accessibility to cutting-edge medical imaging technology has prompted the development of smaller, more portable magnetic resonance imaging (MRI) devices. Traditional MRI machines are bulky, stationary equipment that needs specialized rooms and extensive infrastructure. To get over these restrictions and make high-quality imaging available in a wider range of contexts, compact and portable MRI scanners were developed. There are many important benefits to portable MRI equipment. First, they can be applied in point-of-care places, like ERs, ICUs, and remote areas, enabling quicker and better-informed medical decisions. Second, because of their portability, these devices can be taken to patients who may have mobility challenges, decreasing the need for patient transportation and allowing for greater flexibility in patient treatment. Thirdly, they frequently have an open design that alleviates the discomfort and claustrophobia some patients feel in conventional MRI machines.
Demand for Accurate and Non-Invasive Diagnostic Tools Driving MRI Adoption
Magnetic Resonance Imaging (MRI) has become widely used as a result of the rising need for precise and non-invasive diagnostic techniques. The requirement for accurate diagnosis without the use of intrusive procedures is becoming more and more critical as medical practices develop. This crucial hole in medical diagnosis is filled by MRI's capacity to create incredibly precise images of soft tissues, organs, and physiological processes. Furthermore, the comprehensive insights provided by MRI aid healthcare professionals in making accurate and informed decisions about patient treatment and management. Whether detecting tumors, evaluating neurological disorders, or assessing musculoskeletal conditions, MRI's exceptional anatomical and functional visualization capabilities elevate the diagnostic process to new heights of accuracy.
Restraints:
High Initial Capital Investment and Maintenance Costs
The widespread use of Magnetic Resonance Imaging (MRI) technology is hindered by high initial capital expenditure and maintenance costs. The cost of the machine itself, site preparation, installation, and supporting infrastructure are all included in the sizeable initial expenditure needed to purchase MRI equipment. Healthcare facilities may find it difficult to overcome this cost barrier, especially smaller ones or those located in locations with low resources. In addition, MRI equipment needs regular upgrades and precise maintenance to operate safely and optimally. The continued operating costs are influenced by expensive replacement parts, specialized training, and skilled technicians. The sum of these expenses can put pressure on healthcare organizations' financial resources and affect their capacity to deliver MRI services.
Potential Health Risks Associated with Strong Magnetic Fields and Radiofrequency Radiation
A major barrier to the widespread use of Magnetic Resonance Imaging (MRI) is the potential health concerns connected to radiofrequency radiation and strong magnetic fields. The strong magnetic fields utilized in MRIs can turn some metallic objects into missiles, endangering patients and medical personnel. Patients who have metallic implants or implanted medical devices may also experience negative side effects like tissue heating or device malfunction as a result of magnetic field interactions. Additionally, the radiofrequency radiation used in MRI can heat up bodily tissues and cause burns or discomfort, especially during lengthy or powerful scans. There is a constant need for attention and patient screening to maintain safe MRI treatments, even if strict safety protocols are in place to reduce these hazards.
Opportunities:
Rising Prevalence of Chronic Diseases
The increase of Magnetic Resonance Imaging (MRI) use in the healthcare industry is made possible by the rising prevalence of chronic disorders. In order to properly guide treatment techniques, chronic diseases like cancer, neurological disorders, cardiovascular disorders, and musculoskeletal problems need precise and constant monitoring. MRI is a crucial tool for identifying and treating these complicated disorders because it may give fine-grained, non-invasive imaging of soft tissues and organs. The need for precise and thorough diagnostic methods is increasing along with the worldwide burden of chronic diseases as a result of variables including aging populations and changing lifestyles. Early disease detection can be facilitated by MRI, allowing for prompt therapies that enhance patient outcomes and quality of life.
Pediatric MRI Market Expansion
The expansion of the pediatric MRI market presents a promising opportunity driven by the need for specialized diagnostic tools catering to children's healthcare. Pediatric patients often require unique and gentle medical approaches, and Magnetic Resonance Imaging (MRI) is well-suited to address these requirements. Children's anatomical structures and physiological processes differ from those of adults, necessitating tailored imaging techniques. MRI's non-ionizing radiation and absence of harmful effects make it a safer choice for young patients compared to other imaging modalities involving radiation. This positions MRI as a preferred option for assessing a wide range of pediatric conditions, from congenital anomalies and neurological disorders to musculoskeletal issues.
Segment Overview
By Field Strength
Based on field strength, the global magnetic resonance imaging market is divided into high-field magnetic resonance imaging (MRI) systems (1.5t to 3t), low-to-mid-field magnetic resonance imaging (MRI) systems (<1.5t), very-high-field magnetic resonance imaging (MRI) systems (4t and above). The very-high-field magnetic resonance imaging (MRI) systems (4t and above) category dominates the market with the largest revenue share. These systems provide extremely high-resolution images and are especially useful for research purposes and specialized applications. They can reveal fine details of structures and offer enhanced contrast for certain studies like brain mapping and functional imaging. However, they come with challenges such as increased susceptibility to artifacts and potential safety concerns due to stronger magnetic fields. High-field MRI systems (1.5T to 3T) systems are the most commonly used and well-established in clinical practice. They strike a balance between image quality and patient comfort. High-field MRI systems provide excellent anatomical and functional images, making them suitable for a wide range of clinical applications, including neurology, musculoskeletal imaging, and abdominal studies. Low-to-mid-field MRI systems (<1.5T) systems offer lower magnetic field strengths, they have advantages such as reduced cost, decreased power consumption, and potentially enhanced patient comfort due to a less intense magnetic field. They are suitable for basic imaging needs and can be valuable in resource-constrained settings.
By Architecture
Based on the architecture, the global magnetic resonance imaging market is categorized into closed magnetic resonance imaging (MRI) systems and open magnetic resonance imaging (MRI) systems. The closed magnetic resonance imaging (MRI) systems category leads the global magnetic resonance imaging market with the largest revenue share. Closed MRI systems are the traditional and more common type of MRI machines. They consist of a large cylindrical magnet with a narrow bore or tunnel in which the patient is positioned during the scan. Closed MRI systems provide high-quality images due to their strong magnetic fields, making them suitable for a wide range of diagnostic applications. However, some patients may experience claustrophobia or discomfort during the procedure due to the confined space of the bore. Open MRI systems are designed to address the limitations of closed systems, particularly for patients who may feel anxious or claustrophobic. These systems have a more open design with wider spaces and may not fully enclose the patient. This increased openness can help alleviate patient anxiety and discomfort during the scan. Open MRI systems are also useful for accommodating larger patients or those with mobility issues. However, they may have slightly lower image quality compared to closed systems due to differences in magnetic field strength.
By End-Users
Based on end-users, the global magnetic resonance imaging market is segmented into hospitals, imaging centers, ambulatory surgical centers, and others. The hospital segment dominates the magnetic resonance imaging market. Hospitals are a primary user of MRI systems, offering comprehensive medical services to a wide range of patients. MRI plays a crucial role in diagnosing and monitoring various medical conditions across specialties such as neurology, cardiology, orthopedics, and oncology. Hospitals often require MRI systems to provide accurate and detailed imaging for complex cases, emergency situations, and routine screenings. Ambulatory surgical centers, also known as outpatient surgery centers, provide a range of surgical and medical procedures that do not require hospitalization. MRI systems in these settings are used to preoperatively assess patients and plan surgical interventions. They also aid in postoperative monitoring and assessment without the need for hospital admission. Dedicated imaging centers focus exclusively on diagnostic imaging services. These centers are equipped with various imaging modalities, including MRI, to provide specialized and efficient diagnostic services. Imaging centers offer convenience to patients by providing focused and timely imaging services, making them a popular choice for outpatient care.
Global Magnetic Resonance Imaging Market Overview by Region
The global magnetic resonance imaging market is categorized into North America, Europe, Asia-Pacific, and the Rest of the World. Asia Pacific emerged as the leading region, capturing the largest market share in 2022. Asia Pacific's ascent to the top spot in a number of industries reflects the region's expanding importance on the international scene. The geopolitical, technological, and economic environments are where this tendency is most noticeable. Asia Pacific has experienced swift economic expansion and development, driven by the advent of developing nations like China, India, and Southeast Asian nations. These countries have expanded their participation in international trade, manufacturing, and services, which has boosted the region's economic strength. In the technological realm, Asia Pacific has become a hub for innovation and digital transformation. Countries in the region are making significant strides in areas such as information technology, artificial intelligence, biotechnology, and renewable energy. This has led to the creation of thriving tech ecosystems and the emergence of globally influential tech companies. Geopolitically, Asia Pacific holds strategic importance due to its vast geographical expanse and its role as a bridge between major world economies. The region's geopolitical dynamics influence international trade, security, and diplomacy, making it a focal point for global engagement.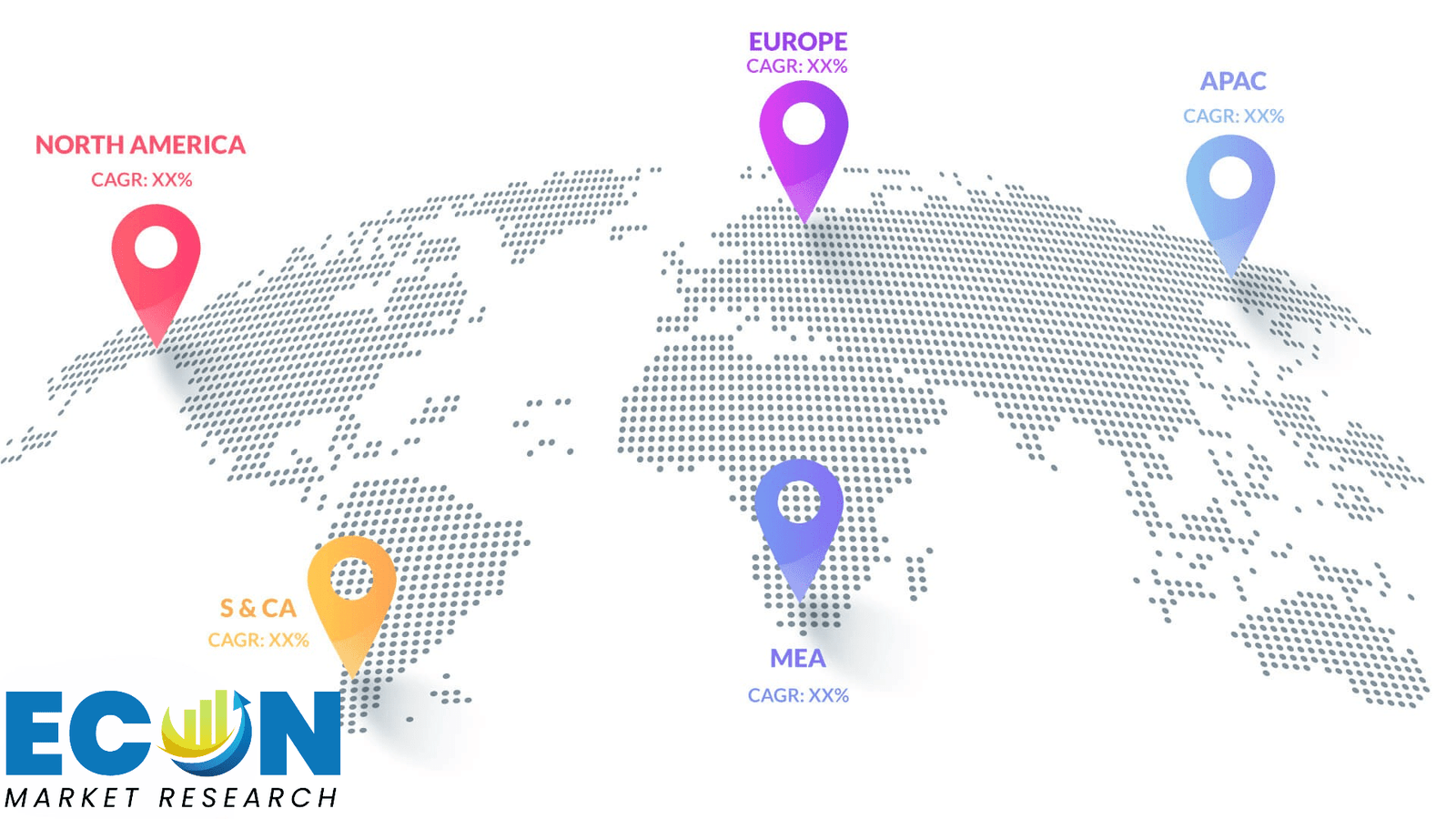 Global Magnetic Resonance Imaging Market Competitive Landscape
In the global magnetic resonance imaging market, a few major players exert significant market dominance and have established a strong regional presence. These leading companies remain committed to continuous research and development endeavors and actively engage in strategic growth initiatives, including product development, launches, joint ventures, and partnerships. By pursuing these strategies, these companies aim to strengthen their market position, expand their customer base, and capture a substantial share of the market.
Some of the prominent players in the global magnetic resonance imaging market include Siemens, General Electric, Koninklijke Philips N.V., Hitachi Ltd., ESAOTE SPA, Aspect Imaging Ltd., FONAR Corp., Neusoft Corporation, AURORA HEALTHCARE US CORP, Shenzhen Mindray Bio-Medical Electronics Co.,Ltd, and various other key players.
Global Magnetic Resonance Imaging Market Recent Developments
In November 2020, With its smallest and lightest whole-body MRI, Siemens Healthineers expands into new clinical areas. The spectrum of clinical applications for MRI systems is expanded by the scanner's special integration of digital technologies and the new field strength of 0.55 tesla. Magnetom Free. Max enables for much more accurate scanning of patients with implants and significantly enhances pulmonary imaging with MRI.
Scope of the Global Magnetic Resonance Imaging Market Report
Magnetic Resonance Imaging Market Report Segmentation
ATTRIBUTE

DETAILS

By Field Strength

High-Field Magnetic Resonance Imaging (MRI) Systems (1.5t to 3t)

Low-To-Mid-Field Magnetic Resonance Imaging (MRI) Systems (<1.5t)

Very-High-Field Magnetic Resonance Imaging (MRI) Systems (4t and Above)

By Architecture

Closed Magnetic Resonance Imaging (MRI) Systems

Open Magnetic Resonance Imaging (MRI) Systems

By End-Users

Hospitals

Imaging Centers

Ambulatory Surgical Centers

Others

By Geography

North America (USA,

and Canada)

Europe (UK, Germany, France, Italy, Spain, Russia and Rest of Europe)

Asia Pacific (Japan, China, India, Australia, Southeast Asia and Rest of Asia Pacific)

Latin America (Brazil, Mexico, and Rest of Latin America)

Middle East & Africa (South Africa, GCC, and Rest of Middle East & Africa)

Customization Scope

Pricing
Objectives of the Study
The objectives of the study are summarized in 5 stages. They are as mentioned below:
Global Magnetic Resonance Imaging Market

Size and Forecast:
To identify and estimate the market size for the global magnetic resonance imaging market segmented by field strength, by architecture, by end users, region and by value (in U.S. dollars). Also, to understand the consumption/ demand created by consumers of magnetic resonance imaging between 2019 and 2031.
Market Landscape and Trends:
To identify and infer the drivers, restraints, opportunities, and challenges for the global magnetic resonance imaging market
Market Influencing Factors:
To find out the factors which are affecting the sales of magnetic resonance imaging among consumers
To identify and understand the various factors involved in the global magnetic resonance imaging market affected by the pandemic
To provide a detailed insight into the major companies operating in the market. The profiling will include the financial health of the company's past 2-3 years with segmental and regional revenue breakup, product offering, recent developments, SWOT analysis, and key strategies.
Intended Audience
Raw Material Suppliers

Educational Materials

Healthcare Communication

Retailers, Wholesalers, and Distributors

Governments, Associations, and Industrial Bodies

Investors and Trade Experts
Research Methodology
Our research methodology has always been the key differentiating reason which sets us apart in comparison from the competing organizations in the industry. Our organization believes in consistency along with quality and establishing a new level with every new report we generate; our methods are acclaimed and the data/information inside the report is coveted. Our research methodology involves a combination of primary and secondary research methods. Data procurement is one of the most extensive stages in our research process. Our organization helps in assisting the clients to find the opportunities by examining the market across the globe coupled with providing economic statistics for each and every region. The reports generated and published are based on primary & secondary research. In secondary research, we gather data for global Market through white papers, case studies, blogs, reference customers, news, articles, press releases, white papers, and research studies. We also have our paid data applications which includes hoovers, Bloomberg business week, Avention, and others.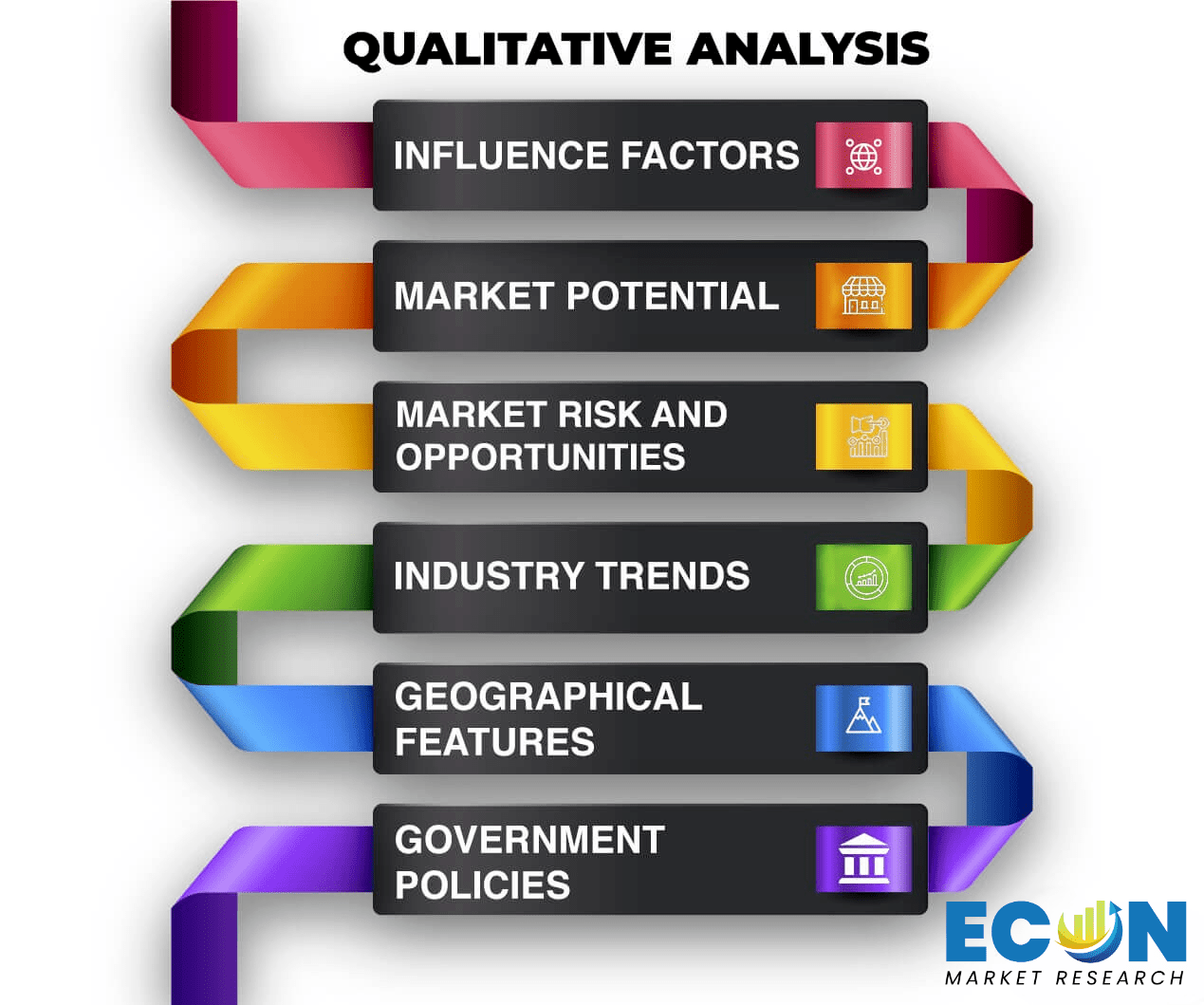 Data Collection
Data collection is the process of gathering, measuring, and analyzing accurate and relevant data from a variety of sources to analyze market and forecast trends. Raw market data is obtained on a broad front. Data is continuously extracted and filtered to ensure only validated and authenticated sources are considered. Data is mined from a varied host of sources including secondary and primary sources.

Primary Research
After the secondary research process, we initiate the primary research phase in which we interact with companies operating within the market space. We interact with related industries to understand the factors that can drive or hamper a market. Exhaustive primary interviews are conducted. Various sources from both the supply and demand sides are interviewed to obtain qualitative and quantitative information for a report which includes suppliers, product providers, domain experts, CEOs, vice presidents, marketing & sales directors, Type & innovation directors, and related key executives from various key companies to ensure a holistic and unbiased picture of the market. 
Secondary Research
A secondary research process is conducted to identify and collect information useful for the extensive, technical, market-oriented, and comprehensive study of the market. Secondary sources include published market studies, competitive information, white papers, analyst reports, government agencies, industry and trade associations, media sources, chambers of commerce, newsletters, trade publications, magazines, Bloomberg BusinessWeek, Factiva, D&B, annual reports, company house documents, investor presentations, articles, journals, blogs, and SEC filings of companies, newspapers, and so on. We have assigned weights to these parameters and quantified their market impacts using the weighted average analysis to derive the expected market growth rate.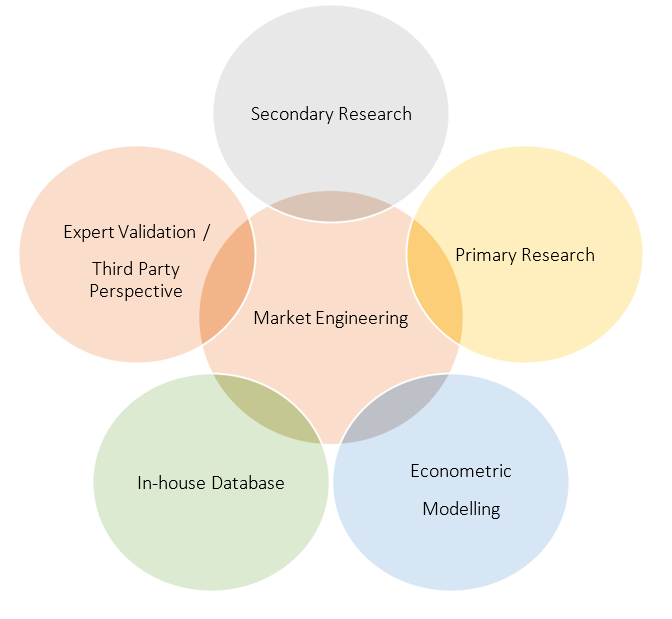 Top-Down Approach & Bottom-Up Approach
In the top – down approach, the Global Batteries for Solar Energy Storage Market was further divided into various segments on the basis of the percentage share of each segment. This approach helped in arriving at the market size of each segment globally. The segments market size was further broken down in the regional market size of each segment and sub-segments. The sub-segments were further broken down to country level market. The market size arrived using this approach was then crosschecked with the market size arrived by using bottom-up approach.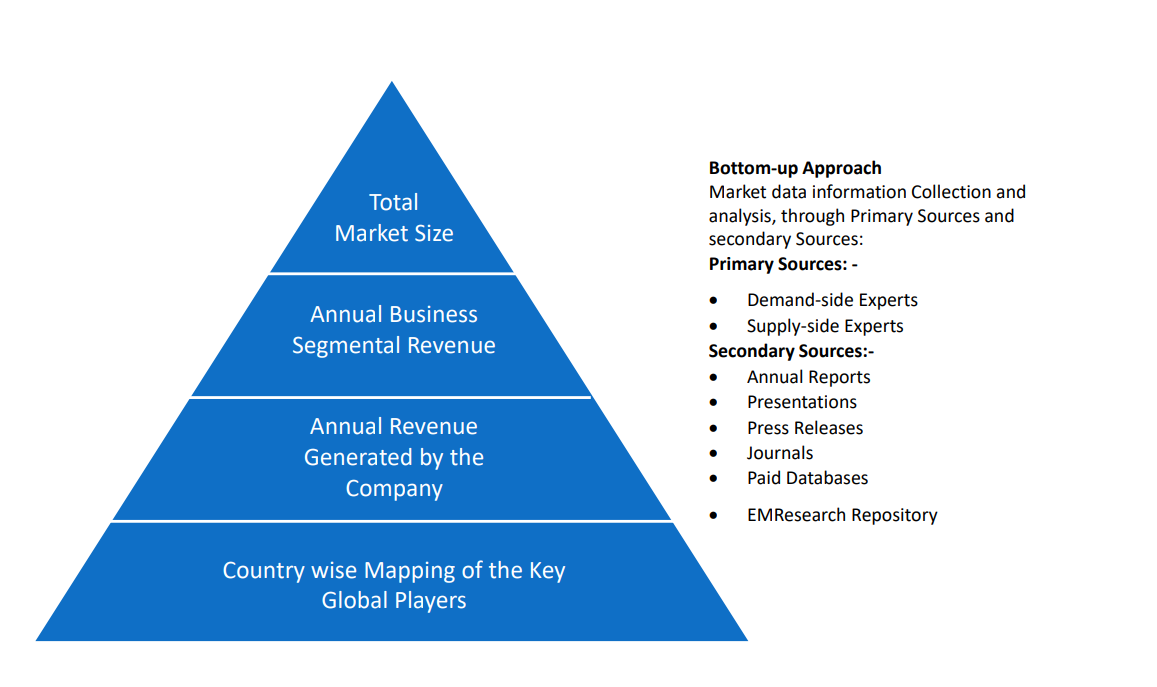 In the bottom-up approach, we arrived at the country market size by identifying the revenues and market shares of the key market players. The country market sizes then were added up to arrive at regional market size of the decorated apparel, which eventually added up to arrive at global market size.
This is one of the most reliable methods as the information is directly obtained from the key players in the market and is based on the primary interviews from the key opinion leaders associated with the firms considered in the research. Furthermore, the data obtained from the company sources and the primary respondents was validated through secondary sources including government publications and Bloomberg.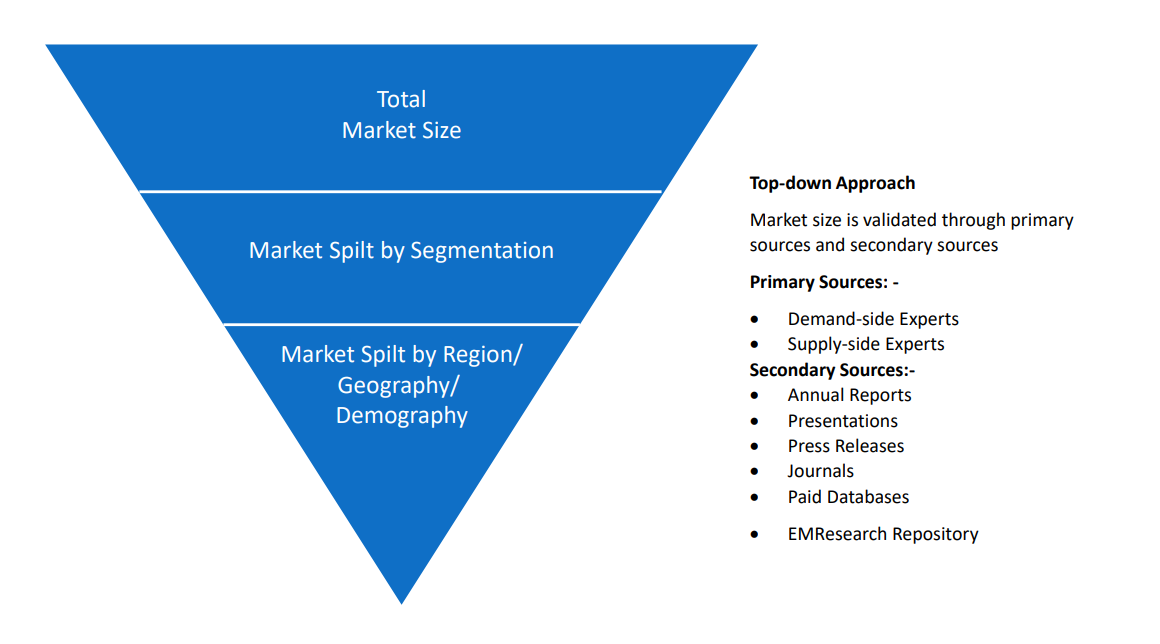 Market Analysis & size Estimation
Post the data mining stage, we gather our findings and analyze them, filtering out relevant insights. These are evaluated across research teams and industry experts. All this data is collected and evaluated by our analysts. The key players in the industry or markets are identified through extensive primary and secondary research. All percentage share splits, and breakdowns have been determined using secondary sources and verified through primary sources. The market size, in terms of value and volume, is determined through primary and secondary research processes, and forecasting models including the time series model, econometric model, judgmental forecasting model, the Delphi method, among Flywheel Energy Storage. Gathered information for market analysis, competitive landscape, growth trends, product development, and pricing trends is fed into the model and analyzed simultaneously.
Quality Checking & Final Review
The analysis done by the research team is further reviewed to check for the accuracy of the data provided to ensure the clients' requirements. This approach provides essential checks and balances which facilitate the production of quality data. This Type of revision was done in two phases for the authenticity of the data and negligible errors in the report. After quality checking, the report is reviewed to look after the presentation, Type and to recheck if all the requirements of the clients were addressed.