The Global Luxury Cosmetics Market was valued at USD 48.52 billion in 2022 and is estimated to reach approximately USD 82.80 billion by 2031, at a CAGR of 6.1% from 2023 to 2031. Since its start, the luxury cosmetics market a booming area of the beauty industry—has experienced extraordinary growth. Due to changing consumer preferences, rising disposable income, and a growing appetite for prestige goods, it experienced a considerable spike in demand in the early 2000s. Luxury cosmetics companies like Chanel, Dior, and Estée Lauder tapped into this trend by providing premium formulations, chic packaging, and unique shopping experiences. These names come to stand for wealth and elegance. The market has grown over time on a global scale, with developing nations like China and India helping to fuel this expansion. The luxury cosmetics sector has been further boosted by technological developments in skincare and makeup as well as a focus on natural and sustainable components. Influencers on social media and celebrity endorsements have been crucial in promoting these products to a larger audience. The market for luxury cosmetics is always changing as a result of shifting customer preferences and cultural norms. To preserve their relevance in this always changing market, businesses must continue to be inventive and stick to their dedication to quality in the face of rising competition and altering trends.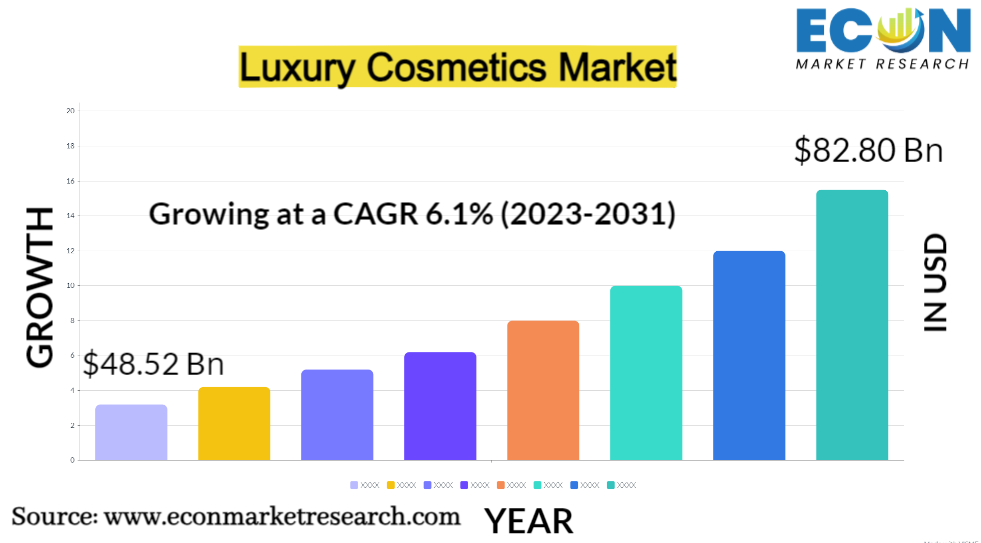 LUXURY COSMETICS MARKET: REPORT SCOPE & SEGMENTATION
| | |
| --- | --- |
| Report Attribute | Details |
| Estimated Market Value (2022) | 48.52 Bn |
| Projected Market Value (2031) | 82.80 Bn |
| Base Year | 2022 |
| Forecast Years | 2023 - 2031 |
| Scope of the Report | Historical and Forecast Trends, Industry Drivers and Constraints, Historical and Forecast Market Analysis by Segment- By Type, By Product Type, By End User, By Distribution Channel, & Region |
| Segments Covered | By Type, By Product Type, By End User, By Distribution Channel,, & Region |
| Forecast Units | Value (USD Billion or Million), and Volume (Units) |
| Quantitative Units | Revenue in USD million/billion and CAGR from 2023 to 2031 |
| Regions Covered | North America, Europe, Asia Pacific, Latin America, and Middle East & Africa, and the Rest of World |
| Countries Covered | U.S., Canada, Mexico, U.K., Germany, France, Italy, Spain, China, India, Japan, South Korea, Brazil, Argentina, GCC Countries, and South Africa, among others |
| Report Coverage | Market growth drivers, restraints, opportunities, Porter's five forces analysis, PEST analysis, value chain analysis, regulatory landscape, market attractiveness analysis by segments and region, company market share analysis, and COVID-19 impact analysis. |
| Delivery Format | Delivered as an attached PDF and Excel through email, according to the purchase option. |
Global Luxury Cosmetics Market Dynamics
The market for luxury cosmetics underwent substantial fluctuations as a result of changing customer preferences and industry trends. First, there was a noticeable trend away from synthetic components towards natural and organic ones as customers became more concerned with the products they used on their skin. By including these components in their formulas and placing an emphasis on sustainability and environmental friendliness, luxury businesses adjusted. Globalization also played a significant impact in the rapid economic rise of emerging markets, particularly in Asia. To take advantage of the expanding affluent client base in these areas, luxury cosmetics brands actively increased their presence there. Luxury brands faced more competition as a result of globalization, which compelled them to develop new products and broaden their product portfolios in order to remain competitive.In order to reach a wider audience, luxury cosmetics companies actively invested in online platforms and digital marketing as e-commerce continued to grow and disrupt the sector. Beauty bloggers and social media influencers became well-known as effective marketing tools, changing how goods were advertised and consumed. Globalization, digitization, and sustainability all came together in the luxury cosmetics sector in 2003, forcing luxury firms to adjust to shifting consumer preferences and market realities. As the sector develops in the future, these tendencies will continue to influence it.
Global Luxury Cosmetics Market Drivers
Consumer Demand for Premium Products
Premium goods convey a sense of exclusivity and prestige. Luxury cosmetics are one example of a product that appeals to consumers by conveying a sense of prestige and elegance. People who own and use high-end cosmetics may feel pampered and exceptional, which will boost their self-esteem and social position. Premium goods frequently advertise their higher performance and quality. This translates into formulations enhanced with premium ingredients and cutting-edge technology in the field of luxury cosmetics. These items are sought after by customers because they anticipate improved outcomes, such as smoother skin, cosmetics that lasts longer, or more radiant appearances. The premium market satisfies particular consumer pleasure and self-care wants. The importance of self-care practices and overall well being is rising, and luxury cosmetics are the ideal complement to this trend. Premium cosmetics improve the overall experience and make it more pleasurable and satisfying because to their opulent textures, relaxing scents, and attractive packaging.
Rising disposable income is a crucial factor that has a large impact on several businesses, including the market for luxury cosmetics. This driver is predicated on the fundamental idea that as individuals and households experience an increase in their disposable income, money available for spending after taxes and essential expenses, they are more likely to allocate a portion of it to discretionary and premium purchases, like upscale cosmetics. When consumers have more disposable income, they frequently want to enhance their general quality of life and well-being, which can include spending on self-care and beauty. People with greater earnings find luxury cosmetics, which are known for their excellent quality and unique appeal, to be an appealing option. These customers are more eager and able to invest in goods that promise premium ingredients and luxurious packaging.
Restraints:
Competition from Affordable Brands
The market for luxury cosmetics is significantly constrained by competition from inexpensive competitors. More people are flocking towards more affordable beauty solutions as consumer preferences change and economic uncertainty persists. For many consumers, affordability is a key factor, especially during recessions or times of financial instability. Affordable businesses frequently sell goods with same marketing gimmicks, ingredients, and packaging to their pricier competitors. This price discrepancy has a significant impact on consumers' purchase decisions, especially those who are price conscious. Affordably priced manufacturers may now produce goods that nearly resemble the quality and functionality of luxury cosmetics thanks to advancements in formulation and production technologies. The marketing of these goods as "dupes" or substitutes increases the level of competition.
Changing Consumer Preference
The market for luxury cosmetics is significantly constrained by shifting consumer tastes. Consumer wants and expectations change along with cultural norms and ideas of beauty. The growing focus on sustainable and clean beauty is one important component. Consumers are paying closer attention to the ingredients in their skincare and beauty products and choose formulas that are cruelty-free and devoid of potentially dangerous substances. Niche clean beauty brands that provide alternatives to conventional luxury cosmetics have grown in popularity as a result of this shift in consumer desire. Additionally, the movement towards simplicity and minimalism in beauty regimens has picked up steam. Many consumers today place a high value on goods that fulfil several functions and have noticeable results, which makes them less likely to spend money on a wide variety of luxury cosmetics.
Opportunities:
Sustainable and Eco-Friendly Products
Businesses in a variety of industries, including the cosmetics industry, are presented with a substantial opportunity by the rising demand for environmentally friendly and sustainable goods. Luxury cosmetics companies can appeal to an ethical and ecologically conscious client base by creating and promoting sustainable and eco-friendly product lines. Customer loyalty and brand reputation can both be improved in this way. Eco-friendly goods have the potential to reach new markets and consumer groups. Particularly younger consumers are passionate about sustainability and actively look for goods that support their principles. Luxury cosmetics companies may take advantage of this expanding market sector by providing environmentally friendly choices. Adopting sustainable practices throughout the supply chain, from sourcing eco-friendly ingredients to reducing packaging waste and adopting green manufacturing processes, can not only reduce environmental impact but also streamline operations and reduce costs in the long run.
Luxury E-Commerce and Subscription Models
Businesses, especially those in the fashion and luxury goods sectors, have a lot to gain from the convergence of premium e-commerce and subscription models. With the help of luxury e-commerce, businesses can connect with customers worldwide, overcoming regional limitations and entering growing markets. It provides accessibility and convenience, allowing customers to browse and buy opulent goods from the comfort of their homes. Contrarily, subscription-based business models give you a way to create enduring connections with your clients. They give premium firms the chance to make carefully curated, individually chosen product selections, encouraging a sense of exclusivity and boosting client loyalty. For premium firms, subscription models can deliver a consistent and predictable stream of income, improving financial stability.
Segment Overview
By Type
Based on type, the global luxury cosmetics market is divided into organic and conventional. The conventional category dominates the market with the largest revenue share. The conventional cosmetics segment encompasses products that may contain a mix of synthetic and natural ingredients. While these products have been the norm for decades, they are facing increasing scrutiny due to concerns about potentially harmful substances and their environmental footprint. The organic cosmetics segment has seen substantial growth in recent years, driven by a rising awareness of the potential health and environmental impacts of conventional beauty products. Organic cosmetics are crafted from natural, sustainably sourced ingredients, often without synthetic chemicals, parabens, or artificial fragrances. This appeals to consumers seeking cleaner, more environmentally friendly alternatives, and those with sensitivities or allergies.
By Product Type
Based on the product type, the global luxury cosmetics market is categorized into skincare, haircare, makeup, and fragrances. The skincare category leads the global luxury cosmetics market with the largest revenue share. Skincare products encompass a wide range of items designed to cleanse, hydrate, and protect the skin. This category includes cleansers, moisturizers, serums, sunscreens, and treatments like anti-aging creams. Skincare products are formulated to address various skin concerns, from acne and blemishes to dryness and sensitivity.Haircare products are focused on the health and appearance of the hair. This category includes shampoos, conditioners, hair treatments, styling products, and hair coloring products. Haircare products aim to cleanse, nourish, and style hair to achieve the desired look and maintain hair health. Makeup products are designed to enhance or alter one's appearance. This category includes foundations, concealers, eyeshadows, lipsticks, mascaras, and more. Makeup allows individuals to create a variety of looks, from natural and subtle to bold and dramatic. Fragrances encompass perfumes, colognes, and other scented products. These products are used to enhance one's personal aroma and make a lasting impression. Fragrances are available in a wide range of scents and concentrations to suit individual preferences.
By End-User
Based on end-use, the global luxury cosmetics market is segmented into male and female. The femal segment dominates the luxury cosmetics market. Women often have more extensive skincare routines, including cleansers, moisturizers, serums, and specialized products like anti-aging creams and masks. The female makeup segment includes a vast array of products such as foundations, concealers, eyeshadows, lipsticks, and more, offering various options for different occasions and styles.Men's skincare products typically include cleansers, moisturizers, and shaving-related products, with an emphasis on simplicity and functionality. Male grooming products encompass shaving creams, razors, and aftershave, addressing specific facial hair care needs.
By Distribution Channel
Based on distribution channel, the global luxury cosmetics market is divided into e-commerce, supermarket/hypermarket, specialty stores, and others. The specialty stores category dominates the market with the largest revenue share.Specialty stores are dedicated beauty and cosmetics retailers. They include standalone cosmetics stores, department store beauty sections, and beauty boutiques. These stores offer a curated selection of cosmetics and skincare products, often featuring high-end and luxury brands. Specialty stores provide a more personalized shopping experience with knowledgeable staff and in-store beauty consultations. Supermarkets and hypermarkets are traditional brick-and-mortar stores that sell a wide variety of consumer goods, including cosmetics. These stores offer convenience and accessibility, making them a common choice for everyday beauty products such as shampoo, soap, and basic makeup items.E-commerce, or online retail, has experienced significant growth in the cosmetics industry. Consumers can purchase beauty products from websites and online marketplaces, enjoying the convenience of shopping from home and access to a wide range of products from various brands. E-commerce also offers the advantage of detailed product information, customer reviews, and the possibility of personalized recommendations.
Global Luxury Cosmetics Market Overview by Region
The global luxury cosmetics market is categorized into North America, Europe, Asia-Pacific, and the Rest of the World. Europe emerged as the leading region, capturing the largest market share in 2022. Europe has a long history of using cosmetics and engaging in other beauty rituals. Luxury skincare and fragrances have long been linked with European nations like France and Italy, where renowned companies like Chanel, L'Oréal, and Estée Lauder have their roots. Innovation and research in the field of cosmetics are concentrated in Europe. The area is renowned for its cutting-edge research institutes and laboratories, which fuel the creation of innovative skincare and cosmetic formulas. The varied needs of the population in Europe for skincare and cosmetics lead to a thriving business. In Europe, a variety of skin types, preferences, and skin tones are frequently catered to by brands. A thriving market is produced by Europe's diverse population's varying needs for skincare and cosmetics. In Europe, a wide range of skin tones, body kinds, and tastes are frequently catered to by brands. Many high-end cosmetics companies with prestige brands are based in Europe. Cities like Paris and Milan are well known for their fashion and beauty industries, drawing customers looking for exclusivity and luxury. The European e-commerce boom has given the cosmetics sector a further boost. A wide variety of beauty items are widely accessible to consumers across the continent online, which helps the market grow.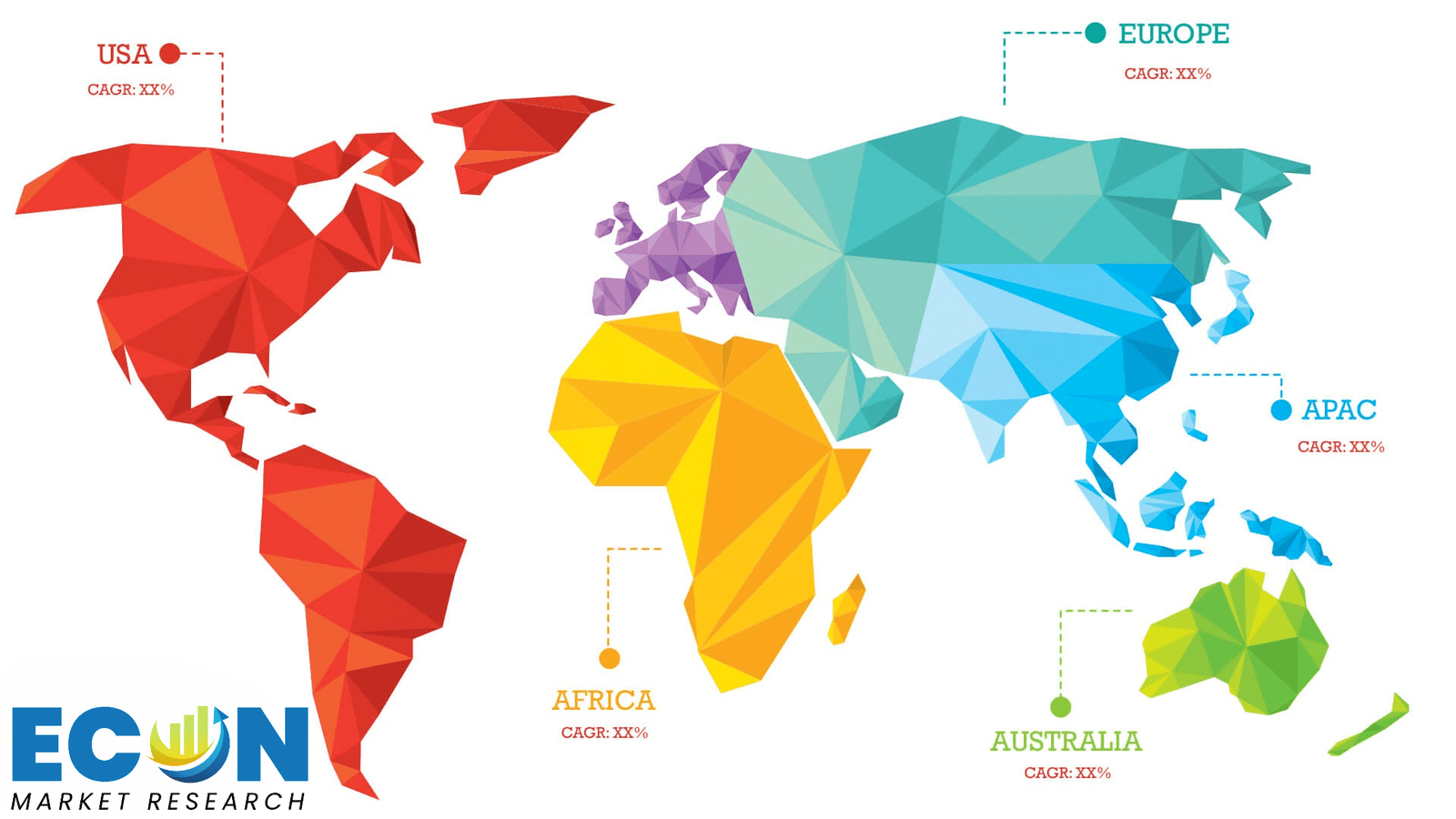 Global Luxury Cosmetics Market Competitive Landscape
In the global luxury cosmetics market, a few major players exert significant market dominance and have established a strong regional presence. These leading companies remain committed to continuous research and development endeavors and actively engage in strategic growth initiatives, including product development, launches, joint ventures, and partnerships. By pursuing these strategies, these companies aim to strengthen their market position, expand their customer base, and capture a substantial share of the market.
Some of the prominent players in the global luxury cosmetics market include L'Oréal, Shiseido Company, Limited, Christian Dior, Puig, Coty Inc., Kao Corporation, Revlon, Inc., The Estée Lauder Companies Inc., Oriflame Cosmetics AG, KOSÉ Corporation, and various other key players.
Global Luxury Cosmetics Market Recent Developments
In March 2023, Estée Lauder, a titan of high-end cosmetics, focuses heavily on India as its sales there treble in only two years. The premium skincare and cosmetics market in India is expanding extremely quickly. The second-largest cosmetics brand in the world has set its sights on India because the pandemic has demonstrated that demand is not just concentrated in the globe's major cities.
Scope of the Global Luxury Cosmetics Market Report
Luxury Cosmetics Market Report Segmentation
ATTRIBUTE

DETAILS

By Type

By Product Type

Skincare

Haircare

Makeup

Fragrances

By End-User

By Distribution Channel

E-commerce

Supermarket/Hypermarket

Specialty Stores

Others

By Geography

North America (USA,

and Canada)

Europe (UK, Germany, France, Italy, Spain, Russia and Rest of Europe)

Asia Pacific (Japan, China, India, Australia, Southeast Asia and Rest of Asia Pacific)

Latin America (Brazil, Mexico, and Rest of Latin America)

Middle East & Africa (South Africa, GCC, and Rest of Middle East & Africa)

Customization Scope

Pricing
Objectives of the Study
The objectives of the study are summarized in 5 stages. They are as mentioned below:
Global Luxury Cosmetics

Market

Size and Forecast:
To identify and estimate the market size for the global luxury cosmetics market segmented by type, by product type, by end user,by distribution channel,, region and by value (in U.S. dollars). Also, to understand the consumption/ demand created by consumers of luxury cosmetics between 2019 and 2031.
Market Landscape and Trends:
To identify and infer the drivers, restraints, opportunities, and challenges for the global luxury cosmetics market
Market Influencing Factors:
To find out the factors which are affecting the sales of luxury cosmetics among consumers
To identify and understand the various factors involved in the global luxury cosmetics market affected by the pandemic
To provide a detailed insight into the major companies operating in the market. The profiling will include the financial health of the company's past 2-3 years with segmental and regional revenue breakup, product offering, recent developments, SWOT analysis, and key strategies.
Intended Audience
Raw Material Suppliers

Business Professionals

Academic Researchers

Government Agencies

Healthcare Professionals

Retailers, Wholesalers, and Distributors

Governments, Associations, and Industrial Bodies

Investors and Trade Experts
Research Methodology
Our research methodology has always been the key differentiating reason which sets us apart in comparison from the competing organizations in the industry. Our organization believes in consistency along with quality and establishing a new level with every new report we generate; our methods are acclaimed and the data/information inside the report is coveted. Our research methodology involves a combination of primary and secondary research methods. Data procurement is one of the most extensive stages in our research process. Our organization helps in assisting the clients to find the opportunities by examining the market across the globe coupled with providing economic statistics for each and every region. The reports generated and published are based on primary & secondary research. In secondary research, we gather data for global Market through white papers, case studies, blogs, reference customers, news, articles, press releases, white papers, and research studies. We also have our paid data applications which includes hoovers, Bloomberg business week, Avention, and others.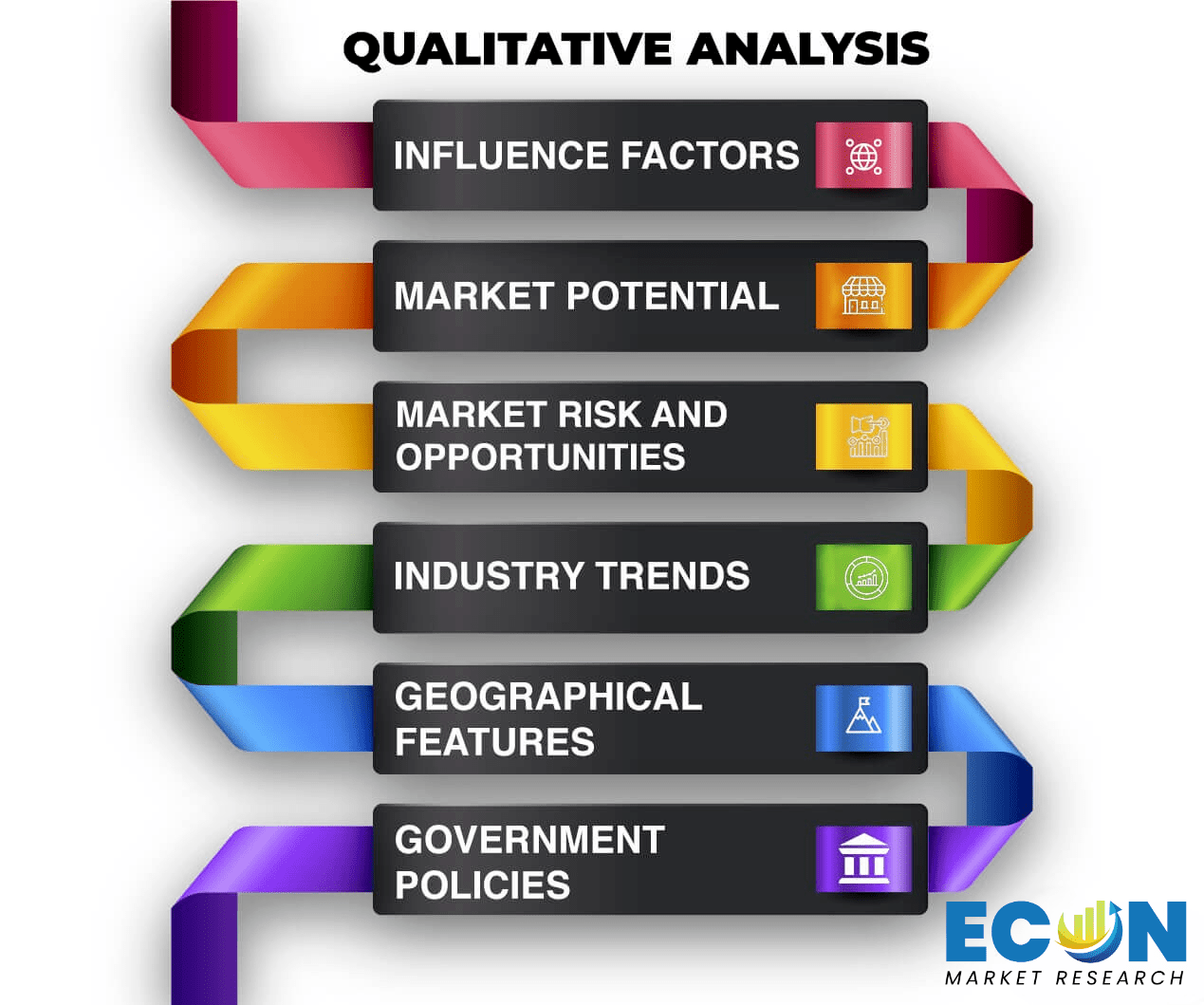 Data Collection
Data collection is the process of gathering, measuring, and analyzing accurate and relevant data from a variety of sources to analyze market and forecast trends. Raw market data is obtained on a broad front. Data is continuously extracted and filtered to ensure only validated and authenticated sources are considered. Data is mined from a varied host of sources including secondary and primary sources.

Primary Research
After the secondary research process, we initiate the primary research phase in which we interact with companies operating within the market space. We interact with related industries to understand the factors that can drive or hamper a market. Exhaustive primary interviews are conducted. Various sources from both the supply and demand sides are interviewed to obtain qualitative and quantitative information for a report which includes suppliers, product providers, domain experts, CEOs, vice presidents, marketing & sales directors, Type & innovation directors, and related key executives from various key companies to ensure a holistic and unbiased picture of the market. 
Secondary Research
A secondary research process is conducted to identify and collect information useful for the extensive, technical, market-oriented, and comprehensive study of the market. Secondary sources include published market studies, competitive information, white papers, analyst reports, government agencies, industry and trade associations, media sources, chambers of commerce, newsletters, trade publications, magazines, Bloomberg BusinessWeek, Factiva, D&B, annual reports, company house documents, investor presentations, articles, journals, blogs, and SEC filings of companies, newspapers, and so on. We have assigned weights to these parameters and quantified their market impacts using the weighted average analysis to derive the expected market growth rate.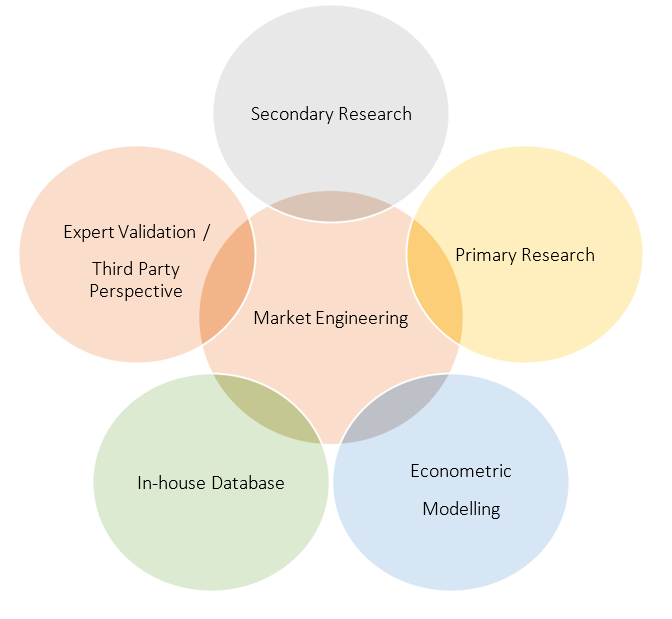 Top-Down Approach & Bottom-Up Approach
In the top – down approach, the Global Batteries for Solar Energy Storage Market was further divided into various segments on the basis of the percentage share of each segment. This approach helped in arriving at the market size of each segment globally. The segments market size was further broken down in the regional market size of each segment and sub-segments. The sub-segments were further broken down to country level market. The market size arrived using this approach was then crosschecked with the market size arrived by using bottom-up approach.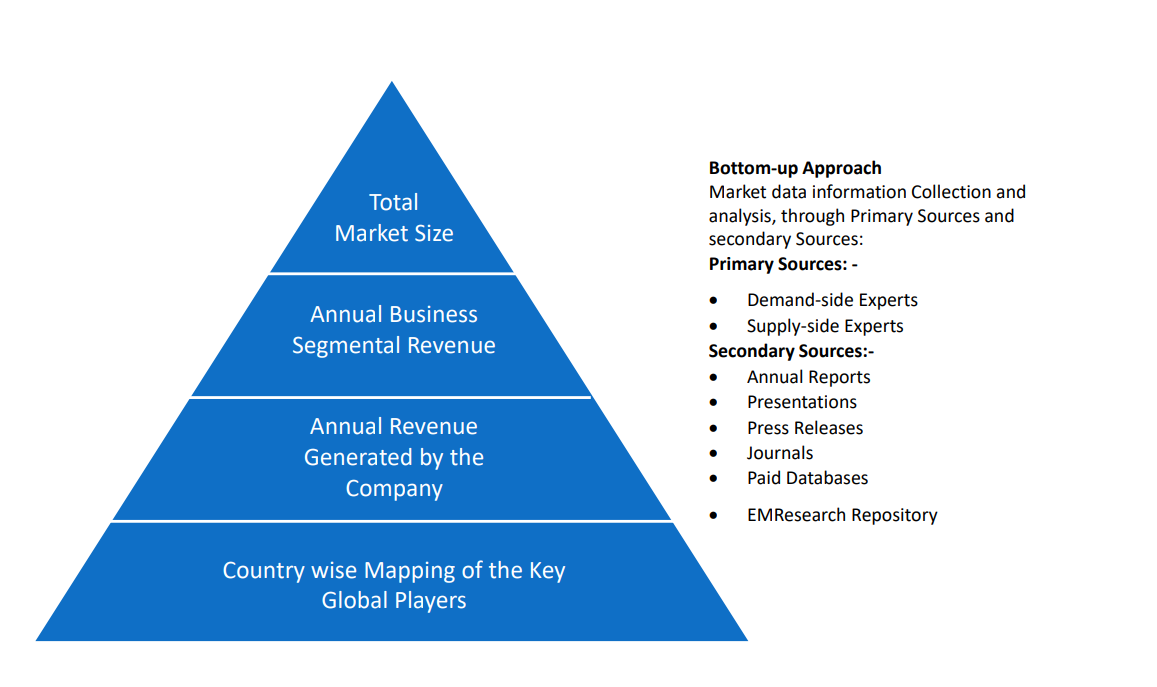 In the bottom-up approach, we arrived at the country market size by identifying the revenues and market shares of the key market players. The country market sizes then were added up to arrive at regional market size of the decorated apparel, which eventually added up to arrive at global market size.
This is one of the most reliable methods as the information is directly obtained from the key players in the market and is based on the primary interviews from the key opinion leaders associated with the firms considered in the research. Furthermore, the data obtained from the company sources and the primary respondents was validated through secondary sources including government publications and Bloomberg.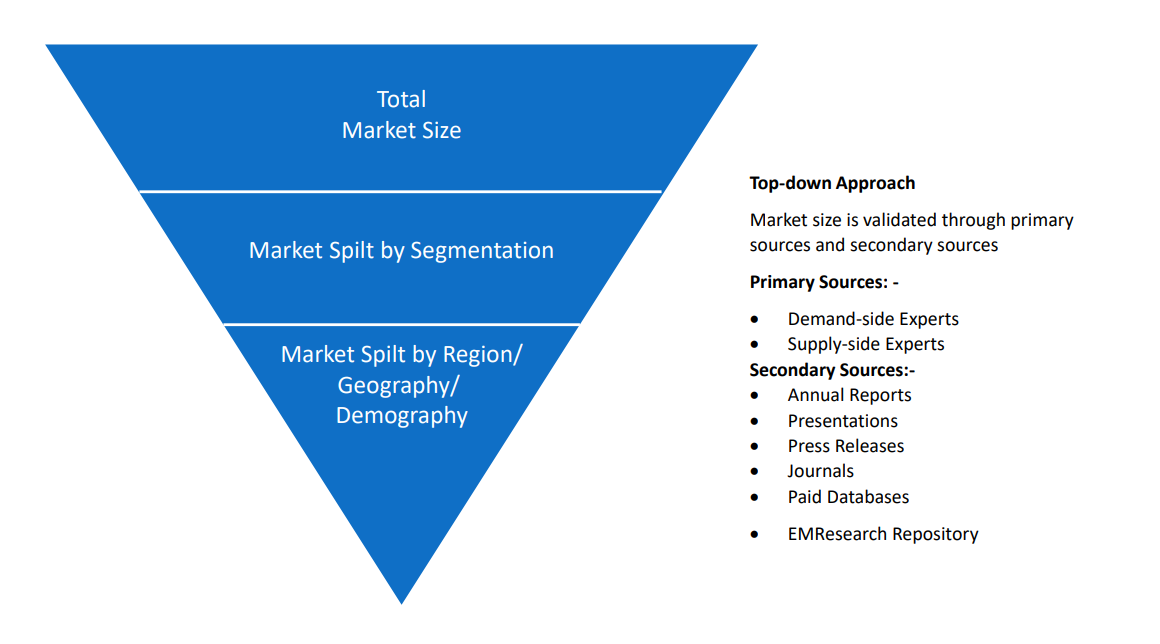 Market Analysis & size Estimation
Post the data mining stage, we gather our findings and analyze them, filtering out relevant insights. These are evaluated across research teams and industry experts. All this data is collected and evaluated by our analysts. The key players in the industry or markets are identified through extensive primary and secondary research. All percentage share splits, and breakdowns have been determined using secondary sources and verified through primary sources. The market size, in terms of value and volume, is determined through primary and secondary research processes, and forecasting models including the time series model, econometric model, judgmental forecasting model, the Delphi method, among Flywheel Energy Storage. Gathered information for market analysis, competitive landscape, growth trends, product development, and pricing trends is fed into the model and analyzed simultaneously.
Quality Checking & Final Review
The analysis done by the research team is further reviewed to check for the accuracy of the data provided to ensure the clients' requirements. This approach provides essential checks and balances which facilitate the production of quality data. This Type of revision was done in two phases for the authenticity of the data and negligible errors in the report. After quality checking, the report is reviewed to look after the presentation, Type and to recheck if all the requirements of the clients were addressed.