The global hydrogen fueling station market was valued at USD 320.50 million in 2022 and is estimated to reach approximately USD 2535.80 million by 2031, at a CAGR of 25.8% from 2023 to 2031.
The market for hydrogen fueling stations has grown to become a significant player in the global shift to greener and more sustainable energy sources. These filling stations are made to make it easier for hydrogen-powered vehicles, like fuel cell electric automobiles and commercial vehicles, to be refueled. They mark a noteworthy advancement in the mitigation of greenhouse gas emissions and the shift away from fossil fuels. Infrastructure for hydrogen fueling has become more and more necessary as governments and businesses throughout the world step up their efforts to tackle climate change. These stations usually manufacture hydrogen on-site or receive hydrogen supply using natural gas reforming or electrolysis. After that, the hydrogen is liquefied or compressed for effective storage and distribution. The market for hydrogen filling stations is expanding due to a number of causes, such as government policies and incentives supporting environmentally friendly transportation, expenditures in research and development of hydrogen technology, and an increase in the number of automakers producing hydrogen fuel cell vehicles. This market is a significant step towards the development of the infrastructure required for the widespread use of hydrogen-powered automobiles and is indicative of a more environmentally conscious and sustainable transportation industry in the future.
HYDROGEN FUELING STATION MARKET: REPORT SCOPE & SEGMENTATION
| | |
| --- | --- |
| Report Attribute | Details |
| Estimated Market Value (2022) | 320.50 Mn |
| Projected Market Value (2031) | 2535.80 Mn |
| Base Year | 2022 |
| Forecast Years | 2023 - 2031 |
| Scope of the Report | Historical and Forecast Trends, Industry Drivers and Constraints, Historical and Forecast Market Analysis by Segment- By Station Type, By Vehicle Type, By Vehicle Technology, By Delivery Methods, & Region |
| Segments Covered | By Station Type, By Vehicle Type, By Vehicle Technology, By Delivery Methods, & Region |
| Forecast Units | Value (USD Billion or Million), and Volume (Units) |
| Quantitative Units | Revenue in USD million/billion and CAGR from 2023 to 2031 |
| Regions Covered | North America, Europe, Asia Pacific, Latin America, and Middle East & Africa, and the Rest of World |
| Countries Covered | U.S., Canada, Mexico, U.K., Germany, France, Italy, Spain, China, India, Japan, South Korea, Brazil, Argentina, GCC Countries, and South Africa, among others |
| Report Coverage | Market growth drivers, restraints, opportunities, Porter's five forces analysis, PEST analysis, value chain analysis, regulatory landscape, market attractiveness analysis by segments and region, company market share analysis, and COVID-19 impact analysis. |
| Delivery Format | Delivered as an attached PDF and Excel through email, according to the purchase option. |
Global Hydrogen Fueling Station Market Dynamics
The market for hydrogen filling stations is undergoing rapid changes and advancements due to a number of variables that are indicative of the increased interest in hydrogen as a clean energy source. The growing emphasis on lowering greenhouse gas emissions and halting climate change on a worldwide scale is one of the major factors driving this industry. Governments and business sectors are making significant investments in hydrogen technology because it is thought to provide a flexible option for a range of uses, including transportation. The ongoing development of hydrogen-powered automobiles, both in the passenger car and commercial vehicle segments, is another significant market factor. Infrastructure for hydrogen refueling is becoming more and more necessary as automakers provide more and more hydrogen fuel cell vehicles. Furthermore, the advantages of hydrogen are becoming more widely known. These advantages include its high driving range and rapid refueling times, which are useful for a variety of applications. The market dynamics for hydrogen filling stations are also being significantly shaped by government incentives and regulations. A number of nations have put in place encouraging policies, like objectives for reducing emissions and subsidies, to promote the creation and use of hydrogen infrastructure. The dynamics of the market are being further improved by innovation and research in hydrogen production and storage technologies. New avenues for sustainable growth are being presented by developments in renewable hydrogen production techniques, such as green hydrogen produced by electrolysis with renewable energy sources.
Global Hydrogen Fueling Station Market Drivers
Increased Adoption of Hydrogen Fuel Cell Vehicles (FCVs)
The pressing need to battle climate change and cut greenhouse gas emissions is compellingly addressed by FCVs. Since FCVs only emit water vapour, as opposed to conventional internal combustion engine cars, they are an essential component of strategies meant to improve air quality and lessen carbon footprints. Moreover, compared to battery electric vehicles (BEVs), fuel cell vehicles (FCVs) offer a longer driving range and quicker refueling times. The fact that refueling a hydrogen vehicle can be completed in a matter of minutes, just like filling up a gas-powered vehicle, allays "range anxiety" worries and increases the suitability of FCVs for long-distance driving, fleet operations, and customers seeking a smooth driving experience. Additionally, governments and regulatory bodies in various regions are incentivizing and promoting the adoption of FCVs through financial incentives, subsidies, and emissions reduction targets.
Global Efforts to Reduce Greenhouse Gas Emissions
Global action has been sparked by the growing body of scientific evidence regarding the origins and effects of climate change. The relationship between human activity and the increase in greenhouse gas concentrations in the atmosphere has been emphasized by the Intergovernmental Panel on Climate Change (IPCC) and other respectable scientific organizations. This includes the burning of fossil fuels, deforestation, and industrial processes. International agreements and accords, such as the Paris Agreement, have provided a framework for cooperation and commitment among nations to limit global warming to well below 2 degrees Celsius above per-industrial levels. This scientific evidence has spurred a sense of responsibility and urgency among governments, businesses, and civil society to take meaningful action. The devastating impacts of climate change, including more frequent and severe extreme weather events, rising sea levels, and disruptions to ecosystems, have heightened the sense of urgency.
Restraints:
High Initial Investment Costs,
For many companies and entrepreneurs, the significant initial investment cash is a barrier to entry. This may deter start-ups and small businesses from entering a given market, which would reduce competition and innovation. High initial investment costs in infrastructure development have the potential to impede or postpone vital projects like the construction of transport networks, water and sanitation systems, or facilities for renewable energy. Missed chances for environmental sustainability and economic progress could arise from this delay. Furthermore, high upfront expenses can result in increased prices for customers, which may have an impact on accessibility and affordability. For example, the upfront cost of renewable energy solutions, such as solar panels or electric cars, may discourage people or businesses from adopting sustainable practices.
Limited Hydrogen Infrastructure
One major obstacle to the widespread use of hydrogen fuel cell vehicles (FCVs) is the lack of hydrogen refuelling facilities. Because it makes it more difficult for them to travel large distances and makes daily use less convenient, the restricted accessibility of refueling stations may discourage consumers from purchasing these cars. Due to their need for a dependable refueling infrastructure, FCV fleet expansion in commercial applications like logistics and public transportation is further hampered by this restriction. Moreover, the potential of hydrogen as a clean energy carrier for a number of industries, including power generation and industrial, is impacted by the absence of infrastructure. The use of hydrogen for operations in industry, heating, and the production of electricity is still restricted in the absence of a vast and dependable distribution system. Addressing these restraints requires concerted efforts, including public and private sector investments, government incentives, and collaborative initiatives among industry stakeholders to expand the hydrogen infrastructure.
Opportunities:
Government Initiatives and Policies
Environmental sustainability presents a significant potential. Policies that encourage the use of renewable energy, energy efficiency, and the reduction of emissions can be passed by governments. The shift to a low-carbon economy is aided by carbon pricing schemes, renewable energy objectives, and subsidies and incentives for clean technologies. In addition to lessening the effects of climate change, these policies foster green innovation and the expansion of the clean energy sector, resulting in the creation of jobs and business possibilities. Public health advancements can also be fueled by government initiatives. Policies and initiatives that support hygienic practices, disease prevention, and healthy lifestyles prolong and improve the quality of life. Infrastructure, disease prevention, and medical research investments can improve healthcare quality and accessibility for citizens and support a thriving healthcare industry. Moreover, governments play a pivotal role in economic development through trade policies, investments in infrastructure, and support for small and medium-sized enterprises (SMEs). Incentives for innovation, workforce development, and industrial growth can stimulate economic diversification and prosperity.
Advance Hydrogen Production Technologies
Developments in the technologies for producing hydrogen offer a huge chance to transform the energy scene and help ensure a sustainable future. Unlocking the full potential of hydrogen, a clean and adaptable energy source, will need creative manufacturing techniques. The development of green hydrogen generating technology presents a compelling prospect. Utilizing sustainable energy sources like solar or wind power, green hydrogen is created by electrolyzing water. Because this method generates hydrogen with no carbon emissions, it provides a clear path towards decarbonizing the energy industry. Not only does it assist in reaching greenhouse gas reduction targets, but it also lessens reliance on fossil fuels. Furthermore, the emergence of novel catalysts, materials, and processes for hydrogen production has the potential to make hydrogen more affordable and efficient. These technologies can reduce the energy input required for hydrogen production and lower production costs, making hydrogen a more competitive option for a wide range of applications.
Segment Overview
By Station Type
Based on station type, the global hydrogen fueling station market is divided into small, medium, large. The medium sized category dominates the market with the largest revenue share in 2022. Medium-sized hydrogen fueling stations serve as a bridge between small-scale and large-scale infrastructure. They are capable of accommodating a moderate flow of vehicles, making them suitable for regions with a growing demand for hydrogen-powered transportation, such as city fleets, buses, and delivery vehicles. These stations offer a balance between cost-effectiveness and capacity. Small hydrogen fueling stations are typically designed for localized and niche applications. They are often found in urban areas or specific industrial sites where there is a lower demand for hydrogen refueling. These stations are compact and cost-effective, making them suitable for early market adoption and for meeting the needs of smaller hydrogen vehicle fleets, such as passenger cars. Large hydrogen fueling stations are designed to meet the needs of densely populated urban areas and regions with high demand for hydrogen fuel. They have the capacity to serve a large number of vehicles, including commercial trucks and heavy-duty transport. Large stations often feature advanced technology, multiple dispensers, and efficient hydrogen production and storage facilities to cater to the substantial demand in these areas.
By Vehicle Type
Based on the vehicle type, the global hydrogen fueling station market is categorized into passenger cars, commercial vehicles. The commercial vehicles category leads the global hydrogen fueling station market with the largest revenue share in 2022. The commercial vehicles segment comprises hydrogen fueling stations that target a range of larger vehicles used for commercial purposes. This includes buses, trucks, delivery vans, and other heavy-duty transport. These stations are strategically located near transportation hubs, logistics centers, and industrial areas where commercial vehicle fleets operate. The adoption of hydrogen fuel cell technology in commercial vehicles is driven by the need to reduce emissions and improve the efficiency of transportation in sectors such as public transit, freight, and logistics. Commercial vehicle hydrogen fueling stations are essential for the decarbonization of these critical sectors, reducing air pollution, and enhancing operational efficiency. passenger cars segment includes hydrogen fueling stations that primarily cater to passenger vehicles equipped with hydrogen fuel cell technology. These stations are often located in urban areas and along major transportation routes. They serve as a crucial component of the infrastructure needed to support the adoption of hydrogen-powered cars. Passenger cars using hydrogen fuel cells are typically compact, efficient, and emit zero tailpipe emissions, making them a clean and sustainable transportation option for individuals and families.
By Vehicle Technology
Based on vehicle technology, the global hydrogen fueling station market is segmented into proton exchange membrane fuel cell, phosphoric acid fuel cells, and others. The proton exchange membrane fuel cell segment dominates the hydrogen fueling station market. PEMFCs are among the most common fuel cell technologies used in hydrogen fueling stations. They are known for their high power density, quick startup, and efficiency, making them well-suited for applications like fuel cell vehicles (FCVs) and small to medium-sized stationary power generation. PEMFCs use a solid polymer electrolyte membrane and operate at relatively low temperatures, allowing for fast response times and versatility in various environments. PAFCs are a type of high-temperature fuel cell technology often used in stationary applications, such as combined heat and power (CHP) systems for buildings and industrial facilities. PAFCs operate at elevated temperatures, which can be advantageous for the combined production of electricity and heat. They are known for their reliability and efficiency in generating both electrical power and usable heat
By Delivery Methods
Based on delivery methods, the global hydrogen fueling station market is divided into on-site, off-site. The on-site category dominates the market with the largest revenue share in 2022. On-site fueling stations produce hydrogen at the same location where it is dispensed for refueling hydrogen-powered vehicles. These stations typically use on-site hydrogen generation technologies like electrolysis or natural gas reforming. On-site stations are often deployed in areas with a consistent and significant demand for hydrogen, such as urban centers, industrial complexes, and locations with a high concentration of hydrogen-powered vehicles. They offer advantages in terms of control over hydrogen production, reducing transportation costs, and ensuring a reliable supply of hydrogen to meet local demand. In contrast, off-site fueling stations do not produce hydrogen at the refueling location. Instead, they rely on hydrogen supplied from external sources, such as centralized hydrogen production facilities or hydrogen pipelines. Off-site stations are typically deployed in regions where the demand for hydrogen is lower or dispersed, making it more cost-effective to transport hydrogen from a central production facility. They are often found along major transportation routes, highways, and areas with lower hydrogen vehicle concentrations. While off-site stations offer flexibility in terms of location, they may be more reliant on external supply chains, potentially leading to longer transportation distances and associated costs.
Global Hydrogen Fueling Station Market Overview by Region
The global hydrogen fueling station market is categorized into North America, Europe, Asia-Pacific, and the Rest of the World. Asia-Pacific emerged as the leading region, capturing the largest market share in 2022. Asia-Pacific has become the most important area in the world for a number of important reasons. This vibrant and varied region, comprising South Korea, Australia, China, Japan, and Japan, is leading the way in many fields, with a focus on energy, technology, and environmental sustainability. Asia-Pacific is gaining prominence due in large part to its aggressive efforts to find sustainable and clean energy solutions. The area has made significant investments in hydrogen as an environmentally benign energy source as a result of realizing how vital it is to address environmental issues, air quality issues, and climate change. The governments of nations such as South Korea and Japan have established aggressive goals for the use of hydrogen and are actively pushing the construction of infrastructure for hydrogen fueling in order to facilitate the use of fuel cell electric vehicles (FCVs). A strong industrial and technology sector is another asset of Asia-Pacific, which is essential to the expansion of the hydrogen economy. Asian nations have proven to be highly proficient in hydrogen generation techniques, electrolysis, and fuel cell technology, which has advanced the area. Their capacity for research and production is a major factor in the worldwide as well as regional uptake of hydrogen-powered technologies. Furthermore, Asia-Pacific's leadership is bolstered by international cooperation and strategic partnerships with countries and regions across the world. As the global demand for hydrogen grows, Asia-Pacific is well-positioned to become a major exporter of hydrogen, particularly green hydrogen produced from renewable sources.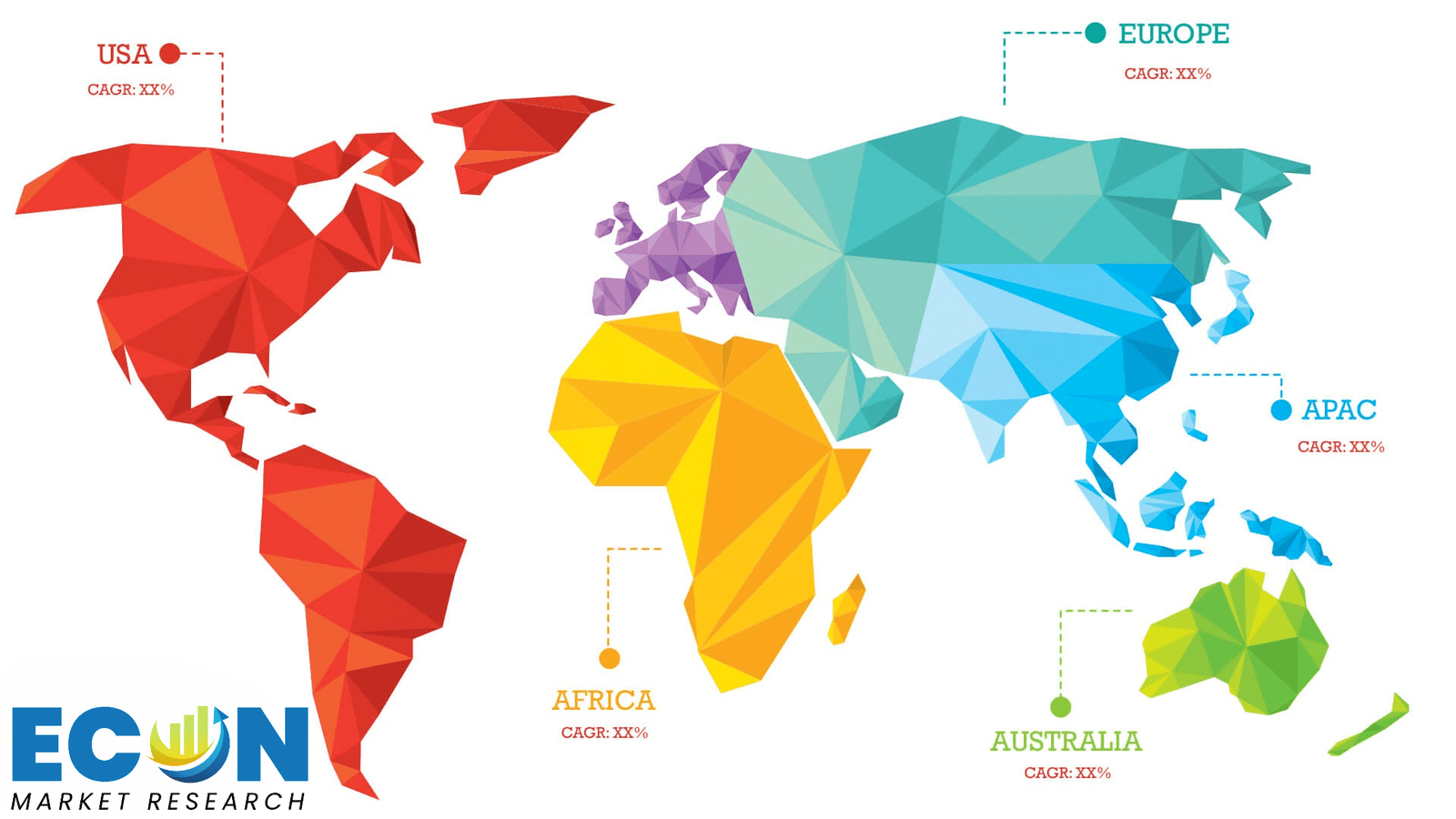 Global Hydrogen Fueling Station Market Competitive Landscape
In the global hydrogen fueling station market, a few major players exert significant market dominance and have established a strong regional presence. These leading companies remain committed to continuous research and development endeavors and actively engage in strategic growth initiatives, including product development, launches, joint ventures, and partnerships. By pursuing these strategies, these companies aim to strengthen their market position, expand their customer base, and capture a substantial share of the market.
Some of the prominent players in the global hydrogen fueling station market include Autonavi, HERE Technologies, The Sanborn Map Company, Inc., Navmii, Momenta , NVIDIA Corporation, TomTom International BV, Civil Maps, NavInfo, Woven Planet Holdings, Inc., Dynamic Map Platform, Zenrin Co., Ltd., Waymo LLC, Esri, DeepMap, Mapbox, and various other key players.
Global Hydrogen Fueling Station Market Recent Developments
In August 2023, In order to move closer to the state's objective of 200 hydrogen refuelling stations, the California Energy Commission has granted roughly $6 million for two projects that will supply hydrogen refuelling stations.
Scope of the Global Hydrogen Fueling Station Market Report
Hydrogen Fueling Station Market Report Segmentation
ATTRIBUTE

DETAILS

By Station Type

By Vehicle Type

Passenger Cars

Commercial Vehicles

By Vehicle Technology

Proton Exchange Membrane Fuel Cell

Phosphoric Acid Fuel Cells

Others

By Delivery Methods

By Geography

North America (USA,

and Canada)

Europe (UK, Germany, France, Italy, Spain, Russia and Rest of Europe)

Asia Pacific (Japan, China, India, Australia, Southeast Asia and Rest of Asia Pacific)

Latin America (Brazil, Mexico, and Rest of Latin America)

Middle East & Africa (South Africa, GCC, and Rest of Middle East & Africa)

Customization Scope

Pricing
Objectives of the Study
The objectives of the study are summarized in 5 stages. They are as mentioned below:
Global Hydrogen Fueling Station Market

Size and Forecast:
To identify and estimate the market size for the global hydrogen fueling station market segmented by station type, by vehicle type , by vehicle technology, by delivery methods, region and by value (in U.S. dollars). Also, to understand the consumption/ demand created by consumers of hydrogen fueling station between 2019 and 2031.
Market Landscape and Trends:
To identify and infer the drivers, restraints, opportunities, and challenges for the global hydrogen fueling station market
Market Influencing Factors:
To find out the factors which are affecting the sales of hydrogen fueling station among consumers
Research Methodology
Our research methodology has always been the key differentiating reason which sets us apart in comparison from the competing organizations in the industry. Our organization believes in consistency along with quality and establishing a new level with every new report we generate; our methods are acclaimed and the data/information inside the report is coveted. Our research methodology involves a combination of primary and secondary research methods. Data procurement is one of the most extensive stages in our research process. Our organization helps in assisting the clients to find the opportunities by examining the market across the globe coupled with providing economic statistics for each and every region. The reports generated and published are based on primary & secondary research. In secondary research, we gather data for global Market through white papers, case studies, blogs, reference customers, news, articles, press releases, white papers, and research studies. We also have our paid data applications which includes hoovers, Bloomberg business week, Avention, and others.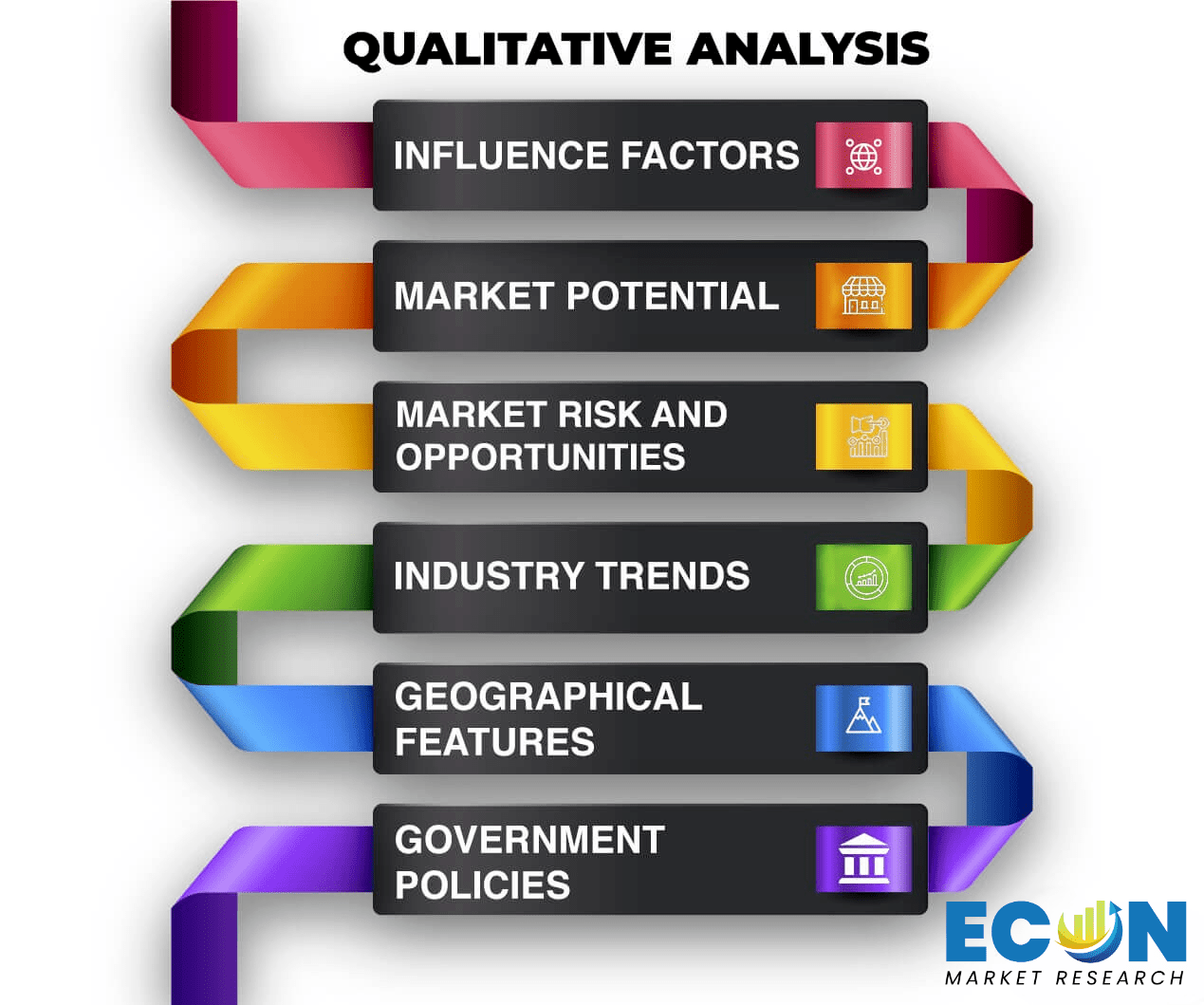 Data Collection
Data collection is the process of gathering, measuring, and analyzing accurate and relevant data from a variety of sources to analyze market and forecast trends. Raw market data is obtained on a broad front. Data is continuously extracted and filtered to ensure only validated and authenticated sources are considered. Data is mined from a varied host of sources including secondary and primary sources.

Primary Research
After the secondary research process, we initiate the primary research phase in which we interact with companies operating within the market space. We interact with related industries to understand the factors that can drive or hamper a market. Exhaustive primary interviews are conducted. Various sources from both the supply and demand sides are interviewed to obtain qualitative and quantitative information for a report which includes suppliers, product providers, domain experts, CEOs, vice presidents, marketing & sales directors, Type & innovation directors, and related key executives from various key companies to ensure a holistic and unbiased picture of the market. 
Secondary Research
A secondary research process is conducted to identify and collect information useful for the extensive, technical, market-oriented, and comprehensive study of the market. Secondary sources include published market studies, competitive information, white papers, analyst reports, government agencies, industry and trade associations, media sources, chambers of commerce, newsletters, trade publications, magazines, Bloomberg BusinessWeek, Factiva, D&B, annual reports, company house documents, investor presentations, articles, journals, blogs, and SEC filings of companies, newspapers, and so on. We have assigned weights to these parameters and quantified their market impacts using the weighted average analysis to derive the expected market growth rate.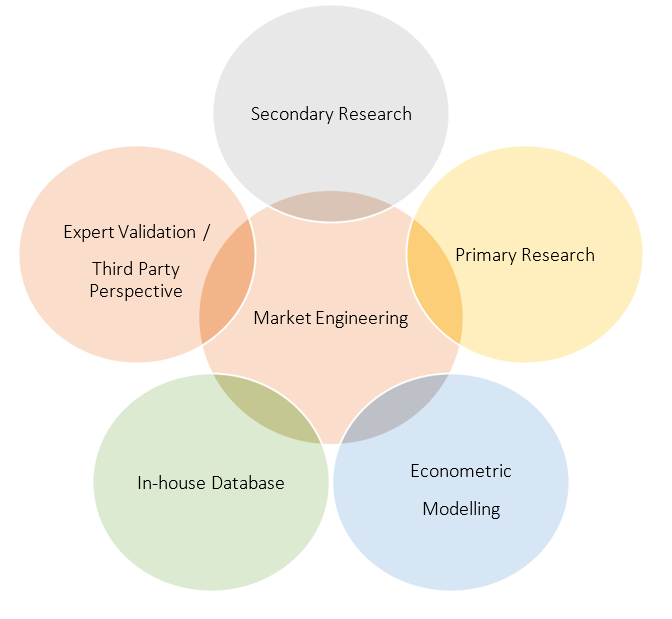 Top-Down Approach & Bottom-Up Approach
In the top – down approach, the Global Batteries for Solar Energy Storage Market was further divided into various segments on the basis of the percentage share of each segment. This approach helped in arriving at the market size of each segment globally. The segments market size was further broken down in the regional market size of each segment and sub-segments. The sub-segments were further broken down to country level market. The market size arrived using this approach was then crosschecked with the market size arrived by using bottom-up approach.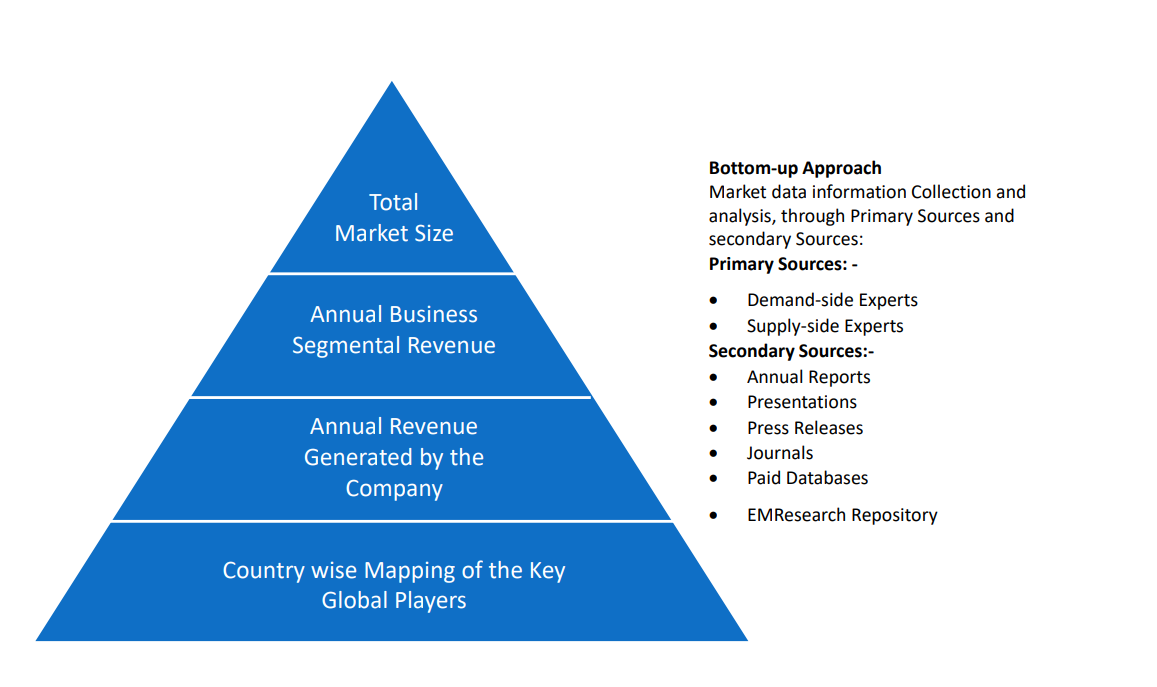 In the bottom-up approach, we arrived at the country market size by identifying the revenues and market shares of the key market players. The country market sizes then were added up to arrive at regional market size of the decorated apparel, which eventually added up to arrive at global market size.
This is one of the most reliable methods as the information is directly obtained from the key players in the market and is based on the primary interviews from the key opinion leaders associated with the firms considered in the research. Furthermore, the data obtained from the company sources and the primary respondents was validated through secondary sources including government publications and Bloomberg.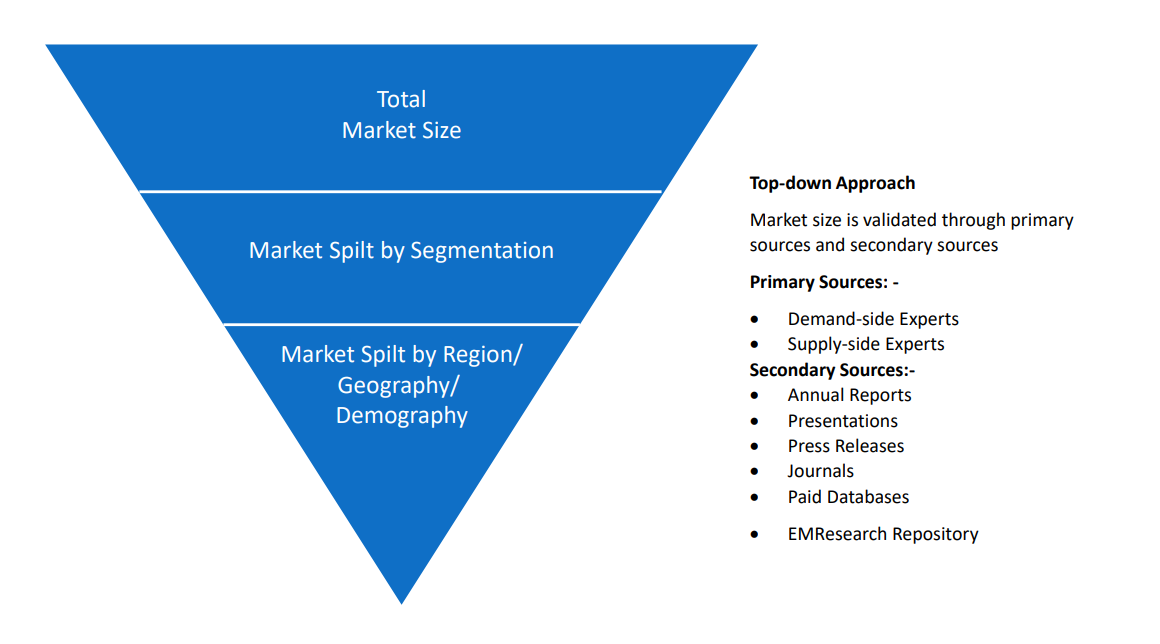 Market Analysis & size Estimation
Post the data mining stage, we gather our findings and analyze them, filtering out relevant insights. These are evaluated across research teams and industry experts. All this data is collected and evaluated by our analysts. The key players in the industry or markets are identified through extensive primary and secondary research. All percentage share splits, and breakdowns have been determined using secondary sources and verified through primary sources. The market size, in terms of value and volume, is determined through primary and secondary research processes, and forecasting models including the time series model, econometric model, judgmental forecasting model, the Delphi method, among Flywheel Energy Storage. Gathered information for market analysis, competitive landscape, growth trends, product development, and pricing trends is fed into the model and analyzed simultaneously.
Quality Checking & Final Review
The analysis done by the research team is further reviewed to check for the accuracy of the data provided to ensure the clients' requirements. This approach provides essential checks and balances which facilitate the production of quality data. This Type of revision was done in two phases for the authenticity of the data and negligible errors in the report. After quality checking, the report is reviewed to look after the presentation, Type and to recheck if all the requirements of the clients were addressed.