The global Hemostats market was valued at USD 2.58 billion in 2022 and is estimated to reach approximately USD 4.78 billion by 2031, at a CAGR of 7.0% from 2023 to 2031.
With its crucial role in surgical and medical operations, the hemostats market is an important part of the worldwide healthcare industry. Medical devices known as hemostats are specialized tools used in surgery, wound care, and other fields of medicine to regulate bleeding. As a result, they aid in the achievement of efficient hemostasis by encouraging blood coagulation. An ageing population, an increase in surgical operations, and the increased incidence of chronic illnesses have all contributed to the substantial expansion this sector has experienced recently. Topical hemostats, absorbable hemostats, and mechanical hemostats are only a few of the many hemostatic items available on the market; each one serves a distinct set of therapeutic requirements. Hemostatic treatments that function more quickly and effectively have been made possible by advancements in product development. The need for hemostats has increased even more as medical practitioners have realized how crucial it is to reduce blood loss in order to improve patient outcomes. The hemostats market is anticipated to continue growing as sophisticated procedures and changing healthcare norms both drive this trend. This is further supported by continuous R&D initiatives to develop hemostatic solutions that are safer, more effective, and more affordable in order to satisfy the medical community's constantly growing demands. As a result, the market is an essential part of contemporary healthcare.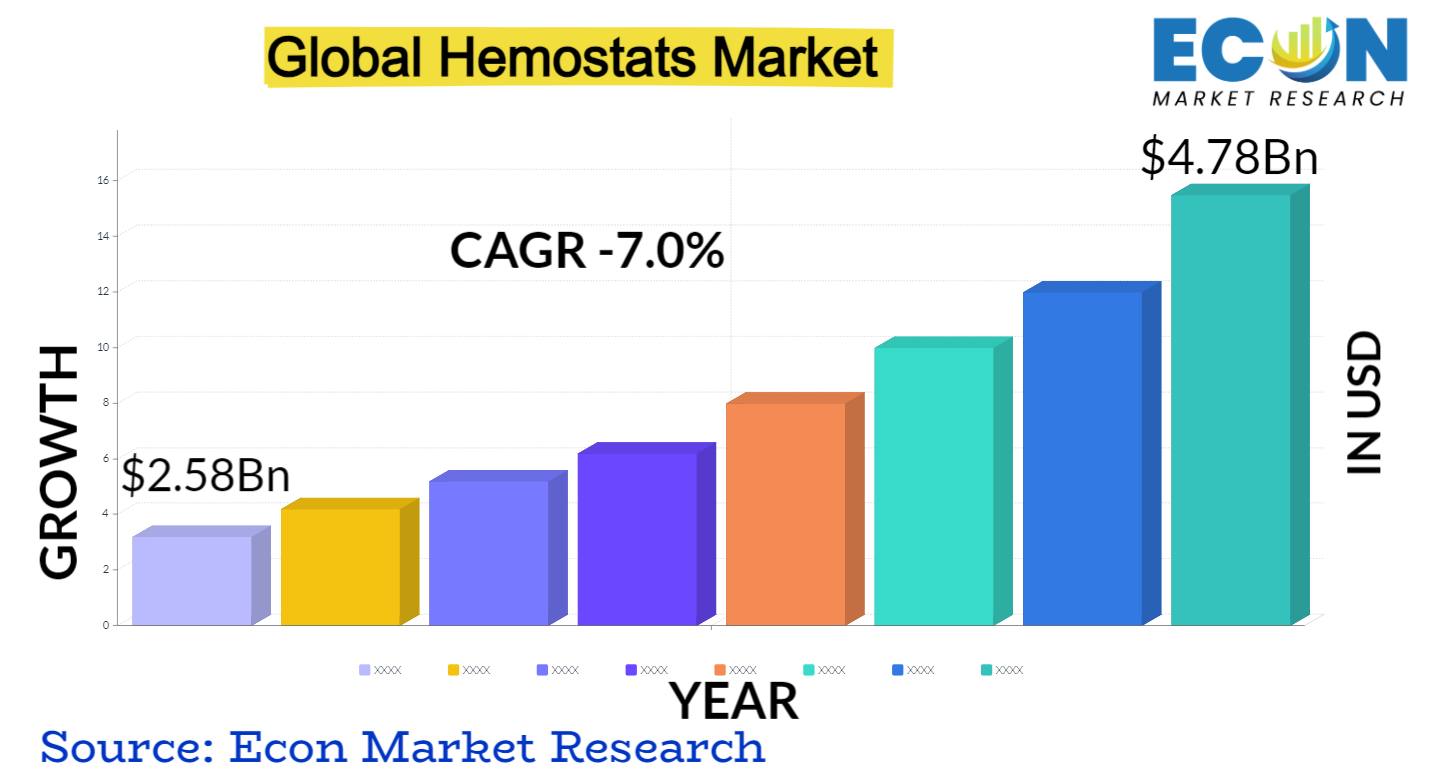 HEMOSTATS MARKET: REPORT SCOPE & SEGMENTATION
| | |
| --- | --- |
| Report Attribute | Details |
| Estimated Market Value (2022) | 2.58 Bn |
| Projected Market Value (2031) | 4.78 Bn |
| Base Year | 2022 |
| Forecast Years | 2023 - 2031 |
| Scope of the Report | Historical and Forecast Trends, Industry Drivers and Constraints, Historical and Forecast Market Analysis by Segment- By Type, By Application, By Formulation, & Region |
| Segments Covered | By Type, By Application, By Formulation, & Region |
| Forecast Units | Value (USD Billion or Million), and Volume (Units) |
| Quantitative Units | Revenue in USD million/billion and CAGR from 2023 to 2031 |
| Regions Covered | North America, Europe, Asia Pacific, Latin America, and Middle East & Africa, and the Rest of World |
| Countries Covered | U.S., Canada, Mexico, U.K., Germany, France, Italy, Spain, China, India, Japan, South Korea, Brazil, Argentina, GCC Countries, and South Africa, among others |
| Report Coverage | Market growth drivers, restraints, opportunities, Porter's five forces analysis, PEST analysis, value chain analysis, regulatory landscape, market attractiveness analysis by segments and region, company market share analysis, and COVID-19 impact analysis. |
| Delivery Format | Delivered as an attached PDF and Excel through email, according to the purchase option. |
Global Hemostats Market Dynamics
The need for hemostats is fueled by the increase in surgical procedures, which is a result of the ageing population and the rise of chronic illnesses. During surgeries, surgeons look for dependable ways to efficiently manage bleeding. Current research and development initiatives have resulted in the release of sophisticated hemostatic solutions with enhanced safety and performance. The market is growing as a result of innovations in hemostat formulations and application techniques. In order to improve patient outcomes, healthcare experts are focusing more and more on minimizing blood loss during surgery. Because they are essential to reaching this goal, thermostats are in great demand. There is fierce competition among the players in the hemostats industry as they compete for market share. Both patients and healthcare providers gain from this competition since it spurs price and product innovation. The market for hemostats is governed by strict laws and approval procedures that guarantee the effectiveness and safety of these goods. The success of market participants depends on their adherence to regulatory norms. The market for hemostats is not restricted to any particular area. The industry is continuing to grow globally as a result of expanding healthcare infrastructure in emerging regions, offering new potential for market competitors. Cost containment in healthcare is a major problem, and market dynamics are influenced by healthcare providers' evaluation of the hemostatic devices' cost-effectiveness.
Global Hemostats Market Drivers
Increasing Surgical Procedures
Surgical procedures are frequently needed for the diagnosis, care, or management of many illnesses. Furthermore, a wider spectrum of medical disorders now have surgery as a more feasible and minimally invasive alternative because to advancements in medical technology and surgical procedures. Moreover, surgical treatments are encouraged even more by the rising understanding of the advantages of early intervention and the significance of preventative actions. Thanks to advancements in screening and diagnostic tools, medical personnel can now more accurately identify illnesses that can need surgery early on. Surgeons are performing more bariatric surgeries as a result of the growth in lifestyle-related disorders including obesity. Surgical weight loss interventions are becoming more common as a means of addressing the obesity epidemic. This increase in surgical procedures has a direct impact on the demand for various medical supplies and devices, including hemostats, anesthesia, surgical instruments, and more.
The global economy and healthcare are two areas that will be greatly impacted by the growing aging population, which is a major driver. Reduced birth rates and longer life expectancies are the main causes of this demographic shift, which is defined by an increase in the share of elderly people in the general population. The growing strain on healthcare services is one of the most significant consequences of an ageing population. People usually have increasingly complicated and demanding healthcare needs as they get older. The prevalence of chronic illnesses is increased, including diabetes, dementia, and heart disease. These conditions frequently call for ongoing care and frequent interventions. There is an increased need for medical services, qualified healthcare workers, and medical technologies as a result of the rise in chronic illnesses. Moreover, the elderly are more prone to age-related health issues, including orthopedic problems, vision and hearing impairments, and cognitive decline. Consequently, there is a growing demand for specialized medical care, rehabilitation services, and assistive devices to support the aging population's well-being and quality of life.
Restraints:
Limited Reimbursement Policies
These rules discuss limitations or deficiencies in the amount that insurance companies, government healthcare programmes, or other reimbursement systems will pay for medical bills. Patients can have financial hardships as a result of restricted payment rules. Patients can have significant out-of-pocket costs when important medical treatments, operations, or drugs are not fully covered. This can put them under financial strain and possibly discourage them from getting care when they need it. People with complicated healthcare demands or chronic diseases find this to be very burdensome. Restricted reimbursement rules can cause financial difficulties for healthcare providers. Hospitals, clinics, and other healthcare facilities can find it more difficult to maintain their financial stability when insurance companies or government programmes offer lower payment rates. This could have an impact on their capacity to make investments in cutting-edge technologies, uphold strict standards for patient care, and draw in qualified medical personnel. Furthermore, the adoption of novel and can be more effective medical treatments or technologies can be hampered by restricted funding. If payment is insufficient, healthcare facilities might be hesitant to engage in these developments, which could slow down the progression of medicine and reduce the variety of treatment options available to patients.
These increased expenditures include medical services, procedures, drugs, insurance payments, and overhead. Healthcare resources are under a great deal of strain due to factors including the ageing population, the rise in chronic diseases, and the expansion of elective operations, which drives up costs. Additionally, even when new medical treatments and technologies offer better results, they can be costly to create, maintain, and get, which drives up the cost of healthcare as a whole. Another factor is the administrative intricacy of healthcare systems. Complex billing and reimbursement procedures in the healthcare industry result in significant administrative costs. This is made worse by the need to adhere to a number of regulations and the presence of several insurance companies with different payment plans. Pharmaceutical costs, including the research and development of new drugs, can be substantial, impacting patients, healthcare providers, and insurers. Additionally, the costs of medical equipment, including diagnostic and treatment devices, contribute to the overall financial burden.
Opportunities:
Telemedicine and Remote Surgery
Within the healthcare sector, the development of telemedicine and remote surgery offers a revolutionary and exciting possibility. With the rapid evolution of telemedicine, which is the remote diagnosis and treatment of patients via telecommunications technology, healthcare providers can now provide more effective and accessible care. This idea has been elevated to a whole new level with the introduction of remote surgery, which entails a surgeon using robotic devices and cutting-edge technology to perform treatments from a distance. Undeserved and distant locations now have greater access to healthcare because to telemedicine and remote surgery. Without having to travel great distances for medical care, patients can speak with doctors, get advice, and even have surgery, which eases the strain on the healthcare system and improves access to care. Moreover, telemedicine and remote surgery have the potential to increase patient engagement and participation in their healthcare, as they enable more convenient access to medical expertise and consultations, making healthcare a more patient-centric experience.
Increasing A

doption of

M

inimally

I

nvasive Surgery
MIS techniques include using specialized instruments and imaging equipment to perform surgical treatments through small incisions or naturally occurring bodily holes. Smaller incisions, less trauma, and less discomfort following surgery are the usual outcomes of MIS operations, which shorten hospital stays and speed up recovery. This lowers healthcare expenses while also raising patient happiness. MIS-related shorter hospital stays and quicker healing periods save money for patients as well as healthcare providers. This can result in the provision of healthcare at a lower cost. The spectrum of procedures that can be done with MIS is growing as techniques and technology progress. This covers intricate operations in the fields of cardiothoracic, gynaecology, and neurosurgery.Innovative surgical instruments, high-definition imaging equipment, and specialised robotic surgical systems are just a few of the cutting-edge medical products that have been made possible by MIS, creating opportunities for both technology firms and healthcare producers. The use of MIS approaches is not limited to rich nations, offering chances to enhance healthcare in underprivileged areas through the provision of cutting-edge surgical care with quicker recovery periods.
Segment Overview
By Type
Based on type, the global hemostats market is divided into thrombin-based hemostats, oxidized regenerated cellulose-based hemostats, combination hemostats, gelatin-based hemostats, collagen-based hemostats, and others. The oxidized regenerated cellulose-based hemostats category dominates the market with the largest revenue share in 2022. Hemostats in this category are composed of oxidized regenerated cellulose, which acts as a hemostatic agent when applied to a bleeding site. They are especially useful in surgeries where rapid hemostasis is required. Thrombin-based hemostats are derived from the naturally occurring enzyme thrombin, which plays a crucial role in blood clot formation. These products are used to promote coagulation and are particularly valuable in surgical and medical procedures. Combination hemostats often contain a blend of different materials, including thrombin, collagen, or gelatin, to provide a versatile and comprehensive solution for various bleeding scenarios, offering both speed and efficacy. Gelatin-based hemostats are derived from animal collagen and are designed to help control bleeding by forming a gel-like matrix at the wound site, promoting clot formation. Collagen-based hemostats utilize collagen, a natural protein found in connective tissues, to facilitate hemostasis. These products are often used in surgical and trauma situations.
By Formulation
Based on the formulation, the global hemostats market is categorized into matrix and gel hemostats, sheet and pad hemostats, sponge hemostats, powder hemostats, and others. The matrix and gel hemostats category leads the global hemostats market with the largest revenue share in 2022. Matrix and gel hemostats are designed to form a cohesive structure at the bleeding site, promoting blood clotting. These products are especially valuable in surgeries and procedures where precision and localized hemostasis are essential. Sheet and pad hemostats come in the form of flat sheets or pads that can be applied directly to the bleeding area. They are known for their ease of use and are often used in various surgical specialties. Sponge hemostats are typically absorbent, sterile sponges made from materials like gelatin or collagen. They are applied to bleeding wounds to encourage clot formation and are common in various surgical procedures. Powder hemostats are finely milled substances that are sprinkled or applied directly to the bleeding site. They promote coagulation by accelerating the body's natural clotting process and are particularly useful for hard-to-reach or irregularly shaped wounds.
By Application
Based on application, the global hemostats market is segmented into orthopedic surgery, general surgery, neurological surgery, cardiovascular surgery, reconstructive surgery, gynecological surgery, others. The orthopedic surgery segment dominates the hemostats market. Hemostats play a crucial role in orthopedic procedures, including joint replacements, fracture repairs, and spine surgeries, where controlling bleeding is vital to ensure the success of the surgery and patient recovery. General surgery encompasses a broad range of procedures, including abdominal surgeries, appendectomies, and gallbladder removals. Hemostats are essential in these surgeries to manage bleeding and optimize patient outcomes. Delicate and precise, neurological surgeries often require hemostatic solutions to control bleeding in the brain or spinal cord, ensuring that the surgeon can work safely and effectively. Cardiovascular procedures, such as heart surgeries and vascular interventions, involve critical blood vessels. Hemostats are used to manage bleeding, particularly in complex cardiac surgeries, contributing to patient safety. Reconstructive surgeries, which include plastic and cosmetic procedures, often require hemostatic agents to manage bleeding and enhance the aesthetic and functional outcomes of the surgery. Hemostats are employed in gynecological surgeries, such as hysterectomies and ovarian procedures, to maintain a clear surgical field and prevent complications related to bleeding.
Global Hemostats Market Overview by Region
The global hemostats market is categorized into North America, Europe, Asia-Pacific, and the Rest of the World. North America emerged as the leading region, capturing the largest market share in 2022. With access to cutting-edge surgical methods, modern medical facilities, and a strong provider network, North America has an excellent healthcare infrastructure. The use of hemostatic agents in a variety of medical operations is made easier by this infrastructure. Due to a number of variables, including an ageing population, a high prevalence of chronic diseases, and patient preferences for elective surgeries, the region sees a large volume of surgical procedures. The widespread usage of hemostatic drugs is directly correlated with this high surgical demand. With continuous research and development efforts resulting in the release of cutting-edge hemostatic solutions that offer improved hemostasis, North America is at the forefront of medical innovation. In the area, these technologies are quickly embraced. The region upholds strict regulatory requirements that guarantee the efficacy and safety of hemostatic products, giving patients and healthcare professionals confidence. The market for hemostats is expanding as a result of a strong commitment to research and development as well as investments in healthcare. North American businesses never stop investing in the creation of innovative hemostatic treatments. Patients in North America have relatively easy access to a wide range of medical procedures, including those requiring hemostats, due to the relatively widespread availability of health insurance coverage. The area prioritises medical education and training, making sure that medical personnel are prepared to use hemostatic products efficiently.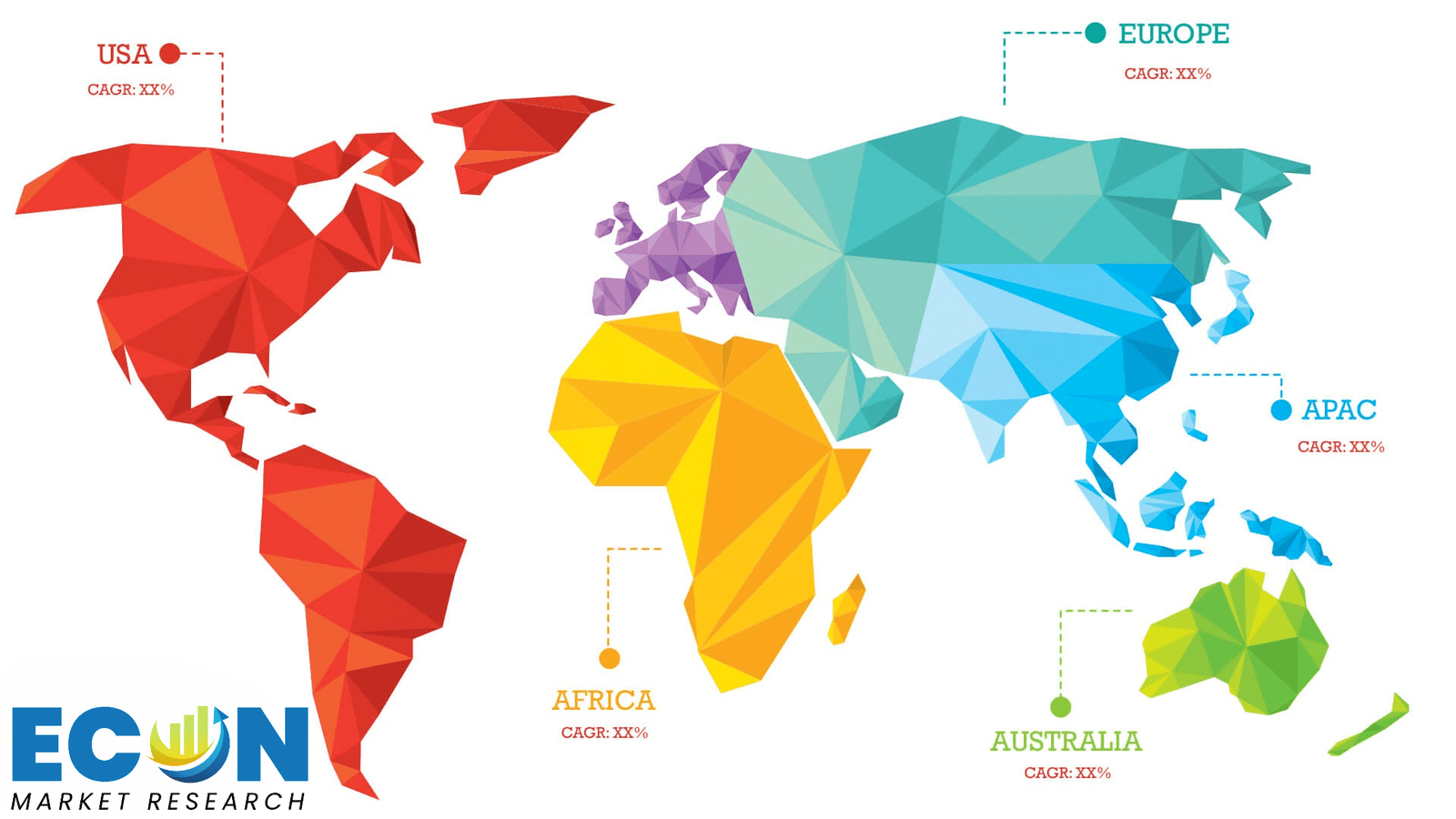 Global Hemostats Market Competitive Landscape
In the global hemostats market, a few major players exert significant market dominance and have established a strong regional presence. These leading companies remain committed to continuous research and development endeavors and actively engage in strategic growth initiatives, including product development, launches, joint ventures, and partnerships. By pursuing these strategies, these companies aim to strengthen their market position, expand their customer base, and capture a substantial share of the market.
Some of the prominent players in the global hemostats market include Medtronic Plc, Baxter International Inc., Stryker Corporation, Hemostatis LLC, Becton Dickinson and Company, Integra Life Sciences Holding Corporation, Teleflex Incorporated, B.Braun Melsungen AG, Johnson and Johnson, Pfizer Inc. , and various other key players.
Global Hemostats Market Recent Developments
In March 2023, FDA Approves Chitosan-Based Hemostat To Control Severe Surgical Bleeding. Axio Biosolutions, based in Bangalore, has developed a more efficient and economical method of managing acute surgical bleeding. The US Food and Drug Administration (FDA) has approved Ax-Surgi Surgical Hemostat, a chitosan-based hemostat designed by Axio Biosolutions to control severe surgical bleeding.
Scope of the Global Hemostats Market Report
Hemostats Market Report Segmentation
ATTRIBUTE

DETAILS

By Type

Thrombin Based Hemostats

Oxidized Regenerated Cellulose Based Hemostats

Combination Hemostats

Gelatin Based Hemostats

Collagen Based Hemostats

Others

By Formulation

Matrix and Gel Hemostats

Sheet and Pad Hemostats

Sponge Hemostats

Powder Hemostats

Others

By Application

Orthopedic Surgery

General Surgery

Neurological Surgery

Cardiovascular Surgery

Reconstructive Surgery

Gynecological Surgery

Others

By Geography

North America (USA,

and Canada)

Europe (UK, Germany, France, Italy, Spain, Russia and Rest of Europe)

Asia Pacific (Japan, China, India, Australia, Southeast Asia and Rest of Asia Pacific)

Latin America (Brazil, Mexico, and Rest of Latin America)

Middle East & Africa (South Africa, GCC, and Rest of Middle East & Africa)

Customization Scope

Pricing
Objectives of the Study
The objectives of the study are summarized in 5 stages. They are as mentioned below:
Global Hemostats Market

Size and Forecast:
To identify and estimate the market size for the global hemostats market segmented by type, by application, by formulation region and by value (in U.S. dollars). Also, to understand the consumption/ demand created by consumers of hemostats between 2019 and 2031.
Market Landscape and Trends:
To identify and infer the drivers, restraints, opportunities, and challenges for the global hemostats market
Market Influencing Factors:
To find out the factors which are affecting the sales of hemostats among consumers
To identify and understand the various factors involved in the global hemostats market affected by the pandemic
To provide a detailed insight into the major companies operating in the market. The profiling will include the financial health of the company's past 2-3 years with segmental and regional revenue breakup, product offering, recent developments, SWOT analysis, and key strategies.
Intended Audience
Healthcare Professionals

Medical Institutions

Pharmaceutical and Medical Device Companies

Healthcare Administrators and Procurement Officers

Medical Researchers and Educators

Governments, Associations, and Industrial Bodies

Investors and Trade Experts
Research Methodology
Our research methodology has always been the key differentiating reason which sets us apart in comparison from the competing organizations in the industry. Our organization believes in consistency along with quality and establishing a new level with every new report we generate; our methods are acclaimed and the data/information inside the report is coveted. Our research methodology involves a combination of primary and secondary research methods. Data procurement is one of the most extensive stages in our research process. Our organization helps in assisting the clients to find the opportunities by examining the market across the globe coupled with providing economic statistics for each and every region. The reports generated and published are based on primary & secondary research. In secondary research, we gather data for global Market through white papers, case studies, blogs, reference customers, news, articles, press releases, white papers, and research studies. We also have our paid data applications which includes hoovers, Bloomberg business week, Avention, and others.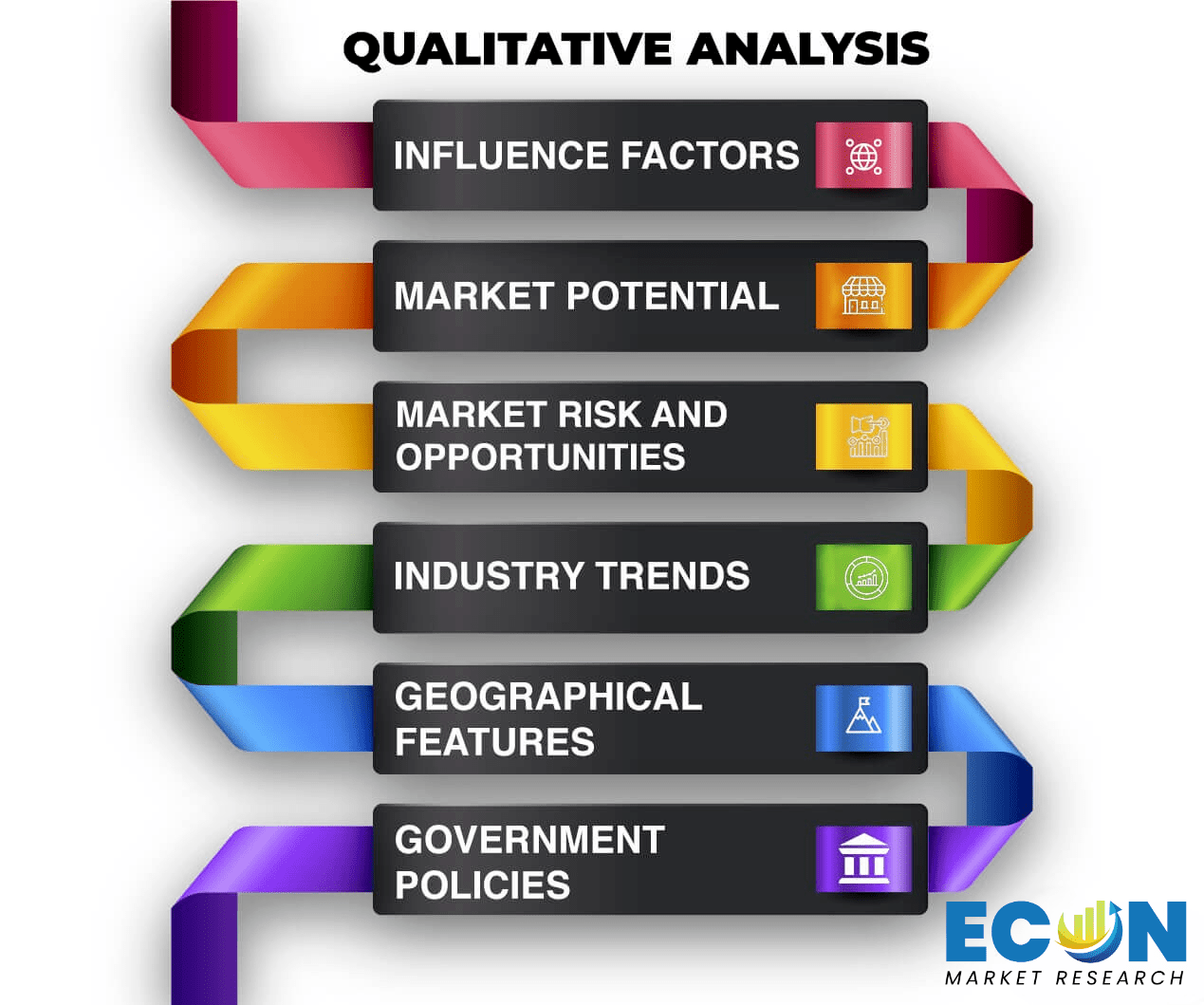 Data Collection
Data collection is the process of gathering, measuring, and analyzing accurate and relevant data from a variety of sources to analyze market and forecast trends. Raw market data is obtained on a broad front. Data is continuously extracted and filtered to ensure only validated and authenticated sources are considered. Data is mined from a varied host of sources including secondary and primary sources.

Primary Research
After the secondary research process, we initiate the primary research phase in which we interact with companies operating within the market space. We interact with related industries to understand the factors that can drive or hamper a market. Exhaustive primary interviews are conducted. Various sources from both the supply and demand sides are interviewed to obtain qualitative and quantitative information for a report which includes suppliers, product providers, domain experts, CEOs, vice presidents, marketing & sales directors, Type & innovation directors, and related key executives from various key companies to ensure a holistic and unbiased picture of the market. 
Secondary Research
A secondary research process is conducted to identify and collect information useful for the extensive, technical, market-oriented, and comprehensive study of the market. Secondary sources include published market studies, competitive information, white papers, analyst reports, government agencies, industry and trade associations, media sources, chambers of commerce, newsletters, trade publications, magazines, Bloomberg BusinessWeek, Factiva, D&B, annual reports, company house documents, investor presentations, articles, journals, blogs, and SEC filings of companies, newspapers, and so on. We have assigned weights to these parameters and quantified their market impacts using the weighted average analysis to derive the expected market growth rate.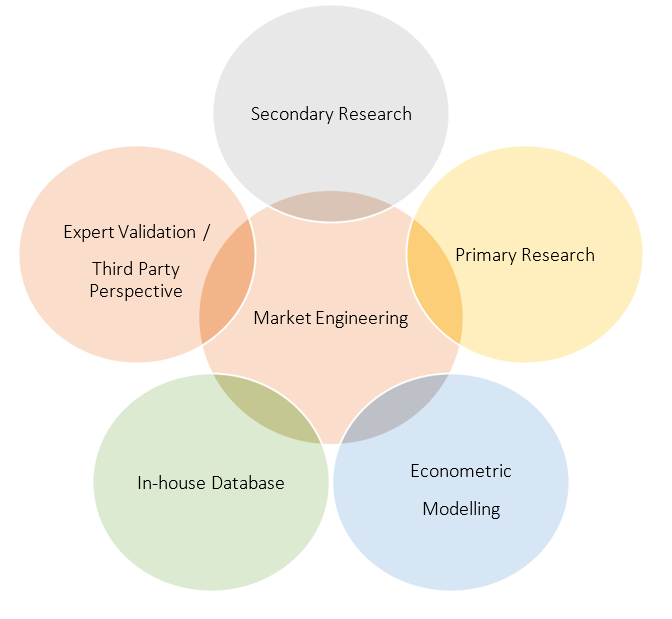 Top-Down Approach & Bottom-Up Approach
In the top – down approach, the Global Batteries for Solar Energy Storage Market was further divided into various segments on the basis of the percentage share of each segment. This approach helped in arriving at the market size of each segment globally. The segments market size was further broken down in the regional market size of each segment and sub-segments. The sub-segments were further broken down to country level market. The market size arrived using this approach was then crosschecked with the market size arrived by using bottom-up approach.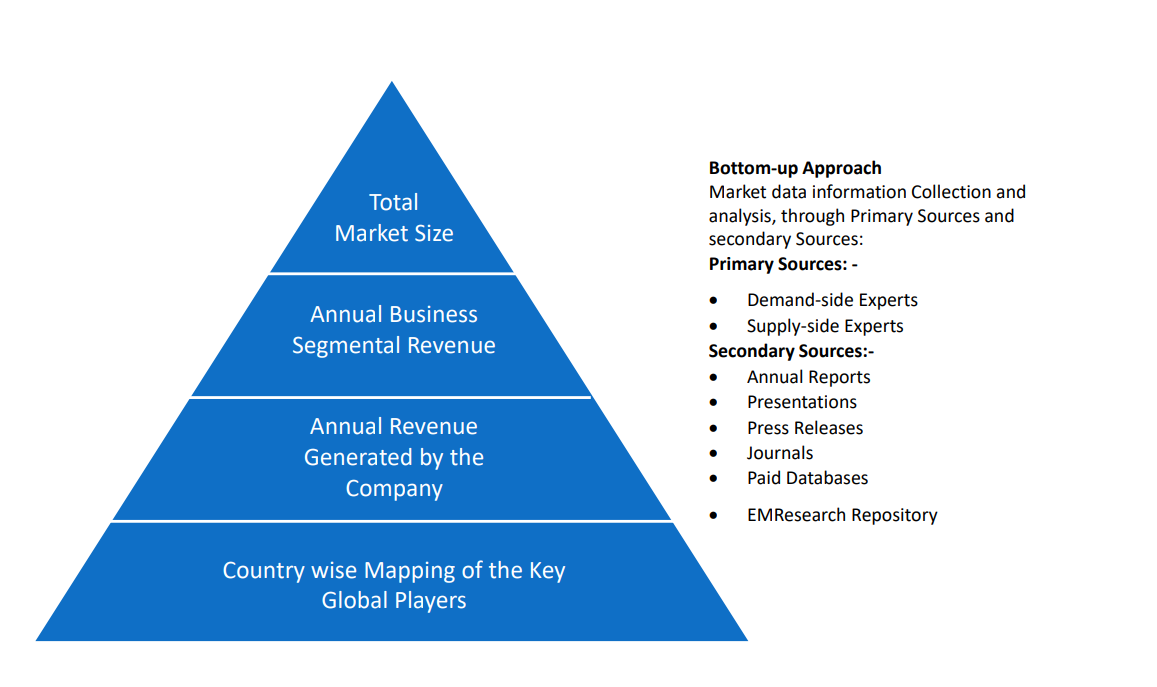 In the bottom-up approach, we arrived at the country market size by identifying the revenues and market shares of the key market players. The country market sizes then were added up to arrive at regional market size of the decorated apparel, which eventually added up to arrive at global market size.
This is one of the most reliable methods as the information is directly obtained from the key players in the market and is based on the primary interviews from the key opinion leaders associated with the firms considered in the research. Furthermore, the data obtained from the company sources and the primary respondents was validated through secondary sources including government publications and Bloomberg.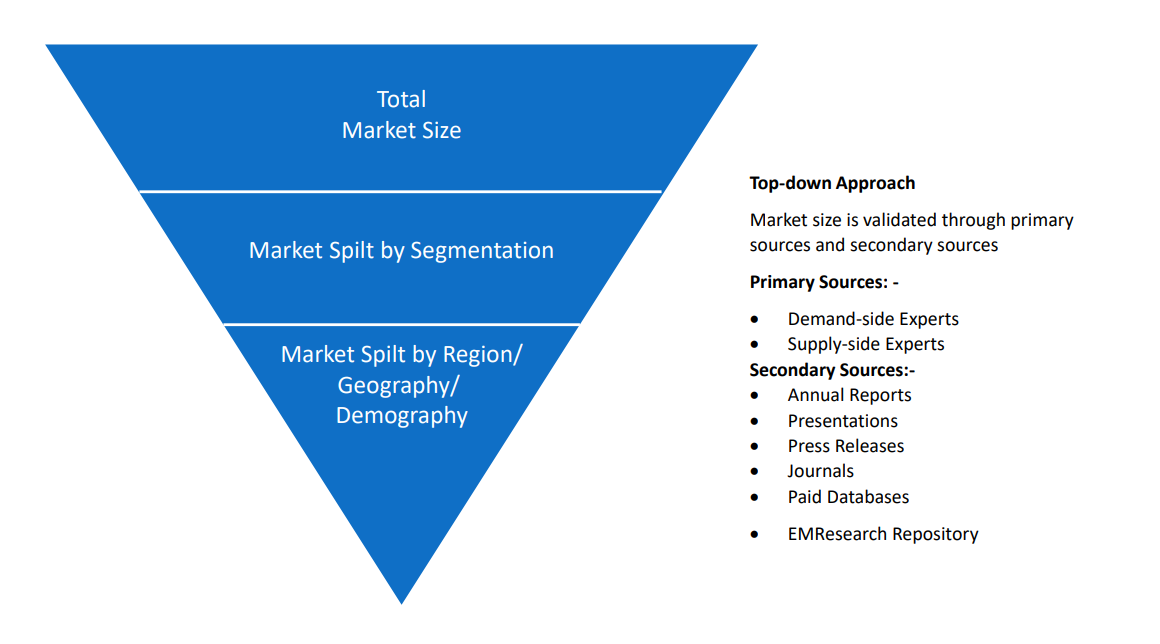 Market Analysis & size Estimation
Post the data mining stage, we gather our findings and analyze them, filtering out relevant insights. These are evaluated across research teams and industry experts. All this data is collected and evaluated by our analysts. The key players in the industry or markets are identified through extensive primary and secondary research. All percentage share splits, and breakdowns have been determined using secondary sources and verified through primary sources. The market size, in terms of value and volume, is determined through primary and secondary research processes, and forecasting models including the time series model, econometric model, judgmental forecasting model, the Delphi method, among Flywheel Energy Storage. Gathered information for market analysis, competitive landscape, growth trends, product development, and pricing trends is fed into the model and analyzed simultaneously.
Quality Checking & Final Review
The analysis done by the research team is further reviewed to check for the accuracy of the data provided to ensure the clients' requirements. This approach provides essential checks and balances which facilitate the production of quality data. This Type of revision was done in two phases for the authenticity of the data and negligible errors in the report. After quality checking, the report is reviewed to look after the presentation, Type and to recheck if all the requirements of the clients were addressed.